The number one question we receive from our readers is about their Bali itinerary. If you are planning your trip to Bali, then it is pretty difficult to know what you can do in let's say a long weekend, a week, or even longer.
Distances are sometimes unclear, it's difficult to choose which village you want to stay at and it can be pretty daunting when you discover the long lists of things to do.
In this article, you can find wonderful day-to-day Bali itineraries. We encourage conscious and sustainable tourism in Bali. So naturally our itinerary might be somewhat different than others.
Expect a lot of nature, culture, and love for the island when you follow our itinerary suggestions
| | | |
| --- | --- | --- |
| Duration | Itinerary | Type of activities |
| 3 days | Sidemen | hikes through the ricefields and visit beaches |
| 3 days | Batukaru | hikes through the forest, villages, and ricefields, activities at the resort |
| 1 week | Jimbaran, Sidemen, Munduk | beach, hikes through rice fields, forest, and waterfalls |
| 2 weeks | Sanur, Sidemen, Ubud, Batukaru, Munduk, Jimbaran | beaches, hikes through ricefields, culture, temples, waterfalls |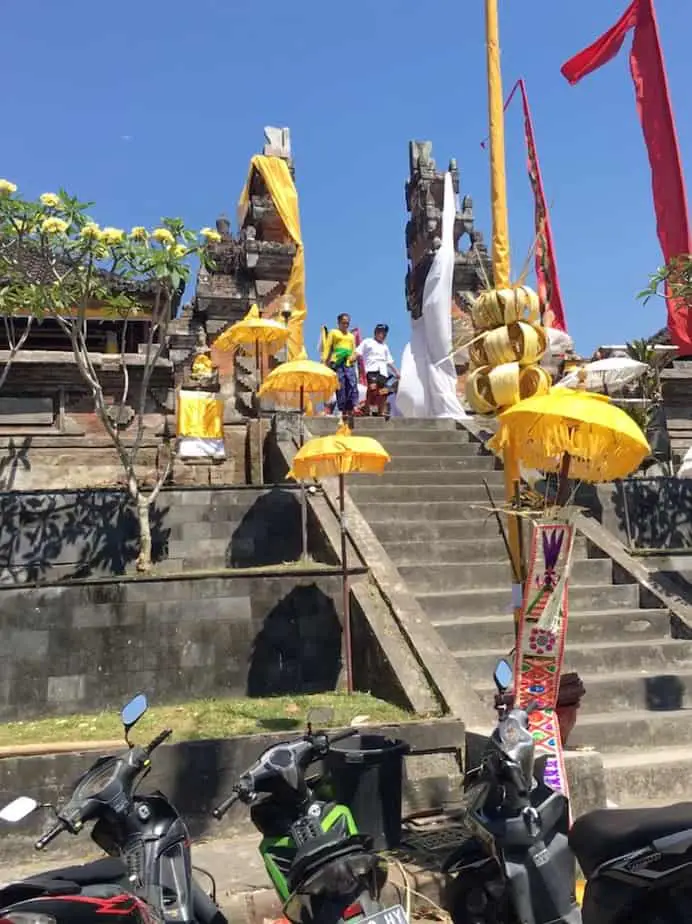 We think that our itineraries can be done by any type of traveler. Couples, single travelers, family with kids, or a group of friends will enjoy these suggestions.
You can always decide for yourself how you fill up your days. But just remember you are on a holiday. So to fully enjoy Bali, you need to take things a couple of paces slower than at home.
3-days Bali Itinerary, 2 options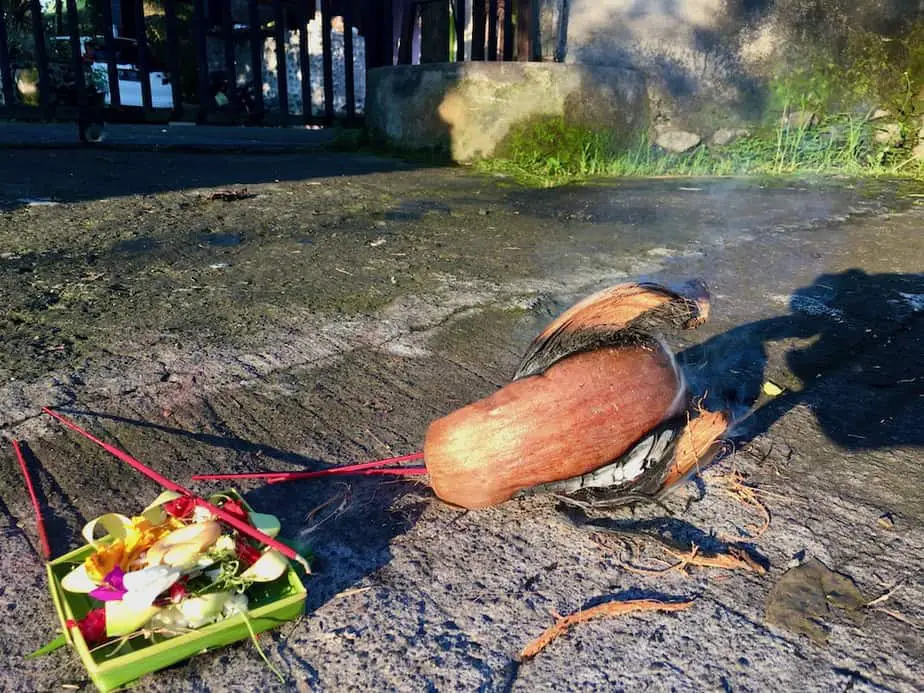 For this weekend itinerary, we kind of assume that you will be arriving in Bali on a Friday afternoon. Since work starts again on Monday, you will need to be heading back home on Sunday afternoon.
As you can imagine there isn't much time to see a lot of the island. So in this case, we go for quality instead of quantity. We have two wonderful recommendations for your little getaway.
Option 1 – Sidemen and nearby beaches
3 nights Sidemen – hikes through the ricefields and visit beaches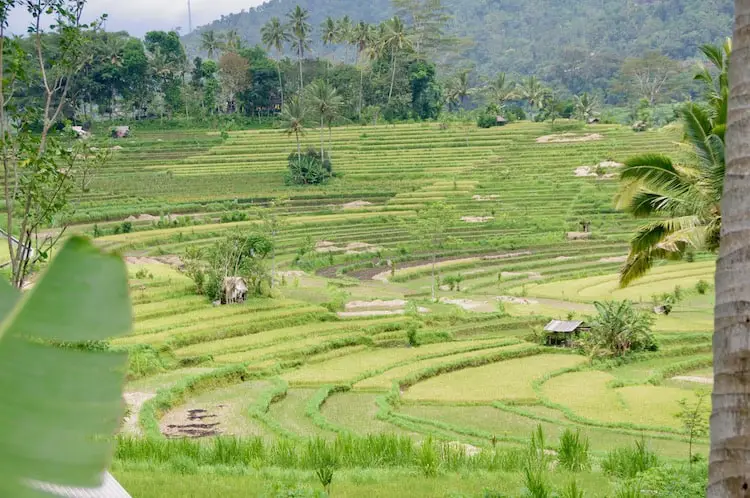 Day 1 Denpasar Airport – Sidemen
Since you are just staying for a short while, it is best to arrange a driver through your accommodation. There is no better way to start a holiday than to disembark from the airport and slide straight into a car.
The driver will bring you directly to your accommodation in Sidemen. No matter what time you arrive, you will easily spend the rest of your day gazing at the wonderful view from your bungalow. This is the time to relax.
Day 2 Beaches and Driving Through Sidemen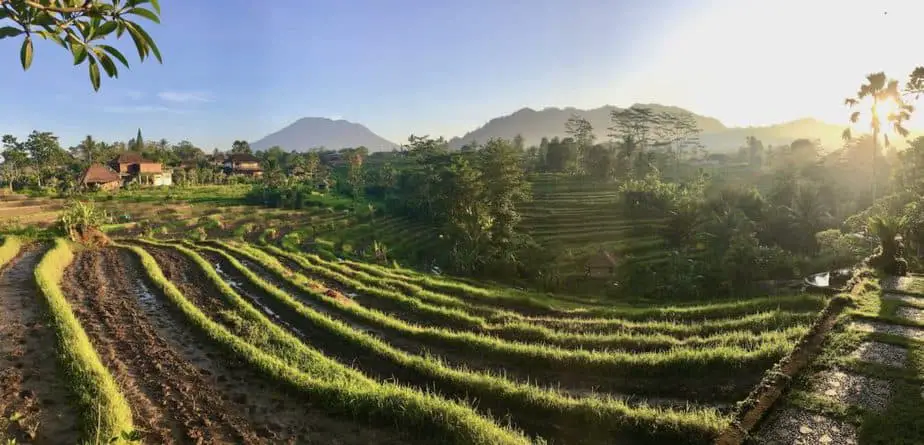 Morning
It might sound strange to leave beautiful Sidemen behind on your first morning. But we think the best time to explore the nearby beaches is before it gets too hot. Also, the road can get pretty dark if you would have to drive back after dinner.
So arrange a motorbike and head to Padangbai or Candidasa. Take the route passing through the hills and small villages such as Putung towards Manggis. Before heading downhill you will have an amazing view of the Bay of Amuk.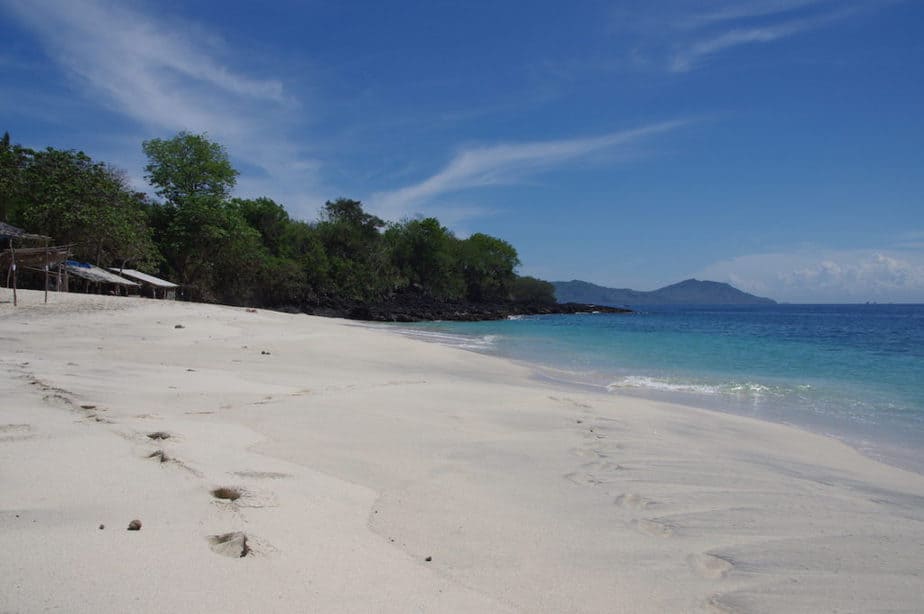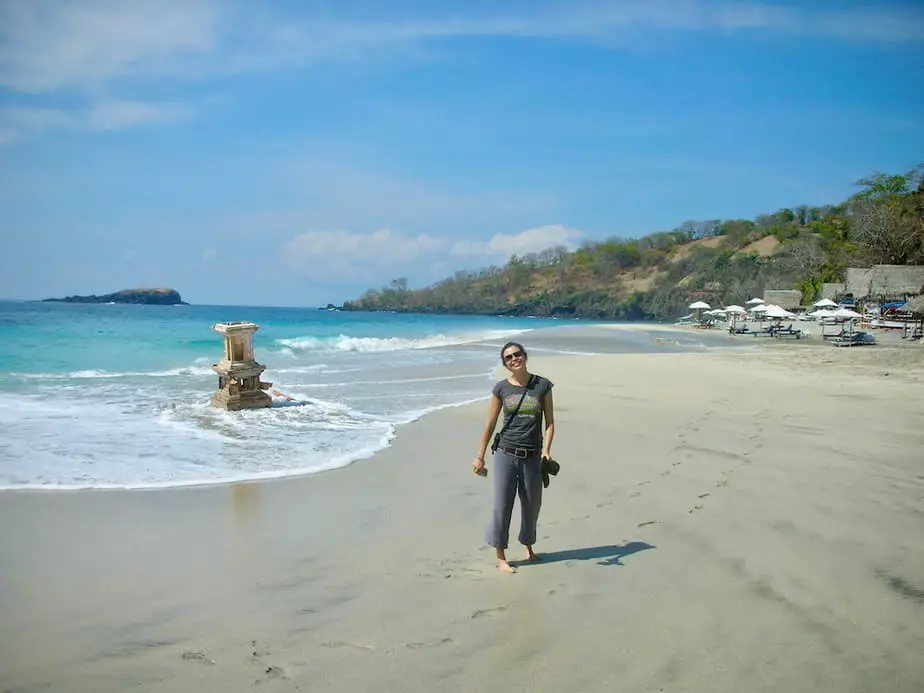 In Padangbai you can visit the village beach or the nearby beaches called Bias Tugal and Blue Lagoon. One you shouldn't miss.
If you decide to go to Candidasa then drive a bit further east and search for the White Sand Beach-sign also called Virgin Beach or Pasir Putih Beach.
Have lunch at Padangbai beach or in Candidasa before heading back to Sidemen. You can take the scenic route again or drive along the main road back.
Afternoon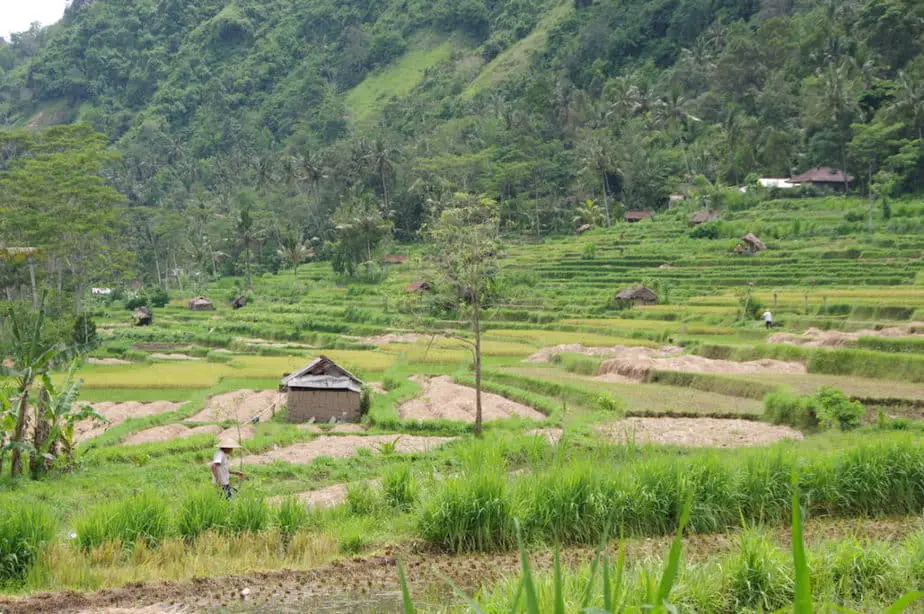 Sidemen and the many other neighboring villages are located in a valley. There is a road that takes you all around. This route is not accessible by car and it is best to do it by motorbike as it is too long to walk.
The Sidemen loop route takes you along the rice fields and uphill from where you have a first-class view of the valley. If you are lucky enough Gunung Agung will appear through the clouds.
But if you prefer to relax you can also have a massage or enjoy some time at the pool.
Day 3 Hike through Sidemen – Airport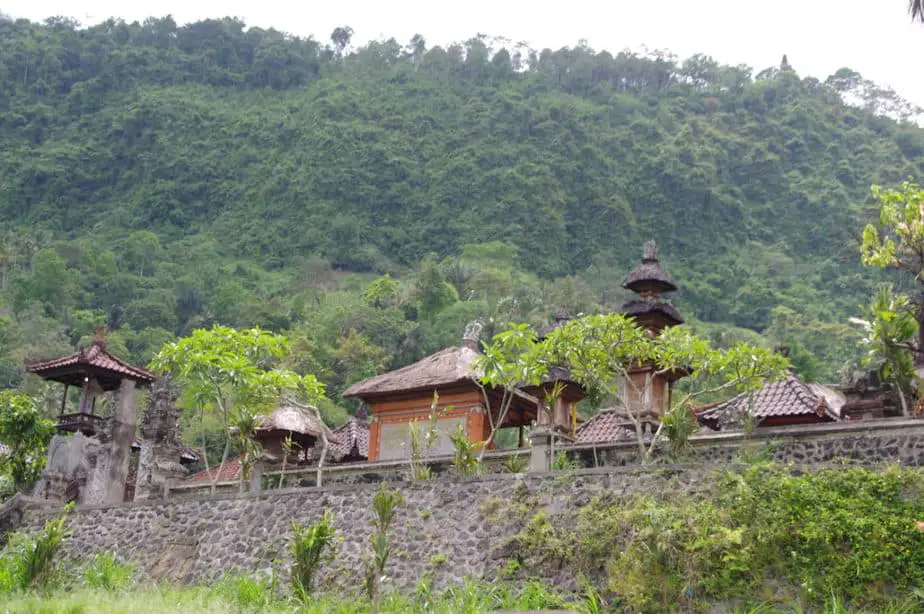 Sidemen is the ideal place to go for hikes. Don't worry, you don't have to be fit to do one. A local guide can offer you all types of hikes that will take you through the rice fields, along rivers, and Balinese villages.
In the past, we were always very happy to explore the area by ourselves. But we soon realized that with a local guide you will see and learn more.
They will of course take you to places you would not think of going. Make sure the guide or your accommodation can prepare some delicious lunch for you to take with you.
Once back it's time to pack and head to the airport. Hopefully this little get-away will have you refreshed and full-filled.
Tips for this Bali itinerary: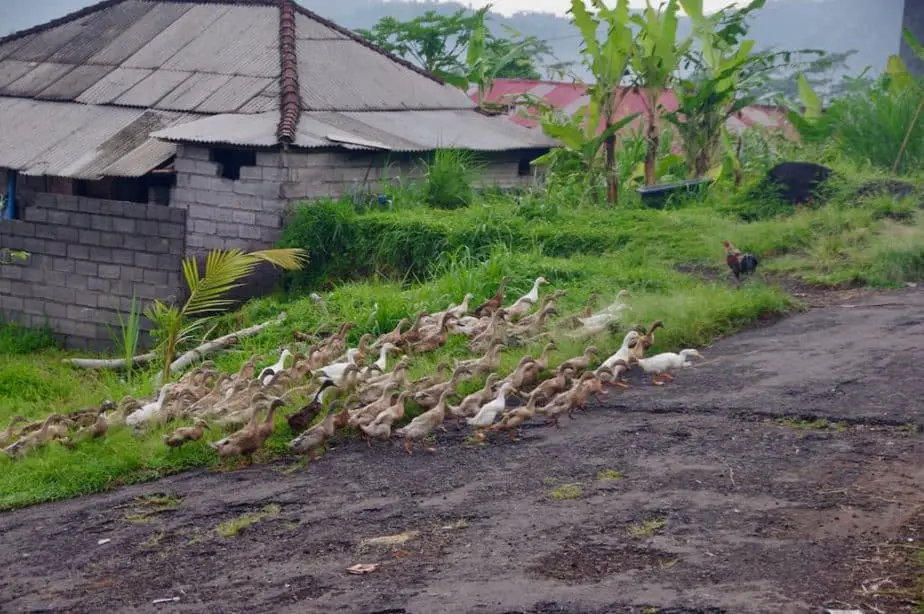 You can switch day 2 and day 3-morning itinerary too if you prefer to explore Sidemen first
Best to arrange all transportation through your accommodation. Pick up and drop off at the airport is more comfortable. Especially if you arrive in the evening. The driver knows where to go. Rent the motorbike at the accommodation as well, so you don't have to walk through town to pick it up and to return it.
If your flight leaves on a Sunday make sure you head to the airport on time. The traffic around the Sanur area is a nightmare on Sunday afternoon
Don't expect to do any shopping here. This area doesn't have boutiques or other souvenir stores. Padangbai and Candidasa have a minimal selection when you really want to bring something home.
Local guides can also be arranged through your accommodation. Let them know upon check-in that you want one. That gives them enough time to find a good guide and inform you about the type of hikes he offers.
Sidemen is by far one of our favorite places on the island and we always go back to this charming village.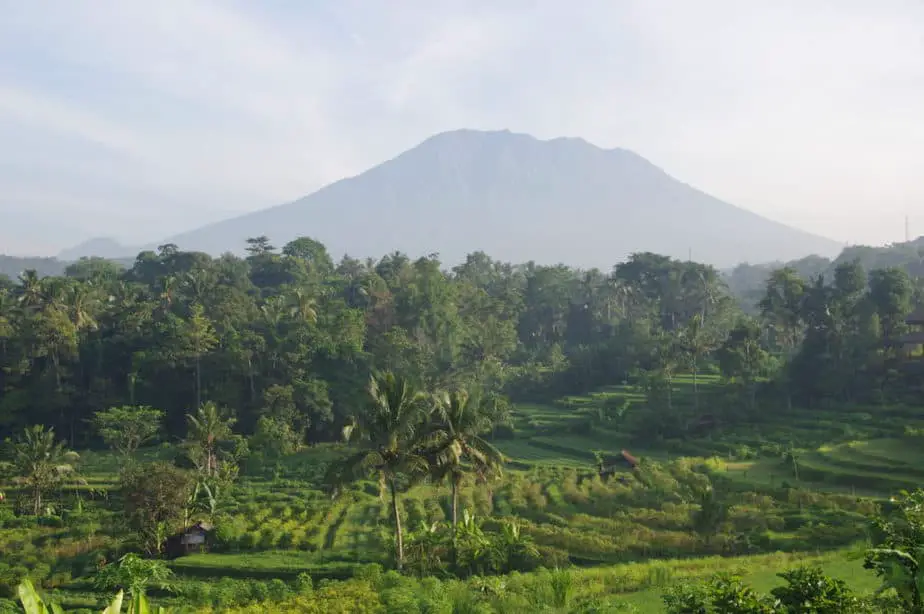 Option 2 – Batukaru mountain, forests, and rice fields
3 nights Batukaru – hikes through the forest, villages, and ricefields, activities at the resort
Day 1 Denpasar Airport – Batukaru
Since the eco-accommodation in the Batukaru area are remote, it is wise to arrange a driver to pick you up. Try to arrive early. The road up the mountains can get pretty dark.
Once you arrive then you can fully enjoy the natural surroundings and great views from the accommodation.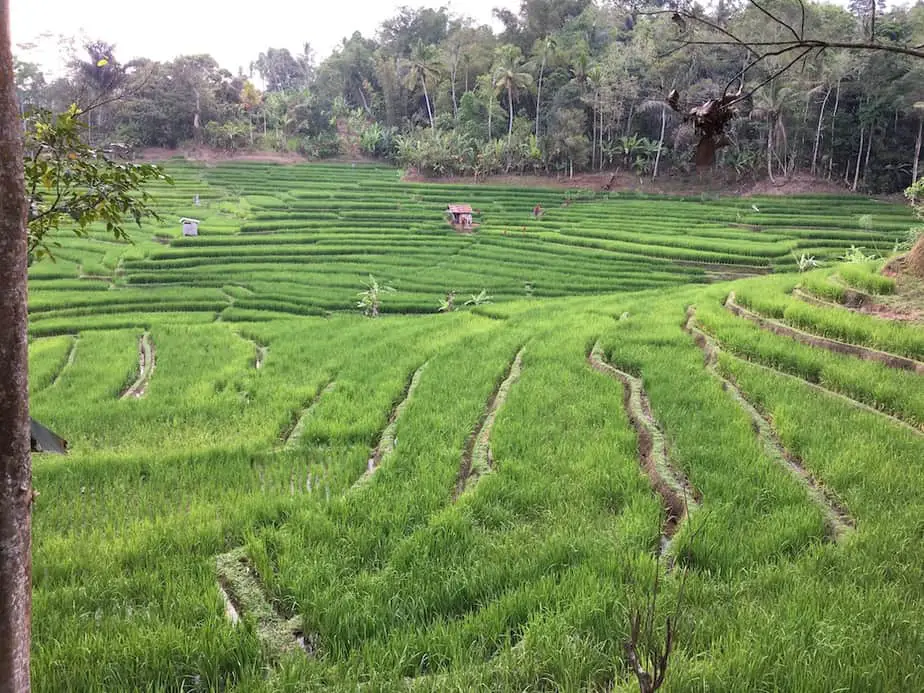 Day 2 Hiking with local guide
The great thing about staying at one of the eco-accommodations in Batukaru is that they can arrange a local guide to take you around. Local guides know where the best place is to wander through the forest, jump in freshwater pools, and stroll through the rice fields.
The accommodation will arrange organic snacks and lunch for you to take with you along the way.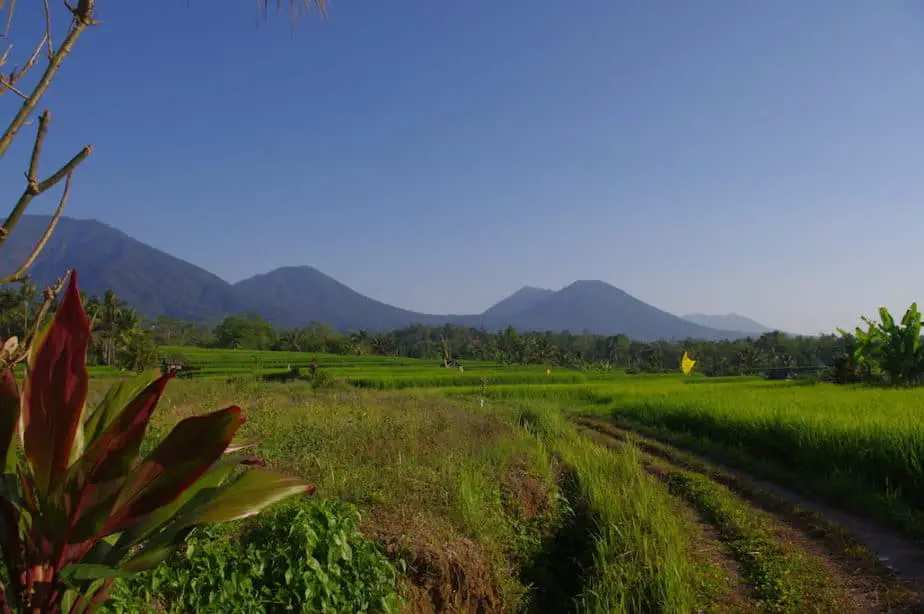 If you decide not to hike all day, then there are many activities in the resort that will fill up your afternoon.
Most accommodations offer cooking classes with ingredients from their organic garden. You can also opt for yoga or meditation sessions. Massage is also never a bad idea to add to your afternoon itinerary.
Day 3 Jatiluwih Ricefields – Airport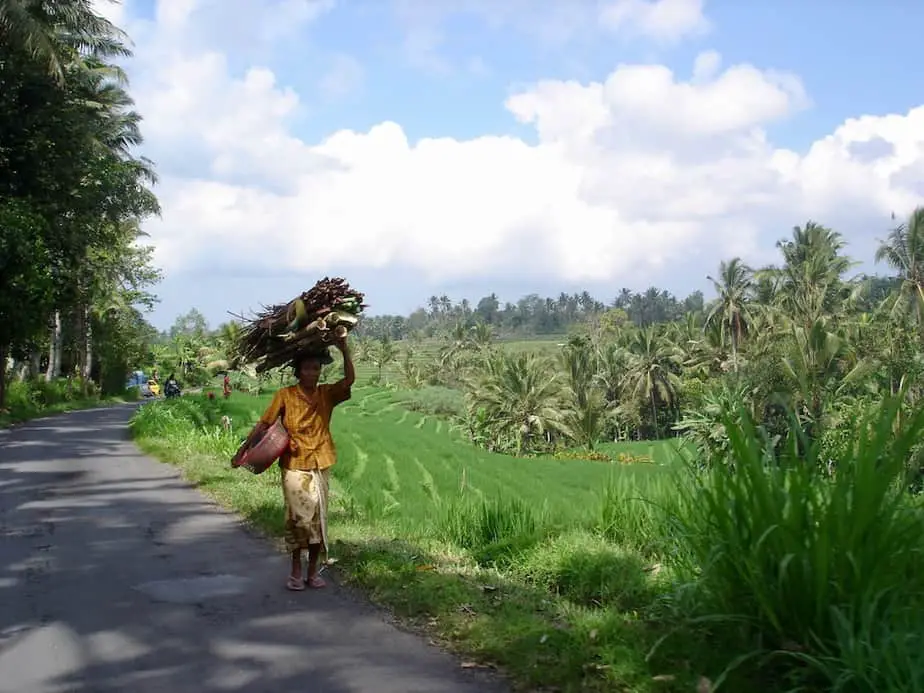 The UNESCO world heritage site of Jatiluwih is located east of Batukaru. The morning gives you the perfect opportunity to drive through this mountainous area towards the famous rice fields.
If you want to go independently then we suggest arranging a motorbike. The trip to Jatiluwih is one that shouldn't be missed.
Another option is going on an organized bike tour. The Green Bikes Bali even has e-bikes, to make it more comfortable. They offer 1 to several hour tours around Jatiluwih and the price includes pickup service.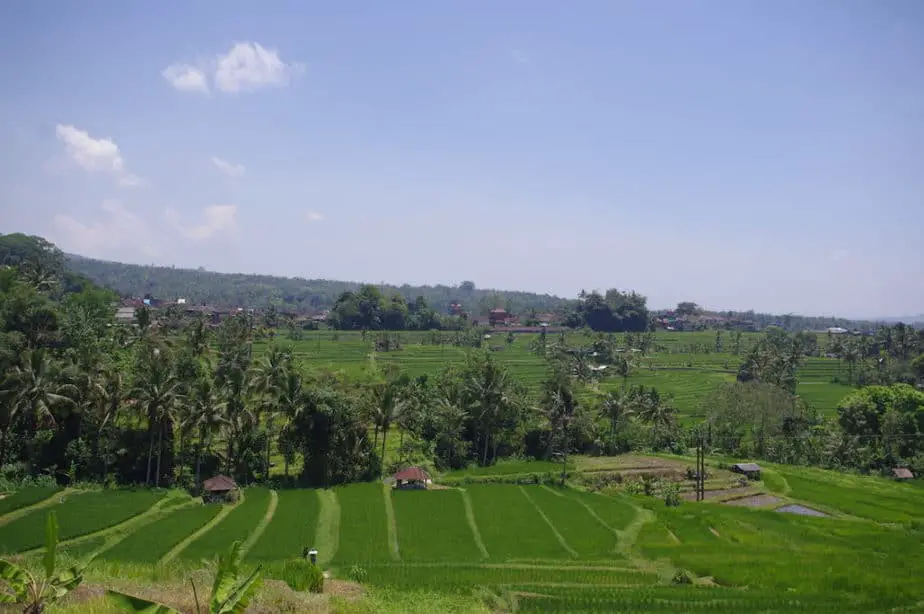 In the afternoon it is time to head back to the airport or to continue your journey. This eco-experience is a great example that sustainable tourism is a perfect way to spend a weekend in Bali.
Tips for the Bali itinerary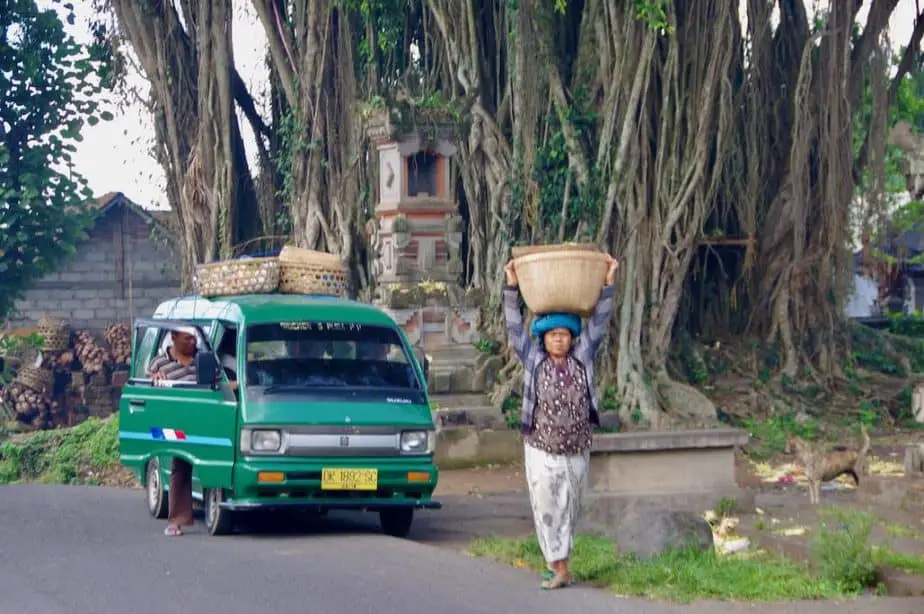 Some eco accommodations have 3 nights packages where everything is included. Sarinbuana has various ones such as 'walking package', 'romantic package' and 'family package'.
The accommodation you choose will pretty much determine your 3 day trip to Bali. So check them out thoroughly. Have a look at the activities they offer and the other facilities on the resort.
If you are into yoga then there are places that are more specialized than others. Same for organic gardening and cultural activities.
Check the location of the accommodation (east or west side of Mount Batukaru). If it is located on the east side, then the trip to Jatiluwih might take longer.
Communicate with your accommodation on what you wish to do. Your stay will be short, so you don't want to miss out on something you hoped to do.
Check the road conditions during the rainy season. You don't want to miss your flight because of a road being unaccessible.
Don't feel guilty if you decide to do nothing at all once you arrive at your accommodation. Some places in Batukaru are very hard to leave.
We have fallen in love with Batukaru, haven't seen everything yet but will keep you posted in the future.
1-week Bali itinerary
3 nights Jimbaran
2 nights Ubud
2 nights Munduk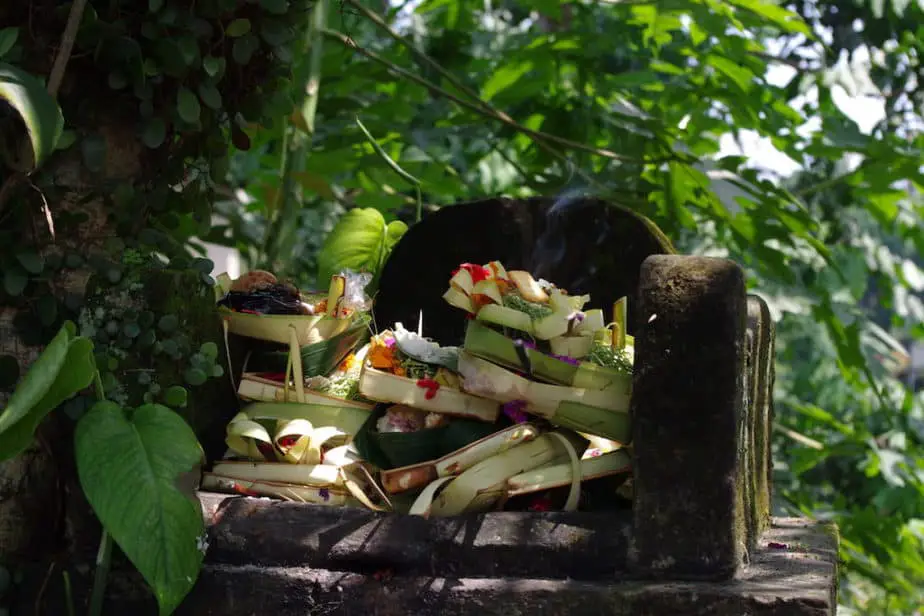 One week is actually the minimum length of stay you will need to experience the diversity of Bali. This itinerary will take you to the beaches, mountains and will introduce you to the Balinese culture. Basically, you'll get to see most of the highlights.
Day 1 Denpasar Airport – Jimbaran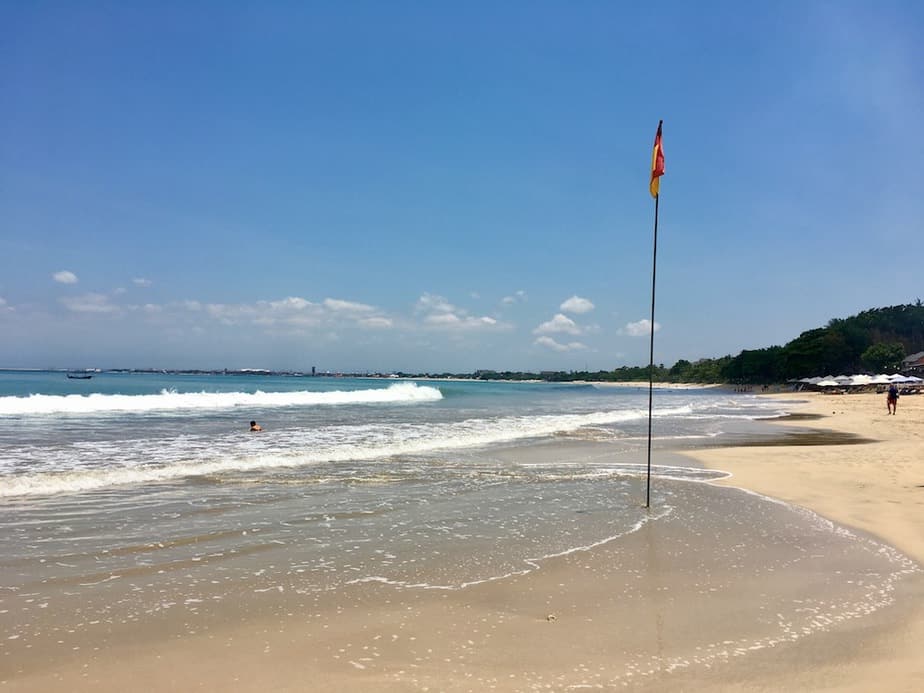 Jimbaran village is located right next to the airport, so once you arrive you will be at your accommodation in no-time.
The beach is a nice place to be after traveling a whole day. You can relax in the shade, go for a long stroll, or just sit at one of the many stalls and drink fresh coconut juice.
Our favorite spot is at the southern part of Jimbaran beach, nearby the Intercontinental. In the late afternoon, it can get busier at the beach. Many come for the amazing sunset, others for the fresh grilled seafood.
Day 2 Jimbaran beach and visit another beach
Morning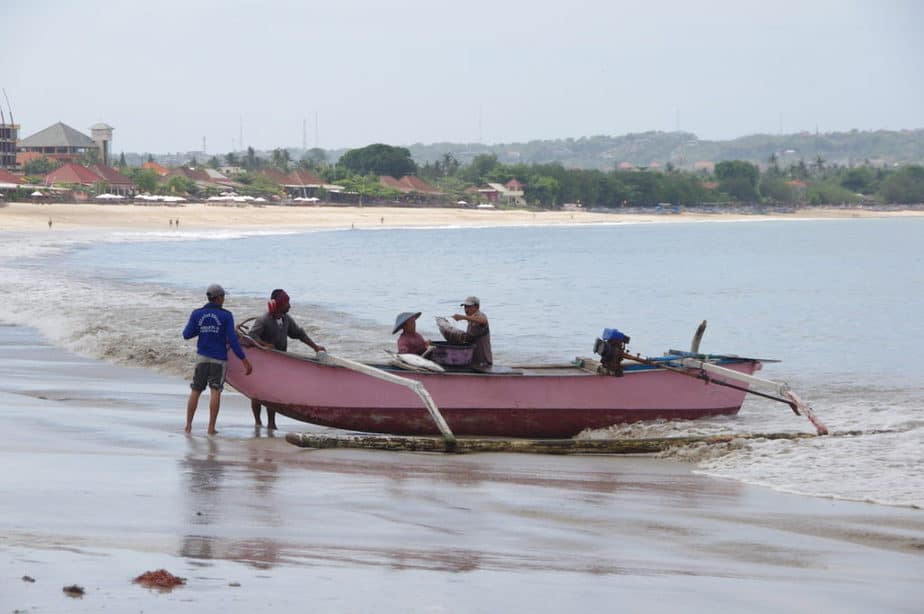 If you wake up early then you should try to visit the Jimbaran fish market. Funny enough, we don't really like the fish market itself. Instead, we always go to see the fish getting offloaded from the boats.
Feel like taking it slow? Take it easy in the morning and then head to Jimbaran beach. We love this beach in the morning. The ocean has this beautiful color because of the bright sun.
At the same time, there is also enough shade from the trees along the beach, making it ideal to spend the morning there.
Afternoon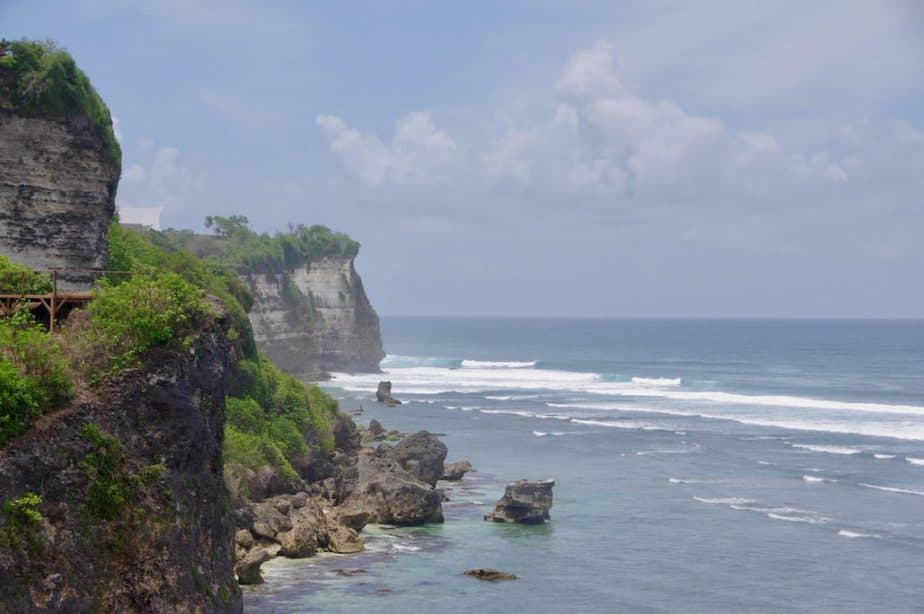 Rent a motorbike along the main street of Jimbaran. Uber is banned from this area. So you need to take a motorbike to tour around.
Once you have your own wheels head towards the Bukit area. This area of Bali is known for its cliffs and surfing beaches. It is tempting to try to see as much as possible. Unfortunately, traffic can get crazy here so you might want to explore just two sights.
We highly recommend Balangan beach, Uluwatu Beach or Bingin Beach.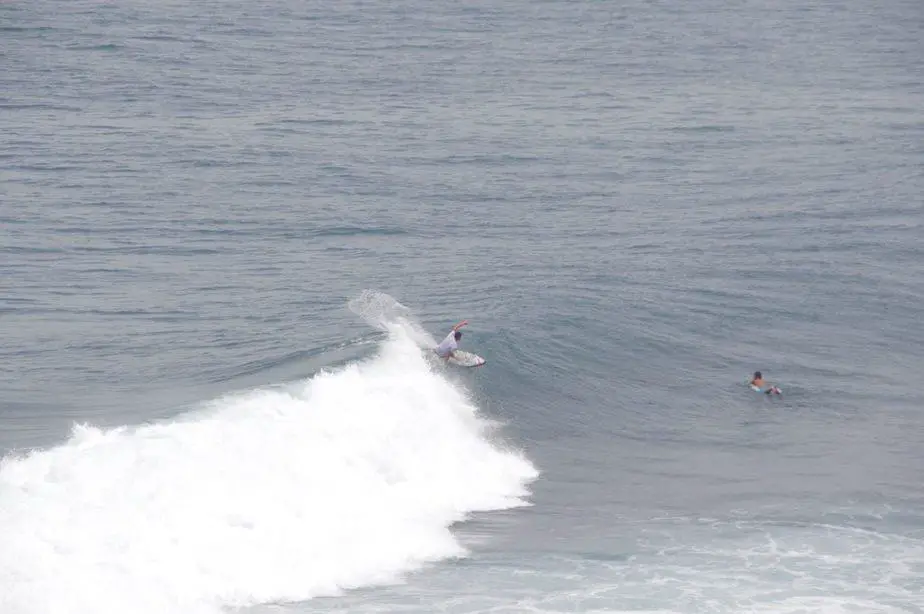 Make sure you get back before it gets too dark. In this part of Bali, there isn't much light on the roads.
Day 3 Jimbaran – Ubud, explore the village and nearby hamlets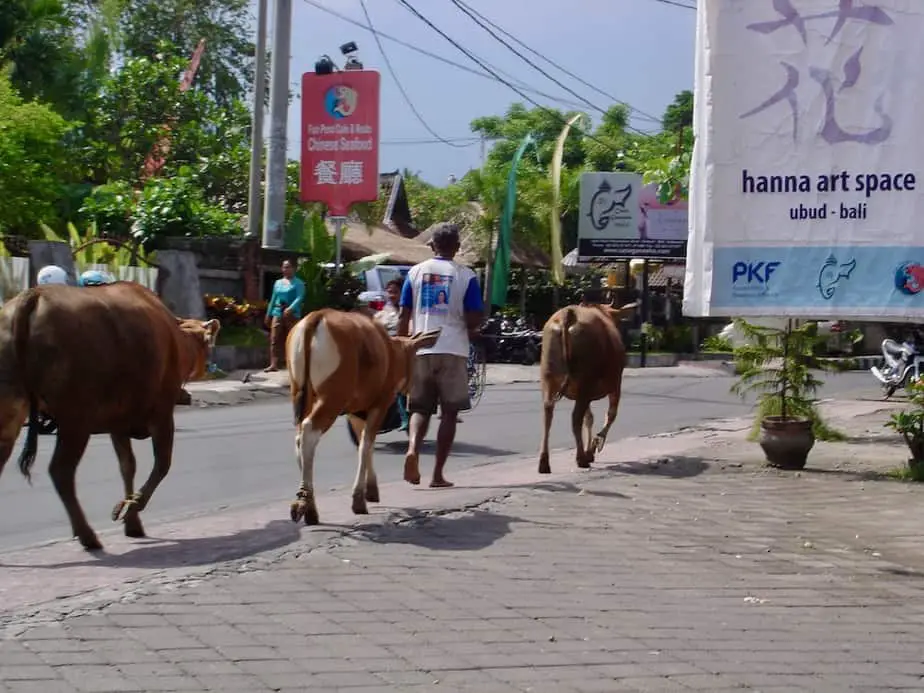 It's time to pack the bags and head to Ubud. We have created a wonderful 1-day visit itinerary for Ubud. This itinerary starts early in the morning. So best to skip the morning market and the monkey forest. You can consider visiting these sights the next morning.
For now, you can go and explore Ubud village. Just wander along the main road such as Monkey Forest Road and Jalan Hanoman to get a good impression.
A short rice field walk is also something you shouldn't miss. This is ideally done in the afternoon.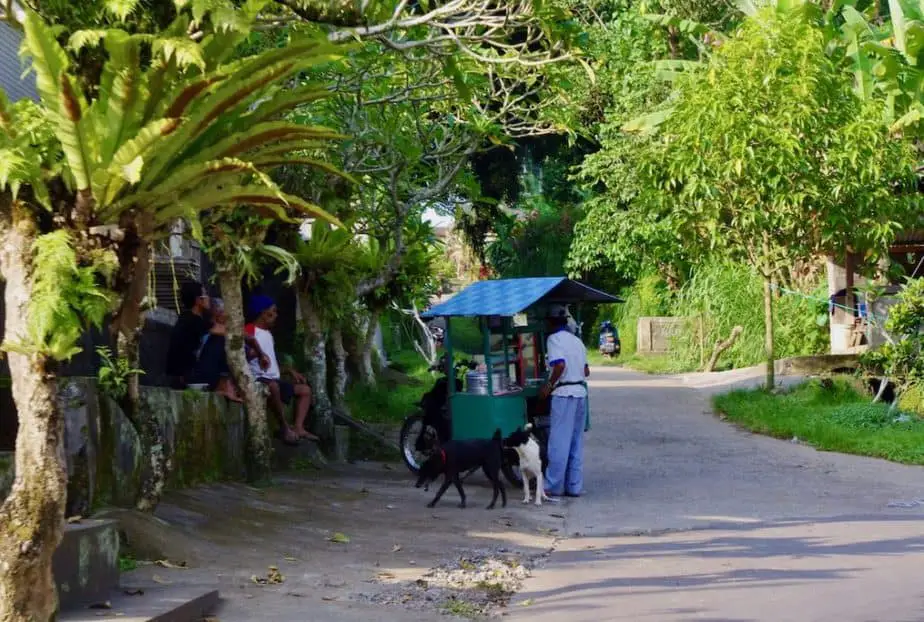 If you have arranged a bike then there is more to see. Drive through town and try to take the roads that lead you to neighbor hamlets such as Campuhan and Penestenan.
If time permits you can visit the Tegalalang ricefields or see the Herons fly in for the night at Petulu village.
In the evening go to a dance performance. A spa is of course always a good option at the end of the day too.
Day 4 Ubud – Morning Market & Sights around Ubud or Downhill Mountain Biking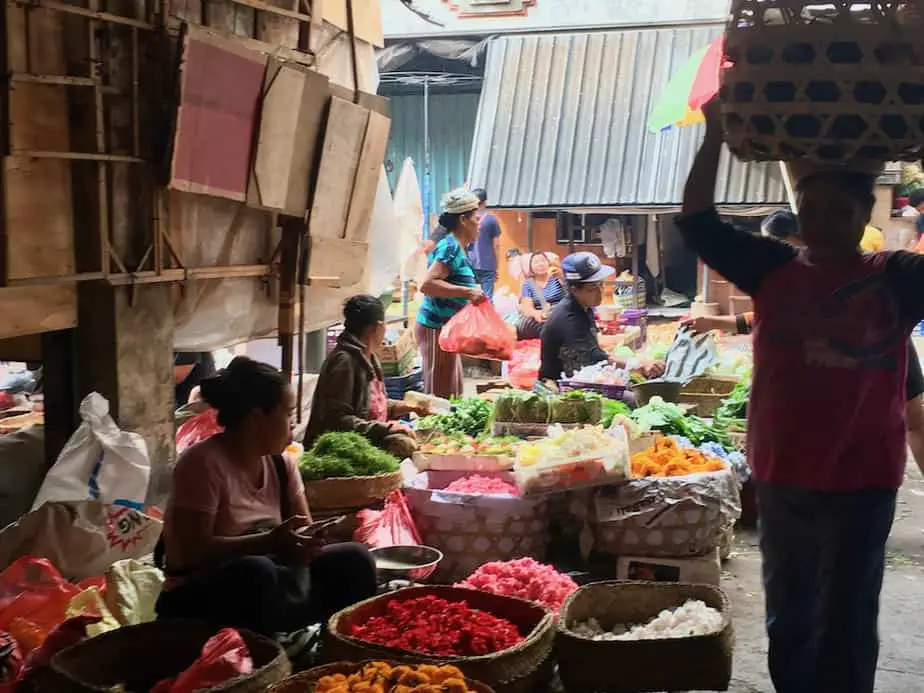 Start the morning early. Before breakfast is served at your accommodation, head to the main market in Ubud. This morning market is a wonderful place to see the Balinese sell all kinds of goods. It's a colorful and lively place to witness.
After breakfast hop on the motorbike or jump into a car with your driver to go for some exploring. Ubud is ideally located in the center of the island. This makes it a perfect starting point to see impressive stuff without being on the road too much.
Since there is so much to see, it can get pretty difficult to decide what you want to add to your day trip. We have created a wonderful day trip along with ancient temples to Lake Batur. Check out our "#1 Daytrip" to see what you'll find on this route.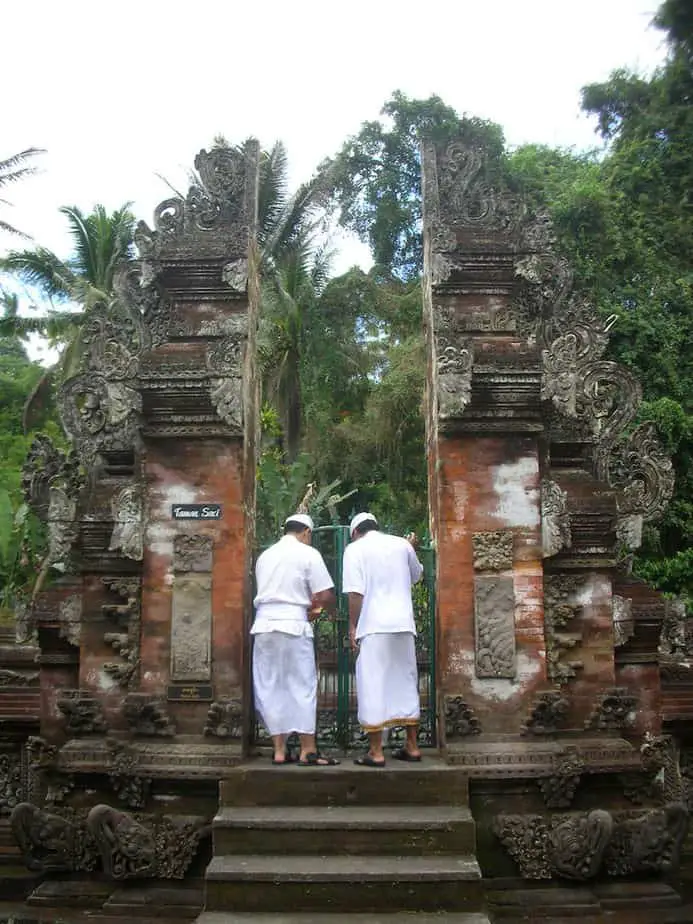 Another terrific option is to skip all the above and join a downhill mountain bike tour. These tours will take you to Lake Batur from where you will zigzag through villages and the Balinese countryside. It is a fun and active way to see a lot of the island.
You can then visit the market in the late afternoon.
For both options, make sure you arrange a nice massage at one of the many spas in town. Or if you haven't seen a dance performance yet, get a ticket at one of the many sellers in town.
Day 5 Ubud – Munduk via Jatiluwih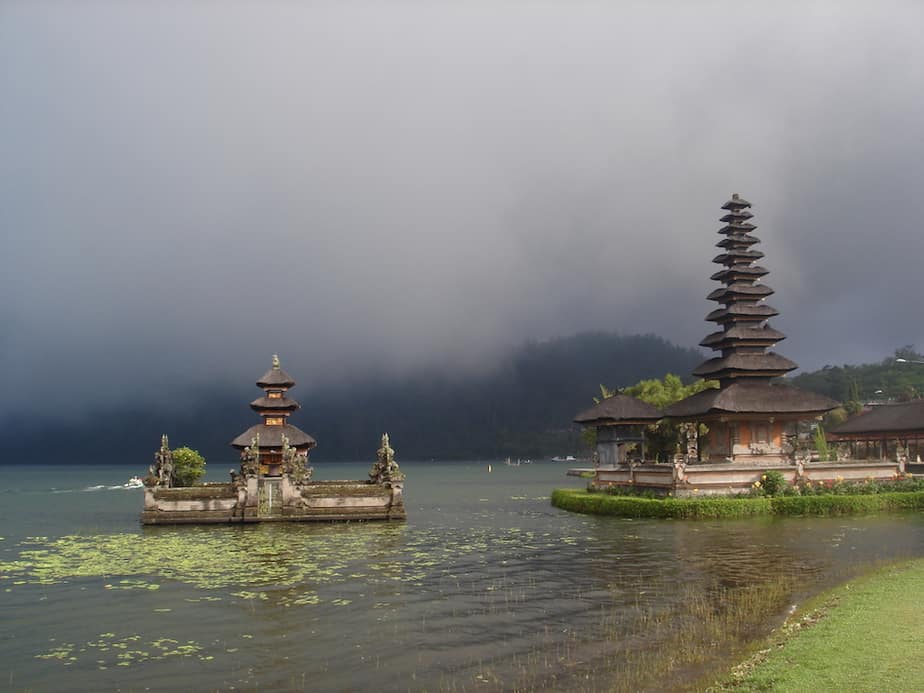 Time to head north towards the mountains. To make the trip to Munduk more worthwhile, try to arrange a guided driver for a whole day. One who doesn't mind making a couple of stops along the way.
We highly recommend taking the route to Pura Kehen (also known as Mengwi Temple) in Mengwi, then making a stop at the famous Jatiluwih rice fields. From there on drive along Lake Bratan and visit the Ulun Danu Beratan Temple.
Munduk isn't far away from here. You will be arriving in the late afternoon.
Day 6 Munduk hiking waterfalls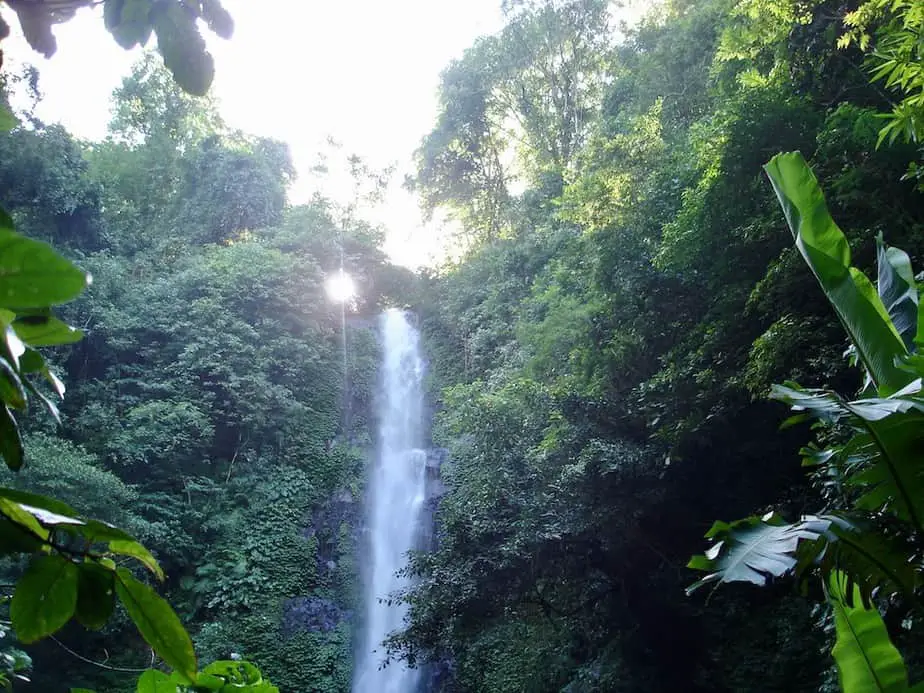 There are so many things to do in Munduk. Nature lovers will love hiking around the area searching for waterfalls. You can hike around independently. Some are even accessible by motorbike, so you can go straight for the pools.
Local guides are also happy to take you around. They can tell you a lot about Munduk but also about Bali itself. Your accommodation is able to arrange one. Most of them are English speaking guides.
If you prefer to see more of Bali then you can skip the waterfalls. Instead, you can jump on a motorbike and head towards North Bali. Stop at Lovina beach before continuing the route.
Day 7 Munduk – Denpasar Airport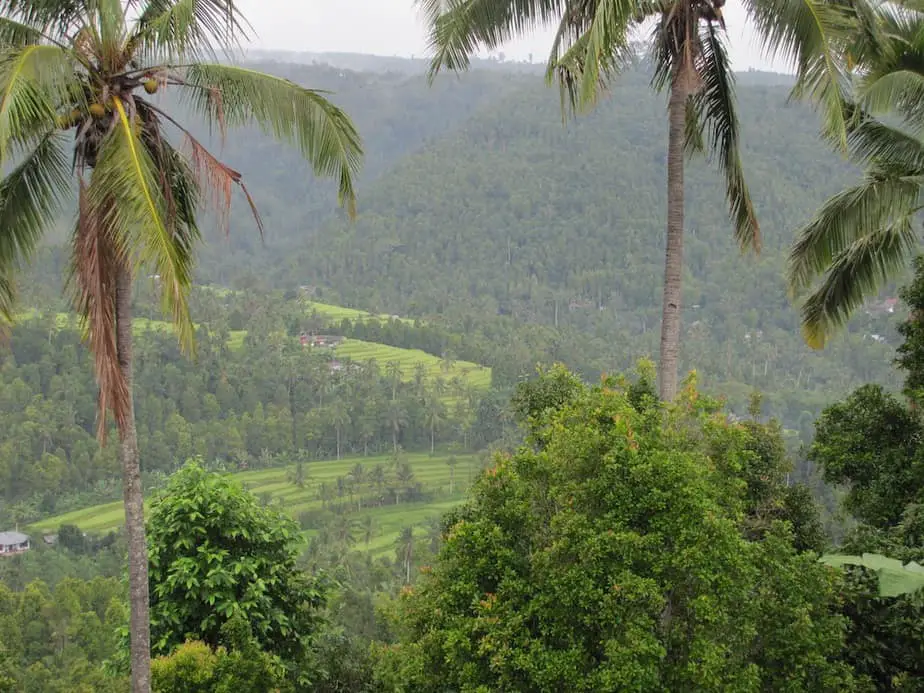 After breakfast, you can hop on your motorbike or go for a stroll to the ricefields of Munduk. The loop route starts at Meme Surung Guesthouse. From here you can walk through the rice fields.
There are nice accommodations and little warungs along the way.
Depending on what time your flight leaves, you can also add a quick visit to a nearby waterfall.
Tips for this itinerary
Instead of Jimbaran, you can also opt to stay at another beach village in the South of Bali. Balangan beach and Bingin beach are nice options. Sanur is also a popular beach village where you can relax before continuing to explore Bali.
Try to arrange the guided activities before leaving for Bali to avoid disappointments.
Arrange drivers in Bali. Drivers taking you from A to B can be arranged at your accommodation or through the Go-jek/Grap App. Drivers for day trips can be arranged in the village itself too.
You can also do this itinerary the other way around. Especially if you want to be near the airport on the day of departure. Once you arrive in Bali head to Munduk, followed by Ubud, and end in Jimbaran.
2-week Bali Itinerary
1 night Sanur
3 nights Sidemen
3 nights Ubud
2 nights Batukaru
2 nights Munduk
2 nights Jimbaran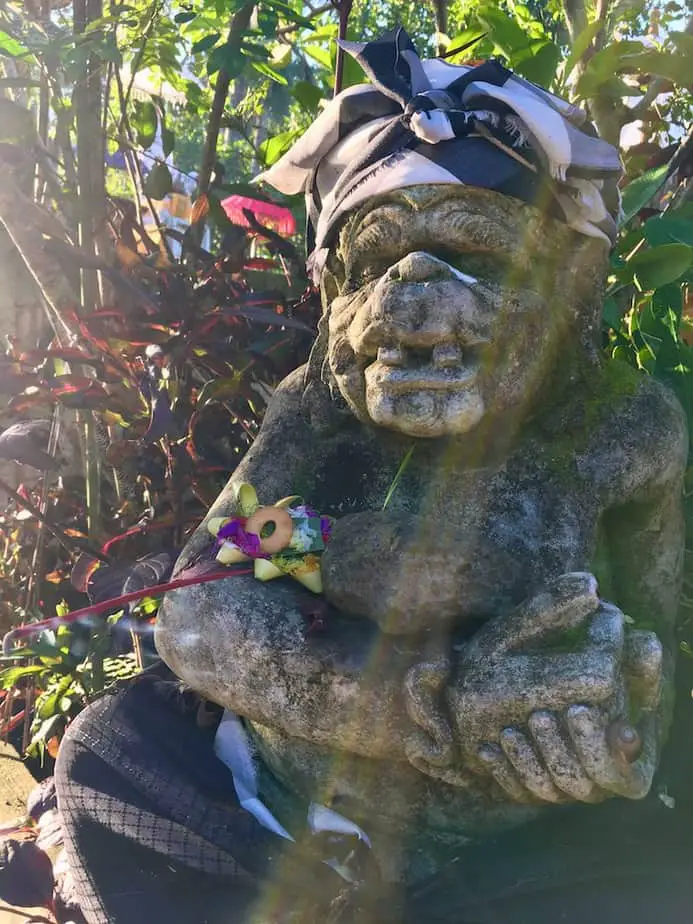 Last year we did a wonderful trip through Bali with our 4-year-old son. It was one of our favorite Bali itineraries we had done so far.
You can plan this itinerary as a family with kids, but it is also great for couples or those traveling solo.
Day 1 Denpasar Airport – Sanur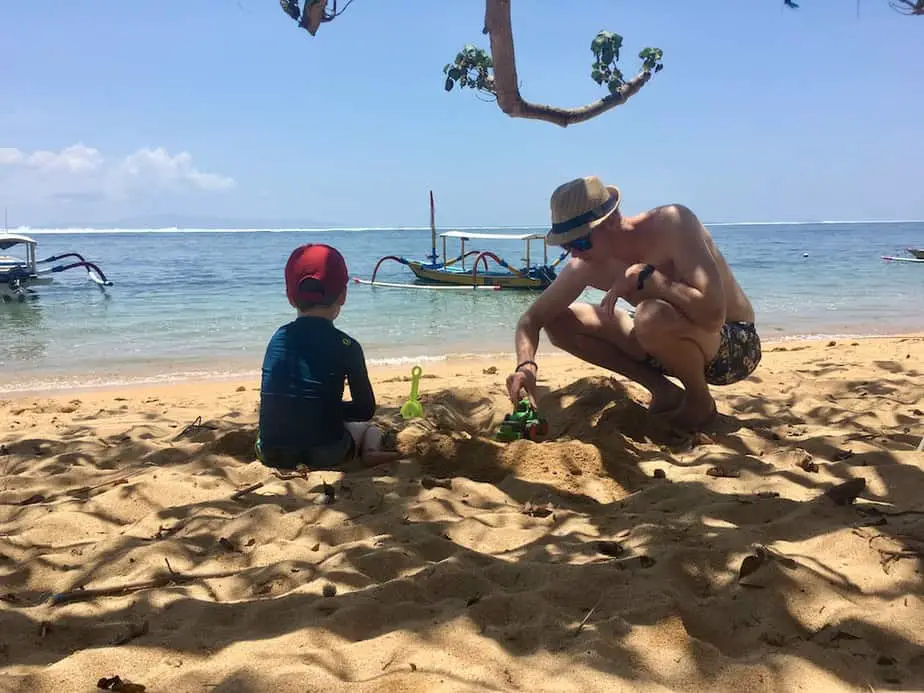 We always made the mistake to head to the hotel after a flight, change our clothes and start exploring. Don't. You will have enough opportunities to do so. Now is the time to relax, and Sanur is the perfect place.
Sanur is a popular village yet it has a quiet atmosphere. After check-in walk along the beach pathway, have a drink at one of the many restaurants and don't forget to go for a refreshing swim.
Day 2 Sanur – Sidemen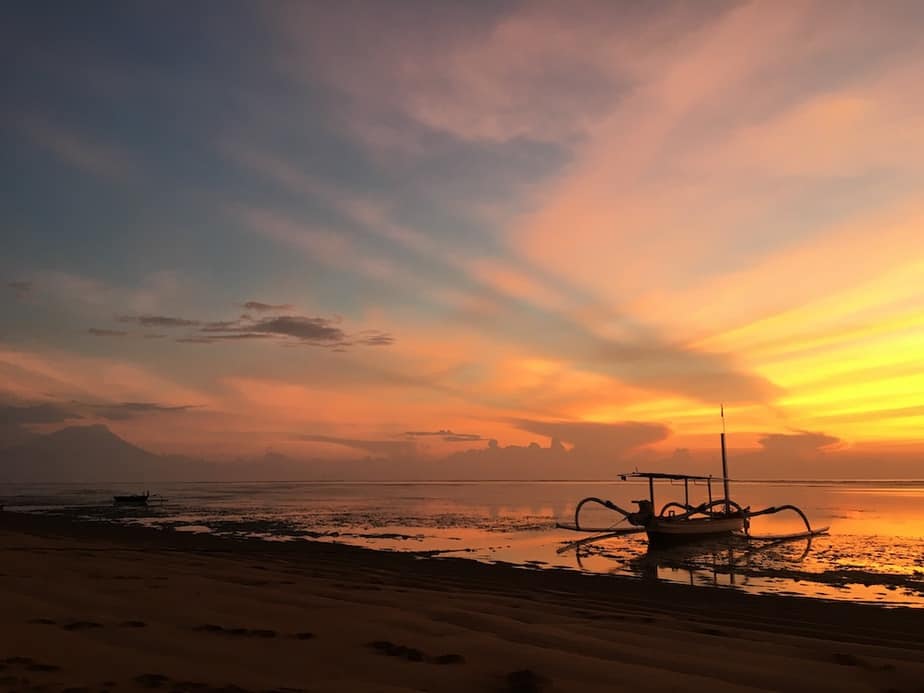 If you have jet lag and you wake up very early don't stay in bed. Instead, head to the beach and make sure you are there around 6.00 am. Sanur is known for its gorgeous sunrises.
After breakfast head back to the beach for a stroll. You can also rent a bicycle for the morning and cycle along the beach walk. It's 5 km long. You can see how diverse Sanur beach actually is.
After lunch have a driver take you to Sidemen.
It might already be getting dark upon arrival in Sidemen. So relax, go for a swim, and head for dinner.
Day 3 Sidemen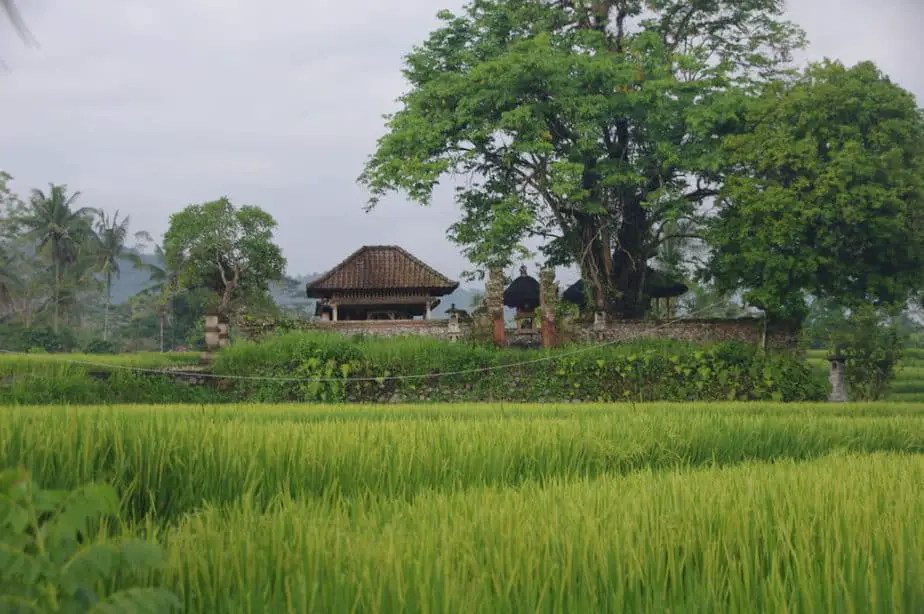 Today is the day to be more active. You can decide how much. Arrange a local guide to take you around the Sidemen area. The advantage of a local guide is that you will help the local community, but also he will know the best paths to go.
Walk through the rice fields, take your shoes off and cross river streams and have a pick-nick in the middle of nowhere.
Once you return, take a rest and enjoy the beautiful Sidemen valley from your verandah.
Day 4 Sidemen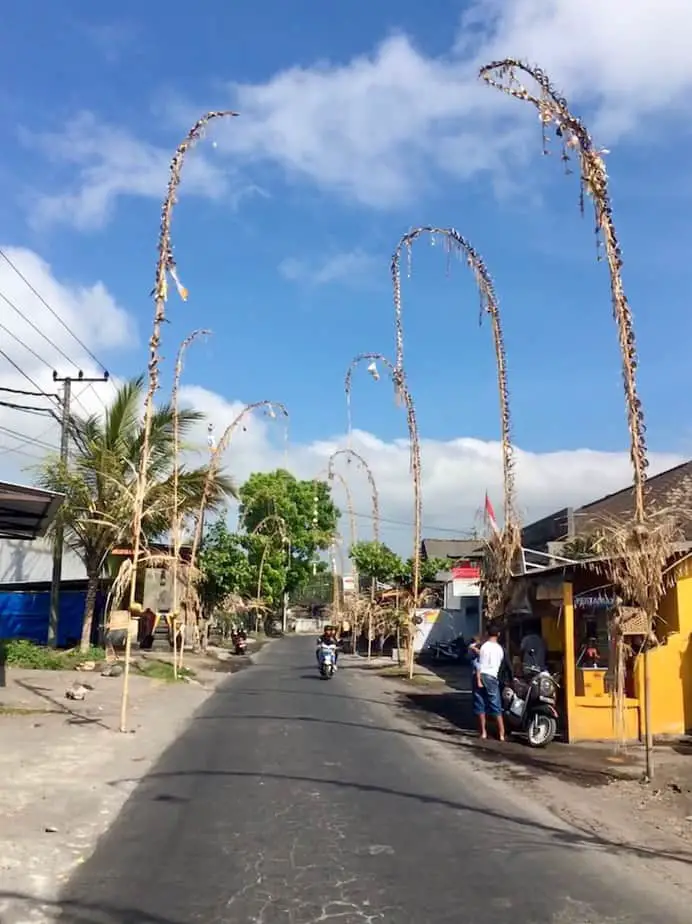 Sidemen is known for its mountains and rice fields. Funny enough, you can also head to the beach from here. It's about a 45-minute drive to get to one.
Morning
So for today rent a motorbike drive via Manggis to Candidasa or Padangbai. Both villages have beaches but we suggest going to one that is located nearby.
Just a couple of 100 meters from Padangbai you have Bias Tugal. This pretty beach has nice soft white sand. If the sun is up, it is the most tropical setting you can imagine.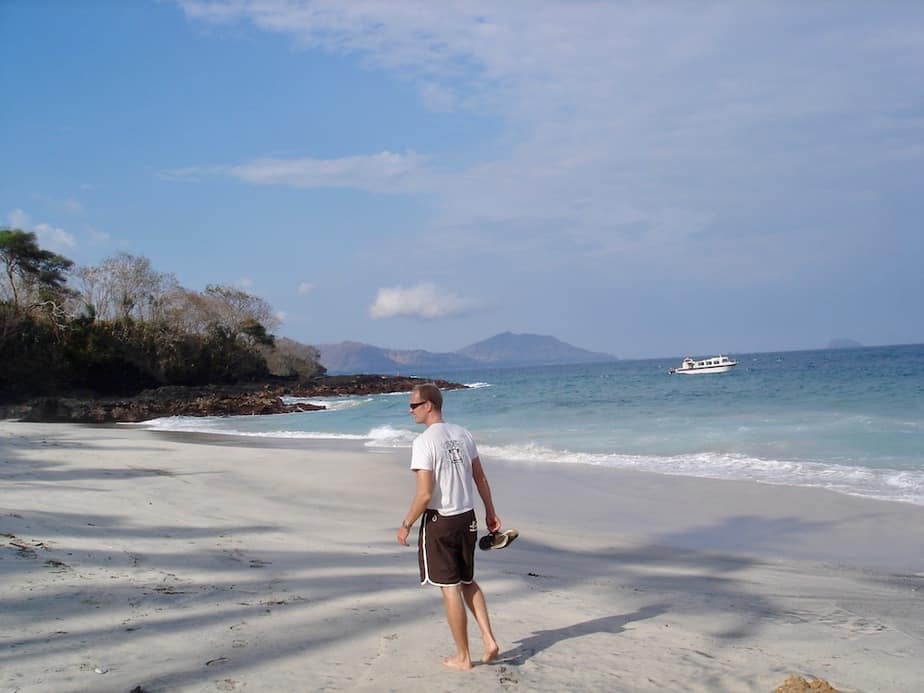 Hang out at this beach for a while, then have lunch at Padangbai before heading back to Sidemen.
If you choose to go to Pasir Putih Beach (White Sand Beach) then drive to Candidasa. From there drive about 10 minutes longer until you see signs to the beach.
The atmosphere at this beach is the same as Bias Tugal. However, it is so beautiful that nearby resorts even offer boat tours to this beach. So expect to see more people here.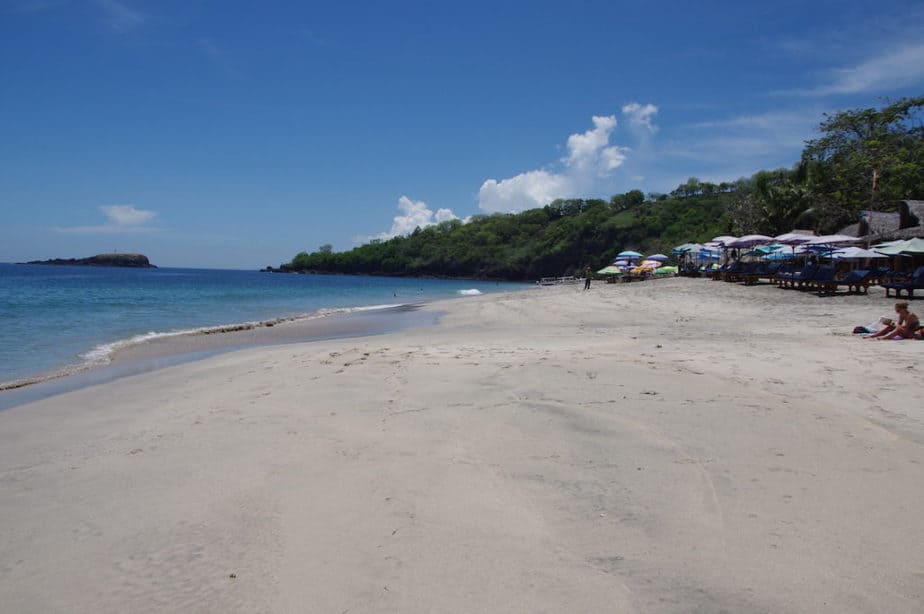 Again, for lunch head to Candidasa where you will find more choices in restaurants.
Afternoon
After lunch take a scenic route back to Sidemen or follow the main road.
Depending on the time and energy you can opt to drive the Sidemen Loop Route by motorbike. The route is a little road that goes around the valley. It's a nice way to see Sidemen one more time.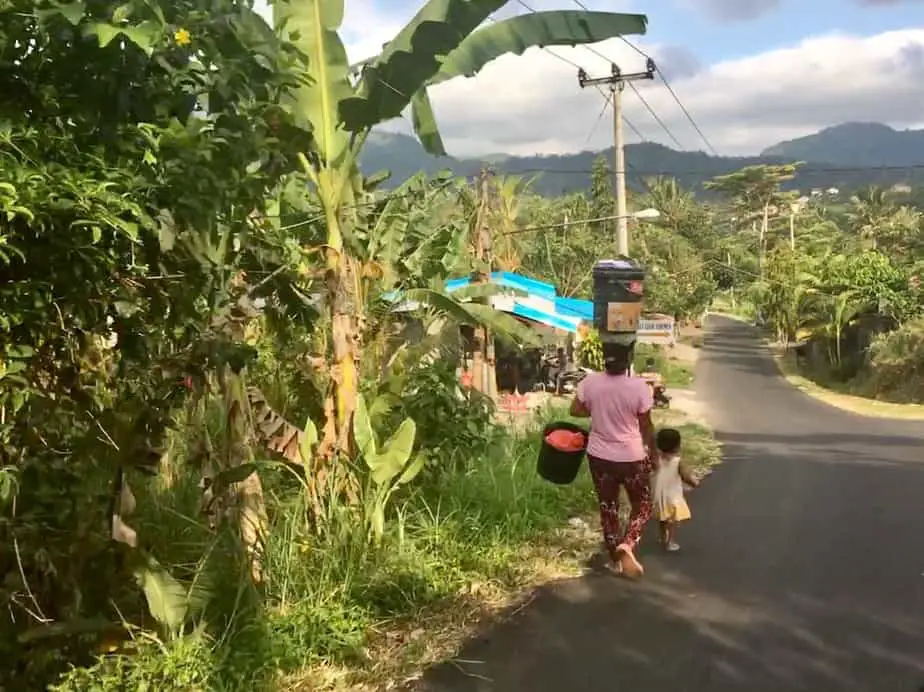 Also, towards the end of the day, the Balinese are also busy with all kinds of chores. You will see them carrying laundry to the river, bathing, guiding ducks back home, or walking to the temple.
Another option is to drive up to Besakih temple. It is quite a trip but if you are in for it, you can do it if you leave around 2 pm.
Day 5 Sidemen – Ubud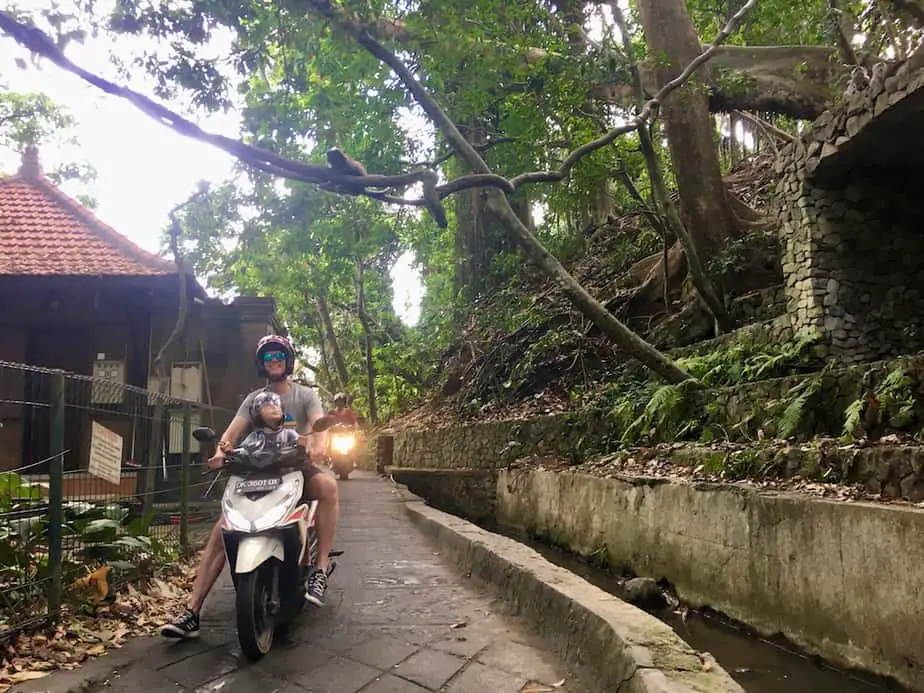 Have a driver take you to Ubud early in the morning. Once you have settled at your accommodation it is best to arrange a motorbike to move around.
Wander around town. It can be busy so brace yourself. If you want to explore some quiet places then head to the neighboring hamlets such as Cumpuhan, Nuyh Kuning, and Penestatan. You can also consider heading to Tegalalang ricefields or visiting a museum.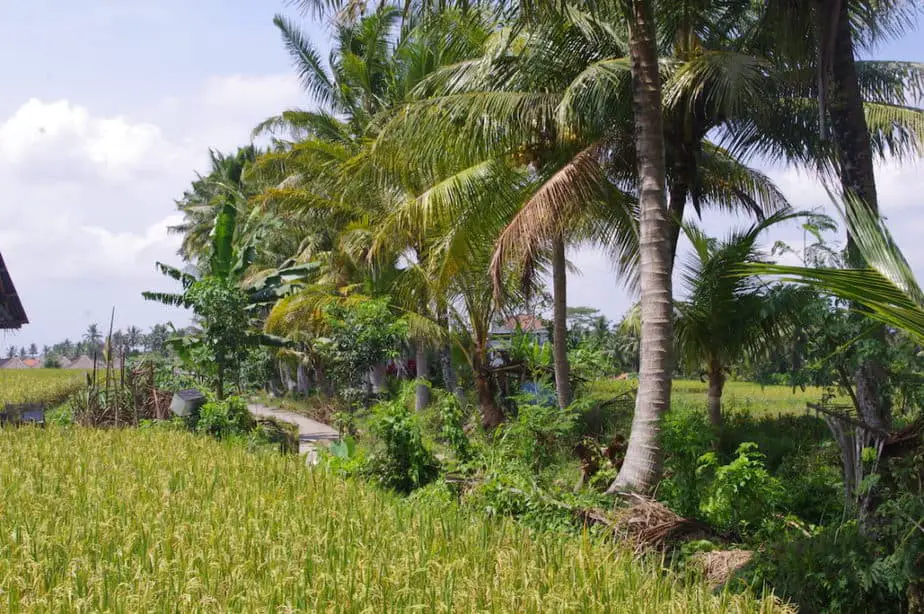 In the evening try to go to a dance performance. In Ubud, they are very professional and you will surely find it unforgettable.
We are going to suggest a spa moment on Day 7. However, we know from many people that they regretted only going to the spa once during their holiday in Bali. You can move the performance to tomorrow, and relax on a massage table this evening.
Day 6 Ubud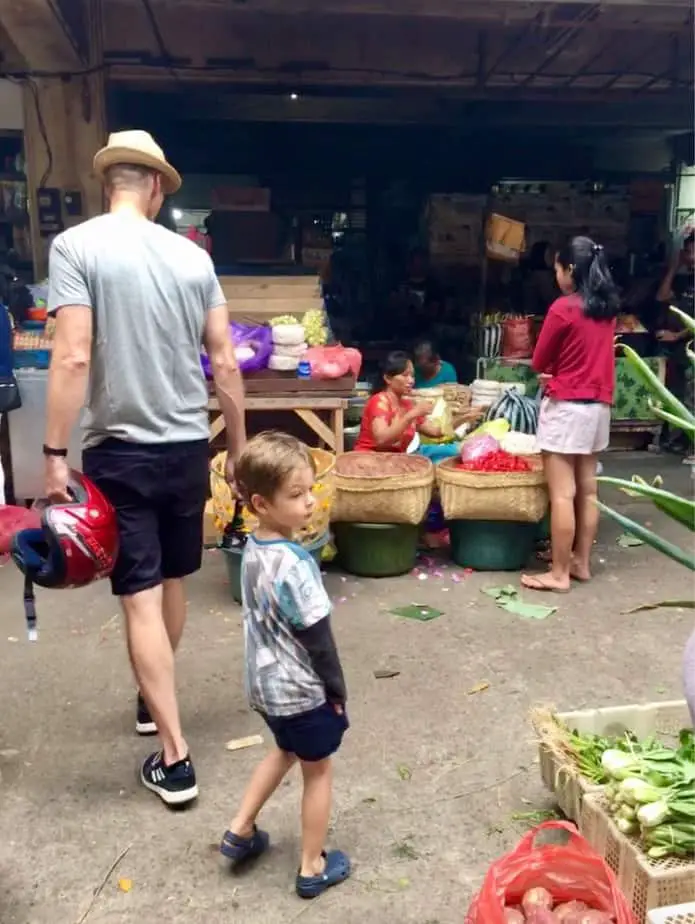 There are a lot of things you can do during a day in Ubud. If you want to see as much as possible without getting too stressed out, then we suggest following our 1-Ubud itinerary. This itinerary includes a short hike through the rice fields.
You don't have to do all of what we suggest in one day. You can pick a few and combine them with something else you can do in town.
Other things you might want to consider is to join a course such as yoga, dancing, or Balinese cooking.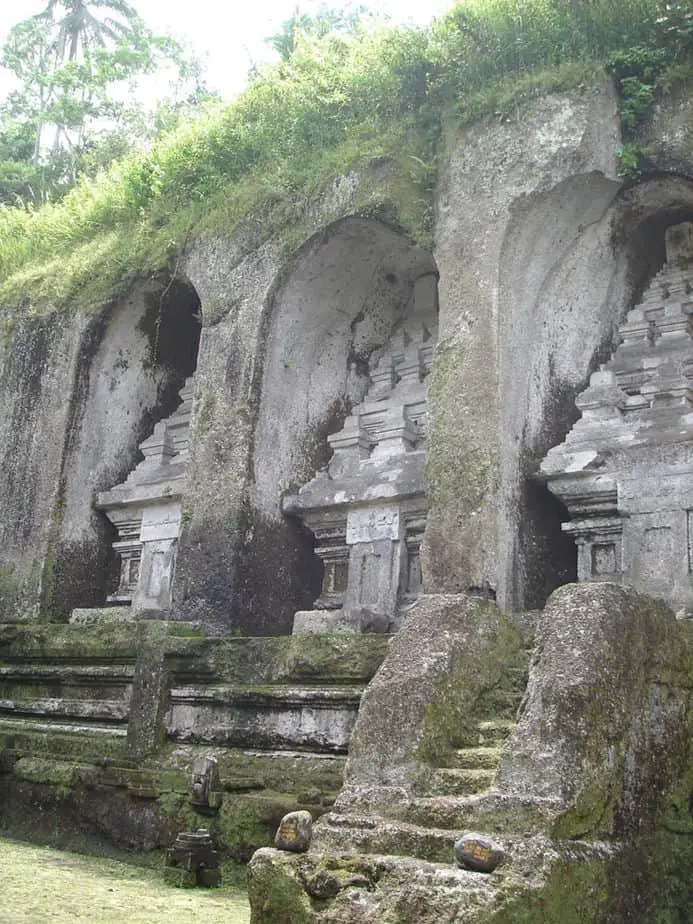 A bird watching tour that starts in the morning is also a wonderful thing to do. Just as white water rafting.
We have planned to go on a tour on day 7. But if you love driving around on the motorbike, it is also an option to visit some nearby sights. Goa Gaja, Gunung Kawi, and Tirta Empul are not far away. You can easily visit them in the afternoon. Just as nearby Tibumana and Kanto Lampo Waterfalls.
In the evening go to a dance performance if you haven't seen one already or try out one of the many innovative restaurants in Ubud. Ubud is known for its culinary treats.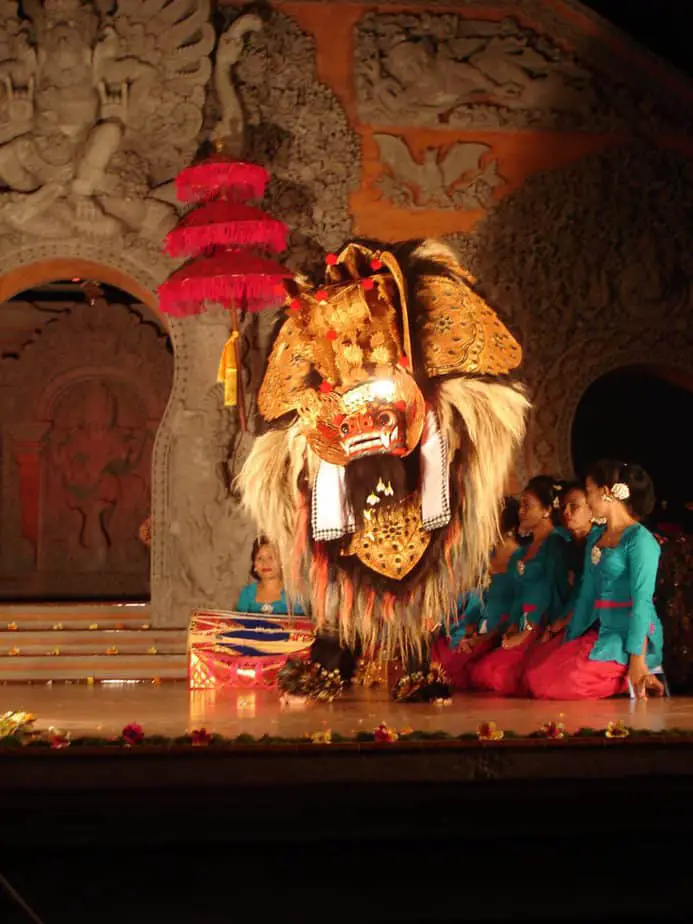 Day 7 Ubud
For this day you have two options. Either go independently sight-seeing by motorbike or go downhill mountain biking with a bike tour. Both are great!
If you choose to go by motorbike then you can follow a route we have created towards Lake Batur. Along the way, you can stop at several ancient temples such a Goa Lawah, Gunung Kawi, or Tirta Empul.
If time permits, you can stop at a waterfall on the way back.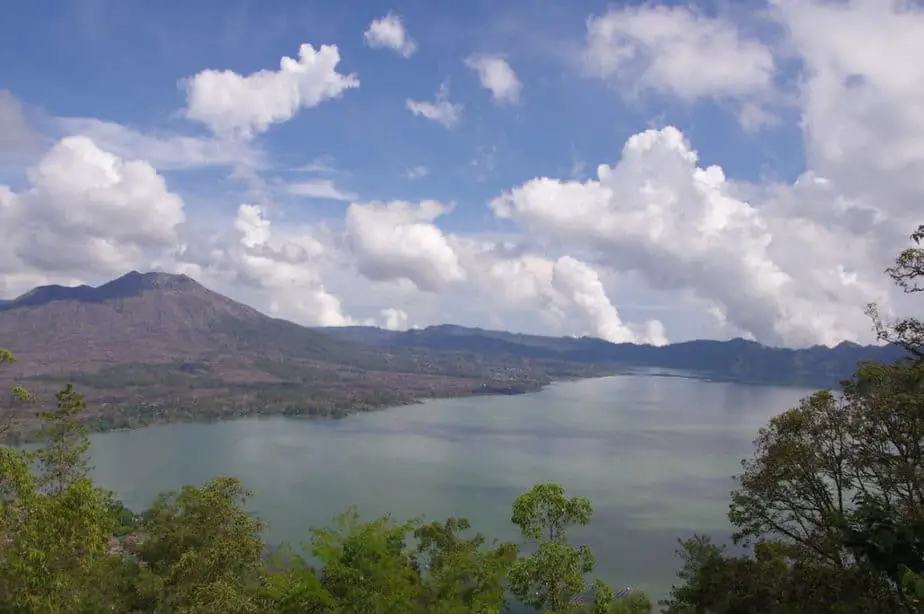 Those considering a mountain bike tour will also head to Lake Batur. From here it is all the way downhill back to Ubud. You will not stop at ancient temples and sights.
Yet you will take a route through little Balinese villages and past rice fields. The guide will take a totally different route than the regular tours.
Both are a wonderful way to explore the areas around Ubud.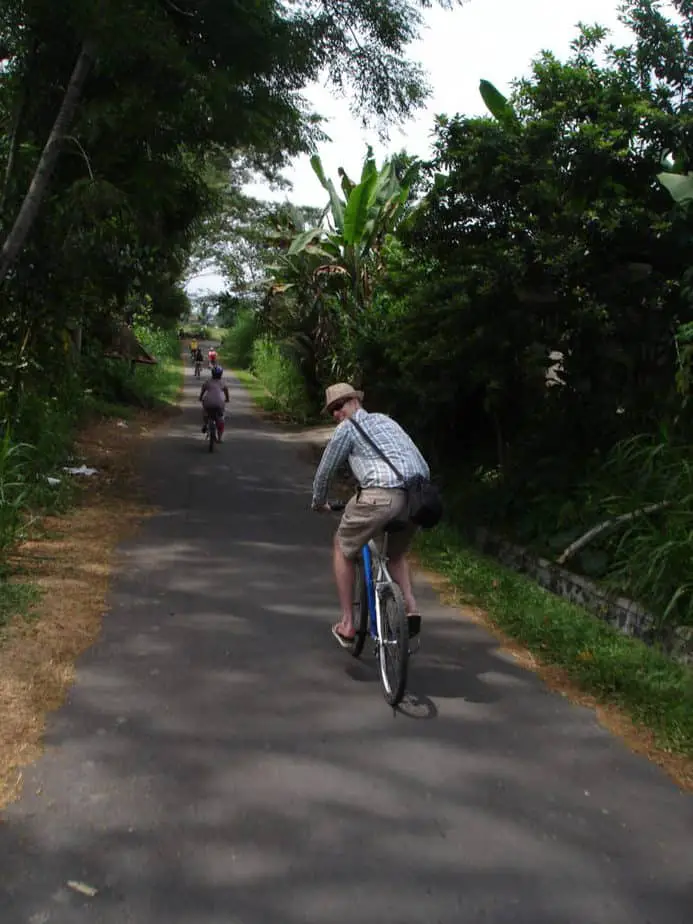 For those who are very active, why not go hiking Mount Batur. There are many tours in Ubud that have various options. You will start early in the morning and arrive back in the afternoon.
No matter how you spent this day, later in the afternoon there is something you must do. Go to the spa for a relaxing traditional Balinese massage.
Day 8 Ubud- Batukaru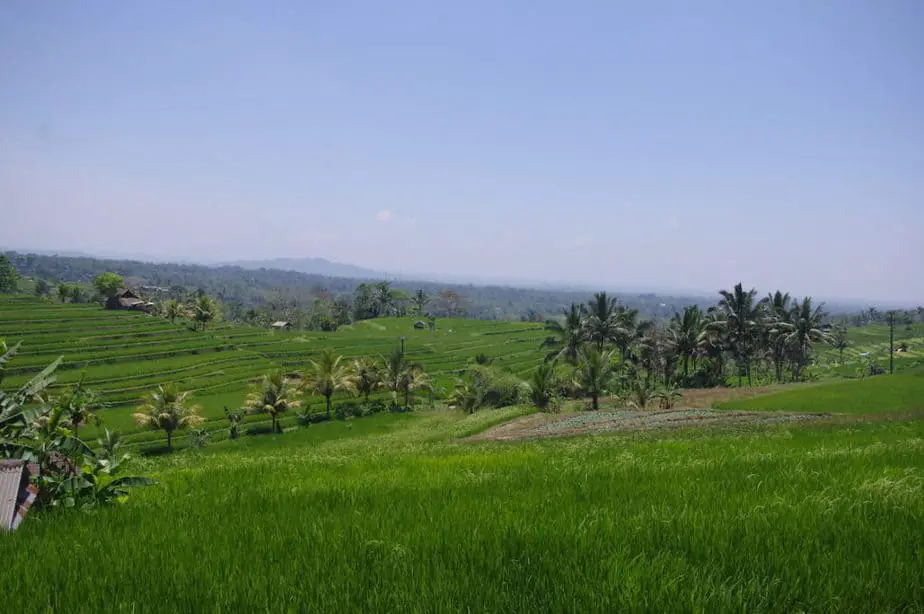 The Batukaru area is known for its many eco accommodations and homestays. They are often surrounded by stunning rice fields and/or forests.
So if you are able to arrange early check-in, try to leave as soon as you can from Ubud so you can enjoy your accommodation.
Visit Jatiluwih and hike around. You can also skip Jatiluwih and include it as a stop when you are heading from Batukaru to Munduk on day 10.
A visit to Jatiluwih also depends on which side of Batukaru mountain your accommodation is located. If it is located on the east of the central side then you should visit Jatiluwih on your trip.
Is your accommodation located on the west flank, then it would be a big detour. So safe a visit to these rice fields for on the way back.
Once you have arrived in Batukaru, relax. Now is the time to wander around the premises and chat with the owners and those working there.
Day 9 Batukaru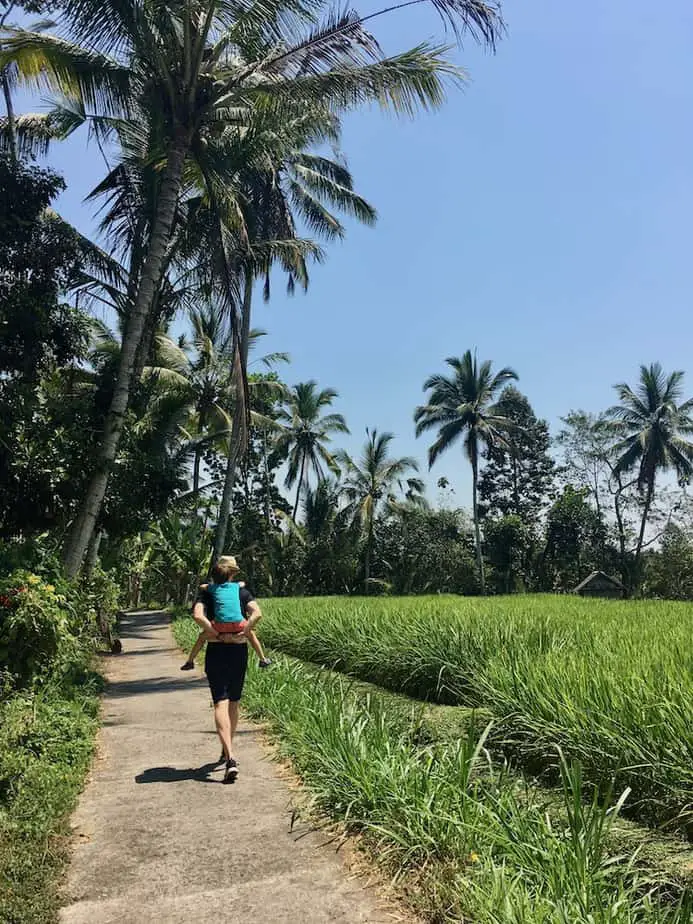 Today is the day to explore Batukaru. Best to do this by a local guide as there is so much to see yet it is all not that visible.
To discover beautiful jungle trails and rice field views you need to get away from the main road. Hike along the little paths only locals know. Check out everything they have to offer.
Your eco-accommodation in Batukaru has a long list of hikes that might even include Batukaru temples or a jump in the waterfall pools. For the full experience make sure to check what they offer on their website before booking your accommodation and day activity.
Day 10 Batukaru – Munduk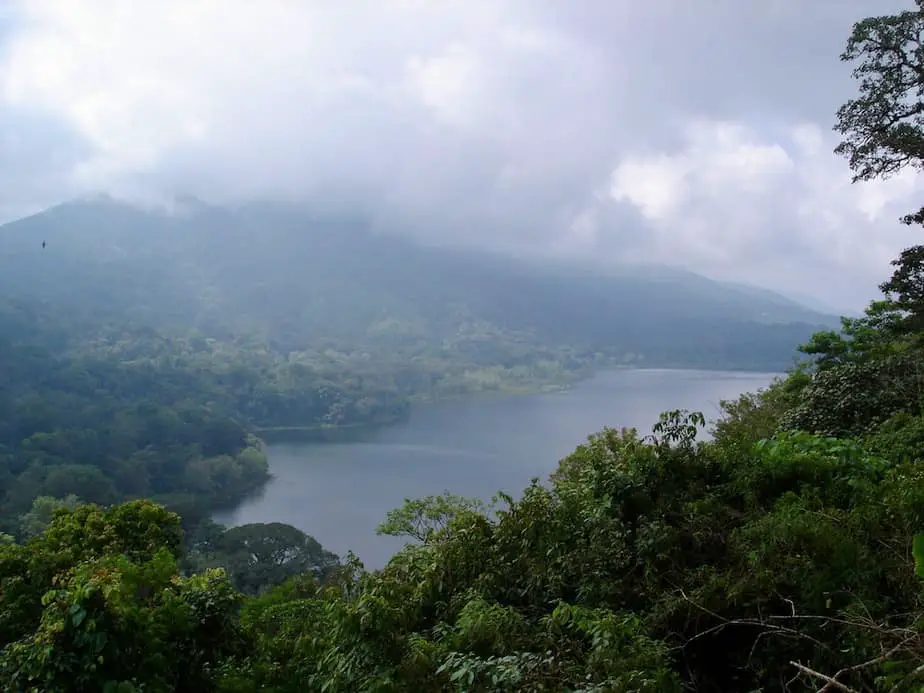 If you are staying on the west side of Mount Batukaru head straight to Munduk. If you are staying on the east side take the route along Lake Buyan and Lake Tamblingan. You will be able to make a stop at the famous Ulun Danu Beratan Temple.
Arrange a guided drive, who is willing to stop and take the time to see things.
Once you arrive in Munduk, enjoy your accommodation and its setting. Go for a walk or drive by motorbike along the main street to witness the mountain life of the Balinese.
Day 11 Munduk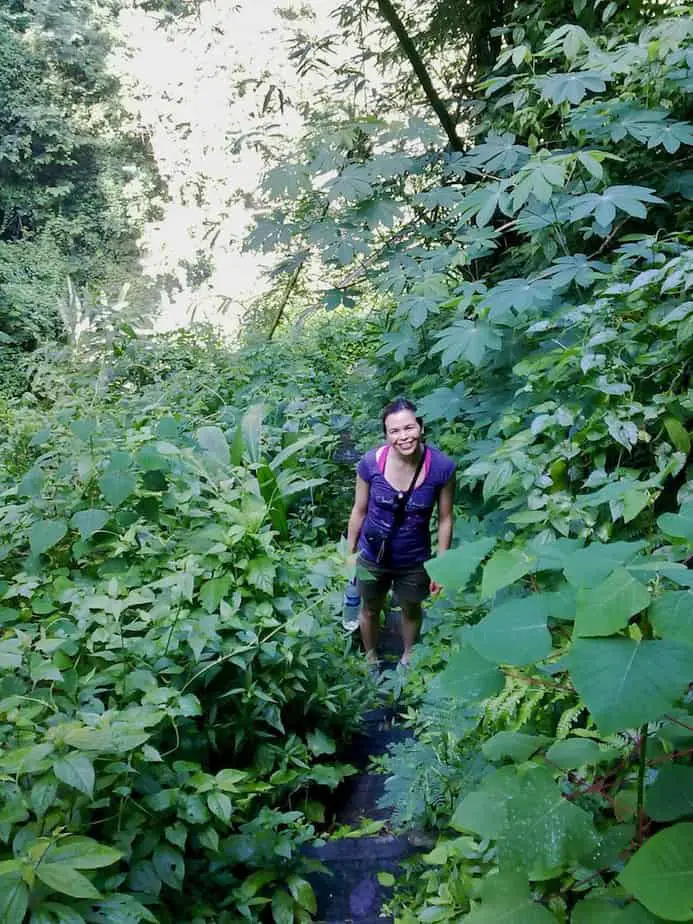 When in Munduk, it is a must to see some waterfalls. There are several hikes you can take to various waterfalls. You can go by yourself or arrange a local guide to take you. Again we suggest the latter. It is more fun and you learn a lot along the way.
Some hikes are shorter than others. If you return back to Munduk for lunch, then it is possible to add a small walk around the Munduk rice fields for the afternoon.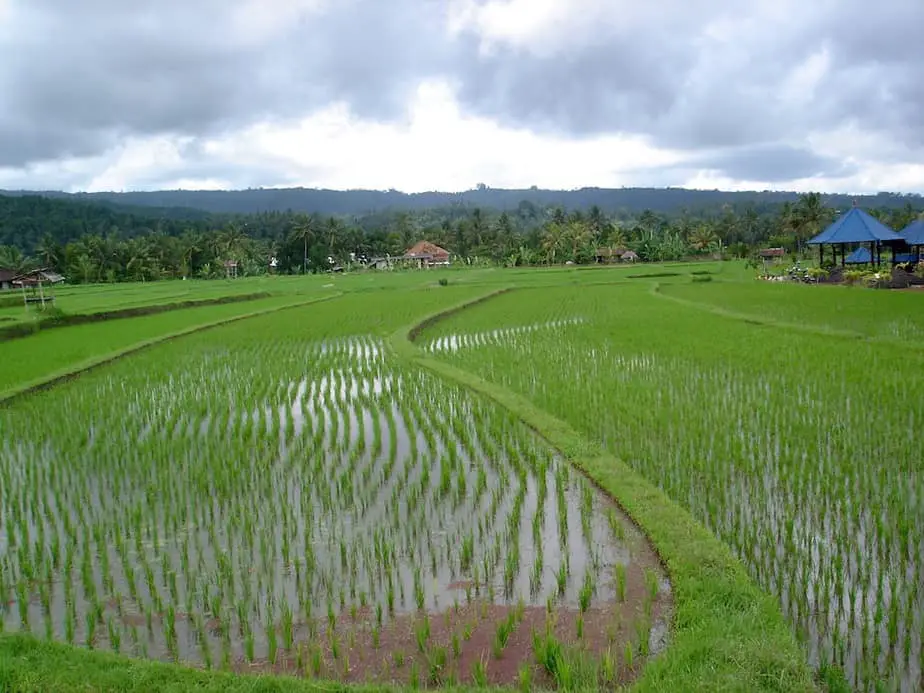 The rice field loop hike in Munduk starts at Meme Surung Homestay. It is best to leave your motorbike behind on the main road and to take the small narrow paths. There are a couple of homestays and warungs along the way where you can enjoy something tasty.
Day 12 Munduk – Jimbaran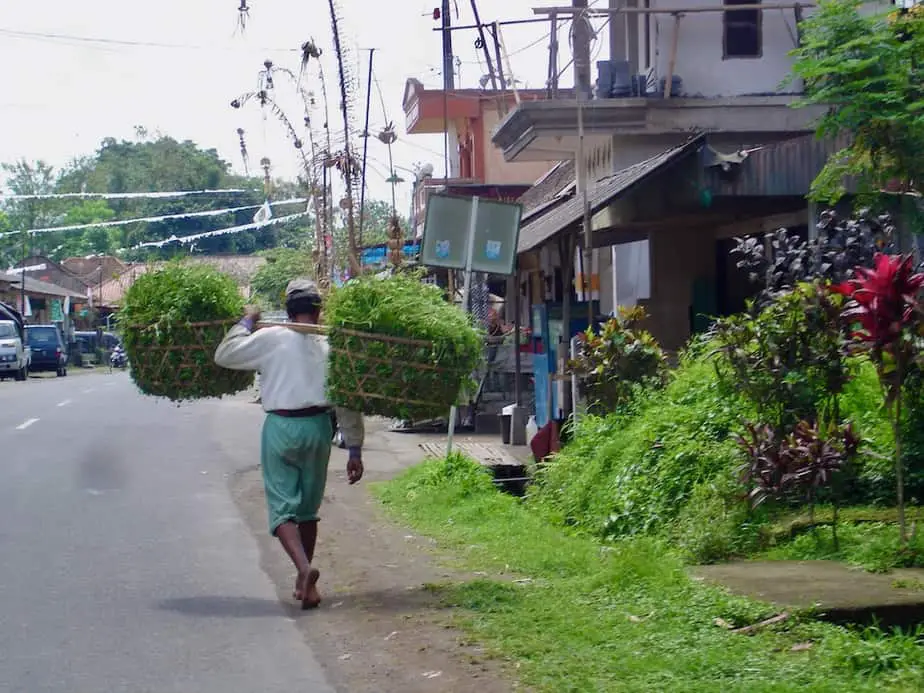 Today it is time to head back south. There are two routes you can take. It depends on what you have done earlier this week.
If you haven't seen Lake Tamblingan and Lake Buyan yet, then go that way. You can make a nice stop at the Ulun Danu Beratan Temple along the way.
Done this route on day 10 already? Then travel past Antosari and Pupuan. This route takes you to a lot of rice field terraces again. If you are like us, you might not have had enough.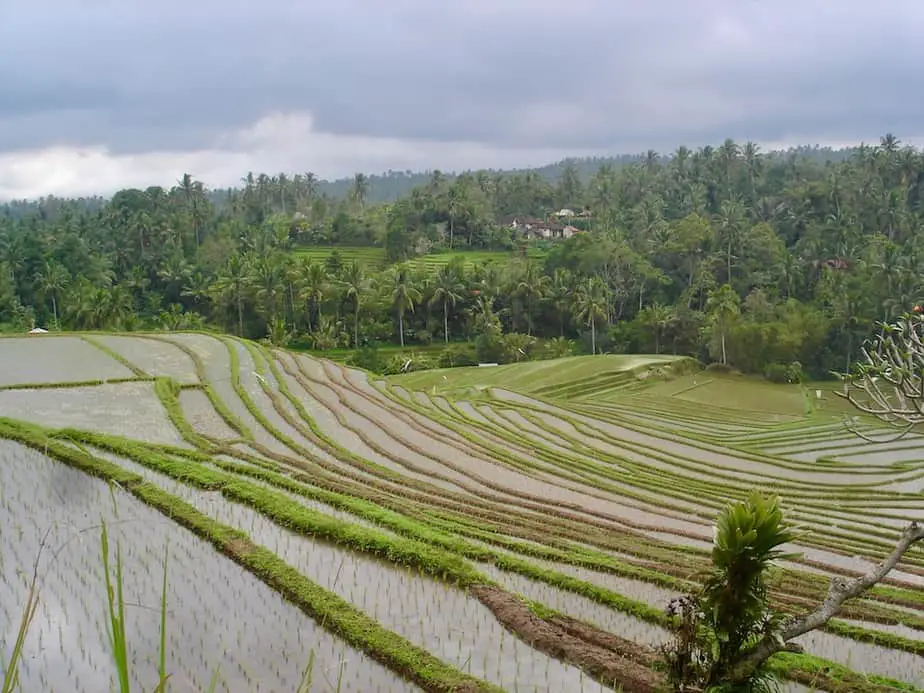 Settle in at your accommodation in Jimbaran. Relax at the beach and enjoy the famous sunset of Bali.
Day 13 Jimbaran
Today you can spend the whole day at the beach. Which you can easily do in Jimbaran. Or if you want to move around a bit more, do some exploring.
Visit the morning fish market at the southern tip of Jimbaran beach. Make sure you don't stay inside the fish market too long. The best part is on the beach. This is where the fishermen carry their catch from their boat to the market.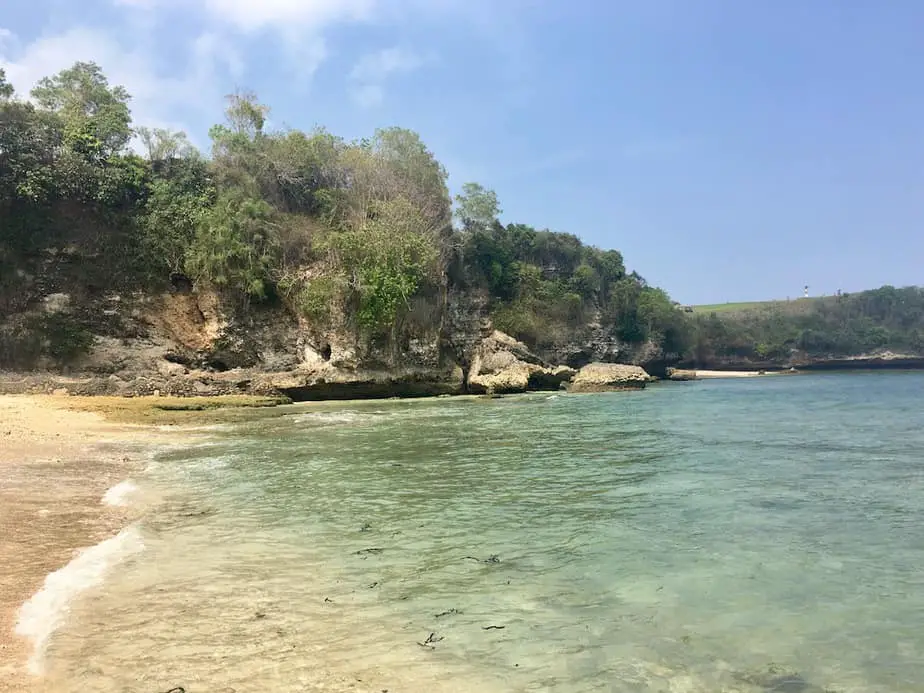 From the market head towards the southern tip of Bali. There are many beaches here, of which most are known as surfing beaches.
Balangan beach has a long stretch of soft sand. At Uluwatu, you can see the surfers tackle high waves. Bingin is a place to relax and to take a short dip. Swimming at all these beaches isn't always possible. Check the tidal app to know what to expect.
Go-jek/Grab drivers are not welcome here. So it is best to drive to these beaches by motorbike. It is tempting to stay at these beaches till sunset, but the roads can get very dark. So try to plan to head back to Jimbaran around 5 pm.
Day 14 Jimbaran- Denpasar Airport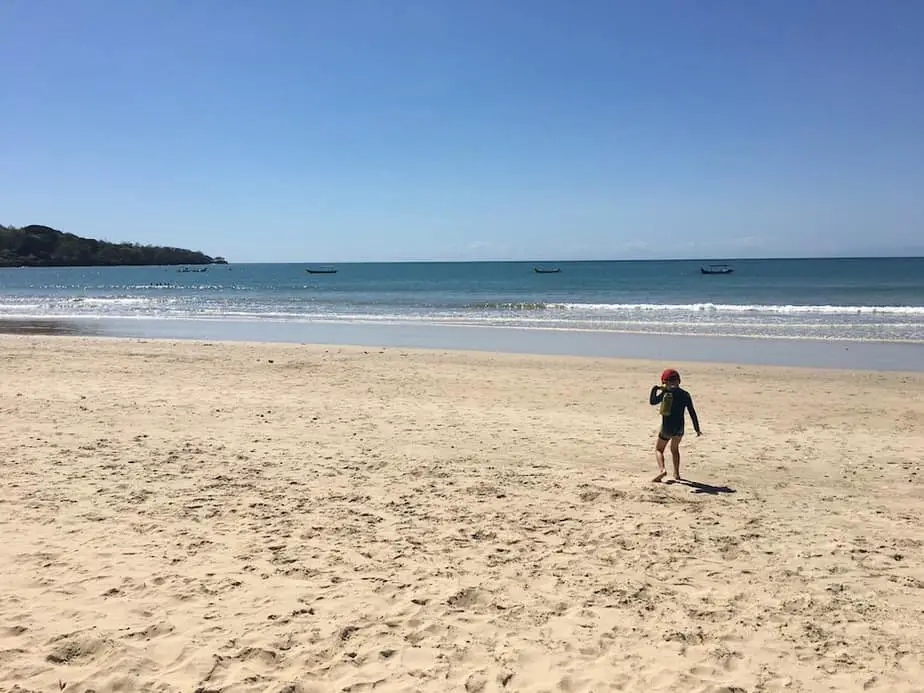 You probably don't do anything before heading to the airport on your last day. So just enjoy your last tropical breakfast, take a stroll along the beach and relax before hopping in the taxi to the airport.
Luckily this is only 20 minutes away (not during rush hours!!!) so you can enjoy Bali till the very last minute.
Tips for this Bali itinerary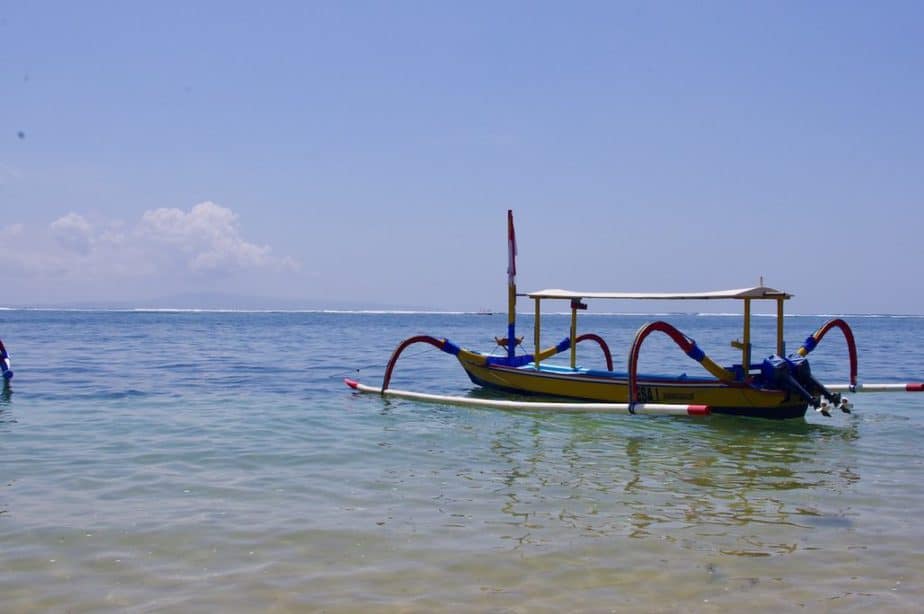 If you are a diver and would love to dive in Nusa Lembongan area, then you can also stay one day longer in Sanur and one day shorter in Jimbaran. There are many dive companies in Sanur that arrange dive trips for a day.
Does Sanur sound more attractive than Jimbaran to you? Then you can stay one night in Jimbaran at the beginning of your trip and 2 nights in Sanur at the end.
This itinerary is packed with things to do. It is also an option to do stuff in the morning only, and relax in the afternoon. If you have booked a nice accommodation then it is definitely not a shame to just put your feet up and enjoy a good book.
We suggest renting a motorbike upon arrival in each village. It makes everything more comfortable and fun. Especially if the accommodation is a bit far from the 'action'. Between villages arrange a driver or a tour guide to take you around. We have done this whole route also on a motorbike only. If possible we highly recommend this too.
Courses and tours, especially those in Ubud should be arranged before heading to Bali to make sure it is available.
Book an eco-accommodation with character in Batukaru. There isn't much to do in town, so you will likely be at your accommodation between all the activities.
Alternative Suggestions to the Bali Itinerary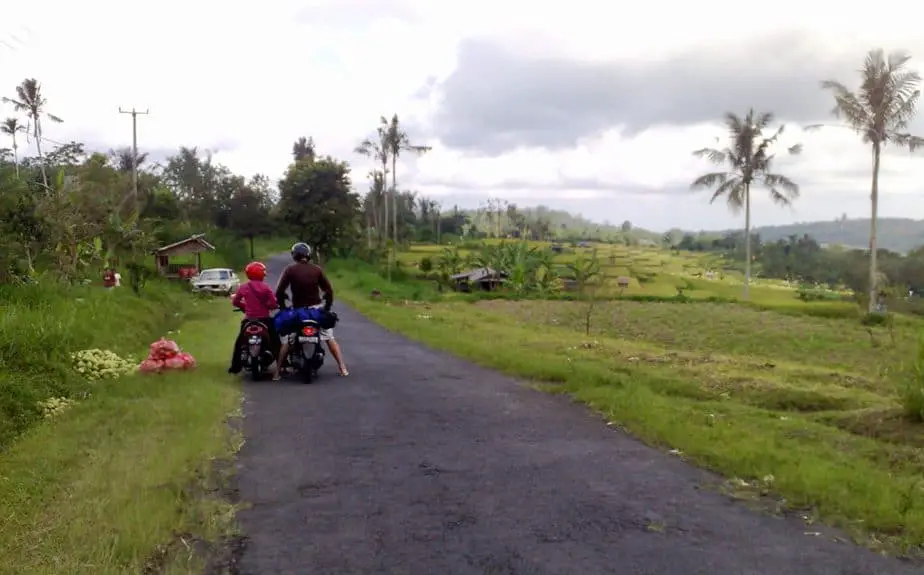 Like us, after one visit to Bali, you are likely to come back again. Surely you will visit your favorite spots in Bali again and again.
Hopefully, our suggested itinerary did give you new ideas and areas you wish to explore.
Other great twists to your Bali itinerary are for instance adding a retreat to your holiday. There are many mindful and yoga retreats to choose from.
But check out other types of retreats such as a boot camp or a surf camp. Not only will you be fit when you get home, but you will have fun while learning new stuff too.
Tips on choosing the right accommodation
The accommodation is an important aspect when planning an itinerary in Bali. The villages that are included in our itinerary have a large variety of places to stay. You can choose from luxurious resorts, budget homestays, or eco-accommodations.
Here are some tips you might find useful to know before booking your place to stay in Bali. We have added some nice suggestions for Jimbaran, Ubud, Munduk, Sidemen and Batukaru.
Places to Stay in Jimbaran
Jimbaran has is a very long beach. Little side streets connect it with the main road located parallel to the beach. We discovered that the location of the hotel determines your experience. Some parts of the beach are different than others.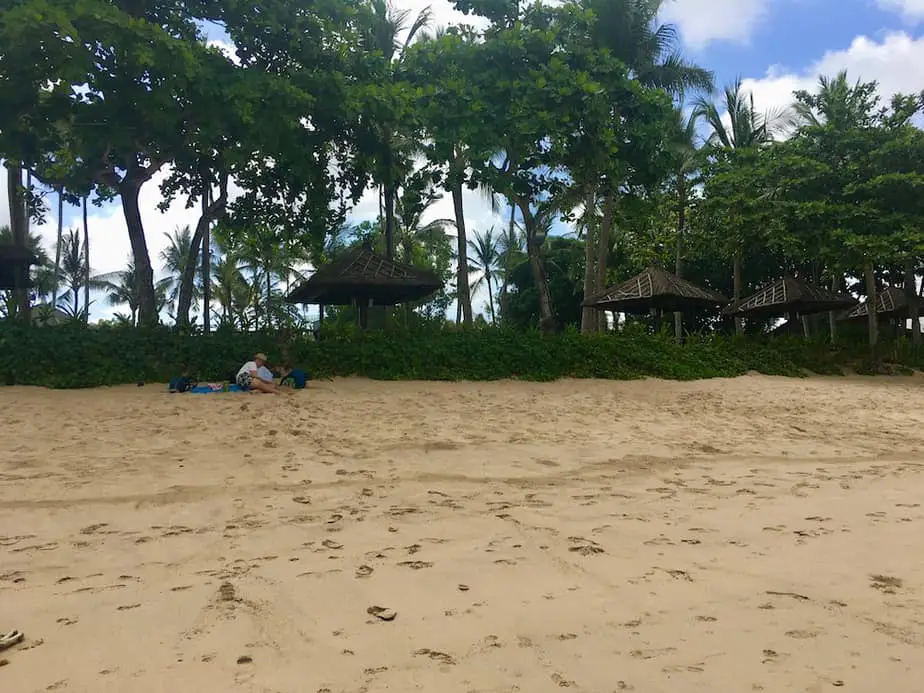 Additionally, some hotels are found far from everything else. There are those tucked away in little side streets. Others claim they are located in Jimbaran village but in reality, are found further south uphill.
You just don't want to end up taking very long walks along the busy main street just to see something different.
So to avoid this, double-check the location of your hotel. Or better yet, upon arrival rent a motorbike for two whole days so you can comfortably get around.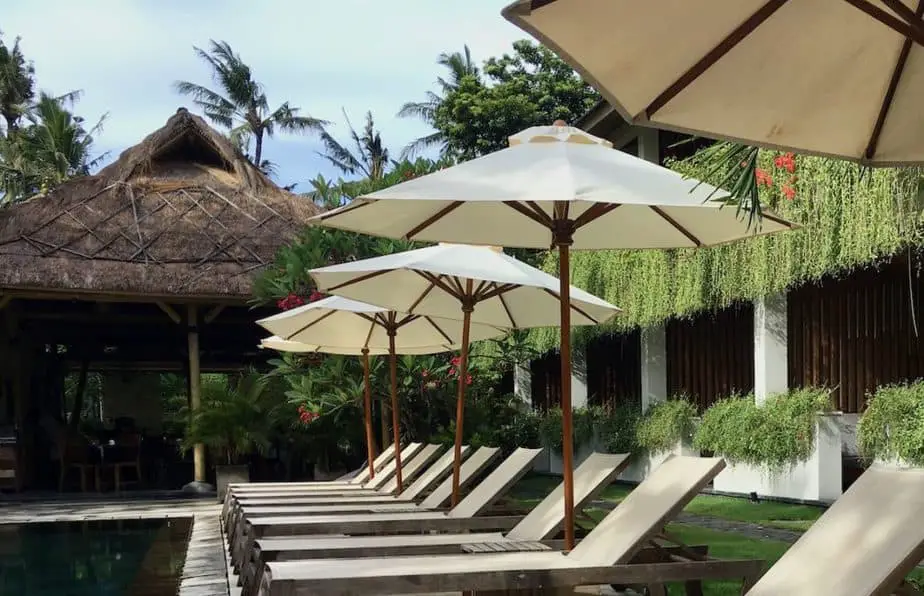 Jimbaran might be known for its luxury resorts but there are great mid-range and budget options too. Unfortunately we haven't found any eco-accommodations nearby the beach yet but hopefully this will change in the near future.
If you don't mind staying a bit further away there is an eco-accommodation further inland called the Udayana Kingfisher Eco-lodge.
Nice places to stay nearby Jimbaran beach are The Open House Bali, Balquisse Heritage Hotel, Kubu Kak Dudung, and the Melody Guest House.
Places to Stay in Sidemen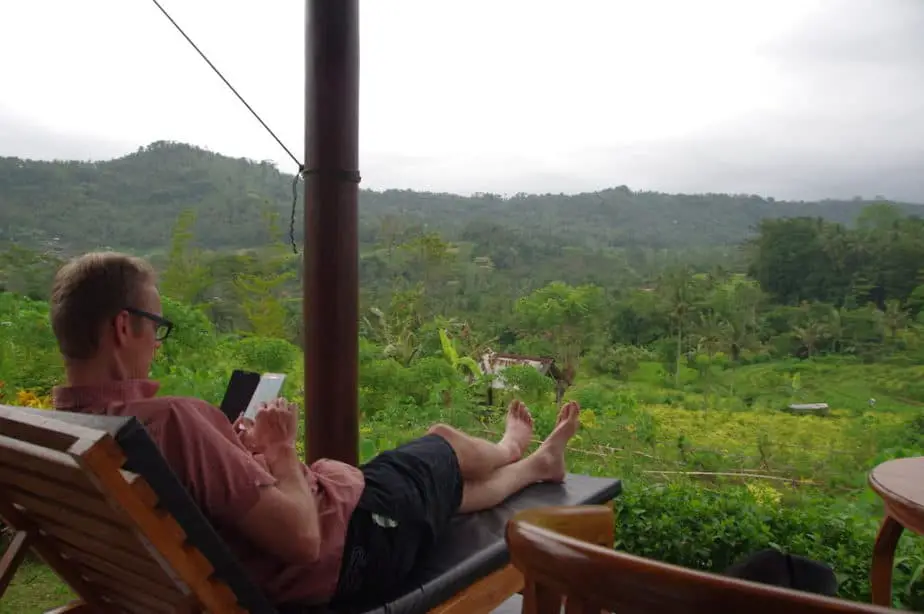 A characterful accommodation will add to the experience in Bali. In Sidemen this doesn't necessarily mean that you choose an expensive resort. A homestay will give you an unforgettable stay as well of which some even have a better view than an expensive villa.
There are many places to choose from. We particularly like staying in places that have a view of Mount Agung. We will never forget the first time we woke up in Sidemen and opened the curtains to see the mystical mountain.
The first accommodations were mainly found along Jalan Raya Tabola. But over the years more have been built around the valley.
We loved our stay at Giri Carik. Other great places with a view are Griya Valud Bali and Kubu Taru. Pondok Tepi Sungai is beautifully located along the river. All of the above are budget accommodation but also great for those who have more to spend.
Places to Stay in Batukaru
In Batukaru it is pretty important to choose the accommodation that suits you. They are all very unique and offer a variety of activities and facilities. So besides the rooms also check the activities they have to offer.
Some focus more on yoga and meditation while others can arrange great hikes, visits to villages and temples, or teach a thing or two in organic gardening.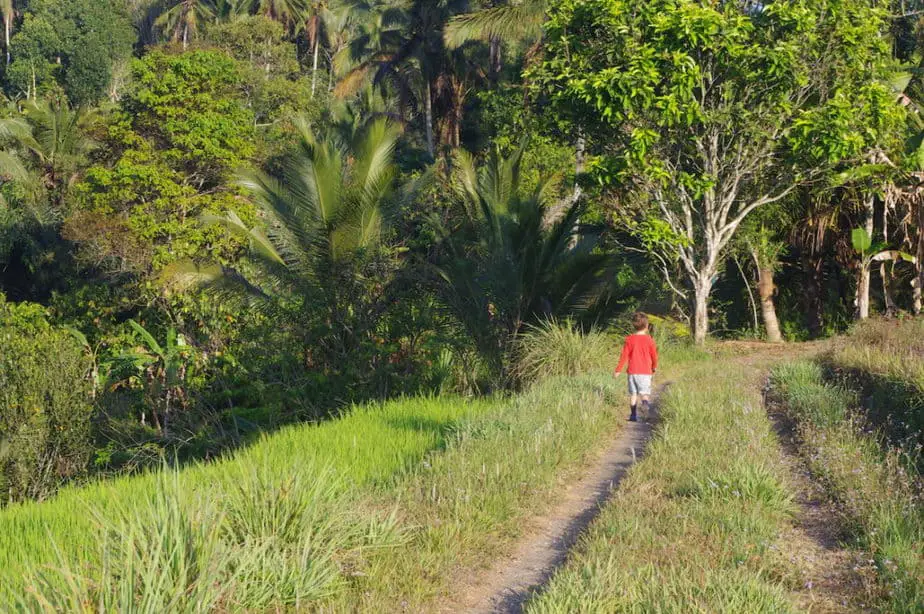 Also, the number of restaurants to eat at in Batukaru are almost non-existent. So if you love cuisine and appreciate good cooking, check what the accommodations offer.
Bali Eco Stay, Sarinbuana and Batukaru Coffee Estate are wonderful options. But there are others that will add to the experience as well.
Also a fun thing about staying at an eco accommodation in Batukaru is that its backyard is inviting enough to go exploring for hours.
Places to Stay in Munduk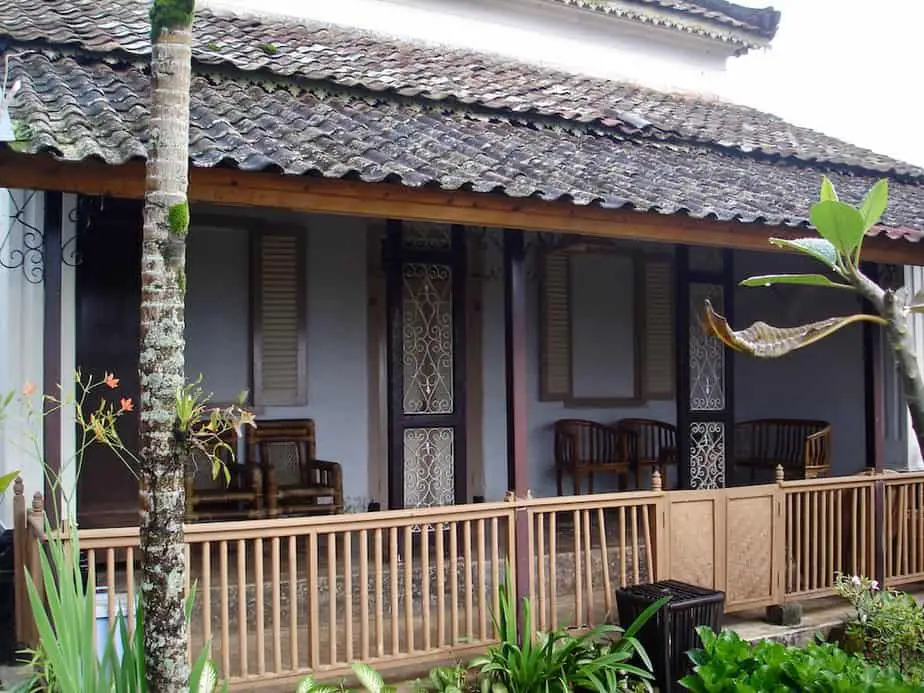 Munduk is pretty much the place where eco-tourism started. Puri Lumbung is one of the first eco accommodations in Bali. This wonderful hotel still exists. The owner is from Munduk and started spreading the concept of eco-tourism in the '90s.
Locals were employed at Puri Lumbung. From there on some even started their own business in Munduk or worked in the hotel industry elsewhere.
As a result, there are many homestays in Munduk. Even those not traveling on a budget should check out if there is one ideal for you. Homestays enable you to experience Balinese life and meet up with the owners easily. Some of these homestays are even located right within the rice fields.
However, there are many other accommodation options too. Most of them are located just outside town such as the Sanak Retreat, the Munduk Modig Plantation, and Senanda Bungalow.
If you don't want to rent a motorbike to move around town, then it would be wise to check for accommodation with a restaurant or located near one. It can get pretty dark in the evenings making it challenging to get back to your accommodation.
Places to Stay in Ubud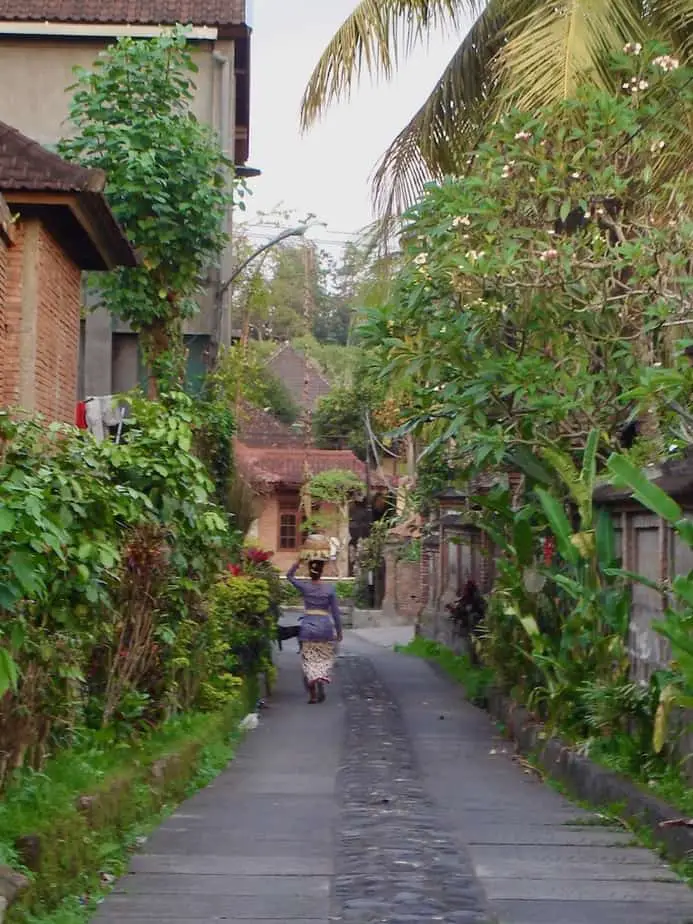 It took us many years and a lot of attempts to finally find nice accommodation in Ubud village center. There are just so many to choose from and they vary considerably. All of them look nice and have their own charm.
However, we stayed at some that were not that clean, where the surroundings were pitch dark, where a frog kept us awake the whole night (not the fault of the accommodation of course), or they were located right along Jalan Monkey Forest.
This last tip we always share with other travelers. Despite these nice places along Jalan Monkey Forest, we just find it too busy. During the day there is always a traffic jam. So leaving and arriving back at the hotel on this street is always a hassle.
Also, we don't like stepping into a crowded area once we leave our accommodation.
It's not necessary since Ubud has so many little side streets where you can find nice accommodation such as along Jalan Kejeng, Jalan Bisma, and Jalan Jero Gedung.
You should also consider staying at neighboring hamlets such as Campuhan, Penestanan, Peliatan, and Nyu Kuning. It's not within walking distance to Ubud center but if you have a motorbike and drive around you will be happy you are staying outside town.
How to get around Bali?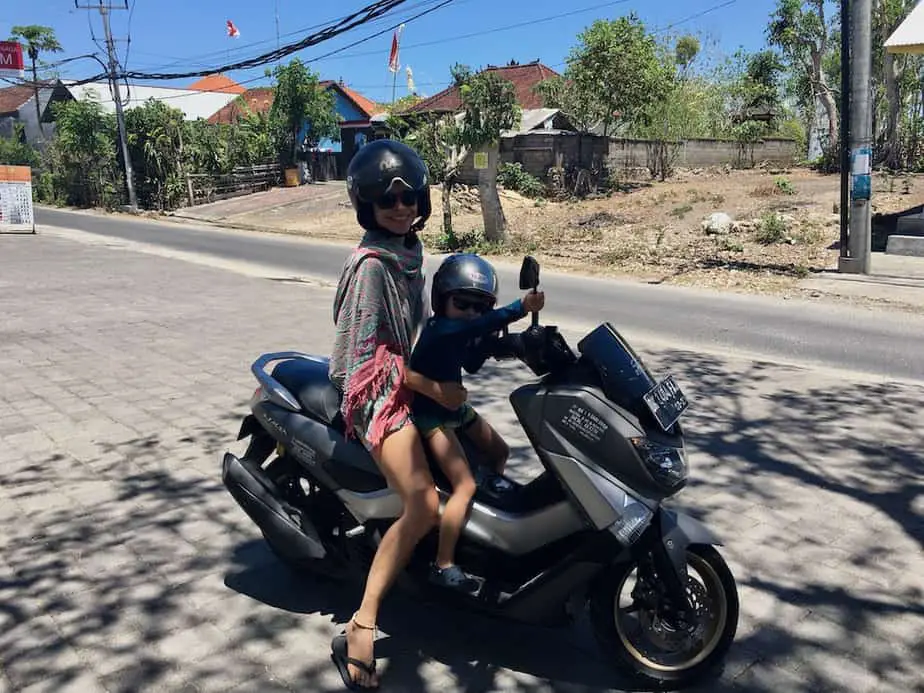 Most of the itineraries include moving from one village to another. For long distances, we recommend arranging a driver to take you.
Once you arrive in a village, it is wise to rent a motorbike. This makes moving around easier and you will see much more.
If you don't feel confident enough to move around on two wheels then you can consider other transportation options, such as through the Grab/Go-Jek apps or a private driver.
Before we traveled as a family, we would do the whole trip by motorbikes. Since traffic has increased over the years, you might end up in traffic and be covered in dirt at the end of the day. But it saves a lot of money, adds to the adventure and you have more freedom to move around whenever you want.