After traveling through Bali for many years, we finally decided to add the Batukuru area to our itinerary. Until now we still don't understand why we have not done this much sooner. This area has become one of our favorite destinations in Bali.
Batukaru area (also called Batukau) is mainly known for the second highest mountain (peak at 2275m) in Bali: Mount Batukaru (Gunung Batukaru). The important temple complex Pura Luhur Batukaru is located on her mountain flanks. The mountain and the temple are also the main attractions in this area.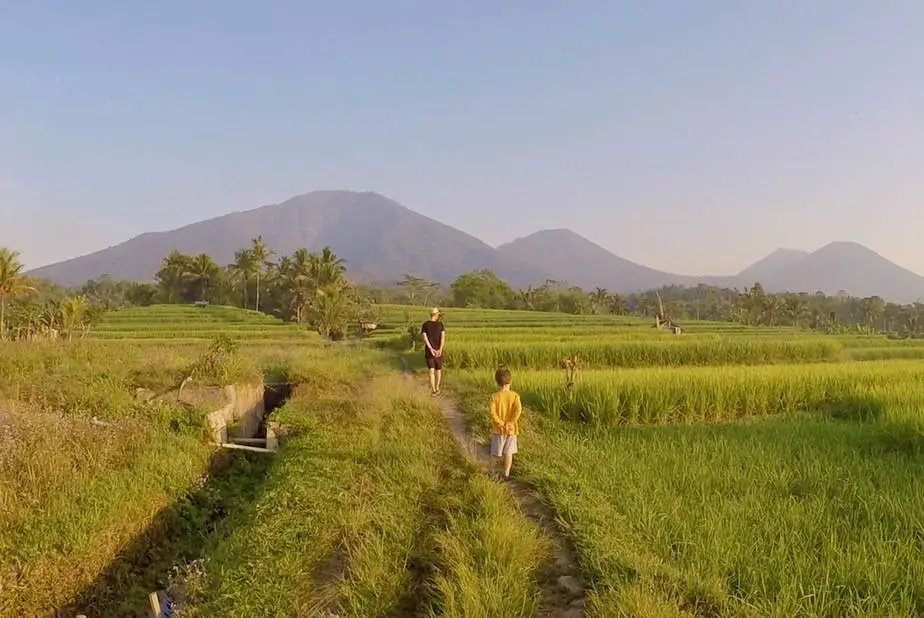 We soon discovered that this area and its sights shouldn't only be visited while passing through on a day trip. Best is to stay in the area to fully experience the rice fields, the jungle, and beautiful Balinese people too.
The village near Mount Batukaru Bali and Batukaru temple is called Wongayagede and mainly consists of farmers. The village surroundings are breathtaking and a wonderful spot for eco-travelers in Bali.
The rice terraces are out of a picture book while Mount Batukaru and its green forest dominate the area.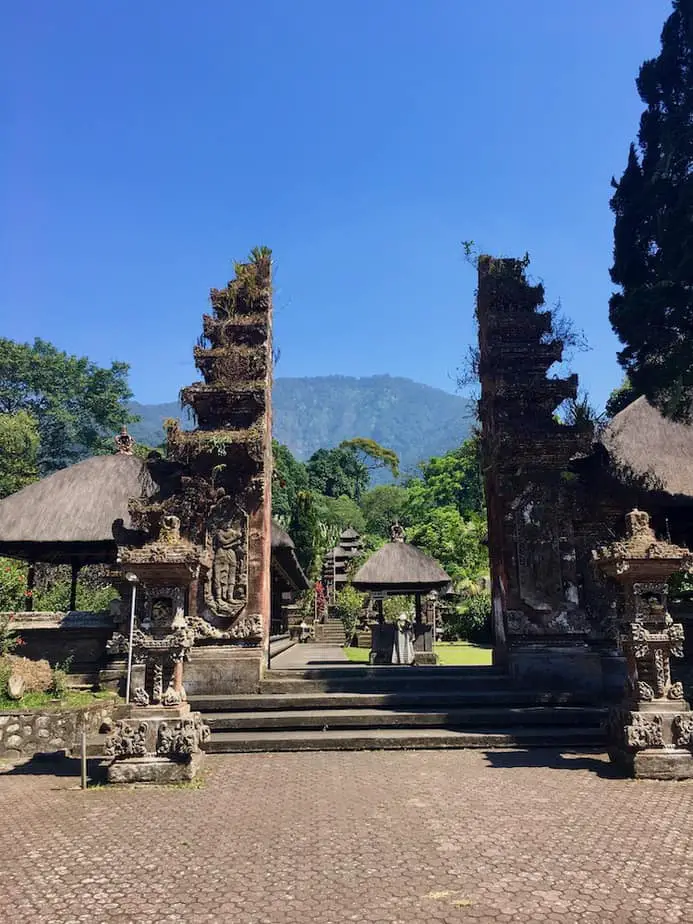 Wongayagede feels like a sleepy village, but behind the walls and in the fields, local people are busy. They are tending the rice fields or plantations which include coffee and cocoa. Moreover, they also have to find the time to conduct religious ceremonies. 
Nature lovers are going to fall in love with this place. If not only for the continuous sound of the cicada (jangkrik). Something we haven't heard anywhere else in Bali.
What Is Batukaru Like?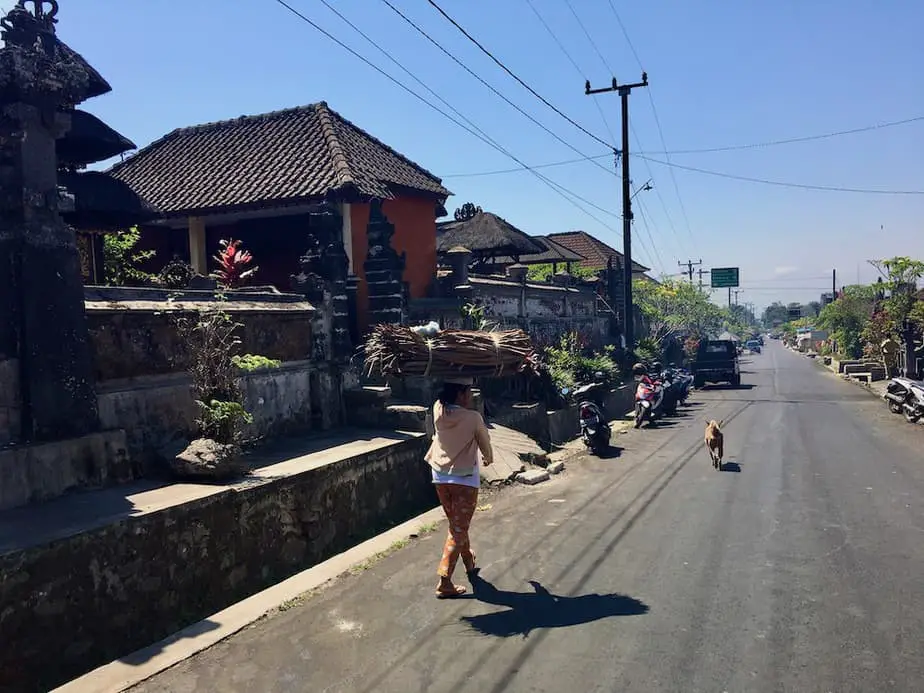 Batukaru isn't really on the tourist route so don't expect restaurants, shops, or a long list of hotels.
The villagers are more concerned about their daily routines than earning something extra from the occasional visitor. At least, that is our first impression. After some research, you will find a couple of wonderful eco-lodges tucked away far from the main street.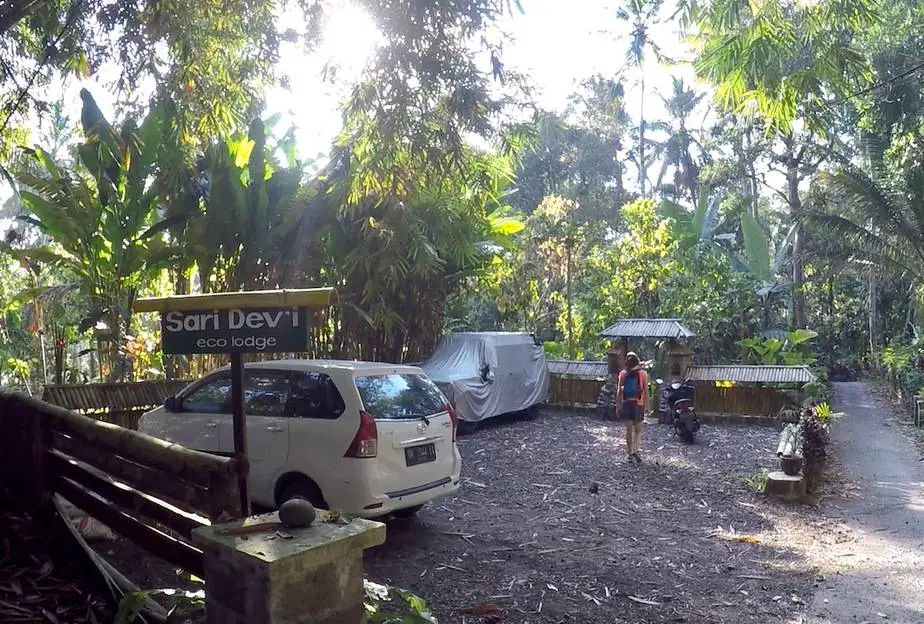 The people are very warm and welcoming. Every time we visit one of the little shops to get some water, snacks, or petrol, the ladies would leave their comfortable counter in the shade to chat with us.
Speaking some Indonesian certainly helps but traveling with a little kid on a motorbike doesn't make it easy to keep these visits short.
The next time when passing by the shop the owners would wave at us with the biggest smile you can imagine.
Is The Batukaru Area Worth Visiting?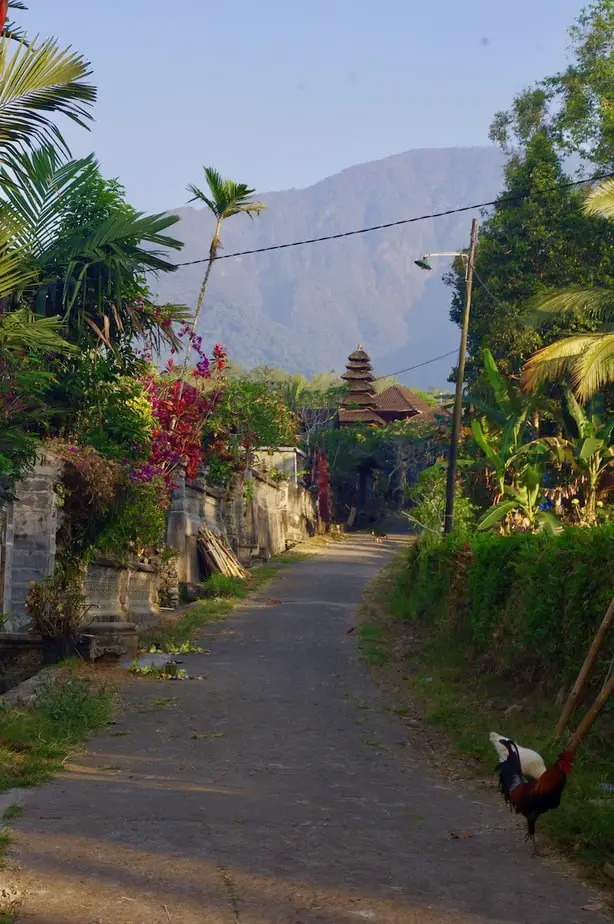 After visiting the Batukaru area we are already planning our next visit. So definitely yes, it is worth visiting. Travelers who are looking for a quiet place,  without foreign influences will be very happy here.
We especially enjoyed sitting on our verandah just before it got dark, hearing the beat of the KulKul in the distance and increase of insect sounds.
You can easily spend a couple of days here.
There are plenty of hiking possibilities through the beautiful rice fields and dense jungle. And the important Batukaru temple is tucked away at the end of the main road through Wongayagede village.
Day trips to the Unesco World Heritage rice terraces at Jatiluwih are easily done.
When you don't feel like doing anything you can just sit at your lodge and gaze out over the green Balinese landscape.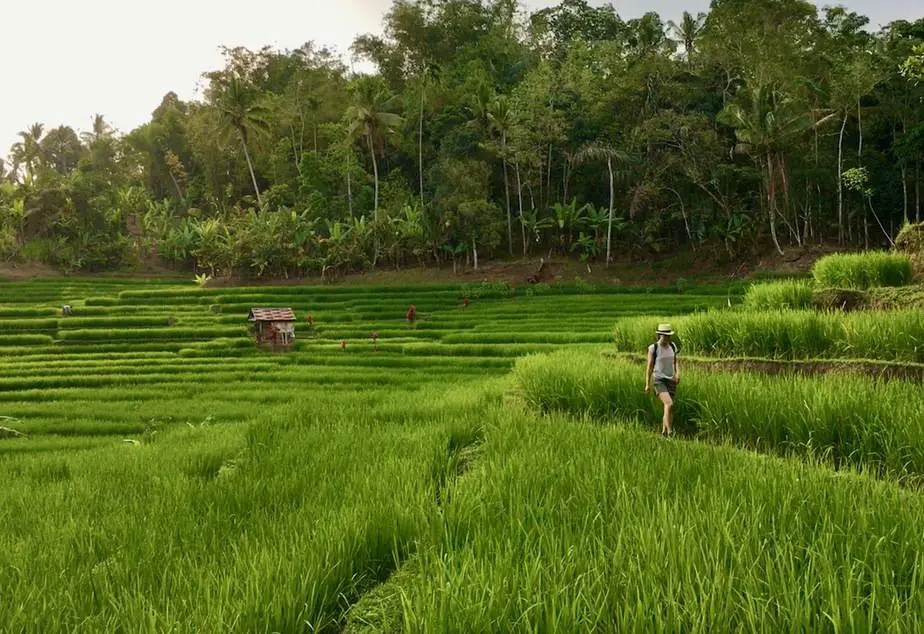 We do have to add that we also fell in love with Batukaru due to the wonderful homestay experience we had. The owners are so sweet and we really enjoyed spending our time there.
So when in Batukaru make sure you choose the accommodation that fits you best. And a great location as the one we had is, of course, an extra bonus.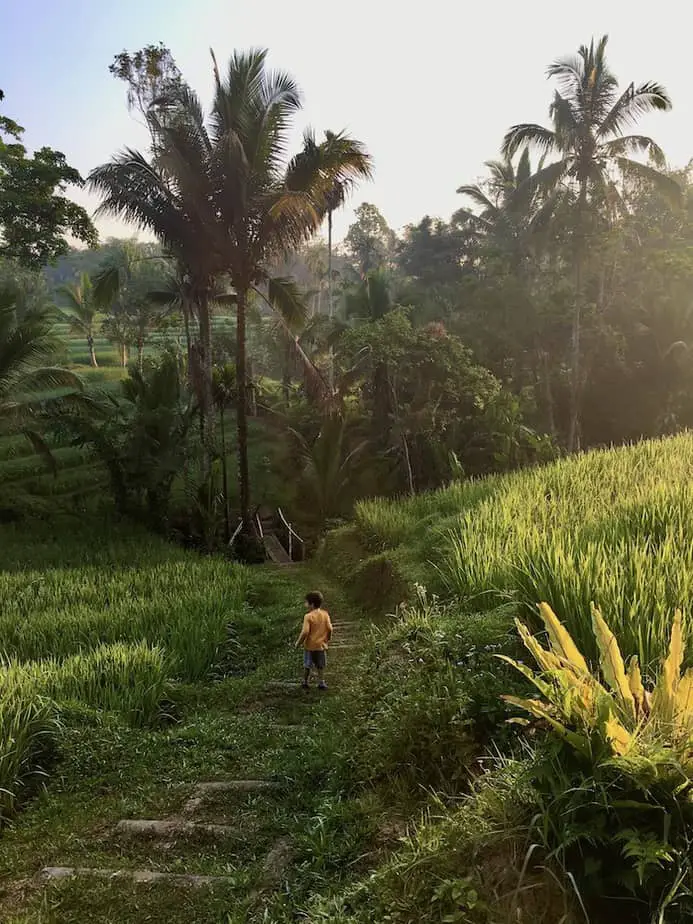 At first, we were a bit worried that our 4-year-old son would be disappointed that there would be no beach or pool. But we were wrong. He loved exploring the premises searching for lizards and other insects he had never seen before. He even helped out in the garden, collecting vegetables for dinner.
I can imagine that teenagers might think it would be boring to be away from all the action. But sometimes you should just give it a try. Exploring the rice fields and forest and getting a bit lost does add to the holiday adventure.
Practical Information On Batukaru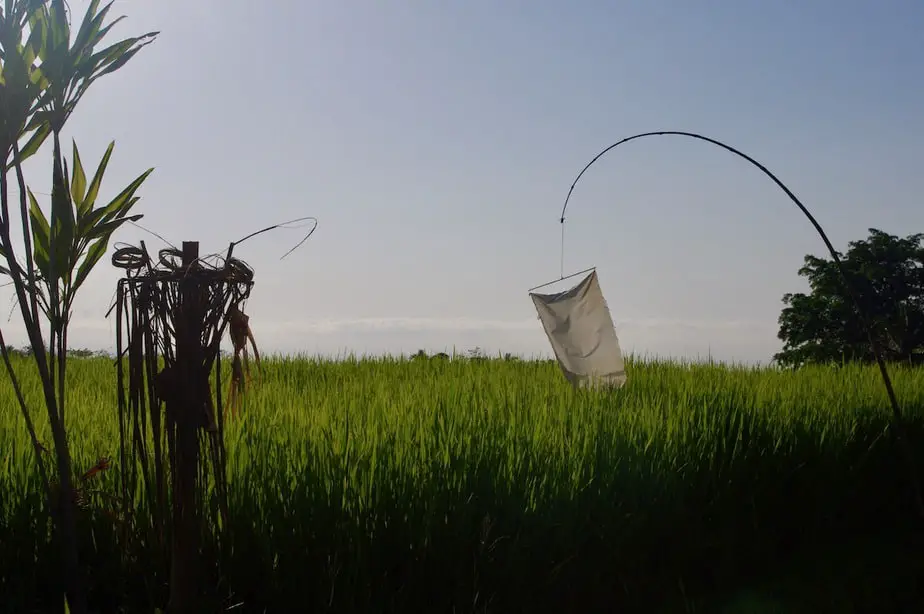 Mount Batukaru is located in Tabanan Regency in the North West of Bali. This area is known as the 'Rice Basket' of Bali and once driving uphill you will understand why.
The Unesco world heritage site of the Jatiluwih Rice Terraces has taken the spotlight from other nearby rice terraces. But if you love touring aimlessly around you will find other magnificent rice fields too.
Additionally, the slopes of Mount Batukaru are blessed with ancient protected forests. Flora and fauna thrive here while water sources provide natural spring water which is drinkable.
How To Get To Batukaru?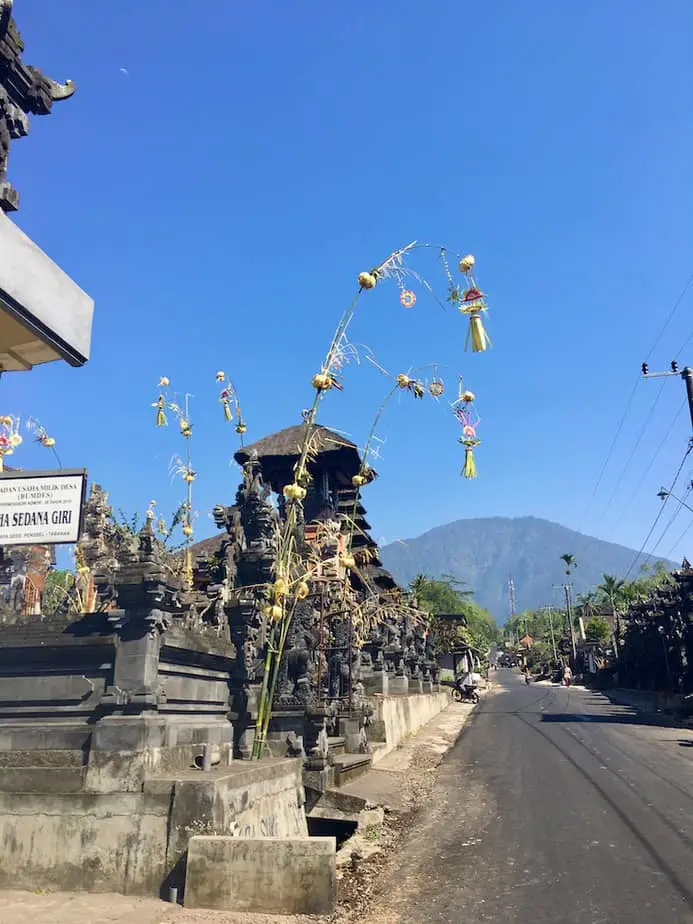 Depending on which side of Mount Batukaru you will be staying, you can either go via Tabanan or Penebal. From here there are several ways to get to Batukaru, all along smaller streets passing tiny Balinese villages.
Make sure you have the exact address of your accommodation so you will not end up on the wrong side of Mount Batukaru. If this happens, you might end up driving all the way south again until you finally get the correct road to Mount Batukaru.
Some accommodations in Batukaru provide detailed information on how to get there because it's not always that clear on Google Maps.
When you are coming from the south you should try to take the scenic route. Best is to take the main road Jalan Denpasar-Gilimanuk. Once you pass Tabanan and Jalan Raya Timpag, take any street heading north.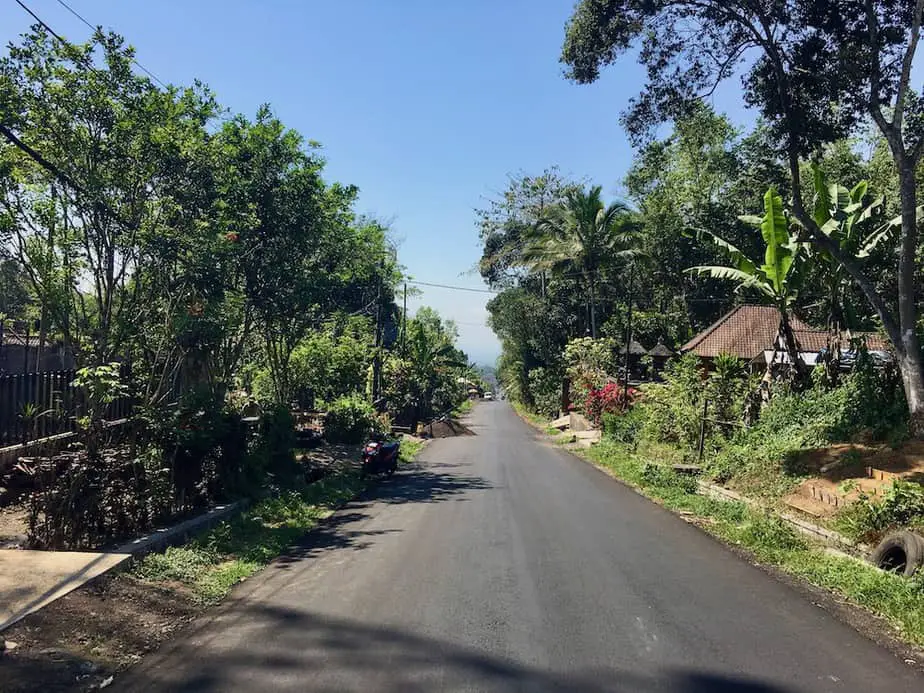 These are the streets that will take you through villages where hardly any travelers go to. This is where you will see lots of rice fields that will make you stop every time to take a picture. Plan the whole day if you want to do this detour. It's best to do this on a motorbike to fully appreciate it.
Soon enough signs will appear and point you in the right direction.  Wongayagede is one of the villages located on the southern slopes of Mount Batukaru. The main road of Wongaygede is one straight road ending at Pura Luhur Batukaru.
Others are located on the western or eastern southern slopes of the mountain and are considered the Batukaru area as well.
How Is The Weather In The Batukaru Area?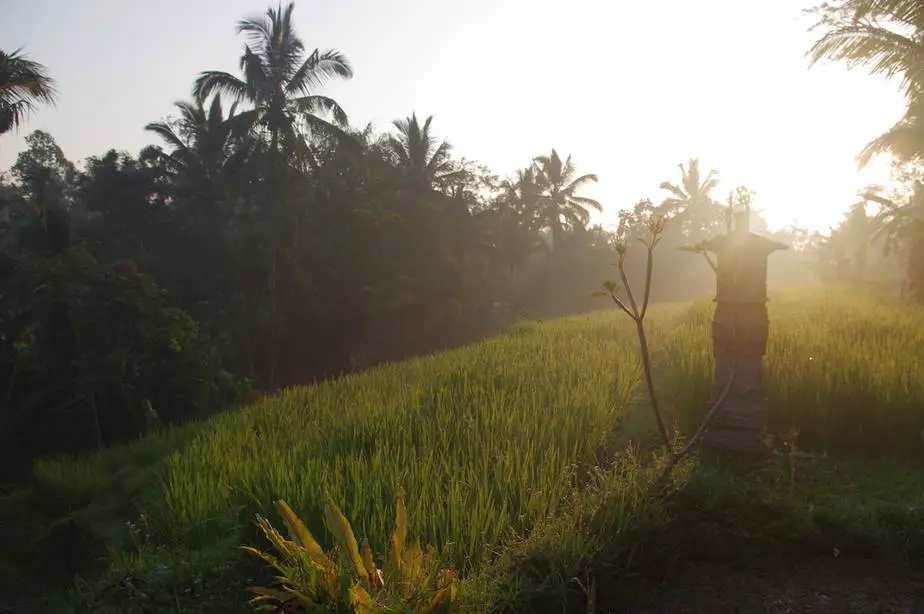 As any village high in the mountains, it can get pretty chilly in the very early morning and late evenings. The morning mist will soon dissolve and around 10 am it gets much warmer.
We visited the Batukaru area at the end of the dry season when the local people were waiting for rain in anticipation.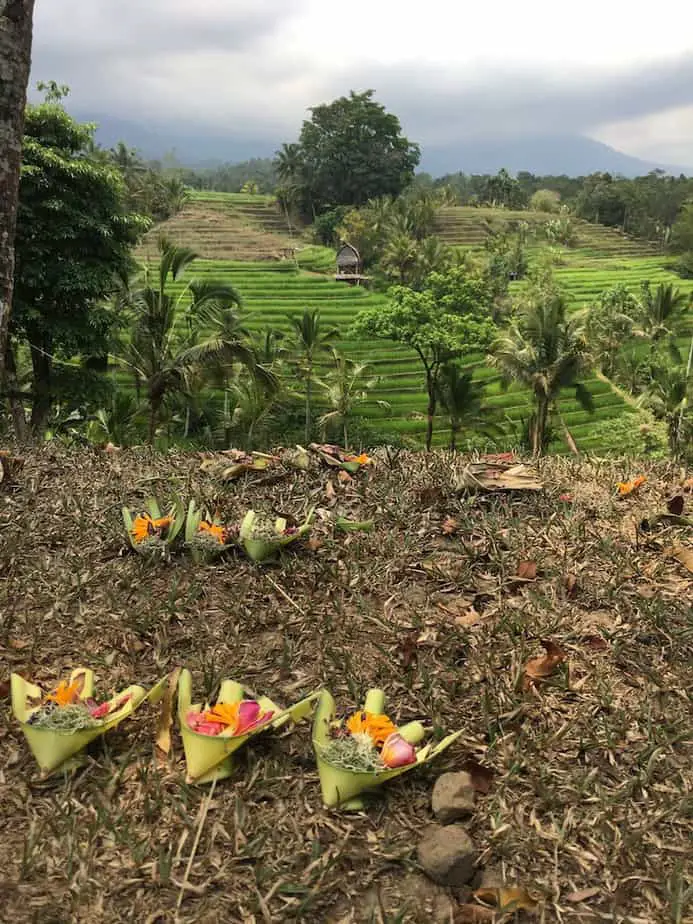 In Wongayagede they hadn't seen a drop of rain in months. Luckily the ingenious rice irrigation system ensures a continuous stream of water to the rice fields. While the surrounding vegetation had turned crispy dry and brown, the rice fields till looked stunning green.
But once the rainy season sets in, the overcast skies dominate and it will rain daily. Mount Batukaru's slopes are known to be the most humid on the island.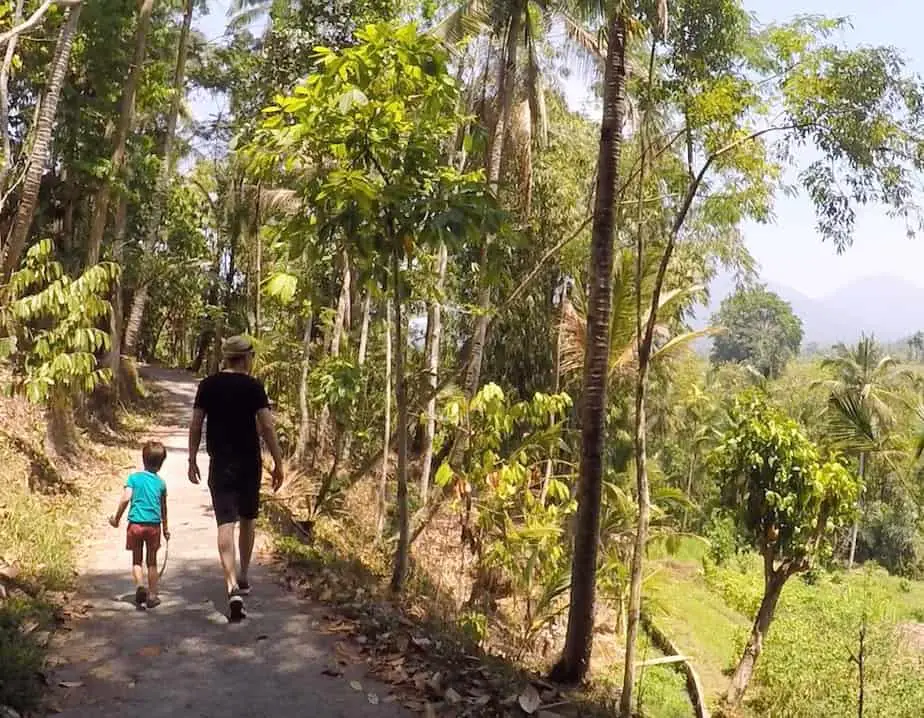 The weather on Mount Batukaru can be different. On the second-highest mountain, temperatures can easily drop to 16 degrees Celcius during the day.
If you decide to go hiking then it is best to go during the dry season. Also, leave early because the clouds will roll by in the afternoon.
Getting Around The Batukaru Area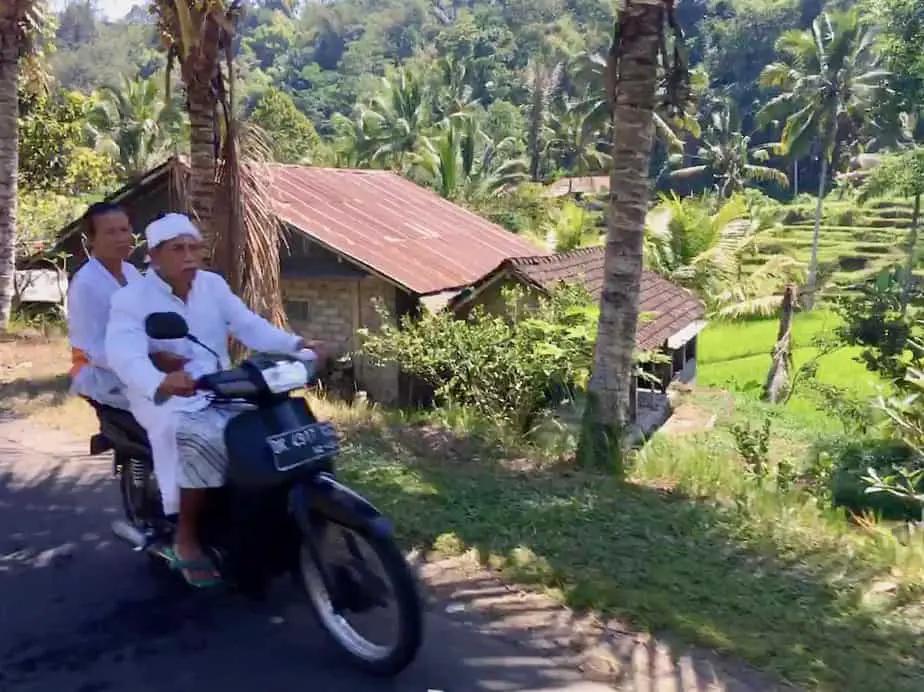 The Batukaru area is definitely worth exploring on foot with a guided jungle-village trekking tour but you can also find your way by motorbike.
Again the motorbike is our favorite way to get around the Batukaru area. Since the route to Batukaru is an amazing one, we normally take motorbikes to get there.
But this time, traveling with our little son we arranged a driver to take us by car. Once in Wongayagede we arranged a motorbike at our accommodation for Rp.70.000 a day.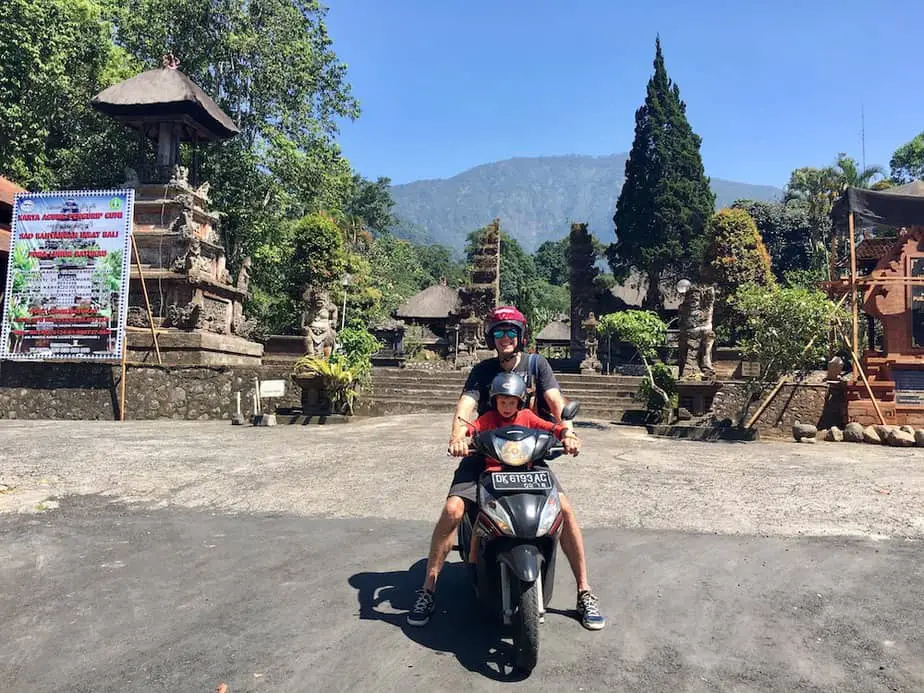 It made it easier for us to visit sights in the area and to drive up the little streets to see more of the nearby villages.
We don't recommend a car once in the Batukaru area. You will miss out on so many little details that make this place special. Additionally, you will only stick to the big main road, which can get boring after a while.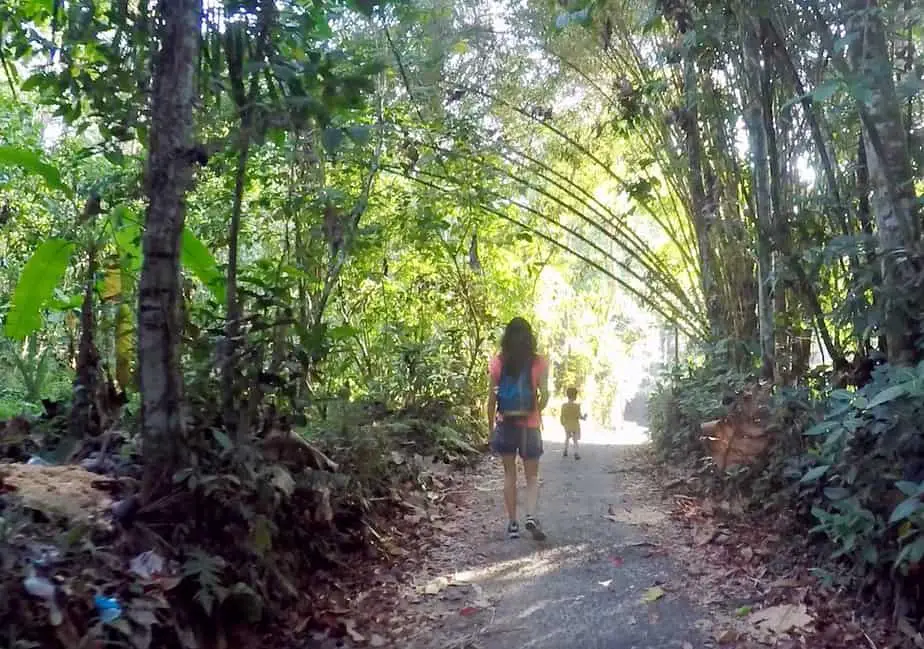 Walking is also a great option. We enjoyed morning strolls in Wongayagede village. It is very quiet, but be careful on the main road to Mount Batukaru. It's a straight smooth road, making it tempting for locals to go much faster than necessary.
Things To Do Around Batukaru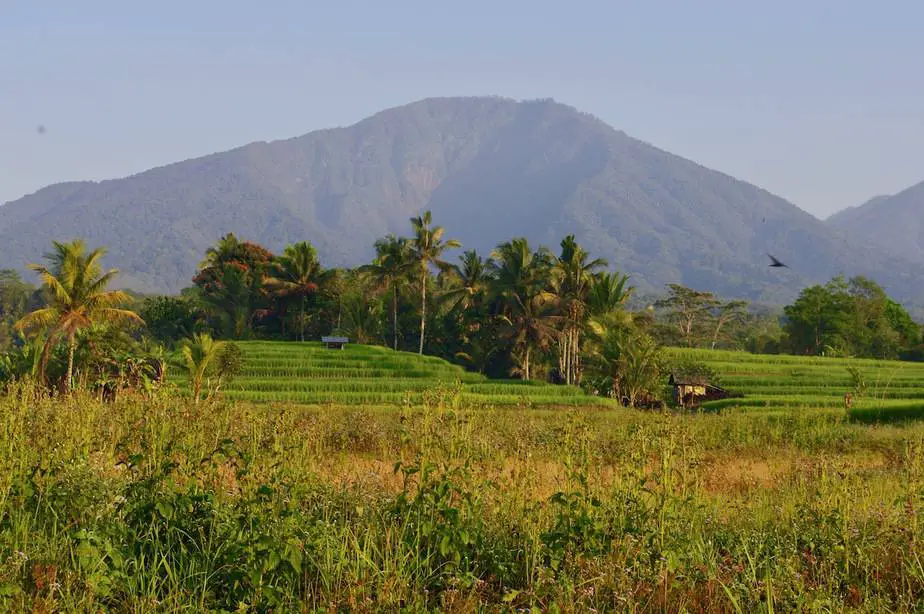 As mentioned earlier this area is mainly known for its sacred ancient temple and the second largest mountain Mount Batukaru. Unlike other places in Bali, there are not a lot of independent companies promoting all sorts of things to do.
Instead, the accommodations offer most of the activities in this area. Most of them involve hiking through the forest and plantations.
If you are not staying at one of these accommodations it still worth checking what they offer. As a non-guest, you can still enjoy their services.
Things that you can do around Batukaru are:
Visit Pura Luhur Batukaru (Batukaru temple)
Hiking Mount Batukaru
Do a Village and/or Jungle Hike
Soak in the Batukaru hot springs
Visit Jatiluwih Ricefields
1. Visit Pura Luhur Batukaru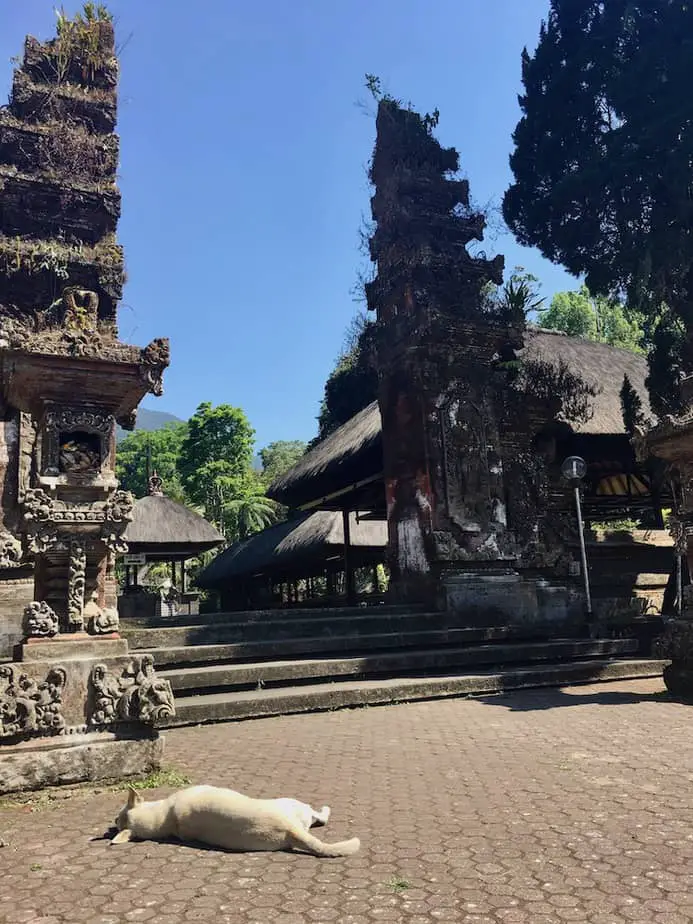 Batukaru temple is one of the six main temples on Bali but also one of the nine directional temples (created to protect the island of evil spirits) of the island. It is considered one of the most sacred sites on the island.
The temple is located on the foot of the second highest volcano of Bali, Mount Batukaru, and surrounded by ancient forest. Balinese from all over the island come here the honor of the god of Gunung Batukaru, Mahadewa.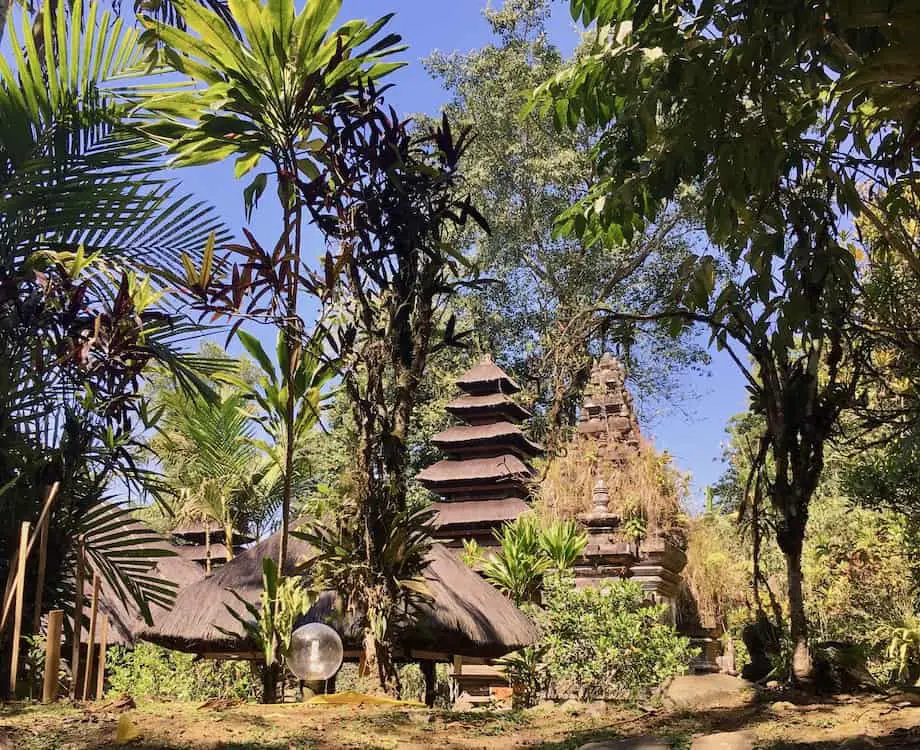 The lake on the right of the main temple has a shrine honoring the Goddess of Lake Tamblingan and the God of Mount Batukaru. Only priests are allowed to go to the shrine located on this lake. The water is considered holy and members of the subak come here often to take some for their ceremonies.
Not many visitors come here and it is likely you will be the only one when you come early in the morning.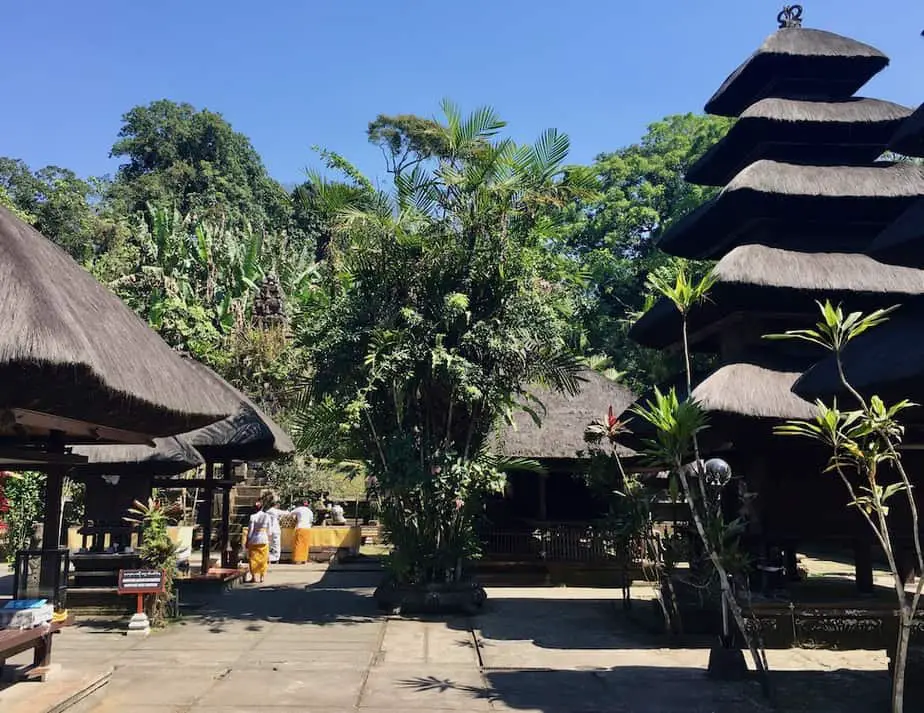 Unlike other temples, a lot of areas at this temple are only accessible for devotees. So you will not see a lot of the temple up-close. However, the natural setting of this temple makes it unique and worth visiting.
The History Of Luhur Batukaru Temple
Due to its location within the ancient forest, it can get pretty humid here. Heavy clouds together with moss-covered walls and statues make this temple pretty mystical.
While the temple has existed for centuries, the elements are less ancient as it might appear.
Manuscripts of the ancient Batuakaru temple (known as Pura Batukau of Pura Watukaru) date back till the 11th Century and it was built as one of the 6 state temples. It was dedicated to the god of the west.
Later the kings of Tabanan made it their state temple and devoted shrines to their ancestral gods. However, the temple was damaged by the kings of Buleleng in 1604.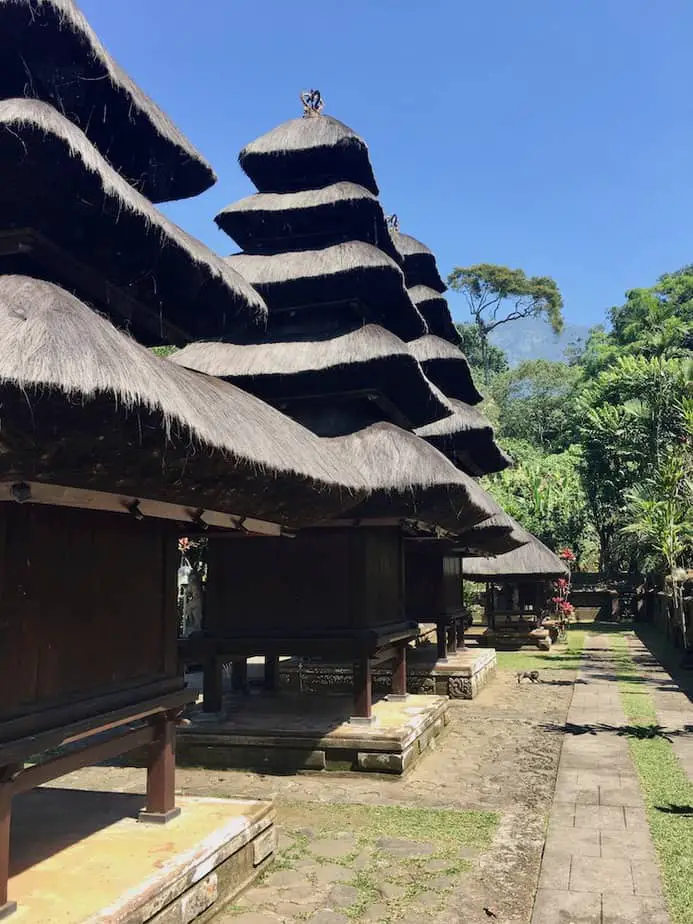 Despite just being ruins, the Balinese continued to worship here. In 1959 the temple was completely renovated. The shrines were rebuilt and are found in the inner courtyard. The shrines called meru have three, five, and seven tiers.
The temple area was again renovated in 1991 and built to receive thousands of people during ceremonies. If you want to witness such a gathering of beautifully dressed people balancing tall offerings on their heads, try to plan your visit with a temple anniversary.
For the Batukaru temple, this coincides with each Thursday after the yearly Galungan celebrations. On that day Balinese from all over the island come here to place offerings and to pray.
What To Expect When Visiting Luhur Batukaru Temple?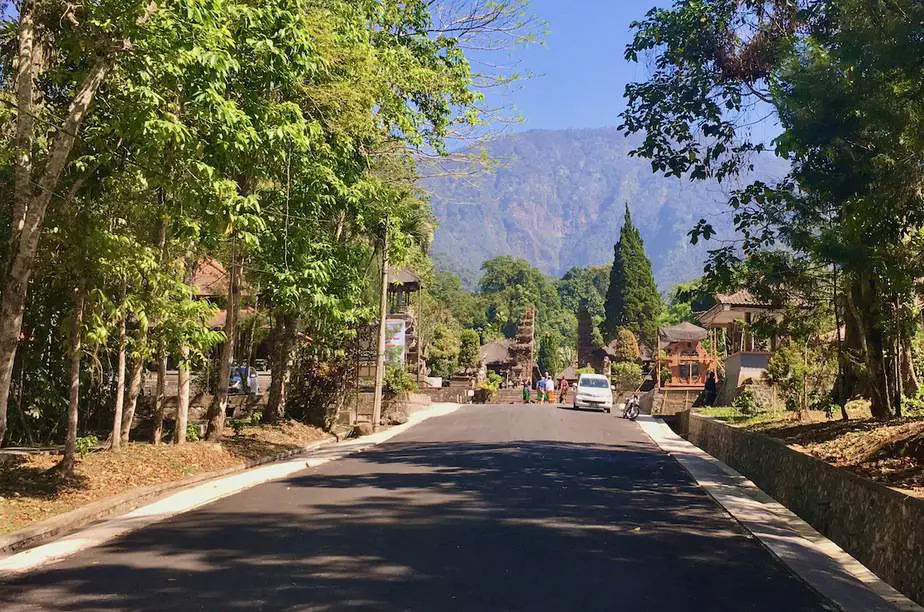 It is pretty easy to find Pura Batukaru. Once you follow the signs to Wongayagede you can see Mount Batukaru straight ahead of you.
You will enter large gates before you reach a broad driveway leading you to the temple. Funny enough it looks very organized. It doesn't really fit the profile of a Balinese temple.
But considering how sacred this temple is and picturing thousands of devotees coming here at the same time, it is pretty understandable that it was built like this.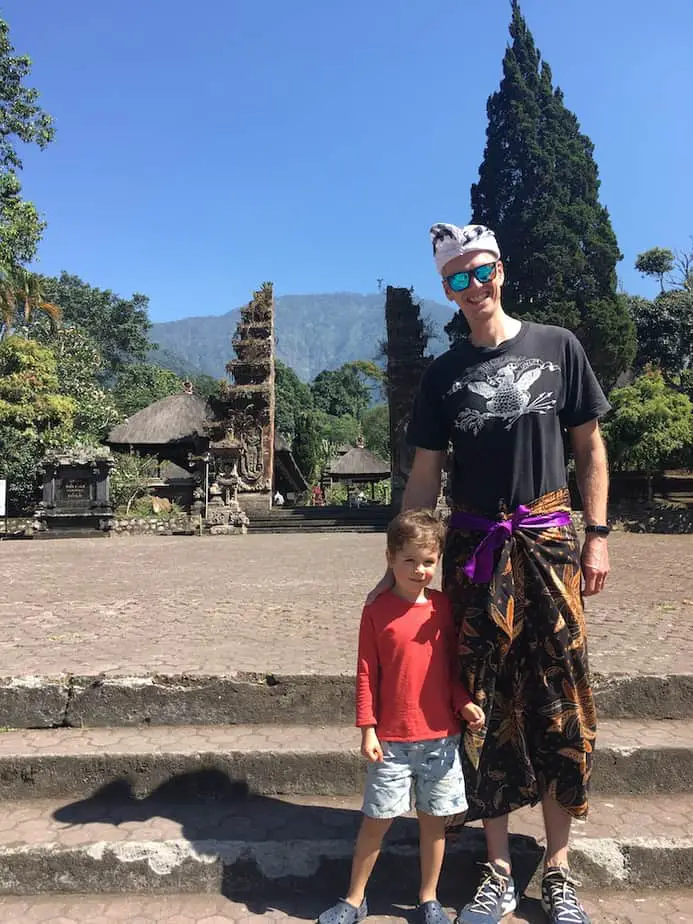 We also had the feeling that things are more strict. Besides the regular restrictions of those who are allowed to enter, this temple has also added children that haven't lost a baby tooth yet and women who have just given birth.
Also at the security post, men will provide you with a sarong, sash, and even a headcloth (udeng). The latter is never provided at other temples.  They will also help you put it all on to make sure it is done properly.
The Batukaru temple entrance fee is Rp. 40.000.  It is 24/7 open for those who come to worship and from 8 am to 6 pm for visitors.
2. Hiking Mount Batukaru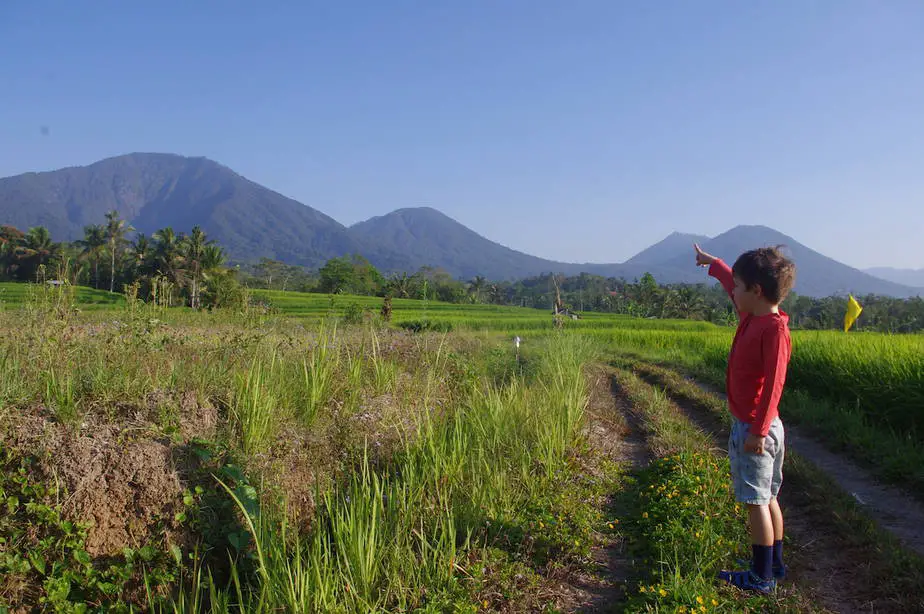 It is possible to hike the second highest mountain in Bali but you have to be trained. The mountain is more suitable for advanced hikers. That's probably also the reason why hiking this mountain is not done frequently.
That said, that might make it even more appealing.
Accommodations at the Batukaru area offer Gunung Batukaru trekking tours up the summit with a local guide. The local guides should be certified by the Sarinbuana Trekking Guides Association (STGA) to professionally guide you through the forest.
Independent hikers are welcome as well. However, the trails are not well indicated. Also, many say that if you attempt to climb it from the southern slopes the locals will claim you need a guide to take you. Of course for a very high price.
Therefore it is recommended to hike the summit from the south-eastern foothills at the Jatiluwih side. The trail starts at Pura Luhur Bhujangga Waisnawa.
When climbing Batukaru mountain, expect to go hiking through dense forest, slippery paths, and thick vegetation with leaches. The tough hike will take up to 5 hours to climb and 4 to descend. Along the way, you will encounter many flora and fauna but also ancient temples and shrines. 
3 Village and/or Jungle Hikes around Batukaru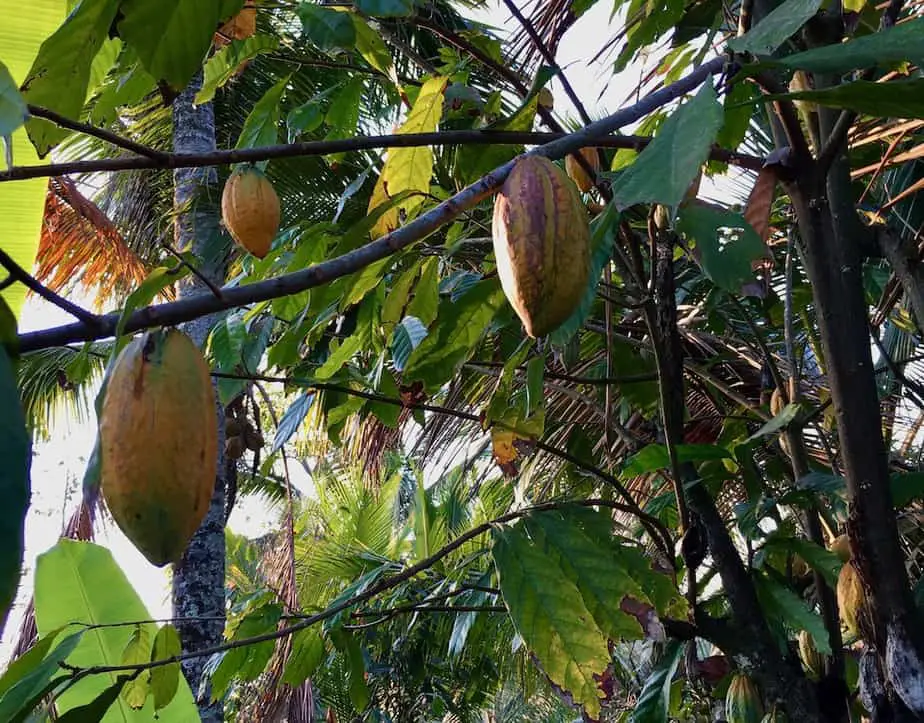 You don't have to hike Mount Batukaru to fully enjoy the area. There are many trails through the forest, plantations, and rice fields. Some are just short strolls, while others can last up to 3 to 5 hours covering dense forests.
Make sure you have good closed footwear and long trousers because of the leaches and mosquitos.
Most accommodations in Batukaru have guides that can take you hiking. The great thing is that the guides are local Balinese. They are born and raised here and know the area the best. They do guiding on the side, next to their daily works in the fields.
That means that if tourism numbers plummet, such as the case with Covid-19 it will have an impact. Luckily not as much as those who are solely depending on tourists.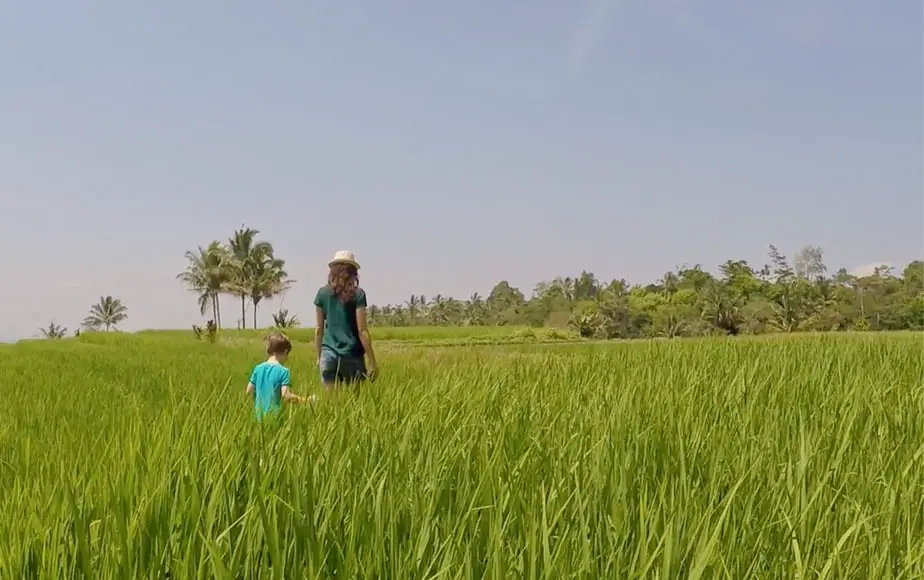 You can also approach an accommodation as a non-guest to ask for possible hiking treks. For instance, Bali Eco stay has a list of tracks that they have created for their guests.
Self-guided routes take you along coffee plantations, rice fields, streams, and local villages. Other treks are done with a guide who will also provide insightful knowledge on plants and crops.
Sarinbuana Eco Lodge also has treks of 3 to 5 hours. You will have your own guide no matter how large the group. The guide will take you through the forest and rice paddies.
Another great place to wander through the rice fields and enjoy a nice cup of tea is at Ibu Shanti and Pak Mades place called the Eco Sari Devi Ecolodge. You can easily spend the whole afternoon here. Contact them beforehand to make sure they are home.
4. Dip In The Batukaru Hot Springs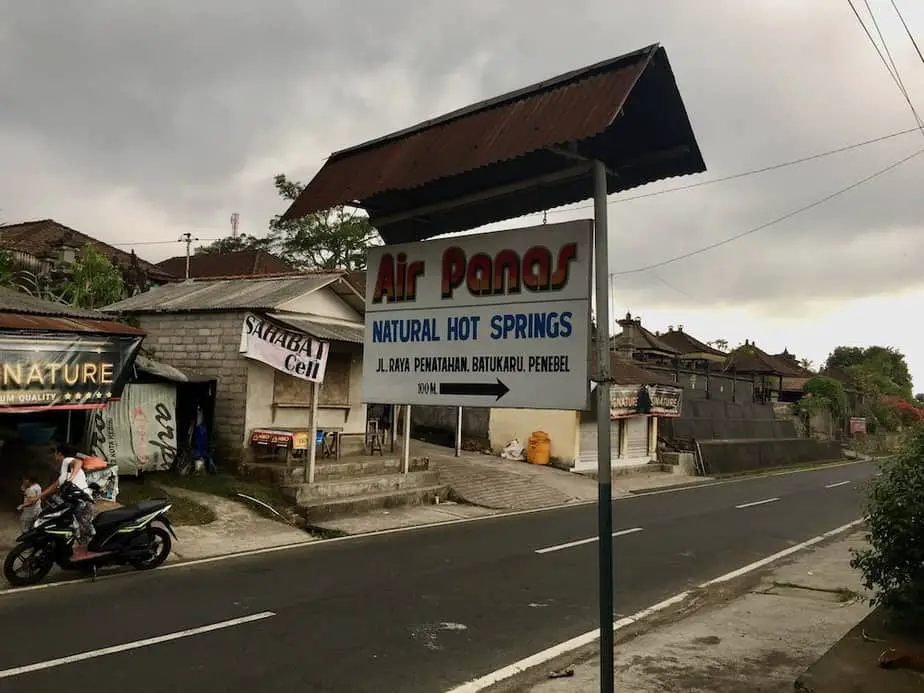 The hot springs near Batukaru are located in a small village called Penatahan, just south of the mountain. Along the main road Jl. Wongayagede-Penatahan you will see a couple of 'hot springs/air panas' signs.
We were not sure which one was the best, but after some research, we kind of made a difference between 'resort-like' and 'no frills'. We preferred the latter as we like to avoid hot springs that look like a public swimming pool. The more natural-looking the better.
The hot springs are tucked aways between several Balinese courtyards. The natural surrounding is pretty nice with lots of plants, trees, and flowers.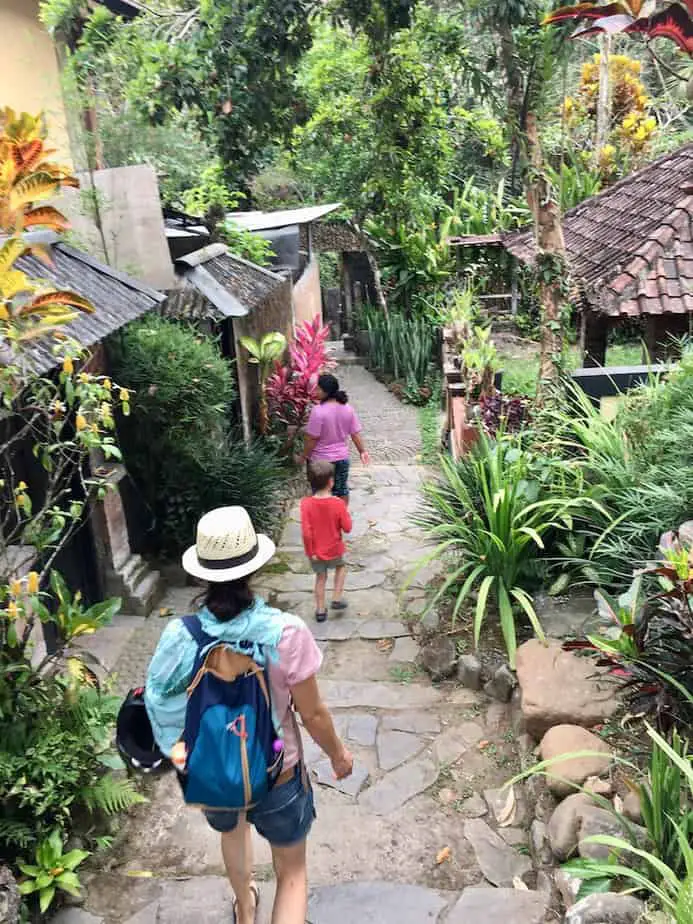 We were greeted by a lady who explained that there were private hot spring pools for Rp50.000 a person (kids are free) per hour and there is a natural one at the river.
We asked to see the river hot spring first, considering the more natural the more satisfying. The lady guided us to the river where we found two hot springs. The water was really hot at this location.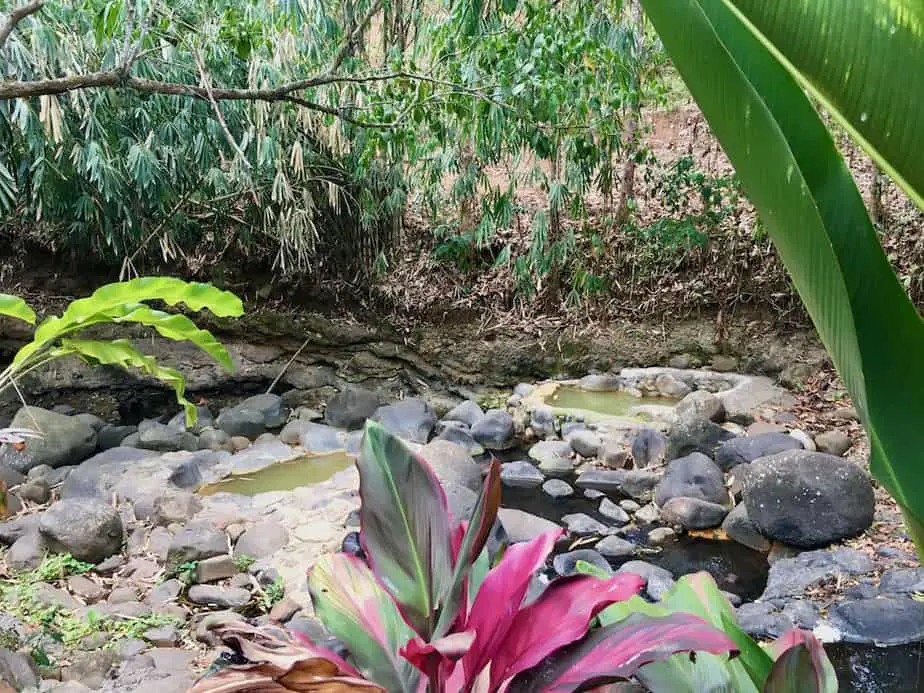 We decided to go for the private pool option. One, because the water at the small spools was extremely hot and we would have had enough after a couple of minutes already.
And two, it wasn't really private. It was along a river where there were a couple of local people hanging out. It just didn't feel comfortable giving them a show. We had to walk through the cobblestones and then painfully submerging into hot sulfur water.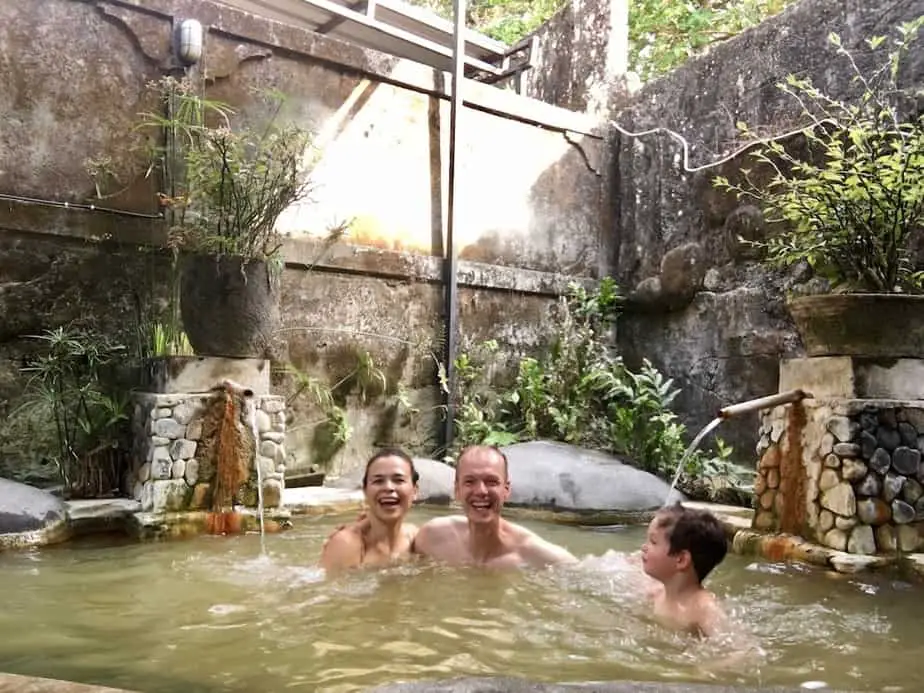 The private pool area has about 7 private pools. We were there in the low season on a regular weekday, so we got one straight away. And surprisingly we had a great time.
The water was so relaxing and it felt good on our skin. We did have to cool off every now and then under a cold shower. But it felt good. And our son? We thought he would complain about how hot it would be, but he couldn't get enough.
We managed to stay in the water for about 40 minutes and had to drag our son out after 55 minutes.
5. Take A Day trip to Jatiluwih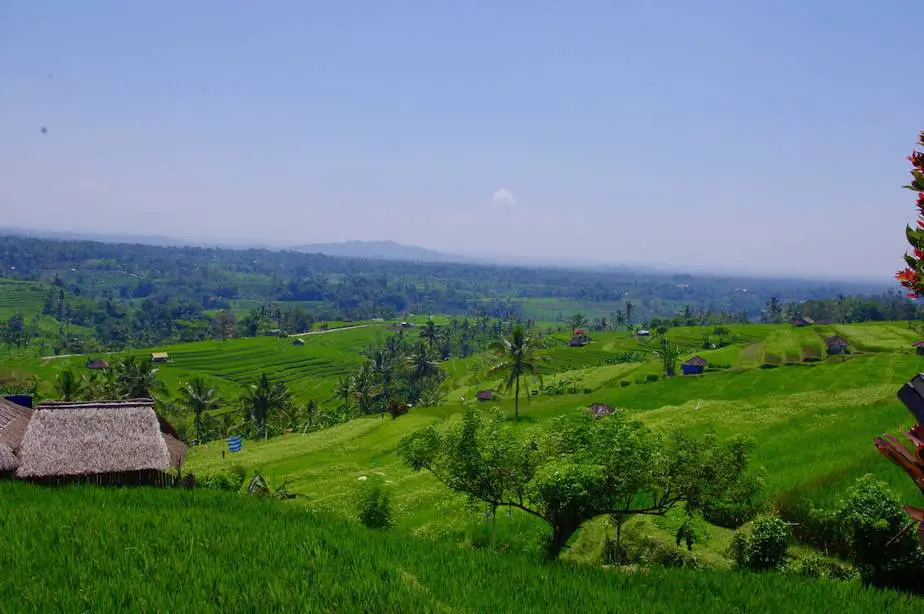 The famous UNESCO heritage site of the Jatiluwih ricefield terraces is located just around the corner of Wongayagede. It is a scenic 30-minute drive from Wongayagede/Batukaru to Jatiluwih, passing small hamlets and forests.
You will know you have arrived at Jatiluwih when you see a ticket office along the road. Stop to get your entry tickets here. It's Rp 40.000 per adult. Make sure you keep it safe because it will be checked again along the way and within the Jatiluwih area.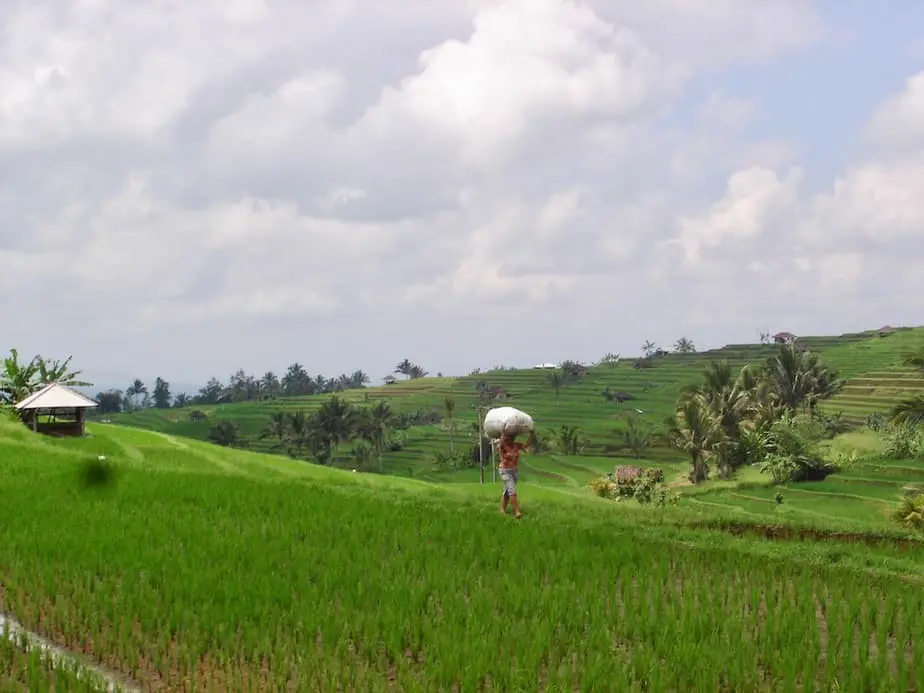 Jatiluwih is where you can have an amazing view of Balinese rice terraces. It also has 7 Subak traditional Balinese irrigation organizations that ensure that everything is taken care of.
Besides the rice fields, Jatiluwih has numerous subak temples honoring the Goddess Dewi Sri.
We have been to this area many times in the past, but it was the first time from Batukaru. Over the years it has changed immensely, especially after getting the UNESCO cultural heritage status.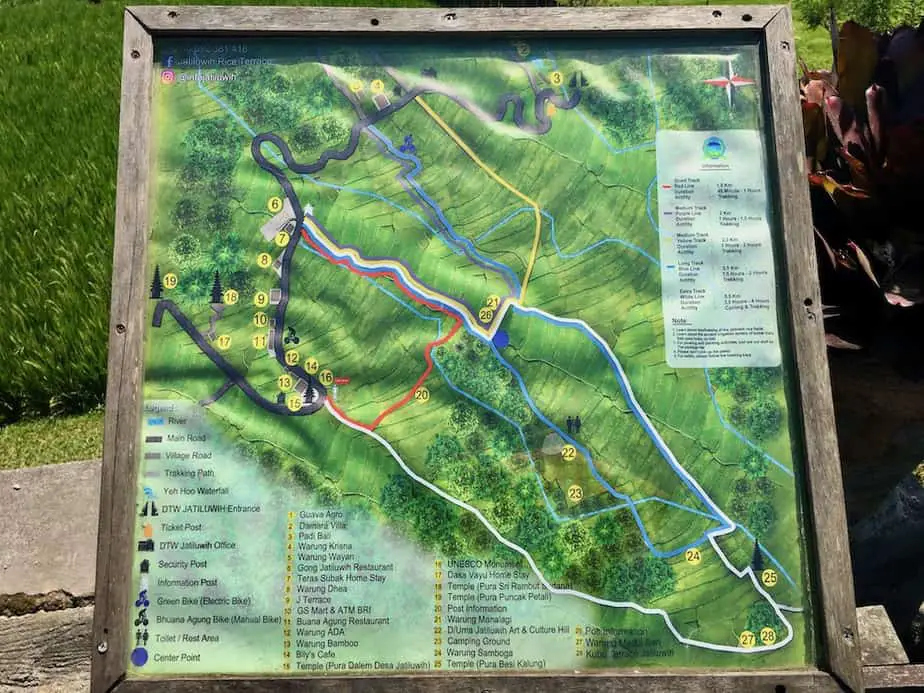 It is much busier than a couple of years ago. So not surprisingly there are more restaurants with a view. A new addition is the hiking trails through the rice fields. Here you can wander around and learn the process of rice cultivation up close.
Besides hiking, there are also bicycle (and e-bike) companies that offer great tours through the area such as Green Bike Bali.
Places to Eat in Batukaru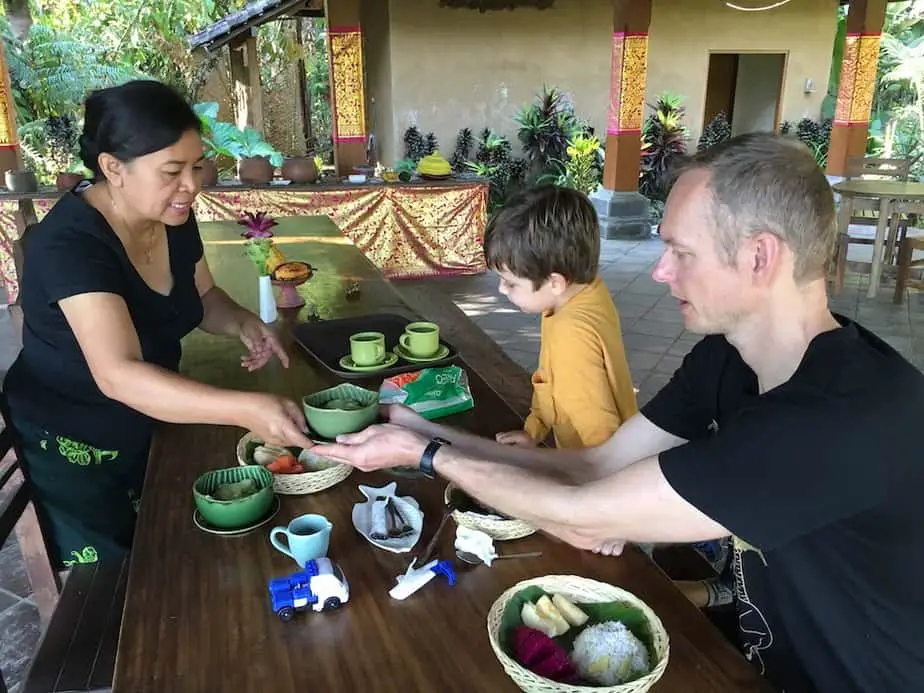 When staying in the Batukaru area it is likely you will be having most of your meals at your accommodation. There are hardly any independent restaurants.
Of course, there is the local 'warung' where you can eat at local prices noodle soup, fried vegetables, and other meat dishes.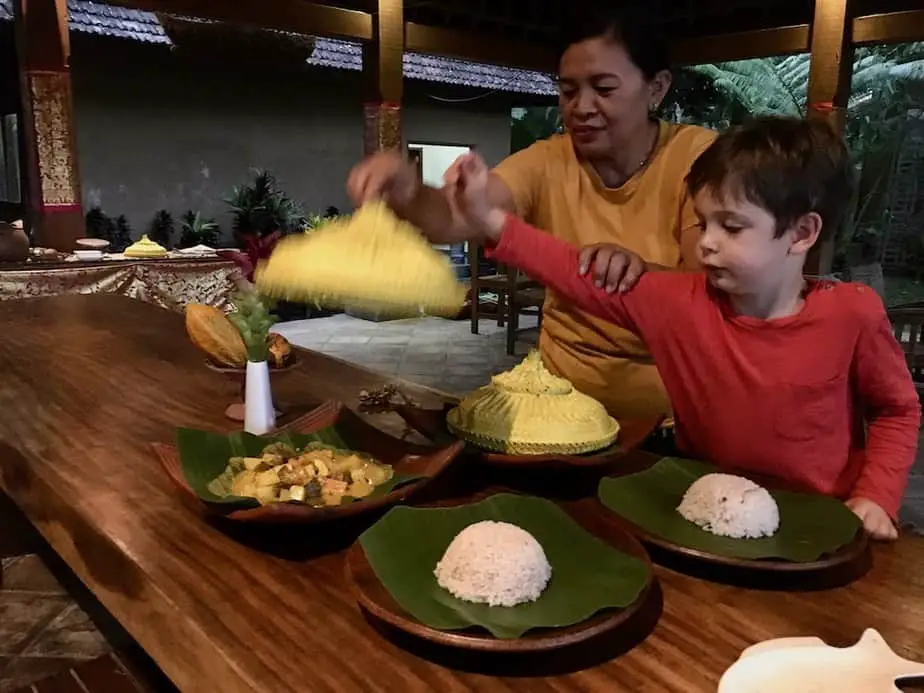 But generally speaking, most restaurants in Batukaru are linked to accommodations. In our case, we ate delicious home-made food at our homestay. In the mornings we would let the owner know we would be having lunch and/or dinner at her place.
It is extremely convenient after a day of being on the road. As soon as we had our shower, dinner was ready. We always had wonderful dinners accompanied by stories from our hosts, Ibu Shanti and Pak Made.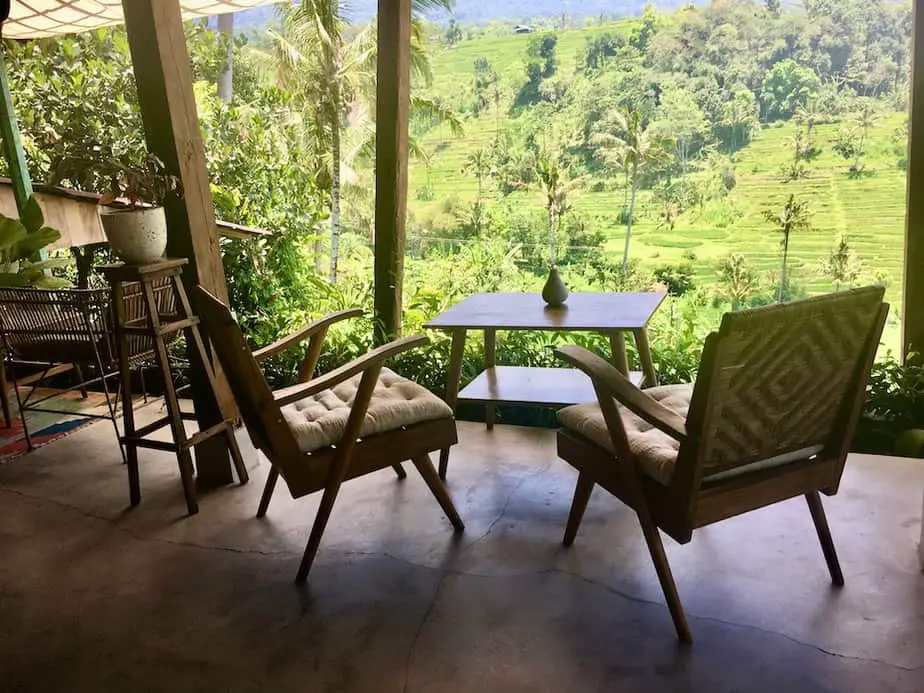 During day trips you can eat on the road. In Jatiluwih there is definitely more choice in where to eat. We recommend skipping all the large places that have a view of the famous rice fields. They mostly cater to large groups and offer a buffet.
Instead, continue driving until you leave the busy area behind and even pass the ticket checkpoint. From there on you can find many nice local restaurants that also have gorgeous settings.
We made a short pit-stop at Batu Karu Kopi (Coffee). A beautifully designed place with a stunning rice field view. It is owned by a Swedish-Balinese woman whose mother comes from this area. They serve hip western food and their own roasted coffees. It's a great place to sit after touring around.
Mount Batukaru Accommodation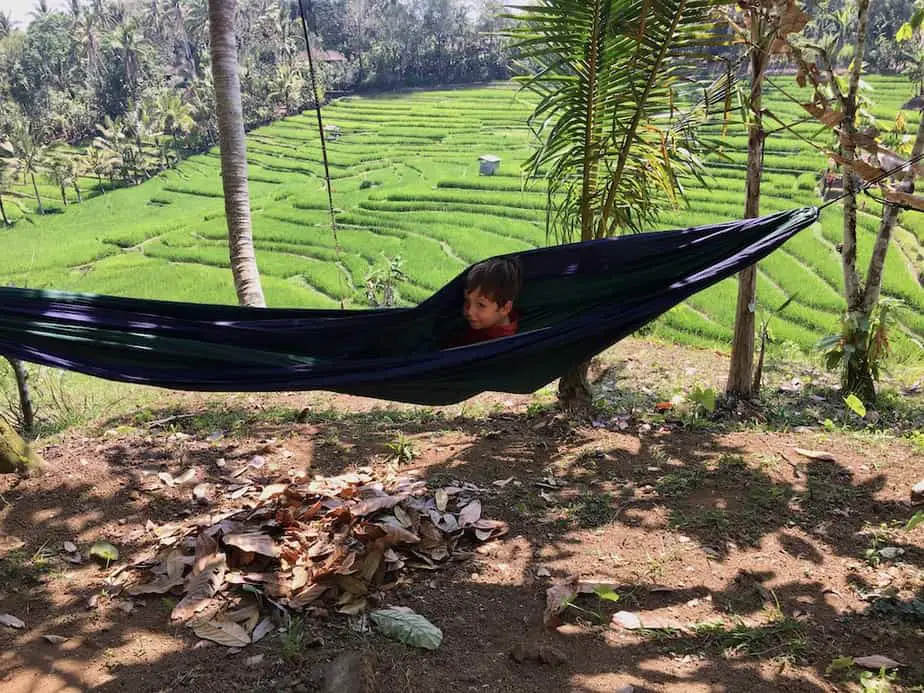 The lush jungle, little streams, green mountain slopes, and rice fields can only please one type of traveler, the eco-traveler. Luckily this area has a number of wonderful eco-friendly mountain retreats and homestays.
Make sure you arrange your accommodation before heading up there. Most places just have a small number of rooms. Additionally, it can get pretty difficult to find the place so the driver would like to have the correct address.
Some of the accommodations are located on the southwestern slopes of the mountain while others are found on the central or eastern slopes. If you are on the wrong side, you need to drive back south to get on the correct road.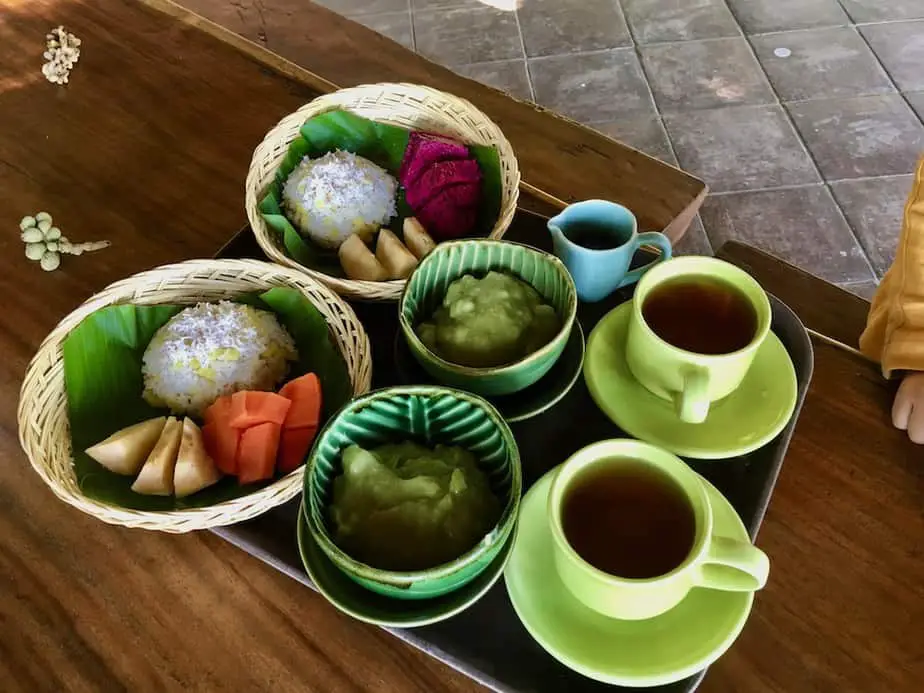 As mentioned earlier, we do think that in Batukaru the accommodation adds to the whole experience. There are accommodations located right in the jungle, others amid rice field terraces while others focus more on their yoga retreats.
These are the ones that we stayed at or caught our attention when searching for a place to stay:
Sari Devi Ecolodge, Wongayagede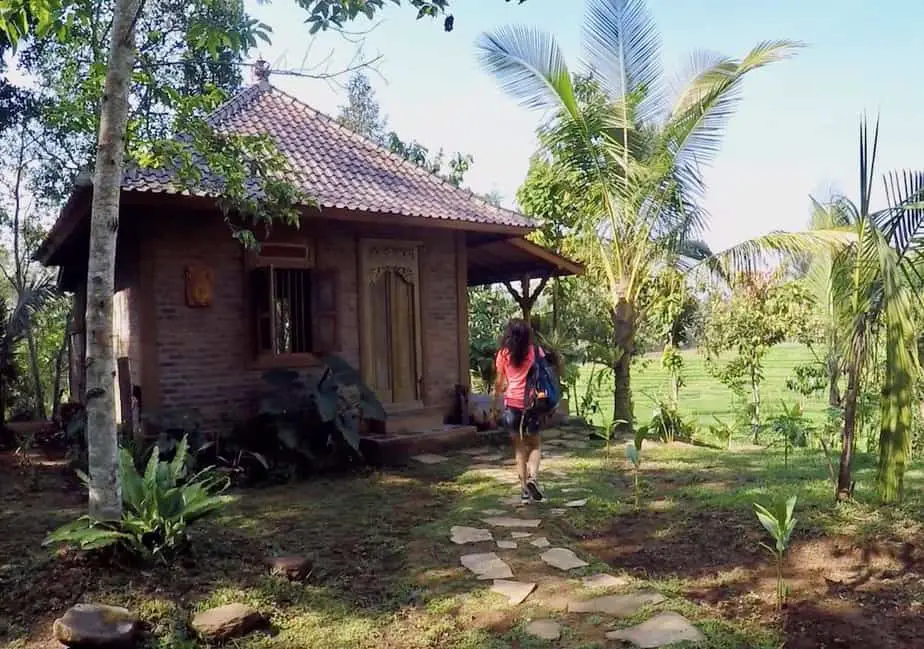 When we arrived at this eco-lodge we knew that we were going to have a wonderful time. It is tucked far from the main street, surrounded by trees and rice field valleys.
We received a warm welcome from Ibu Santi and her husband Pak Made, who immediately started having fun with our son. The hammock was spun between the trees for him to lie in and Pak Made played catch and throw while we sipped on the homemade herbal tea.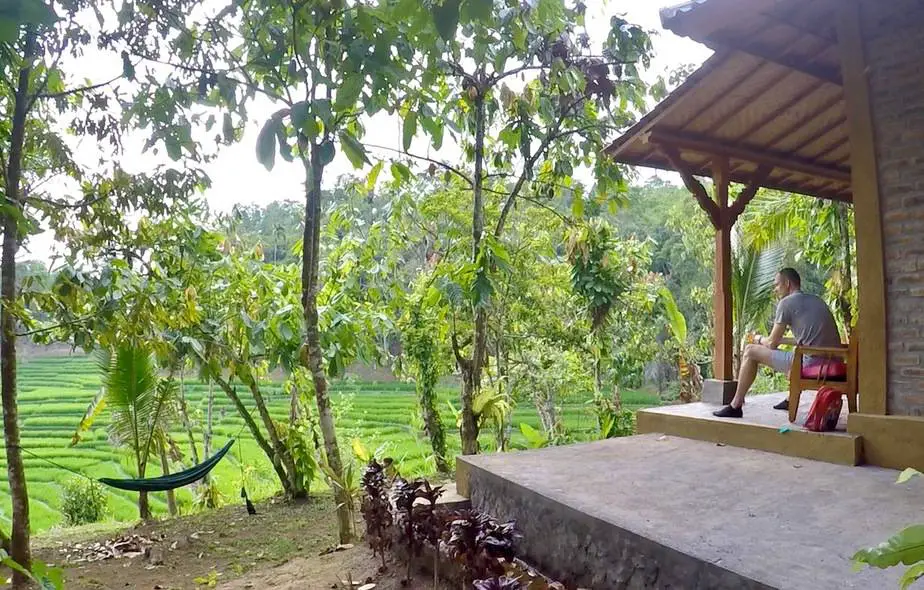 We didn't really know what to expect, but once we settled in the main bale (pavilion) we were able to take in the gorgeous view. We couldn't believe our luck. The rice field view was one of the best we had seen.
We could wander through it, all by ourselves without sharing it with anybody.  It sounds silly I know, but it gives you the same feeling as discovering a hidden beach all to yourself.
Their two rooms are located on the other side of the main pavilion, both of which have a verandah overlooking another rice field terrace. Everything is immaculately clean and well maintained.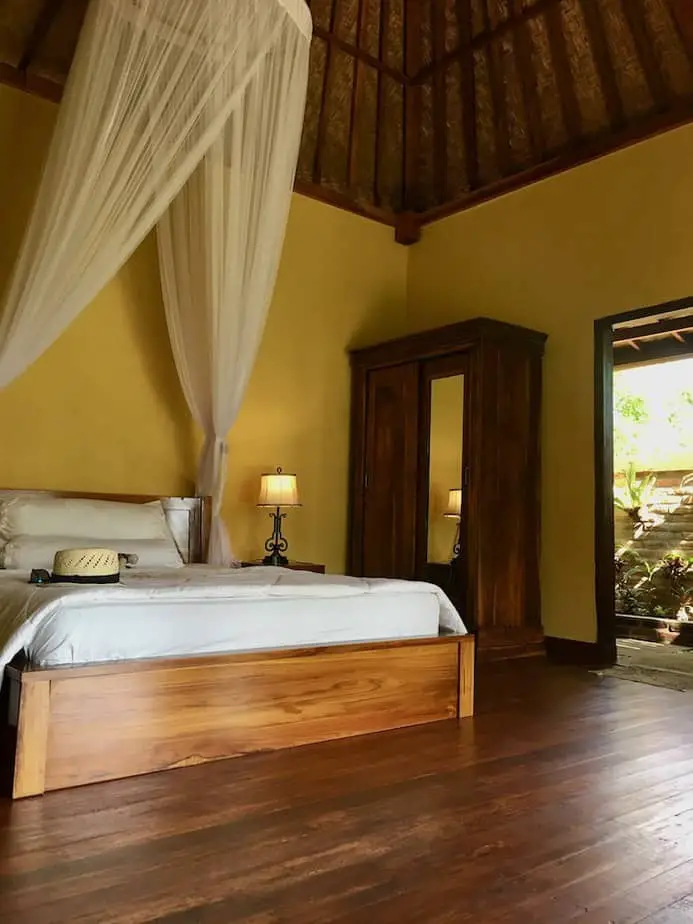 Our stay was one we will never forget. We woke up early, wandered through the rice fields, and came back for breakfast. We were always greeted by Ibu Santi who was waiting to cuddle our son.
She cooked the most delicious meals using local products and made sure it was all vegan since that's how we like it.
If you are traveling with children we are sure they are going to enjoy their stay here. Ibu Shanti and Pak Made always paid special attention to our son. He enjoyed it so much. Especially when he was allowed to hop on the motorbike with Pak Made to go for ice cream.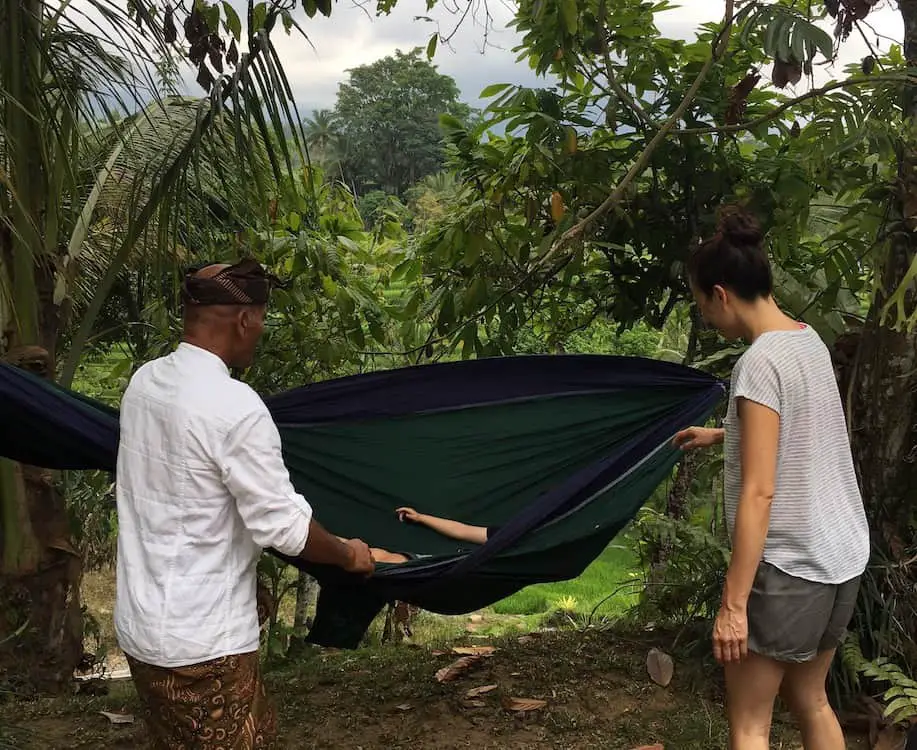 We also love the fact that Ibu Shanti and Pak Made chose to build two bungalows despite having lots of space to build more. They also come from this area and know the importance of sustainability.
The Sari Devi Ecolodge is a hidden gem in Batukaru. You can have as much privacy as you want or chat with the owners all day. It almost makes it a homestay.
Prana Dewi Mountain Resort, Wongayagede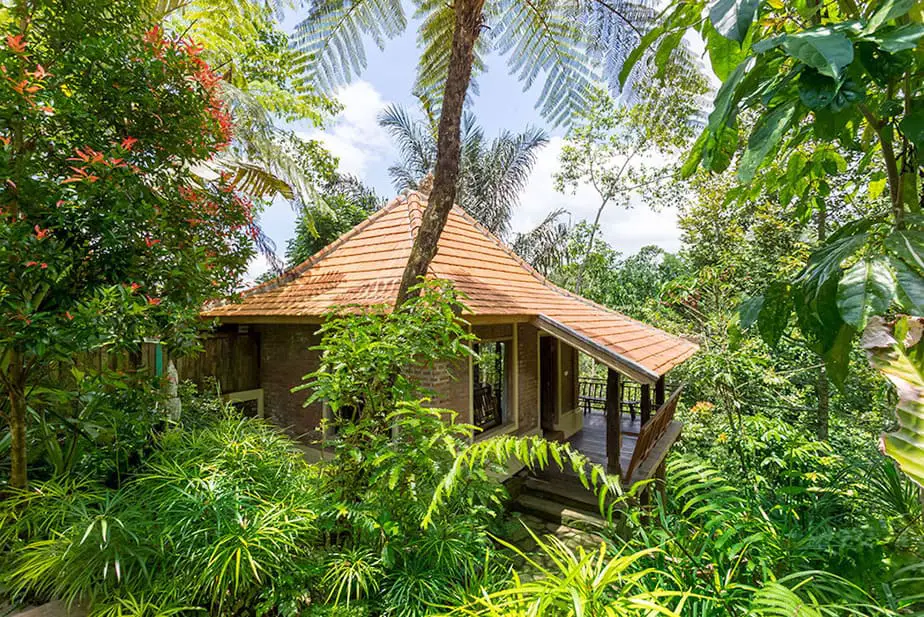 We like this place because it was locally owned by a family from Wongayagede. The owner started off with just 4 bungalows but slowly grew to having 14. Additionally, there is no tv and wifi available. Sounds like something negative, but a couple of days of 'screen-detox' will do you good.
Here they focus on connecting with nature. The resort often has yoga- and meditation retreats and environmental-conscious workshops. But you can book a bungalow for just a couple of nights too without the workshops.
This mountain resort has a large natural swimming pool. No chemicals are used and the water flows out again directly into the rice fields.
Their address states Jatiluwih, but it is actually located in Wongayagede which is about a 20-minute drive from Jatiluwih.
Batukaru Mountain Retreat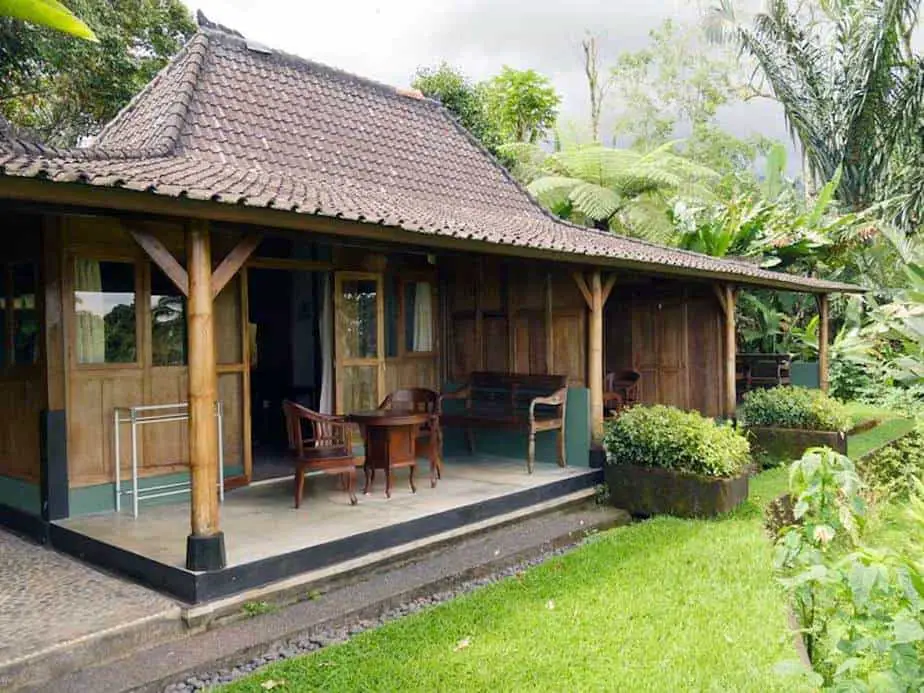 This place is probably pretty difficult to get to. On Google Maps it seems to be located near Tabanan city, making it very inconvenient if you want to explore the Batukaru area.
But on their website, a very detailed map shows you that is set on the western slopes of Mount Batukaru. There is no village higher than where they are located.  It is far away from everything, yet close to nature and local villages.
They say they are an eco-resort but we thought it wasn't that evident on their website. It is a shame that it is not highlighted more. Because after a bit of digging we found their positive efforts in conserving the environment and local culture.
They encourage wildlife on their premises by planting flora yet prohibiting the use of chemicals. Water, recycle and energy management is applied.
And what we thought was really nice is that they restored old Indonesian traditional buildings for their bungalows. Recycled hardwood is used for their furniture.
Local Balinese are involved not only through work possibilities but also through projects on new organic crop possibilities. They sell their and goods on the market.
Sarinbuana Eco Lodge, Blimbing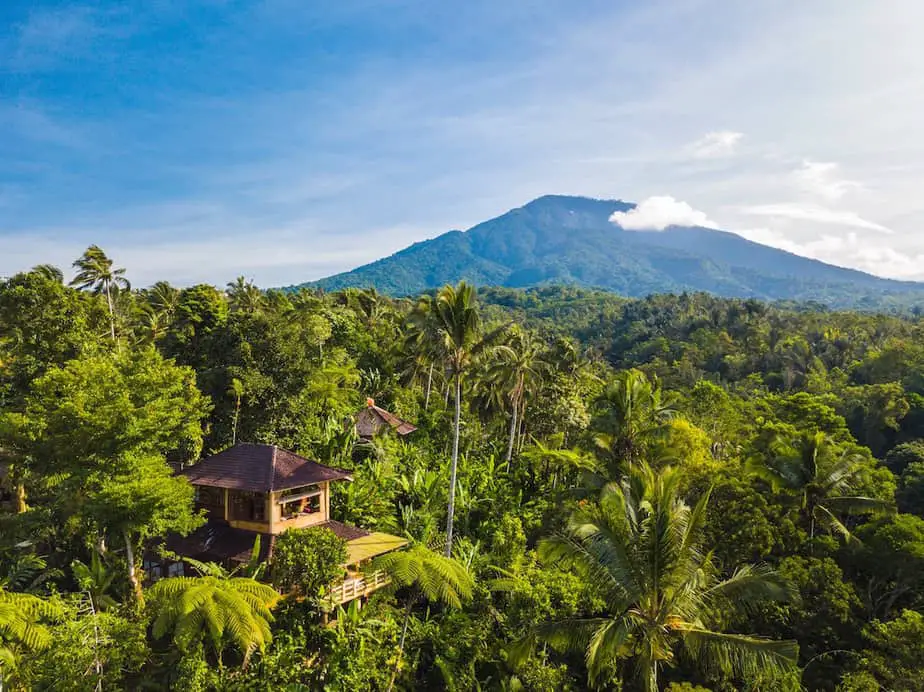 The Sarinbuana Ecolodge is one of the leaders in Bali when it comes to sustainable ecolodges. We particularly love the fact that their place fully embraces the Batukaru environment and its people.
Their bungalows are surrounded by the forest. Local people work here only, while programs are created to support village initiatives. They even set up the Sarinbuana Trekking Guides Association (STGA). An association that trains local people into professional guides.
At their premises, no chemicals are present while water and waste management are applied. The products from the area are used to support the nearby community.
It is really impressive how eco-oriented this place is and it is a wonderful example of how it should be done.
Bali Eco Stay, Desa Gunung Salak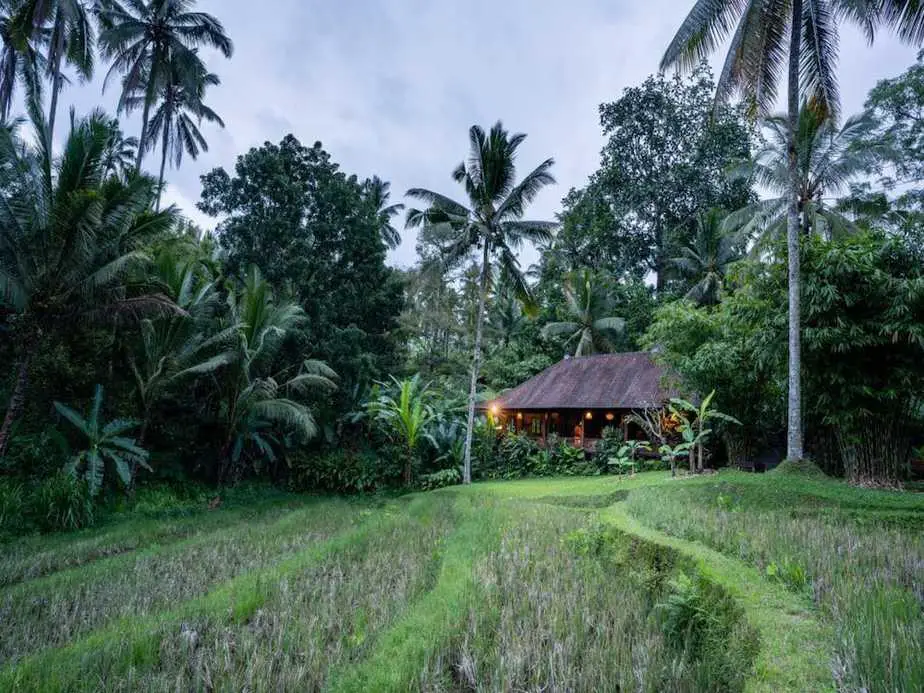 Bali Eco Stay is tucked away in a valley somewhat south of the Mount Batuakaru area. It is surrounded by forests and rice fields.
The owners ensure that the impact of nature is minimized by producing their own fruit and vegetables. They generate their own power and help in sustaining local knowledge and culture.
We think their diversity in bungalows is well-done (there will be a favorite for anyone). Their appreciation for the local people and environment is admiring.
The Bali Eco Stay is a good example of why people fall in love with Bali and why travelers should participate in supporting sustainable tourism initiatives.
The Batukaru Coffee Estate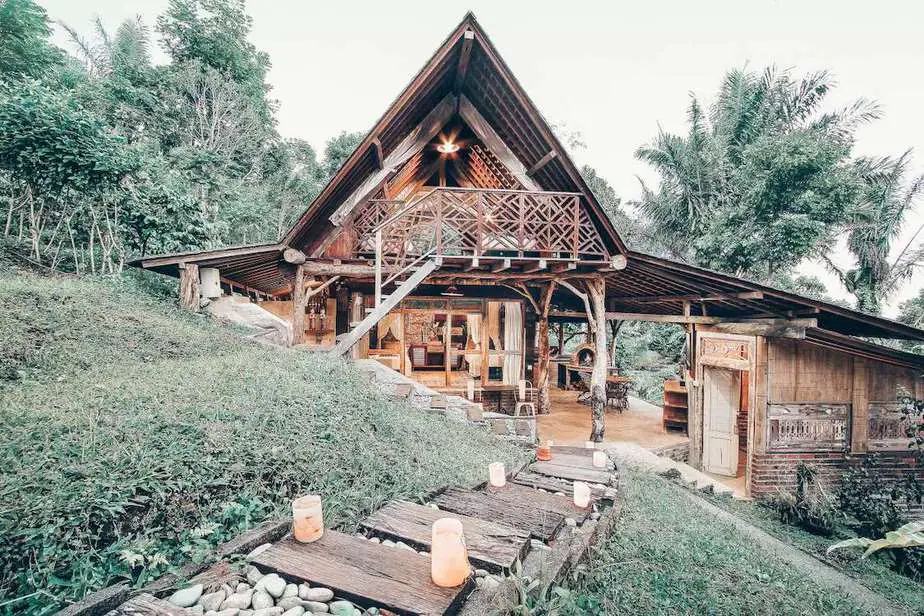 This Batukaru Eco retreat is set on the eastern slopes of Mountain Batukaru, overlooking the famous Jatiluwih rice fields in the far distance.
The Balinese owner emphasizes the importance of the balance with Mother Nature and the yields of nourishing her.
Besides their successful arabica coffee plantation, they apply biodynamic farming while respecting the surrounding nature. Fresh organic food from the farm is always served at their restaurant.
We really started to appreciate businesses that not only focus on one concept only but see their place as a whole. This eco-retreat takes a lot of care in their estate and grows high-quality produce.
Income from tourism isn't their main source only, but the development of their plantation is just as important.
In the end, it all coincides. Their accommodation is built with local products from their estate and is located in beautifully kept surroundings.
We think this place would be ideal for couples who love coffee a lot. The activities on the coffee estate are wonderful for a long weekend away.
Great Budget Accommodations In Batukaru
There are also budget accommodations that will ensure a good stay in Batukaru. One that we really like is the Batukaru Mountain Farmstay. Here village life is very much present so you will experience Bali in a local way.
Another great Batukaru mountain homestay is located in Wongayagede and is called Dina Homestay. Locally owned by Adi and his family and very well kept. It's a quiet place surrounded by the forest.
What's next?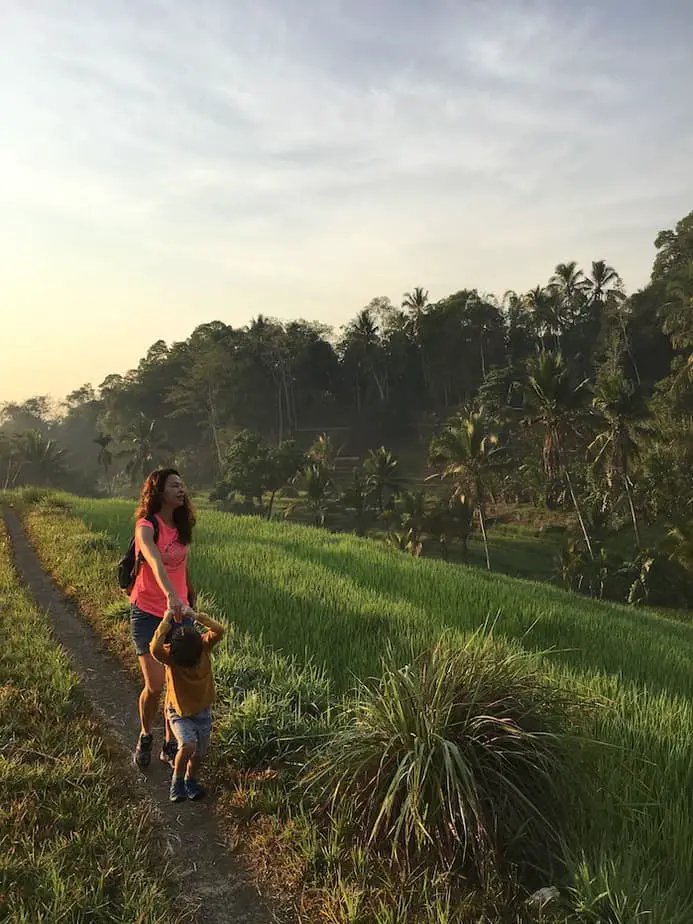 This question is pretty easy for us. We must return to explore more of Batukaru. Hiking the summit of Mount Batukaru might not be on our list for the near future because our son isn't' old enough. But exploring the western and eastern slopes of Batukaru is definitely a must-do for us.
We are sure that once you've visited this area, you will be returning again. We have this feeling that businesses and local villages really value their natural surroundings. Almost all apply sustainable practices to ensure that the beauty of this area is conserved.
That is why we don't believe that there will be huge dramatic changes. Fingers crossed.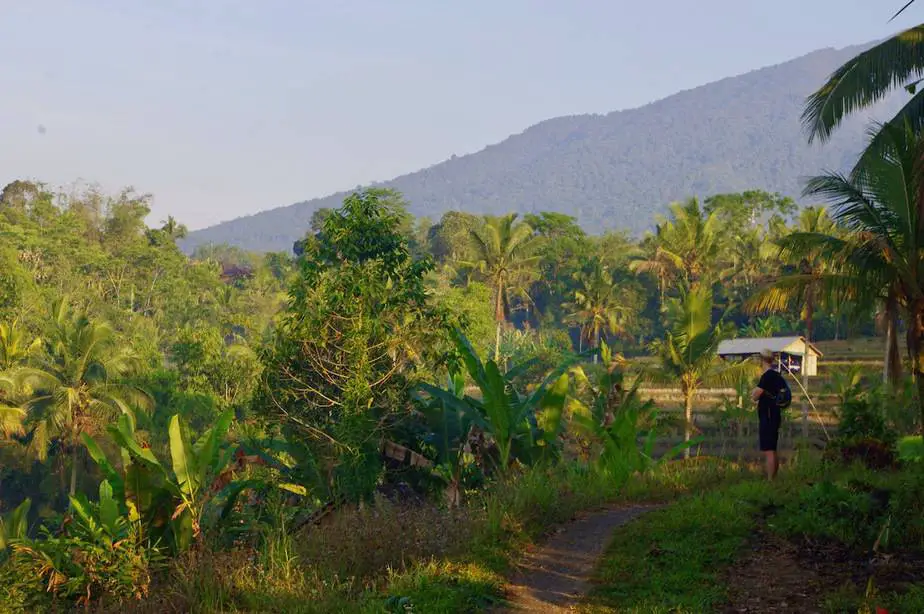 A big bonus is the tourist numbers in this area. They are very low compared to other areas in Bali. So those who appreciate being away from the crowd will feel very comfortable experiencing an eco-holiday in Batukaru.