Arranging transportation in Bali is a very important step in your preparation process when you want to enjoy the island. Whether it is only to get from the airport to your accommodation or to tour around the island independently or with a guide.
One of the most popular sayings in traveling is 'do as the locals do'. This is also the case when we choose our favorite type of transportation in Bali: the motorbike.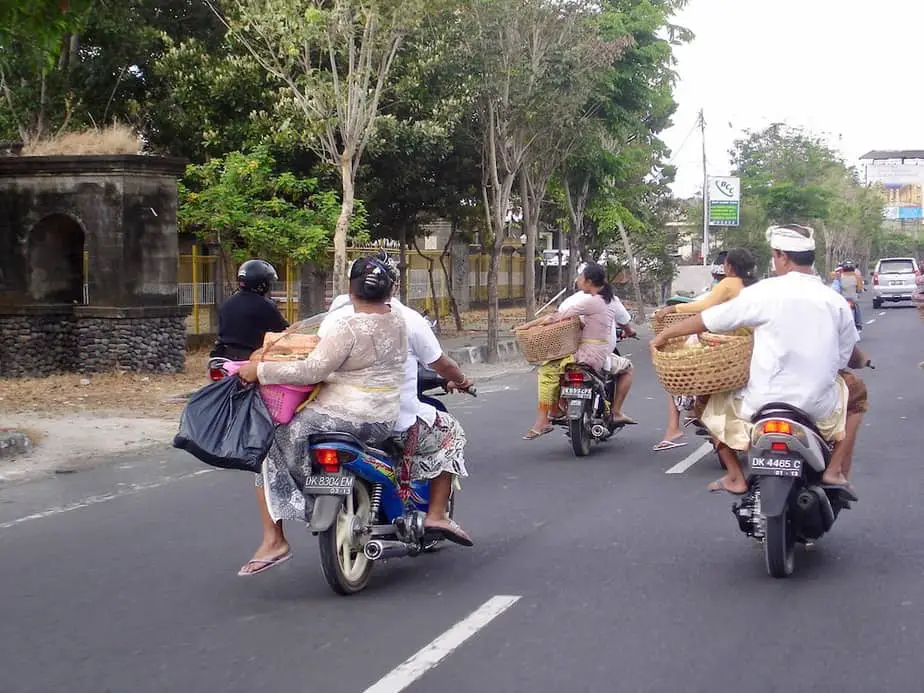 However, we don't always stick to this option. Sometimes it is more convenient to get around Bali by other means. More so since we are traveling with a little kid.
All the types of transportation in Bali are easily arrange once you arrive.
The 9 ways to get around Bali are:
Airport Taxi
Motorbike/Scooter
Bicycle
Ride-Hailing Apps
Taxi
Private Driver
Car Rental
Public Transport
Fast Boat
Continue reading to discover which type of transportation is best for you.
Traffic Conditions in Bali
Over the years traffic in Bali has become problematic. There are times during the day that the south part of Bali is jammed. Getting from Jimbaran to the airport usually takes just 15 minutes. But during rush hour it can take more than one hour.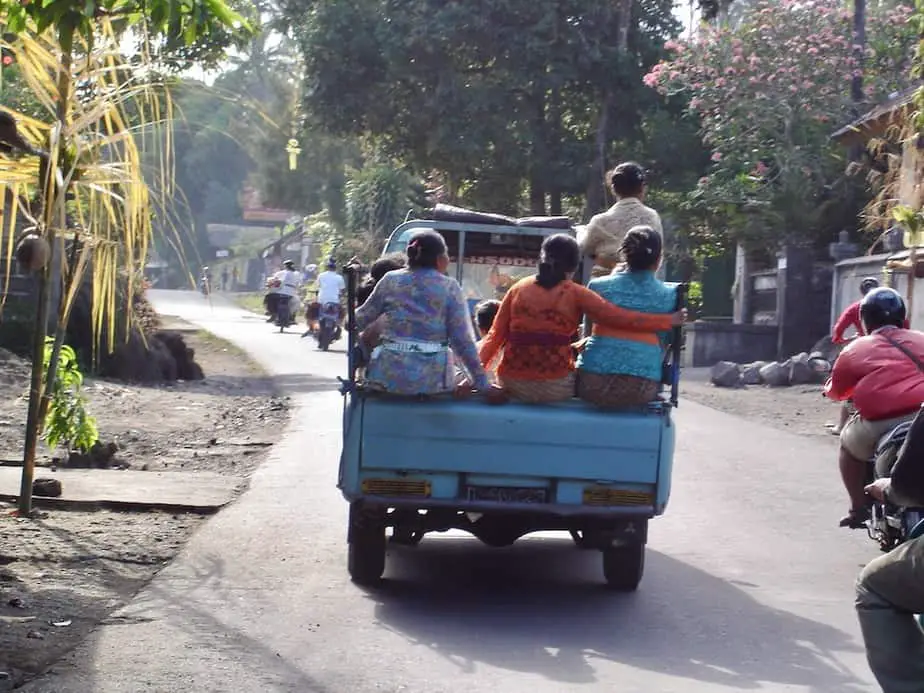 If you are traveling in this part of the island you can also choose to use the Jalan Tol (Toll Road). You have to pay to use this road but it saves you a lot of time and stress. The toll road is ideal for those traveling from the Bukit, Jimbaran or Nusa Dua area to the airport, Kuta area or Sanur and beyond.
The Google Maps app is also very accurate when it comes to traffic conditions. The red indication shows where there is a traffic jam. Very useful when planning your trip.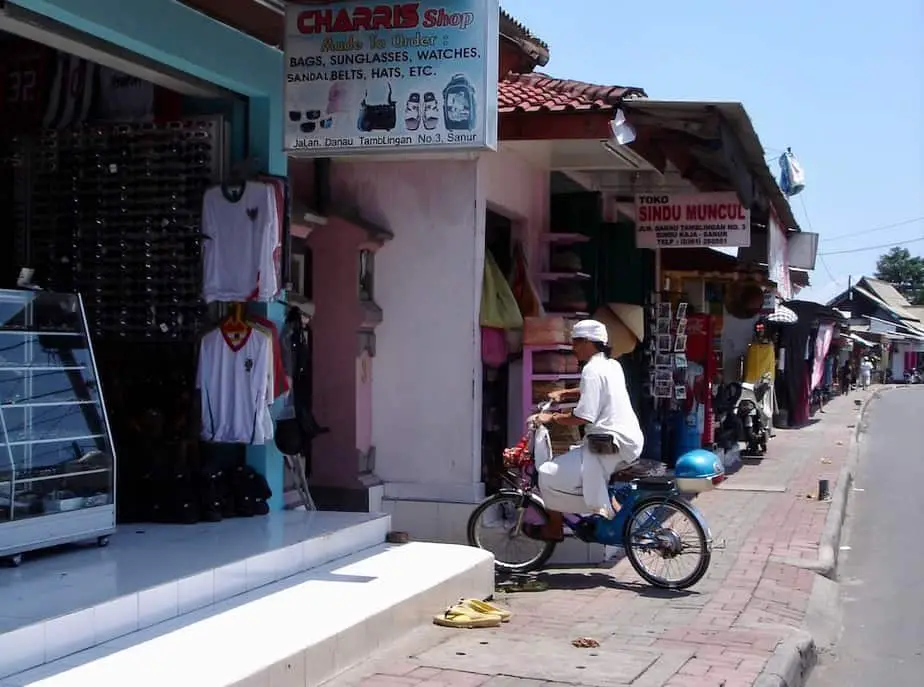 1. The Airport Taxi
Many travelers who arrive at Bali Ngurah International Airport and have done their research know that the airport taxi is 'expensive'.
The reason for this is that the airport authority has created limitations for drivers from other companies such as Blue Bird, GoCar and Grab to pick up passengers. They are only allowed to drop off passengers at the departure hall.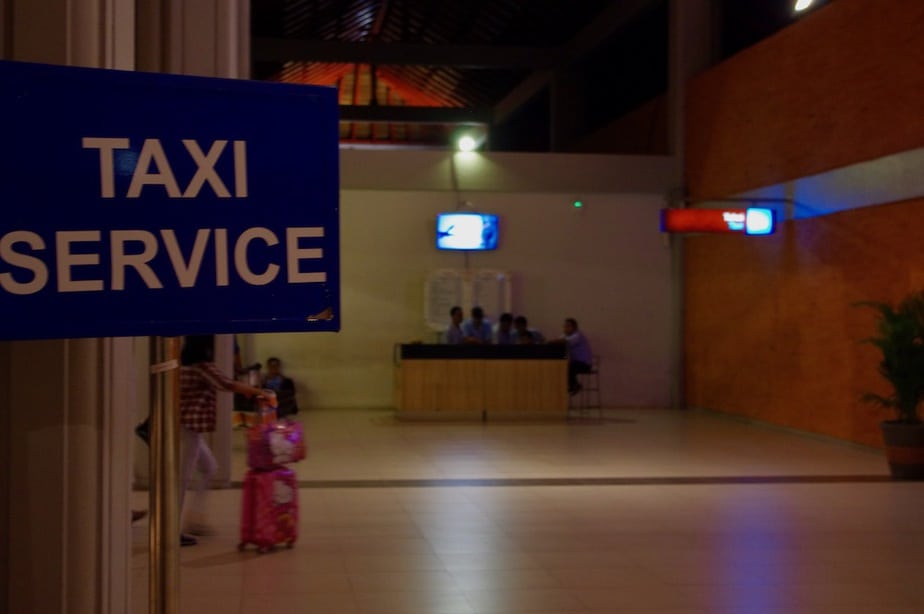 If you haven't arranged a private driver from your accommodation, a friend or any non-commercial driver to pick you up then you have no choice than to pay more.
We have read many bad reviews about airport taxi drivers. After many years of arriving at the airport we really never ever had problems. Even the driver who had to drive us in the dark all the way to Balangan beach at 10.00 pm did not make a fuss.
We are not bothered by the fact that we are being 'ripped off' (as described by many travelers). After a long flight, we just want to get to our accommodation as quickly as possible without any hassle.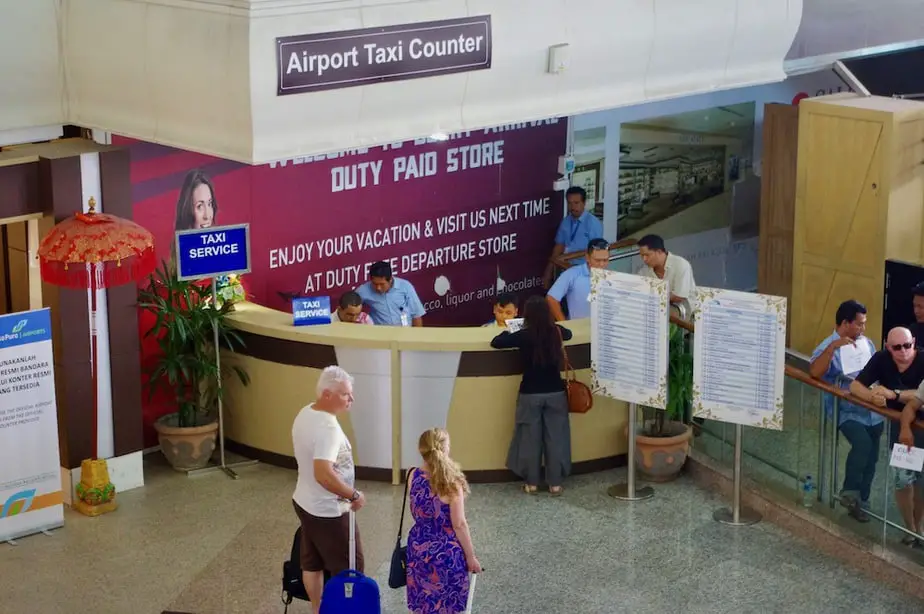 If we have to pay 10 USD more then so be it. These guys need to eat too.  With many hotel and tour company drivers picking up their customers at the airport too, we don't mind helping other drivers out.
Don't want to have the 'ripped-off' feeling? You can also walk through the car park garage until you see a pavement. Then walk out the airport gates and order a driver with one of the ride-hailing apps.
When you know you will return to Bali soon read a tip we mention under number 6 'Private Driver'. If you read this you will never have to get an airport taxi ever again.
So how does the airport taxi work?
Make sure you head straight to the Airport Taxi Counter. These can be found at the international and domestic arrival hall. Try to stay focused when looking, because you will be approached by a dozen of unlicensed drivers.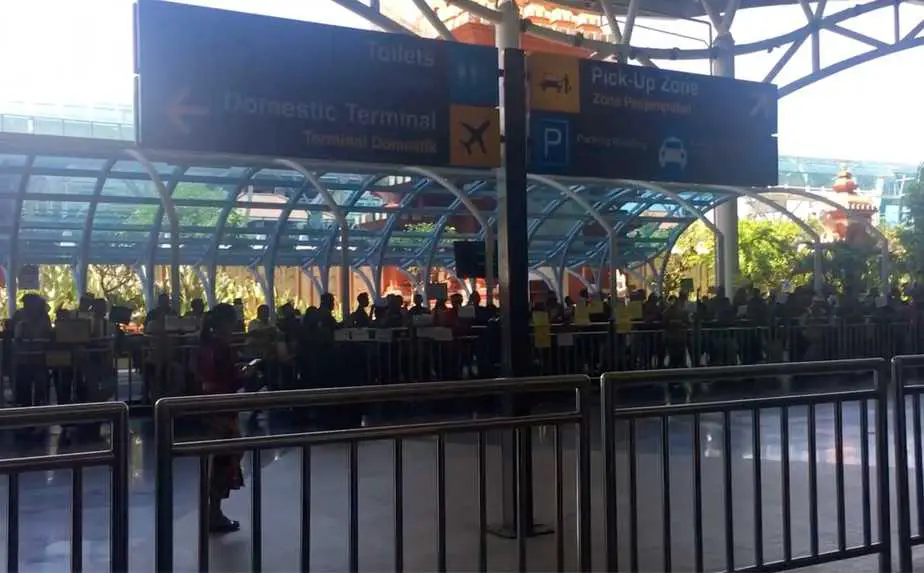 Don't be tempted. They might seem cheaper, but usually, they end up being more expensive. So continue looking until you find the counter that has a huge sign with destinations and prices.
These destinations are grouped in zones. Zone 2 (Rp. 120.000) and Zone 3 (Rp. 150.000) are Kuta, Seminyak and Jimbaran area. Sanur and Nusa Dua are in Zone 5 (Rp. 200.000). Places as far as Canggu and Uluwatu are considered Zone 8 (Rp.310.000) while Ubud is in Zone 9 (Rp. 360.000).
Everything further away such as Candidasa, Amed and Lovina are more expensive.
But if you were to go immediately to these villages from the airport then you will probably already have been in contact with your accommodation. Often they can arrange transportation at cheaper rates than the airport taxi.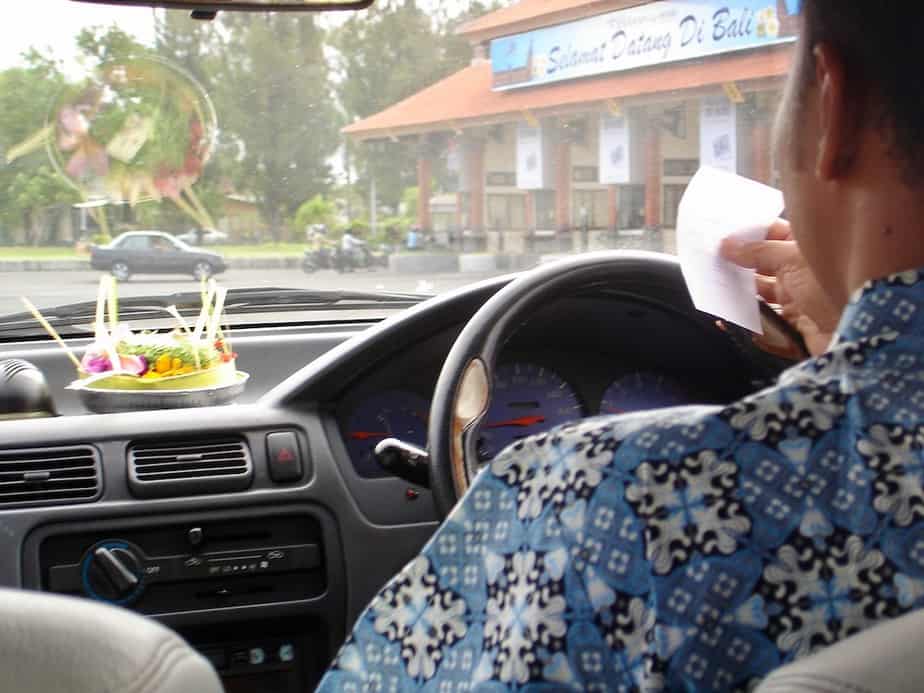 So once you give the address of your destination to the guy behind the counter, you pay directly at the counter. Then you will receive a piece of paper with a number on it. Before you know it a driver in uniform will approach you with a similar receipt and number.
He will help you with your luggage and escort you to his taxi and that's it. You don't pay anything else to the driver unless you want to give him a tip.
2. Motorbike/Scooter on Bali
As mentioned, our favorite way to get around Bali is by motorbike/moped. The Balinese prefer this mode of transportation because it's cheap and you can bypass the traffic jams. Moreover, you can get to places where cars can't go.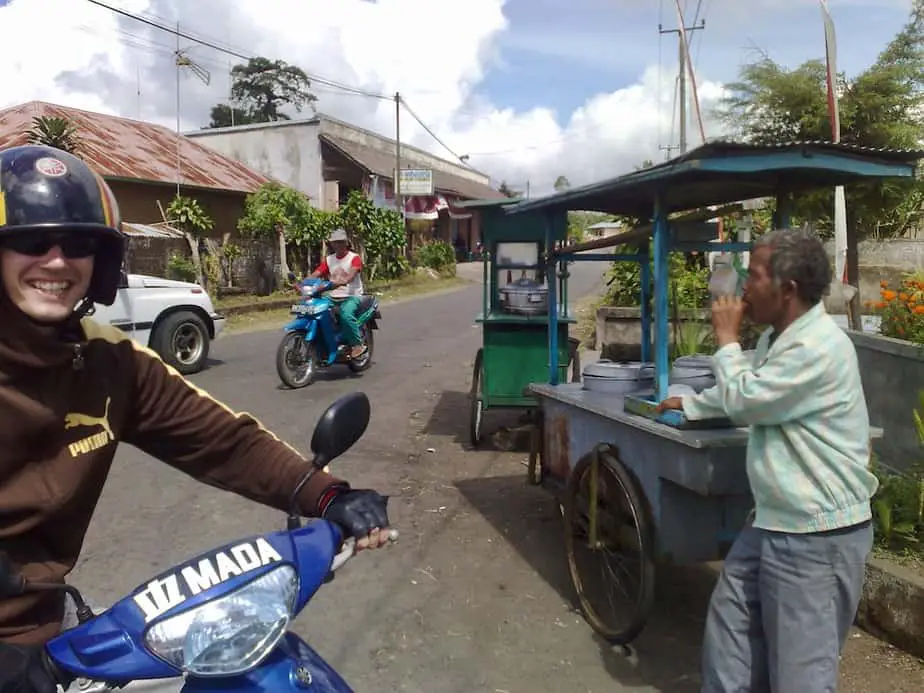 Traveling by motorbike gives you a sense of freedom. Especially when you use Google maps. This app will guide you to every corner of the island.
On a motorbike, we find it is easier to stop if we spot something we want to see up close or to take a left turn instead of right. This way of touring has led us to secluded beaches, little villages, and narrow misty mountain roads. You will not do this with a car or private driver.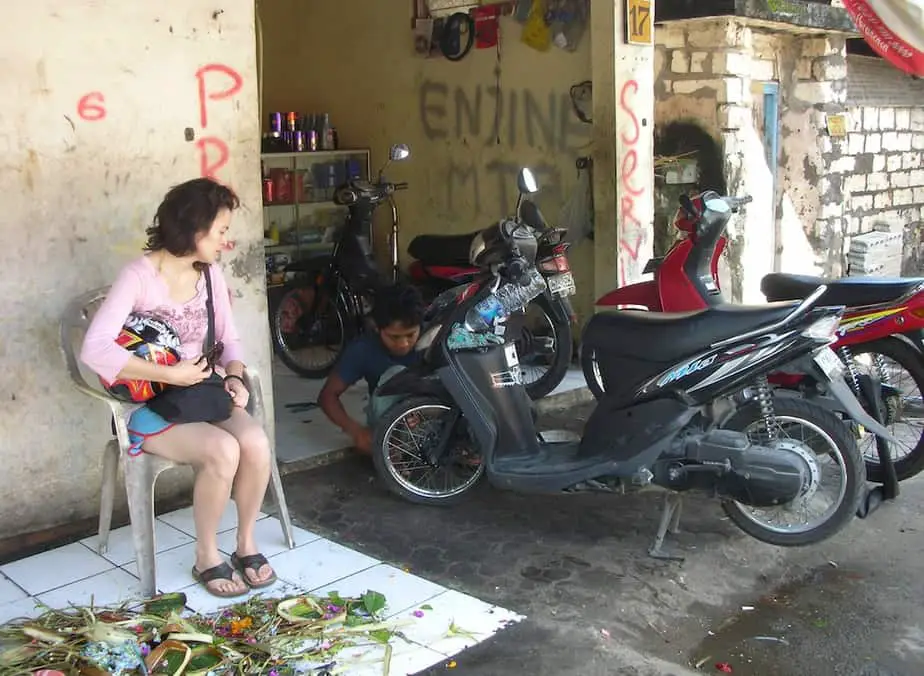 The motorbikes in Bali are mostly built by typical Asian manufacturers, made by Honda or Yamaha and have enough power with 110-155CC.
You can rent these scooters for Rph 60.000 to Rp. 75.000 for exactly 24 hours. The price depends on the location, the number of other rental options nearby or your ability to bargain. Discounts are usually possible when renting for 3 days or longer.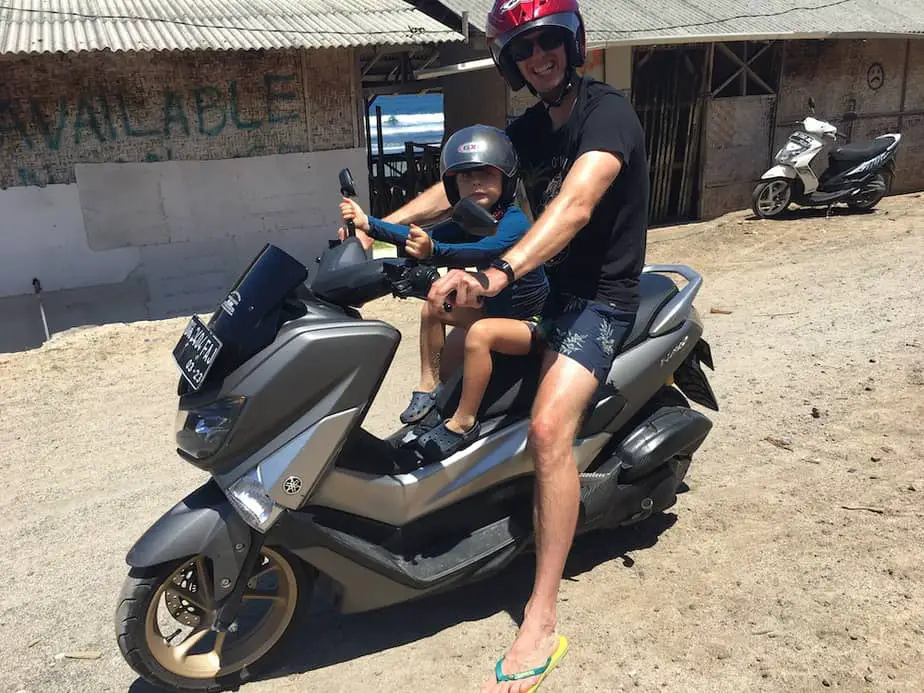 The price includes two helmets and you return the bike with a full tank. If you decide to tour around a bit longer than planned the owners are always happy to extend the rental period. You can do this by phone of course.
Due to the heavy traffic, we recommend traveling between villages by private driver or shuttle bus. It's less tiring and you will not be inhaling the traffic fumes. Once in the village, you can rent a motorbike and from there tour around the area.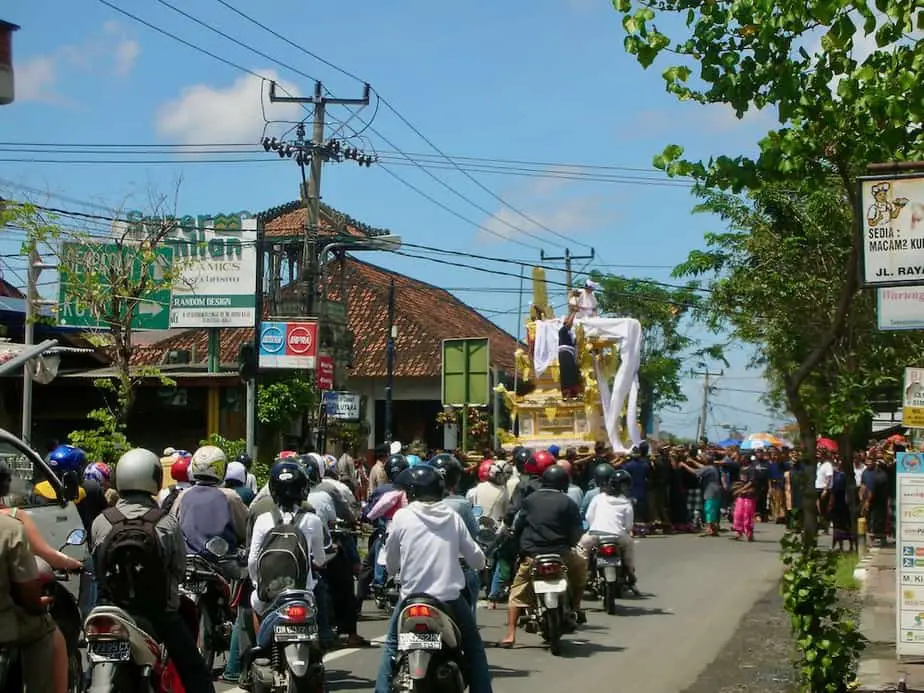 Driving with Kids on a motorbike
In Bali, it is very common to see mom and dad with two kids riding one motorbike. We discovered that it is extremely convenient to travel this way.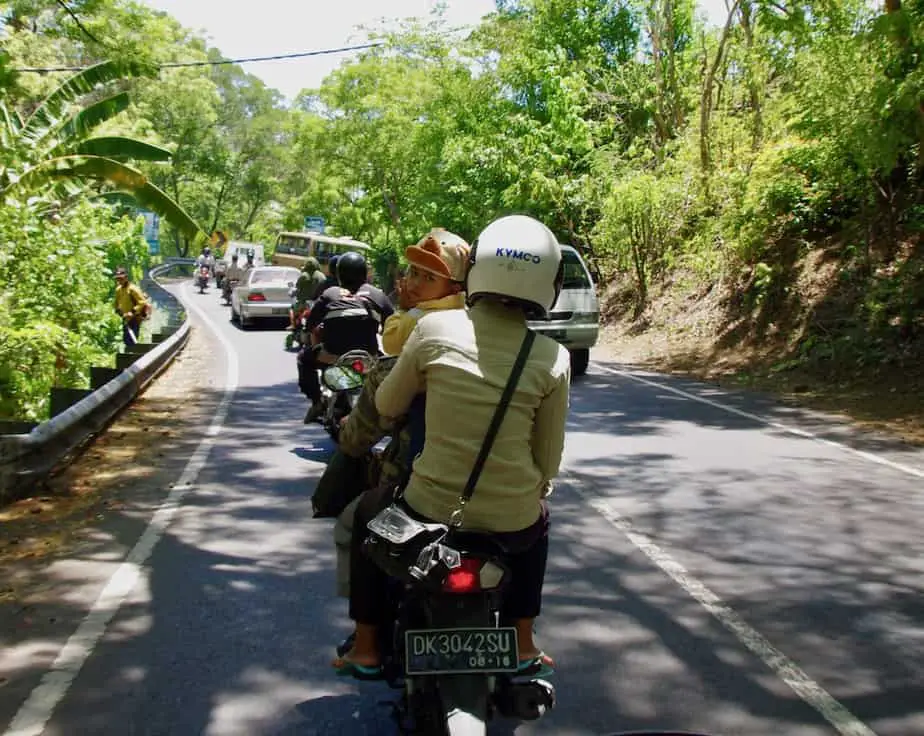 We have gained a lot of experience driving around Bali and we know where we can do it and where it's best not to. So when our son was 1,5 we would go with the three of us on a bike. He would sit between us, facing backward.
Now that he is 4 years old, he still sits in between so he can fall asleep. But it is also possible for him to sit in the front when we drive to the supermarket around the corner for instance. He sits right on the tip of the seat so we can hold him firmly between our legs.
By now he can hold the mirrors or the steering wheel with his hands. To make it even more stable we put a bag under his feet so he sits more comfortably.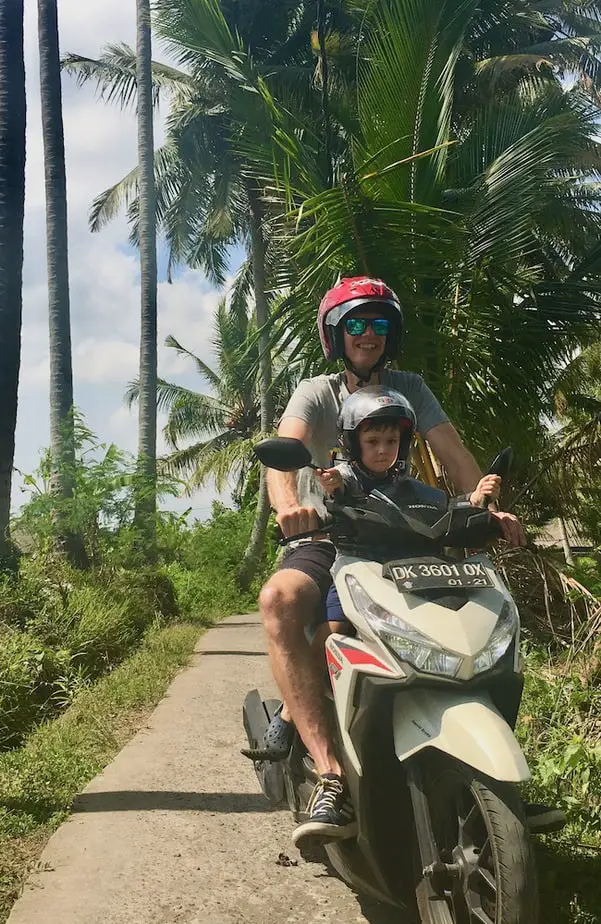 In larger villages, there are shops and supermarkets that sell children's helmets. It is wise to use one. Even if you are a good driver, there are others that might not be.
Where to rent a motorbike?
Motorbike rentals are everywhere. You can find shops where there is a row of bikes parked in front of them. Another way is to ask the staff at your accommodation. They are happy to arrange one for you.
In Sidemen, we rented the bike from the receptionist. This can be a bit more expensive than at a rental place.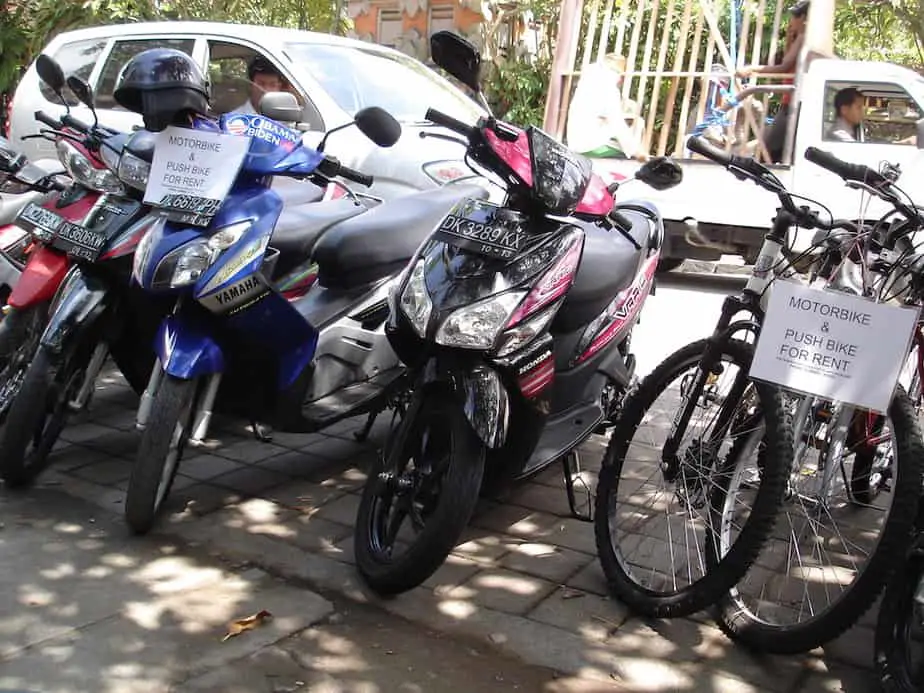 What to know before renting a bike?
1. Always have an international license plus your regular one. Some rental companies ask for it. But most importantly the police can not give you a fine at one of the many checkpoints.
2. Check the condition of the bike. Are the brakes good? Do the tires still have a profile? Any damages? Take pictures just in case.
3. Keep the motorbike papers safe. These are usually kept under the seat. Keep it there and you will avoid a big headache. The police will ask for it the moment they stop you.
4. Always use a helmet. And we mean ALWAYS. In this case, do not do as the locals do. The police will catch you plus it is unsafe. You are likely not to do it at home, so why would you suddenly do it in Bali?
5. Do not drink and drive. There have been many casualties already in Bali. And the most painful is if someone innocent is injured for life, or worse dies.
3. The Bicycle
The bicycle might be a slower option, but it is the best way to get to know a village. Plus it is the most environmentally friendly to go around.
Popular villages to rent a bicycle are Sanur and Ubud as the traffic and roads are still manageable.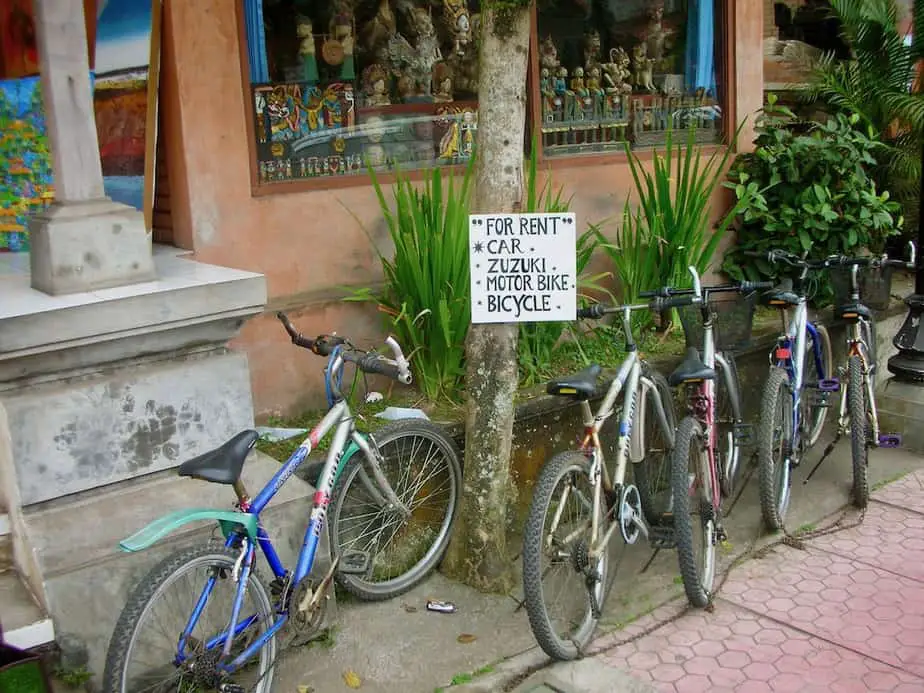 The bicycle will take you through the various narrow alleys ('Gang' in Indonesian) with small shops, houses, and restaurants. It is, of course, also a quick way to get to your favorite juice bar, supermarket or spa 😉
Renting one will cost around Rp 35.000 daily. Some shops rent bikes, but hotels usually have them too. Bikes often come without a front- or rear light. So you might want to consider bringing one from home.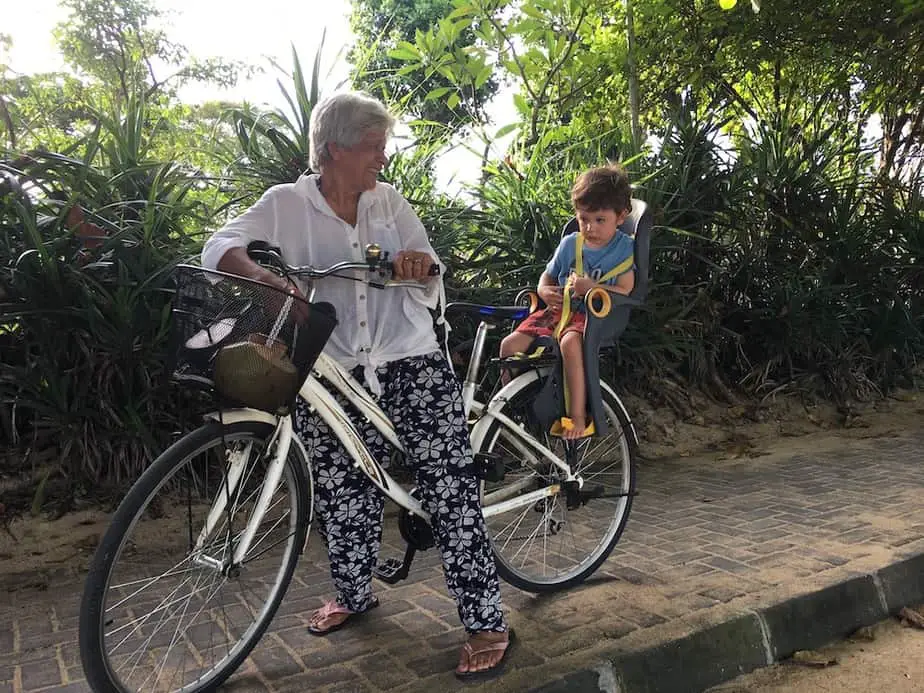 So far we know, child seats are only available in Sanur. But I will not be surprised if they have it in the Kuta, Ubud and Jimbaran area too. Just ask for it.
4. Ride-Hailing Apps
Over the years many people in Indonesia have profited from the various ride-hailing apps. It has created a lot of employment opportunities. Therefore as a visitor to the island, you have very easy and fast access to a driver.
Uber used to be the leader when it came to ride-hailing apps, but they have been banned from the island. Now you can choose between two companies: Gojek and Grab.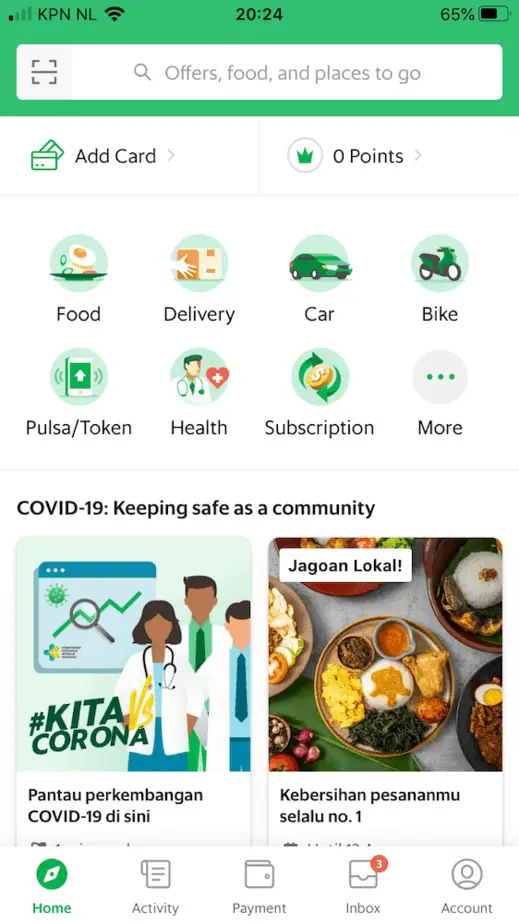 You need to download both on your smartphone. You can sign up with your own phone number, even when using a local sim card.
Surprisingly enough while the apps offer exactly the same services (pick up by a car, by motorbike, food delivery, parcel pick up and much more) their prices differ. When you enter a destination in both then Gojek is likely to be cheaper.
Prices tend to be more expensive during rush hour. This is understandable since you pay a fixed price. It would be unfair when you get stuck in a traffic jam and the journey takes 30 minutes instead of 5 minutes.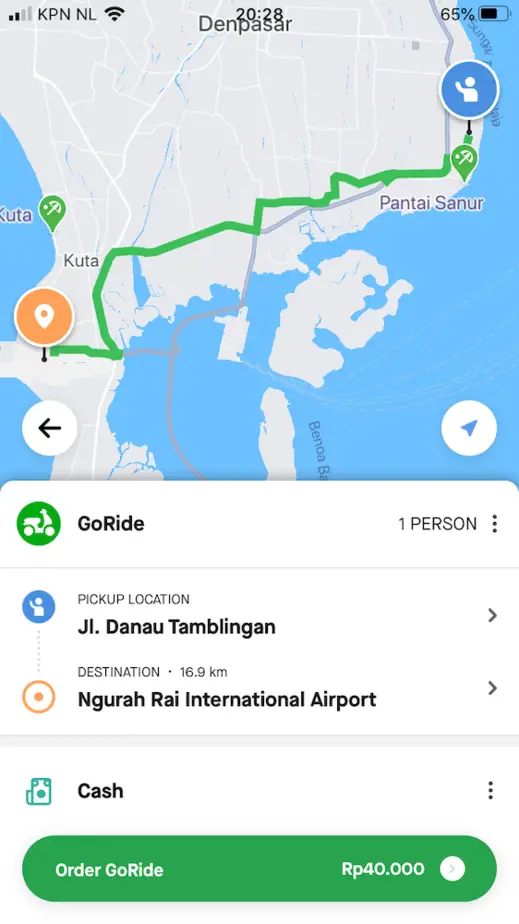 We usually use the Gojek app for no particular reason. But it is always good to have both. If there isn't a driver nearby we check if Grab does have one around the corner.
We love using these apps. The motorbike driver (always with a green jacket) easily maneuvers through traffic. The large selection of cars in the app ensures that a group of 6 fit in the car. Perfect when we join our Indonesian family to the beach.
Another great thing about this app is that most of the time the drivers are friendly. They love to talk about anything.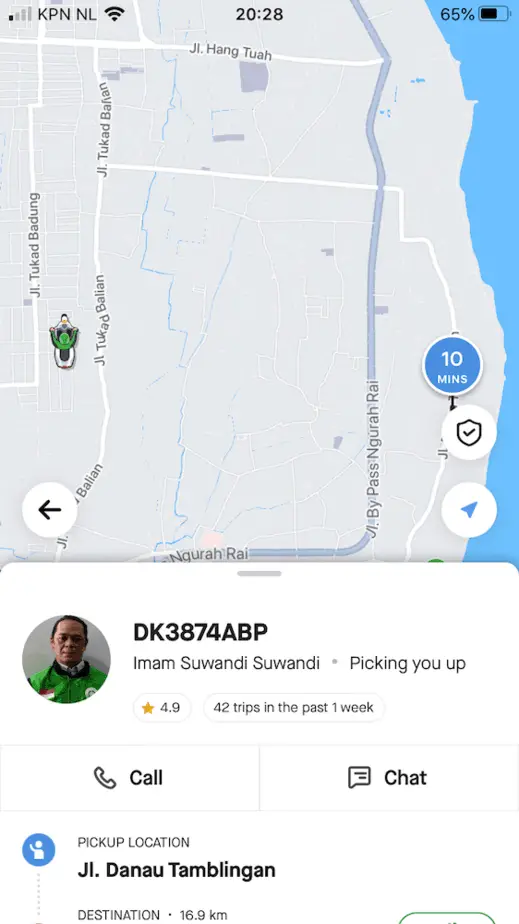 Once we drove with a mom who had her kid sitting in front. She told us she came from Java and had no family to take care of her son. Babysitting was too expensive so her son had to join her in the car.
OK, a kid should be able to play and be outside instead of sitting in the car after school. But at least they were together and he got a lot of opportunities to learn English ;-).
While using these apps sounds ideal, they have their limits. Many village banjars (councils) have banned Gojek and Grab drivers from picking up passengers. This is to protect their local drivers from losing customers.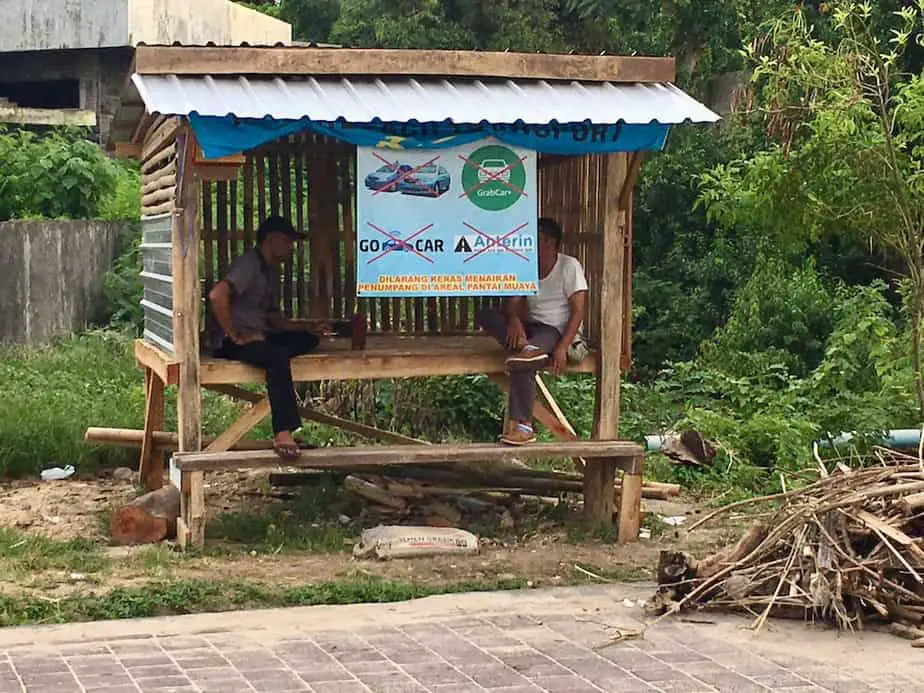 This is also the case in Ubud. In Jimbaran, this only counts along the beachfront. So if you take a 5-minute walk to the main road, a driver is happy to pick you up.
All the beaches in the Bukit area are not accessible to app-drivers, just as some parts of Seminyak (including food delivery in private villas).
In Sanur, it is still fine. Only at certain places such as Mertasari Beach and nearby Hardy's supermarket, you will see signs that drivers are not welcome to do pick-ups.
You will know soon enough where you can and can't be picked up once you are in Bali. If no Grab/Gojek driver responds to your request it is likely not safe for him/her to pick you up. Local drivers can get aggressive if you ignore the signs.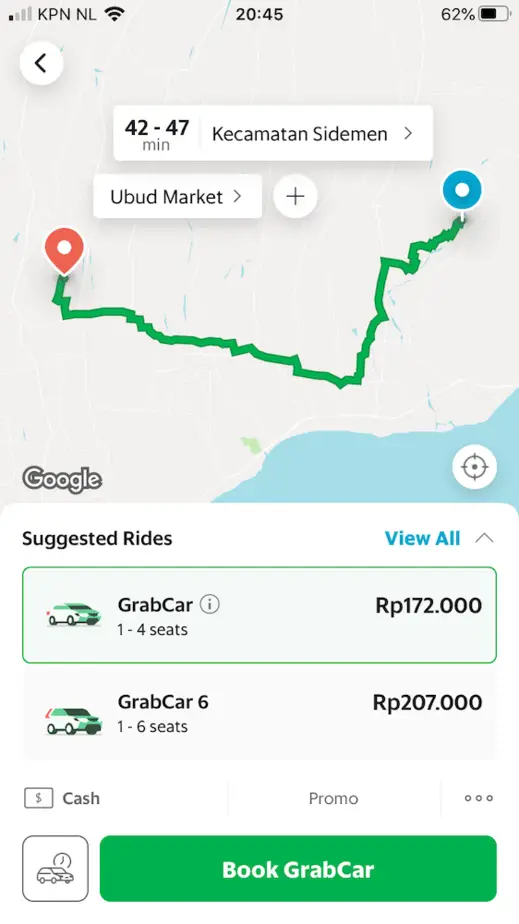 Once we tried requesting a pick up in Sidemen. However, on the map, we saw that there were no drivers nearby. So these apps are often only useful in the southern part of Bali.
How to use the Grab or the Gojek App:
1. Download the app on your smartphone. Then enter your pick up and drop off location.
2. Check first if app-drivers are allowed to pick you up at the requested location
3. If you walk to the main road, choose a specific address so the driver can find you. Then add in the chat option the name of the shop or restaurant. Sometimes we mention that we are traveling with a kid, so he can spot us quicker.
4. Confirm the type of car and the license plate before hopping in. You don't want to end up in an unknown car.
5. When you are in an area that is a bit sensitive about Grab/Gojek remember the license plate and keep your smartphone in your pocket. When you see the car approaching wave as if you know the person. Perhaps for many, it is obvious that we are paying passengers, but we noticed that drivers will act the same way when greeting you.
6. Select the right type of vehicle when you are in a larger group.
7. You can follow the driver on a live map view. It is pretty accurate. So if it shows that the driver is around the corner make sure you are ready to go. The driver will appreciate that very much.
8. Gojek uses a max of 30km when requesting a motorbike. Cars have no minimum distance. This is not the case with Grab.
9. Remember the price and try to have the exact amount ready when you arrive at your destination.
5. Taxi
The Bluebird taxi company has sheltered us from numerous tropical rains. They have a good reputation, not only here but also on Java island. There's never an issue about the fare since they always switch on their taxi meters before driving off.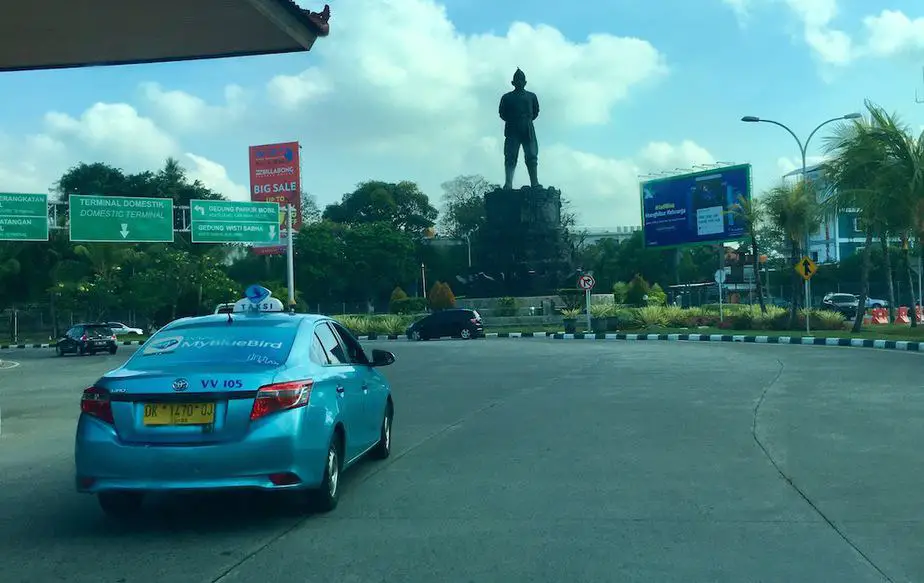 Taxis are cruising through the streets all day long. So you can easily hail one if you need to. Bluebird has an app too.
Since the ride-hailing app has been introduced in Bali, taxis are less popular. However, it can save you time waiting. But the price differs a bit compared to Grab or Gojek.
The biggest downside of the taxi is that the taximeter will always keep on running. With the ride-hailing app, you pay a fixed price.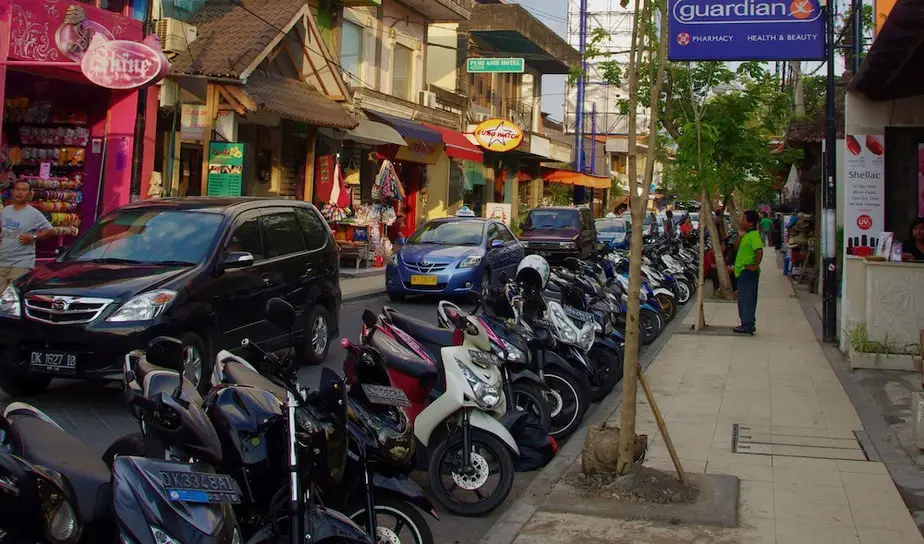 To be on the safe side make sure you ask the driver to switch the meter on before getting in.
6. Private Driver
We usually arrange a private driver when we have to drive long distances such as going from Jimbaran to Sidemen or when we plan to do a long day trip.
It's a comfortable way to travel. The driver will drive you around while you sit back and enjoy the sights.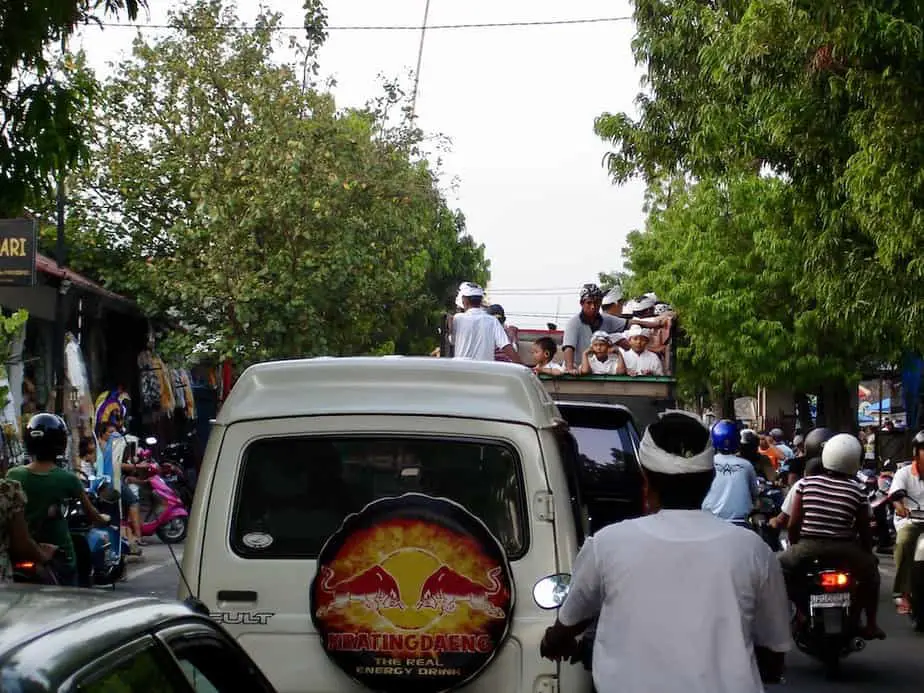 From early morning till late in the evening the driver and guide service will show you everything you want for around Rph 600.000.
The full-day tour includes petrol and great stories by your driver who is probably called Made, Ketut or Wayan. Make sure you arrange an English speaking driver so you can enjoy the conversation 😉
Drivers offer set tours but you can also decide where to go and when to stop. It's Balinese service all the way.
How to arrange a private driver in Bali?
In the main tourist villages such as Ubud, Sanur, Jimbaran and Kuta-Seminyak drivers are waiting at a specific street corner. No matter what they will jump up when you pass and ask 'Transport? Yes? Maybe tomorrow?' You can arrange a car with them.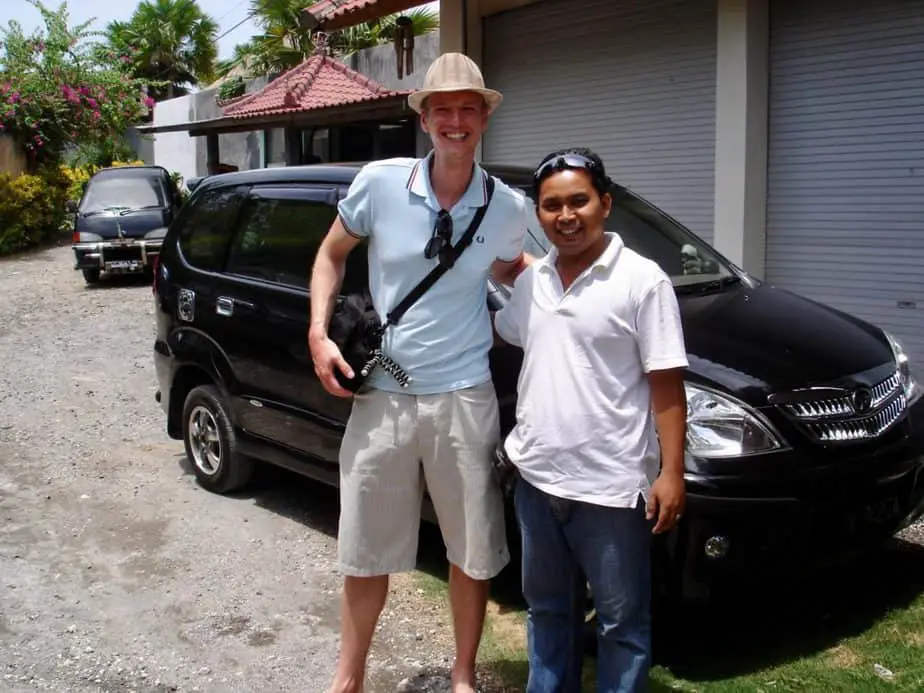 If you prefer to arrange a private driver in a quiet setting you can stop at the many travel agents or shops that have 'private driver' signs. At these places, prices are clearly indicated.
We also arrange drivers at our accommodation, especially in places such as Munduk and Sidemen. To get a bit of an indication of how much the price will be we check one of the ride-hailing apps and enter our destination.
In 99% of the cases, there are no Gojek or Grab drivers in these towns. But at least we have an idea of what prices to expect. Private drivers usually ask 1/3 more than the app. This is also because they have to drive back without passengers.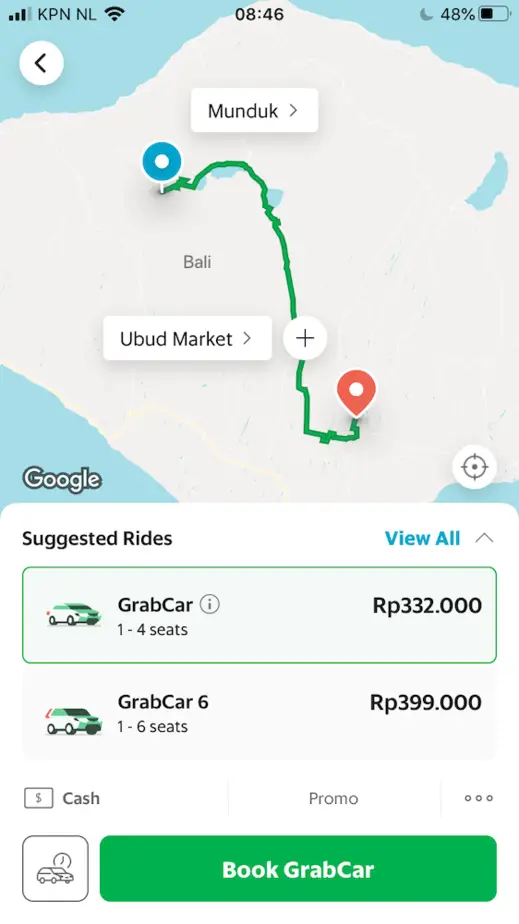 Another way we have been able to arrange a private driver is by directly calling a driver from one of the ride-hailing apps. Sometimes if you use this app for one of your trips, the driver will hand you his business card. He will tell you that you can also contact him for day trips.
We have used this option a couple of times when we had to go from one village to another. We make sure that the driver lives nearby the pickup or drop off point so it is fair to the driver.
These drivers are also happy to pick you up at the airport. The whole process is very informal and it looks like you are being picked up by a friend.
The driver will tell you the best place to meet.  The airport allows this. So if you leave the country but plan on coming back to Bali, save the numbers of the Grab or Gojek drivers for an easy and cheaper taxi option.
7. Car rental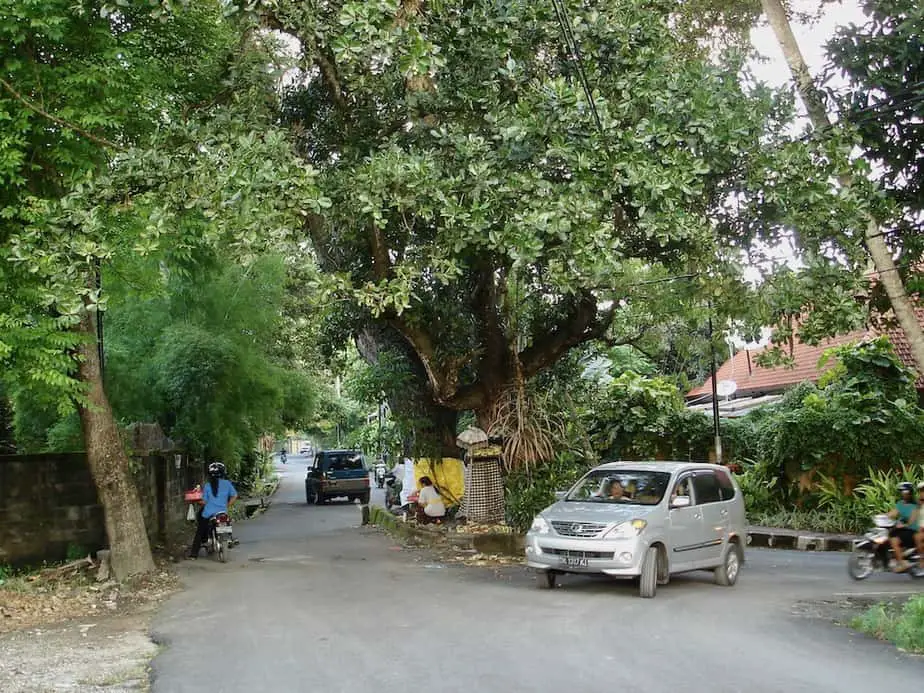 There are also many car rental companies in Bali that are ready to help you out with whatever car you like.
You can arrange this type of transportation right upon arrival at the car rental desks at the airport. At the hotel, they are also happy to help you out. Or go for a short stroll around the main roads in the tourist areas and you will soon see the signs.
Remember not only do they drive on the left side of the road. Also, be aware that driving can be quite different than at home.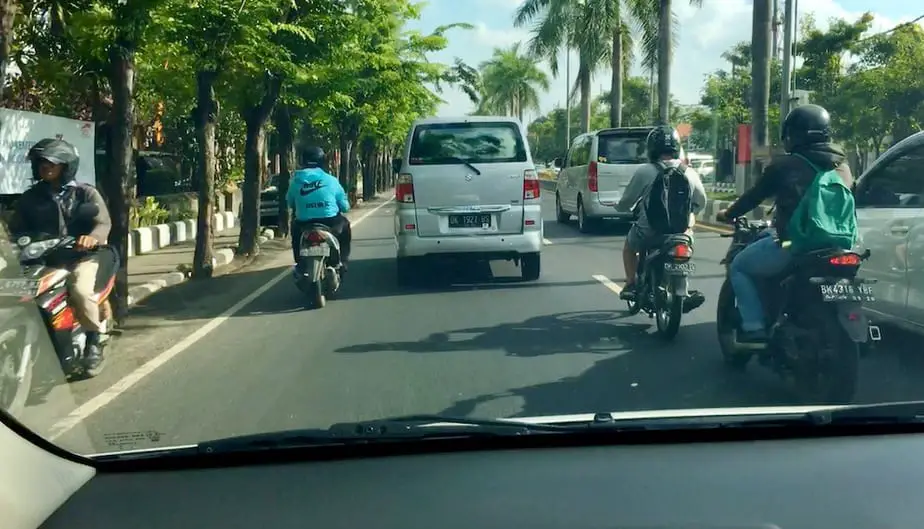 Around the crazy busy streets of Denpasar, Seminyak, and Kuta it will look as if you're the only one not participating in the Balinese version of Formula 1. Dozen of motorcycles will cut you off while taxis suddenly pull over.
Basically the rule is that there are no traffic rules, which is understandable in a country where it's easy to obtain a driver's license. Furthermore, petrol costs approximately Rp. 10.000 a liter which is cheaper than buying a bottle of water in some places. This explains the thousands of motorbikes on the streets.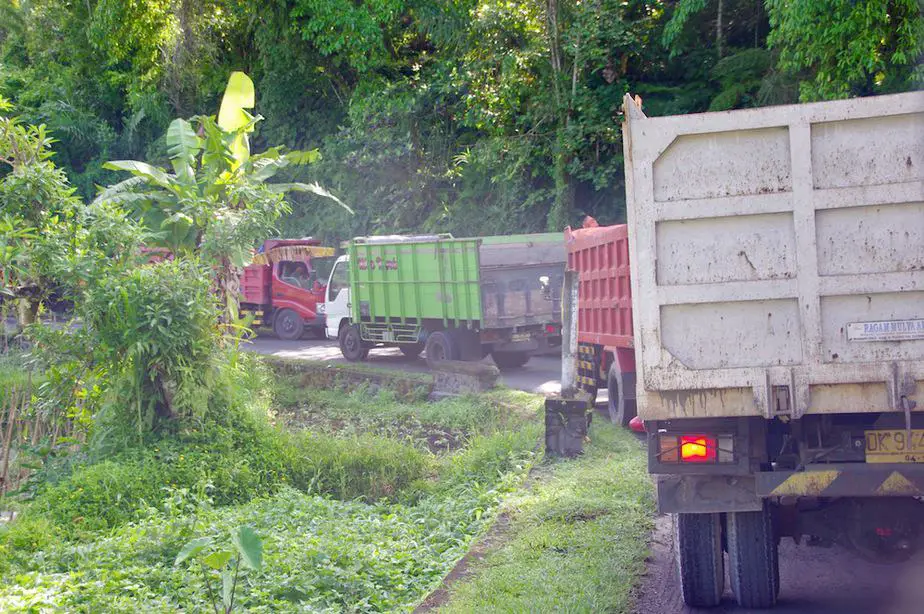 Unfortunately,  traffic has increased on the island and if you head outside town you will still need to be able to keep your nerves and frustrations. Even traffic jams on the main roads in areas such as Ubud, Sidemen, and Candidasa are now very common.
What to know before renting a car?
1. Have an international license together with your national driving license. Car rental companies will request it. Just as the police when they check your papers at random checkpoints.
2. Check the condition of the car. Any damages? Does the air-conditioning work properly? Tires, lights, and breaks in good condition? Take pictures just to be safe.
3. Keep the car papers and details of the rental company near you in case you need them immediately. At a police checkpoint, it can get nerve-racking if you can't find it in your bag.
4. Keep local traffic rules in mind: drive left and keep to the speed limit. Watch out for motorbikes that suddenly overtake you on both sides. Also, public transport can suddenly stop on the left side. So keep your distance and speed when driving behind a bemo (mini-van).
5. Please don't drink and drive. Causing an accident and injuring or killing somebody is not only traumatic, but most local people (or their relatives) don't have a social safety net. This means they can't take care of them if they are not able to work anymore.
8. Public Transport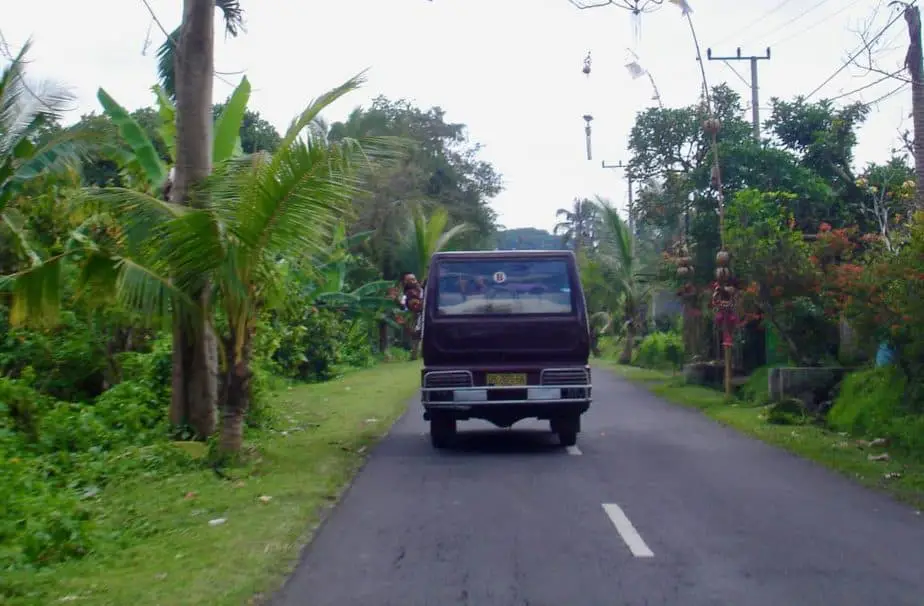 Another way of getting around is by public transportation. The one you see the most often is the bemo. The bemo can be found throughout Indonesia. It's a minivan that operates between parts of the city or between villages. It is the most popular type of transport for locals.
There are no rules on what to take with you in the bemo. It can range from chickens, rabbits, fish, bags of carrots to school children.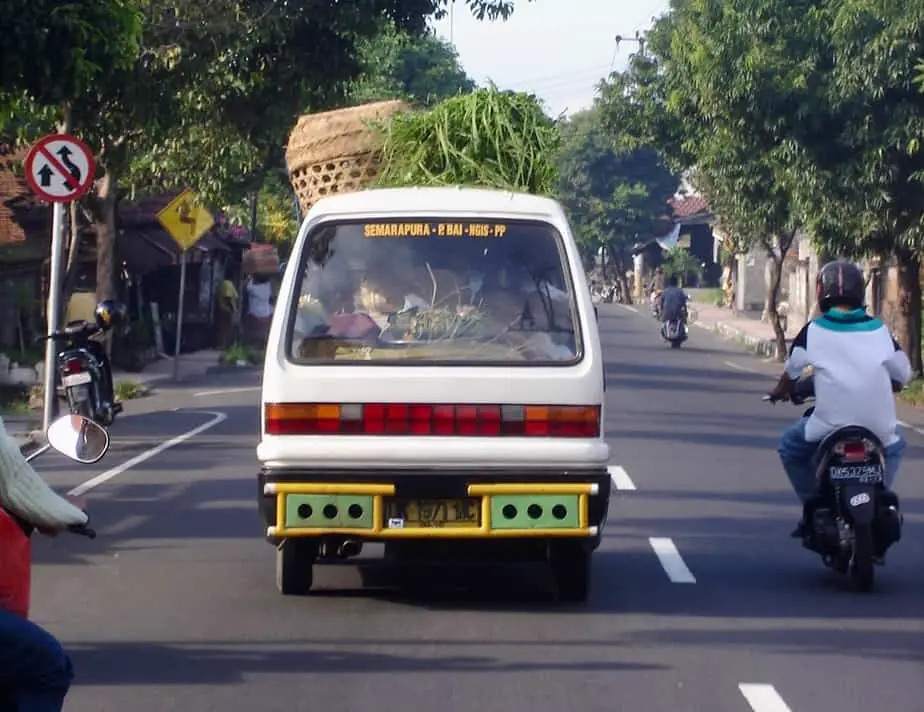 You will not find anything cheaper than this. From one side of town to the other costs you Rp 4000. The bemo has a hop-on-hop-off policy. Just yell 'stop' when you want to get off and the driver will immediately hit the breaks.
Big buses usually only go between large cities and even all the way to Java island. For these long journeys, it is best to go to the right terminal in Denpasar, where large coaches depart.
Another form of transportation in Bali which is popular is the Perama Tourist Shuttle Bus. It is a great way to get around as it operates between most of the tourist spots such as Lovina to Ubud and from there on to Sanur and Kuta. They even have routes to the airport.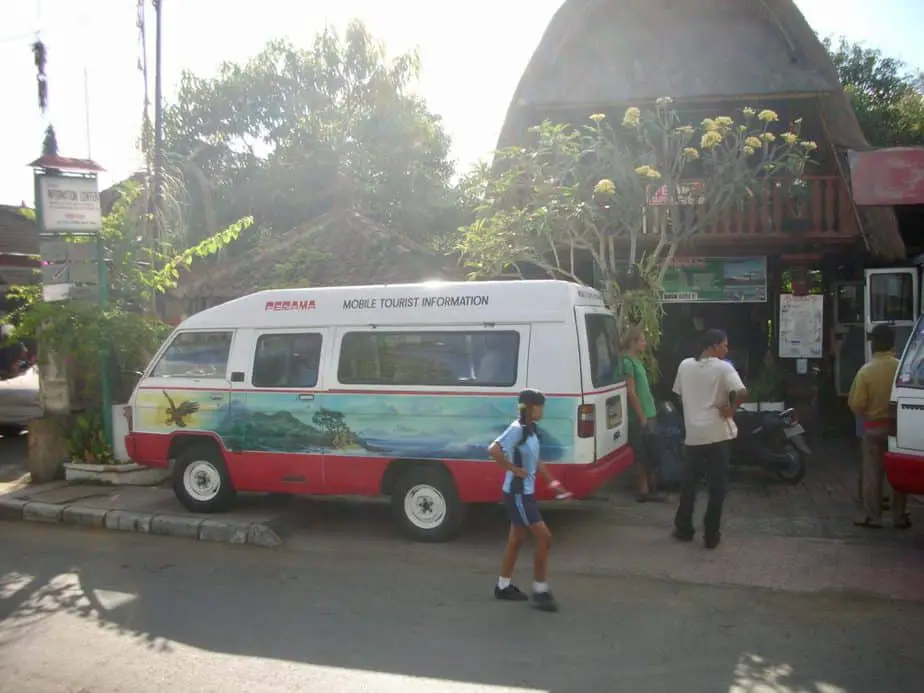 You will see their signs and prices in the many shops and travel agents along the main roads in the tourist areas such as Jalan Legian in Kuta or Monkey Forest Road in Ubud.
It's cheaper than renting a car or private driver and a lot quicker than the local bemo or bus.
The tourist shuttle bus is the ideal type of transportation to get around the island when you're on a budget but want to travel comfortably. The only thing you have to take care of is to buy the ticket one day in advance and you're ready to go.
9. Fast Boat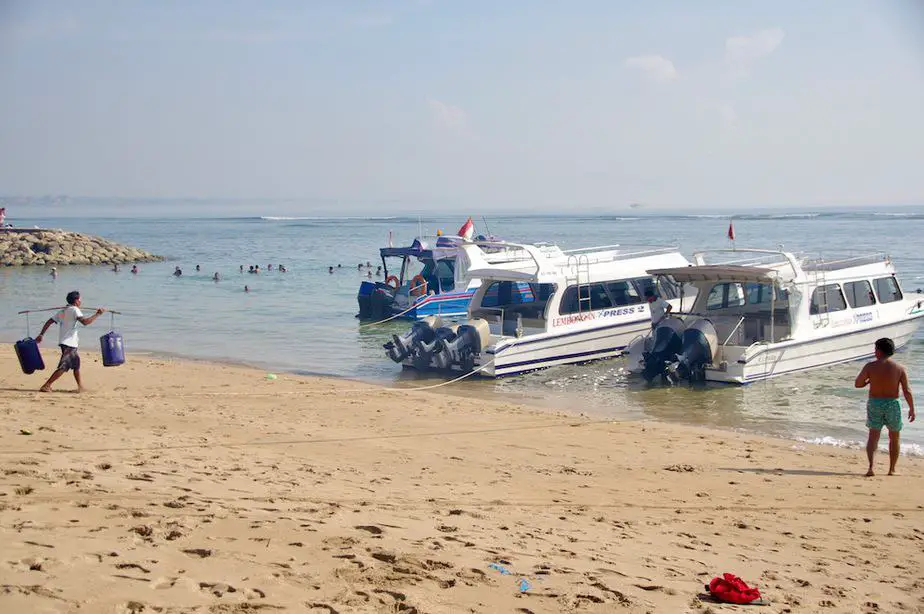 If you are planning to head to the Gili Islands then the best option is the fast boat. They leave from various ports, such as Sanur, Padangbai, Benoa Harbour and even Amed. A fast boat takes about 2 hours but we experienced that it often takes a bit longer.
There are many companies that offer this service. It is best to compare the prices, but most importantly check what is most convenient for you. Where does the boat leave from? Does it have a pick-up service everywhere in Bali? And most importantly is the price one way or return?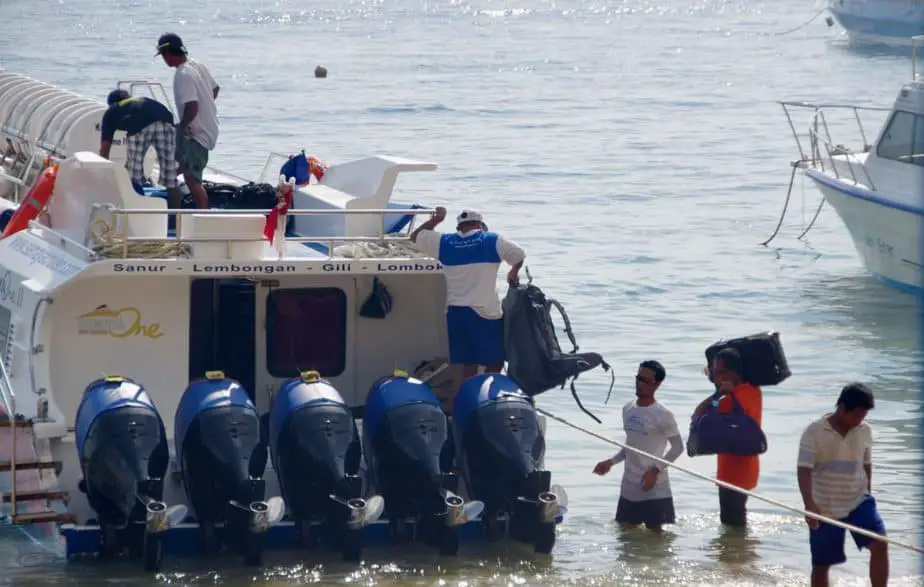 You can find various offices in the villages where the boats leave from. But you can also check online to find a whole list of companies.
The fast boat is a bumpy ride. So if you tend to get seasick, be prepared. Also, try to get a seat in the back to avoid feeling hit continuously.
The fast boats to the Gilis also make a stop at Nusa Penida. So if you wish to go there, then you can use these services too.