Ubud is on everybody's list of 'must-visit places in Bali'. And even if time is short, we suggest taking things slow to fully appreciate this cultural village.
But can you do Ubud in a day? It is possible to do Ubud in a day and visit the highlights. This includes the Ubud Morning Market, the Monkey Forest Temple as morning activities. Rice field walk and museums in the afternoon and for the evening there are a lot of dance performances to see. 
You do need to do a bit of planning to ensure you don't miss out on anything. We have added a 1-day Ubud itinerary that takes you along the highlights. It also includes tips on how to get to Ubud, how to get around and what to see in more detail below.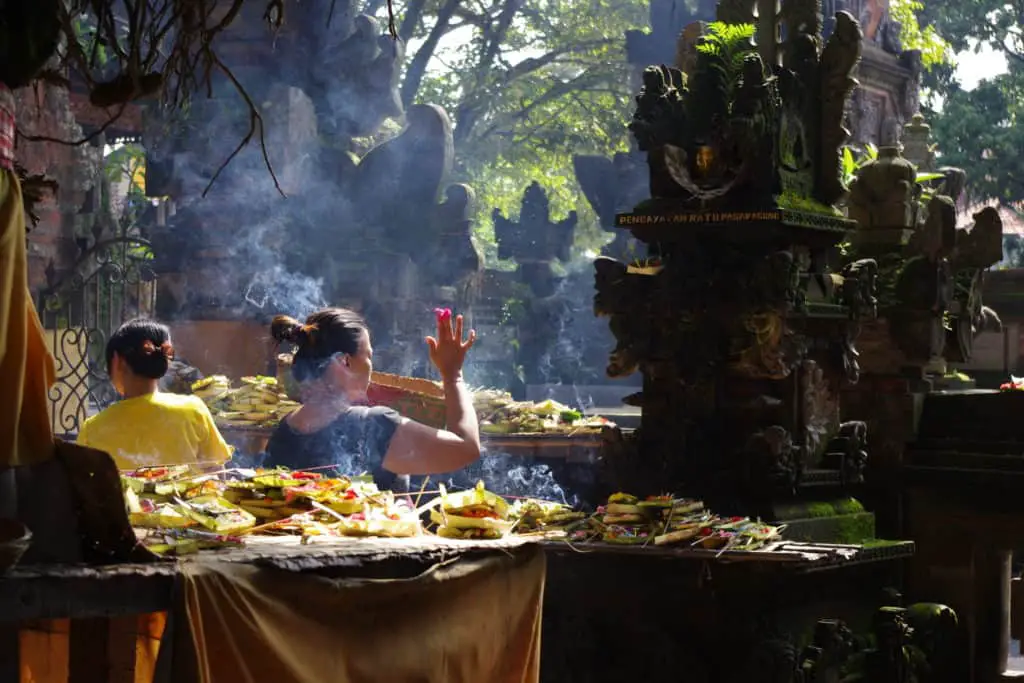 What can you do in 1-day in Ubud?
We always end up in this cultural village at some point during our travels. For us, Ubud is also a perfect starting point to travel to other regions of Bali.
Getting lost through the maze of little streets will take you to the best places. But understandable if you already have a tight holiday schedule, you might not have the time to experience Ubud this way.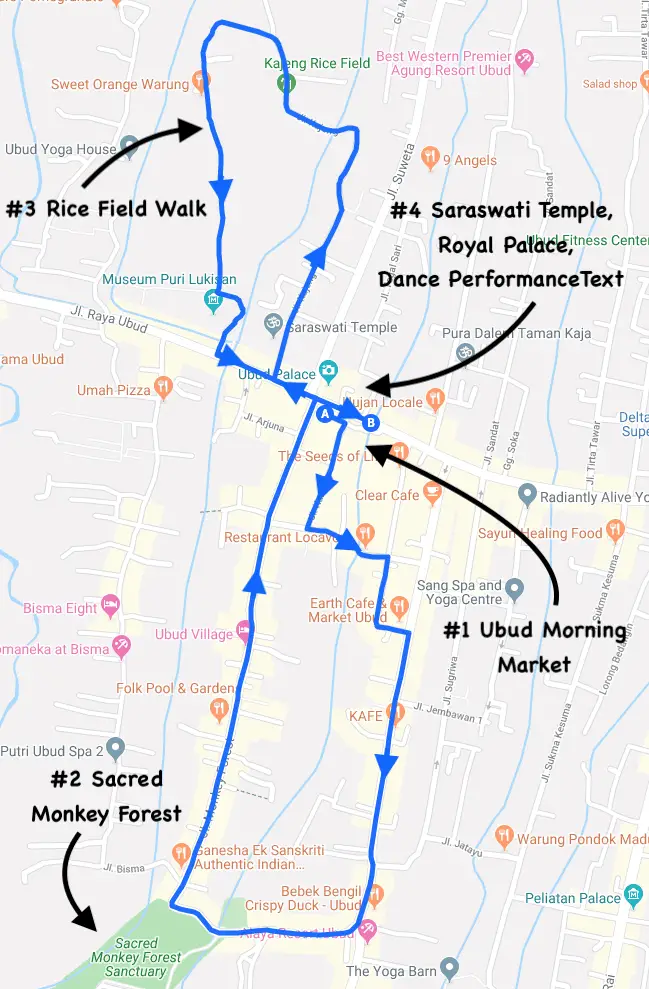 Ubud's daily life starts early in the morning and if possible try to get there as early as possible. The Ubud Morning Market is a wonderful place to start your morning. This can be followed by a stroll through town towards the Monkey Forest Temples.
After lunch head to the nearby Kajeng rice field trail which takes you through the fields, the island is known for. If time permits then the Puri Lukisan Museum, Saraswati temple and/or Ubud Royal Palace (Puri Saren Agung) in the center of town is worth the visit.
Every evening there is a large choice of cultural dance performances such as the Kecak, Legong, Barong and Wayang Kulit. These performances usually start at 7 pm or 7.30 pm.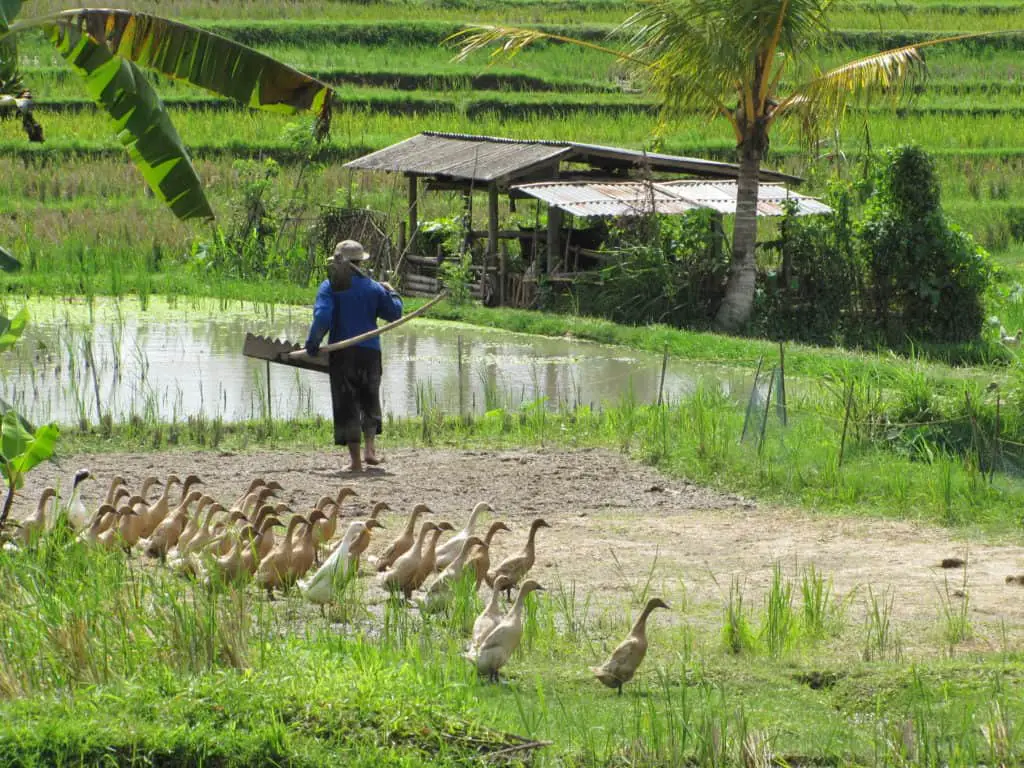 How far is Ubud from other tourist villages?
To visit Ubud in a day you need to start as early as possible. The advantage of leaving very early is that there is hardly any traffic at that time of day.
The distance and one-way prices without traffic from the tourist villages in Bali to Ubud are:
Village
Distance to Ubud
Travel time
Price
Seminyak
31 km
19miles
1hour 10 minutes
Rp. 225000
Kuta beach
36km
22miles
1 hour 5 minutes
Rp. 240000
Legian
37km
23miles
1 hour 10 minutes
Rp. 235000
Jimbaran bay area
42km
26miles
1 hour 15 minutes
Rp. 290000
Uluwatu Area
52km
32miles
1hour 30 minutes
Rp. 400000
Nusa Dua
39km
24miles
1 hour
Rp. 310000
Sanur
25km
15,5miles
50 minutes
Rp. 180000
Candidasa
44km
27miles
1 hour 15 minutes
Rp. 325000
Padangbai
38km
24miles
1 hour 1 minutes
Rp. 280000
Munduk
63km
40miles
1 hour 40 minutes
Rp. 450000
Distances and prices (2021) from tourist villages in Bali to Ubud
You are able to arrange a driver through the GRAB or GO-Car app. However, remember that drivers in Ubud do not allow you to use this app to arrange a pick-up.
At the end of the day, you will need to take a local Ubud driver to get back. Expect to pay 1,5 times more since the driver will need to get back to Ubud again.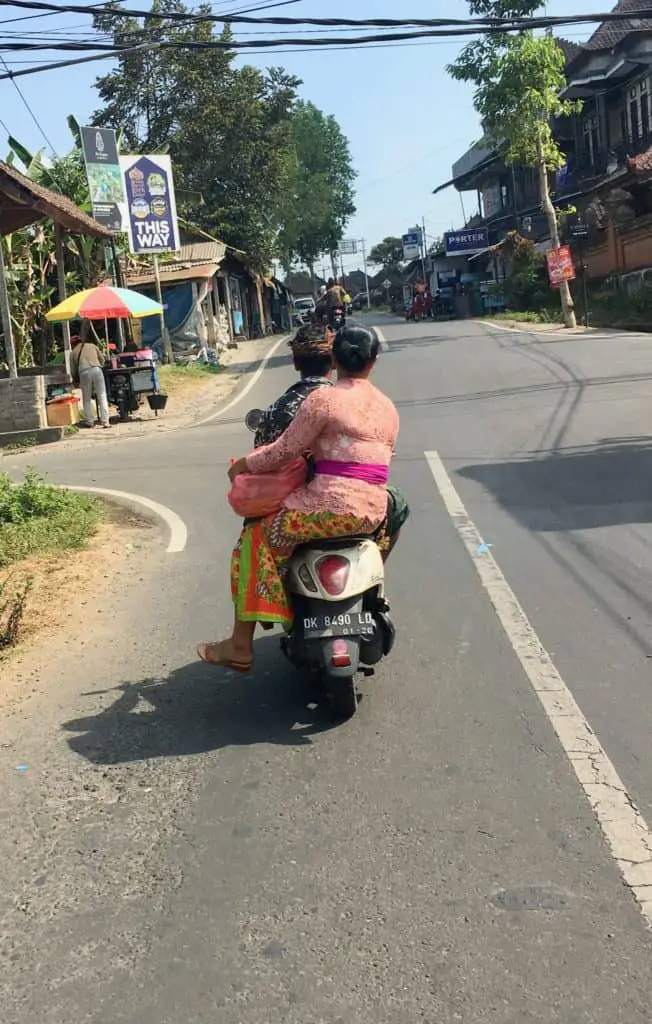 We do suggest spending the night if travel time is more than 1,5 hours. It would be a shame to be in a car for such a long time.
Ubud is perfectly located on the island. If you are traveling around, it is easy to get to the North, East, and Central parts of Bali from Ubud.
How do I get around Ubud?
We can imagine that you wish to see as much as possible if you are in Ubud for just one day. That said, we still suggest experiencing it on foot. If you follow our Ubud 1 day itinerary then you will walk about 6 km in total excluding the stroll through Ubud Market and the Monkey Forest.
We believe that getting around on foot gives you opportunities to see the 'regular local life of Ubud' and even meet up with some local people.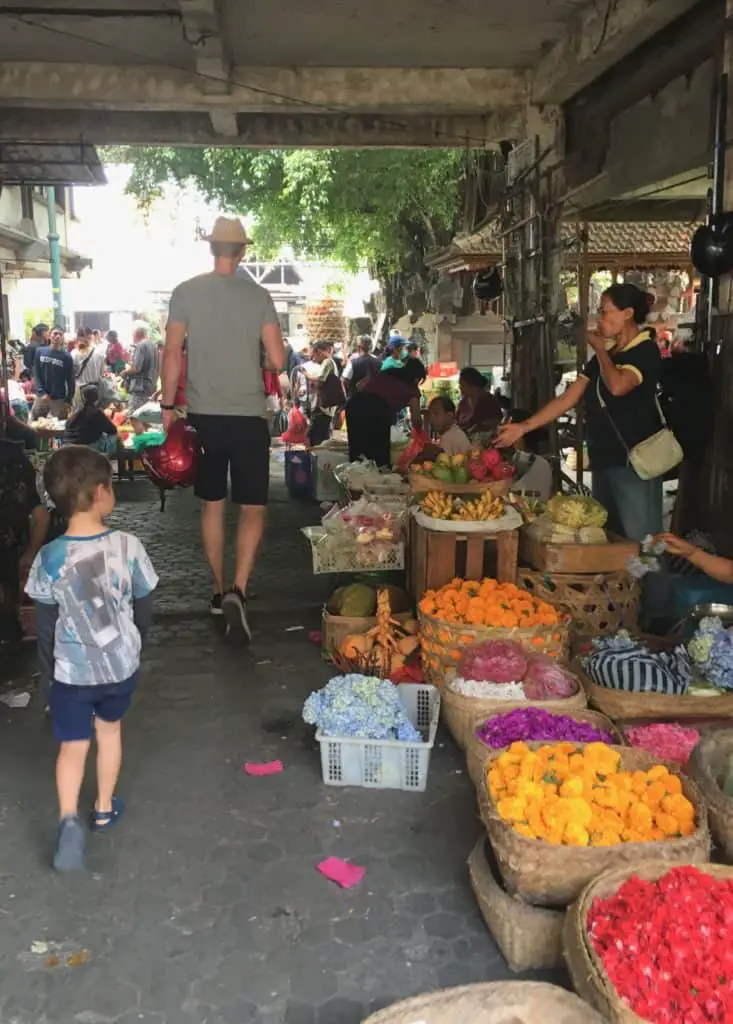 Once you finish wandering around the market make sure you take the Jalan Ubud Raya Exit. From here head east into Jalan Karma. At the end make a left turn on Jalan Dewisita and turn right at Jalan Hanoman.
You will eventually find your way to Monkey Forest Road. It is about a 2 km walk but take it easy. If you haven't eaten yet, have breakfast along the way.
Where is the Monkey Forest located?
The Sacred Monkey Forest is located in the south of town along one of the main roads of Ubud called Jalan Monkey Forest Road. The entrance and parking space are very prominent so it is not hard to miss.
The entrance fee is Rp.80.000 for adults, Rp.60.00 for children and it opens at 8.30 am. If you are there before 9.30 am you can beat the crowd.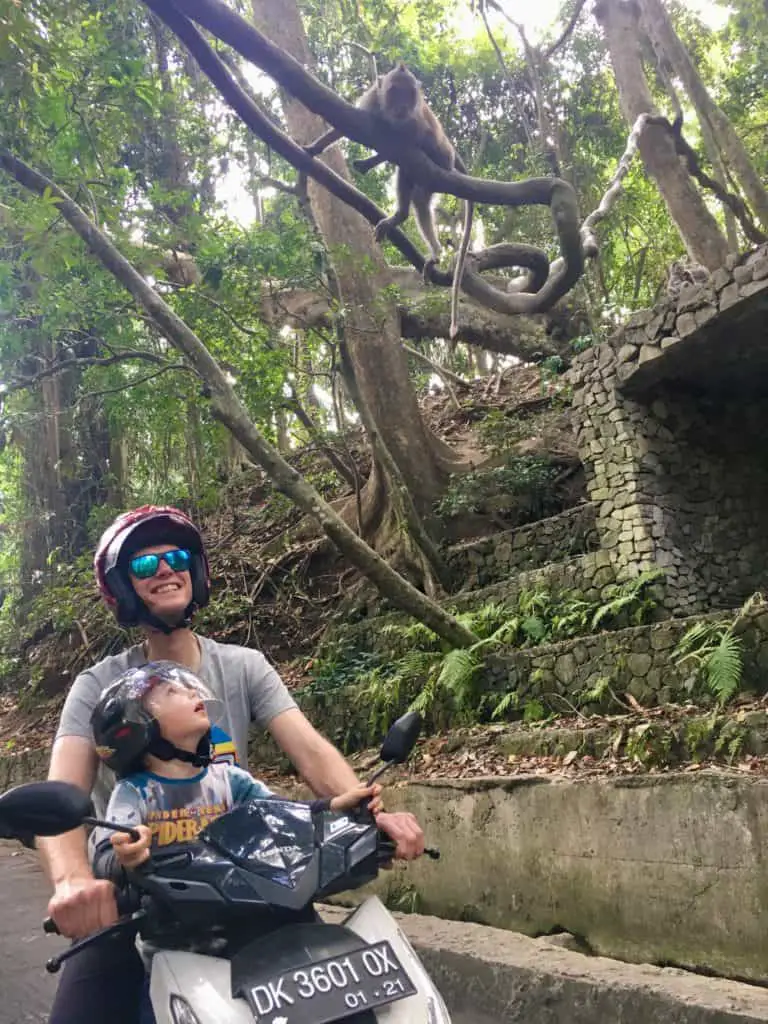 #2 The Sacred Monkey Forest Highlights
The highlight might be the monkeys but we especially love the walk through the lush green forest. The Balinese consider this forest a sanctuary. At the 14th century sacred temples and holy trees the Balinese conduct ceremonies to maintain a balance between humans, nature and the cosmos.
Somehow if you take a moment you will feel the peaceful atmosphere here. So don't forget to take a seat and take it all in.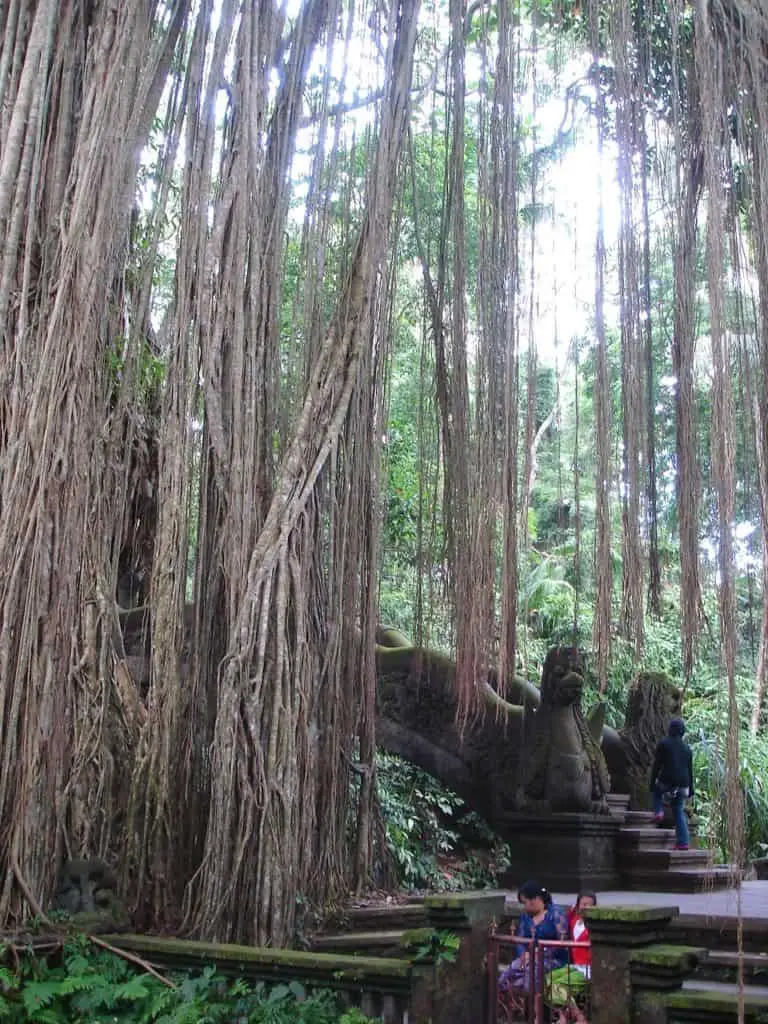 There are about 900 long-tailed macaques living in the forest. We never had any problems with them but we have seen some jumping on people and pulling at their bags and other belongings. The local Balinese are very likely to help you out if this happens.
But just make sure you don't have anything on you that the monkeys can easily grab such as a hat, sunglasses or earrings. Don't bring any food as well. This will attract troops of monkeys and I think nobody likes that idea.
In the past, there used to be stalls selling bananas. They are not there anymore. I bet there might have been a lot of funny but crazy encounters. Perhaps it is for everybody's safety that bananas are not sold anymore.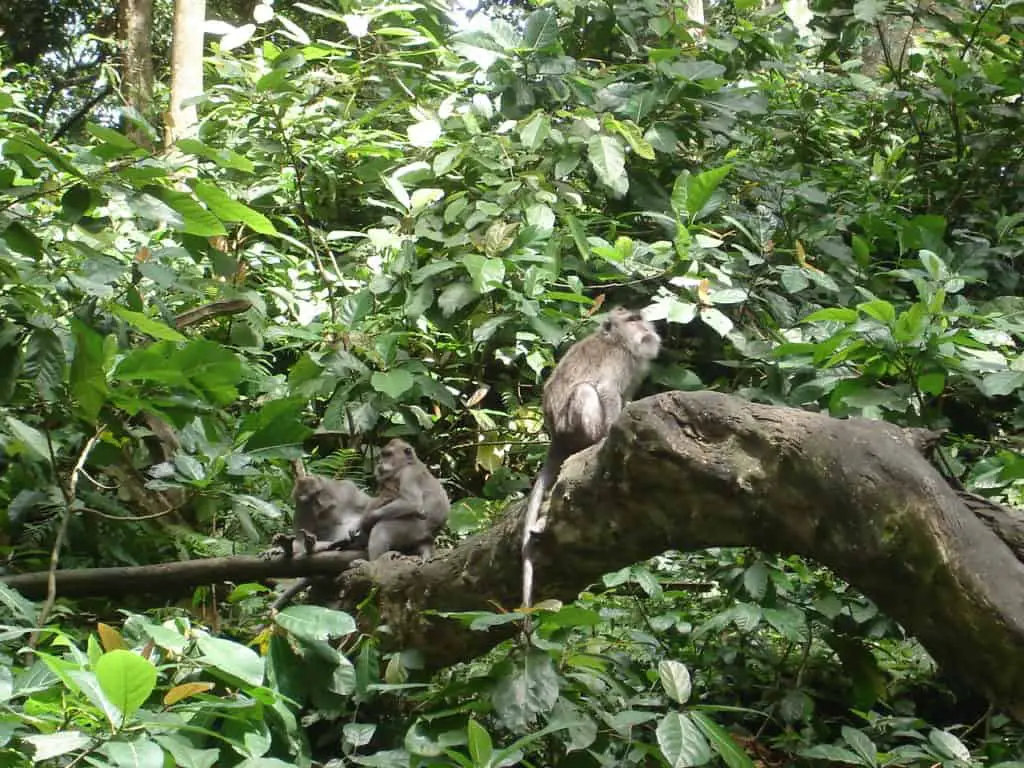 Once you leave the monkey forest, go uphill along Jalan Monkey Forest Road. This is one of the main roads in town. Here you can find a long string of shops, restaurants or hotels. This might be a good time for a drink, snack or an early lunch.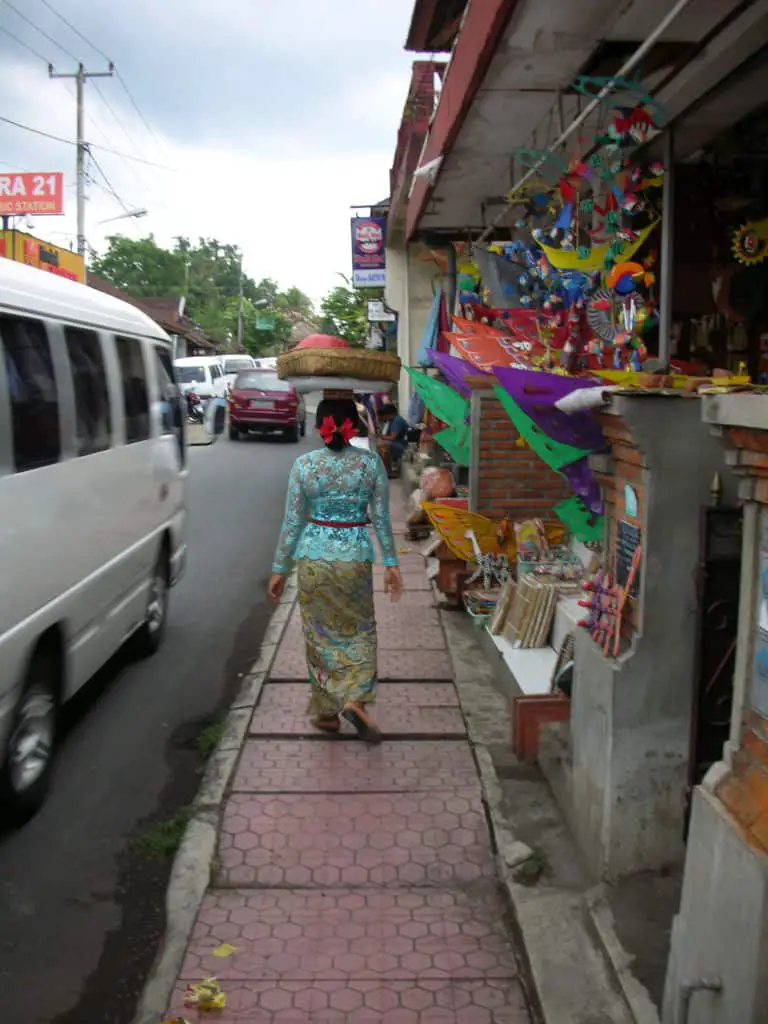 If you find yourself at the end of Jalan Monkey Forest Road, cross the street and turn left. After just 20 meters you will find a small side street called Jalan Kajeng. The big Starbucks sign is also a good indicator. This is the starting point of your 3rd activity of the day.
Where is the Ubud Rice Field Walk?
To get to the 'Ubud Rice Field Walk' (also known as Kajeng Rice field trail) go to Jalan Kajeng. Take this small street towards the north. The first 100 meters of this street already feel like you left busy Ubud behind. There are a lot of hotels and homestays here but they are often located within Balinese courtyards.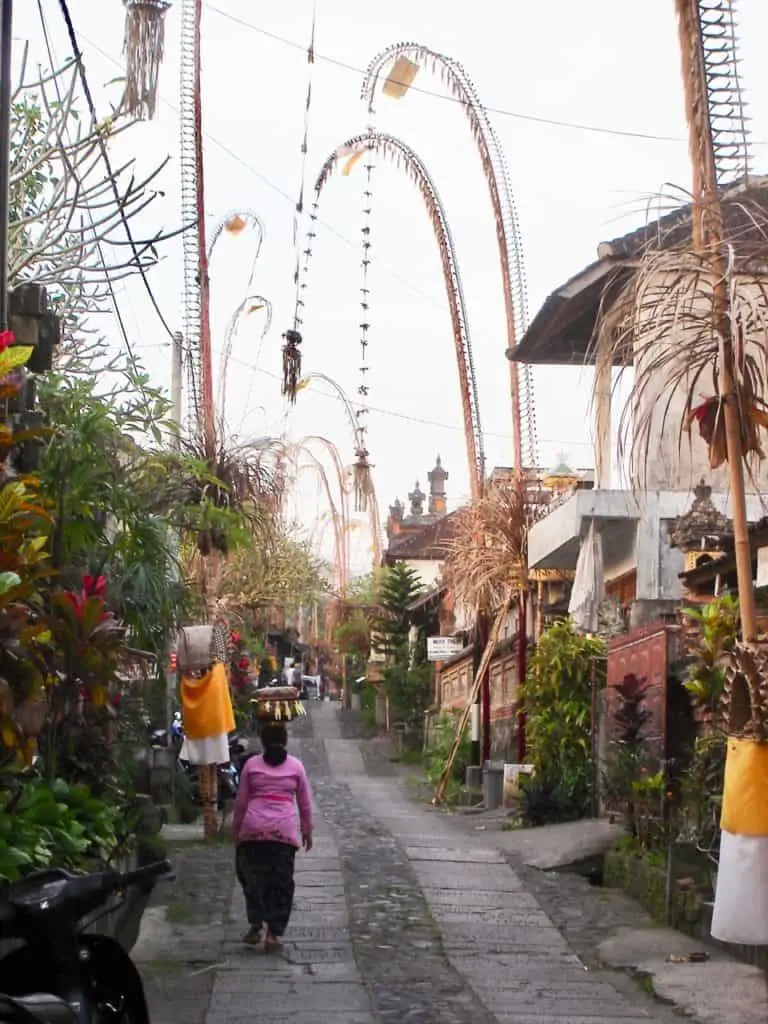 Jalan Kajeng will always be a special place for us. On our very first visit in 2005, we accidentally found a homestay here. It was tucked away behind the living courtyards and had river gorge view. T
his is the place where we knew that we would be returning to Bali many more times, especially when we found ourselves in the connecting rice-fields that were so accessible by foot.
#3 Ubud Rice field Walk Highlights
If you walk all the way up to Jalan Kajeng you will eventually find yourself in the rice fields. Make sure you make a left turn towards Sweet Orange Warung.
It might be hot at this time of the day. But there always seems to be a breeze. The palm trees will create a comfortable shade over the narrow dirt road.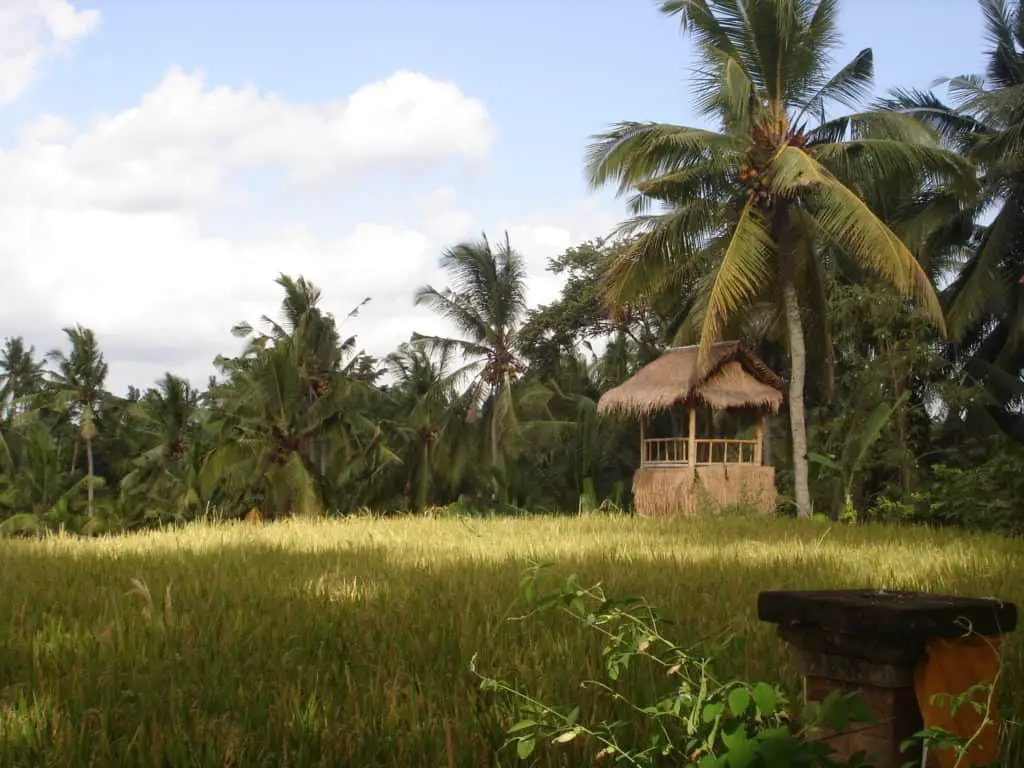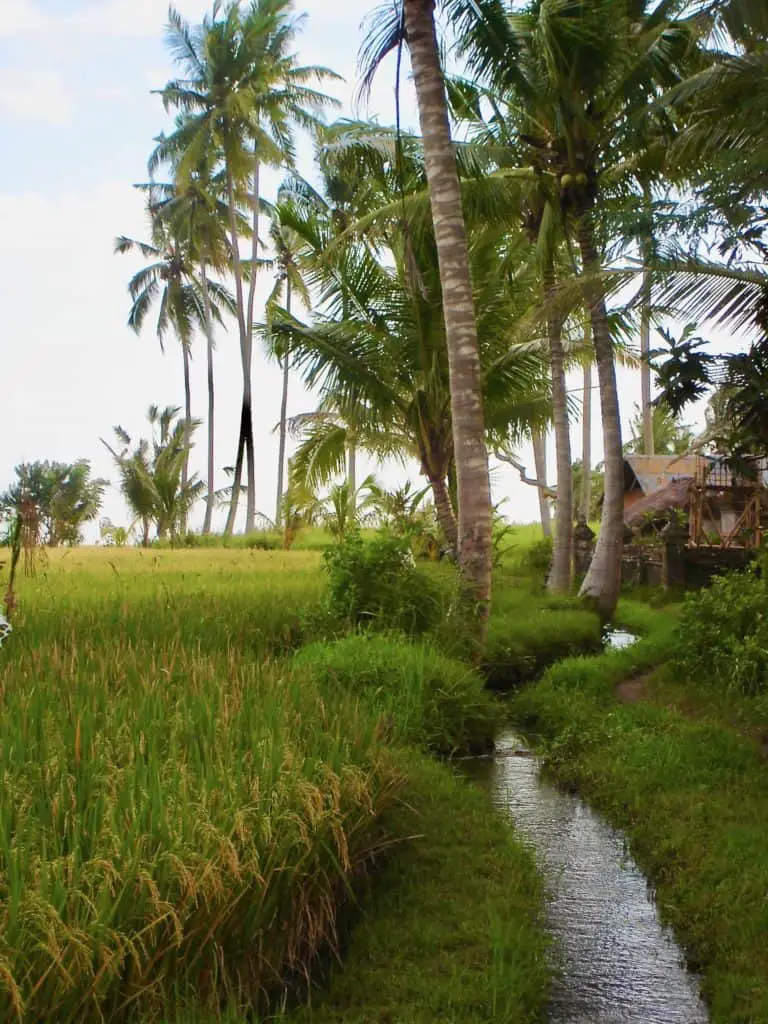 This trail through the Ubud rice fields is for walking only. It is a loop and is about 2 km long. The last time we were there we took the walk with our 4-year-old son. We were afraid that we would be carrying him most of the time.
But contrary to what we expected, he made sure we stopped to take a longer look at the dragonflies and ducks. A wonderful game was to place a big leave in the little stream and see how far it goes. Even without a kid, this can be fun.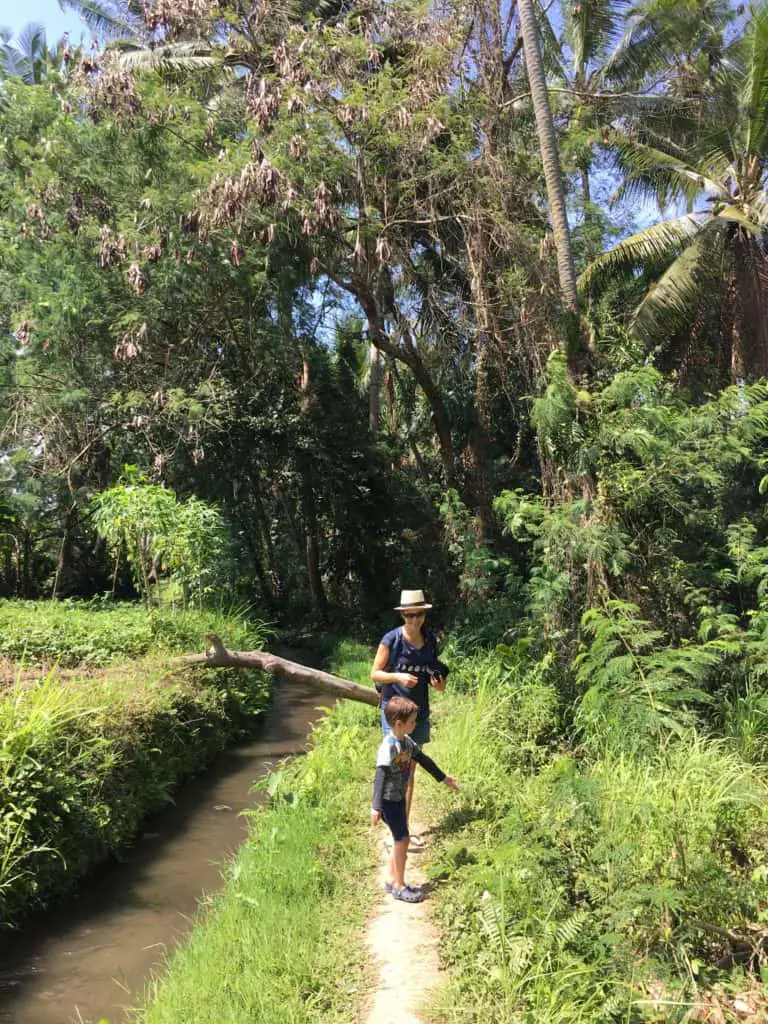 Continue the walk until you find yourself at Jalan Ubud Raya again.
If you are on a motorbike, try to park your bike at the beginning of Jalan Kajeng. You will be able to pick it up when you walk back towards the other sights of your visit.
Visit the Puri Lukisan Museum
The Ubud Rice Field trail ends at Jalan Ubud Raya, near the Puri Lukisan Museum. This exceptional museum was initiated by Rudolf Bonnet, an influential artist in Balinese art. He and other Balinese painters feared that many important works would leave Bali and Indonesia due to its worldwide popularity. This museum was created to keep the valuable paintings and wood carvings in Bali.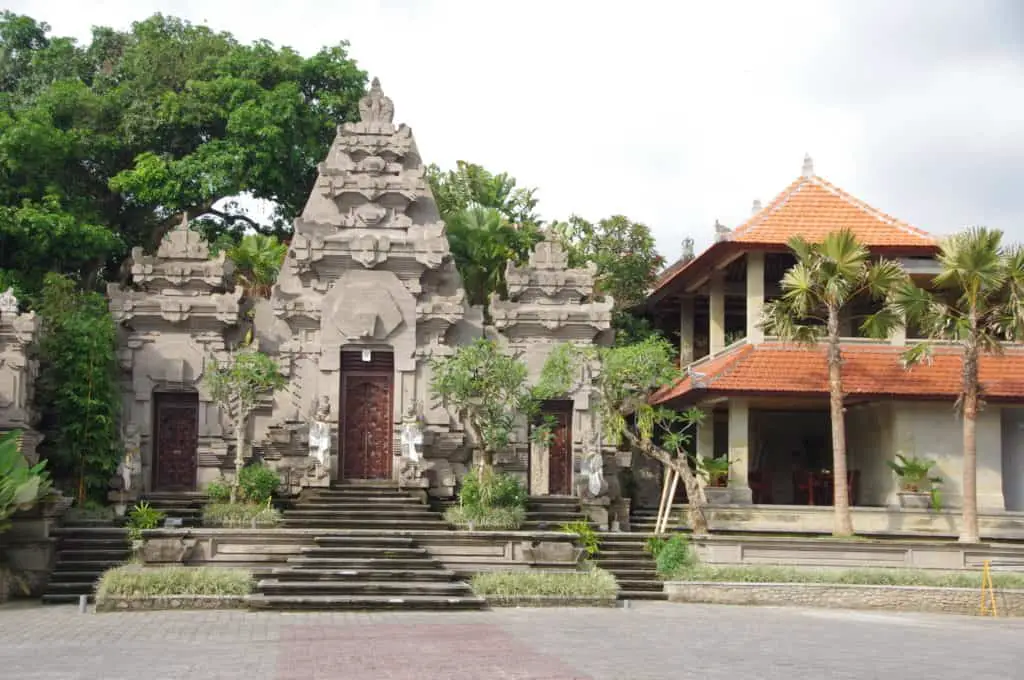 The museum holds many works of Bonnet and other pieces of Balinese art. If you are interested in the development of Balinese art from the 1930s until today then we suggest visiting it.
We particularly liked seeing the many different styles of Balinese art. The changes have been influenced by many local and foreign artists. Soon enough you will recognize it everywhere in Bali.
The museum is open 7 days a week from 9 am to 6 pm. Admission is Rp50.000. Children under 15 years old are free of charge but must be accompanied by an adult.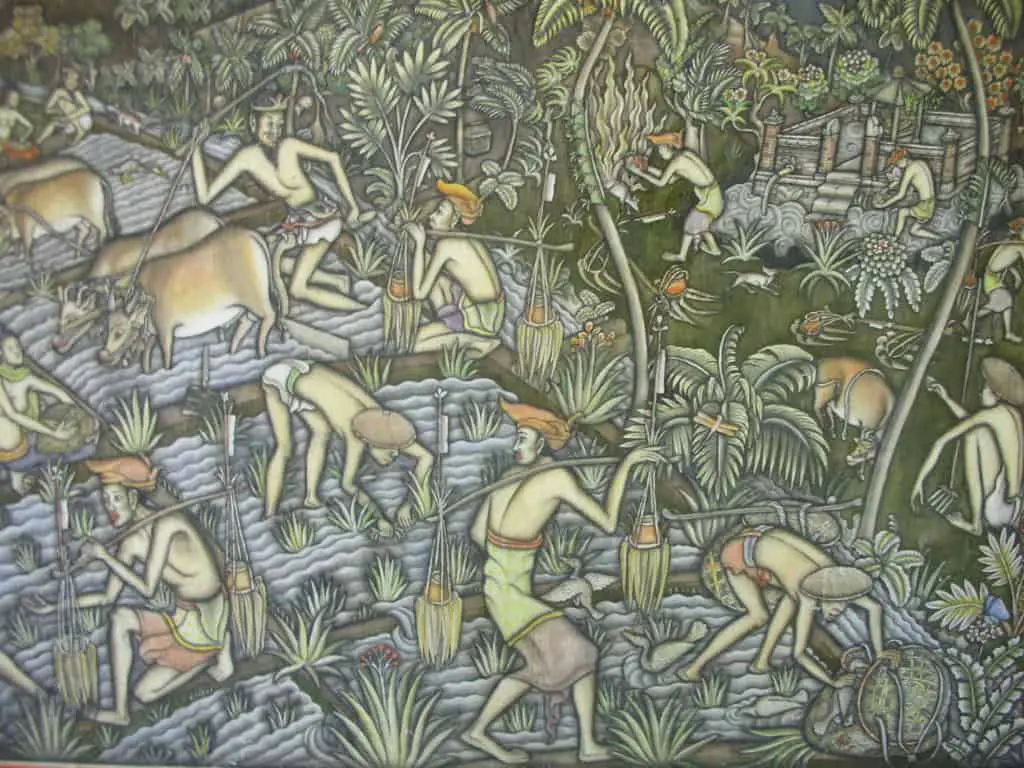 #4 Additional afternoon activities in Ubud
Saraswati Temple
This temple is located nearby Puri Lukisan Museum along Jalan Ubud Raya. Walk along this main street towards Jalan Kajeng. You will find the temple on the left side behind the 'Lotus Cafe Ubud'.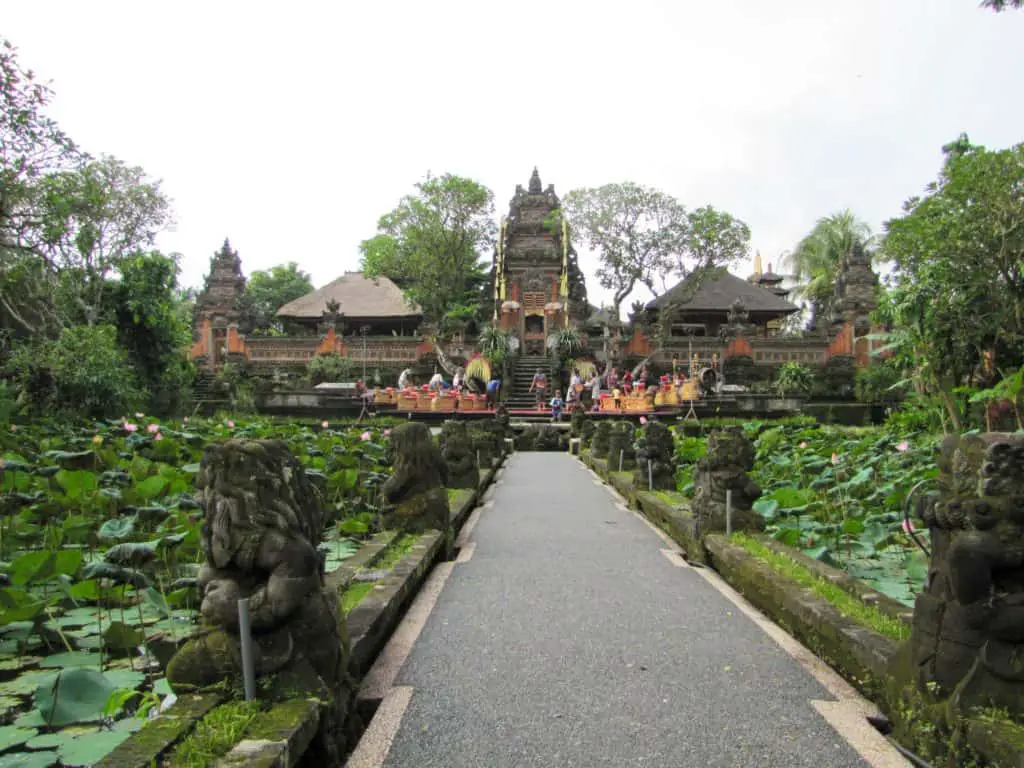 This Saraswati temple is popular for the big lotus ponds on both sides of the path leading to the temple complex. At this temple the Balinese worship the Hindu Goddess Saraswati, the Goddess of Knowledge.
You are not allowed to enter the inner temple. Nevertheless, there is enough to see. The carvings of the temples are made by local Ubud artists. There is no entrance fee for this temple.
Ubud Royal Palace
Continuing along Jalan Ubud Raya you will find the Ubud Royal Palace at the next intersection. Also known as Puri Saren Agung, this palace is owned by the Ubud royal family.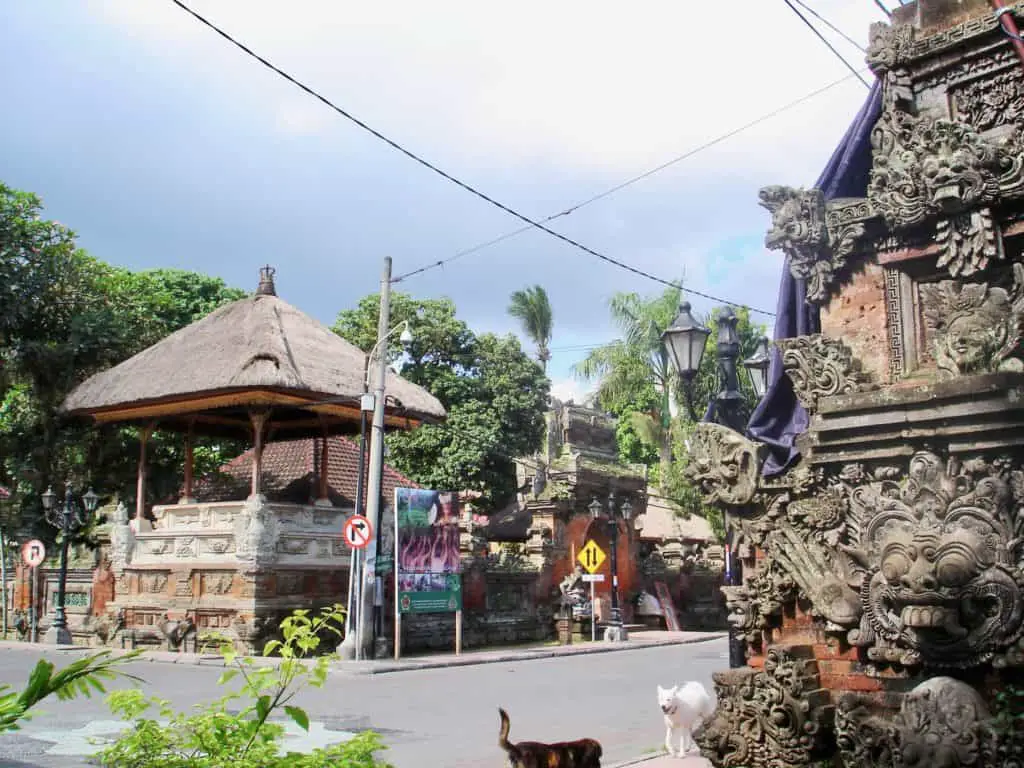 It was built at the beginning of the 1800s and today it is a cultural center for art, literature, and dance. The palace is beautifully preserved and a nice place to walk around.
Every evening a cultural performance is held here. You can buy tickets here if you wish to go to one.
Ubud Art Market
Ubud Royal Palace is just across the Ubud Market. If you were not able to visit the market in the morning, now is the chance. It closes at 6 pm.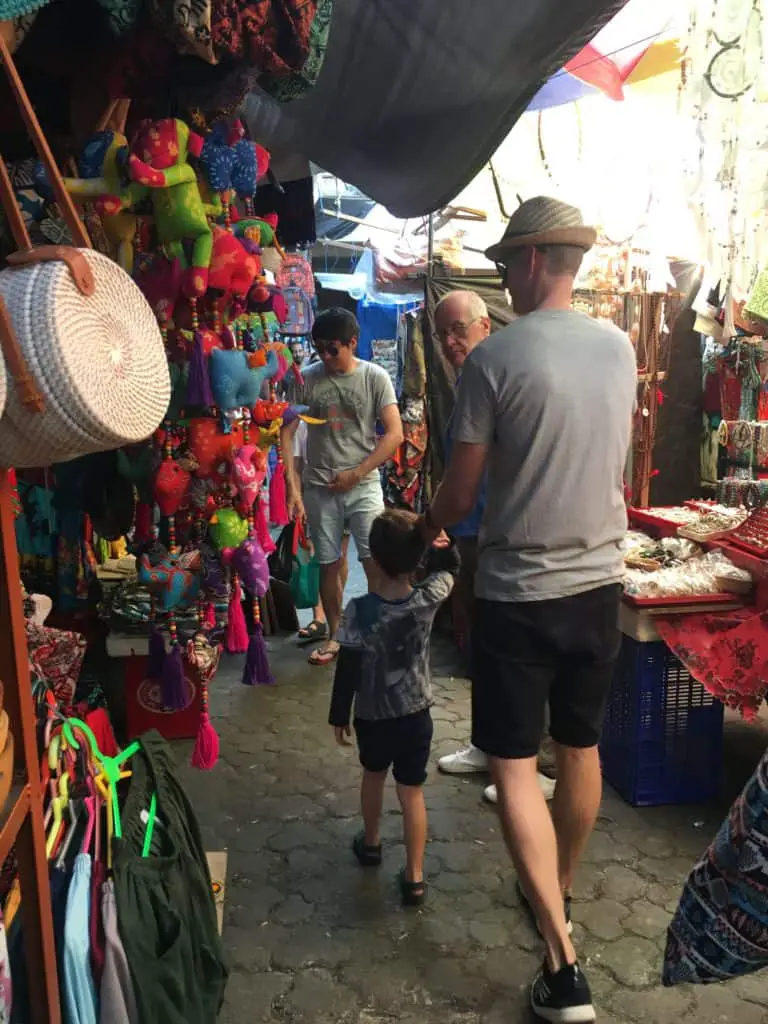 In the early morning, the market is mainly focused on local produce. However, in the early afternoon, it transforms itself into an art market where you can find all the beautiful products and souvenirs Bali is known for. Sarongs, statues, dream catchers, hats, toys, and mirrors. You name it and you will find it here.
Make sure you really want to buy an item before starting to bargain. Bargaining takes time and the sellers can be very persistent once they notice you are interested. We always try to keep it as fun as possible and never go for the killer deal. For us, we prefer to pay 2 or 3 Euros more to make somebody happier.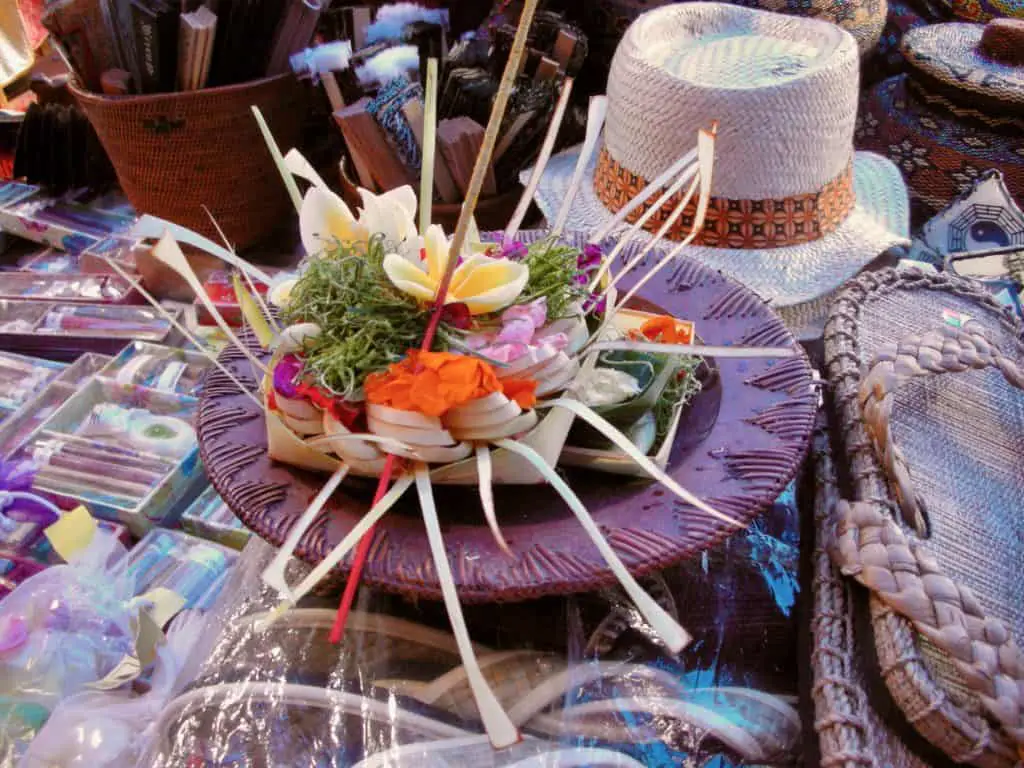 If you are not a big shopper or you can't handle narrow crowded places, you might be in and out of the market within minutes.
Is there a nice motorbike route in Ubud?
If you choose to travel by motorbike then it is possible that you might have time left before it gets dark. If so, we suggest heading up the smaller streets towards the northern hamlets nearby Ubud.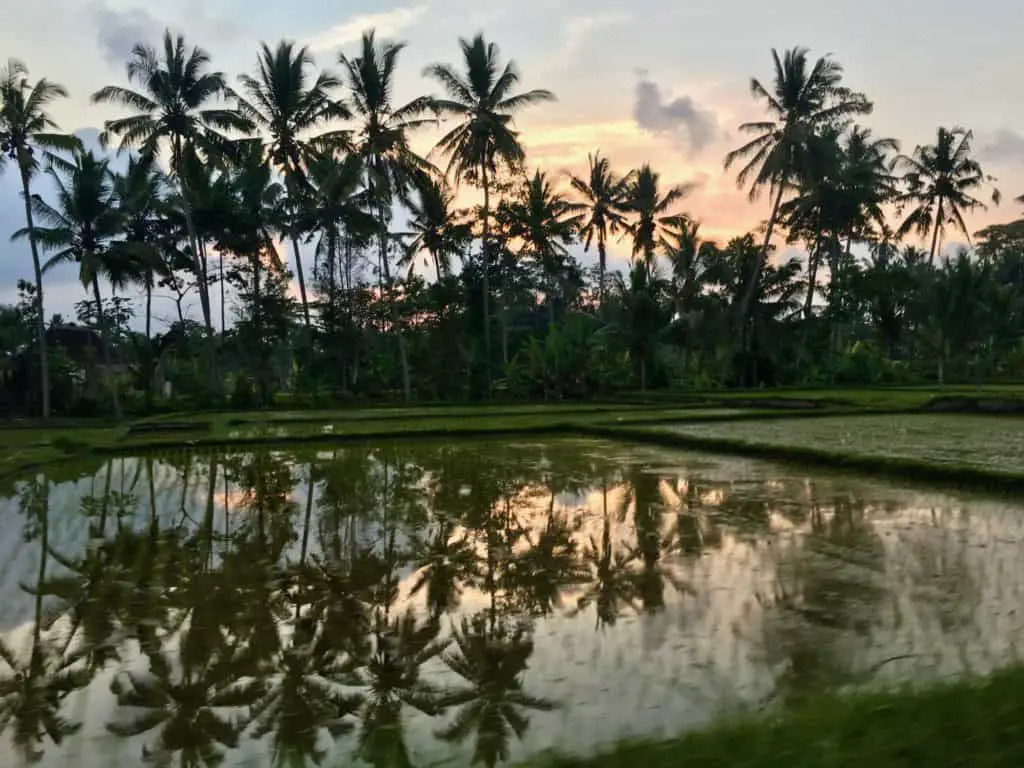 Drive into Jalan Sri Wadari which starts at the Ubud Royal Palace. Drive-up north and make the turn back along Tirta Tawar. The drive will take you into beautiful villages and takes about 40 minutes
What to do in Ubud at night?
Witnessing one of the many dance performances it pretty much a 'must-do', especially if you are only there for a day.
There are many different performances held throughout Ubud. The stages are often nearby temple grounds or at a building of cultural significance. This creates a much better atmosphere than the performances held at hotels.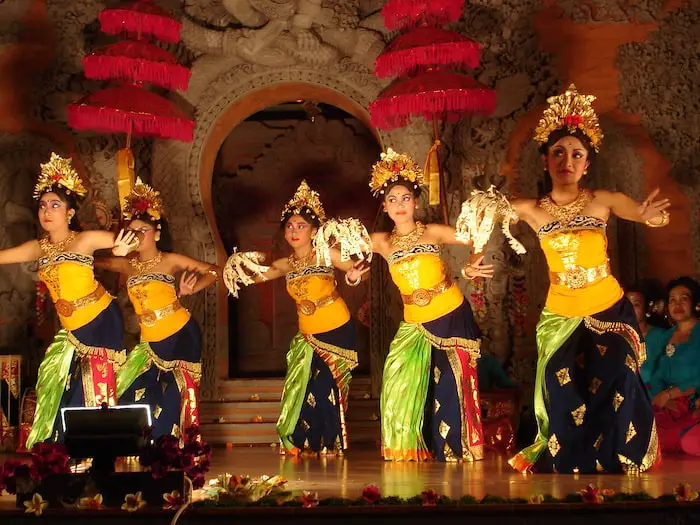 The dance groups are local Balinese from Ubud or the nearby hamlets. The whole performance is professional. If you choose a Legong-Barong dance the Gamelan orchestra will accompany the dancers. The Kecak trance dance is also a unique experience. At this dance, a story-teller is accompanied by a group of men chanting the 'kecak'.
Don't worry about getting a ticket for a performance. You will be approached by ticket sellers throughout the day. If you buy one, make sure that the performance is held nearby so you don't need to arrange extra transport.
Is there Grab or Go-car in Ubud?
As mentioned earlier, you are allowed to be dropped off by a GRAB or Go-Car driver in Ubud. However, it is not permitted to arrange a pick up in town.
Throughout Ubud, you will see signs saying 'Online are not allowed in this area. If you love Ubud Please respect local transport'. Well, that says enough I guess.
There will be enough drivers available in Ubud to take you back. They are sure to find you when you are walking along the street. Before getting in the taxi make sure you set a price. It should be around Rp.50.000 more than the drive to Ubud in the morning.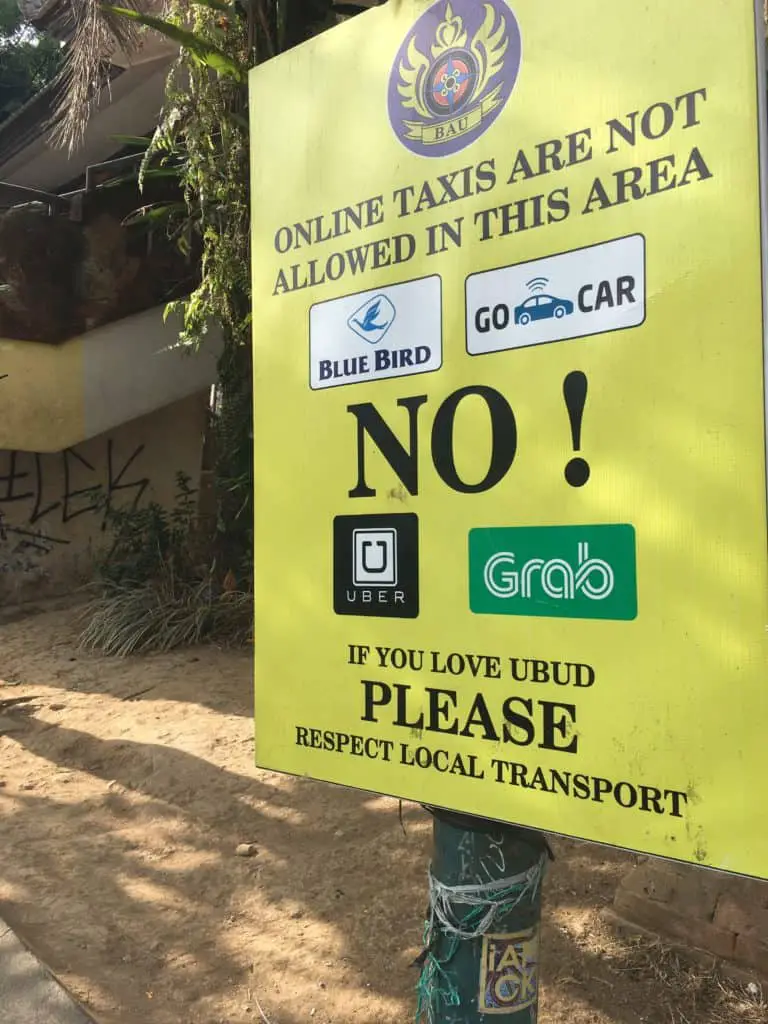 Hopefully, this day will give you a good impression of Ubud. There is a lot more to do of course but this itinerary takes you to almost every corner of the village center. You will be dead tired at the end of the day. But we are sure that after a day like this, you will be planning a longer stay in Ubud if you have the chance to visit Bali again.
Let us know if you are planning to go to Ubud for a day or if you have just visited it. Is Ubud worth returning to?