A Bali bike tour wasn't something we would do quickly. However, after mostly touring the island by motorbike, we decided to try one of them out.
And we're glad we did. Even after seeing so much of Bali, it's a nice experience to see the island at a slower pace with only the sound of wind and many 'hellos' along the way.
We booked a tour at Bali Bike Baik Tours which is 100% owned by Balinese and is located in Ubud village. Nyoman, the friendly bike guide for the day greeted us at 8 am at our hotel together with his driver. After picking up three other people we were off to towards Mount Batur in northern Bali.
Our first stop
On the way, you stop at an Agro-Tourism Project. This is not really mentioned in the brochures, but don't worry. It's not a rip-off.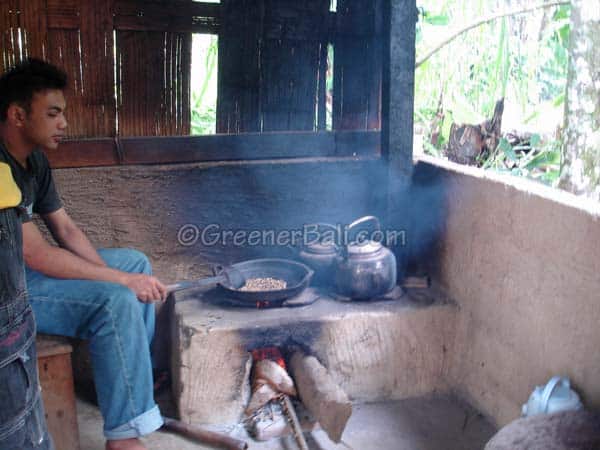 It's actually really interesting and a good experience. The Agro Forest shows you all the different kinds of plants and spices which grow in Bali. We saw different types of coffee beans, vanilla, cinnamon, cocoa, tobacco, etc.
At the end of the short tour around the forest, we were all able to try out the different kinds of drinks made from the plants we just admired.
We tasted chocolate, Bali coffee, lemongrass, ginger tea, and ginseng with coffee and milk. If you want to try something fancier you can order Coffee Luwak for Rph30.000. The staff at the Agro Forest are happy to explain why it's so expensive and unique…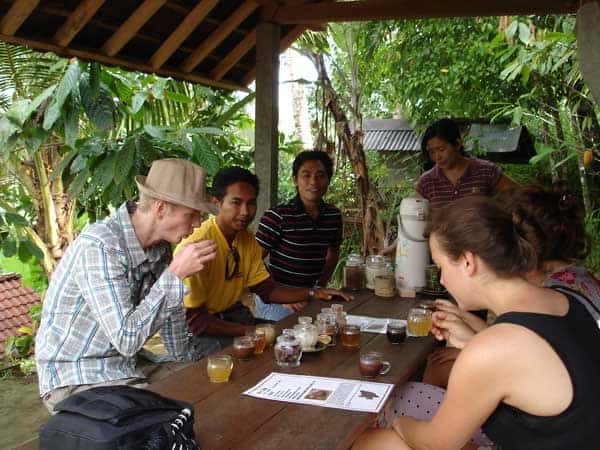 After our sample tasting, we continued our journey to Lake Batur passing many little traditional villages with beautiful mountain views.
Once at Lake Batur, we had a breakfast buffet looking out over the Batur volcano and lake. Then we jumped back into the car to finally arrive at the starting point of our Bike tour.
The Starting Point
It takes a bit of a drive before you finally find yourself on a bike. But Bike Baik specifically takes this route to avoid passing the busy road and to make the bike journey a lot more enjoyable.
Once everybody had picked their bike for the day, our group with the guide in front started the journey through the gorgeous Balinese countryside.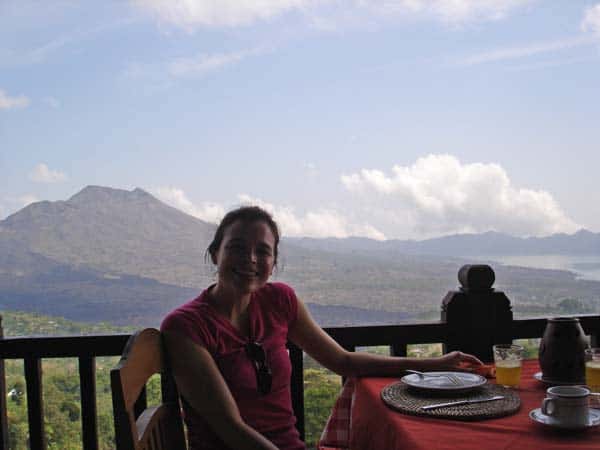 Part of the group are two cars from the Bali Baik Bike company. One car has extra bikes just in case somebody needs to change his or hers.
The other is a car that takes along your valuables, water and if necessary provides a ride for bikers who just can't cycle any longer.
So if you are worried whether you are fit or not, there is always a backup plan 😉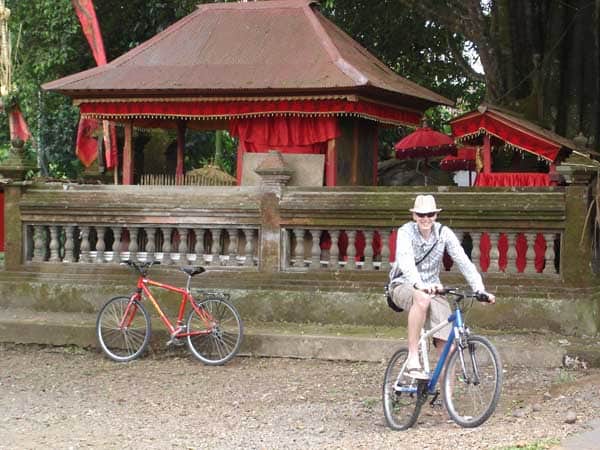 Do you need to be fit?
After joining the bike tour we can tell that you don't really need to be fit. Most of the tour is comfortable cycling with a total of 4 big steep hills. By the way, all ages can join, even children.
Along the route, there are a couple of pit stops with magnificent views on rice paddies or a short visit to local carpentry where they make objects for temples
It's a great experience to cycle through village, pass rice fields while waving and at the replying to all the 'Hello' and high fives from the Balinese kids along the way. Be careful though for dogs suddenly crossing the streets.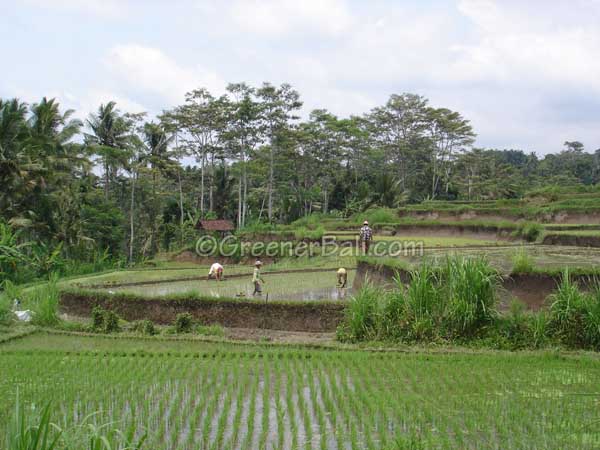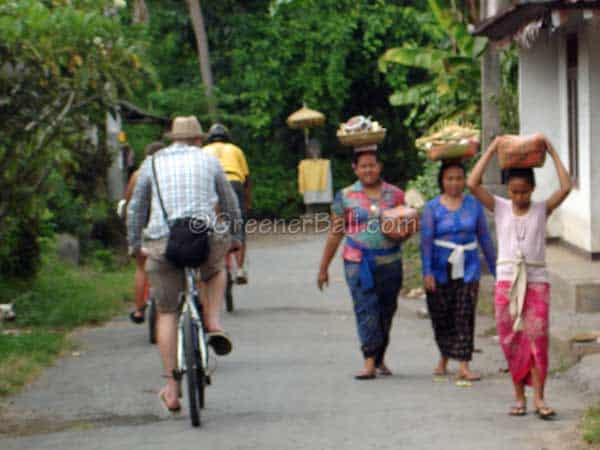 The 4-hour cycling tour ends at a quiet spot where the bikes are loaded into the truck. Here you can cool down with a cold towel and drinks.
Even though the sun was not shining at its fullest, we were sweating a lot due to the heat and humidity. So make sure you are wearing comfortable clothing.
During the rainy season, the tours are still organized, and depending on the weather, it's almost never canceled.
Once we were back in the car we drove to the house of Baik Bike's owner, Wayan. We received a warm welcome from his family who had prepared a Balinese feast consisting of 8 different dishes.
There is enough choice for vegetarians too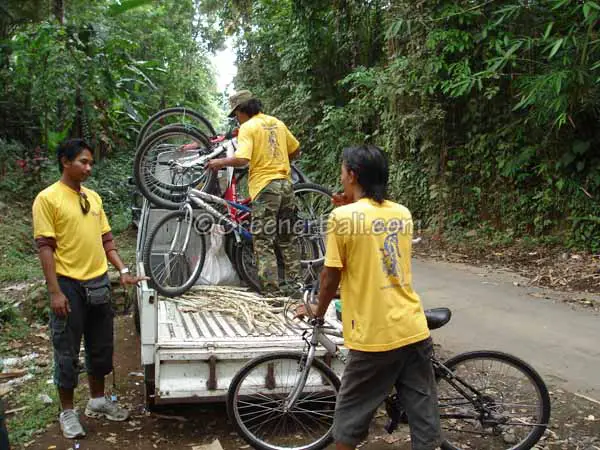 Definitely a 'must-do' when in Bali
We really enjoyed our day with Bike Baik tours. Even though we are pretty familiar with the Balinese countryside, it's still great to tour around on a bicycle. Mountain bike tours are ideal for eco-travelers who visit Bali and want to see the breathtaking landscapes and village life while doing something active at the same time.
It is also a perfect option for travelers with very limited time, as you can see a lot in one day while being able to enjoy the quiet life of rural Bali.
It's suitable for anybody, even people who haven't driven a bike for a very long time. And it's definitely a unique experience if you are used to touring around the island by car. On a bike, you can not only see but also hear, smell, and feel how wonderful Bali really is.
If you also want to join a Baik Bike tour you can just call them (+62 361) 978052 and they will tell you what time they will pick you up.
If you are not staying in Ubud you can join this bike tour as well. They have pick-ups from Kuta, Sanur, and Nusa Dua area. A tour starting from Ubud is Rph 370.000, children under 12years Rph 250.000. If you start from the other villages it's just slightly more expensive.
Besides this company, there are numerous others, often with similar itineraries. Bali Eco Cycling Tour seems to offer more stops to provide more insightful information on Balinese culture and daily rural life. While Infinity Mountain Biking has more off the beaten track trails for real fit and experienced mountain bikers. They even advise you to bring your own saddle and paddles if you want to. As you can tell, serious stuff.