Jimbaran beach is one of the popular beaches in Bali. Despite its popularity, you can still experience a quiet atmosphere, especially during the weekdays. If you want to do more then swimming, there are other things you can do at this beach.
So what to do in Jimbaran Bay Bali? The best things you can do at Jimbaran Bay are swimming, surfing or bodyboarding, walking along the beach, and visiting the fish market. Eating at one of the many seafood restaurants on the beach by sunset should be on your list too.
Jimbaran Bay runs all the way from the Four Seasons resort in the south until the Ngurah Rai International Airport in the north. The distance is around 2.48 miles/4 km. In my opinion, this bay is one of the best on the island. Jimbaran village itself has nice places to visit too, such as the Ulun Siwi Temple or the traditional market. However since you can easily spend a whole day at Jimbaran bay, I am going to focus on that only.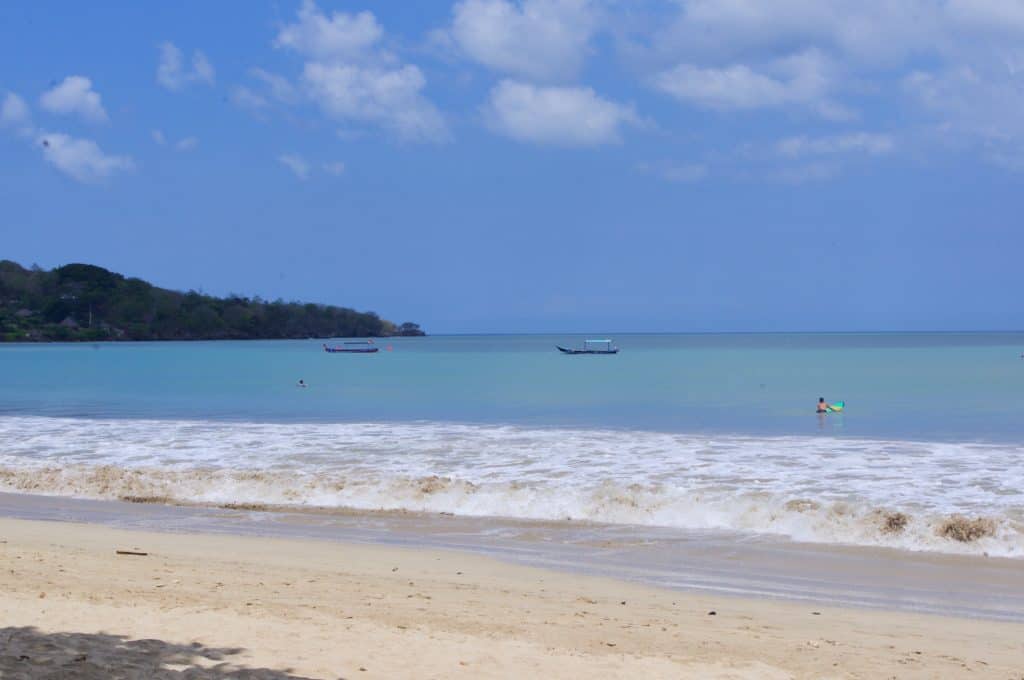 Can you swim in Jimbaran bay?
The water at Jimbaran bay is very good for swimming. The waves are usually not that high and the reef is far out. 
We have a favorite spot on the beach for swimming. To get there we drive along the main road Jalan Uluwatu and take the turn at Jalan Bukit Permai. This quiet street connects the busy main road with the beach.
There is enough parking space at Warung Bu Yani or the White Sands Beach House (parking is free, except weekends Rp. 2000). From here we kick off our flip flops and head straight for the beach.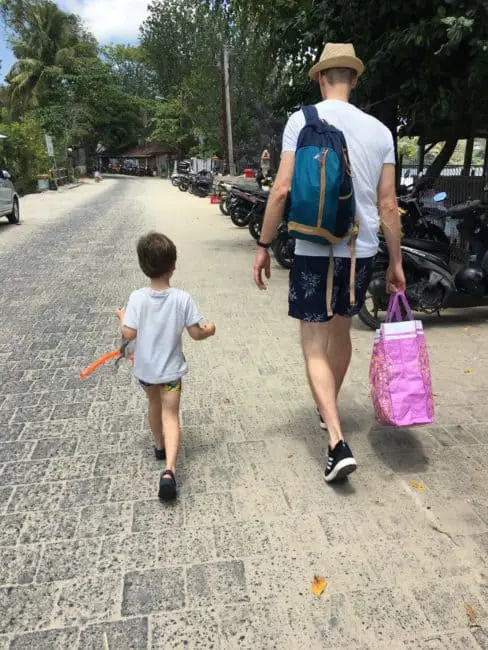 We are usually at the beach around 9.30 am and stroll to the front of the Intercontinental Hotel. We consider this one of the best spots to hang out the whole day. Just in front of this resort, there are lots of trees that provide enough shade to fully enjoy the beach until 2 pm.
If you come early like us then you are likely to be the first. You will only see staff cleaning up the beach, an occasional jogger, and people letting their dogs out.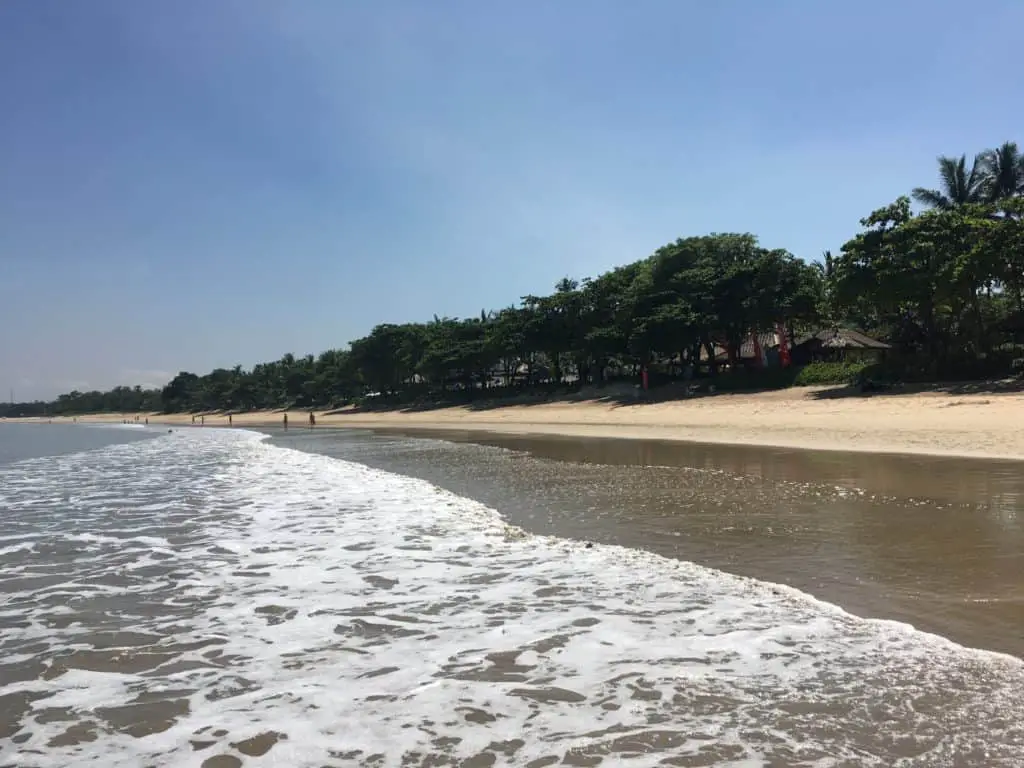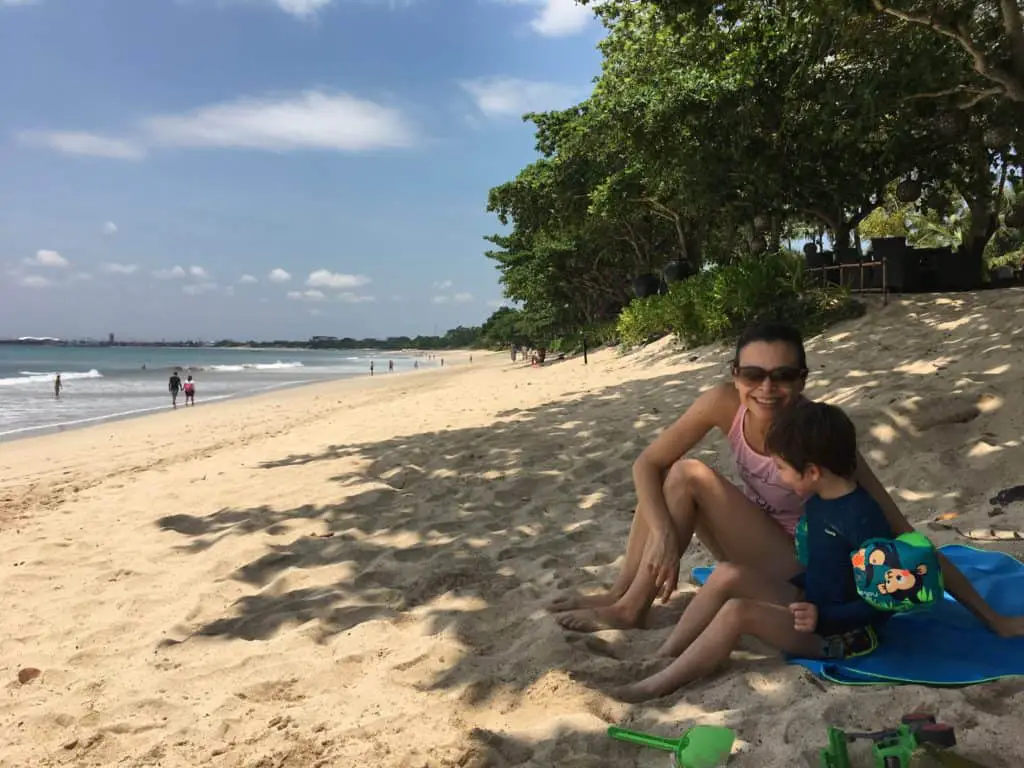 From here we always run into the water, catch some waves or do some swimming. Depending on the weather you can have high waves or none at all.
Our 4-year-old son enjoys the waves here. They are easy to 'handle'. If you are also traveling with a fearless kid then your child will certainly have the time of his/her life.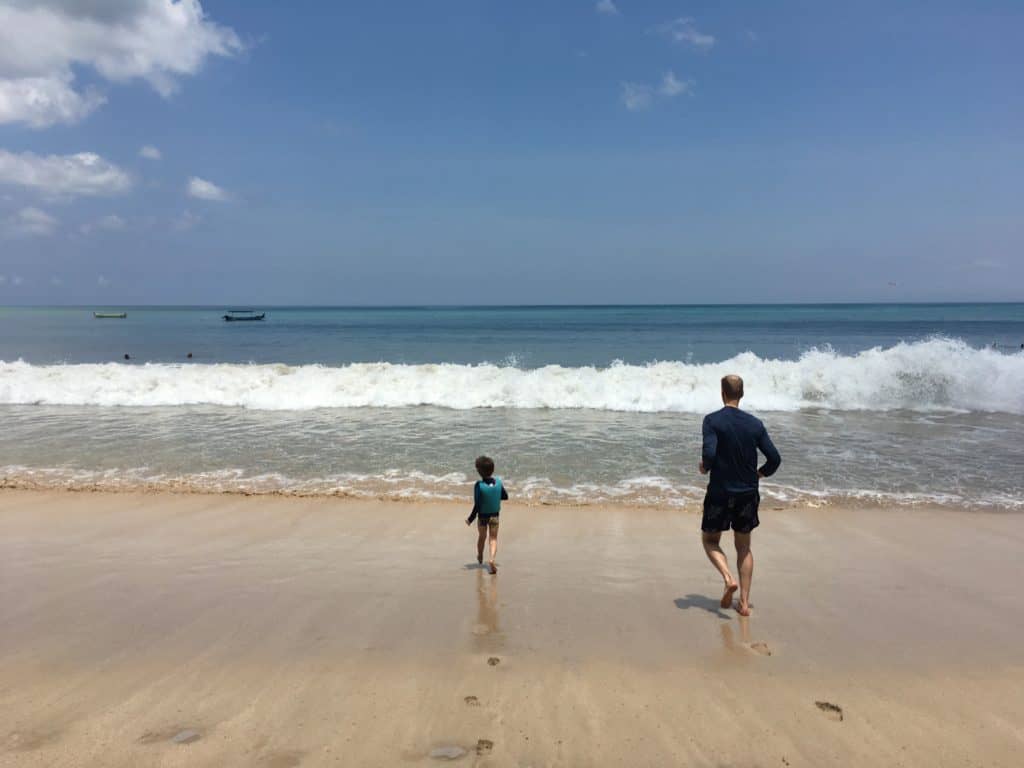 While swimming in these waves we notice that it is best to use a life/swimming vest instead of the usual inflatable armbands for smaller kids. Once our son washed ashore his armbands shifted. A life vest seems safer. That said, there are no lifeguards in front of the Intercontinental so always be on the lookout.  
We also took a jump into the water in front of the Four Seasons resort at the southern tip of Jimbaran Bay. We discovered that there were a lot of rocks and dead corals here. So we recommend not to swim here.
What are the seasonal Influences at Jimbaran beach?
The time of year can influence your experience of Jimbaran beach immensely. We always considered Jimbaran beach one of the cleanest on the island. Until we visited it at the end of March.
The whole beach was littered with trash. When we went into the water the plastic would just stick to our body. It was horrible and pretty shocking.
We met a couple who initially wanted to stay at Jimbaran bay their whole holiday but soon changed their plans and left for another beach. Not surprisingly they will not recommend this beach at all.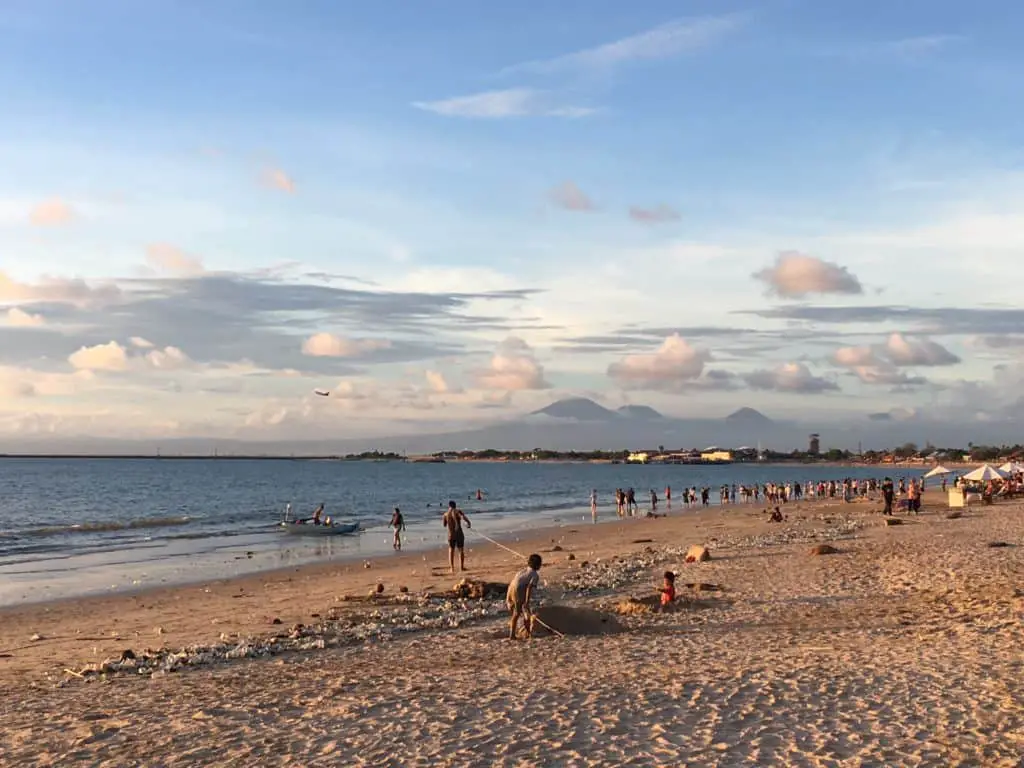 The amount of plastic and trash depends on seasonal winds and rainfall. The so-called 'garbage season' is usually in the wet season starting from December to March. So if you can, try to avoid this beach during this time of year.
Another thing that might influence your opinion of Jimbaran beach, and actually any beach is the type of weather. When the sun is shining and the sky is cloudless the water at Jimbaran beach has the most amazing blue and green color. However, when it is cloudy, the water is fine but not as stunning.
So if you are somewhat disappointed on this day, make sure to come back on another.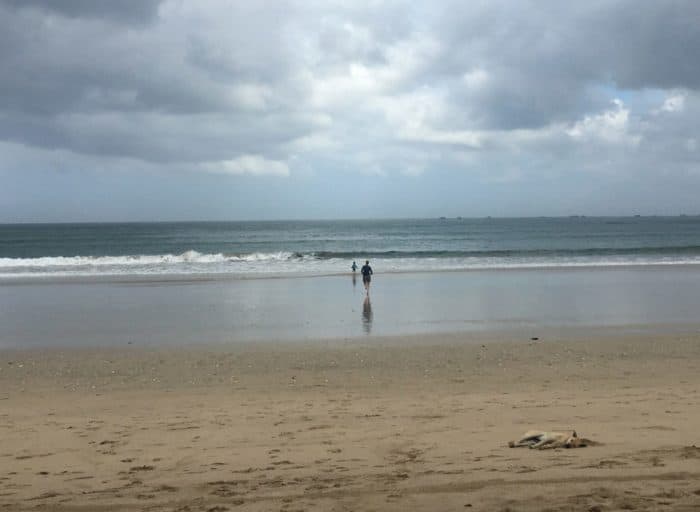 Are people surfing in Jimbaran Bay?
More and more people are surfing at Jimbaran Bay. Perhaps because Kuta and Legian are super crowded. We've noticed that there are a lot of beginners learning their first moves on the waves of Jimbaran beach.
This is mostly done between the Kupu Kupu Jimbaran Beach Club and the Jimbaran seafood restaurants in the south part of the beach.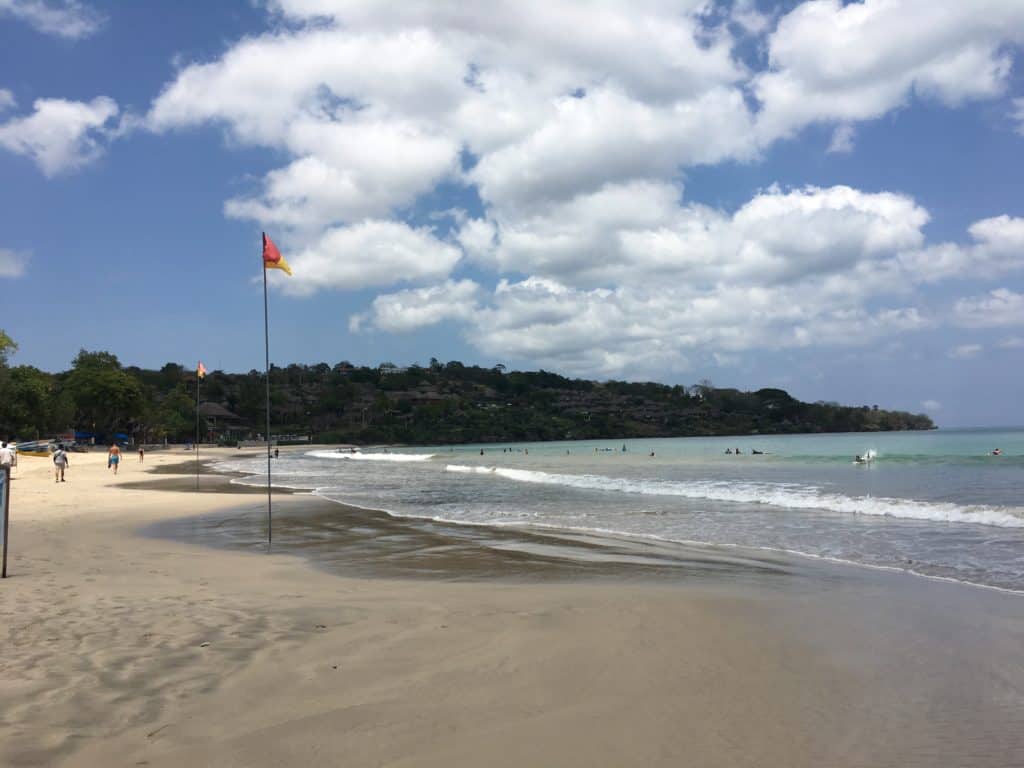 Next to the beach club, there is the Rezha Surf School but there are more places where you can rent surfboards or bodyboards. Renting a surfboard on Jimbaran beach will be around $10 USD and around $5 USD for a bodyboard for a whole day. We didn't manage to find one who wanted to rent it out for a couple of hours only. 
Before you plan to go surfing at Jimbaran beach it's always a good idea to download an app that can tell you when the tide is high or low. A good one I have heard of is the Bali Tide + Chart app. This app makes it easy for planning your day around the waves.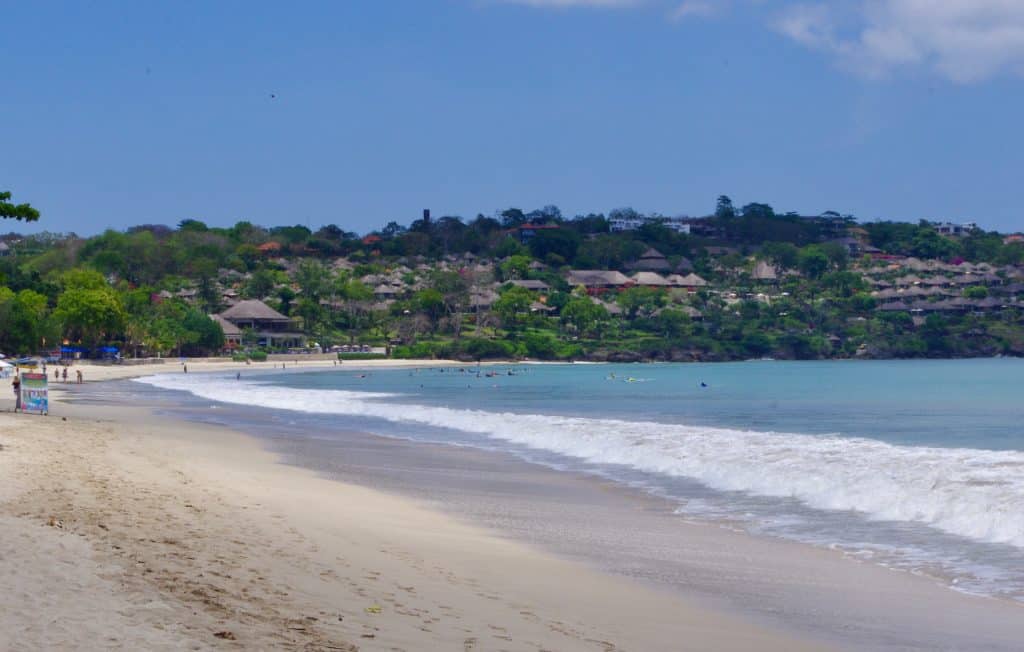 When you're an advanced surfer and you want bigger waves it is better to do some surfing near the airport in the northern part of the beach. They call it Airport Rights.
You can ask one of the local fishermen at the Jimbaran local fish market to drop you off behind the reef. Don't forget to book a ride back or you'll be paddling back to the beach which is a long way.
Can you rent sun loungers at Jimbaran beach?
At every entrance of Jimbaran beach, you can find sun loungers. They are usually owned by one of the many beach restaurants. Some even have bean bags with traditional Balinese umbrellas such as the Beekini Bowl. Expect to pay around Rp.50000 per bed.
If you want to splurge you can also head for the Sundara Beach Club where a daybed can cost you 1,200.000 IDR ($85 USD or 77 Euro) and includes a 1,200.000 IDR food & beverage credit.
Where can I find the Jimbaran local fish market?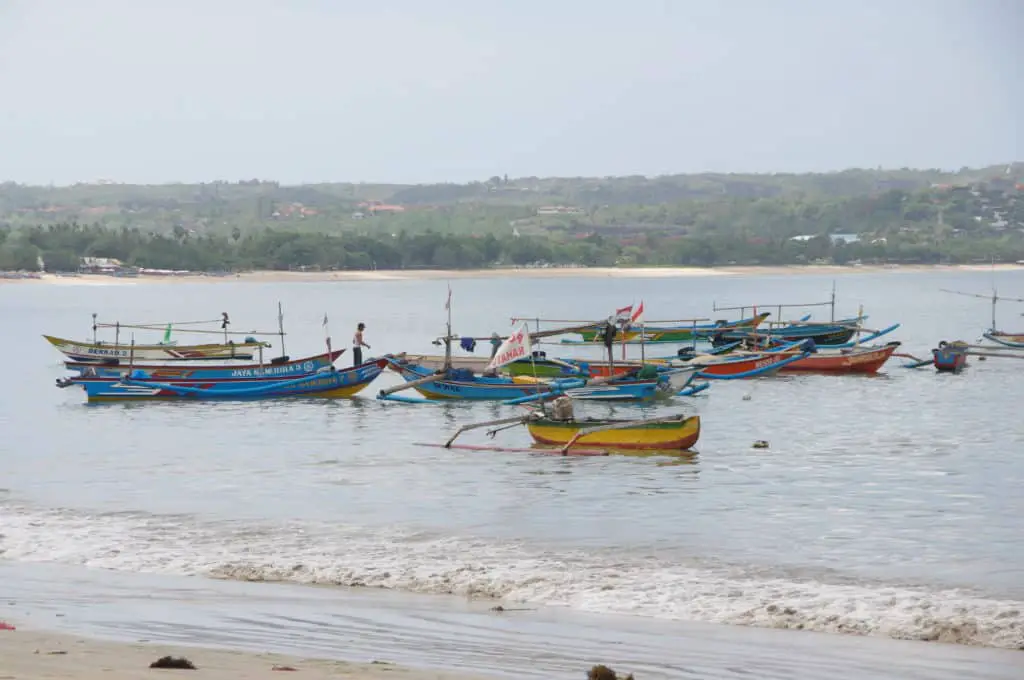 The famous local fish market, called Pasar Ikan Kendonganan is located in the north part of the beach. While the market is the main highlight, we actually enjoy going to this part of the area early in the morning. Around 6 am – 9 am local fishermen arrive with their boats to the beach bringing in their morning catch. 
Once at the beach, groups of people help to haul in the fish. Women carry heavy buckets with all kinds of fish and seafood straight to the market. Balinese resorts and restaurants come here daily to buy the fish in bulk.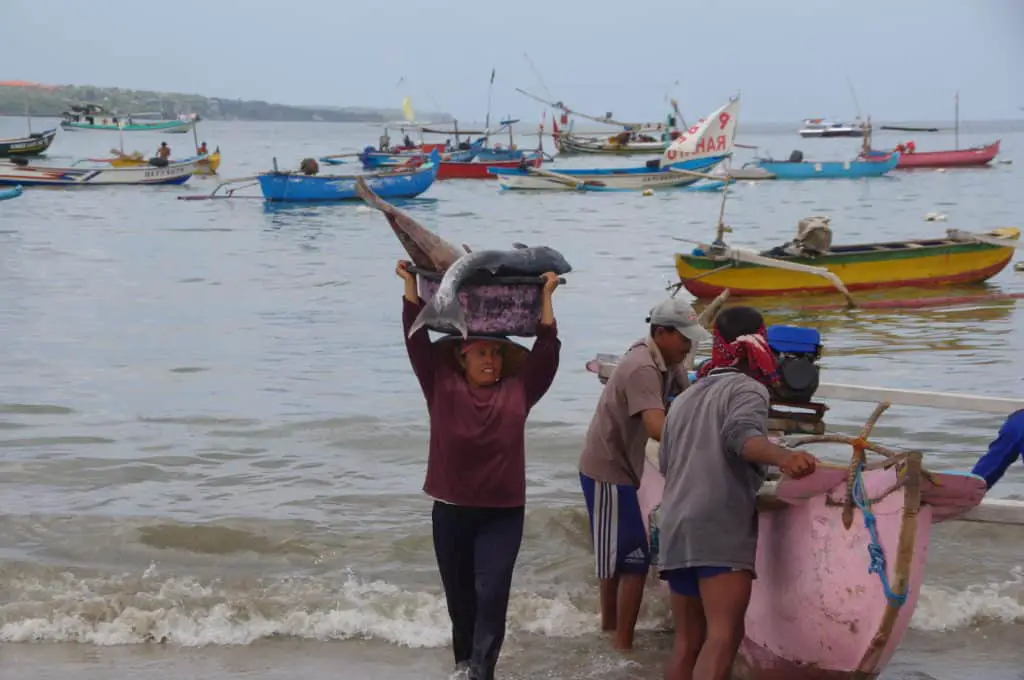 This local fish market is also open to tourists. If you are not used to these types of markets you might think it is dirty. The ice on the fish melts fast creating a muddy path between stalls. Still, we recommend going. Experiencing new things is part of being on holiday. 
At the market, you can buy all kinds of fish. Once when we were there the seller had this enormous giant squid which he held up high for everybody to see.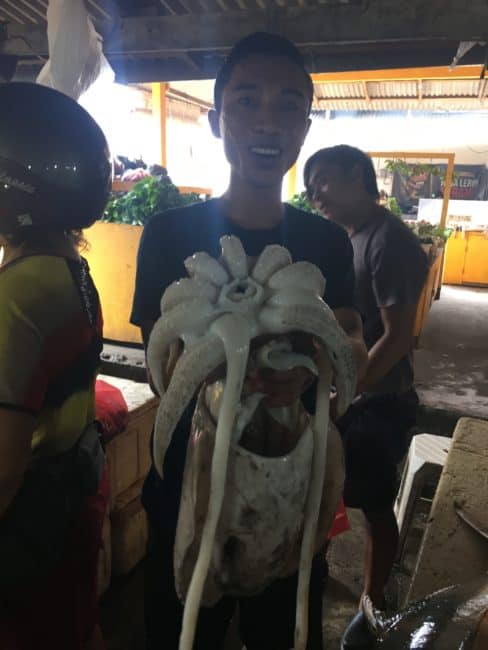 If you are not from around, these are unusual scenes to see. Just as the diversity of fish sold. Unfortunately besides the shrimp, lobster, red snapper, clams, and mahi-mahi we occasionally spotted small shark species and many stingrays.
We are not sure if this is allowed. Local rules are probably applied here.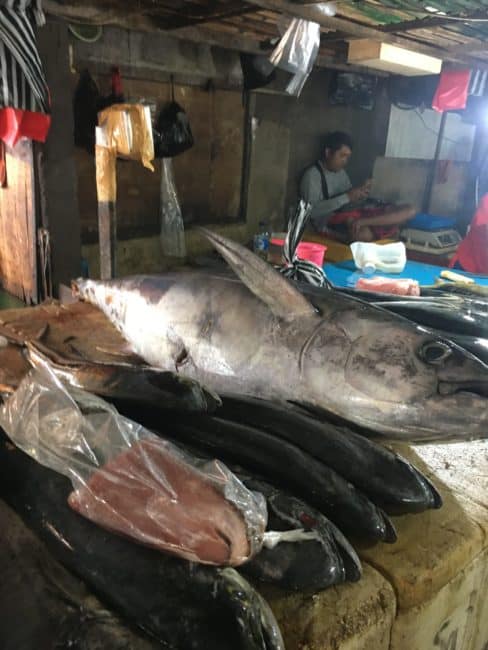 If you love to eat fish then you should definitely buy some. While the fish is sold in abundance you are able to get just one. Once you made your choice take it to one of the small restaurants just outside the market. They will grill it for you and serve it with some rice. 
What is there to do in Jimbaran Bay Bali at night?
You will not find any night clubs in Jimbaran Bay. That's what Kuta is for. Many resorts and restaurants have live music while you enjoy your fresh seafood.
Like most beaches along the west coast of Bali, you can witness stunning sunsets at Jimbaran beach. A little difference between the sunsets at Jimbaran and the ones at Kuta, Legian, and Seminyak is the atmosphere.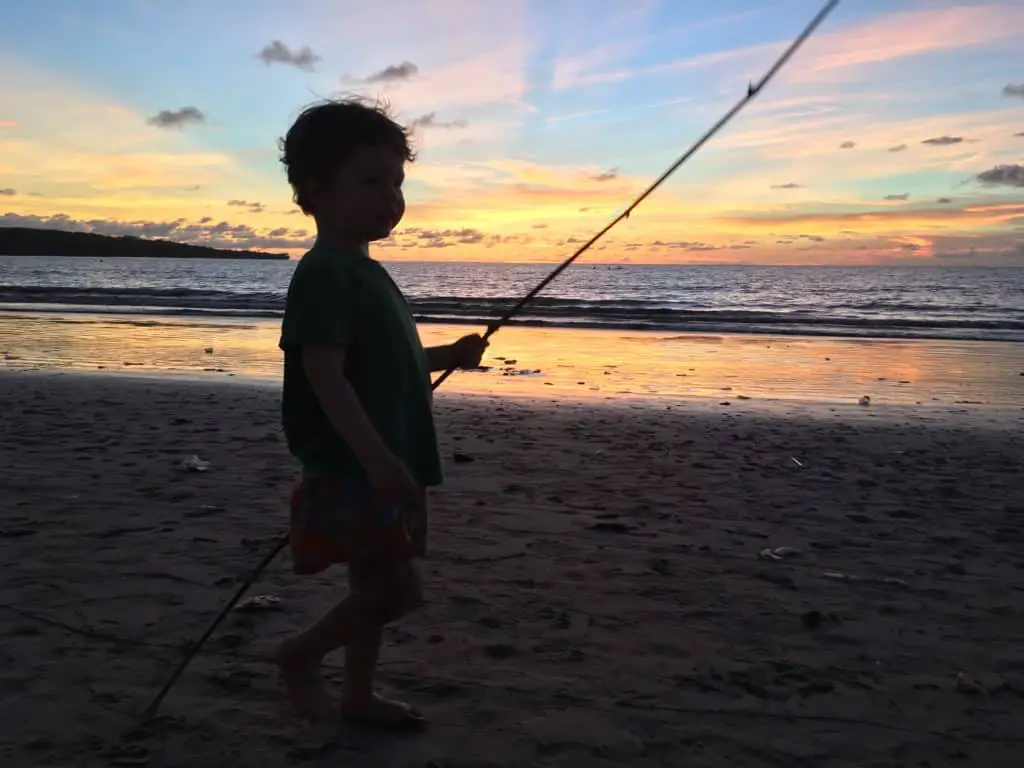 We don't find it so busy compared to Kuta beach, Legian Beach, and Seminyak beach. And there's a good mix because you can see more local Indonesians here too. 
Little kids are jumping in the water or playing football while others are snacking on grilled corn. When the sun sets it is nice to join the small crowd and watch others enjoy the beach too.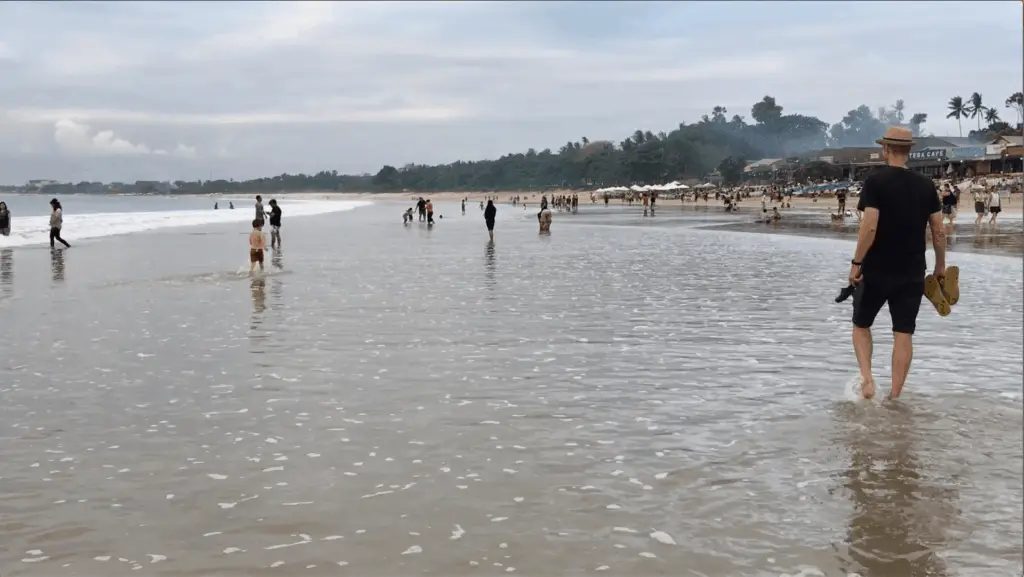 Of course, once the sun has set it is time for seafood dinner. Something that Jimbaran bay is most famous for.
Where can I find the Jimbaran seafood restaurants?
There are three main areas where you can find seafood restaurants in Jimbaran Bay. The first one is next to the local fish market in the north part of the beach on Jalan Pantai Kendonganan. The second area is in the middle of the bay at the end of Jalan Pemelisan Agung. The third area is in the south along Jalan Bukit Permai.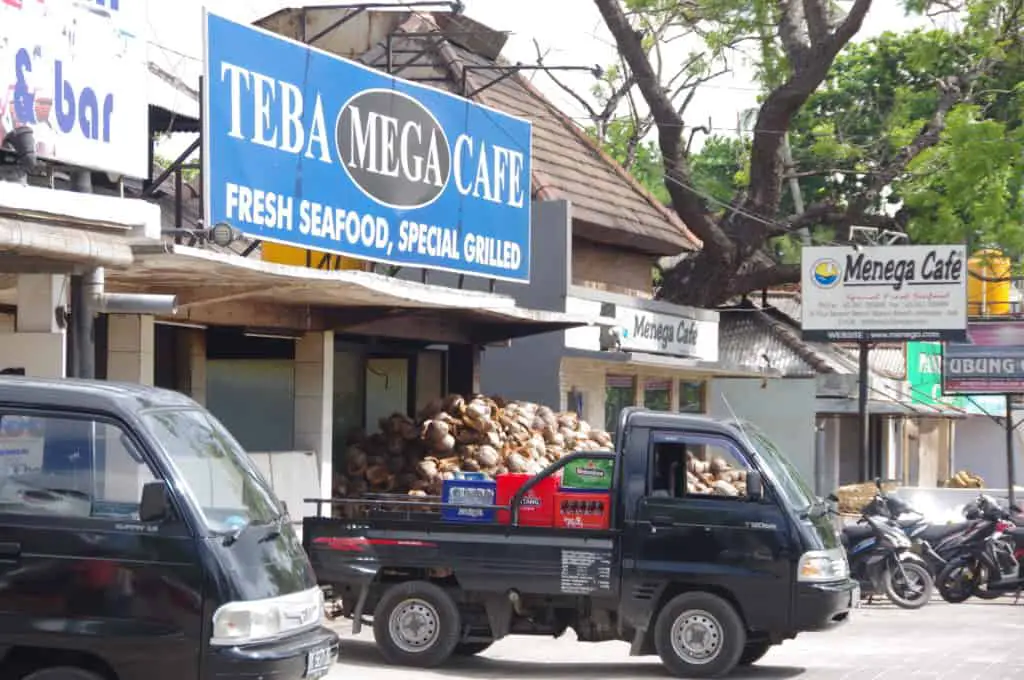 Our favorite as you might have guessed by now is along Jalan Bukit Permai. Try to come here around 5 pm or it will be packed. It doesn't really matter which restaurant you choose. We have tried several.
Best is to walk into the restaurant and pick whatever seafood you like. They will grill it on the barbecue for you while you sip your drink with your toes in the sand.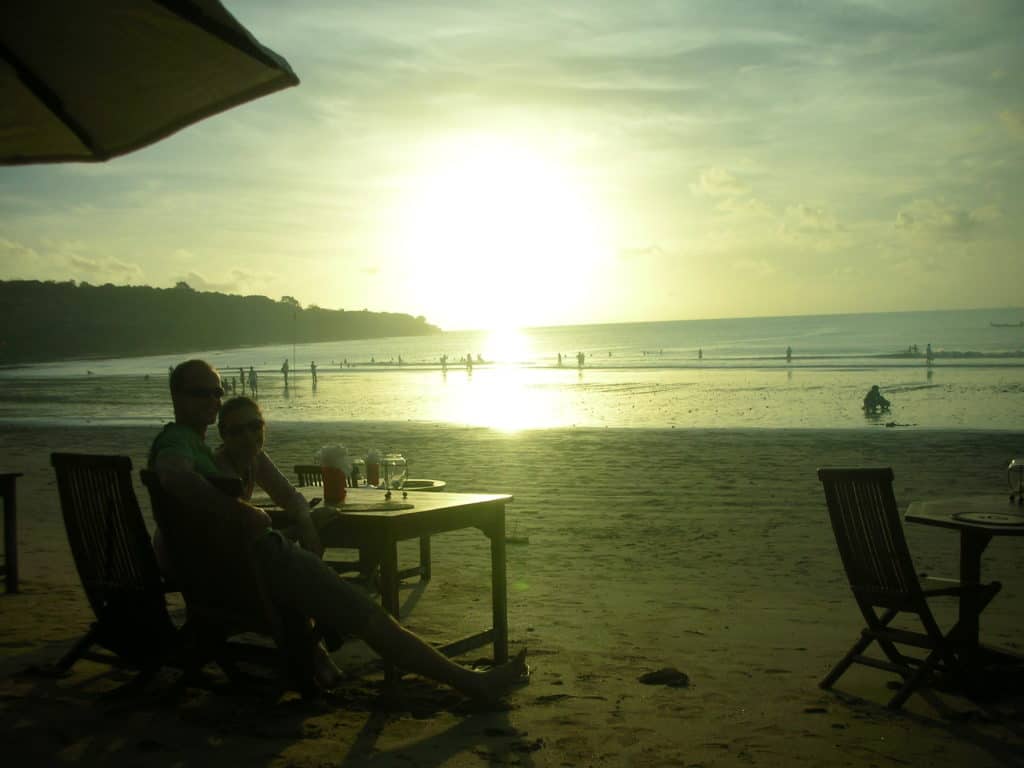 How to get to Jimbaran Bay?
Jimbaran has one main street called Jalan Uluwatu. It's a busy street with local action on one side and little streets leading to the hotels and beach on the other. It is not a comfortable street to stroll around. Perhaps that is the reason why most guests remain at the resorts or the beach.
Best is to use a taxi app such as Grab or Go-Car. It's reliable, cheap and can bring you to most areas.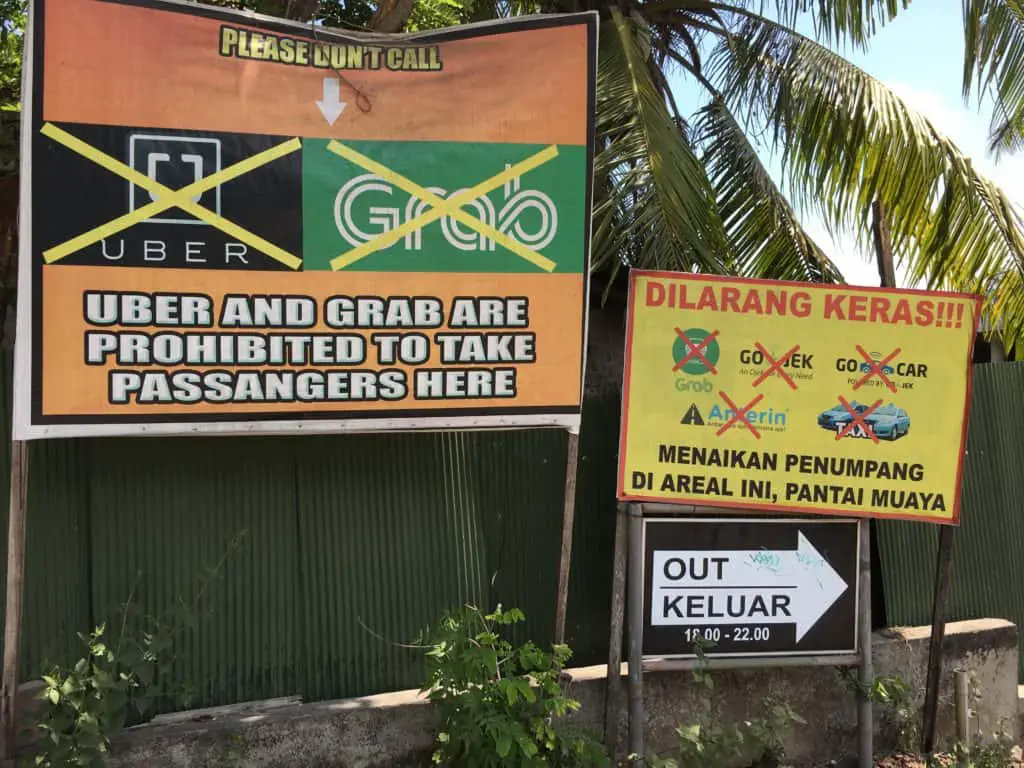 Picking you up again is another matter. They are not allowed to pick you up in some areas, especially at main beach entrances. You need to walk to the main road where the Grab or Go-car drivers aren't afraid to pick you up.
If you want to avoid the hassle use one of the many local drivers. Another option is to use the Bluebird taxi which has been in Bali forever.
For those looking for a quiet beach holiday with fine sand, this is the place to be. There are plenty of other hotels, villas, and some budget accommodations to choose from. This makes Jimbaran Bay the ideal beach for families with kids or couples.