When you think about the beaches on Bali, images come to mind of swaying palm trees and spectacular sunsets, such as those at Kuta Beach. Most tourists coming to Bali stay around the Kuta-Seminyak area.
Luckily we soon discovered that there are even more beautiful beaches to visit on the island.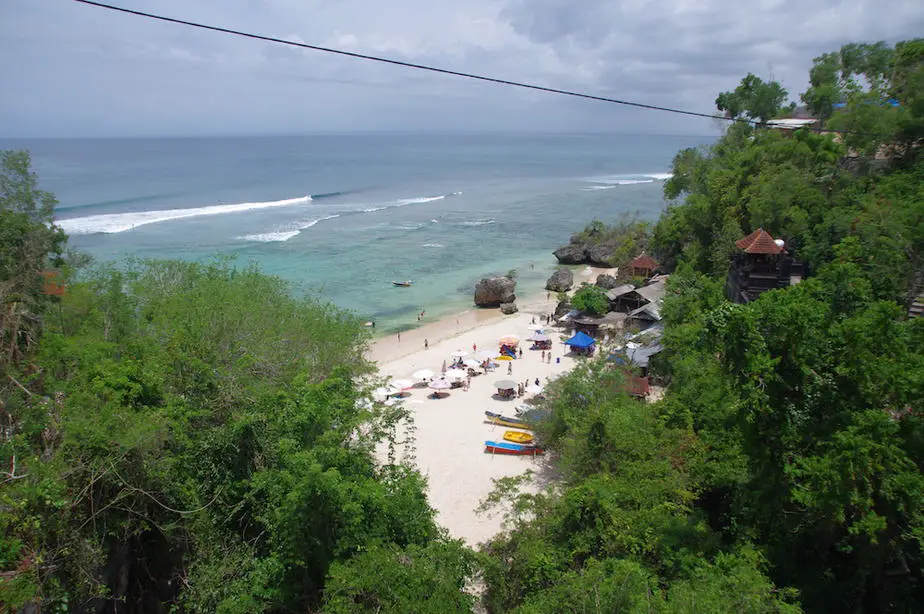 What Are The Beaches In Bali Like?
We find the diversity of the beaches one of the winning points of Bali. There are black volcanic beaches but also white beaches located right below huge cliffs.
Some of these beaches are wide, long, or easily accessible for sun lovers while other beaches are hard to get to, often located in a tiny bay, giving you a 'hidden beach' feeling.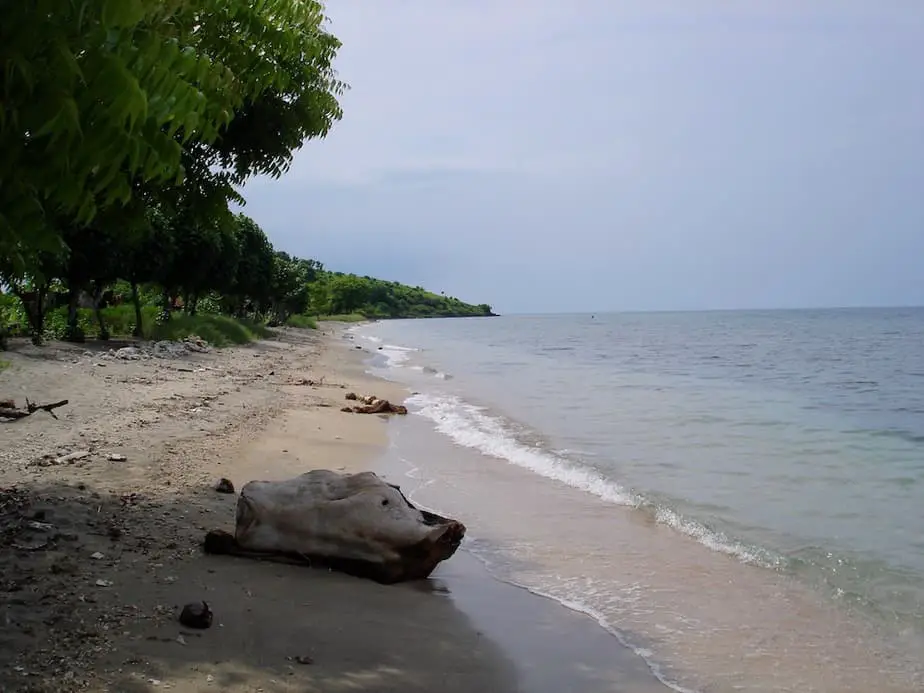 In some areas in Bali, the ocean is calm making it safe for swimming, and clear enough for snorkeling, or diving. In other parts of the island, there are high waves and strong currents, which makes Bali one of the best surf spots in the world.
There is a beach for any type of traveler in Bali making it one of the reasons for being such a popular destination.
What Are The Best Beaches In Bali?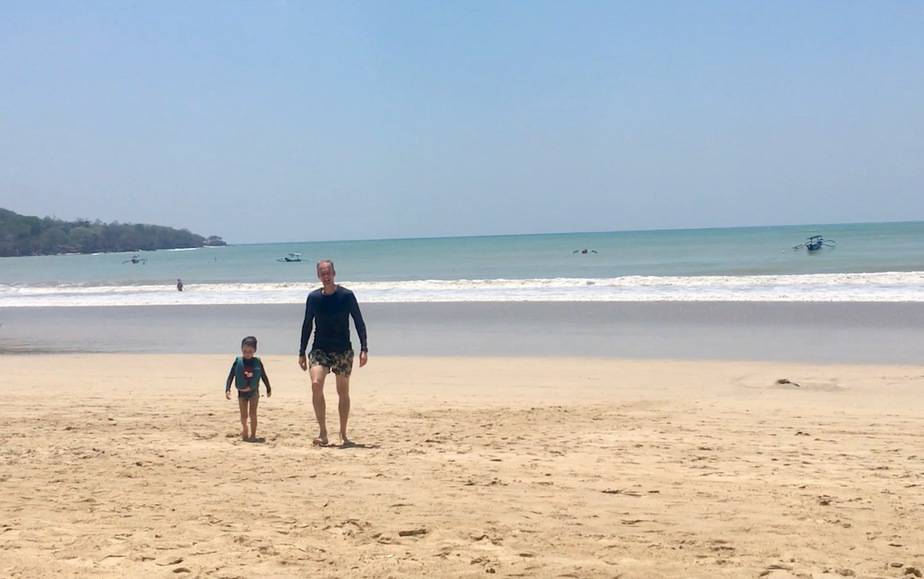 We think it is pretty difficult to say which beaches in Bali are the best. It all depends on what you want to do. If you prefer swimming then we love Sanur Beach, Geger Beach, Amed Beach, and Jimbaran Beach.
Looking for a good beach for kids? Then we always head to Sanur Beach, Jimbaran Beach, Balangan Beach, Geger Beach, and Candidasa Beach.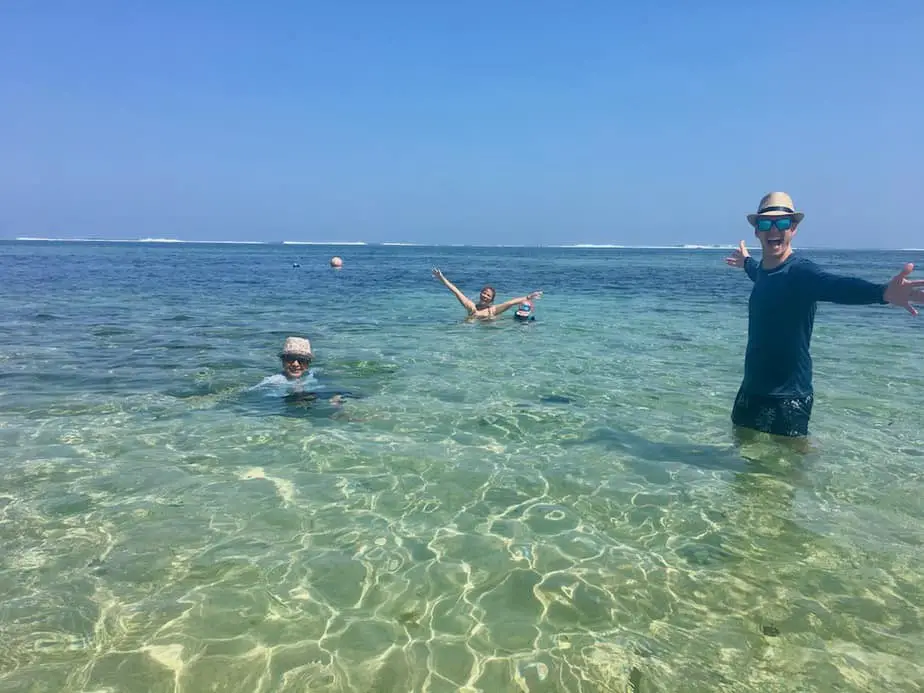 For those who wish to go snorkeling or diving, it's best to go to Menjangan Island, Nusa Lembongan, and Amed Beach. We really like the underwater world at these spots.
As for surfers? We watched in awe how surfers tackled the difficult waves at Uluwatu Beach, Balangan Beach, and Balian Beach. Then again we also loved Kuta Beach during our first ever surfing lesson.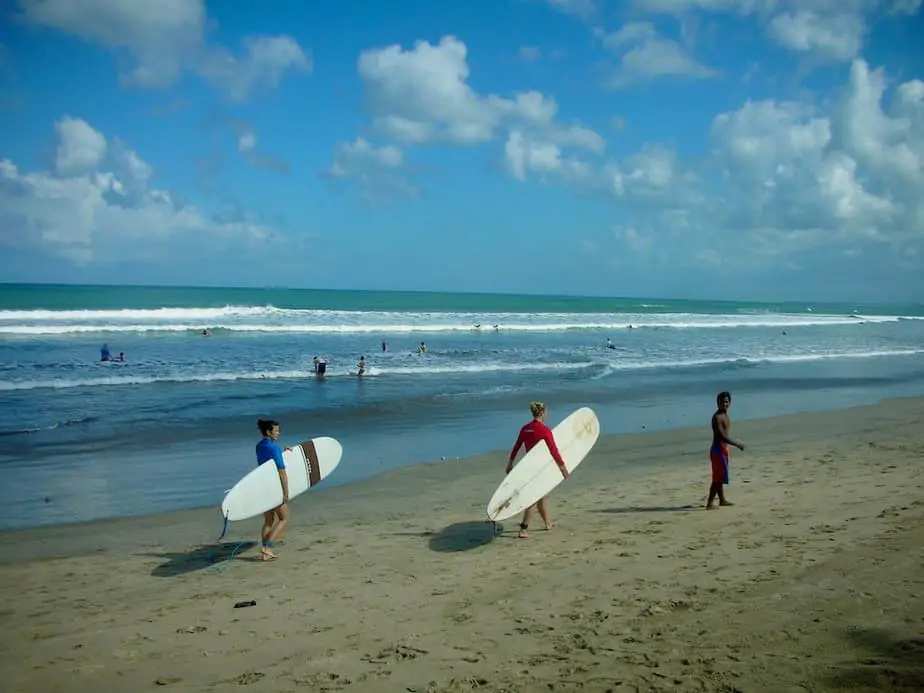 For the secluded and/or hidden beaches in Bali for couples looking for a romantic moment then our favorites are Pasir Putih Beach, Bias Tugal Beach, Nyang Nyang Beach, and Pemuteran Beach. Jimbaran Beach and Soka Beach are perfect to go for a long walk by sunset.
But also remember to check when is the best time to visit the beaches in Bali. Because not every visit to the beach will be the same. Tides and time of year influence the water conditions. Some beaches that are safe to swim can be dangerous during high tide or during the rainy season.
Always check the Tide-App for Android or Tide-Charts for iPhone when planning your visit to the beach.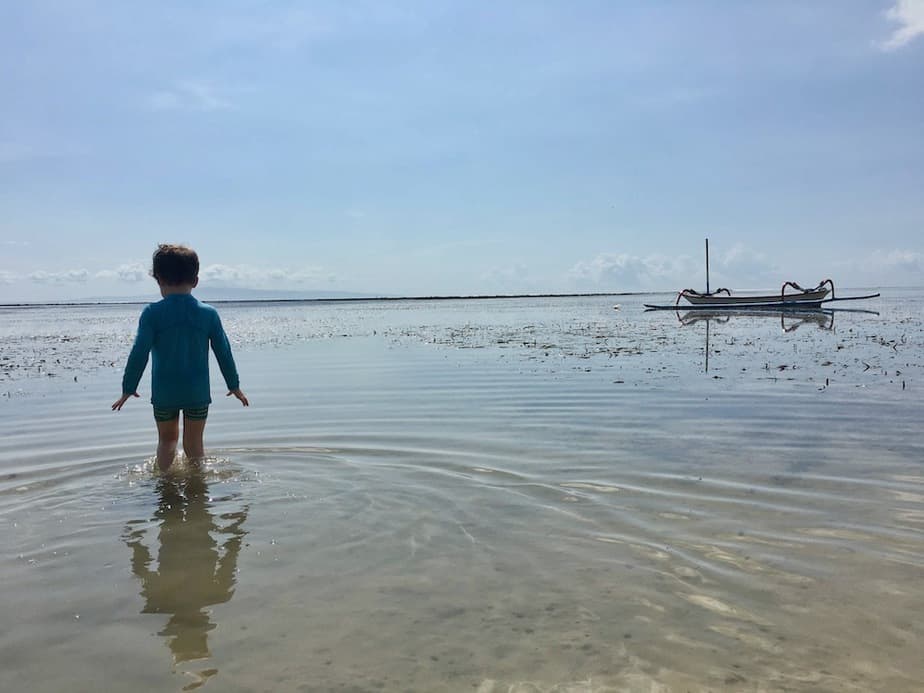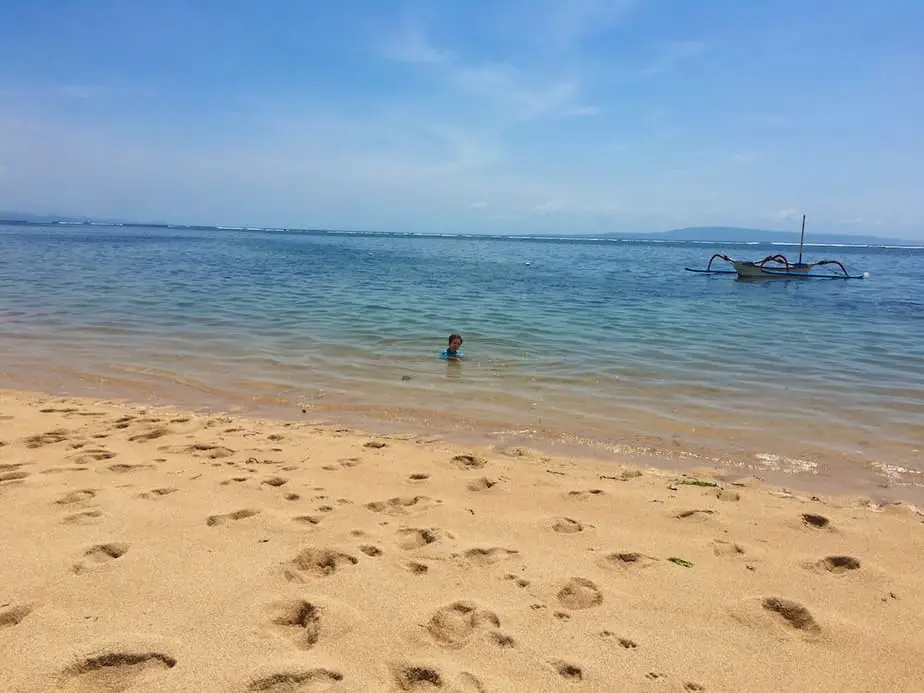 So which of the beaches in Bali should you visit? We have listed all the ones we have went to during our travels in Bali. Some of them are our favorites while others we have started to avoid. We will of course let you know why so you can decide which beach is perfect for you.
Bukit Peninsula Beaches In The South Of Bali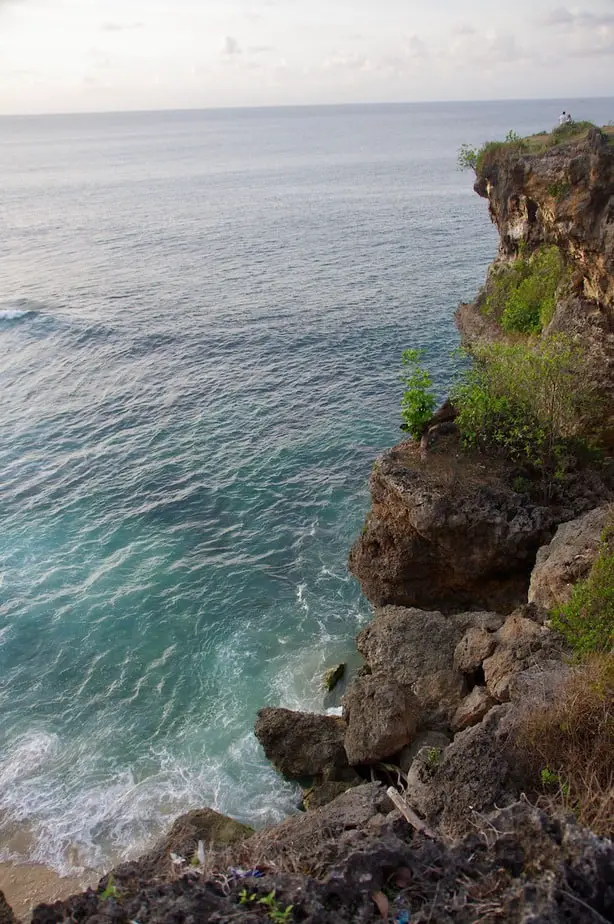 The Bukit Peninsula is located in the very southern part of Bali. The most popular beaches on this tip of Bali are Uluwatu Beach and Padang Padang Beach. Other famous beaches are Dreamland Bali Beach (also known as New Kuta Beach) while Bingin Beach is upcoming.
These beaches are located in an area that is not as green as the northern part of the island. The landscape is very arid so you will not see any rice fields here.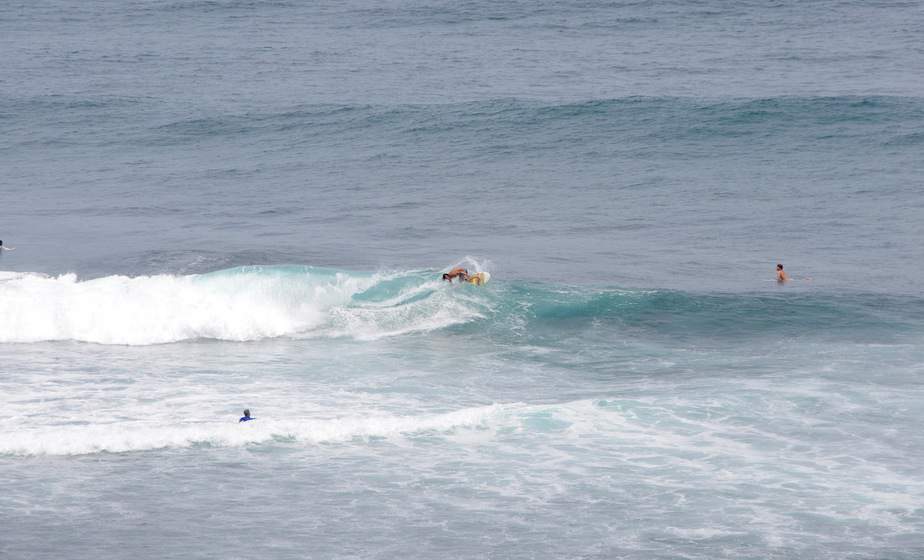 Nevertheless, the beaches in the Bukit area are amazing and worth exploring. You'll find here the best places to surf or just to relax and admire the view from the cliffs.
At the east side of the peninsula, the beaches have soft white sand, while the west the coast is dominated by cliffs
Balangan Beach
for families, couples, solo travelers, surfers, sunbathers, budget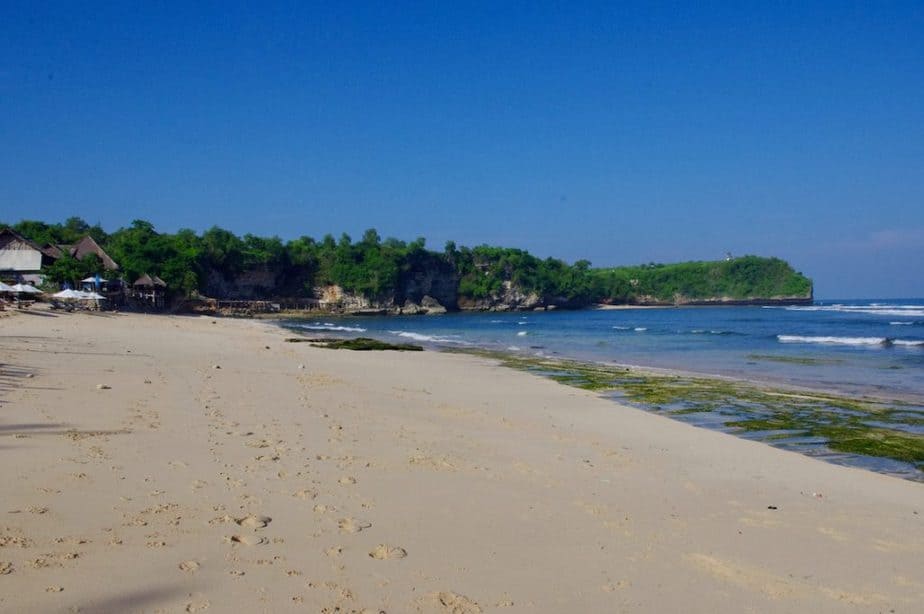 Balangan beach is one of our favorite beaches. It is located pretty far from the Uluwatu main road so you need to take the extra effort to get there. There is a growing number of places to stay nearby this beach, yet the beach still remains mostly quiet.
It is one of the few beaches where you can still find a string of low key restaurants facing the waterfront. Nothing is fancy here making it very welcoming and the perfect place to just enjoy any meal they have on the menu.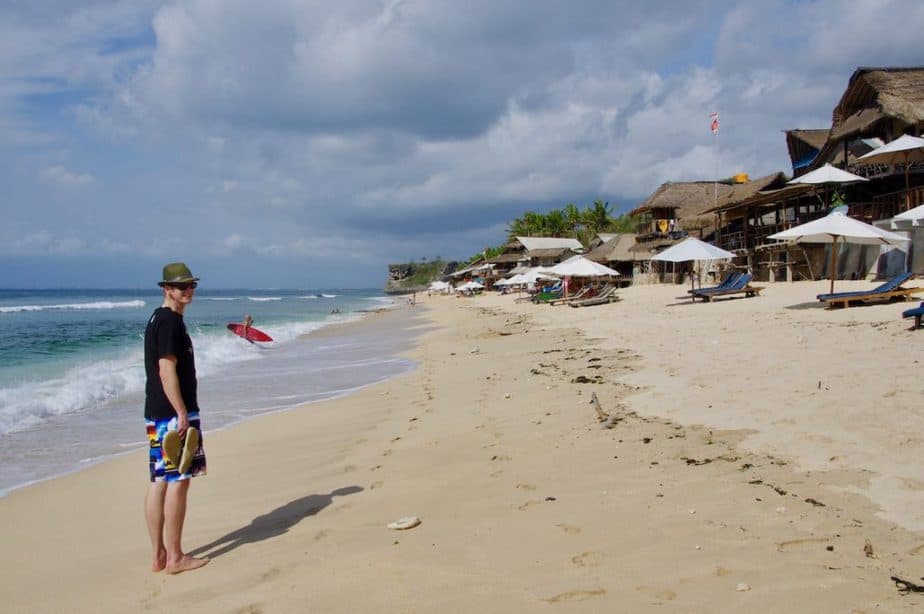 Low and high tide plays an important role here. Balangan beach is a popular spot among surfers. They only have to walk along the rocky cliffs towards the perfect waves around the corner.
Balangan isn't a beach for swimming due to many large rocks. But during low tide, it is nice to wade into the crystal clear water and soak in one of the many puddles.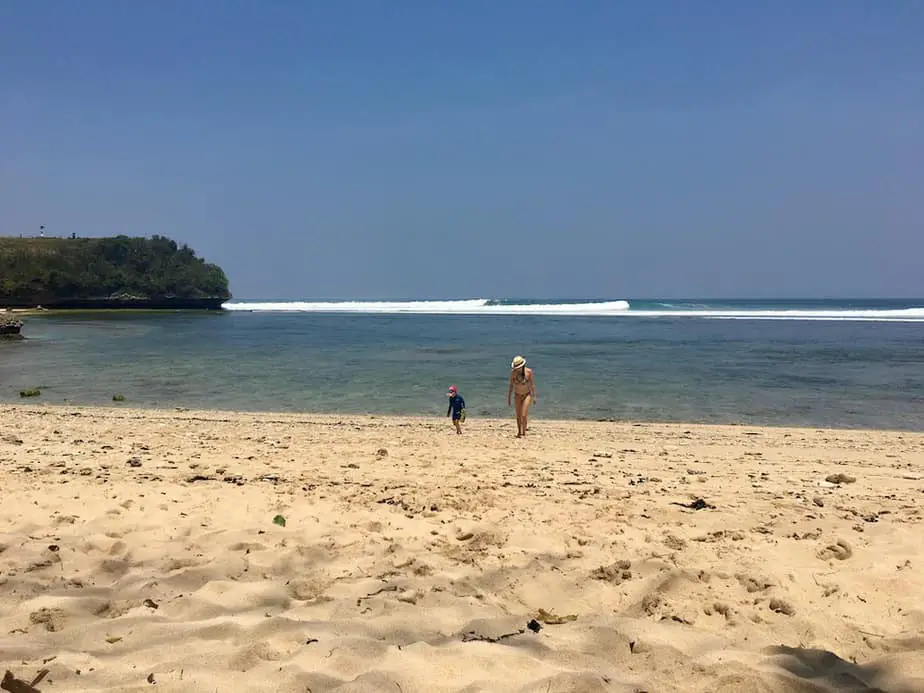 Kids will have fun playing in the puddles and searching for sea creatures and beautiful seashells. Our little boy can spend hours here.
Read more on how to get there, what to do, and where to stay at Balangan Beach.
Dreamland Beach
for surfers, sunbathers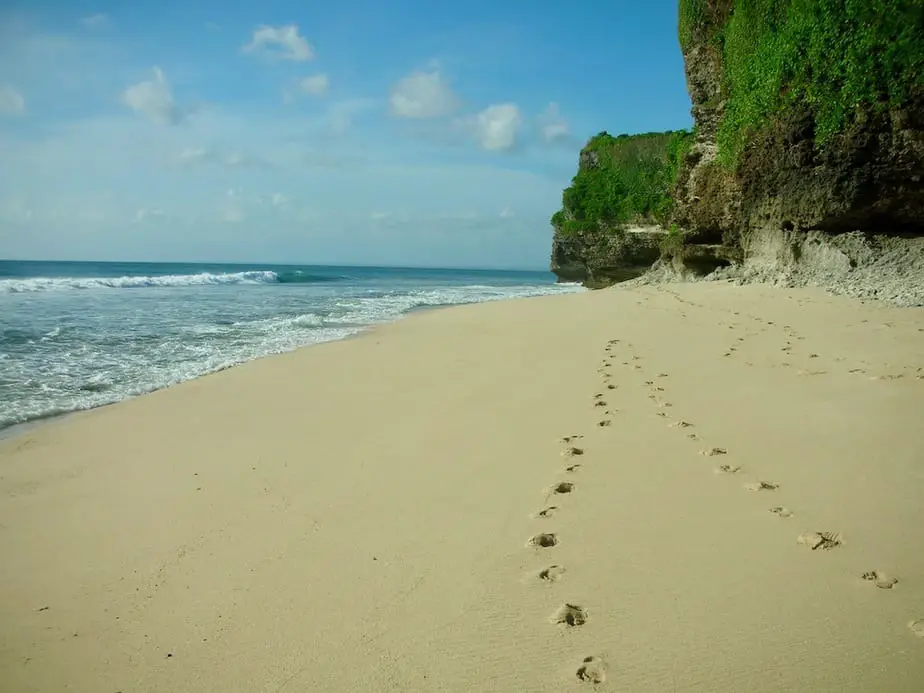 Also known as New Kuta Beach, this beach was supposed to attract the same number of people as the famous Kuta Beach. It can get busy but never as busy as Kuta Beach. The beach is located on the west side of the Bukit Peninsula, halfway to Uluwatu Beach.
It is an amazingly beautiful strip of beach that is located right at the cliffs. The sand is clean, soft, and ideal for sunbathing while the water is excellent for surfing. The waves are good and excellent for intermediate surfers.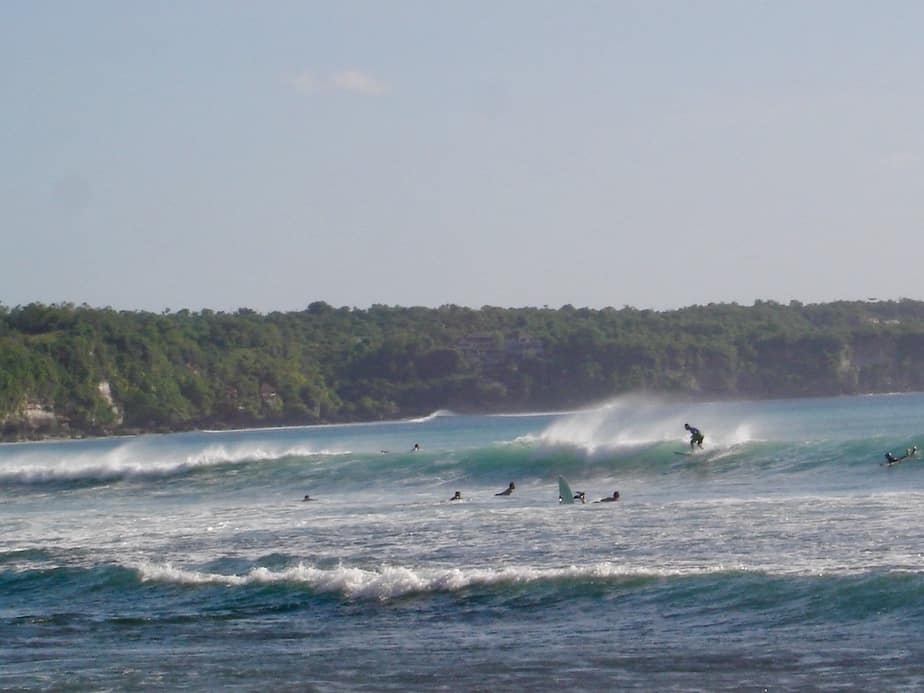 We don't recommend swimming at Dreamland Beach. In the late afternoon, the tides can switch quickly and big waves can suddenly appear. You can dip your toes but that's about it.
We particularly enjoy Dreamland Beach when we wake up early due to jet lag and want to go for a very early stroll.  It's very quiet. The crowd starts to arrive much later in the day.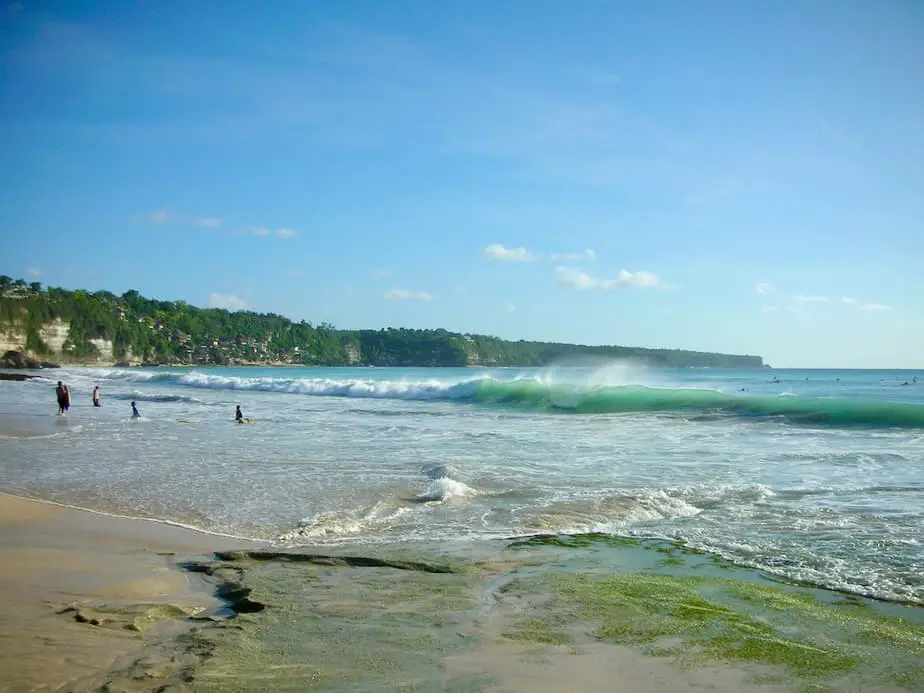 How is Dreamland Beach today?
The first time we were at Dreamland Beach there was just one small restaurant and several little shops. The area around Dreamland was still very arid and undeveloped.
But things have changed rapidly. When driving to Dreamland Beach you can see a huge golf course and several unfinished projects.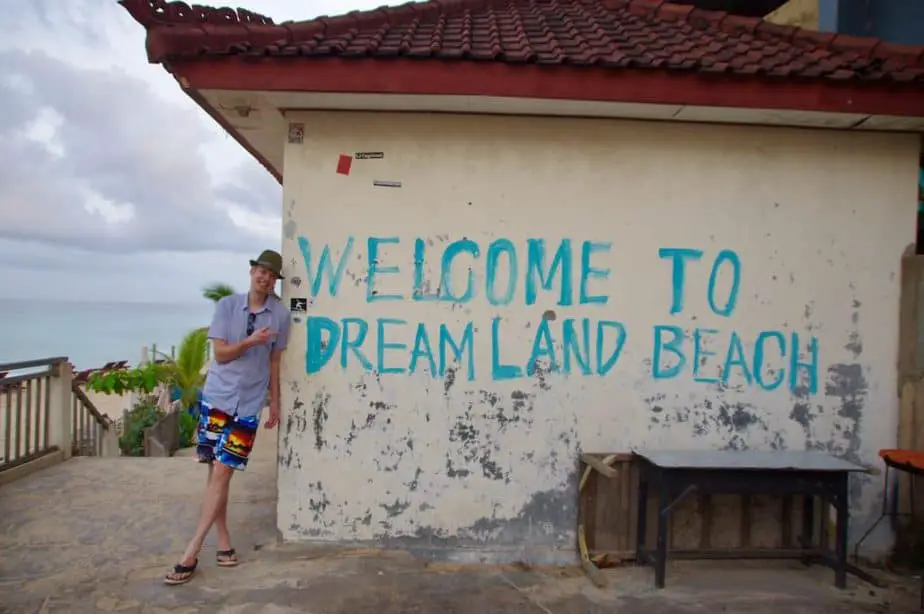 Today abandoned buildings dominate the area reflecting the sad story behind the 'dreamland project' implemented by a former presidents' son. It's the perfect example of greed gone wrong.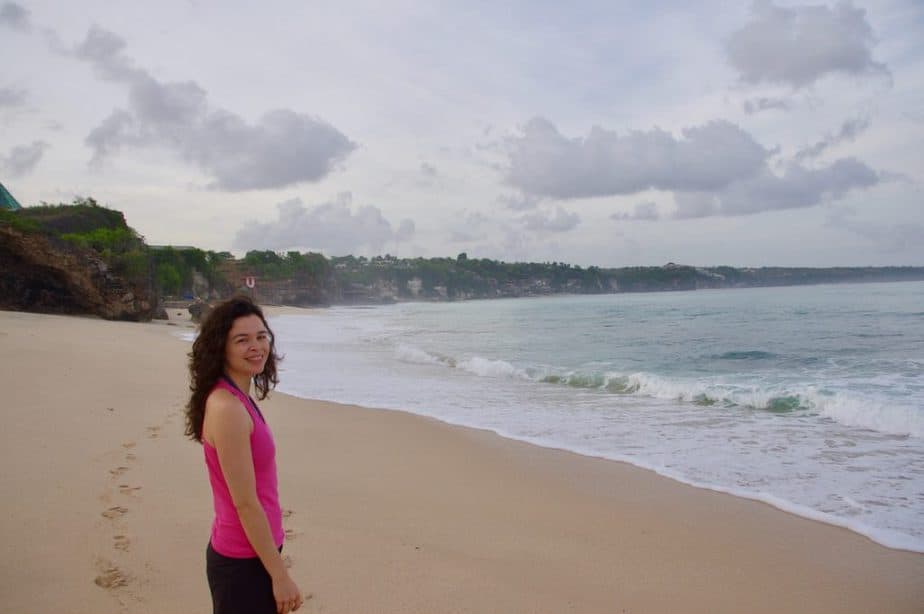 Luckily the water and the beach remain the same. Most visitors rent one of the many sun loungers with parasols. However if you walk further to the right, the beach becomes less crowded. Perfect if you want to lose the crowd and have a quiet spot to yourself.
How to get to Dreamland Beach?
Just head towards the Bukit Peninsula area and follow the signs to Uluwatu. Halfway you will see a huge entrance to Pecatu Graha.
You might have to pay Rp. 10.000 at the car park about 100m from the beach but this is not unusual in Bali. If you are on the motorbike you can drive all the way up to the stairs leading to the beach.
Bingin Beach
for surfers, solo travelers, couples, budget, beach accommodation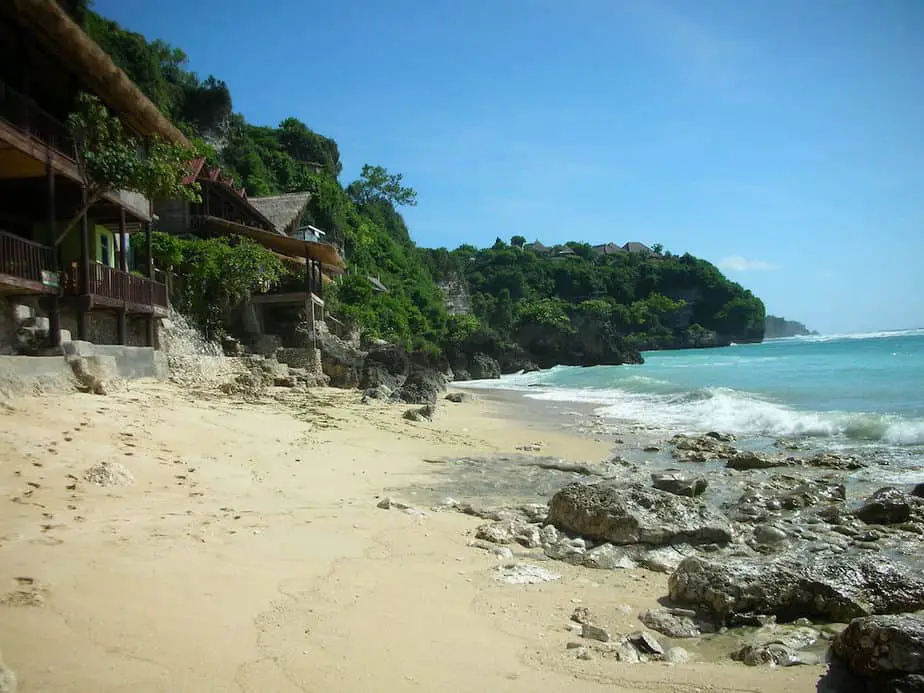 Bingin became popular among surfers and today this beach is still dominated by them. The laid back atmosphere makes it also a wonderful place for those who want to get away from the crowd and relax.
There are just a couple of patches of sand that are perfect for those who don't surf and just want to enjoy the beach.
Bingin Beach is a typical cliff beach. The accommodation is built along these cliffs, making it only accessible after climbing up and down a large number of stairs.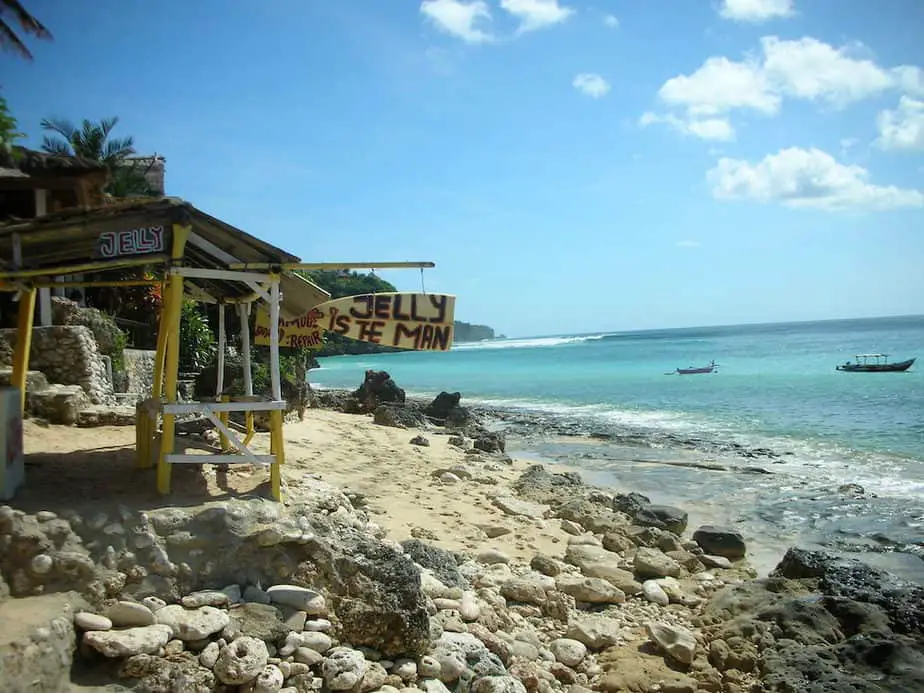 After climbing down the narrow stairs we were surprised that despite the heavy hike, there were a lot of restaurants and around 35 places where you can spend the night.
Obviously most places cater to surfers. They are not so fancy but you can't really complain: they are built on the cliff and have the best view you can get.
The majority of rooms have balconies right on the beach overlooking the Indian Ocean. Recommended places to stay are Mick's Place, Mu Bali, and The Temple Lodge.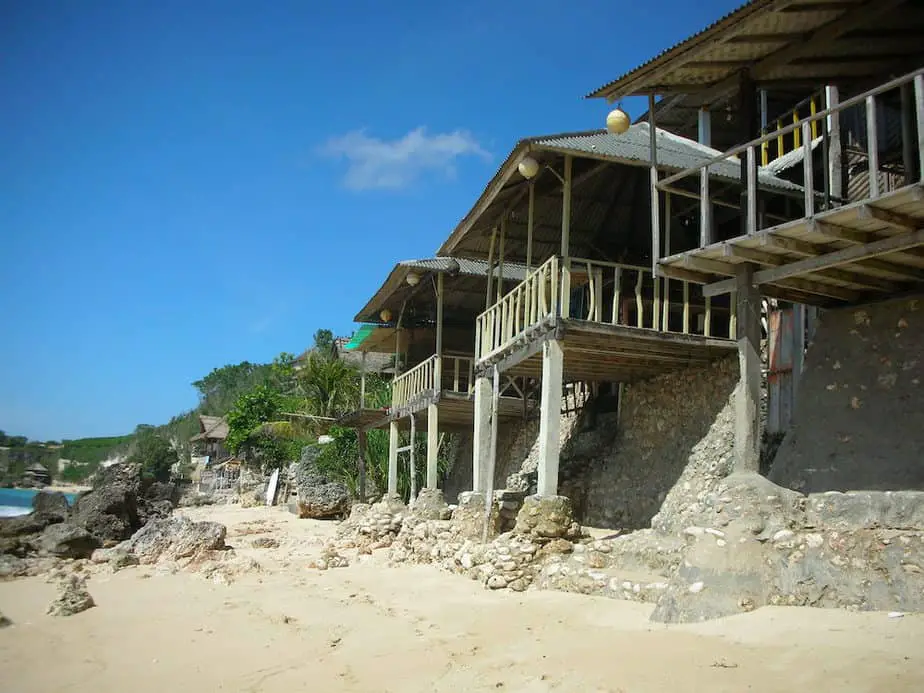 How to get to Bingin Beach?
It is pretty easy to get to Binging Beach. Just drive towards Uluwatu and turn left at Pecatu. Handwritten signs will lead you the way.
However once in the parking area don't expect to see the beach right in front of you.  It takes another 10 minutes by foot to get there. A lady showed us the way between village houses, along narrow paths and homestays. It felt like walking in someone's backyard.
As you can tell Bingin Beach is a secluded beach, which means it isn't easy to get there. But hey, places that are hard to reach are usually the places you want to be.
Padang Padang Beach
for surfers, sunbather, solo travelers, couples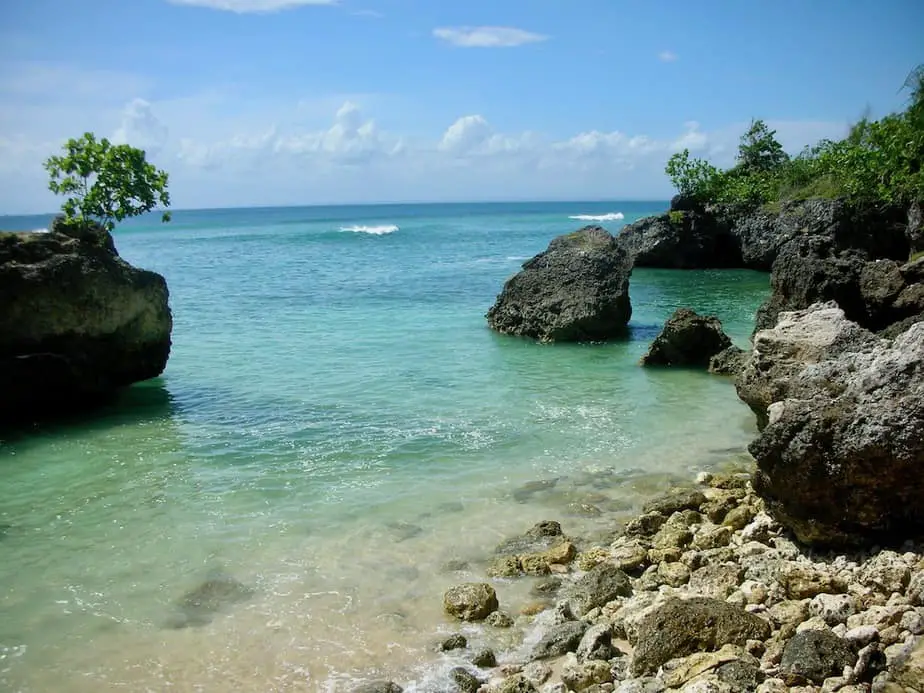 The first time we visited Padang Padang Beach was in 2008. At that time we thought it was one of the most beautiful beaches in Bali. From the road, we could see the bay with magnificent clear green-blue colors.
It is located between the cliffs, making it a secluded small little beach only accessible through a very narrow flight of stairs. So at that time, there was hardly anything at the beach. Just a few women selling cold drinks.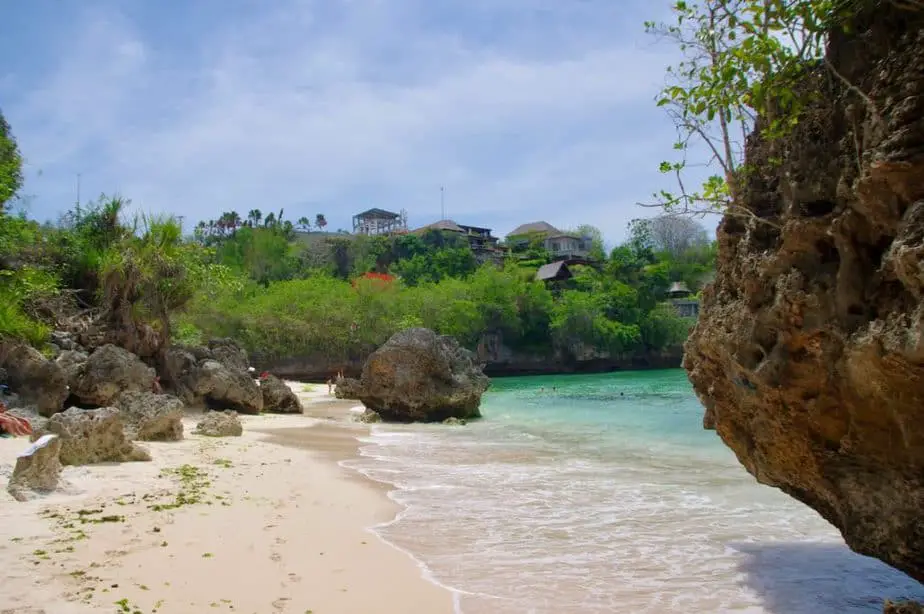 But like many things in Bali, the beach and its area have changed dramatically. Today restaurants, hotels, villas, and shops have popped up along the main road to the beach.
There is a huge parking area to accommodate the crowd and at the entrance, there is a ticket office where you have to pay Rp. 10.000 per person.
The beach is still stunning. But it gets extremely crowded.  Somehow this beach is still attractive as some come here to catch waves (the famous Balinese Pipeline) while others come to relax and to take a dip in the ocean.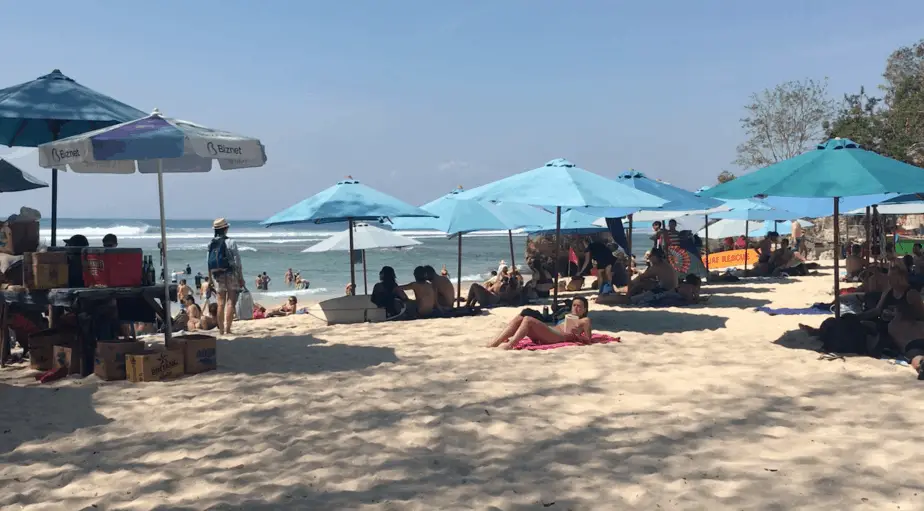 A lot of people find shade under the parasols (Rp. 100.000 a day), but the high cliffs at the back of the beach provide enough shade. You might have to share it with the macaque monkey so don't bring any valuables.
When we arrived after lunch the beach was too crowded to find a spot to yourself.  Some visitors were unlucky and had a spot too close to the beachfront. When suddenly a large wave appeared, bags with valuables were floating in the water. This beach is very small so it feels crowded quickly.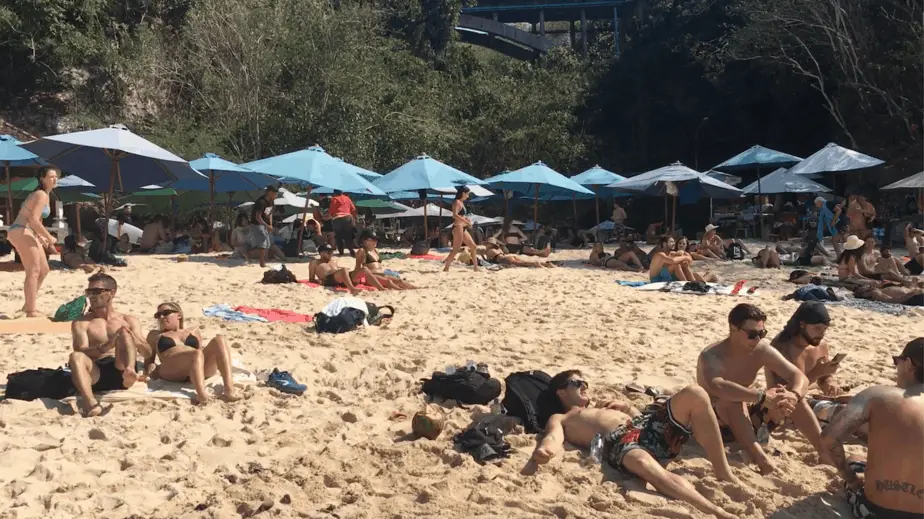 It's a pity there's so much development in the area. At the edge of one of the cliffs overlooking the beach, a bulldozer was making way for another hotel or villa complex.
It's clear that Padang Padang Beach and its surrounding has surpassed its 'carrying capacity'. It is going to face a lot of problems in the near future.
Of course, we know things change and we don't want to reminisce about the past. But this change was just too shocking for us to handle. You will not see us visiting this beach soon again 🙁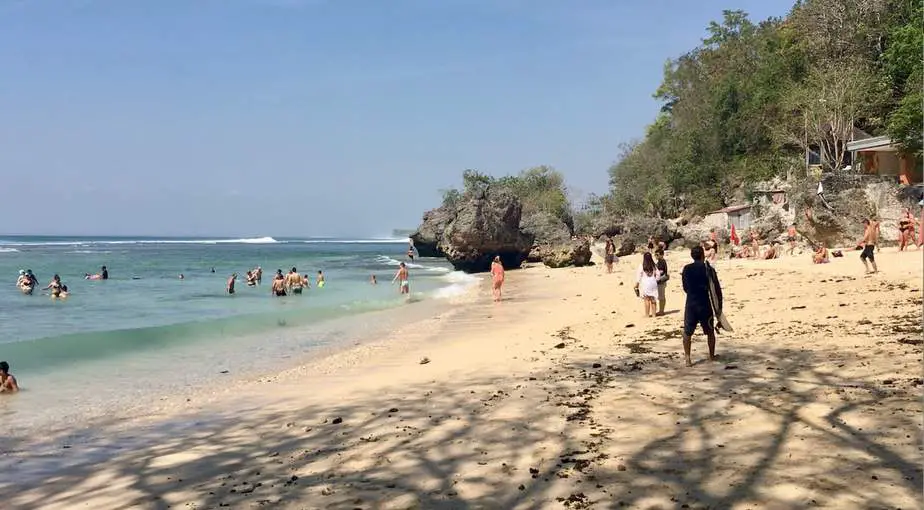 How to get to Padang Padang Beach?
To get to Padang Padang Beach, drive towards Uluwatu and turn right at Pecatu. Follow the road until it splits at a junction, then turn left. From here you will see signs to the beach.
After sunset, Padang Padang Beach is still open for people who want to enjoy a barbecue on the beach and on Saturdays there is live music.
Make sure you arrange a ride back or stay at a nearby accommodation such as Rapture's Surf Camp or Lullaby's as public transportation is out of the question. Getting a last-minute private driver from here can be tricky.
Suluban Beach/Uluwatu Beach
for surfers, swimmers, solo travelers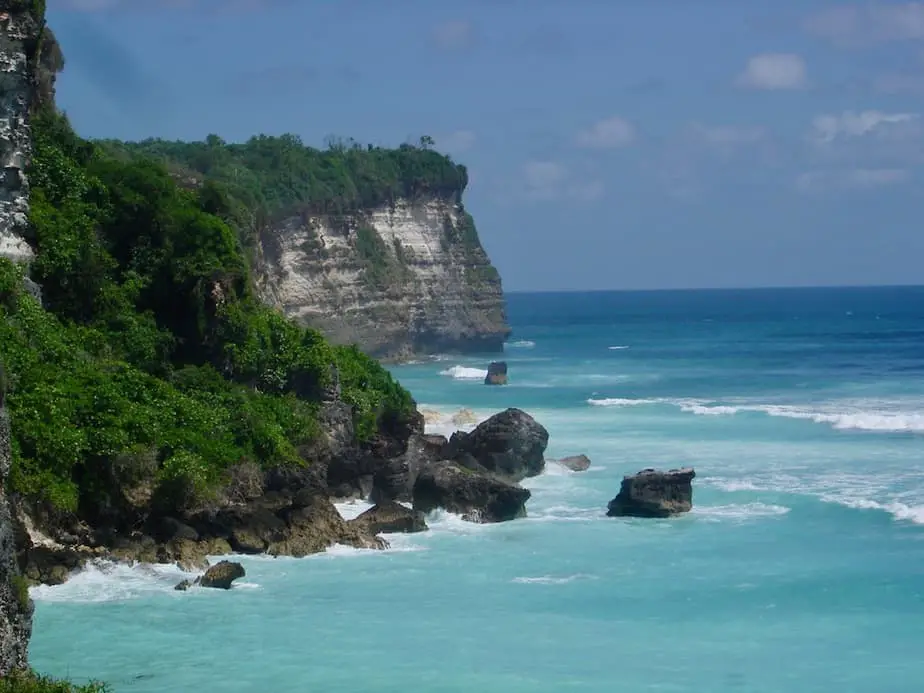 Without a doubt, Uluwatu Beach has the most astonishing ocean colors I have seen on the entire island of Bali.
The emerald-green and blue shades make you want to jump in immediately. Depending on the time of day and year it is possible to swim here.
During low tide, you can walk down to the area where you can find yourself between two big rocks. From there you have access to crystal clear water. Once in you will feel like you are in paradise.
Uluwatu Beach is mostly suitable for surfers who can avoid the sharp rocks. They are catching waves that can reach up to 8m high.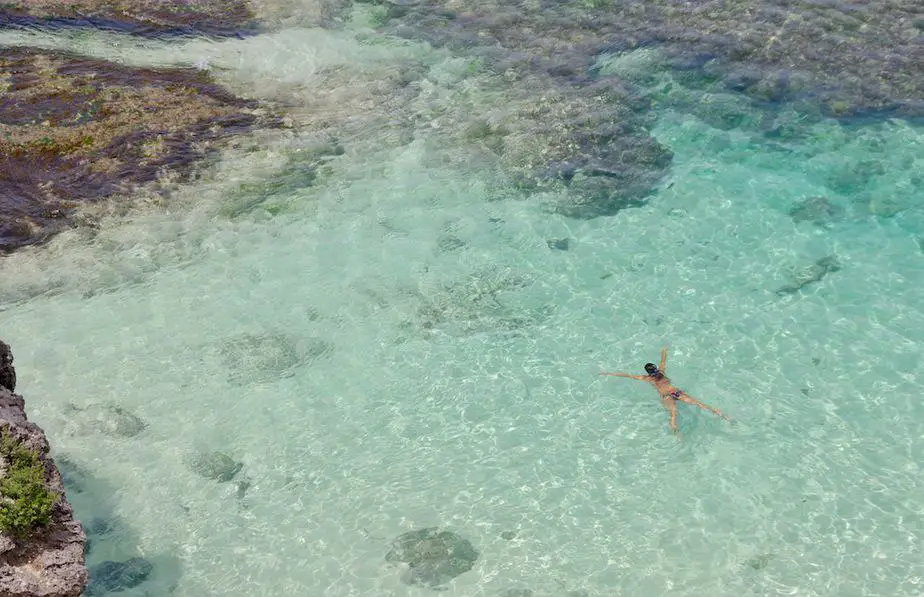 Uluwatu is the epic center of surfing Mecca on Bali. It is the most popular beach among advanced surfers.
We always enjoy sitting at one of the many restaurants that offer front row seats to the surfing spectacle.
It is obvious that this is one of the beaches in the Bukit area where surfers meet up and hang around while waiting for the waves to roll in.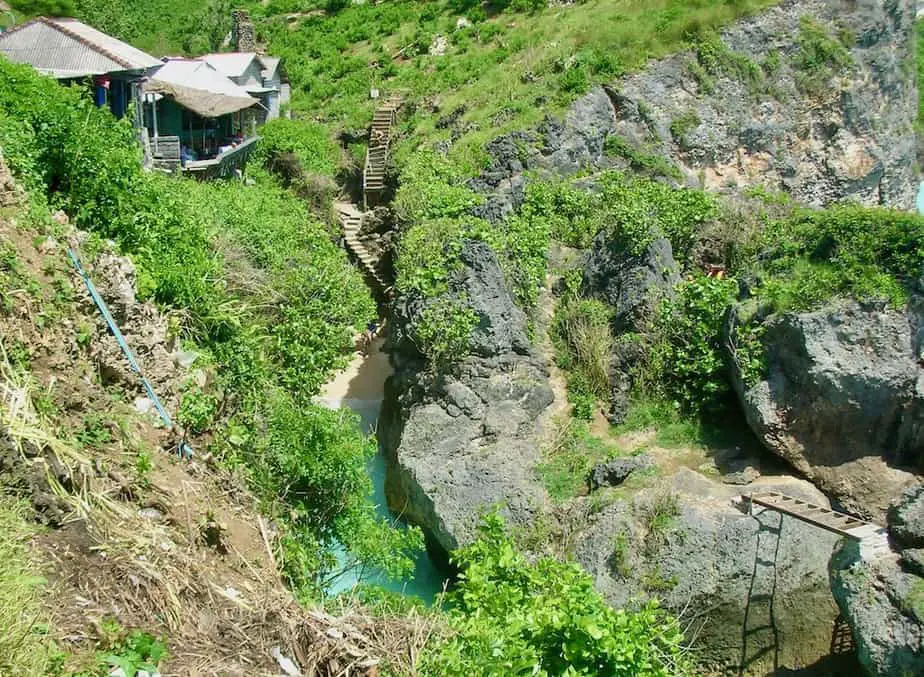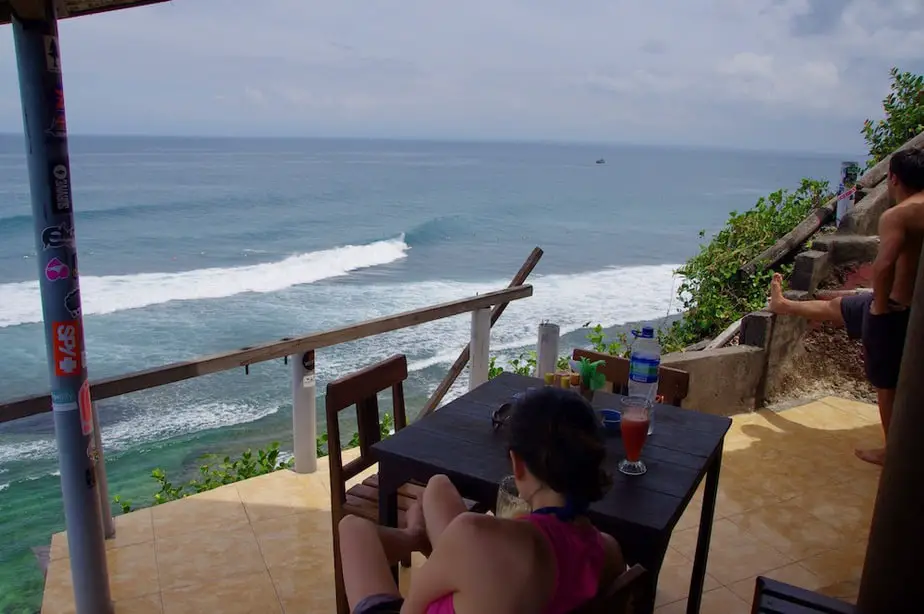 If you are not into surfing, you should still pay a visit. Uluwatu has a very laid-back atmosphere and is therefore perfect for any type of beach lover.
Thinking about going to Uluwatu Beach?
Nyang Nyang Beach
for surfers, swimmers, sunbathers, explorers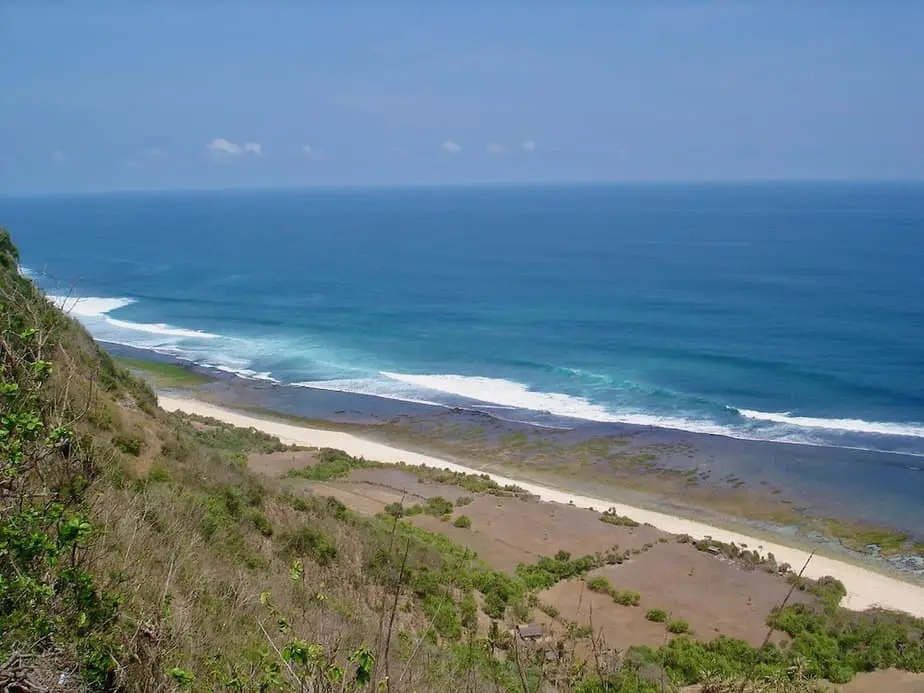 Located at almost the southern tip of Bali, Nyang Nyang Beach is one of the few remaining white, and most secluded beaches in Bali.
This is one of the hidden beaches in Bali. There is no crowd, the water is clear and at the end of the day, you are treated with a stunning sunset.
So why is Nyang Nyang Beach deserted?
Nyang Nyang Beach Bali is the most difficult to find and to get to. However, with some extra effort and determination, you will be rewarded.
It is worth going down, but remember that you will have to do a hell of a job of climbing at the end of the day.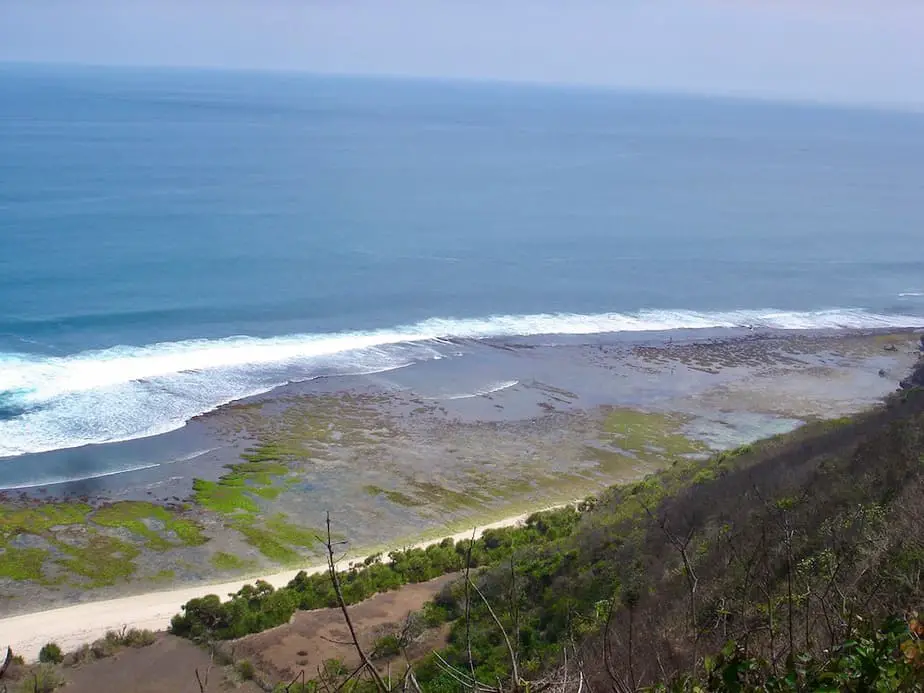 Besides the gorgeous view, Nyang Nyang beach is great for surfing. The best time to go is between March till September. Try to arrive as early in the day as possible because when the low tide sets in the waves will be difficult to reach.
Nyang Nyang Beach is ideal for surfing, but at low tide, it is possible to swim here too.
It's always handy to check out the tide conditions before going to this beach. It would be a shame if you will not be able to fully enjoy this beach once there.
How to get to Nyang Nyang Beach?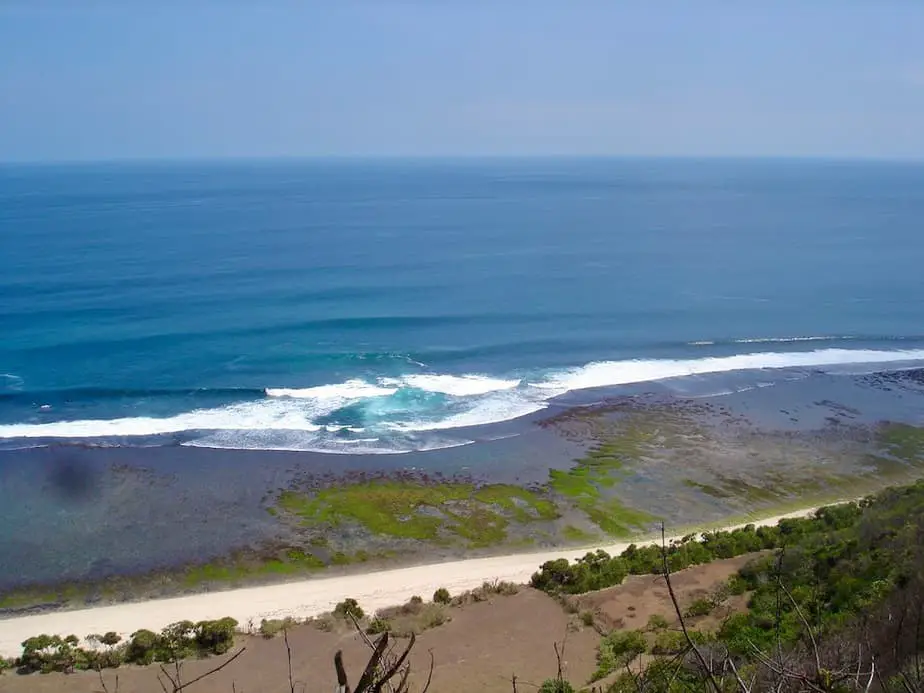 Nyang Nyang Beach is located just a couple of kilometers west from the Uluwatu temple. To get there just follow the sign to Pecatu and from there drive on.
After several minutes keep your eyes peeled for signs. Some will point you to a villa. Don't take that one, instead continue driving a bit further till you see the next sign leading you to the parking area.
From here you can already take in the breathtaking view of the Indian Ocean. Then comes the difficult part. You will need to descend many steps to finally arrive at this beach.
Make sure you bring enough food and drinks with because even the locals think the trip down to this beach isn't worth selling refreshments 😉
Green Bowl Beach
for surfers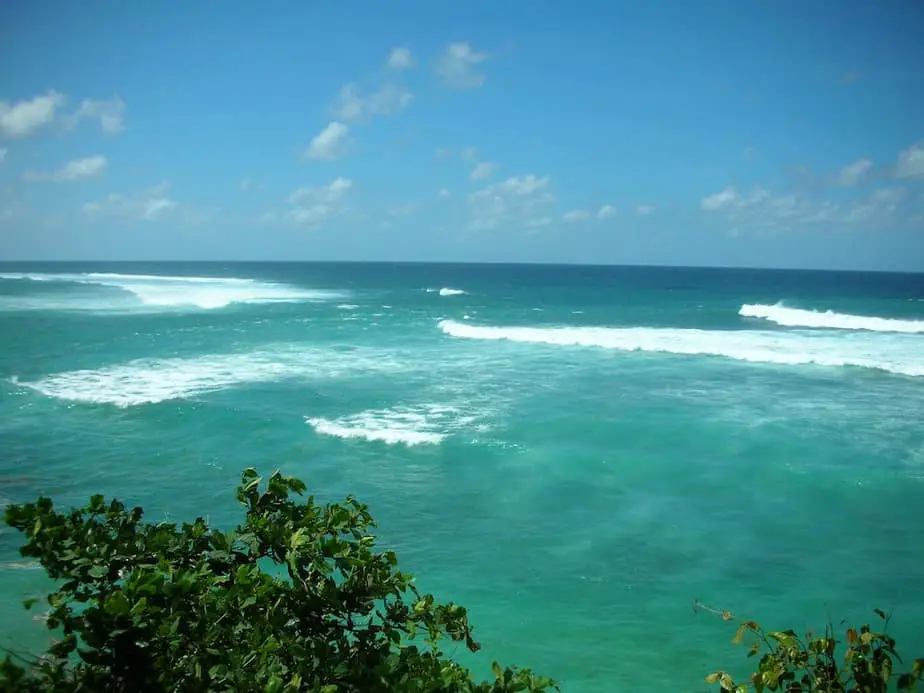 Green Bowl Beach is not really a beach, but a place where the crazy ones dare to surf. You might be lucky to see something of a beach during low tide only.
This beach is the most southern beach of the Bukit area. It is pretty easy to find. Take the road to Uluwatu and follow the signs to the Bali Cliff Resort at the Ungasan junction.
Then turn left just before you enter the gates of the resort. Keep on going till you end up at the Pura Mas Suka temple. Here you'll find plenty of parking spaces.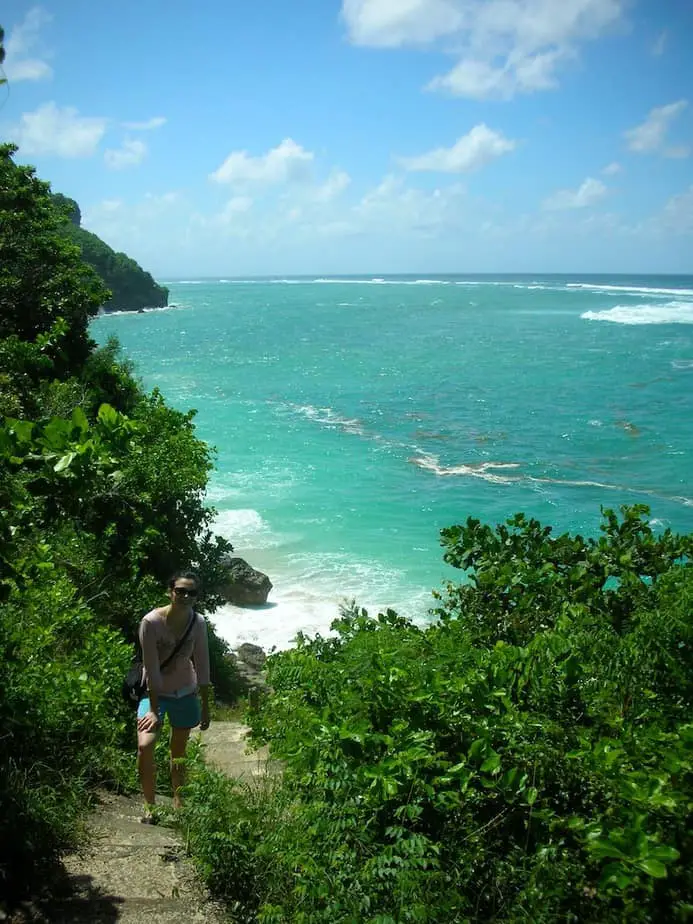 The place is probably deserted. Except for a couple of women who try to sell Balinese sarongs and offer you massages. We politely declined when one woman started showing us her massage techniques. In the end, she stopped and said that we would probably want one when we returned from the beach.
After visiting the beach, I can understand why she thought that might happen.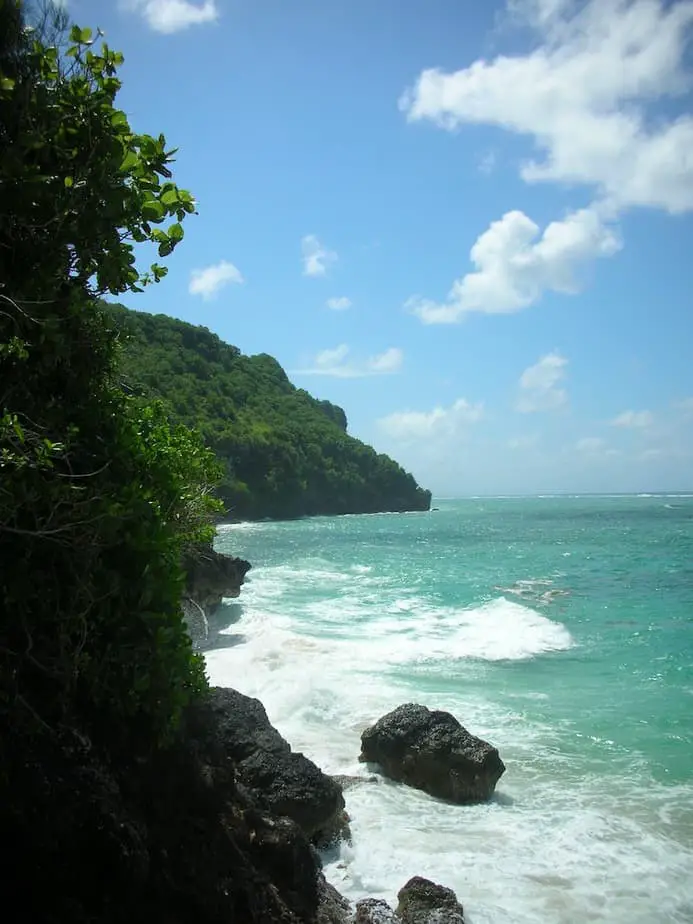 How to get to Green Bowl Beach?
Like most of the beaches in the south of Bali, Green Bowl is located in a bay. To get there you have to descend steep stairs.
Nonetheless getting there is worth it. Once down, it's a terrific sight to see so many different ocean colors and those waves crashing into the cliffs.
If you want to go surfing, you need to paddle for a while because the waves start to swell pretty far from the shore. You can also join a surfing tour that has boats that will take you beyond the reef.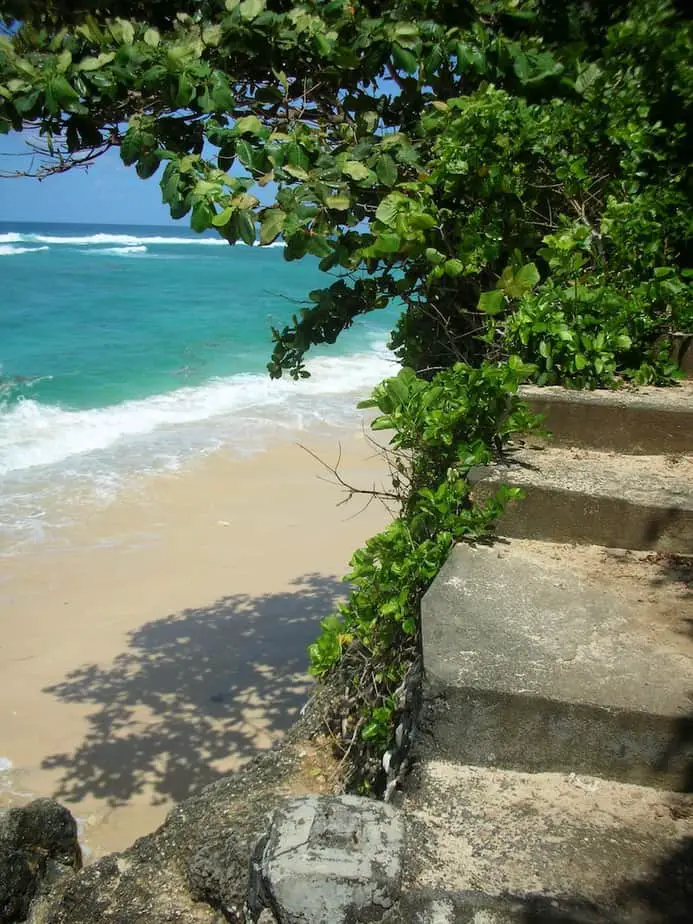 There is no beach to lie on so if you are not surfing, you can sit comfortably on the cement wall at the end of the stairs.
Once you've climbed the stairs, buy a cold drink, and sit down to watch, for one more time, the stunning view. You can also get a massage from the lady who will probably be waiting for you.
Geger Beach
for swimmers, water sports, sunbathers, families, couples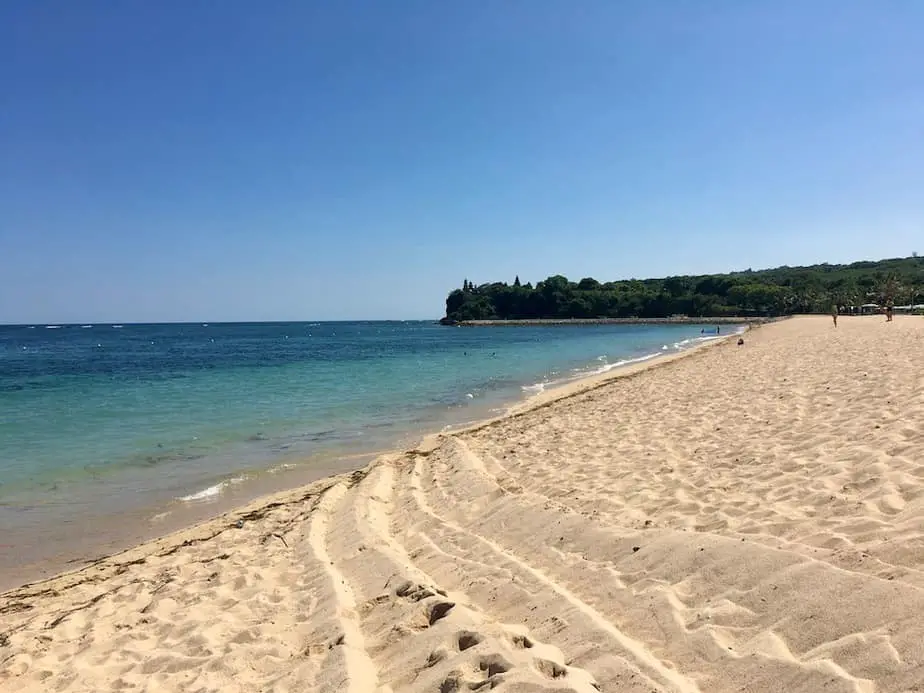 If you are staying in the Jimbaran area then Geger Beach is the perfect beach to spend a couple of hours in the afternoon. It has very soft sand and the water is ideal for swimming during high tide.
This beach is pretty much an extension of Nusa Dua Beach which is located just north of Geger beach. You need transportation to get there. The admission fee to the beach is Rp. 3000 per person.
Unlike Nusa Dua Beach, there isn't a string of beach resorts at Geger beach yet. The Mulia is the only resort that dominates this beach. However, the whole beach is open to the public.
During the week Geger Beach is very quiet. You can easily find a spot for your towel with nobody around you. The little beach restaurants also offer sun loungers with parasols if you wish to sit in the shade.
The beach is great for couples but we really like it when we are here with our son. The shallow water is great for swimming and the sand is perfect for building sandcastles.
Read more about why Geger Beach is one of the beaches we love to go to.
The Main Beaches In Bali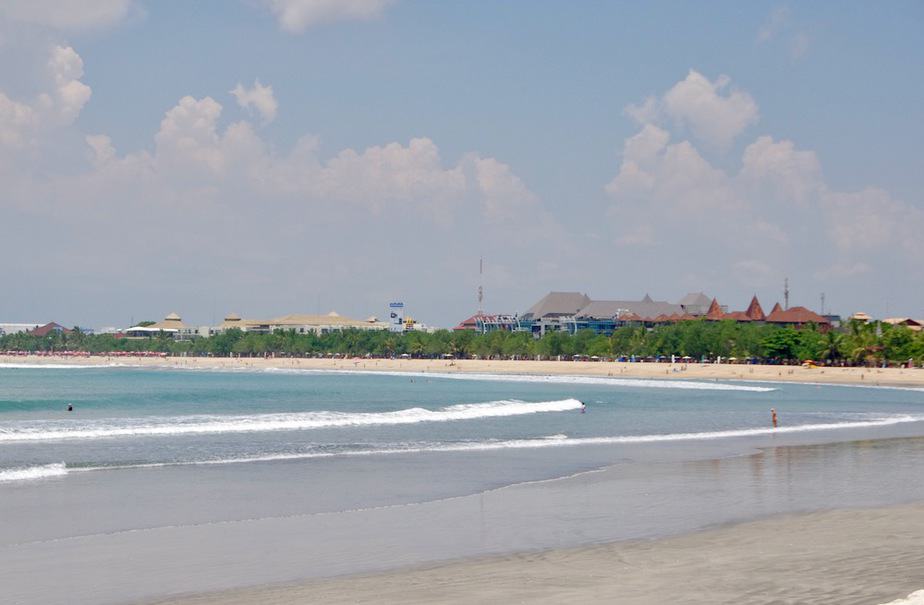 The main beaches in Bali are Kuta Beach, Legian Beach, Seminyak Beach, Sanur Beach, Jimbaran Beach, Nusa Dua Beach and Tanjung Benoa. Kuta, Legian, and Seminyak Beach are the most crowded.
These last three beaches are known worldwide for excellent surfing and are the most popular tourist destination on the island.
Sanur Beach is popular too but it has remained to keep its laid back Balinese character. It's a charming beach village and we enjoy staying here for a couple of days. The beach is very safe for swimming while surfing can only be done in certain months of the year.
From the main beaches in Bali, Sanur Beach, Nusa Dua Beach and Tanjung Benoa are the only ones located on the east side of the island. The other main beaches are located on the west side of the island.
Are The Main Beaches In Bali Clean?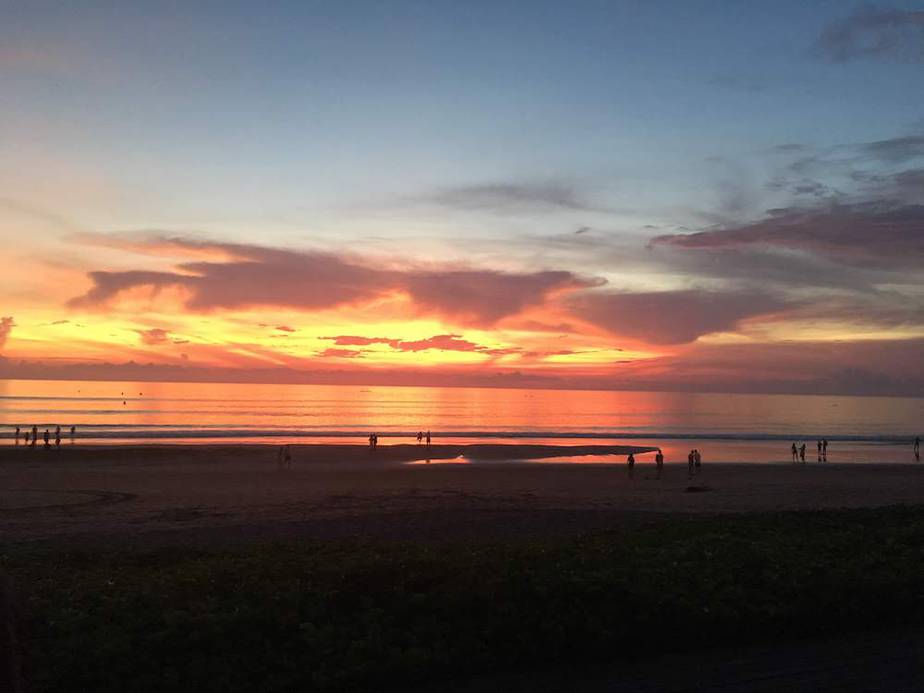 Unfortunately, fame comes at a certain cost. Kuta, Legian, and Seminyak are the perfect examples of irresponsible tourism development. Sadly Canggu Beach is also heading in that direction.
More and more private villas and hotels are being built without considering the natural environment or logistics. Consequently, rice fields are disappearing,  traffic jams in the narrow streets are a daily problem, and piles of garbage along the coast are a common scene.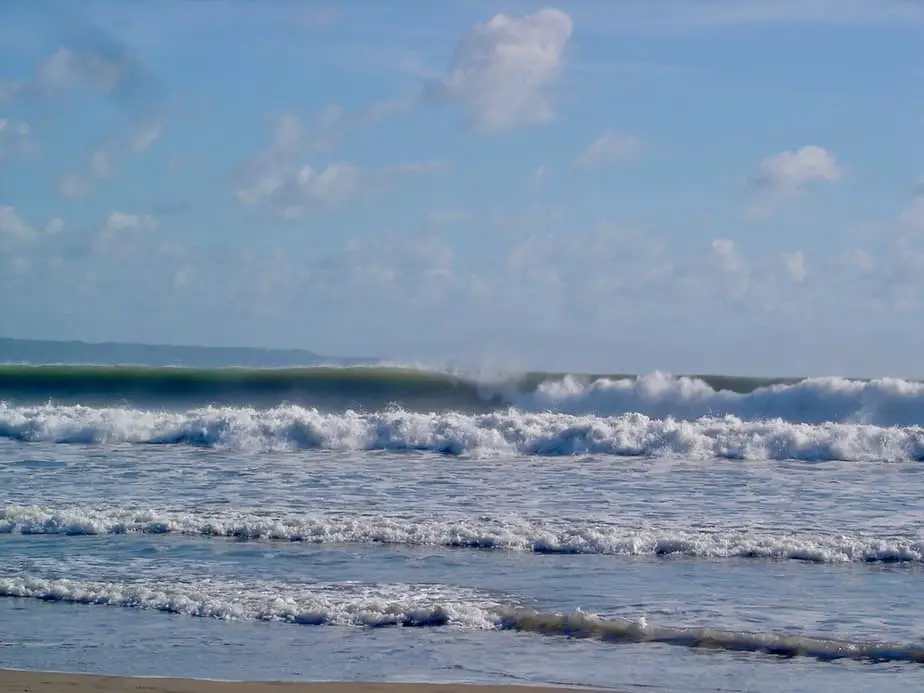 At certain times of the year, the currents of the sea bring unbelievable amounts of garbage and dump it right on Kuta, Legian and Seminyak beach. Often it comes in such numbers that bulldozers need to come in.
Unfortunately, Jimbaran Beach is also dealing with the massive amounts of trash that mainly washes up during the rainy season, especially in the month of February and March.
The Balinese people do everything they can to clean up the beach every day. But they can't clean up everything. When you go for a dip in the ocean during the 'trash season'  you will feel the plastic stick on you.
Fortunately, hotels and other companies such as Coca Cola and Quicksilver organize cleaning projects throughout the year in order to keep the beaches clean. But that is of course just a little step to a huge worldwide problem.
We are not saying that you should avoid these beaches. We still go there every now and then to watch the famous sunset or to do some surfing.
Are The Main beaches In Bali Safe To Swim In?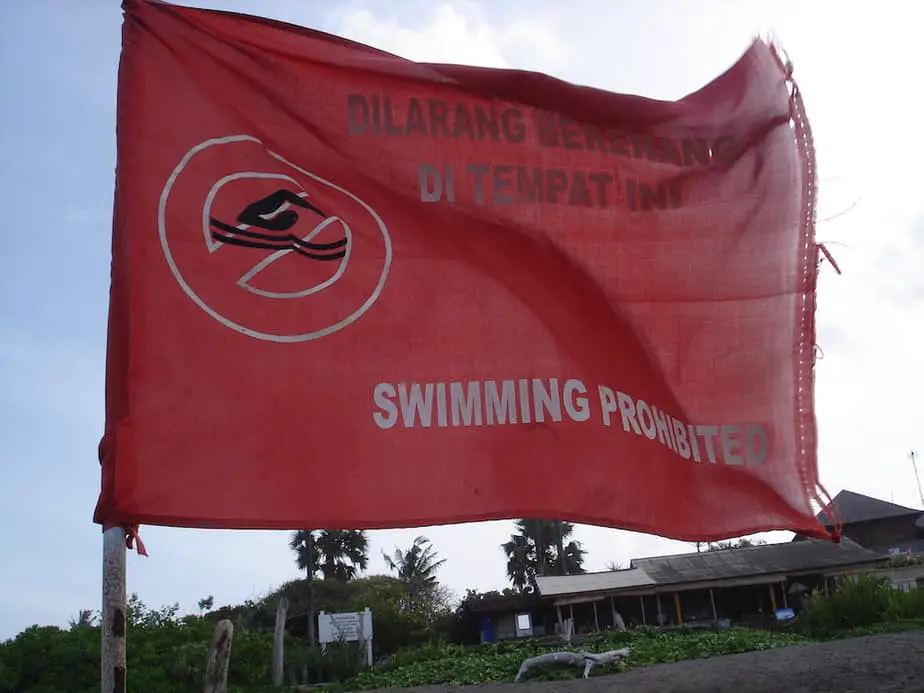 Kuta Beach, Legian Beach, Seminyak Beach, and Canggu Beach are safe to swim when the yellow flag is out. Lifeguards are present but only at certain spots at the beach.
It is important that you check the color of the flags before heading into the water. If it is red, don't go in even if you are a good swimmer. When I was there the waiter at the restaurant told me that just a couple of days before someone had drowned because he unexpectedly got pulled down by a current.
Jimbaran Beach
for swimmers, beginner surfers, families, couples, beach resorts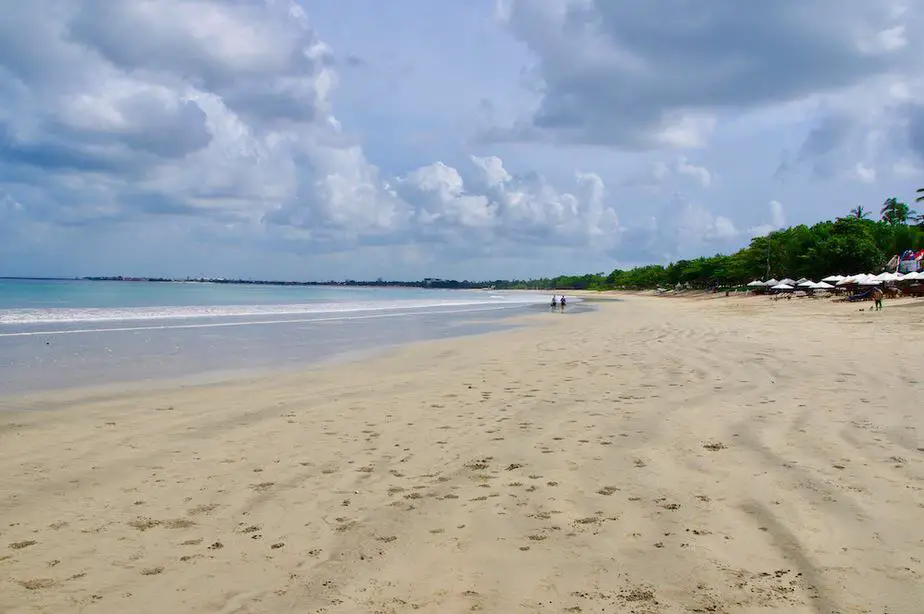 We fell in love with Jimbaran Beach after visiting it a couple of times. Once we discovered our favorite spot we could spend the whole day at this beach.
Jimbaran Beach is located in South Bali and is located just below the airport but you don't hear any noise. It has a long stretch of soft sand where you can walk kilometers on end. It is famous for its sunset seafood dinners and for its many beach resorts right at the beach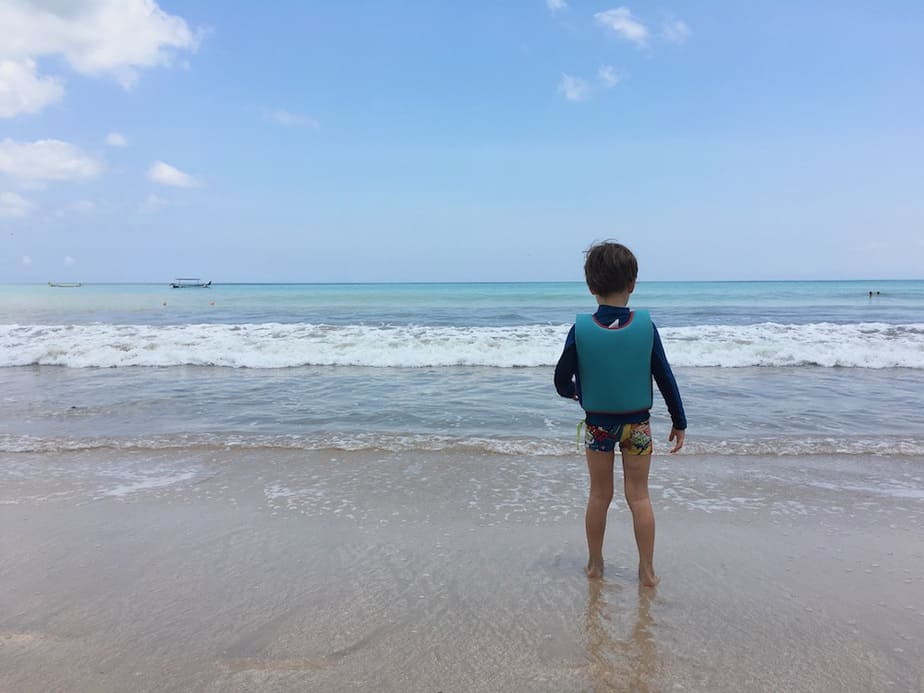 But we love Jimbaran beach for its water. It's perfect for swimming and learning how to surf. Some days the water is calm, while others the waves are just high enough to have lots of fun. With or without kids.
Just before sunset, especially at the weekends, we also enjoy the local buzz. The beach is busy. Besides foreigners, there are also many local people having fun while enjoying one of the many snacks like fried tofu, grilled corn, or a fresh coconut.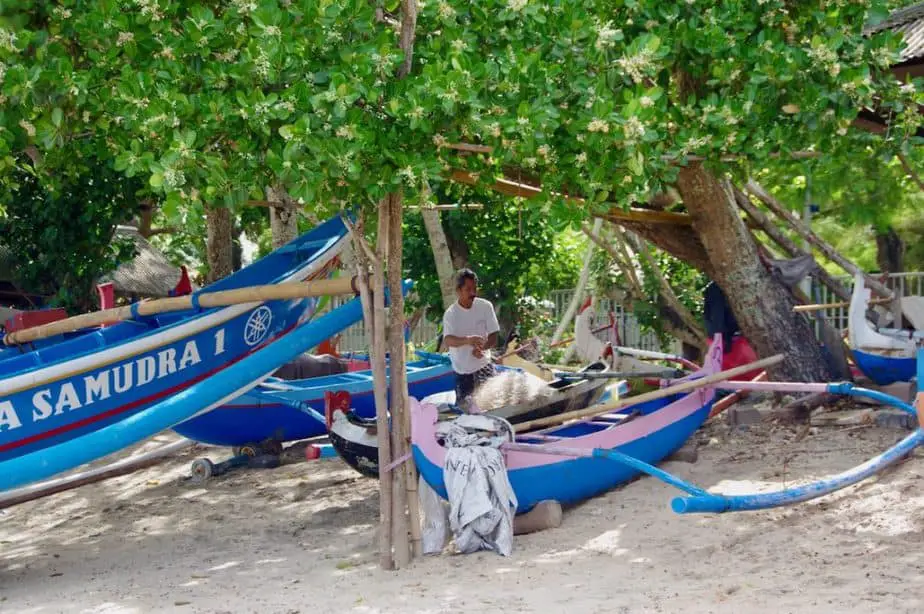 Tuban Beach
for surfers, swimmers, families, couples, beach resorts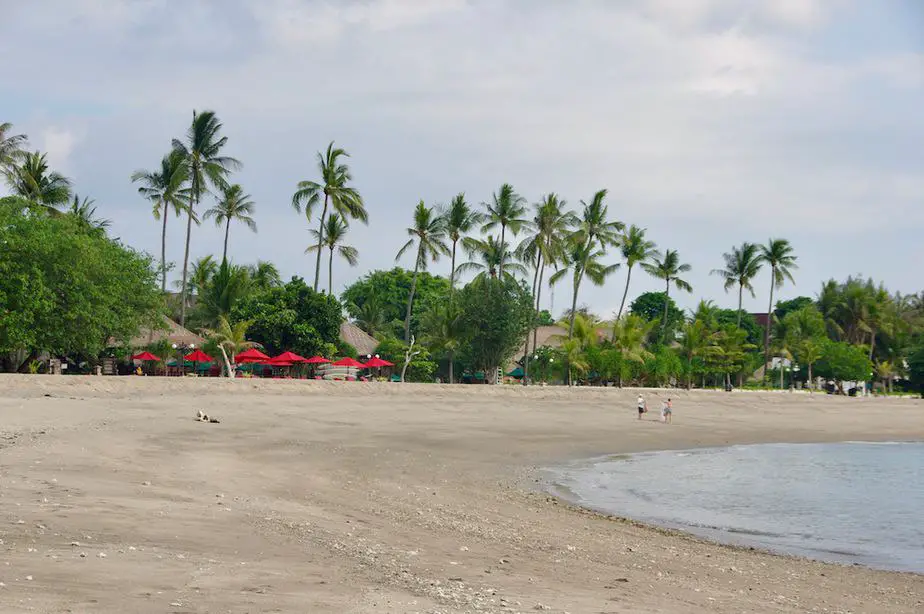 Tuban Beach used to be a quiet fishing village. But with the growth of Kuta Beach, these two villages kind of merged over the years.
Many beach resorts and hotels claim they are located in Kuta Beach but in reality, they are in Tuban Beach. It isn't a bad thing to find your accommodation in Tuban Beach instead of Kuta Beach since the beach in Tuban is less crowded.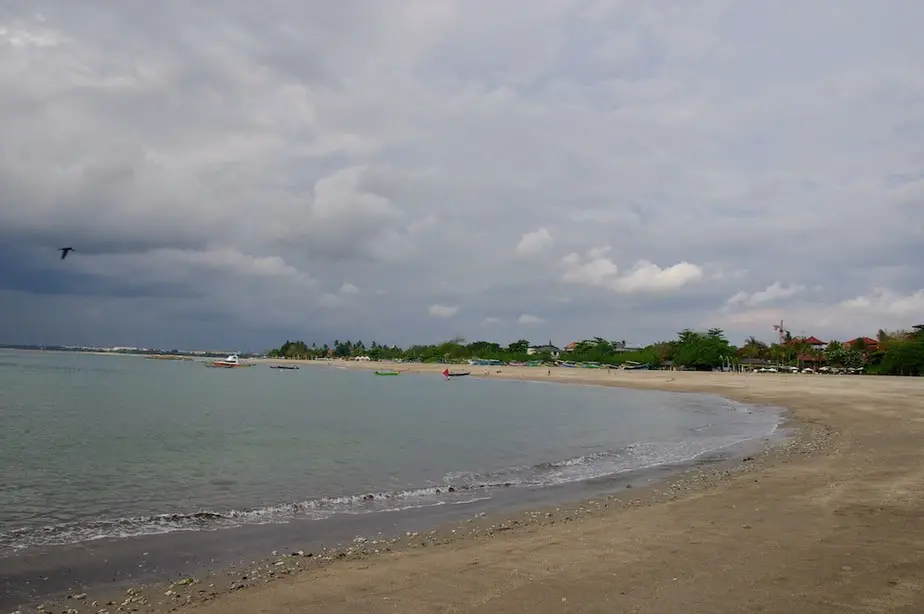 Tuban Beach is a wonderful option if you are in transit or if you have an early flight the next day. It is located next to the airport. You can even see the planes flying in and out.
While the beaches north are packed, Tuban Beach is the opposite. Surprisingly we always find us to be the only ones at Tuban Beach. The beach is pretty especially with the colorful fishing boats parked in a row.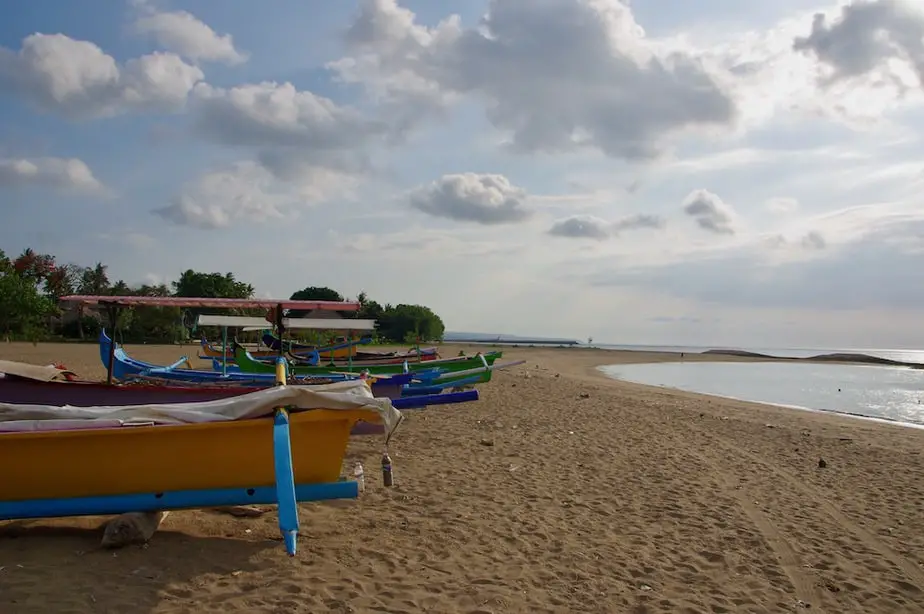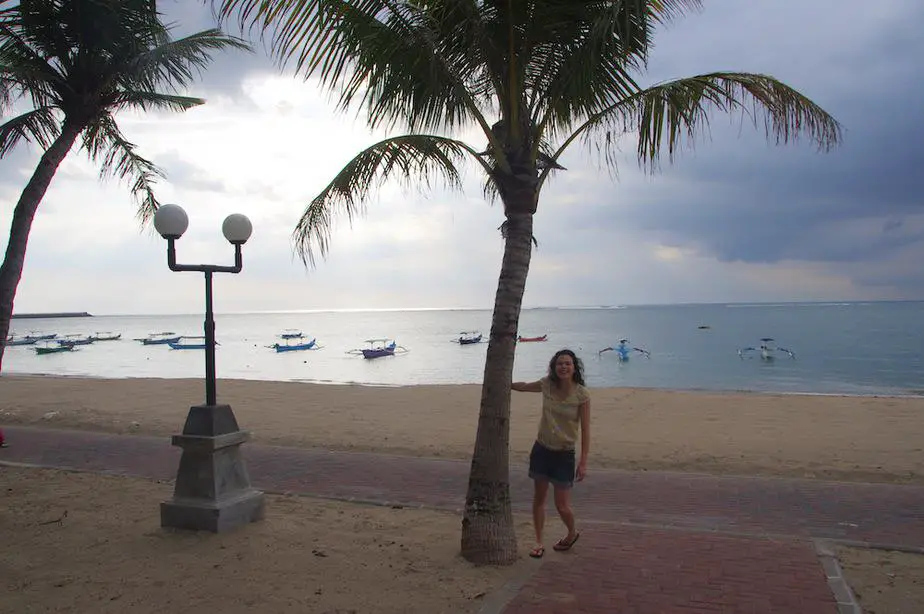 The ocean at Tuban Beach is nice for swimming too. Surfers need to take a bit more effort to find some good breaks. Near the airport and somewhat north surfers can find good waves. The best way to get there is by boat.
Those who love walking can go for a stroll along the beach all the way to Seminyak. Every now and then there are pieces of a concrete beach path too.
Kuta Beach
for surfers, swimmers, sunbathers, families, solo travelers, budget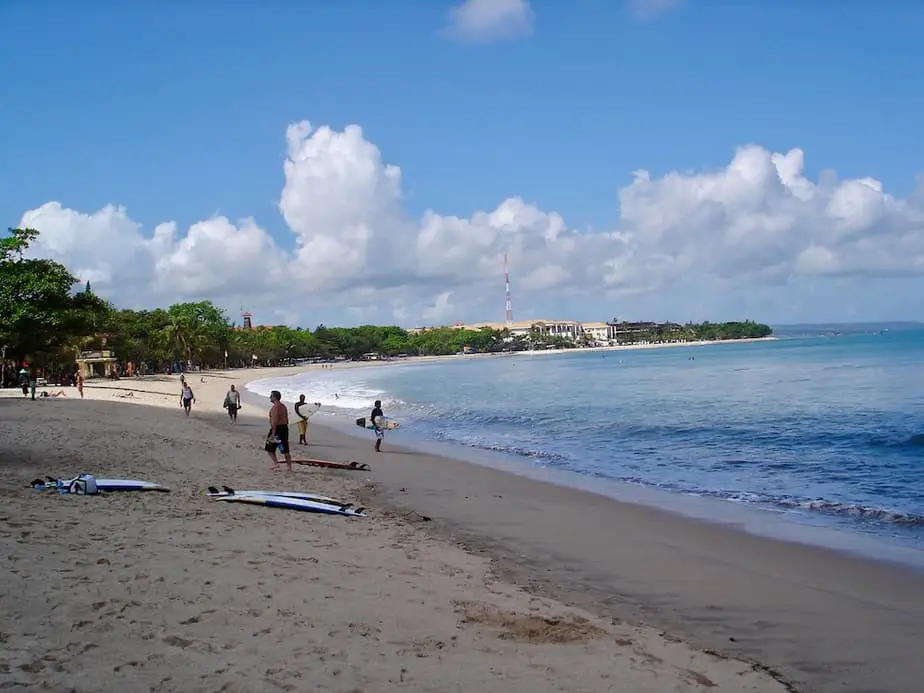 The first time I arrived at this famous beach was in 2002 and at that time already I had to rub my eyes a couple of times to check I was in Bali or not.
Kuta Beach is crowded with tourists from every corner of the planet, from Sweden to Japan. There are many vendors selling ice cream, drinks, souvenirs, and massage ladies who won't take no for an answer easily.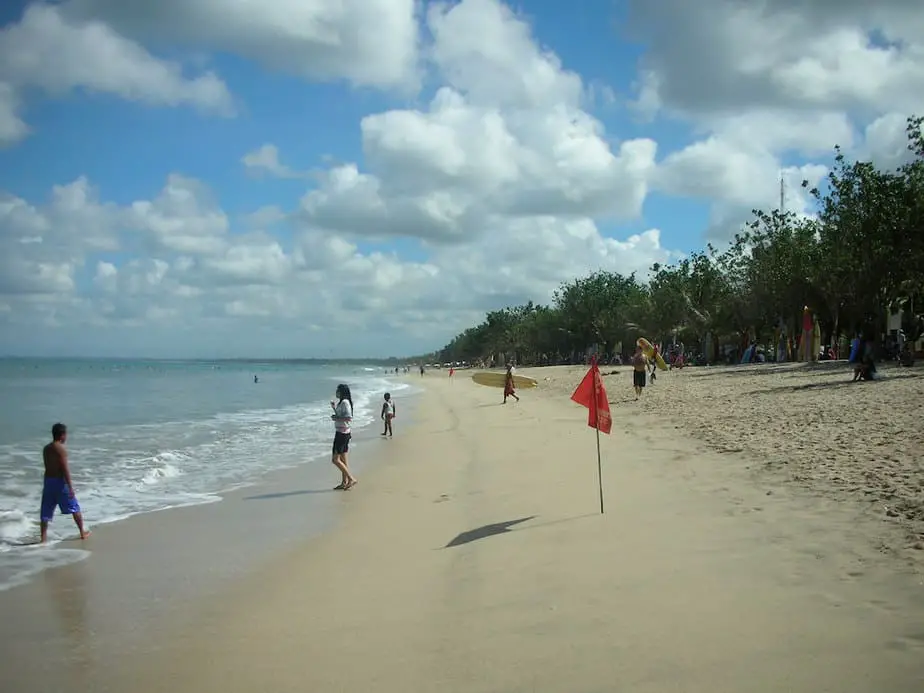 So what makes Kuta Beach so popular?
In the 1960s hippies and adventurers started to arrive. They were in search of some more flower power, an unlimited supply of mushrooms, and a relaxed lifestyle. From then on, this stretch of sand was put on the tourist map and until today it still continues to attract a crowd.
Kuta Beach is also famous for one of the best sunsets on the entire island. It's already a busy beach but between 5 pm-6 pm it gets even busier with people carrying cameras and tripods.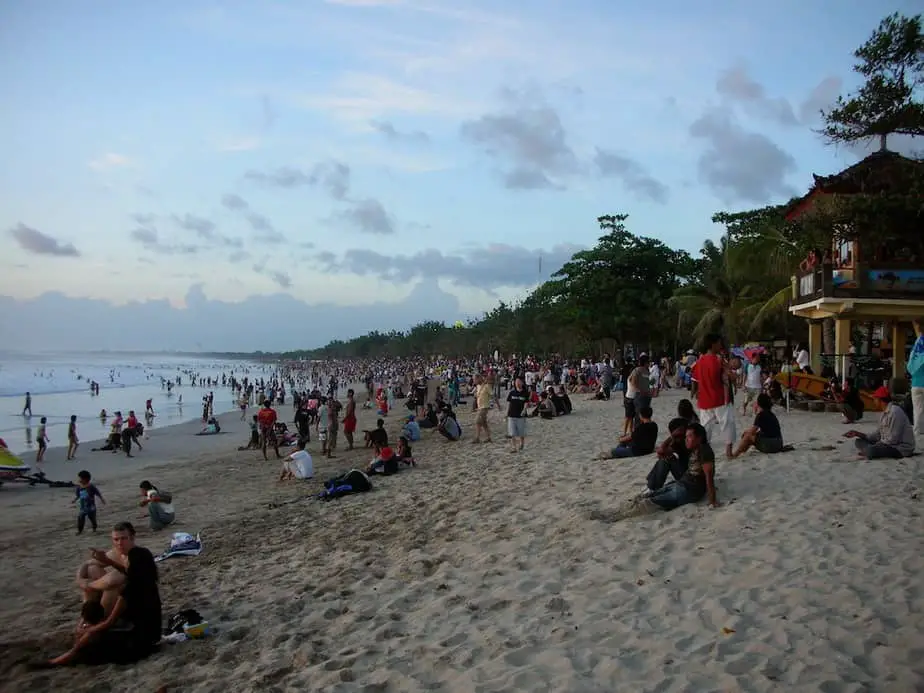 Surfing is the number 1 activity here (partying #2) and you can find numerous Balinese surf instructors who love to teach you how to surf. The breaks are perfect for first-timers and the water is shallow, so you can jump on your board in no-time.
Swimming is good too. But try to keep close to shore. Behind the third wave, it gets dangerous.  Many tourists have drowned here due to the strong underwater currents.
There is a very lively atmosphere in Kuta Beach, especially during the weekend when Indonesians from Java spend a couple of days in Kuta. Most of the time we prefer to skip Kuta Beach because it's too crowded and doesn't look Balinese to us.
Legian Beach
for surfers, swimmers, families, couples, solo travelers, beach resorts, budget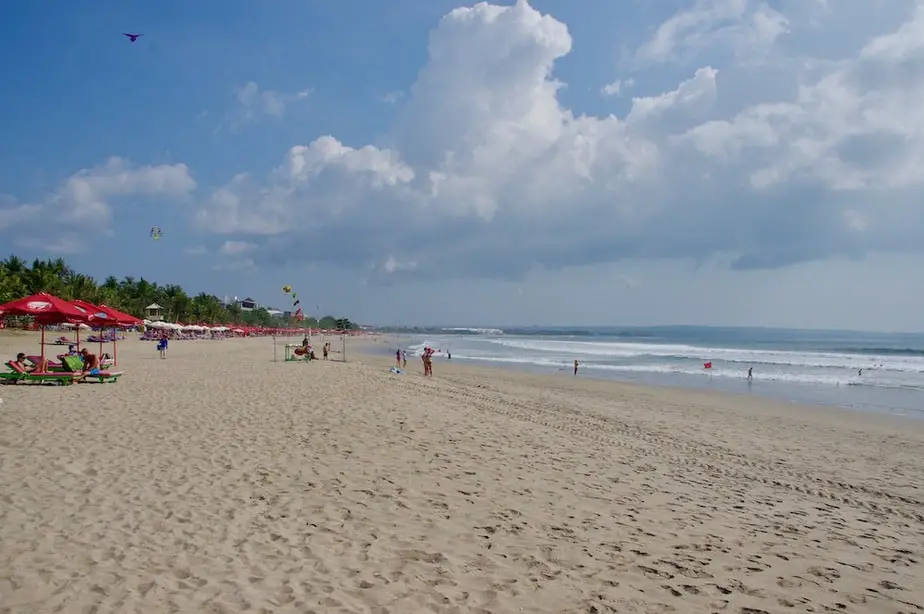 Legian beach is a bit quieter (but still quite busy) than its connecting beach in Kuta. Here you find fewer massage ladies, ice cream vendors, hawkers, and surf instructors.
It is still perfect to stroll along the beach, feel the sand between your toes, and let the water wash it away.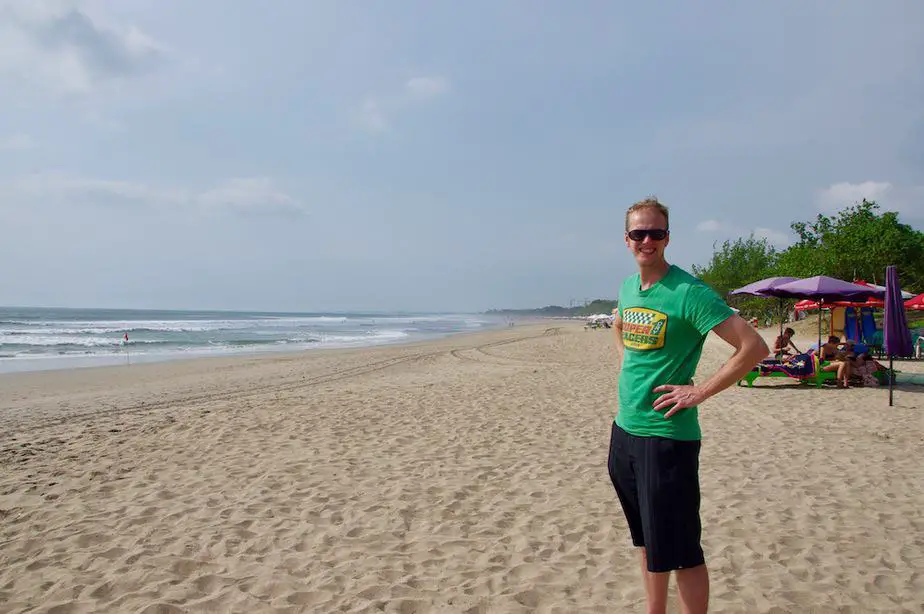 Not only is the beach less crowded, but you'll be far away from the busy traffic noise. Unlike its popular neighboring beach, the beach in Legian is connected to a walkway. So you can comfortably stroll all the way from Legian towards Seminyak.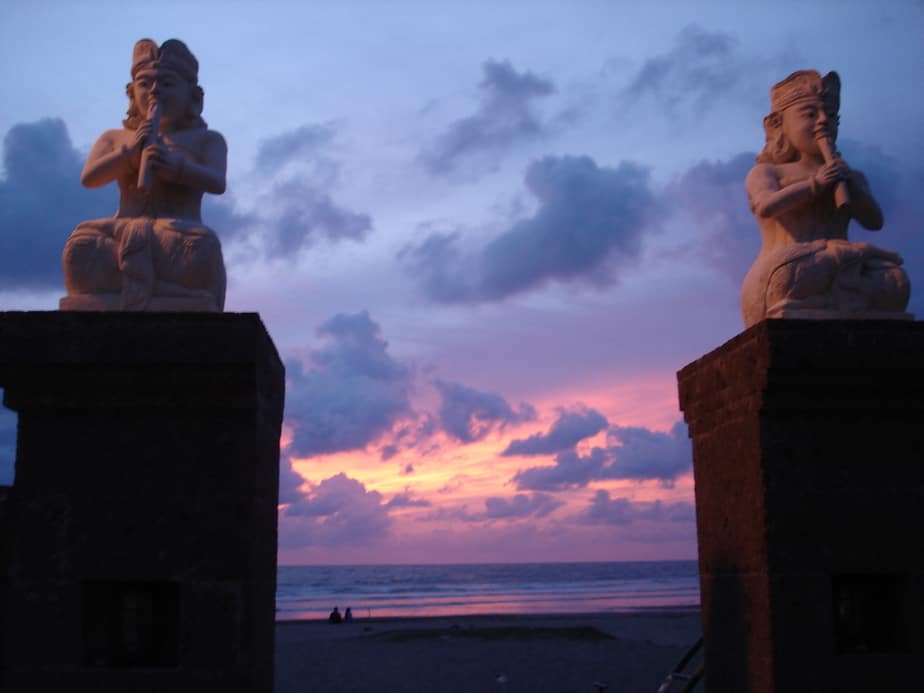 You can also go surfing in Legian. It is less crowded in the water compared to Kuta Beach, so you will probably have more waves to yourself.
Double Six has nice places to sit until late in the evening while enjoying the cool evening breeze coming straight from the sea.
Seminyak Beach
for surfers, swimmers, families, couples beach resorts, beach clubs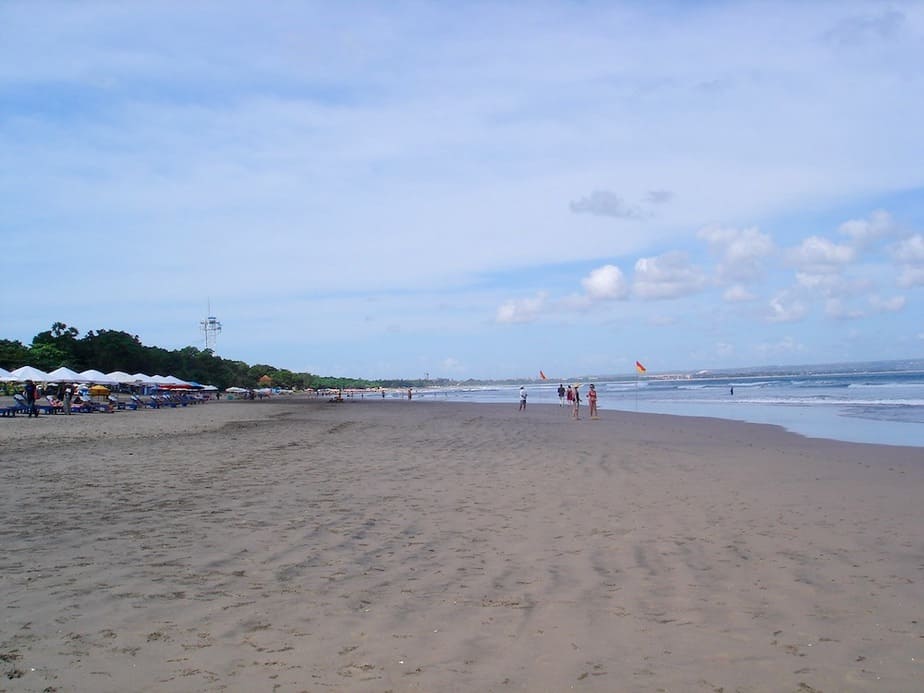 Seminyak Beach is located just north of Kuta Beach and Legian Beach. You can easily walk along these three beaches in 30 to 40 minutes. A great thing to do when the sun is just about to set.
The sand and water at this popular beach are similar to Kuta and Legian, but the beach itself is quieter.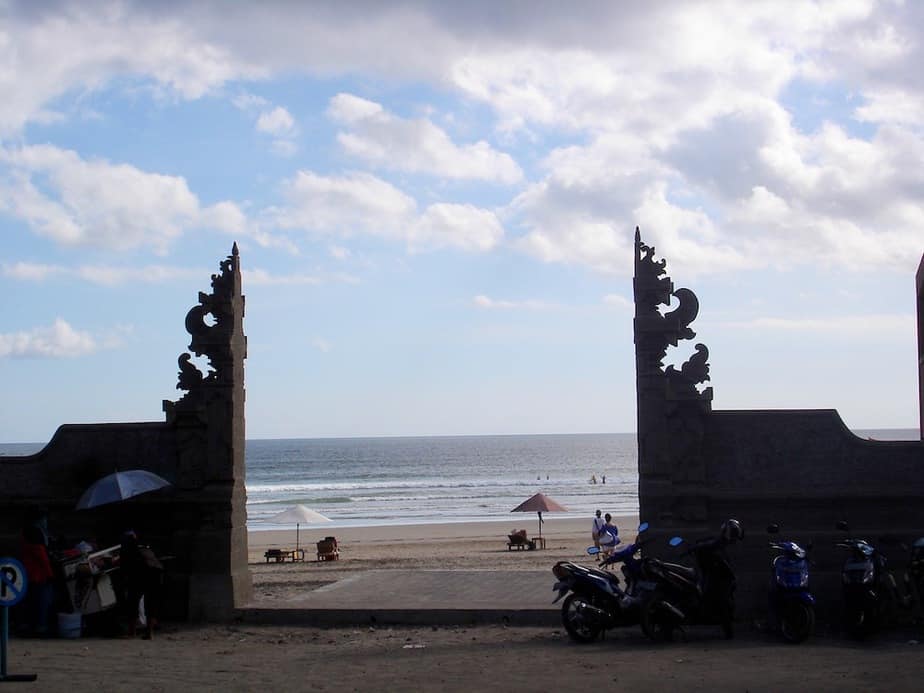 All you will see are sun loungers which are rented out or specially placed for hotel guests.
Other than that, the only place where you will spot a crowd is at the popular Potato Head Beach Club, and Ku De Ta. This is a lounge restaurant that you can't miss when strolling along the beach.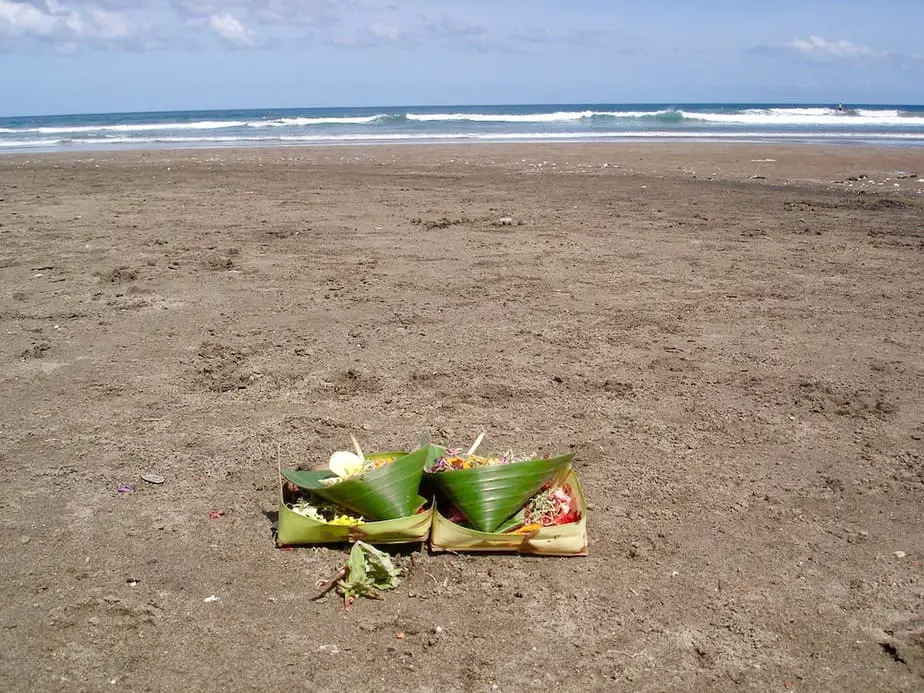 During the day a trendy crowd flock here to enjoy the sun, drinks, and food accompanied by music. At night this place turns into a busy place where holidaymakers and expats come together to enjoy a party in the evening together.
Overall Seminyak Beach can get pretty deserted. Most people who are staying in the luxurious villas in Seminyak tend to spend their days sipping cocktails next to their private pools. There's no need for them to go for a stroll on the beach.
Seminyak Beach is also a good spot for some surfing. The waves are similar to those in Kuta Beach but again it is less crowded here. The best time to go is late in the afternoon just before sunset.
Canggu Beach
surfing, families, solo travelers, health-conscious travelers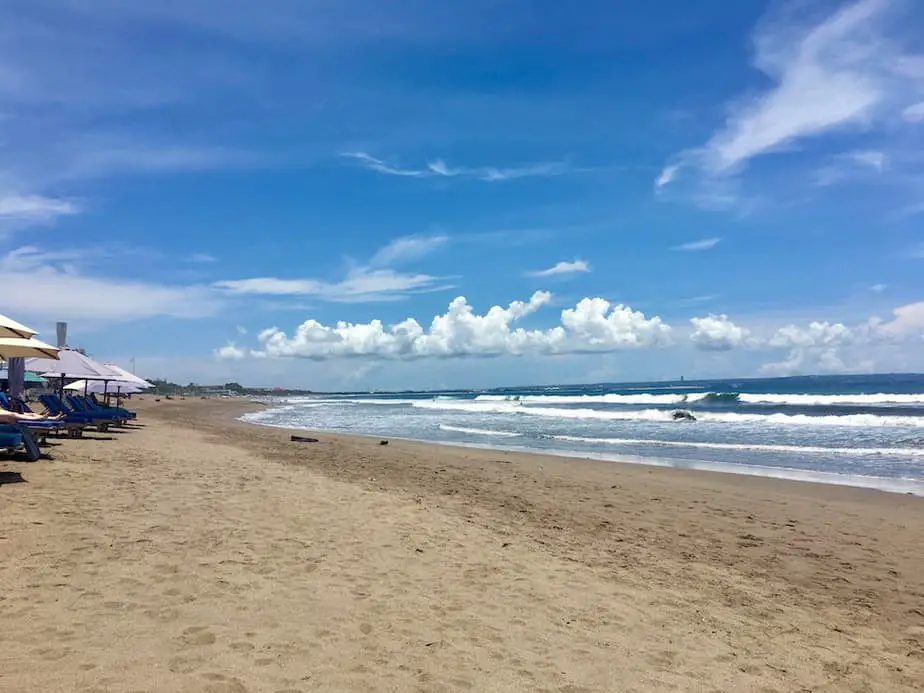 Canggu Beach is about 8 kilometers north of Kuta Beach. A couple of years ago Canggu Beach was only popular among surfers. Now it is becoming more and more popular among travelers who want to spend their holiday in Bali.
This beach is pretty much a copy of the other three beaches located south. There are sun loungers and many board rentals available.
Canggu Beach itself isn't the most beautiful. Here the sand is slowly turning into black volcanic sand, like the other beaches in West Bali. It also has a dusty feel to it making us wonder why people come all the way here to spend their holiday.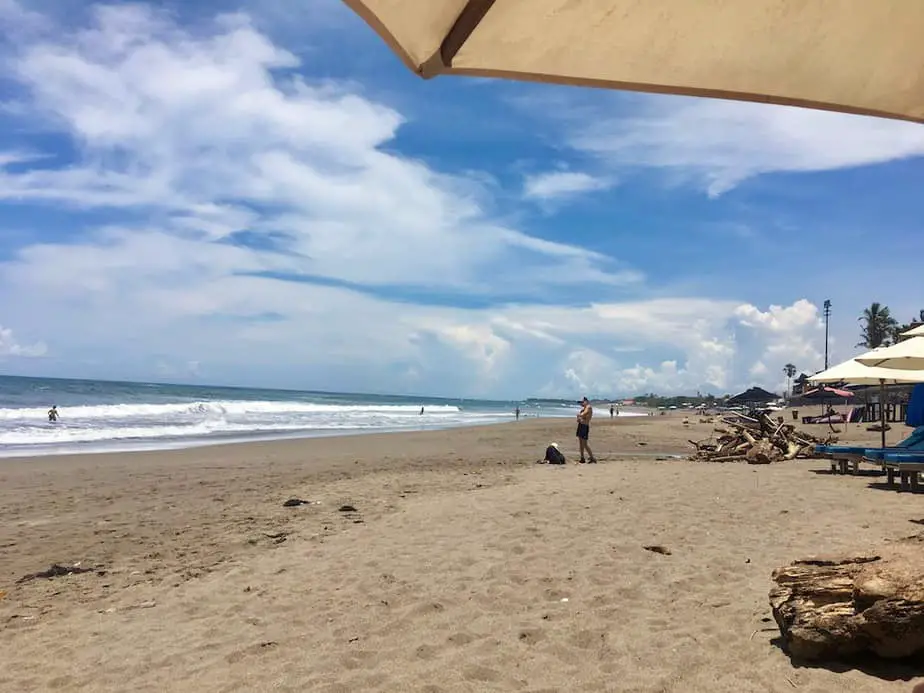 The answer lies probably in two things. Over the years space in Kuta, Legian and Seminyak has become limited resulting in the construction of many new private villas and hotels in Canggu.
Additionally, Canggu seems to attract hippie-chic health-conscious travelers and young families. We have seen many expats working at restaurants and international groups having a meetup.
So while the beach might not be the best, travelers come to Canggu Beach for the lifestyle.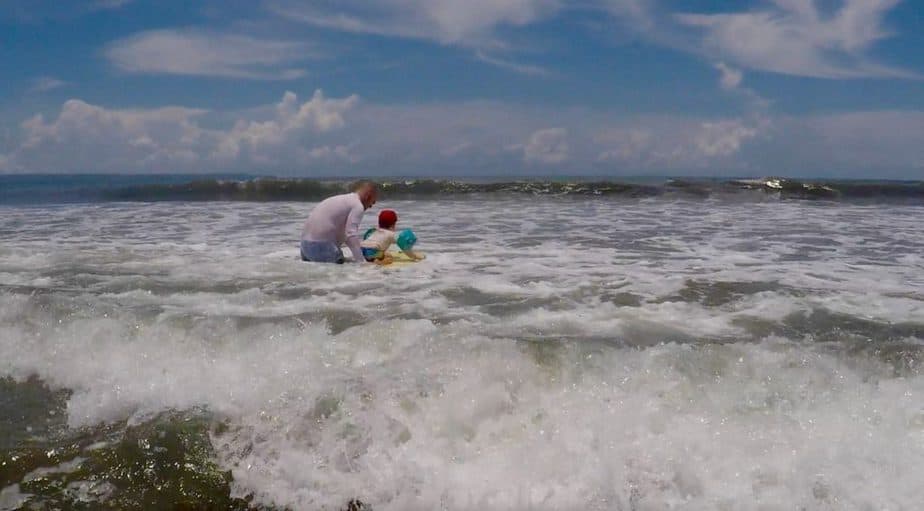 Like the whole stretch of beach on the west coast of Bali, the water in Canggu Beach can be dangerous for swimming. Check the flags before entering. When the conditions are right it is a great spot to rent a bodyboard.
Nusa Dua Beach
for swimmers, water sports, families, couples, beach resorts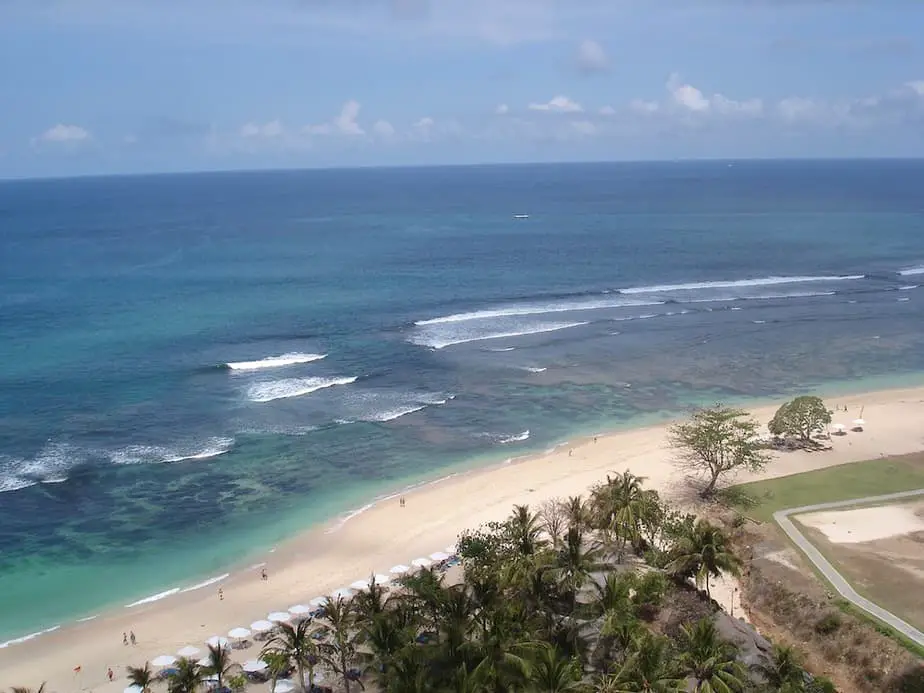 Nusa Dua Beach Bali is what you expect from a tropical beach: clean sand, palm trees that provide plenty of shade, and an emerald blue sea.
Along this tropical beach, there are many 4- and 5-star beach resorts from well-known international hotel chains. If you are not staying at one of these resorts you need to use the public access to the beaches. There is a map once you enter the Nusa Dua area showing where these beaches are located.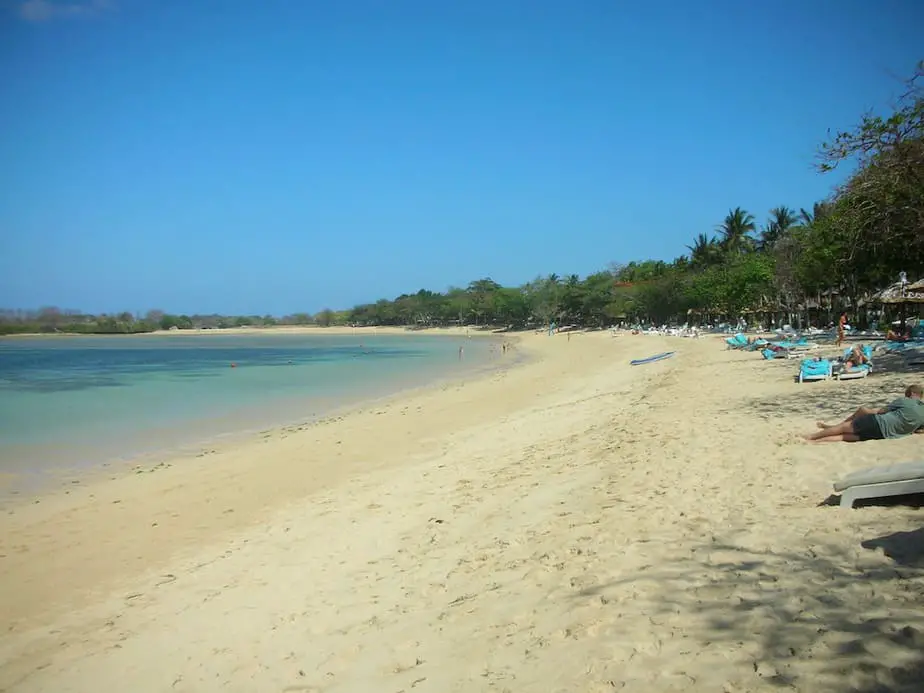 Once you enter these public areas you are allowed to sit at any beach. Often a security guard will ask you to move and claims that the beach is for hotel guests only. But that isn't true. The beaches in Bali are public and can be visited by anyone.
Usually, we don't think it's worth the effort to go into a discussion with the security guard. Until now we think that the beaches in Nusa Dua are nice but there are better beaches nearby. So we mostly avoid Nusa Dua during our travels.
Tanjung Benoa Beach
for families, couples, beach resorts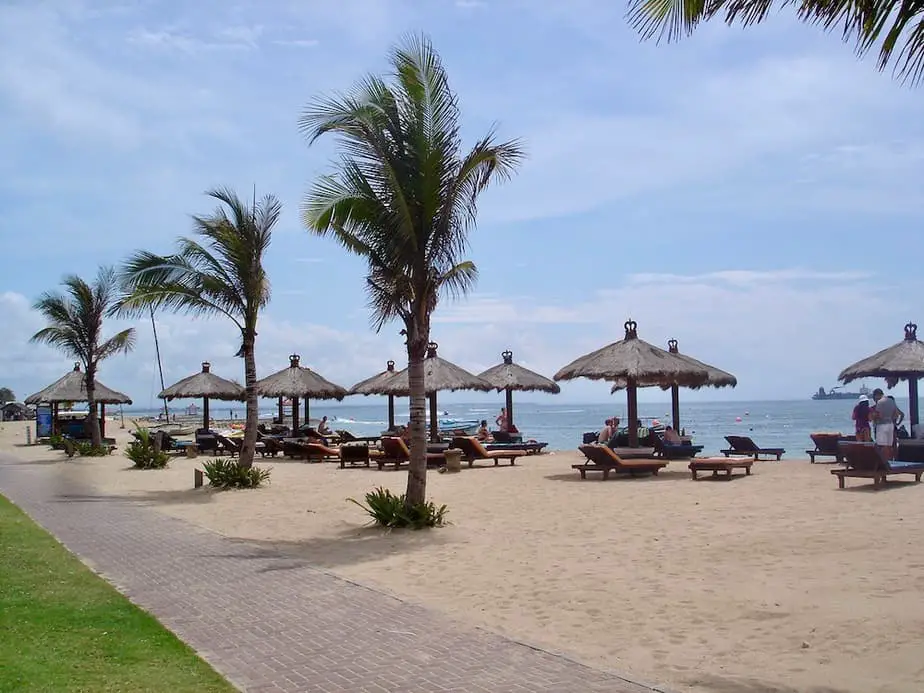 Tanjung Benoa Beach is located just north of Nusa Dua Beach. It is a similar kind of beach: soft sand and beautiful blue water combined with a string of beach resorts. You will need to find a public entrance to get to the beach.
But unlike Nusa Dua or any other beach in Bali, in Tanjung Benoa everything seems to be focused on water sports. Anything you can think of that is linked to water activities can be found here.
There is a long list of companies renting out kayaks, jetskis, underwater scooters, and scuba diving equipment. Other things to do is hop on banana boats, go on a flying fish tour, do some flyboarding or walk on the ocean bottom with the Bali Seawalker.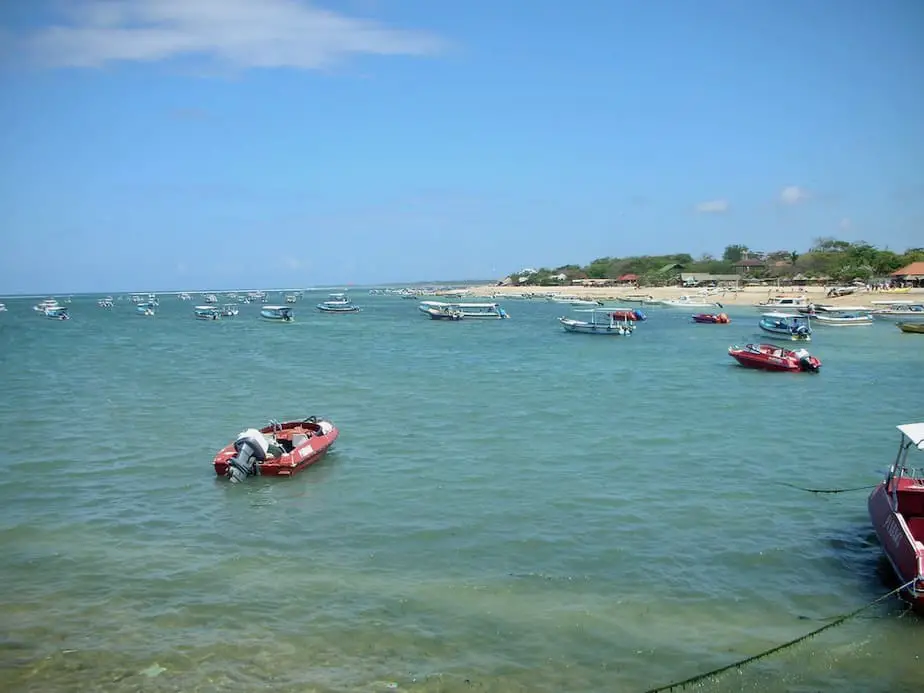 Compared to Nusa Dua Beach we think this beach is more low-key, people come here to have fun instead of sleeping all day at sun loungers. It's a nice beach, but not one of our favorites. The many resorts and tour companies along the beach isn't something we enjoy on a beach in Bali.
There are many more quiet and attractive beaches we prefer to visit first.
Sanur Beach
for swimmers, families, couples, beach resorts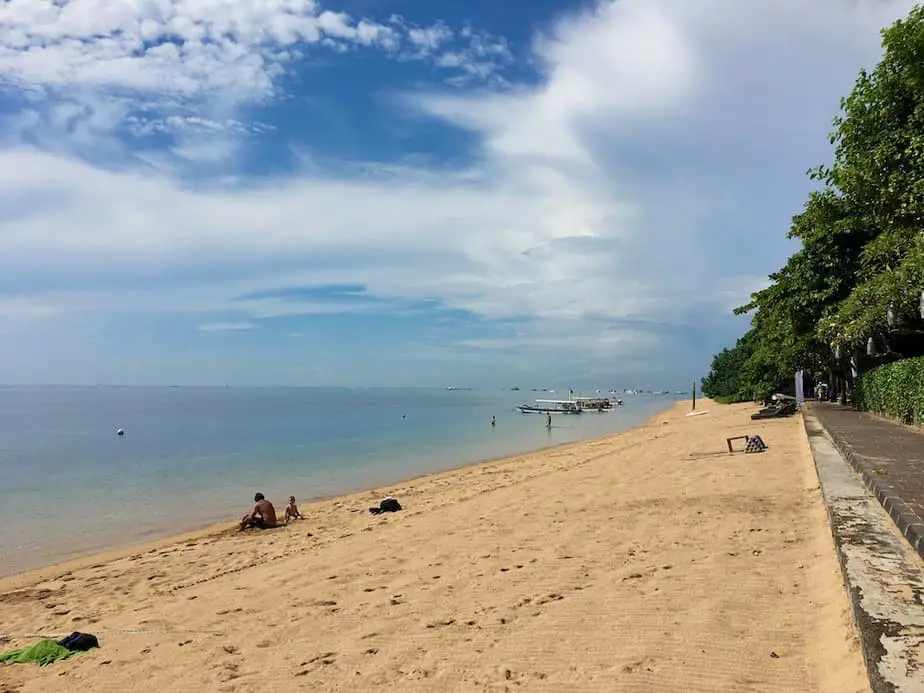 Sanur Beach is one of the oldest tourist towns in Bali. Not surprisingly, considering it has beautiful stretches of beach where you can easily go swimming. Often there are not even any waves.
Another great addition to this beach is its beach walk. You can start all the way north of the village and walk past the many types of beaches towards the south of Sanur Beach.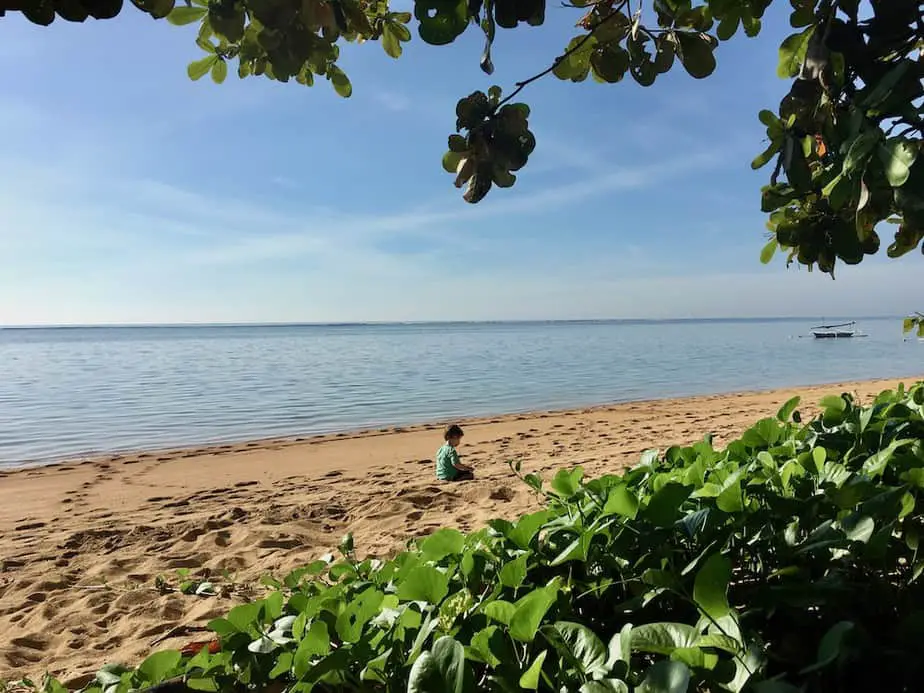 Sanur Beach is also one of our favorites. We enjoy spending a couple of days here to sleep off our jet lag or to meet up with family. The water is great for children to play in and the trees along the beach walk provide excellent shade.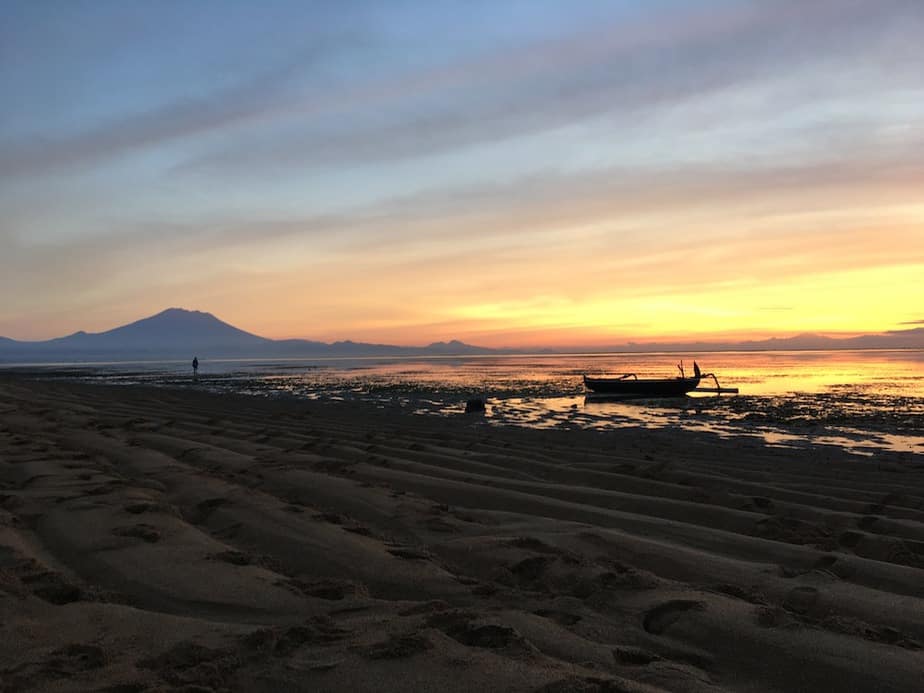 At low tide, the beach doesn't look very attractive but still remains interesting for those who love searching for little critters. But when the high tide sets in it's a wonderful place to cool down from the tropical heat.
Other water activities at Sanur Beach are snorkeling and diving at Lembongan island and Nusa Penida island, parasailing, sea kayaking, jet-skiing, and fishing.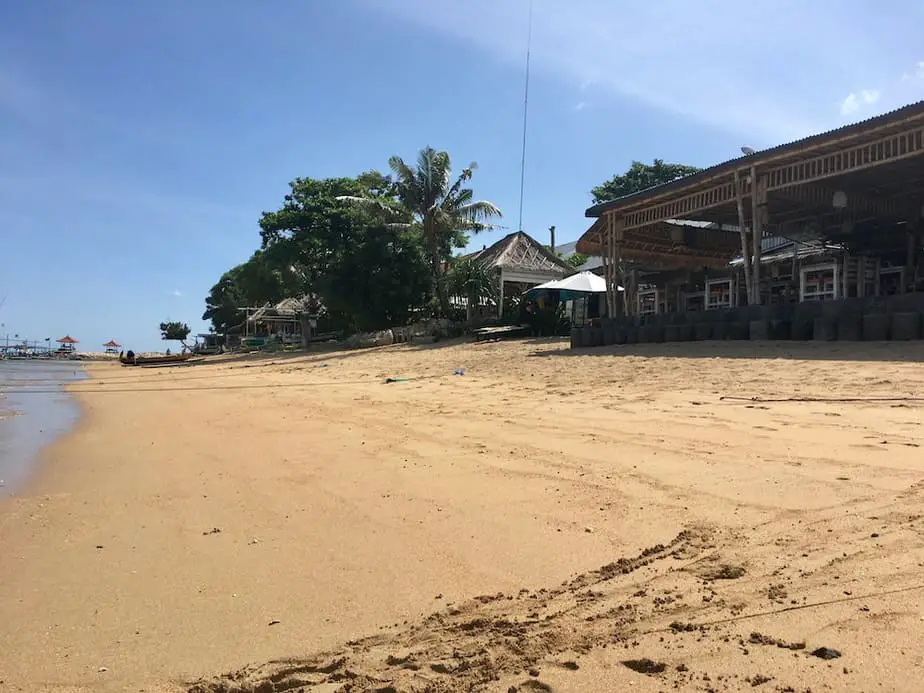 We have spent many days in Sanur and soon discovered the nicest beaches in town. Read more tips on how to fully appreciate Sanur beach.
East Coast Bali Beaches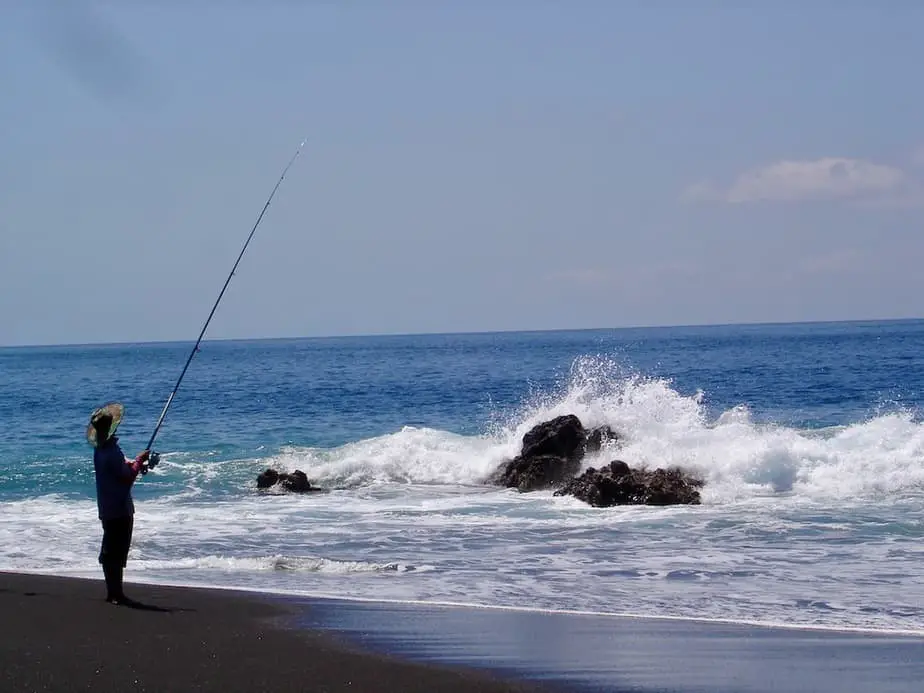 The beaches in East Bali are different from the beaches you are used to seeing in travel brochures and books. Here they are located in the shadow of the mighty and holy Mount Agung.
This mountain erupted in 1963 killing thousands of Balinese and forced many to migrate to other Indonesian islands. Lava and rocks rolled from the slopes onto their land and into the ocean.
Their crops were destroyed and the land was unsuitable for years. That's why some parts are sparsely populated now.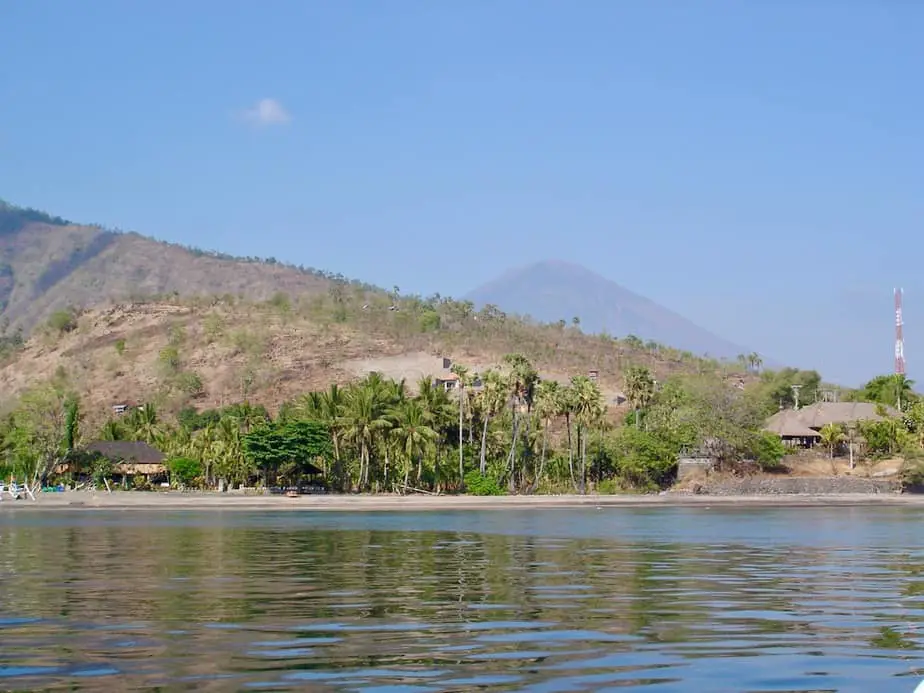 That's also the reason why many of the beaches in east Bali are black. Most of these beaches can be rocky except for Padangbai, Bias Tugel Beach, and Pasir Putih Beach.
It took years for the land to become fertile again but the area around Amed, Padangbai, and Candidasa is now home to one of the most beautiful rice fields in the east of Bali.
Padangbai Beach
for divers, swimmers, solo travelers, couples, budget travelers
Padangbai Beach is very colorful. At the beach and in the water you can find dozens of traditional Jukung fishermen boats with painted eyes to show them the way at sea and to protect them from evil spirits.
Padangbai mainly comes alive when divers head out or return from their diving adventures. There's also some action in town when the ferries from Lombok or the boat from Nusa Penida arrives. The rest of the day it's a sleepy place where Balinese kids play in the water between the boats.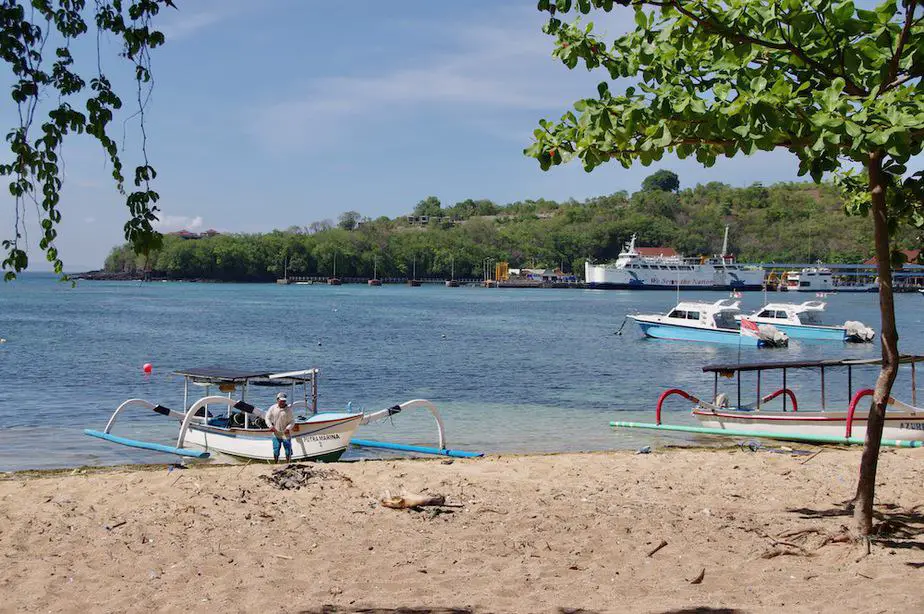 There are cheap guesthouses along the beach and most travelers stay here one night before they take the ferry to Lombok.
When you like to snorkel and dive in Padangbai walk to the end of the northern bay and follow the signs to the Blue Lagoon, also referred to as Pantai Kecil. At this little bay, the water is shallow and you have clear visibility.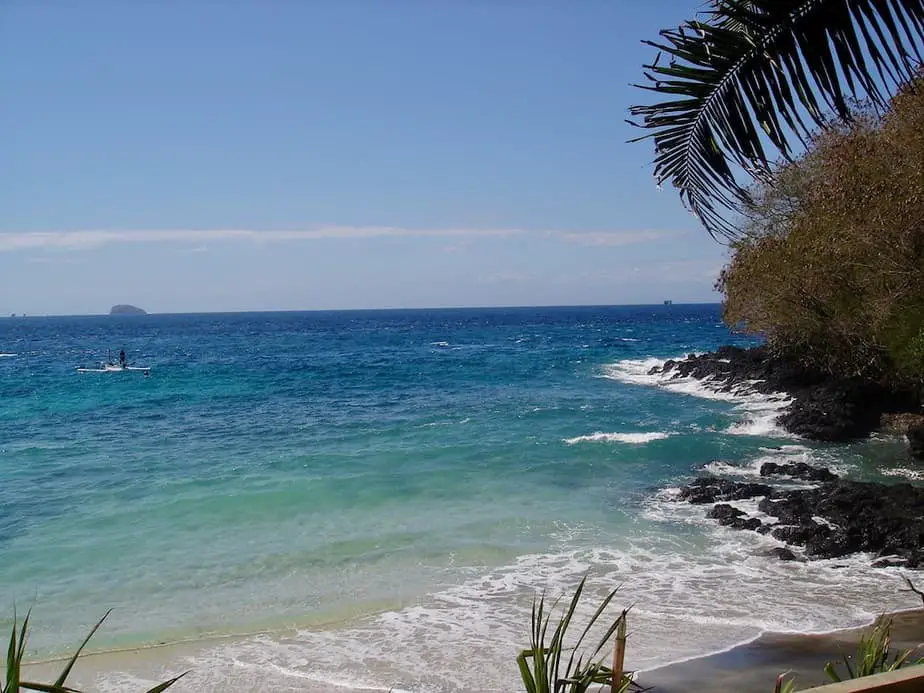 There are three places in the bay where you can dive; Pura Jepun, Blue Lagoon, and Tanjung Bungsil.
There are also a couple of dive operators in Padangbai who love to bring you to these sites. They organize tours to the other dive sites along the east coast too.
Bias Tugel Beach
for swimmers, explorers, sunbathers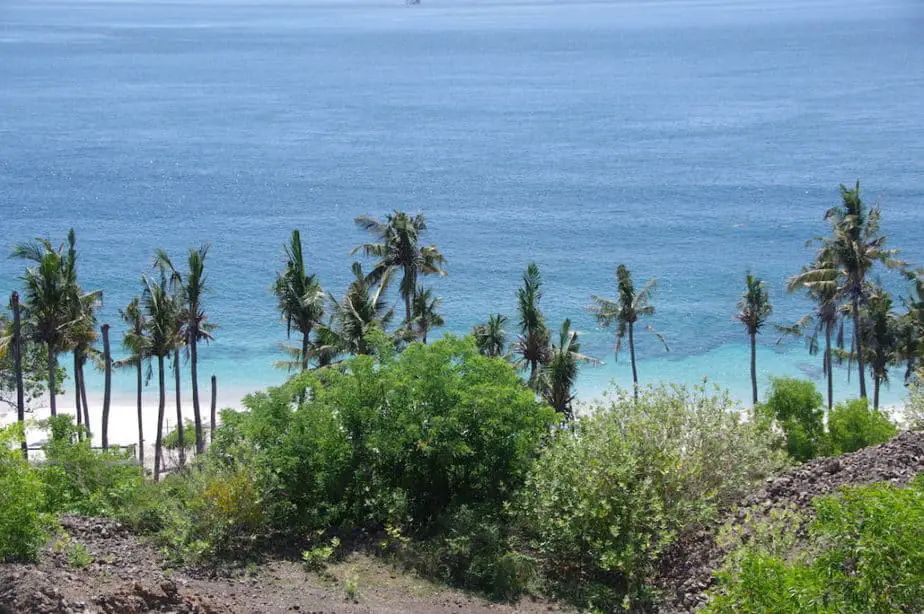 Bias Tugel is a little beach located within walking distance from Padang Bai. From the Ferry Terminal at Padang bai head east up a small street. Here you will see the signs pointing to this beach.
Once you have climbed the dirt road (you can get there with a motorbike but you must be a good driver) you will soon be treated with a sneak preview of how beautiful this beach is. Afterward, you'll have to descend some stairs through the bushes to get to the beach.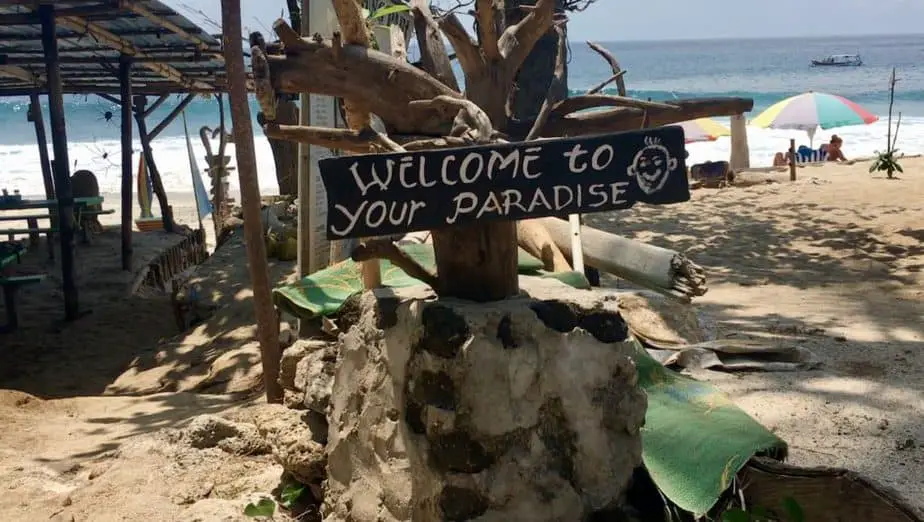 This is probably one of the most beautiful beaches in Bali. It is also one of the remaining beaches where you feel like you are just one of the few who are there. We never saw more than a handful of people in the mornings.
Over the years we have visited this beach a couple of times. There were only a couple of shacks with Balinese people selling drinks from a coolbox. Nowadays the facilities have been 'upgraded'.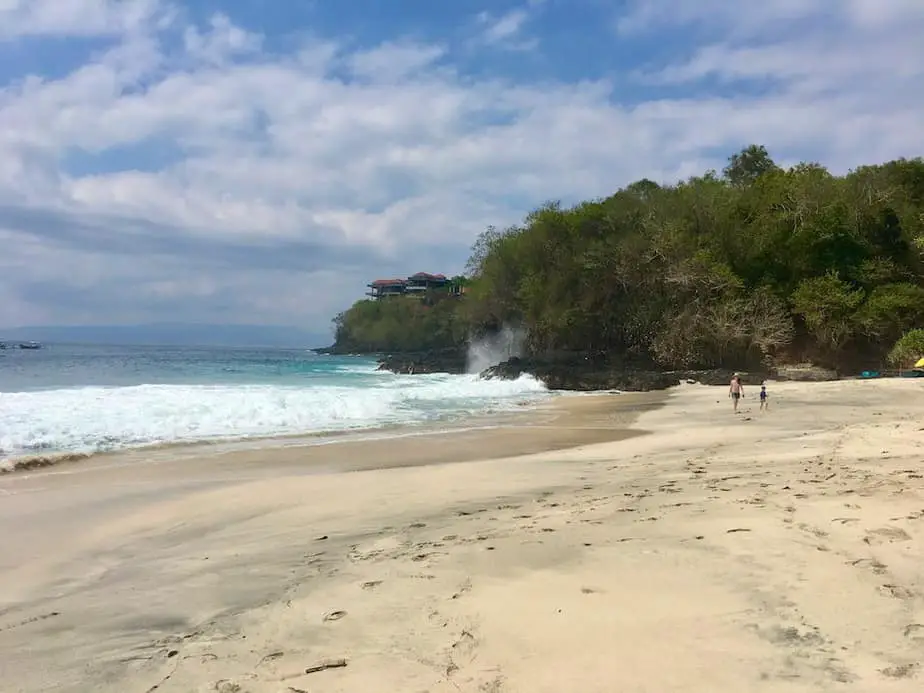 There are a couple of wooden restaurants that offers drinks and meals together with sun lounger rental. So now it is pretty easy to spend the whole day at Bias Tugel.
And that's exactly what you should do.
The white sand feels soft between your toes and when the sun is at its brightest the water is just stunning.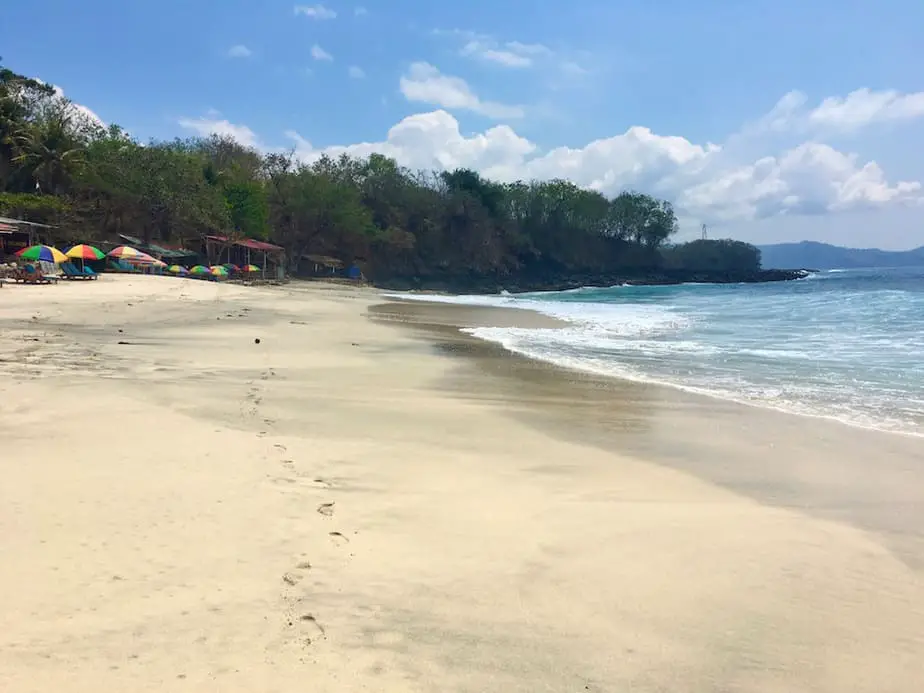 It is possible to swim in the water but you need to check if the current is safe though. There are no lifeguards and probably nobody else who can help you out if something goes wrong. So stick to the shore and make sure you are always able to find your footing.
Candidasa Beach
for swimmers, divers, families, couples, beach resorts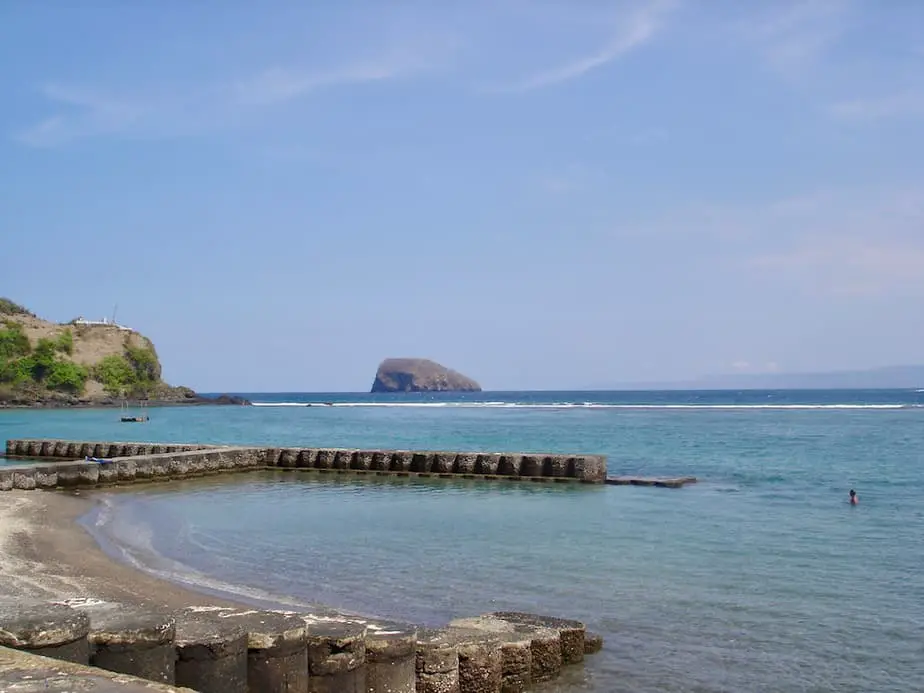 Candidasa Beach is characterized as a decent, quiet place that stretches along the coast for 3km. Candidasa means Ten temples and is called after the sacred temple in the east of the village.
Like any other beach village in Bali, we expect there to be lots of sand. But in Candidasa things look a bit different. There is hardly any sand left.
What happened to Candidasa beach?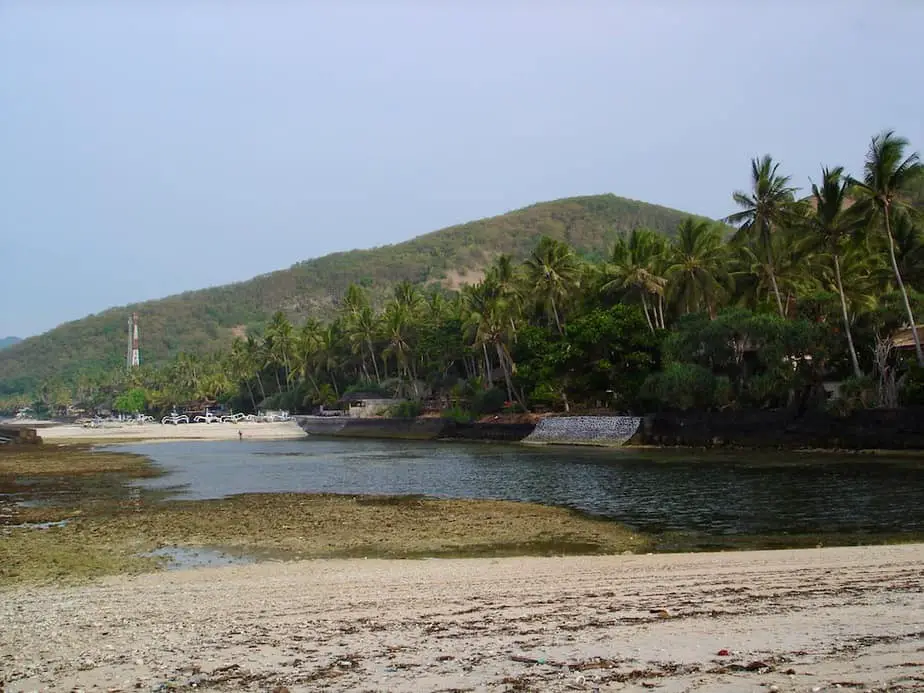 Candidasa Beach used to be a beautiful place with soft sand and swaying palm trees lined along the coast. Since more backpackers found out about this beach in the 1970s the villagers started to use the reef for the construction of hotels.
The villagers kept on building until the reef was gone and the sea took the beach away. Now you can only see small pieces of the beach during low-tide.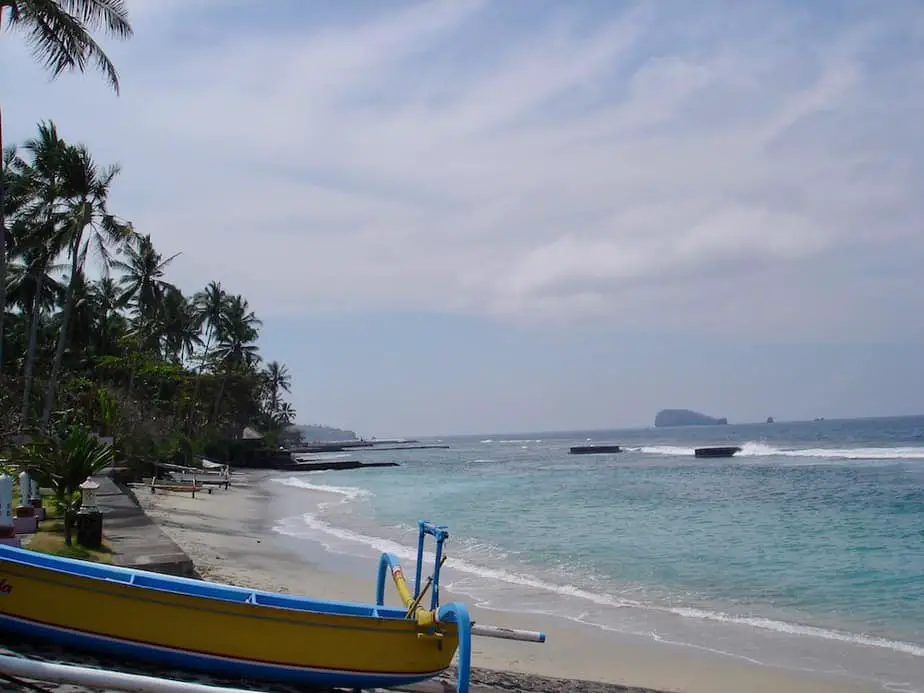 Just like Sanur Beach, the villagers have built concrete sea breaks so the beach can rebuild again. Because of this situation snorkeling and diving have been reduced to almost zero.
Local fishermen and dive agencies organize tours to the small islands in front of Candidasa called Pulau Tepekong or to the Blue Lagoon at Padangbai.
I've snorkeled once at Pulau Tepekong and I could see that the reef has lost a lot of its beautiful sea life.
Is Candidasa Beach worth it?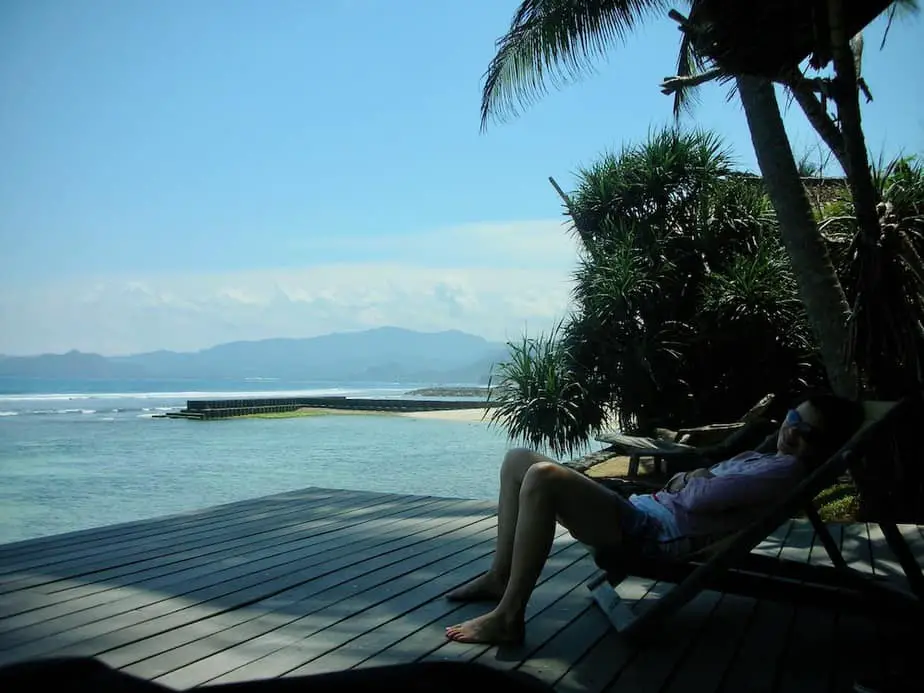 We think Candidasa Beach deserves a chance. If you stay longer you start to appreciate this place. Its water is easily accessible for swimmers, and if you are traveling with young kids they will have a great time.
For us, Candidasa Beach is an ideal place to explore East Bali.
Pasir Putih / White Sand Beach
for sunbathers, explorers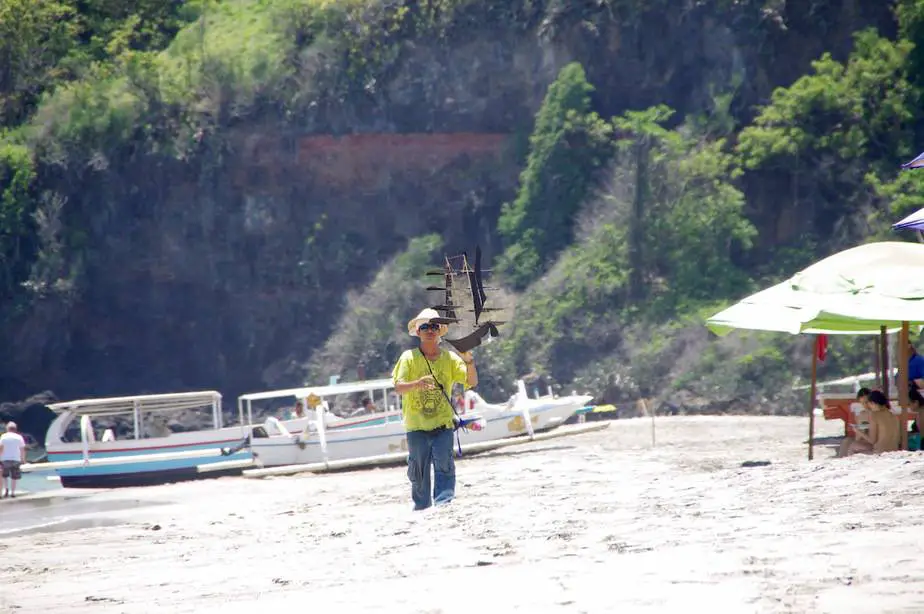 Pantai Pasir Putih means 'white sand beach' in Indonesian. So what kind of beach can you expect that holds a name like that?
To be honest the sand isn't as bright white as the beaches on other Indonesian islands, such as Lombok for instance. Nonetheless, it's a great tropical beach to spend a day.
Bali is popular for its beaches but it only has a few beaches with such gorgeous sand. To make it more surprising, it isn't overrun by beach lovers yet.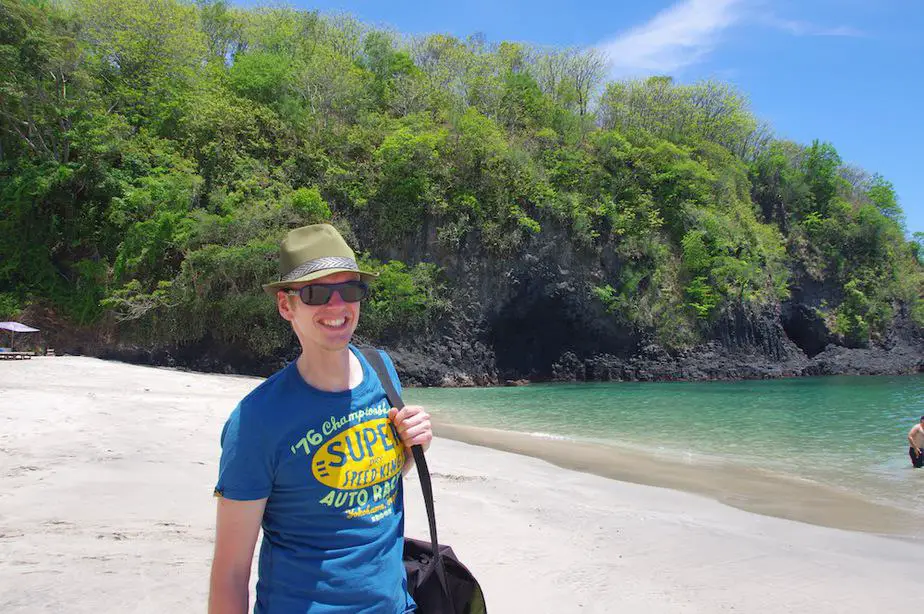 Why does everybody flock to the same beach in the south of Bali if you have this as well? I guess it's the extra mile(s) you need to take to get there.
So how to get to Pasir Putih beach?
Pasir Putih Beach is an ideal beach to visit when staying around the Candidasa area as it is only a 20-minute drive to the west. It's around the corner when you are able to see the improvised sign along the road.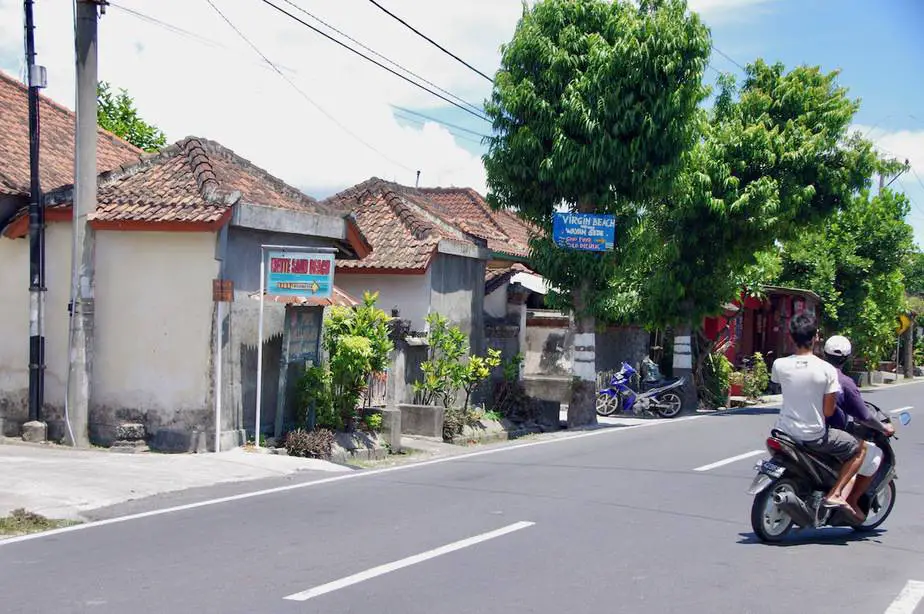 Please be aware when you come from Candidasa and you eventually end at a junction pointing to Jasri then you have passed it. Head back because it's definitely worth the trouble.
From the main road, it is still a bumpy drive to the beach. The road will take downhill past bare land. And then before you realize it you're at Pasir Putih.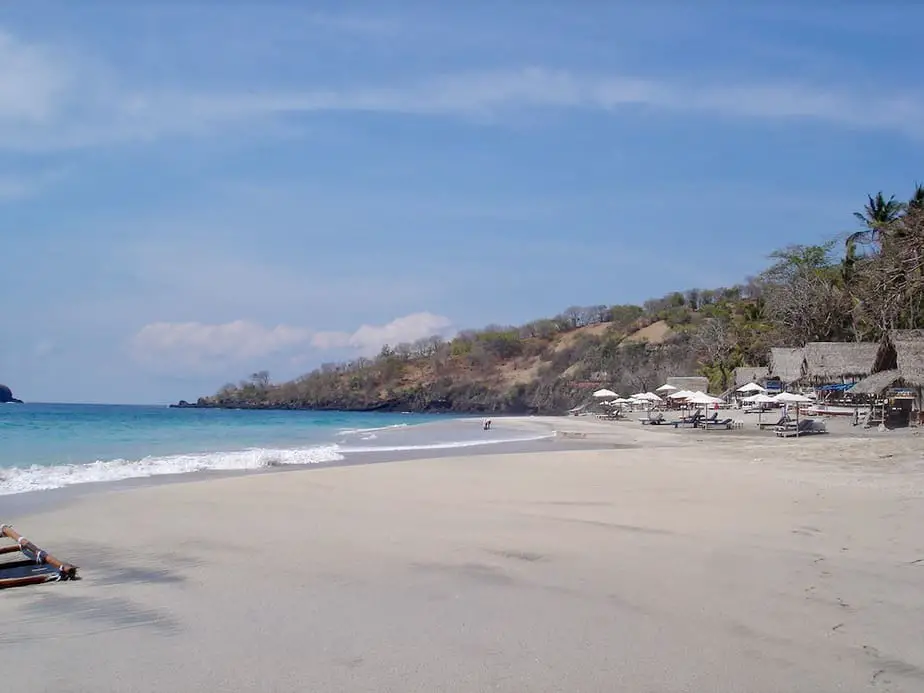 Our first visit to this stunning beach was in 2008. It was pretty much deserted, except for the owners of a couple of small restaurants (warung) along the beach. At that time there was no electricity here so you could only order cold beers and soft drinks from the coolbox.
Rumors were that the bare land along the beach was leased by a Korean development group who were planning to build a villa resort but so far never did.
What happened to Pasir Putih years after?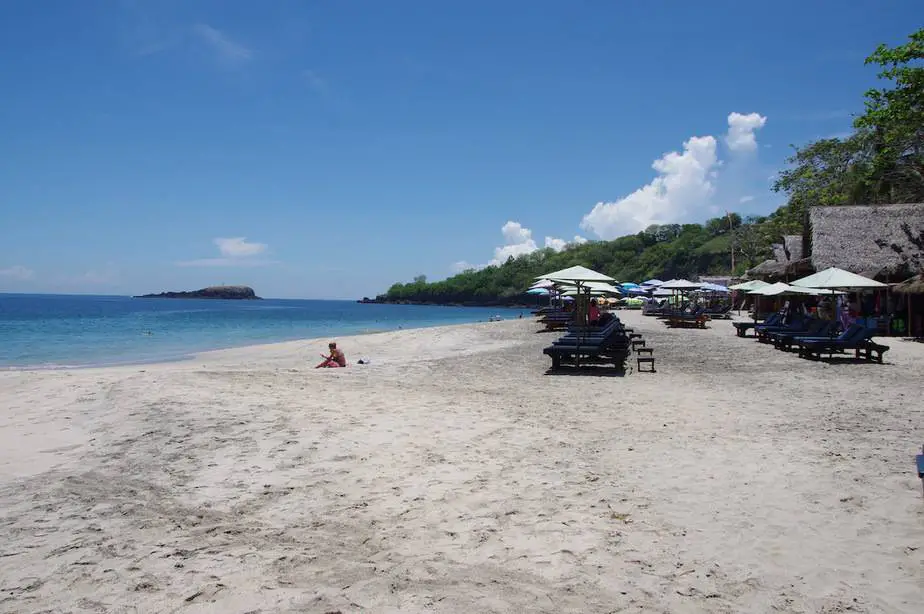 We returned again in 2013 and were happy to see that there were still no big developments going on. The road to the beach is still bumpy and instead of a resort or any other type of accommodation, you can park your bike under a string of palm trees.
If you go to Pasir Putih, it's for the beach only and a dip in the sea.
Today the beach has become more popular. Small warungs have become much bigger, there are even shops selling sarongs and other beachwear plus there are rows of sun loungers. You also need to pay an admission fee.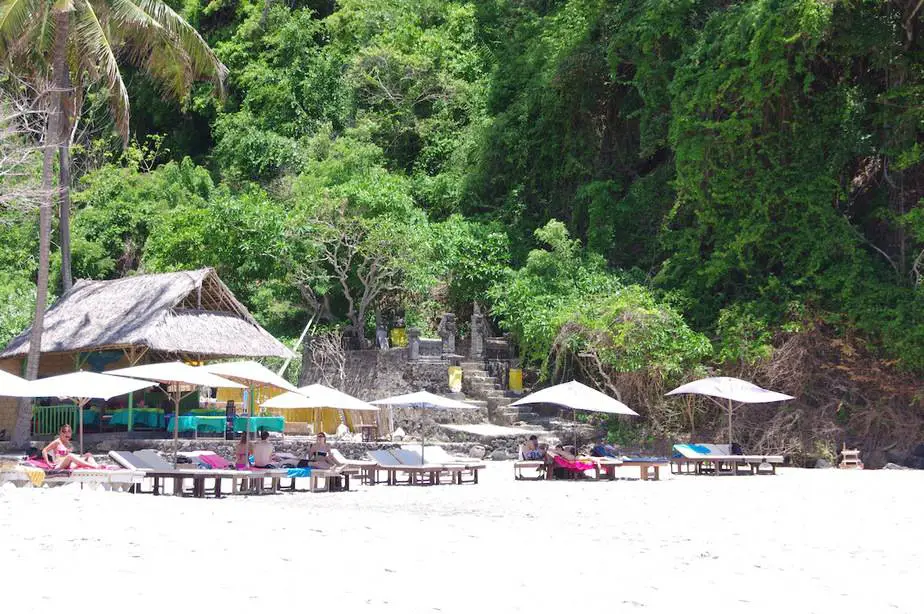 A beach like this will attract beach explorers from all over. Some nearby resorts even offer boat tours to Pasir Putih Beach.
But luckily the atmosphere is still the same and we can pretty much say that Pasir Putih is one of the nicest beaches in Bali. And hopefully, it will remain as pristine as it is today
Jasri Beach
for surfing, explorers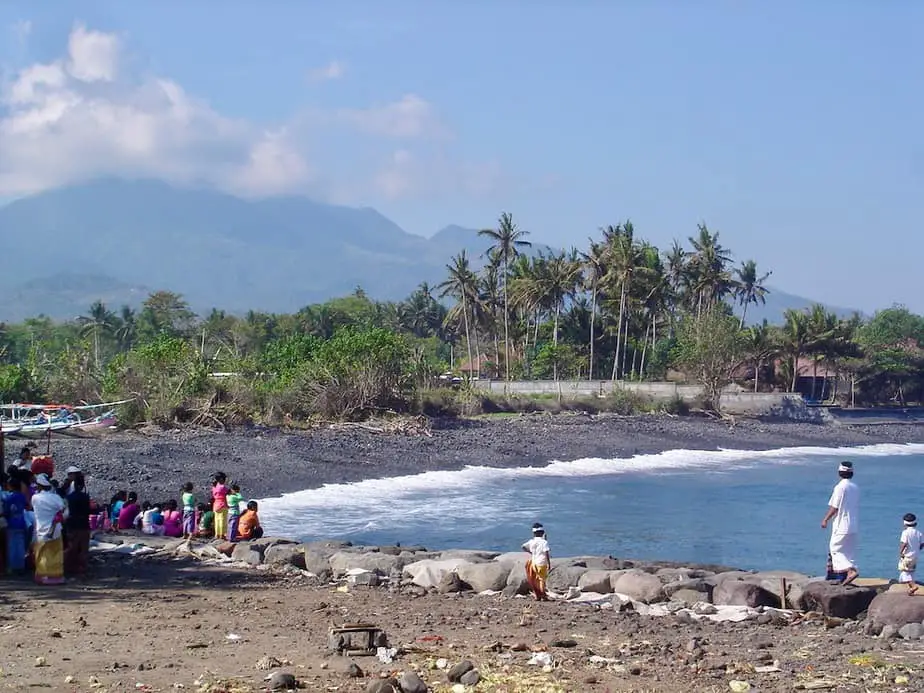 Jasri Beach is known among die-hard surfers and there are even competitions held here. Since more travelers are aiming at leaving the crowd behind, this beach is becoming popular.
Just like many places in Bali, villas have popped up around the Jasri area too. Candidasa and Amed used to be a good place to stay when visiting Jasri Beach (just 30 minutes away) but now this beach offers accommodation too.
Where can you find Jasri Beach?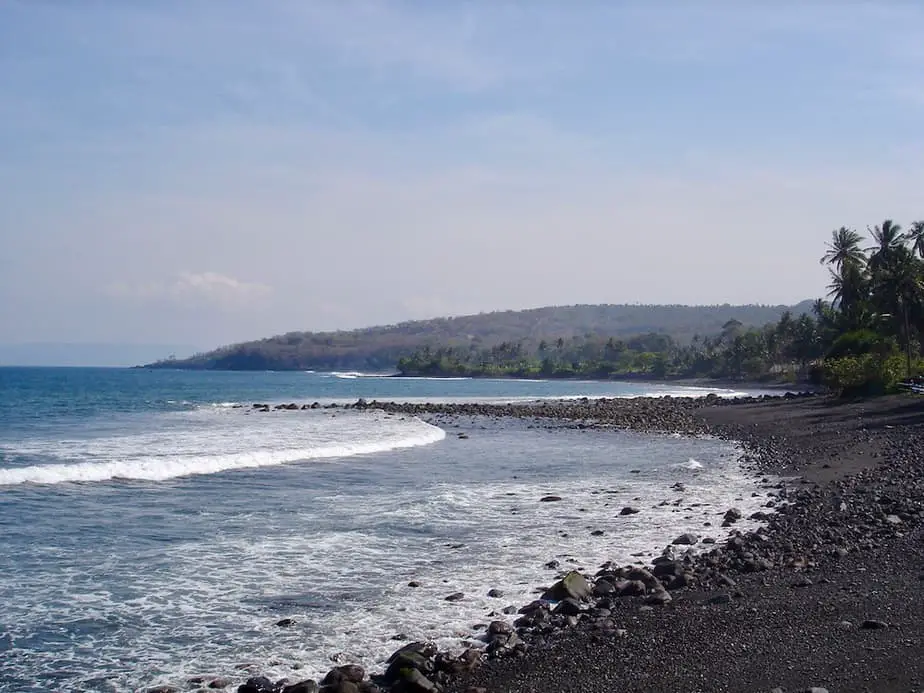 It is not difficult to get there. When coming from Candidasa just follow the main road until you eventually come at a junction. Turn right here and follow the small street surrounded by vegetation. At the end of this street, you'll find yourself at the beach.
The sand at Jasri is volcanic black. Black beaches are not the most popular when promoting a tropical island, but this beach is really quiet and clean. For the Balinese, this beach is also one of their sacred beaches. You might be lucky when you head to this beach and there is a ceremony going on.
You might run into a beautiful scene of Balinese women carrying baskets on their heads walking towards Jasri Beach. At the beach, there is a small crowd participating in several ceremonies.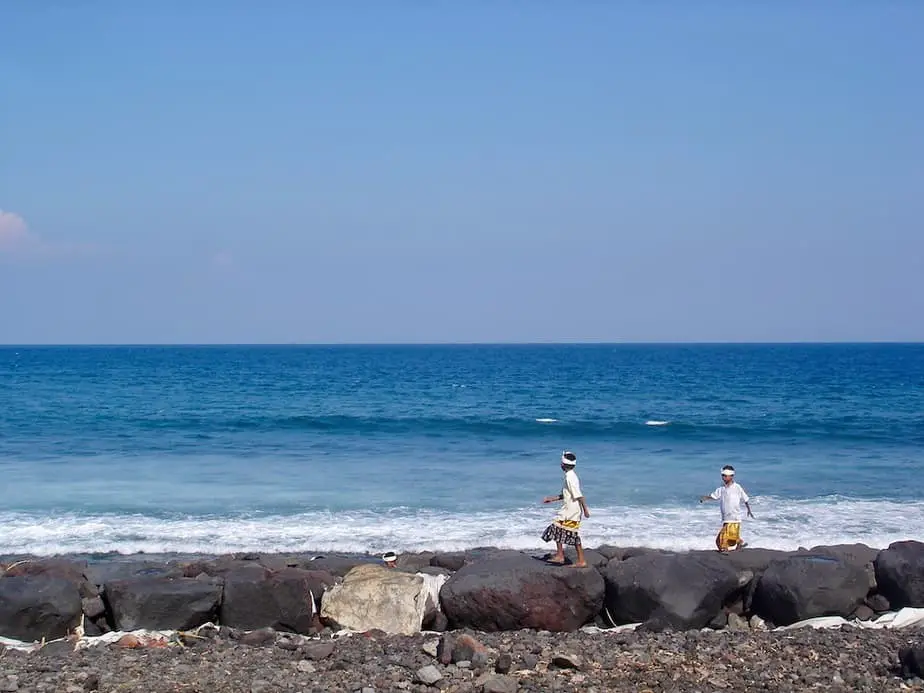 Jasri Beach is a good surfing beach because there are not many travelers visiting this beach. This is practically one of the most deserted beaches in this part of Bali. So if you feel like having waves all to your selves, this beach is a great option.
The waves come from the right and can be tackled by beginners and experienced surfers. Be careful though when it becomes shallow, as the surface is very rocky which can cause severe cuts and bruises.
For those who just want to wade into the water or take a swim then the best and safest time to go is at low tide.
Amed Beach
for divers, snorkelers, swimmers, families, couples, beach resorts, budget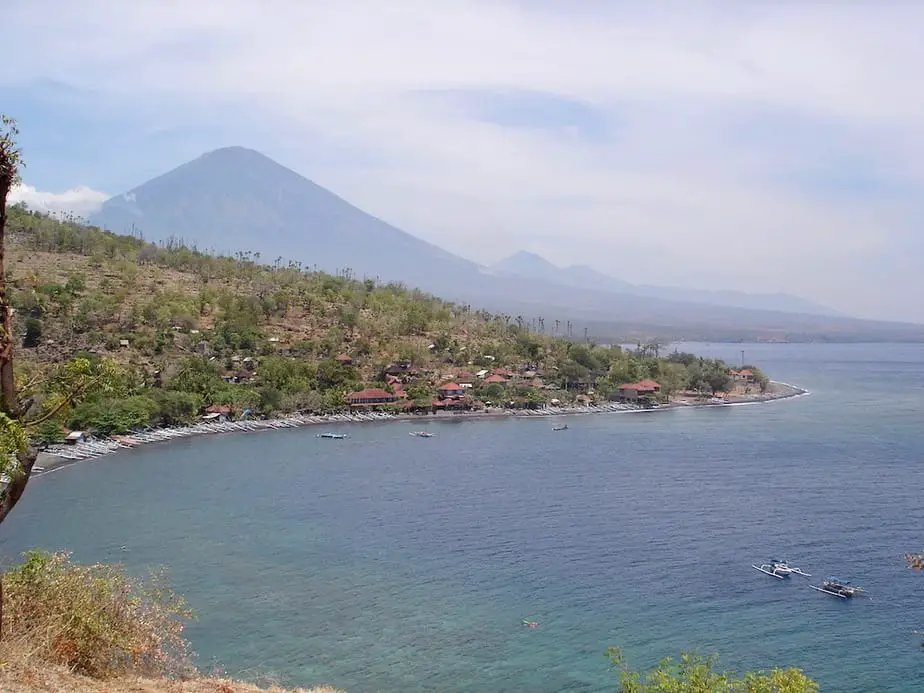 Amed beach consists of various bays with picturesque black sand beaches where you can see colorful fishermen boats and salt-miners.
It's a quiet, laid-back area and there's hardly any action. That's also the main reason why travelers who are seeking a quiet place end up in this remote spot.
The guest houses and hotels at the coastal villages of Amed Beach are set in beautiful gardens and most of the rooms have ocean views. We think the atmosphere is better than at Tulamben beach.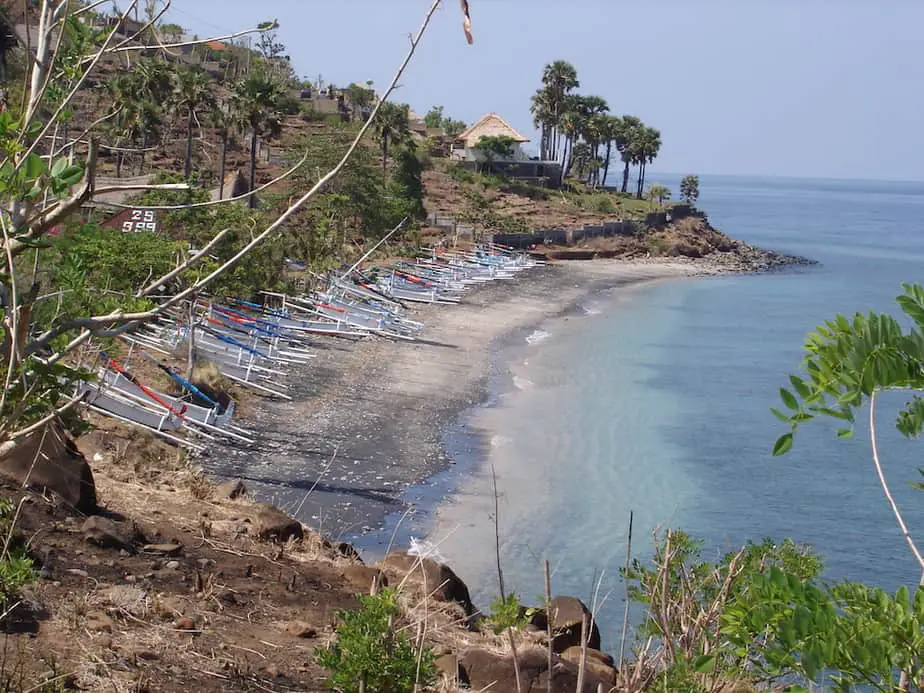 It's no wonder that a lot of divers and snorkelers prefer to stay at this charming little village just 30 minutes from the Culik main road between the rice fields and mountains.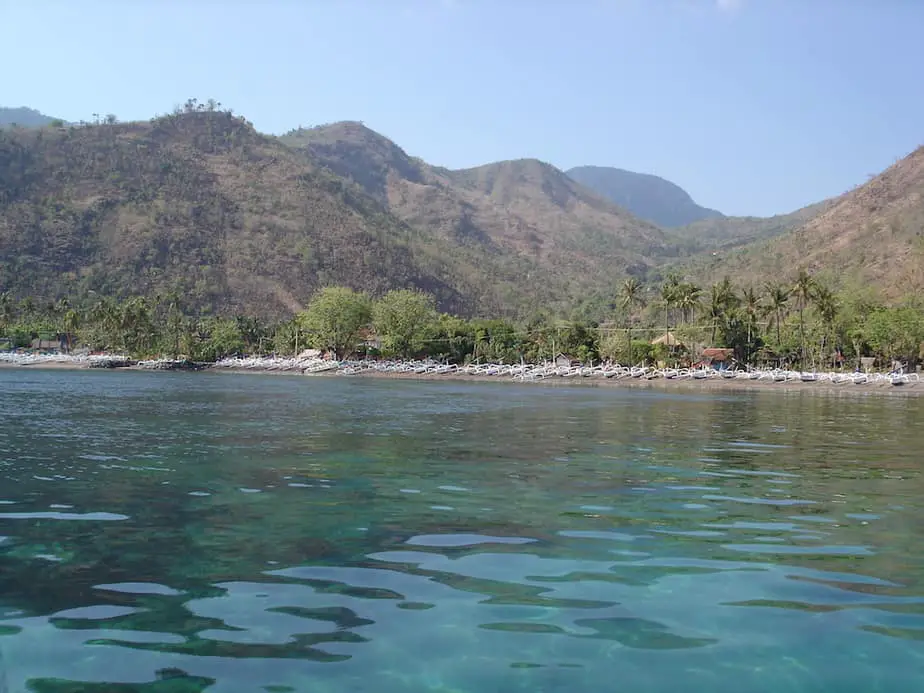 The beaches in Amed are easily accessible and don't have the big black volcanic rocks you see on the other beaches in this area. It still has big pebbles though. So no soft sand here but it is a good place to go for a walk and chit-chat with the local fishermen.
These fishermen also offer their traditional boats for tours along the coast. It's a good experience especially when there's hardly anybody around. You'll experience Amed from a different angle.
If you plan to visit Amed Beach, read more ins and outs about this place.
Tulamben Beach
for divers, snorkelers, budget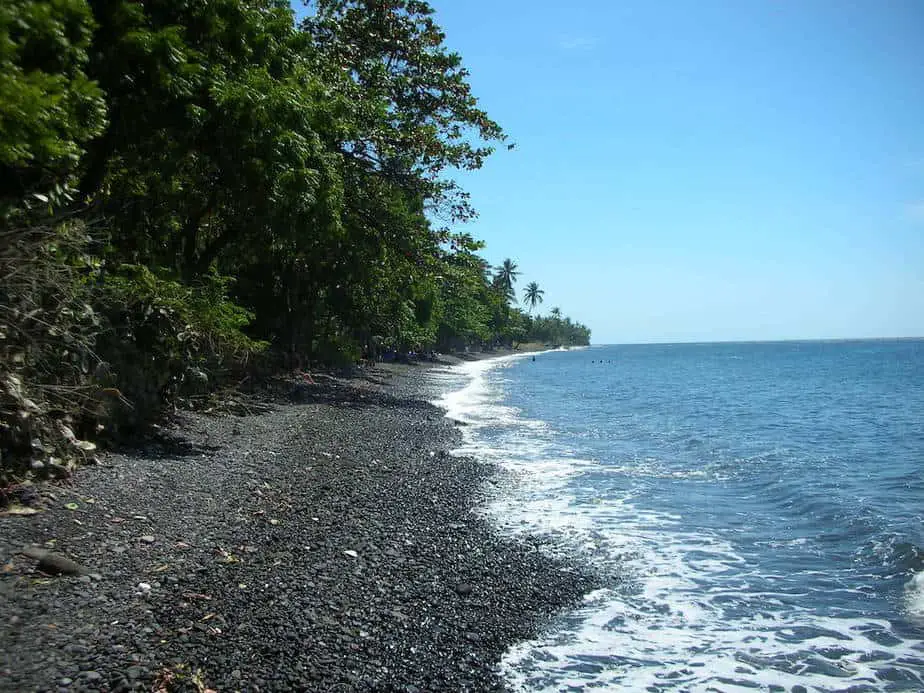 There isn't a lot to do at Tulamben Beach. There is no white powder sand, just black rocks that can burn your feet easily in the hot tropical sun.
Luckily there's one huge attraction. It's the USAT Liberty shipwreck and her beautiful underwater world 30 m out from the parking lot.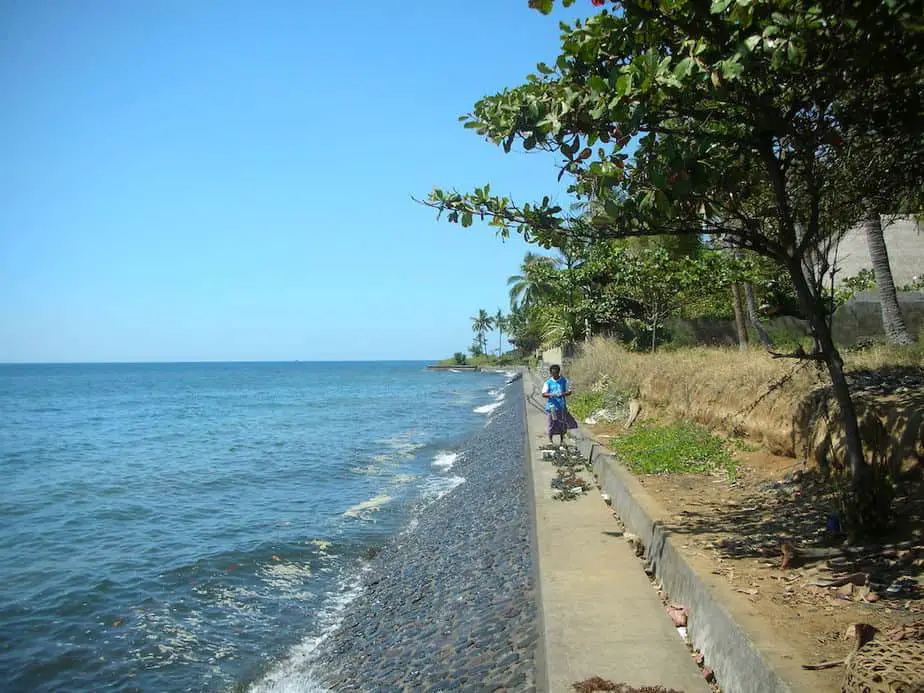 This US cargo ship was hit off the southwest coast of Lombok by a Japanese torpedo during World War II. Two naval ships then towed it to Bali in order to get its cargo safe and beached it on Tulamben Beach.
The eruption of Mount Agung in 1963 made the wreck topple beneath the surface of the water again and it's still there. Today there is a lot of sea life around the wreck.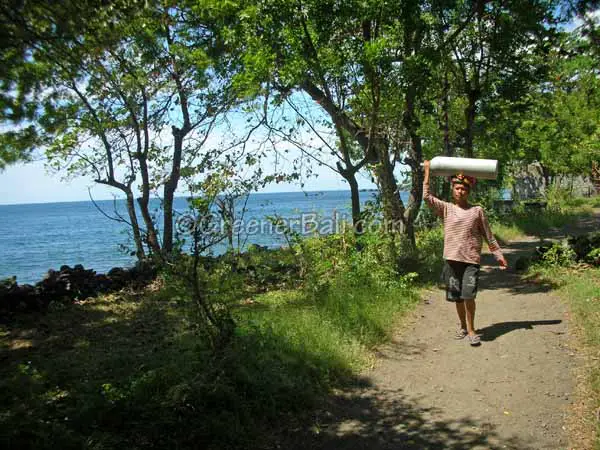 This shipwreck is one of the diving hot spots in Bali. Don't be surprised when you come here during the day that it's super busy. Divers from all over the island come here to dive.
It is also a good diving site for beginner divers.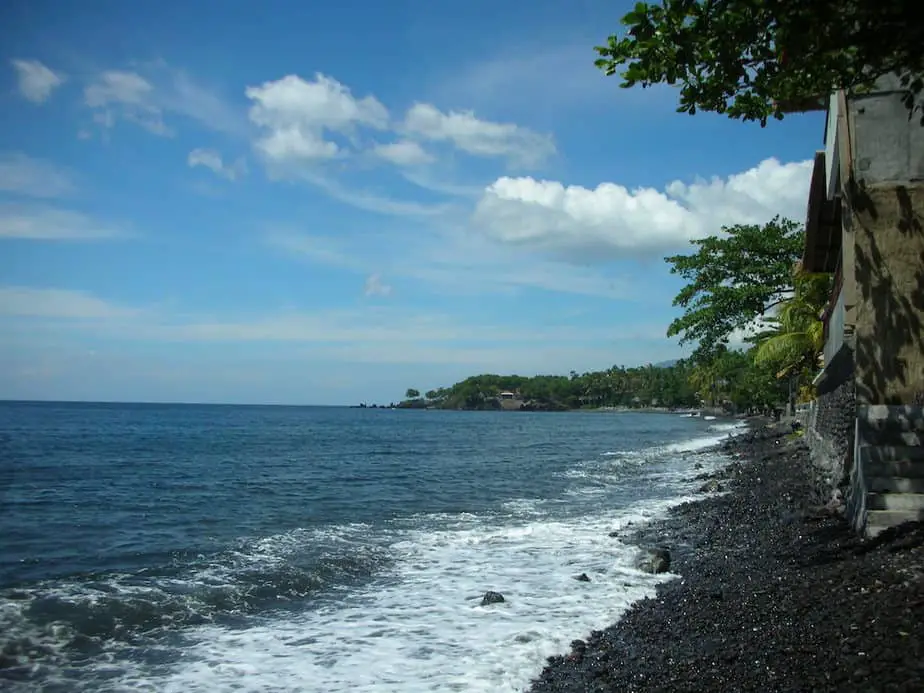 By the way, if you're thinking of staying here a couple of days we recommend travelers to stay in Amed or Candidasa. Why? Well maybe it's personal but we find the atmosphere in Amed or Candidasa a lot more pleasant than Tulamben Beach. There's more choice in hotels, restaurants, shops, etc.
Then again if you don't mind hanging around the dive resort and your main reason for staying is diving there are plenty of dive resorts in Tulamben to choose from.
 West & North Beaches In Bali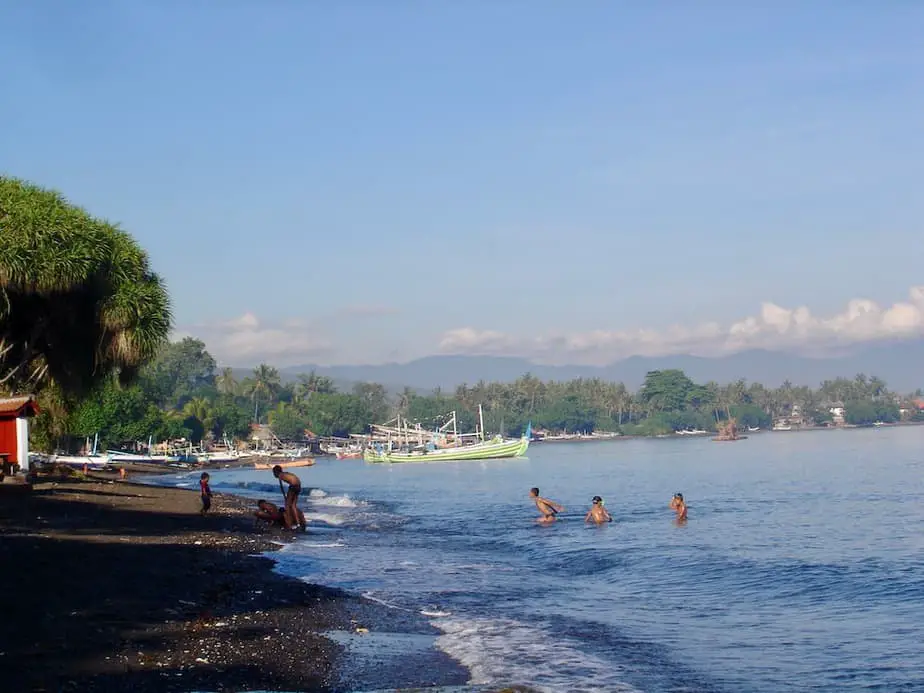 The beaches in North Bali such as Pemuteran Beach and Lovina Beach are becoming more popular. Especially among those who want to enjoy a retreat or quiet holiday in a resort.
Pemuteran Beach and Lovina Beach are particularly popular among divers too. Furthermore, the black volcanic beaches in West Bali are known for their temples and rough surf. Advanced surfers tend to roam here.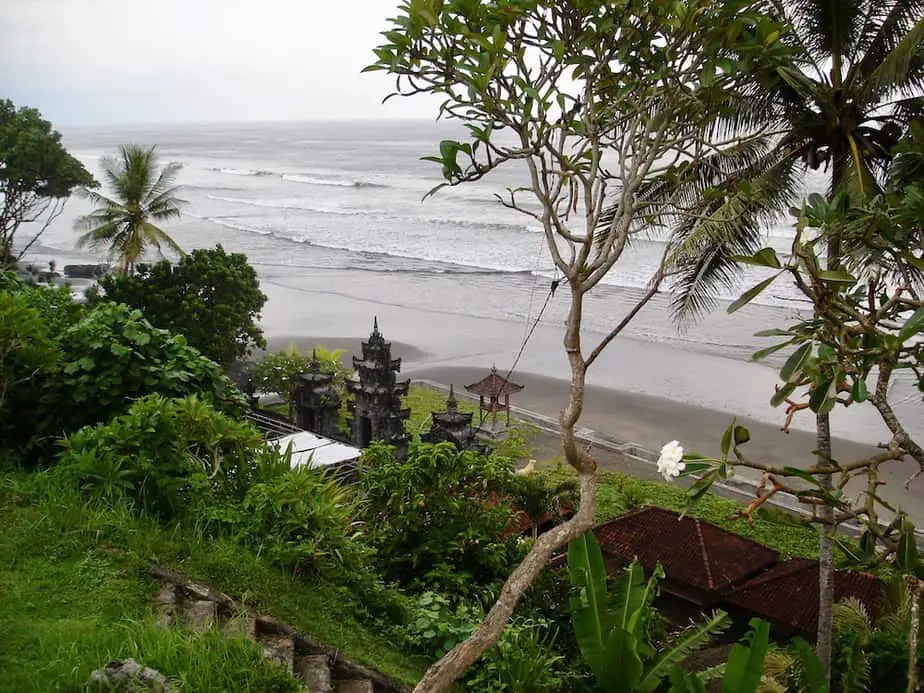 Tourism development is still slow in this part of Bali as it is pretty far from where the action is. But when you visit this area you will be treated with quiet beaches and wonderful diving opportunities.
The beaches in West and North Bali are the most deserted beaches in Bali. Don't be surprised when you've been walking along the beach for hours and you haven't seen any other tourists.
Lovina Beach
for swimmers, families, families, couples, solo travelers, beach resort, budget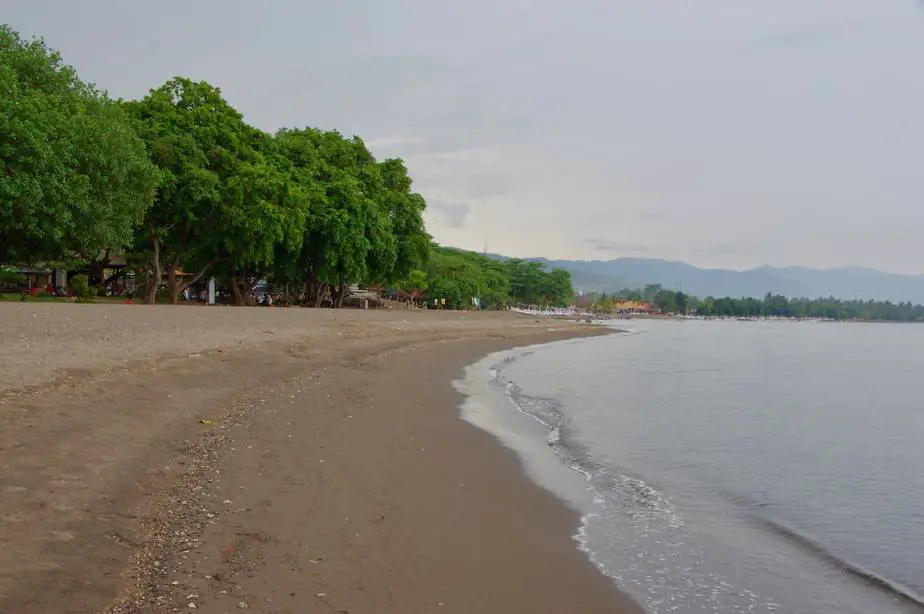 Lovina beach has a length of 8km volcanic black sand. It is a perfect place to escape the tourist outbreak in South Bali. The beach can be extremely quiet as most people go diving during the day.
It's a plus that the beaches can be deserted. The only downside is that with the low numbers of tourists, the sellers at the beach can be overwhelming. After declining the first, soon after a second lady and a third will try their chance. All very understandable but you have to be able to handle this type of 'attention'.
The ocean at Lovina Beach is as calm as a lake. There are no waves at this beach. Perfect for swimming and for kids playing in the water. The trees along the beach provide a pleasant shade in the afternoon.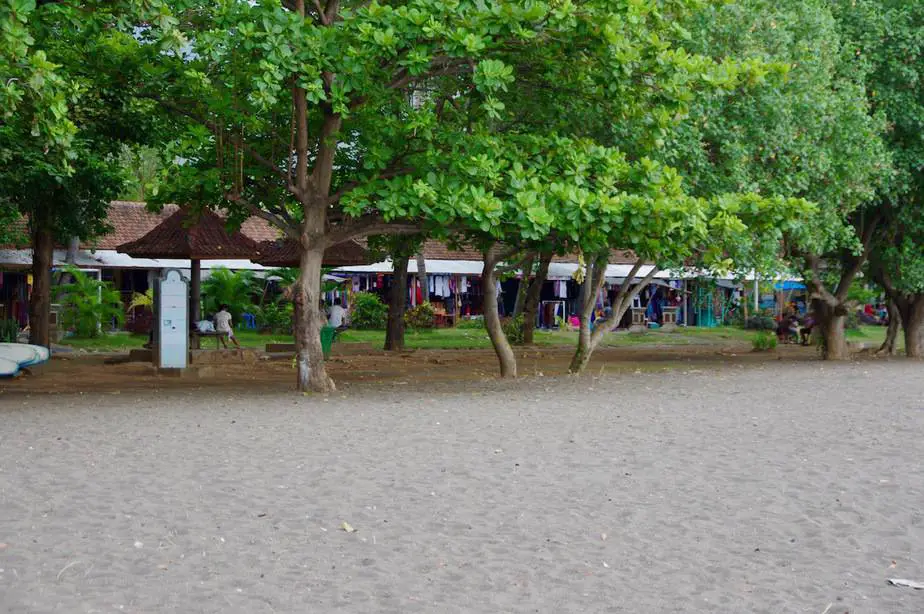 There are many shops offering snorkeling and diving trips. We went snorkeling just off the coast of Lovina Beach with one of the fishermen but were disappointed.
So we do not recommend snorkeling here. Instead, arrange a diving and/or snorkeling tour that will take you to Menjangan island.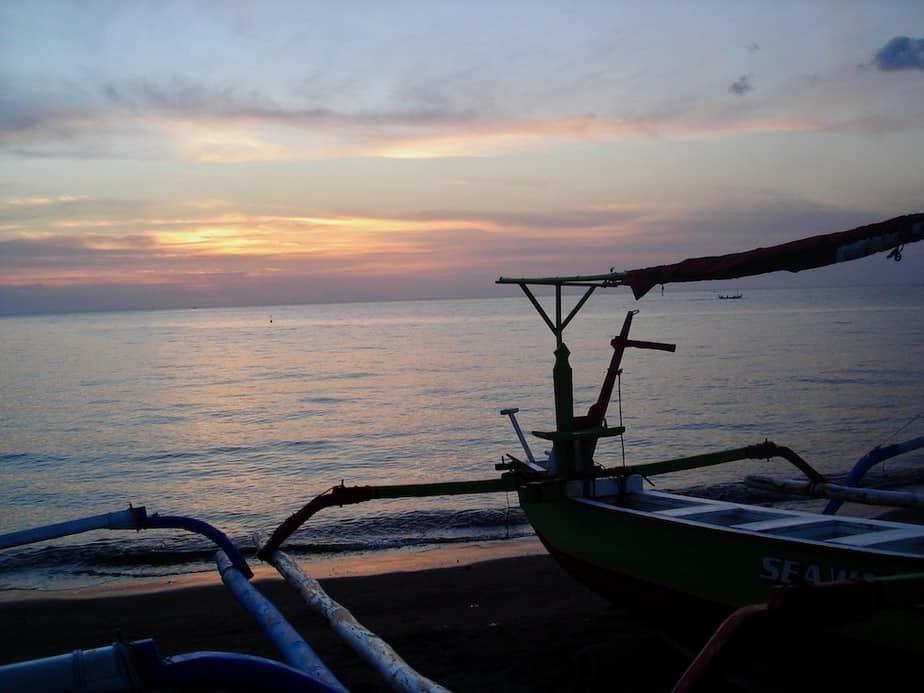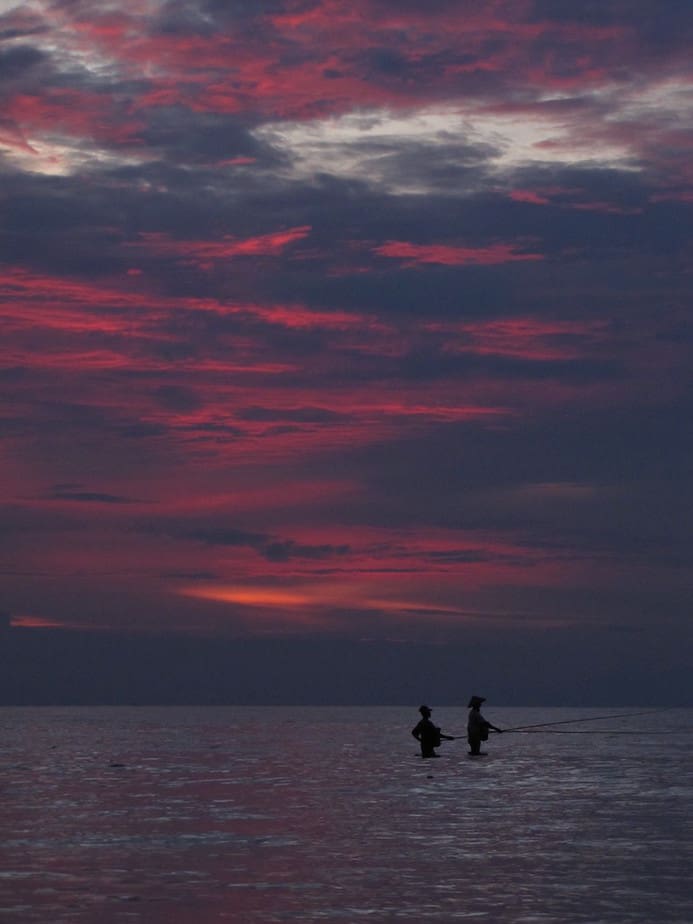 The beach at Lovina is just facing the west which provides stunning sunsets. There are a couple of restaurants at the beach so it is always nice to end your day here.
Lovina Beach became popular for its dolphin tours. The village claims that dolphin spotting is all 'controlled' but once on the water, it can get very busy. Boats chase the dolphins to guarantee a close up look. We always wonder why the dolphins return every morning to this chaotic scene.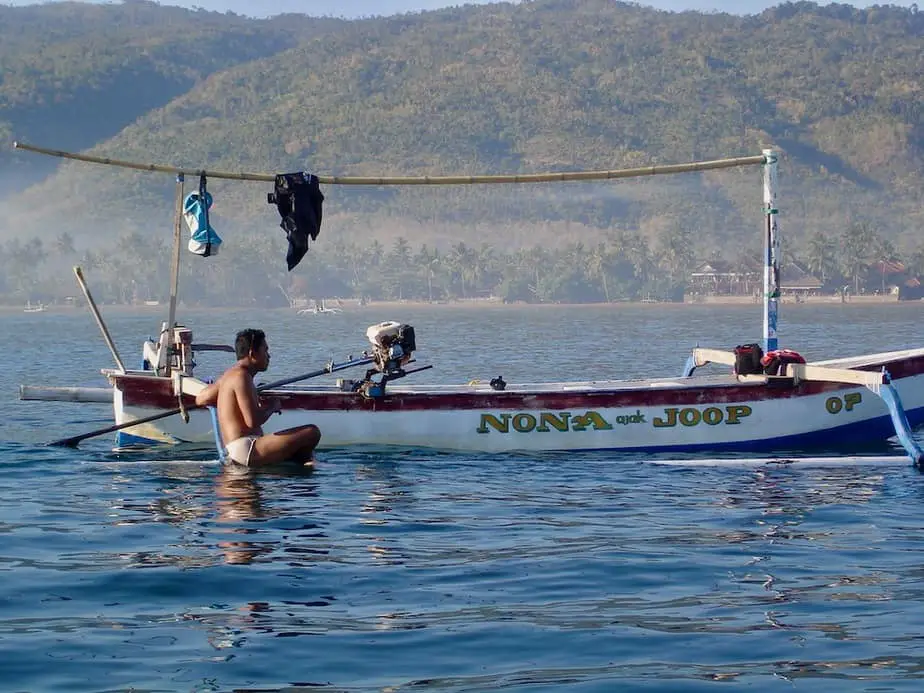 We recommend waking up early in the morning and tag along with one of the fishing boats. Not to chase the dolphins (if you happen to bump into one then that's a bonus) but to see the 'world wake up' from a boat.  Seeing the Balinese mountains through the fog from the ocean is a magical moment.
Thinking about going to Lovina Beach? Read all the ins and outs.
Pemuteran Beach
for swimmers, divers, couples, families, beach resorts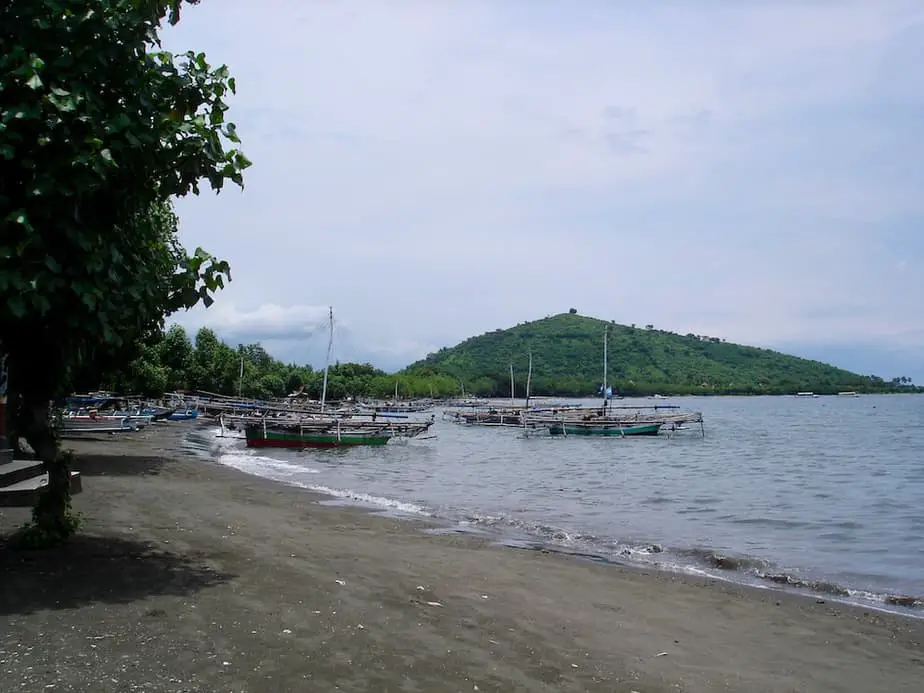 On the north coast of Bali, you can find Pemuteran village with its beach resorts and quiet beaches.
Since the water is very calm and the underwater world still very good, these beaches are mostly used for snorkeling and scuba diving.
From most of the resorts' beaches, the underwater world is just a stone throw away so you will often see people walking into the water carrying all their diving gear.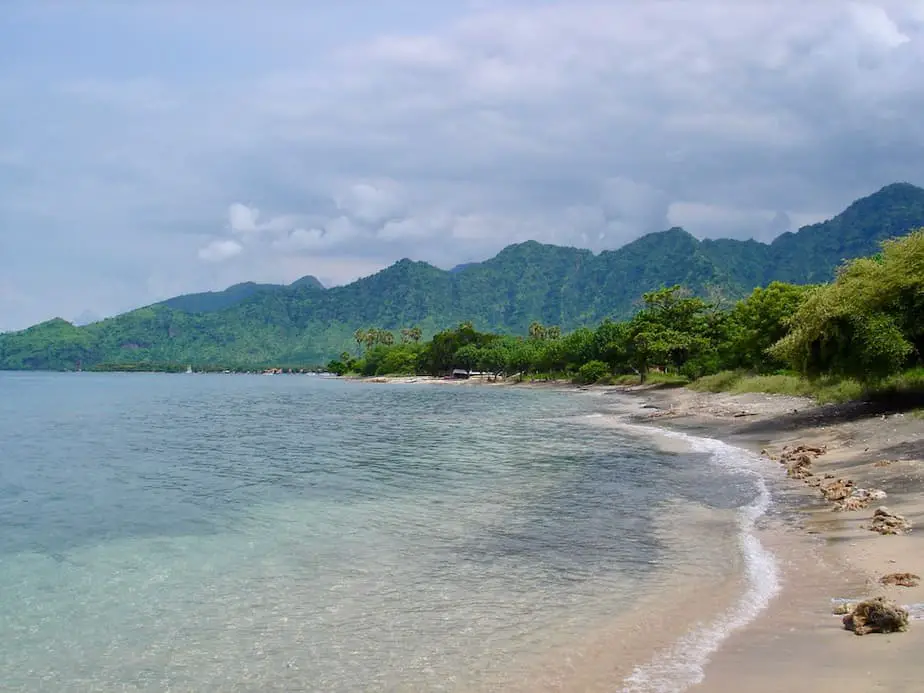 Pemuteran village doesn't attract a lot of visitors. Maybe because it is located in the far north, or maybe because Lovina beach is just around the corner and is more known among travelers.
Whatever the reason, we love staying at Pemuteran Beach a couple of days. The water is wonderful for swimming and the beaches are clean. During the wet season, there was hardly anybody which was a relief after visiting other popular beaches in Bali.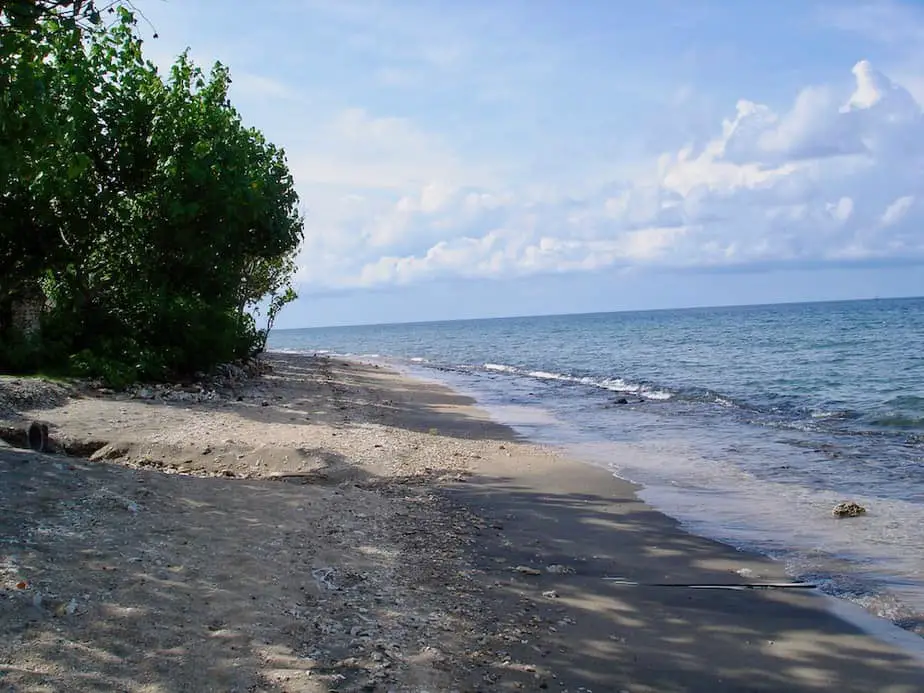 The great thing about Pemuteran Beach is that the local community is also very concerned about the environment. This is one of the few beaches where local people are actively involved in coral conservation. And with success.
Together with the Biorock Coral Reef Nursery and Restoration Project, coral nurseries are created to resolve the destruction of important fisheries and to stimulate eco-tourism.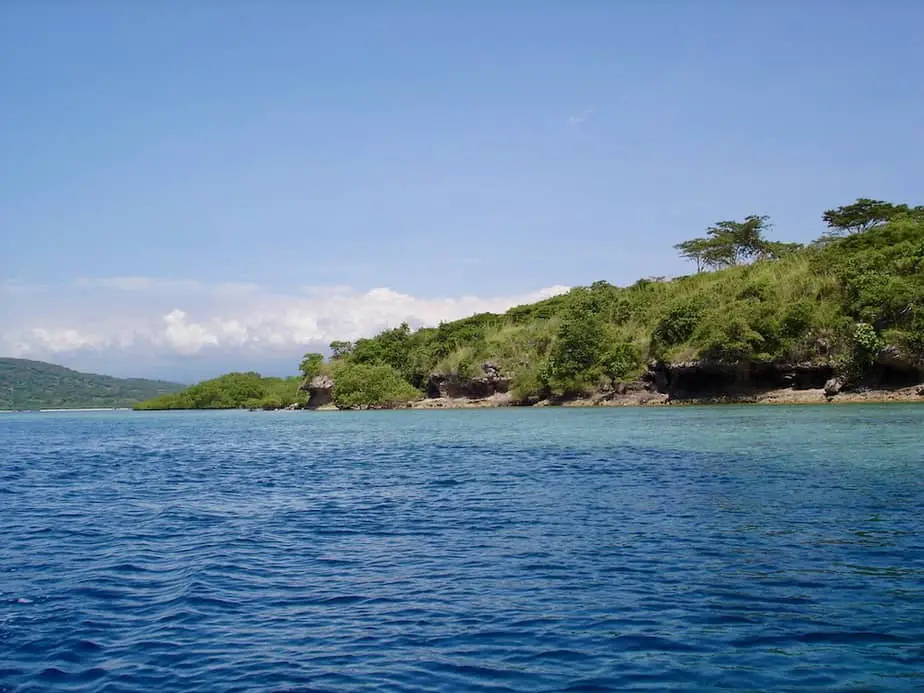 Another great thing about Pemuteran beach is that it is located near West Bali National Park. Here you can find Menjangan Island which is famous for its stunning coral walls. Great for diving and snorkeling.
Medewi Beach
for surfers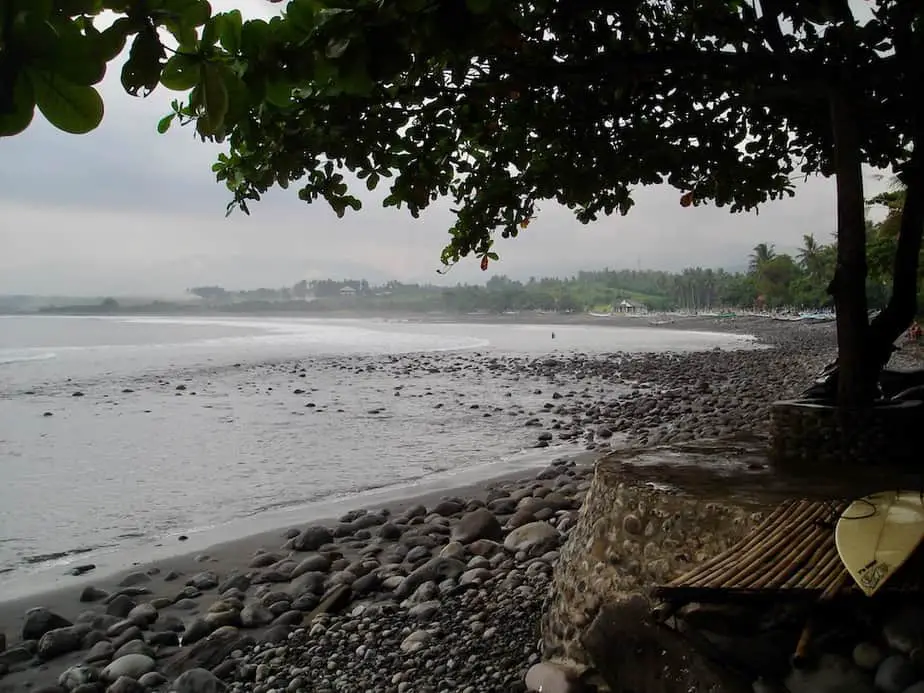 With its rocky beach, Medewi is probably the least attractive compared to the other west Bali beaches. People come here for only one thing and that's surfing.
We arrived at Medewi Beach late in the afternoon. At that time there was a small crowd of spectators eating mie-kuah (noodle soup) from a warung nearby while watching a couple of surfers catching waves.
Despite its low-key atmosphere, this beach has the longest point break in Bali. It is known for its long left-hand wave that offers rides around 200-400 meters long. So it's kind of a surprise that there isn't a steady stream of surfers coming here all day long.
There are a couple of accommodations along the west coastal road leading to the beach. Starting first with small homestays and ending right at the beach with the huge Medewi Beach Cottages which is badly in need of a facelift.
Medewi Beach is a perfect escape from other surf beaches in the south. It's a long trip to get here, but if you have the time it's a great place to surf while hanging out with local surf dudes.
Balian Beach
for surfers, solo travelers, budget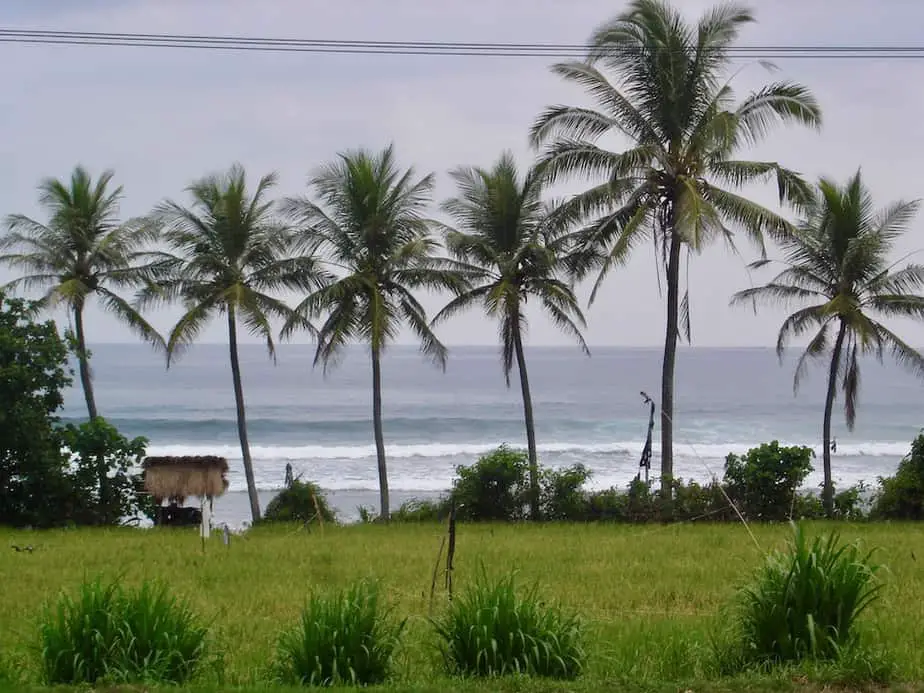 Balian Beach is a hidden treasure if you are looking for a place to leave the busy south behind. Here you can catch some waves, have a BBQ when the sun goes down, and chill at those low-key restaurants lining the beach.
The great thing about this beach is that the Balinese village is located nearby. You actually feel like you are in Bali, unlike many other beaches. If the beach was located more towards the south then I think it would have already looked like Canggu.
Nonetheless, there are developments going on here too. Nowadays there is a lot of accommodation to choose from ranging from luxurious villas owned by Russians to cheaper bungalows owned by local Balinese.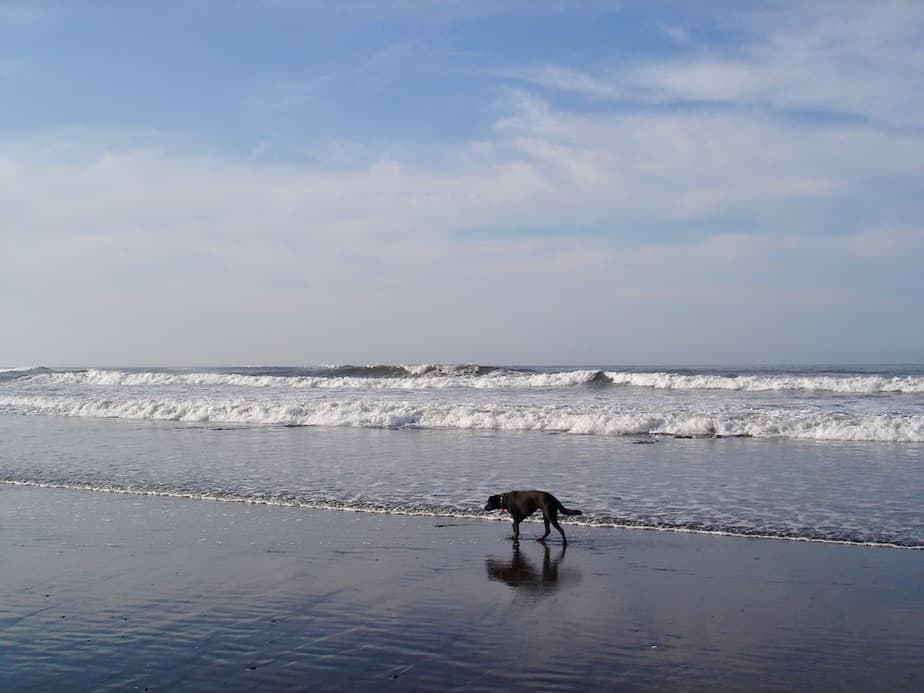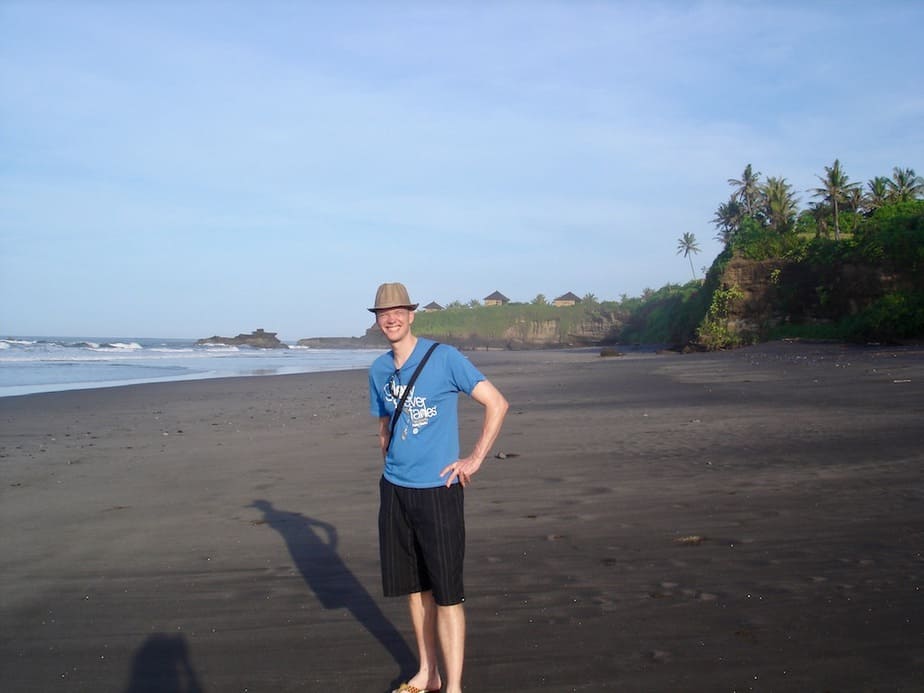 The beach is a good surf spot for intermediate and advanced surfers. There are left and right breaks at the river mouth. They say that if Kuta beach is having a 1m or 2m swell, then at Balian it is 3m or 4m.
Those who don't surf can go exploring along the long and wide beach. The rocky beach front gives you the chance to find little caves, tunnels, and small bays. This is the place to have the secluded little beach all to yourself.
Balian Beach is definitely worth a visit and if you go, you should spend one night (or more) to experience it to the fullest.
Soka Beach
for explorers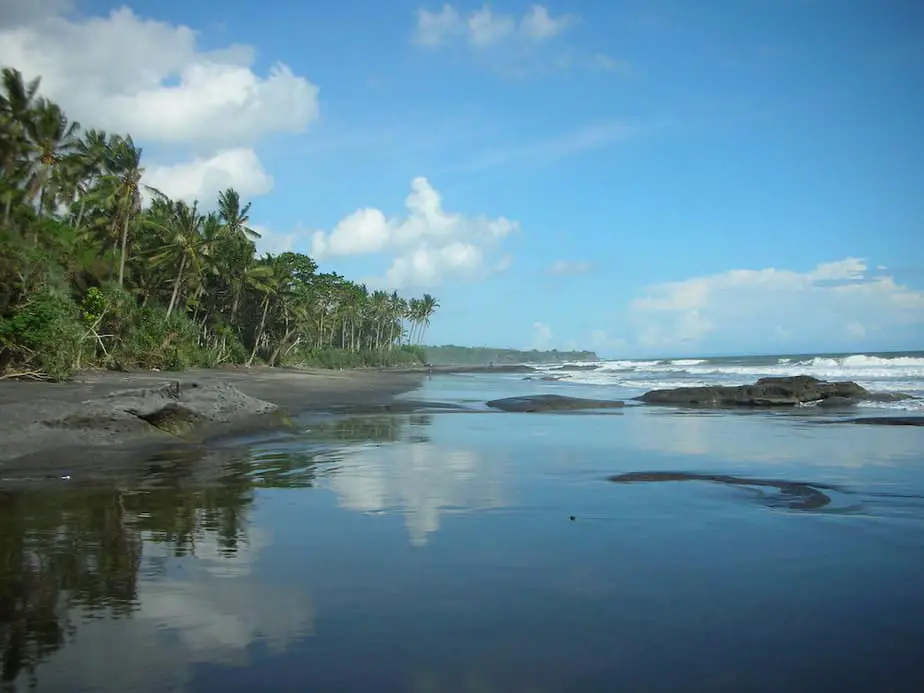 Soka beach isn't a beach you should spend a day at. Yet the setting is really beautiful so it is worth the stop if you are touring along the west coast. The beach has black sand and looks gorgeous with a long row of palm trees. Swimming isn't recommended.
There is a huge restaurant located a the beach. A lot of cars and buses from Java make a stop here to have lunch or dinner.
If you don't need a drink or food but want to see the beach, don't enter the restaurant premises. You will need to pay an entrance fee and you don't even have full access to the beach.
Instead, drive about 50m further south where you will find a great stretch of beach. Turn right on the first road you see after passing the restaurant. The road looks pretty steep but is accessible by motorbike.
Beaches On Nusa Lembongan
for sunbathers, divers, snorkelers, swimmers, surfers, couples, solo travelers, explorers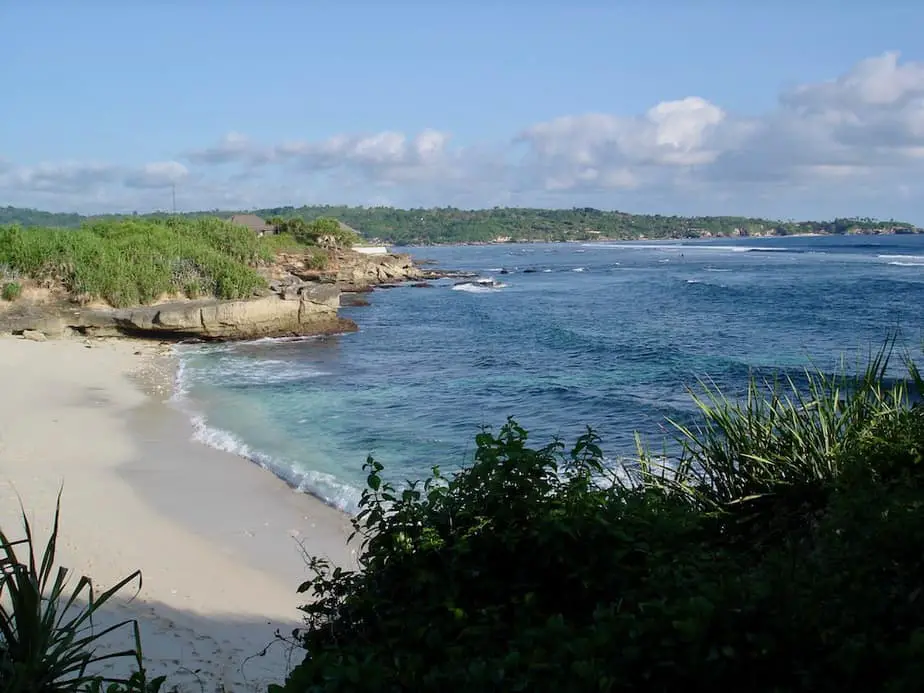 Initially, the beaches at Nusa Lembongan island were only popular among surfers. Today any type of traveler will enjoy Nusa Lembongan. Besides surfing, snorkeling, and diving, the beaches are inviting for those who just want to relax and enjoy a quiet beach.
Most of the Nusa Lembongan beaches have calm waters so you can easily go for a swim. However, there are a few beaches where the current is strong so be careful.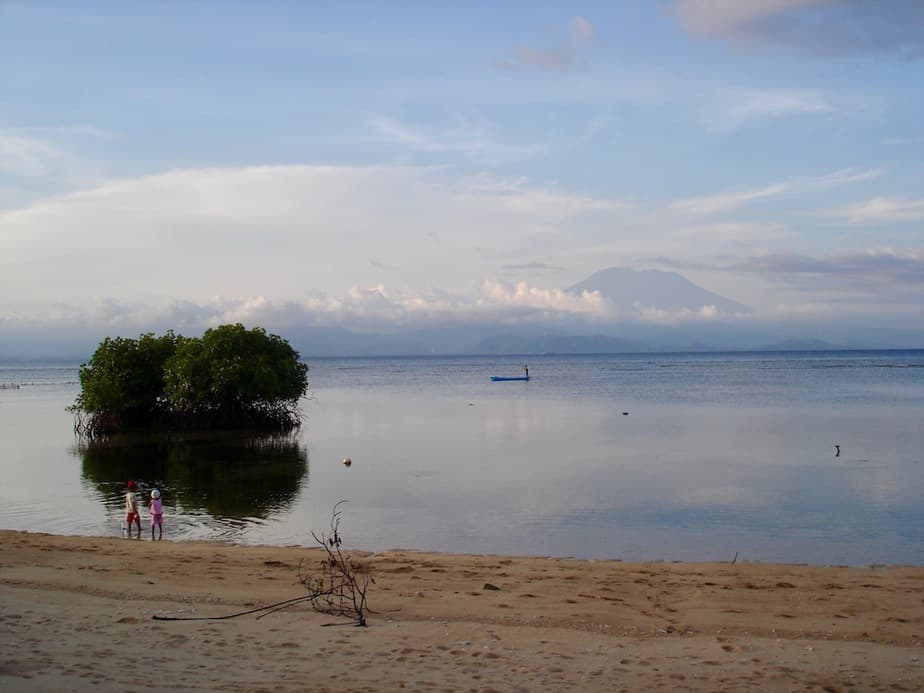 Over the years Nusa Lembongan has seen a lot of tourism development. What was once a pretty low budget destination has now turned into one with a large choice of luxurious beach resorts.
While the development continues, seaweed harvesting still dominates the coast. Hopefully, the incentives for this form of farming will remain attractive so the local people can combine this with responsible tourism.
Luckily you need to get a ferry to reach the island, so you need to take some effort to get there. Additionally, only motorbikes are allowed on the island. So traffic jams are definitely out of the question here.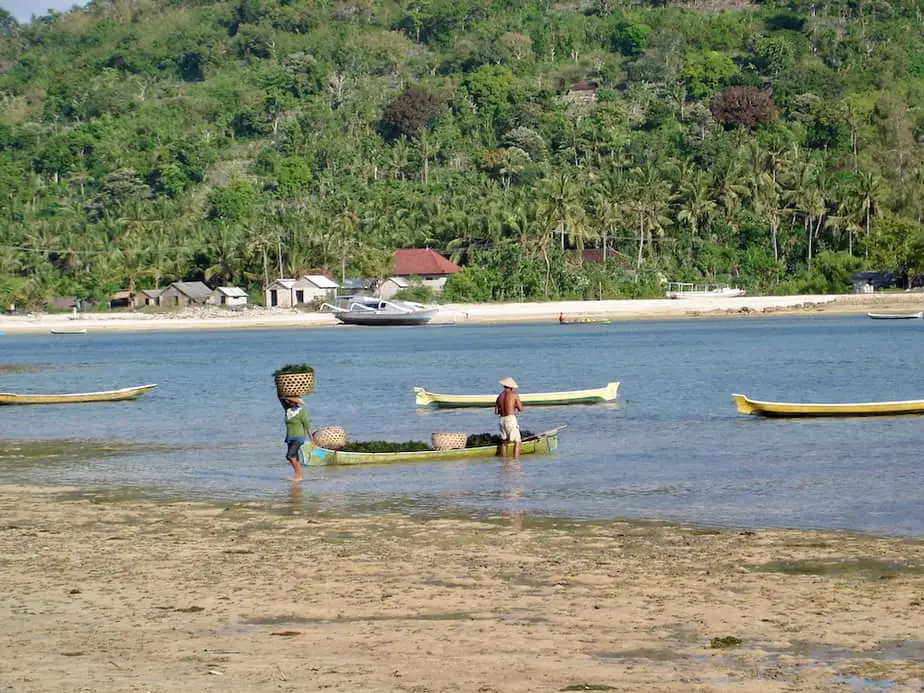 Instead, the small streets are a perfect way to explore the island and discover your own favorite Nusa Lembongan beach. The diversity of beaches at Nusa Lembongan makes it perfect to spend a couple of days.
You'll also still see the local Balinese at the beaches harvesting seaweed, especially towards the end of the afternoon.
Beaches On The Gilis
for sunbathers, swimmers, divers, snorkeler, couples, families, solo traveler, secluded, budget, beach resorts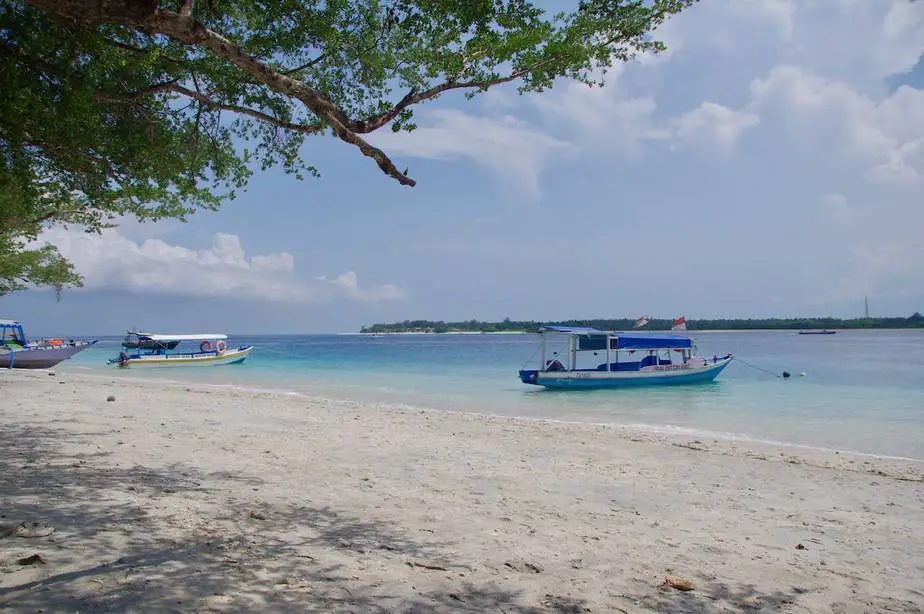 Technically speaking these islands don't officially belong to Bali, as the Gilis are part of Lombok. However, they are easy to reach by fast-boat from Sanur Beach. Plus the beaches are gorgeous and a shame to miss out on.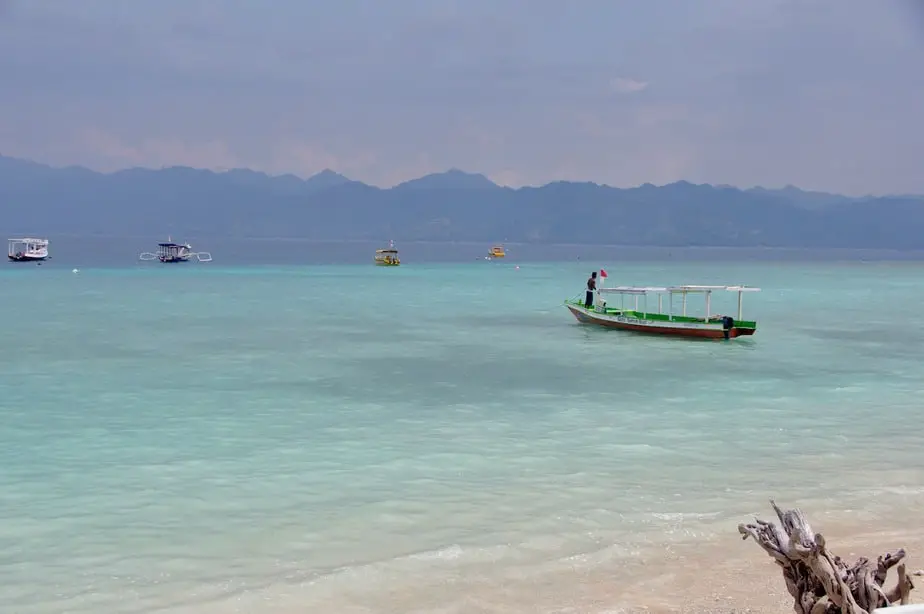 The three Gili islands offer stunning white beaches with palm trees and clear waters. You can go swimming and snorkeling almost everywhere on the islands.
Cars and motorbikes are prohibited on these islands creating a very relaxing atmosphere. You will also find plenty of beach restaurants and accommodation options.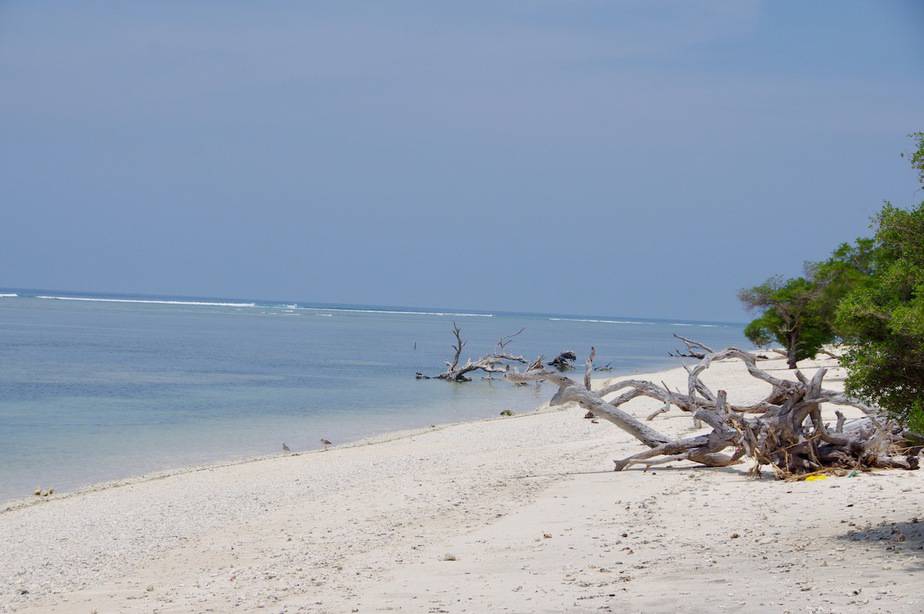 Gili Trawangan is the busiest island of the three. But if you hop on the bike and head to the other side of the island you will have large stretches of beach all to yourself. It's pretty amazing. Bring enough water and food with you if you want to spend the whole day exploring.
Unlike Bali, some parts of these beaches don't have sweet ladies with a coolbox full of drinks and snacks.
If you feel like going for a tropical beach holiday, read more on the Gili islands.
How To Plan Your Visit To The Beaches In Bali?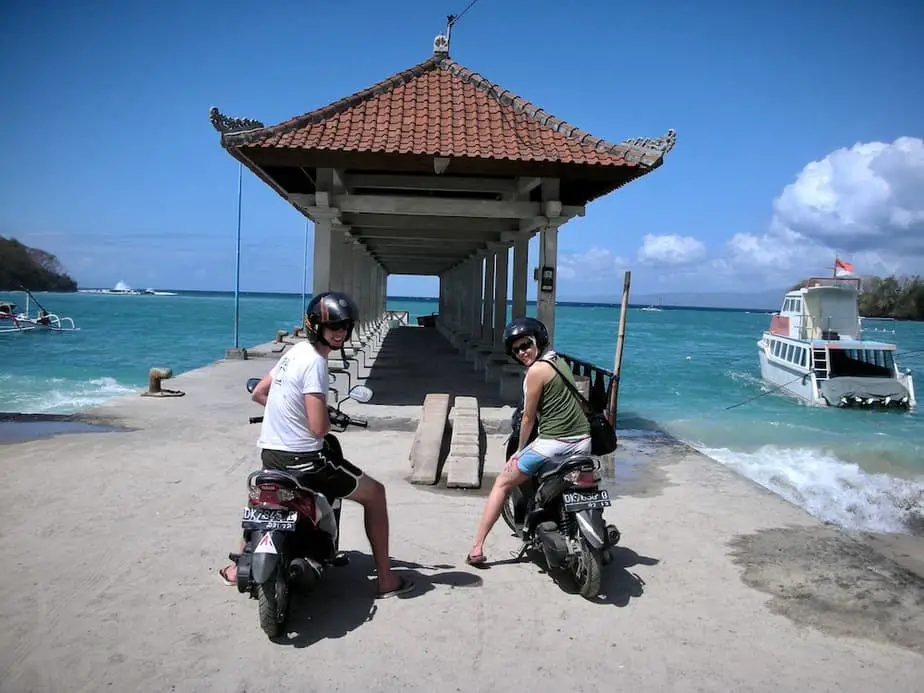 We understand that this long list of the beaches in Bali can be daunting. Don't set a goal to see as many as possible, yet try to enjoy a few beaches to the fullest.
We usually travel around Bali instead of going on day tours. This makes it easier to explore various parts of the island without wasting time in a car and in traffic too much.
Travel time is at a minimum plus you will experience the diversity of the island much more.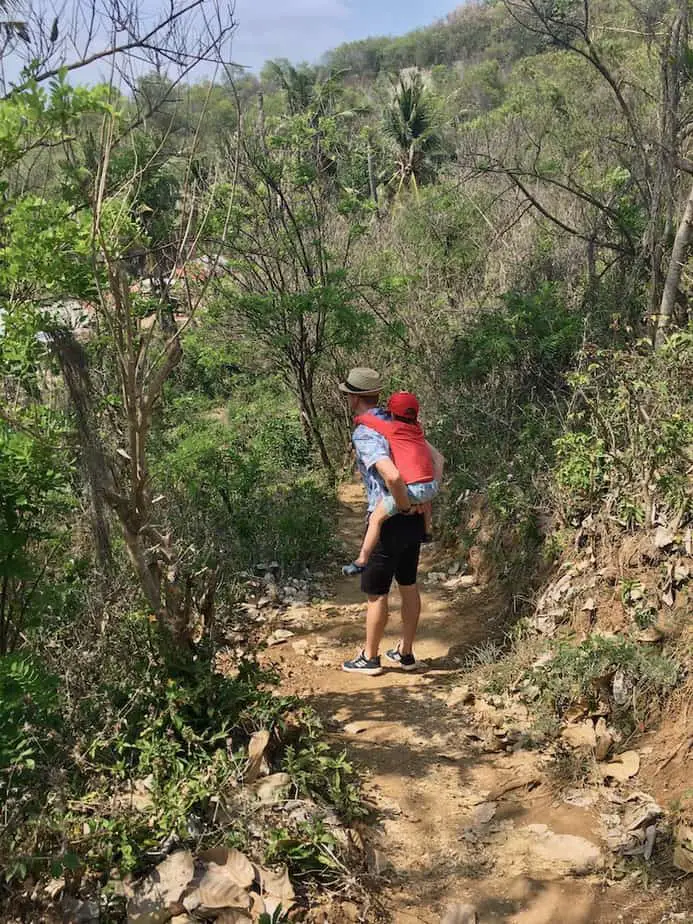 Here is one quick example of one of the many beach holidays itineraries you can make. Let's say you have 10 days then you can start off by staying at Sanur Beach, from where you can visit Ubud in a day.
Then continue to the east and stay in beach villages such as Padangbai or Candidasa. From there you can enjoy other beaches too such as Bias Tugel and Pasir Putih.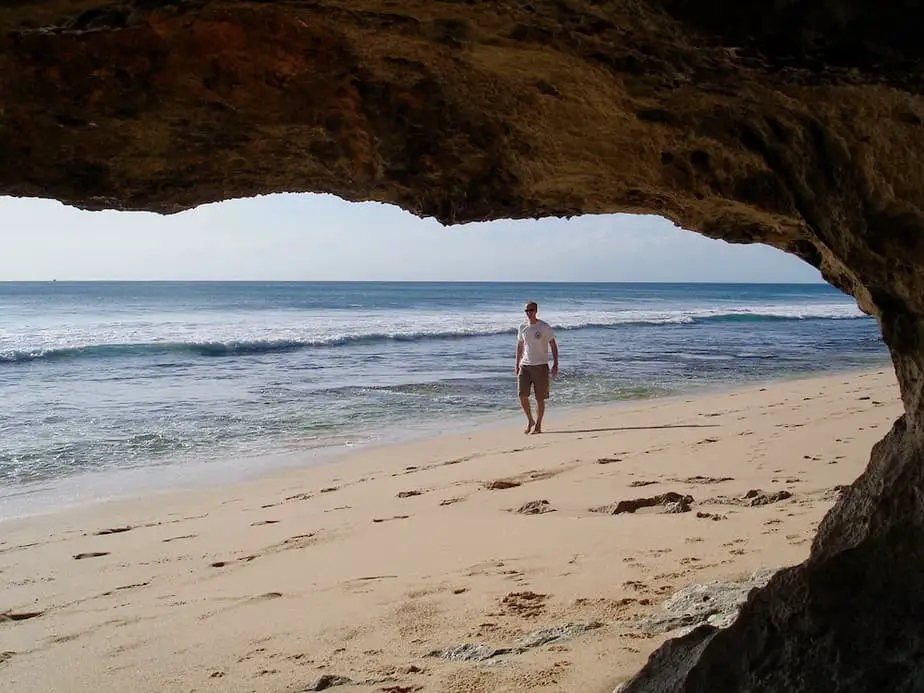 After a couple of days end your beach holiday in Jimbaran Beach or Balangan Beach from where you can easily visit one of the many Bukit beaches in a day.
The beaches in this itinerary are not only diverse but from these villages, you are able to do day trips inland as well. In a short time, you will experience a lot of Bali and will probably return soon again for more.