If you would ask what our favorite place would be in Bali, it would definitely be Sidemen. And we are not the only ones. In the past, many famous painters such as Walter Spies and artists such as David Bowie stayed in the Sidemen area to capture the beauty of this area.
Despite the overdevelopment on the island this unique area in east Bali still seems slightly unchanged. Life here is amazingly beautiful to see.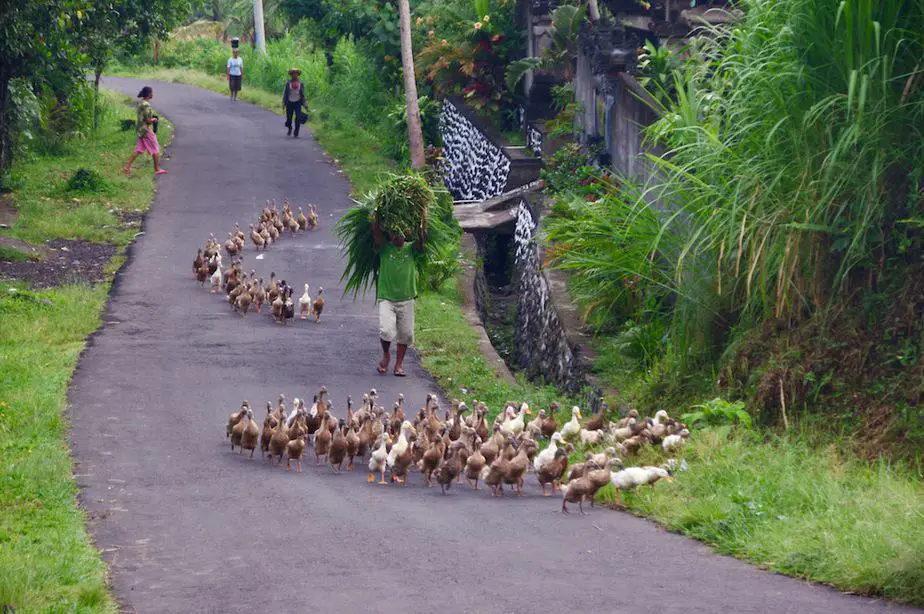 What is Sidemen Bali like?
In the Sidemen valley, small villages are surrounded by lush rice fields and agricultural land. You can still witness how people tend their fields, conduct ceremonies, and head to the river for a bath. All under the watchful eye of the impressive and sacred Mount Agung.
Unlike other destinations Sidemen isn't a sight or a place you can drive through and say 'I have been to Sidemen'. The fields and villages are connected by little trails. So if you stick to the main road you will pass Sidemen without realizing it.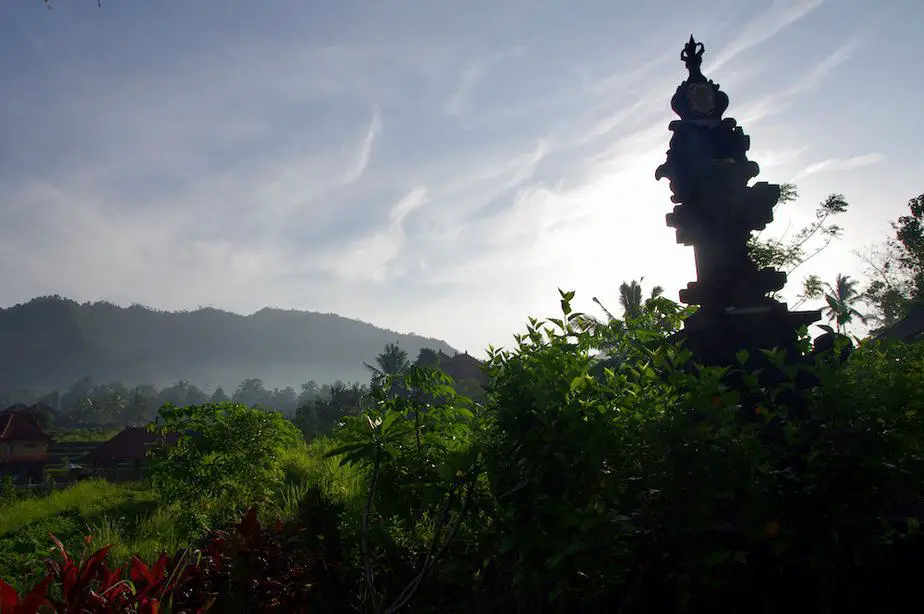 Sidemen is a place where you have to take the time to discover. Take it slow and only then will you see things such as a Balinese farmer guiding his flock of ducks, a Balinese man carrying offerings to the nearby temple, and children walking hand in hand from school.
So to fully appreciate Sidemen you should at least spend a couple of days there. Once there I bet you wished you booked more than just a couple.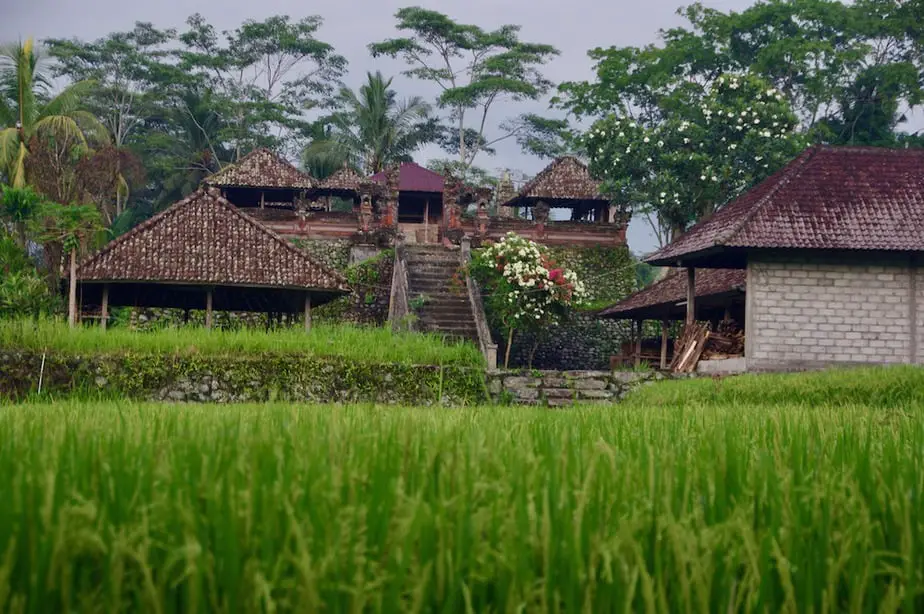 Is Sidemen worth visiting?
Oh yes!!!! Anybody who wants to experience the rural life of Bali must spend a couple of days here. There are hiking trails and paths through the rice fields, mountains, the valleys of the Unda river, and past many coffee and cocoa plantations that dominate this area.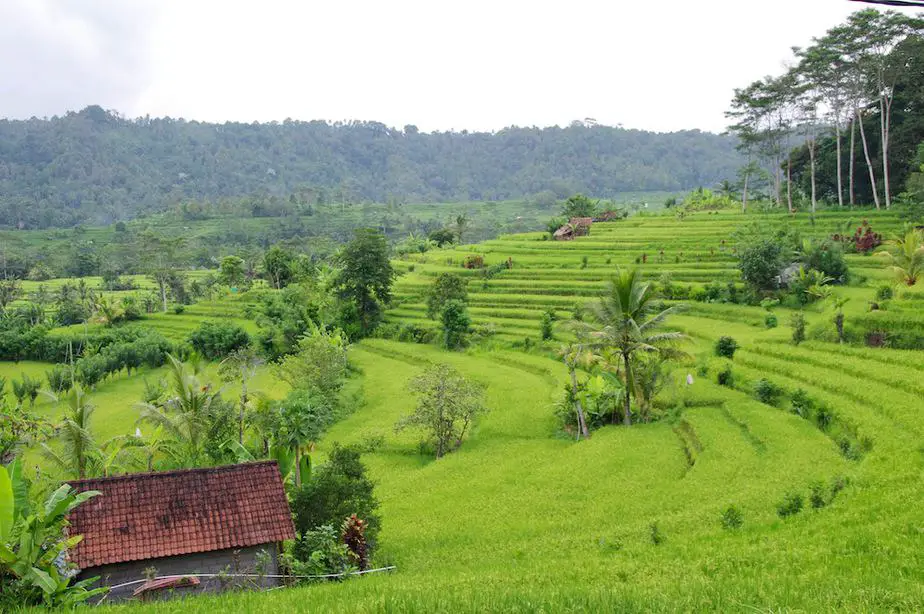 Sidemen is an ideal place to start organizing a hike to the summit of the volcano Agung. But it's also a great starting point for day trips to other cultural sights in East Bali.
But even if you don't want to do all kinds of stuff,  Sidemen is a great escape from everyday life. The quiet and calm atmosphere is soothing and probably even healing for some. You don't have to feel guilty about not doing much.
Just being surrounded by rice fields, hearing the frogs croak,  feeling the fresh air in the early morning and seeing Gunung Agung reappear from behind the clouds is what made us fall in love with this village.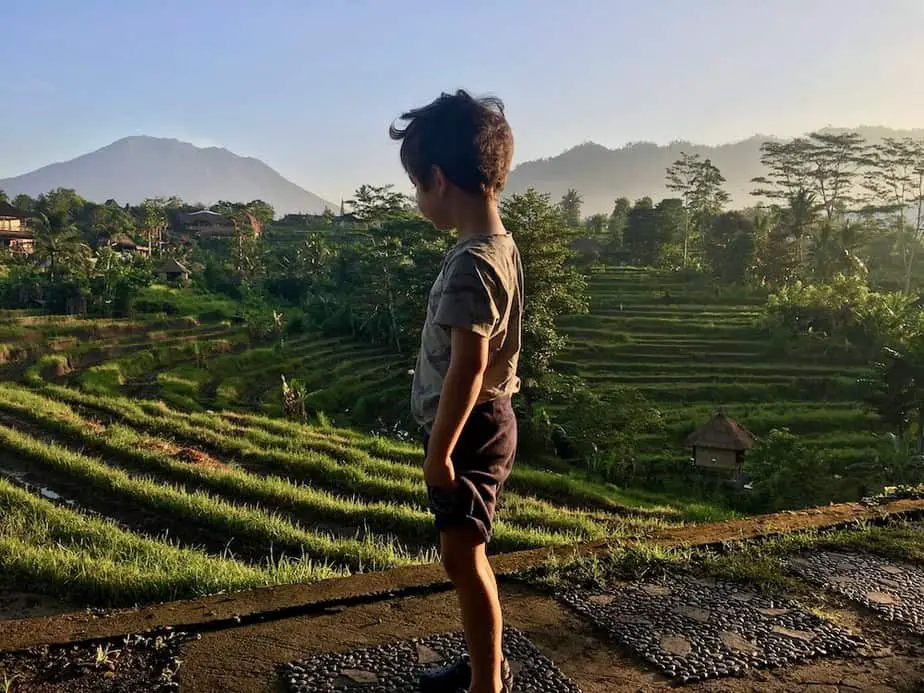 Even children will enjoy Sidemen. Our son of 4 always woke up at 6 in the morning. So just before breakfast, we would go for a stroll and discover little things: wandering along little paths, watching people place offerings, and farmers tending the fields.
While our son is a bit too young to go hiking, we did see several families do so with kids from 7 years and up.
Practical Information on Sidemen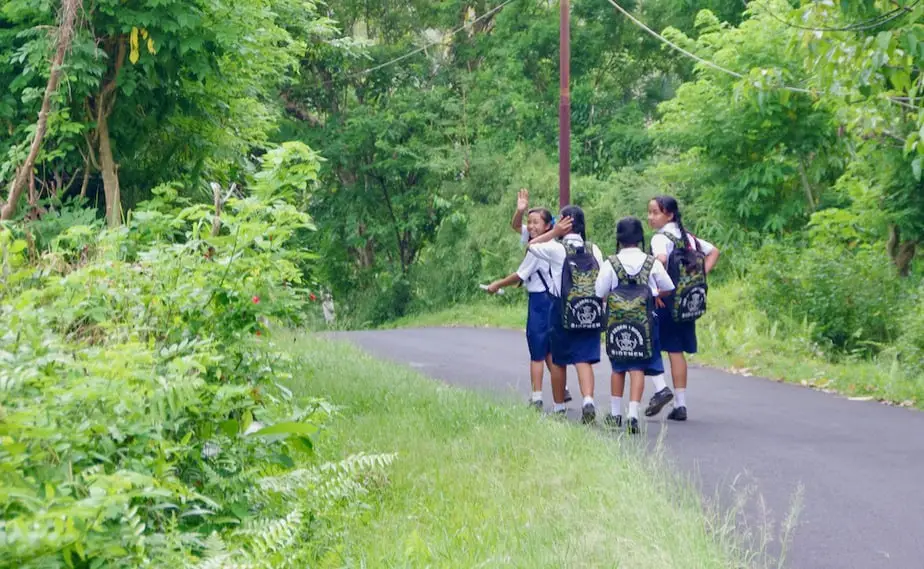 Sidemen (pronounced as 'see-de-men' and not 'side-men') is located in East Bali in the Karangasem regency. Despite its easy accessibility, the area isn't booming yet. Obviously there has been some development going on, especially in the numbers of accommodation.
However, don't expect a busy shopping street or a large selection of upscale restaurants. As for supermarkets, there are a few convenient stores located along the main road. Here you can find an ATM too. But to avoid any hassle, make sure you bring enough cash with you.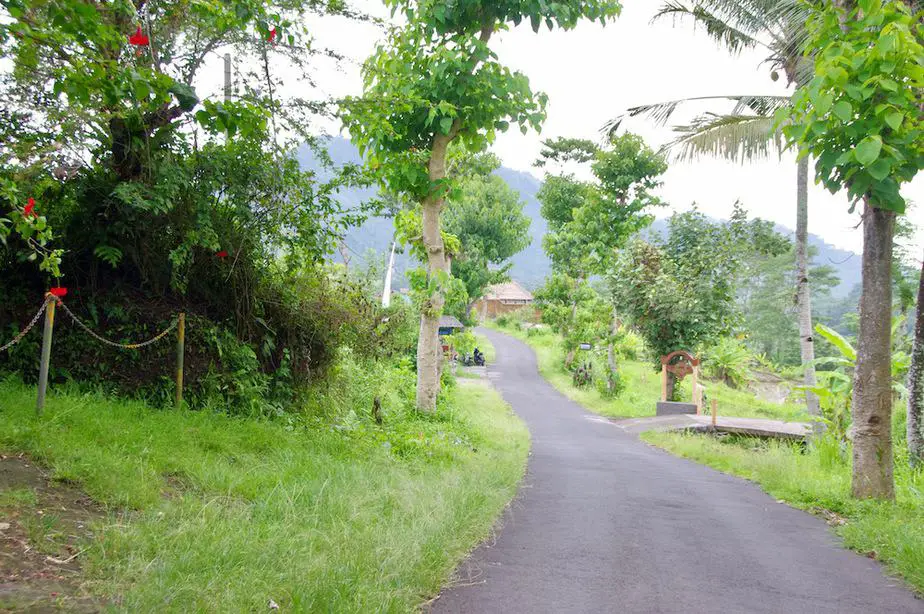 Most of the tourist 'action' takes place around the little Tabola village. This village is found along a side street of Sidemen's main road.  Another area in Sidemen where an increasing number of restaurants and accommodations are found is Sangkan Gunung.
How to get to Sidemen Bali?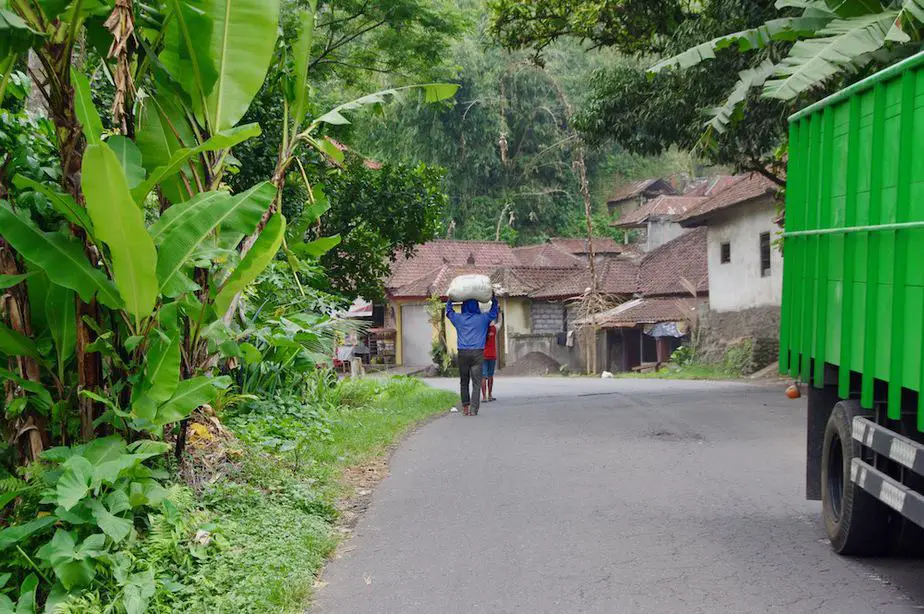 Sidemen valley is only a 1-hour drive from Ubud. Depending on the traffic it will take you 2 hours to get from Sanur to Sidemen, while Padangbai is only a 45 minutes drive away.
When driving from the south part of Bali, the drive to Sidemen can be done as a short day trip with optional stops at Besakih, Rendang, and Klungkung.
The quickest way to reach Sidemen is to drive through Klungkung. From there take the road to Sidemen. If you are arriving from the east then follow the signs to Selat and Besakih and then take the turn to Putung.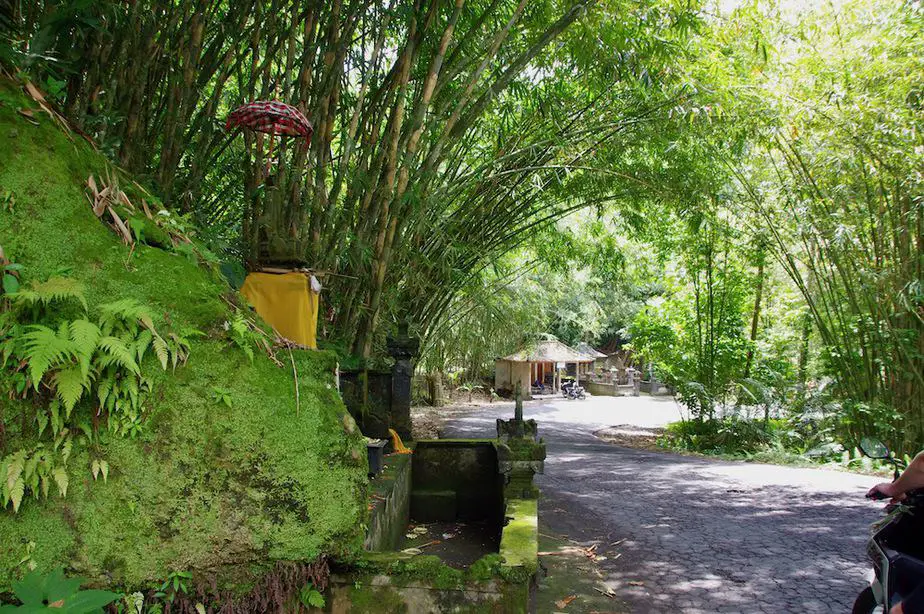 The road to Sidemen is pretty straight forward and with Google Maps you will find yourself there without getting lost once.
How Is The Weather In Sidemen?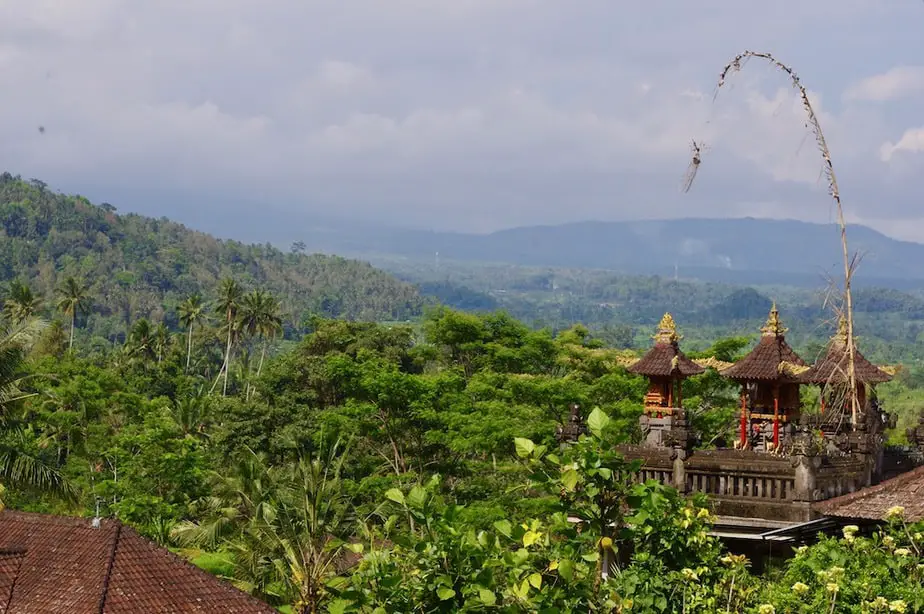 Sidemen has a tropical climate with an average temperature of 24 Degrees Celcius. The lush green and mountainous landscape comes with more rain than other parts of Bali, even in the dry season.
The driest month in Sidemen is August. Most of the rainfall occurs in December, January, and February. If you plan to go during the rainy season then you might need to have a flexible itinerary when heading that way.
While it can get pretty hot during the day, there are moments when the clouds set in especially in the morning and late afternoon. This makes it the best time to do stuff without feeling the sizzling heat.
At night and in the early morning it can get really chilly so it is also good to bring a sweater.
Safety and Precautions
Since Bali is a pretty safe place to travel it might feel unnecessary to ask yourself: 'Is Sidemen safe?'
However, these past three years have proven that it can be slightly tricky when visiting Sidemen considering it is located nearby Gunung Agung.
Gunung Agung is an active volcano and in 2017, 2018 and 2019 it has erupted several times forcing people to evacuate. Sidemen wasn't considered to be in the danger zone, yet it was covered in ash.
A chance of a volcano erupting is of course not something that should prevent you from visiting this area since Gunung Agung's activity is monitored.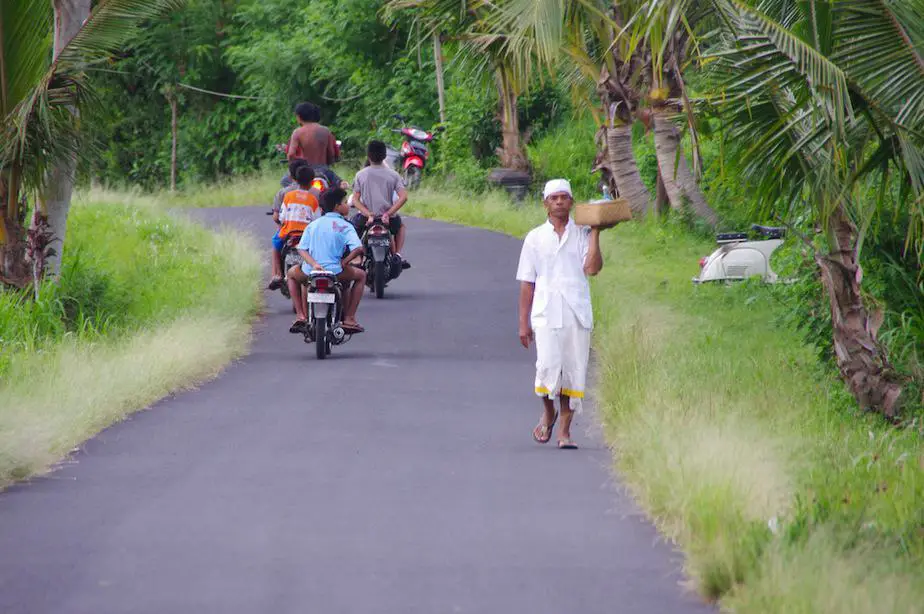 Twisting and turning roads, together with no streetlights make walking in the dark pretty dangerous.
Another thing you might take into consideration is that it gets pitch dark along smaller roads. So if you plan to walk from a restaurant back to your accommodation make sure you bring a flashlight. This to prevent wandering into a ditch but also for cars and motorbikes to see you.
The roads in Sidemen have a lot of turns. A motorbike might not have enough time to avoid you in the dark.
Other than that, like any destination, you should take the regular necessary precautions when traveling.
Getting around Sidemen Bali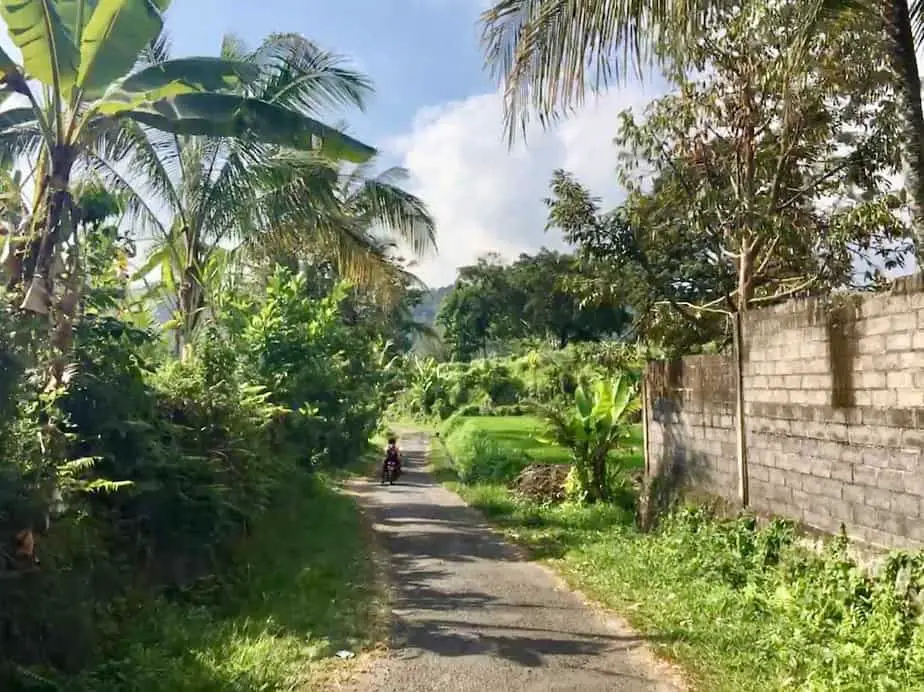 The Sidemen valley is big so to be able to see stuff you need to have wheels. There is no doubt about it.
The main road to Sidemen can get busy with trucks carrying rocks for the many constructions on the island. So try to be patient when taking this road. The smaller side streets are more narrow but it is still very quiet in the valley, making it perfect to tour around.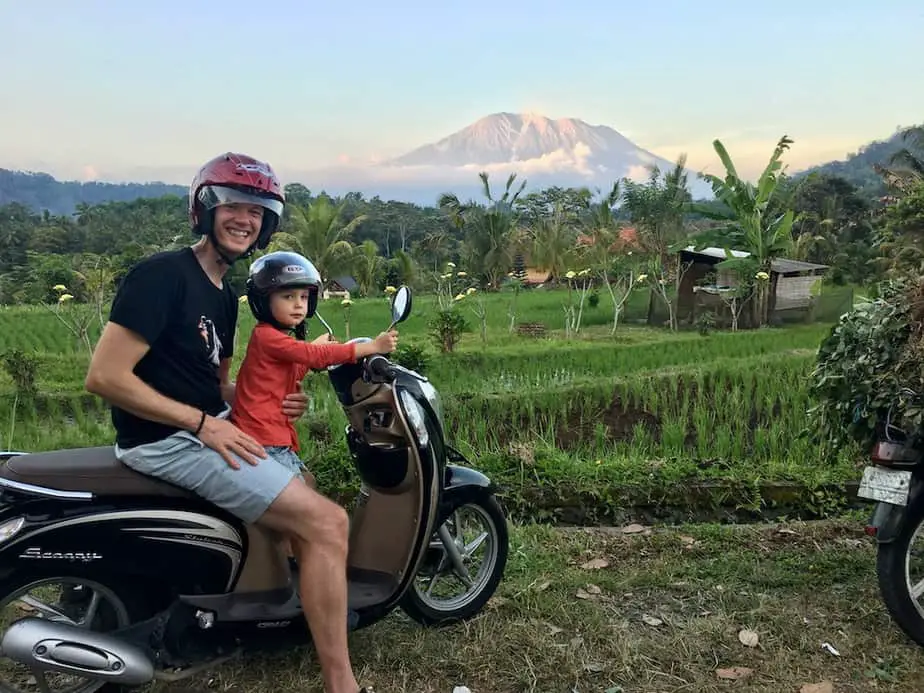 Like most places in Bali, we think the best option is the motorbike. The motorbike can take you a bit further than a bicycle.
With the steep hills, moving around on a bicycle can be very challenging. Then again we did see many cyclists and watched in awe as they managed to reach the top.
Another option is to travel by car. But we definitely do not recommend it. You will miss half of what makes Sidemen amazing. You can't see anything, except for the road ahead of you. Plus you are not likely to stop if you see something interesting.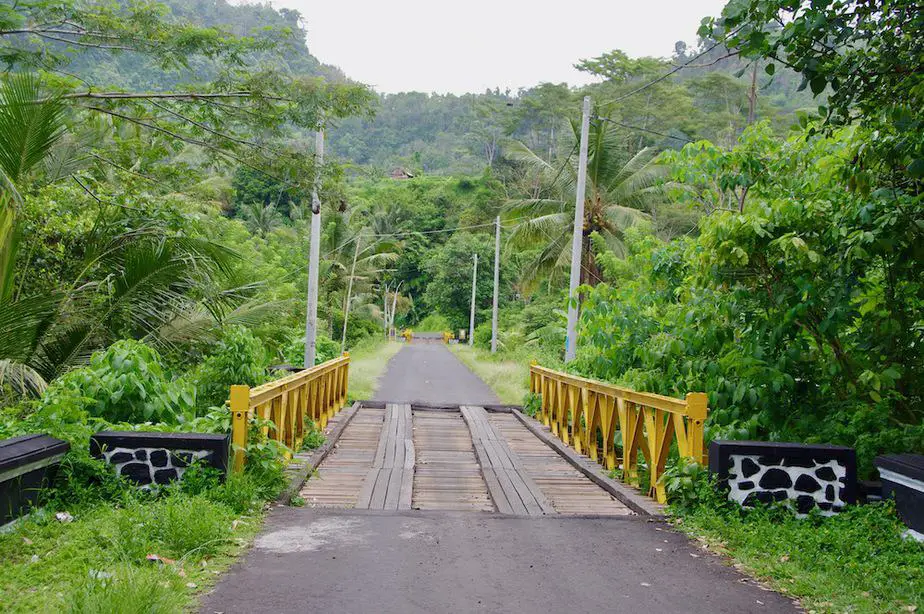 So just arrange a driver to drop you off at Sidemen or leave your rented car behind at your accommodation and swap it for a two-wheeled option.
You can easily arrange a motorbike at your accommodation for around Rp.75000 a day.
Things To Do In Sidemen Bali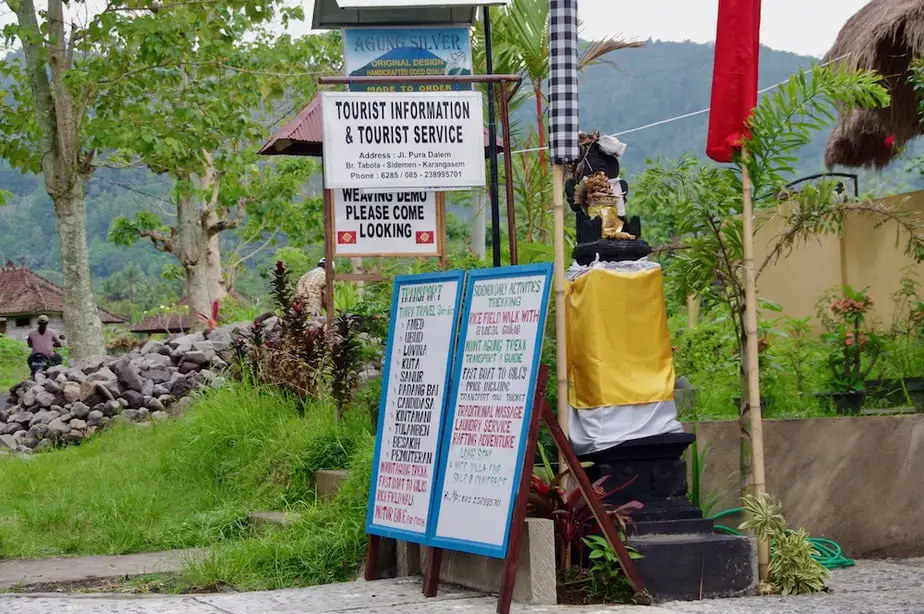 Sidemen's rice fields provide beautiful hiking possibilities. Not surprisingly hiking is pretty much the main activity in this area. But there is more to this green village, making it pretty easy to spend a couple of days.
In Sidemen tourism hasn't really sunk in yet. Unlike other places, the local people are not that pushy when it comes to offering tours, etc. At some point, we even had to ask around ourselves as the people here tend to 'leave you alone'.
There are signs along the streets offering guided tours. You can arrange a local guide here or at your accommodation.
Following the 'Sidemen Loop' route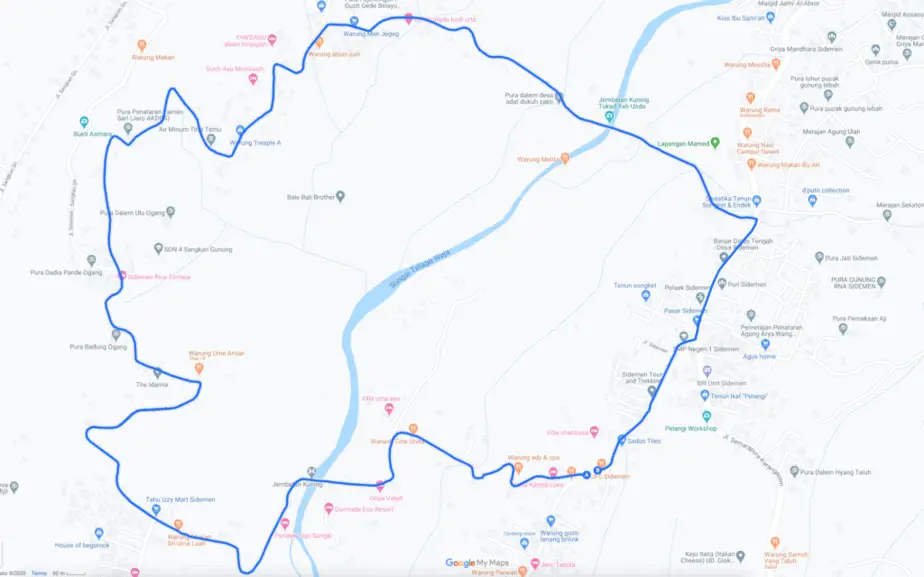 A great way to discover Sidemen on your own is to follow a 'loop route'. Once in Sidemen and you open google maps you can easily spot the loop that crosses the Telaga Waja river twice. If you take the loop clockwise it is difficult to get lost.
Best to do this by motorbike (or a bicycle, for those who need a challenge). Parts of the routes are inaccessible by cars.
It starts off at the crossroad at Jalan Raya Tabola and Jalan Sidemen Sangkan Gn. Pretty much where you see the big wooden sign with all the hotels.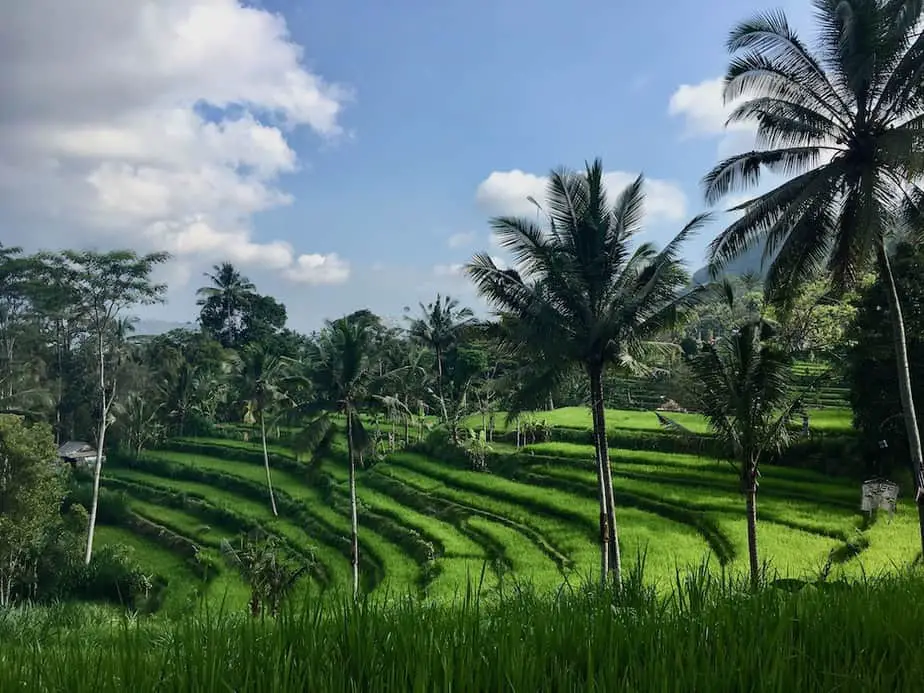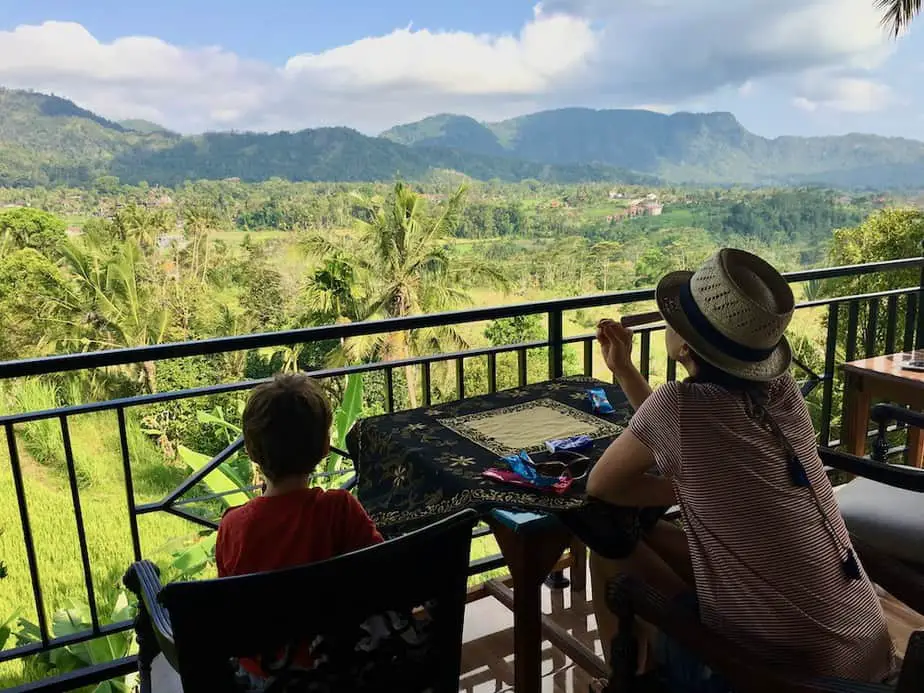 The loop route will take you down through the valley past rice fields. This is then followed by a steep hill. Once at the top there is a gorgeous view of the valley below.
Afterward, the route takes you along little villages and temples all covered by big trees and followed by endless rice fields. The path can get narrow every now and then. At one point you will need to cross the river again at a yellow suspension bridge.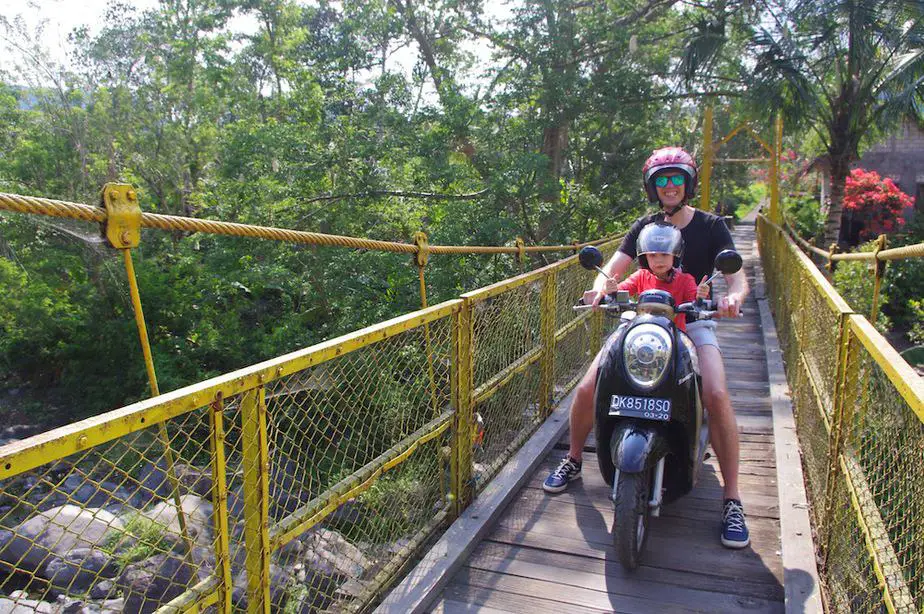 The route ends at the main road but luckily soon after you can take the side route back towards Tabola village.
The route takes about 45 minutes by motorbike.
Hiking rice terraces & fields at Sidemen Bali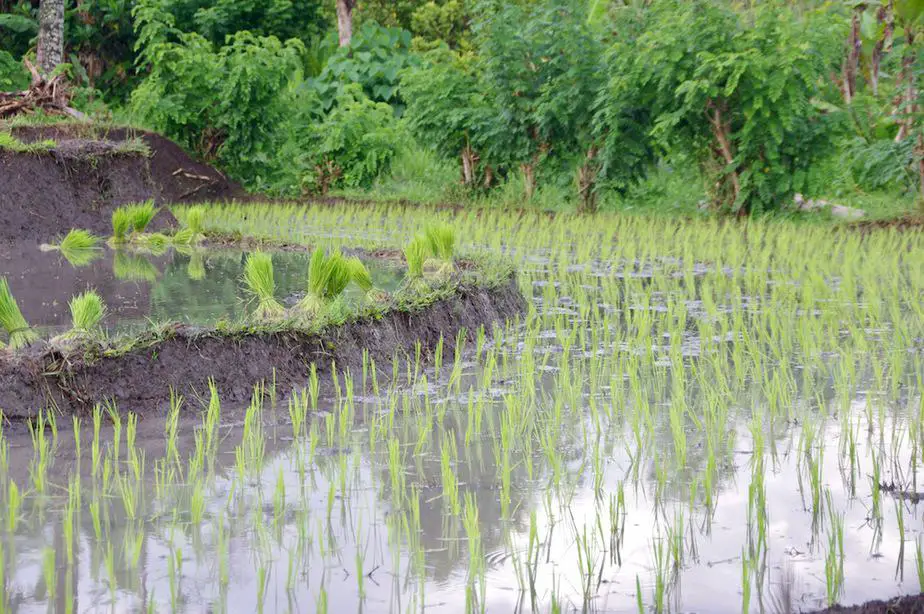 You can't really avoid going on a hike through the rice fields as you are pretty much surrounded by them.
If you just prefer to explore the area by yourself then that is possible. Most of the hotels are located in Tabola village which is surrounded by rice fields and plantations. You can easily go for a stroll and experience rural life in Bali.
For a full experience, you should arrange a local guide to take you along. He knows which hidden trails to take, where to cross the river without getting wet, and where to take in the incredible views. Local guides are also the best in giving insights on how daily life takes place in Sidemen.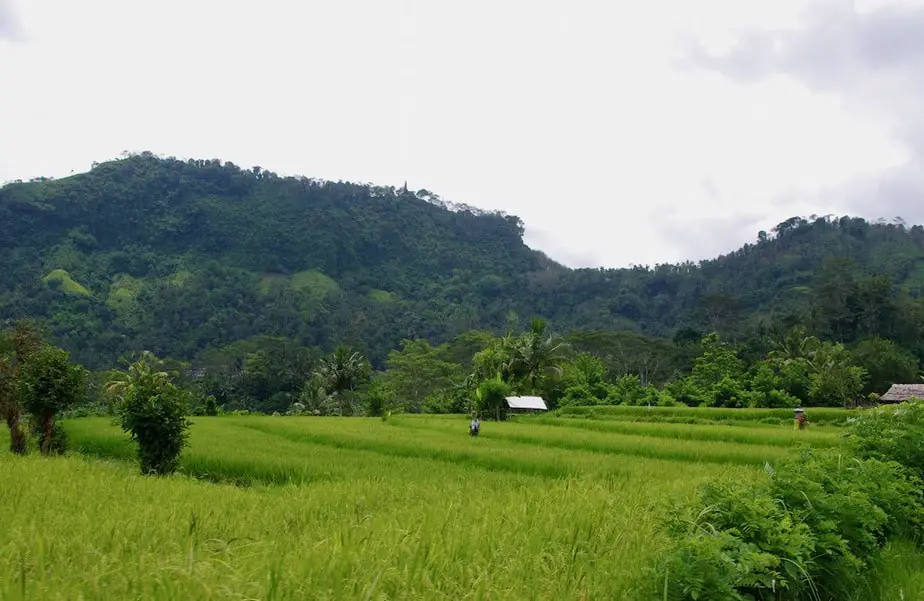 The local guide can take you for a 1 to 2-hour walk. But for those who want a bigger challenge then you can choose a different guide. He can take you along the following trails that lead you through dense forest, ricefields, and villages. There are even lookouts with views all the way to Candidasa and Padangbai.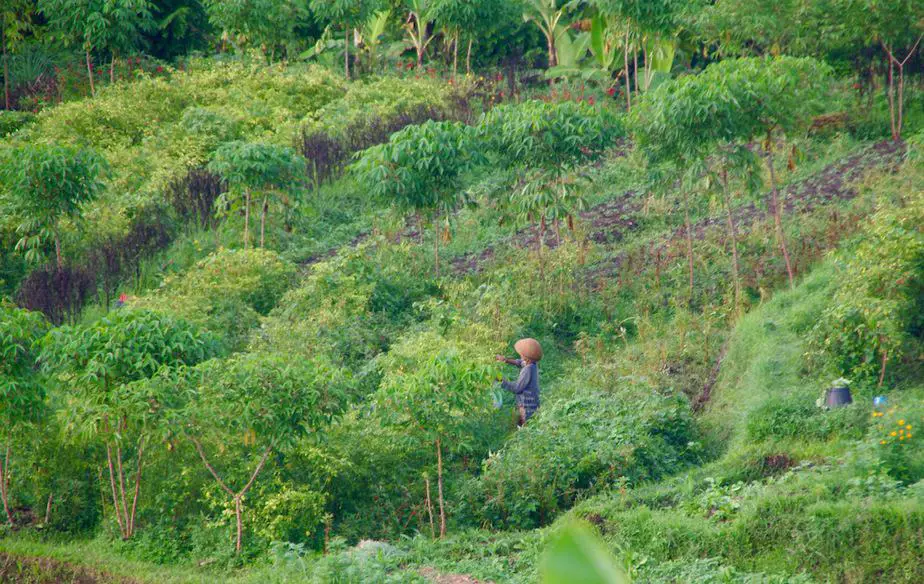 Several Sidemen Hiking Trails are:
2-hour rice field walks to Iseh and Selat.
3-hour hike Selat to Umasari
4-hour mountain climb up Puncaksari with views
6-hour hike Sidemen to Padangbai
4-hour morning sunrise climb. Hiking to the summit of Mount Agung. Permits, transportation, and a guide can be arranged at tourist offices in Tabola village.
Traditional Ikat (Balinese weaving) and other cultural activities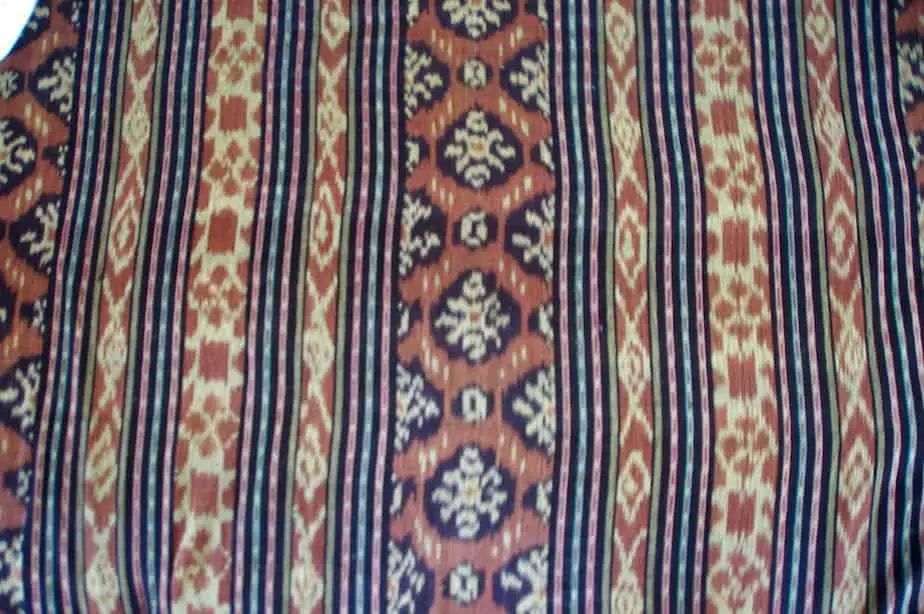 In Sidemen, you can still find many places where they make fine textile called the "ikat" and the "songket". There are houses with "ikat demo" written on it welcoming you to pop in to have a look at how it's done.
We spoke to one of the young owners of the bed & breakfast where we were staying. She said that the younger generation is not interested in making these textiles anymore. It's too difficult. Perhaps more reason to discover this endangered form of art.
Other cultural activities are joining classes in traditional Balinese dancing, music, and wood carving.
Cooking classes In Sidemen Bali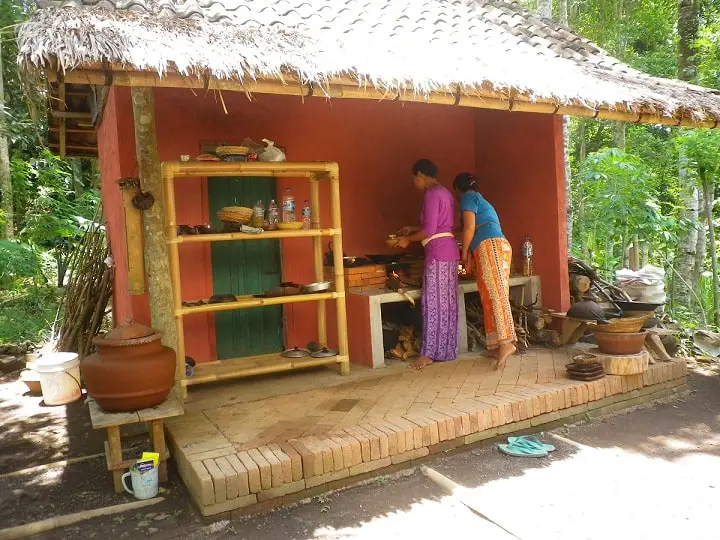 What better way to learn how to prepare Balinese dishes than in an area where almost all ingredients are grown.
A well-known cooking class in Sidemen is Green Kitchen. You will be able to learn how to cook with firewood while being surrounded by their organic garden.
The classes last pretty much the whole day. It starts off with a visit to a big traditional market in Klungkung. Once back you will head into their garden to pick necessary vegetables. After all the cooking has been done you are rewarded with a delicious lunch and a dip in the river.
The Green Kitchen offers both non-vegetarian and vegetarian cooking classes. The classes can range from Rp 380.000 to Rp.450.000.
Visit The Local Market in Sidemen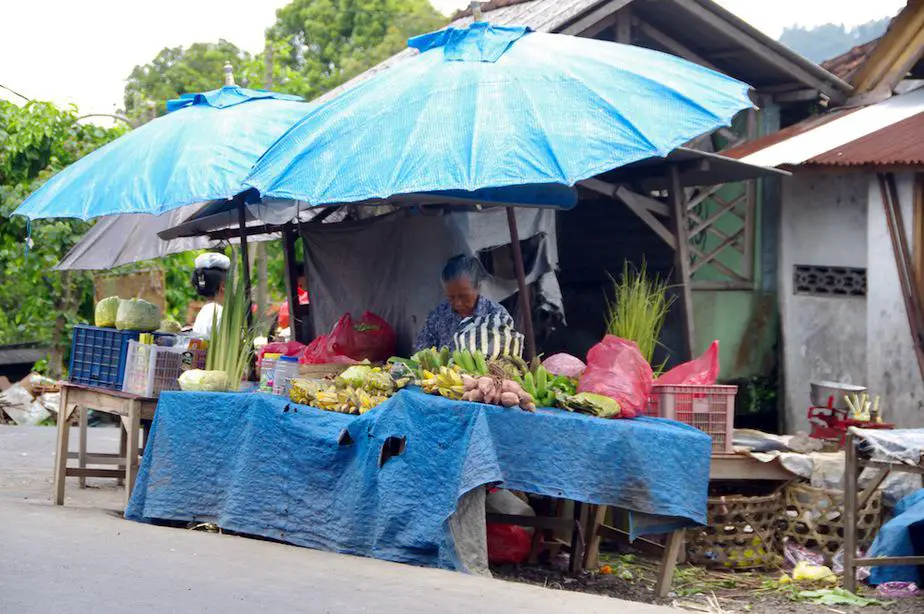 The market is always the perfect place to take in the local buzz. Here women sell all kinds of vegetables, fruits, and of course the colorful offerings. While others balance their purchases on their head back home.
You need to make sure you head out to the market of Sidemen well before 8 o'clock. It's a morning market and closes at 9.am.
Throughout the day there are a couple of stalls along the main street of Sidemen. If you feel like buying a bunch of bananas or some other tropical fruit it is best to do it here.
Stay At The Nirarta Center Sidemen Bali
The Nirarta Center for Living Awareness offers guided seminars and retreats focused on personal development or dealing with changes in one's life.
At the retreat, you can expect spiritual guidance, holistic counseling, and transformational coaching by the founder Peter Wrycza and his wife Dayu Mayuni.
Besides its natural surroundings, the unique aspect of this retreat is that the many Balinese spiritual aspects are integrated into the daily activities. This makes it an experience you can only do here.
The Nirarta Center also offers a 'get-away' retreat. It is a moment of leaving everything behind and knowing that you will be taken care of. You can decide which activities you wish to join.
Examples are meditation classes, healing massage and reflexology, guided walks, introduction to Balinese life, and much more.
Rafting in Sidemen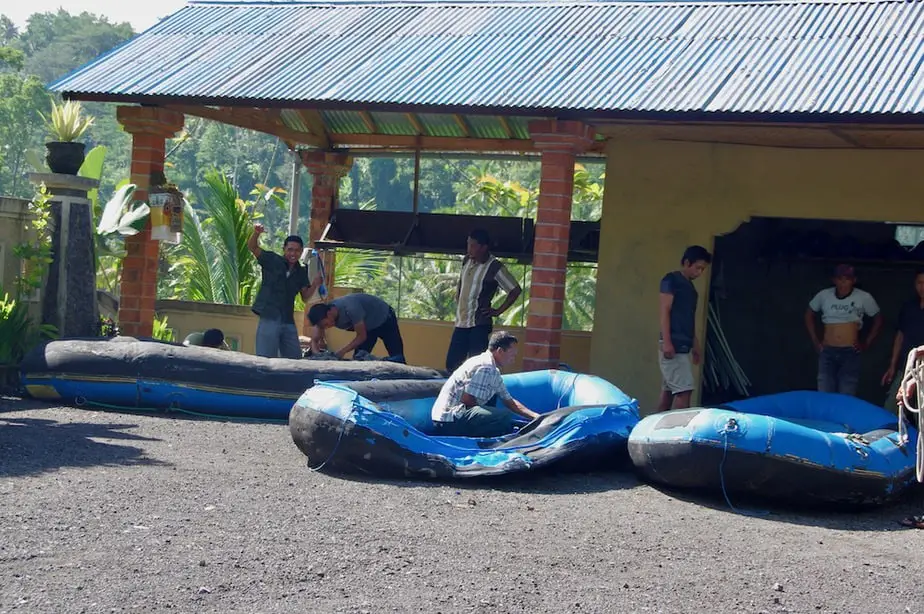 With all the rivers flowing through this area it comes as no surprise that there are many rafting companies. Most of the rafting adventures start off just a short drive north of Sidemen.
The rafting trip will take you down Telega Waja River. This river starts near the impressive Mount Agung and continues to flow downhill through the jungle and pass Telega Waya Waterfall.
Rafting gives you the opportunity to get an adrenalin shot but also to see the lush landscape from a different angle. The whole experience is dependent on the height of the river. Low water will result in less speed. Check first to see if the conditions are right for you.
Booking and pick up are easily arranged at your accommodation.
Things To Do Near Sidemen Bali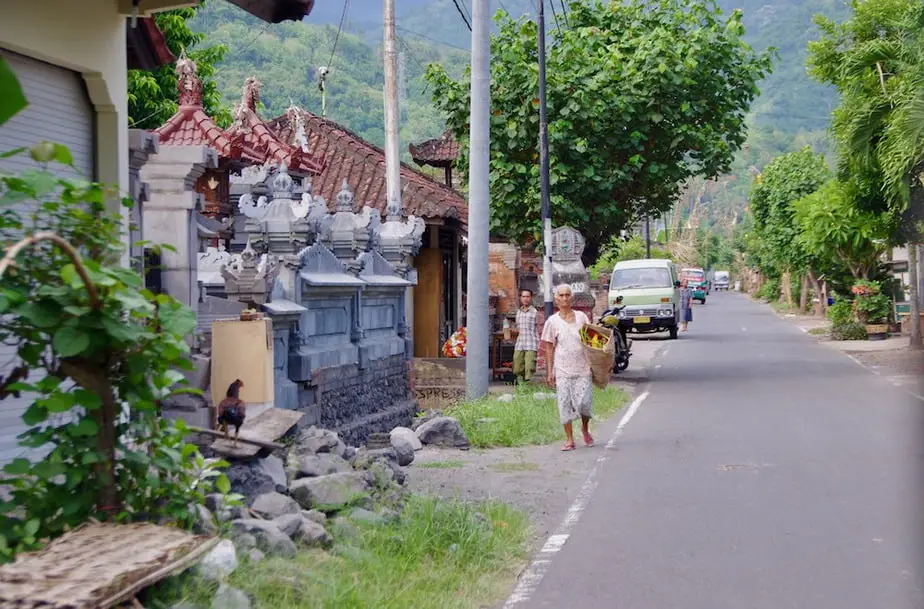 Sidemen is ideally located in East-Bali, the region where a lot of beautiful cultural sights are located. Surprisingly enough it's also reasonably close to some stunning beaches.
The best part is that you can take the smaller back roads from Sidemen to the sights. It doesn't guarantee less traffic, as many local people take these roads too when heading to Besakih temple but you will enjoy yourself much more along the way. Especially if you are on a motorbike.
Cultural Sights near Sidemen Bali
There aren't many 'popular' temples near Sidemen, except for Besakih Temple.
This impressive temple is about a 45-minute drive northwest from Sidemen. It a wonderful option to go to if you happen to be staying in Sidemen for a while.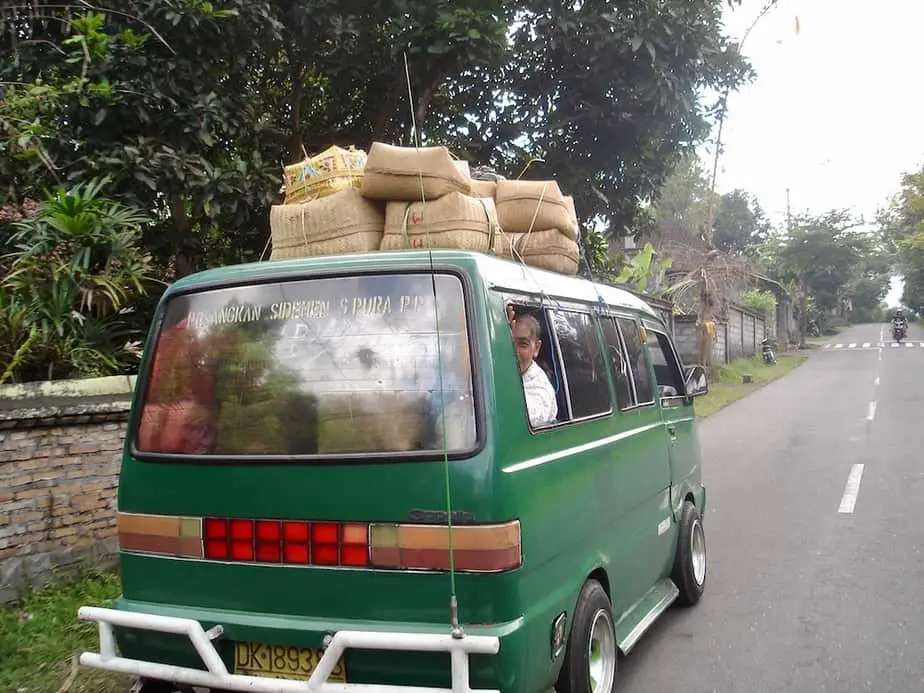 The drive to the temple is pleasant and if there is a ceremony going on you will see beautifully dressed Balinese. They are carrying the most colorful offerings on bikes, in bemos (mini-busses), and in the back of small trucks.
You can also organize a day trip by car to other temples such as Tirta Empul Tempel, Ulun Danu Batur Tempel, or Pura Penataran Agung Lempuyang Tempel. However, we think these temples are just a bit too far and a waste of time to be in a car for such a long time.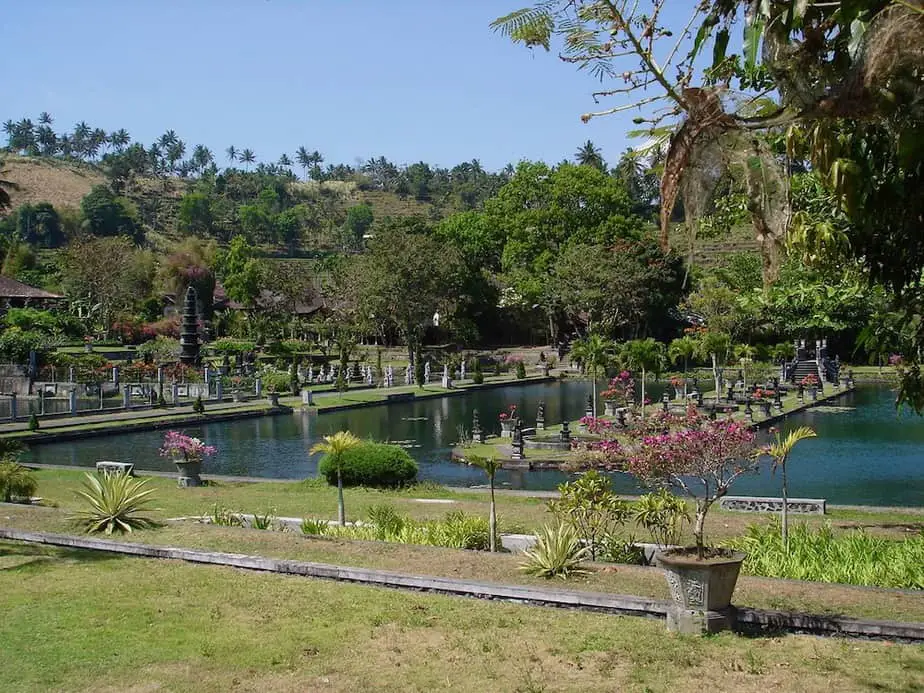 We do recommend hopping on the motorbike and heading to Tirta Gangga, an ancient royal water palace located northeast of Sidemen.
It is about 24 km from Sidemen if you take the main road. But try to use Google maps and take one of the little roads every now and then. These roads pass picturesque Balinese villages and it is a good way to avoid too much traffic.
Once at Tirta Gangga you can take a refreshing dip in one of the royal pools.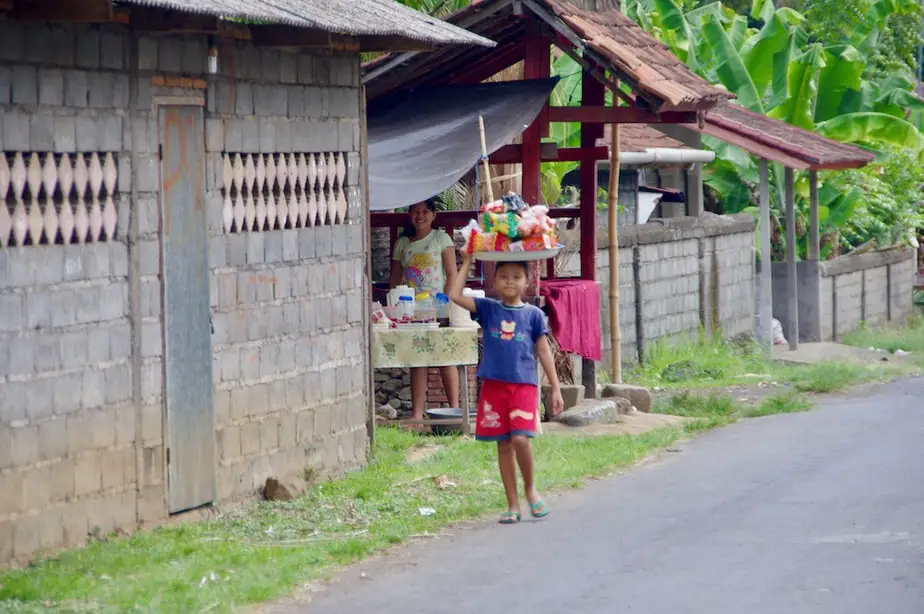 A visit to the Beach near Sidemen Bali
When in Sidemen you can't really picture yourself wiggling your toes into some soft white sand while seeing the blue ocean in front of you.
Funny enough, whenever we are in Sidemen we always include a visit to the beach. The beaches near Sidemen are one of the best.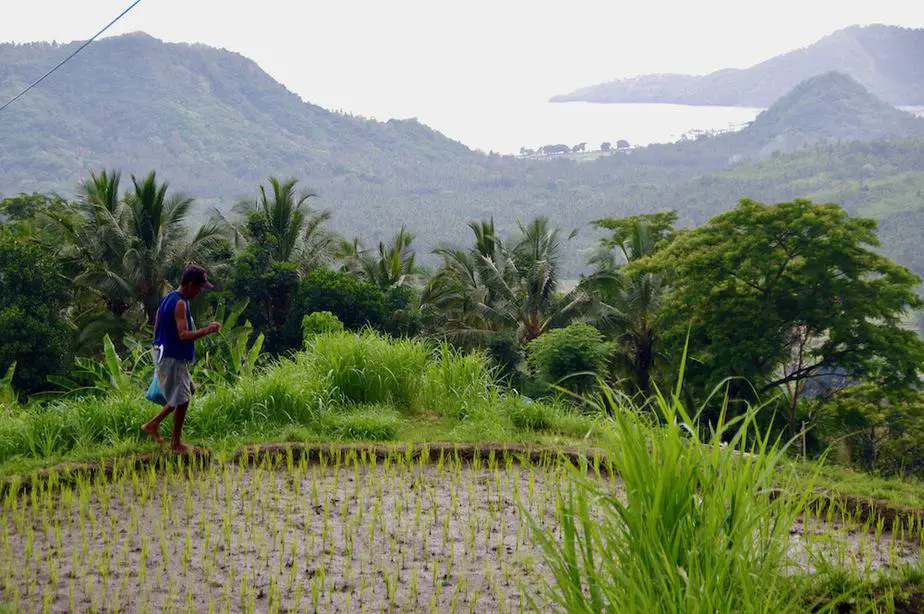 Not only is the beach fun, but the trip to the beach is pretty nice. We really enjoy taking the road via Muncun, a tiny mountain village between Candidasa and Sidemen. The road can get pretty steep at some points, but you will be treated with ocean views along the way.
Great beaches are Pasir Putih, just past Candidasa and Bias Tugal nearby Pandangbai. Both white-sanded beaches have little stalls that offer refreshments.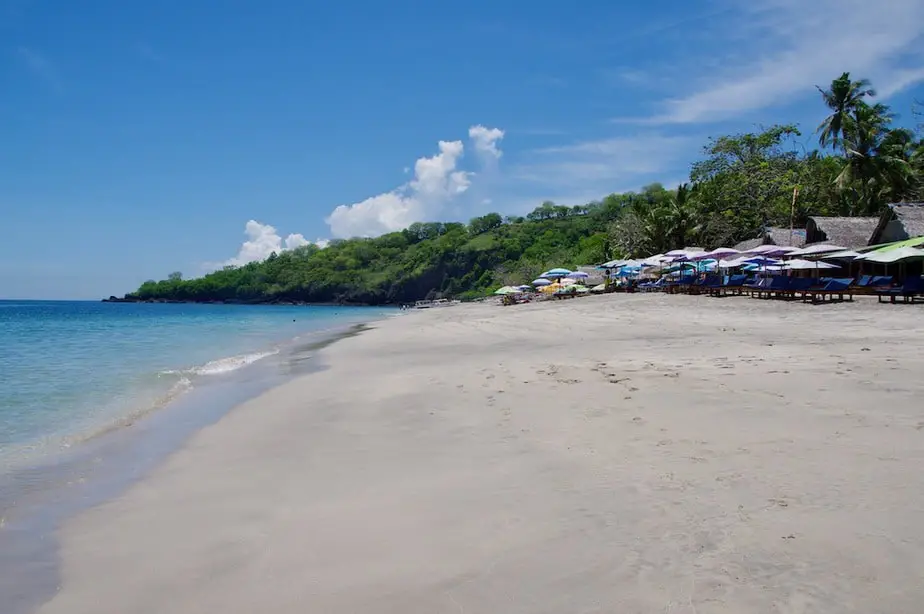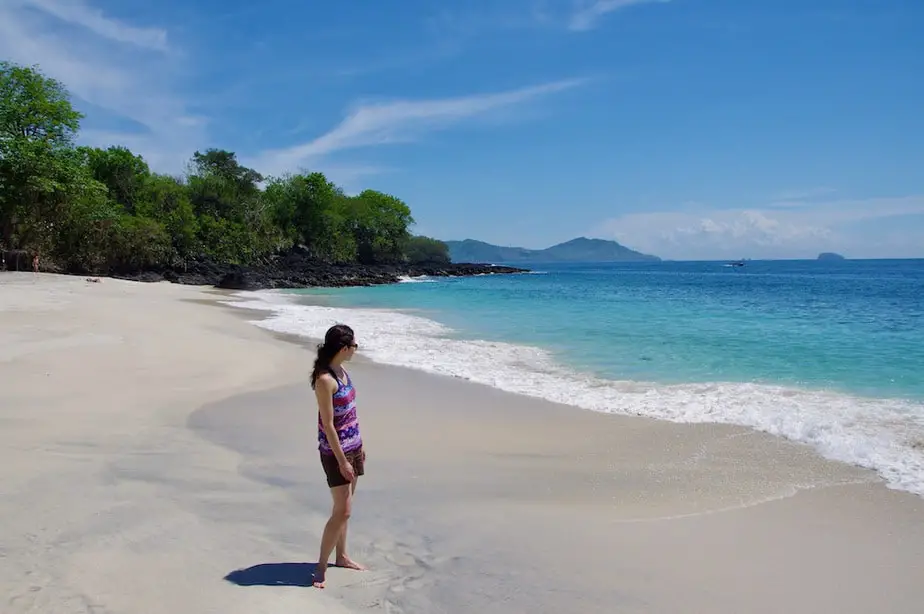 For lunch, we usually go to Candidasa or Padangbai. You have easier access to the beach in Padangbai making it a great place to go for a quick swim before heading back to Sidemen.
If you want to swim in Candidasa make sure you choose a restaurant along the water so you can get into the water from there.
We always plan our visit to the beach in the mornings to avoid driving in the dark back to Sidemen.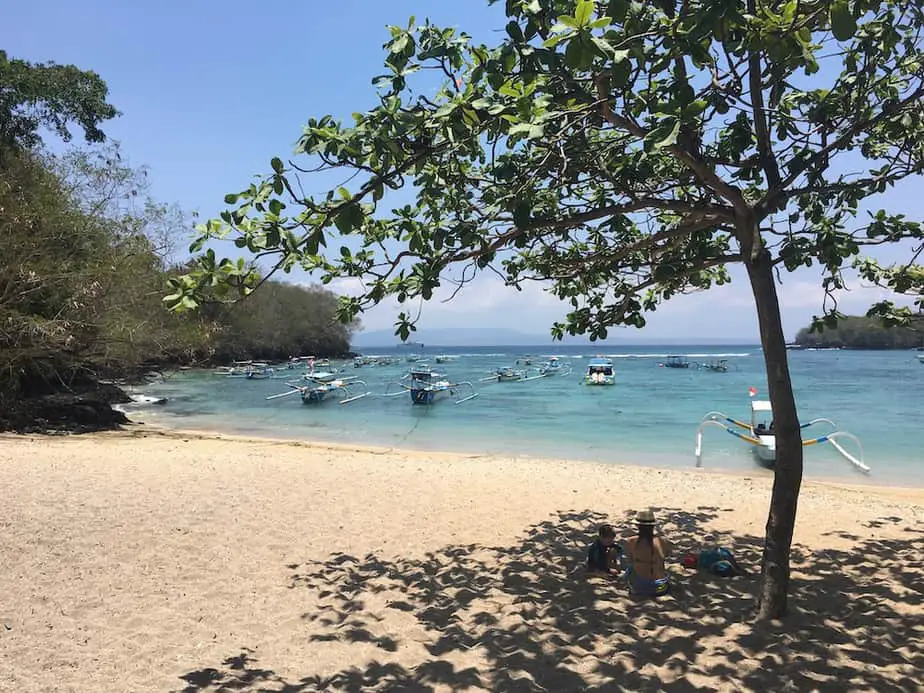 Waterfalls near Sidemen
Telaga Waja Waterfall is a waterfall not far from Sidemen. It is difficult to get there on foot. If you are an active hiker and a waterfall seeker, then there might be a guide who can take you there.
Another way is to join a rafting tour. You will then travel downriver to the waterfall.
Another waterfall is Tukad Cepung Waterfall, about a 40 minutes drive from Sidemen. This waterfall is spectacular as it falls into a pool located in a cave. The best time to go is in the early morning.
The waterfall is located near Tembuk village. There are three ways from Sidemen to get there. So if you visit this waterfall you can drive a 'loop' making the road trip more interesting.
Where to eat in Sidemen Bali?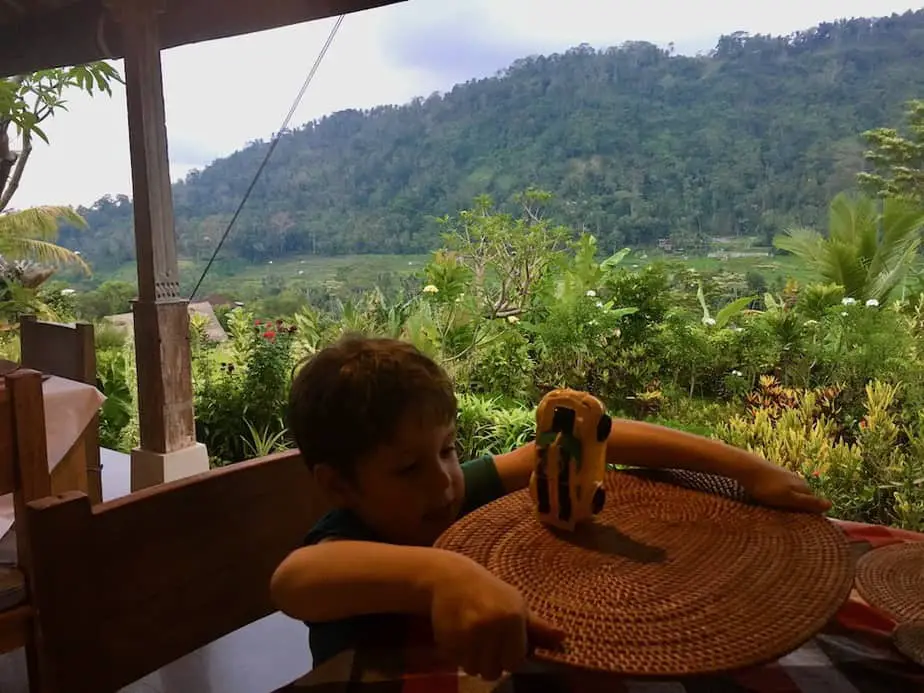 With the low number of tourists, there aren't any big restaurants available in Sidemen, except those at upscale resorts.
Instead, you find little locally-owned restaurants, especially along the main road in Tabola village.
Unlike other areas in Bali,  the popularity of a restaurant can not be judged by the crowd. A restaurant in Sidemen can be empty yet have the most wonderful food. This is probably the case for most of the places there…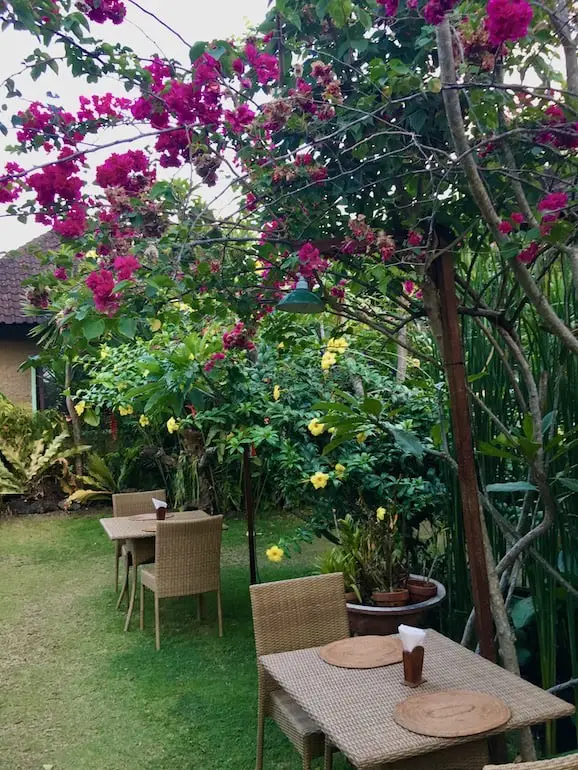 Their menu also often seems to be the same. Expect to find popular Indonesian dishes such as Chap Chay, Gado Gado, Nasi Goreng, soups, grilled fish, spaghetti, and often also pizza.
So basically it can't really go wrong wherever you eat.
From our restaurant experiences in Sidemen, we know that most of the dishes are prepared with fresh ingredients produced locally. Somehow this makes the Gado Gado or the vegetable curry taste just a bit better than usual.
We had a great dinner at Radha Warung. Tables are set in their tropical garden where you sometimes have to duck to avoid feeling a bat cruise pass you. It sounds scary but it adds to the ambiance.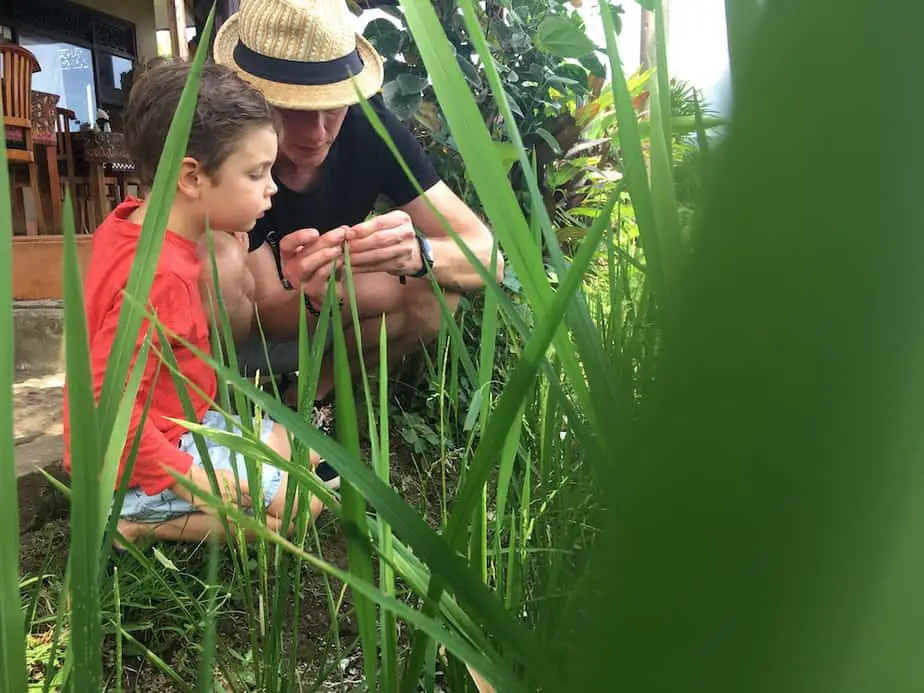 Warung Ida is also a nice option. This tiny restaurant is located across the resort Lihat Sawah. Local dishes are served pretty fast. The spaghetti for our son took a bit longer. But the wait was worth it because the sauce was as fresh as can be.
Warung Organic along the main road to Sidemen also has good food accompanied by a wonderful view of their organic garden and rice fields. A perfect place to have lunch.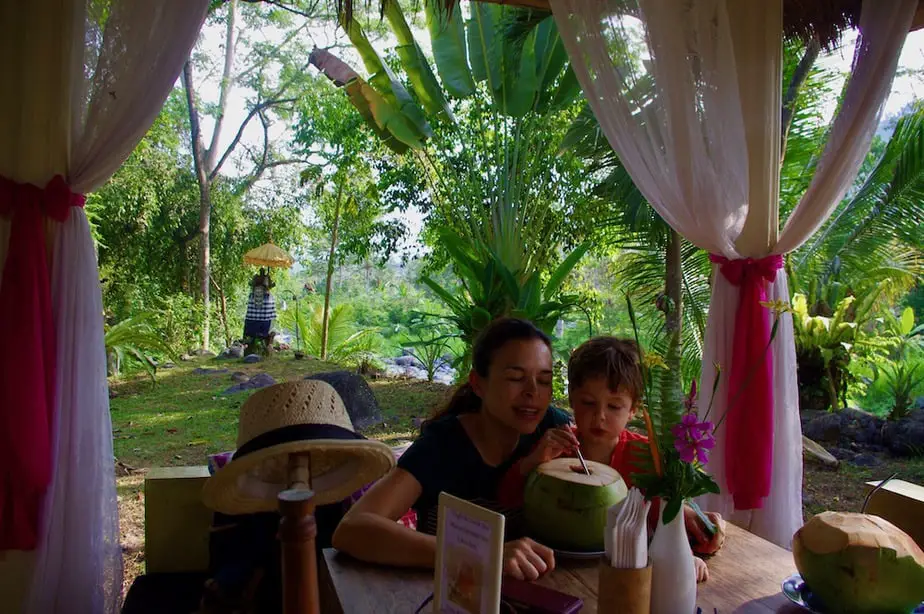 Most of the B&B or homestays also offer meals. We mostly ate Indonesian food at ours. We did have to let them know in the morning if we wanted to have dinner there or not. So make sure you know your options upon check-in.
If you want to experience some fine dining then you can always opt to eat at one of the bigger resorts. They usually serve more western-style dishes.
Places to stay in Sidemen Bali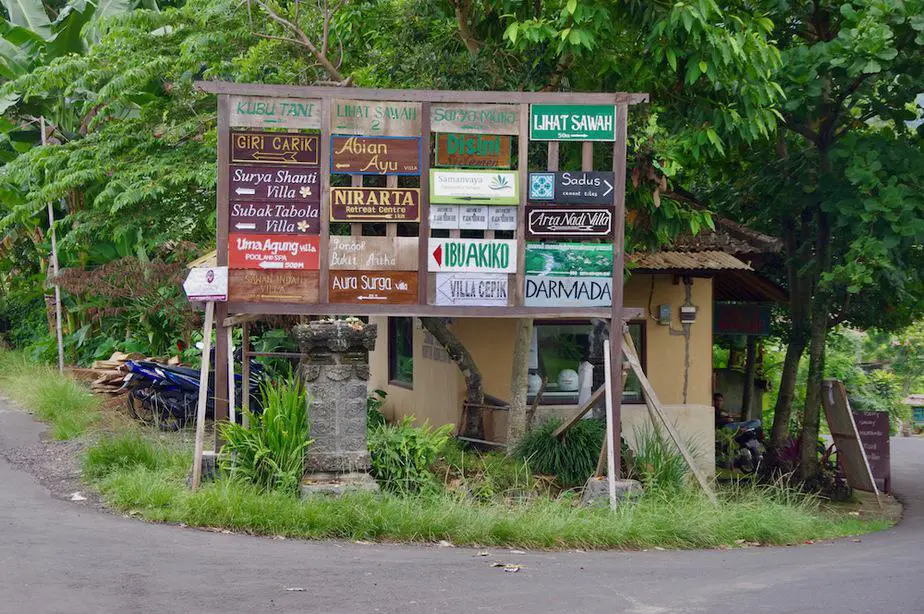 First-time visitors will probably be somewhat disappointed that a rice field view is pretty difficult to come by in Bali. However not in Sidemen.
While there used to be just a hand full of places to stay in Sidemen, today more people are building a bed&breakfast, retreats, or vacation rentals which are located in the middle of the rice fields.
So far we do get the impression that owners here have learned from the mistakes made in other parts of the island. There is even a large number of resorts that aim at supporting the local population, reducing plastic waste, using natural materials, and even providing scholarships.
Hopefully, this trend will continue here and in other places…
Accommodations with a view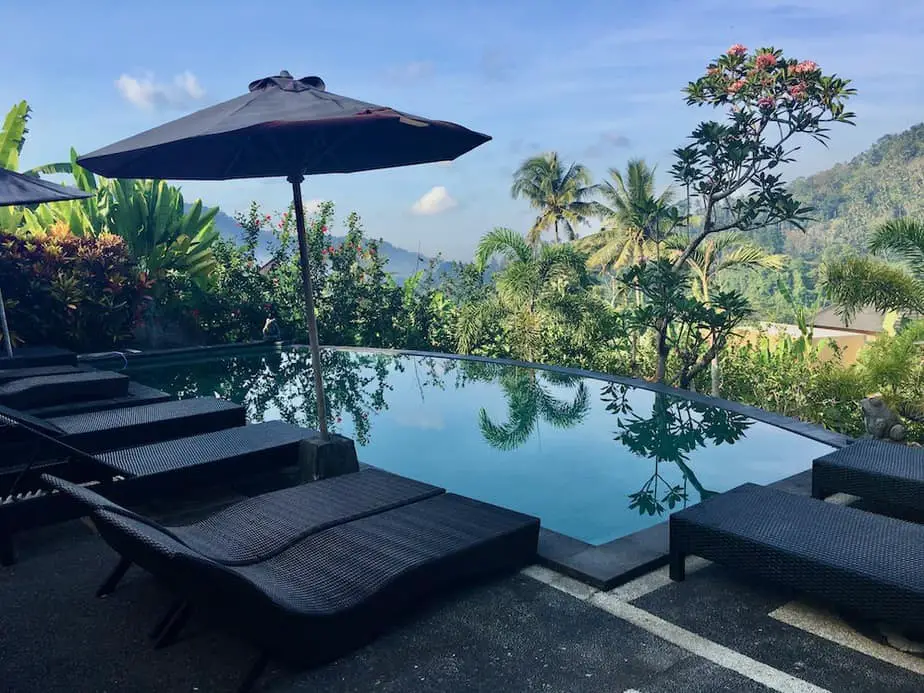 Sidemen is one of our favorite places in Bali to wake up to. The fresh and somewhat chilly air is a good way to start the day. Especially when a little kid is tugging you to get up to go exploring at 6 am.
But the best part of the morning is opening the curtains and having a full view of Mount Agung.
That was our biggest surprise during our first stay in Sidemen. We arrived at the Giri Carik homestay in the late afternoon. We were already happily surprised by the gorgeous views of the rice fields from our verandah.
Little did we know that Mount Agung was hiding behind the clouds and greeted us with a view that immediately reminded us of the many landscape paintings you see of Bali.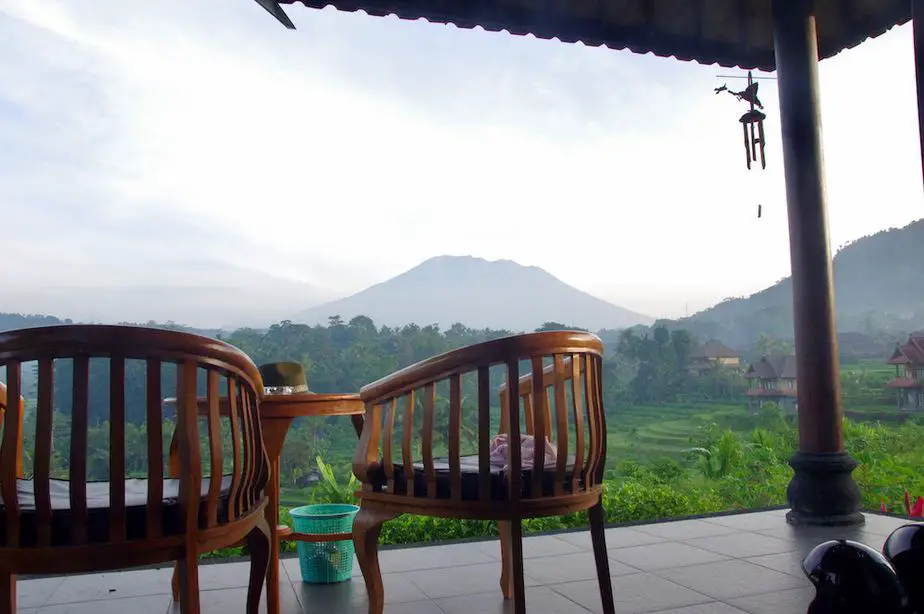 A view like that is an extra plus to your stay in Sidemen. If you want to experience it too make sure your accommodation or your room has an unobstructed view towards the north.
Most of the accommodation in Sidemen has been built along the Tabola main road. For a mountain view check places such a Giri Carik, Kubu Tani Homestay, and Abian Ayu Villa.  Also, make sure your room is higher up the valley so you have ricefield and/or mountain view.
Surya Shanti Villa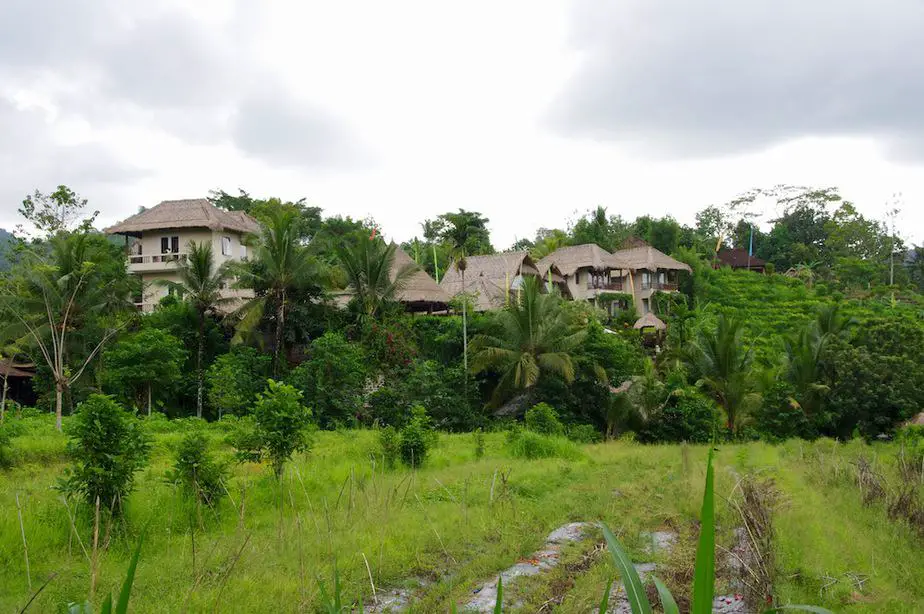 If you are seeking some more luxury including the view then you might want to consider Surya Shanti Villa.
Built on a hill the rooms, their spa, and pool will provide unique views of the rice terraces. You can either stay at their villa with a verandah located right in front of the rice fields or you can open your curtains each morning to Mount Agung.
This villa complex supports sustainable tourism by conserving the natural environment. They employ staff from the villages nearby and aim to use minimal electricity by providing rooms without air conditioning (climate is cool in the evenings) and without television.
A partner of this luxury resort is Subak Tabola Villa. This Balinese style accommodation with gorgeous views is a wonderful mid-range option. It is located at a cul de sac at the very end of Tabola's main street. If you want peace and quiet then you will find it here.
Darmada Eco Resort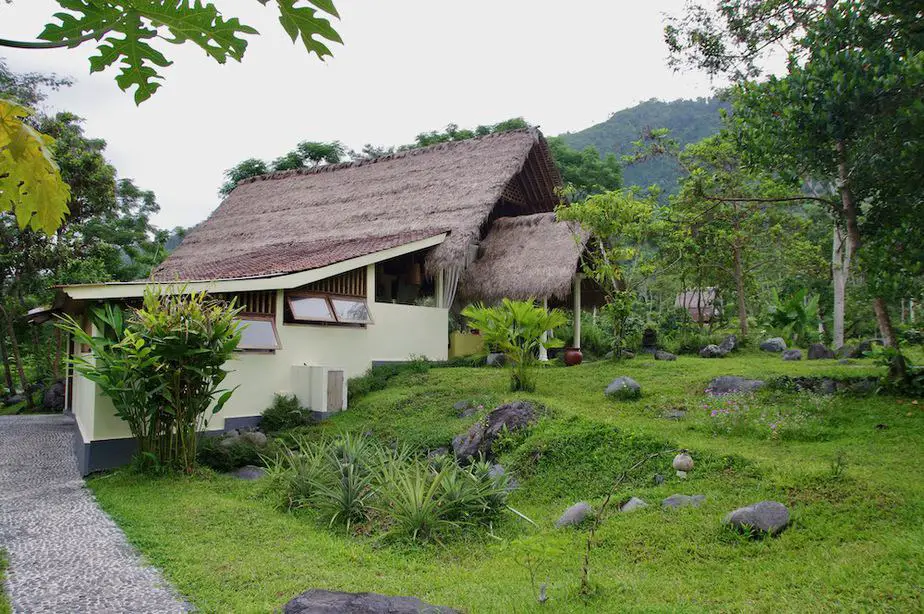 The Darmada Eco Resort is another place you want to consider in Sidemen. It is located along the river, and it looks like a little village in itself.
The colorful rooms are located throughout their extensive garden. You can find the rooms near their pool but also along the river gorge. They are beautifully decorated with 'Sadu Tiles'.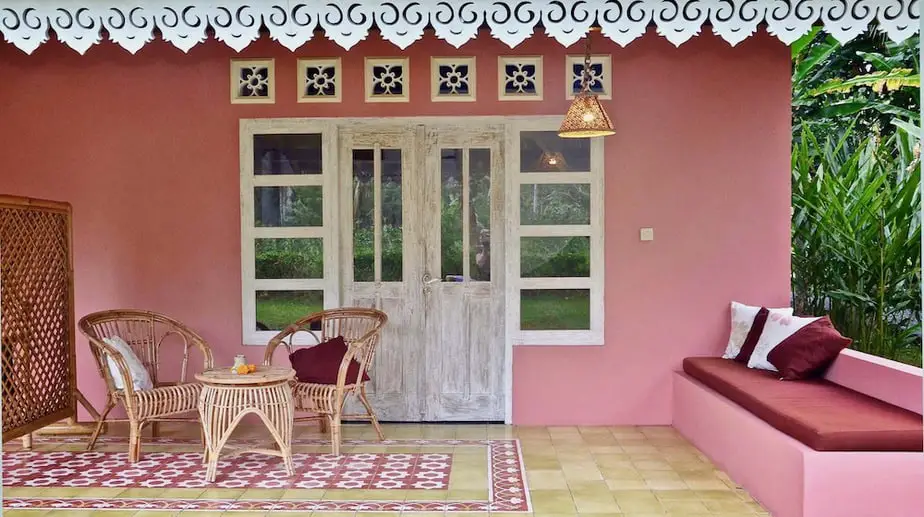 These colorful patterned tiles were reintroduced by the resort when most of these types of tiles were imported from China. Luckily they managed to bring this local craftsmanship back to life and today you can see these tiles in many restaurants and resorts throughout Bali.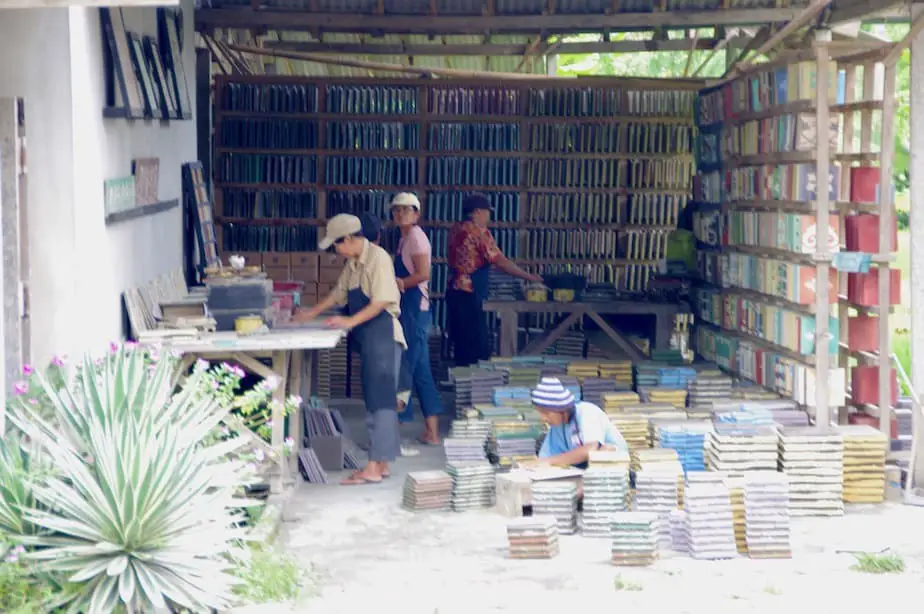 The Darmada Eco Resort is a quiet place and if you wander around you sometimes have the feeling you are the only one here. It is ideal for solo travelers or couples.
This eco-resort offers all kinds of courses, yoga- and massage sessions and many other activities around Sidemen. At their restaurant, they serve organic vegetables from their garden. You can also order picnic baskets to take along your hikes.
Bamboo Constructions in Sidemen Bali
Besides the views, Sidemen and its surrounding area offer a wonderful choice in unique accommodations. Check the Airbnb platform to discover some stunning creations. The Bird Hills Bamboo House in Sidemen is one of those places you want to stay at.
Another example that can only be booked through Airbnb is The HideOut. It offers beautifully designed bamboo accommodations. They are located in Selat, another hidden destination just outside Sidemen.
Sidemen or Ubud?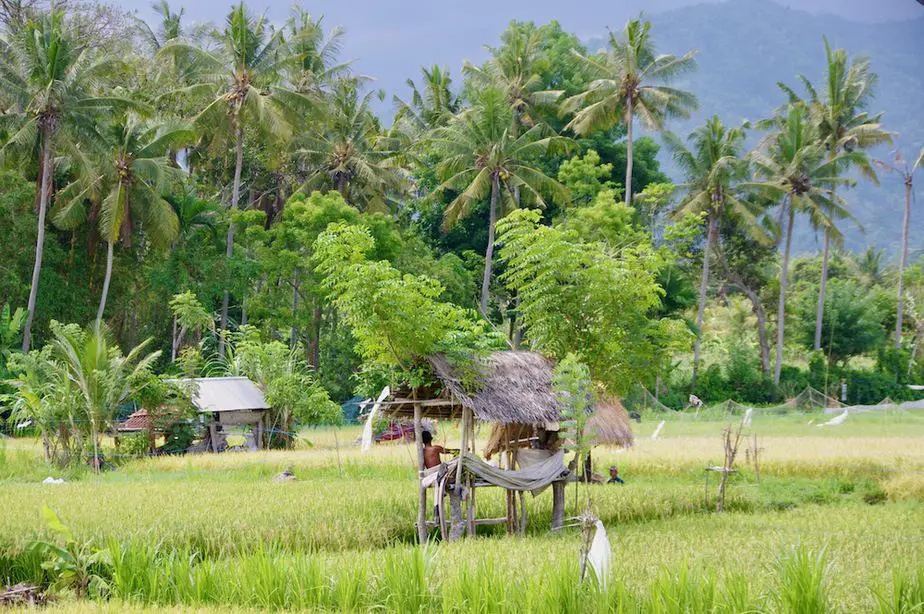 A very much asked question these days is 'Should I visit Ubud or Sidemen'? If you are asking yourself this too, then I can easily answer this question for you. You should try to see both.
Many say Sidemen is what Ubud used to be and so these villages are often compared to each other. But we think that these two villages have totally different characteristics and charm.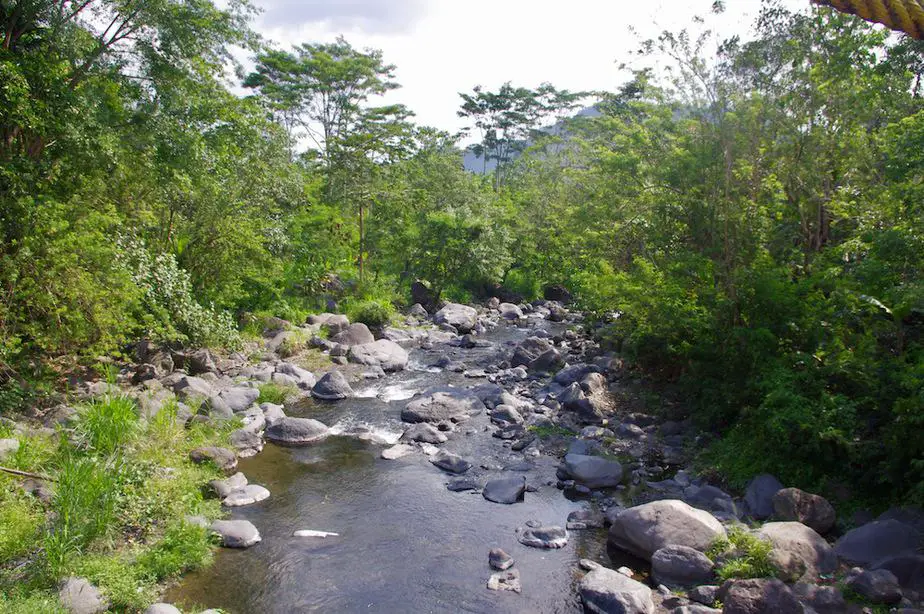 Ubud became very popular due to its cultural history. Art has been important for this little village since the very beginning and has evolved continuously due to foreign influences.
While Ubud is also known for its stunning rice fields and gorgeous landscapes most of these ricefields are disappearing. In and just outside the village rice fields have made way to many villas and the quiet little streets in Ubud are overrun by traffic, shops, and restaurants.
That said, this charming cultural village still remains attractive. In Ubud, you can find museums, visit dance performances, eat at the most innovative restaurants and shop till you drop. This, together with the remaining rice fields around the villages north of Ubud is what attracts visitors.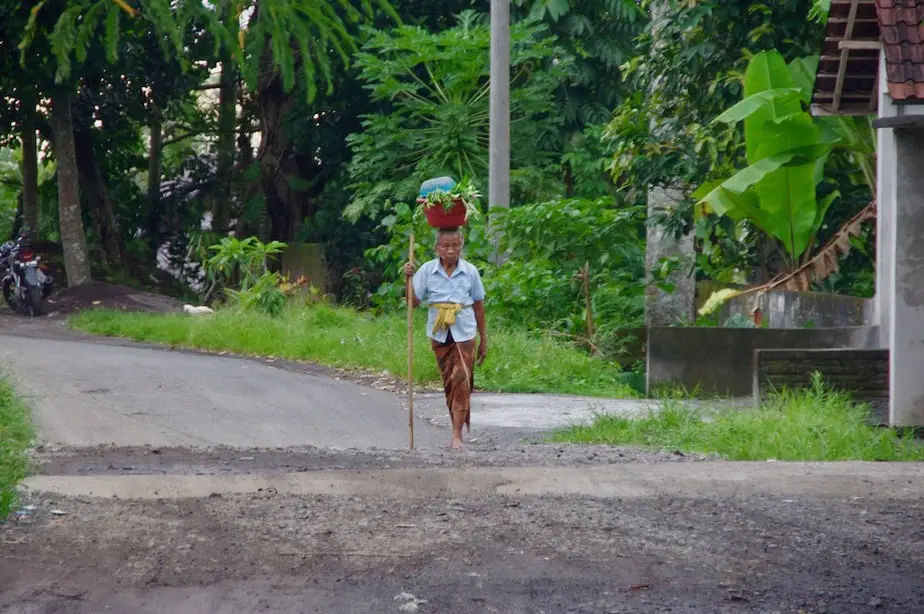 Sidemen on the other hand is a totally different story. It is surrounded by nature and rural life. There isn't much more than that…
As mentioned earlier there are no exciting restaurants you can eat at every night of your stay, nightlife is almost non-existent just as shopping at art markets. But 'being away from it all' and being surrounded by Balinese rural life is something you will not find easily anywhere else.
This makes Sidemen special and worth visiting.
So forget the question 'Ubud or Sidemen?' They are not comparable. I think a more difficult question would be: Sidemen versus Jatiluwih, Batukaru or Munduk.
But let's keep that last question as it is and make sure to include Sidemen in your Bali itinerary.