Bali is a perfect island to explore by car, motorbike, or for the strong ones among us even by mountain bike. There are routes around Bali that are just amazing and where you'll see what the island is really about.
It is a great way to spend the day taking in the panoramic views and seeing the cheerful people in the villages located far away from the tourist crowds.
We love exploring the island and in many cases, we also get lost. However only by losing our way were we able to see every corner of the island. Bali is an ideal place to go touring around aimlessly.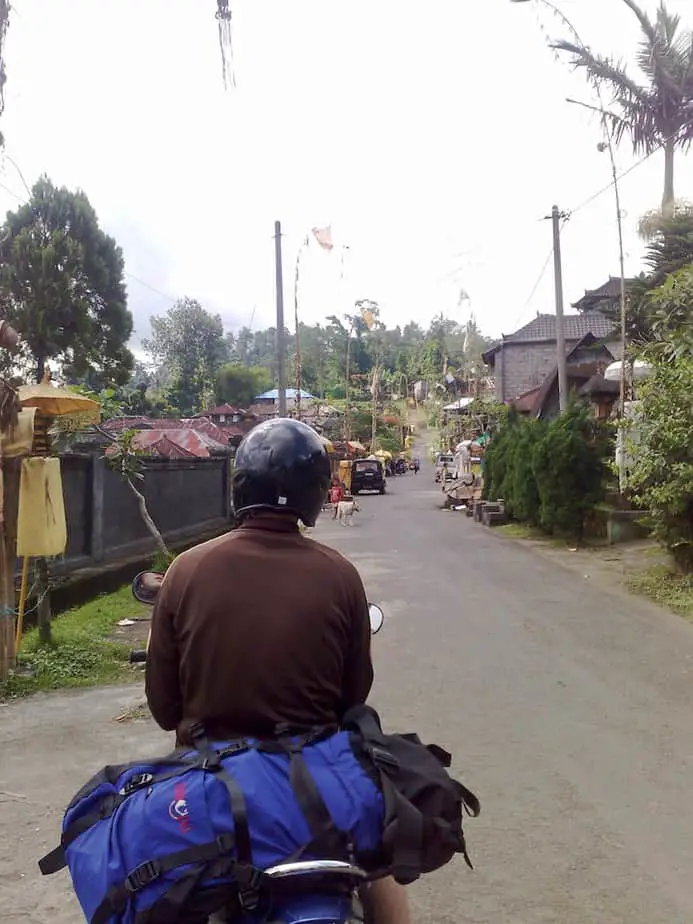 You don't have to be afraid of ending up at places you shouldn't be. The island measures only 95 miles (153 km) wide by 70 miles (112 km) long and the Balinese people will help whenever they can.
If you want to avoid your trip turning into an unwanted adventure, a private guide and driver offer a more comfortable experience. Just give him the points of the routes we suggest. He will definitely know where to take you.
Our 7 Favorite Routes Around Bali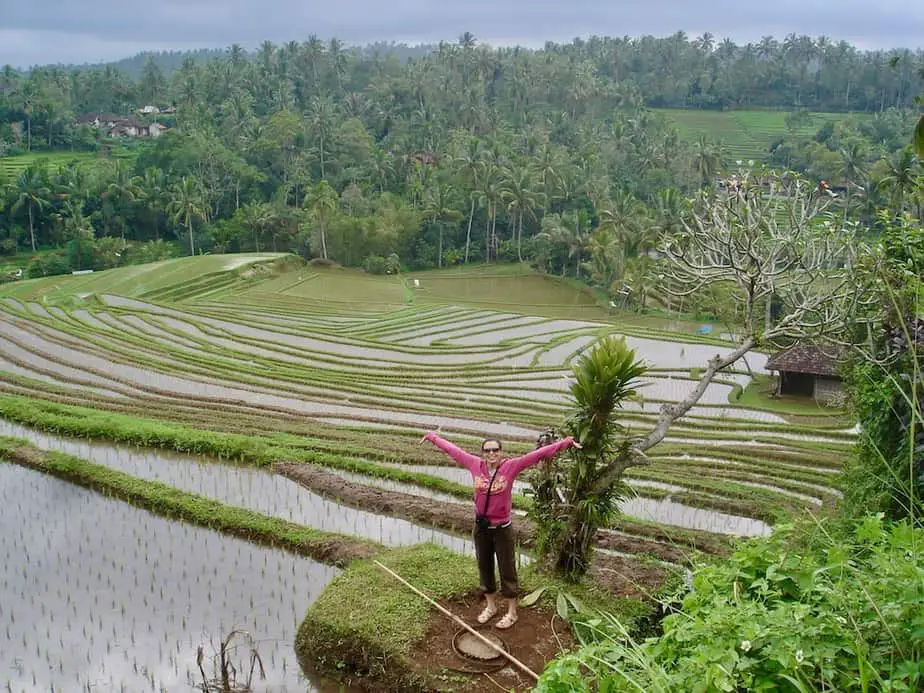 In this section, we will give you a list of our 7 favorite routes around Bali which we have taken during our numerous trips. They will give you the chance to visit, see, and experience the real Bali.
Some of our 7 favorite routes can be easily combined with interesting places to visit. Other routes are laid out from one village to another.
From our experience, it is difficult to indicate how long a route will take. The road signs are not always well posted. Luckily with Google Maps, you might have some kind of indication.
But the routes around Bali that we suggest can be considered as full-day tours. This even includes getting lost a couple of times 😉
1. Route Through Rural Balinese Villages
Ubud – Gianyar – Bangli -Rendang – Besakih – Rendang – Selat -Putung – Manggis – Candidasa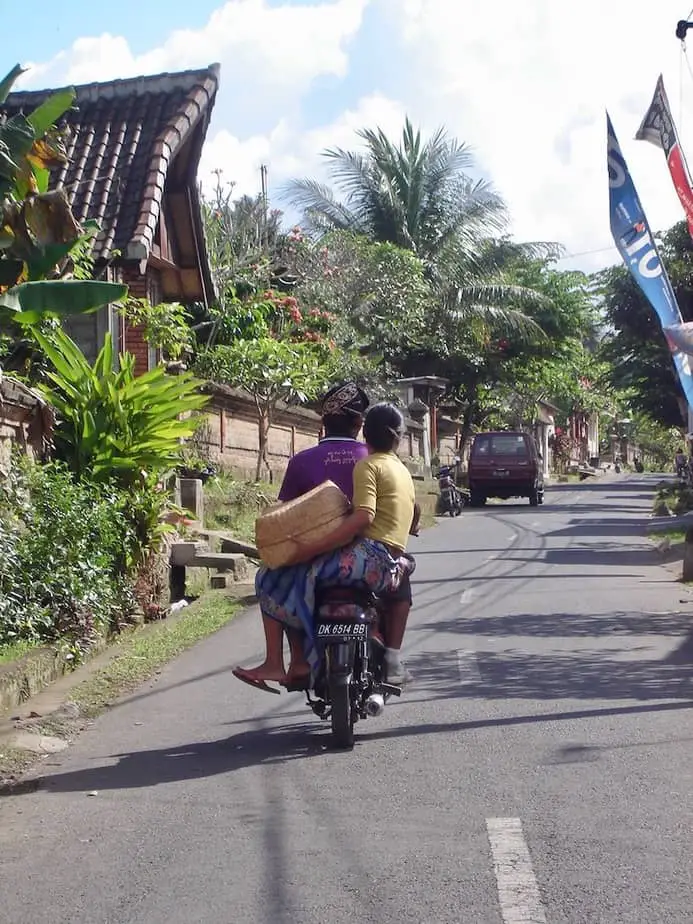 This route through rural villages highlights the beautiful character of central and east Bali: magnificent rice fields, ancient temples, and traditional villages where people love to smile and wave when you drive by.
During this trip, you also have the opportunity to see the most important temples.
Planning a day trip?
Here we describe an amazing alternative route that crosses a powerful kingdom in the history of Bali, Klungkung.
Towards the end you will also be accompanied by a splendid view of Mount Agung, believed to be the navel of the world by the Balinese.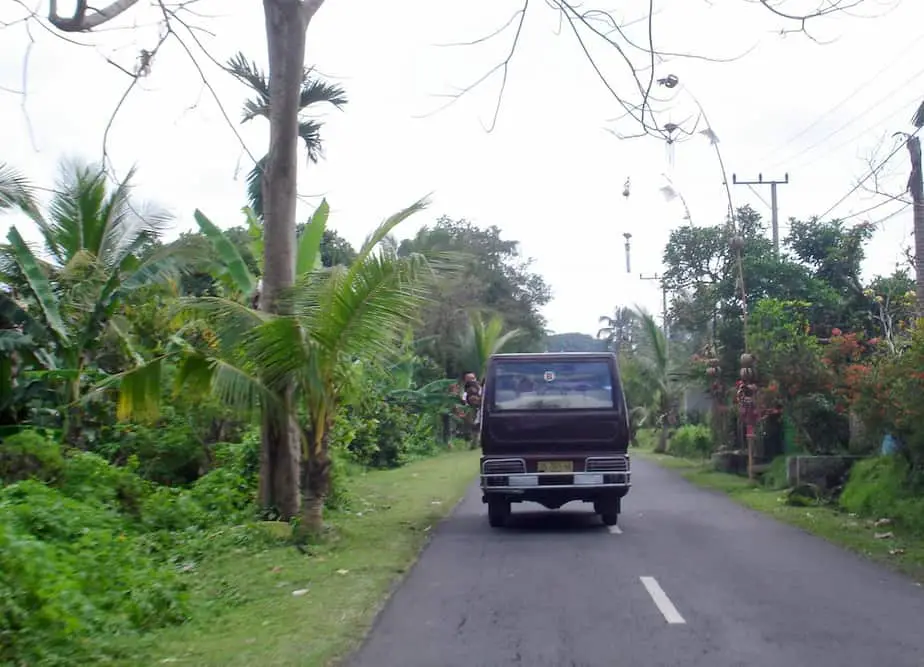 Highlights: Pura Kehen in Bangli, Pura Besakih, rice terraces at Rendang, Mount Agung at Selat, coastal road to Manggis
Total travel time: 3 hours 19 minutes, 67.1 miles/108 km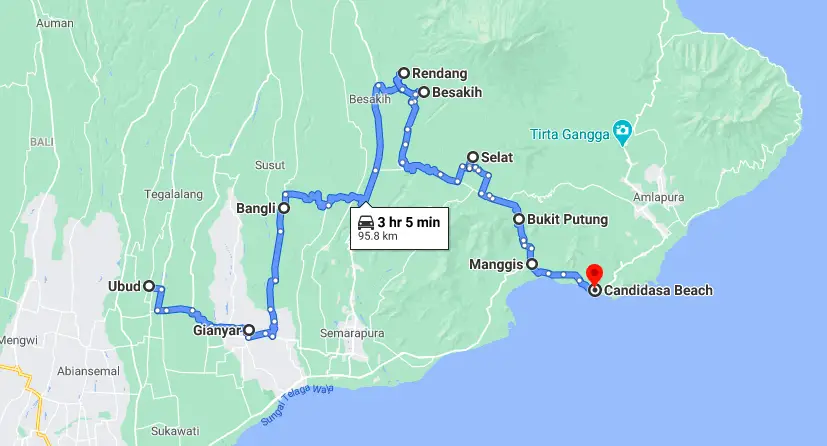 Ubud
For this route, we will take the cultural center of Ubud as the starting point.

To enjoy this route in Bali to the fullest, make sure you leave as early as possible in the morning, preferably around 7 am-8 am.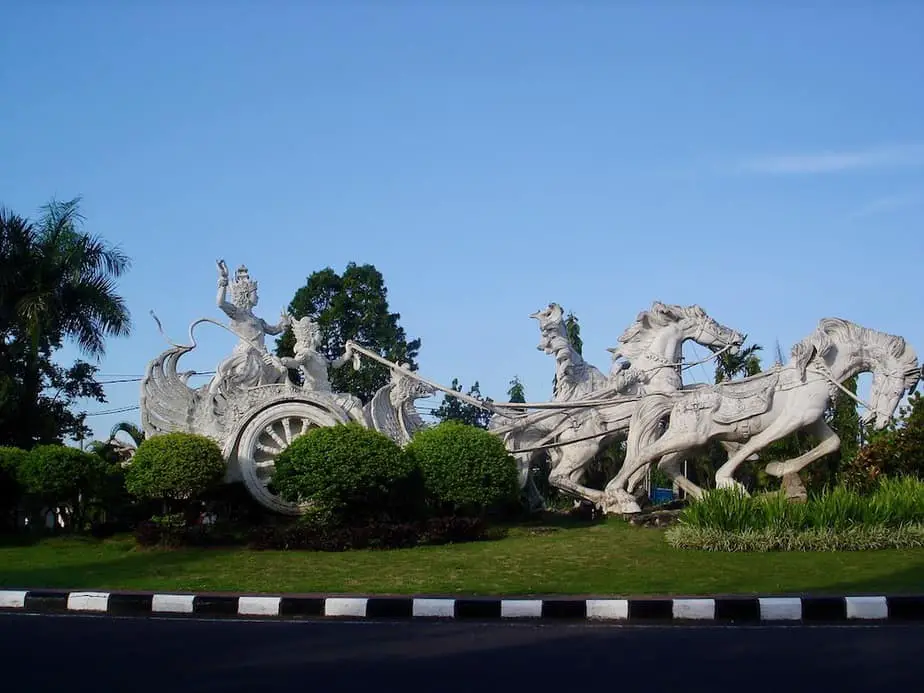 From Ubud, the road will take you to Gianyar, the city carrying the same name as its regency in 21 minutes, 7 miles/11.3km. There isn't much to see in Gianyar except for some gigantic Balinese statues along the way.
While driving through Gianyar you will see signs showing you the way to Bangli.
Bangli
The road to Bangli isn't as big as the ones we are used to back home in Europe, but it can be considered as the main road in the Gianyar area.
While you are leaving Gianyar, you'll be driving in the Balinese countryside in no-time. So watch out because before you know it you have a whole family of ducks crossing the road.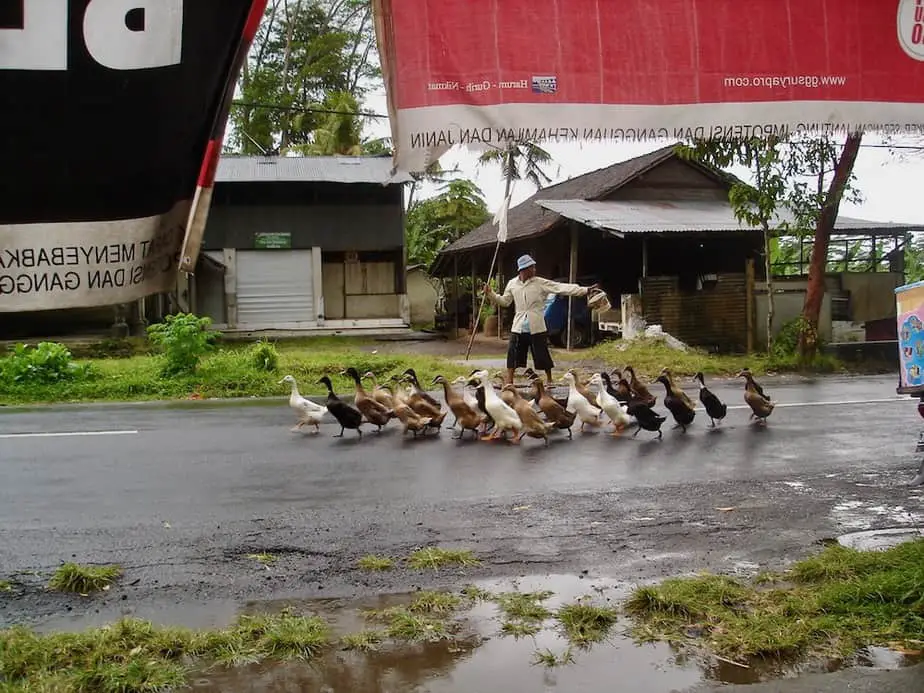 Our first stop along this road is the mystical Pura Kehen Temple. From Gianyar, it takes 26 minutes, 9.3 miles/15.1km. Continue driving at the first traffic lights you'll see in Bangli and once you're near a huge Balinese statue turn right. Now it's only another 5-minutes and you're at the temple site.
The ancient Pura Kehen Temple is one of the biggest temple complexes in East Bali and it's draped around a huge banyan tree.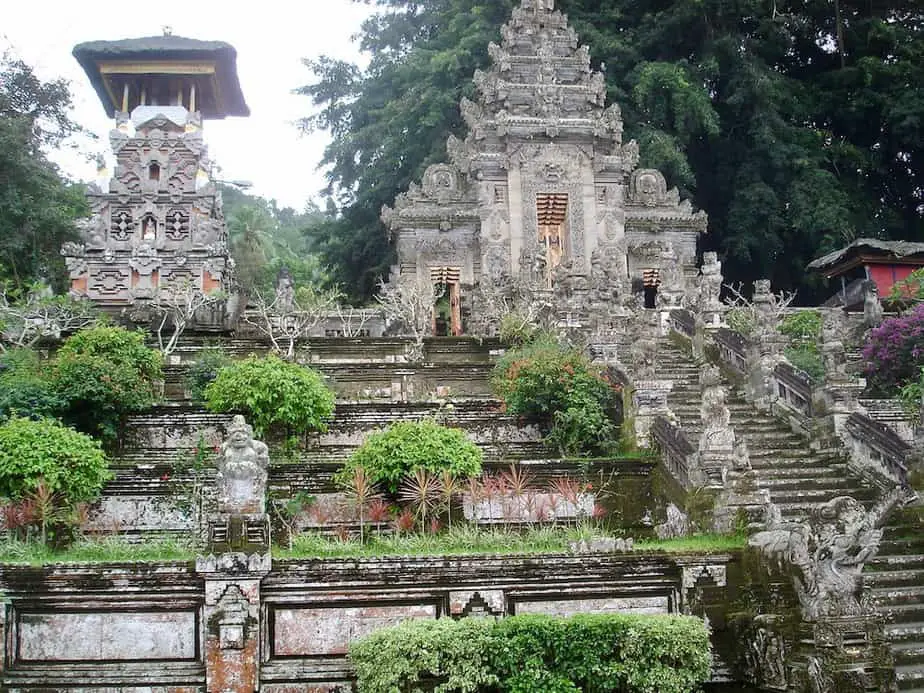 When I walked around the complex I had the feeling that I had stumbled upon one of the sets of the latest Indiana Jones movie.
The many statues and walls of the temple complex are covered in moss while meters high temple roofs and swaying palm trees in the background give the place its unique character.
Rendang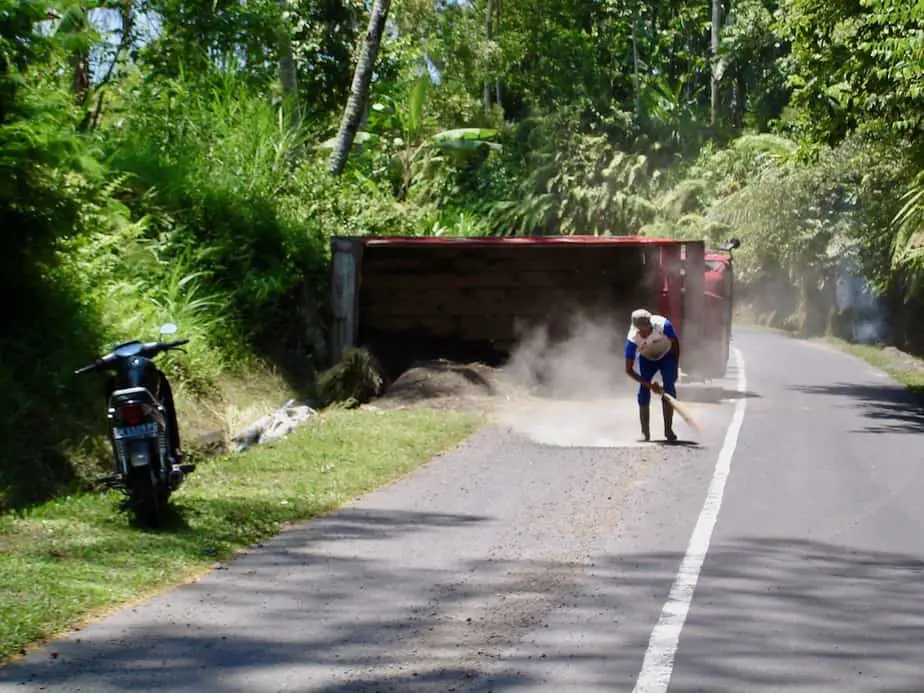 After 20 minutes of visiting the temple, it's time to head back to the traffic lights, where you take a turn to the left to continue towards Rendang.
From here it's pretty easy…
Just follow the tropical forest road to Rendang and on its way, you'll see Balinese men carving out wooden shrines or woman carrying offerings on their heads. From Bangli it takes around 43 minutes, 15.7 miles/25.4 km.
The route gives you the opportunity to see the famous Balinese rice terraces. At some points, these terraces just go on and on and you want to stop about every 50 meters to shoot another video or photo.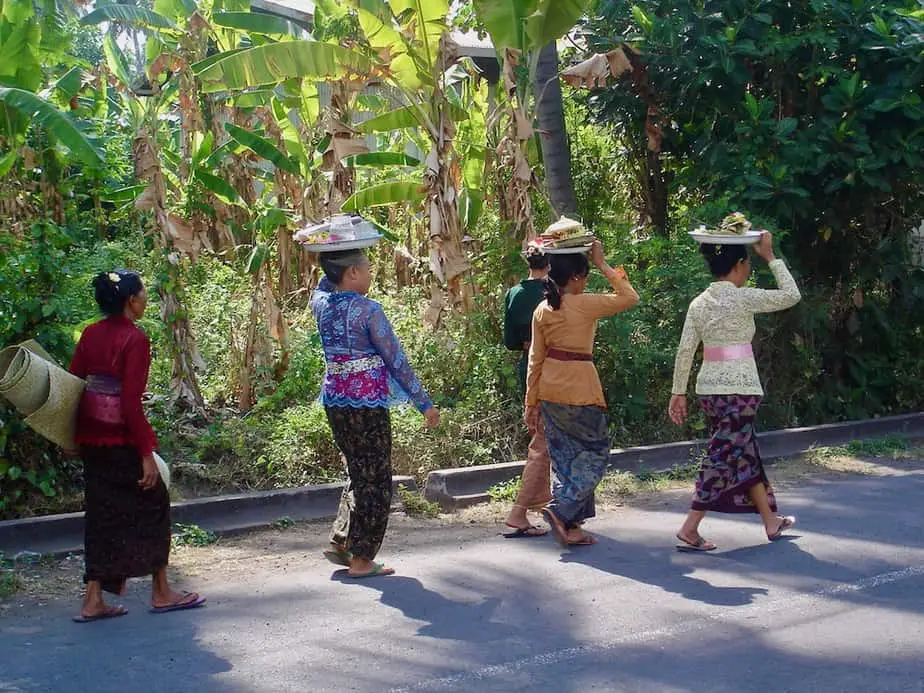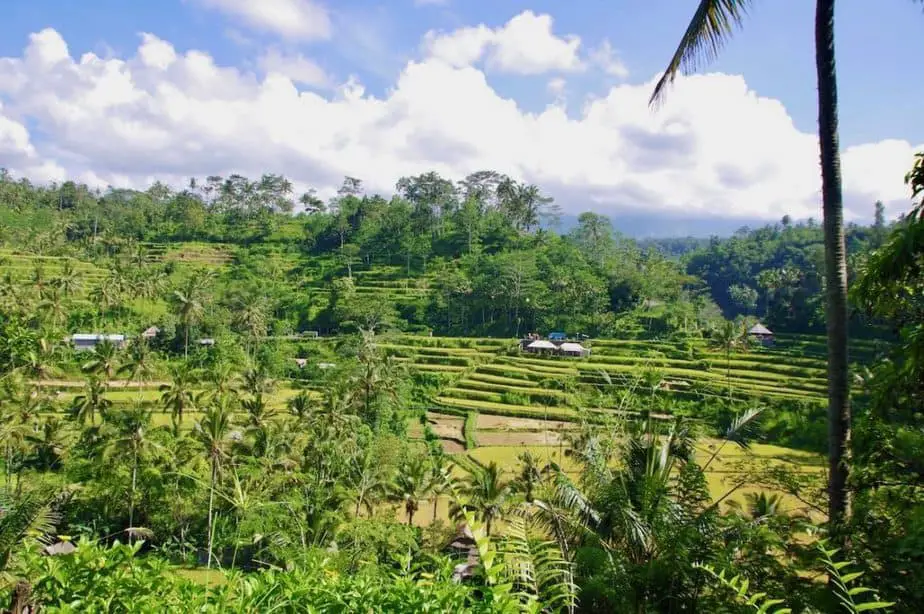 Besakih
Once you are at the small village of Rendang turn left at the road leading in 9 minutes to Pura Besakih, the most important temple for the Hindu Balinese also called the 'Mother Temple'.
Pura Besakih is not only the most important but also one of the oldest temples in Bali. This temple complex consists of many courtyards that are connected with steps.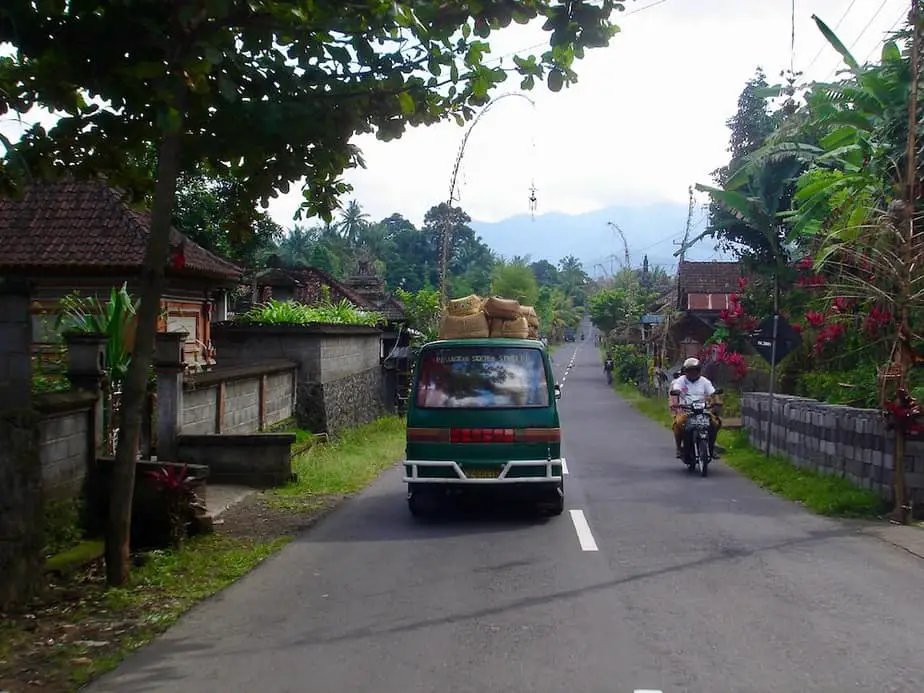 Not only is the temple complex pretty impressive but having Mount Agung watching over this place makes it even more unique.
Thousands of pilgrims visit this temple every day of the year. Once you arrive in the Besakih area and pay a small entrance fee you will see the many Balinese conducting ceremonies or placing colorful offerings.
The entrance fee is 60.000 Rph for adults and 30.000 for kids but includes a free local guide. He can tell you something about the Balinese religious customs and practices.
Don't forget to dress appropriately in a sarong and selendang (Balinese scarf).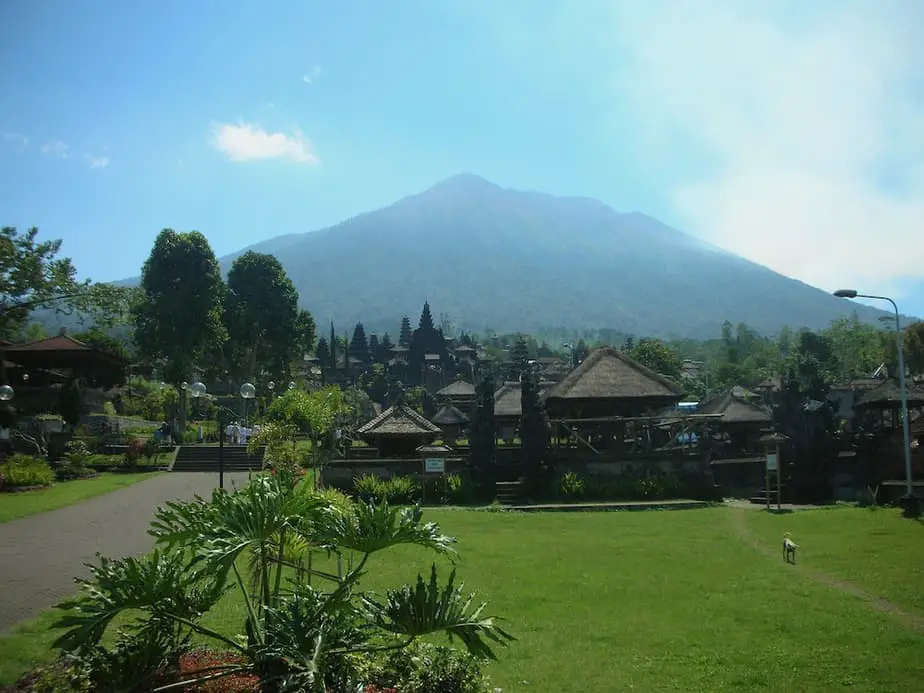 Unfortunately, you're not allowed to enter the most sacred parts of the temple but don't worry there's enough to see and to take photos of.
Besakih temple is not only popular among pilgrims but also among hikers who love to go all the way to the summit of Mount Agung. It's not an easy climb and a local guide is necessary.
Once you have reached Besakih temple you are half way on the route.
The second and final part of this route is through traditional Balinese villages located high up in the mountains all the way down to the low coastal towns of Manggis and Candidasa.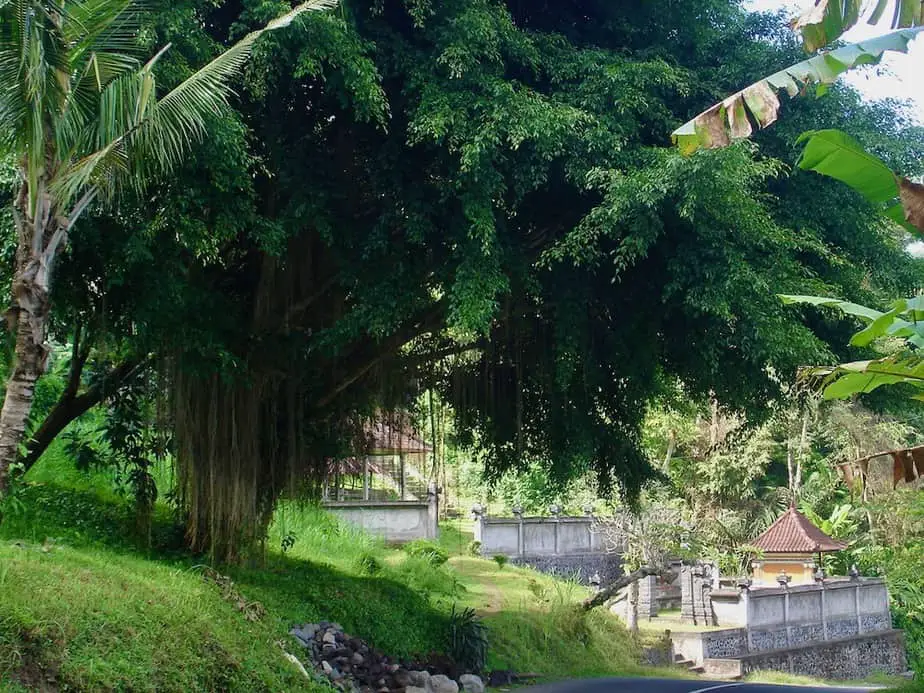 Selat
So once you have left Besakih behind, turn left to Selat village in 33 minutes, 9.9 miles/16 km. From here on it looks like you're driving back through time. Since you're high up in the mountains the villages are less colorful than the ones you've already seen on this route.
Here the Balinese buildings are gray, have simple decorations and the Balinese clothing is more practical than traditional.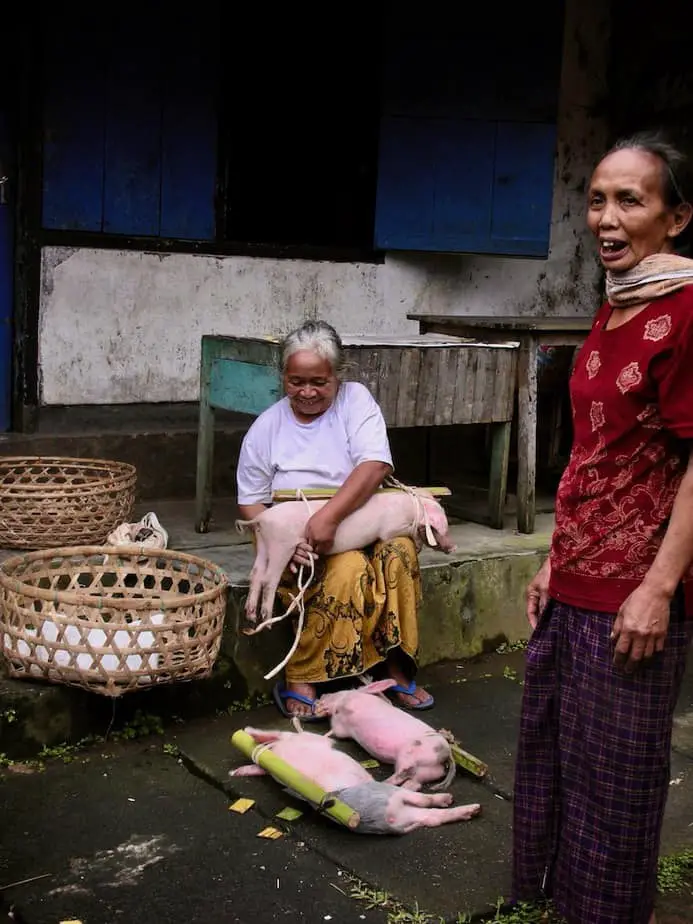 It's obvious that life is hard but the people are very cheerful especially when they see two tall foreigners and a little kid passing by on a motorbike.
Selat village is another starting point to arrange your hike to the summit of Gunung Agung. This trail is less difficult than the one starting from Besakih temple and therefore more popular. 
At Selat there is a crossroad where you have to go straight in the direction of Putung.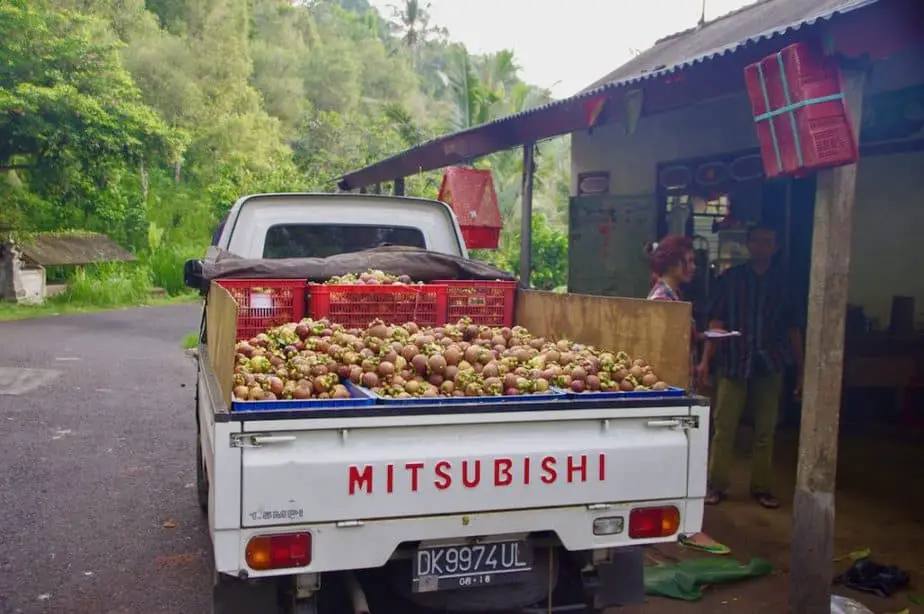 Manggis
Once you pass Selat make sure you keep driving towards Putung in 21 minutes because at this tiny village you must take the turn to Manggis if you want to reach Candidasa Beach.
Here the quality of the road could be better, there are some potholes and it can get pretty steep. You may get the feeling that you are a bit off-road and in the middle of nowhere but don't worry.
You are going the right way!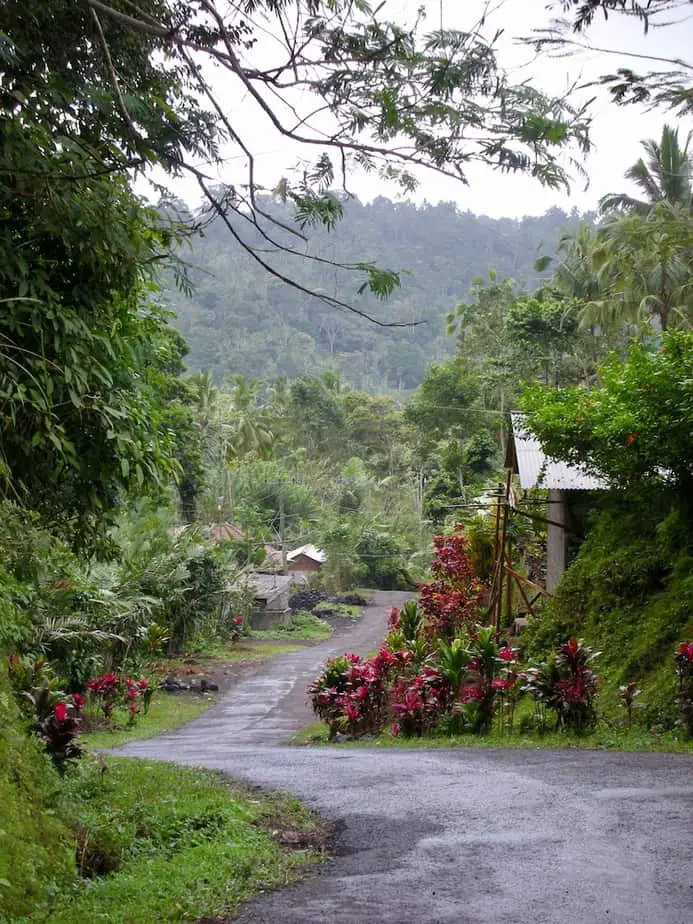 Despite the bad asphalt, you don't need a 4X4 car to take this part of the route. My sister and I managed to drive up- and downhill on a motorbike, with my sister jumping off once it got extremely steep.
On this part of the route, you will see farmers plowing their fields, chicken along the road, and of course children playing around with their kites.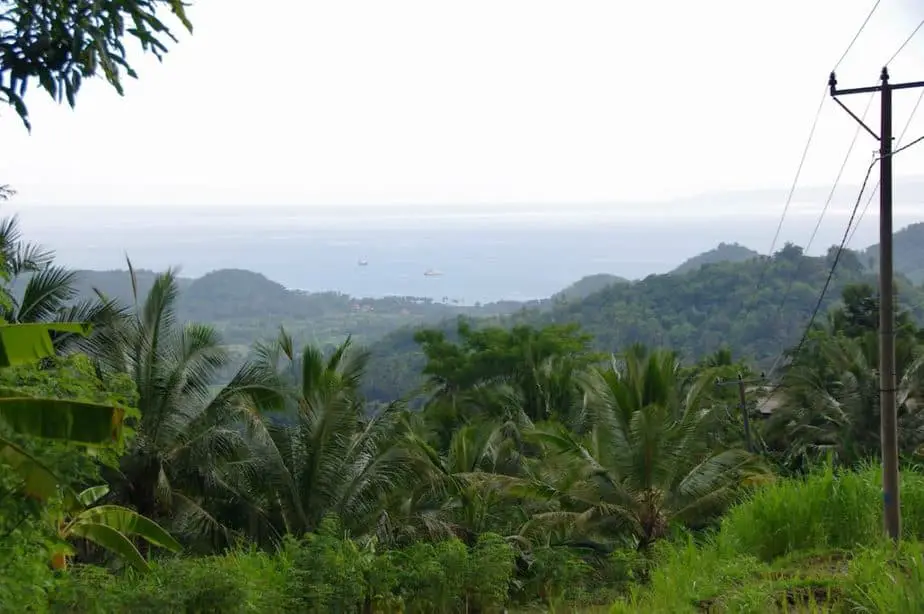 The landscape and the rays of sun shining on the hills is an amazing sight. Especially if you come closer to Candidasa. From here you can see the Strait of Lombok, Nusa Penida island, and a couple of anchored boats.
It's only downhill now and you end up at the main road in Manggis in 15 minutes. This road takes you straight to the finish of this day trip through East Bali; the little coconut town of Candidasa. It only takes 8 minutes.
This route can also be done with a start and ending in Candidasa. The places you will visit are Candidasa, Manggis, Putung, Selat, Rendang, Besakih, Rendang, Selat, Iseh, Sidemen, Klungkung (Semarapura), Padangbai and back to Candidasa.
2. Route Around Bali's Volcanic Land
Ubud – Goa Gajah – Gunung Kawi – Tirta Empul- Kintamani – Rendang -Selat – Sidemen – Klungkung (Semarapura) – Gianyar – Ubud.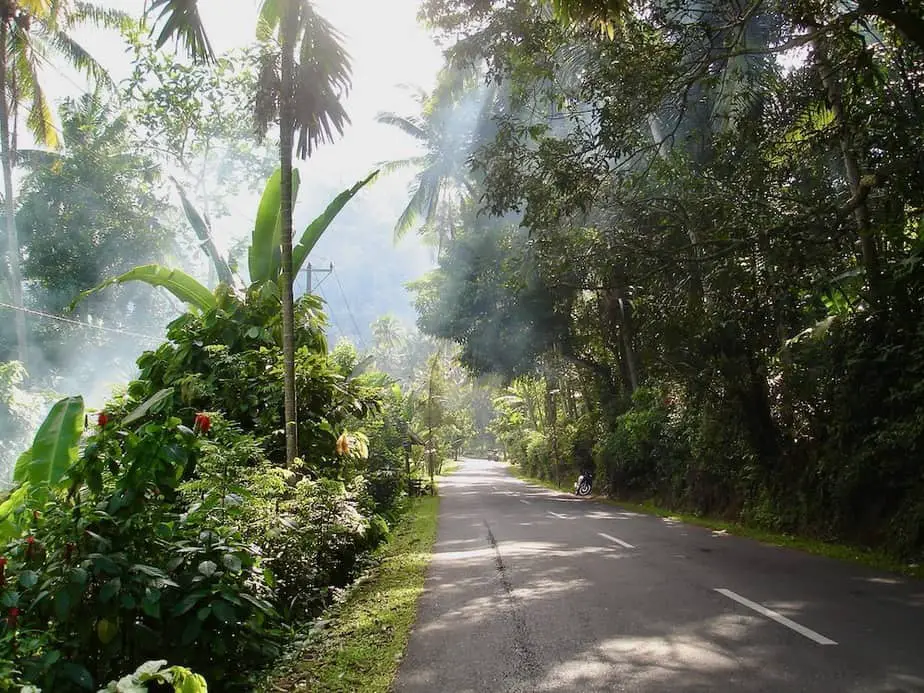 Highlights: The elephant cave at Goa Gajah, ancient tombs at Gunung Kawi, life elixir at Tirta Empul, Batur volcano at Kintamani, rice fields at Sidemen.
Total travel time: 3 hours 40minutes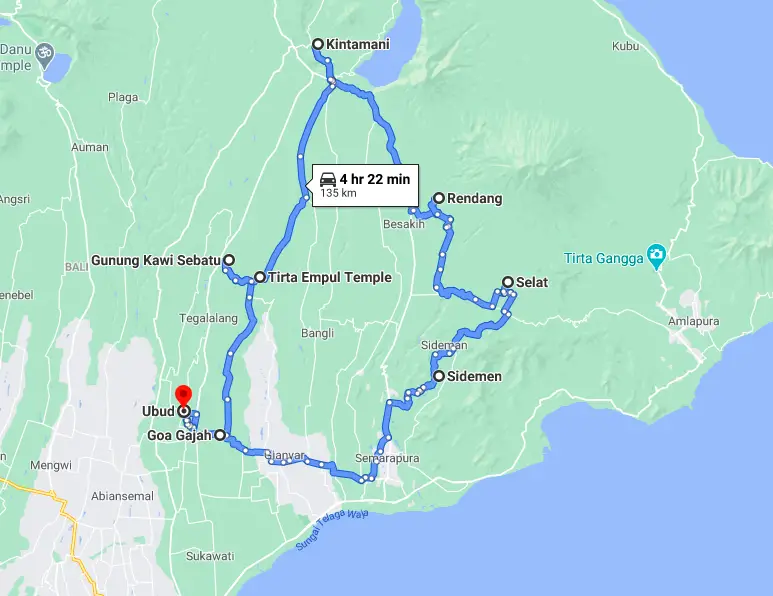 From Ubud, this is one of the routes that will immediately take you into the mountains of Bali. The landscape on this route offers great views and you will pass villages where people still live life as decades before.
Once at Kintamani you can stop to take in the gorgeous view of Batur Lake and Mount Batur. If you want a closer look at the spectacular lake and volcano, you can even drive down into the crater.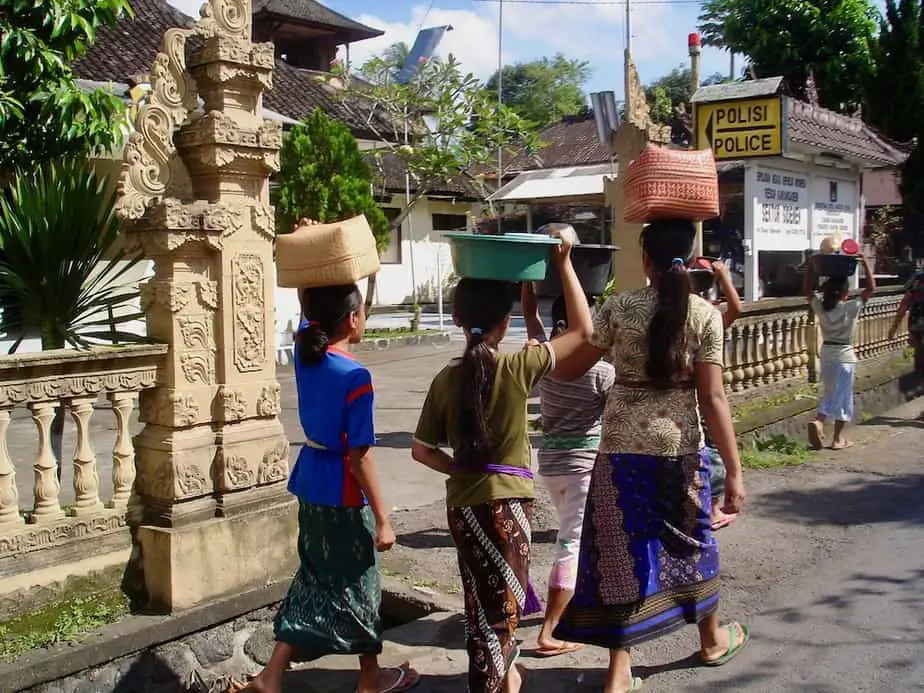 The second stretch of the journey takes you back downhill through one of our favorite parts of the island and back to Ubud.
Ubud
Ubud is the starting point of this volcanic route. If you are staying in Sanur, Nusa Dua, or Kuta then you can do this route too. You just need to get up earlier.
As always we recommend leaving early when there isn't much traffic on the road. Plus, and probably more important chances are you are ahead of the tourist buses. They also want to stop at the three important sites: Goa Gajah, Gunung Kawi, and Tirta Empul.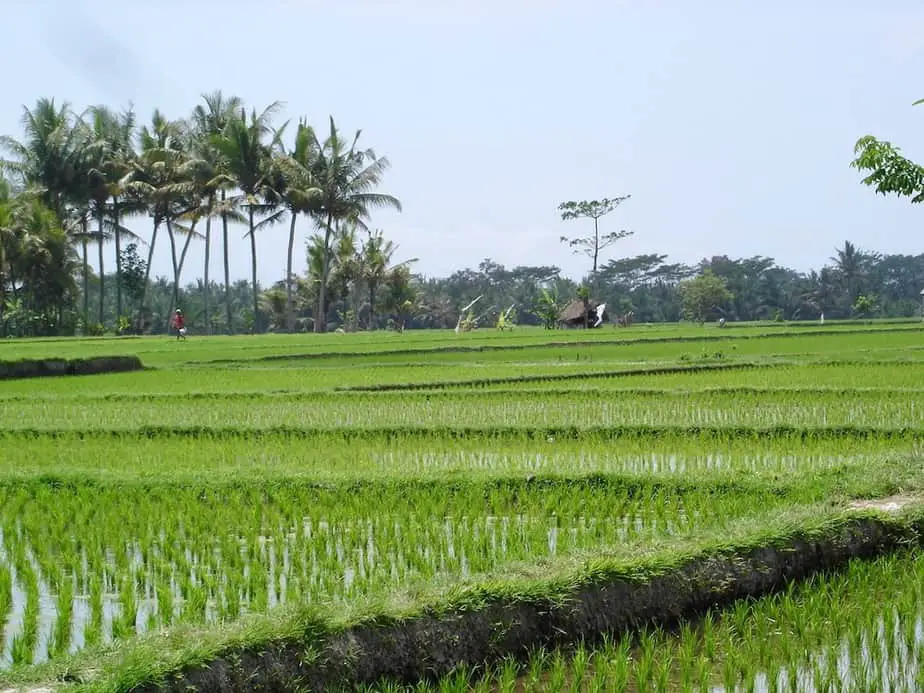 If you decide to go this route you might want to choose two out of the three sites so you can fully appreciate them. Our personal favorite among these three is Gunung Kawi. It has one of the most beautiful settings, but then again taste differs 😉
To enter the temples you need to dress accordingly. Sarongs can be hired at the entrance.
Goa Gajah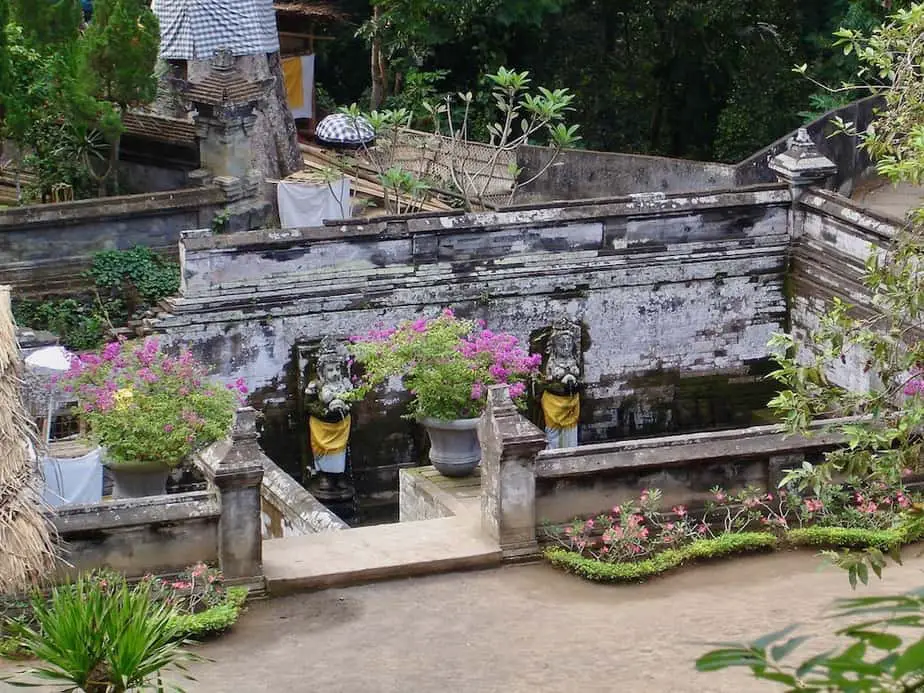 Goa Gajah is located just outside of Ubud on the way to Bedulu and you'll be there in 9 minutes, 3 miles/4.9 km.
Goa Gajah means "Elephant Cave". Dutch archeologists discovered the place in 1923 after hearing locals describing a cave with a huge monstrous elephant head. Until today the origins of the cave are still a mystery.
Once we were lucky to see Balinese men and women preparing several offerings for a huge ceremony in the following days. The area is unspoiled. Besides visiting the elephant cave there are ancient bathing places with nymph statues that are spewing water.
After visiting Goa Gajah continue the trip by traveling to traditional Balinese villages such as Pejeng, Tarukan, Sanding, Bukit until arriving at Tampaksiring. It takes a 20 minutes drive, 8 miles/ 13km for the two following sites.
Gunung Kawi – Mountain of Poetry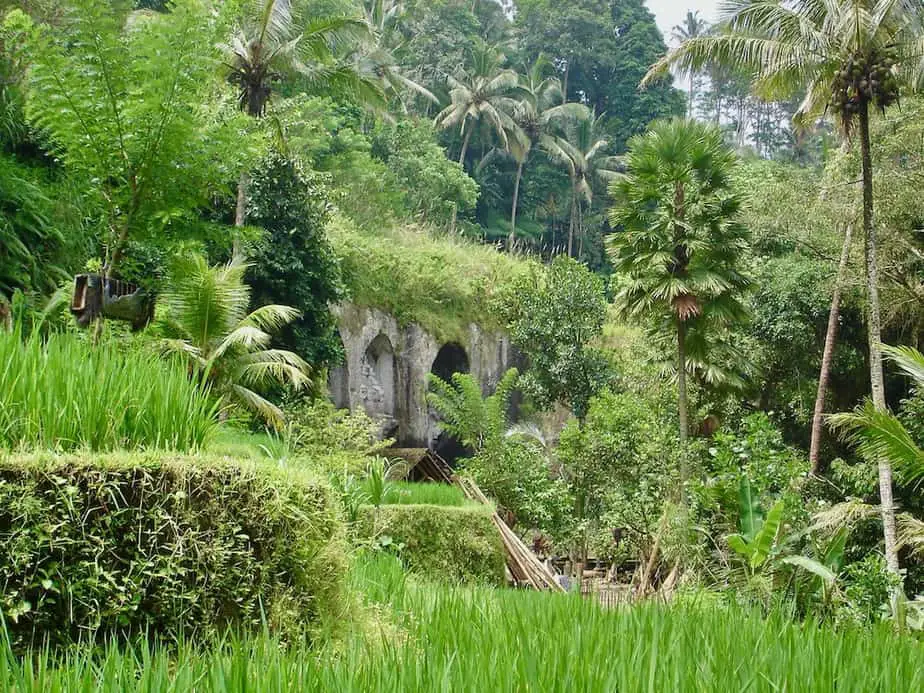 When you arrive at the parking lot of Gunung Kawi the first thing you bump into is the line of tourist shops. Yes, it is a big tourist attraction. But just walk down the stairs passing another dozen or more stalls.
Gunung Kawi means "Mountain of Poetry". The huge carved tombs of the royal family from the 11th century are beautifully set against swaying palm trees, stunning rice fields, and the river Pakrisan. The entire area is sacred to the Balinese.
The next sight is Tirta Empul and it is only a 5-minute drive away, 0.9 miles/ 1.6km.
Tirta Empul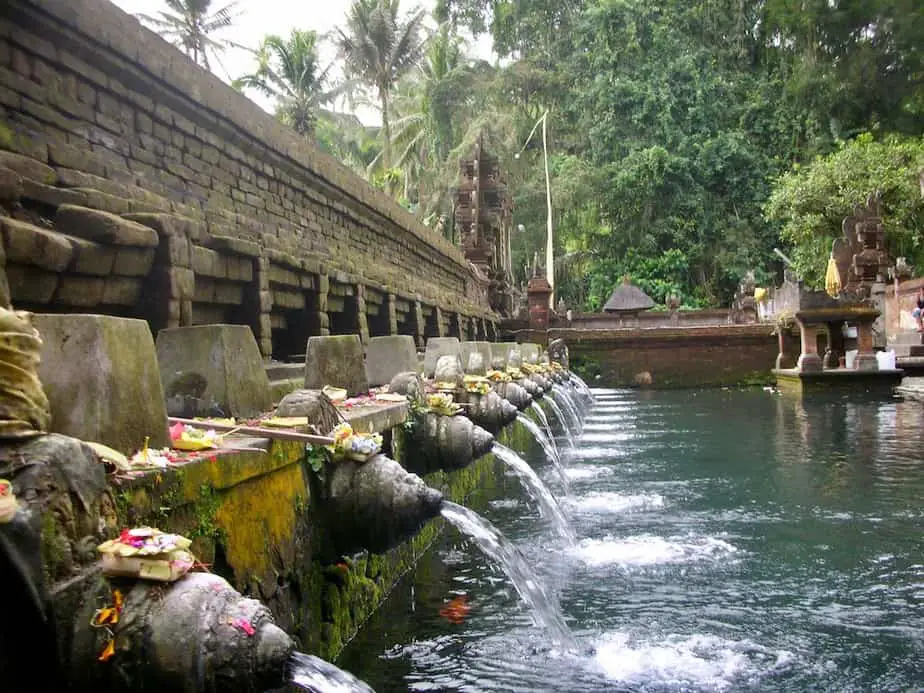 On the left side of the main road, you'll find Tirta Empul, one of Bali's six important temples. The Balinese believe that the water spring has been created by God Indra himself. The spring holds magical healing powers and even the secret to eternal youth.
The sight is definitely worth a visit, so walk around and see Balinese pilgrims taking a bath among pink flowers. Don't forget to wear a sarong and 'selendang'/temple scarf around your waist here too.
When you leave this historical sight try to leave the same way as you came or you will soon be lost in de maze of souvenir stalls.
Kintamani-Batur Volcano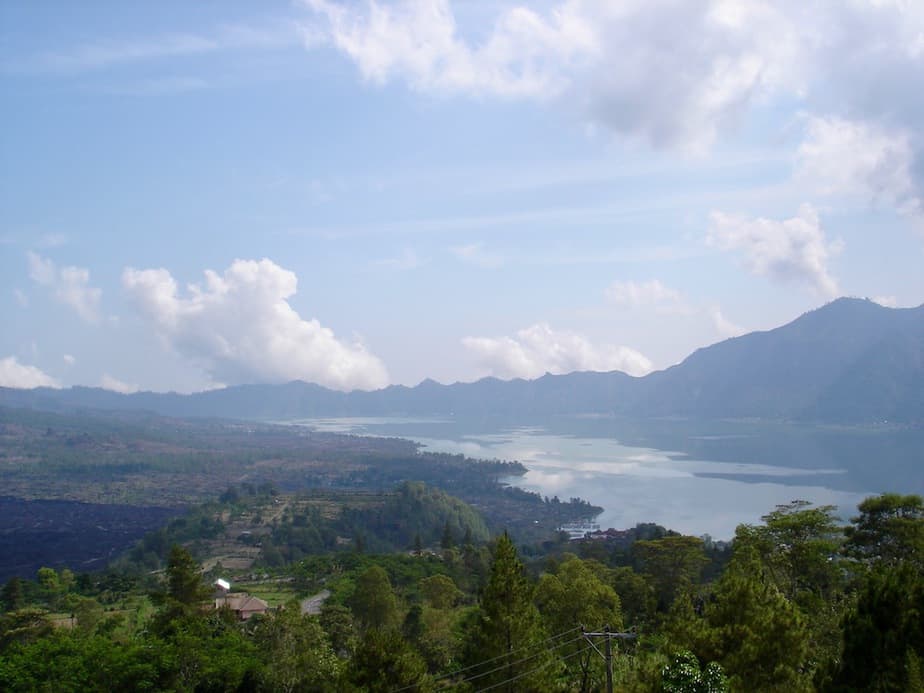 From here everything goes uphill to traditional Balinese villages such as Seribatu where the road gets steeper towards our next stop Kintamani in 35 minutes, 13.2 miles/21.4km.
The rice fields, coconut palms, and rattan plants make way for coffee, nutmeg, and lemon plantations.
When the road winds even higher around the slopes of Gunung Batur you'll find old oak trees, huge ferns, and plenty of moss all the way to the crater rim of the neighboring villages Penelokan and Kintamani.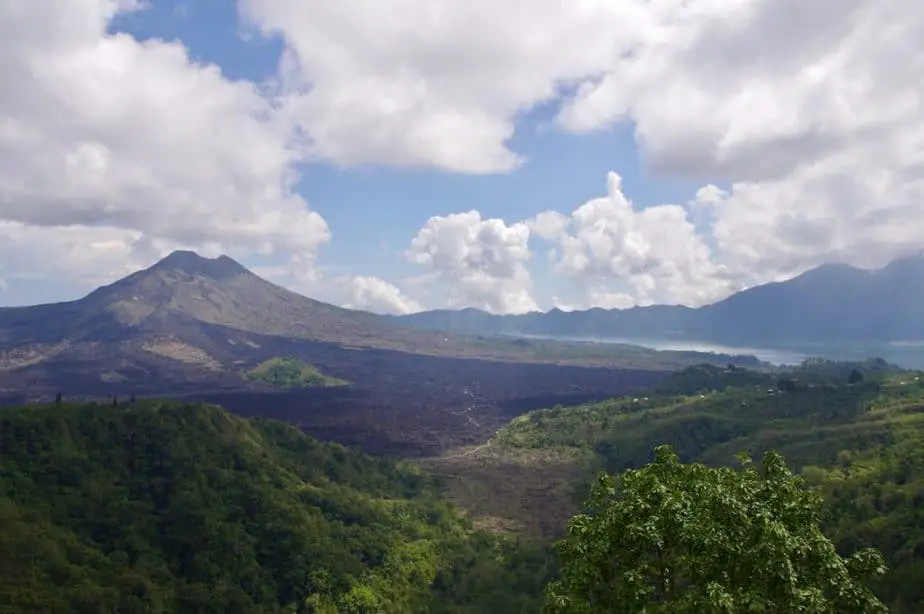 This is a nice spot to stop for a while. Sit and enjoy the spectacular view of Bali's biggest crater (6.2 miles by 8.6 miles/10 km by 14 km), the result of a collapsed volcano during the prehistorical era. Its deepest point is now Lake Batur which is 4.9 miles long by 1.8 miles wide/ 8 km long by 3 km wide.
On the left side of Lake Batur, you will be able to see the top of volcano Gunung Batur (1707 meters) on a clear day. During 1917 and 1923 this volcano erupted leaving several villages destroyed and many Balinese dead.
The villages of Kintamani and Batur used to be located down into the crater. Only after the eruptions were they relocated to the rim of the crater.
While Kintamani is famous for its amazing views it is also known for the hordes of street hawkers selling all kinds of souvenirs. Many travelers experience them as aggressive. They do tend to be more persistent than in other parts of the area. In this case, just smile and politely ignore them.
Lunch time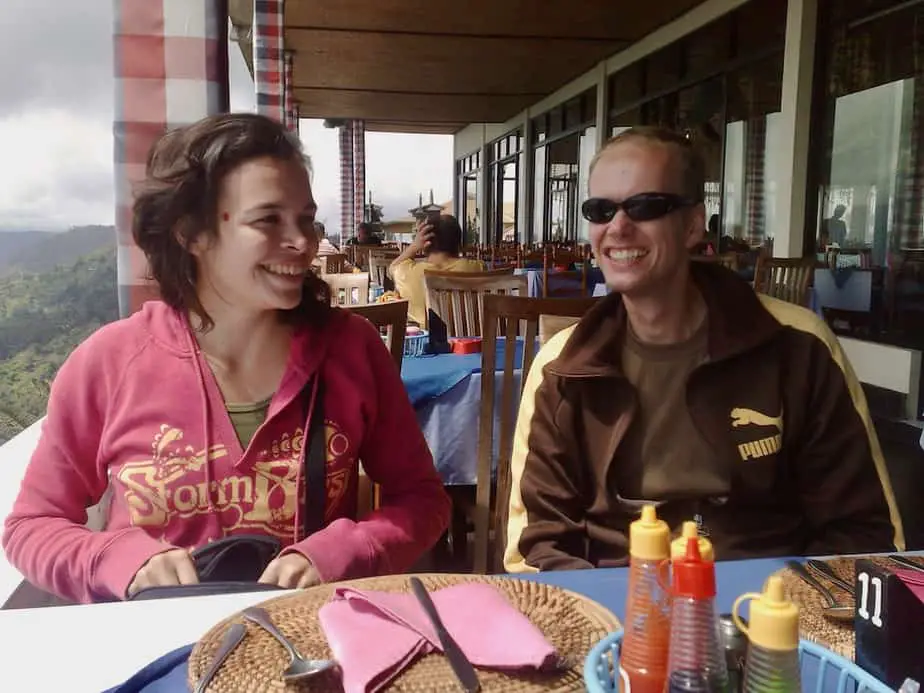 At this point in the day trip, you might want to consider having lunch. It is pretty difficult to find an attractive looking restaurant. The entire main road is dominated by big restaurants offering buffet lunches only.
When you don't want to spend too much time finding the ideal place to eat, you can opt for a buffet. At least you'll be treated with an amazing view from your table.
If you don't mind something simple yet tasty, try to spot the smaller local restaurants that serve the famous nasi Goreng or noodle soup.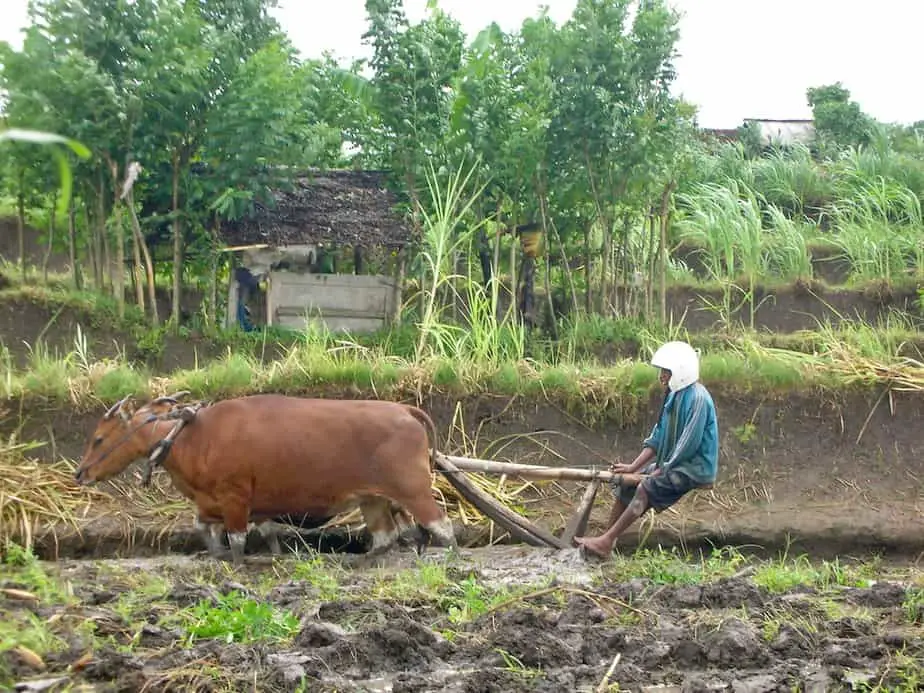 The road trip continues to the neighboring village of Kedisan where the scenic road will lead you down to the mountain villages of Rendang in 36 minutes, 13.2 miles/21.4km.
In Rendang, there are no sights of importance. That said, this wonderful part of the route takes you along forgotten villages, waving farmers and women packed in pick-up trucks ready to bring offerings at Besakih temple.
Rendang to Sidemen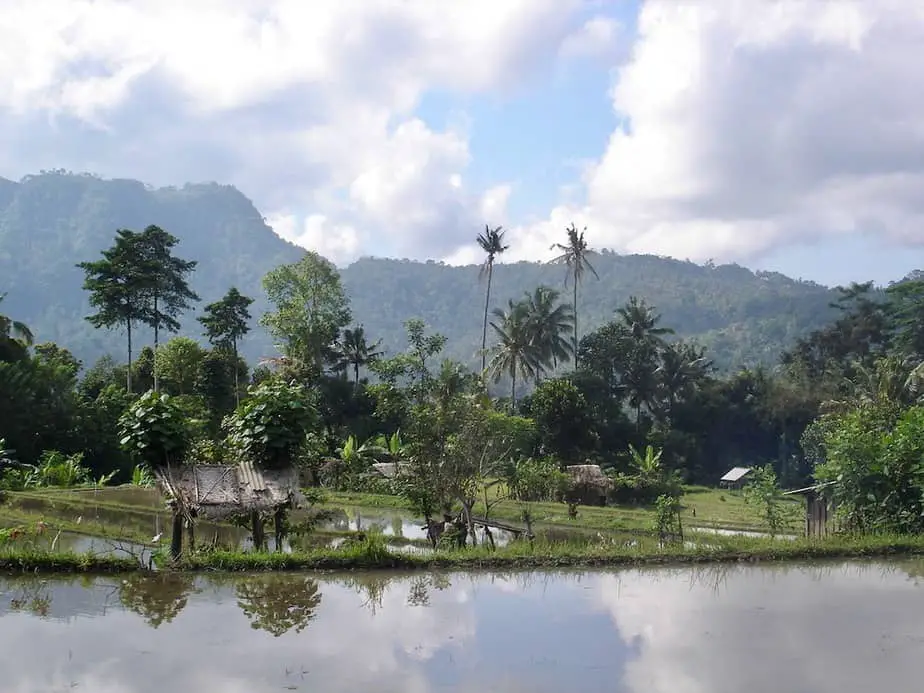 The road continues from Rendang down to Sidemen in 41 minutes, 12.9 miles/20.8km. Just before Sidemen, you'll pass Iseh village. There is not much to do in Iseh. You will probably drive through it before you realize it. Nevertheless, the attractive landscape is definitely their unique selling point.
From Iseh all the way down to Sidemen you will be treated with gorgeous views of the valley and the river below. This part of the island is absolutely stunning with Gunung Agung occasionally reappearing in the background.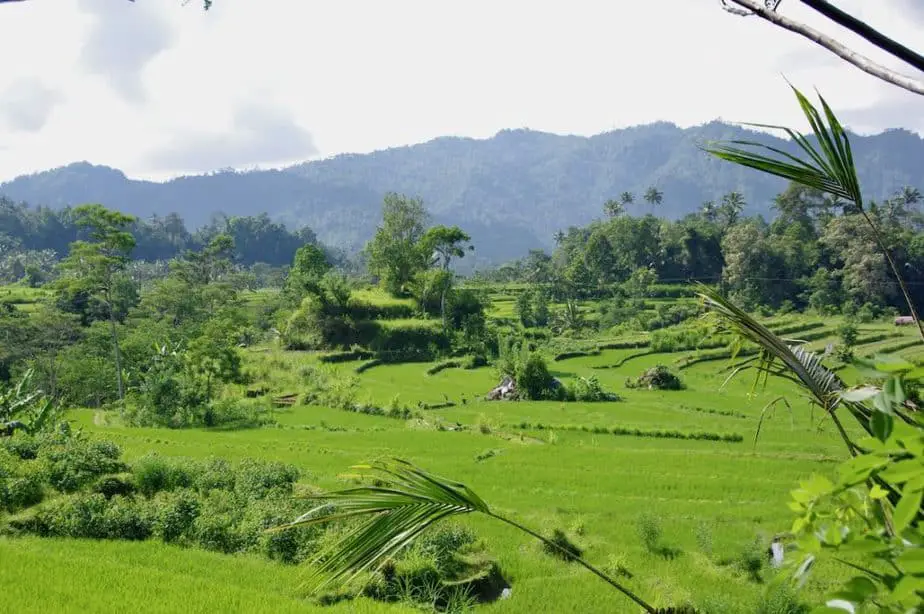 Just like us, the German painter Walter Spies loved this part of Bali. He stayed here in the 1930s to avoid the busy life of Ubud. Here he found inspiration for his exceptional painting 'Iseh im Morgenlicht 1938'.
You will also pass small traditional villages that have their own unique temple complexes. More often than not there are groups of women walking along the streets with colorful baskets on their heads. Always a welcome sight.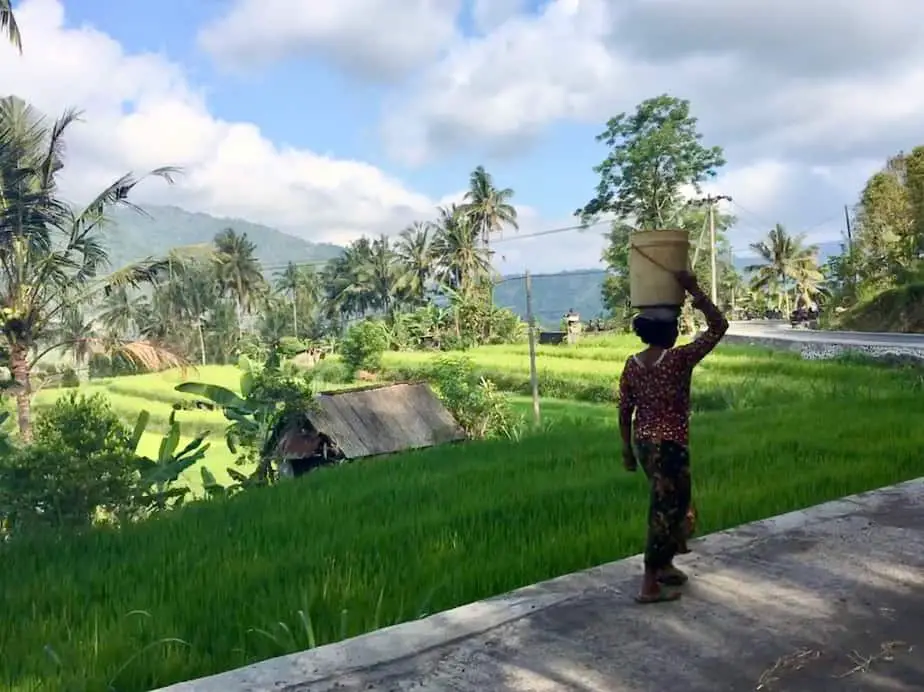 Sidemen has become one of our favorite places to stay and we always try to stay here a couple of days. The area is very appealing for hiking through the ricefields.
Klungkung
At the end of this road from Sidemen to Klungkung (also called Semarapura), you will enter the action of this busy historical provincial capital. This stretch takes 24 minutes, 6.8 miles/11.1km.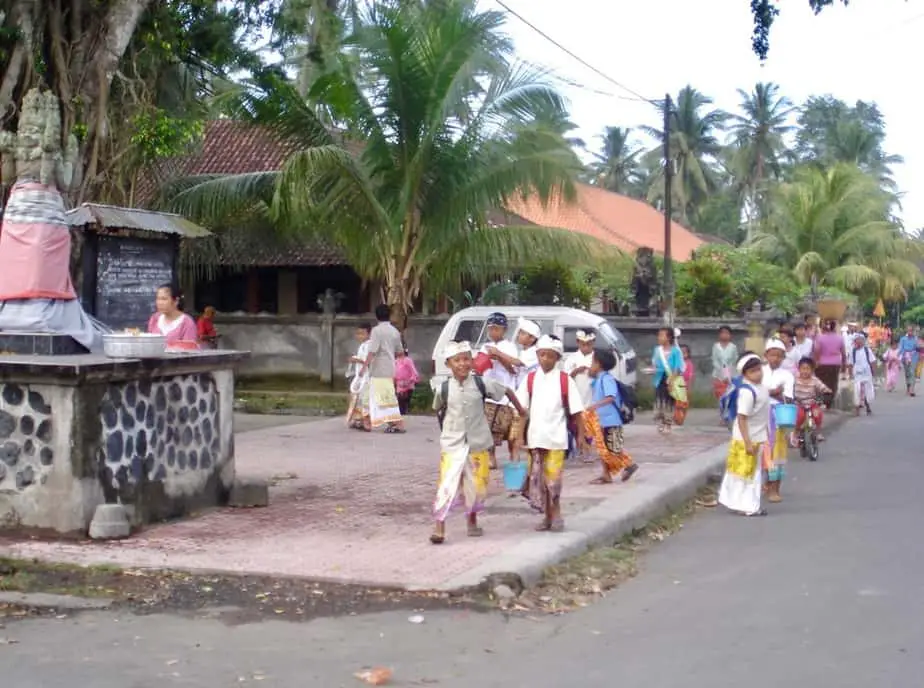 You can pay a visit to the Taman Gili palace which was built in 1710 by the king at that time. You can check out the unique renovated Wayan-styled paintings on the ceiling in the Court of Justice.
From Klungkung the busy main road leads you via Gianyar back to the final destination Ubud in 38 minutes, 13.4 miles/ 21.7km.
3. Route Around North Bali
Ubud – Mengwi – Pacung – Bedugul – Lake Bratan – Lake Buyan – Lake Tamblingan – Munduk – Mayong – Seririt – Lovina Beach.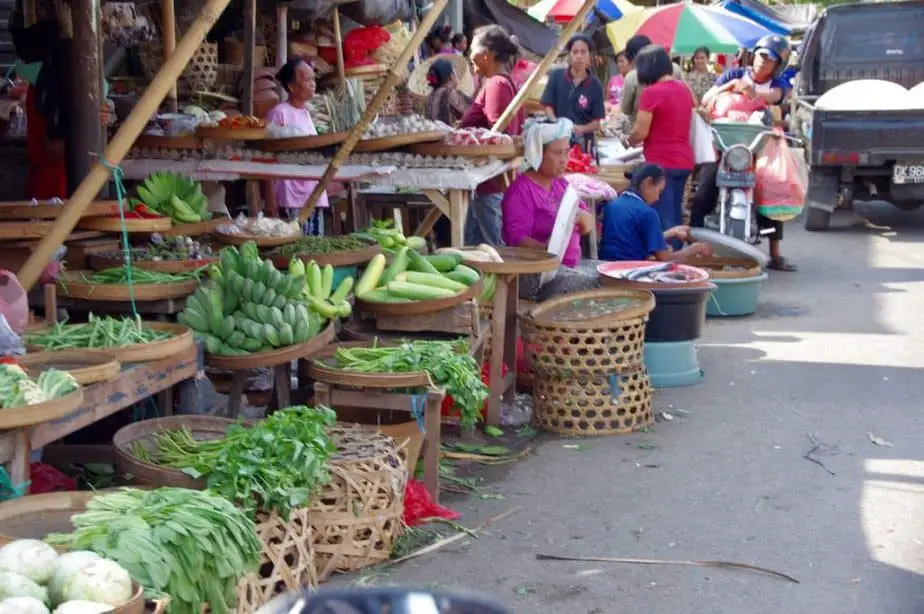 Highlights: Taman Ayung Temple in Mengwi, Ulun Danu Temple at Bratan Lake, the Twin Lakes, rice terraces of Mayong.
Total travel time: 3 hours 20 minutes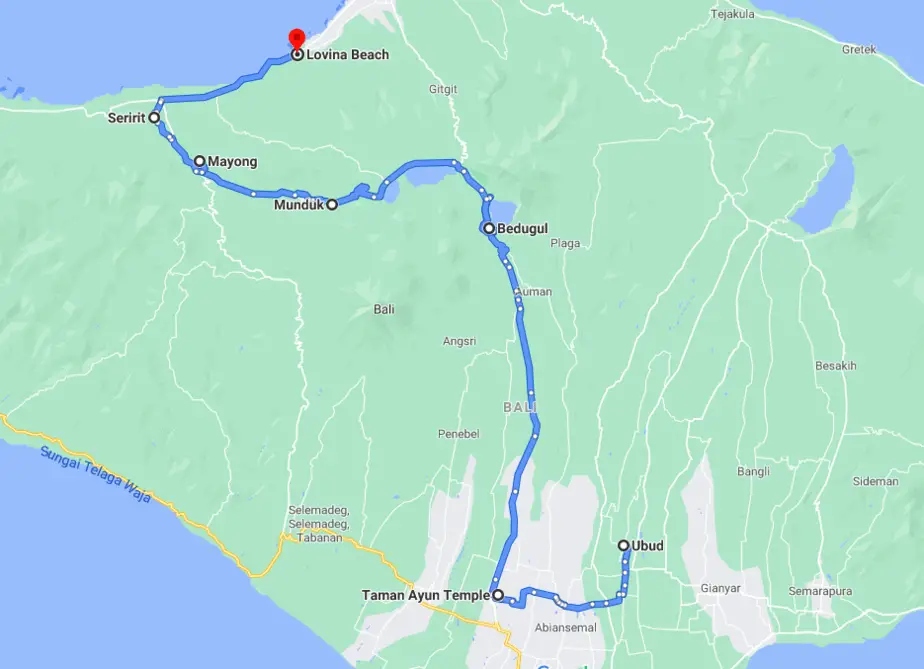 The route to the northern part of Bali takes you along the crater rim and into the mountains that surround the three sacred lakes. If you rent a motorbike make sure to bring a jacket. Once you reach the misty mountains it can get pretty chilly.
These mountain forests will cool you down from the heat in central Bali while enjoying the view on Bratan Lake. Here you'll have the chance to visit the famous Ulun Danu temple too.
More up-hill you'll soon be greeted with great views on the Twin Lakes, Lake Tamblingan and Lake Buyan.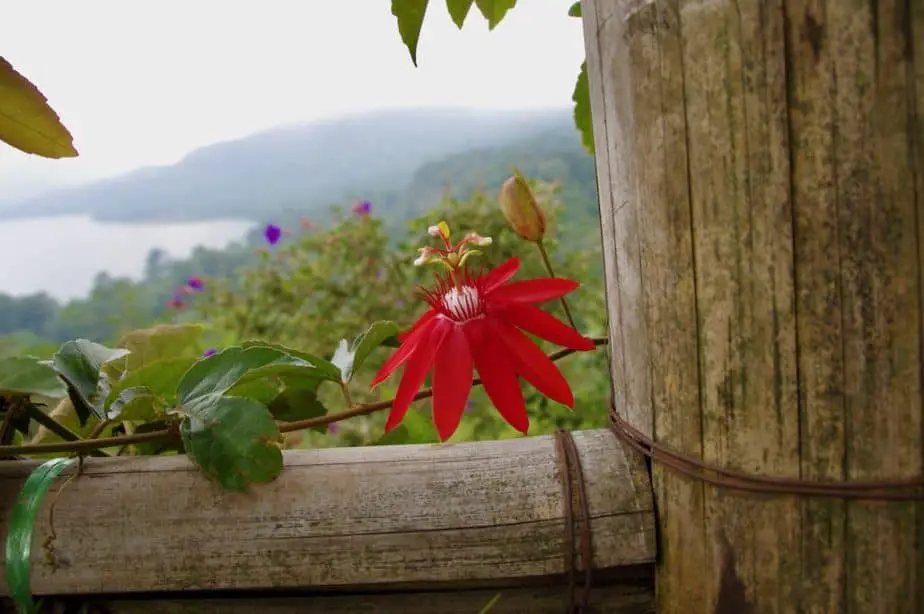 Mengwi
Try to wake up together with the rest of the Balinese in Ubud who head for the market before sunrise. You can start your journey when the air still feels pleasantly fresh.
To get to Mengwi from Ubud takes around 32 minutes,11.2miles/18.km. Drive past the Arma Museum and take the first right. I'm being a bit specific here because there are no signs to give you any directions. From here on continue following the signs to Sangeh until you see the first signs with 'Taman Ayun' on it.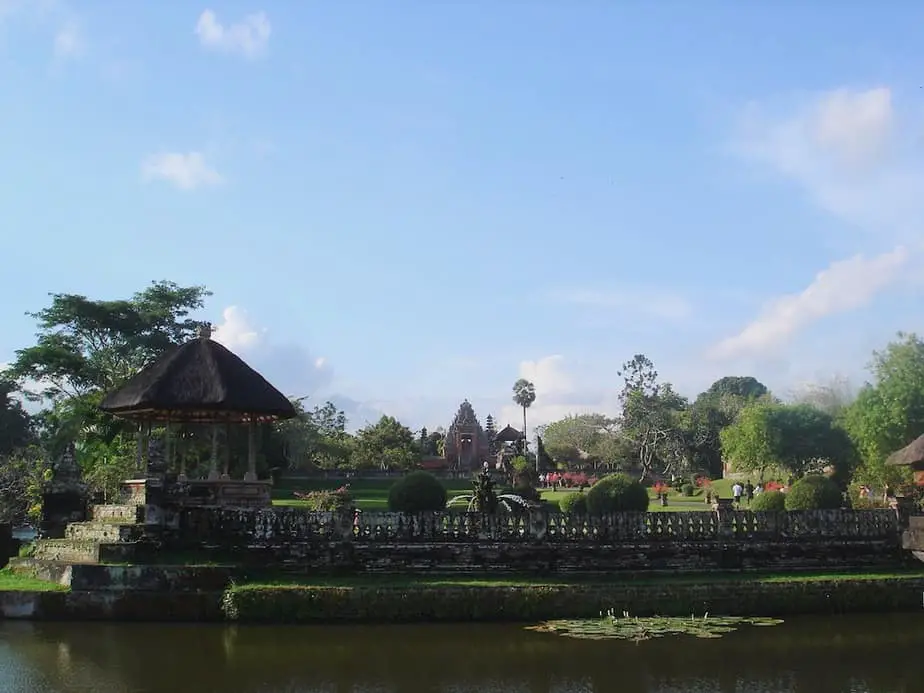 Taman Ayun is one of Bali's most beautiful temples and is located in Mengwi. In the past, this city was a very prosperous and powerful kingdom. The thing that makes this temple special is that the temple ground is surrounded by water.
To reach it you need to cross a small bridge. The huge garden with a lot of lotus ponds makes this temple complex extra colorful.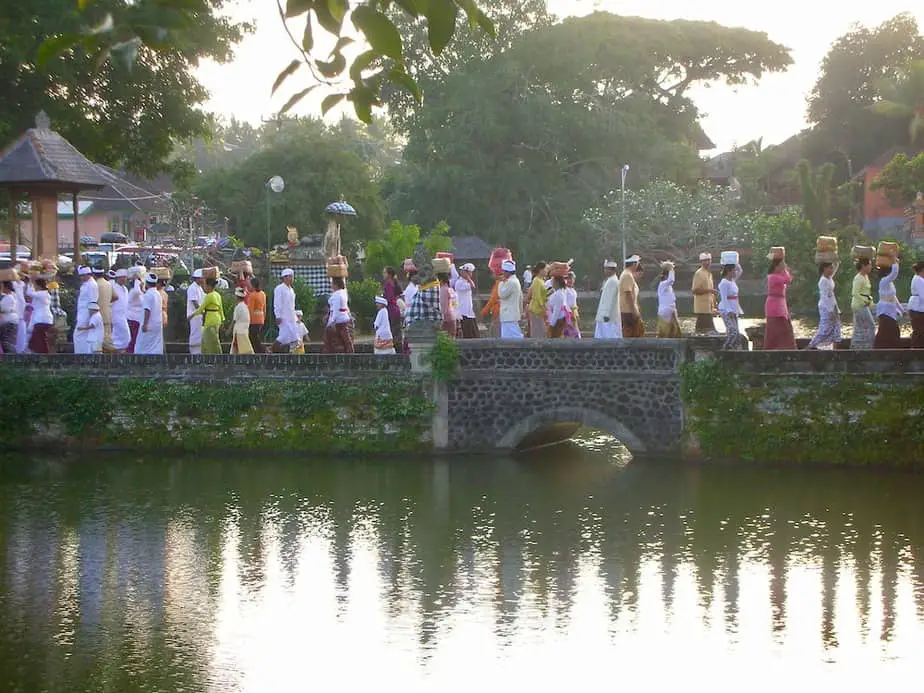 After 20 minutes or so in Taman Ayun temple, it's time to hit the road again. Continue the route in the direction of the mountains to Bedugul. This will take around 53 minutes, 24.4 miles/39.4km.
Bedugul
This part of the route is pretty clear-cut; just straight on with continuous views on the mountain tops. It can get busy on the road. However, don't forget to look around and to take in the wonderful scenery.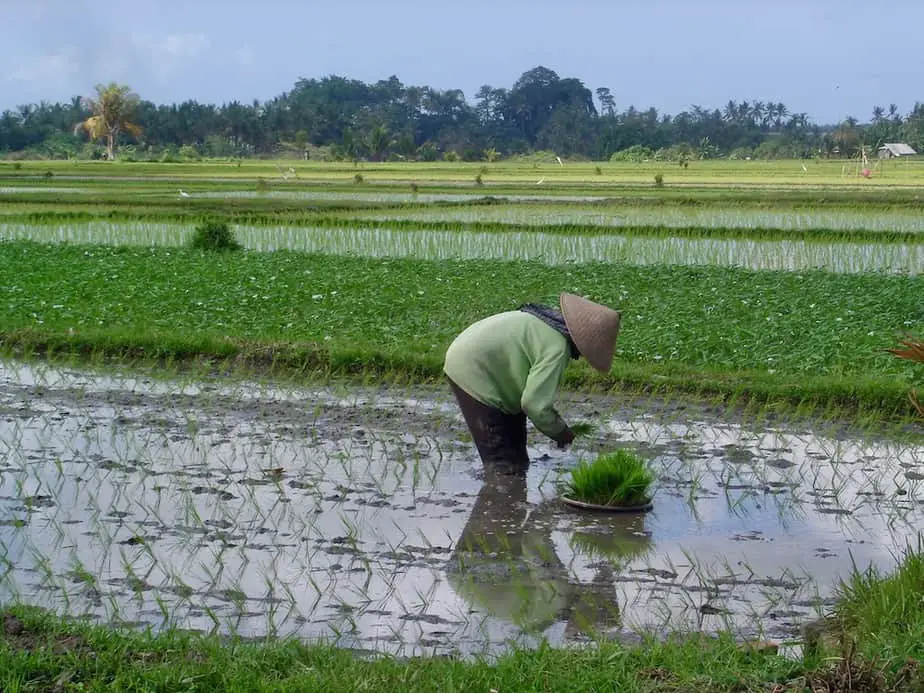 Keep on driving to Pacung. Here you will notice that there are a lot of big restaurants, often offering buffet lunch. We don't recommend the buffet lunches. Not many tourist busses stop here meaning that the food served will not be the freshest.
If you feel like stopping for a drink though then it is a good option. Most restaurants have one of the best views of the valley. You should drive a bit on though.
After the road turns into one with hairpin bends we always stop at one of the first restaurants on the right called Saras.
Here we always go for our usual: hot lemon tea here, banana pancakes, and vegetable soup (what a combination). When the sun is shining, it's a nice place to warm up before driving further into the mountains.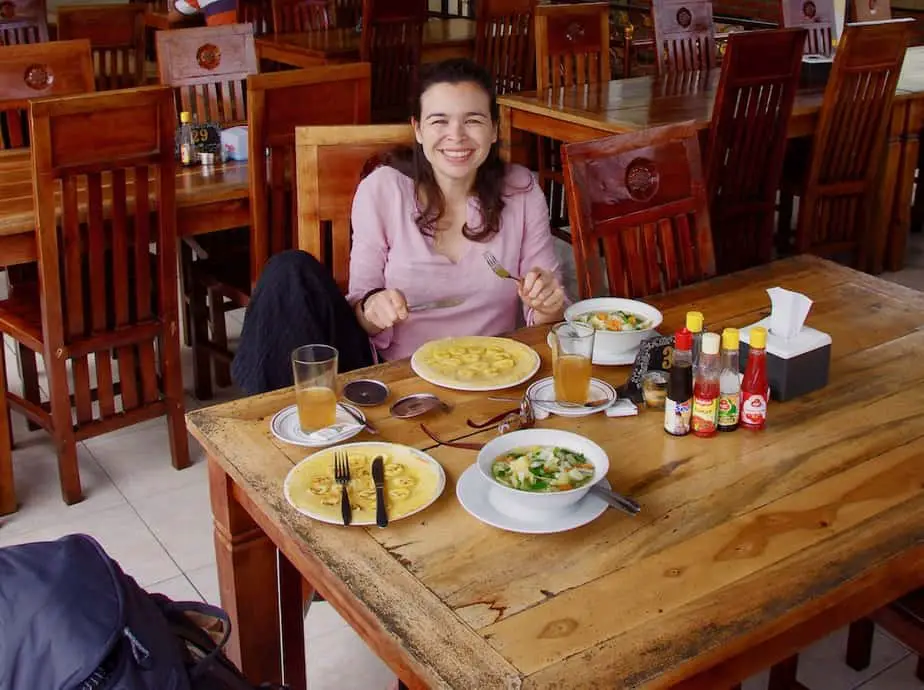 After driving up the mountains the road slowly takes you down to Bedugul. You will know you have arrived in this village as soon as you find yourself at a big fruit market.
Bedugul has other things to do besides visiting the market. The Botanic garden is worth visiting. Hikers can stay here to prepare for their climb of Mount Catur.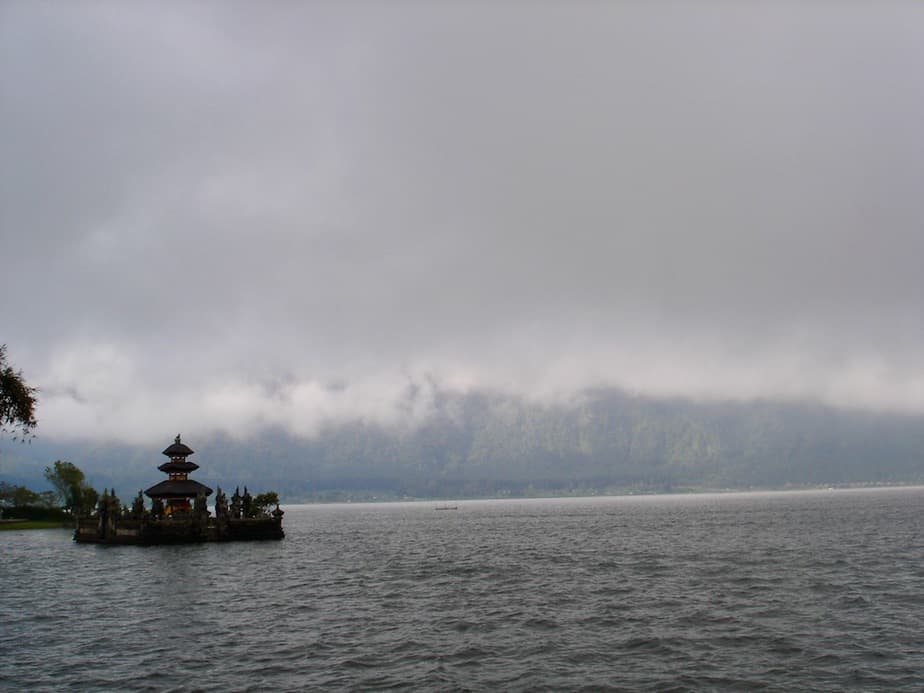 Lake Bratan
Lake Bratan immediately becomes visible once you leave Bedugul behind. It is a beautiful sight when you see the misty tops of the volcano Gunung Catur towering over the lake.
At Lake Bratan you can have a quick stop at Ulun Danu Temple located on the edge of the lake. Even though you can't enter the temple, the complex is really worth the visit.
The temple's unusual location on the lake has been photographed many times. It is easy to recognize in brochures and Balinese postcards.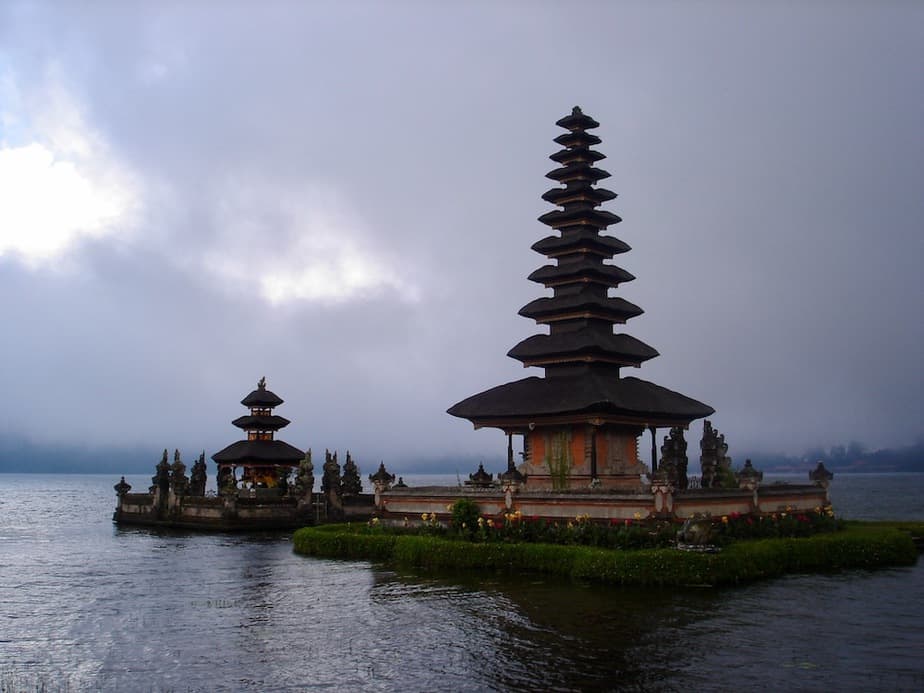 Lake Buyan
If you pass the Handara Kosaido Country Club you'll go uphill again. Before you know it you'll be driving on the crater rim of Lake Buyan. The views on this lake are gorgeous. There are many possibilities to stop along the road.
Once you take in the view you will soon be greeted by friendly (or aggressive) macaque monkeys that wander along the busy road doing their business. On most occasions they are harmless.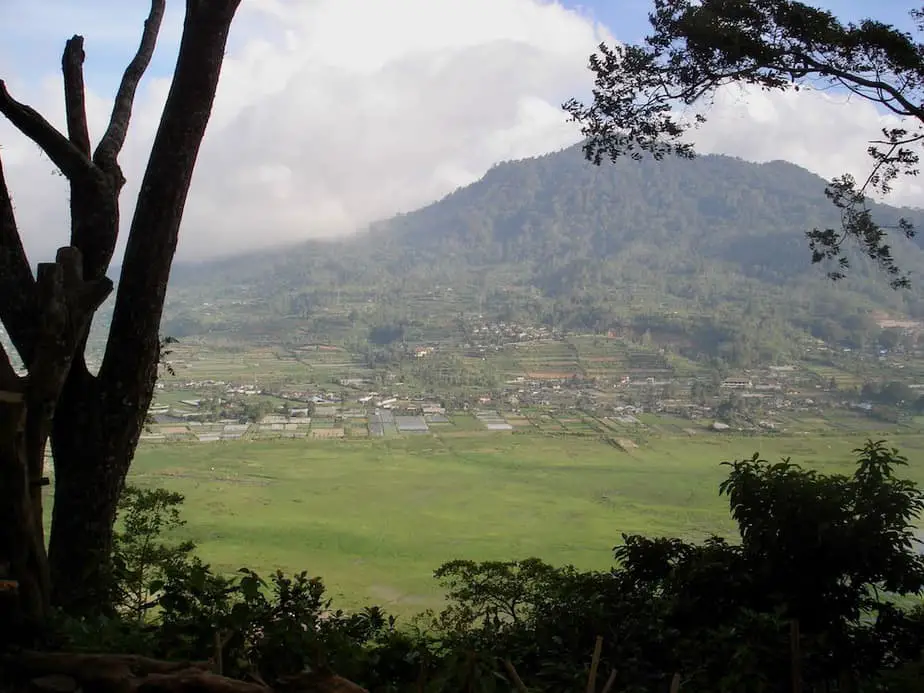 After passing a shrine right where the road bends you will eventually come to a junction. It isn't that clear, but all of a sudden you can choose to go straight or make a slight U-turn to the left. Take the left.
Before you reach the point where you can see both Lake Buyan and Lake Tamblingan you will be treated with a view of the ocean on your right. A quick preview of where you will be finalizing the route at the end of the day.
Driving through green vegetation the road follows the edge of the crater. This gives you ample opportunity to enjoy the twin lakes and the lush forests below.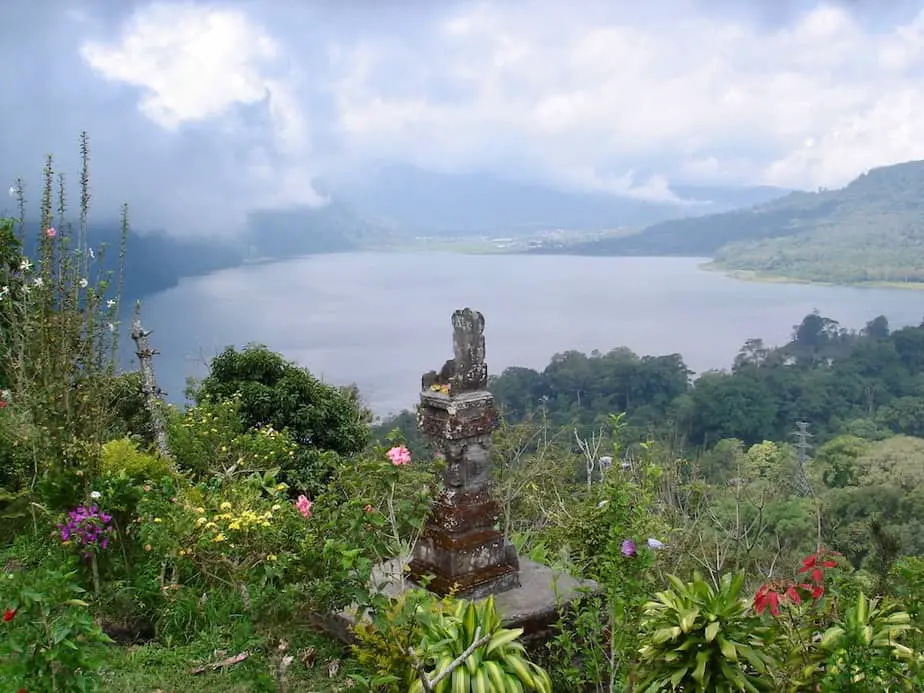 Right between the two lakes, there is a nice place to stop and have a hot cup of coffee or tea. The terrace has a front seat view of the lakes. Ideal to take a seat and catch your breath.
Not surprisingly this area attracts many travelers who love to do hikes through the beautiful mountains. Most of them stay in the cottages located downhill in Munduk. From Bedugul to Munduk takes around 37 minutes, 14.2 miles/23km.
Munduk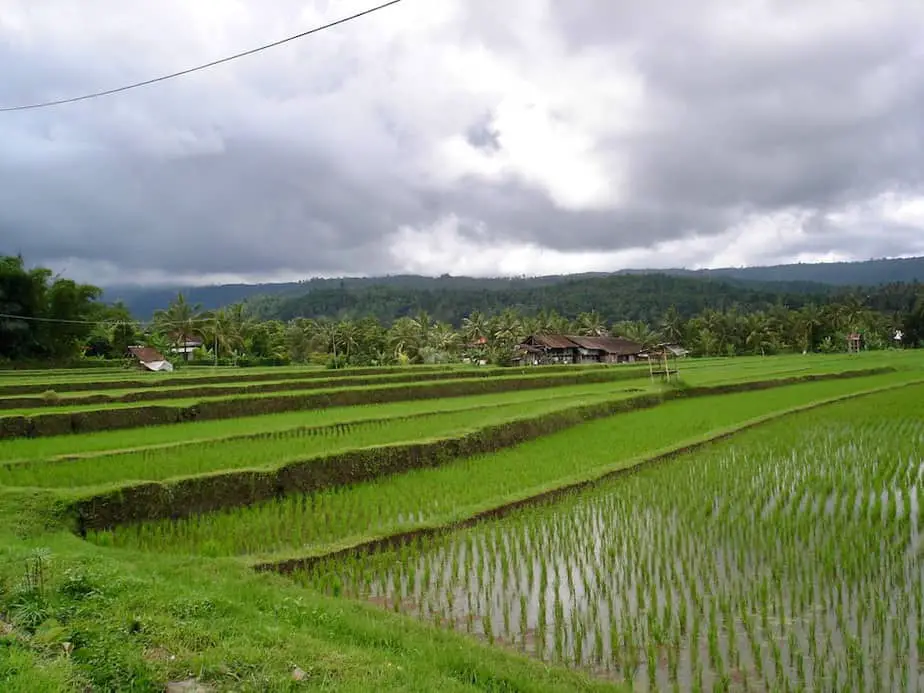 Just continue following the road and you will eventually drive into the small mountain village of Munduk.
Besides the occasional passersby and people carrying heavy loads this part of the route is very quiet.  And like most mountain areas you will immediately feel better after breathing in the fresh air.
From here all you need to do is follow the signs to Lovina Beach which is a 44-minute drive, 18.9 miles/30.5km. Either turn right in Munduk or drive a bit further and eventually make a right at Mayong where you'll be treated with stunning views of rice fields.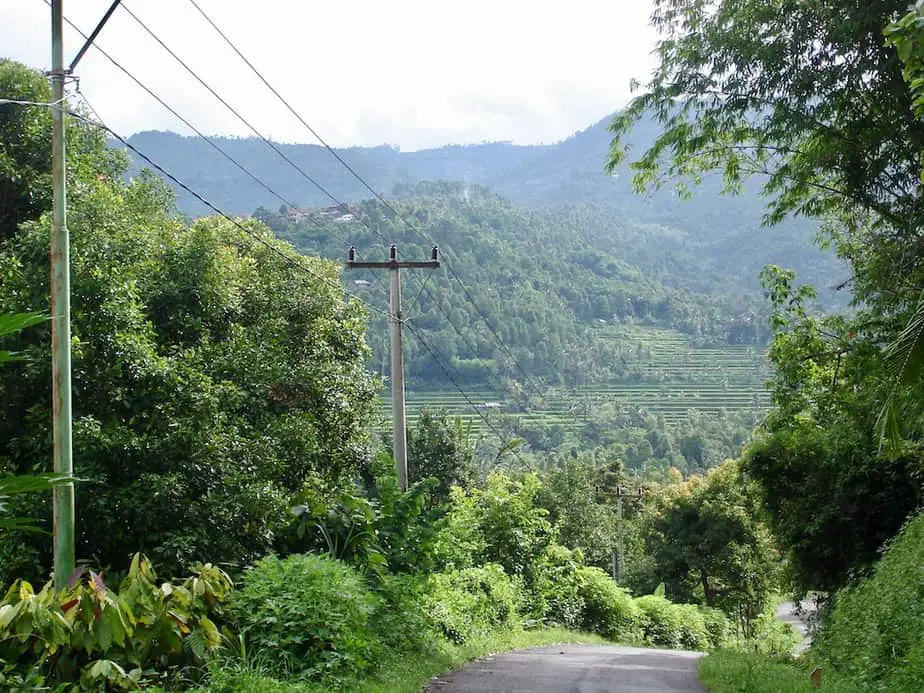 Both roads will pass the only Buddhist temple complex on Bali the 'Brahma Vihara-Arama' and the hot springs/'Air Panas' in Banjar. If it is late in the afternoon it is of course a relaxing option to end your tour by soaking in these hot water springs.
From Banjar, all you now need to do is head west towards the 4 villages that are collectively named Lovina.
Kalibukbuk is the most popular among tourists. It also has the most hotels and restaurants. But there are many other resorts scattered along the main road as well.
If you are on time make sure you head for the beach to watch the colorful sunset of Lovina beach.
4. Northern Waterfall Route
Lovina Beach-Banjar-Mayong-Munduk-Lake Tambligan-Lake Buyan-Singaraja-Lovina Beach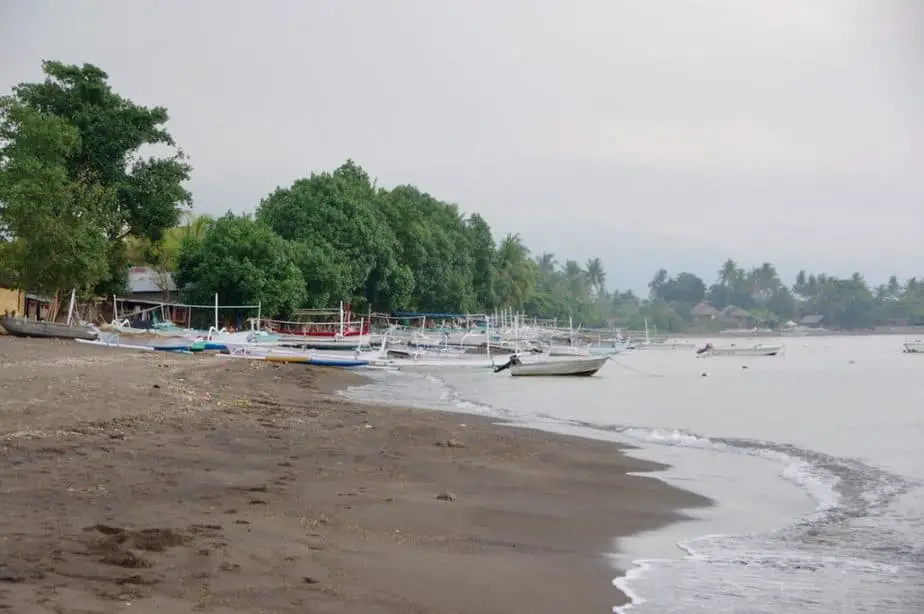 Highlights: Volcanic hot springs at Banjar, rice terraces at Majong, waterfalls at Munduk, Twin Lakes with Banyumala Waterfalls, Aling Aling Waterfalls near Singaraja.
Total travel time: 2 hours 51 minutes, distance: 61.3 miles/98.7 km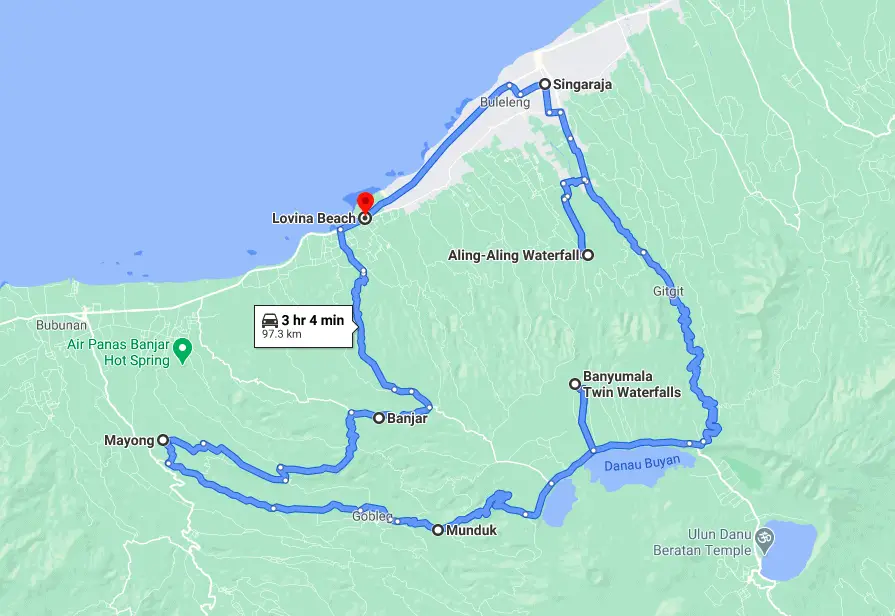 This route starts and ends in Lovina Beach and will take you along the amazing rice fields of Mayong to the waterfalls of Munduk. From there you continue along Lake Tamblingan and Lake Buyan with a stop at the Banyumala Twin Waterfalls.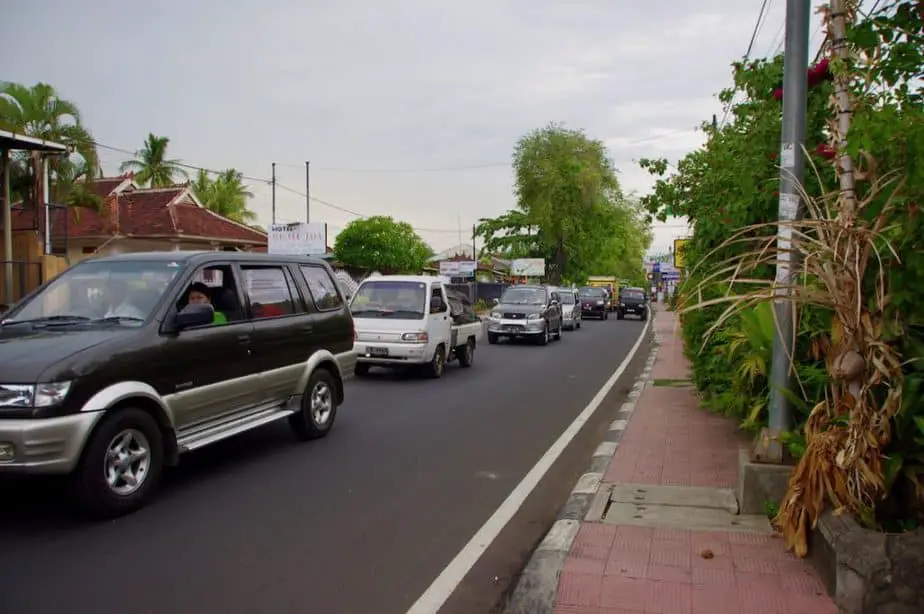 Then you'll head over to the other side of the mountain where you'll find the Aling Aling Waterfalls and other nearby waterfalls. The final stretch is to Singaraja and back to Lovina Beach.
Since you also want to jump, swim or slide from these waterfalls pick one or two because doing all of them in one day is going to be difficult.
Banjar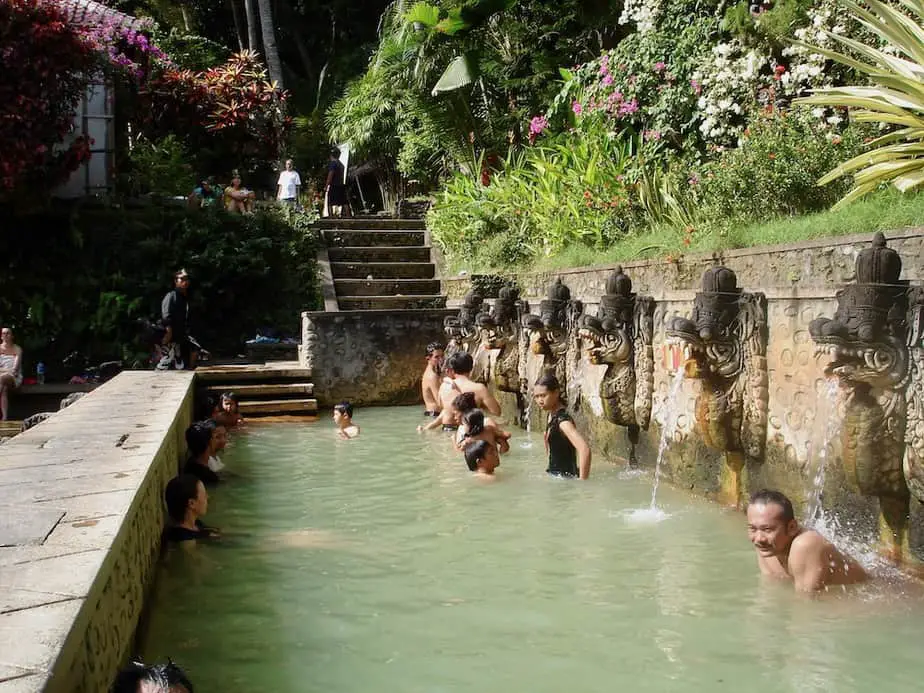 In the forest just outside Banjar village, you'll find the Banjar Hot Springs or Air Panas as the Balinese call them. Here you can take a short dip in hot volcanic water. From Lovina Beach, it's only a 16 minutes drive, 6.6 miles/10.7km
Try to wear a shirt and shorts since this place is popular among Indonesians. Most women are also covered and you don't want the Indonesian men staring at you all the time when you're in your bikini only.
The entrance fee to the hot springs is 20.000 Rph for adults and 10.000 Rph for children. The opening hours are from 8.30 am to 5.30 pm.
Mayong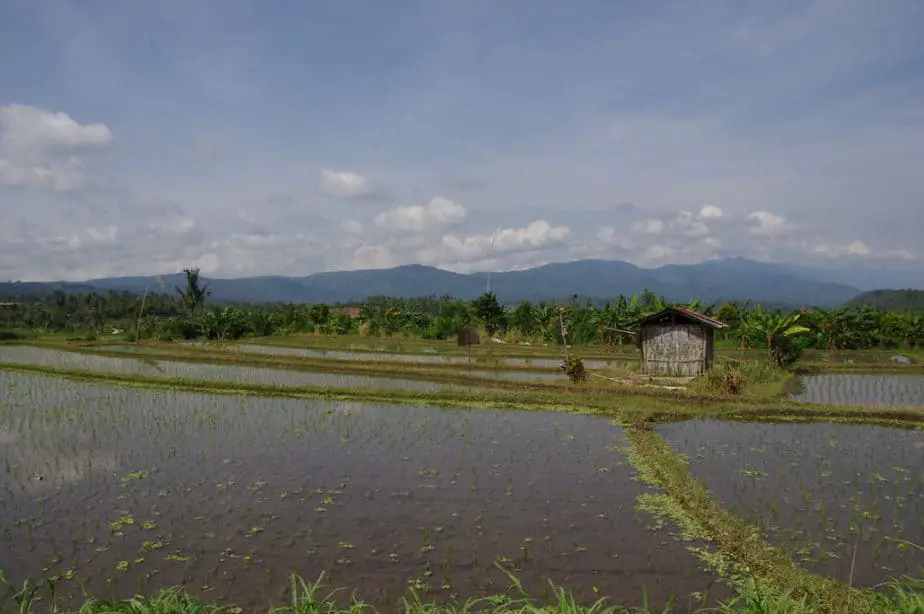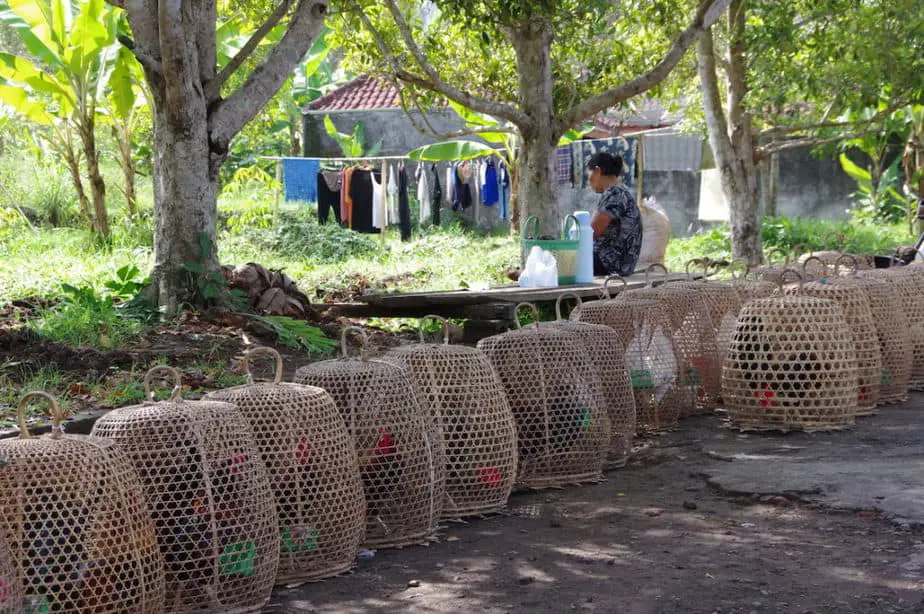 After the hot springs, it's time to continue and have a glimpse of rural Bali at Mayong village in 25 minutes, 7.9 miles/12.8km. Here you'll see farmers tending to their beautiful rice terraces or their ducks. They keep the pests out of the fields.
If you want a deeper understanding of the Balinese culture, religion, and agriculture you might want to go on a trip with Putu Artana. He will show you around the area and will explain all the little details.
If you're not going on a walk try to have a drink at the organic Mayong Bali Panorama restaurant on the way to Munduk. From here you'll have an amazing view of the green valley.
Munduk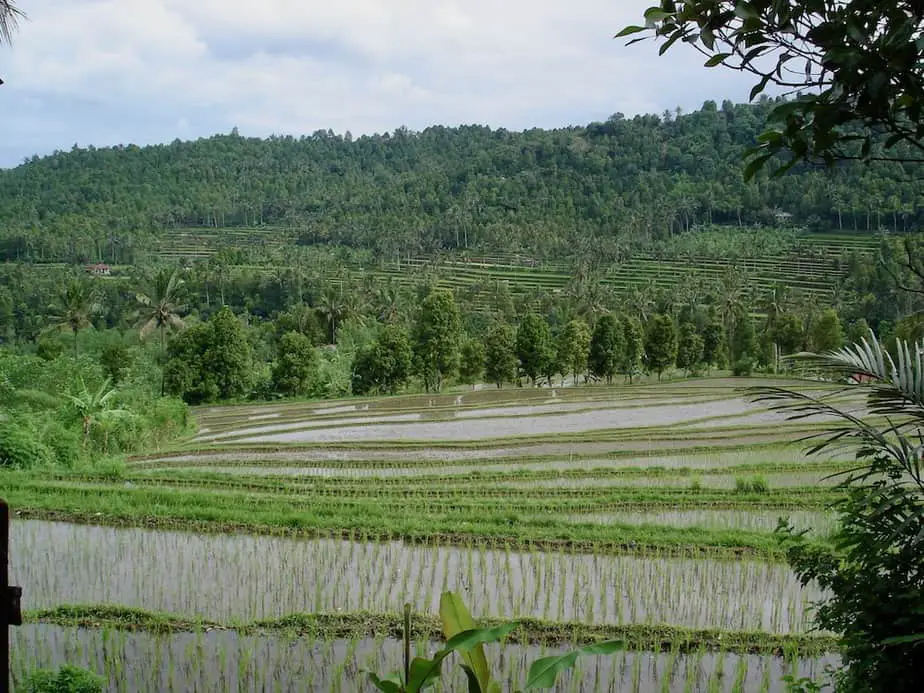 Munduk is one of our favorite places to stay and you will easily see why. The area is as green as it can get. There are many hiking routes for you to follow and the temperature is not as hot as in the rest of Bali. From Mayong it's a 22-minute drive, 8.1 miles/13.1km
The Munduk area is the place to be to visit the cool waterfalls with names such as Melanting Waterfall, Labuhan Kebo Waterfalls, Air Terjun, and Red Coral Waterfall.
From Munduk the route continues along Lake Tamblingan, Lake Buyan to the Bayumalis Waterfalls. This takes around 25 minutes, 7.8 miles/12.6km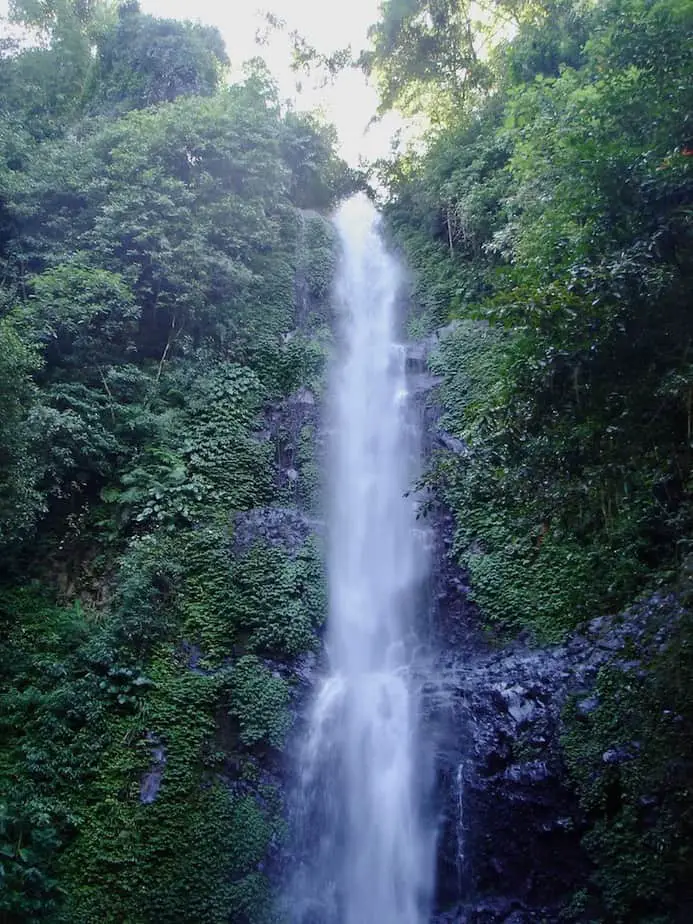 Twin Lakes: Lake Tamblingan & Lake Buyan
These lakes are sacred to the Balinese as they provide water to many areas in Bali through a series of streams and canals. Local Balinese people fish here for carps and grow vegetables on their shores.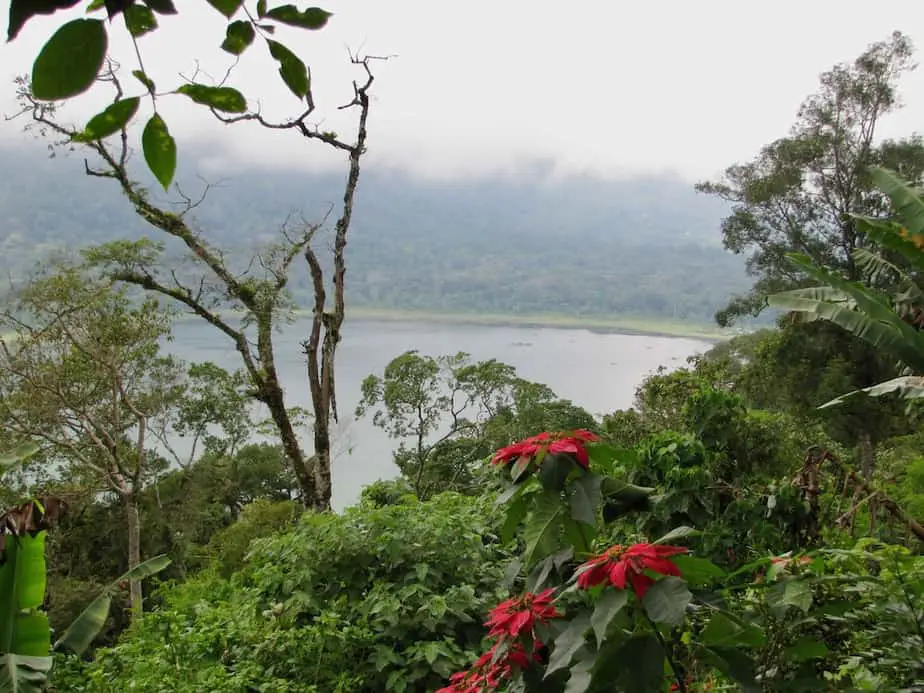 On the way to Lake Buyan, you'll find the sign leading to the Banyumala Twin Waterfalls in the Wanagiri area. The small entrance fee to the 4 waterfalls includes a bottle of water, kids go for free. It's a tough hike down to get there so you have to be fit. You'll get there in 20-30 minutes.
Bring your swimwear since it's a good place to go for a dip. There are toilets and places where you can change into your swimwear.
It's a great place where you can even jump into the water from 5, 10, or 15 meters. For 25000 Rph the local Balinese can take you back to the parking area by motor bike so you don't have to do the hike again.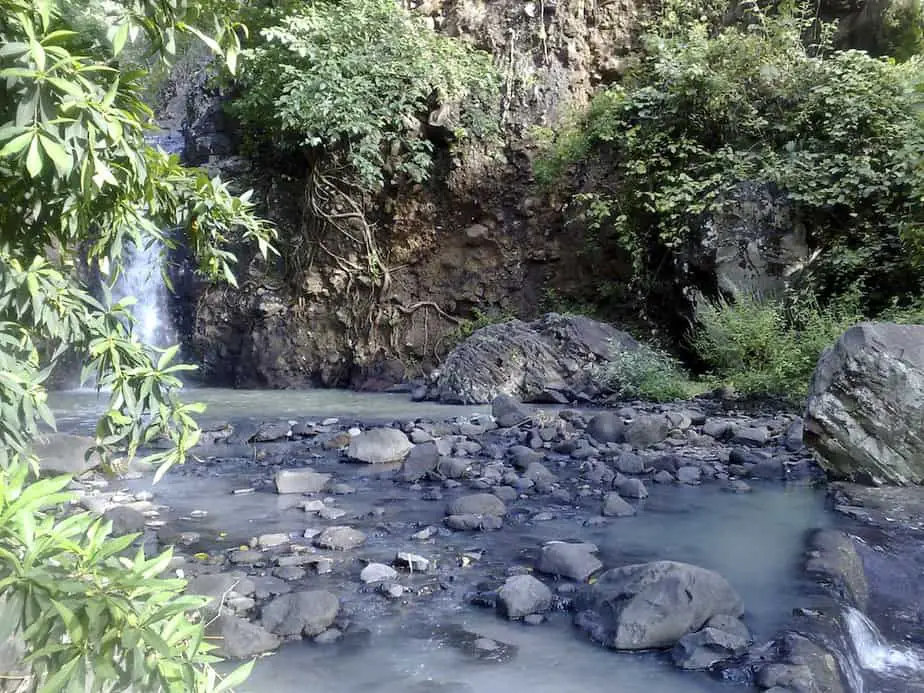 Aling Aling Waterfalls, Kroya Waterfall, Kembar Waterfall and Pucuk Waterfalls
As soon as you pass the shrine located right where the road bends all you need to do is drive on. Follow the rest of the traffic because most of them are heading for Singaraja too.
I always make sure that if I travel on this road when I head for Lovina instead of going up because I just can't get enough of these views.
On this road there is nothing more to do then to go…
Downhill!!!
Make sure you stay on your half of the road and be careful at each bend. Many drivers tend to think they are in a rally or something and take the bend very widely. Just take it slow and most of all: enjoy the moment.
Along the way, you will pass small isolated houses and local people doing their daily chores.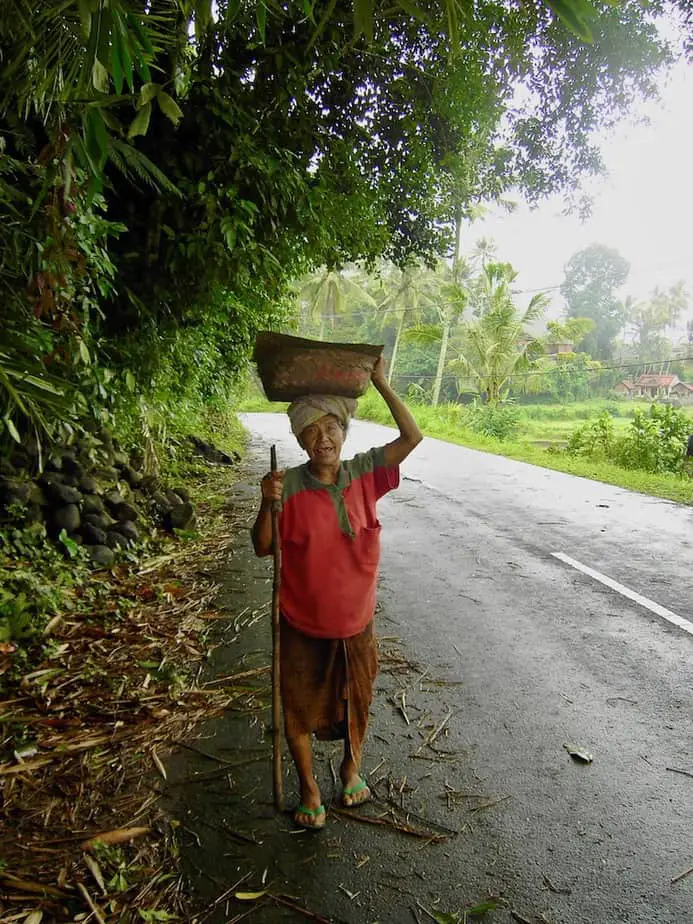 Once you get to the village of Ambengan in 47 minutes, 16 miles/25.8km look out for the signs leading you to the Aling Aling Waterfalls. Within walking distance, you can also go to waterfalls with names such as Kroya Waterfall, Kembar Waterfall, and Pucuk Waterfall.
The entrance fee to the Aling Aling Waterfalls is 20.000 Rph. You can also go on a short hike with a guide and this costs 125.000 Rph, the medium hike 250.000 Rph and the long hike 375.000 Rph. These hikes will also bring you to the other waterfalls. All of them include safety equipment.
The Aling Aling Waterfall is 35 m high but it's forbidden to swim here. At the other waterfalls, you can slide, swim, and jump from 5, 10, or 15 meters.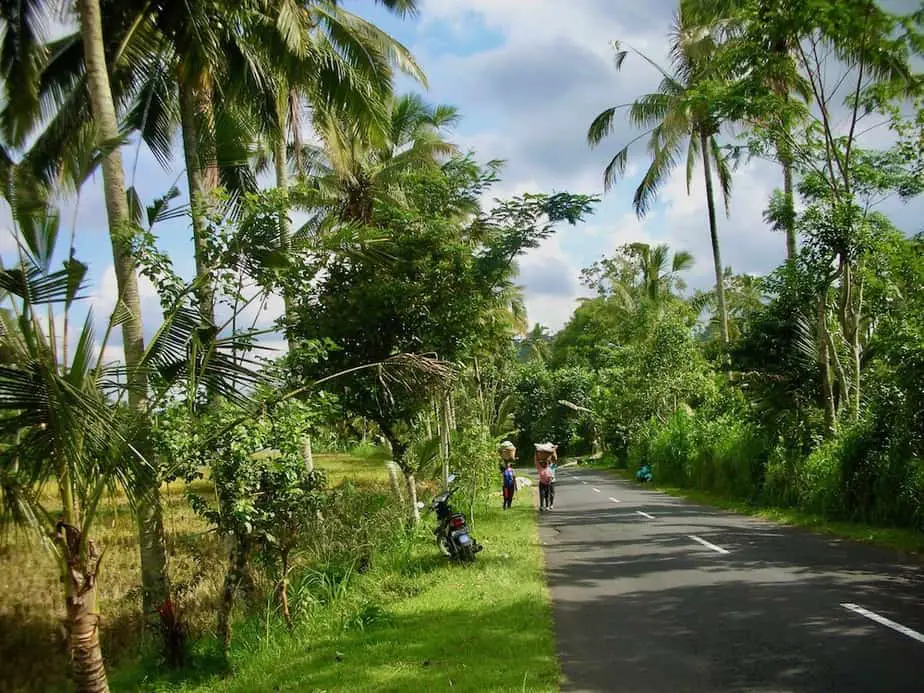 Singaraja
The trip continues to the former capital of Bali, Singaraja in 19 minutes, 6.6 miles/10.7km. Once you are downhill you will notice that traffic has become much busier.
There are not many points of interest except for the old library. Make sure you follow the signs out of Singaraja and to Lovina Beach in 14 minutes, 5.6 miles/ 9.1 km as soon as possible for the final stretch of the route.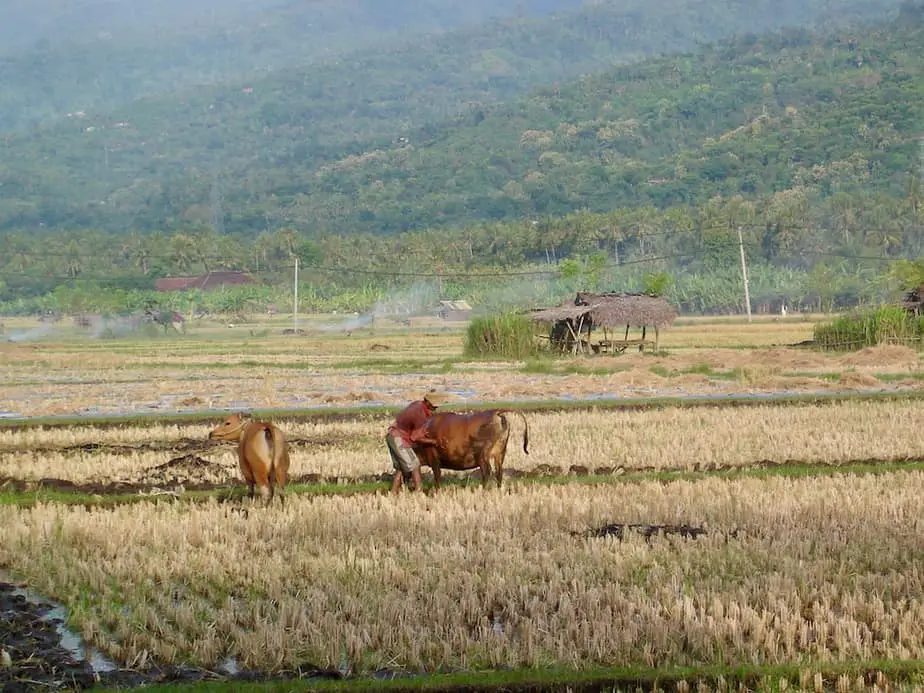 It's very common at this point that you will suddenly be accompanied by someone on a motorbike who can help you out with accommodation. If you need help go for it.
If you have already something in mind try to decline friendly and remain persistent.
Once in Lovina, you have finalized your route. Now all you need to do is find a quiet spot at Lovina beach, order a fresh coconut and enjoy the sunset.
5. Rice Field Route of Jatiluwih
Ubud-Sangeh-Penatahan-Pura Luhur Batukaru-Jatiluwih Rice Terraces-Angsri-Apuan-Ubud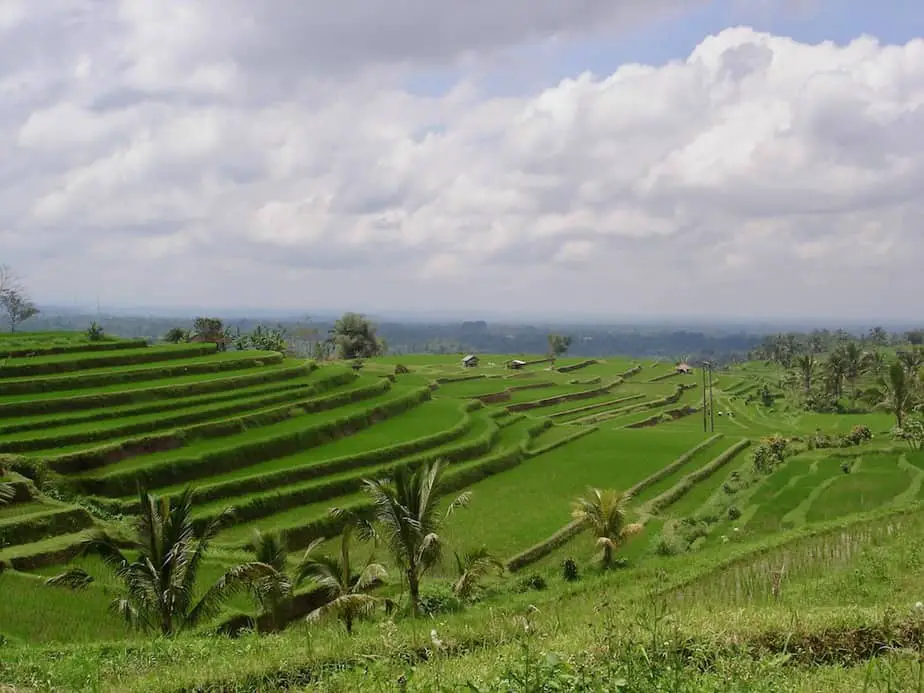 Highlights: Monkey Forest in Sangeh, Hot springs in Penatahan, Luhur Batukaru Temple, Mount Batukaru, rice fields of Jatiluwih.
Total Travel Time: 2 hours 53 minutes, distance 57.2 miles/92.2 km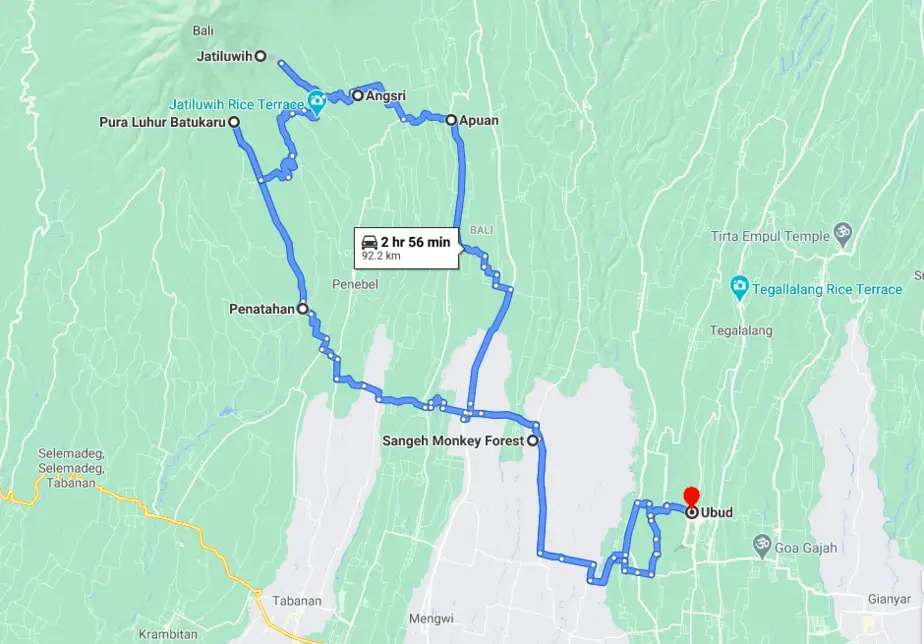 This is one of the routes around Bali that starts in Ubud and will lead you through the Sangeh rice fields into the mountains of Batukaru. Together with Sidemen and Munduk the area around Mount Batukaru is one of our favorite areas. It's an eco-travelers' dream.
Here you can stop at the impressive Luhur Batukaru temple before you continue on what is one of our favorite stretches.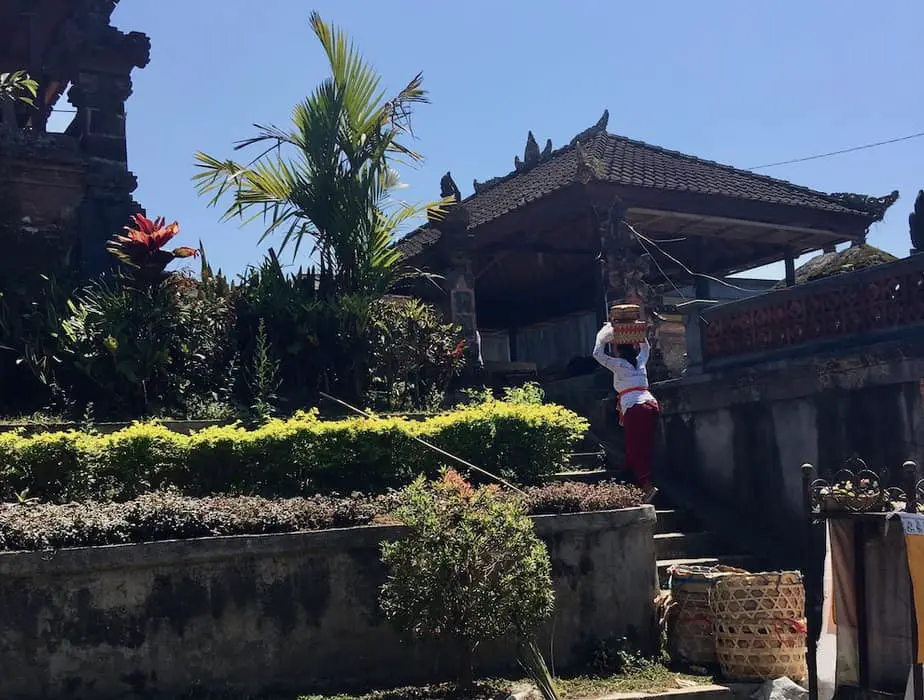 The stretch from the Luhur Batukaru temple to the rice terraces of Jatiluwih is really something special. Around every corner, you just want to stop and take a picture or make a video.
Ubud
You can start your journey from Ubud. This village is well located in Bali and traffic northwest of Ubud is not as crazy as down south. Cross the Campuhan Bridge and turn left into Penestanan.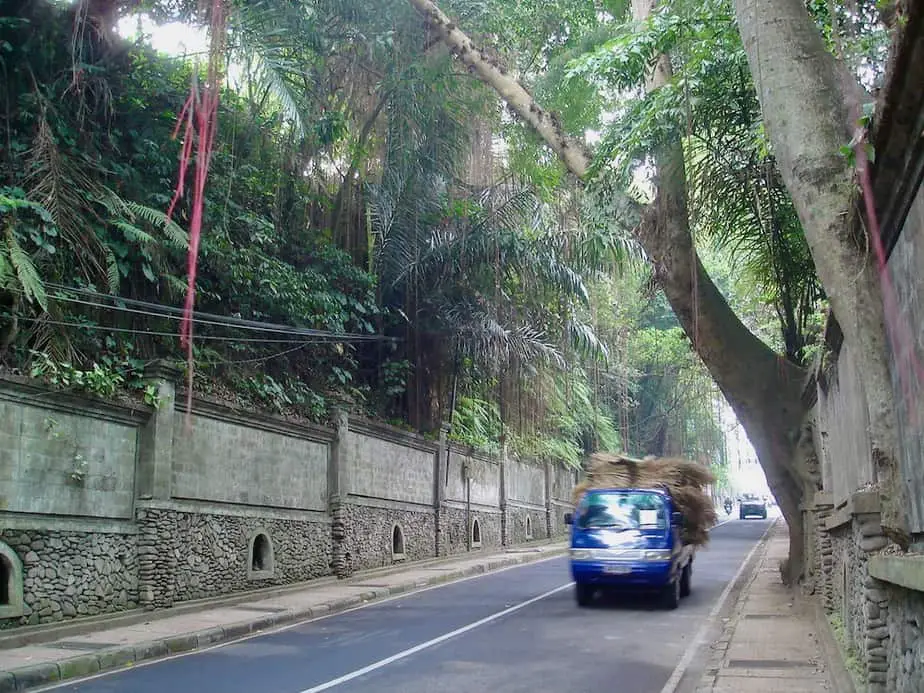 The road will take you to Jalan Raya Sayan. Here you will go left and follow the road to Sangeh. It takes about 30 minutes, 9.6 miles/15.6 km to get there.
Sangeh Monkey Forest (Bukit Sari)
This forest is famous for the group of monkeys which are considered sacred to the Hindu Balinese. They are thought to be descendants of the monkey army led by the monkey king, Hanuman.
The Balinese say that this monkey forest was created when Hanuman together with his monkey troops tried to kill Rama's enemy Rawana. He tried to crush Rawana between two halves of the sacred Meru mountain.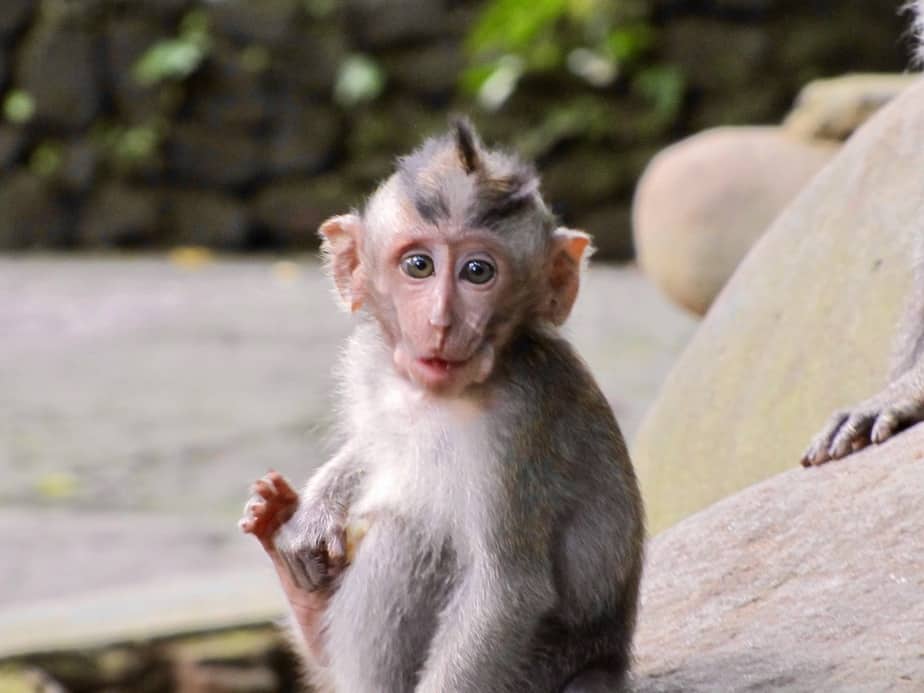 A portion of the mountain came down at Sangeh while some of the troops were holding on to the trees. That's also the reason why the trees in this forest are sacred too.
There are 14 hectares of nutmeg trees and some are over forty meters in length. The Bukit Sari temple was built in the 17th century by the Mengwi kingdom.
Please be careful of your belongings when walking around as these macaque monkeys can be very playful. The entrance fee is 50.000 Rph (2020) and often there's somebody to accompany you to chase away the monkeys.
The opening hours are from 8 am- 4 pm. It's a good pit stop, stretch your legs for 15 minutes, and then continue the route to Penatahan.
Penatahan Hot Springs (Air Panas)
It takes around 36 minutes, 9 miles/14.5 km from Sangeh to get to the Penatahan Hot Springs on the way to Pura Luhur Batukaru. It's a great place to stop for an hour and soak in hot volcanic water.
The best is to book a private room as the hot springs in the river are very public. It costs 50.000 Rph per person, kids go free. Opening hours are from 6 am – 8 pm. It can get busy at the weekend as many locals like to go here too.
Pura Luhur Batukaru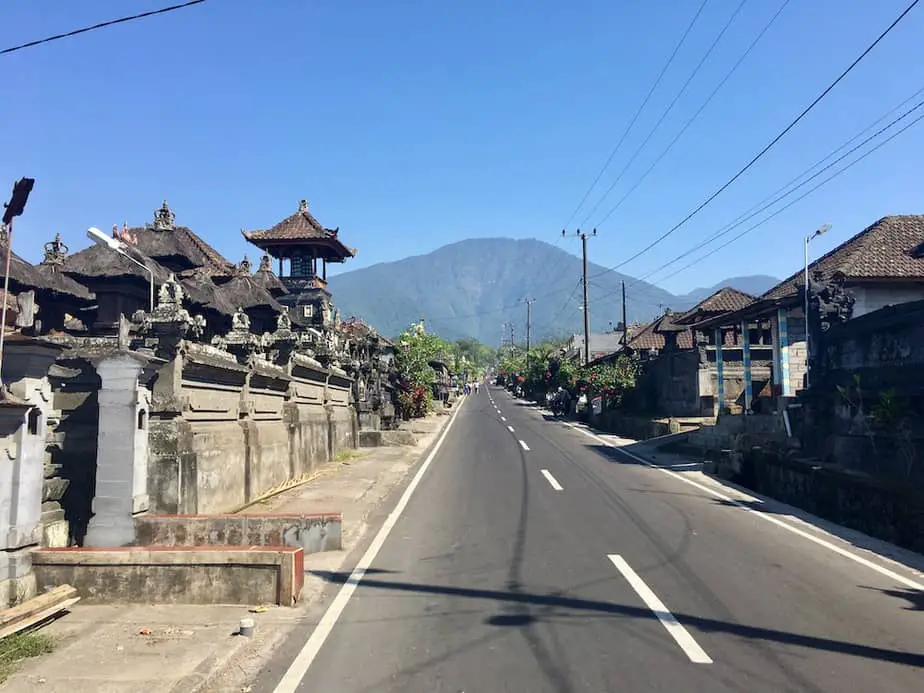 From the hot springs at Penatahan to the Luhur Batukaru temple only takes 12 minutes. You will drive through Wongayagede village which is a stone-throw from the temple grounds. (This is also where you'll find some lovely eco-accommodation such as the Sari Devi Ecolodge.)
The Pura Luhur Batukaru temple is one of the directional temples in Bali and plays an important part in the lives of the Balinese. It was built in the 11th century and is surrounded by forest on the slopes of Mount Batukaru.
Not many foreign visitors come here which makes it a great place to walk around. The temple is dedicated to the god of Mount Batukaru, Mahadewa.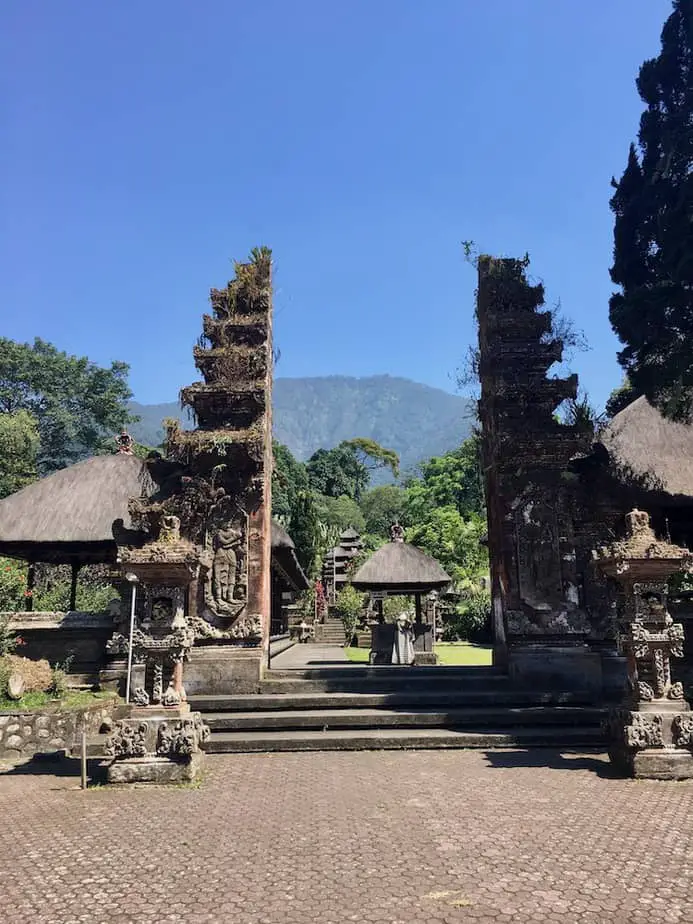 In the eastern part of the temple complex, there's a lake with a shrine that is only accessible by the priest. This shrine is dedicated to the Goddess of Lake Tamblingan. Many subak members come here to bring home some of the sacred water which they will use in their ceremonies.
The entrance fee to the temple is 40.000 Rph and the opening hours are from 8 am – 6 pm.
After a visit to this temple, it's time to continue the journey to the rice terraces of Jatiluwih. This only takes around 25 minutes, 6.4 miles/10.3 km but you probably are going to stop a lot because it's just too scenic.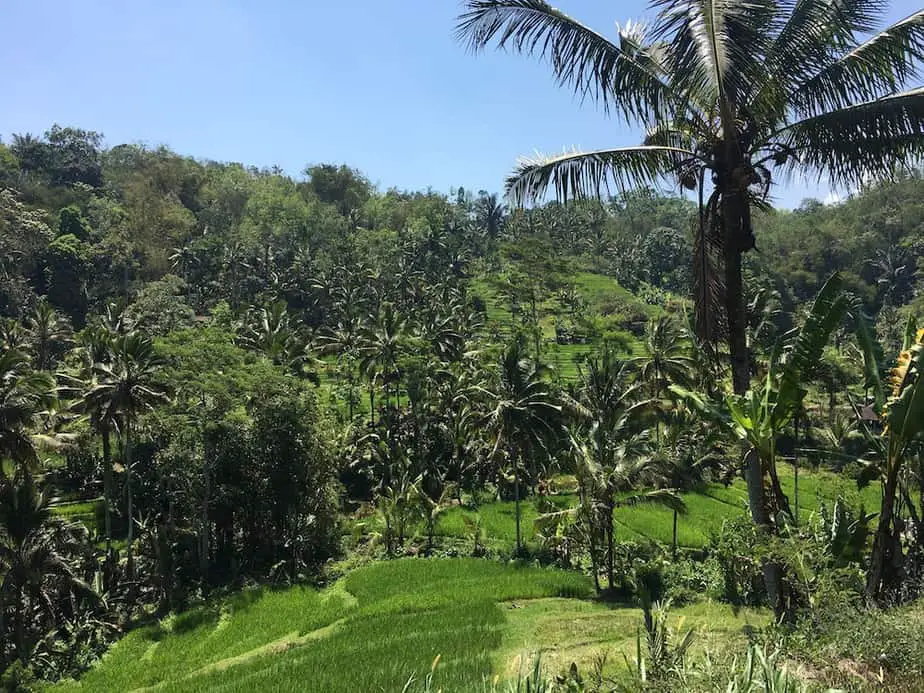 The Jatiluwih Rice Terraces
The Jatiluwih area is definitely one of the best places in Bali to see rice field terraces in abundance. That's also the reason why UNESCO has given them the World Heritage Status.
Here you'll be greeted by friendly Balinese carrying out their daily work in the fields. There are 7 subak irrigation organizations working together to keep this area as beautiful and productive as before.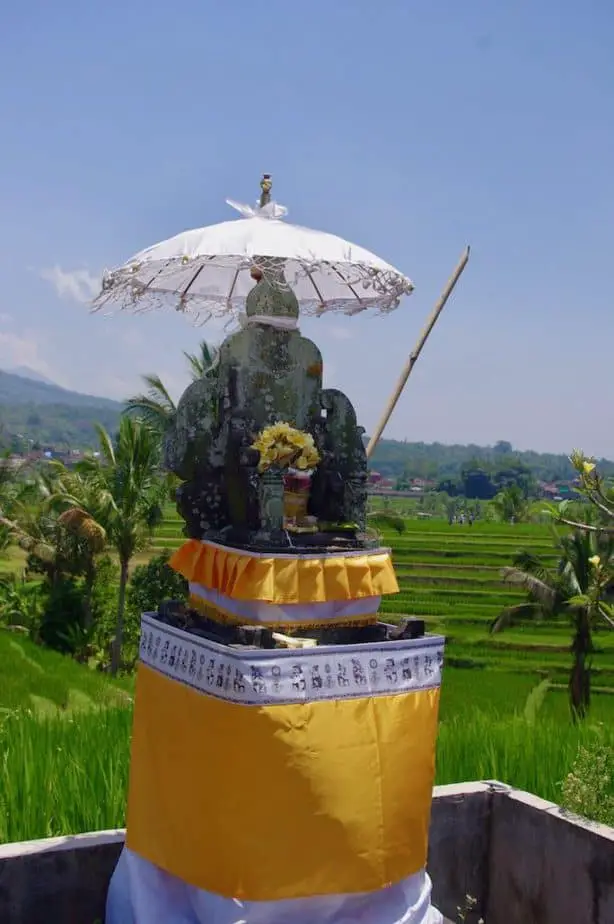 This is something totally different compared to the south of Bali. After the trip up to Jatiluwih, all you can wonder about is how the Balinese have been able to create something as beautiful as this. There are rice terraces as far as the eye can see.
You can follow various walking routes through these rice terrace and they are clearly indicated. It's not accessible by motor scooters or cars.
Entrance to the Jatilwih area costs 40.000 Rph and there are several checkpoints so keep your ticket handy. Nowadays there are plenty of restaurants for a pit-stop. Our favorite spot is Batu Karu Kopi, further down the road.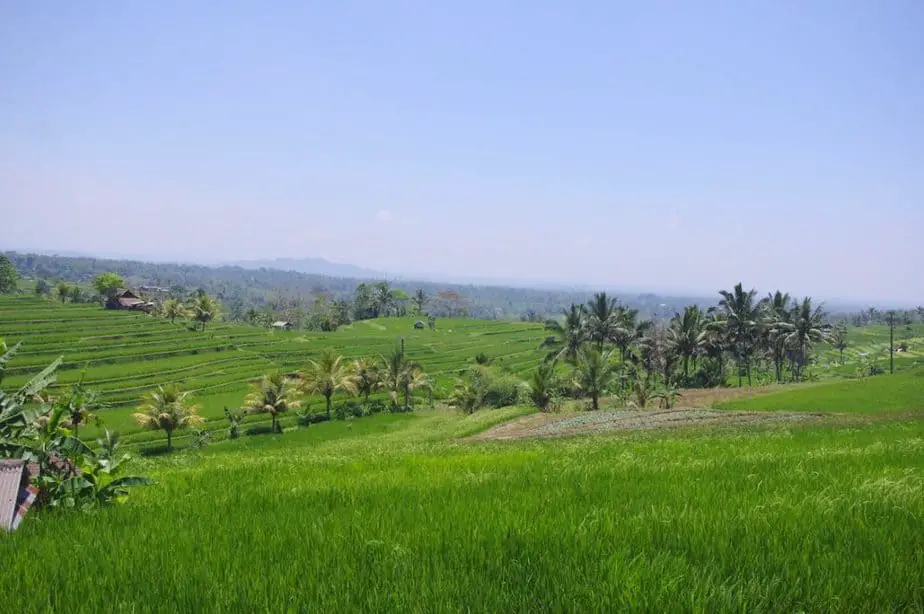 Angsri-Apuan-Ubud
After visiting Jatiluwih it's time to head back to Ubud via the Angsri-Apuan road. This will take around 1 hour 16 minutes, 27.8 miles/44.9 km through small Balinese villages. You can either take the road to Sangeh again or drive via Mambal.
6. Route Through West Bali
Kuta-Tanah Lot-Antosari-Pupuan-Seririt- Banjar-Lovina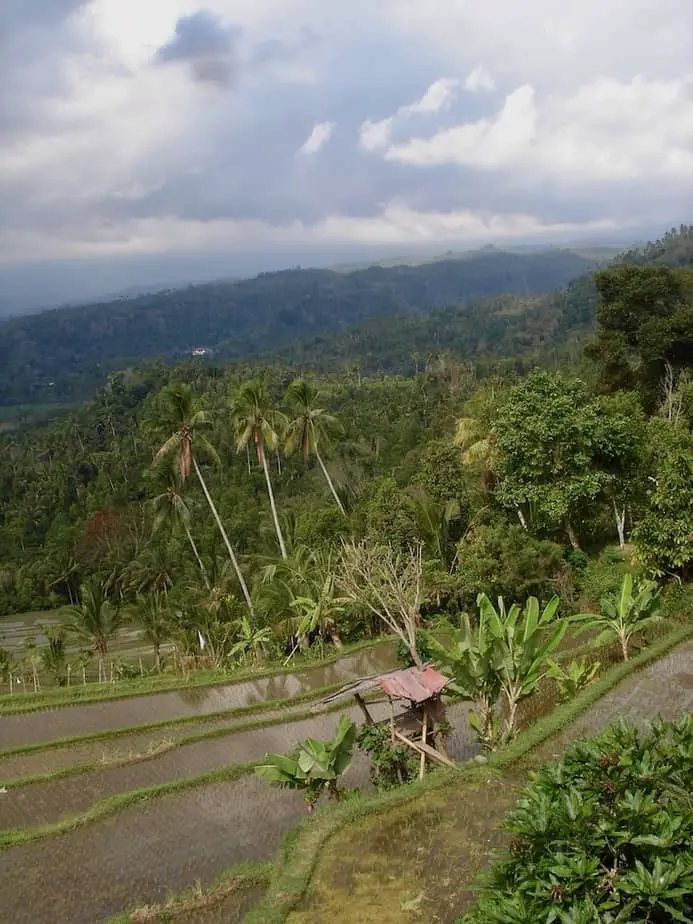 Highlights: the Tanah Lot Temple, rice terraces at Pupuan, hot springs at Banjar. The rice fields along the route are the biggest highlight of the trip.
Total travel time: 4 hours, distance 82.6 miles – 133 km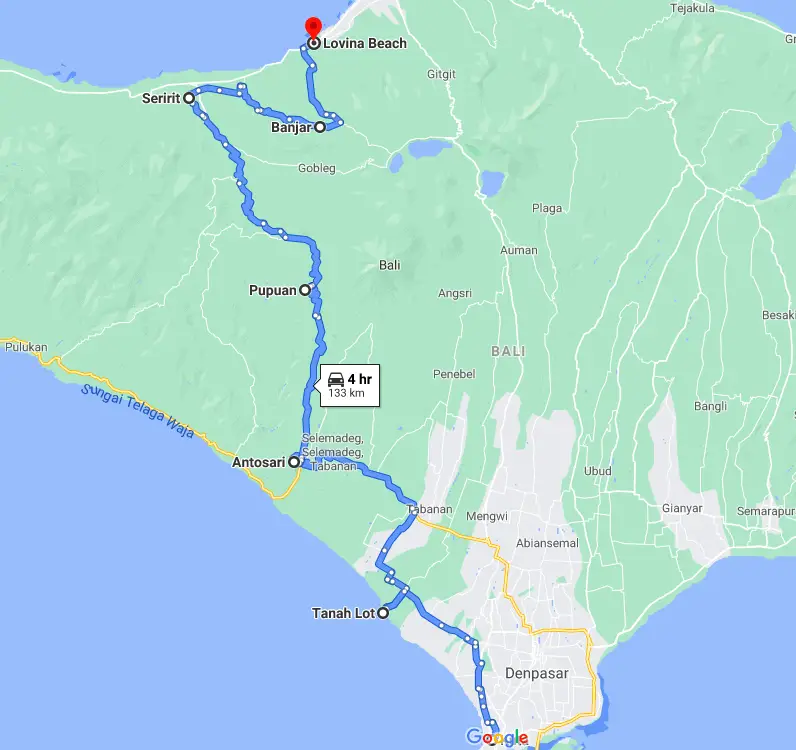 This is the route less taken but a great one if you are traveling from Kuta beach to Lovina beach.
The majority of travelers reach the northern part of the island via Lake Bratan or via Lake Batur.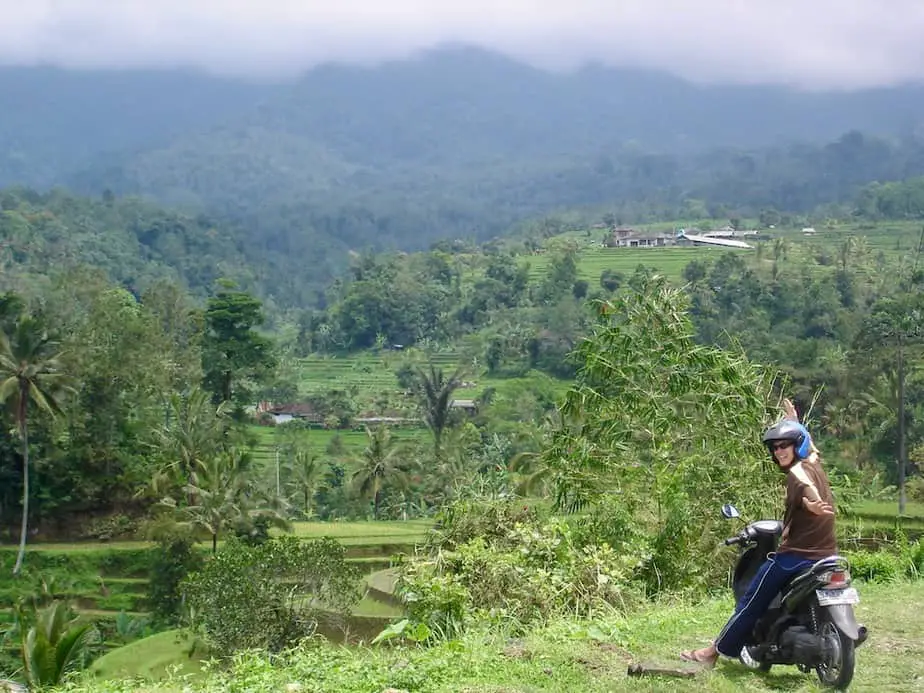 Nevertheless, the following route is a wonderful surprise and we highly recommend it as an alternative route to travel between Kuta and Lovina. It takes you through the countryside, along with amazing rice terraces and past villages that you won't find in the south of Bali anymore.
It crosses the central mountain range giving you stunning views of areas that are covered with picturesque rice fields. Expect to stop several times to take plenty of pictures and videos.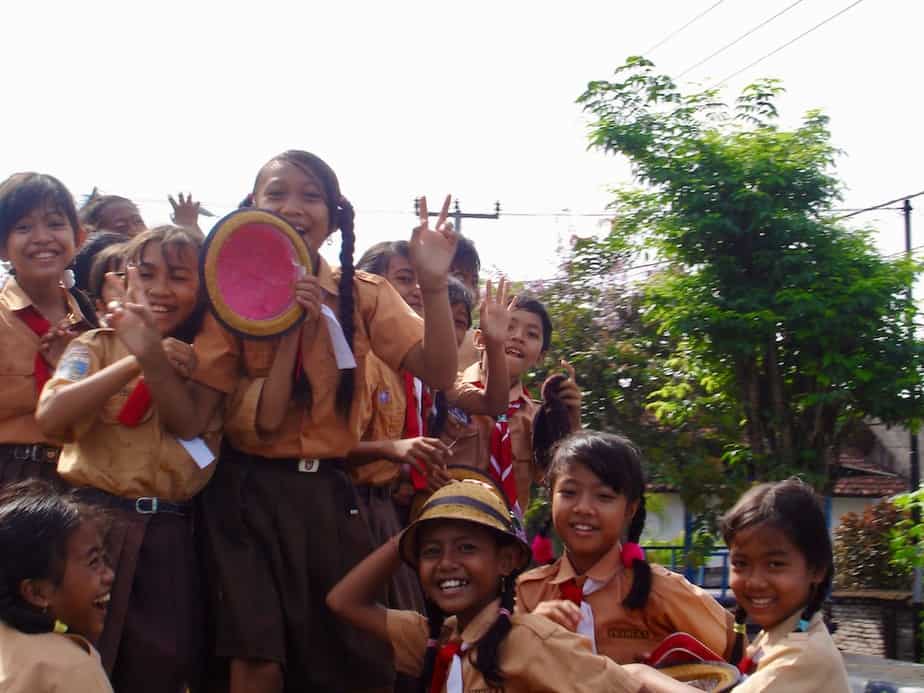 The condition of the road is good making this route pleasant. However, the part between Tanah Lot temple and Antosari can be tricky. Big trucks tend to use this road a lot. So make sure you are extra careful while driving here.
Kuta
Leave early in the morning from Kuta to the Tanah Lot temple (38 minutes, 13.6 miles/21.9km). From here drive towards Seminyak and Kerobokan where you continue following the signs to Tabanan. Eventually, after a while, you will also see the tourist signs showing you the way to Tanah Lot.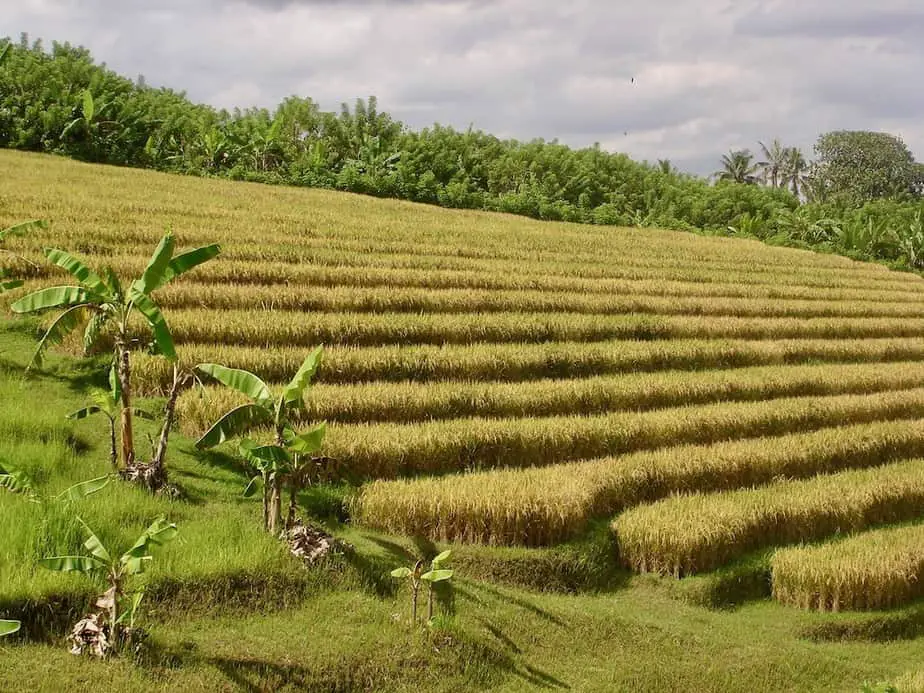 The road to Tanah Lot temple characterizes this day trip: rice fields as far as the eye can see.
Tanah Lot
You don't need to turn left to go to the temple. If you feel like driving on just keep on following the signs to Tabanan. But if you have never seen the most photographed temple in Asia then you should stop to pay it a visit.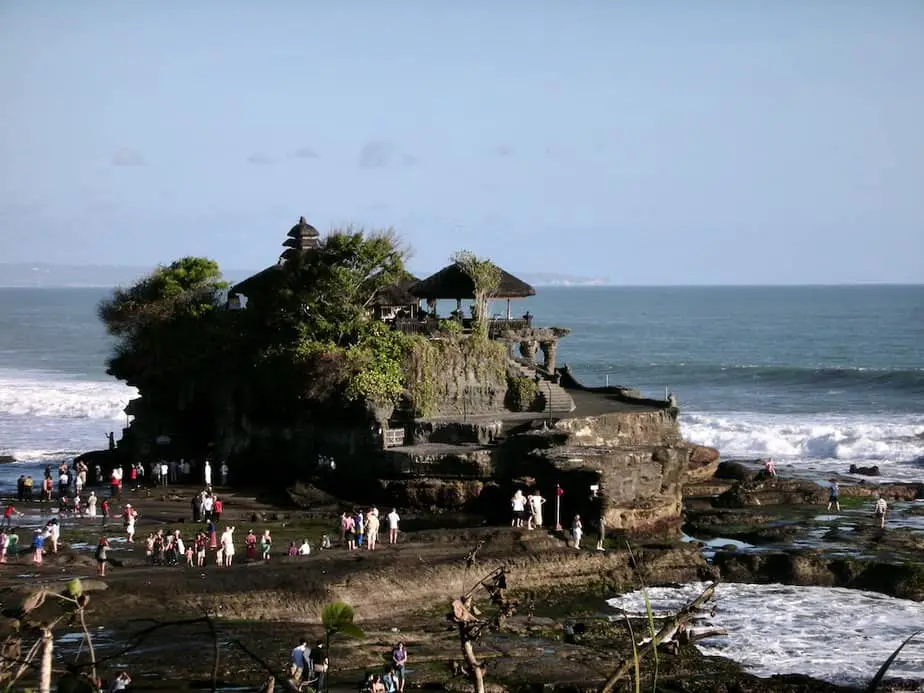 It is always a beautiful sight to see the Tanah Lot temple set against the waves of the ocean. You can only reach the temple complex at low tide.
Visitors are not allowed to climb up and enter the temple but still, it's worth a quick look and of course to take a picture :-). The entrance fee to the temple is 60.000 Rph and parking fee by car is 5000 Rph, by motorbike, it's 2000 Rph.
Antosari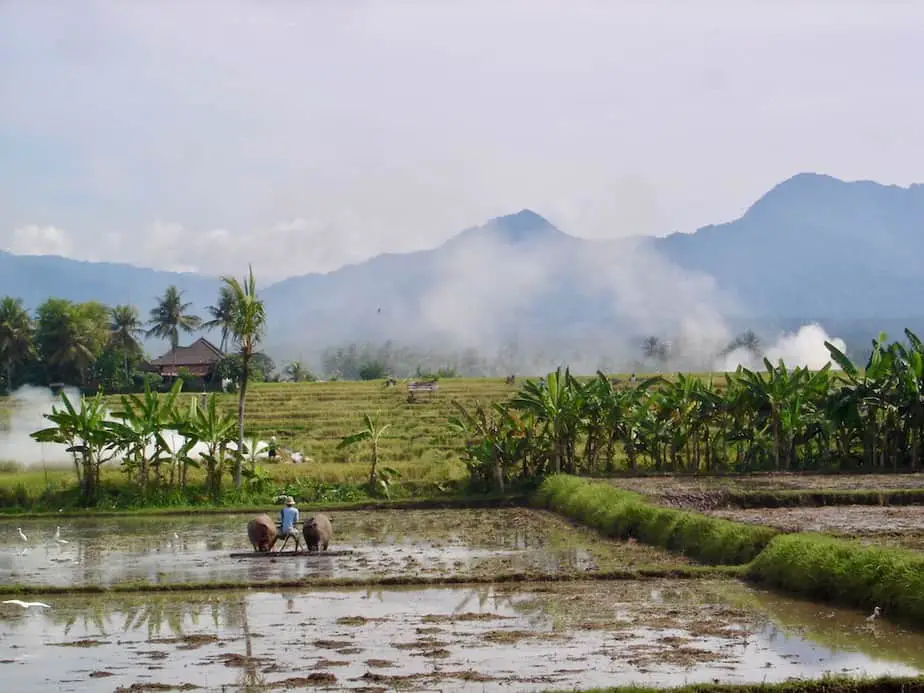 From Tanah Lot's peaceful and quiet road you drive back to the big highway to turn left towards Tabanan and then Antosari (55 minutes, 19.5 miles/31.4km). There is not much to see in this part except for the crazy traffic and unattractive villages with many shops.
Drive carefully here as this is the dangerous part of the journey.
Fortunately, soon enough at Antosari, you are able to turn right towards the north and you can continue the journey through the landscape where rice fields dominate at Pupuan. This is where the fun really begins.
Pupuan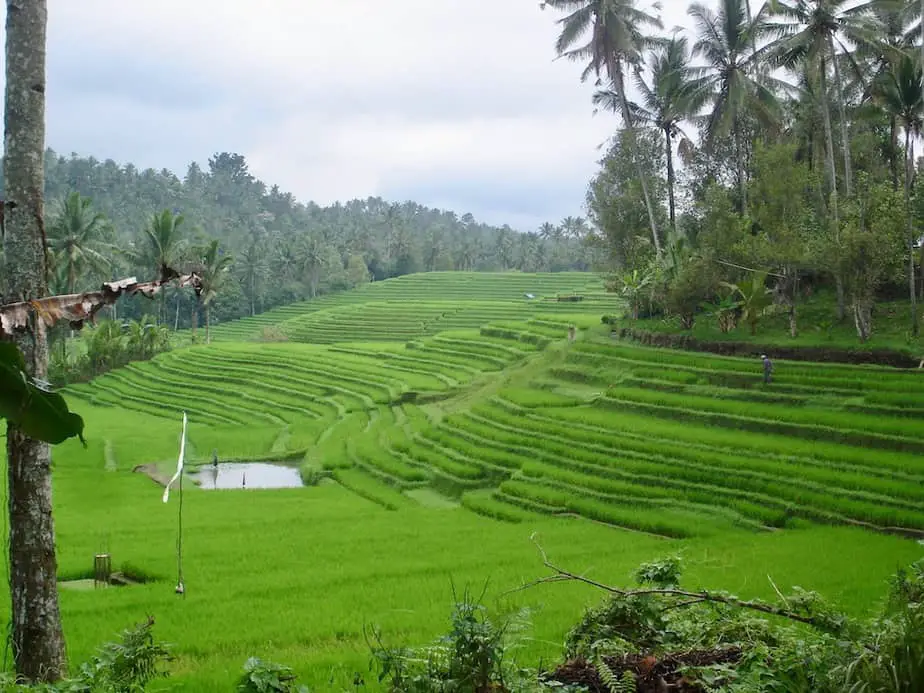 From Antosari to Pupuan takes you around 32 minutes, 13.3 miles/21.5km. If you pass the many rice fields you will soon discover that the stages of the seedlings in each rice field aren't always identical.
It is possible that you see a green rice field while ten minutes later the seedlings have just been planted and the terraces are covered with water.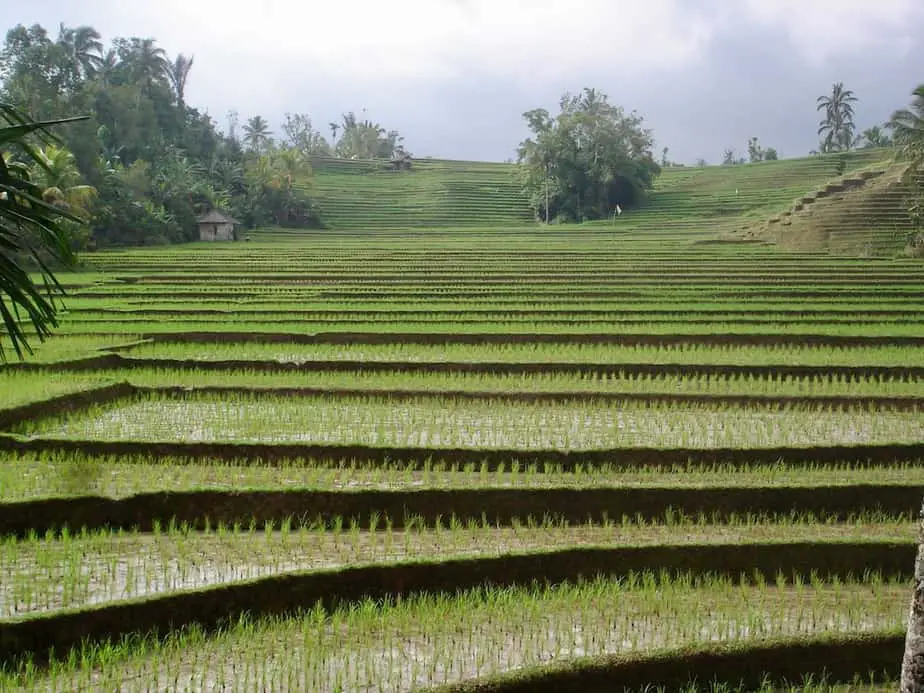 Every time I see these rice terraces I always have to remind myself that this is not a natural phenomenon but that the Balinese have been creating this magnificent landscape by hand for generations and not with modern machinery.
After visiting Bali many times, I still can't get enough of these stunning rice fields.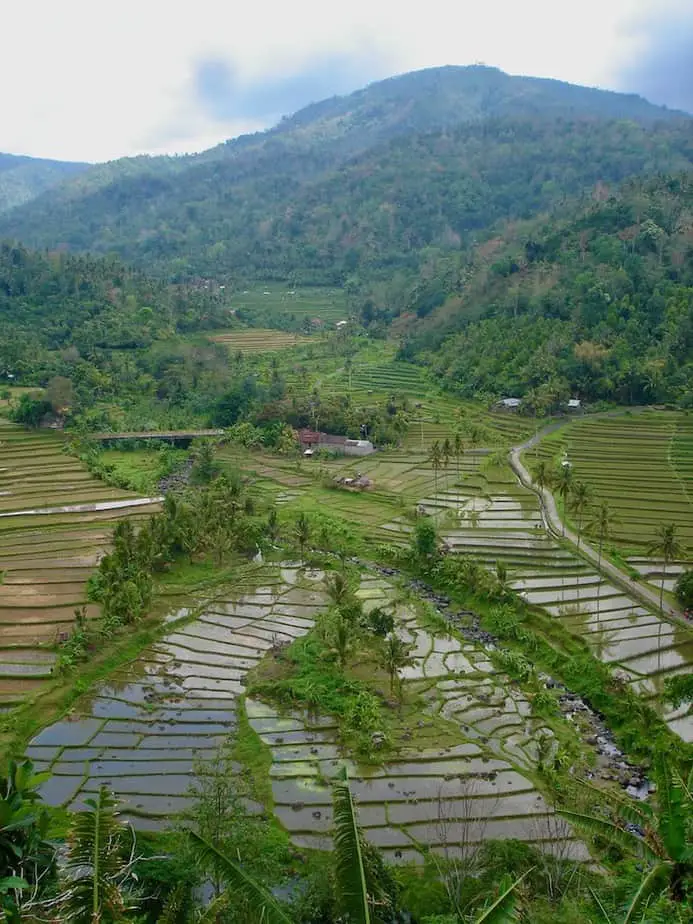 From here on all you need to do is enjoy the landscape. Just stick to the main road and you won't get lost. The first turn is at Seririt after 49 minutes, 18.3 miles/29.5km.
Once the main road ends in a junction you are in Seririt. Turn right here towards Banjar in 12 minutes, 3.5 miles/5.7km.
Banjar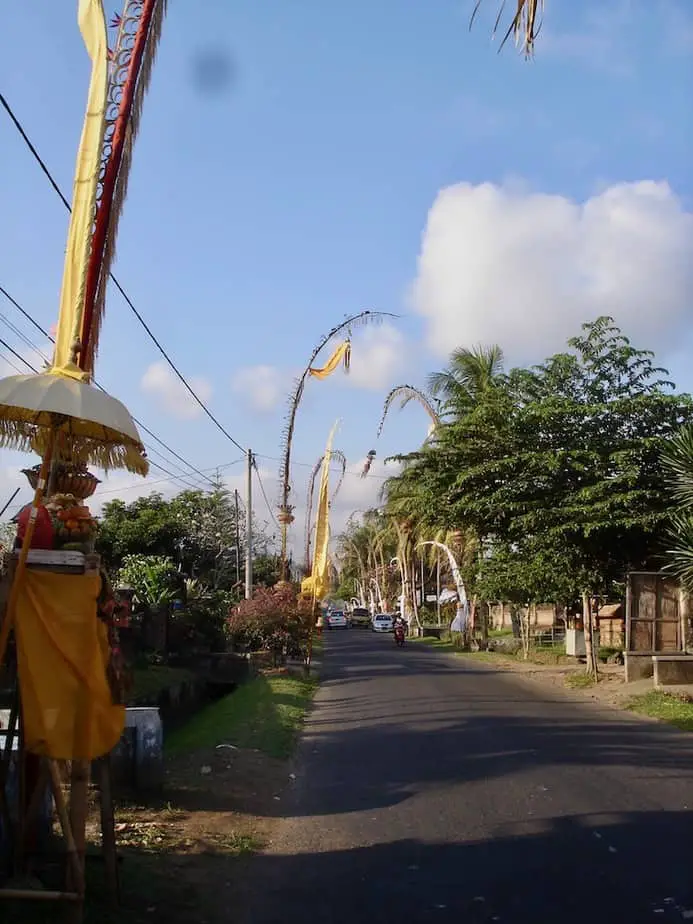 As soon as you spot the signs 'Air Panas Banjar' or Hot Water Springs turn right. You will pass a village before you turn left again and gradually you go up the hill to the hot water springs.
The late afternoon is a perfect time of the day to soak in hot water. All the aches from sitting the entire day on a motorbike will disappear like snow before the sun.
Lovina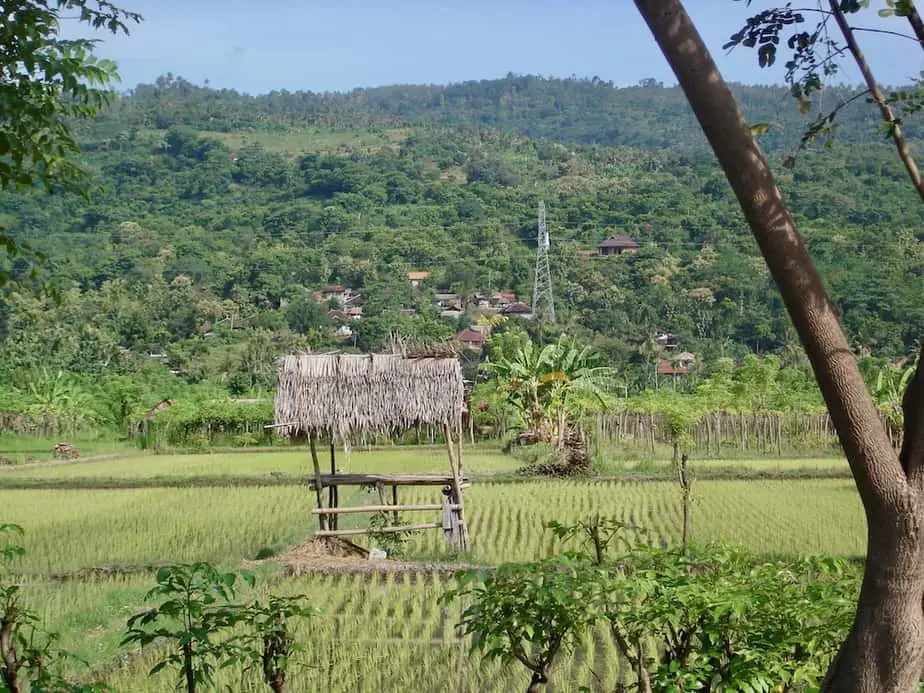 Now is time for the final stretch of the route to Lovina which only takes 19 minutes, 6.8 miles/ 11.1km. Lovina is a collective name of 4 'fishing-villages'. So along the main road, you will see many resorts and restaurants.
The nicest village to stroll around is Kalibukbuk. Here you can even have dinner with a view on the ocean. Ideal when the sun is about to set.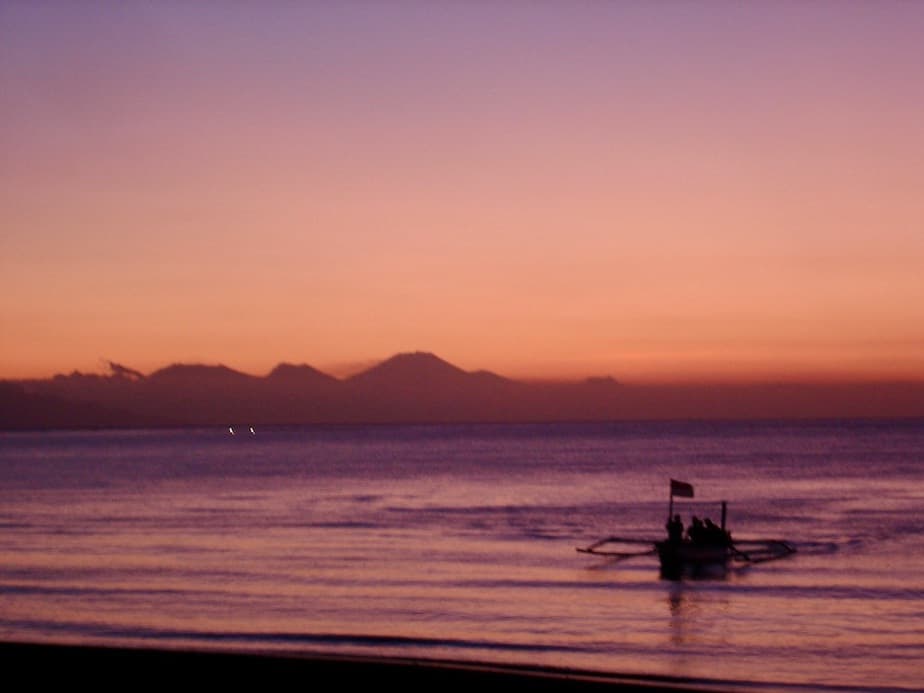 Our favorite place to sit at this time of day is at the Sea breeze Restaurant on the beach.
At this point all you now need to do now is take in the fresh ocean air and reflect on the wonderful journey of the day.
7. Route Around East Bali
Tulamben – Amed – Tirtagangga – Amlapura – Ujung – Pasir Putih – Candidasa – Tenganan.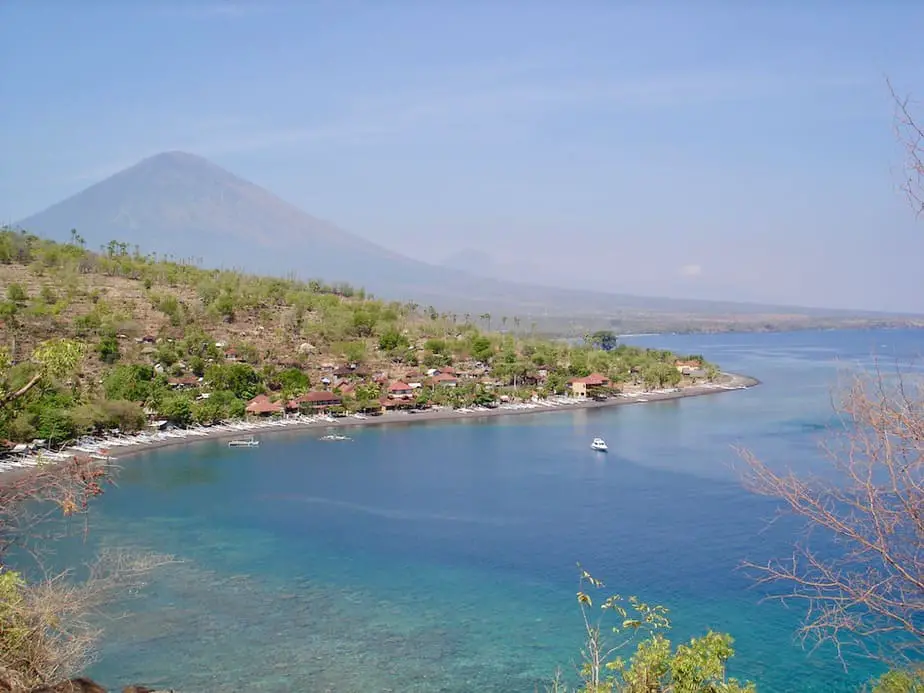 Total travel time: 2 hours 8 minutes ( or 1 hour extra when you take the left side of Mount Seraya), 43.9 miles – 70.7 km
Highlights: The colorful bays at Amed, the waterpalace and green ricefields at Tirtagangga, Virgin white beach and the unique Tenganan village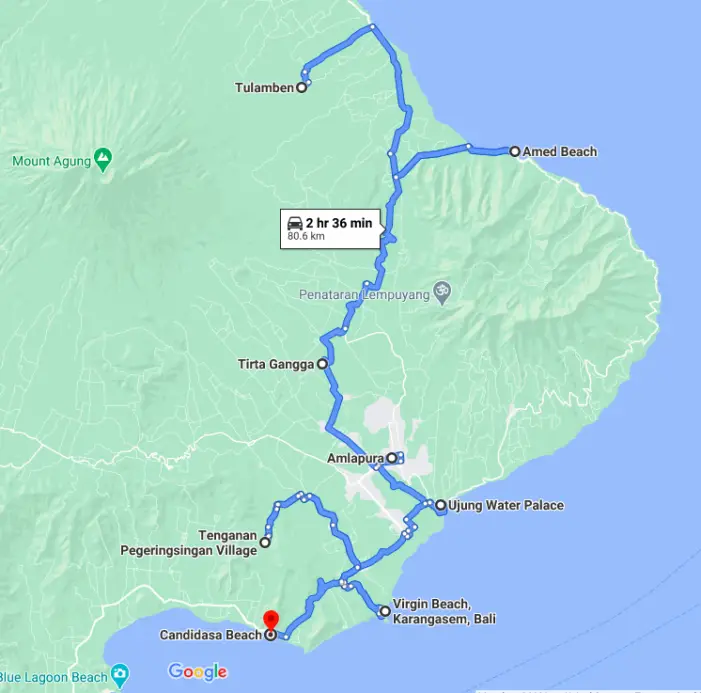 Another one of our favorite routes around Bali is the East Bali route. This route takes you along the black volcanic beaches of Tulamben through green rice fields and ends in the little coconut town of Candidasa.
The mountain slopes covered in green terraced rice fields are spectacular. Especially if you continue your journey and find yourself in one of the driest and hottest regions.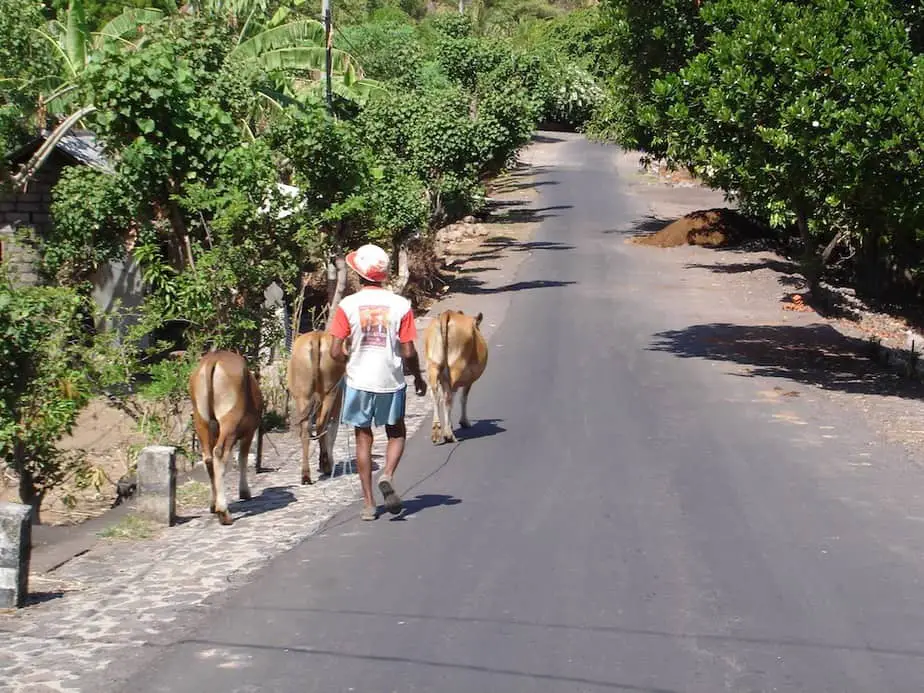 This must be the quietest part of the island where not many tourists go, so expect to see another piece of the real Bali here.
Tulamben
The first thing that will catch your eye is the mighty and most sacred and highest mountain of Bali, Mount Agung. Tulamben village is located in its shadows.
It is therefore located on the 'wrong' side of the mountain resulting in an extremely dry, hot, and arid landscape.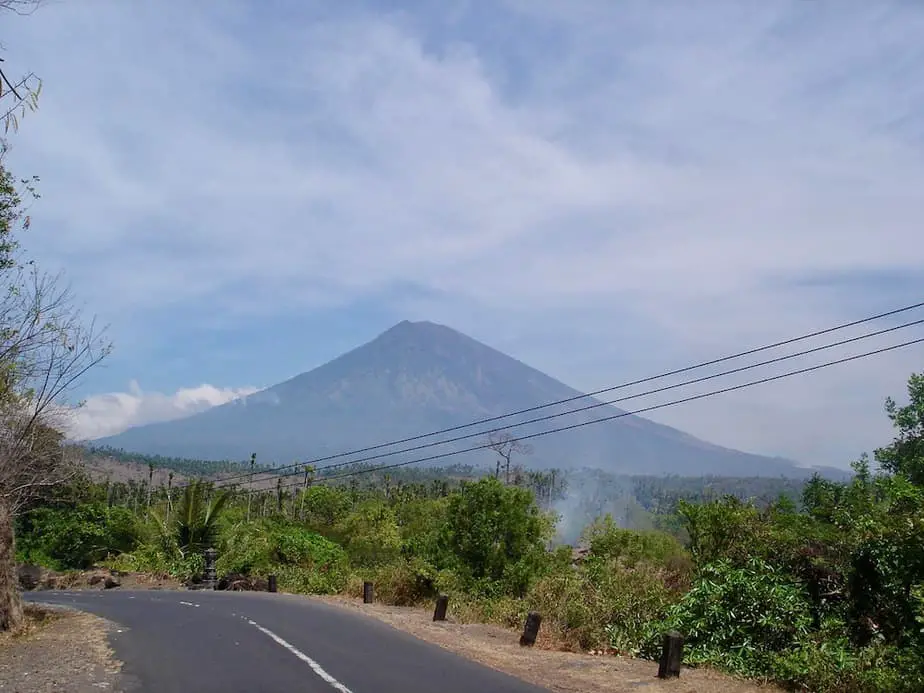 No huge banyan trees, swaying palm trees, and white beaches here. You will mostly see shrubs, lots of volcanic sand, and black rocky beaches.
Nonetheless, this town is very popular among divers. The USAT Liberty shipwreck is located just 30m off the coast and is a unique place to scuba dive. Snorkeling is great here too with good visibility.
Try to dive or snorkel in the morning as this is one of the most popular sights on the island. It can get pretty busy in the afternoon.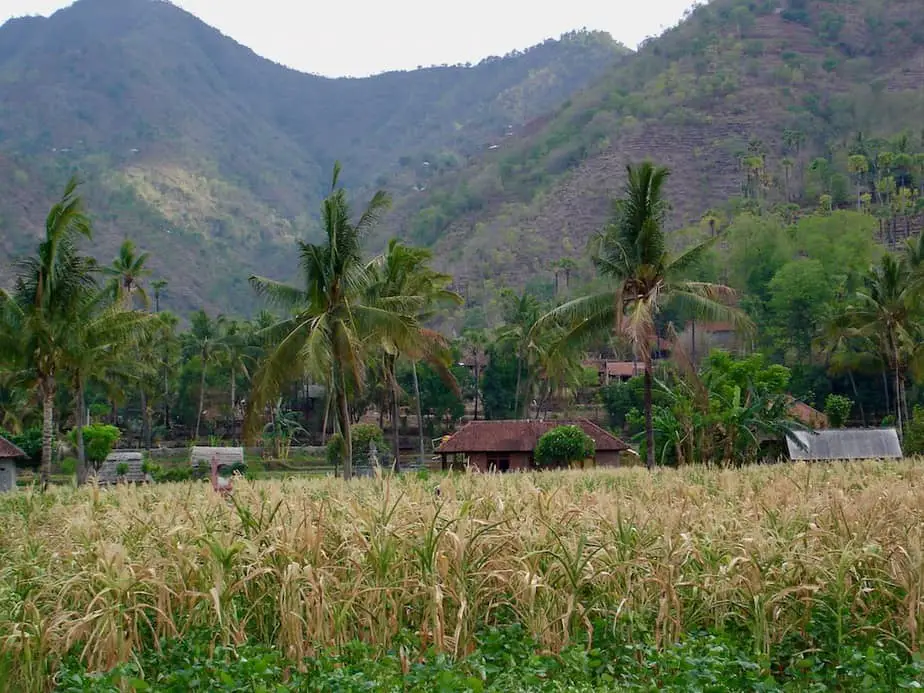 What's great about the East Bali route is that it takes you slowly from the dry and arid lands of Tulamben around the other flanks of Gunung Agung, which are tropical and lush green.
You can already see this after 18 minutes, 6.9 miles/11.2km of driving when you turn left at Culik village. From here the 11 minutes, 3.5 miles/ 5.7km long road takes you to the fishing villages of Amed.
From Culik village on both sides of the road, you'll bump into verdant fields against the dramatic backdrop of bold and dry hills.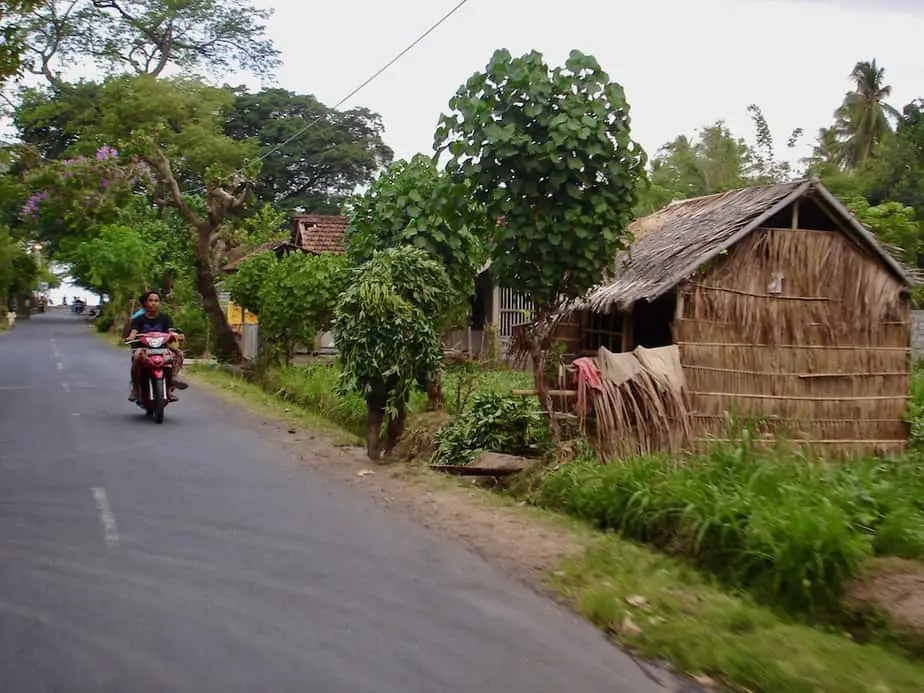 Amed
Amed is the collective name of sleepy fishing villages. Visitors come here for snorkeling, diving, and eating fresh seafood all day in an unspoiled area.
While driving you'll see that the views from this coastal road are really spectacular. Around every corner, there's another set of colorful traditional boats lined up on the beach.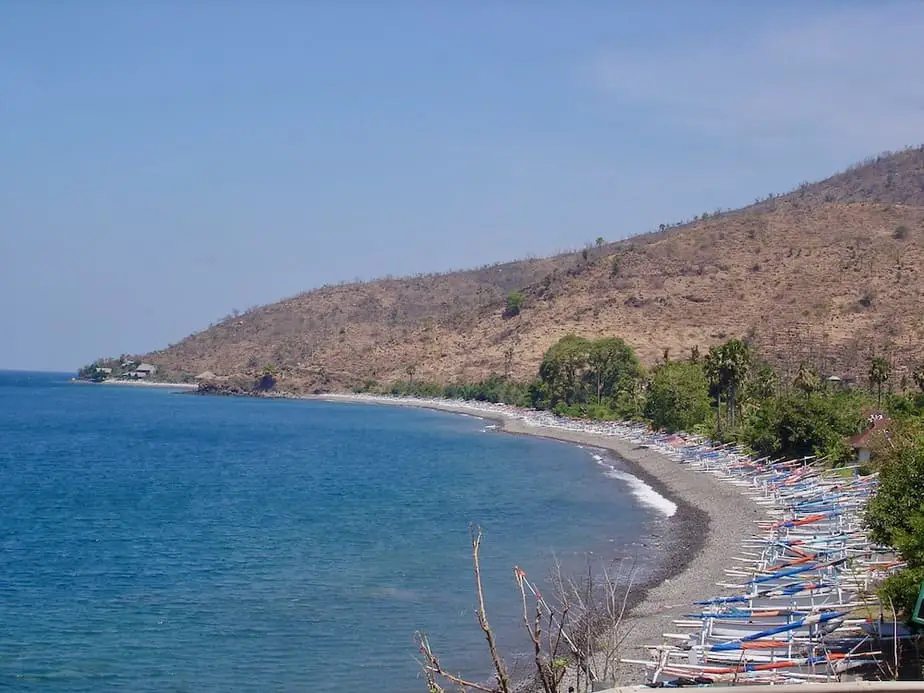 From Amed, you have two choices on this route through East Bali
You either continue driving along the coastal road all around Seraya mountain. You will eventually end up at the ruins of the water palace at Ujung in 72 minutes, 25.4 miles/41km.
Another option is to head back to Culik village. There turn left towards the royal water palace of Tirta Gangga in 28 minutes, 10.2 miles/16.5km.
The first option
When you decide to try the first option you are going to see a Bali you never thought existed.
Here you find small villages high in the mountains without running water or electricity. This is one of the poorest regions of Bali, something you don't find in the tourist brochures or books.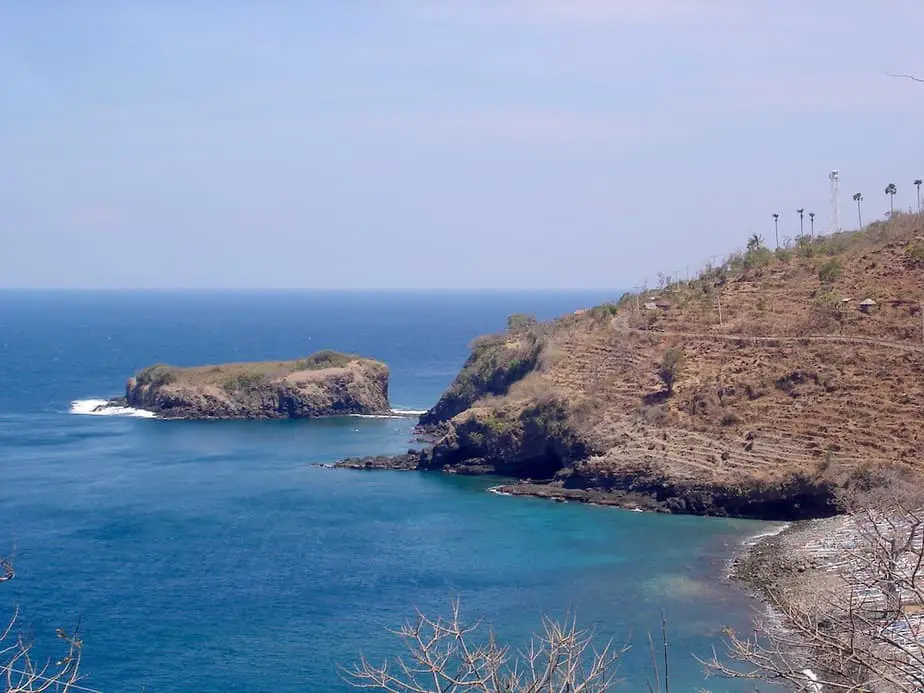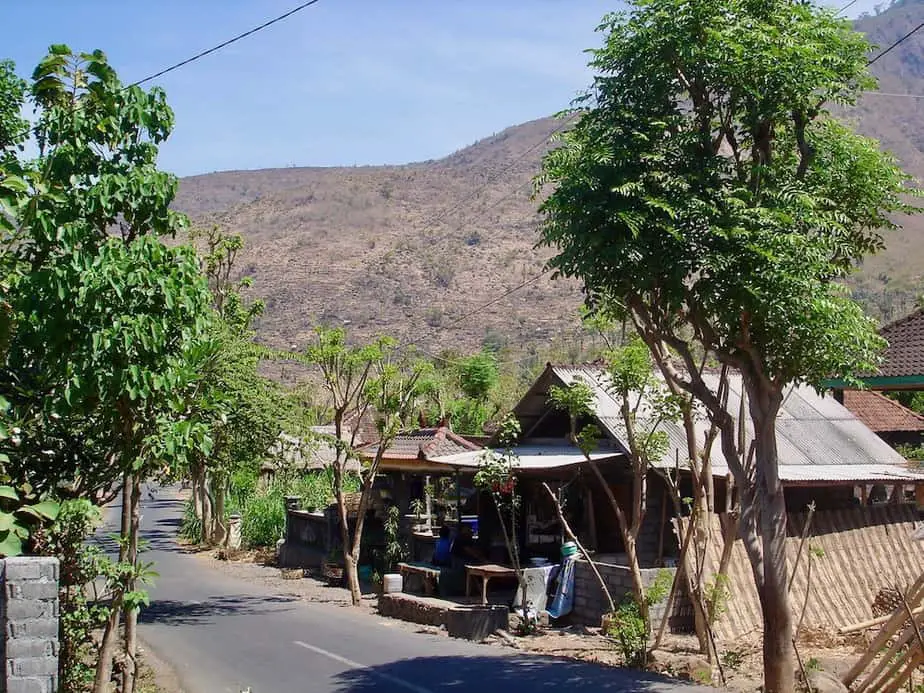 Just like Tulamben, these villages are on the 'wrong side' of Seraya mountain. It's so hot and dry here that people have a hard time cultivating anything.
That's also the reason why you see some beggars in the streets in Ubud or Legian Beach. They are often from this area and desperate to make a living.
The Second Option
The second option will bring you to the other side of Seraya mountain to Tirtagangga. This is one of the most scenic routes in this area.
The road leads you through rice terraces and slowly gets you higher up the mountain from where you can take some stunning pictures. Just have a look at these.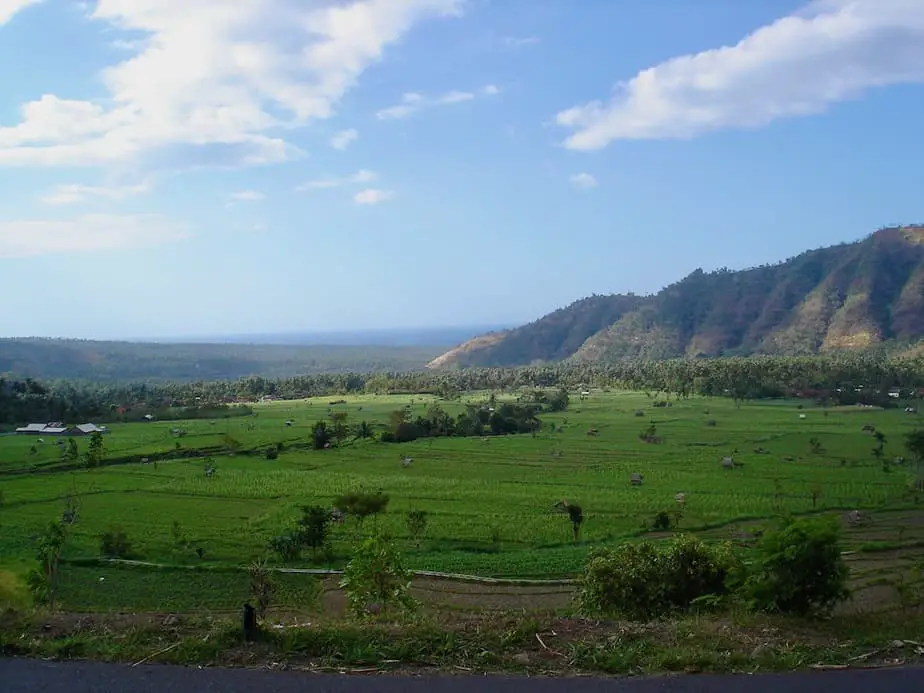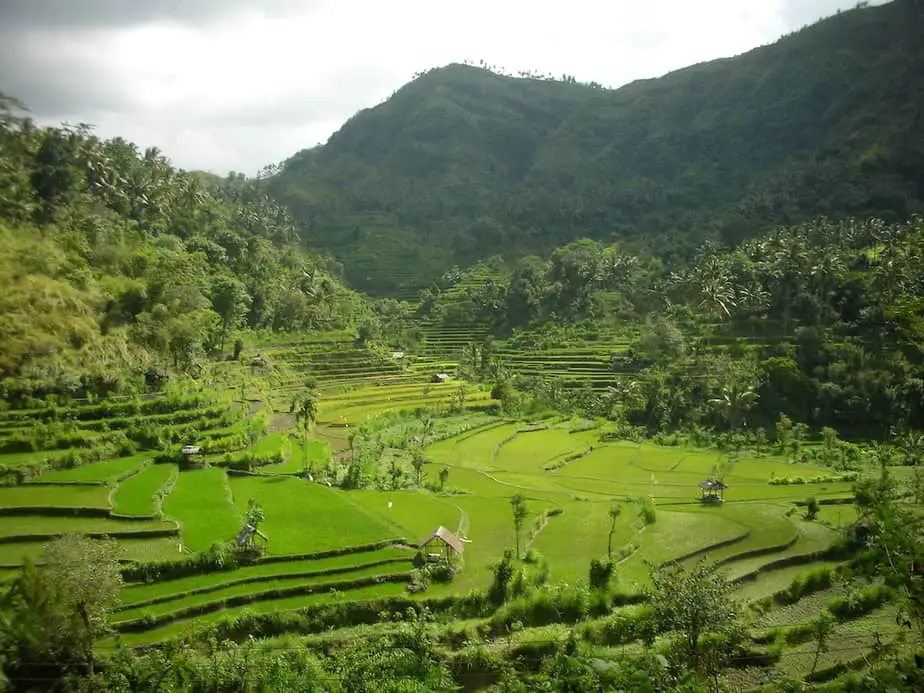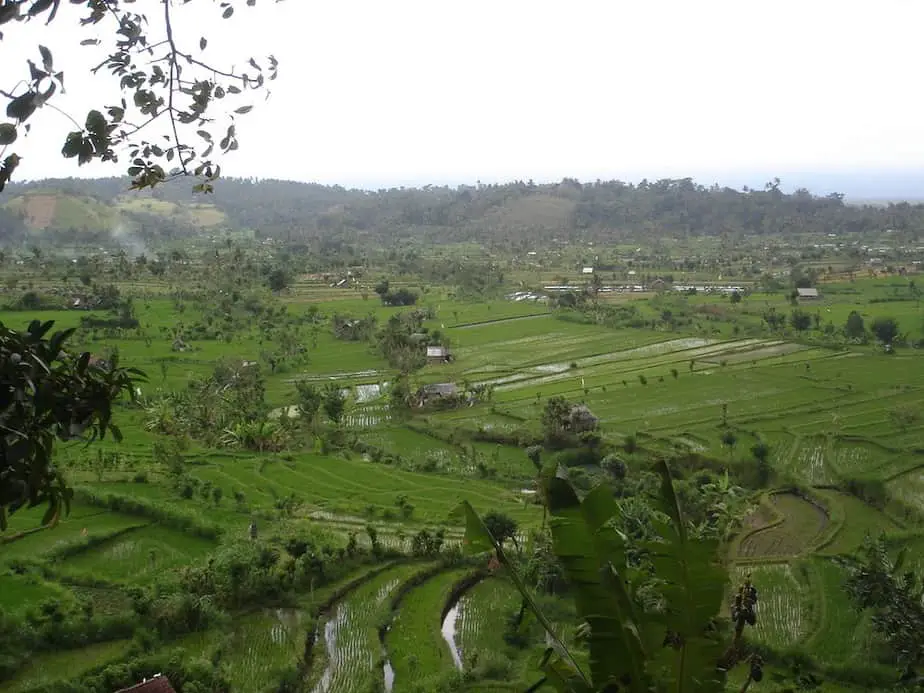 Once you start your descent from the mountain you bump into Tirtagangga's royal water palace.
This historical site was built by the Raja (king) of Amlapura, Anak Agung Anglurah Ketut in 1947 and he used it as one of his many weekend retreats.
It has suffered many earthquakes throughout the years but today it is still Bali's best-preserved water palace.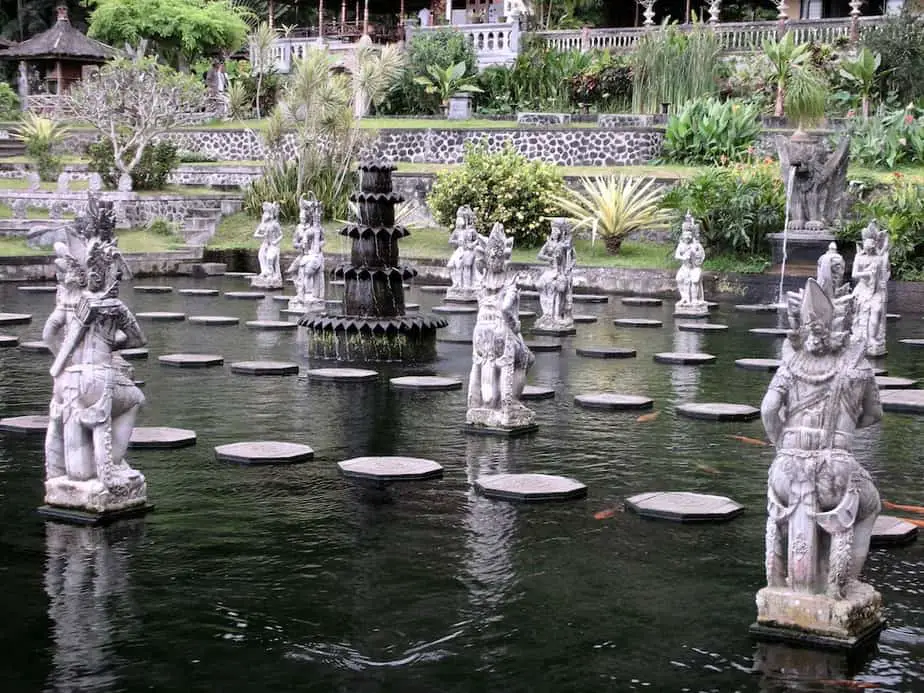 If you like you can jump into real spring water.  Now you can imagine how it feels to be royal among the many water sprouting statues and colorful flowers.
After a refreshing dip, the East Bali route from Tirtagangga will take you to the capital of the Karangasem district, Amlapura in 14 minutes, 3.9 miles/6.4km.
There's not much to see in this town except for the Puri Agung Karangasem, the royal temple and palace of the last rajas. This was one of Bali's few remaining palaces during the Dutch colonial time.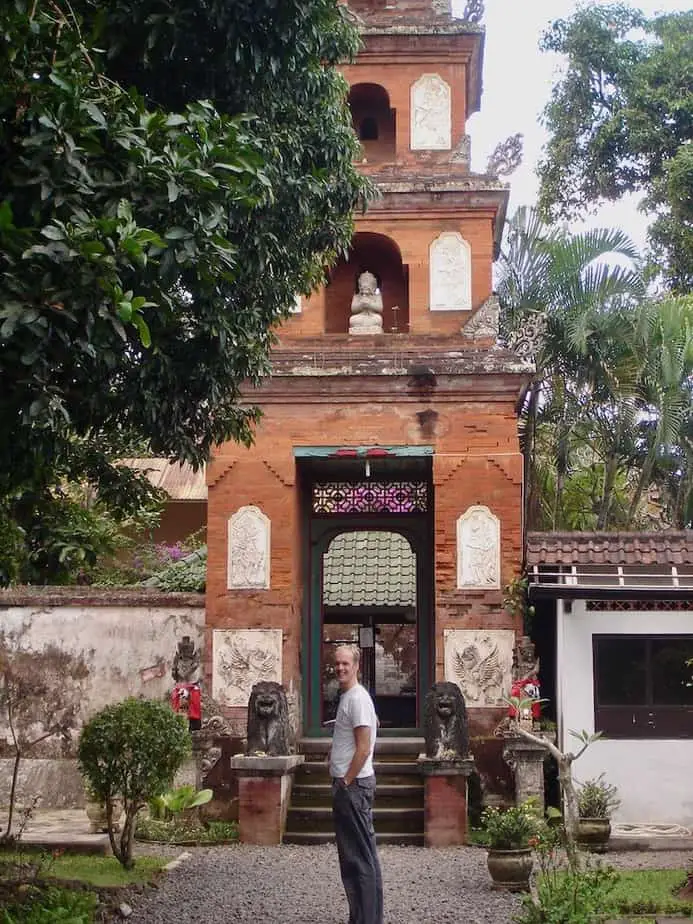 Unlike other kingdoms in Bali, the Raja of the Karangasem kingdom cooperated with the Dutch and so preserved his palace.
Puri Agung Karangasem
Members of the royal family still live here and it is not sure when you walk around the old buildings if you are in someone's home or in an area designated for travelers only.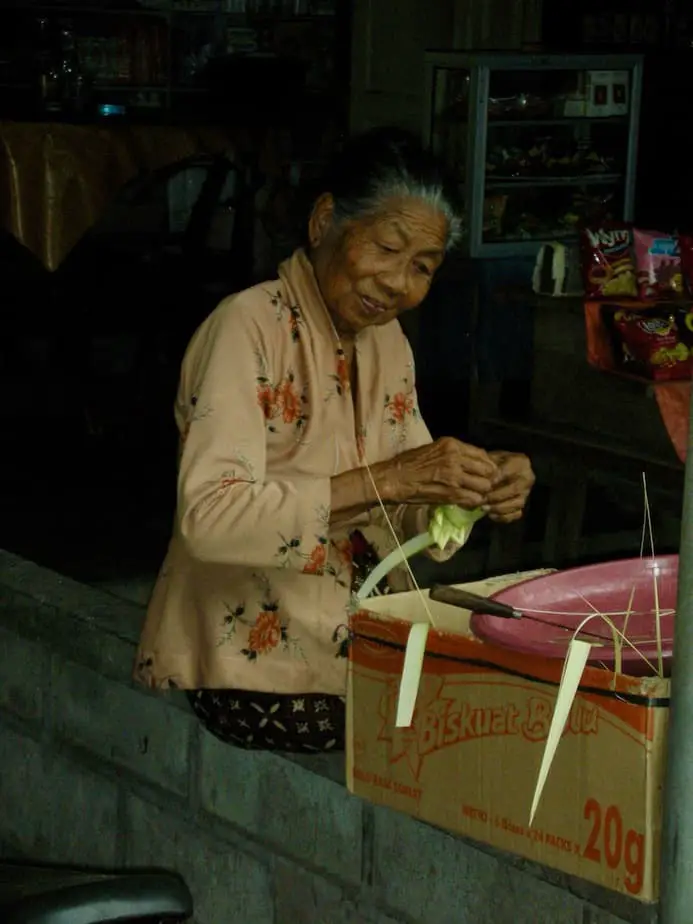 Ujung Palace
On the outskirts of Amlapura, just 8 minutes, 2.7 miles/4.5km south of the city lies the ruins of the royal water palace of Ujung. Just like the royal water palace at Tirtagangga it was built by Anak Agung Anglurah Ketut and the Dutch in 1921.
Due to earthquakes and the eruption of the Gunung Agung in 1963 the entire water palace was destroyed. In 1974 two Australians started to rebuild the palace until it got destroyed again by a major earthquake in 1979.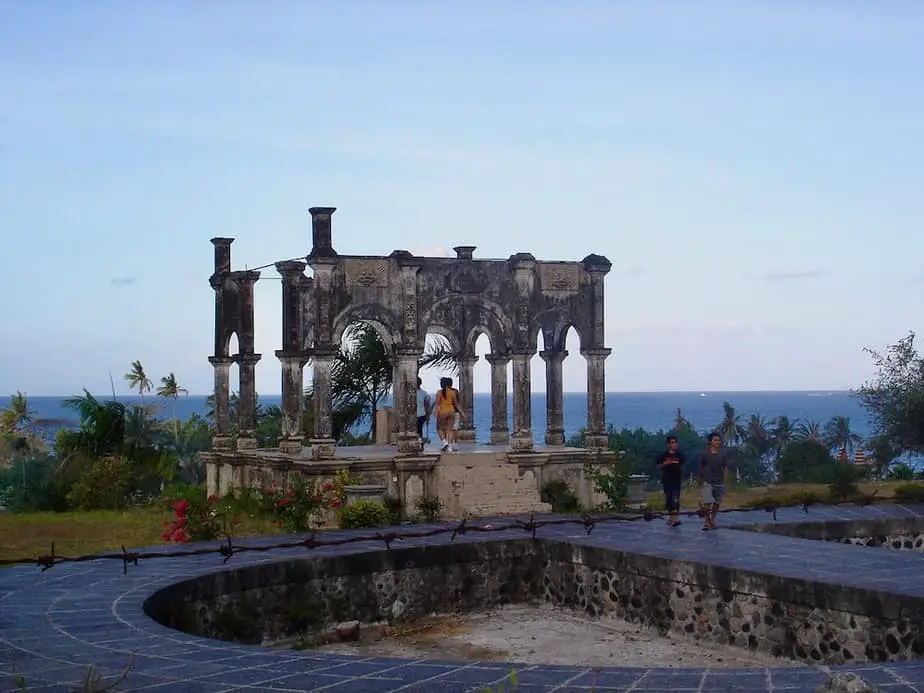 Candidasa
The next stop on the route takes you back to Amlapura where you turn left towards Candidasa in 21 minutes, 7.5 miles/12.2 km.
Just 5 kilometers before you enter the coconut town of Candidasa you can find a sign which says "Pasir Putih".
Here the dusty road leads you along with rice fields, a Balinese cemetery, a couple of huts, and a little building where there is somebody who will request an entry fee.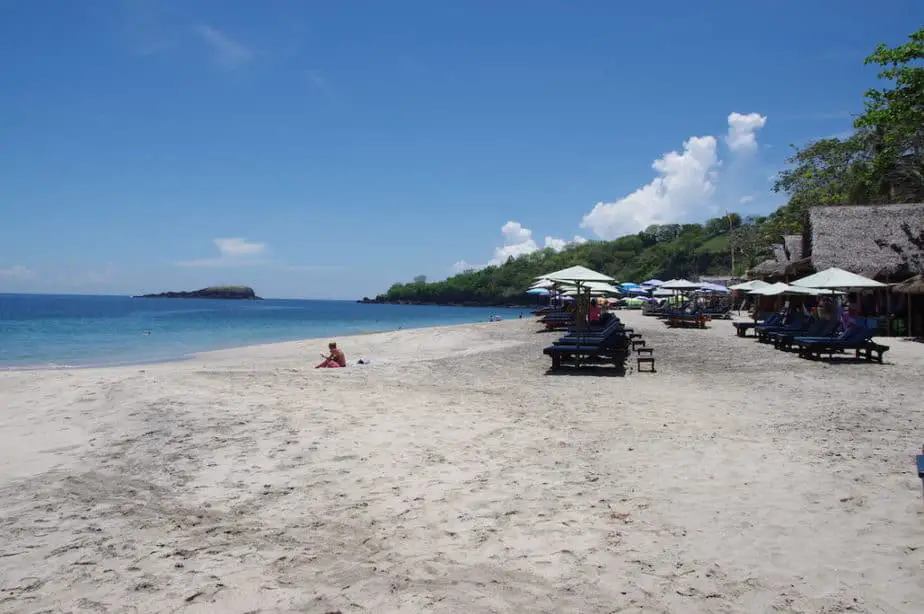 It's very unlikely that these fees go directly into the improvement of the road since it takes a good four-wheel drive or motorbike to go around the potholes before you get to the beach.
Nonetheless all that wiggling on the bike is definitely worth it…
The last part of the route brings you to the little coconut town where there isn't much to do besides floating in your swimming pool, reading the book you always wanted to finish, and stare at the ocean colors.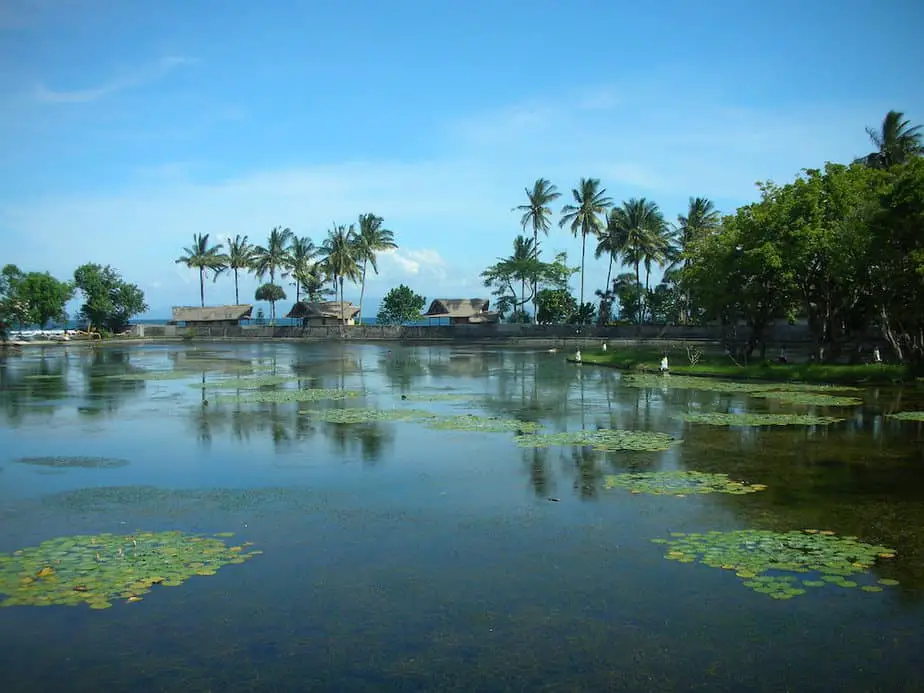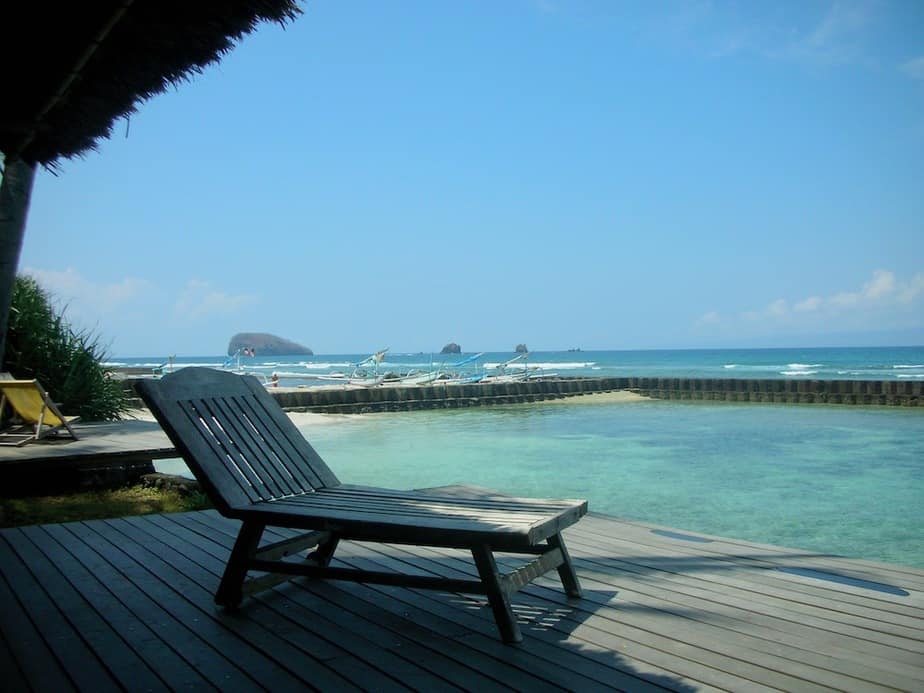 The final stop of the day, Tenganan
If this route hasn't brought you enough highlights you can always continue driving through Candidasa and take the next 'big' road to the right to the Bali Aga village of Tenganan in 10 minutes, 2.5 miles/4.1 km.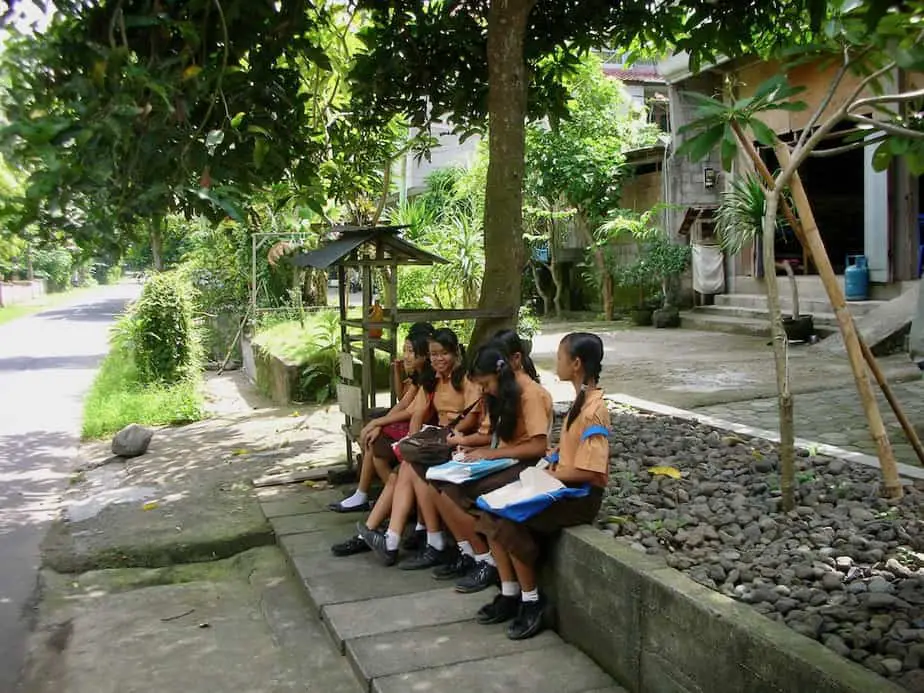 At this village, the original inhabitants of Bali live according to the same customs as centuries before. It is famous for its double weaved ikat cloths and calendars on lontar leaves.
Since you arrive in the afternoon it might be very busy with tourist buses so you can always come back the next morning when there's more space to walk around.
How To Prepare For The Routes Around Bali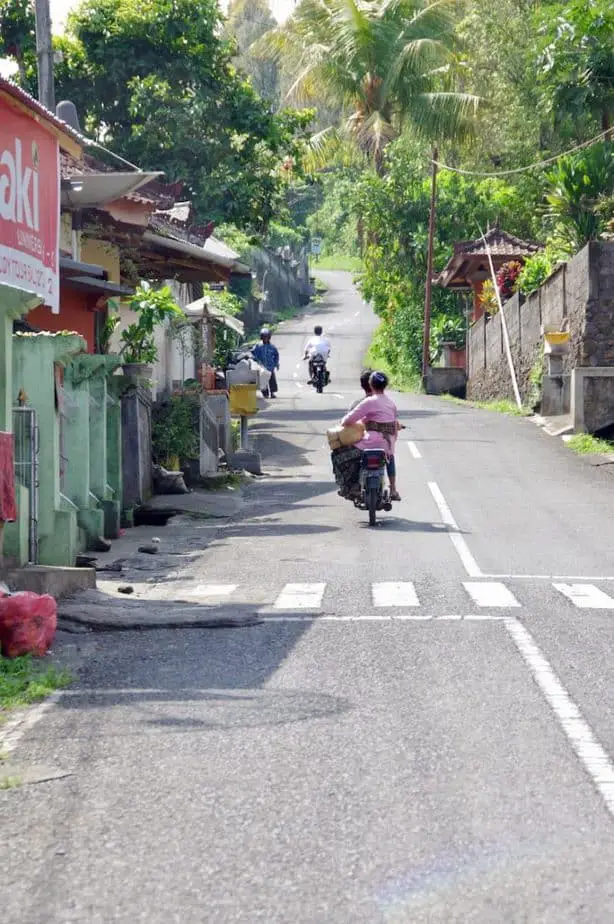 Once you have decided which route you want to take, it is time to figure out how you are going to travel. You can either arrange a driver to take you around or choose to self-drive. The latter can be done by car or motorbike.
We have listed all the types of transportation here. But to be pretty straight forward, if the situation permits then we highly suggest going by motorbike.
It makes the whole experience much more different than by car. We noticed when we travel by car, the final destination seems to dominate instead of the whole journey. And the great thing about these routes around Bali is the journey itself.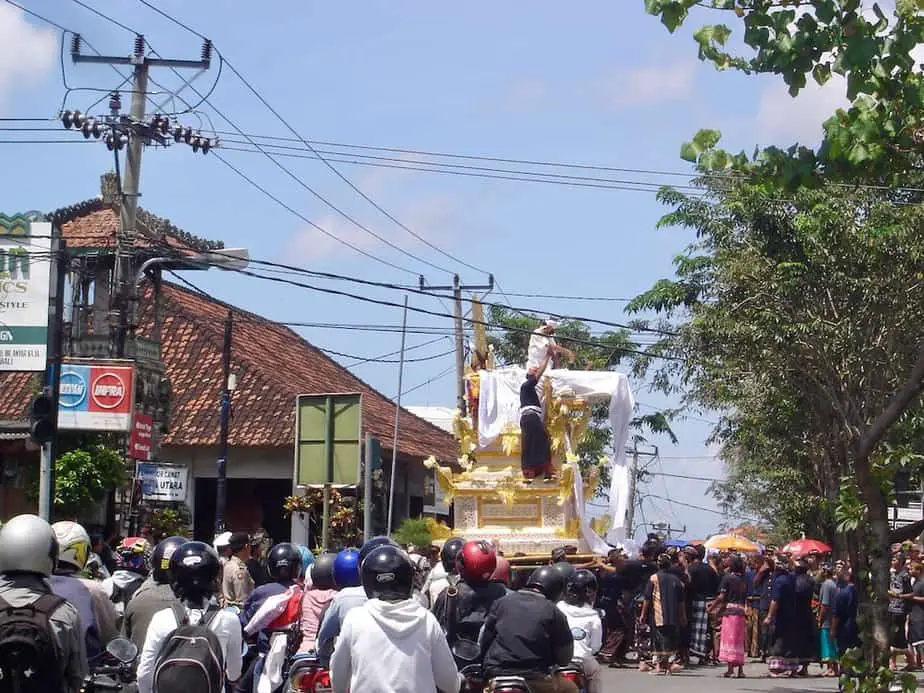 The routes aren't just from A to B, but it is everything in between that counts. By motorbike, you will definitely have that, plus the wonderful unexpected surprises. Just think of sudden religious processions, children coming home from school, cremation ceremony, etc.
These things are part of daily life in Bali and you are likely to see many of them when touring around the island.
Now we are traveling with our little son so we need to do things differently.
For the south, we always try to arrange a car through Grab or Gojek. Once in Ubud, it's safe to rent a motorbike and follow our routes. It's less chaotic here.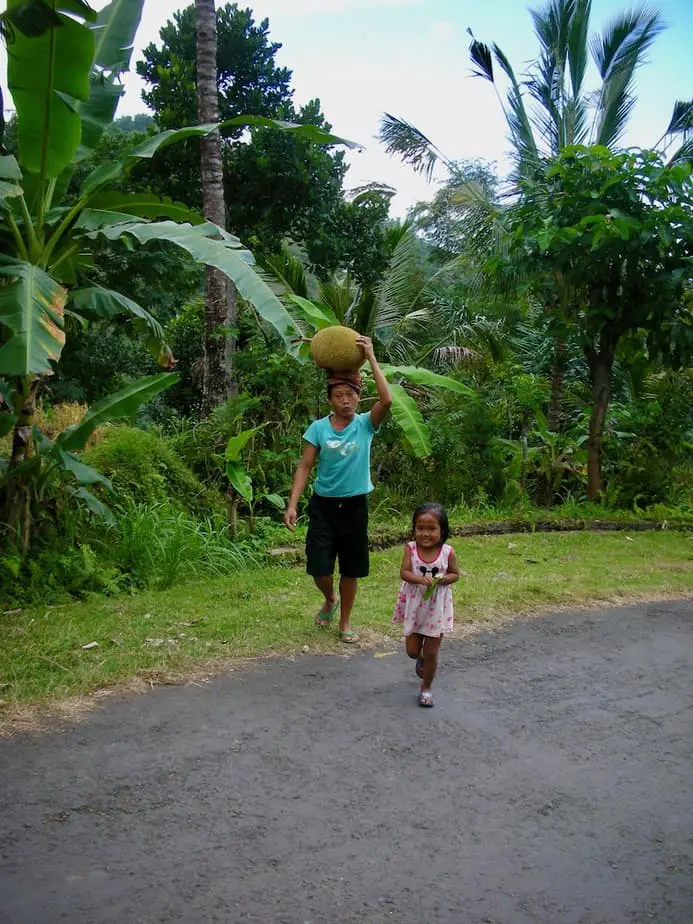 It doesn't matter which country you come from but you need an international driver's license once you're in Bali. So for those coming from the USA, UK, India, or Malaysia, there are no exceptions.
When you don't have one and drive yourself you can get a fine. Always use a helmet and don't do as the locals do, many drive without one.
Final Words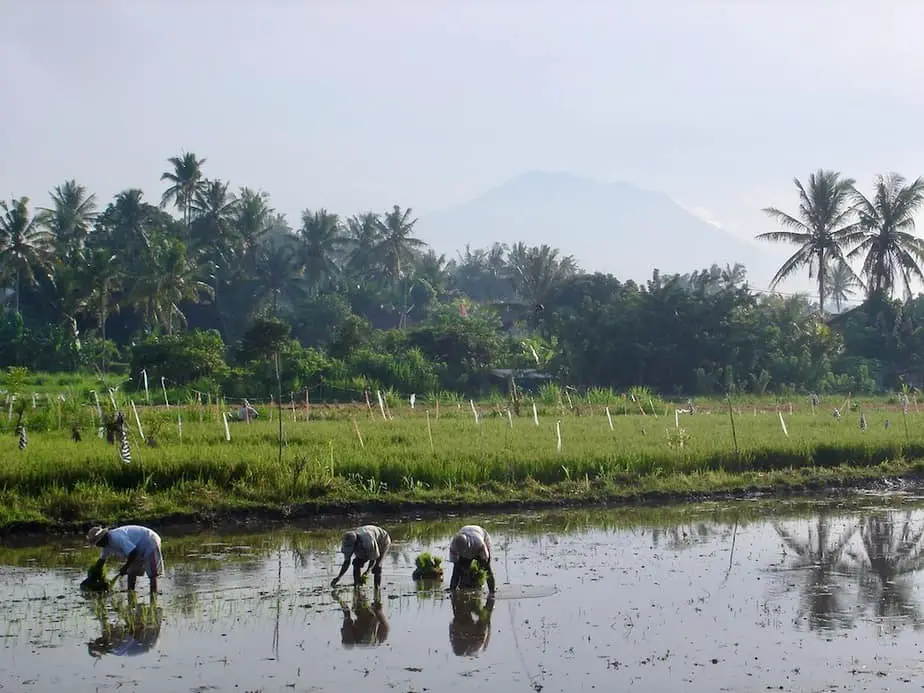 We hope you will find these routes around Bali useful. If you have any questions or comments please share them with us below. We will do our best to answer them for you as soon as possible. Happy travels and don't forget to share some cool places you've visited along the way in Bali!