Amed Bali is the place to be to escape the crowd. Unlike the beaches in the south of the island, chances are you will have the entire beach pretty much to yourself.
Just like Lovina in the north, Amed is not just one village, but a string of smaller villages located on a 10-km long road in the Karangasem province.
It starts with the village of Amed in the north followed
by Congkang, Jemeluk, Bunutan, Lipah, Selang, Banyuning and ending with Aas.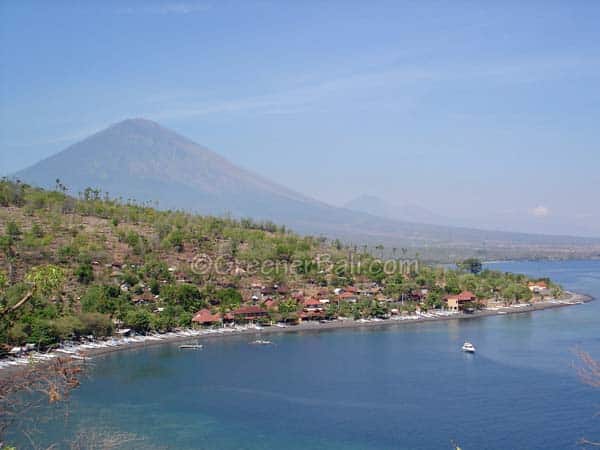 Most travelers stay in the 4 most eastern villages as there is more choice in accommodation, restaurants and dive operators. Aas is the less-visited village of them all and between these villages, there are several deserted beaches.
But more developments are taking place along this strip so perhaps soon enough it will get more crowded with visitors who have found out about this pretty secluded place.
Today Amed is mostly a quiet place with a stunning ocean view. Since this area, after Menjangan island is considered one of the best places to go to for scuba diving in Bali, travelers mainly come here to marvel at the diverse sea life.
Besides diving and snorkeling, the main activity is just swimming in the calm sea and relaxing far away from the crowds in the south.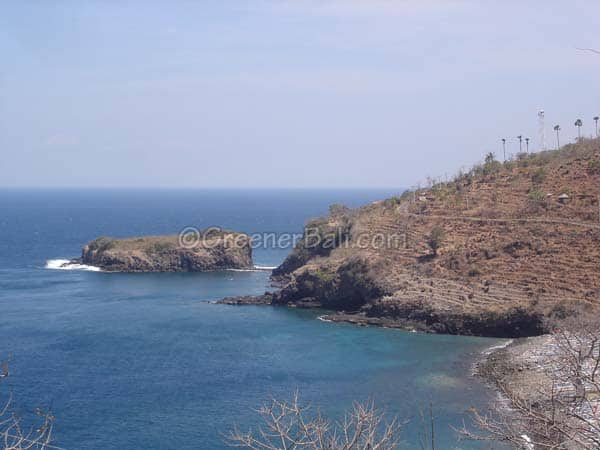 Climate wise, this part of East Bali is not ideally located. It is situated on the dry side of Mount Agung and Mount Seraya resulting in minimum rain throughout the year.
Every time we go to the Amed area, it is really dry and hot. It feels like the sun is setting the whole area on fire.
The landscape is very arid and the slopes of the mountains all look bare.
Lush green rice fields are out of the question and the only crops that are grown in the wet season are peanuts, soybeans, and corn. Other sources of income are salt winning and fishing, which is done all year round.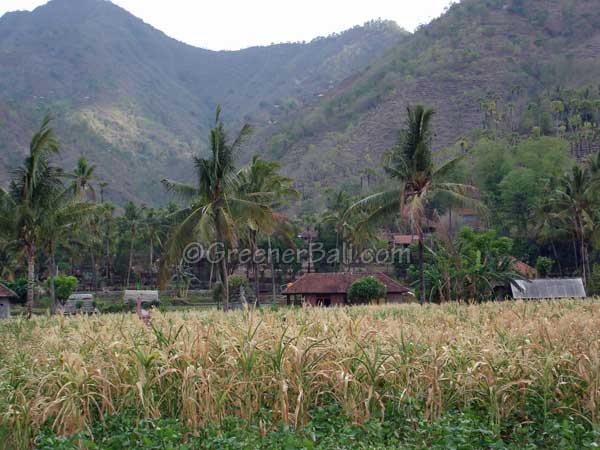 Especially around the villages of Amed and Congkang, you can see the salt winning activities while the other beaches in the area are mostly covered with colorful Jukungs which are traditional fishing boats.
The more you drive towards Aas and beyond it is obvious that the area is one of the poorest in Bali and much effort is needed to obtain sufficient water in this dry environment. Local people have to walk down the hill daily to collect water for cooking, washing, etc.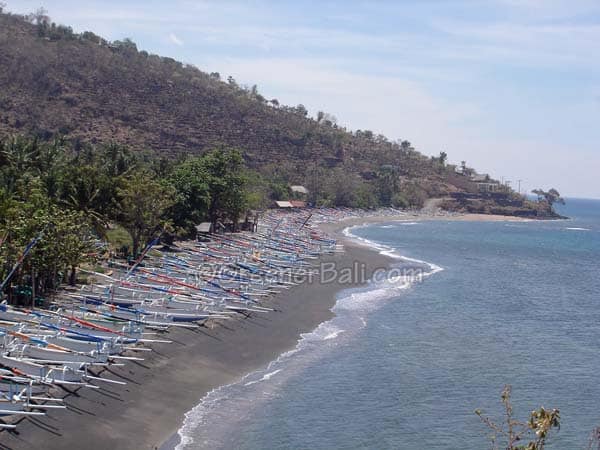 Getting around Amed
Getting around Amed is easy since there's only one road but getting to Amed takes about a 4-hour drive from the airport in the south.
To get there you need to use the main road from Amlapura and Culik. From here you can either go clockwise or anti-clockwise around Seraya Mountain to Amed.
We prefer the clockwise option. Not only is this way into Amed quicker but the scenery is really worth it towards the end.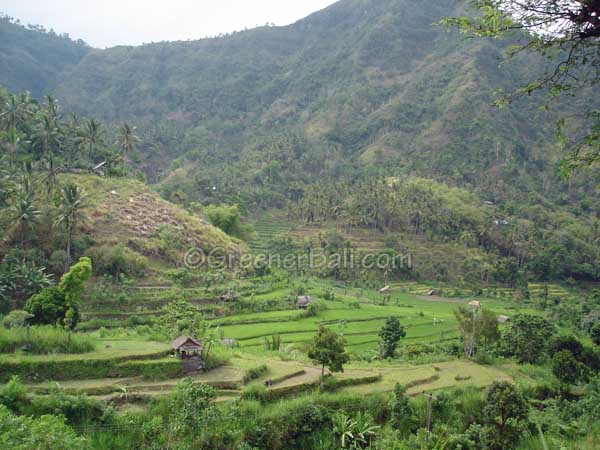 There is public transport to the Amed area, however, it is not that comfortable, plus it's pretty far, especially if you are coming from the Ubud area or Kuta beach.
It is far better to take one of the Perama charter buses that leave from the main tourist villages.
Candidasa is the closest village from which the Perama bus leaves. So this is a good option if you can't arrange your own transport.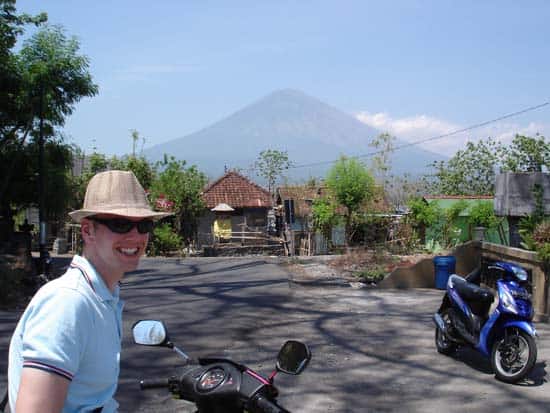 Not everything is actually located in Amed village since it is a string of small villages. Your hotel or restaurant might be located a couple of bays ahead. So once in the Amed area, it's best to have your own transportation.
OK, if you plan to stay at a dive resort and the only thing you intend to do is scuba diving or follow a diving course then it might be fine to just stay at the resort most of the time.
But…
If you want to move around easily, then we highly recommend hiring a motorbike. Some accommodations have them available for rent.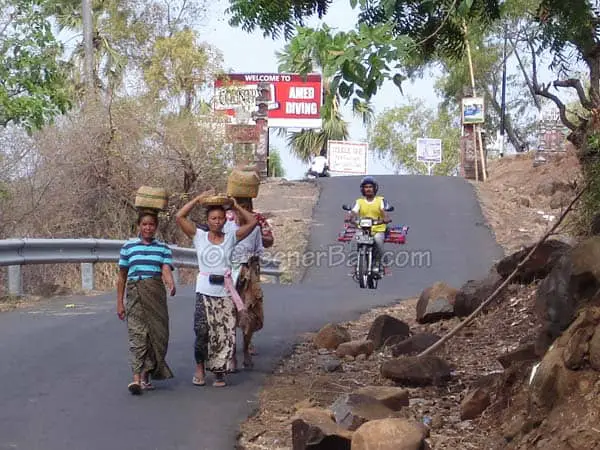 Resorts sometimes offer short drives to great snorkeling sites, but we haven't heard anything about pickup services to and from restaurants, so try to arrange your own transportation.
Important Addresses and Phone Numbers
There are not many common tourist facilities set up in Amed yet. For instance, there are no ATMs or banks in Amed. If you need to get some money, then you will need to make a short drive of half an hour to Amlapura, the main town of the Karangasem province.
We did see some money changers scattered throughout the villages of which the majority were found in Lipah. As for the internet, it seems like it is becoming more accessible.
Things to do in Amed
There are a couple of interesting things to do in Amed. The obvious one is snorkeling or diving. Not only are travelers discovering marine life in the Amed area, but they also take the boat up to Tulamben. Diving around the USS Liberty shipwreck is the most popular thing to do.
Freediving in Amed
Amed is also perfect to get your PADI. These courses and many others such as free-diving are offered by the diving resorts in town. If English isn't a language you are comfortable with, it will be possible to find an instructor who can speak another language such a German or Japanese.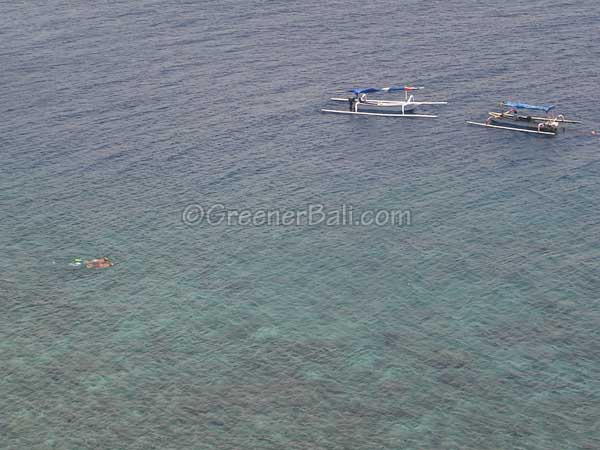 Snorkeling in Amed
If you rather stick to snorkeling, then it is very easy to arrange a fisherman to show you the best coral garden just off the coast. Make sure you leave early in the morning to avoid the sizzling heat.
You won't find a tropical white sand beach in this part of the island. Instead, the beaches are rocky and/or have volcanic black sand and there are no waves so it is not popular among sunbathers or surfers. So not surprisingly, this part of the island is still one of the quietest. Let's hope it remains that way.
Watching marine life without getting wet
If you want to enjoy the sea without getting wet, then there are other options. Almost everywhere in town, you can hop on a traditional fishing boat for a sunset tour.
In Batu Belah there's a glass boat tour so you can enjoy the marine life, while Condor sailing (located at Uyah Amed & Spa Resort) offers various types of cruises on their wooden schooner.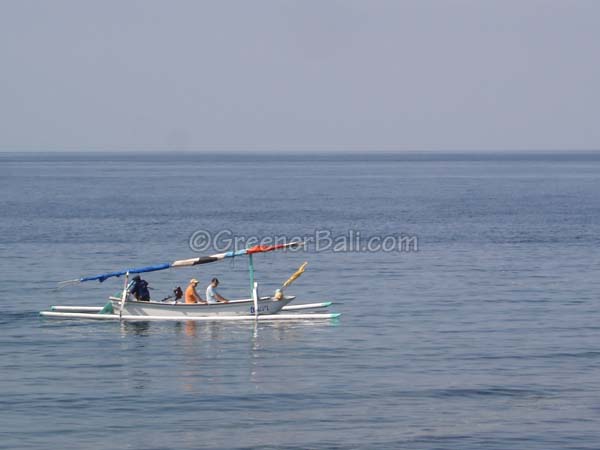 Other attractions just outside town
For other attractions arrange one of the many tours leaving from Amed. These will show you the highlights of this part of the island. Think about things such as climbing Gunung Agung, visiting the water palace at Tirta Gangga or hiking and cycling through the countryside.
Tours can be arranged almost at every hotel and other places such as Jukung Dive and Amed Cafe.
The best salt comes from Amed
In this area, you are still able to see the traditional way of salt production. Cafe Garam at Hotel Uyah has created a large area where you can learn about the whole process of salt winning. Along the main street through the villages, you can also buy little bundles of original sea salt.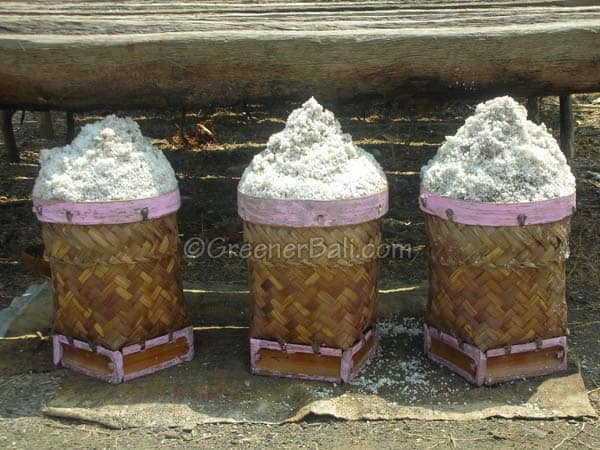 Many hotels and restaurants all over the island get their sea salt from Amed. And even travelers who have been to Bali ask us where they can get this type of sea salt.
Restaurants in Amed
Looking at the dry landscape and lack of water you can almost expect that this place is not booming here with organic restaurants. So the best to have in the Amed restaurants is fresh fish. That was what we ate almost every day and it was always really good.
Luckily, there are a few Balinese people who have set up little restaurants (called Warung) where they serve grilled fish and local food.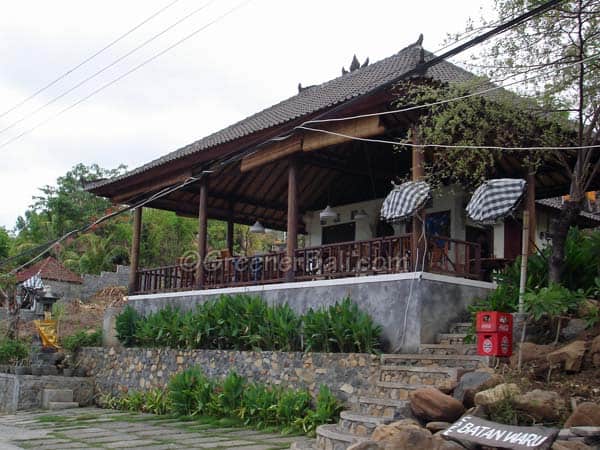 Other places to go to is Cafe Garam where they serve Indonesian and Balinese dishes such as the Iga Babi Bakar, which is grilled pork spare ribs with Balinese paste. This cafe also has a whole display on the local salt winning production. You can see the whole process when you walk towards the beach.
Another cafe which we recommend for its nice location at the beach is Amed Cafe. It is always nice to have breakfast, lunch or dinner right at the beachfront under the shade. They serve Balinese specialties here too. You do need to order these dishes 3 hours in advance, but then you can only expect the best of the best of course.
Places to stay in Amed
So far we haven't found a large selection of great places to stay in Amed. This is still a sleepy part of Bali and you will not find big fancy resorts here. Yet.
Hopefully, this low-key atmosphere will remain for many years to come. But with the recent tourist development going on all over the island, Amed is also becoming more prominent on the tourist map.
If you plan to do some serious diving try to stay at a dive resort where they can offer special packages which include various dives and equipment rental at an attractive price.
We always prefer to stay at eco or smaller hotels, preferably run by locals. One of the best places to stay in Amed is the following: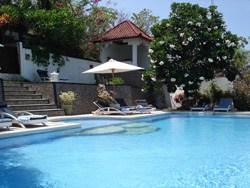 The Anda Amed resort:
Ideal for couples, but also larger families.
From every bungalow and its infinity pool, you have a gorgeous view of the ocean.
Anda is on a hill, but from here you can walk down to take a dip in the sea.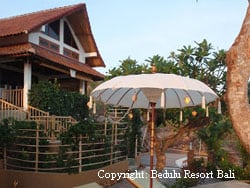 Bedulu Resort Amed
This little gem in Amed is a family-run resort with spotlessly clean rooms, an amazing infinity pool, and great prices.
Try to reserve one of the deluxe rooms on top of the hill with a private balcony, garden and ocean views from the bedroom.
Are there any other small-scale hotels that you think are worth mentioning here? Let us know so we can have a look and talk about them in future updates.