Gili Trawangan is the biggest island of the Gili islands, a small island group just off the coast of Lombok Indonesia. The other Gili islands are Gili Air and Gili Meno.
These islands are easily accessible from Bali. Consequently a popular tropical destination for those who want to take in the easy-going lifestyle of lazing away along the bright white beaches with crystal clear water while going snorkeling or diving.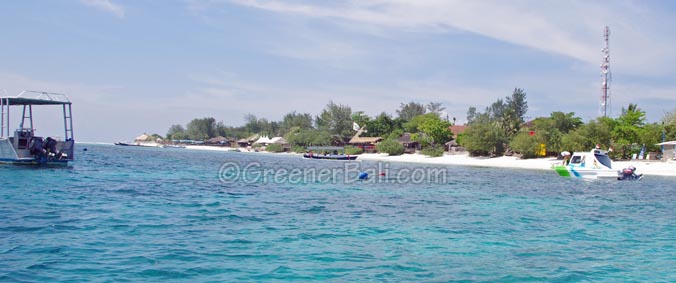 The atmosphere seems surreal here especially since cars or motorbikes are prohibited on these little islands.
Everything is pretty much walking distance. However, if it's a bit too far to go by foot, a horse cart can take you.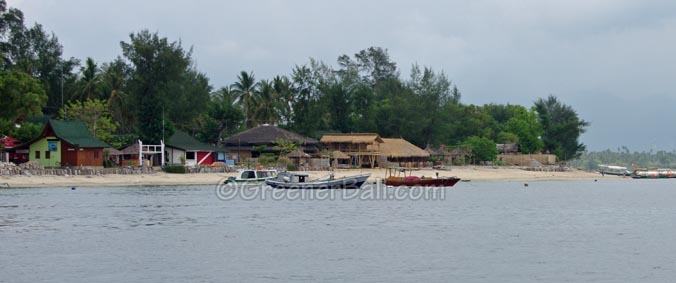 Gili Trawangan is the most popular of the three and offers a large number of accommodation, restaurants and dive operators. Gili Air is far quieter while Gili Meno is for those who want to be all by themselves on a pretty much-deserted beach.
So the Gili islands will suit any mood or wishes…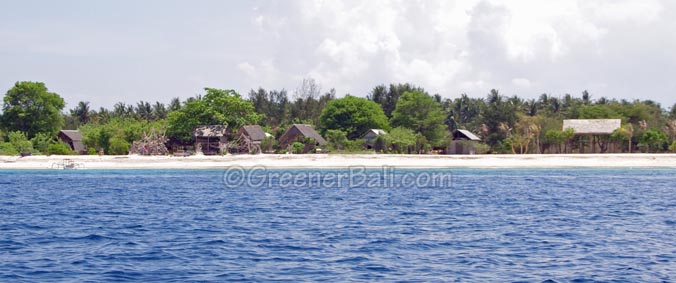 Getting to the Gili Islands from Bali, the many options
There are many options for getting to the Gili islands from Bali. You can choose one of the dozen fast boat companies from Sanur (3,5 hours), Serangan (2,5 hours), Padangbai (1,5 hour) and even Amed (1 hour) to the Gilis. You can get there pretty quickly depending on the boat company and how many stops it will make along the way.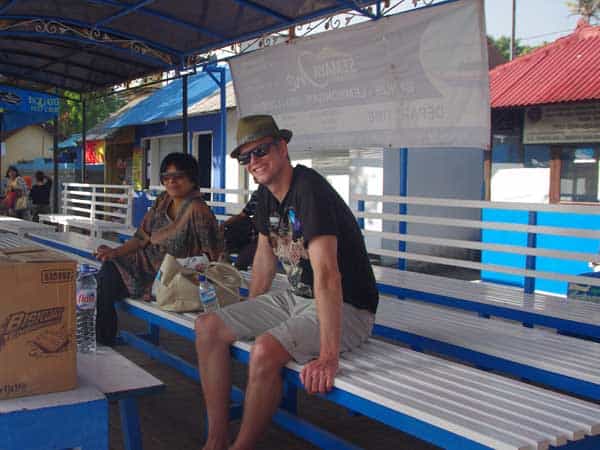 However don't take the time-table all too seriously, especially during the low season when fewer boats leave for the Gilis. We booked tickets by phone and were supposed to leave on a direct boat from Serangan. But at pick up the driver informed us that the boat was not leaving. Instead, they got us seats on another boat departing from Sanur.
Unfortunately, the boat left almost an hour late. It also stopped in Nusa Lembongan for a while before continuing. Once you are nearby the Gilis, the boat will start dropping passengers off at Gili Trawangan first before continuing to Mano and Air.
It felt like the whole trip to the islands took the entire day. Luckily the sight of dolphins did make the trip bearable.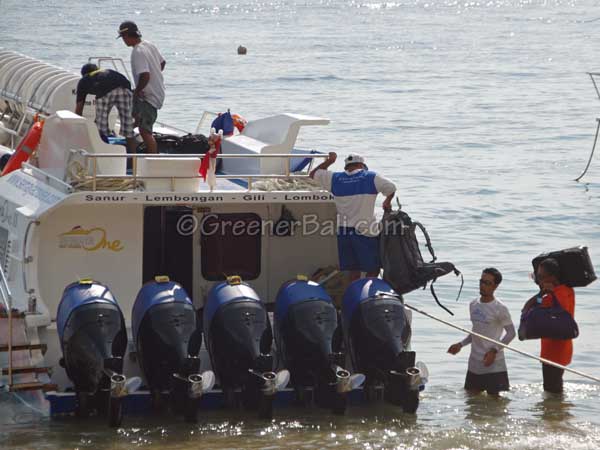 If you are in Lombok then you can take a fast boat that leaves from Teluk Nare or Teluk Kodek. It will only take you 10 minutes to reach Trawangan, however, it is quite expensive. If you are not in a rush and on a budget then go for the public boats. They leave early in the morning from Bangsal around 9.30 and 10.30 am.
Don't take a flight from Bali to Lombok to get to the Gilis. It's a very long drive from the new Lombok airport to the harbor where the boat leaves. It is quicker to take a fast boat from Bali to the islands.
Like any other tiny island, there are not many things to do on the Gili islands and that is exactly why most travelers come here.
Generally at Gili Trawangan, the majority of the travelers just relax at one of the many restaurants and bars right at the beach while others wake up in the late afternoon after partying all night.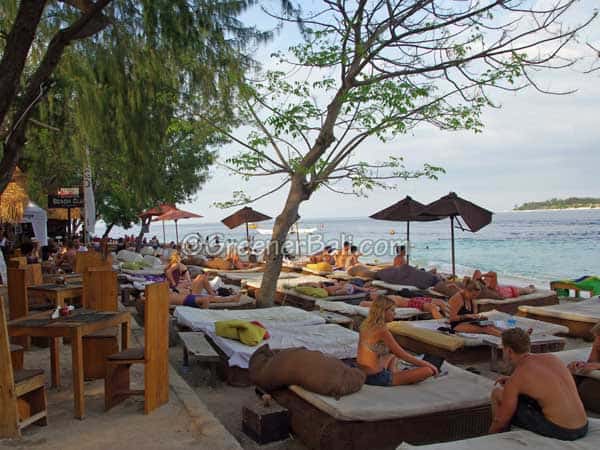 At Gili Air island and Gili Meno island, everything is pretty quiet so you are more likely to be relaxing at the beach most of the time.
6 Things to do on the Gili islands
But besides doing basically nothing there are still 6 things to do on the Gili Islands: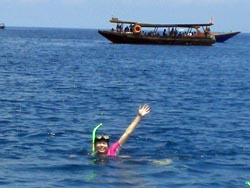 1. Scuba diving or snorkeling
The waters of the Gili islands are crystal clear and the coral is beautiful. But we have to admit it wasn't the best place ever where we snorkeled. We did see turtles and some great coral gardens though.
It is definitely worth it to join one of the tours. You can also just go snorkeling off the beach. We did just that too and were surprised to see sea turtles swimming around. You can rent masks and fins at the beach.
If you go diving you will see many more amazing things. Great dive spots are scattered around the islands where turtles are abundant. There are many Padi courses offered on the Gili islands as well. It is possible to go diving all year round, but if possible avoid December and January when rain can affect visibility.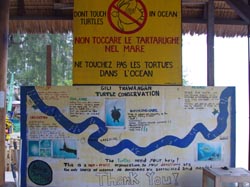 2. Check out the islands' conservation efforts
The Gilis used to be surrounded by healthy coral reefs. Unfortunately due to tourism development and climate change quality has decreased. Efforts, such as those from Eco Trust to prevent further destruction are taking place.
Information on these programs is found all over the islands. Biorock is one of them. Biorock is an artificial reef that is created through a process in which low voltage electrical currents are used to dissolve minerals in seawater to simulate a structure similar to concrete. However, its composition is similar to natural coral reefs and beaches. So far it has been a success here.
Another active program is the turtle conservation program. Eggs are rescued from the trade and placed on the beaches of Gili Trawangan where they are hatched as normal. Once the hatchlings are strong, they are released. Locals and tourists are welcome to assist.
If you want to learn more about this program you can find information and little baby turtles north of the jetty.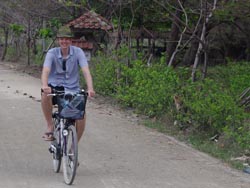 3. Biking around the island
There is a path on Trawangan that will take you around the entire island. You can either rent a bike and go on a 2 to 3-hour bike trip. It's a fun way to see more of the island and discover many other stunning beaches which are much quieter than the ones near the jetty.
The path is not always paved so be aware that you need to be a bit fit and that you might have to get off your bike and walk every now and then. Bring a big bottle of water.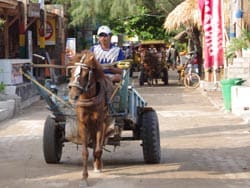 4. Go on a horse cart ride
If you prefer to continue the easy-going lifestyle yet want to see more of the island you can leave the bike as it is and hop on one of the many horse cart rides.
They will whisk you away and trot you around the whole island within an hour. Kids will have great fun too.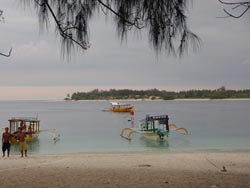 5. Visit the other Gili islands
The three Gili islands are very close to each other, some just a couple of minutes away. If you feel like the island is becoming too crowded, you can always go and visit the other islands nearby.
Fast boats leave on a certain schedule but if you ask around you can easily find a boatman to take you island hopping.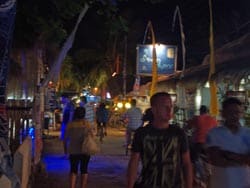 6. Nightlife
A large group of people comes to Trawangan island to party. There are even party boats where wild dance parties are organized. On the island itself, bars and restaurants are located right at the beach and are open till 6.30 am. But unlike Kuta, Legian or Seminyak everything is more relaxed here. People walk from one place to another enjoying themselves.
The nice thing about the nightlife here is that if you don't want anything to do with it, it's not that hard to avoid it. Just make sure you choose a hotel which is located far enough from the main street as the music might be loud.
Like any destination, it's always nice to come a bit prepared. Here are some basic Gili islands travel tips on where you can eat, types of accommodation and practical things that might come useful.
The Gili islands travel tips, useful for 1st timers…
Where to eat.
There is much more choice in restaurants on Trawangan then at Air and Meno. At the two smaller islands you can eat at the resorts and a couple of restaurants while at Trawangan you can have everything you want. Food is really good here, especially the fresh fish.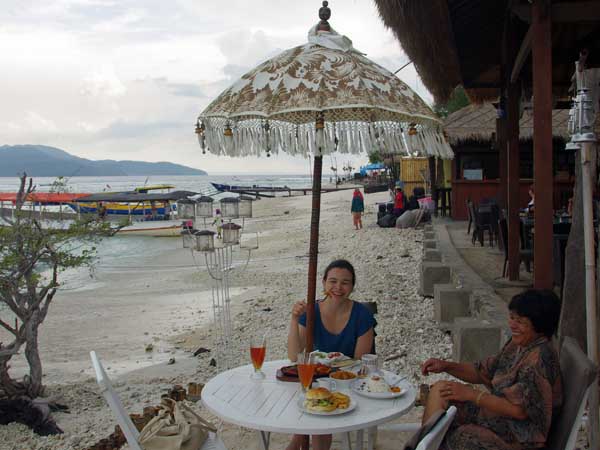 Food and drinks are pretty expensive though as everything is brought in by boat from Lombok. But if you want to save some then head to the Trawangan jetty in the evening. This is probably the busiest place to eat on the entire island.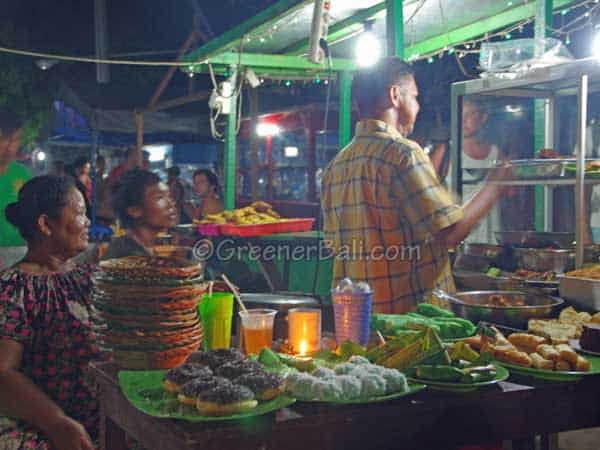 Here you can find local warungs serving delicious Indonesian food. From satay, grilled fish, Gado Gado, Nasi Campur to local treats and sweets. You name it. The best place to discover tasty Indonesian cuisine.
Accommodation at the Gili islands.
Just like Bali, the great thing about the Gilis is that there is accommodation for everybody. Whether you want to stay low key in a bamboo shack, be comfortable in a nice bungalow or prefer luxury in a villa or resort with a stunning pool. It is all possible on the three islands.
At Gili Meno you have budget accommodation such as Melias Child Bungalow, Sunset Gecko starting off from US$30, mid-range accommodation such as the Shack 58&59 but you can find affordable luxury for US$150 and more at Tropical Hideaway and Melati House.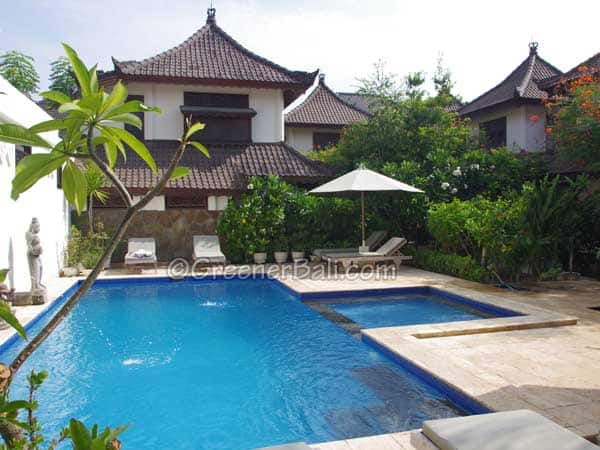 The choice at Gili Air and Trawangan is even larger and diverse. The further you stay from the main jetty the quieter it will be. Especially for Trawangan where you feel almost the only one if you are staying on the other side of the island.
On both islands, you can go for luxury resorts on Gili Trawangan such as Kokomo resort, the beautiful Gili Eco Villas and Pondok Santi Estate where rooms are above US$150 or you can head to the mid-range Martas Hotel, Scallywags Resort, Karma Kayak, and the Manta Dive and Bungalows.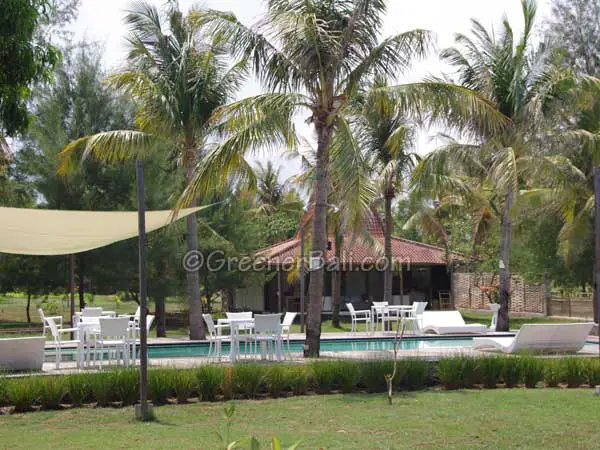 Popular accommodation on Gili Air is Segar Villages, Gasa Mio Villas, Chill out Bungalow and Manta Dive Gili Air Resort. Of which the latter is a good mid-range accommodation.
If you want to spend your money on something else other then accommodation then you can find many small homestays near the Trawangan jetty.
Practical Travel Information
Credit cards are accepted at most big resorts. If you head to Air or Meno bring enough cash as there are no ATMs there, unlike Trawangan where you can find several along the 'main road' near the Jetty and Villa Ombak resort.
Wifi is available as well at most accommodations and restaurants.
There are a few clinics on Trawangan. One belongs to the Villa Ombak resort but you also have the Trawangan Clinic Center located north of the jetty.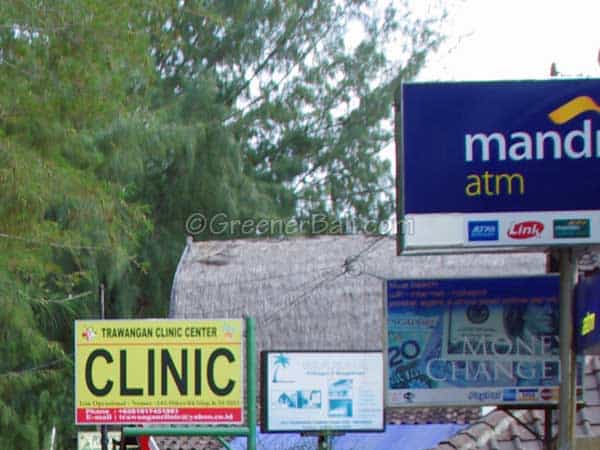 The Gilis are small islands where there is hardly any rain. So as you can imagine the islands are suffering from a large number of accommodations and visitors. There is even boats coming from Lombok transporting fresh water daily. islands' conservation efforts
Therefore the water at the Gilis can be somewhat salty when taking a shower and most swimming pools have saltwater too. Don't complain, enjoy it! Life should be different when on holiday.
Last but not least the Gilis are becoming known for their great nightlife. Soft drugs and alcohol are largely available. Please take lots of care when consuming them.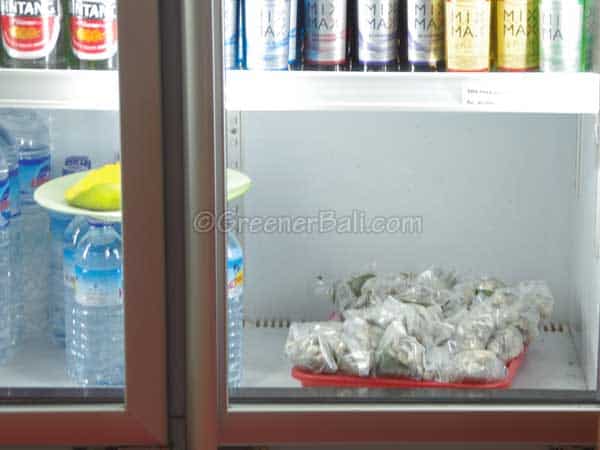 Recently there have been many cases of methanol poisoning on the Gili islands. Methanol is added to locally produced liquor. It can severely harm you and even kill you. Many foreign travelers have died after consuming liquor that had been contaminated. So be careful!
For other Gili islands travel tips on how to spend your days on this lazy island, check out our things to do page.