Balian Beach is located around the corner of Lalang Linggah (meaning 'The Wide Grassland') village on Bali's west coast. For centuries the village area is home to the cultivation of rice. Slowly it has transformed itself with several accommodations into a spot popular among surf fanatics.
You can still find many rice fields running down all the way to the beach and occasionally a couple of cows grazing lazily in the sun.
Compared to the beaches in the south, this piece of beach is pretty underdeveloped tourism wise. Hence one of the quietest beaches on Bali. This, of course, makes it attractive for those looking to experience something far away from the crowd.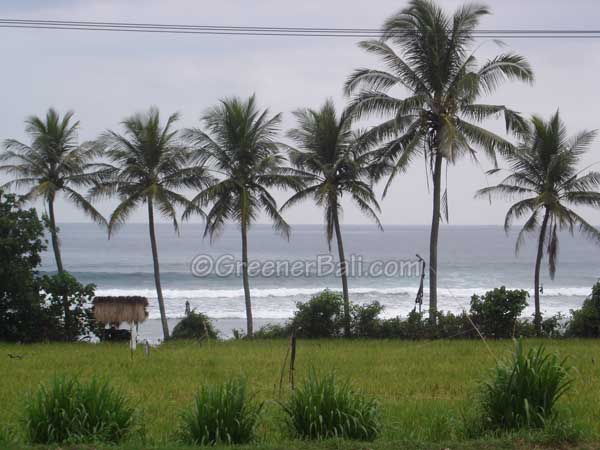 As the story usually goes, surfers were the main visitors here. The black volcanic beach has some great waves. This surfing point is wonderful for intermediate surfers but dangerous for swimmers. So you can imagine if you are not into surfing you will not be able to fully enjoy Balian beach.
Nevertheless, the village has a great atmosphere and it's a perfect place to walk endlessly along the coast. That alone makes it worth visiting.
This village is also a great budget travel option considering everything isn't as posh as things in the south of the island.
We spent a couple of nights at Balian beach. Yes, we didn't do much but that was actually our intention. We spent the days walking along the beach early in the morning and touring around the area by motorbike.
Once the sun was at its hottest we found a comfortable spot in the shade and nothing else. Something we actually should do more during our travels in Bali…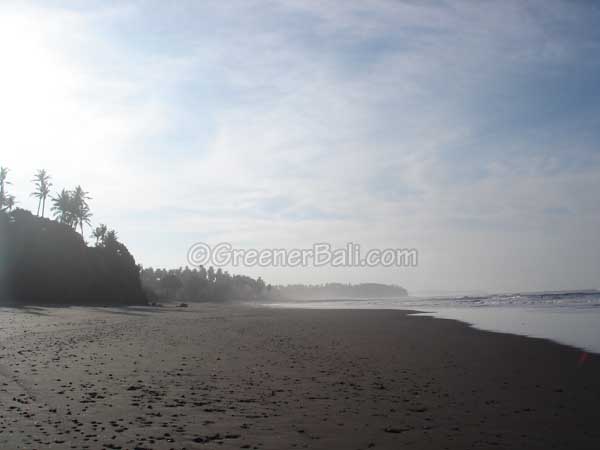 How to get to Balian beach?
Balian is located along the busy main road that runs from Gilimanuk in the West, past Tulamben to the Southern tip of Bali. Trucks full of cargo drive here almost day in day out and traffic can be a real nightmare.
So once you arrive at the small road leading to Balian beach, you will notice that the contrast couldn't be more different. The first accommodations are already found along the big main road. More are located near the beach and along the river called the Balian river, also known as Tukad Balian.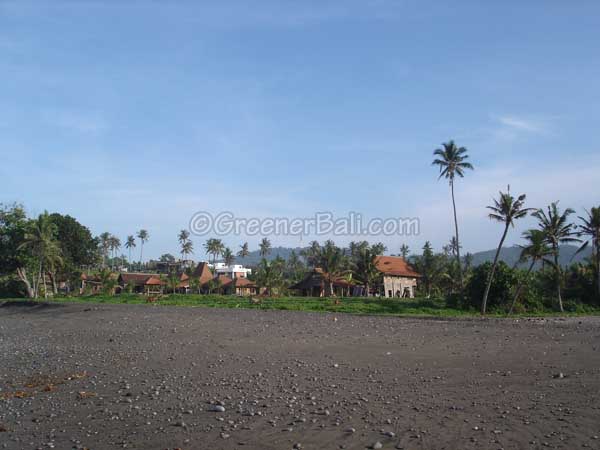 Since the village is tiny you don't need any form of transportation. However, if you plan to spend a couple of days and you want to explore other surf beaches such as the nearby Medewi beach or you want to do some sight-seeing then you should arrange a motorbike. You can easily rent a bike at one of the accommodations.
Just like the traffic in this part of Bali, public transport wouldn't qualify as a fun thing to do on your holiday.
So what is the best way to get there? Arrange a private driver to take you. If you want to stick to your own transportation, make sure you are not in a hurry and don't mind tagging behind a slow truck. Overtaking is pretty dangerous despite everybody doing it. We noticed that if you drive early in the morning, traffic is less chaotic.
Things to do at Balian Beach
Here is our shortlist of 6 things to do in and around Balian Beach: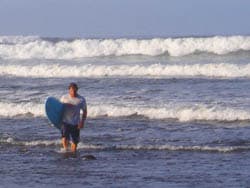 1. Surfing at Balian beach is almost a must for surfers traveling around Bali. Surfers come here year-round to catch some easy waves but the area is not suited for swimming due to the strong currents.
The best season for surfing is during the dry season when the water is clean and clear. During the rainy season, the Balian river can bring along a lot of water, including rubbish, wood, etc making the ocean murky.
An even more famous surfing beach near Balian beach is Medewi beach. It's quite a walk to get there, so it would be best to grab a motorbike. This is the best surfing spot on Bali's west coast but accommodation and atmosphere wise we prefer to stay at Balian beach.
2. Besides surfing people come here for yoga. For full yoga retreats head to Shankari's Bali Retreat. They offer classes, retreats, and workshops for yoga but also detox, meditation, and raw food.
Another great option is at Pondok Pitaya Surfer Hotel Bali where you can join a yoga session held in a semi-open yoga shala (studio) located near the river facing the ocean.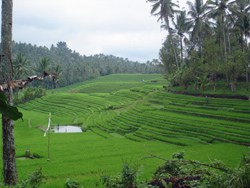 3. The area around Lalang Linggah village is ideal for rice field trekking or even bicycling. There's a great 4-kilometer trek that starts on the Tabanan-Gilimanuk highway between Lalang Linggah and Antap village.
Look for the white sign 'wates Desa Antap' and continue for 2 km until you reach Pengererengan village.
Continue for 50 m and find the small path after the coconut grove on the right side. Keep on going until you reach the Tireman village. From here you continue south back to the main road again. Here you can walk back to Balian beach or take one of the bemos (minibusses).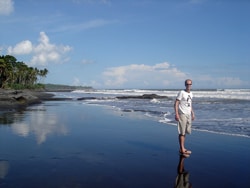 4. Balian beach is ideally located and you can walk for 30 miles on end, passing the black sands of Soka beach (see picture). Here you can even find the Pura Luhur Srinjong temple with its bat cave (goa lawah in Balinese).
It isn't an attractive beach to spend the whole day but a good one to stretch your legs when touring around.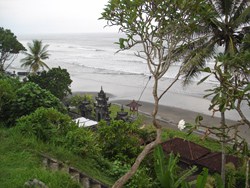 5. Another temple of interest is the Puri Rambut Siwi (meaning holy hair) temple near Yeh Embang village north of Lalang Linggah village. Here the Balinese claim that the priest Nirartha cut his hair and left it in a shrine in 1546.
From the temple, you can have stunning views of the black volcanic sand and the ocean during sunset.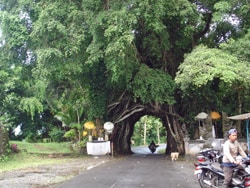 6. If you like to travel in Bali a bit more head for the scenic route from Balian to Medewi, Pekutatan, Tista to Pupuan.
On its way near the village of Pekutatan, you will find a sign leading you to Tista village. Not far from here you'll find the eye-catching Bunut Bolong (meaning 'hole in tree') banyan tree.
Places to Eat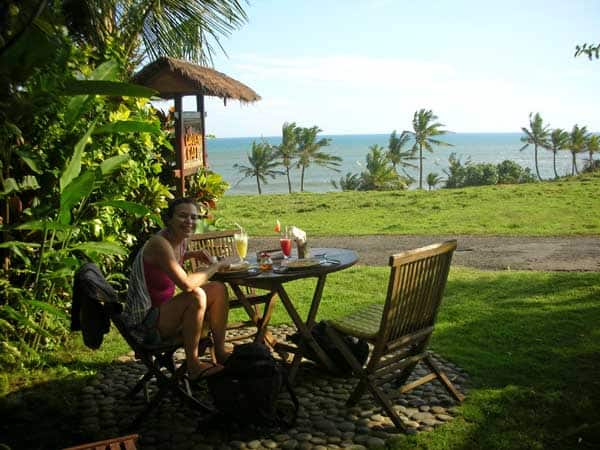 Just like other parts of Bali a couple of white two-story villas are being built, this time by Russian invaders and they don't do the Balian picture any good ;-(
For lunch and dinner, there are some nice places where you can go too but so far they are all part of a hotel or homestay. There are no independent restaurants.
Our favorite place by far is Tom's Garden Cafe at Pondok Pisces but other popular restaurants can be found at Pondok Pitaya and at Ayu Homestay.
Places to Stay
There are a couple of places where you can stay and they range from the steeper priced ones such as the Gajah Mina Beach Resort, the mid-ranged Balian beach house, Pondok Pitaya (a favorite among surfers and also has a nice pool almost right on the beach), Shankari's Bali Retreat, Pondok Pisces, Kubu Balian Beach to the budget Ayu Homestay.
So tell me what is your favorite thing to do when you're in Balian beach? Are you coming here to escape the crowd in the south or do you love to come here for surfing or yoga?