Those who love culture and nature can find enough things to do in Ubud. This village has grown to be one of the best known and frequently visited villages in Bali.
We love that in Ubud there is always something going on. In the little side streets, you can see Balinese women balancing baskets on their heads.  In the rice fields, the farmers guide their ducks.
And while you stay at Balinese homestays,  families continue doing their business like many years before.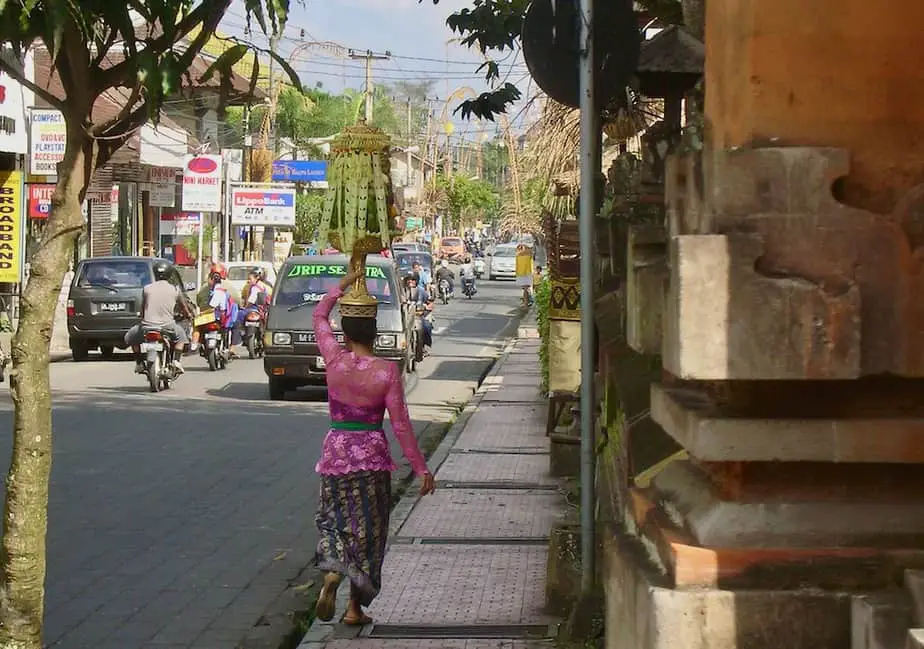 Ubud's cultural scenes make it easy to fully enjoy the uniqueness of Bali, making it ideal to spend a couple of days.
The many museums, performances, classes and other cultural and natural activities will allow you to fully experience this famous village.
This is a list of our suggestions for things to do in Ubud:
1. Head for the rice fields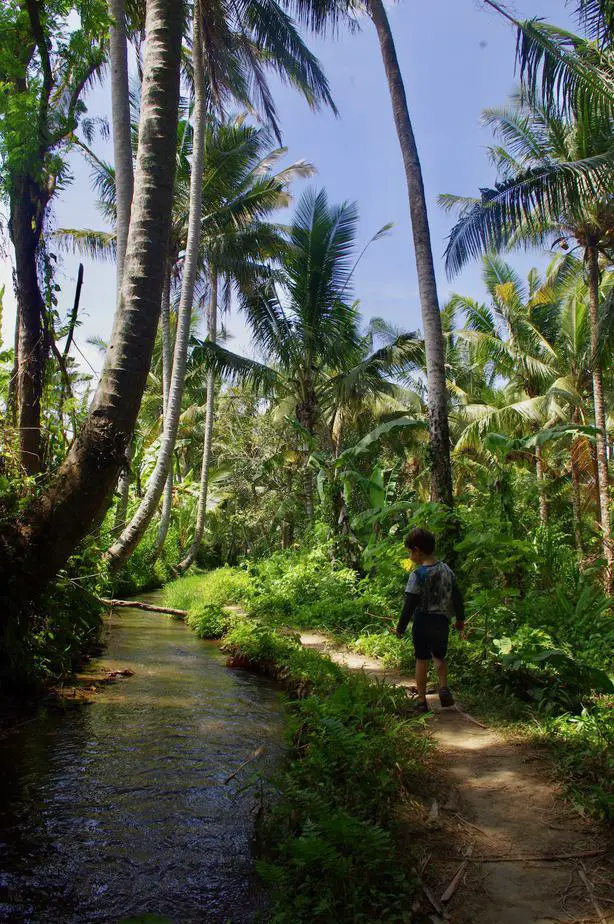 The village is surrounded by fertile land. This has resulted in the beautiful rice field terraces you always find in travel and photo books on Bali.
Like many other places in Bali, these rice fields are slowly being replaced by hotels and villas.  We hope that investors will soon realize that rice fields are not only beautiful to attract visitors but more importantly they are crucial for the livelihood of farmers.
The best-known walk to do in the rice fields is the Campuhan Ridge Walk. It starts at a little side street just next to the Ibah Hotel gate on Jalan Raya Campuhan. The walk takes you along a ridge and provides stunning rice field views and river gorges.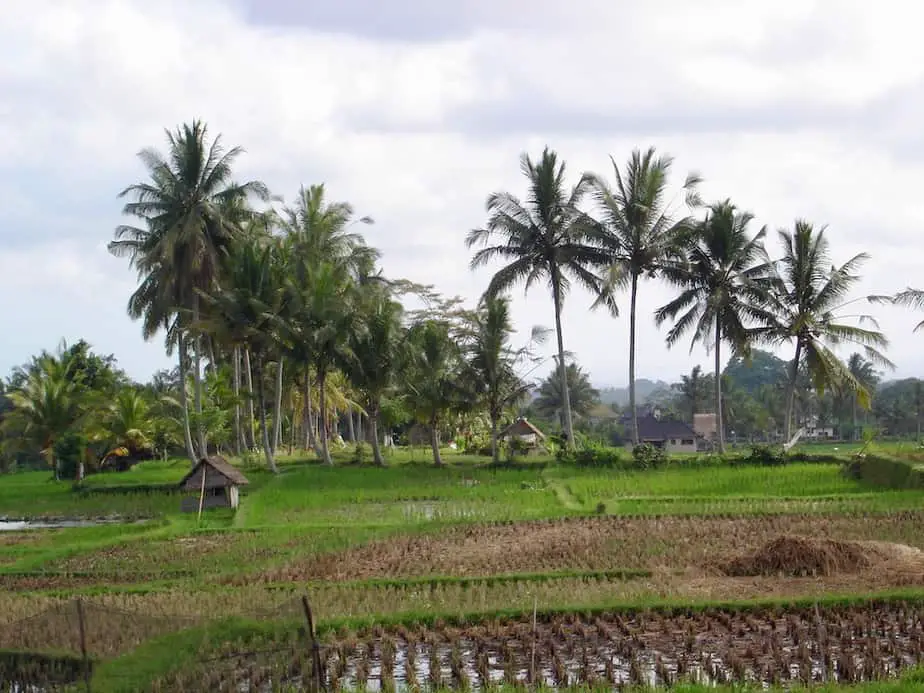 The other one is the Kajeng Rice Field Walk which starts at the little street called Jalan Kajeng, near Ubud Palace. It a wonderful trail that takes you through the rice fields, along the little streams, and under the coconut trees.
If time permits we suggest just getting lost in the ricefields. There are various dirt paths through the fields leading you to unexpected places. We do recommend starting at Jalan Kajeng so you will reach the ricefields quickly.
Don't forget to bring water, repellent and some snacks if you want to be adventurous. One time we ended up walking around in the rice fields with the moon as the only light. But today with Google Maps it is pretty difficult to get lost.
2. Walk Around Ubud Village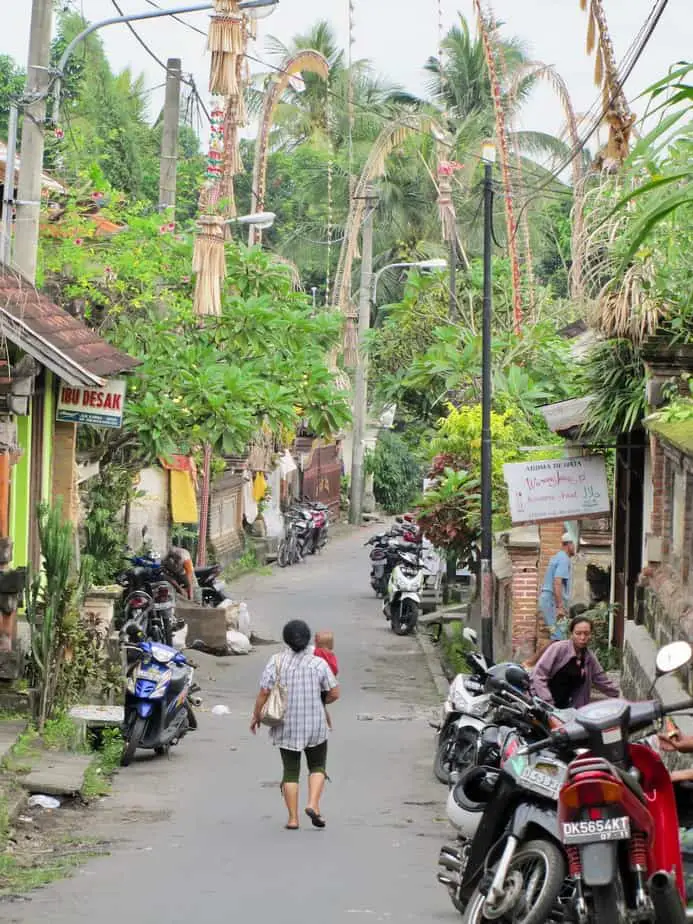 The street scene in Ubud is a dream for culture lovers. Despite mass tourism, the local Balinese are still able to maintain their religious daily routine.
Offerings are placed everywhere, several times a day.  During festivals, the streets are beautifully decorated.  And the people of Ubud are well dressed when heading to the many village temples.
The best way to wander through town is to avoid the big streets, such as Jalan Monkey Forest Road, Jalan Hanoman and Jalan Raya Ubud. Instead, go into the little streets such as Jalan Bisma and Jalan Surgriwa.  You can even walk along a public little street through the Monkey Forest to Nyu Kuning.
3. Eat Vegan, Raw or Organic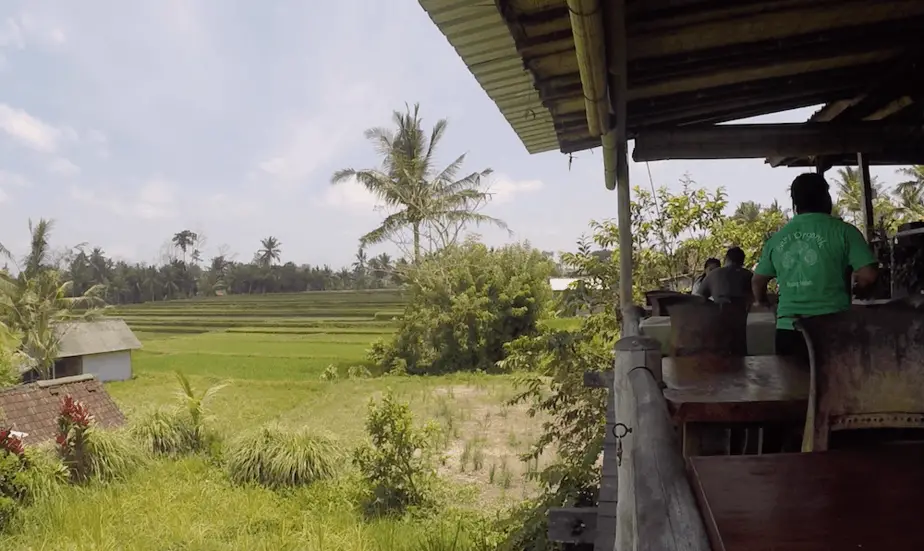 Ubud is the place for vegan, raw and even gluten-free lovers. Or anyone who is living a healthy lifestyle for that matter. They really have it all in Ubud. And not just the basic stuff. No, Ubud is a place to get inspired.
Over the years the number of vegan restaurants has been growing fast. Some survived while others are replaced. It is difficult to keep up. A couple of them have been around since we first started visiting Ubud in 2006.
There are restaurants that offer various menus with an extensive selection of vegan dishes for any type of budget.  Traditional warungs offer tasty vegan Indonesian dishes too.  The Bali Buda, Sari Organic and KAFE have vegan and other healthy non-vegan selections.
Other restaurants are more specialized and offer the most beautiful vegan or raw food creations. Earth Cafe offers only organic and vegan dishes since 2002 just like Moksa. Alchemy is a well known raw food restaurant.
4. Pamper Yourself at a Spa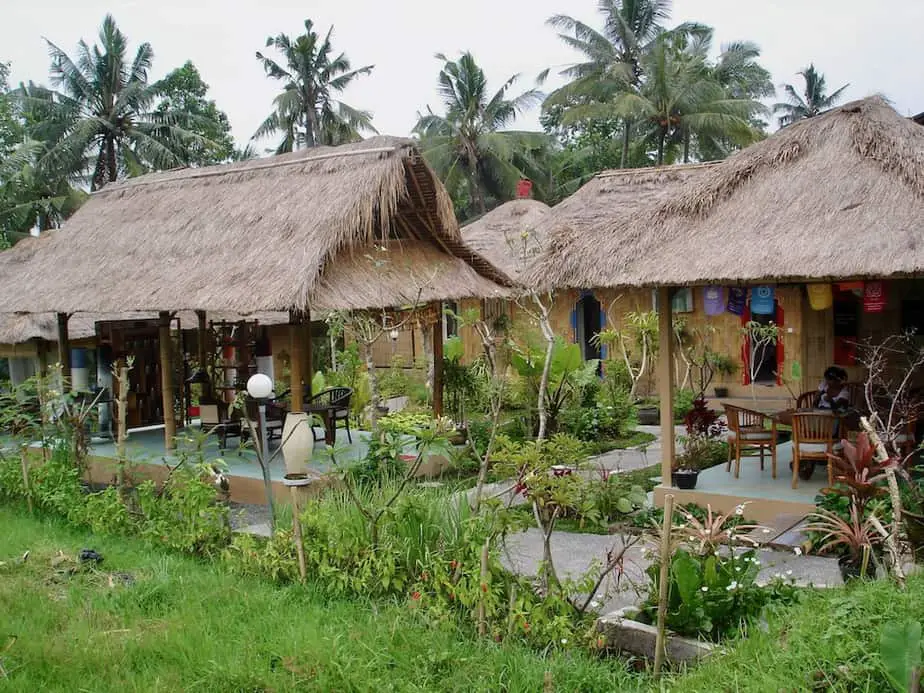 A visit to a spa in Ubud is probably one of the best things you can treat yourself to. While spa treatments are offered everywhere on the island, Ubud's location and surroundings provide ample possibilities.
Some are located in or have views of the rice fields, while others are set along the river gorge or in a beautiful flower garden. If you want to have the whole package, don't just go for the massage alone. Also, think about the setting.
Most of the spas in Ubud are hidden behind walls, found in resorts or tucked away in narrow alleys. It is usually best to get a name and address beforehand.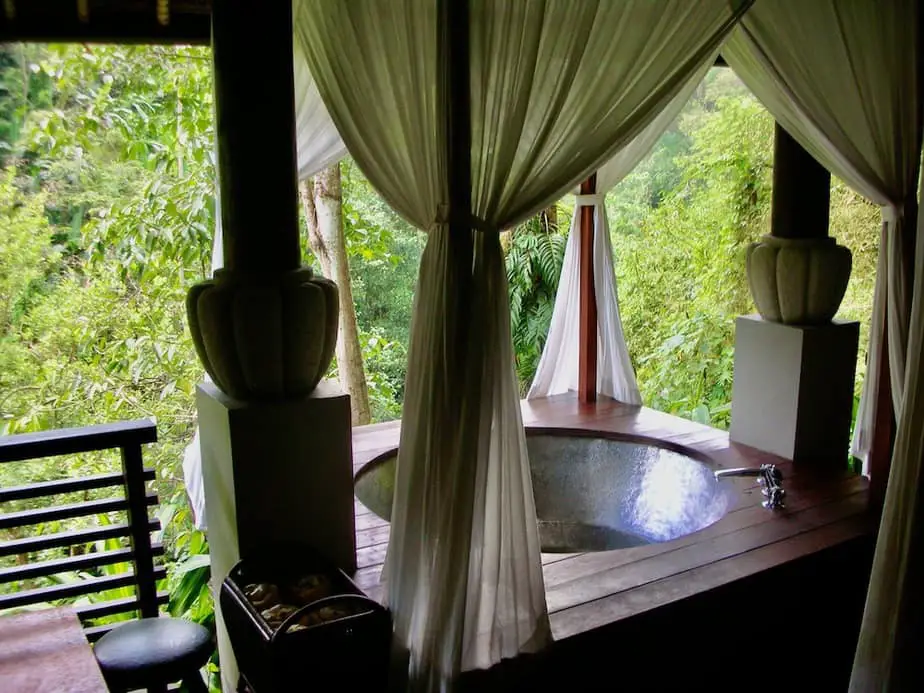 For full luxury and the ultimate spa location head to the spa at the Maya Ubud Resort. The Bliss Spa, Sedona Spa or Sang Spa 2 are a lot cheaper but nice too. All three are beautifully located or have nice treatment rooms for total relaxation.
Other recommended spas in town are Verona Spa, Pertinin Spa, and Cantika Alami Spa, which is located in the rice fields.
Remember going to the spa in Ubud seems to be very popular, especially in the late afternoon. The first time we wanted to go to a spa, most of them were fully booked until 9 PM. So just to be sure, book ahead.
Most spas are located along Jalan Monkey Forest, but there are other professional and good spas in the north of the village as well.
5. Do Day trips From Ubud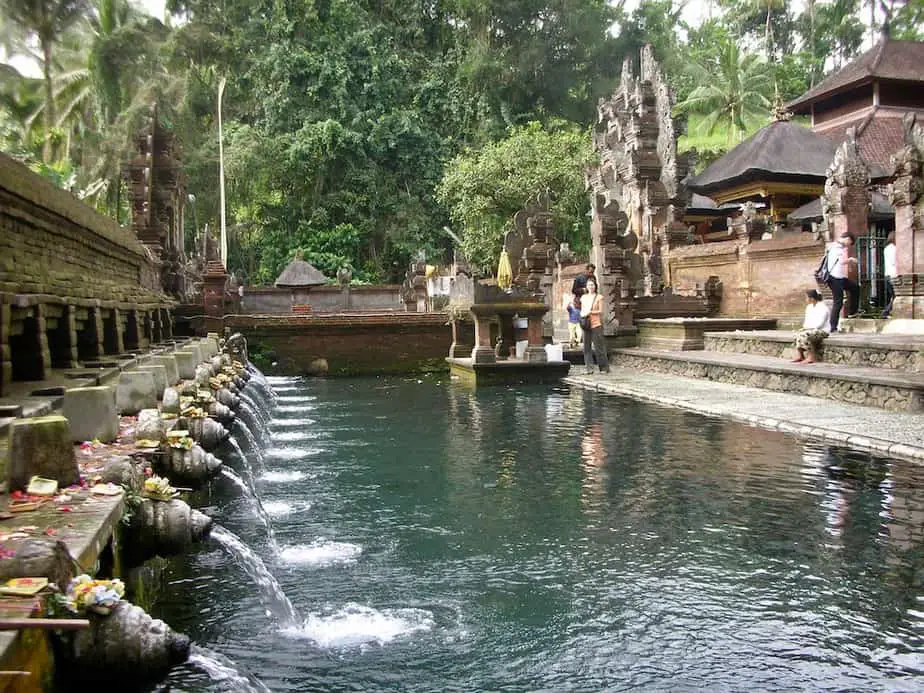 Ubud's location makes it ideal to tour around the island. You can easily reach Jatiluwih and Kintamani in a day. Not surprisingly these are popular day trips from this village.
But there are many more sights that are definitely not to be missed. Rent a motorbike or a driver to take you to these places. We recommend going as early in the morning as possible. Not only will you avoid the heat and the crowd, but most sights seem to have a different atmosphere during this time of day.
We have listed 12 wonderful sights that can be combined in several day trips. These day trips will take you to ancient temples, sacred springs, volcanoes, waterfalls, and stunning rice terraces.
6. Bargain at the Ubud Market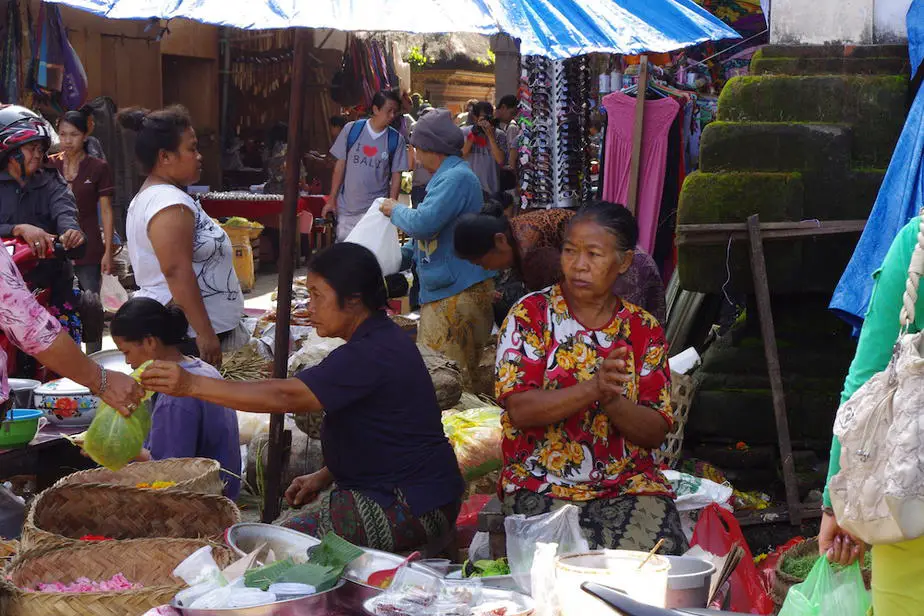 One of the most popular sights in town is the Ubud Market. Ever since Julia Roberts and Javier Bardem strolled through this market in the famous movie 'Eat Pray Love', it is booming.
Funny enough our favorite time to go is early in the morning. Not because it is quieter and the busloads of tourists haven't arrived yet, but because it is the traditional fresh market. Make sure you see this colorful market when you are in Ubud.
Only in the afternoon does this market transform into an art market where you can buy all kinds of stuff ranging from beautiful handmade artwork to tacky souvenirs.
7. Go Shopping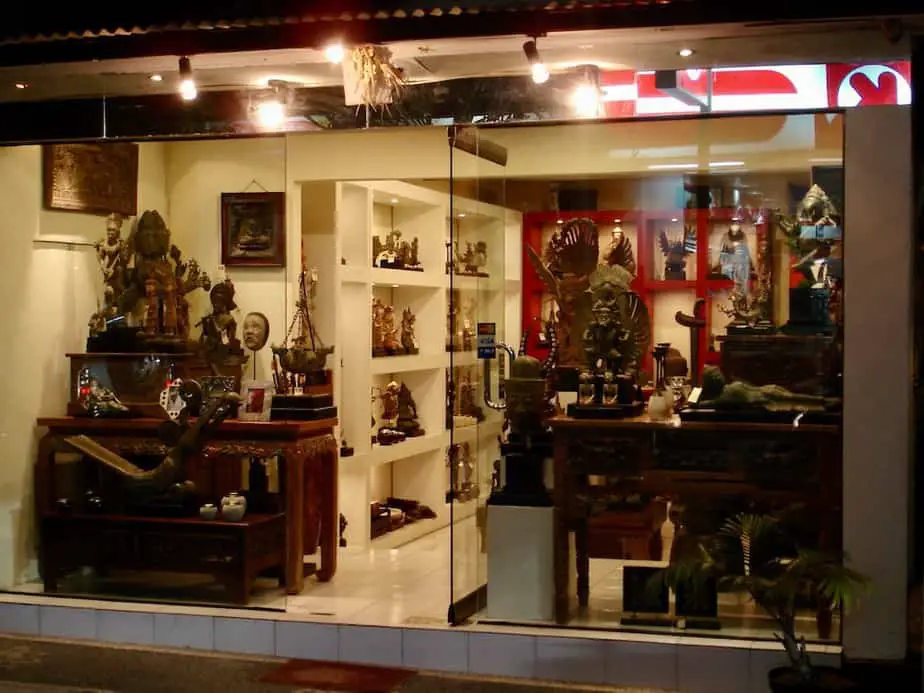 Besides culture, shopping is one of the biggest things to do in Ubud. Shops are found literally everywhere in town. While some shops sell souvenirs which are found everywhere on the island, other shops are real gems for nature-  and/or art lovers.
These shops sell wonderful items such as local handmade products, natural products, health products, and eco-friendly products. Here are just a view to give you an impression.
Blue Stone Botanicals sells oils and body essence. All are made of natural products and are palm oil-free. Quite similar is the natural skincare and aromatherapy products sold at Utama Spice. Their facial and body creams are 100% natural as they believe in the healing power of nature.
The Saraswati Papers is a natural paper shop. Their products are handmade from recycled and sustainable material such as natural dyes, flower petals, and bamboo. Besides paper, they also sell well-designed journals, photo albums, and frames.
Eco Ego Store along the Jalan Monkey Forest Road sells wooden items. Not artifacts, but accessories such as sunglasses, iPhone cases, and watches. Another shop worth checking out is the Curative. This concept store promotes a large selection of local products made by various local artists.
At Kou Cuisine on Jalan Monkey Forest, you can find tasty jam made from the freshest tropical fruit. Here they also sell traditional Kasumba sea salt and honey.
The Earth Cafe Market at the Earth Cafe in Ubud has a large selection of goods that promote healthy lifestyles. Most of these products are eco-conscious and are from local companies. You can get all sorts of things such as clothing, cosmetics, household cleaning products, grains, nutritional supplements, etc.
8. Watch a Dance Performance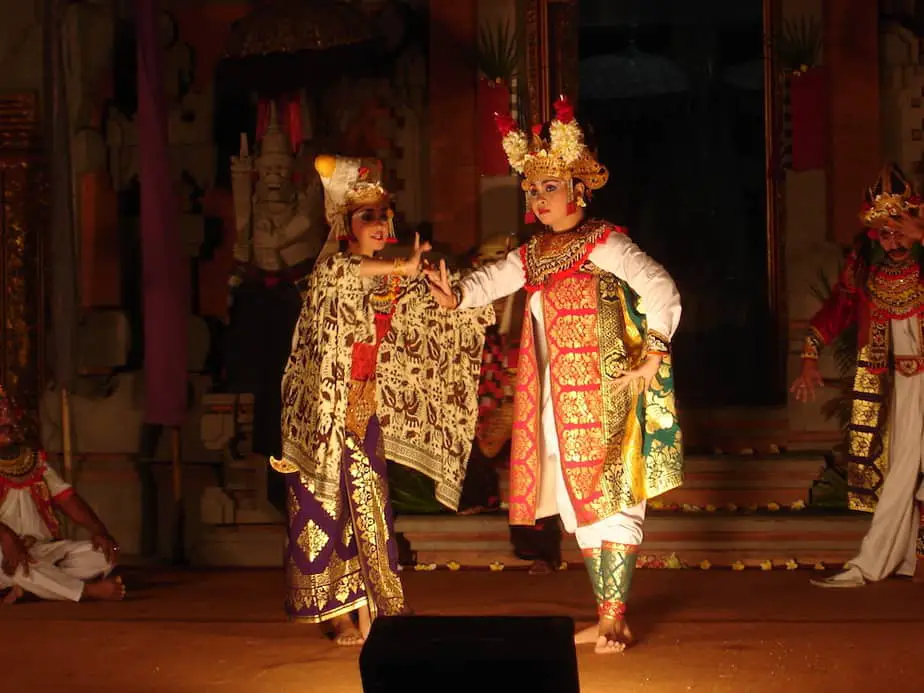 Watching a Balinese dance cultural performance is always a great way to end the day after wandering or touring around. There are many you can choose from in town. Most of them start at 7.00 pm and end at 8.30 pm.
The choice is very diverse. You can go for the famous Kecak Dance & Fire Dance, Barong Dance, Legong, Mask Dance (Topeng Jimat), Wayang Kulit or  Jegog which is accompanied by gamelan music.
The dance performances are often held just outside temples, some in the center of Ubud and some a bit further out of town. We really think that it is worth visiting one or more of these dances. They are professional, nothing near to the ones that are held in hotels or restaurants.
9. Wander through Monkey Forest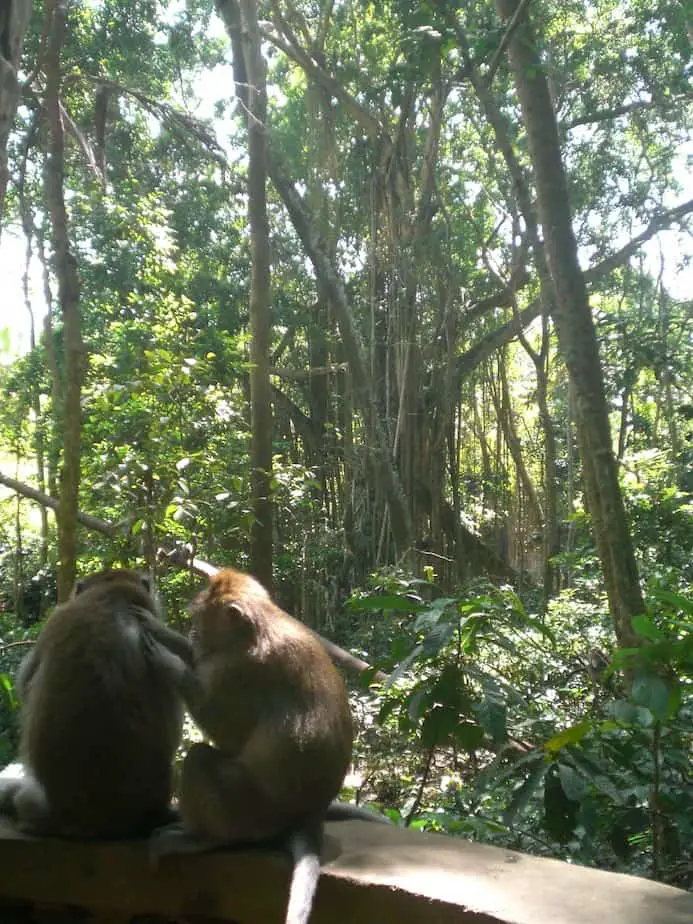 South of the center in town, there is a patch of green forest. It is an ancient forest and spiritually means a lot to the Balinese people. The Monkey Forest is a special place and very popular with visitors in Ubud too.
We always enjoy going to the forest. To be honest, not particularly for the cheeky monkeys (though they are a nice addition) but for the enchanting setting. 
Many ancient trees are of importance to the Balinese and ceremonies are often conducted at this 14th-century sanctuary. You can find rivers flowing through the forest and trees connected with vines where monkeys hang around.
10. Stay at a Balinese Homestay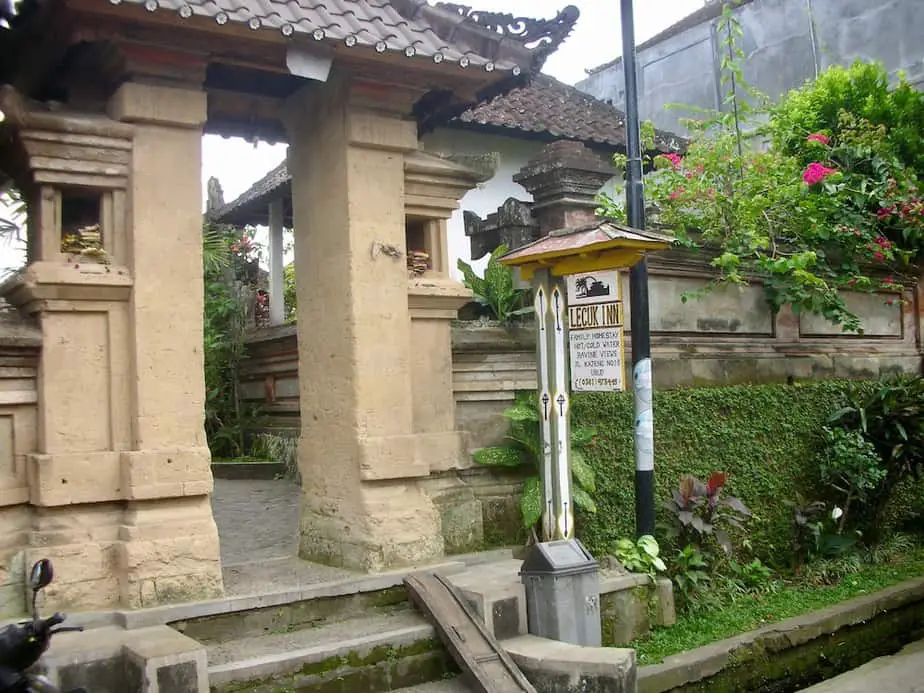 Ubud is the ideal place to choose from a selection of eco-accommodation or traditional homestays. At these places, you will either fully enjoy Ubud's natural surroundings or culture. They are often located somewhat out of town.
The rates at these eco accommodations in Ubud vary considerably. For instance, Bambu Indah and the Eco Villa Pererepan offer luxurious experiences. While Bali Eco Adventure & Retreat Center and Swati Eco Cottages are mid-range options.
Homestays have been in Ubud ever since the first travelers arrived. The great thing about staying at one is that your room is located within the family compound.
While relaxing on your verandah you will witness the daily life of the family. Chatting with the family is a wonderful way to learn more about Ubud and to make new friends.
We loved staying at the Lecuk Inn located on Jalan Kajeng. On the same road, you have Rumah Roda which is also highly recommended. Somewhat out of town so you can find the Tri Upasedana Homestays.
At Pemulan Balinese Farm Cooking, you can stay with a Balinese family and even learn how to cook.
11. Join a Yoga Class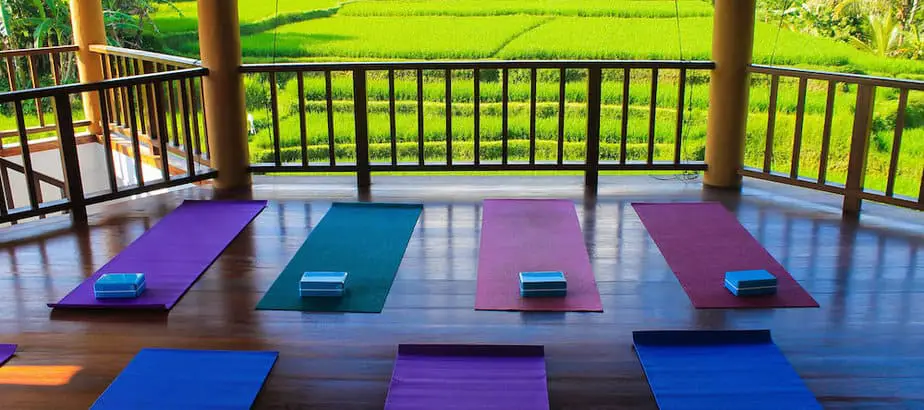 While you can do yoga everywhere in Bali, in Ubud, you can choose from almost any type of yoga. Throughout the years Ubud has become a popular place for any yogi/yogini. There's even the annual Bali Spirit Festival.
If you want to include yoga in your holiday then you should definitely head to Ubud where you can follow daily classes at a number of studios or resorts.
The most popular and largest yoga studio is the Yoga Barn followed by the Ubud Yoga Centre. A long list of classes is provided throughout the day, such as workshops and training. Beginners might feel overwhelmed because of the big groups. Hence the likelihood of not getting enough guidance during class.
We like to recommend studios that have smaller classes, and preferably local instructors. Why else would you fly across the globe all the way to Bali?
Great choices are the Ubud Yoga House, the Chakra Yoga Shala, the Taman Hati, and Taksu Yoga. These studios have less choice in types of yoga but the instructors are able to give better instructions during class.
12. Sign up for a Health Retreat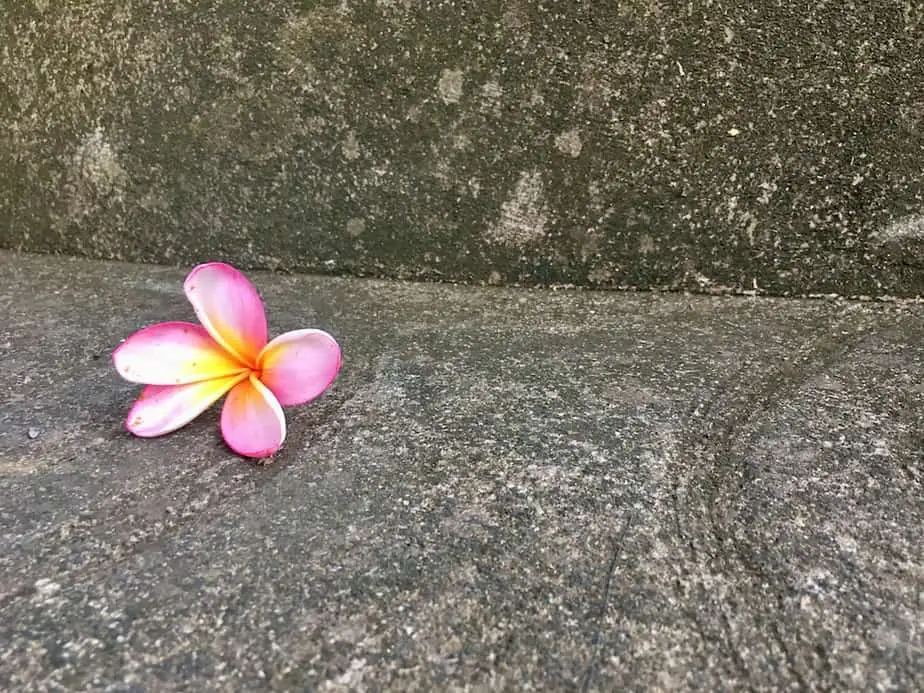 Ubud is very health- and spiritual oriented. So it comes as no surprise that there are many health retreats in town. A retreat gives you a wonderful opportunity to focus on yourself while others take care of you.
Daily yoga and meditation classes are usually offered at these retreats. As expected they also serve healthy food. Often there's a spa on-site and they organize many activities to easily fill your days. Some retreats are a couple of days while some can last a whole week.
It is difficult to make a good distinction between the two types of retreats in Bali. Some are ones that are offered by the resort themselves. Others are external companies that 'booked' a villa or accommodation to do their retreats. These retreat companies are usually foreign-owned and also do retreats in other countries too
To give you an idea of what types of retreats you can find in Ubud, we have listed just a couple that are created by the accommodation themselves.
The Blue Karma Sanctuary of Wellness has yoga retreats and they also provide Wellness & Meditation retreats and Detox & Cleanse Retreats.
The various health programs at the Ubud Sari Health Resort also focus on body detoxifying treatments. Some programs have liquid fasting or raw food meals all combined with yoga, meditation, spa, and other beauty treatments.
The Shanti Toys Ashram has a 1-week yoga & wellness retreat which includes yoga classes twice a day.  They also offer cultural classes. Other facilities are the fresh spring water pool and their location is ideal for hiking. The Shanti Toys Ahram grows vegetables from their organic garden.
13. Visit painters and Galleries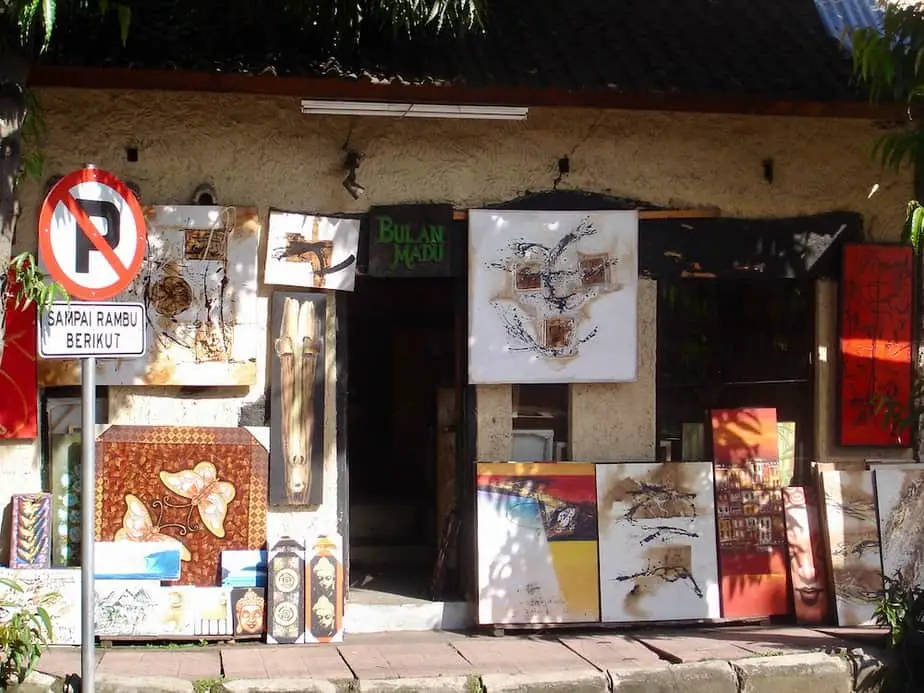 In the past, the rice fields have provided the people of Ubud with a surplus in rice yields. With time to spare the King of Sukawati ordered the rice farmers to dedicate their time to paintings for temples and palaces.
From here Ubud has emerged into a painter's village that has attracted many people. Even foreigners have played their part in forming different styles.
It is not surprising to see that many artists feel at home in this village considering the mystical and inspiring setting. Today paintings still play an important role in Ubud and around.
There are many galleries where Balinese artists sell their work. You can find them everywhere in town, some even in the rice fields.
Well-known art galleries in Ubud are the Komeneka Fine Art Gallery and the Nyoman Meja Fine Art Gallery at Jalan Monkey Forest.
Just outside Ubud in the village of Mas, there's the Tonyraka Art Gallery at Jalan Raya Mas and the Semar Kunung Galery at Jalan A.A. Gede Rai No.8 in Lodtunduh.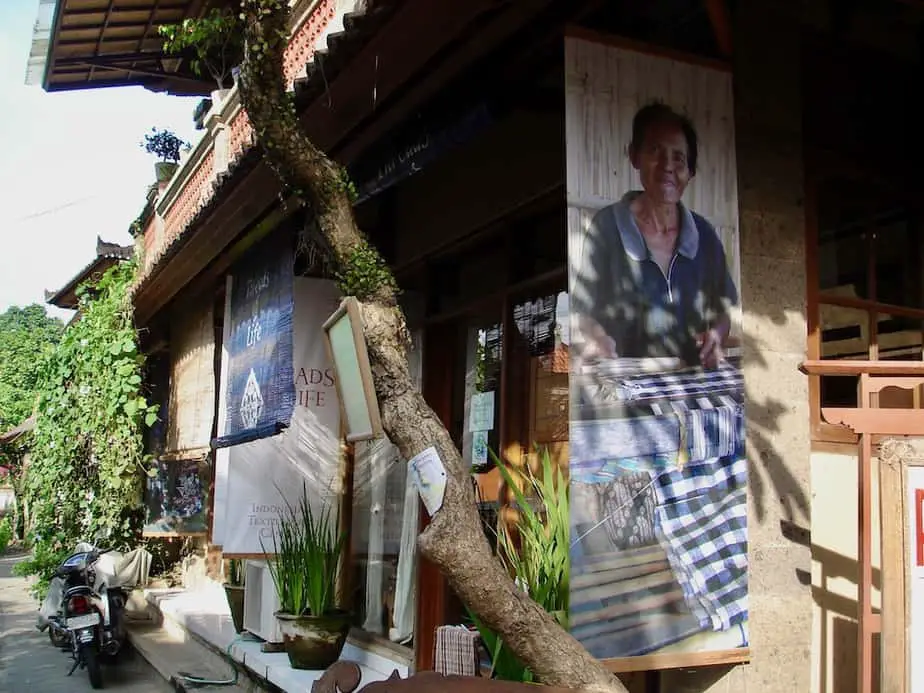 At the Threads of Life Gallery on Jalan Kajeng in Ubud, you can learn about Indonesian baskets, textiles, and their origins. Of course, you can buy them too. They are hand-made and come from over 1000 female weavers on 12 islands throughout the archipelago.
Staff is available to explain about the textile dying process in detail and which techniques are used. Each piece has a story to tell, not only the techniques used but also about the woman who made them.
If you want to know more about these techniques you can also follow work-shops and classes organized by Threads of Life.
15. Learn from the Art Museums
There are three main museums that display a large collection of Balinese art forms. They are called the Neka Art Museum, the Puri Lukisan Museum, and the Arma Museum. These museums are somewhat different from each other when it comes to what they display.
If you enjoy museums than we recommend visiting all three of them. But if you have less time then you might want to visit just one based on their art collection.
The Arma Museum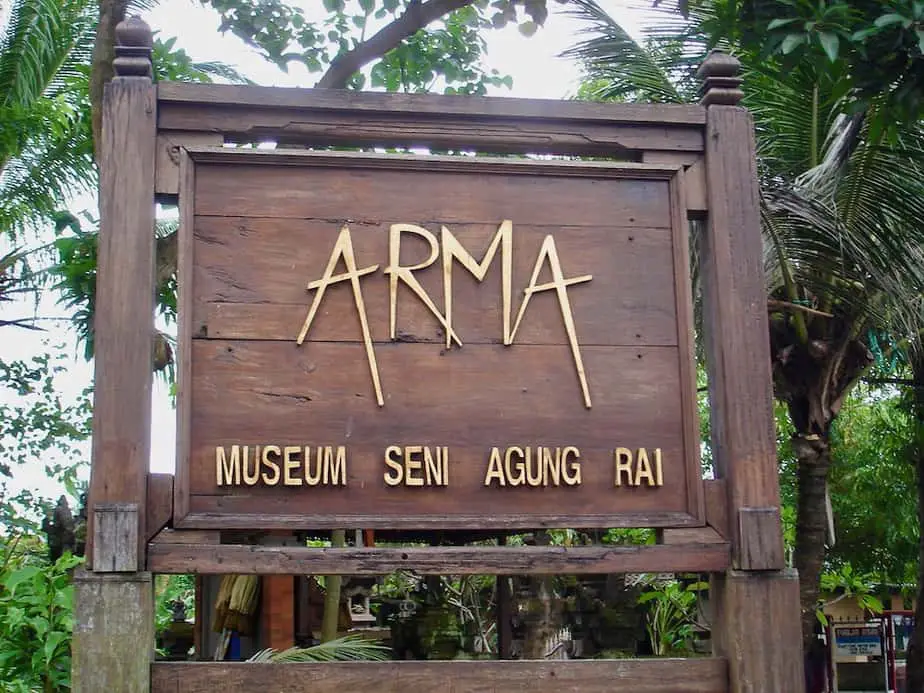 The Arma Museum on Jalan Raya Pengosekan has a large collection of paintings from not only Balinese but also many foreign artists. It was founded by the Balinese collector, Agung Rai in 1996.
You can see works of art by painters such as Rudolf Bonnet, Willem Gerard Hofker and Willem Dooijewaard.  This is the only place where they have works from the Javanese artists Raden Saleh and Syarif Bustaman.
It is also one of the view places in Bali where they have artworks on display by my favorite artist, Walter Spies.
Just like the Puri Lukisan Museum, you can follow many workshops here such as dance, painting and music classes.
Puri Lukisan Museum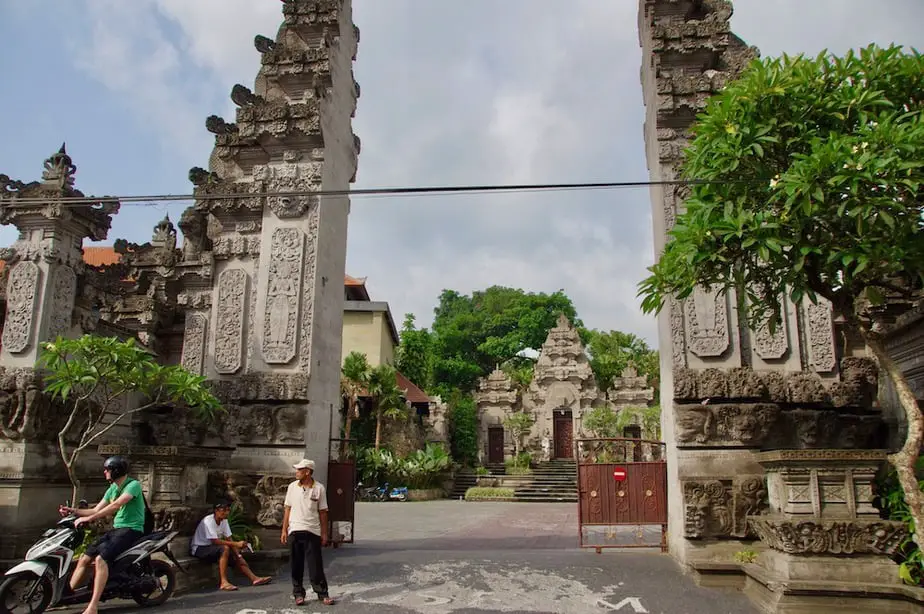 The Puri Lukisan Museum is one of the oldest museums in Bali and here you can learn in chronological order about the history of paintings, wood carvings and statues. It was founded by the painter Rudolf Bonnet and the Prince of Ubud in 1952.
It's also possible to follow workshops such as classical painting, gamelan playing, woodcarving, etc. You can find the museum next to the Saraswati Temple on Jalan Raya Ubud.
Neka Museum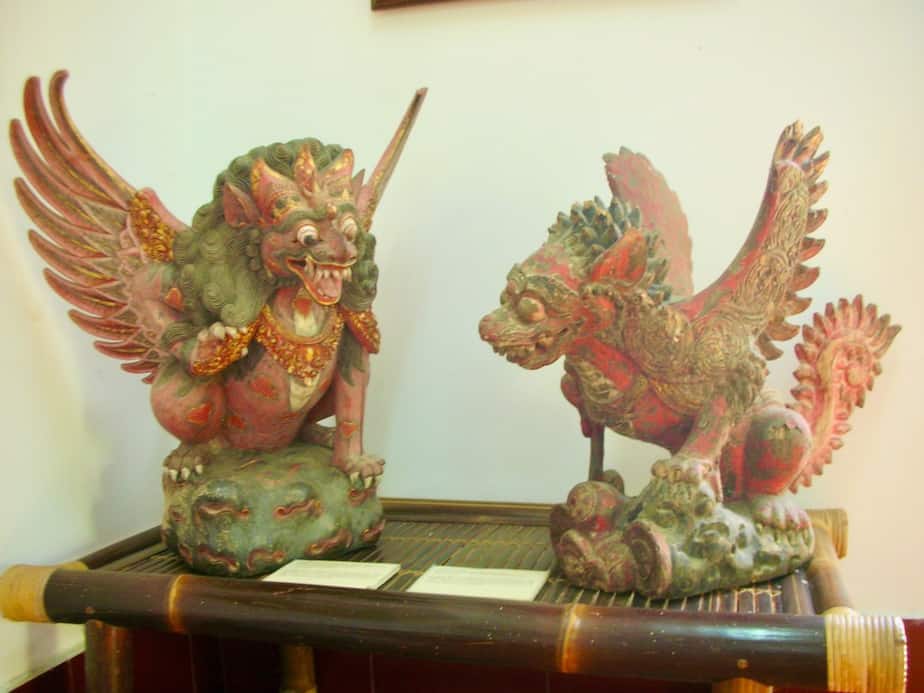 The Neka Museum was founded by the teacher turned collector, Suteja Neka in 1982. It has many interesting pieces of Balinese, Indonesian and international artists displayed in 8 pavilions or art halls. It's clear that all of them got their inspiration from life in Bali.
Not only paintings but also wood and stone carvings and a collection of traditional daggers are on display. It's easy to spend a couple of hours here.
You can find the Neka Art Museum on Jalan Raya Sanggingan Campuhan.
16. Visit the Mask & Puppet Museum
Southeast of Ubud on Jalan Tegal Bingin in the village of Mas you can find the Setia Darma House of Mask and Puppets.
It's a great place to learn about Balinese masks, other Indonesian masks and masks from around the world. There are more than 1300 masks and 5700 puppets on display. Not only from Bali but from other Indonesian islands as well.
17. Visit the Blanco Renaissance Museum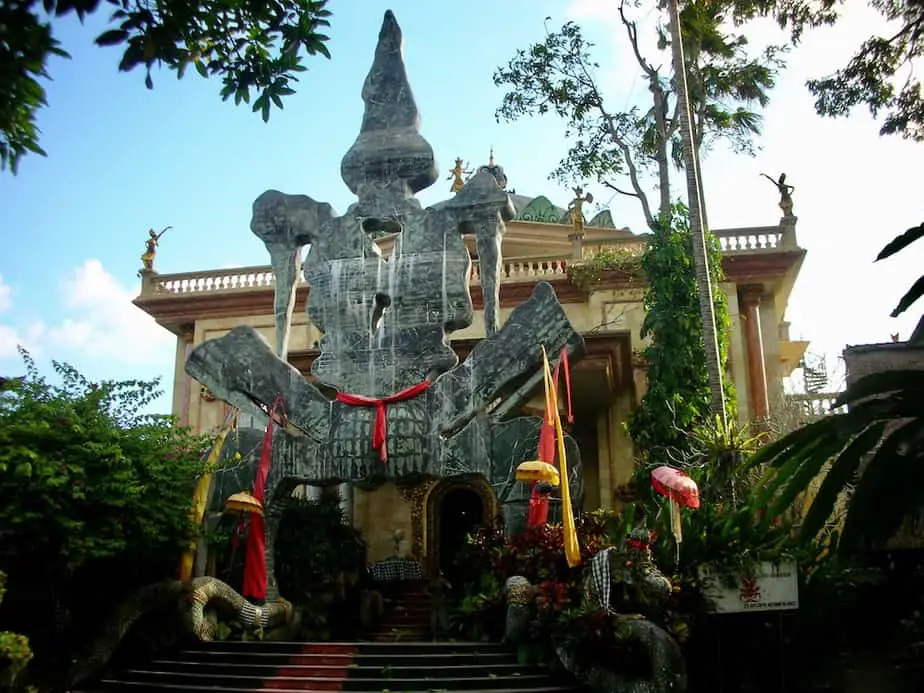 The Blanco Rennaisance Museum on Campuhan hill is located after the bridge on the left side. It is a colorful place and represents the dreamworld of the eccentric painter, Don Antonio Blanco who came to Bali in 1952.
His paintings are housed in a 3-story building with golden statues of Balinese dancers on the roof. His works of art are well-sought after by collectors and mainly depict naked Balinese women.
18. Enjoy the lotus flowers at Taman Saraswati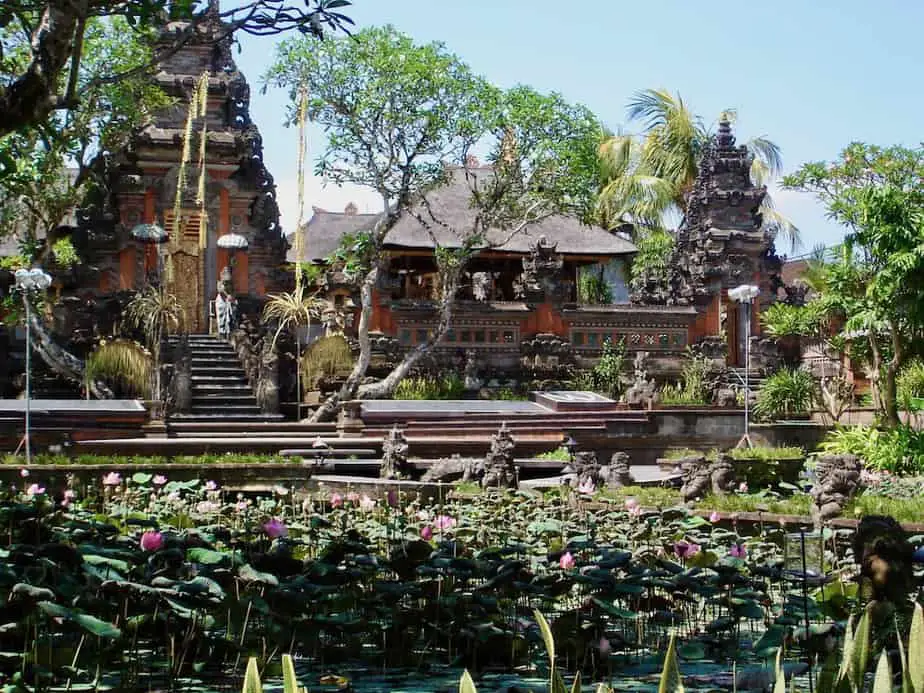 The Taman Saraswati Temple with its 2 lotus ponds is located across the street from the Ubud Royal Palace next to the Lotus Cafe. The entrance is free and the ideal place to take pictures.
However you can't enter the inner courtyard of the temple, this is reserved to Balinese only. There might be some people selling tickets but this is only for a show taking place later in the day.
The best is to visit this place at the end of the afternoon at sunset. Take a seat at the Lotus Cafe and watch candles being lit around the lotus ponds and the temple. Sometimes ceremonies are taking place or they are playing gamelan music which adds to the mystical atmosphere.
19. Take a Peek at The Ubud Royal Palace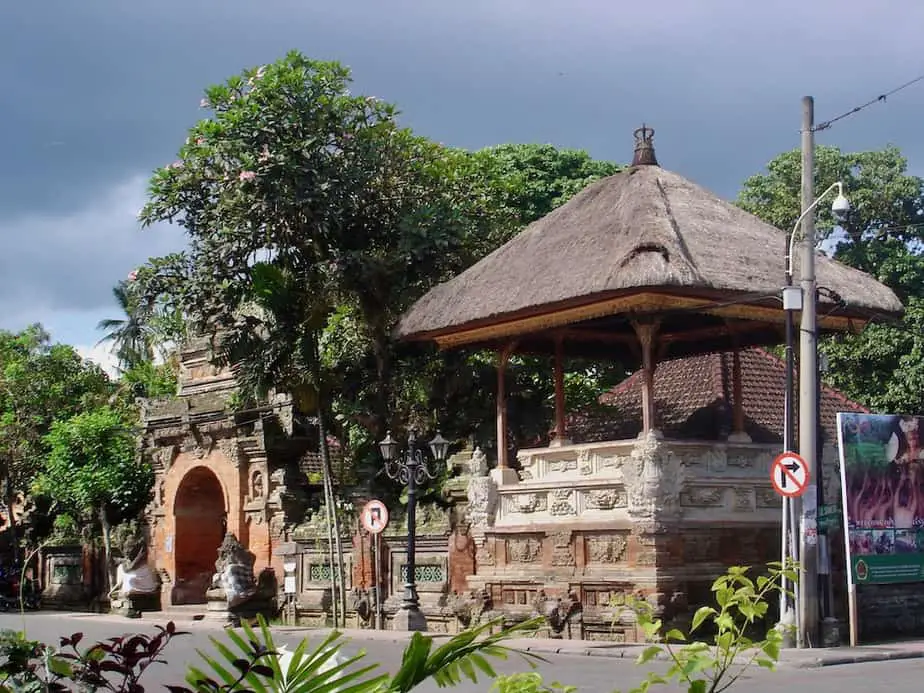 The Ubud Royal Palace is located in the center of town across from the market on Jalan Raya Ubud. The entrance is free even though you can't step inside all of the pavilions. It's a good opportunity to have a look at the architecture, the statues, carvings, and paintings.
Best is to pay this palace a visit after visiting the Ubud market early in the morning. Not that many tourists are up and about so you can appreciate this place a bit more. It takes around 15-minutes to go through the areas which are open to the public.
20. Join A Cooking Class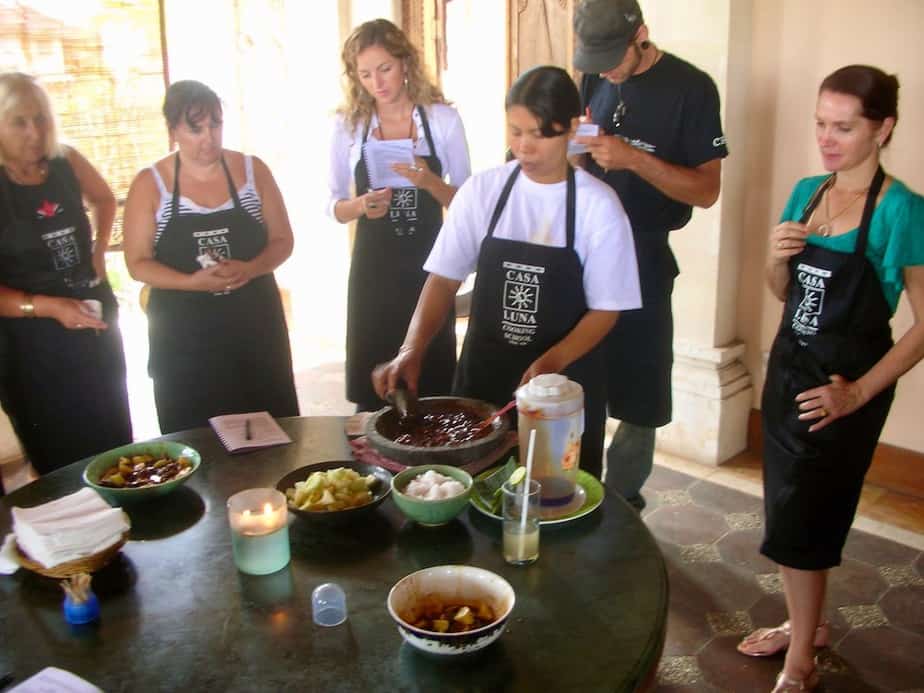 If you like Balinese or Indonesian food you have come to the right place. In Ubud, you can follow many cooking classes.
Nowadays many hotels and resorts offer cooking classes. Luckily there are also independent Balinese chefs where you can learn how to cook the Balinese way. Well-known are the Paon Bali Cooking Class, Ketut's Balinese Cooking Class and the Lobong Culinary Experience.
Usually, you'll go by car to the morning market with the Balinese chef and buy all the ingredients together. At the morning market, you will also have the chance to try some Balinese fruit and delicious small cakes. I highly recommend you do this.
Afterward, you will be driving back to the chef's house where he will explain the importance of several ingredients in the Balinese culture.
In Indonesia, you often make several dishes but you will focus on one dish, the rest will be a surprise once you have lunch. It's also possible to book the afternoon session but we recommend the morning because of the market.
21. Follow Art and Dance Classes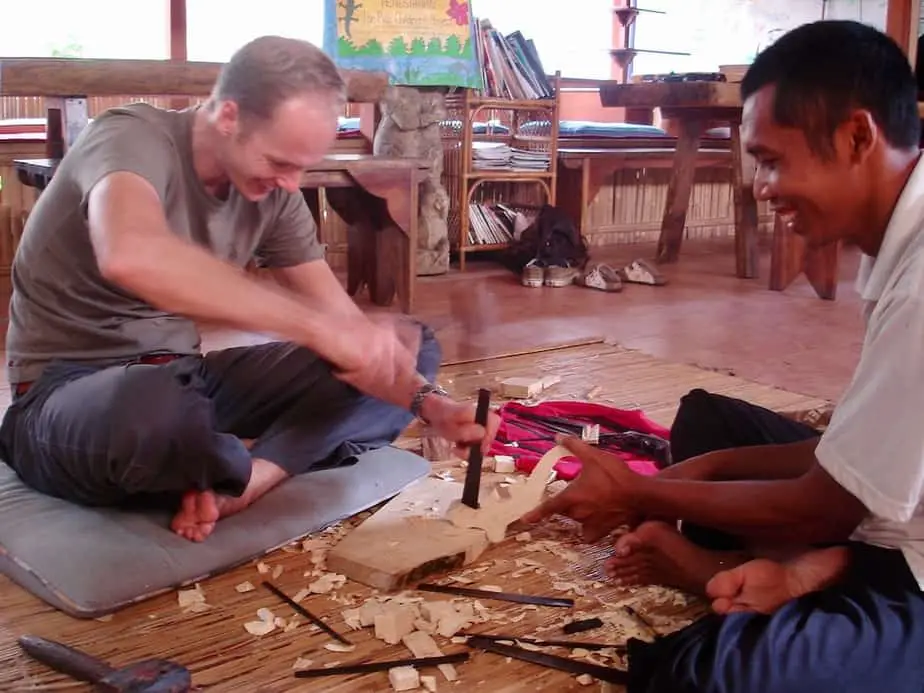 At the Pondok Pekok Library & Learning Center next to the football field on Jalan Monkey Forest in Ubud, you can learn as many courses as you want. Here we learned how to carve wood from a Undagi Tapel (high-caste carver). It looks easy but it's not. Nonetheless great fun and we learned a lot about the materials used.
Other courses you can choose from are Balinese dancing, painting, silver making, Indonesian language, fruit cutting/offering making and playing the gamelan. Kids will love it too and there's a library on-site with many books for kids. Courses can take one hour or several hours, that's up to you.
Try to book a day before so they can arrange the professional who will teach you. Opening hours from 9 am-9 pm.
22. Watch Birds incl Herons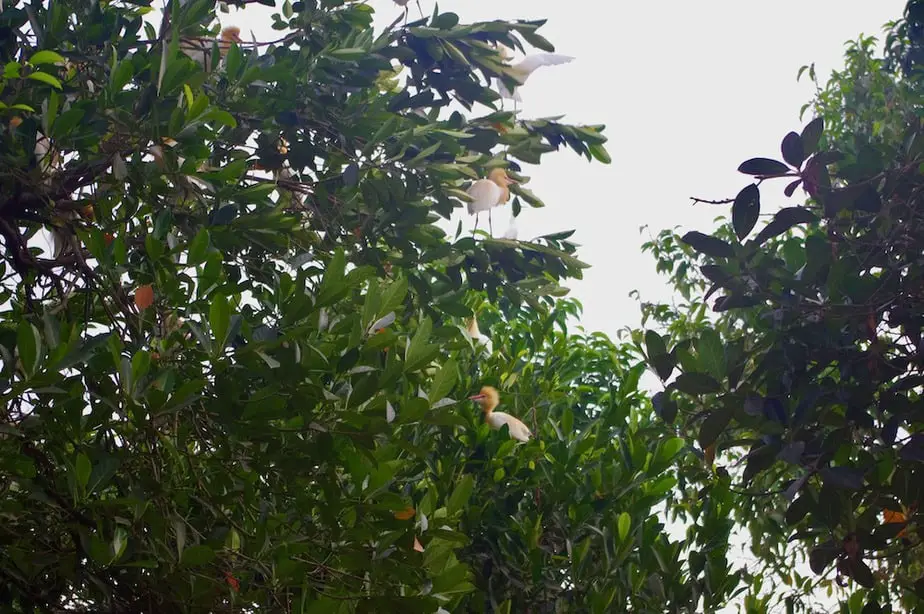 One of our favorite things to do in Ubud is following the Bali Bird Walk with the Englishman, Victor Mason, and Pink, his assistant. Ideal for beginners but perfect for anybody who has a keen interest in Balinese birds.
Victor Mason will take you on a tour through the rice fields and hamlets in search of tropical birds. You will have a chance to see the Scarlet Headed Flowerpecker, the Java Kingfisher, the Bar-Winged Prinia and many more.
In the small village of Petulu just north of Ubud, you can also see herons flying back to their nests above the main road during sunset.
The Balinese believe that they are the reincarnation of those who died during the communist clean-up in 1965-1966. Once you enter the village you pay a small entrance fee per person.
23. Drive through other villages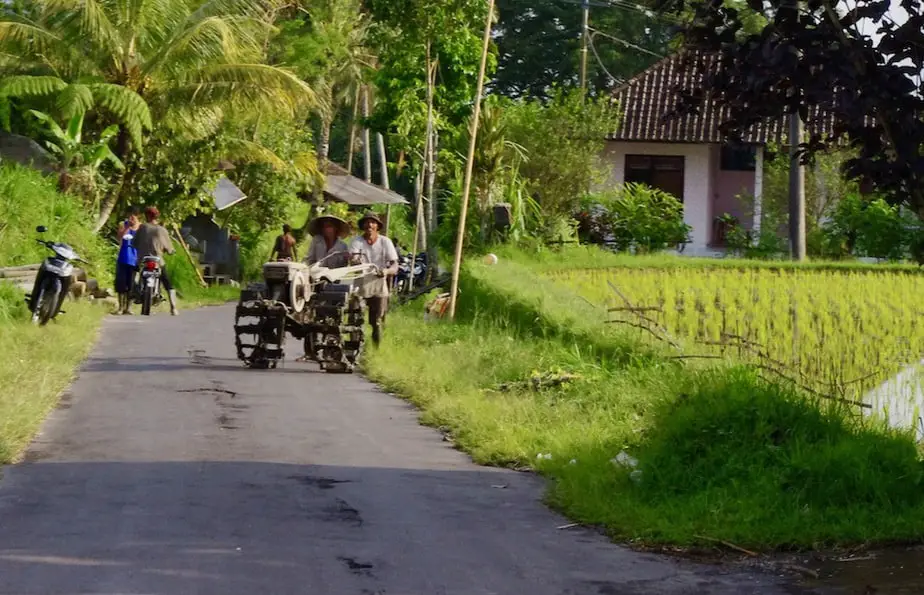 One of the best ways to learn about Ubud and her people is to travel by motor scooter. We can smell the incense or fresh scent after the rain, wave at Balinese kids and hear gamelan music rehearsals. We stop when we see something interesting and parking is never an issue.
Often we drive without GPS and just follow the road. Doing it this way has opened our eyes to amazing rice terraces, temples, and other interesting villages.
Best is to follow the roads north of Ubud since there isn't much traffic. We really enjoy driving through the rice fields following Jalan Suweta, Jalan Sriwedari, and Jalan Tirta Jawar.
But we also like to drive through villages such as Nyuhkuning, Tegalalang, Penestanan, Peliatan, Pengosekan, and Keliki.
24. Visit the Tegallalang Rice terraces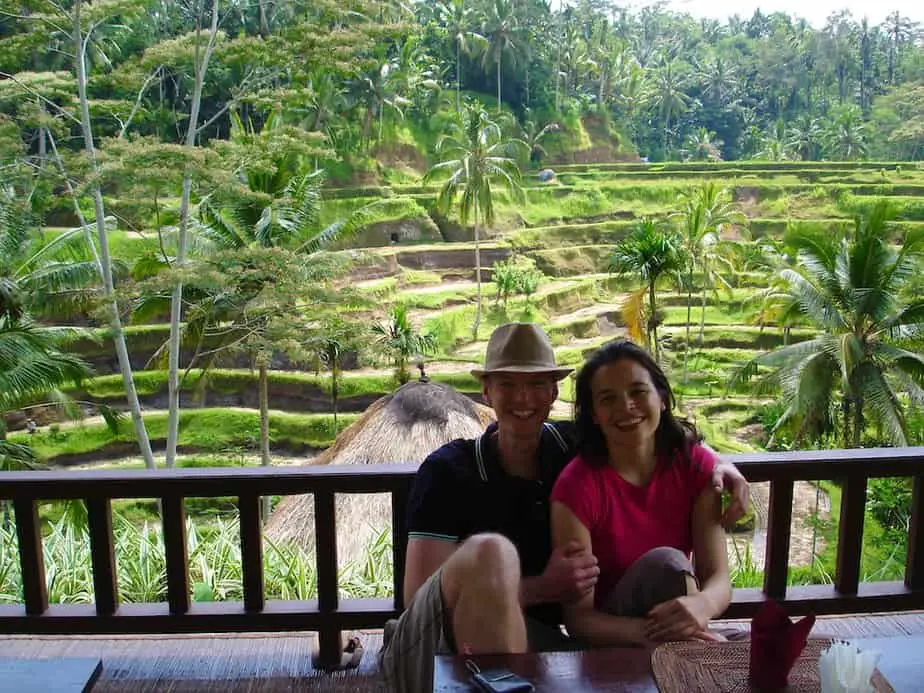 A 20-minute drive from Ubud you will find the Tegallalang Rice Terraces. These rice terraces are one of the best examples of the Subak irrigation system which was invented in the 9th century. Here farmers, villages, and temples work in close harmony to create what is now a well-sought after photo shot.
At the Tegallalang Rice Terraces, it's best to sit in one of the cafes so you can enjoy the scenery and you will not be disturbed by vendors. If you venture into the rice terraces please be careful where you walk.
Entrance to the rice terraces is free and if you like to take pictures of farmers working in their fields it's always a nice gesture to give them a small donation.
25. Go on a Bicycle tour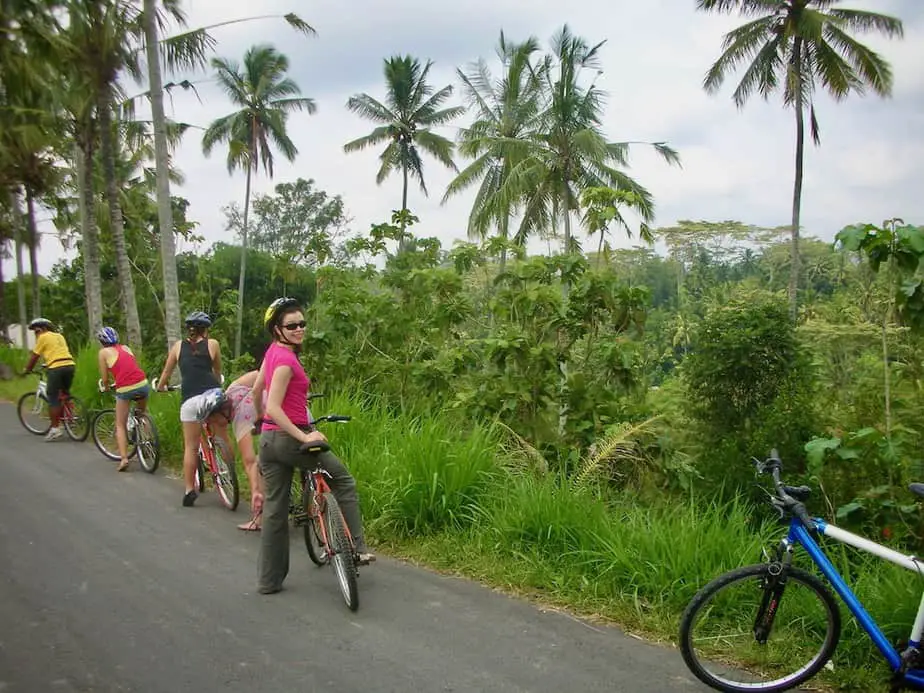 Ubud is the ideal starting and finishing point for an organized bicycle tour. From Ubud, you will be transferred to Kintamani. This village is located on the rim of the Batur Volcano.
On the way, you will have the chance for a pit stop at a coffee plantation where you can sip some strong coffee and interesting teas.
From Kintamani, it's mostly down-hill which makes this tour ideal also for those who haven't seen the gym for many years. You will pass plenty of temples, rice fields, plantations, and beautiful people. Often at the end of the tour, there's lunch served at a Balinese home.
26. Dip your toes at the Tegunan Waterfall
A 17-minute drive from Ubud and you can find The Tegunan Waterfall. The entrance fee is 20.000 Rph and after passing the souvenir stalls you can descend many stairs. We only recommend this when you're fit. The view from above is also worth it but if you want to dip your toes you have to suffer a bit.
Just like all the other things to do in Ubud best is to arrive here as early as possible when the hordes of Instagram tourists haven't arrived yet.