Bali bird watching is one of the best things you can do when you are in Bali. Whether you are a bird watcher or you have never peeked through a pair of binoculars before, everybody is going to have a lot of fun.
Bali has hundreds of different bird species. So when you head out with several knowledgeable field guides, you are sure to see unique birds such as the Java Kingfisher, Scarlet Headed Flowerpecker, Bar-Winged Prinia and the Black Winged Starling.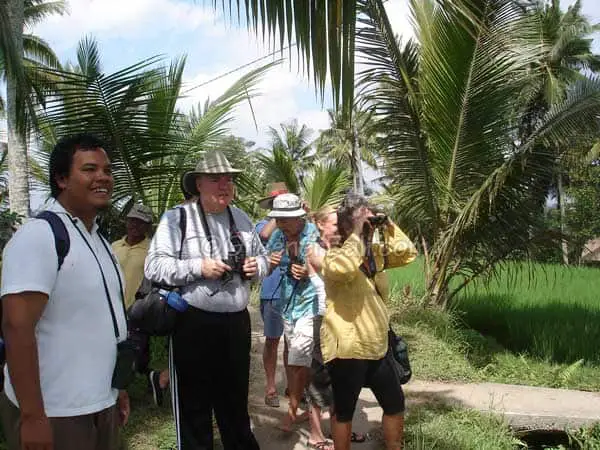 One of the best places to do some bird watching is Bali Barat National (the West Bali National Park). This is Bali's only national park with montane and mixed monsoon forests. It's an ideal habitat for 160 different bird species including the endemic Bali starling (Leucopsar rothschildi). In 2001 it was thought that only 6 lived in the park. After a successful breeding program and reintroduction program on Nusa Penida, this endangered bird is slowly recovering.
The Bird Walk Tour
A question that Victor Mason, one of the organizers of the bird walk tour, might ask you is:'Are you a keen bird watcher?' If the answer is Yes then you will have a grand time, if it is No then a whole new world called ' bird watching' will open to you…
Together with his fellow bird watchers, Wayan Sumadi (known as Su) and Pink, Victor Mason organizes bird watching tours around Ubud on Tuesdays, Fridays, Saturdays, and Sundays morning.
However, if you want it any other day or you want to do bird watching in other parts of the island then that can all be arranged as well. The people of the Bali Bird Walk know the island in and out and have been doing bird watching for more than 15 years.
So trust me, these are the guys you want to go along with if you want to see birds you wouldn't otherwise have seen or heard about.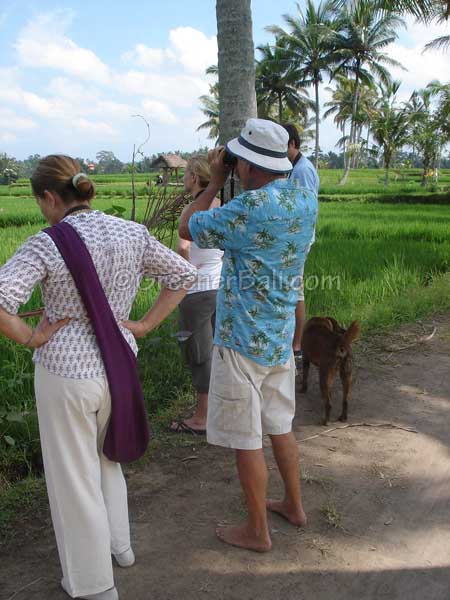 Do unexperienced bird watchers have fun too?
I have hardly any experience with bird watching. I even had a hard time adjusting the binoculars I borrowed from Pink. But within minutes I felt the same excitement as my fellow bird watchers when we spotted our first birds.
Victor Mason, Pink and their companion Umron the dog, took us along the main street of Ubud and into the rice fields. And almost after every couple of meters, there was another bird that we could check-off on our list. All kinds of bird names were mentioned which I could not even remember afterward.
Luckily at the beginning of the walk, everybody was handed out a list of all the birds we might see. And with everybody's help, we could proudly say that we saw more than 30 types of Bali birds.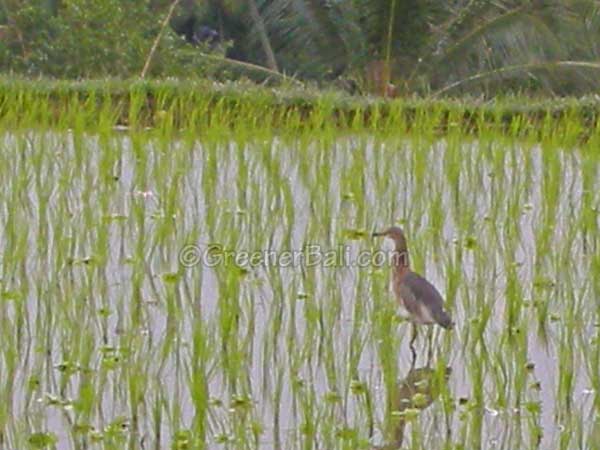 Of course, we saw all the different birds with much help from Pink and Victor. It was amazing how they were able to spot the tiniest birds or to hear them coming from far away.
Every now and then you will see Victor cupping his ear with one hand and listening for a sound. Then within seconds the bird he heard from a distance would be flying past us. Pink, on the other hand, is amazingly good with spotting birds sitting in trees more than 10m away!
Besides their wonderful bird watching skills, they are also great fun. Victor Mason has lived in Bali for many years but he has definitely not lost his English wit. He makes you chuckle throughout the tour.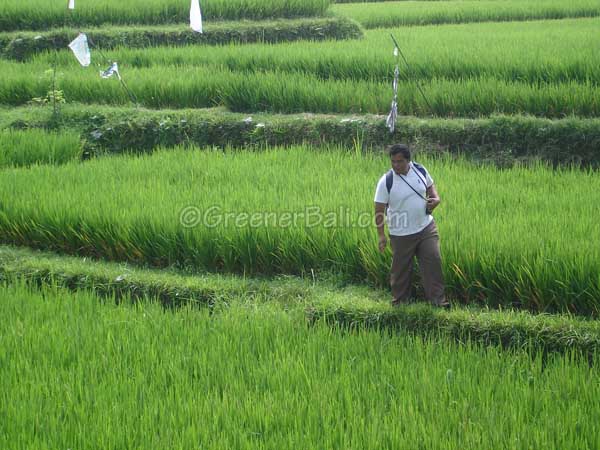 As for Pink, he is originally from Ubud but his English is excellent. He knows everything you want to know about Bali, Ubud and of course the birds of Bali.
On top of that, he is a painter and has created many beautiful paintings of birds, butterflies, and insects. Unfortunately, I was not able to meet Su, but from the stories I've heard, she is just as great as the other two.
When does this the Bali bird watching tour start?
The bird watching tour starts at 9.00 o'clock in the morning and takes about 3 hours. However when walking around searching for birds and also checking out the many butterflies and various plants (Victor and Pink seem to know all of them as well) we kind of lost notion of time.
So, in the end, we were having lunch (which is included in the price) at 15.00 instead of 12.00 as planned. O well, we are in Bali where everything is much more relaxed than at home.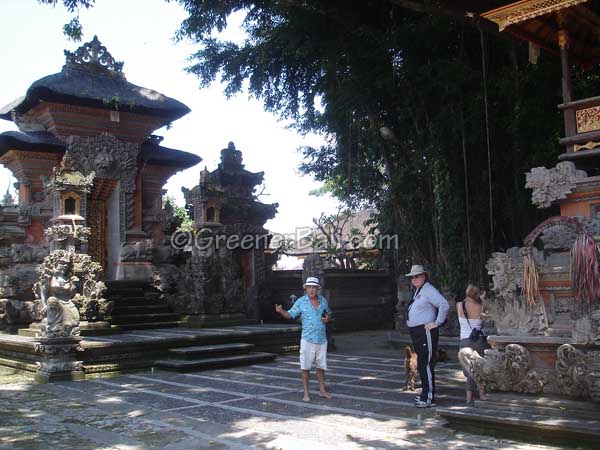 I really had fun and I highly recommend this tour to anybody who wants to stroll around the rice fields while seeing the colorful birds of Bali. And if you are an enthusiastic bird watcher already, then this will be the best opportunity to share your passion with others.
As mentioned above the Bali bird watching tour takes about 3 to 5 hours and costs US $37 including a big lunch. You should take a hat with you as it can get really hot when walking in the rice fields. And some extra water which always comes in handy.