We have taken numerous day trips from Ubud because it's ideally located in the center of Bali. From here it's easy to explore the ancient Balinese temples, enjoy the rice terraces and see volcanoes in a single day.
So far we do our day trips by motorbike. We love stopping wherever and whenever we want. For us, it is the best way to witness more of the surroundings. We like to watch farmers plowing the fields or observe ceremonies in little villages. We often hear Balinese children yelling 'hello' when driving by.
However, a private driver is also a comfortable way to tour around the island. Especially when you are traveling with your own children. The big advantage is you don't have to focus on busy traffic.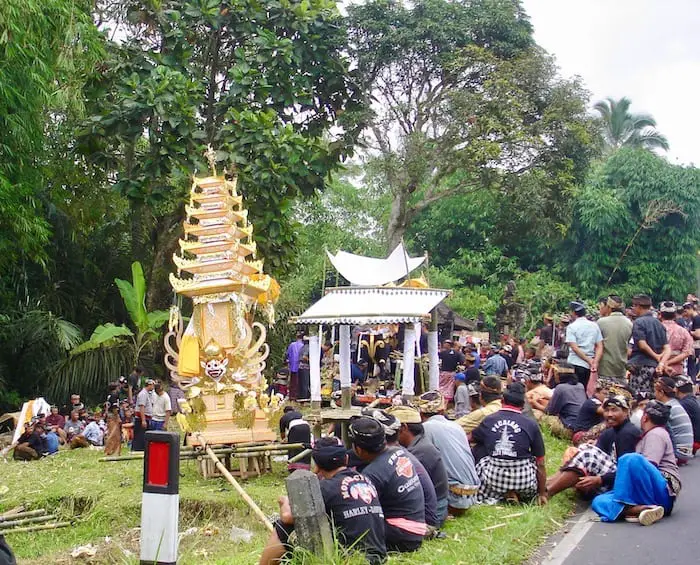 We often made the mistake of wanting to see as much as possible. In the end, the day trip felt rushed and we would arrive back in Ubud in the dark, feeling extremely tired.
Now we have learned to take things slower and to appreciate more of the environment around us. Often we leave early and we have a couple of 'must-see-things' on our list. We also make sure to include a nice long lunch along the way.
This way of organizing a day trip makes ending up in a traffic jam less stress full. It also feels more like a holiday once you arrive back in Ubud in the late afternoon. A relaxing massage or a great restaurant is a nice way to end the day trip.
We suggest you do this too.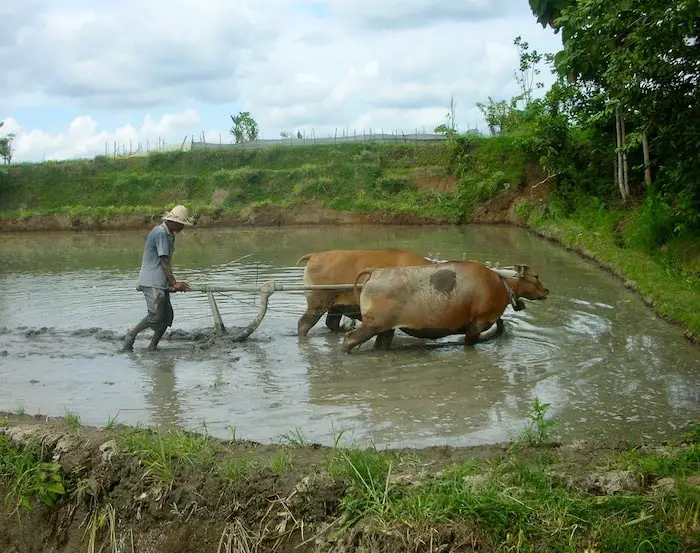 Besides going on day trips from Ubud by yourself or by a private driver, there are many organized tours too. We have added them below together with our recommended sights.
We divide the sights into two separate day trips. This makes visiting the sights more efficient and you don't have to criss-cross the island. Google Maps will give you accurate distances and directions.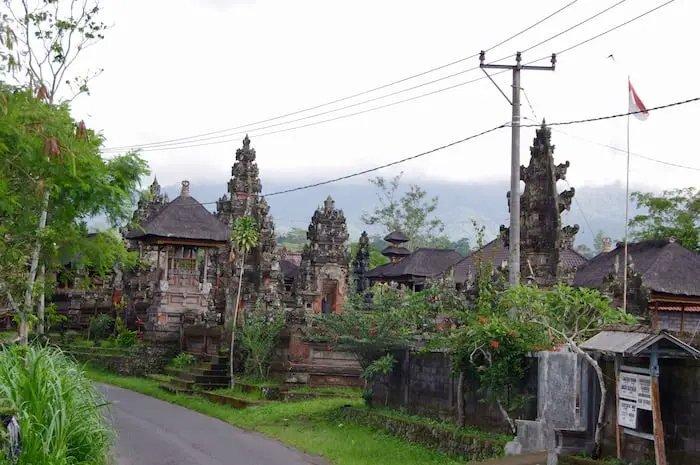 Day trip #1 has a list of sights you can choose from and with Kintamani village as the final destination. This village is located on the rim of the Batur caldera. afterward, you'll return to Ubud.
You can see Goa Gajah (the Elephant Cave), Yeh Puluh (relief art), Gunung Kawi (tombs), Tirta Empul (holy springs), Penelokan/Kintami (Mount Batur) and Pura Kehen (beautiful temple in Bangli).
When visiting the Balinese temples you always have to wear a sarong. If you have one make sure to bring it along. Otherwise, you can always rent one at the temples ticket office.
#1 Daytrip from Ubud: Nearby temples – Kintamani – Bangli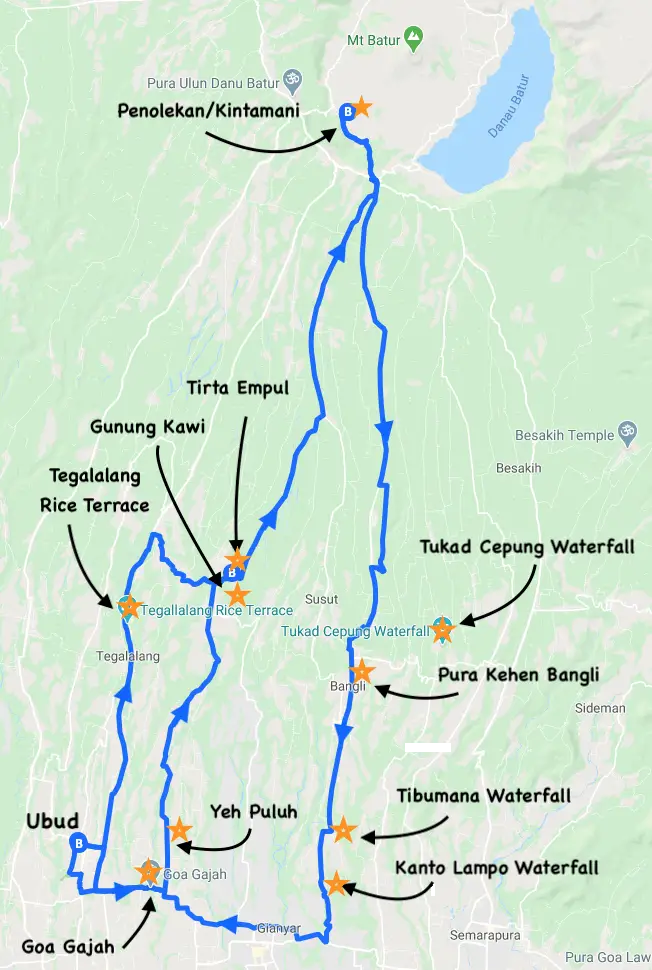 On this day trip from Ubud the route offers you a lot of options to stop and admire the remnants of prehistoric kingdoms. Since there is much to choose from you might want to make a selection. You can also add another day trip to your itinerary because many sites are best visited in the early mornings.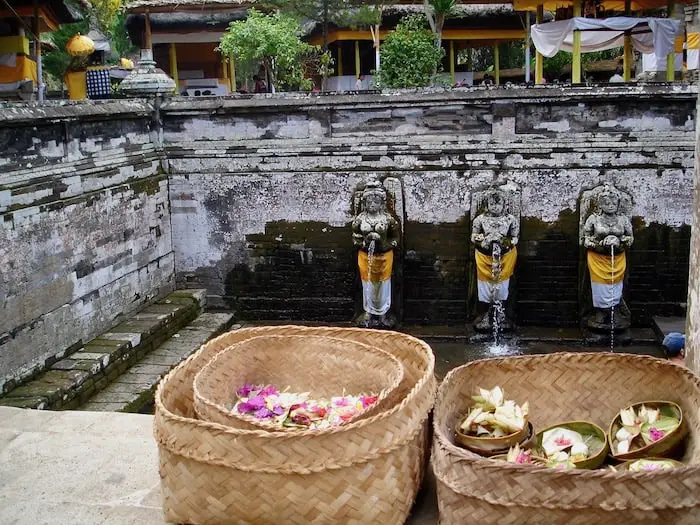 Goa Gajah is one of the most visited sites in Bali. The 11th-century complex is one of the oldest in Bali. There are elements of ancient Hinduism and Buddhism dating back from the 8th century. This indicates that both religions were found in Bali far before the unique Hindu-Dharma religion was brought to Bali.
At the complex itself, you can see the mixture too. There is a meditation cave with Hindu lingas and a statue of Ganesha, the Elephant God in Hinduism while near the cave there is a statue of the Buddhist deity Hariti.
The name 'Elephant Cave' is still somewhat unclear since there were no elephants in Bali. There is one simple theory though. When it was discovered by the Dutch in 1923 they thought that the demon carved above the entrance was that of an elephant head.
Goa Gajah is a wonderful place to just wander around and to visit the ancient bathing pools and statues. It is also possible to stroll beyond the complex and into the nearby ricefields.
Not surprisingly it is a popular sight so we recommend visiting the temple early in the morning. When we arrived at Goa Gajah we were the only ones. But once we exited the complex we saw big busses lining up at the parking area.
2. Yeh Puluh, Bedulu

Yeh Puluh is found 30-minutes on foot through the rice paddies from Pura Goa Gajah. 'Yeh' means water and 'Pulu' means stone water container. It is considered a bathing place even though a lot smaller than her neighbor.
This site has a 27-m long wall with relief art dating from the 14th century and was discovered in 1925. The carvings show everyday life such as men who are carrying their catch or a bear attacking a man on a horse.
The origins of these carvings are still a mystery. The Balinese think that the relief art has been inspired by epics from the Mahabharata where the god Krishna went out hunting.
It is very small but beautifully located between the rice fields and small river streams. It is a pleasant stop, especially if Goa Gajah is too crowded.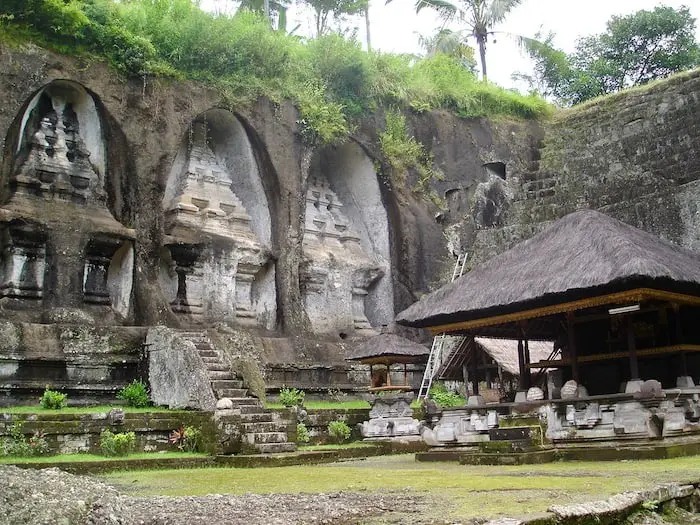 The Gunung Kawi complex is a sight that should not be missed when you travel in Bali. Goa Gajah and Yeh Puluh are well laid out but Gunung Kawi wins every prize here with palm trees, rice field vistas, and the river Perikisan. It takes a short walk before you reach the holy shrines, which are carved in the walls of the green canyon.
These impressive shrines were built in the 11th century and are a memorial to the King Anak Wungsu and his wives. The king was cremated and his ashes were cast into the sea. This means that these shrines do not contain human remains. They should not be considered as tombs but more of symbols of this great ruler.
You can easily walk around for a couple of hours. Especially when the rice fields are lush green. There is a small path that takes you along the rice field terraces and ends at a small natural pool.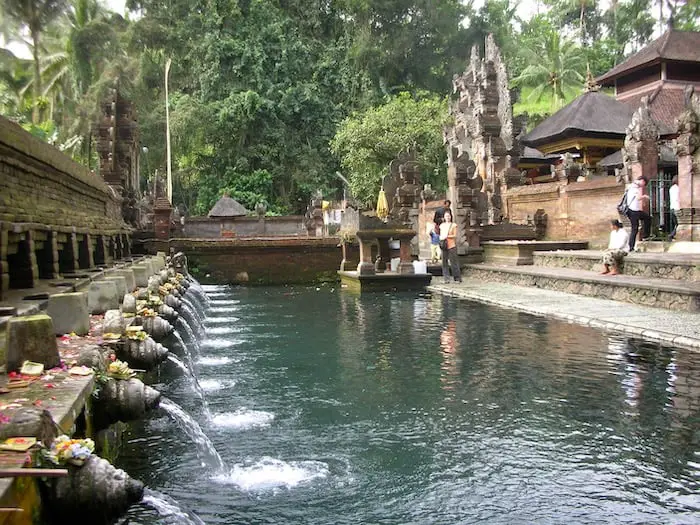 Tirta Empul temple itself might not seem that stunning from a historical perspective compared to other ancient temples in Bali. However, the spring-fed bathing pools make this temple one of our favorites.
This temple complex is located down the road from Gunung Kawi in the north of Tampaksiring. Tirta is derived from the Sanskrit word of 'amrita', which means nectar of life elixir.
The pools of Tirta Empul are one of the holiest in Bali. They hold an important ritual importance for the people of Gianyar. The origin of this temple lies in a story.
The story is a battle between the God Maya Danawa and the God Indra. God Indra was able to revive his army by tapping a holy spring at Tirta Empul. This spring gave him and his army the strength to defeat the God Maya Danawa.
Today 15 spouts pour water into 2 shallow baths. Each spout stands for things such as luck, prosperity or good health. If you arrive early in the morning you will see many Balinese people wading into the water and praying here.
5. Mount Batur, Penelokan/Kintamani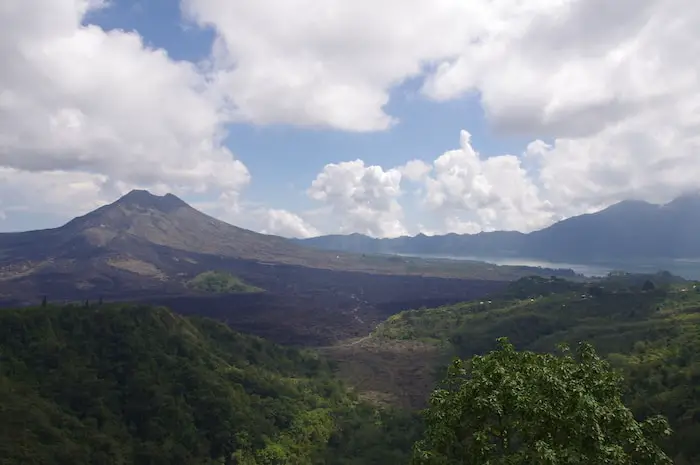 If you visit the recommended sights and follow the road towards the north you will eventually reach Penelokan and Kintamani. The trip to these villages takes you through beautiful landscapes so you will definitely not be bored.
Penelokan means 'a place to look' and this is exactly what you'll get. From the crater rim, you have a gorgeous view of the second most important mountain in Bali, Mount Batur. If the weather is nice you can see the lake and even the slopes of Mount Batur.
A lot of people make a pit stop here. And if you go more toward the west you will end up in Kintamani, where there is a string of restaurants with a view. It can get really busy with tourists who stop here for a lunch buffet.
Make sure you bring a jumper as it can get really chilly, especially when it is cloudy.
There are many tours that take you to Kintamani such as Bali Bike Tours that offer breakfast with a view of Lake Batur before heading downhill back to Ubud. Another great option is to hike Mount Batur to witness the sunrise.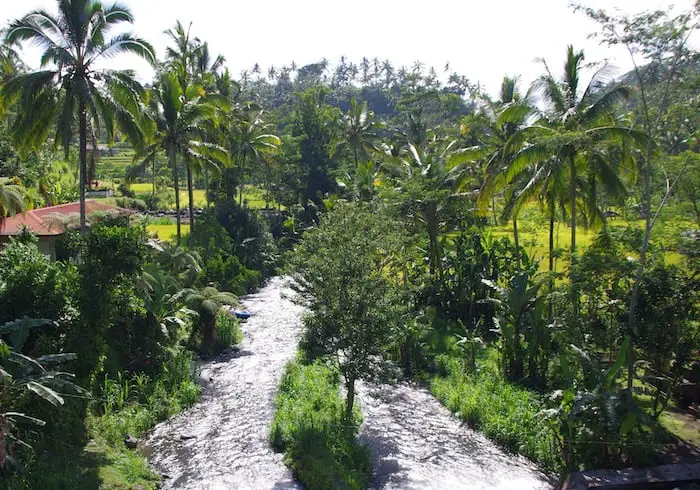 This is often combined with a dip in a hot spring, lunch at Kintamani and a visit to a local coffee plantation.
Another great activity that takes you to this area is rafting on the Ayung River, Melangit River or Telaga River. Most of the rafting companies offer whole day packages and include a visit to Kintamani as well.
So if you want to add some excitement to a day trip and don't mind going with an organized tour, then this is a great option.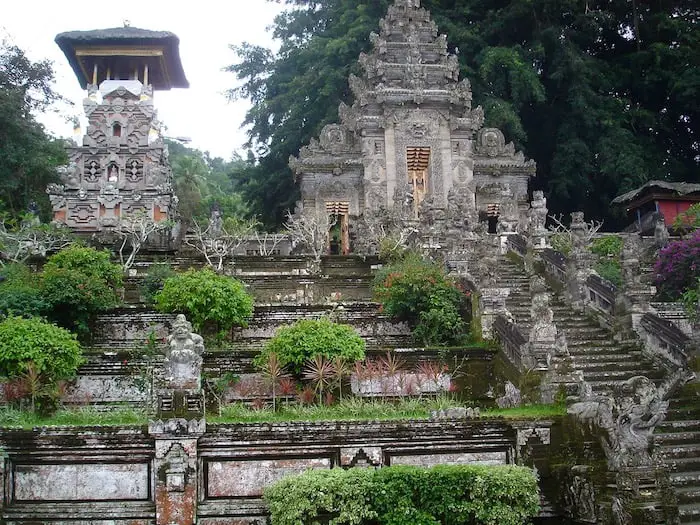 Located on the slopes of Mount Batur, the city of Bangli is a small city. It is still pretty cool here and when the weather permits you can even see the mountain from here. The trip from Mount Batur to Bangli takes you along Balinese rural sceneries.
Pura Kehen is located in Bangli and dates back to the 11th century. It is set on a small hill and is surrounded by a forest with coconut trees. Kehen means 'Household' or 'Fireplace' and symbolizes the Fire God, Brahman who protects the temple.
This temple is often described as the miniature version of the Pura Besakih. Its form and purpose are similar. Like the mother temple, Pura Kehen has 8 temple terraces and it is the residence of the spirits worshipped by the kings of Klungkung.
The temple was important to the kingdom of Bangli. Rajas were crowned in the inner courtyard and the second courtyard houses the shrines of the ancestors of the last royal dynasty of Bangli.
If you search carefully there are statues with traces of paint on it, indicating that this temple was somewhat more colorful than it is today.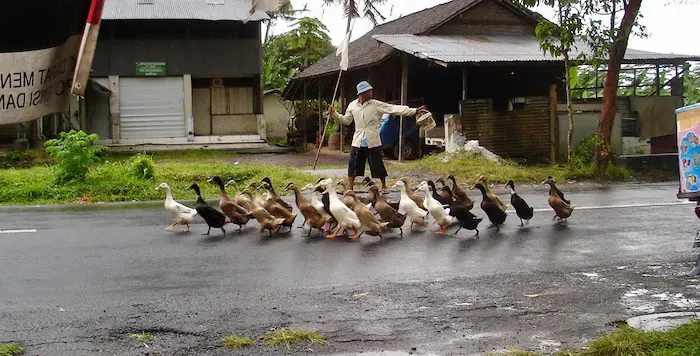 7. Waterfalls Nearby Ubud
Numerous waterfalls have been added as tourist sites these past few years. Luckily there are a couple of great ones just about 30 to 45 minutes' drive from Ubud.
Like most sites, if you want to feel like you are the only one make sure you leave early in the morning. We recommend visiting Tibumana Waterfall (opens from 6 am till 6 pm every day) or Tukad Cepung Waterfall (opens from 6 am till 5 pm every day, except Saturday from 7.45 am)
8. Ricefields of Tegallalang (Ceking)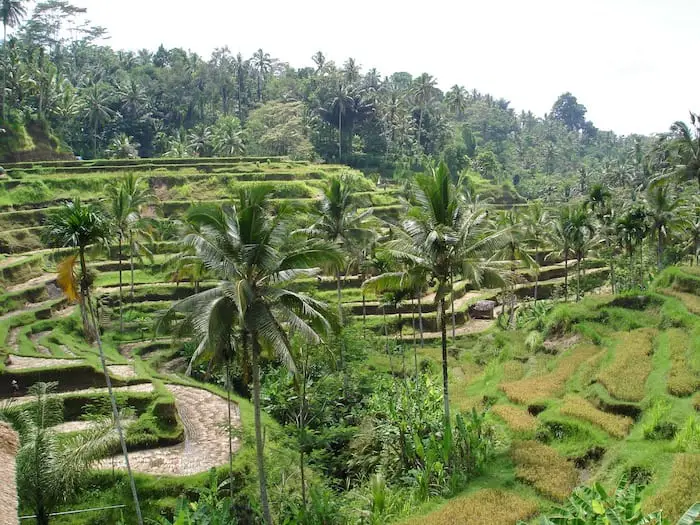 Just north-east of Ubud you'll find the Unesco World Heritage site of Tegallalang where man-made rice terraces and the complex water management system win all awards for 'Bali's Perfect Postcard'.
It is possible to hike down and wander through these rice field terraces. It's easy to walk around here for 30 minutes to 1,5 hours. It can get pretty muddy and with the humid climate make sure you wear appropriate gear and sunscreen. The best time to go is early in the morning.
Since it is a stunning place, Tegallalang has become a hotspot for photographers. This includes Instagrammers who love to share their experiences with their followers. Tegallalang has embraced this and has put up signs such as 'I love Bali'.
Another trend is the enormous swings. These swings are found everywhere in Bali now, but Tegallalang is one of the most popular places to get the perfect but not so original 'swing-shot'.
As you might have noticed, we think there is more than just Instagram. So when you visit these ricefields, take the hike and make sure you wander around to fully experience its beauty. Open from 7 am to 6 pm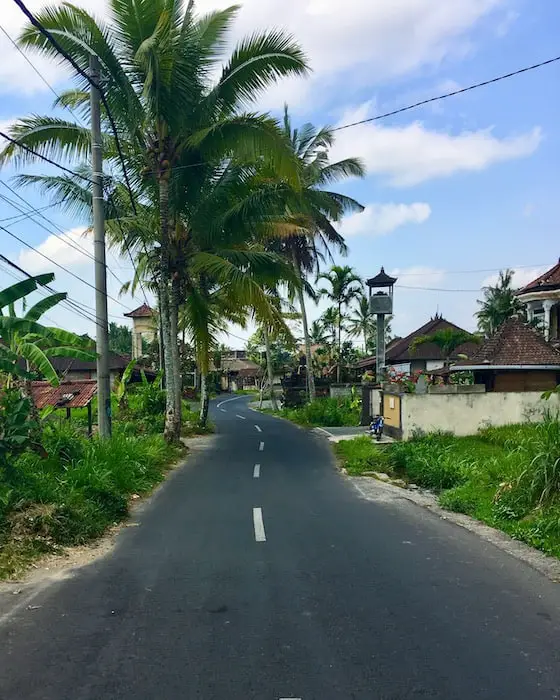 Keep in mind that the Tegallang ricefields are not on one of our favorite routes. But it's just outside Ubud and you can combine it with a day in Ubud. If you want you can also make a detour early in the morning before visiting the temples we suggested above.
 #Daytrip 2 from Ubud Nearby Temples –  Jatiluwih – Lake Bratan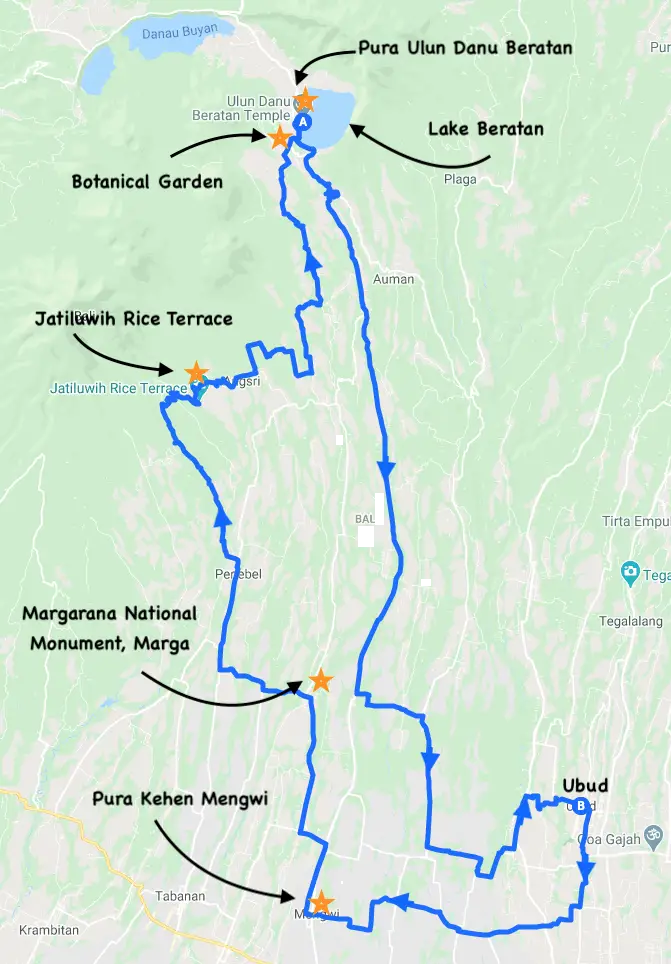 This day trip from Ubud takes you all the way to Lake Bratan, located near the village Bedugul. The route passes one of Bali's most beautiful temples and takes you through the area known as 'The Rice Basket of Bali'.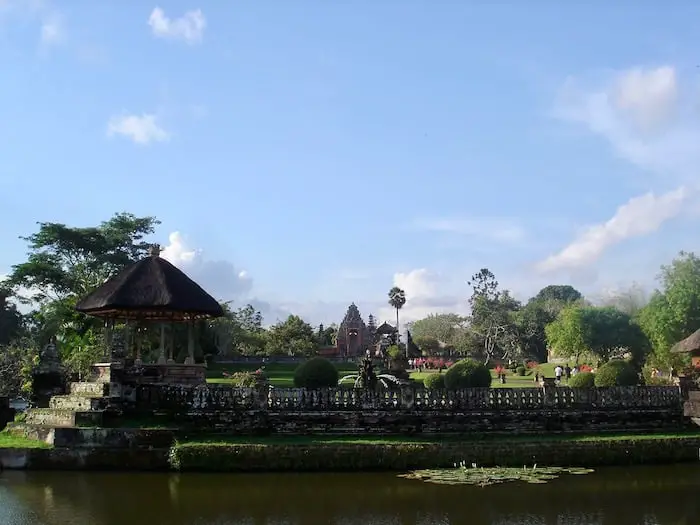 Built by Raja(King) I Gusti Agung Anom in 1634 this state temple of the Mengwi Kingdom was overrun by the Tabanan and Badung Kingdoms in 1891 but survived. It is after Besakih temple, the largest temple in Bali.
From all the temples in Bali, this temple is worth the visit for its beauty. The moat surrounding the temple is known for the lotus flowers that bloom in the early mornings. The gardens around the temple complex are well maintained which makes the visit really nice.
There is a bridge that takes you to the inner courtyard where you'll find numerous multi-tier meru (towers with thatched roofs). You are not allowed to enter the inner courtyard. The wall is low, so you can see most of it.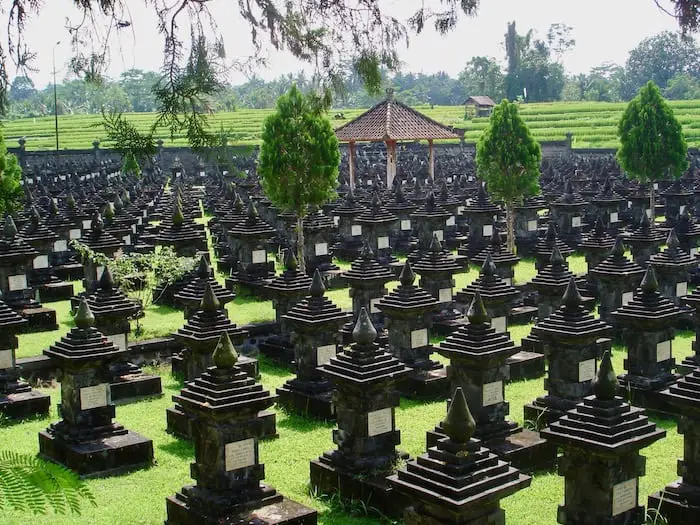 In Marga, you can find the Margarana Memorial. It isn't a common stop for visitors, but if you do happen to be nearby go and have a look. Especially if you want to learn more about the history of Bali.
This memorial commemorates a regiment of guerilla warriors, who were killed by the Dutch after World War II. The guerilla leader was 29-year-old Lt. Col. I Gusti Ngurah Rai, after which the airport has been named.
His and his platoon were on a long march from Tabanan to Gunung Agung in order to create a diversion. However, they were discovered by the dutch and the 96 guerillas lost their lives here on the 24th March 1946.
The 17m high Margarana memorial was built in 1954 and has eight roofs in the Javanese style, which symbolizes the unity of the fallen warriors.
At Marga, there are also 1,372 memorial stones of men and women (Muslims, Hindus, and Christians) who have died fighting the Dutch.
11. Jatiluwih Rice Fields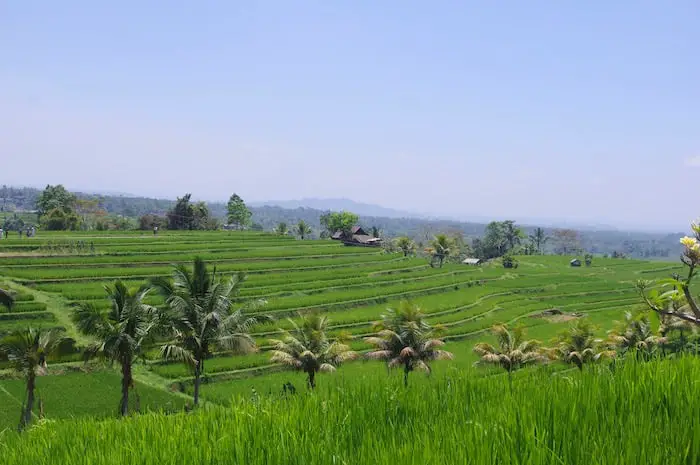 Jatiluwih is a stunning place located at the foot of the mountains Batukaru, Sengayang, and Adeng. Here you can see rice terraces as far as the eye can see.
Since Jatiluwih has received the UNESCO World Heritage Status things have become more 'organized'. Organized is a good thing. Now you have easy access to the rice fields without damaging anything. The less positive is, of course, the large number of visitors. But then it is understandable that so many people want to visit this area. Despite the changes, it is still stunning.
The trails through the Jatiluwih rice fields range from 1 hour to 5-hour walks. They take you through the rice field terraces where you can also learn about the subak. This important ancient traditional irrigation system is one of the oldest in Bali and has been applied since the 10th century.
When you look at the rice fields today it is difficult to realize that thousands of years ago the Balinese were able to create this. They didn't have aerial views and high tech machines to plan this complicated system.
Yet they were able to clear land, dig systems to have continuous water flow and make these stunning rice terraces that last until today.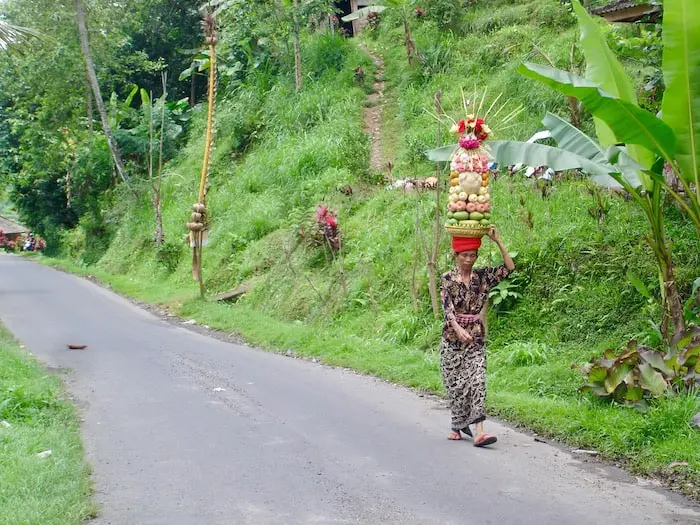 The subak used the philosophy of the Tir Hita Karana in which spirit, the human world, and nature are brought together. Everything is in balance which has resulted in this life long irrigation system that works for humans and nature. Today the spirits are still of importance.
The rice and the water is considered a gift of God. Water springs and canals flow through important water temples into the rice fields. One of the most important temples is Ulun Danu Bratan Temple, which is located further north.
Besides walking along the trails in Jatiluwih, there are also a lot of companies that offer cycling (or e-bike) tours around this area. For instance, Green Bike Bali offer whole day tours to Jatiluwih that includes pick up and lunch.
But they also have guides waiting for you at Jatiluwih who will take you around by a bike for an hour. Once done you can continue your day trip independently.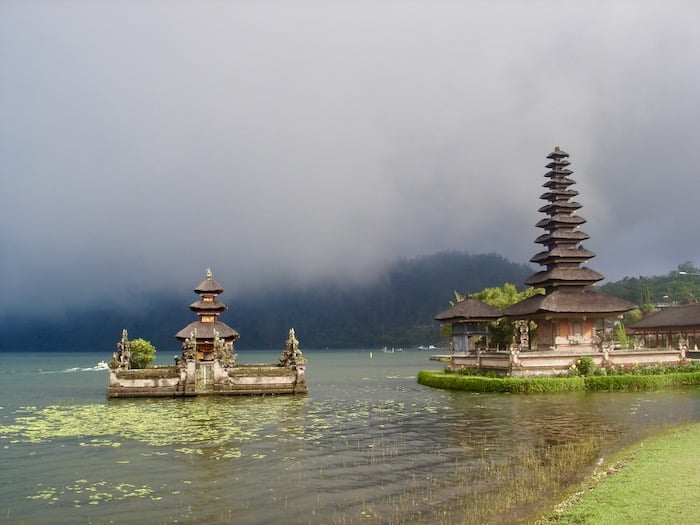 The Ulun Danu Bratan temple is located near Bedugul. This village is known for its refreshing climate and fruit markets. Somewhat further down the road lies Lake Beratan, located in an old crater of the silent volcano Gunung Catur.
The lake is a major source of water for the southern part of Bali. Many ceremonies take place at the Ulun Danu Bratan temple to worship the Goddess of Water, Dewi Danu.
Her temple is on the lake with 3 meru ( towers with rooftops). The temple with 7 meru is dedicated to Shiva and the one with 11 meru to Vishnu. Like many temples in Bali, the courtyard is closed for visitors. Nevertheless,  the setting is very stunning and worth the stop.
Nearby Bedugul fruit market you can also find the Botanical Garden (Kebun Raya). If time permits it is a nice place to walk through the 325acres of rainforest and see hundreds of their wild and cultivated orchids.
At the Botanical Garden, you can also find the Tree Top Adventure Park. If you feel like climbing trees and experiencing Bali at the treetop level then this is a good stop for you.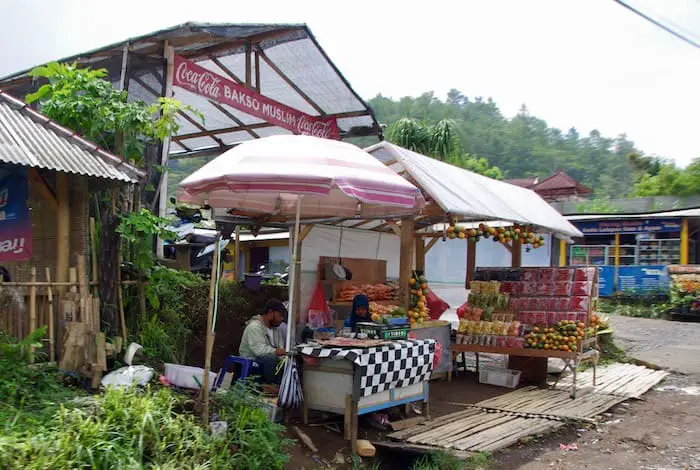 Daytrips from Ubud to other villages
As mentioned earlier, Ubud is strategically located for day trips. We mentioned sights which you can see on two-day trips. But if you feel like heading more towards the east such as Candidasa it is possible too. It is just a 1-hour drive from Ubud.
Around Candidasa, you have beautiful sights such as the Tirta Gangga Waterpalace and Tenganan Village. You can also drive back via Sidemen so you can enjoy the scenery in the shadows of Gunung Agung.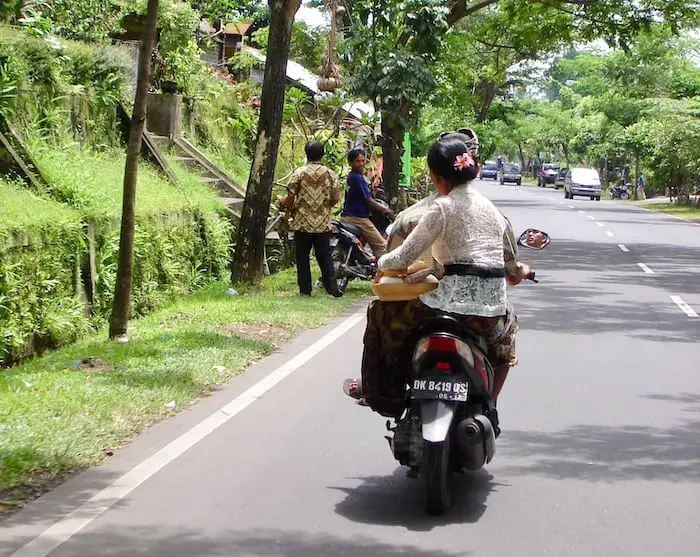 Sanur is also just 40 minutes away by car. So if you feel like going to the beach for a day then it is possible to do as well.
Personally we prefer to spend a night in these villages. Waking up and walking along Sanur beach, hiking around Sidemen or watching the sunset in Candidasa from a bale makes the experience much nicer.
So if time permits. Try to move around and stay longer in one place. From here you can do day trips too.