Ubud Market is one of the highlights in Ubud. The market is not only a place to be for those who love shopping, but also for visitors who just want to enjoy the local buzz.
So what is there to see at the Ubud Market? In the early morning, you can see the Balinese head to Ubud market to get their fresh produce such as meat, fruit, and vegetables. There are also dozens of stalls selling flowers for daily offerings. In the afternoon the market is transformed into an art market full of art, crafts, and souvenirs.  
Ubud market is definitely a place you should visit in the morning and afternoon. Both times have a different atmosphere. We particularly like the morning market for its local life and delicious local food and snacks.
Continue reading to see which one you would enjoy.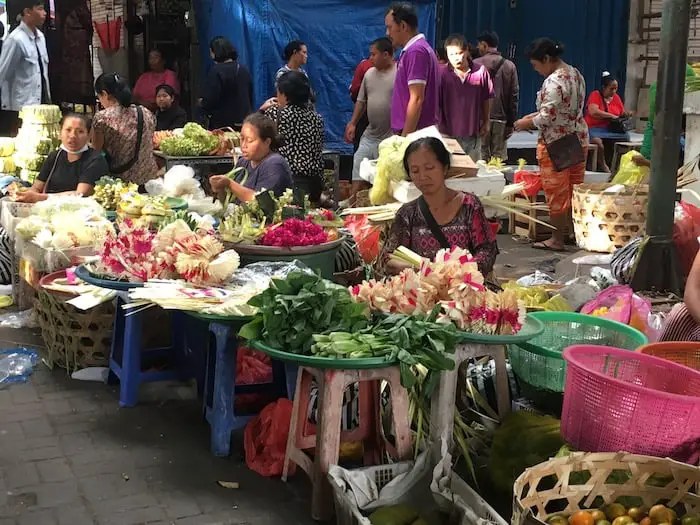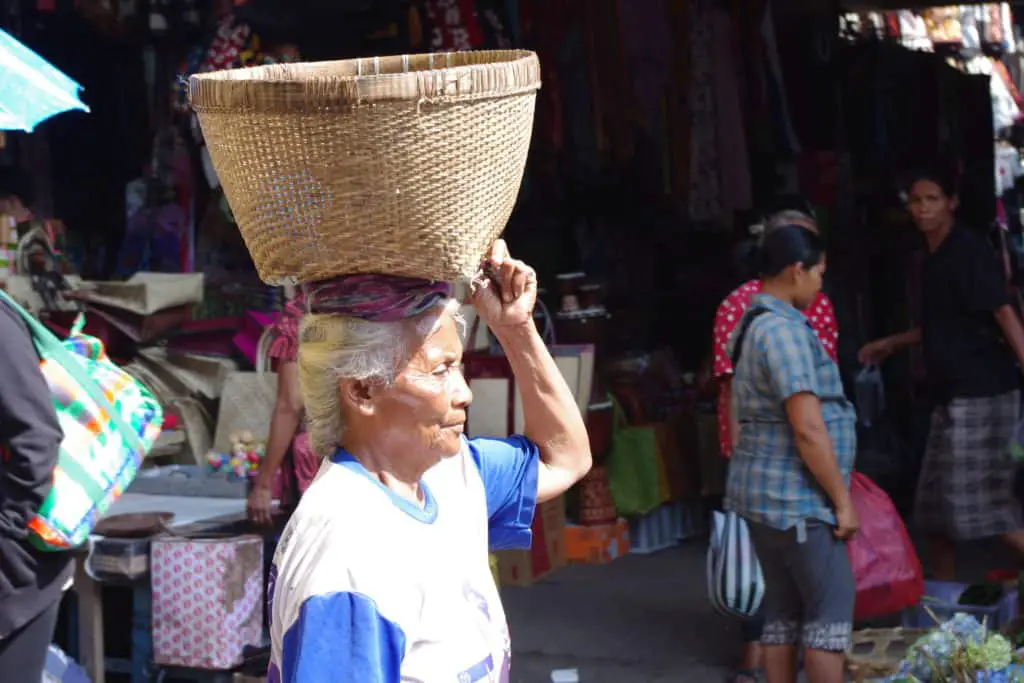 Where exactly is the Ubud Market?
The Ubud market is in the heart of the town and located at the junction of Jalan Raya and Jalan Monkey Forest. It is exactly across the street from the Royal Palace and the temple (Puri Saren Agung Ubud).
How to get to the Ubud Market?
All the main roads of Ubud lead to the Ubud market. It isn't really hard to find, but in the afternoon it is hard to get to. Especially if you are by car.
There is a continuous traffic jam at Jalan Monkey Forest Road. It is even quicker to jump out of the car and to walk as soon as you get stuck.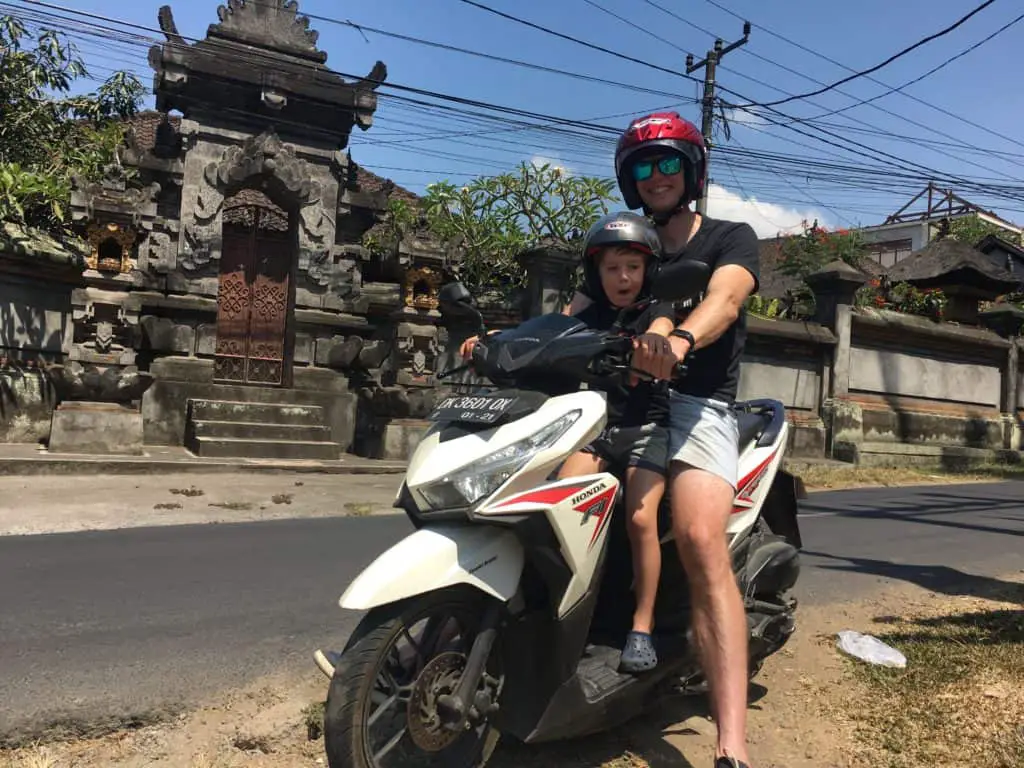 We prefer to go around town by motorbike. It is more convenient to pass the traffic jam and to find a parking place. However, even with a motorbike, it is difficult to find a parking place near the Ubud market. Parking for the market is on Jalan Suweta no. 18.
If you are coming from outside Ubud then you can arrange a driver to take you. Any driver, private or from a driving-app knows where the market is. Remember when going back you can not get a Grab or Gojek driver from Ubud. They are not allowed to pick up passengers here.
From Sanur, it will take around 40 minutes to get to Ubud. Seminyak is a 55 minutes drive away, from Jimbaran it will be around 60 minutes.
What times do the Ubud Market open?
Ubud market is open from 4 o'clock in the morning till 6 o'clock in the afternoon. It starts in the early morning with the local market only. So this time of day is most popular among the Balinese who are doing their daily shopping.
Only later in the morning will the local market change into the art market where they sell all kinds of arts and crafts.
We have visited the market several times from early in the morning but also late in the afternoon. Best is to come early in the morning when the busloads of tourists haven't arrived yet.
What to buy at the Ubud market?
In the morning Ubud market is a market selling fruit, vegetables, meat, and daily offerings. The famous Ubud Art Market starts later in the morning. You can buy handmade local art and crafts such as:
household ware such as baskets and blankets
clothing
sarongs
jewelry
hats & bags
handicrafts
paintings
Ubud Morning Market
Every day before sunrise the local people of Ubud come together in the morning market. Here they buy their daily groceries, offerings, cakes, and clothes. There is no entrance fee to the market, everybody is welcome.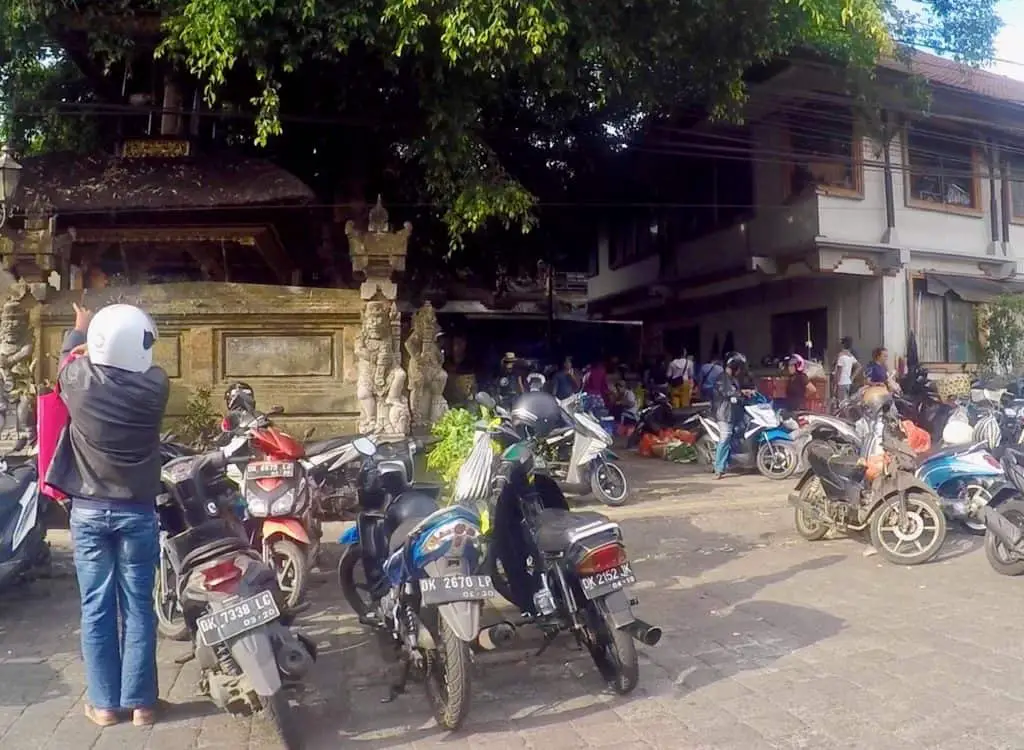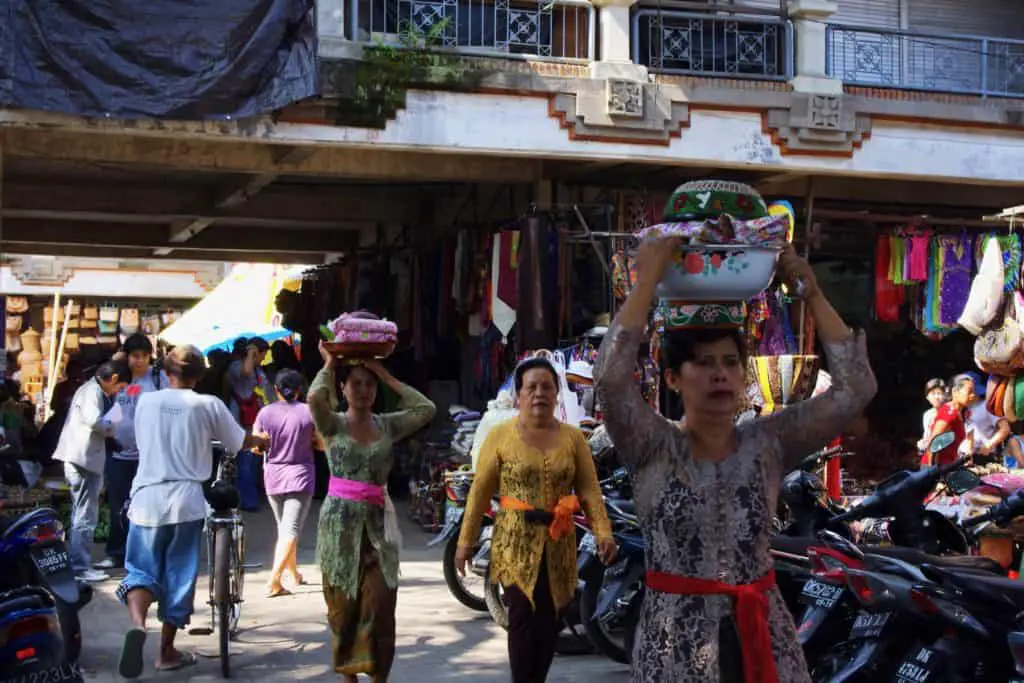 Once I woke up early because I couldn't sleep. I headed straight to the market. Since the streets seemed deserted I thought I was one of the first. The market was however already up and about.
The light and colors of the market this early are worth the visit. The fruit is displayed neatly while other Balinese sell big baskets filled with flowers and flower petals. The flowers and leaves are used for daily decorations and offerings to the spirits.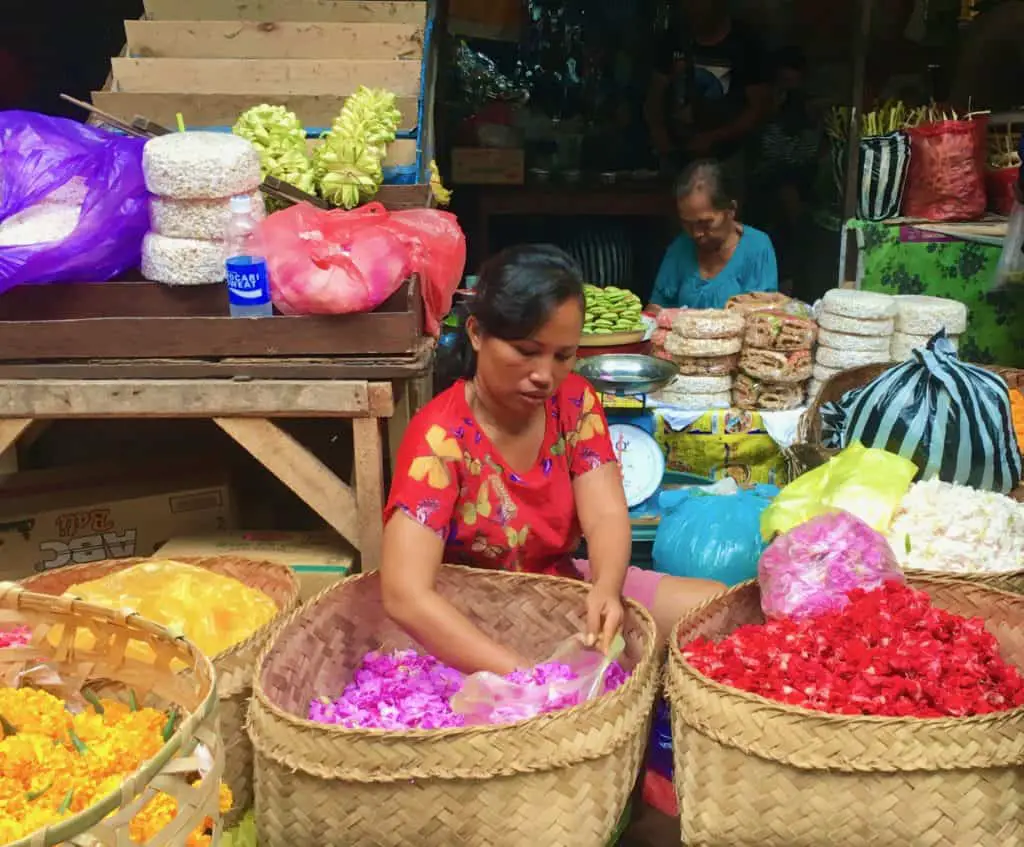 Everyday prayers with offerings have to be conducted. As you can imagine in the past the Balinese could focus more on their religion than nowadays.
Tourism and modern development have taken a lot of time away from religious obligations. However, amazingly the Balinese are still able to create a balance between their daily obligations and religion. Now they are buying the offerings instead of making them by themselves.
At the north side of the market, there is a small temple where sellers place offerings to Ganesha, the Deity of Good Fortune and Prosperity. In the morning the offerings have piled up here as sellers pray for a fortunate day.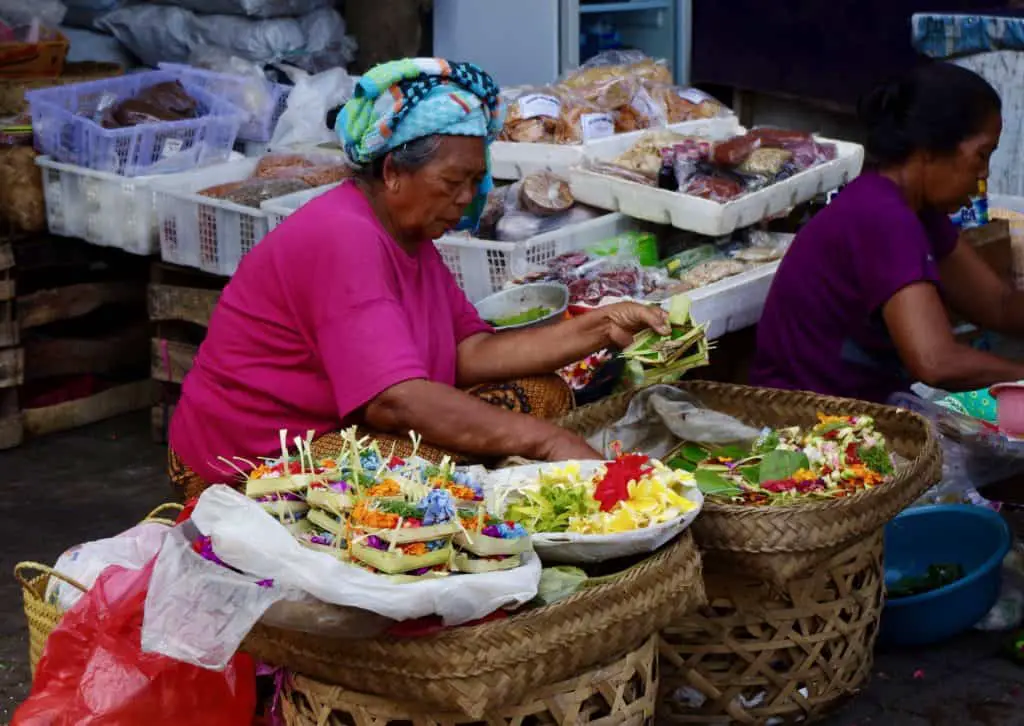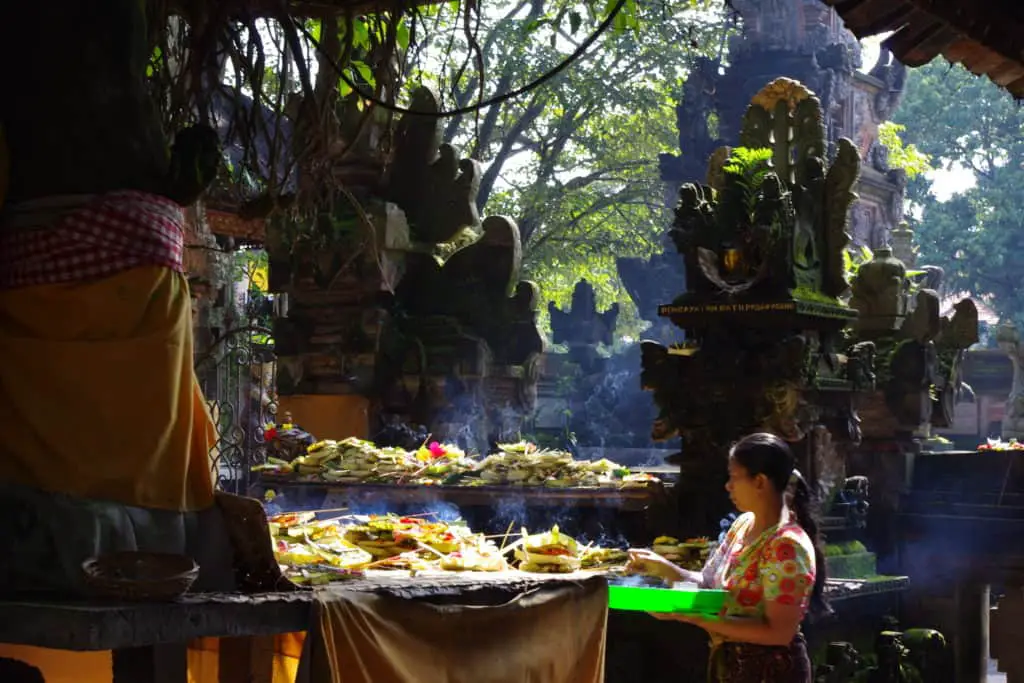 Besides stalls outside, the market continues inside the building as well. You can even take the stairs down where you'll even live chicken, vegetables and more fruit.
Ubud Art Market
Later in the morning, the market becomes the Ubud traditional art market. Now travelers can find all the things they can imagine: masks, bags, rattan-goods, Balinese paintings and plenty of other arts and crafts.
There are also some stalls open that sell fruit and vegetables. So if you are a late riser, there is a lot to see and buy when it comes to food. But mostly around this time of day, the market has become the Ubud art market.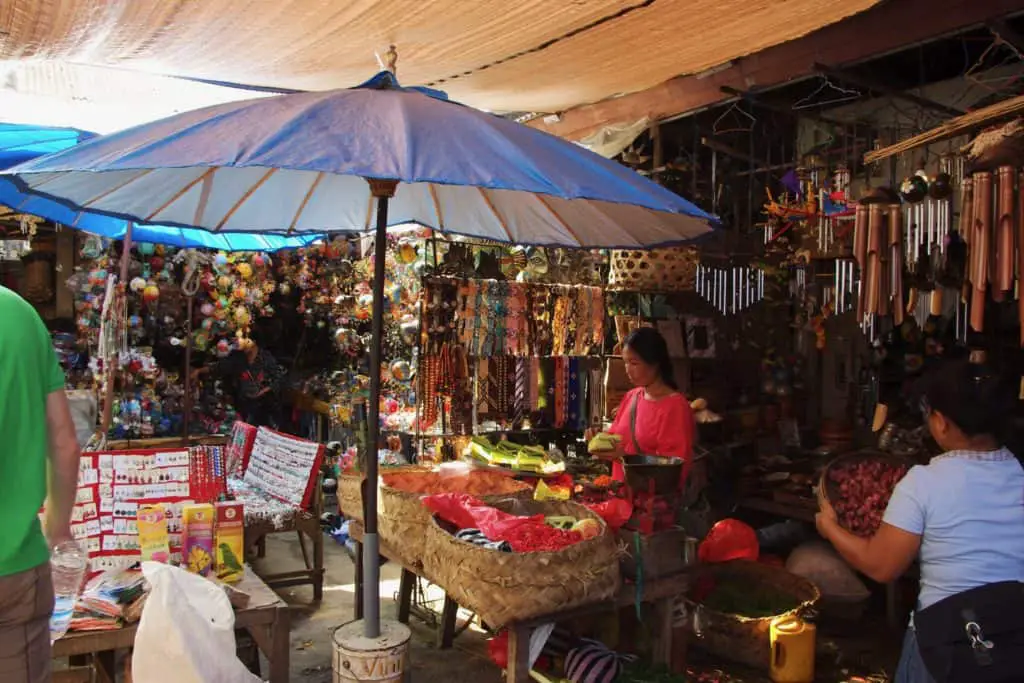 After visiting the morning market we are always surprised about the big transformation of this market in the afternoon. Everything is more narrow and the amount of things you can buy is mind-blowing. There is stuff everywhere, almost touching the ceilings.
We always wonder where they stow all these things so the morning sellers can sell their goods again the next day.
At the art market on both sides of the narrow alleys, tiny shops are selling particular goods. Some shops only sell a specific product such as rattan products or sarongs. Others sell wooden crafts like masks and small statues together with paintings.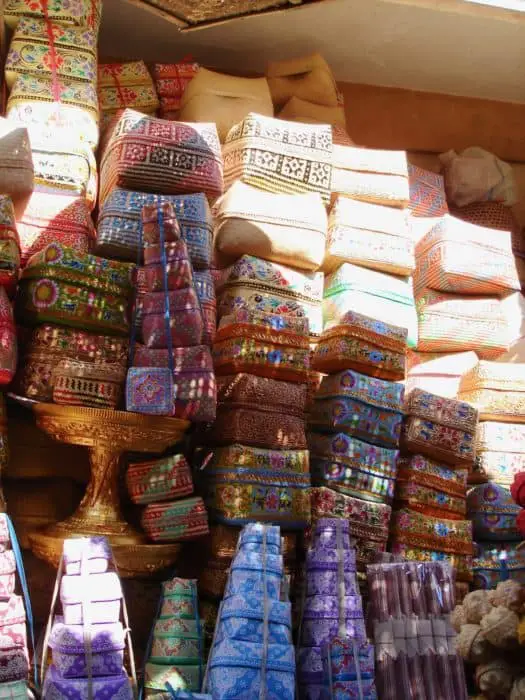 We always get overwhelmed by the choice and funny enough we find it hard to find something. To be honest we are not the best shoppers and we prefer to do something else on our holidays.
But we like taking some stuff back for families and friends. We just find it difficult to see through thousands of things displayed at the market. But even more difficult is that once you see something you are immediately in the sellers' spotlight.
They will not let you go, especially if you touch an item. So be prepared to start to bargain or to politely leave without buying anything.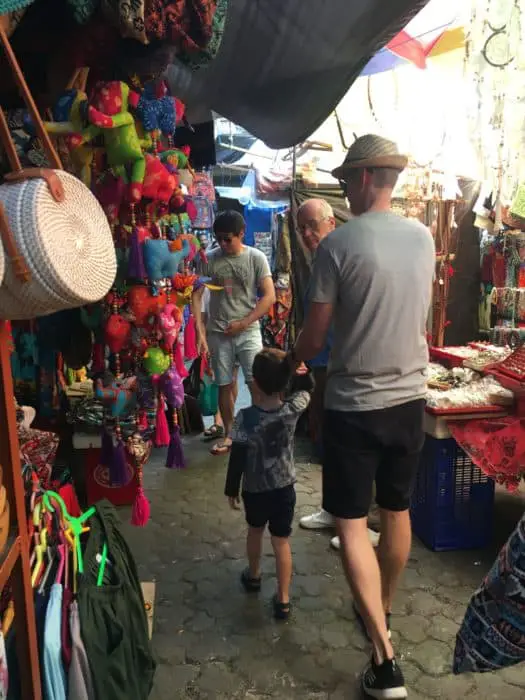 What to eat at the Ubud Market?
If you want to try some tasty tropical fruit then Ubud Market is the place to be. Depending on the season you can get delicious Mango, Mangosteen, 'baby size' bananas, Rambutan, Salak (snakeskin fruit), and more. There are often little stalls that sell freshly cut fruit too.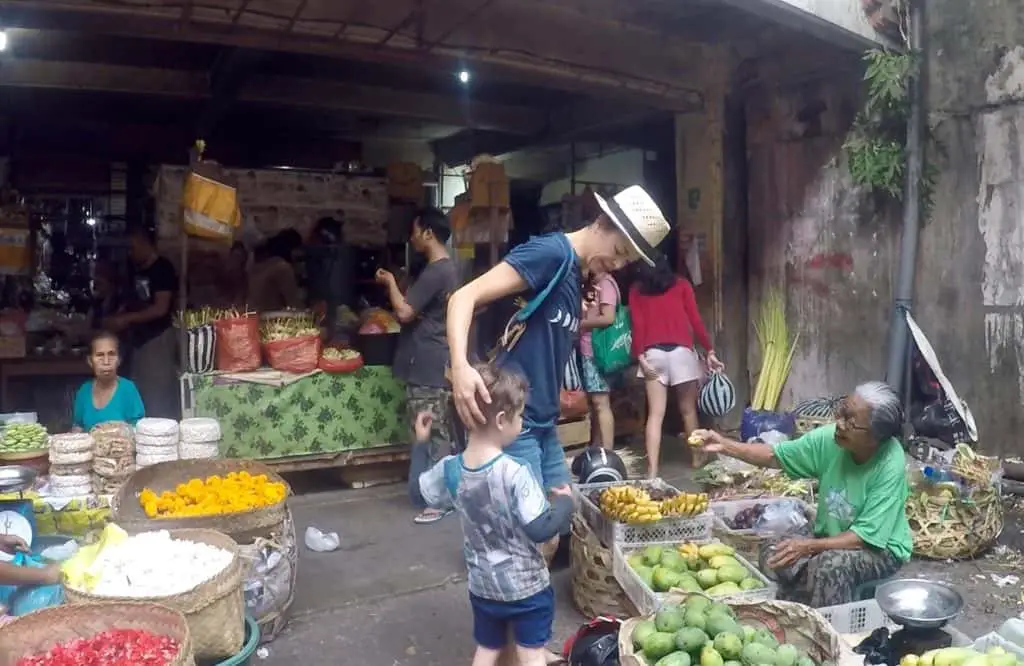 Besides fruit and vegetables, there are also women selling breakfast and sweet cakes. The cakes are usually wrapped in banana leaves, some rectangular and others have a cone form.
If you a familiar with them you can usually tell by the shape and size what type of cake it is. We are still discovering them and we always choose a different selection every time we're at the market. It's a nice surprise to taste what's inside.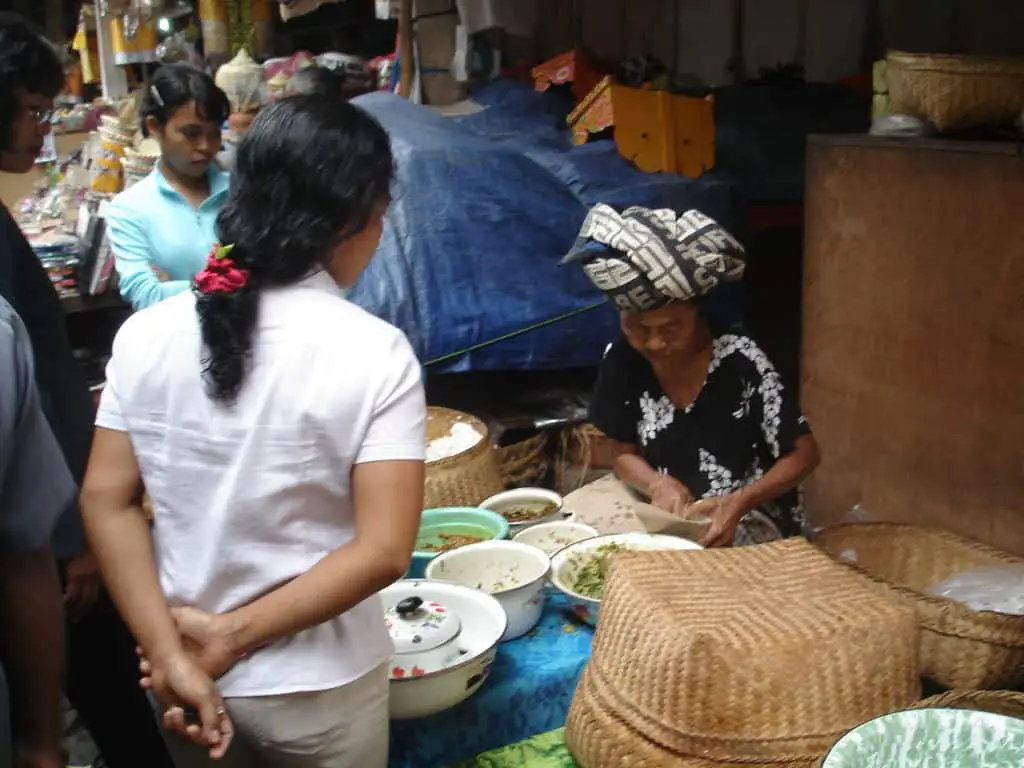 These typical Indonesian cakes are usually made of coconut (cream, milk or rasp), rice flour with other ingredients such as cassava, pumpkin, brown sugar.
Popular cakes are Kue Klepon (grated coconut balls), Dadal Guling (green pancakes), Kue Lapis (colorful layered cake). Believe me, you should try them here. Once home you can't find anything like it.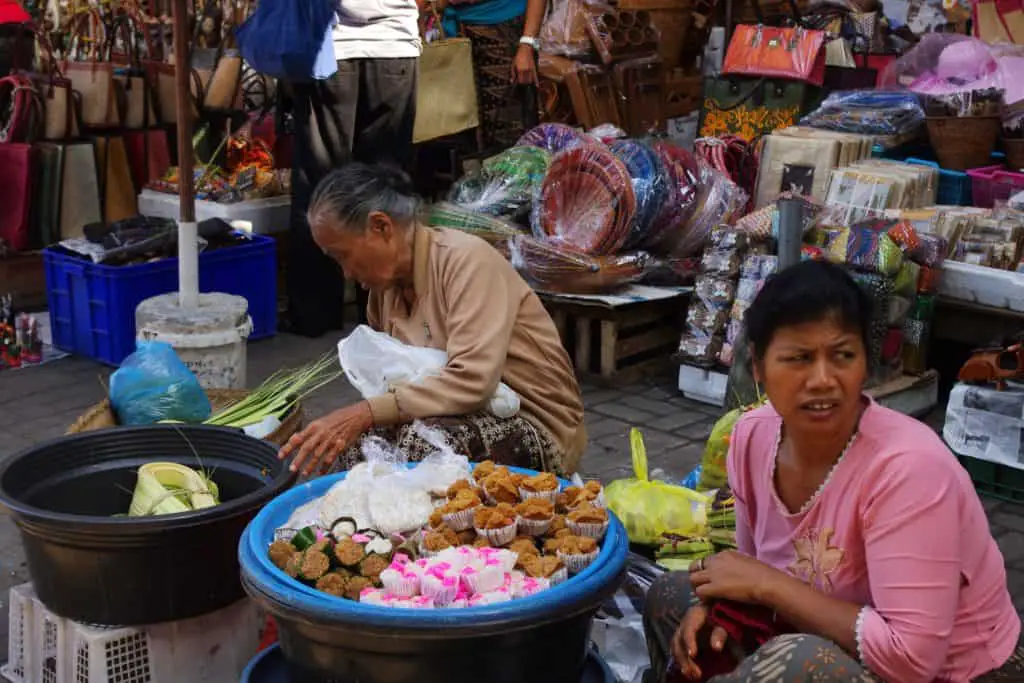 At the market, you can't find places to eat, such as at the Sanur market for instance. They do sell breakfast but these are usually for take away only.
If you want to have a proper meal there are many restaurants just outside of the market. You can find them along Jalan Raya next to the market and next to the palace.
Ibu Oka, a restaurant known for its Babi Guling is also just around the corner at the beginning of Jalan Suweta.
How to Bargain at the Ubud Market?
There is too much to see and definitely too much to buy. When you see something you like you must start to bargain. This is part of the culture and the Balinese don't think you're serious when you don't bargain. The bargain starts usually at 50% of what the seller asks.
The whole bargaining process can become a playful game of numbers. The sellers can be really tough and we are not sure if it's an act or not. Sometimes they seem to be shocked about what we think is a fair price.
Just seconds before we make our final offer we feel guilty but then the seller has a huge smile and agrees with the price. Then we have this feeling that we could have gotten a better deal. That's all part of the bargaining game.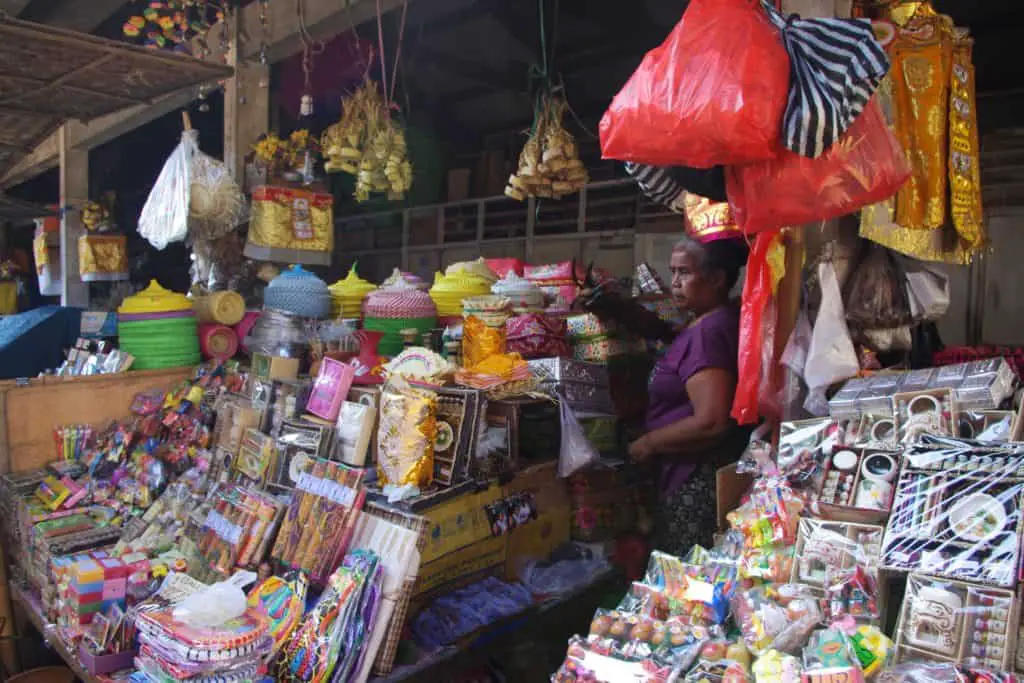 Always keep one rule in mind. If you find that the product is worth it be happy about it. It's best not to hassle too much. You can always get it cheaper but that's not the issue.
In the end, you could have bought the product for a couple of dollars or euros less but the seller is happy. She will say that you have brought luck to her that day and she hits the banknotes on her other goods so the luck will rub off on them too.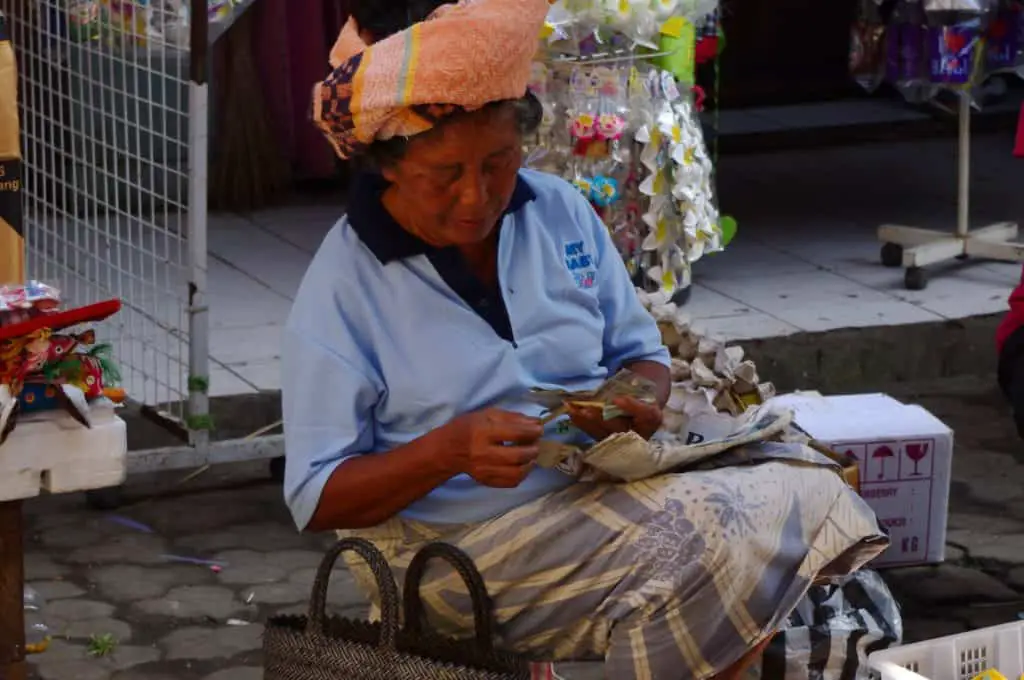 If you can't find what you're looking for have a look at the many boutiques and art galleries along Jalan Raya Ubud, Jalan Hanoman and Jalan Monkey Forest. I'm sure you'll find out why so many people like shopping in Ubud.
What to do near the Ubud market?
Once you have visited the Ubud market you can pay a visit to the Puri Saren Agung palace and the temple of the royal family. Nearby you can also find the Puri Taman Saraswati Lotus temple next to the Starbucks on Jalan Raya Ubud.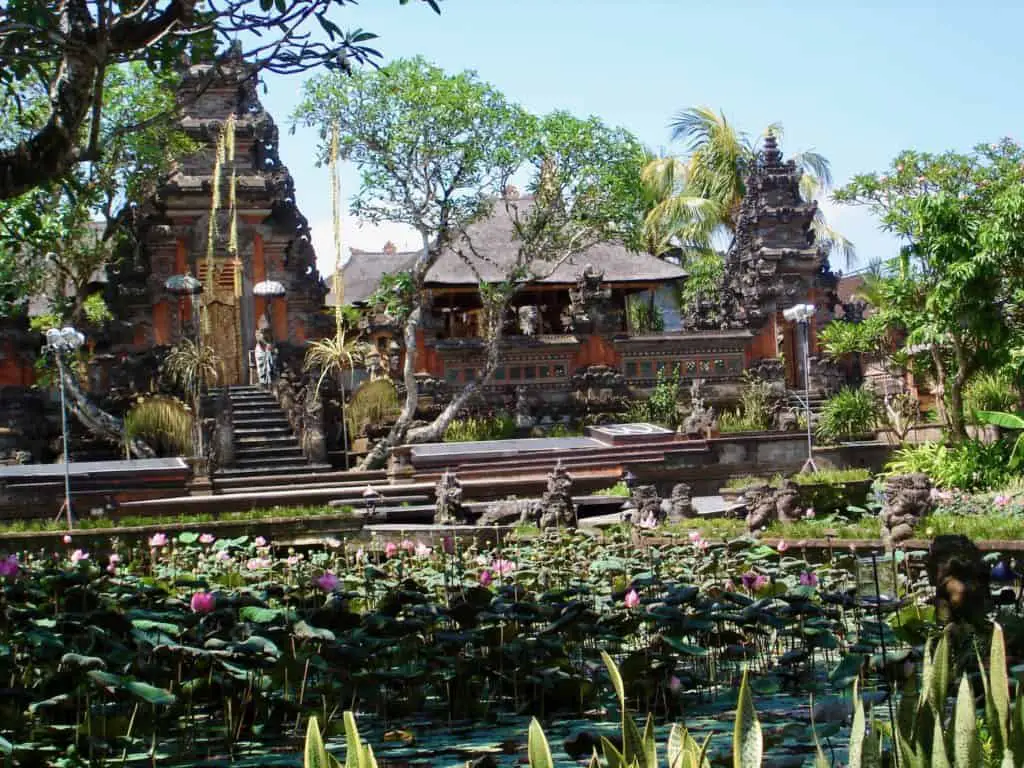 If you want to visit a museum near the Ubud market then it's best to visit the Puri Lukisan Museum. This museum is a 5-minute walk on Jalan Raya Ubud, towards the Campuhan area.
If you are planning a day in Ubud and you want to see the highlights of this village including the Ubud market, then read our recommended 1-day Ubud Ubuitinerary.