There are many wonderful things to do with kids in Bali. There are things that you will not be able to do anywhere else which makes this very unique.
Generally, kids don't need much during their holiday. So if you provide them with a beach or pool, snacks such as ice cream, hamburgers and fries then they are pretty much as happy as they can be.
Dragging them from one temple to the other will not do you any good. However there are some of the activities you can do that your kids will love too. Here is our list of 16 things to do with kids in Bali:
1. Stay at an Eco Accommodation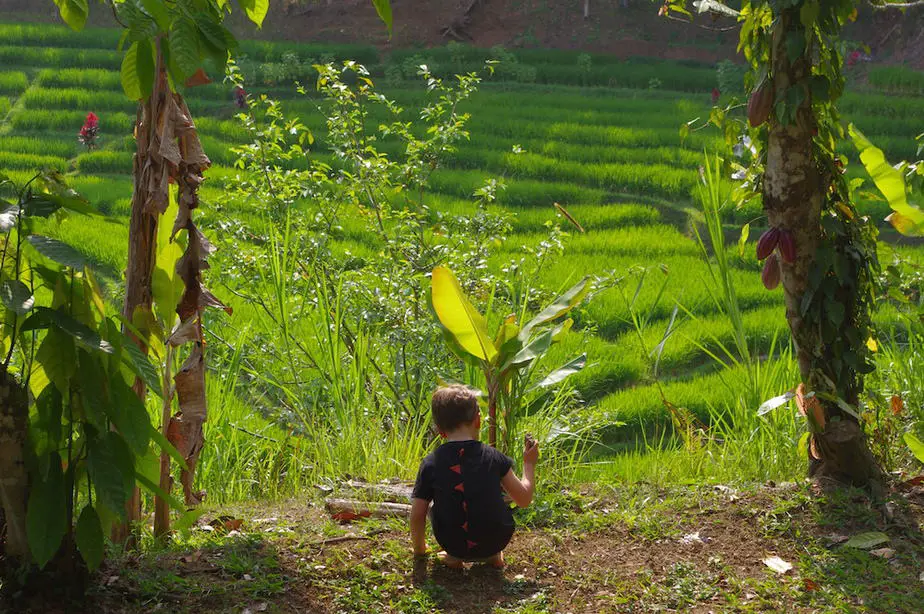 No pool? No beach? We were a bit unsure if our 4-year-old son would enjoy spending a couple of days right in the middle of the rice fields. But we soon discovered that staying at an eco-accommodation is a wonderful thing to do for kids.
There is always something to see and do at any time of day: hiking around the area or walking through small villages where almost everybody interacts with children.
They also love to discover what grows in the garden and on the plantation (chocolate in a tree????).  They also like to help the staff to collect the ingredients for dinner.
Wonderful areas to stay at eco accommodations are Jatiluwih, Munduk, Sidemen and the Batukaru area.
2. Family Green Camp near Mambal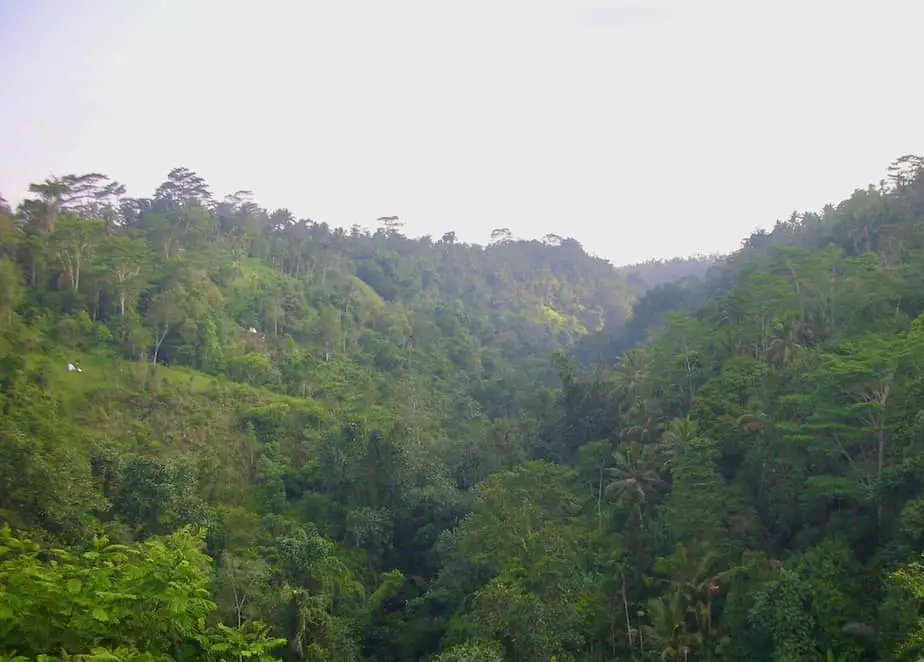 The Family Green Camp re-introduces nature back to you and your family. The camp which is organized by the Green School has a lot of educational programs which are fun too.
Camps include activities such as waste management, organic gardening, mud wrestling, night safari, coconut tree climbing, subak exploration any many more.
There are 1-, 3-, and 5 day Green Family Adventure Camps. These camps are ideal for children from 5 to 14 years old. At least one parent must join too. So this is perfect for adults who just want to have fun too.
3. Stroll through the ricefields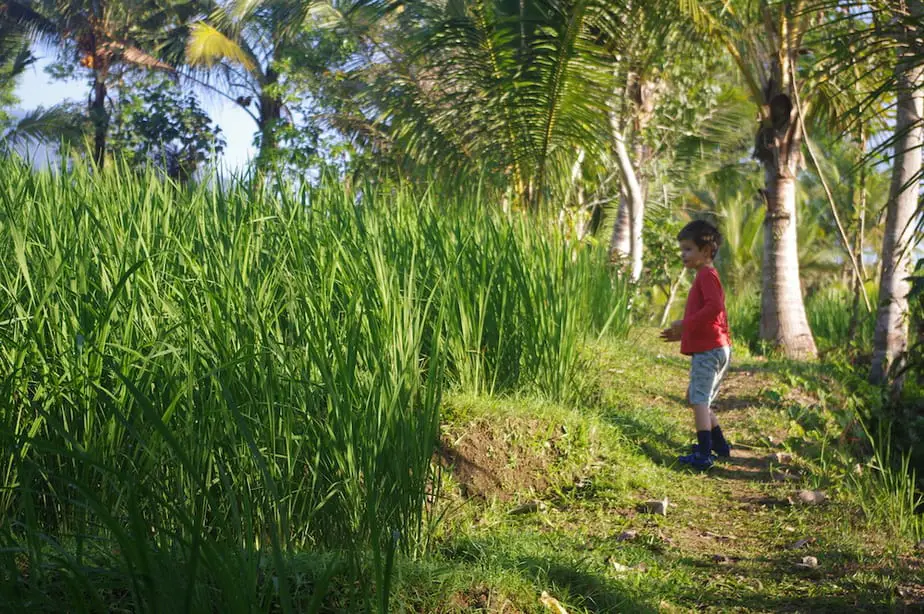 This is one of the best thing to do with kids. Where else to get lost in the ricefields then in Bali? There are many accessible trails kids can easily follow, such as in Ubud, Jatiluwih and Batukaru.
Best is to go in the early morning or late afternoon to avoid the heat. Don't plan to hike miles on end, especially with smaller kids. Best is to let them decide the speed.
Our son enjoyed following a palm leave floating in the stream, checking out the ducks and balancing over the little wooden bridges that connect the fields. We were suprised how far a 4-year-old could walk while continiously seeing new things.
4. Experience the market and local products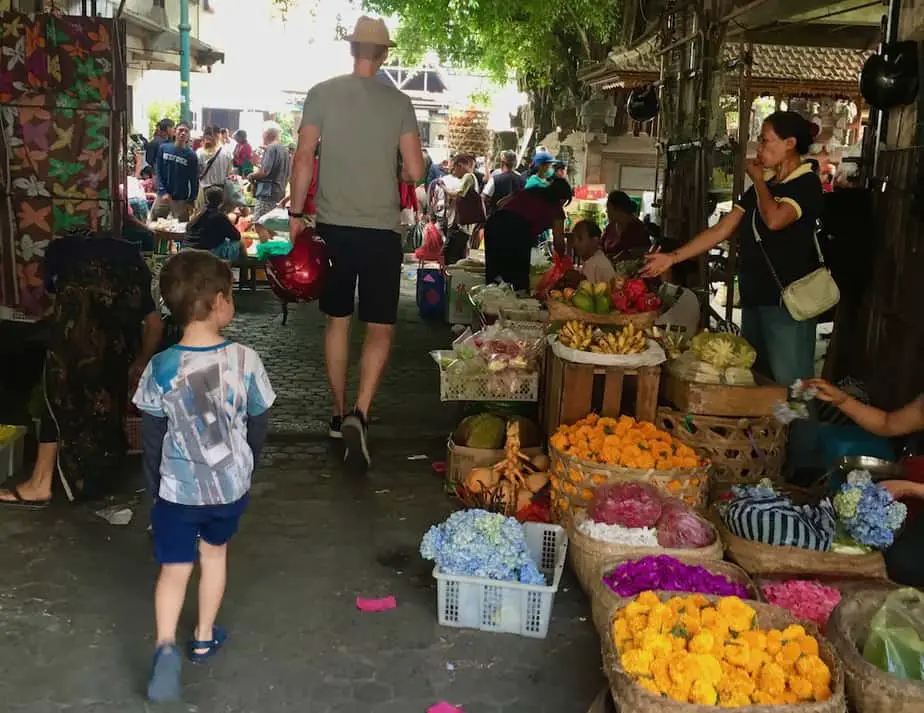 Buying groceries isn't something you plan to do with your kids on your holiday. But that said, we discovered our boy liked it a lot. The fresh food at the markets are colorful and all sorts of things are for sale. An excellent place for children who are very curious.
Hairy red fruit (Rambutan), huge spikey balloon (Jackfruit) and bright pink dragon egg (Dragon fruit) are just a few types of fruit children will discover.
The morning markets also sell lots of flowers for offerings which are an amazing sight for young and old. And let's not forget the fluffy pink and white cakes or the green pancakes that are sold. Your kids will be amazed.
We love going to the Ubud market early in the morning. We just stroll around and see what we end up with.
5. Tree Climbing in Bedugul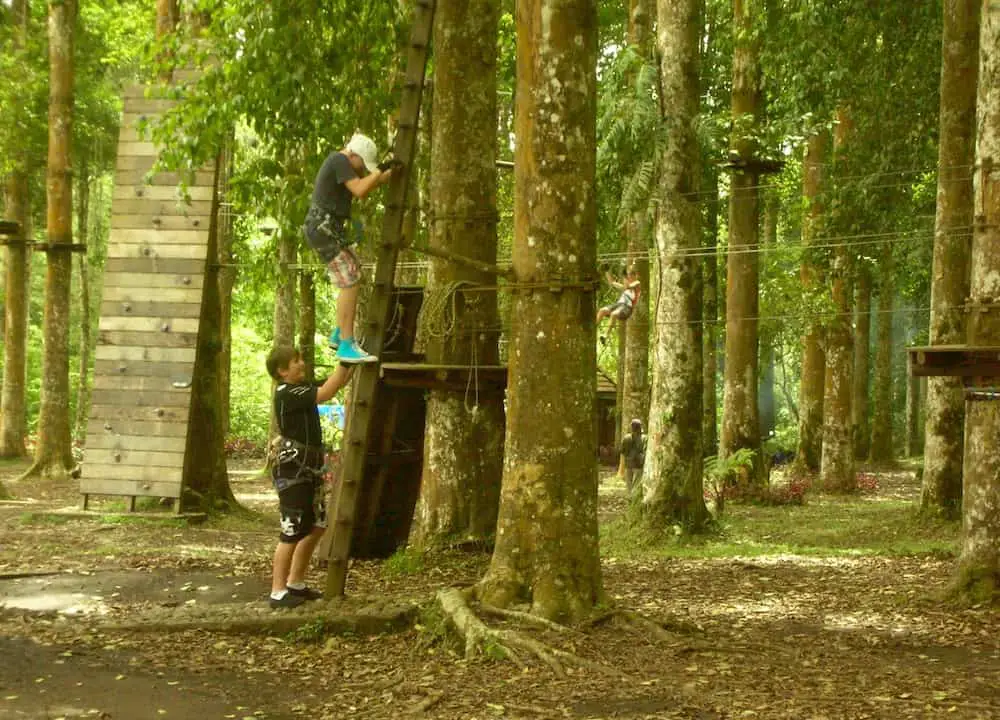 About an hour north from Ubud you can find the Bali Treetop Adventure Park. Here ladders, nets, rope, cables and other equipment are attached to trees enabling young and old to climb.
It is a fun activity that allows your children to safely view the world from the treetops and perhaps even lose their fear of heights. Staff is there to assist you and the activity ranges from easy to difficult so it fits all ages.
There are 7 types of circuits. The minimum age is 4 years old with a minimum height of 95cm.
The park is located in the Botanical garden near Bedugul. Combining a climb and a stroll through the garden is an ideal way to spend the day. The Treetop Park is also an ideal pitstop when touring around central Bali.
6. Bicycle tour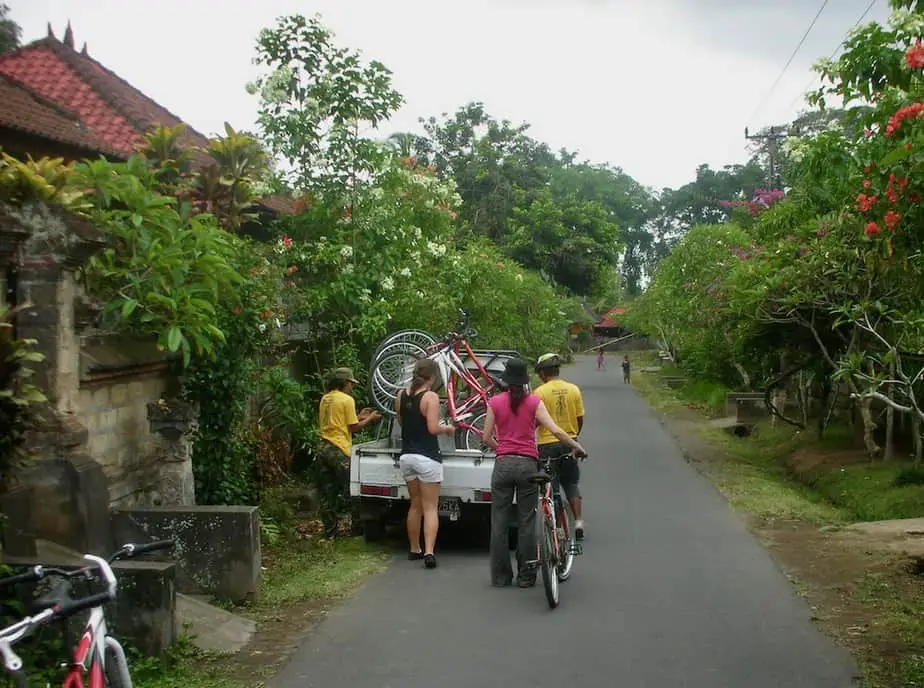 If your child is familiar with riding a bicycle then they can easily join a bicycle tour in Bali. It sounds tough but this tour provides bikes in all sizes and involves only downhill cycling through small, quiet villages, past ancient temples, and stunning rice fields.
Whether you are fit or not or young or old, everybody can join. The guide always keeps an eye on every cyclist and there is even a car tagging along just in case somebody needs a ride. Joining a bike tour is a fun experience and a good way to discover more of the island.
Most tours operate from Ubud such as Bali Baik Tours and Bali Eco Cycling. Bali Eco Cycling even has children seats for the bike for the very little ones.
7. Join a course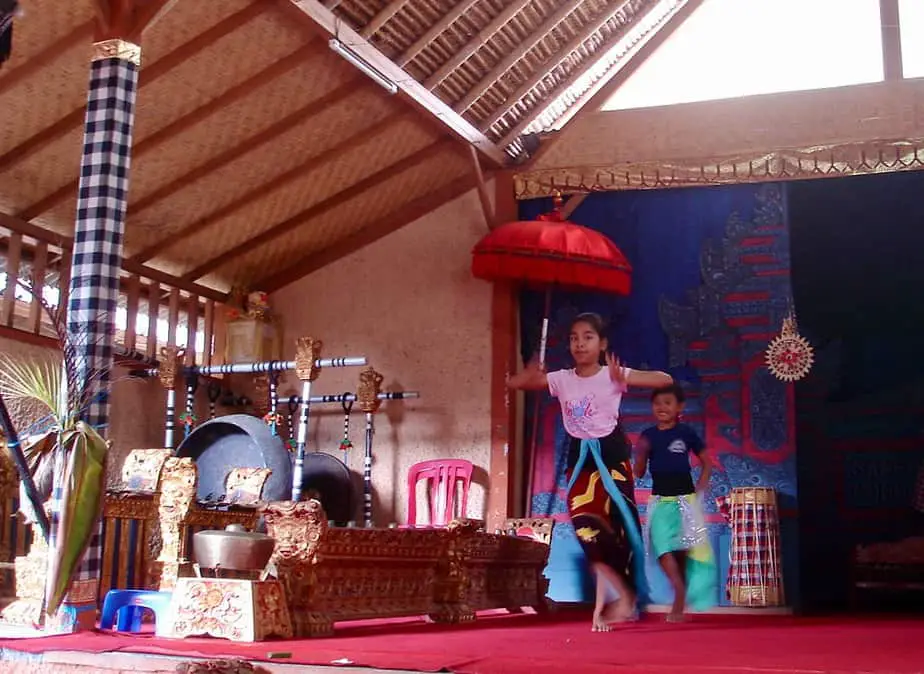 Following a course might not come up as the first thing to do with kids. Besides courses for adults, there are courses that can be perfect for older children as well. You might even discover the artistic side of your child during your holiday.
You can find the largest choice of courses in Ubud at the Pondok Pekak Library at Jalan Monkey Forest Road next to the soccer field. They have courses such as Balinese dancing, playing the Gamalan, fruit cutting, wood carving, painting, etc.
In Sanur Caraway Cooking Class has cooking classes, especially for kids from 5 to 12 years old. Here they learn to prepare simple Indonesian dishes. You can also join as a family and enjoy the self-prepared meal together.
8. White Water Rafting in Bali
Adventurous kids will definitely get a thrill from wild water rafting. In Bali, there are three popular rivers where this is done. The rivers flow through the forest, river gorges, along the rice fields and of course head downstream.
The Ayung river is ideal for the little ones. At Mason Adventures everybody from the age of 5 years old is welcome. The Telaga Waja River is only suitable for kids starting from 9 years old. The Sobek company applies a minimum of 7 years old for all of their activities.
All rafting companies meet the international standards while guides are fully trained. So you will be in safe hands. Tours usually include pickup and lunch. Some also combine rafting with a hiking or cycling tour.
9. Waterfalls in Bali
Freshwater pools are ideal for kids of all ages. Therefore there are many waterfalls in Bali that you can visit with your kids. Our son loves to play with rocks, so the shallow pools are ideal. Older kids can swim under the waterfall.
Remember that it can get challenging to get to and from the waterfalls. Often there are many steps involved but doable, like Tegenungan Waterfall near Ubud.
Another option is the Banyumala Waterfall where there is a big pool in which you can swim. The climb down can take some time. There are locals waiting at the waterfalls with motorbikes and are happy to drive you back up for a negotiable fee.
Waterfalls are scattered everywhere in Bali. Check which one is nearby so you will not be in the car too long to get there. The best time to visit waterfalls is at the beginning of the dry season. In the rainy season, the water might be too rough and the site is often closed.
10. Cycle around Sanur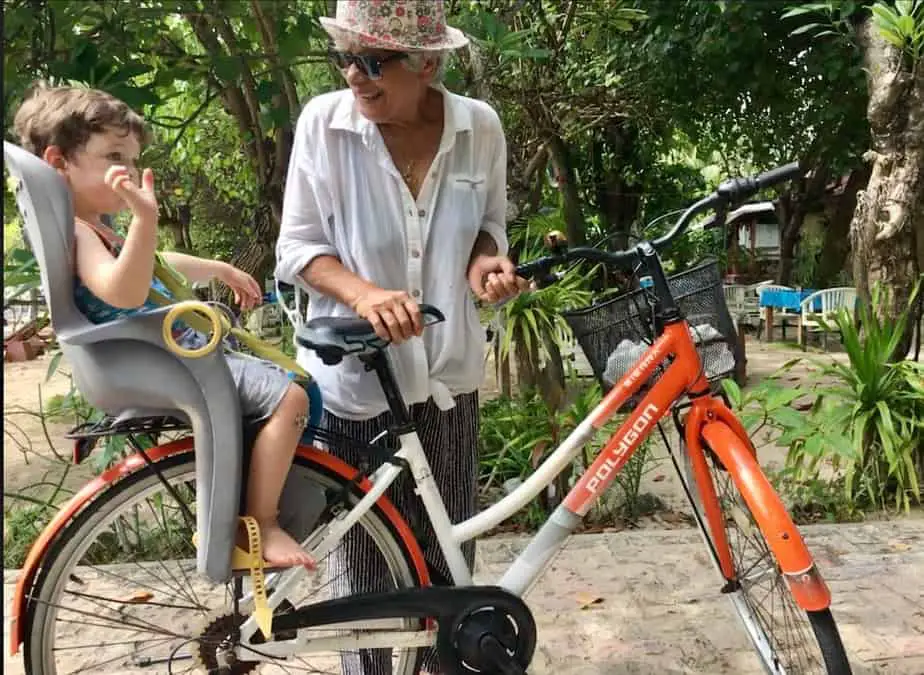 Sanur is the perfect beach village for little travelers. Not only is the beach ideal but unlike other villages in Bali, Sanur has bicycle rentals with children's seats. So you can easily tour around the village while your kid is sitting comfortably in the back.
There is a pavement found along the beach of Sanur running from the north all the way to the south. We love to just hop on the bicycle and stop whenever we see a nice spot to jump in the water, play in the sand, have something to drink or eat.
You can easily spend the whole morning or afternoon touring on the bicycle while visiting different beaches in Sanur.
11. Looking for sea-life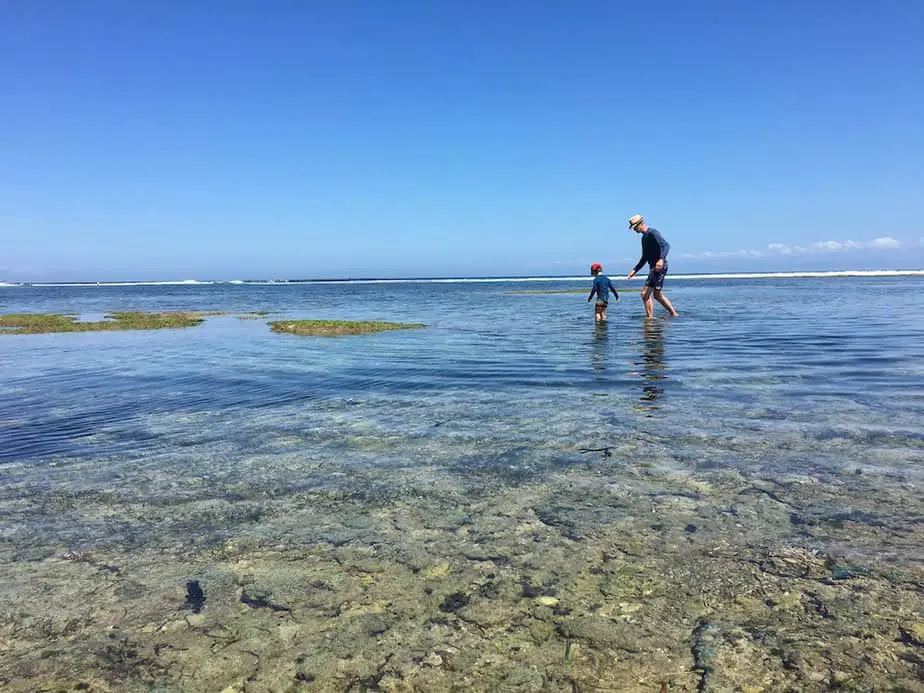 Water is the number one attraction for kids. Funny enough, while adults don't like low tide we soon discovered that kids love it. The water is crystal clear at Sanur, Balangan and Nusa Dua so it is possible to see all kinds of sea creatures.
Check the tide chart to see when it is low tide and try to bring water shoes so you are not limited when wandering around.
Older children can even snorkel where the water is deeper. If your kid is a good swimmer then snorkeling trips are even better. Snorkeling around Amed and Pemuteran is highly recommended. You can do snorkeling at the beach or go on a short trip by traditional fishing boat.
12. Surfing lesson at Kuta or Jimbaran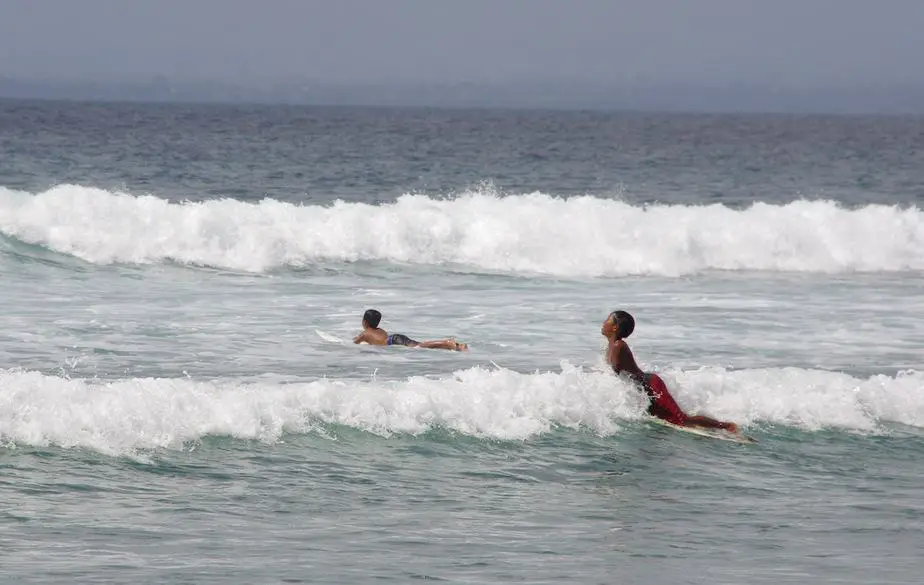 Bali is famous for surfing and children can join the fun. There are many surf schools that give lessons to young first-timers.
Kids who are already familiar with a surfing board can join too. There is assistance at all times. The best place to join for a day of surfing is at Kuta and Jimbaran beach.
Bodyboarding is another great option for those who should stick more to the shore. Or for the little ones who just can't wait to become a surfer 😉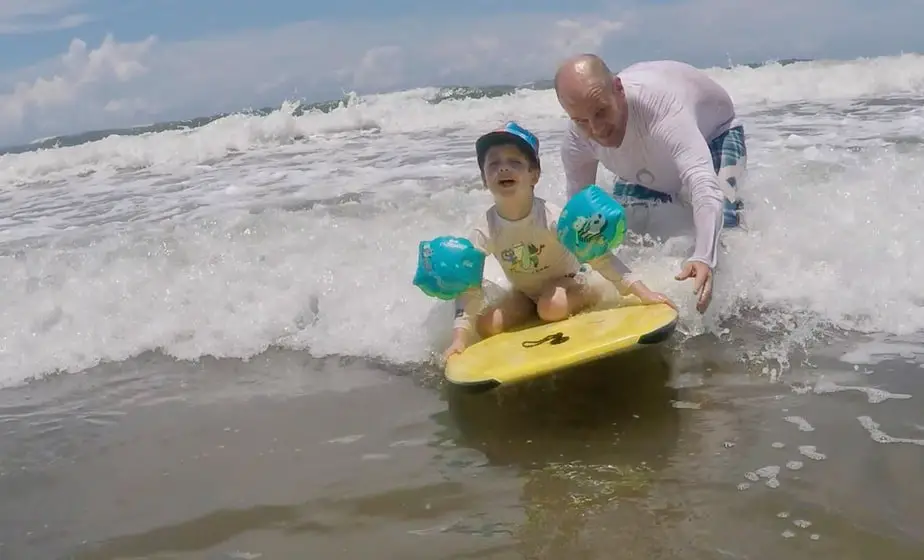 Kids can have the "Charlie and the Chocolate Factory" experience but in a Balinese way. Here you can learn everything from A to Z about chocolate and chocolate making.  After a tour around the factory there is even an chance to make your own chocolate.
At Pod, the chocolate is produced organically and local farmers are fully involved. This is a beautiful example that shows that community involvement and environmental consciousness can create an amazing product.
The factory is located on the main road to Bedugul. It is a great stop if you are touring around this area or heading to the north part of the island.
14. Visit a Park or Sanctuary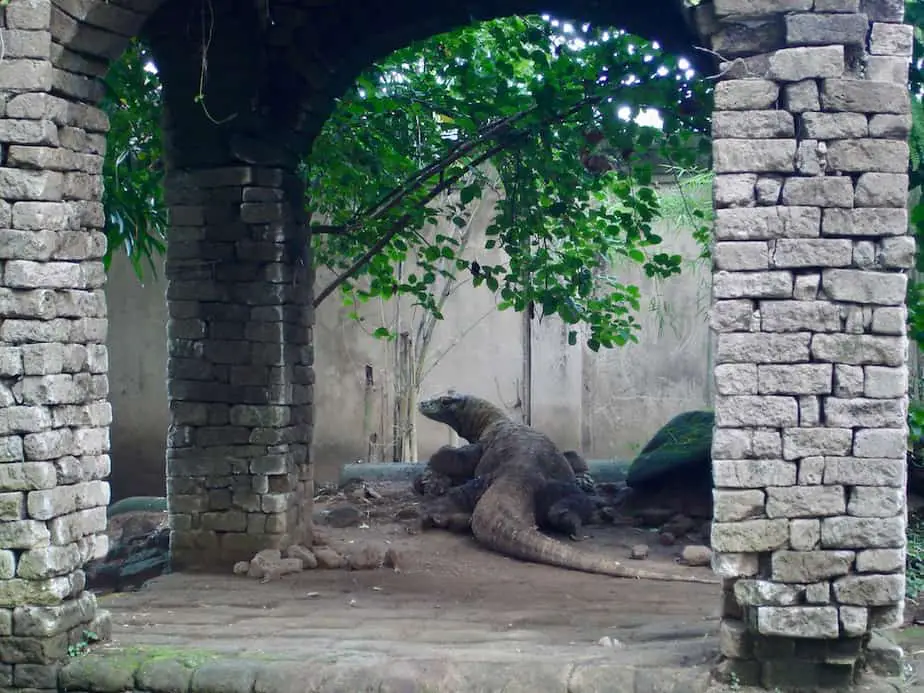 There are a lot of animal parks in Bali and we are not the biggest fan of zoos. However, parks offer the chance for children to see and learn about animals.
We particularly like the Bali Bird Park. Here you can see little birds who have just hatched, amazing owls and colorful parrots. Next to this park you can find the the Bali Reptile Park which is also highly recommended. The park isn't far from Ubud. So a nice day out if you are staying there.
If you are touring around Bali you can pay a visit to the Bali Butterfly Park near Tabanan. Kids will love it here because they can interact with all sorts of butterflies. There are also many species of insects here too. 
The Butterfly park is pretty small so it is recommended to combine the visit with a tour to Jatiluwih.
Another great thing to do is to visit the TCEC (Turtle Conservation and Education) in Serangan, close to Sanur. Kids can see turtle eggs, baby turtles and learn about nature conservation.
15. Horseback riding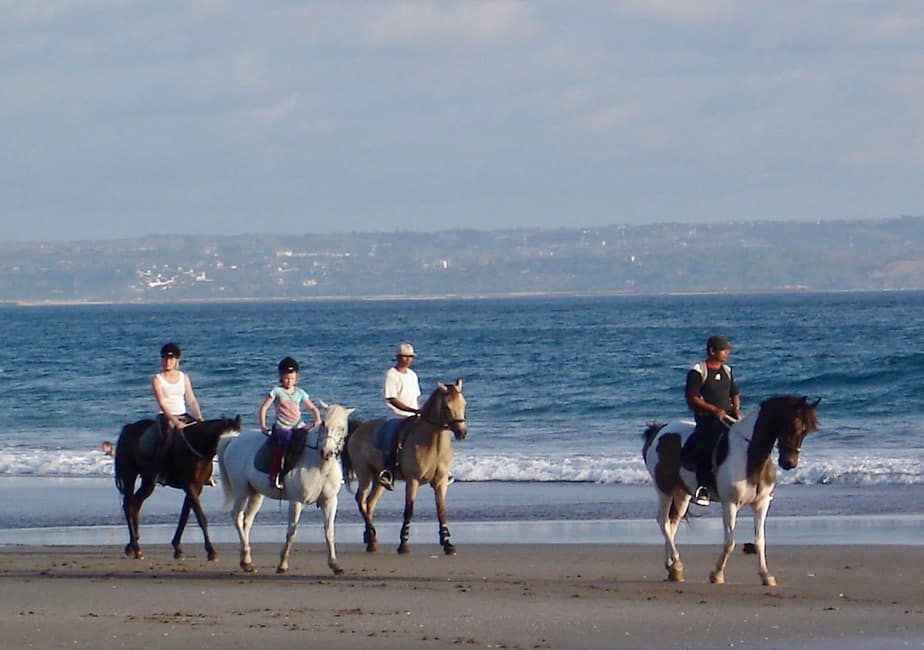 There are several stables in Bali such as the Kuda Stables in Canggu which offer great possibilities for horseback riding. You can either take lessons nearby or go for a ride along the beach and through the rice fields.
Uluwatu Horse Adventures offer day activities where children can connect with horses by taking care of them and by going for a ride.
16. Yearly Events in Bali
There are many great yearly events in Bali and great fun to go to with kids. For example the day before Nyepi there is the Ogoh-Ogoh parade. The best places to go are Jalan Dyana Pura, also called Jalan Caplak Tanduk in Seminyak and the Puputan Square in Denpasar.
Another great event is the Ubud Writers and Readers Festival usually organized in October. There are many activities organized for children too.
Children will also enjoy the Sanur Kite Festival in Padang Galak just north of the village. Balinese from all over the island will come to fly their enormous kites. This event is often held at the beginning of August.
So do you have any questions about any of these things to do with kids in Bali? Or do have an activity that's also worth doing? Feel free to let us know in the comments below.