In general, these Balinese ceremonies and festivals do not affect the life of a tourist. Except for one day in the year and that's during Nyepi.
So what is the purpose of Nyepi? Nyepi is the day of silence. It is one of the most important days for the Balinese. This day is 'celebrated' by self-reflection, meditation, and fasting followed by the Balinese New Year.
On Nyepi day itself, a silent blanket covers the island for 24 hours. During this day everyone sits quietly at home to convince the remaining evil spirits that everybody has left the island.
The four important philosophies of Nyepi are:
1. Amati Geni: No fire or light, including no electricity
2. Amati Karya: no working
3. Amati Lelunganan: no traveling
4. Amati Lelanguan: fasting and no revelry/self-entertainment
Before Nyepi, there are a lot of events and rituals taking place such as the Melasti ritual 3-4 days before. One day before Nyepi there's the Bhuta Yajna ritual with the monsters.
When is Nyepi?
Nyepi and the Balinese New Year usually falls in March or April. Each year the date changes as the Balinese live by a different calendar. Only Nyepi and the Melasti rituals are determined through the Hindu Saka calendar. All other Balinese festivals are celebrated according to the Pawukon calendar.
The Saka calendar is based on twelve lunar months. The Pawukon calendar has 210 days. Both calendars are different from the Gregorian calendar. So Balinese festivals do not have a set date but will change all the time.
In 2019 Nyepi was held from March 7 until March 8. In 2020 Nyepi will be held from March 25 until March 26. As for 2021, it will be held from March 14 until March 15.
Before and after Nyepi the island is busy with many purification rituals. So if you happen to be in Bali you will easily sense that something is going on.
Nyepi starts from 6 am till 6 am the next day.
On the next morning, you will see many Balinese placing offerings that seem to be even bigger and beautiful than the ones you usually see.
We were at Sanur beach at sunset and saw many Balinese women placing offerings at the seashore. An amazing sight.
What is the day before Nyepi called?
The Melasti ritual is held 3-4 days before the Nyepi Festival. These are days full of ceremonies called Pratima. Dressed at their best, men come together and play Balinese instruments. Others are busy purifying religious temple objects with water from sacred springs or the sea.
The last day before Nyepi there's the Bhuta Jayna Ritual day where offerings are made to the Ogoh-Ogoh monsters which will be guided through town in the evening.
What is the Ogoh Ogoh in Bali?
The Ogoh Ogoh monsters play an important part just before Nyepi. The Ogoh Ogoh are huge scary statues made out of wood, foam, bamboo, and paper. Often the statues are demons inspired by the Balinese Hindu mythology and represent negative issues of this human world.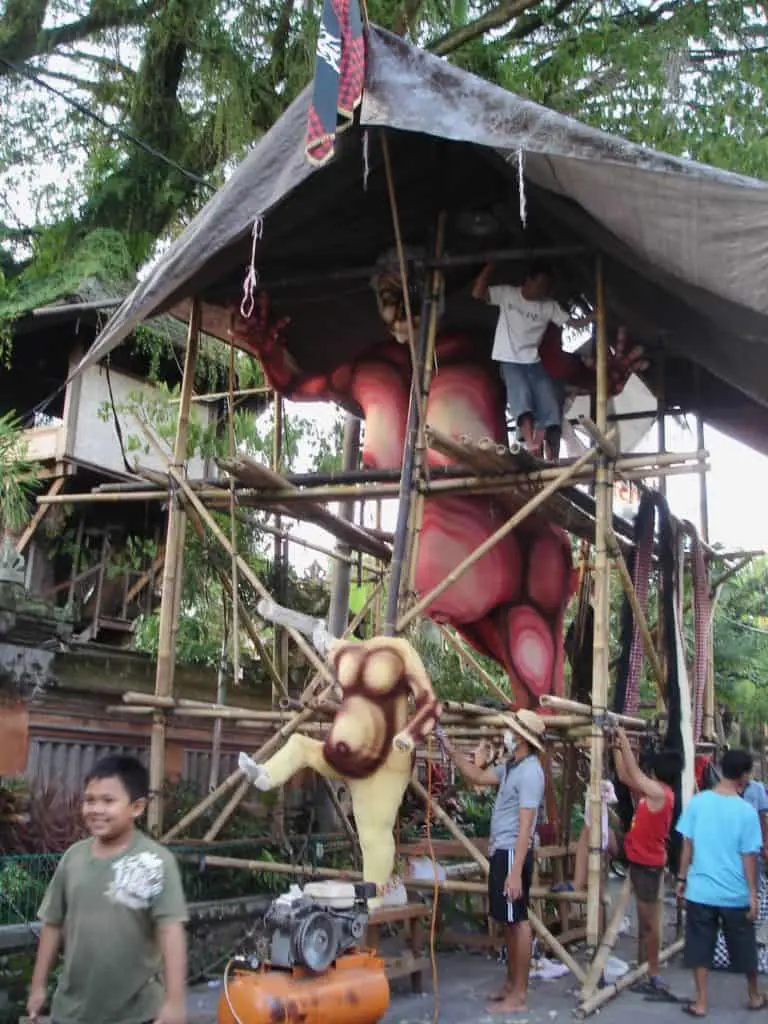 A couple of weeks before Nyepi each Balinese village starts to create a huge Ogoh Ogoh. You might see more than just one as individual artists can make one too.
The Ogoh Ogoh monsters are built on a bamboo platform with poles so they can be carried by 8 men during the Ngrupuk parade.
This loud spectacle is a huge contrast to Nyepi. The evening before Nyepi the Balinese go to the streets with drums, gongs, firecrackers, and the Ogoh Ogoh so they can scare off all the evil spirits that roam the island. It is a spectacle of people walking through the streets carrying the Ogoh Ogoh accompanied by music.
During the procession, the Ogoh Ogoh is also rotated three times at T-junctions and crossroads. This is done to confuse the demons and to get rid of them.
Ogoh Ogoh comes from the Balinese word "Ogah ogah" which means shaken. During the procession, it is roughly carried and shaken through the streets making the Ogoh Ogoh 'come to life'.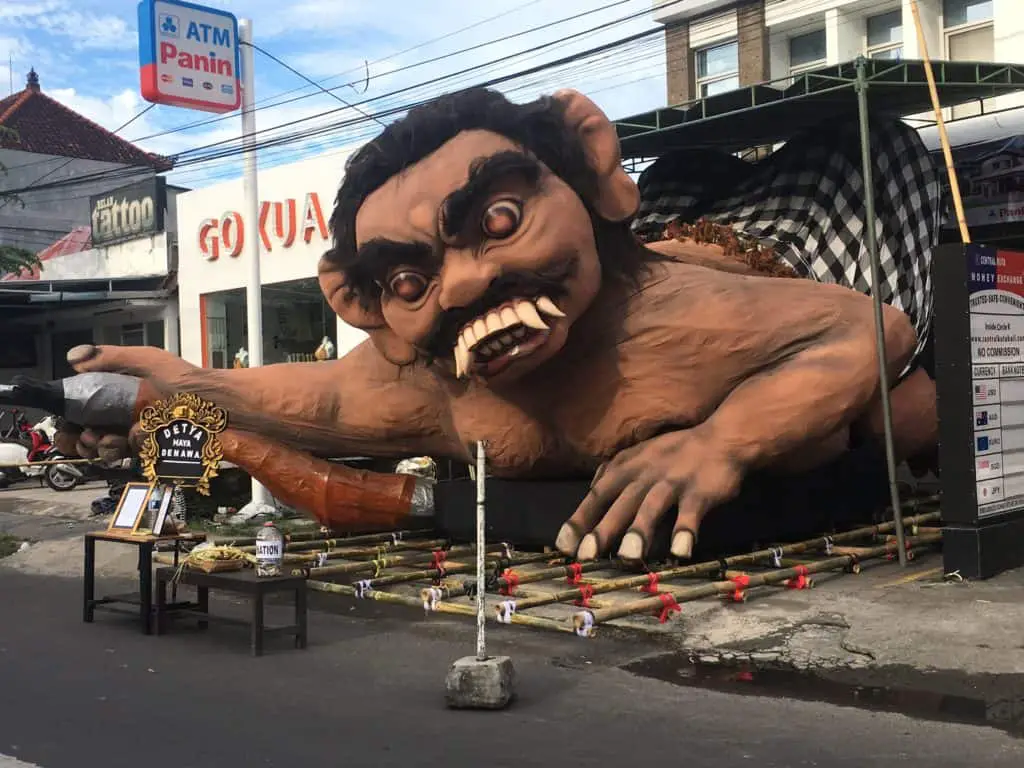 The whole village will make sure that the entire Ogoh Ogoh reaches its final destination. We saw men carrying long poles to move the electricity cables so the Ogoh Ogoh could pass under.
The procession eventually ends at the village cemetery where the Ogoh Ogoh is burnt to ashes as a symbol of purification.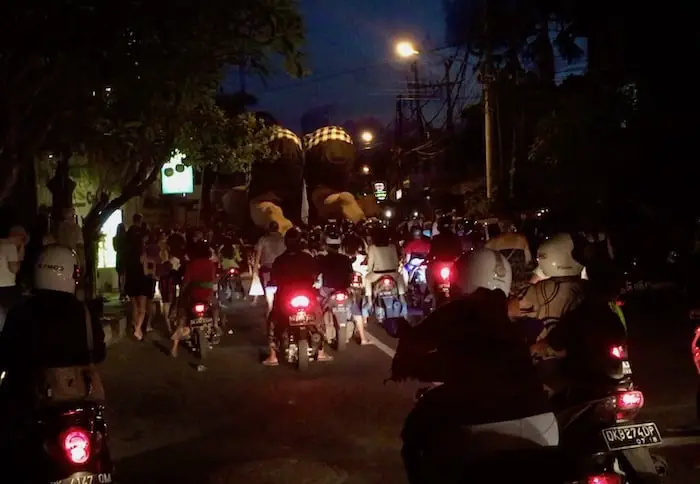 Where to see the Ogoh Ogoh parade?
Every village has an Ogoh Ogoh parade and it is usually held on the main street such as Jalan Tamblingan in Sanur, Jalan Legian in Kuta, Jalan Raya in Ubud. So it doesn't really matter where you are along these main roads.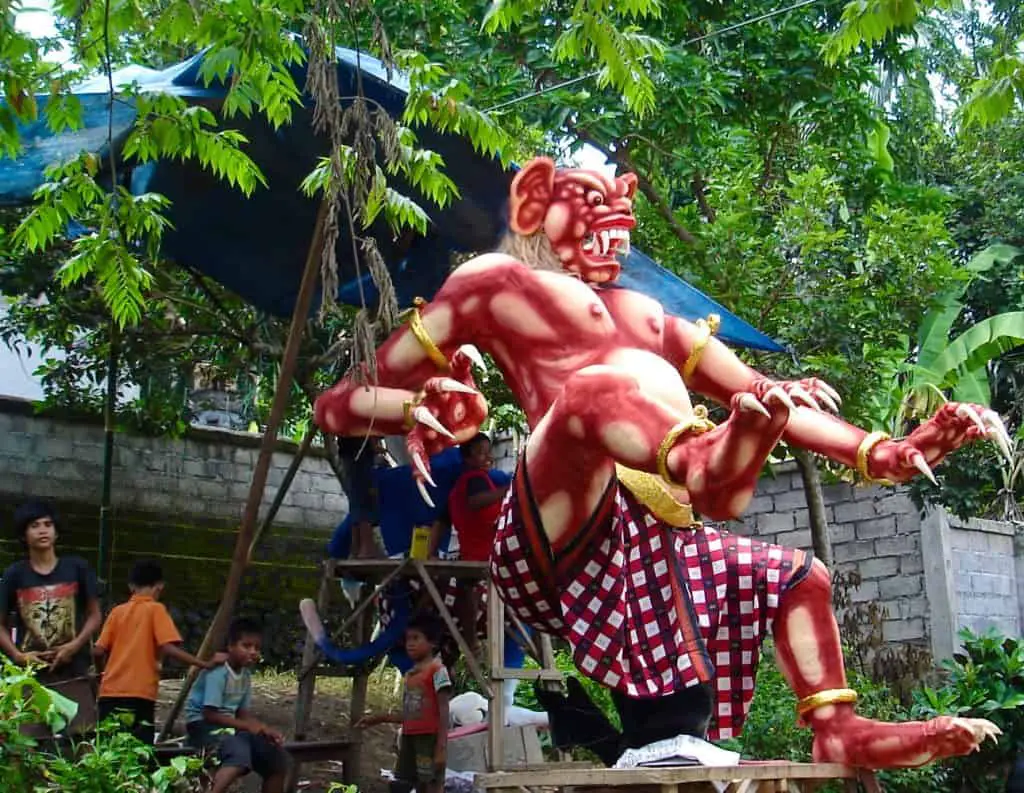 But if you want to witness the best monstrous creations then you might want to consider heading to the Puputan Square in Denpasar. This is the place where the best creations come together.
It is a work of art and it is pretty shocking to know that they are all going to burn the many Ogoh-Ogoh at the end of the evening.
But that aside, at the Puputan Square they create an even bigger spectacle compared to the other villages. They add more lighting, dancers, and music. So for any cultural lover, this is the place to go to.
Are there any Nyepi rules for tourists?
Nyepi is the day of silence for everybody on the island, including tourists. Tourists must stay at their accommodation for the whole 24h.
Everything is closed on the island, even the International Airport. There are no flights in or out of Bali except for emergency flights. Travelers must be silent too and stay at their accommodation.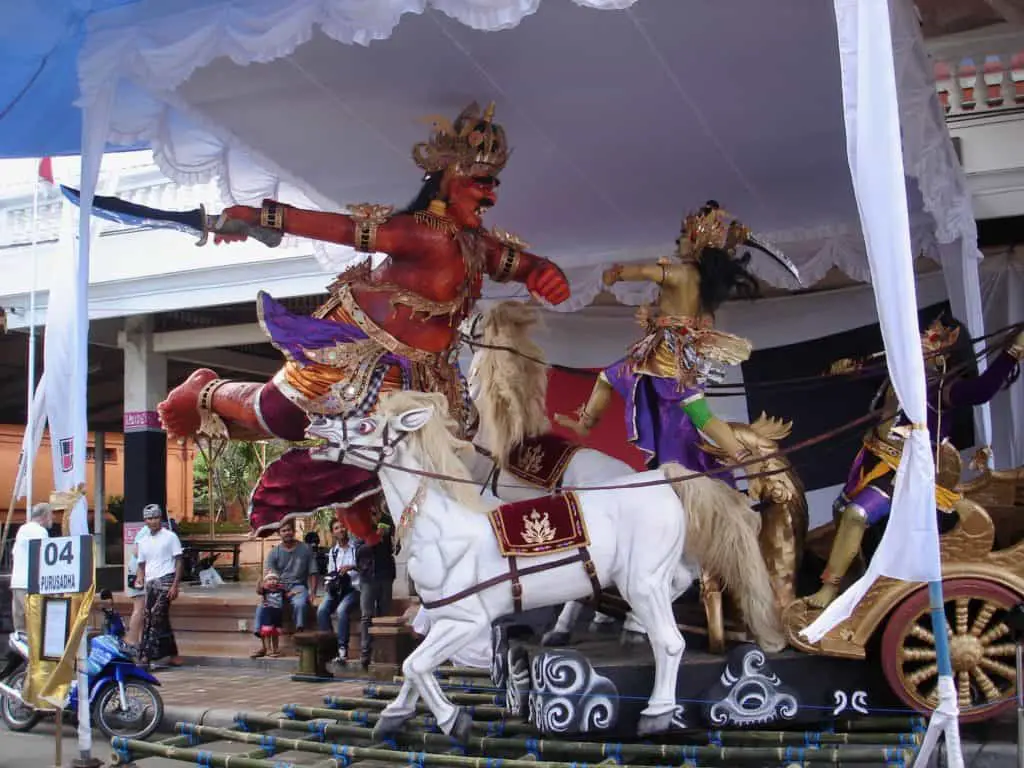 You might think that this is inconvenient, but picture an entire day of no internet. Yes, with the electricity down there is no WIFI and mobile internet is mostly blocked. So as you can imagine you have to take Nyepi seriously as well
Hotels will provide information on Nyepi and what to expect when you are staying there. Some even provide Nyepi packages with discounts to make the stay more attractive.
One time we spent Nyepi in Sanur. Instead of a hotel, we decided to stay at a villa that had its kitchen facilities. We were able to prepare simple food.
The villa was surrounded by other accommodations and a couple of residential houses. But the owner of the villa said that you don't need to be dead silent. He even said that it was fine to swim in the pool and make some noise since we were traveling with a little kid. The most important thing was that no electricity was used and that we remained within the gates of the villa.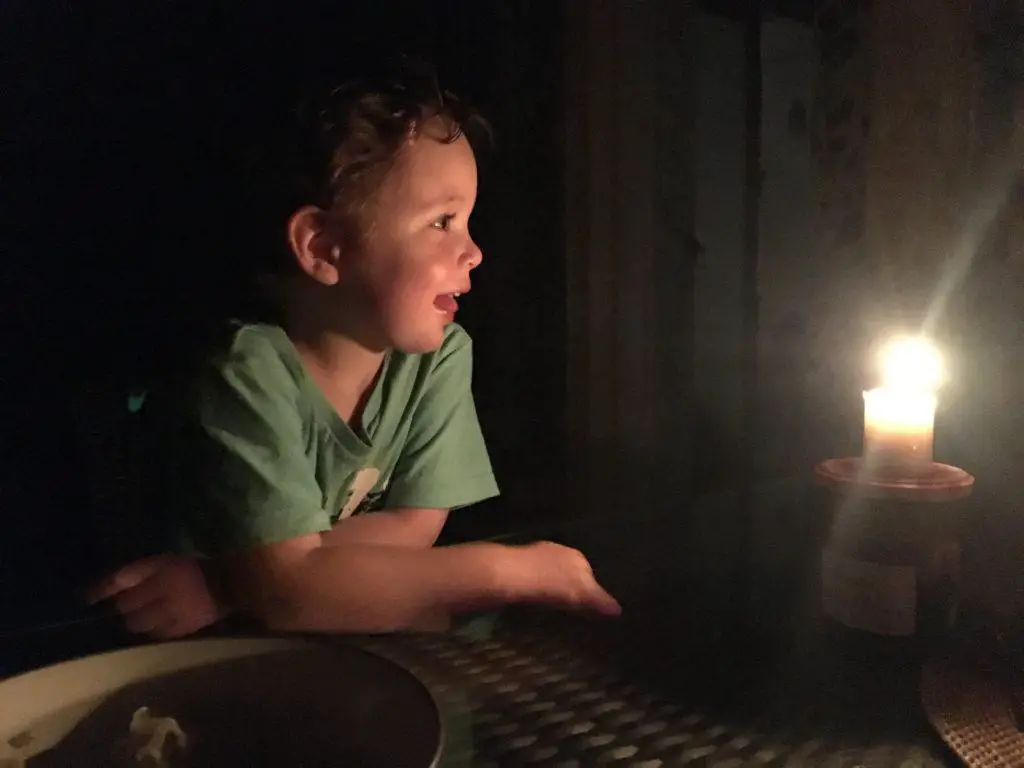 We were not bored a single minute during the day. We swam a bit, ate a lot of snacks, checking out the pictures we made during our holiday, and were quietly chatting on the verandah when there was suddenly a knock at the gate. The first reaction was to stop moving and to be quiet immediately. But the knocking persisted and when we opened the gate two distressed men were standing at the doorway.
They explained that they were responsible for guarding the rules of Nyepi in the area. These men are part of the village guardians called Pecalang. We immediately apologized for being so loud. But they said that they discovered that the lighting outside our villa gate was on an automatic timer and that the switch must be somewhere in the villa.
We couldn't call the owner so at least the five of us started flipping all the switches we could see. Eventually, after 30 minutes of stressing out, we found a switch far away in a corner.
So as you can tell, tourist or no tourist, there are no exceptions.
Other Nyepi tips for travelers?
We recommend not avoiding Nyepi. If you happen to be there just embrace it. If you prepare yourself then you might even enjoy a day of not doing much.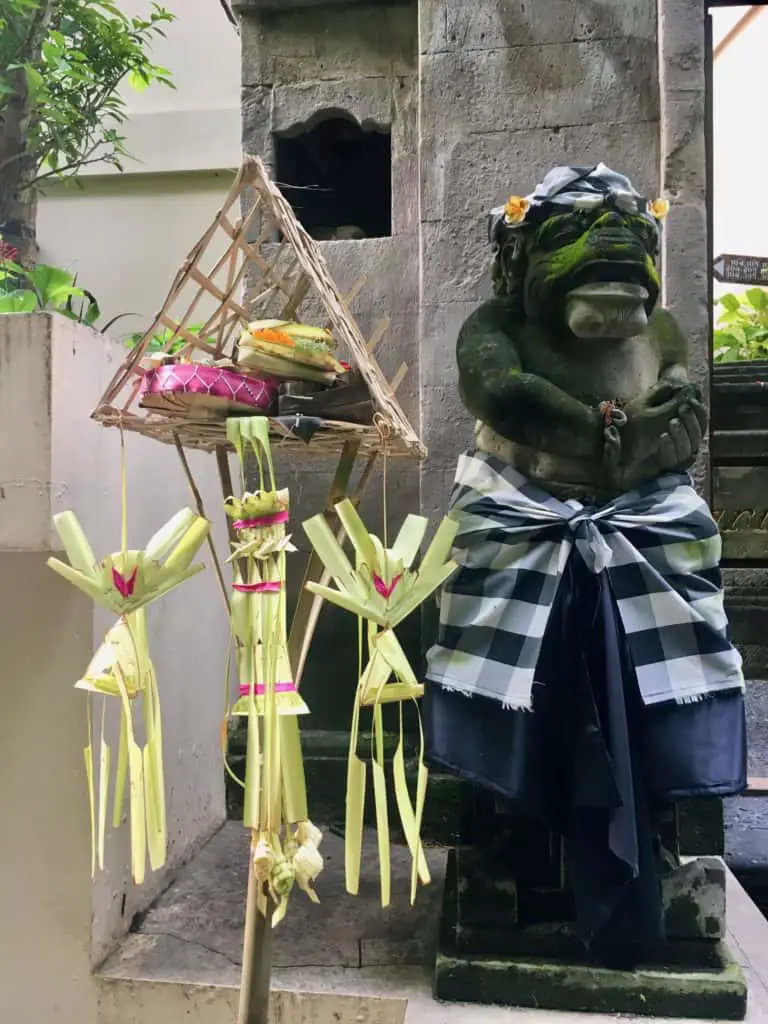 Inform your accommodation of what they provide during this day. If there are no meals planned then head straight to the supermarket a day before.
ATM's gradually shut down a day before Nyepi. At some places, they already start at noon. So get some cash way ahead if you plan to do some grocery shopping for Nyepi.
Make sure to buy enough snacks to kill time. Get hold of a good book and/or have a deck or cards nearby to play a game. Additionally, check if your accommodation has candles. You will be needing them in the late afternoon.
As mentioned earlier there is no internet. We were able to go online on our mobile sometimes, but generally, there was no mobile internet too. So remember to let people at home know that you can't contact them on that day.
We did hear from many that if you want to spend time watching a movie then it is possible even though it is said that electricity is out of the question.
You can watch a movie as long as the curtains are closed and there is no light from the outside. Someone told me that she even put up a newspaper on the windows to make sure that nobody could see she switched on a light.
Try to download some movies a day before and don't forget to charge your phone/tablet and power banks.
If you don't feel like being silent and you want to continue holidaying then that is possible too. You can easily head to the Gili islands or Lombok where they do not celebrate Nyepi. So this is an option too.