Munduk is a little eco-friendly village high up in the mountains. We think it is a special place and one you shouldn't miss on your travels in Bali. The village feels tucked away and is very quiet except for the roosters early in the morning.
There are no main roads passing this village so there are hardly any trucks or busloads with day tourists. And those who wish to visit the north of Bali are likely to take another route instead of a detour through Munduk.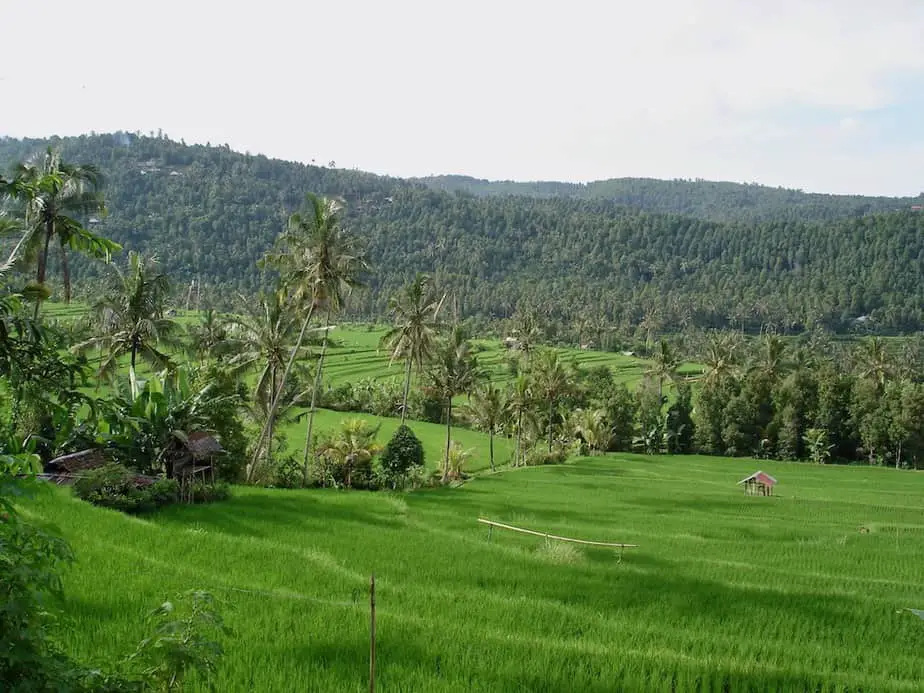 Munduk's winning points are the views, the waterfalls, and the many hiking trails. These trails lead you through clove plantations, cocoa plantations, coffee plantations, parts of the jungle, and rice paddies.
It was once a popular place for the Dutch colonists to escape the heat from the capital Singaraja. In 1903 they started building their rest houses in the central highlands for visitors.
Even now you can find these houses scattered across the area. Now the Balinese people live in them and others have been converted into proper guest houses.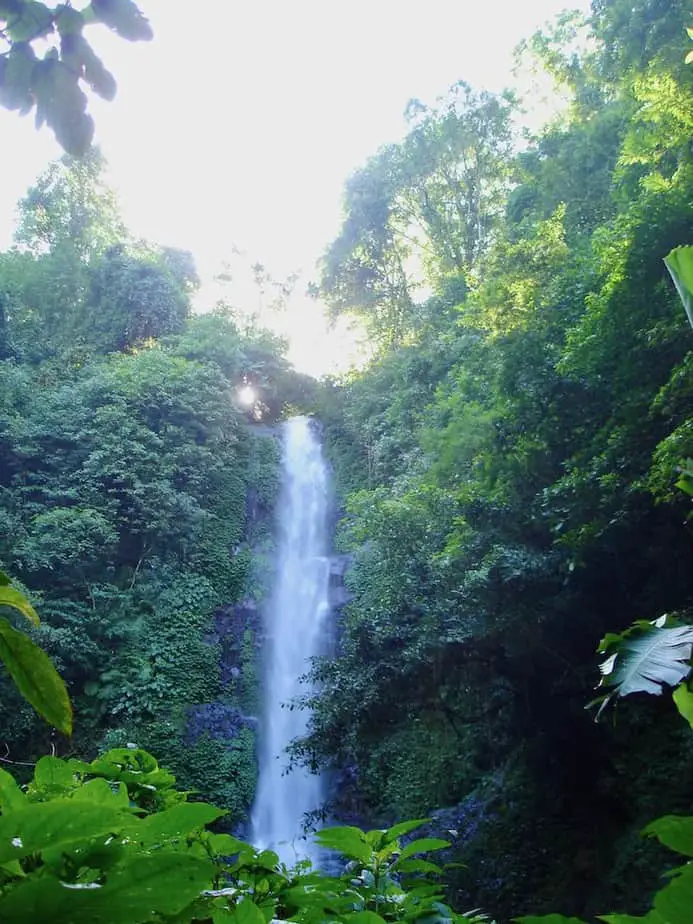 What is Munduk like?
Even though Munduk is small it isn't a village where you can go on a short stroll to check out everything there is.  The village is located along the main road where you'll find most of the accommodation, little warungs, and shops.
Only by taking the smaller side roads will you discover what the area is really about.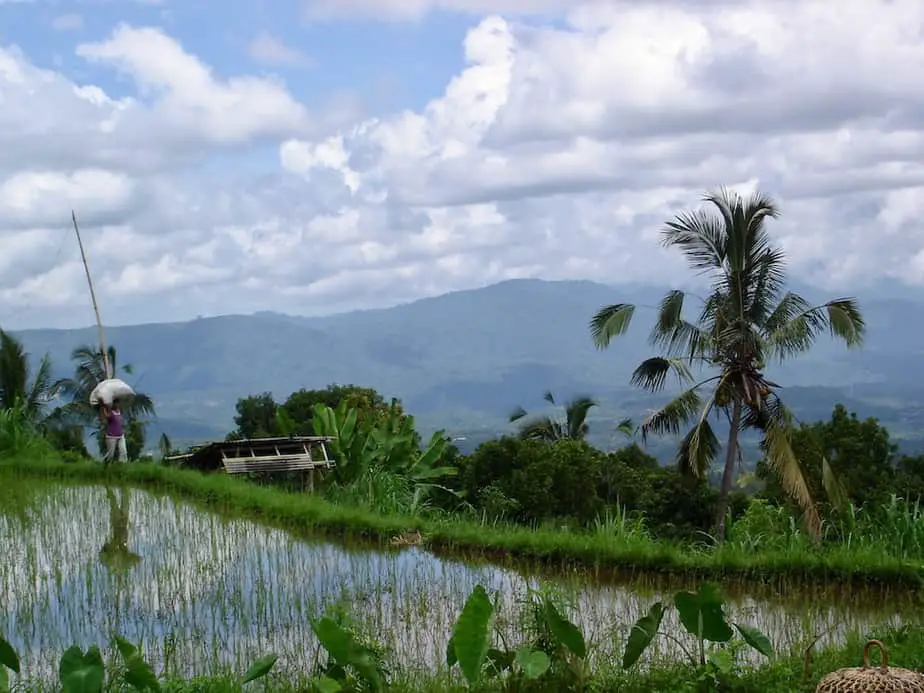 It is difficult to have a good overview of the village as it mostly built on mountain slopes. It's so green and lush that you need to drive up little paths to get to your hotel or other points of interest. You can't see it from the side of the road.
Locals are mainly busy with the production of coffee, clove, coconut, fruit, cocoa, and rice. Like other parts of Bali, religious activities and ceremonies play a big role in the daily life of the Munduk people too.
Nowadays tourism is also getting important and some travelers have found out about this hidden gem.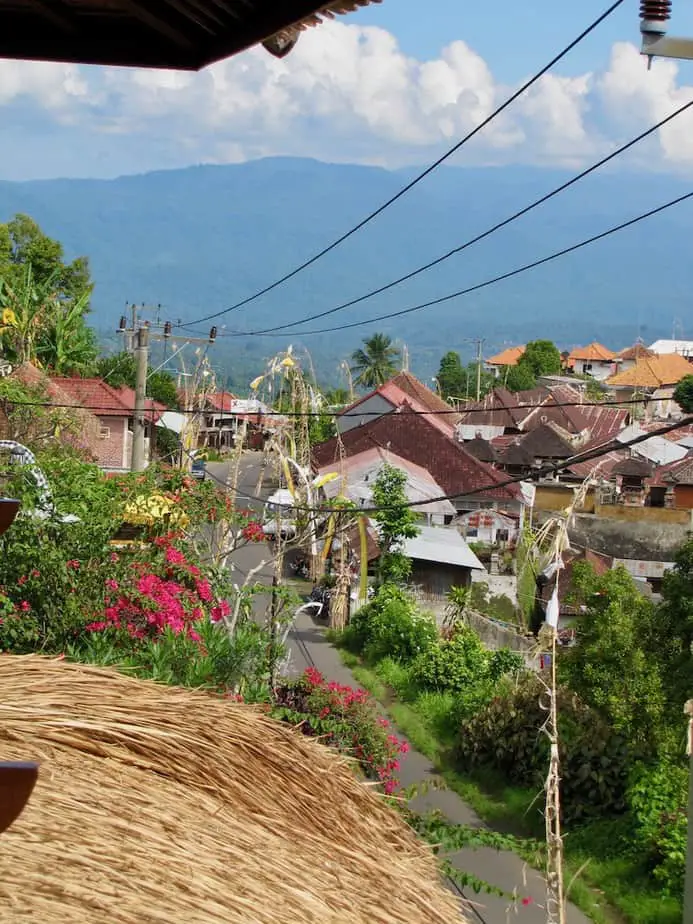 Luckily owners like Nyoman Bagiarta from Puri Lumbung Cottages teach local men how to be nature guides. He has also helped other local Balinese to set up their guesthouses in order to gain some additional income.
Is Munduk worth visiting?
That's an easy question since we encourage eco-traveling. Yes, Munduk is definitely worth visiting. Its hiking trails are accessible for all levels and tourism is focused on local participation.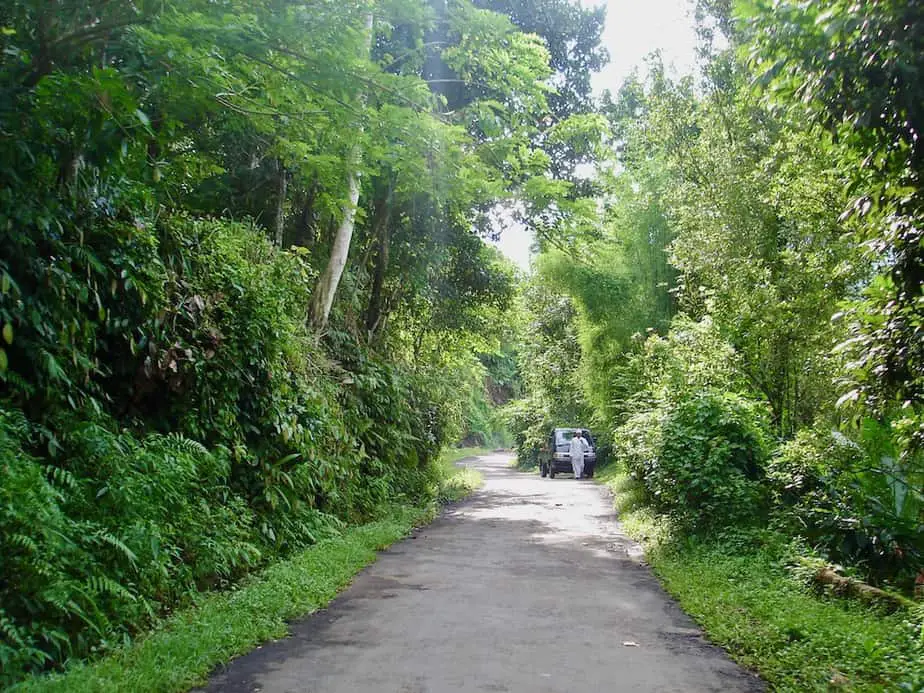 As said before a quick visit to Munduk is out of the question. You will not see much except for the usual rice field views. But there is a lot more to this village.
The atmosphere is somewhat like any other mountain village. Balinese people are very friendly and relaxed. They are not in the mood of selling anything to you and are busy with their chores.
The air in Munduk is always fresh and you can smell the forest nearby. Everywhere you can see information on hikes. This means you'll probably get that feeling of wanting to go on one of those hikes immediately.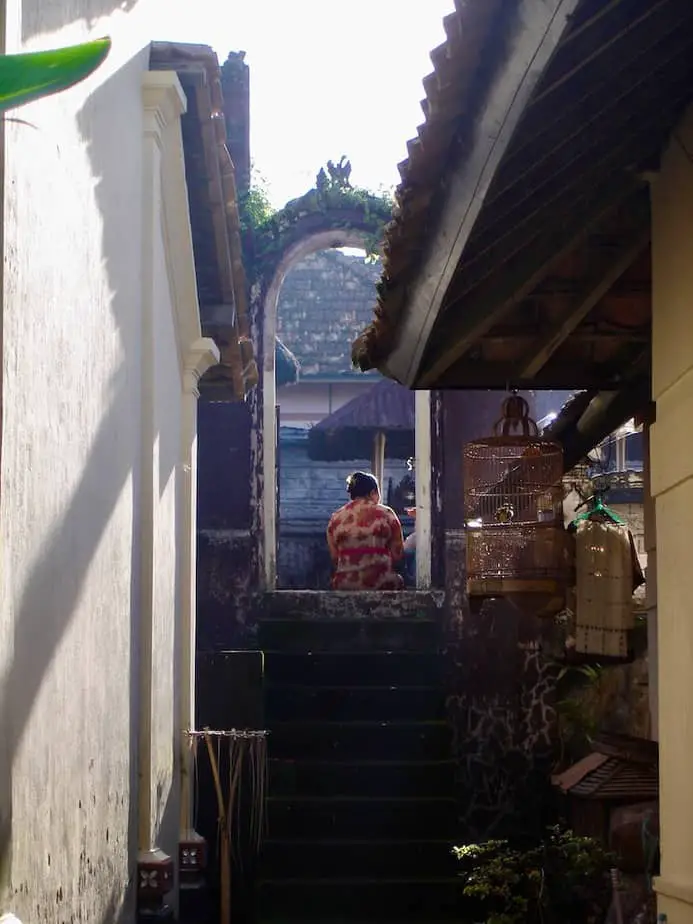 Another great thing about this mountain village is that you can't find any international oriented shops.
Instead, local life is still very traditional. The Balinese people are busy with religious duties, working in the fields, and gathering in the courtyards.
We think Munduk is great for solo travelers who are seeking time to themselves. It's a very safe destination and the guides are trustworthy. Families with kids older than 10 years will be able to do lots of stuff too.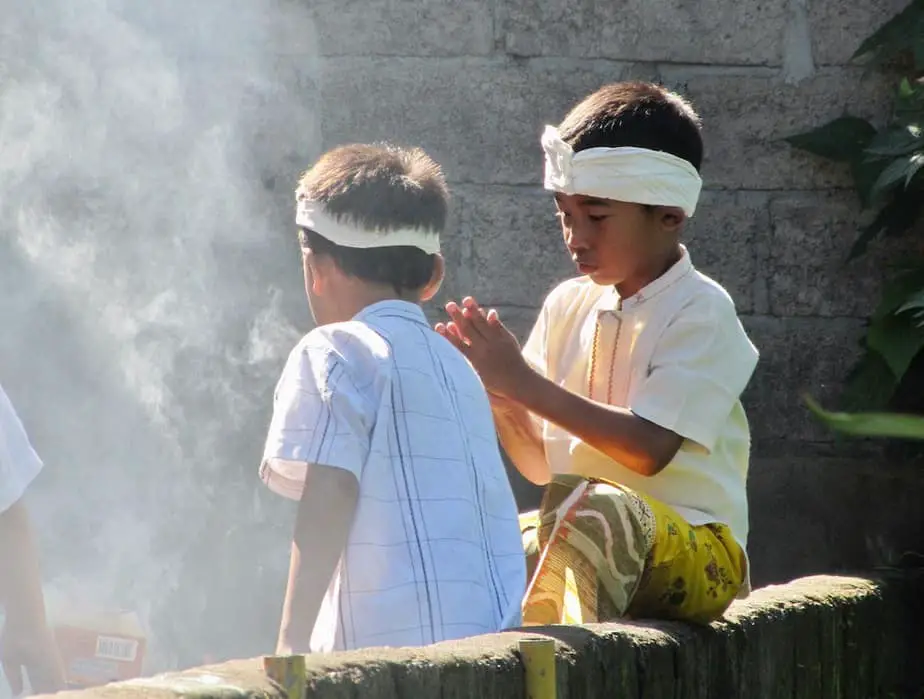 Younger kids might not appreciate the long hikes, but we discovered that our little one enjoys strolling around the rice fields and forest. He discovers little bugs, plants, and walks around with sticks.
Fortunately, there are some waterfalls that are easily accessible by car or motorbike. So if you want to have fun in the water with your kids then you can also skip the hike and go straight for the pool under the waterfall.
Practical information on Munduk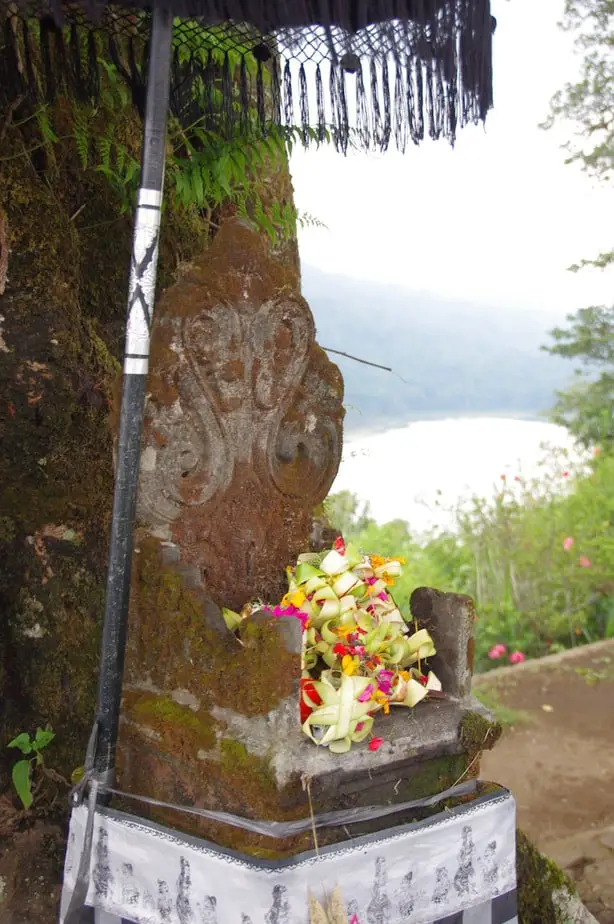 Munduk village is located in the mountains of Central Bali, 800m above sea level.  Many travelers usually pass this region for day trips only and include for example Lake Bratan. Others usually pass by on their way from the South of the island to Lovina.
To Munduk from Ubud is about a 1 hour 45 minutes drive, while Lovina Beach is just 45 minutes away. If you are staying near Kuta then it will take you about 2 hours to get to Munduk.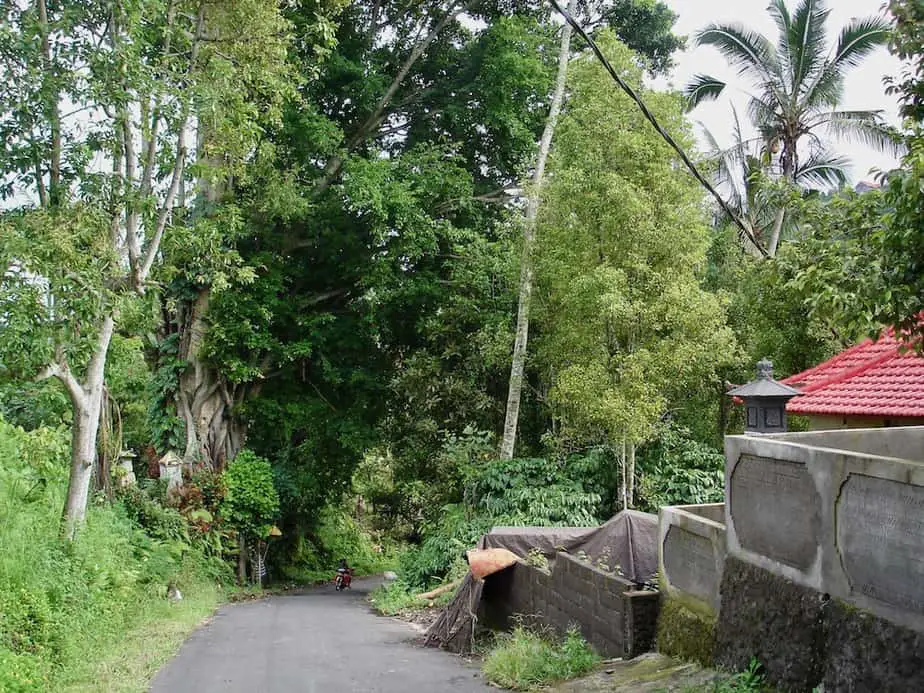 Munduk's main road is called Jalan Kayu Putih. It is a road with a lot of twists and turns through the mountains. Every now and then you see signs with accommodations or restaurants pointing you up a little road. Other than that you don't really see any real landmarks.
After a while, the number of signs increases and you will be arriving at the center of town. In the past, this is where most of the accommodations were found.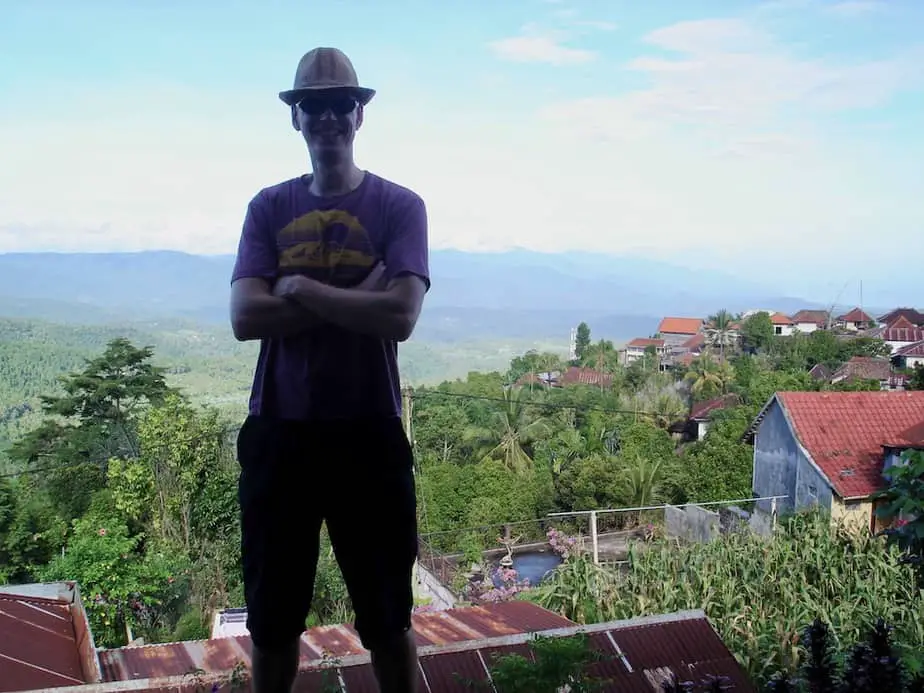 Today the numbers have increased and there are small paths leading you towards accommodations in the middle of the rice fields.
Don't expect ATMs or Starbucks here. And that's exactly what makes this village extremely charming and worth going. Life is simple and beautiful.
How to get to Munduk?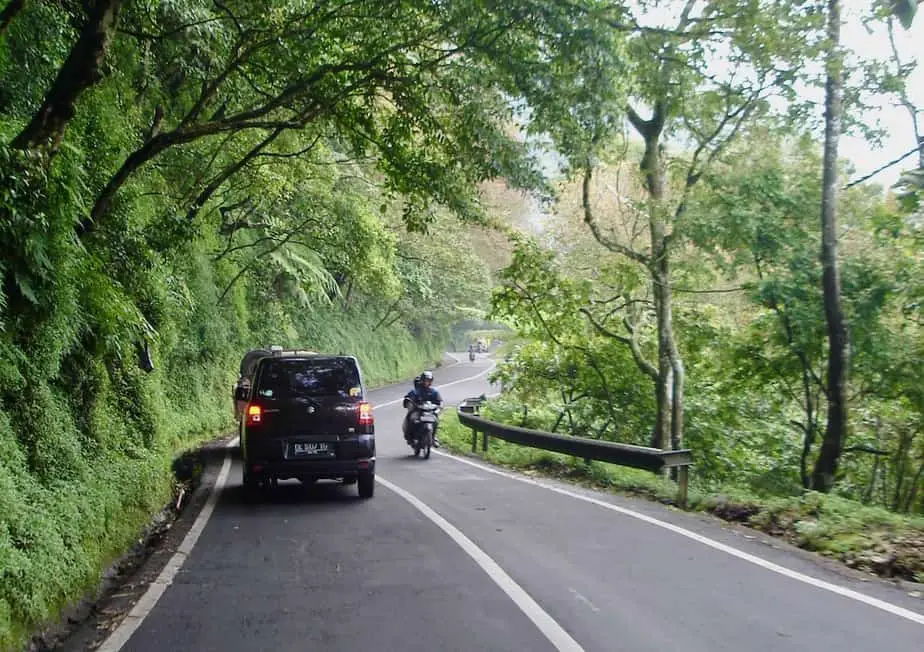 Munduk is located on the scenic road between Pancasari and Seririt. While driving from Pancasari up the rim of the old volcano you can either go right (towards Singaraja and Lovina) or go left continuing to Munduk on the crater rim along Danau Buyan and Danau Tamblingan.
Try to stop at the coffee-house of Ngiring Ngewedang, which means 'Please stop by and come in'.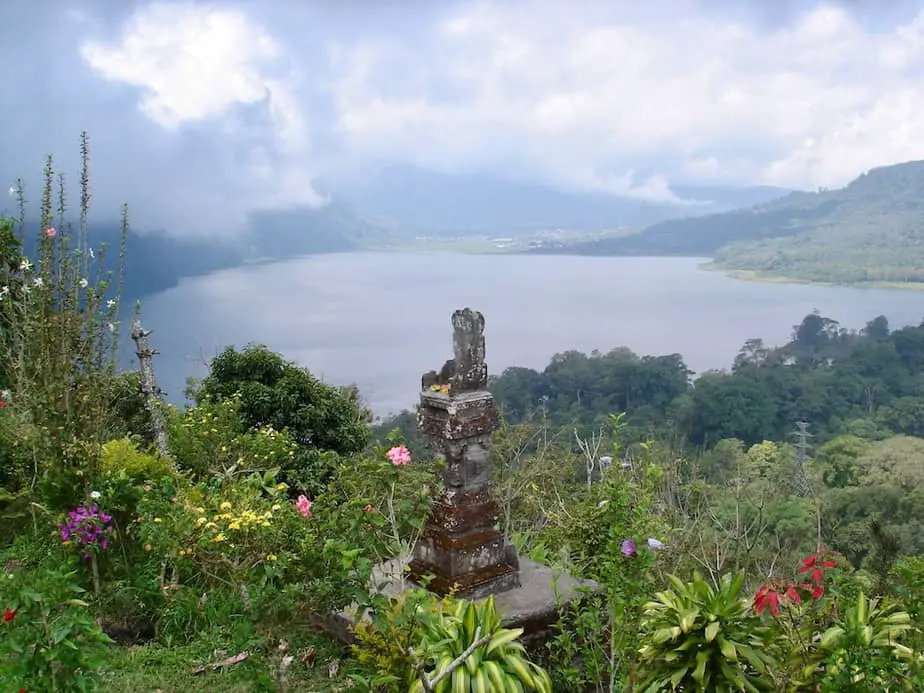 Here you have great vistas on Danau (Lake) Tamblingan on one side and the ocean on the other side. You can also buy some locally produced coffee and the staff is more than happy to show you how they make their traditional coffee.
After this pit-stop, the journey continues along the crater rim until you arrive at a crossing where you have to turn right. What follows is a 5 km stretch of downhill hairpin bends that will take you to this small mountain village.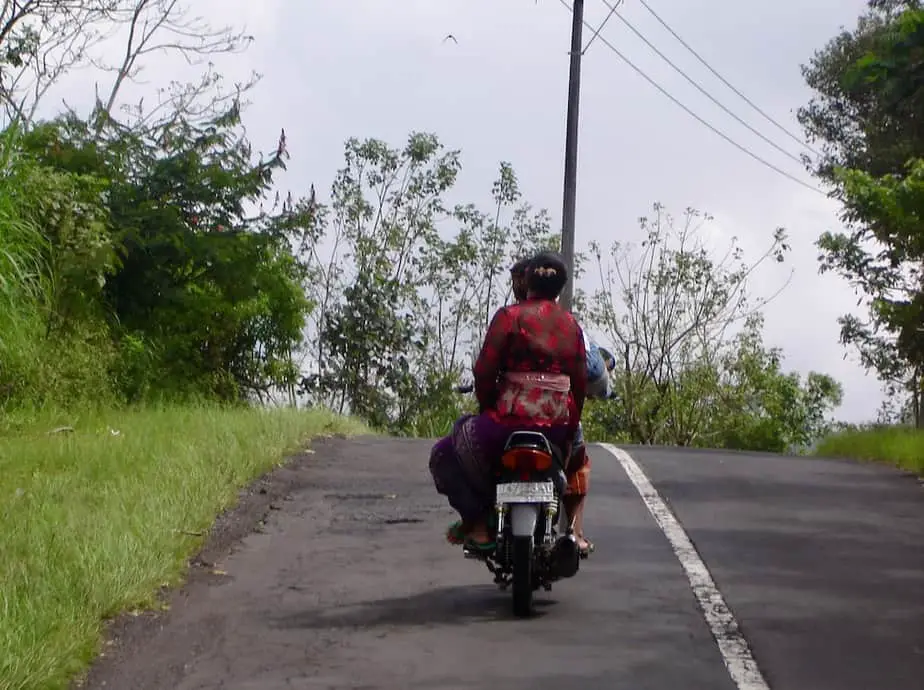 Make sure you use Google Maps to find your accommodation because it is difficult to find from the main road. There are hardly andy signs and the area is so green that you can hardly see anything.
How is the Weather in Munduk?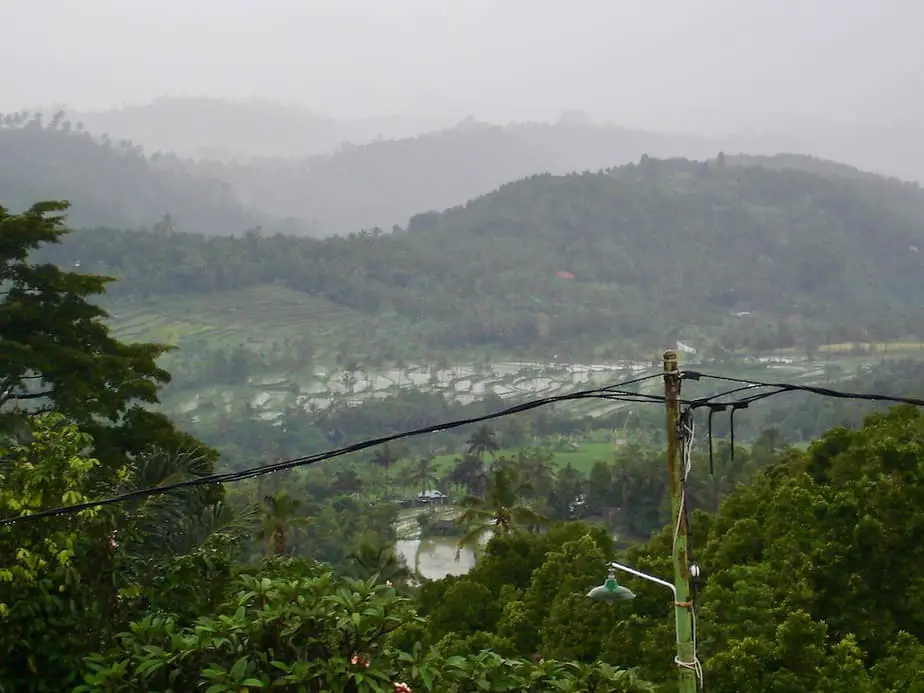 Munduk is located in the mountains. It is probably the 'coldest' village we have ever visited in Bali. One time we stayed in Munduk in February. Right in the rainy season. There was hardly any sun, it was cloudy, wet, and chilly.
Temperatures can drop considerably. The average temperature in Munduk is 30°C but can also be just above 20°C in the evening.  I guess once you get used to the tropical Balinese sun you soon think anything below 30°C is cold.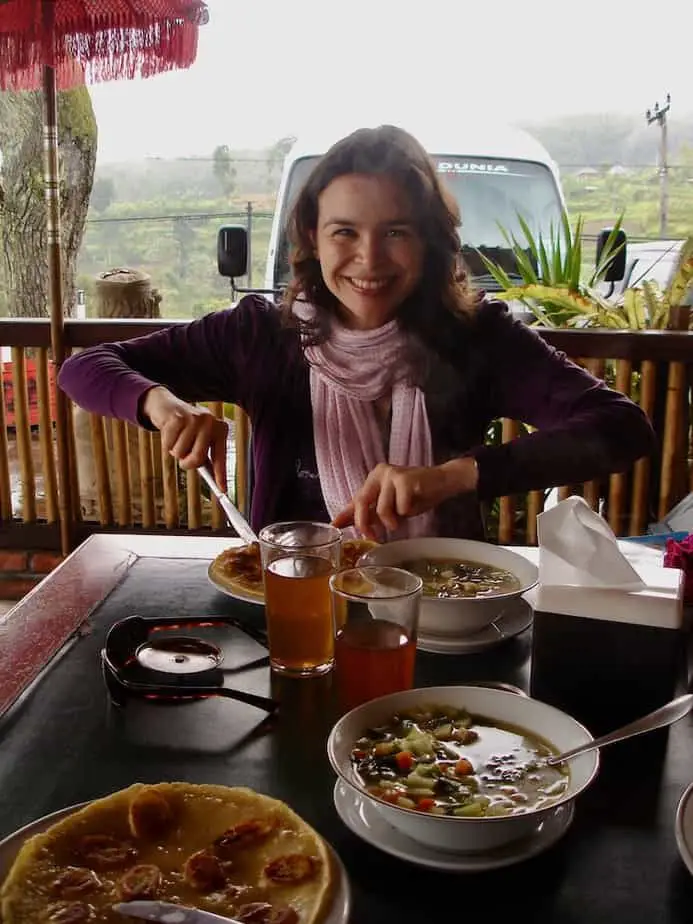 During the rainy season, the weather in Munduk can be very predictable. It would always rain around 3 pm. So we always made sure we were back by then.
The rainy season runs from November until March. During these months the sky is cloudy with occasional sunshine.
We still have to experience Munduk in the dry season. So far we only know Munduk as always being half cloudy. Often in the evening, dramatic clouds will appear. The temperature will drop and you have to wear a sweater with long pants.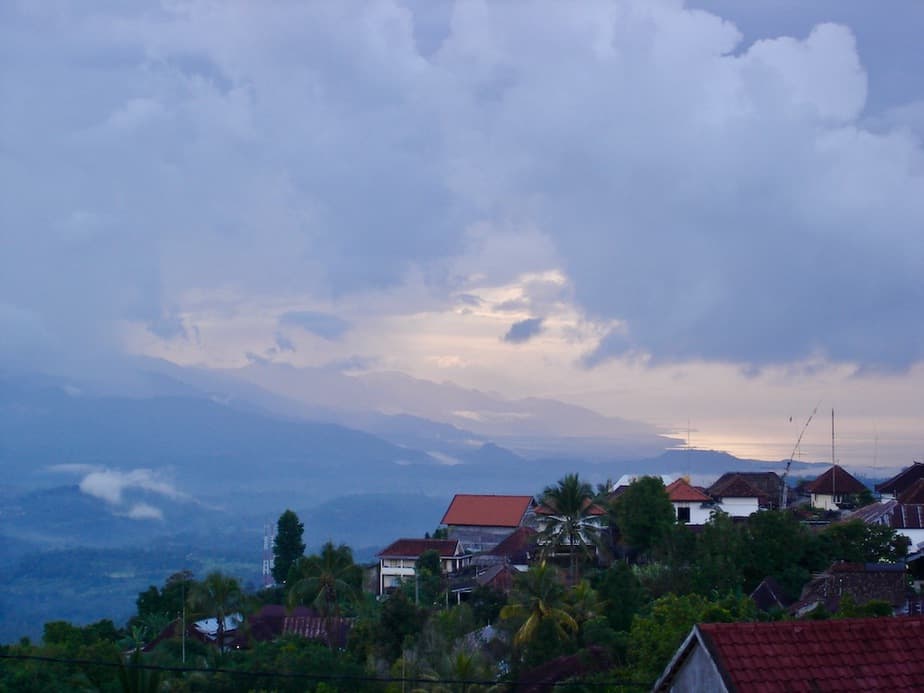 Many homestays don't have airconditioning so that says enough on how 'cold' it can get.
If you really want to avoid the rain you should go during the dry season, preferably in August. But considering its location in the mountains and forest, a bit of rain makes everything more beautiful.
So don't let the rain prevent you from going to Munduk in the rainy season. It has its charm and the scent after a tropical rain spell is something you will miss once you are home.
Getting Around Munduk
If the trip to Munduk is longer then 1,5 hours then we recommend arranging a driver to take you. When you want to leave again, a driver from Munduk can be easily arranged at your accommodation. Once in Munduk, you should go for a motorbike.
Unlike other villages such as Ubud and Sanur, there are not a lot of places renting out motorbikes. But usually, scooter rental in Munduk can be arranged at your accommodation. The price can somewhat be higher than the regular Rp.70000 per day.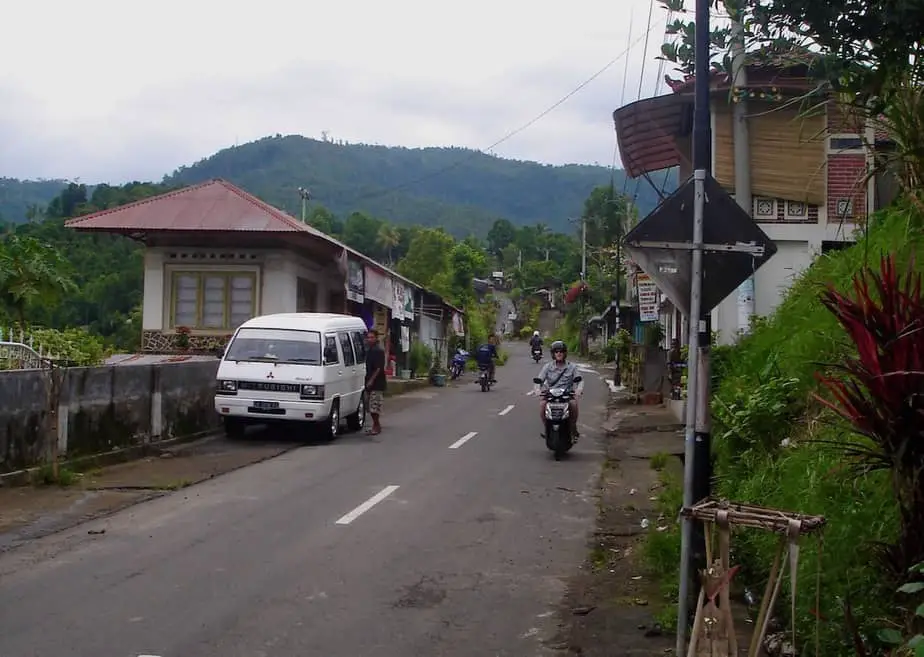 Another option is to come by motorbike from where ever you are staying in Bali. For instance, it's a very scenic and doable drive when you're coming from Ubud and you are planning to return to Ubud again.
We don't recommend coming from the Kuta area all the way to Munduk by motorbike. Traffic is crazy and you will be in traffic jams a lot.
Once you're in Munduk village the motorbike is the best way to explore the little streets where cars can't go. Of course, you need to be comfortable driving on two wheels. You don't want to end up in one of the many little canals next to the rice fields.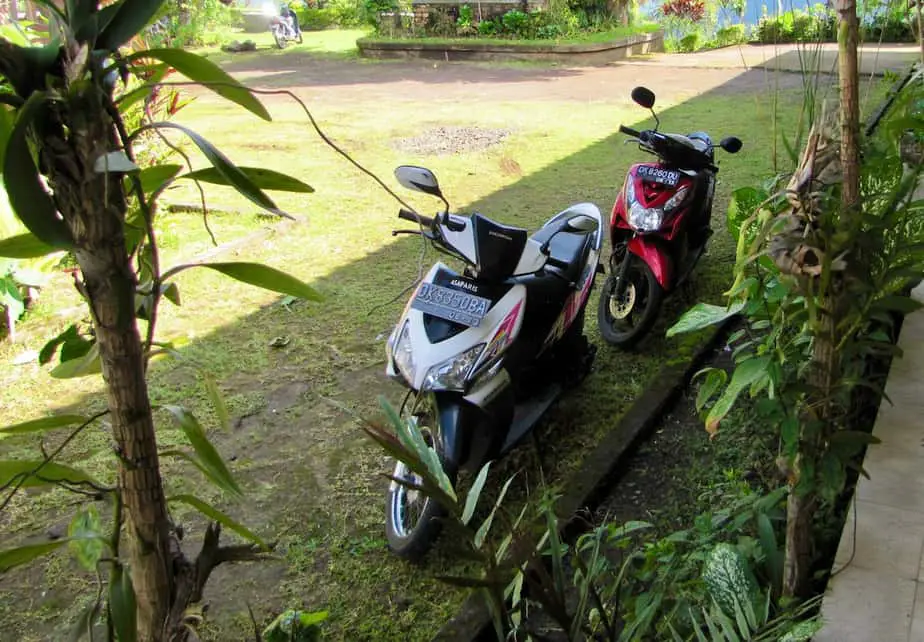 If you can't picture yourself driving a motorbike, a private driver in Munduk is happy to take you around for day trips.
If you happen to stay in the middle of the rice fields then the staff are probably willing to take you on their motorbike to the main road for a small fee.
And of course, you can go for another obvious alternative: walking. This isn't strange at all, considering Munduk's main activity is hiking. I would check online which accommodation is the most convenient to start and end your hike.
How many days in Munduk?
To fully appreciate Munduk you need to spend a full day. So two nights at least, if not three or more. Munduk is definitely worth it.
The views on the rice fields and green hills are something you can't ever get enough of and it's admired by anybody passing through.
But what makes Munduk very special can only be seen if you do something, like visiting rice fields, walking through coffee plantations, or getting lost in the Balinese hamlets.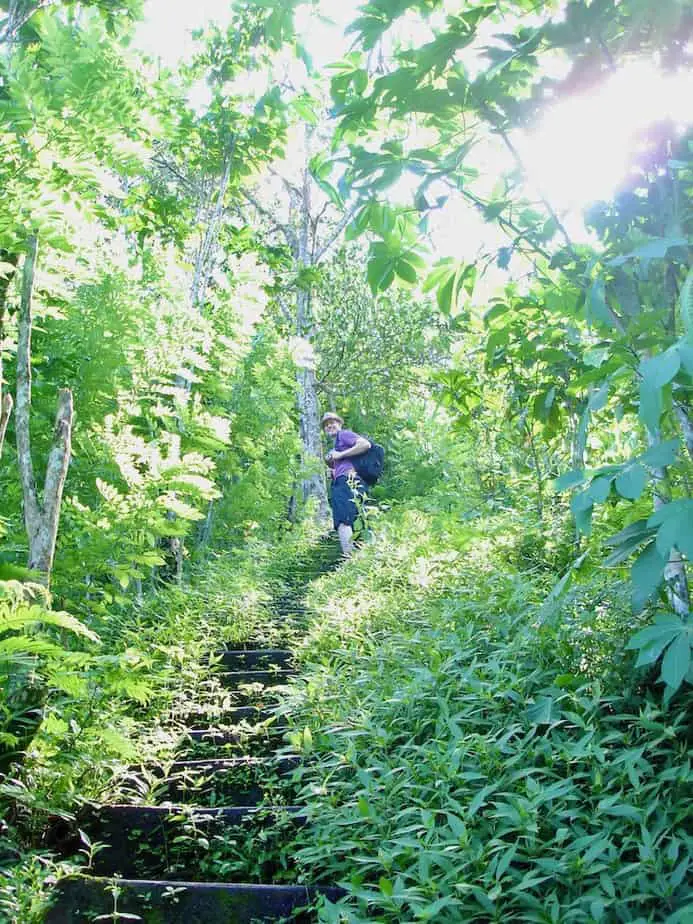 There are a lot of day trips offered from other villages in South Bali to Munduk. These day trips usually offer stops at Lake Bratan, views of the Twin Lakes followed by a short hike to one of the waterfalls in Munduk. Lunch with a view is also often included.
But we think it is a waste of time to be in a car for so long, especially if the day trip will be done from the Ubud or Kuta area. Better to leave Munduk as it is and return again on another trip.
What to do in Munduk, Bali?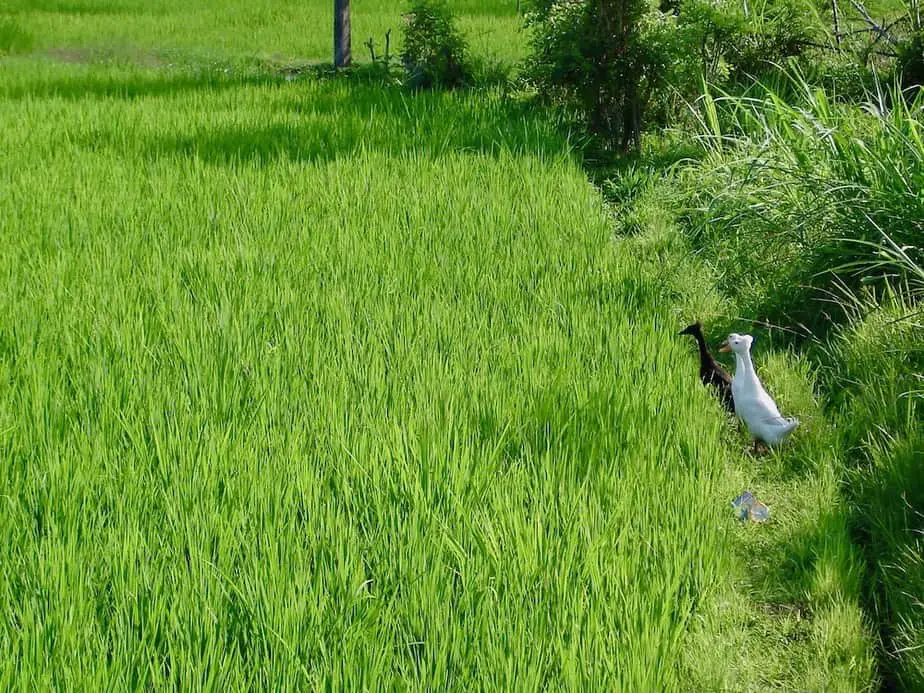 There aren't many things to do in Munduk except enjoying the marvelous view on mountain slopes, river gorges, rice paddies, and going for several hikes around the area.
Expect to go to bed early and wake up together with the birds, chickens, roosters, and locals.
Hiking in Munduk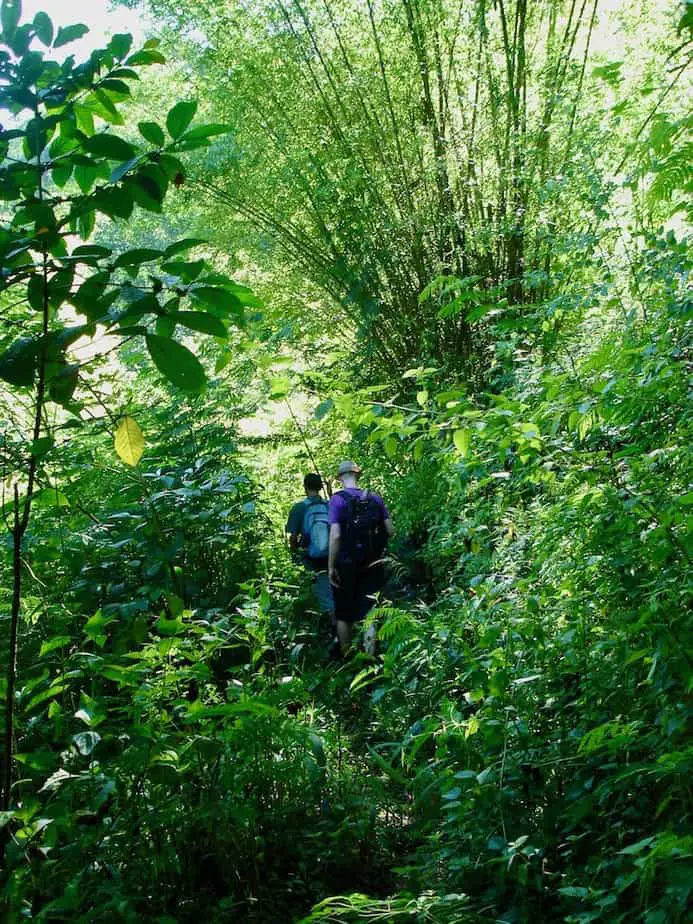 Munduk is the ideal place for nature lovers and those who like to get away from it all. Numerous hiking trails lead you to waterfalls, mountain streams, various plantations, shrines, small villages, and hot springs.
Try to go early in the morning when it's not too hot. During the rainy season avoid going between 1 pm – 4 pm. From our experience, most of the rain seems to fall between these hours. But ask around first to make sure.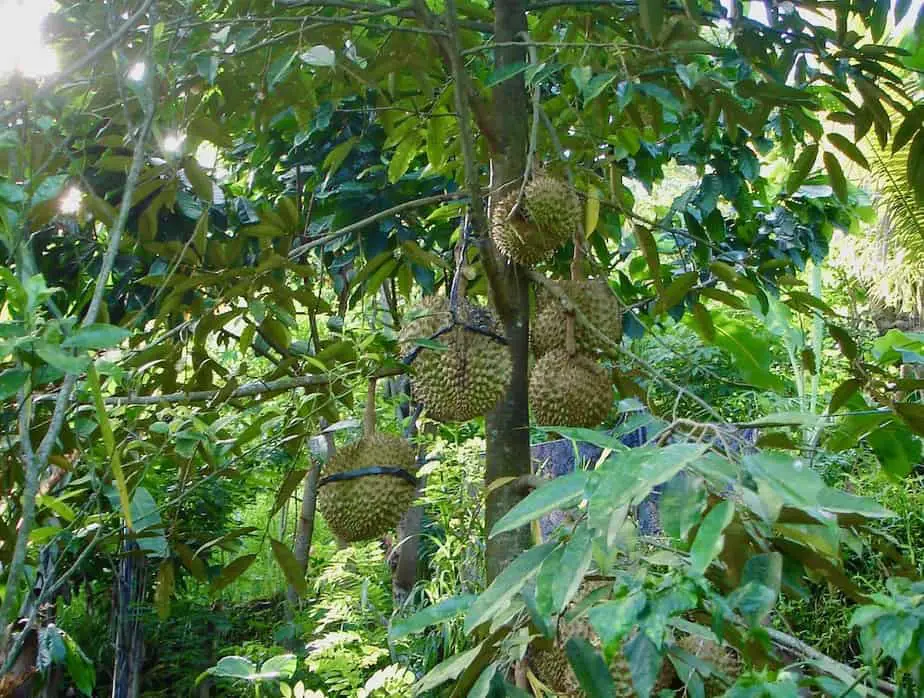 Once in Munduk, you can find a lot of maps that will show you various types of trails. These trekking maps are ideal if you want to chase waterfalls independently and don't mind getting lost every now and then.
Just let your accommodation know what your plans are in case you don't get back before it gets dark.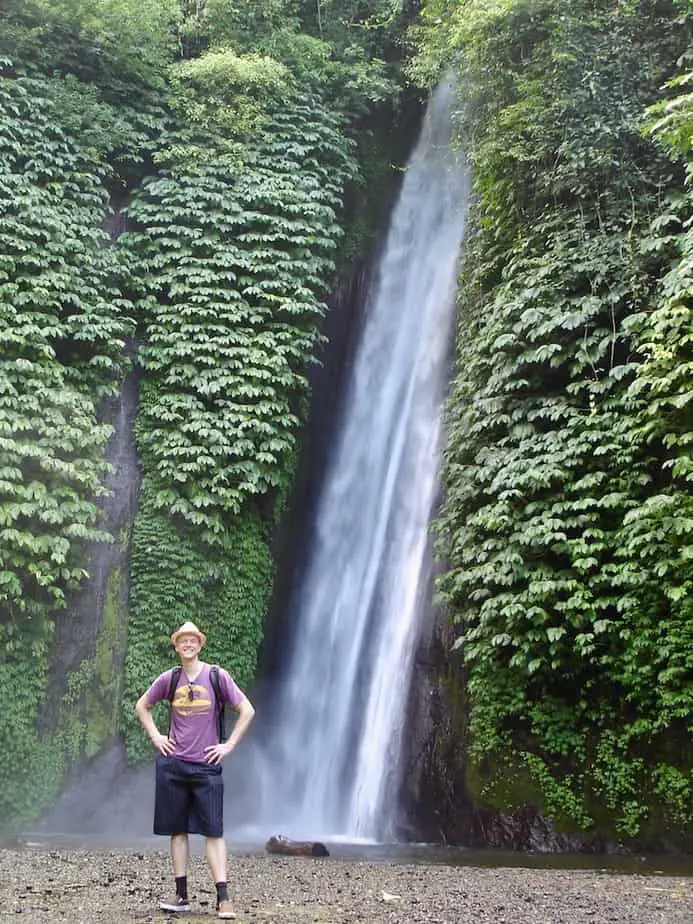 During our time in Munduk, we decided to go with a guide. We are happy we did. He wasn't only there to show us the way, but he was telling us the changes Munduk was going through.
He also explained a lot about the types of plants we encountered and the operation of a coffee plantation. It was a great source of valuable information.
We arranged this guide through our accommodation. At that time there were different 'levels' of guides, depending on the English skills.
Do The Munduk Loop Trek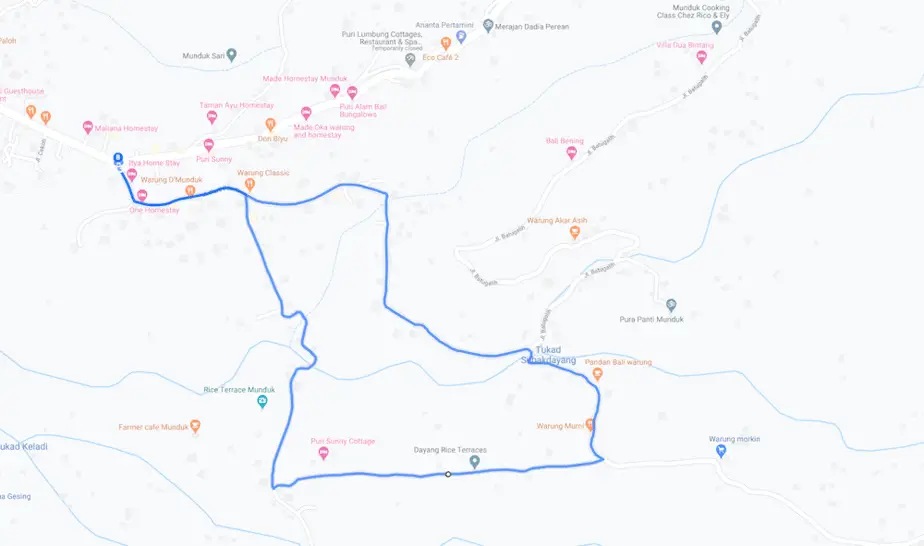 Besides discovering waterfalls in the jungle you can also take many routes through the rice fields. Have a look at Google Maps and think about what would be a good route to follow.
If you look closely at the map of Munduk you will see a nice trail that will take you along the smaller streets in town. Places where no cars can go and where you can walk through the rice terraces on your own.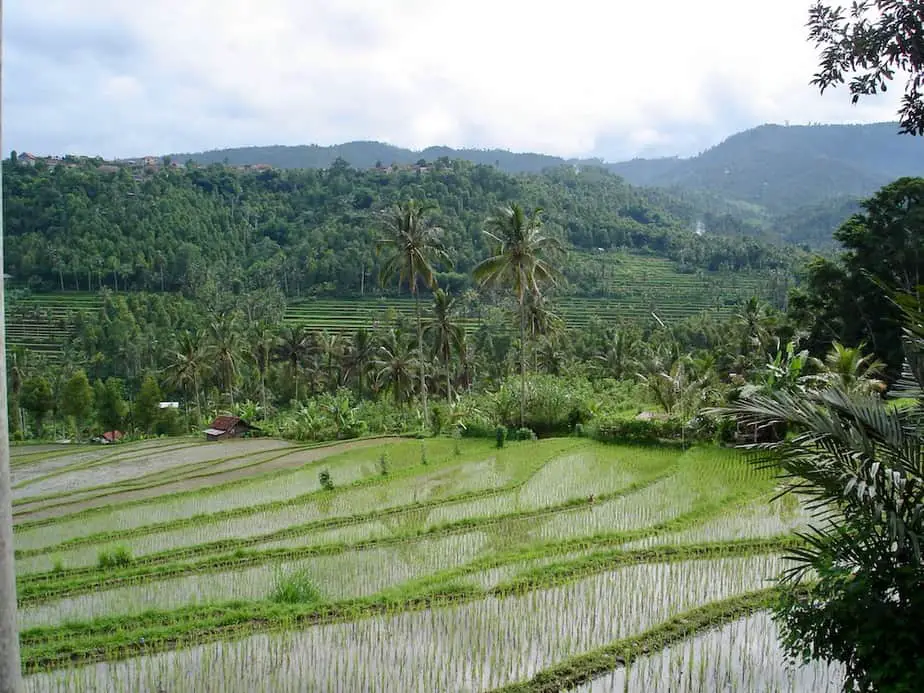 Start off at Meme Surung Guesthouse or Guru Ratna Guesthouse along the main road. Walk west and turn left at Jalan Pura Puseh.
Follow the signs to Made Darma Homestay and Puri Sunny Cottages. From there on just stick to the trail and you will walk a loop that will take you back to Jalan Pura Puseh and the main road.
It passes the Farmer Cafe Munduk and several other warungs (Indonesian style restaurants) where you can get some food and drinks.
Visit The Largest Banyan Tree in Bali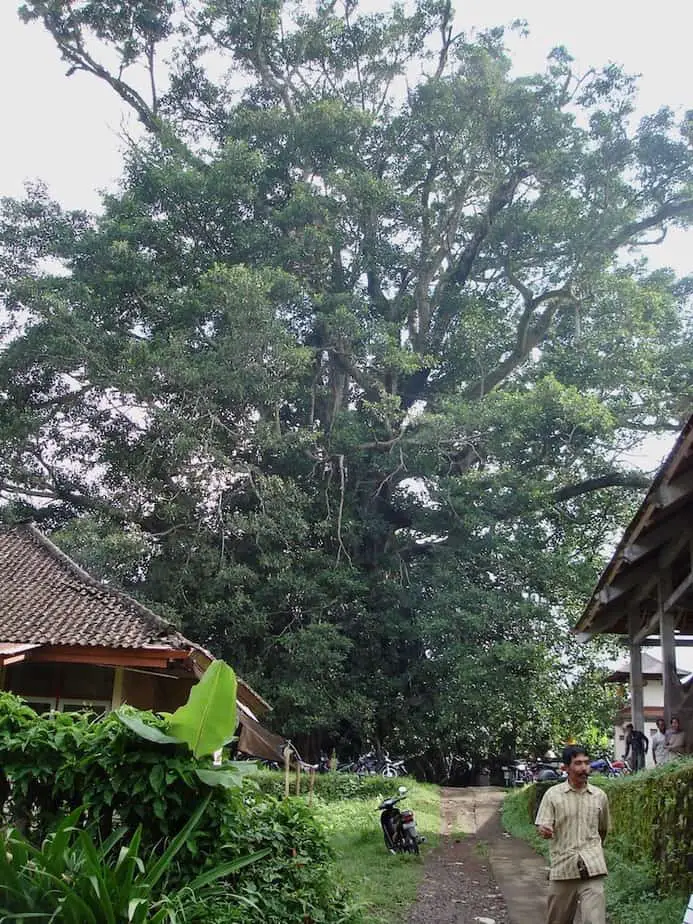 Banyan trees are considered holy trees. When touring around you are likely to see many located at temples providing a welcoming shade.
There are many impressive Banyan trees. Their roots are always looking for different ways to find the ground. It makes the tree look ancient.
This is also the case for the one near Munduk, which is also the largest in Bali. It looks as if the roots want to cover the entire temple complex.
It is tempting to climb and get lost in the knots of roots, but try to resist the urge. The tree is old, extremely unique and if dozens of people would do this on a daily basis the tree will not survive.
Follow A Cooking Class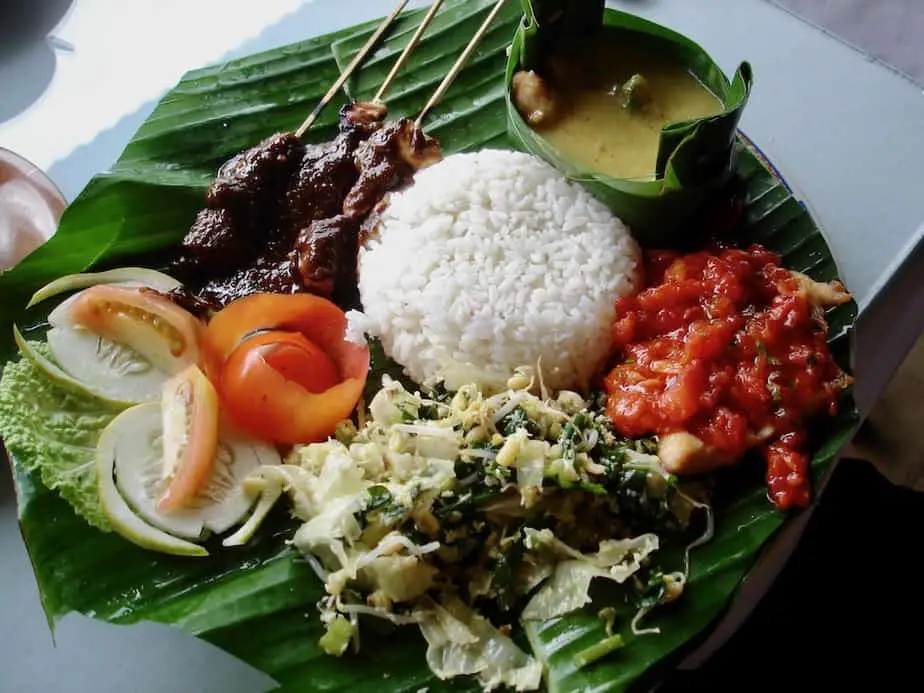 Everywhere in Bali, you can join a cooking class. Not a surprise actually since Balinese food is delicious. For the Balinese people, it is something they make every day. So why not teach it to visitors?
Puri Lumbung and Munduk Modig Plantation offer cooking classes. But if you want to enjoy it in a smaller and homely way then you should consider Chez Rico & Ely.
Besides cooking they can give you all the ins and outs of the Balinese culture. Give them a call and they will arrange to pick you up from your accommodation.
Enjoy a cup of coffee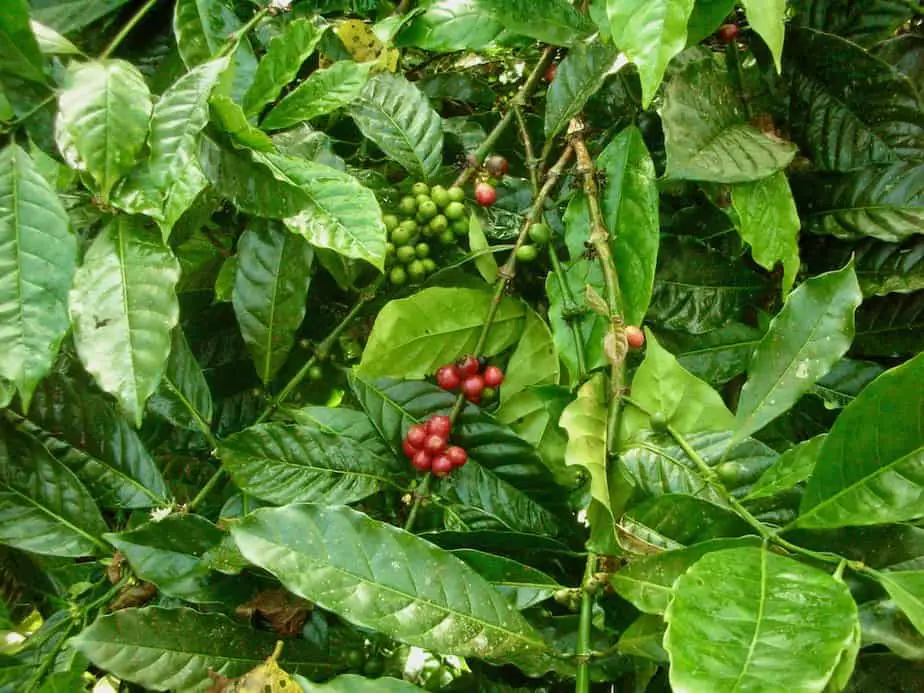 Coffee plantations are one of the income sources for the farmers in Munduk. The Munduk Modig Plantation has restored large parts of existing plantations efficiently and increases yields with organic practices. You can contact them if you want to do a tour through their plantation.
There are also other initiatives around town if you want an introduction to the coffee-making process.  At the Golden Valley Breeze Munduk Eco Cafe, the friendly owner can show you how it works. It's followed by a freshly brewed coffee of course and with a view on the waterfall.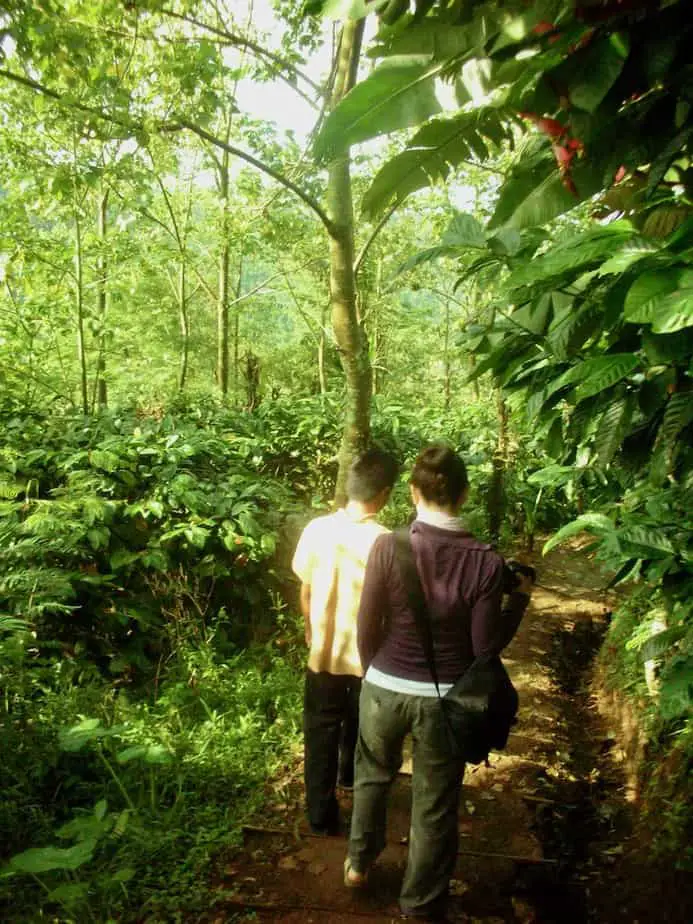 Munduk coffee plantations also promote the extraordinary Kopi Luwak. The unique thing about this coffee is that it is made from the undigested beans which are retrieved from the feces of the Asian Palm Civet that roams the jungle.
Understandably it is pretty difficult to find these beans as they are scattered throughout the jungle. Unfortunately, the popularity of this bean has resulted in capturing these animals and keeping them in cages.
Also, many companies claim that the coffee they produce is the special Kopi Luwak coffee, but often it's fake.
So when in Munduk, or in Bali just leave the Kopi Luwak as it is and try to avoid supporting these types of animal cruelty.
What to See and Do Near Munduk?
Around Munduk there is plenty to do see and do.  It's a good base for exploring other parts of  North Bali. Daytrips are easily arranged with a private driver. But you can also hop on the motorbike and visit these places yourself.
The main road from Bedugul to Singaraja can get busy, just as the road from Lovina Beach to Gilimanuk. The other roads are pretty pleasant. You will mainly drive through rice fields, mountain forests, and little Balinese villages.
Jump In The Hot Springs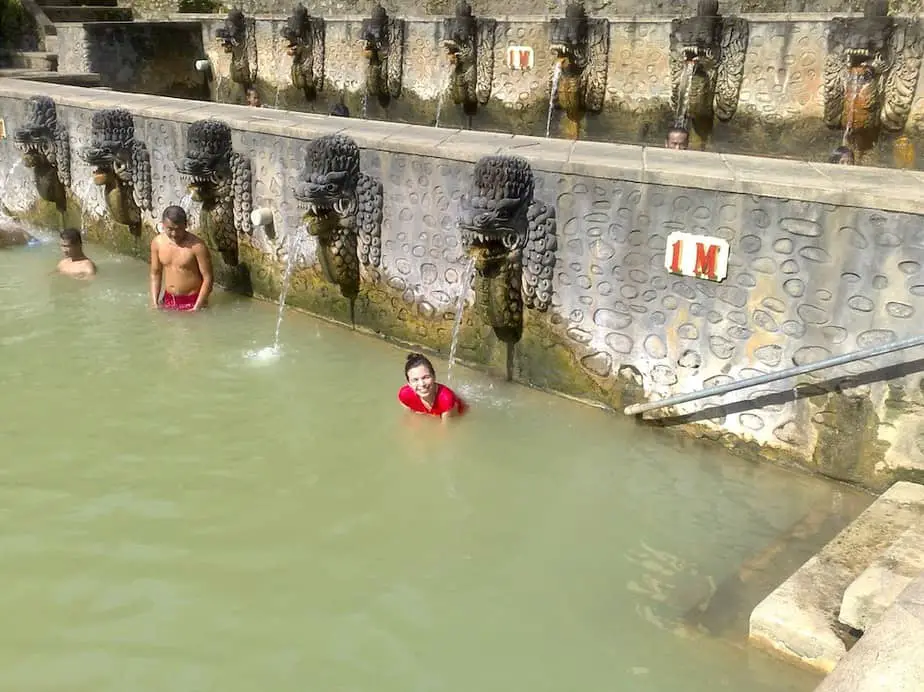 Munduk doesn't have any hot springs. But if you feel like soaking in very warm water there is one a short drive away.
On the road from Munduk to Lovina, you find a crossing at Bestala village. Here you have to turn right to drive all the way to Banjar village where you'll find the Banjar hot springs. You can take a bath in a natural volcanic pool where statues are spewing water.
It's open from 8 am – 6 pm and the entrance fee is around Rp 40.000, try to avoid going there on Sundays.
Go On A Day-trip To Lovina Beach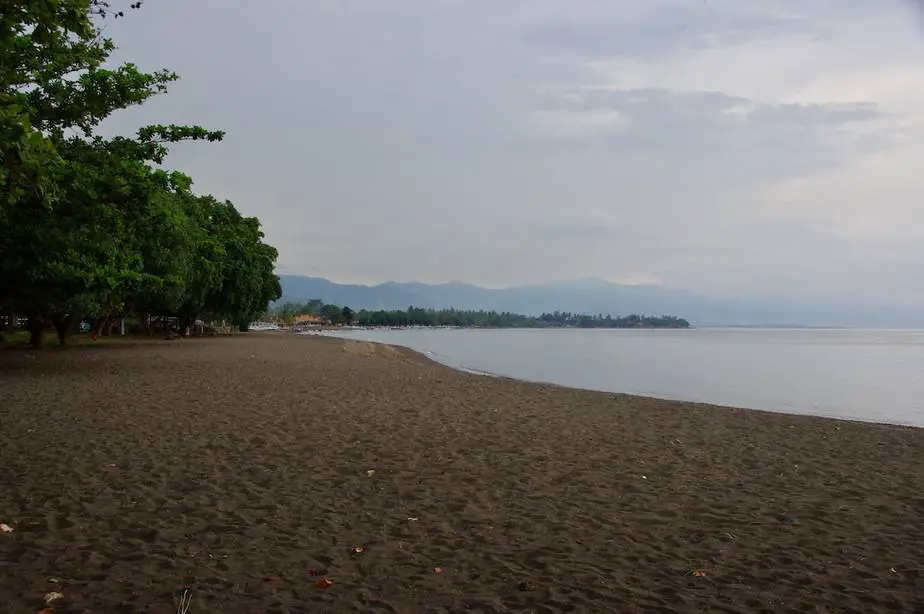 Lovina Beach is just a 40 minutes drive from Munduk. We always recommend staying at least a night at the beach to fully appreciate it. But we understand that it can be difficult to leave the stunning views of Munduk behind.
So if you feel like a day at the beach then Lovina is a nice option. It isn't a typical tropical beach because it has black sand. But it is clean, there are good places to sit and the water is perfect for swimming.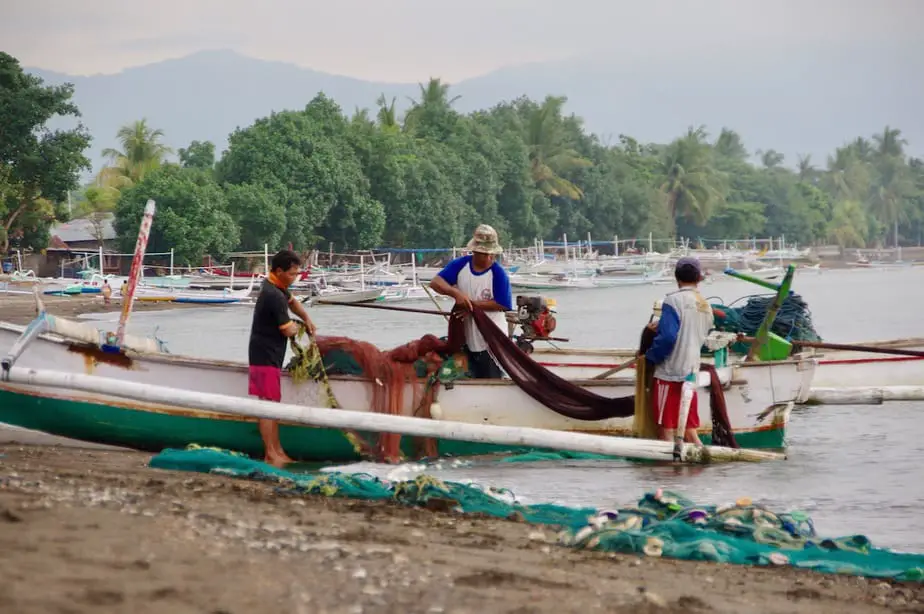 Additionally, the trip to Lovina is a nice one. If you go anti-clockwise and head east first you will go pleasantly downhill towards Singaraja. To avoid a lot of traffic, try to leave early.  There are several waterfalls that you can visit along the way.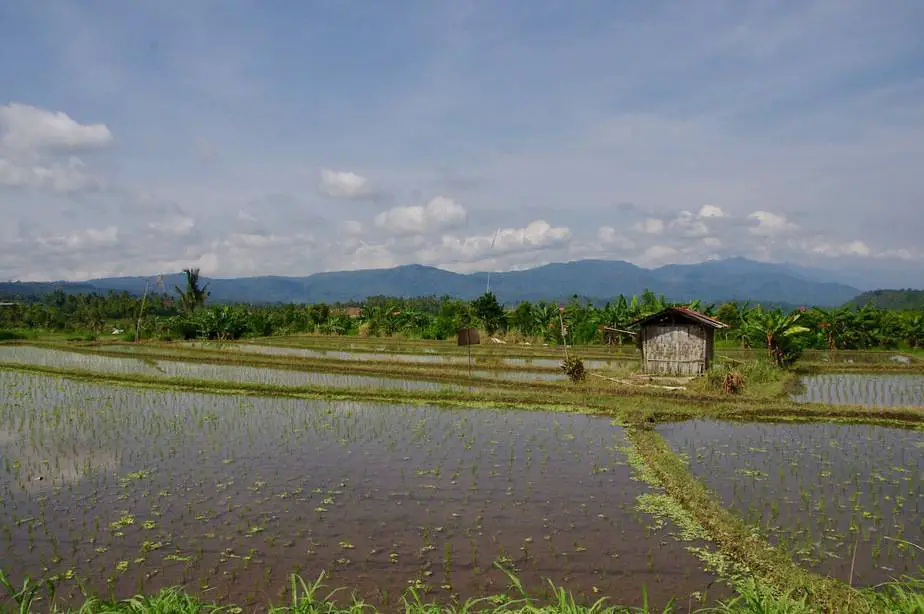 After Lovina, we suggest going west towards Gilimanuk. There are several roads that take you back to Munduk. You can either take the road up along Sing Sing Waterfall or drive a little further along the main road and turn left at the Hot Springs and go uphill along Jalan Raya Insakan.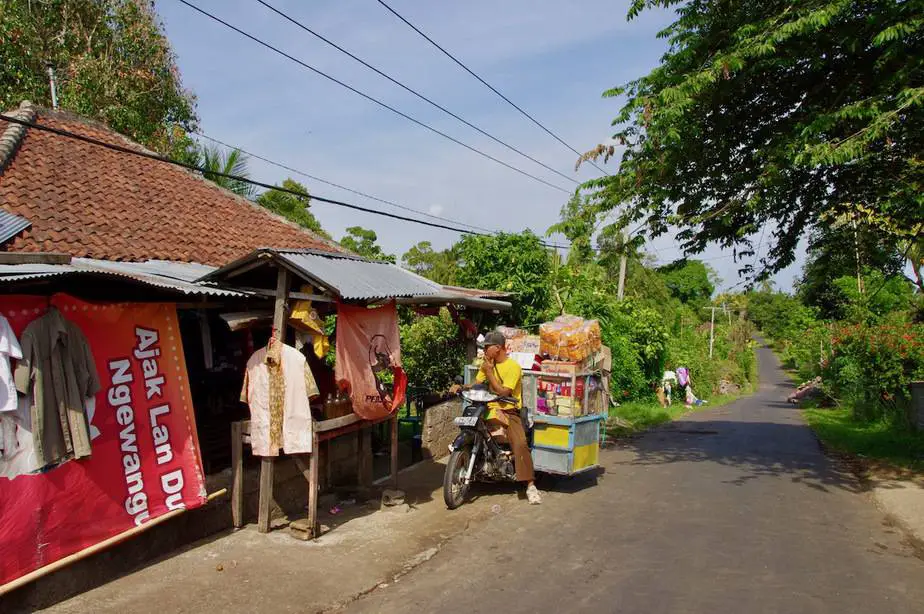 For those who don't mind going to the somewhat 'unknown,' you can also follow the smaller roads that run parallel with Jalan Raya Insakan. They are visible on Google Maps. But check the time. You don't want to be driving along these roads in the dark.
Visit Bedugul and Lake Bratan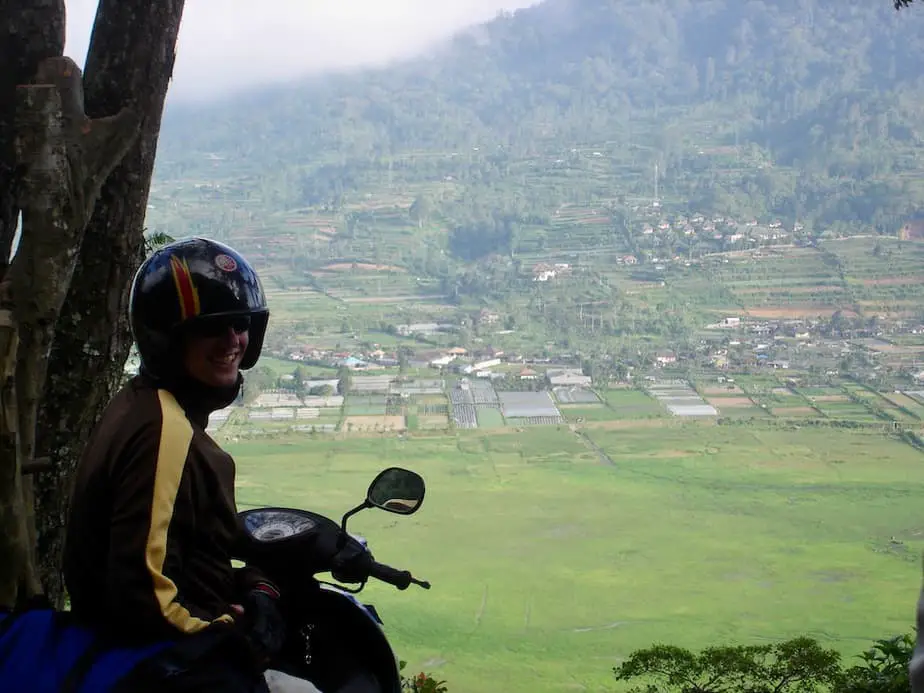 We always pass Bedugul and have only stopped at its Botanical Gardens and at the Ulun Danu Beratan Temple. Both are definitely worth the visit if you have a morning or afternoon to spare when in Munduk.
From Munduk you drive downhill. The Ulun Danu Beratan Temple is the most important temple near Munduk. You will soon see the temple complex on your left. This temple is of great importance for the Subak, the ricefield irrigation community. The lake is the main source of water for Central Bali.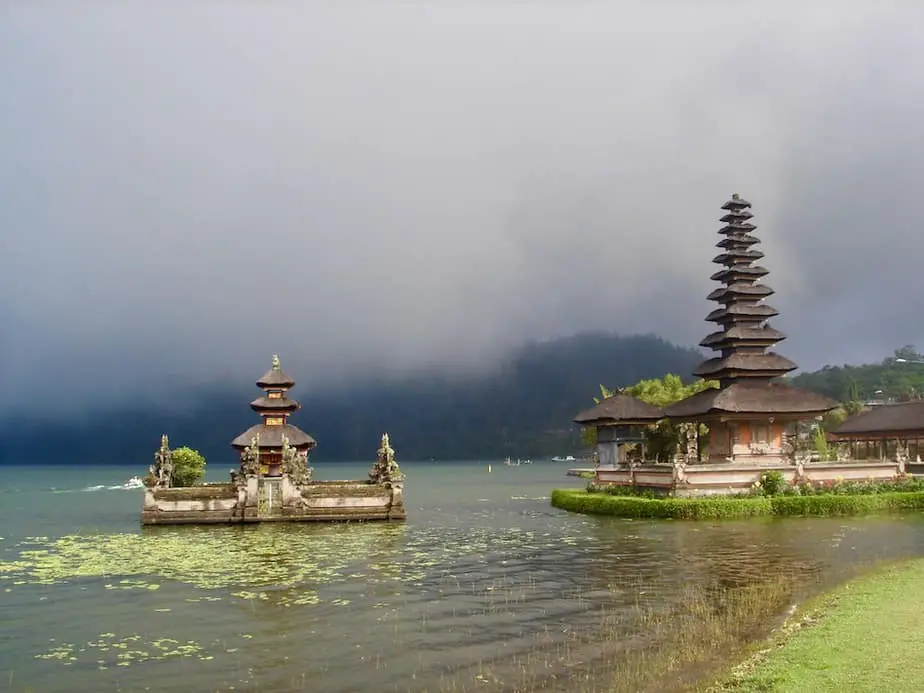 The temple complex is beautifully maintained. Like all temples in Bali, it has several courtyards. But the eye-catcher is the hight 11-tiered meru located right on the water. Some say it looks like it's floating. I find it mystical especially when the clouds set in.
After your visit, it is a short drive to the Botanical Gardens. You will pass many stalls selling locally produced fruit and vegetables, such as strawberries or corn.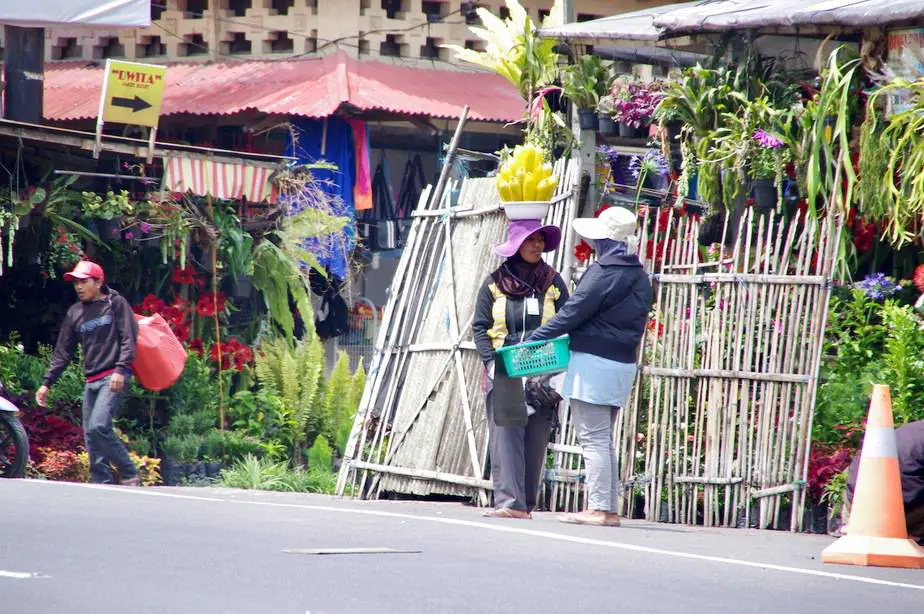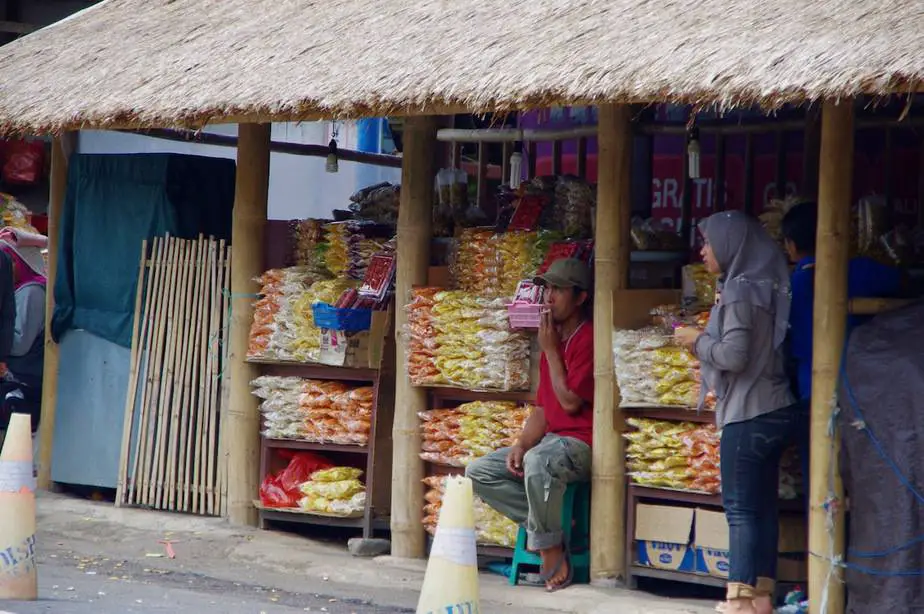 Along the route to Bedugul, you will also pass the Handara Golf & Resort. Funny enough this place has caught the attention of numerous Instagrammers. Not for the golf, but for the huge Balinese entrance.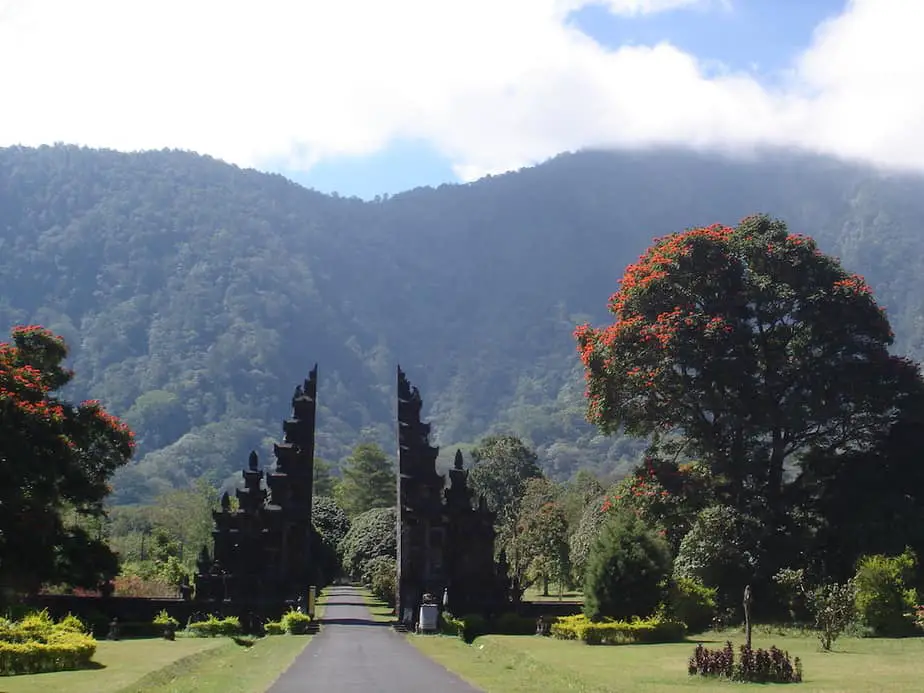 It has turned into such a hype. Yes, it is nice and if the timing is right you will have a nice shot. But we just can't understand why some people on Bali promote it as a must sight to see.
Hypes and trends will always remain, and it is up to you if you feel like passing the famous golf gate near Munduk. Just remember that most of the temples in Bali have these gates. Some are even more beautiful than this one.
Jungle Trekking and Canoeing the Lakes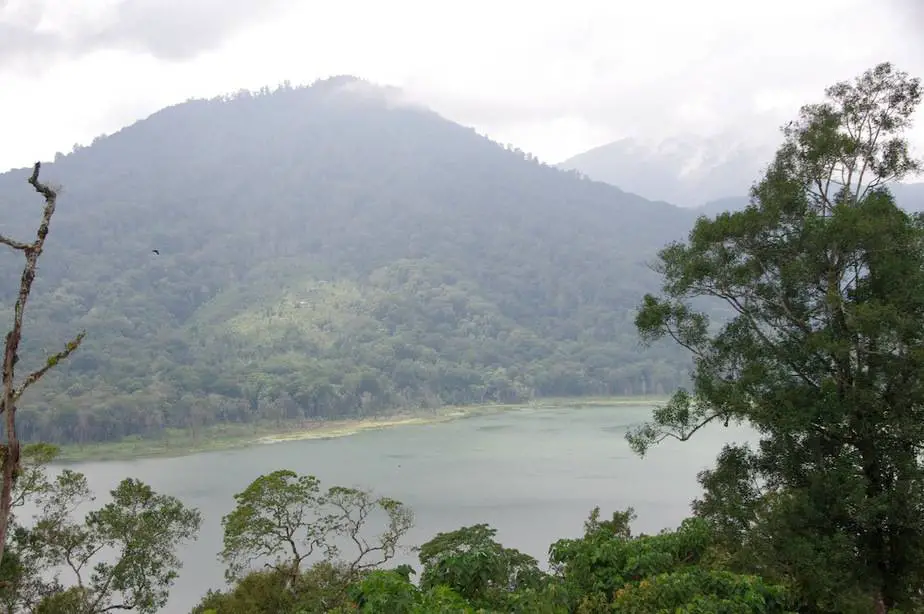 The company called Bali Jungle Trekking organizes tours all around Bali. They happen to be around the corner of Munduk, so ideal to have a look at the trips they have to offer.
A perfect tour near Munduk is the Bali Twin Lake Jungle Trek. This diverse tour will take you through the jungle, past ancient temples, and down to Lake Buyan and Lake Tamblingan. Here you will do some canoeing as well.
Sambangan Jungle Trekking
Sambangan is located just northeast of Munduk. The village and rice fields are dependent on the water that runs from the rainforest and waterfalls nearby.
The villagers have set up a tour that will take you along the village, through the plantations and rice fields followed by a visit and swim in a couple of stunning waterfalls known as Cemara, Canging, and Dedari Waterfalls.
Another tour takes you to three other waterfalls called Kroya, Kembar, and Pucuk waterfalls (also known as Blue Lagoon Waterfall). These waterfalls are ideal for natural cliff jumping and sliding. So if you want some action then contact them at least a day before
Keep in mind that these adventures take up to 3 hours both.
Besides jungle trekking in Sambangan, they also have canyoning options. Have a look at their website to see which activity suits you best.
Visit Numerous Waterfalls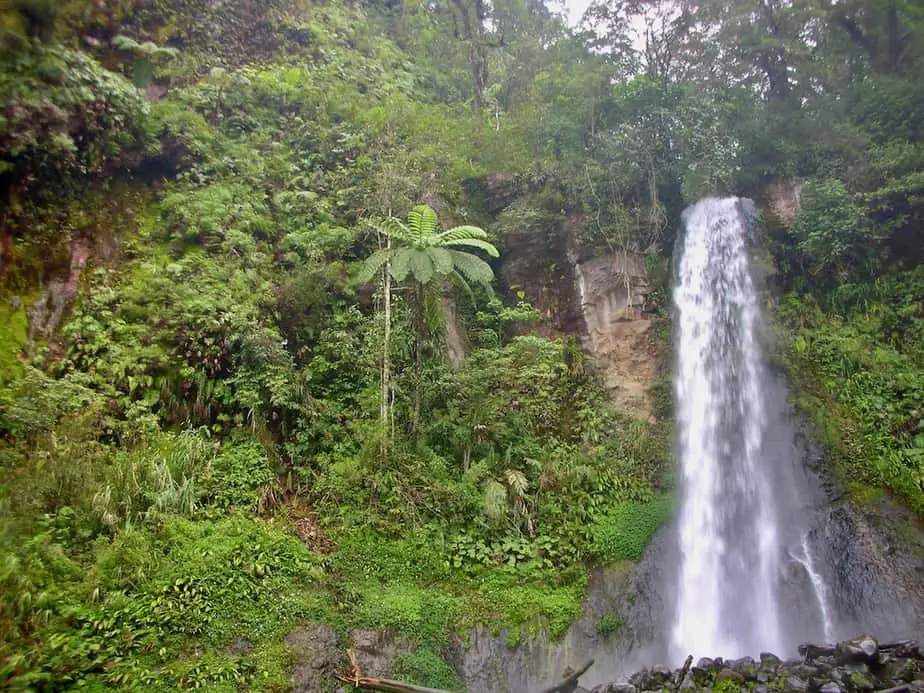 Chasing waterfalls has become a favorite thing to do in Bali. Surprisingly when we first started traveling in Bali in 2006 hardly any waterfalls were promoted. Today you can find a dozen where the Balinese have built paths to reach them.
Most of these waterfalls have pools in which you can swim. But check the conditions first. During the rainy season, it might be too dangerous to visit.
While Munduk is blessed with a number of waterfalls, there are a couple more which you can reach by motorbike, by car or with a tour company.
Wanagiri area
There are a number of waterfalls near Munduk in the Wanagiri area. When you drive from Munduk along the road at the crater of Lake Buyan you will soon see a sign to the Banyumala Twin Waterfalls. Take this road and drive towards the north.
If you drive further down the crater at the fourth road to the left you can visit the Air Terjun Cinta, 'Love Waterfalls', followed by Wanagiri Pucak Manik Waterfall along that same street more towards the north.
Haven't had enough? There is one more along the same crater road called Banyu Wana Amertha Waterfalls. Signs are not very evident but luckily you have Google Maps to show you where to make the turn.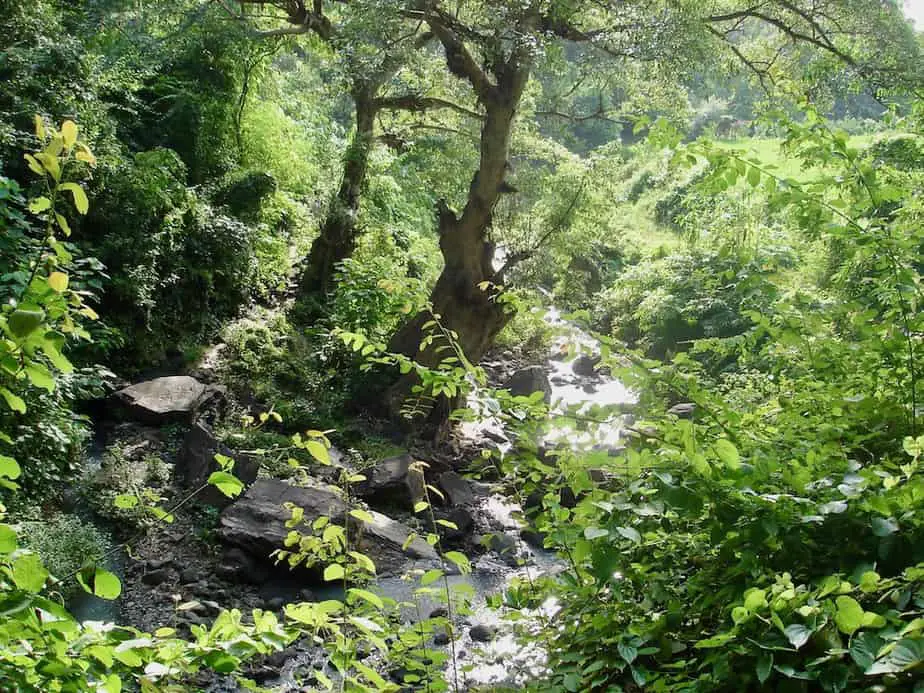 Git Git Area
The Git Git Waterfalls have been popular among travelers for decennia. There is more than one entrance to the waterfalls. To visit them drive along the main road to Singaraja, called Along Jalan Raya Bedugul-Singaraja.
In the past you would only see signs pointing you the way to Git Git waterfalls, today signs will easily guide you to Air Terjun Bertingkat (Staircase Waterfall), Air Terjun Colek Pamor and Air Terjung Campuhan.
If you don't know what to choose from this whole list of options you can always consider a guide. They will know the hidden trails and where it is best for a refreshing swim. As mentioned earlier, the Sebangan Jungle Trekking company can take you to these beautiful waterfalls.
Canyoning
Where there are waterfalls, there are also canyoning options. Canyoning Bali has a long list of options in areas near Munduk such as Git Git, Wanagiri, and Sambangan.
Places To Eat In Munduk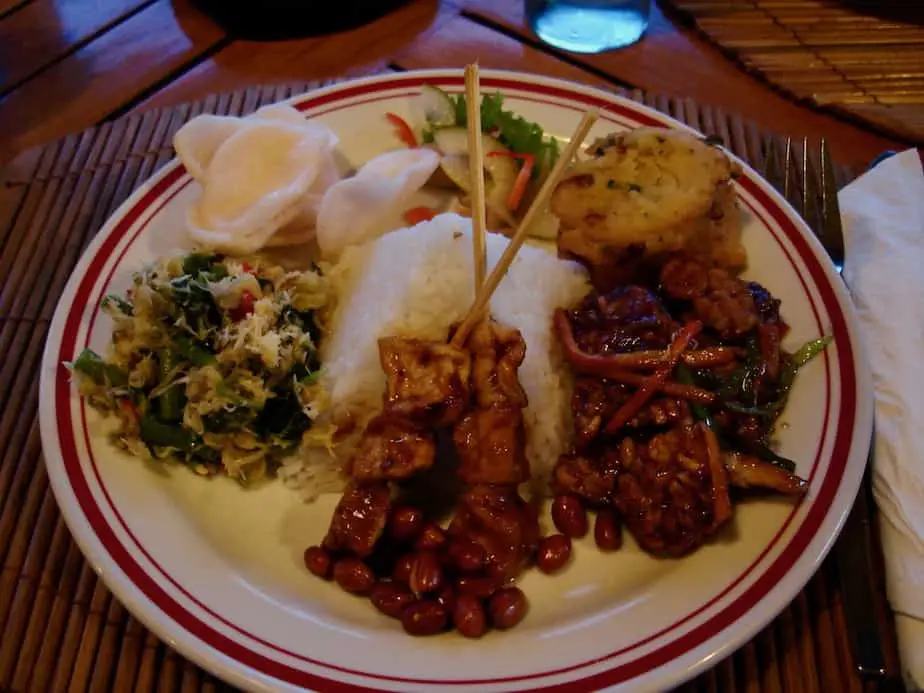 In Munduk you can enjoy local Indonesian food at the many warungs located along the main road or in the rice fields.
The prices at these warungs are very reasonable and you can't go wrong with a Nasi Goreng, Gado Gado, Nasi Campur (rice with a bit of everything) or vegetable soup.
If you want a more 'eating out' experience then you might want to consider going to Puri Lumbung Cottages. They have an extensive menu and their tables have nice views on Mount Batukaru, Mount Lesong, and Mount Sanghyang.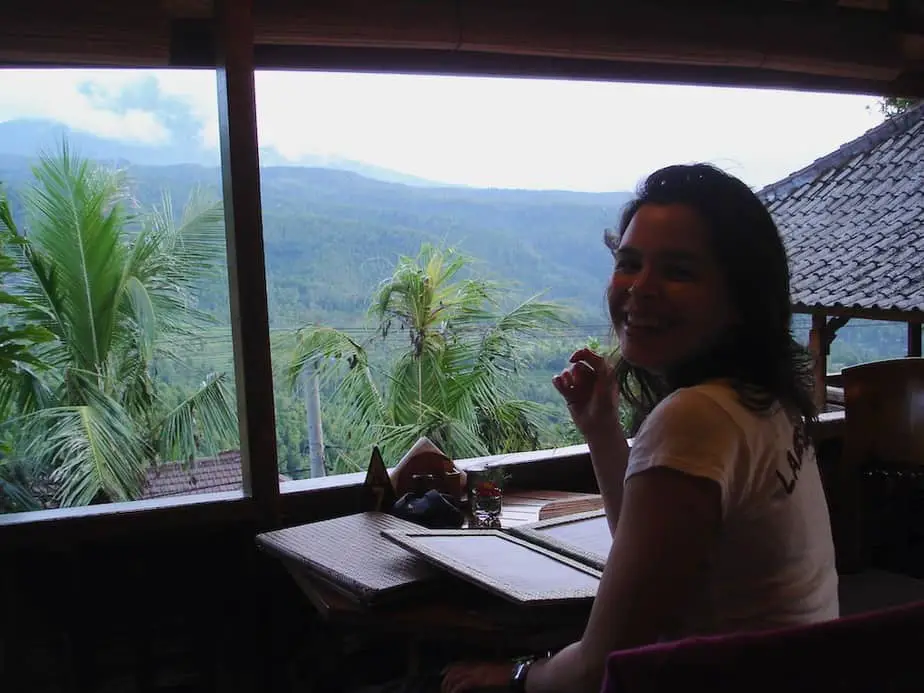 Talking about a view.  The Munduk Eco Cafe located in town has a view on waterfalls, while the warungs along the 'Munduk Ricefield Loop Walk' are located in the middle of the rice paddies. Best to have lunch only at these warungs, as it can get pretty dark around dinner time.
If you have the time there is one restaurant or warung which you should try out. It's outside Munduk village on the road to Seririt near the village of Mayong. They have signs placed next to the road so you can't miss it.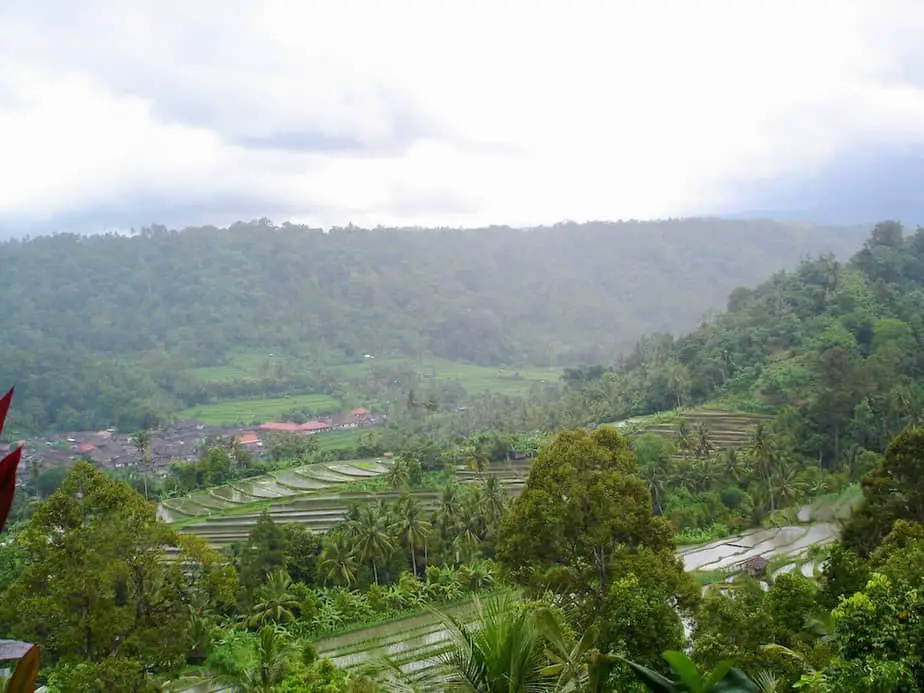 Besides having a very good kitchen, it also has a gorgeous view of the valley with rice fields.
It's called Bali Panorama and once you get here you'll understand why they've called it that way. This place is run by friendly Balinese people who know where to find the right ingredients and how to cook them properly. They serve various delicious dishes and everything is fresh and organic.
Places to stay in Munduk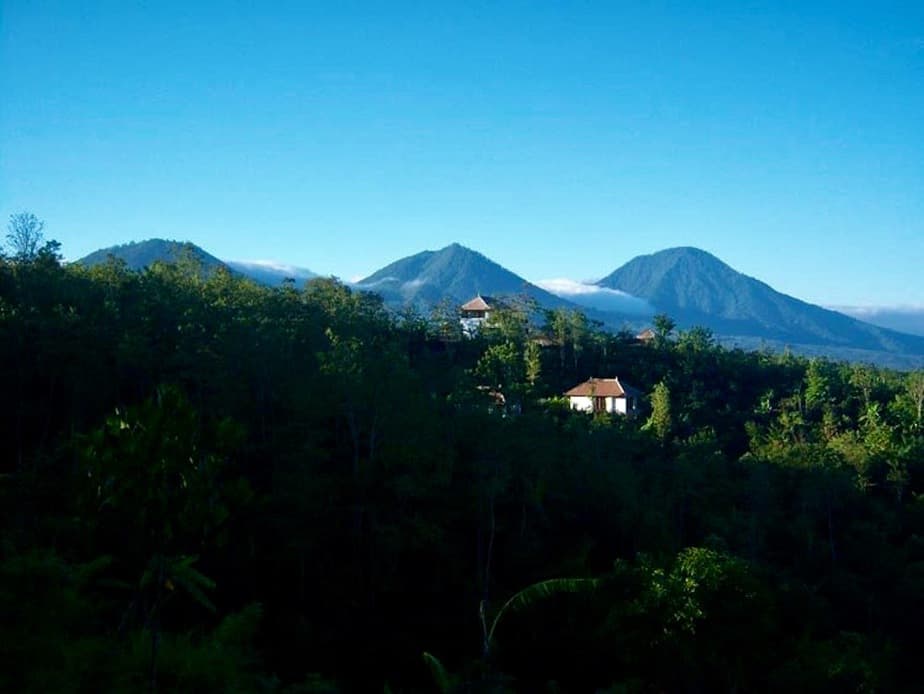 Munduk is one of the view places in Bali where you can sleep in the middle of the rice fields or wake up with a gorgeous view. And the great thing is, budget travelers can enjoy a 1st class location too.
This little village has a large option of wonderful homestays. We enjoyed staying a Meme Surung Homestay. A little place with magical views in the early mornings and evenings.
But there are many others, all built with a view. This is Munduk's unique selling point and all the owners know it.
The great thing is that many of these places to stay in Munduk are locally owned. This often provides a better insight into what to do and see in the area. Moreover, it makes it much more interesting to talk to the owners themselves.
Do remember when staying in the rice fields or at a homestay, you might wake up early in the morning due to all the morning sounds and activities.
We have listed just a few of the many great places to stay in Munduk:
Meme Surung Homestay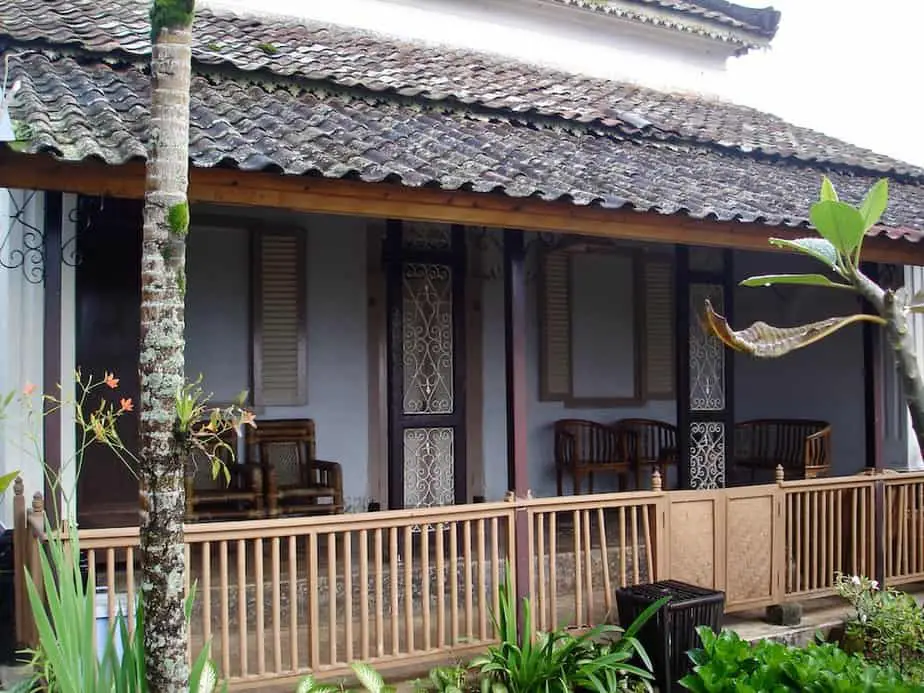 The first time we visited Munduk we spent two nights at this nice homestay. We are surprised at how wonderful the views were. The owners were happy to help us on our way and before we knew it we had a guide arranged to pick us up for a hike the next morning.
This homestay/guesthouse is in one of the old Dutch colonial buildings and has one of the best views from their restaurant.
The rooms are simple, with mosquito nets, fan and en suite bathroom. Don't expect luxury but it is one of the more affordable options in town.
Puri Sunny Guesthouse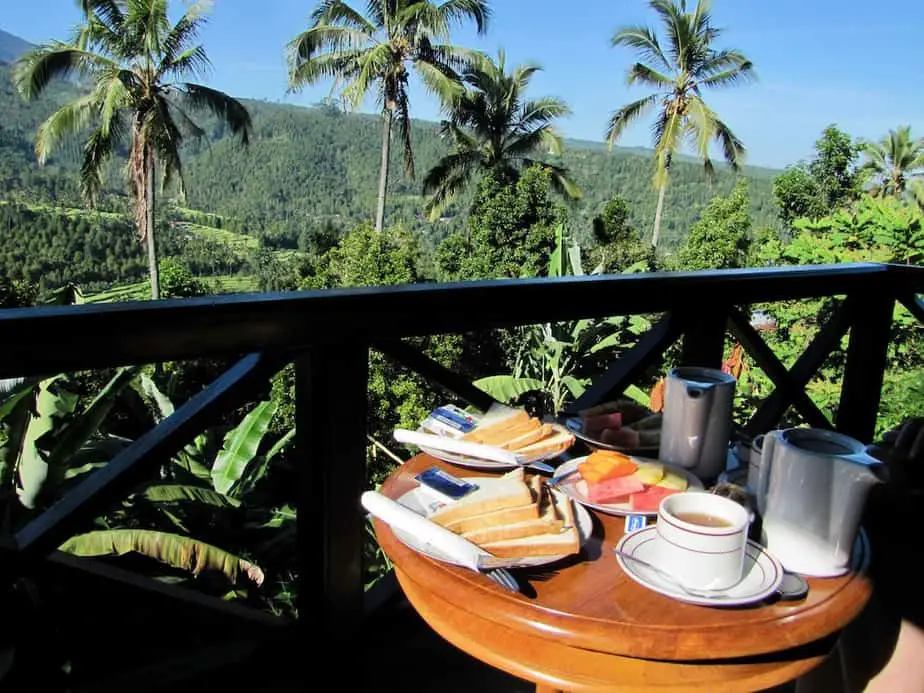 This guesthouse is located a stone-throw away from Meme Surung Homestay on the main road through the village.
Here they also have great views on the valley below and on Mount Batukaru. It's in the heart of town and from here you can even walk into the forest or the rice fields.
Puri Lumbung Cottages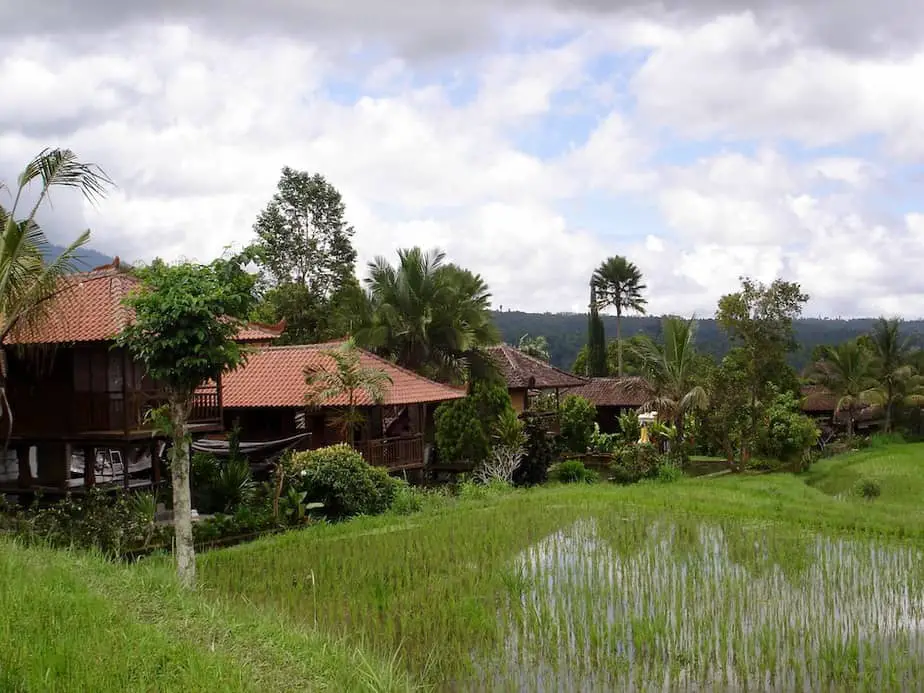 This hotel in Munduk is the leader in eco-tourism development in the region and local people get the chance to gain experience.
There are several old rice barn bungalows (Lumbung) set in a tropical garden with views over nearby rice paddies and impressive valleys. This is a wonderful option if you want some more luxury during your stay in Munduk
You can also follow courses in batik making, wood carving, Balinese dancing, etc. Their restaurant is definitely worth trying.
Munduk Modig Plantation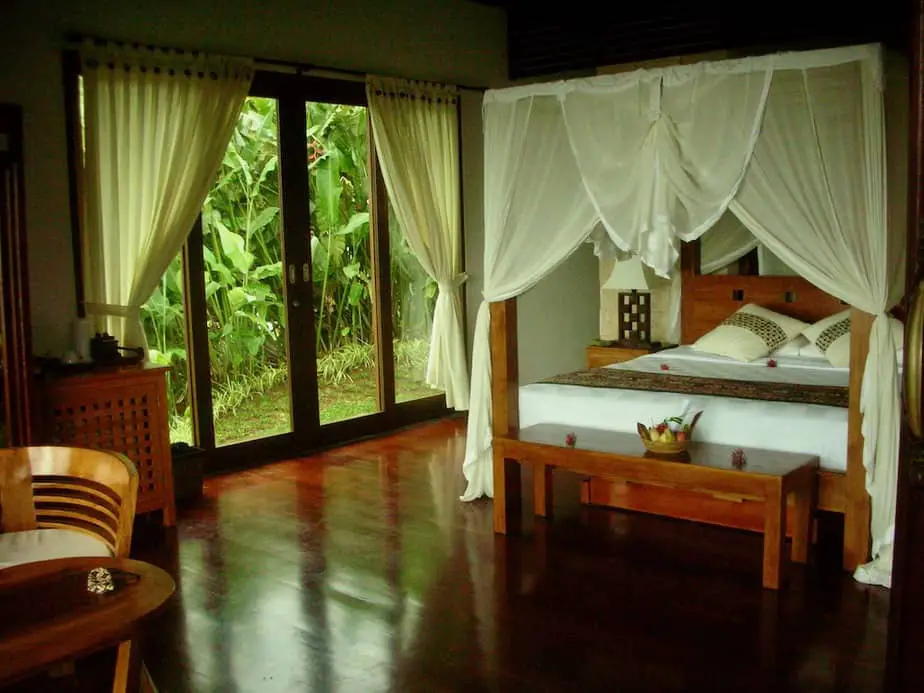 This gem is located just outside Munduk in Gobleg Village. It's a nature resort on a working coffee plantation, which promotes sustainable tourism.
This luxury resort has bedroom villas, pool villas, grand suite, or suites located with wonderful views. We have stayed here a couple of nights and really enjoyed opening the curtains every morning. The view is fantastic. We also liked taking an open-air shower in the garden.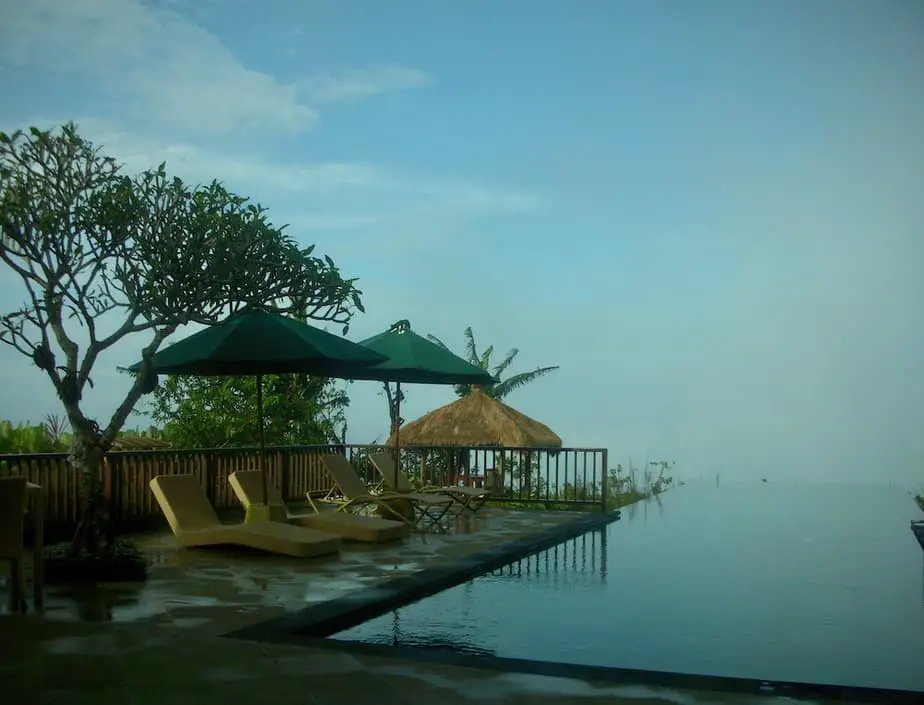 Today their infinity pool has attracted a lot of people on social media. They offer day passes so you can get your Munduk Infinity Pool moment.
Hopefully, this Instagram hype will soon be history because we think it looses the meaning of this place.
Munduk or Sidemen?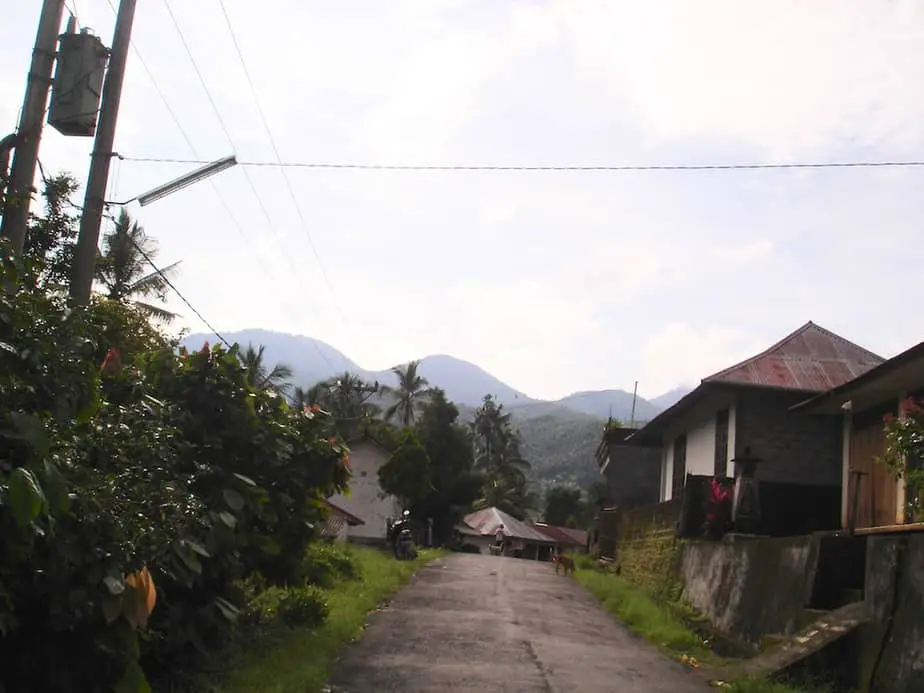 Now comes the toughest question. If we had to choose between Munduk or Sidemen, what would we choose?
Both have stunning views, local presence, gorgeous rice fields, hiking possibilities, organic food, and a lot of other great things to do nearby.
Their many similarities make it difficult to choose.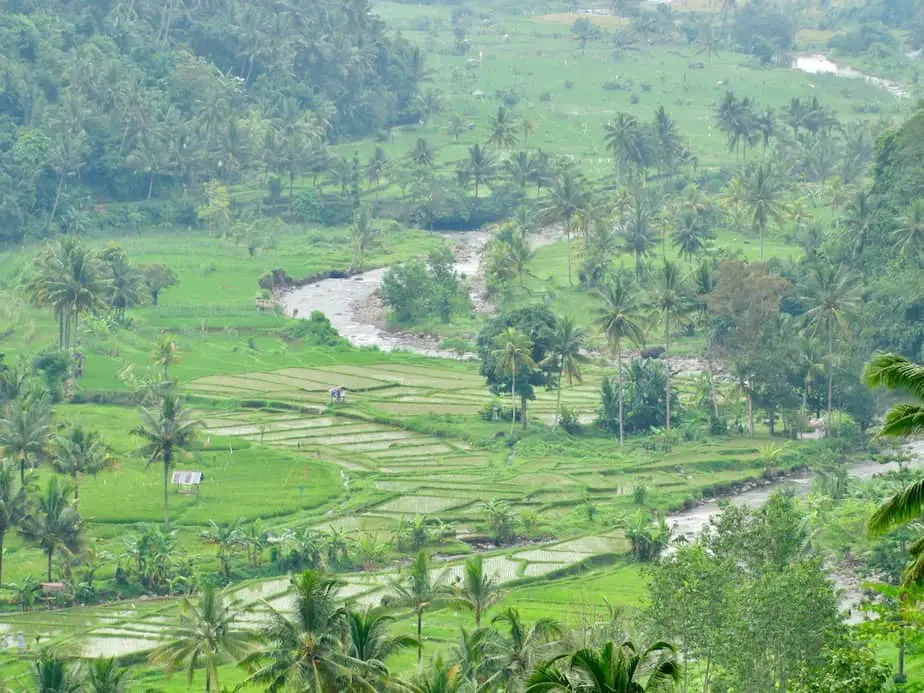 I guess the biggest difference is that Munduk has a lot of waterfalls you can hike to plus it is located up in the hills. The weather is cooler and there can be a bit more rain.
There are more jungles and lakes in Munduk making it a different destination compared to Sidemen. But in Munduk I wouldn't go for a stroll along the main road. It wouldn't be as charming as the main road in Sidemen.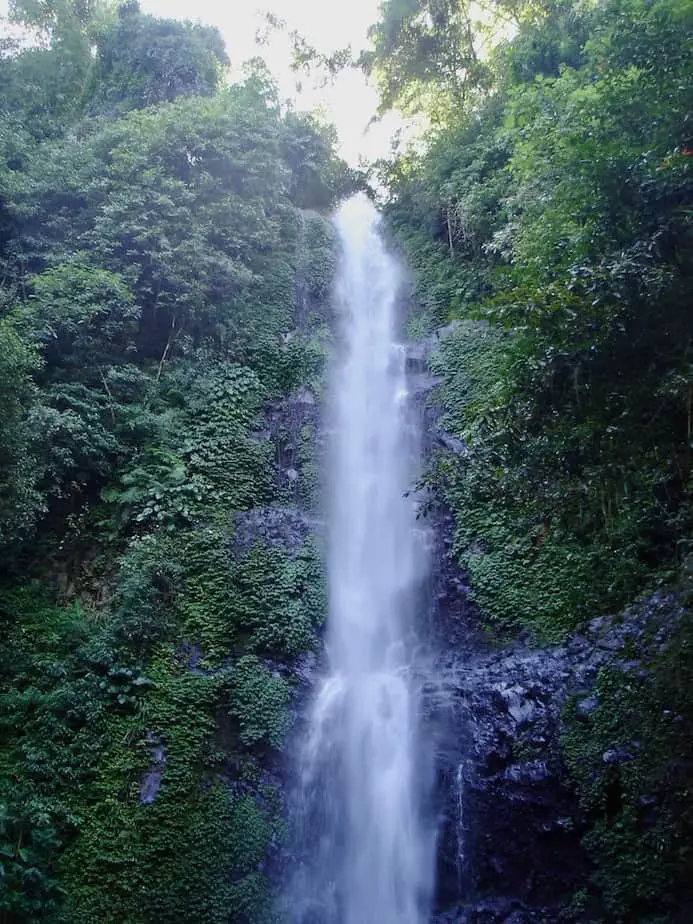 But to come back to the difficult question. I guess I wouldn't know which one to choose. For us, it would all depend on our whole holiday itinerary. If we were to go to Pemuteran Beach then we would definitely stop in Munduk (or Batukaru… to make it more difficult).
But when we focus on East Bali then Sidemen would be on the list of must-visits.
So basically, either one. As long as it fits in your itinerary and you don't have to drive half the island to visit one of these villages.
To conclude hikers and nature lovers will feel at home in Munduk. There are plenty of things to do and you can easily spend a couple of days on the hills or in the rice fields.
And for those who prefer a cooler climate when in Bali, it is a great place to stay while also exploring Lovina Beach, the Twin Lakes, and temples.