If you are into eco and sustainable traveling, then it is pretty easy to come up with a list of things to do in Bali. The beautiful Balinese landscape and marine life make this island a wonderful place for nature lovers.
You will wander through villages, following tiny roads up to the mountains or walk along the beaches by sunset.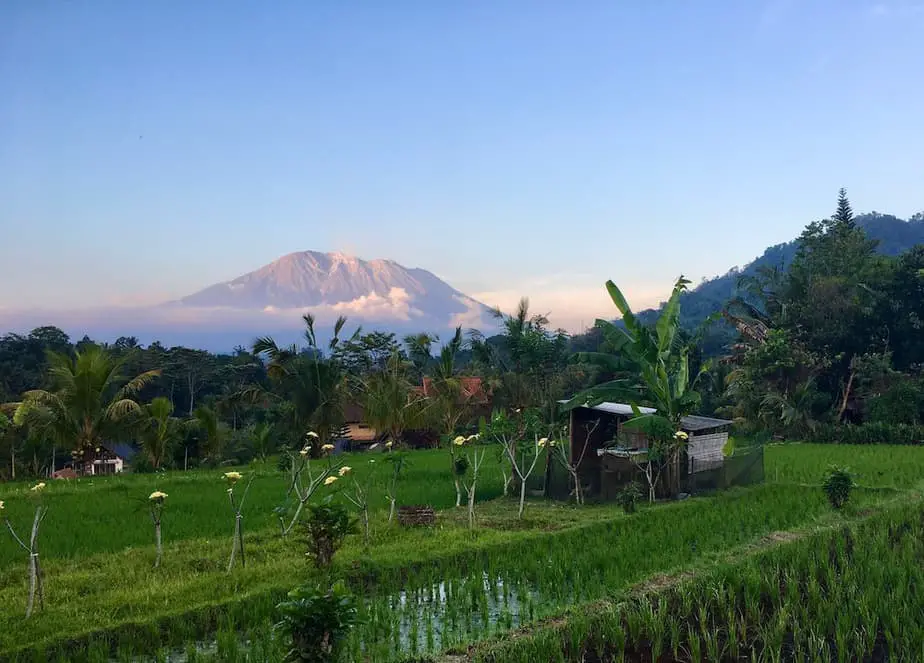 Our list of eco things to do in Bali is a mix of things you can do on your own, but we have also added great tours that will take you to awesome places.
Tours are a great way to not only see the highlights but also see charming bits of pieces of Balinese daily life. The tours we recommend are local tours where Balinese families or communities are involved. If you are interested you will be redirected to their site.
By visiting these Balinese wonders of nature you are supporting environmental causes and you'll be more aware of the unique culture. Hopefully, this will result in more conservation initiatives in the future.
1. Ricefield Hiking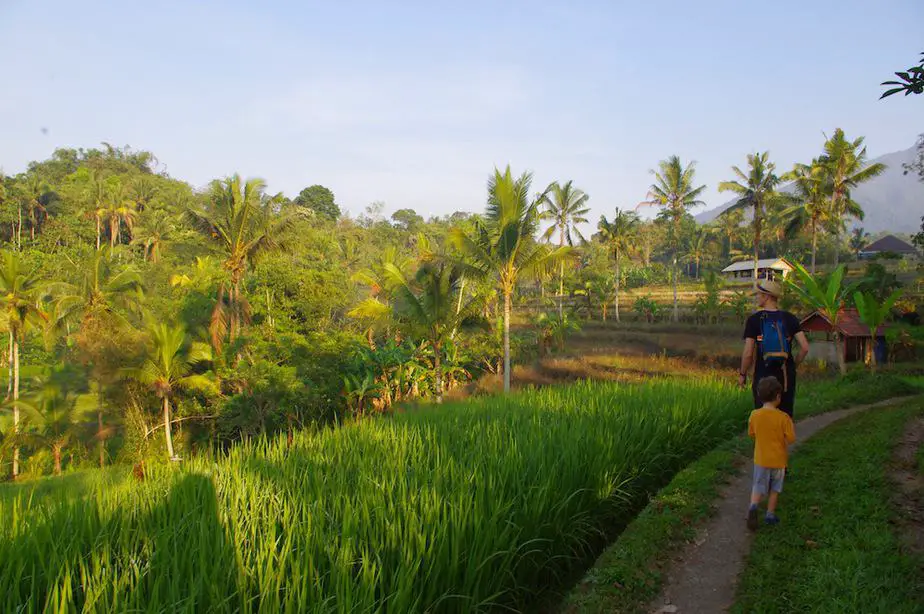 This is a must to do when in Bali. The small paths through the rice fields will guide you to amazing views, local scenery, and enchanting temples and shrines.
The best way to fully experience the rice fields is to stay at accommodation nearby or within the ricefields. This makes easy access to the fields and enables you to take all the time you need (or to get lost). Early morning or late afternoon walks are just amazing.
Villages such as Ubud, Batukaru, Jatiluwih, Munduk and Sidemen are excellent places to immerse yourself in this stunning man made green landscape.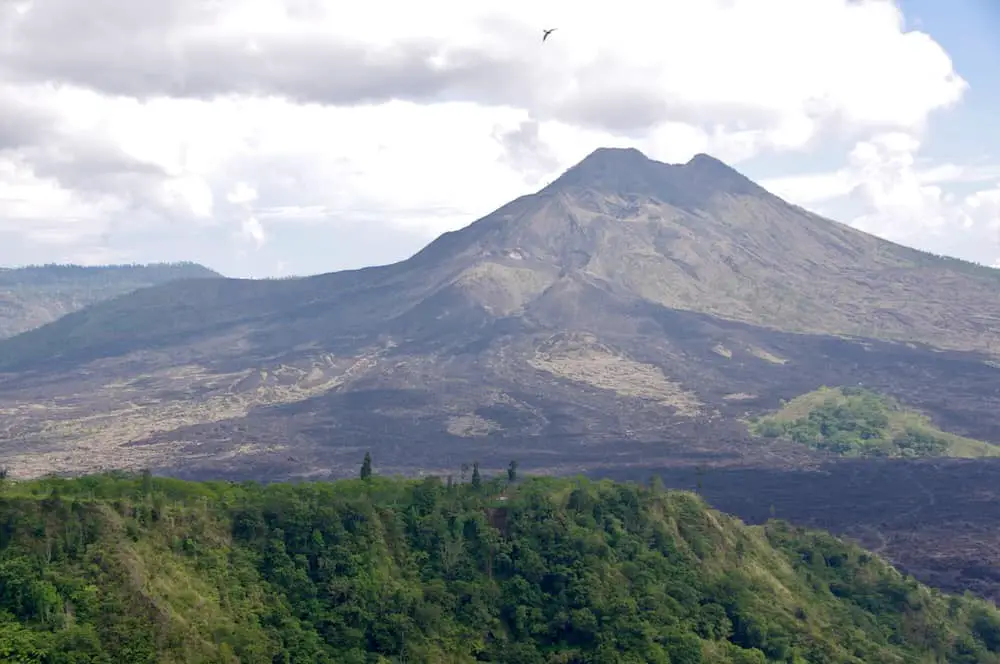 Bali has three stunning volcanoes: Mount Agung (3,031m), Mount Batur(1,717m), and Mount Batukaru (2,276m). It is possible to hike to the summit of all three of them. However one is more challenging than the other.
Mount Batur is probably the most visited, while Mount Agung is more for the fit and advanced. As for Mount Batukaru? This volcano is rarely visited and only a small number of hikers are allowed to enter. Again, you must be fit and well trained to reach its summit.
The sunrise tracks are unforgettable. You can either arrange guides and permits yourself in villages near the starting point of the hikes.  You can also go with an organized tour to Mount Batukaru and Mount Agung. These tours can be arranged at any village in Bali.
Convenient locations to stay for the pick-up by a tour company are Ubud or Sidemen. If you want to arrange your hike independently then it is best to stay at the villages near the volcanoes: Toya Bungah for Mount Batur, Iseh for Mount Agung and Jatiluwih for Mount Batukaru.
3.  Jungle Trekking at the Twin Lakes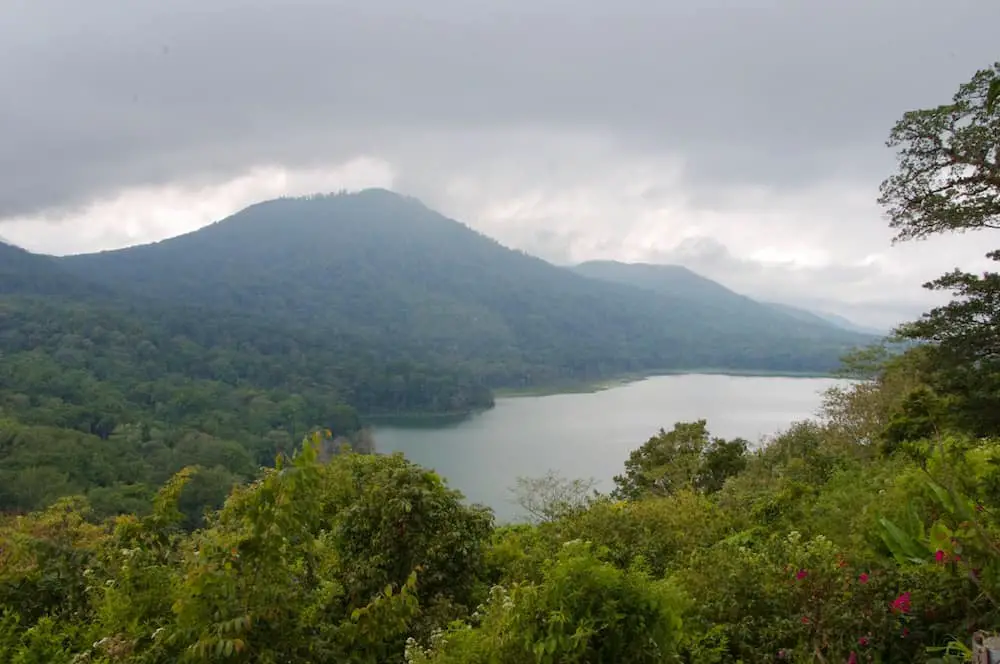 A forgotten yet lush green area in Bali are the forests around Lake Tamblingan and Lake Buyan. There are various trails that take you into the forest and along the lakes and past Balinese villages.
There are many accommodations found in this area. They can arrange a local guide to take you. Bali Jungle Trekking offers a nice combination of hiking, crossing the lake in a dugout canoe and visiting sacred sights.  The hikes are usually 2 to 3 hours.
To fully enjoy the area it is best to stay at one of the many accommodations near the lakes. But nature lovers staying in Munduk or Lovina can easily reach these trails or join the Jungle Trekking tour too.
At this organic farm, you easily leave the holiday scene behind and immerse yourself in the combination of nature and village life.
The loving team of local Balinese offers a wonderful village experience starting at their cafe followed by a visit to the village where the Balinese share their daily life with you. The farm also offers cooking classes and insights on organic farming.
This farm gives you a unique experience during your visit to Bali. It also aims at increasing the importance of farmers, respecting nature and developing the income of local farmers.
This inspring initive is located in Angseri, nearby Jatiluwih.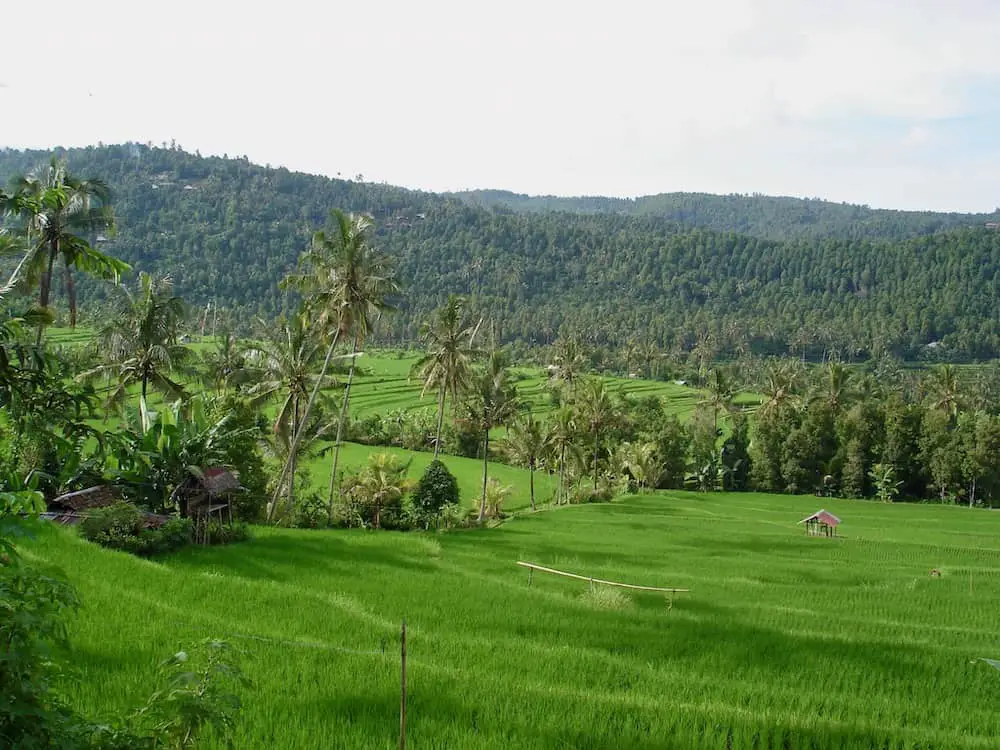 If you want to experience rice fields, Balinese villages, homemade cooking and local knowledge in one day then Putu Artana organizes wonderful walking tours in Mayong, North Bali.
The trail is relatively easy and is even suitable for children. The whole tour is just 3,5 hours including lunch prepared by his wife Ria.
This local guided tour is ideal for those staying in Munduk or Lovina. It is also a good thing to do when you're travelling to or from the north part of Bali.
6. Photography tour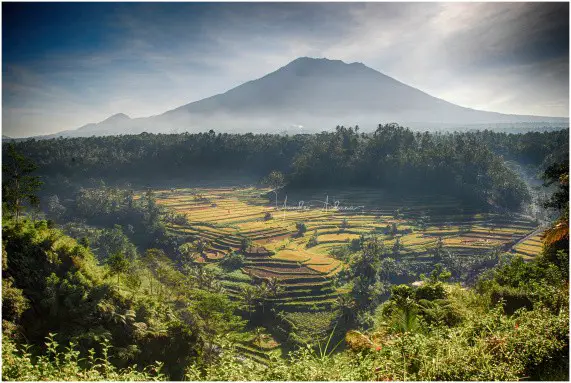 This photography tour by Yande Ardana is a pretty unique experience for travel photographers. Yande offers various types of tours you can choose from taking you to exceptional places all over Bali.
Besides famous highlights such as the Ulun Danu Beratan Temple or Tirta Gangga Temple, this tour will take you to waterfalls, ricefields and local fishing villages. So while you have to opportunity to gain valuable tips on photography, you will also see beautiful sights in Bali.
And the best of all is that Yande will make sure you can take pictures at the best time of the day: the early morning. Tours start at 4.00 in the morning and last until the afternoon.
You can directly contact Yande for details. It is even possible to change the itinerary to suite your wishes.
7. Botanic Garden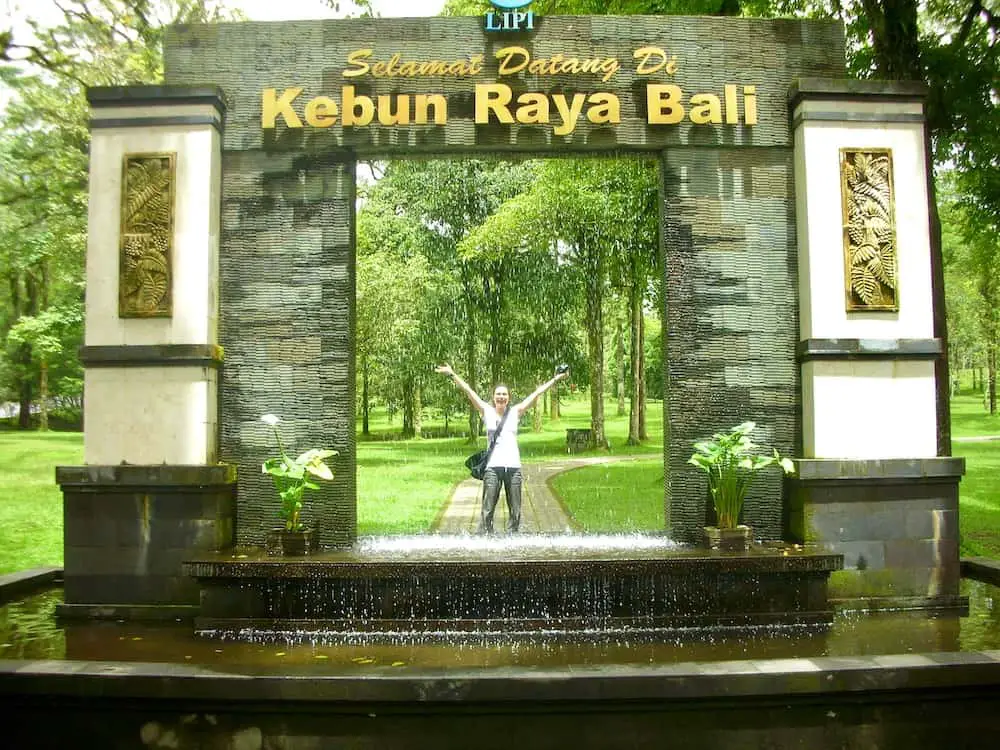 The Botanic Garden near Bedugul is one of the largest in Indonesia. You can wander through all types of gardens ranging from bamboo- to fern gardens. At the Tropical Forest Walk, there is an impressive hundreds year old fig tree.
For those who love orchids, roses and begonia then this is the place to be too. The Kebun Raya (Botanic Garden) has the largest wild orchids collection in Bali. We could easily walk around for hours. It's quiet and since it is located somewhat in the mountains, the climate is very refreshing too.
We combined our visit when we were passing Bedugul on our way to Munduk. It is an ideal pit stop when doing day tours to the northern part of Bali.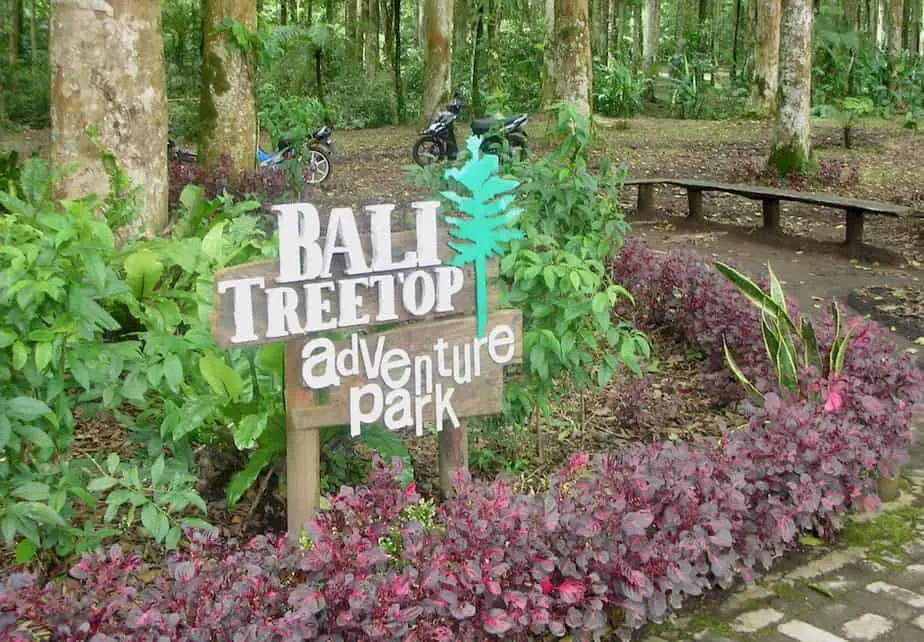 Climbing trees is a thing to do for young and old. Climb the trees and enjoy the view. Bali Treetop is located in the Botanic Gardens. Between the large trees, they have created circuits varying from log bridges, ropes, ladders, swings and more.
You will get safety instructions before you start the climb. Instructors will also follow you along the circuit so safety is a priority here.
The park is located nearby Bedugul. It is an excellent activity to combine with a visit to the Botanic Garden or when touring to Lake Bratan, Lake Buyan, Lake Tamblingan and the nearby temples.
9. Mountain biking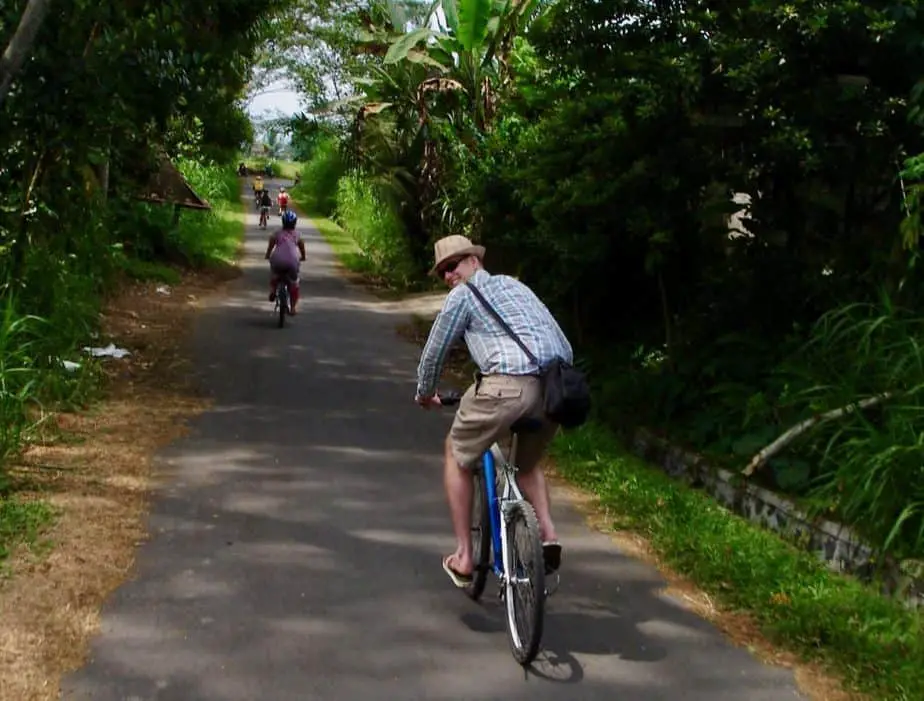 There are dozen of bike tours that offer downhill mountain biking. We experience this to be one of the best ways to see the diversity of Bali. You will cycle downhill through tiny villages, past rice fields, and plantations, see temples and perhaps even witness a religious ceremony.
But most importantly you will use all your senses. You will smell, hear, see and feel Bali. Most tours have mountain bikes for young and old but others offer e-bikes too.
Ubud has numerous biking tours such as Bali Baik Tours. These tours usually start at Kintamani and go all the way down hill to Ubud. Another great option is to tour around the Jatiluwih area. The Green Bikes Bali company offer 1 tot 4-hour bike tours on ebikes.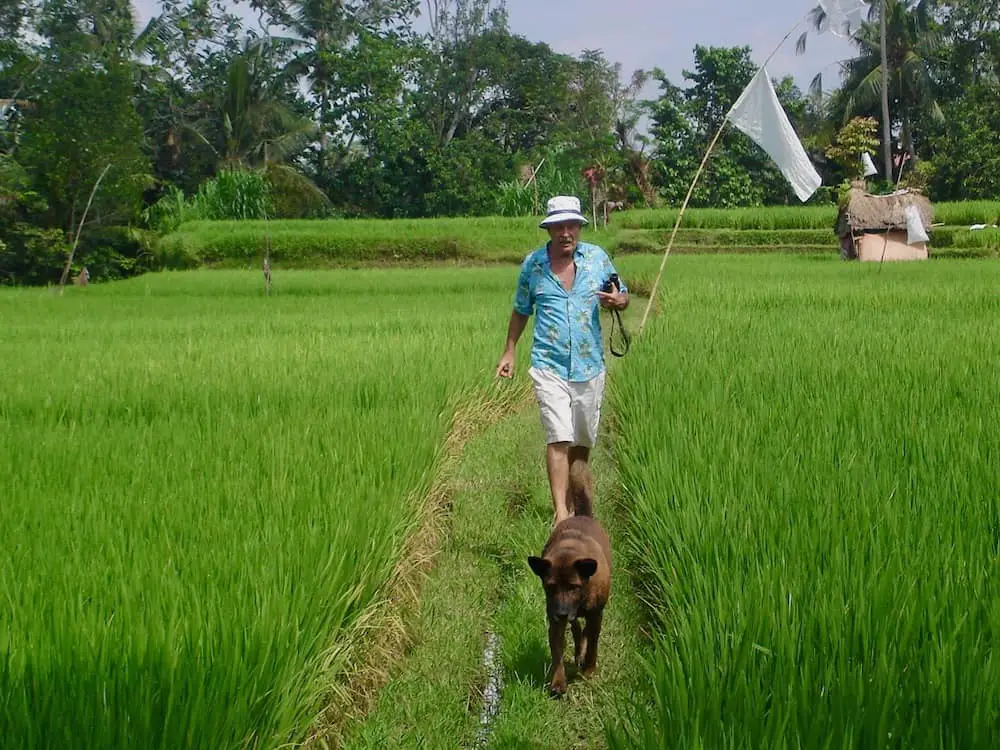 Bali offers wonderful places for bird watchers to see all sorts of bird species. There are over 100 species of birds found here such as the Java Kingfisher, Cinnamon Bittern, the Olive-backed Sunbird and many more.
Quite popular and pretty accessible places to do some bird watching is in Ubud. Just north of Ubud, there is a village called Petulu which is known for its White Herons.
The rice fields of Ubud are another great place. As inexperienced bird watchers, we had a wonderful time spotting birds with Victor Mason at the Bali Bird Walk. He organizes all sorts of tours around Ubud.
If you are a die-hard birdwatcher and you want to add the Bali Starling on your list, then you must head to West Bali National park or Nusa Penida.
11. Wild Water Rafting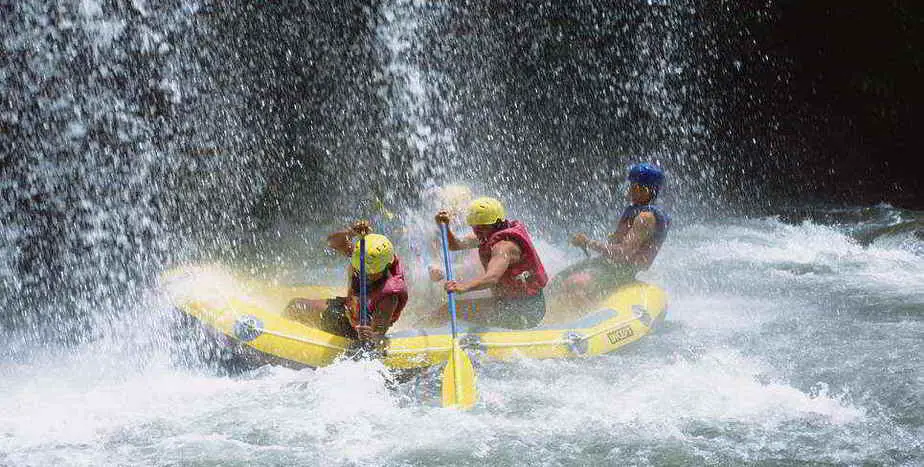 Not only is wild water rafting in Bali a thrilling experience, but you will also pass amazing tropical rainforest, rice terraces, gorges, swim near waterfalls and see many other things than any regular tour.
There are three rivers known for its great rafting possibilities: Ayung River, Melangit River, and Telaga river. The later is for all adventure seekers, while the Ayung River and Melangit are much more challenging.
There a many companies in Bali that offer rafting tours, all include pick-up and lunch. To avoid being stuck in the car too long, best to go on these tours when staying in the Ubud area or further north.
12. Into the bowels of Bali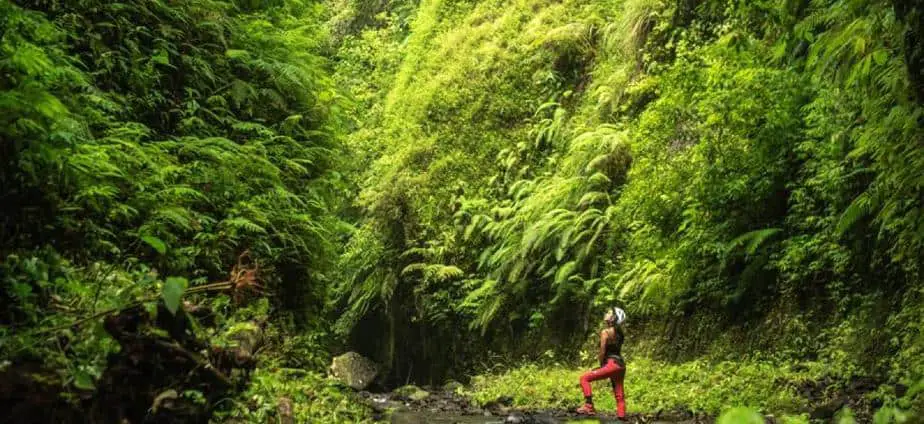 If you ever wanted to experience canyoning then this is the opportunity to do so. Adventure & Spirit offer amazing tours to places where nobody goes. Move through the natural environment while climbing or jumping down waterfalls, abseiling river gorges and walking on tight ropes.
You don't have to have any experience in abseiling as instructors will guide you. If this sounds a bit too much for you, the same company also offers amazing hikes to the Arjuna Waterfall.
There are pick up possibilities for both tours. For this tour it's best to stay in Ubud, Lovina or Singaraja.
13. Hunting Waterfalls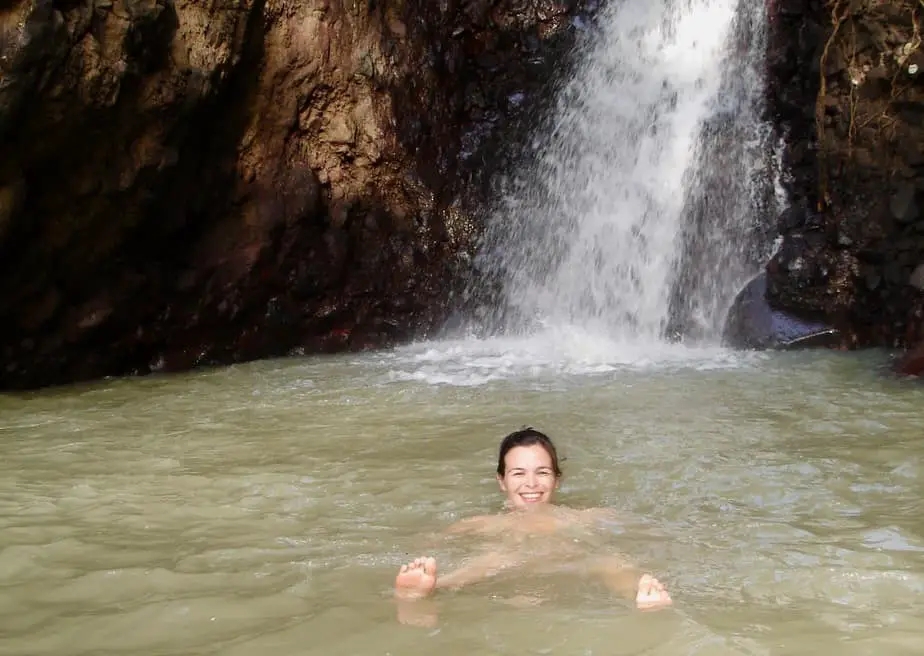 While Bali is mainly known for its culture, ricefields, and beaches more people are discovering the stunning waterfalls. They are basically scattered throughout the island, with Tegenungan Waterfall in Ubud and GitGit Waterfall in North Bali being the most popular.
Munduk is also known for its number of waterfalls. Some are easier to reach than others. A great thing about most waterfalls is that you can visit them from 07.00 am. Excellent for those who really want to have the waterfall all to themselves.
Waterfalls nearby Ubud are NungNung Waterfalls, Tibumana Waterfalls, Tukad Cepung (located nearby Sidemen).
When staying in Munduk and Lovina the GitGit Waterfalls, Banyumala Waterfalls, and the Aling Aling Waterfalls are almost around the corner.
Located on a hill in Nusa Dua you'll find a farm site run by the R.O.L.E. Foundation which teaches local Balinese how to farm sustainably and where they teach literacy classes to local women.
They also have many ongoing projects such as Zero Waste Management programs for locals, schools, and businesses in Bali. Other important initiatives are beach cleaning training and upscaling programs.
A great thing is that this foundation encourages involvement, including you. They offer interactive tours where you can take a peek into all the projects they are working on. Learn about enviromental issues, visit the Zero Waste to Oceans Center, and actually do some hands-on learning on waste management, reforestation, natural dyeing and soap making.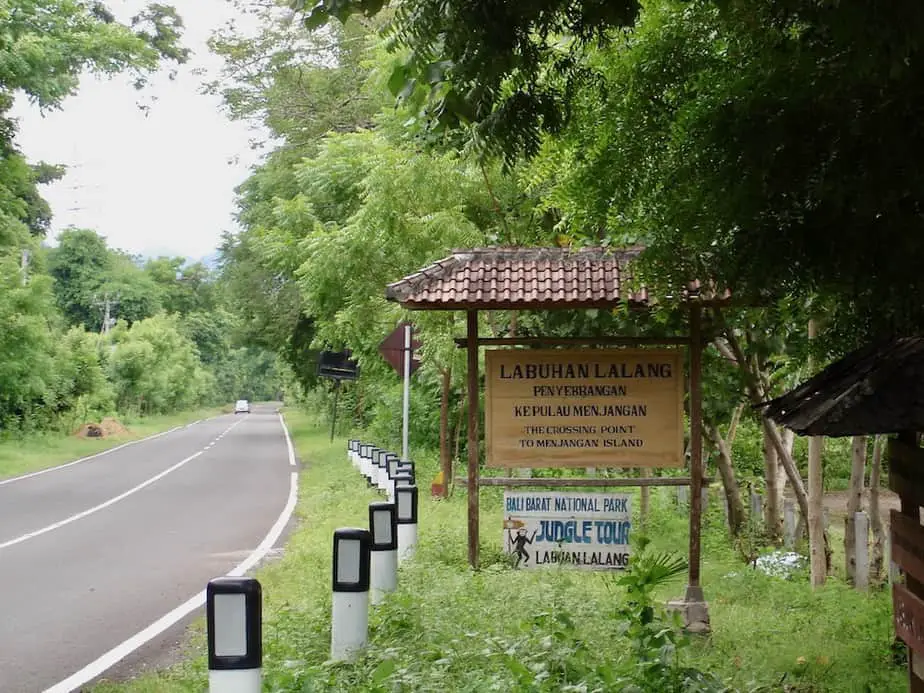 This important yet not very popular park is located on the western tip of Bali.  It is the most important conservation area of the island and is home to many species, including the endangered Bali Starling.
Like most national parks in Indonesia, you can only enter the park with a guide. They can take you along various tracks ranging from 1 to 2 hours or even 7 hours.  Guides can be arranged a day before at the headquarters at Cekik (North-West Bali). Many resorts in Pemuteran can arrange a tour of the park for you as well.
Mengjangan Island is also part of this park. The Javan Rusa Deer is found on this island. However the island is mainly known for its exceptional clear water year round. This makes it a favorite place for divers and snorkelers who come here from all over Bali.
16. Visiting the beaches in Bali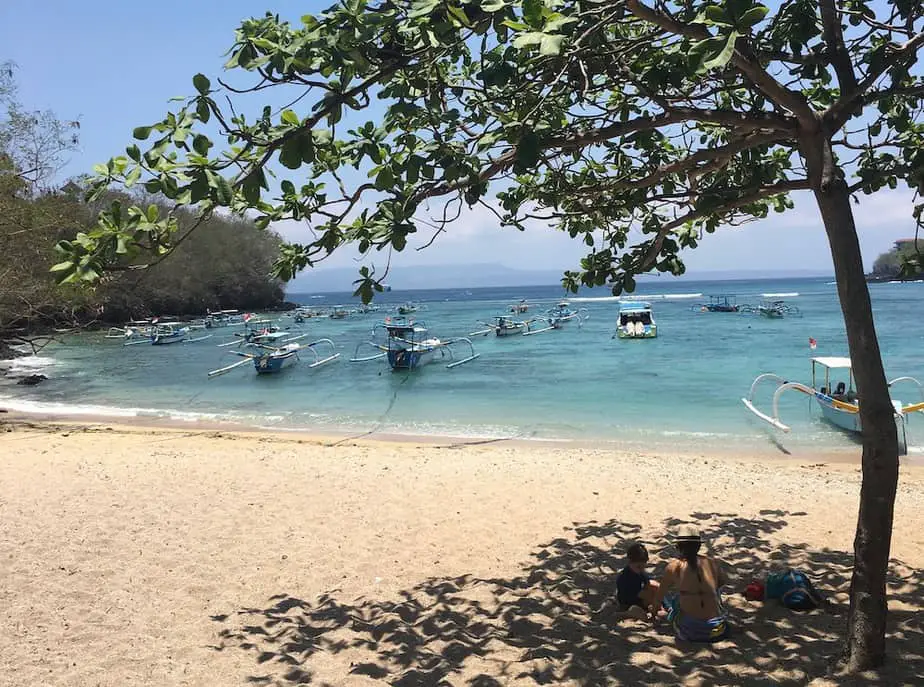 The great thing about the beaches in Bali is that they are extremely diverse. The waves at Uluwatu, Bingin, and Balangan are famous for surfing yet the beaches are totally different.
There are beaches with black sand such as Pemuteran Beach and Lovina Beach. But there are also beaches with white sand such as Bias Tugel Beach in Padangbai and Pantai Putih (Virgin Beach) near Candidasa. Some are well developed while others are not at all.
So if you are a natural beach lover make sure you plan to visit more then just one beach. Spend a day at a beach to fully experience the atmosphere. And don't forget to check a tidal app if you prefer to go for a swim.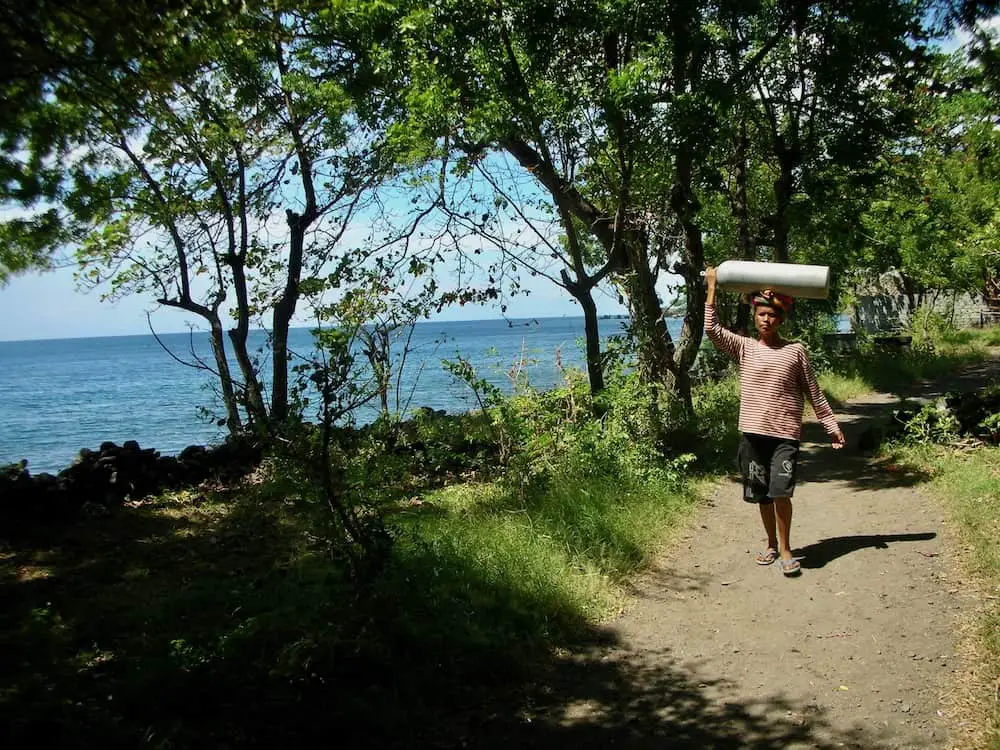 Bali is surrounded by coral reef making it ideal for diving and snorkeling.  Here you can see many species of marine life such as nudibranchs, white tip sharks, manta rays, barracudas and turtles. In total there are around 952 species of reef fish and 393 coral species.
Most of the diving and snorkeling spots are located along the beaches in the east of Bali (Tulamben, Amed, Candidasa, and Padangbai). Other great spots are in Nusa Lembongan, Nusa Penida, and Menjangan Island.
All are accessible with one of the many dive operators located in the main tourist villages on the island.
You can either stay at one of the many dive villages, but there are also dive companies in Balangan and Sanur that offer PADI courses and tours.
Snorkelers can also op for traditional fishermen to take you to the best snorkeling spots.
18. Free Diving
Tired of carrying all that diving gear? Then it's time to do some serious free diving at Apnea, located in Amed and Tulamben.
Here they organize multi-day free diving courses for beginners. They also have individual training sessions on world-class competition level for advanced freedivers.  For surfers, there's a special course to keep your cool while tackling huge waves.
19. Catching Waves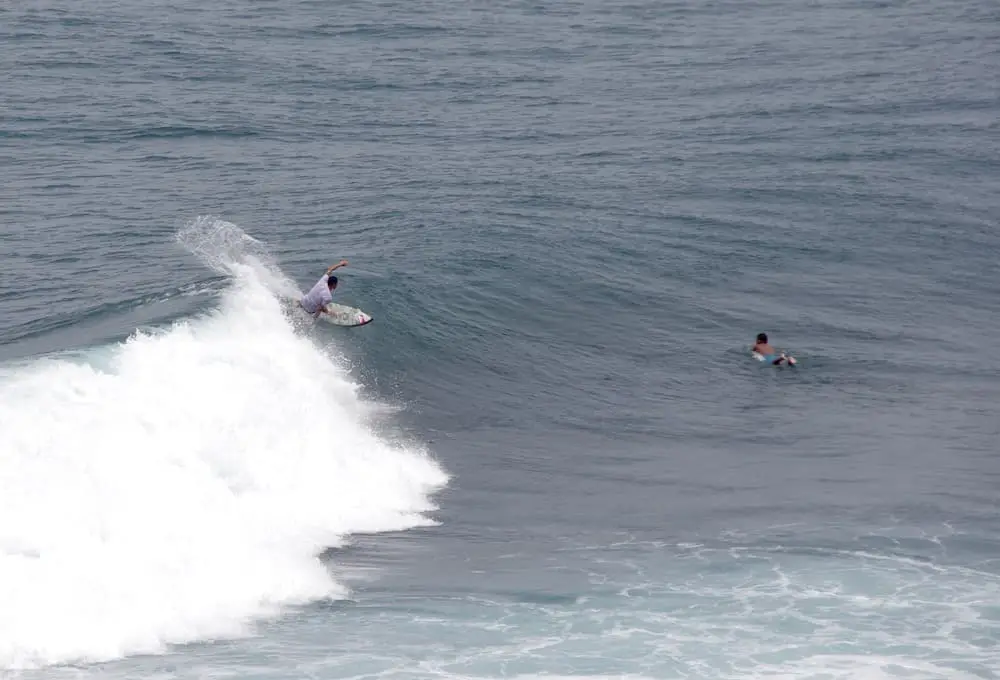 The island is popular for its great waves. The famous surf beaches are located around Kuta beach and Uluwatu. For the die-hard surfers, there are also hard to get barrels.
Surfing lessons are possible as well. We had a great surfing lesson in Kuta and as promised, we were able to stand after one lesson. If you want to feel totally comfortable on a surfboard in a short period of time or if you are already a keen surfer you can also join a surf camp.
If you rent a motorbike you can basically drive to any surf beach. The Bukit area in the southern tip of Bali has a large diversity of surfing spots. Try to check out the following surfing spots: Balangan Beach, Bingin Beach, Impossibles, Padang Padang Beach, Uluwatu and Green Bowl.
20. Joining a Beach Clean-up
One of Bali's biggest struggle is trash on the beach. Trash season usually arrives during the monsoon season. But we have discovered that it is pretty much all year-round. Straws, cigarette buds, plastic water cups, and sachets are found in the most beautiful places in Bali, together with all kinds of other things you can think of.
Awareness is the biggest step in overcoming the trash epidemic. This is done by organized beach clean-ups. A large number of great initiatives organize these clean-ups. Some are weekly and take place at the same spot such as the Old's Man Clean up on Saturdays in Canggu or the Trash Hero at Pantai Mertasari in Sanur. Other organizations have planned events.
Every little bit helps. If you want to make a big difference then check out where and when beach clean-ups are organized during your holiday in Bali. Or you can do it on your own. Just 30 minutes of cleaning makes a huge difference for you and Bali.
20. Mangrove Tour Nusa Lembongan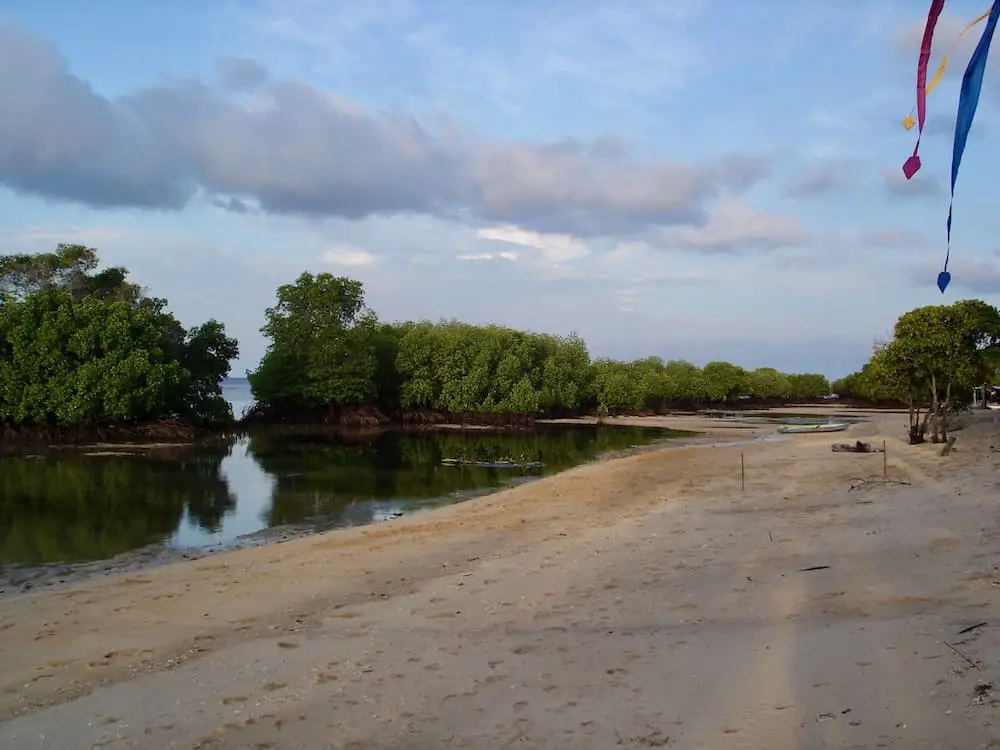 Mangroves are a rich eco-system and Nusa Lembongan has a mangrove forest that you can tour around by unmotorized traditional boat. Often you'll be in the shade of the mangroves which makes it an ideal trip for any type of season or time of day.
Tours in Nusa Lembongan combine the visit to the mangroves with beautiful snorkeling spots. You can also rent a kayak and paddle through the forest independently.
There are many tour companies in Sanur that offer day trips to Nusa Lembongan and the mangroves. If you are in Nusa Lembongan already then head to Jungut Batu or Mushroom bay where they can help you out.
21. Visit Baby Turtles
There are many turtle conservation projects along beaches. We found one at Sanur beach near the hotels. We are not sure if this is to attract tourists or if it is a genuine professional organization focused on rescuing turtles.
That said, there is the TCEC Serangan. This well-organized center aims to eliminate illegal turtle businesses by providing alternatives for the local community of Serangan island. The center focuses on ending the trade in turtles, discouraging the use of turtles as consumption or in religious ceremonies and to support turtle conservation.
You are able to visit this center if you want to learn more about their work, see hatching eggs and of course sea turtles in all sizes. There is no entrance fee. However, a donation is more than welcome.
This sanctuary is located near Sanur. If you are staying in Kuta or Jimbaran  it is easy to get there.
22. Stay at an Eco-Accommodation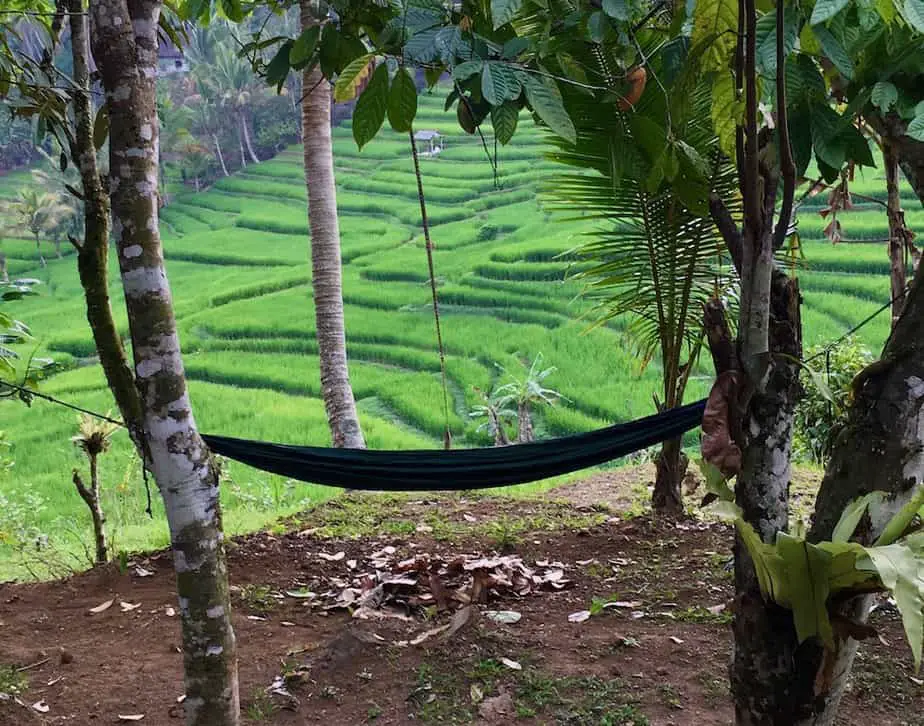 The great thing about many eco-accommodations in Bali is that these types of places have beautiful natural surroundings and also offer great activities on their premises.
For instance, Bali Eco Stay and Sarinbuana Eco Lodge offer all kinds of activities such as trekking, visiting waterfalls and meals from their organic garden. Sari Devi Ecolodge is surrounded by rice fields in which you can get lost, while the hosts will welcome you at the end of the day with homecooked dinner prepared with ingredients from their garden.
Not only will spending a day or two at an eco stay be a wonderful experience, but you will gain a lot of valuable knowledge while supporting the community and nature conservation initiatives.
Is there anything you like to know more about? Or have you done other eco things to do in Bali that should be on this list? Please let us know in the comments below.