The mountain slopes, forests, river gorges, and stunning ricefields are perfect settings for a wonderful stay at one of the eco-accommodation in Bali.
So far, most of the eco-accommodation is located in Central and North Bali. Fortunately, these parts of the island have had less development than those in the south.
You are still able to wake up here to the sounds of birds, have beautiful views of the mountains and/or rice fields.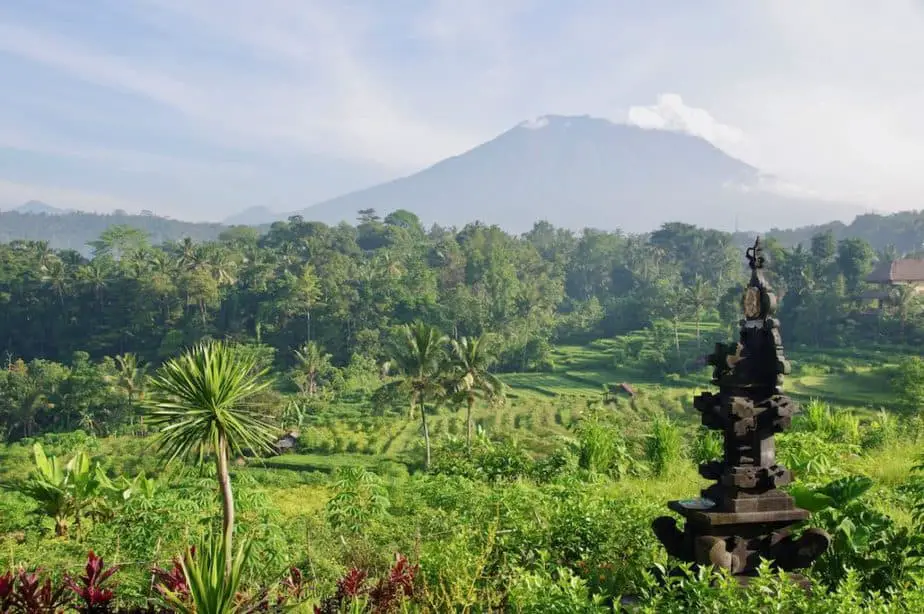 Eco accommodation aim at minimizing their impact on the environment. Ideally, others focus on creating long-term incentives for the local people too.
As you can imagine, as a visitor to Bali you will leave less of a negative footprint when staying at an eco-hotel.
But while this is already a reason alone to stay at this type of accommodation, we also love the fact that the eco-accommodation always has something special.
You can tell that those who own an eco-accommodation want to share their vision and love for the island. This doesn't only include the environment but also the local people who have made Bali a very special place.
Different Types Of Eco Accommodation In Bali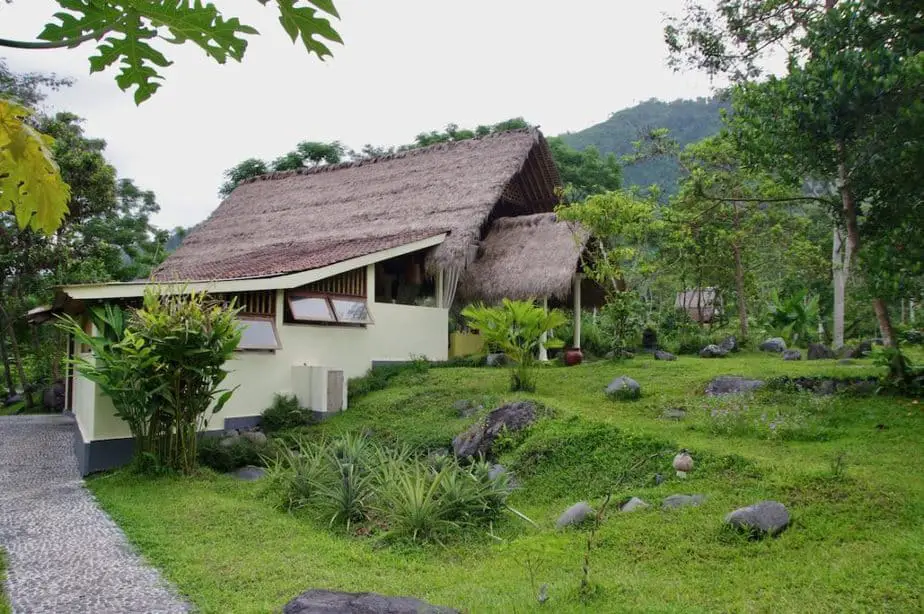 Over the past years, the number of eco-accommodation on the island has been gradually growing. We think this is a wonderful development. Sofar the tourism industry has had a negative impact.
The big chain resorts and villas still outnumber the eco-accommodation in Bali by far. However today there are many inspiring examples of what is possible.
There are those that not only aim at the biggest return on investment but are making a lot of effort into giving back. They understand that this is the way ahead for the island.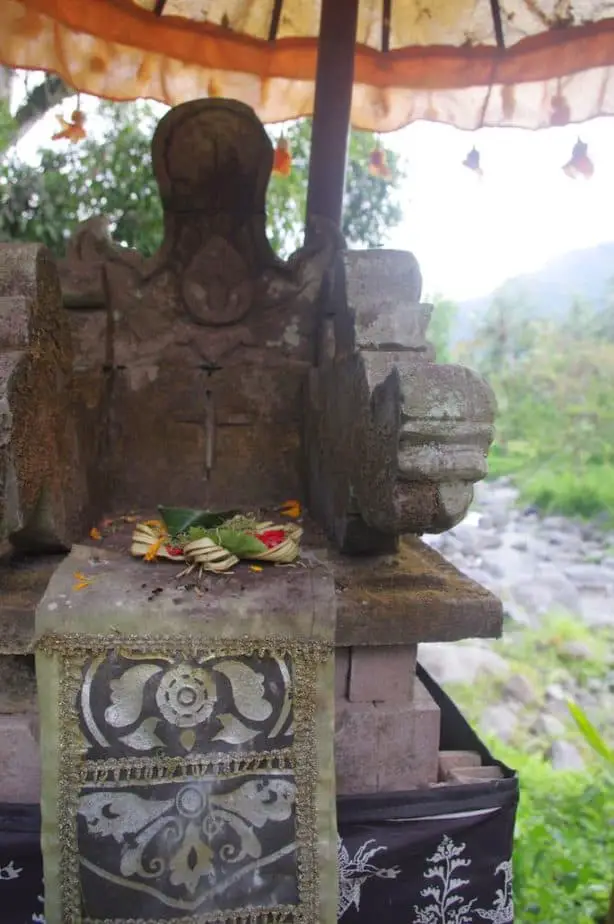 We have searched for many places to stay in Bali and realized there are many types of eco-accommodations. While some owners have dedicated their life to sustainable tourism, others seem to use the word 'eco' very lightly and more for marketing purposes only.
We discovered that eco-accommodations comes in many forms and can not be placed in one category alone. We believe that building a beautiful place entirely made from bamboo located right in the rice fields should do more in order to call themselves "eco".
However, many of these eco accommodations are missing the point.
We think an eco-hotel in Bali should scratch more than just the surface. It should include contributing to a sustainable future.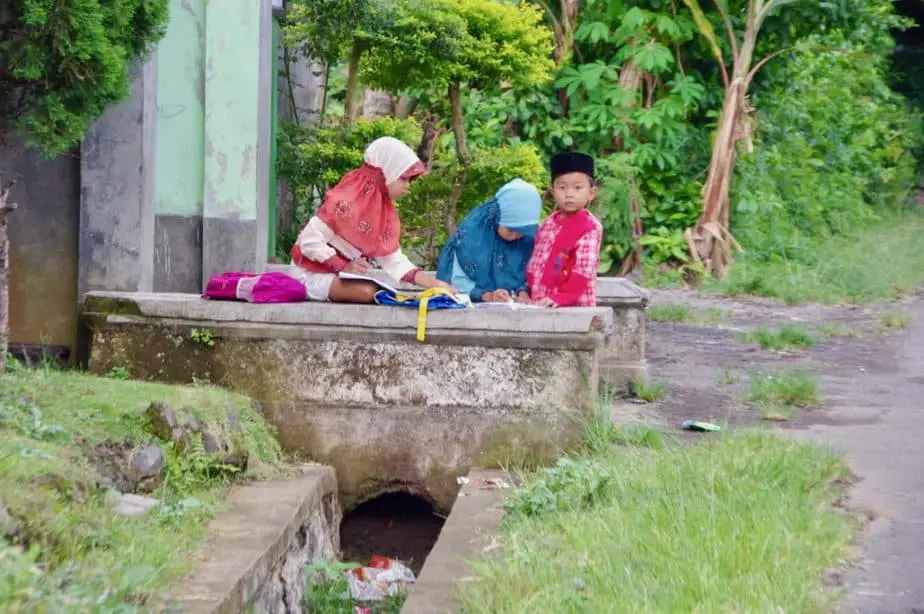 Just by considering some simple questions, it's easy to see the differences between eco-accommodations. For instance, how was the land obtained for the hotel? Is the hotel giving back to the community and environment instead of filling their pockets only? Are the owners even there or is it just one of the many other investments?
These little details are important for the sustainability of these types of hotels and their impact on tourism in Bali.
What Should An Eco-Accommodation In Bali Aim For?
Running an eco-accommodation involves a lot of dedication and passion. We understand that it is a different approach and hard work. However, if they can implement some of the following points then there will already be a positive impact.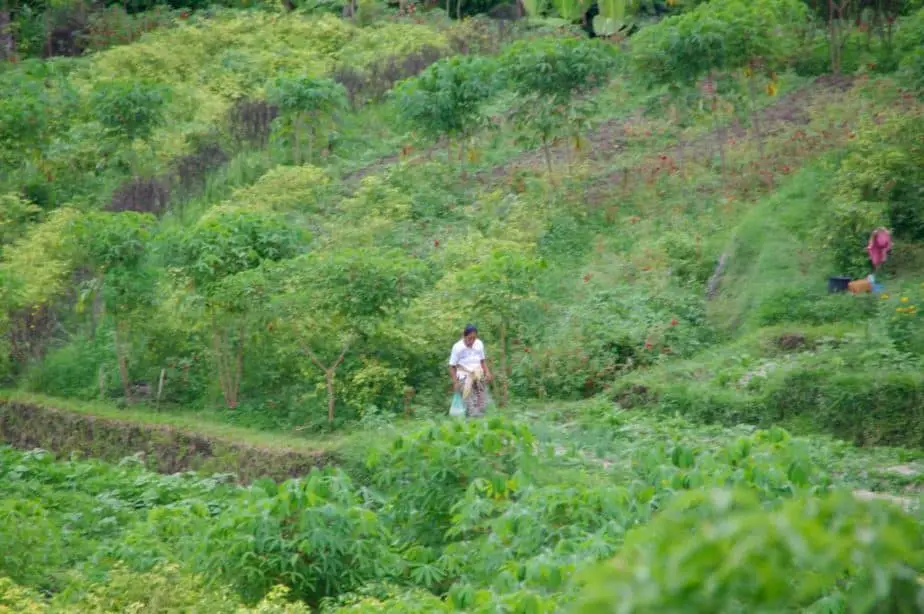 minimal impact on the environment: waste and/or water management, maintaining the natural ecosystem, no use of harmful chemicals,
use of natural energy (solar, hydro)
conserve or to rehabilitate the environment:
apply organic agriculture, plant trees, and make sure there's no damage to the rice fields
locally owned or leased (ideal) or the majority of the staff are from villages nearby: money remains in the area itself instead of going to investors abroad,
provides meaningful jobs where local people can apply their local knowledge and learn new skills.
development of other sources of income other than tourism alone: organic plantations, local craftsmanship. (Local people have other sources of income in case tourism plummets such as during COVID-19)
projects to improve well being of the Balinese: clean-up projects, zero plastic, access to schools, sponsorship of cultural activities, etc
social benefits such as pension scheme and healthcare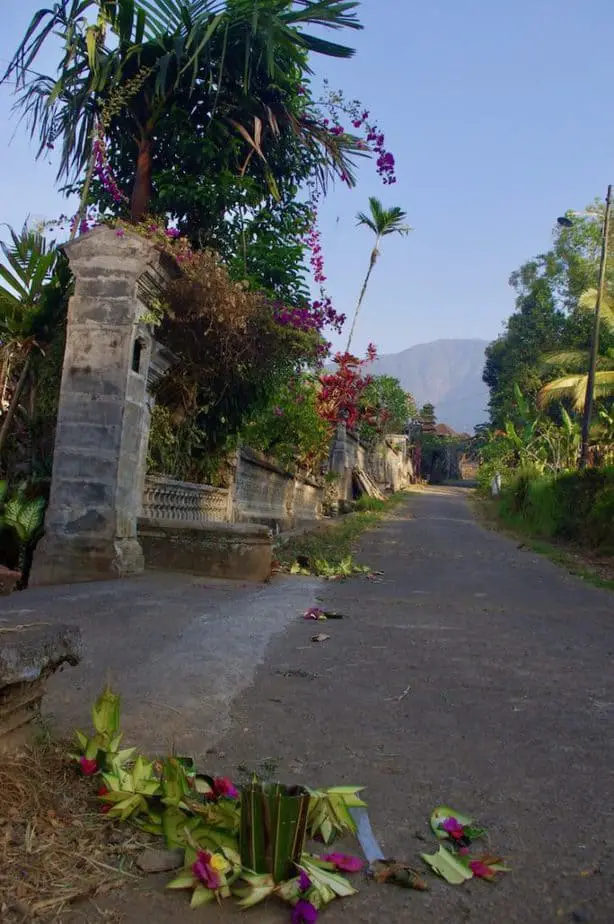 But at the same time, there are other places that might not tick all the boxes for being eco. However, they should not be dismissed.
Local homestays should be supported. Just like other types of accommodation that donate a large portion of their profits to local charities or who implement waste and water management.
These are the businesses that are making huge steps compared to those who do nothing eco-consciously at all.
Just think of the many large resorts often owned by foreign investors such as those in Nusa Dua. Despite the many problems caused by tourism in Bali, these companies still manage their hotels without considering their long term impact on the island.
18 Eco-Accommodation In Bali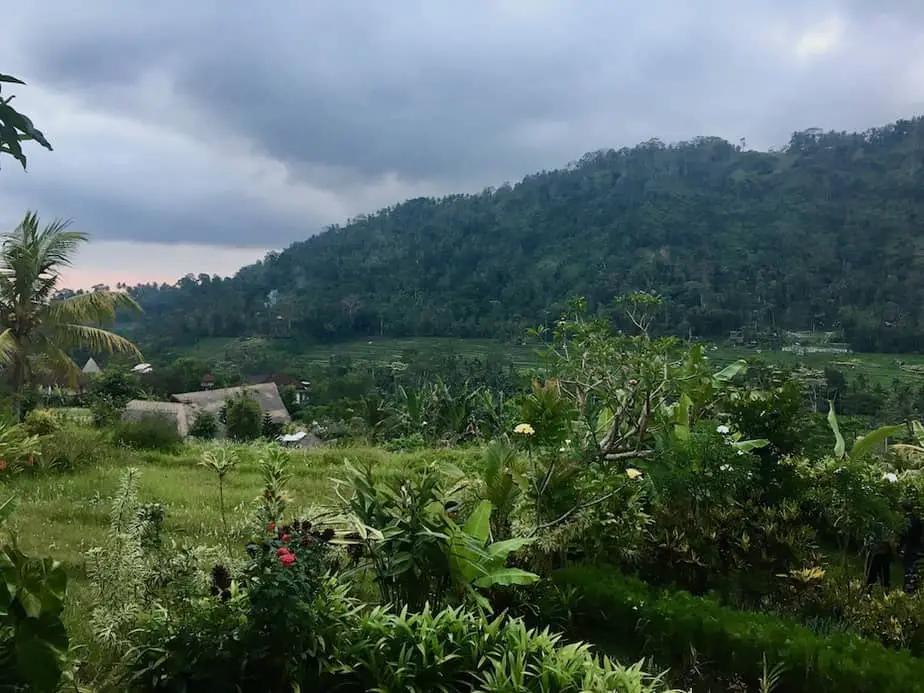 Here we have made a list of eco-accommodation that are creating a positive impact in Bali. Besides the sustainable constructions and community involvement, we also value these places for their additional input and innovative ideas in eco-tourism.
Eco-Accommodation in the Ubud Area and Central Bali
Ubud has been on the tourist map since the first foreigners traveled to Bali. It is the cultural center of Bali. This is the place where you will find many museums, art galleries, and Balinese dance performances.
Over the last decennia resorts and homestays of all sizes have been added to the list of accommodations in Ubud. Sustainability was not a priority at that time.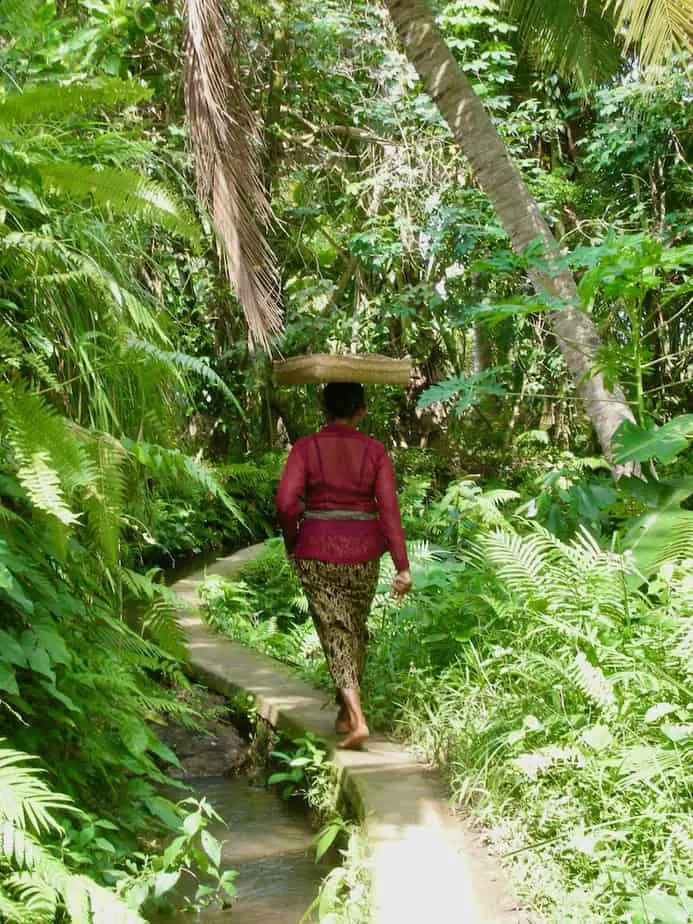 Until today the mindset has been: the more tourists the better. This does mean that many rice fields have turned into hotel and villa properties.
Surprisingly you will not find many eco-accommodations in Ubud compared to other areas in Bali.
However, homestays are still one of the best places to stay when visiting this cultural village. A wonderful option is Rumah Roda. This homestay has been welcoming travelers into their family courtyard for generations.
The great-looking eco-accommodations we have found are located just outside the city center. Just about a 20 minutes drive away (depending on the traffic).
Mana Earthly Paradise, Ubud
* for couples, solo travelers

* nearby Ubud, modern yet sustainable luxury in the rice fields

* $US15.57 – 143.72 per night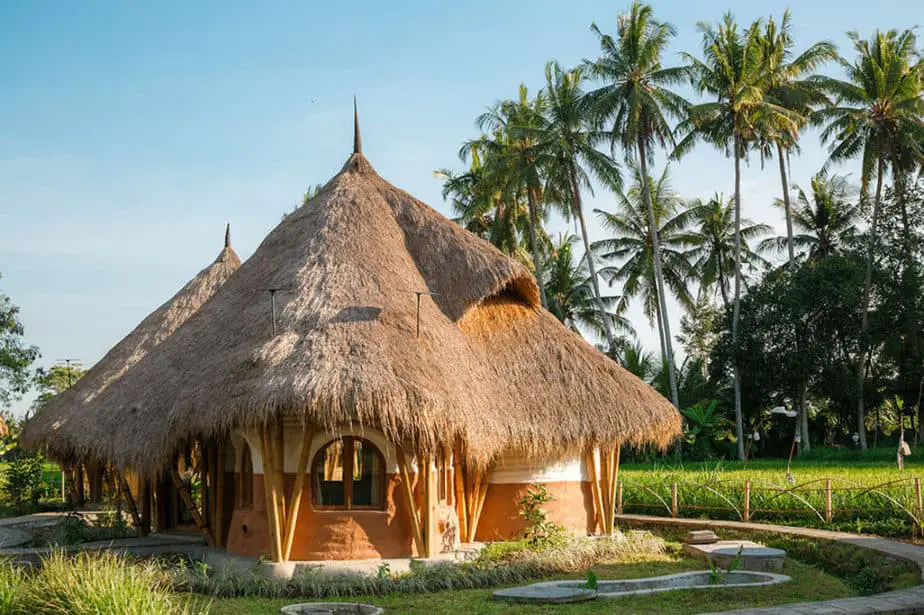 This eco-resort in Ubud aims at minimizing your footprint during your stay. It shows new technologies so guests can learn and maybe share them with others. By spreading knowledge on sustainability we can all learn on our holidays.
Mana Earthly is managed by the 'Earth Company'. It aims at social change through the empowerment of social entrepreneurs and inspires the next generation of changemakers.
They do so by providing sustainability workshops and educational programs. One of their programs is for instance working together with students of the Udayana University in Bali to find solutions to real problems.
The eco-resort has villas and dorms. They are all built with natural materials and have a minimalistic style. Throughout their premises, they have applied very practical solutions to reduce their impacts.
They are using solar panels that provide 100% of their energy. Additionally, they harvest the rainwater and practice wastewater management.
The Mana Earthly eco-resort uses reclaimed, upcycled, or sourced wood everywhere on their premises. And by simply installing eco-toilets that only use an average of 4 liters of water a day instead of the 39 liters they save loads of water.
Bambu Indah, Ubud
* for families with young and older kids, couples, solo

* unique bamboo and tasteful constructed accommodation, jungle setting

* $US 156 – 374 per night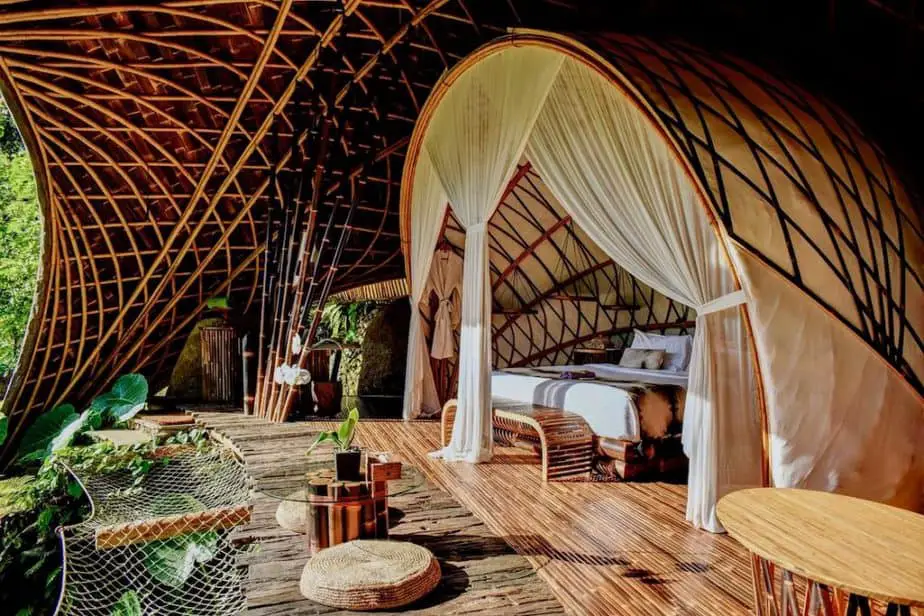 Bambu Indah is pretty much any eco-travelers dream and an inspiration for other eco-accommodation in Bali. The resort is located along the Ayung river valley. It's surrounded by a lush green jungle with natural springs, animals, and beautiful views.
Not only do they use sustainable materials for their buildings such as bamboo and reclaimed wood, but mother nature seems to immerse herself at this resort.
Besides its beauty, we like that it is also a fun place. For instance, they suspended ropes above the natural pools so you can jump in. They have created wonderful places to hang out, and it is very welcoming for kids too.
Sleeping areas are semi-open, while their organic garden provides 'farm to table' cooking for their restaurant.
The owners John and Cynthia Hardy, who are also founders and designers of the Green School ensure that Bambu Indah is 100 percent sustainable.
Water and waste management are top-notch. They also received acknowledgments for paying their staff well. Something that is often lacking in the Balinese hospitality industry.
Jiwa Damai Retreat Bali
* for solo travelers, couples

* retreat for personal development, activities such as yoga, courses on permaculture

* $US 80 – 90 per night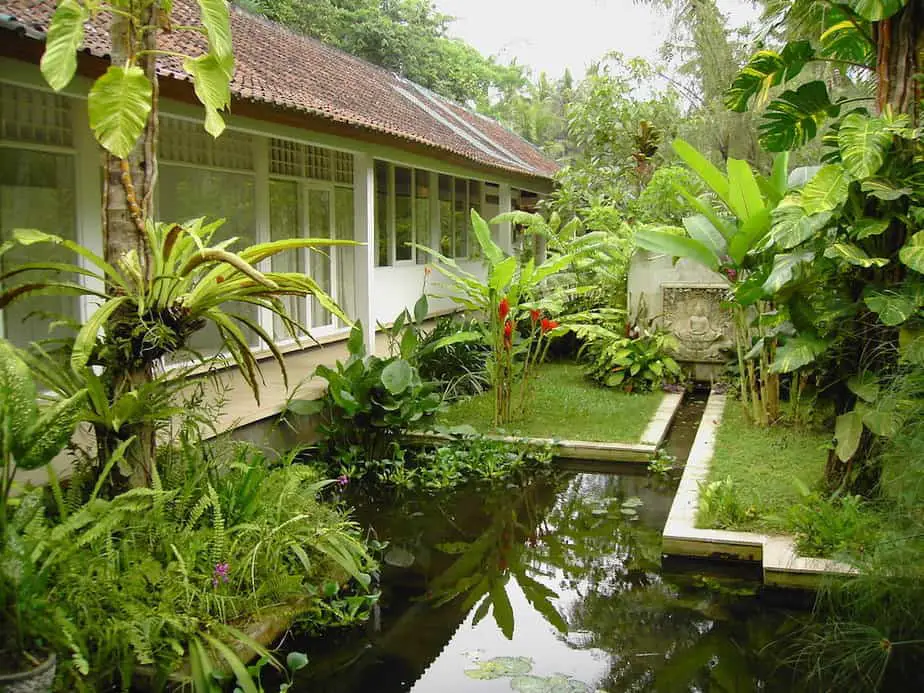 The Jiwa Damai isn't an ordinary accommodation but more a place where people come for personal development. Either by joining a personal or group retreat or by participating in their interactive permaculture workshops.
Those wishing to stay longer can join their internships or become a volunteer. You can participate in their community outreach programs or permaculture design courses.
Many who have stayed here experience it as a self-enriching place. It is located in a lush garden just 20 minutes north of Ubud.
Besides spreading knowledge, the owner of this peaceful retreat has created the Lagu Damai Foundation. This social and educational Balinese foundation supports a number of community projects.
The Jiwa Damai is also sponsoring high school and university students and provide empowerment training for youths and staff.
Bali Floating Leaf, Sukawati
* for couples, friends

* it takes advantage of the sun, wind, and rain, various environmental and cultural projects to help the Balinese

* $US 125 per night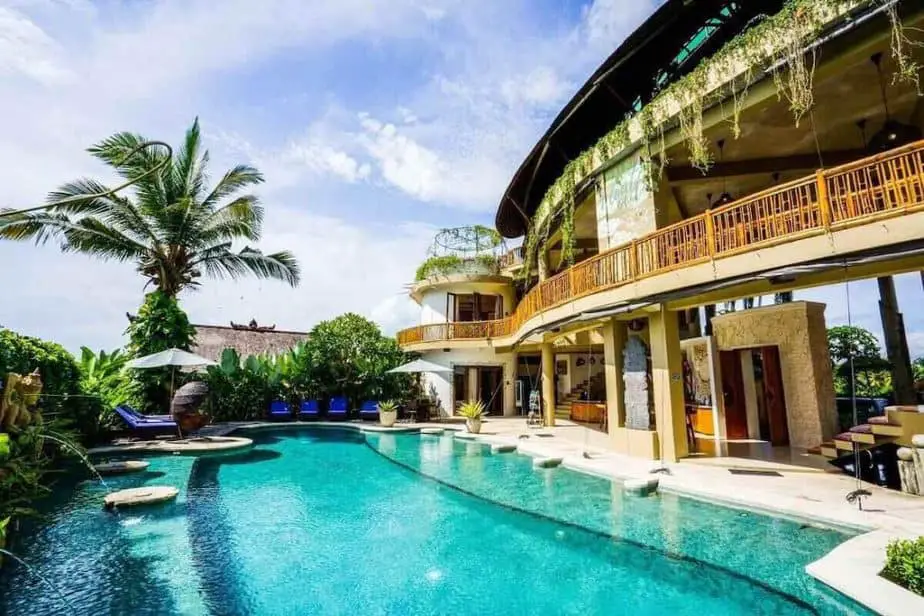 This luxurious eco-retreat in Bali is located near Sukawati. It is set within the rice fields and has views of the ocean and Mount Agung in the distance.
At Bali Floating Leaf you can enjoy wonderful food, professional spa treatments, sleep in well-designed rooms, or relax at the pool. However, this place is also where travelers can go for healing and spiritual growth.
This eco-accommodation in Bali is the perfect example of being able to provide luxurious comfort while caring for the environment and the surrounding community.
Bali Floating Leaf is active at environmental and community levels in many ways. All kinds of measures are taken to minimize their impact on nature.
The resort, made of natural and local materials is built in such a way, that it takes advantage of the wind, sun, and rain. They harvest, recycle, and use everything wisely and efficiently.
It is pretty difficult to briefly list all the community initiatives they are involved in. Examples are varieties of educational classes in yoga, permaculture, sustainable living, and English.
The Bali Floating Leaf also provides organic farming subsidies and started 'the greenest village projects'. They have joined charities to alleviate poverty in other parts of Bali. The resort also organizes clean-up projects including creating infrastructure to dispose or recycle the trash.
It's great to see that a place is successful in many ways. Therefore a perfect example that sustainable tourism is possible in Bali.
They support local people by offering jobs in the hotel and stimulate organic coffee practices. The resort also provides a network for the direct sale of the coffee beans to wholesalers.
Eco-Accommodation in the Munduk Area, North Bali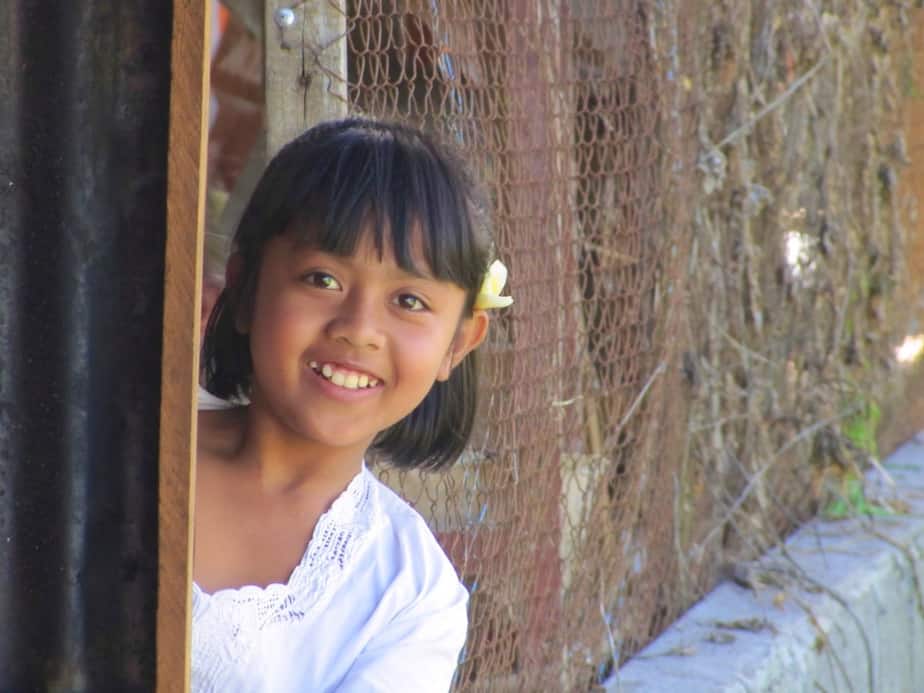 The area around Munduk is a wonderful place for any eco-traveler. Mountain forest and ricefields surround the area where you can find many waterfalls and hiking trails.
Luckily eco-tourism has been implemented here many years ago. Many local Balinese understand the value of conserving their natural surroundings and culture.
There are many homestays that are wonderful places to stay at. One of those is Meme Surung Munduk. Here you can wake up every morning with a beautiful view of the valley.
Besides the homestays, the accommodations in Munduk listed here are mostly mid- and high range accommodations.
Puri Lumbung Cottages
* for families, couples, solo traveler

* location, the local owner is committed to sustainable tourism throughout the area

* $US 67 per night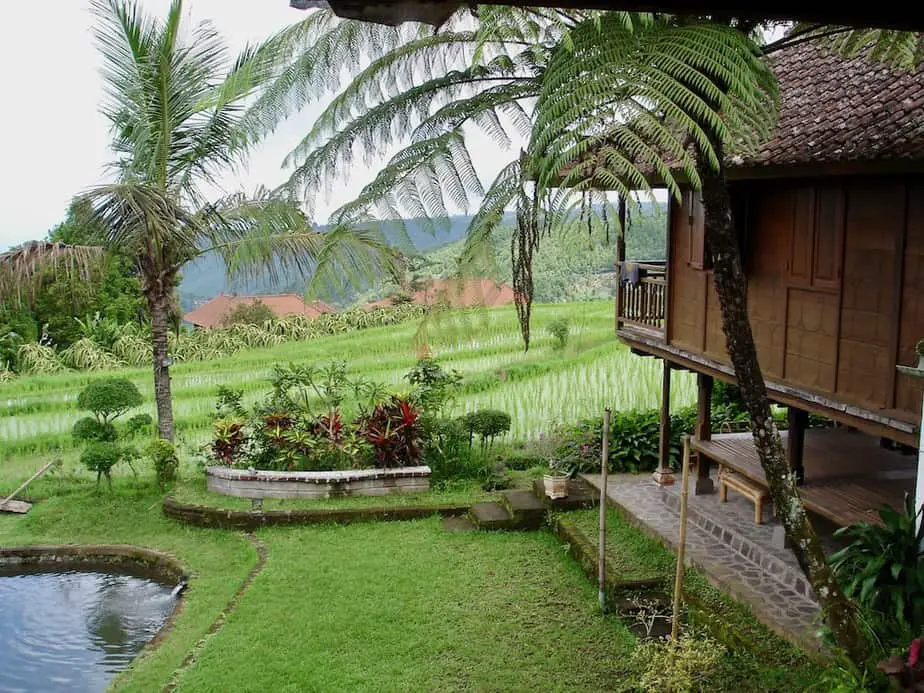 Once an old rice barn, now a cottage for two. The accommodations at Puri Lumbung offer the perfect picture of being in Bali. You can sleep in a renovated rice barn with a view of the rice terraces and mountains.
This eco-resort is one of the first-ever established in Bali. The owner is Pak Nyoman Bagiarta, born in Munduk. In the early 90's he worked in the tourism industry in Nusa Dua. There he saw that tourism was mainly focused on the south. While other areas could not prosper the same way.
He wanted to introduce authentic tourism in other parts of Bali. This type of tourism would respect the environment and culture. At the same time, it would provide employment opportunities for the local villagers. A very different approach at that time.
In 1992 he started building his first eco-lodge, Puri Lumbung. The accommodation was built with local materials only. Water and electricity were conserved and they aimed at reducing solid waste. The local staff was trained to work at this lodge.
Today Puri Lumbing still provides training and employment of villagers. Some are even working in other parts of Bali or overseas. There are those who have started their own homestays.
Pak Nyoman Bagiarta has also created the Naga Loka Foundation. This foundation aims at protecting the environmental, cultural, and spiritual aspects of the 19 Tamblingan temples.
The villages are dependent on the sacred Lake Tamblingan, the forests nearby, and the water supply. That's the main reason it must be protected at all costs.
Munduk Moding Plantation, Gobleg
* for couples

* large premises which make hiking through the coffee plantation very easy

* $US 277 – 905 per night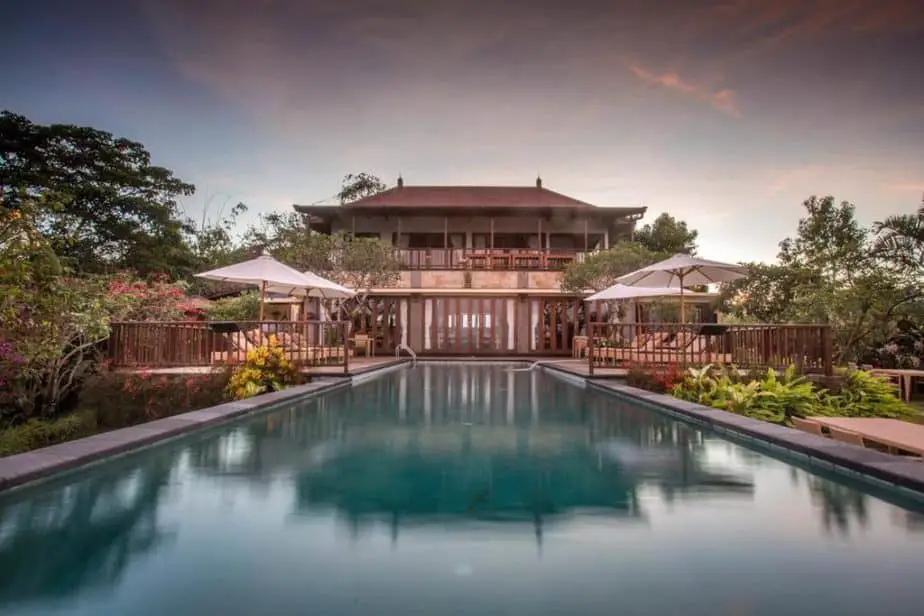 The Munduk Moding Plantation is a wonderful place for those who also want to enjoy some luxury facilities.
This nature resort is located within a large organic plantation and forest. They take pride in their successful efforts to keep the impact of the plantations to a minimum. This has resulted in an increase in birds and other wildlife.
When you compare it to other parts of Bali, the Munduk area is still unspoiled. The resort tries to avoid mass tourism such as in the south of the island. They do so by supporting village development, cultural heritage, and by conserving the natural surroundings.
Its ideal location enables you to walk through their plantation and to meet local farmers. Additionally, lakes, waterfalls, temples, and mountains are nearby. It is easy to go on a day trip or go horseback riding from here.
The Munduk Moding Plantation wants to show that lessons must be learned from the negative impacts of mass tourism. They emphasize that sustainable tourism is the way forward.
Sanak Retreat Bali, Kayuputih
* for families, couples, solo traveler, friends

* the philanthropic approach of the owner, full participation of local villagers

* $US 563 for two nights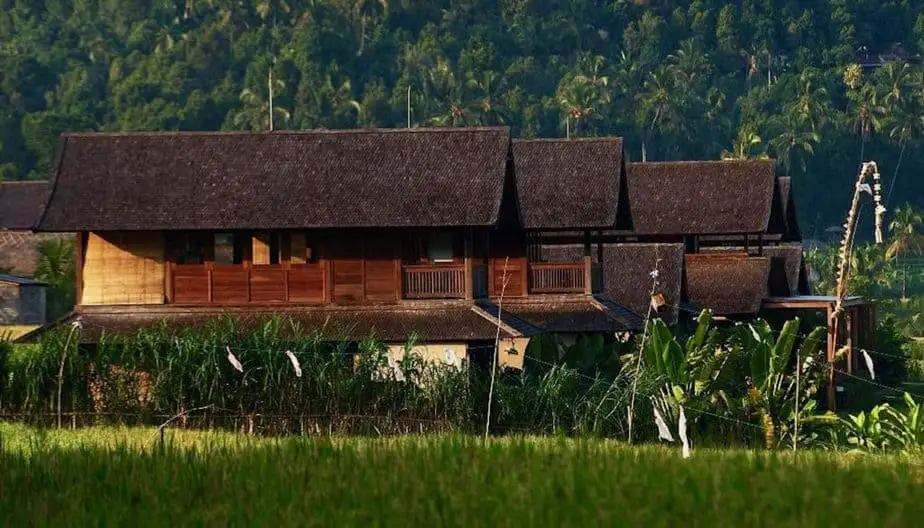 You can find this retreat in a village called Kayuputih, nearby Munduk. It's located in the middle of the rice terraces.
The resort offers luxury together with eco-tours to hidden spots. This place is more than just an eco-accommodation in Bali. The french owner works closely with the community surrounding the retreat.
He will even give the retreat to a family living in the village once this sustainable business is up and running. We think it's an admiring business concept as it is a win-win for every party.
But that's not all. The main goal of the Sanak Retreat is to preserve the local culture and environment by the Balinese themselves. It is kind of a platform where opportunities for practical learning is available for those who otherwise do not have access to it.
Additionally, they help the nearby community with local employment and internship programs. They also provide education through materials for school.
The Sanak Retreat has assisted in creating many projects throughout the island. They have recycling and sorting stations.
They have created the 'ReFillMyBottle' app (an app that shows where you can refill your bottle). In other training programs, they transform unrecyclable plastic into bricks, etc.
As you can imagine, these types of accommodations should be embraced. Just staying a couple of nights at the Sanak Retreat will enable you to contribute to a good cause.
Sananda Bungalows, Selat-Anturan
* for families, couples, solo traveler

* interaction with local owners, small scale accommodation

* $US37 – 50 per night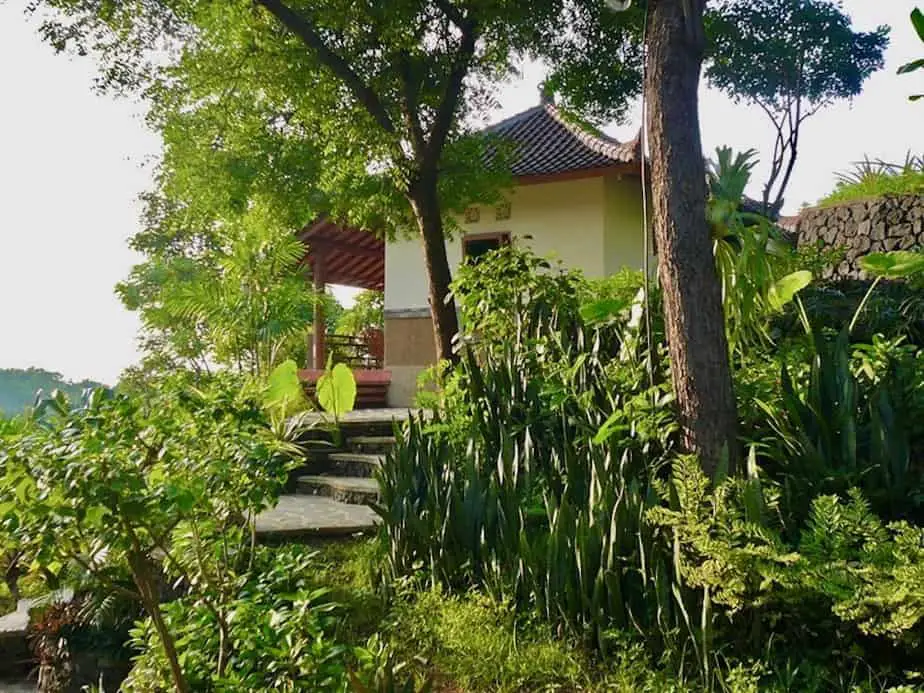 In need of a quiet place? This family-run eco-accommodation is located in the countryside far away from the busy areas of Bali. The gardens surrounding the bungalows provide delicious fruit and fresh vegetables. This makes it a wonderful sanctuary for many birds too.
Their restaurant provides healthy vegetarian and vegan Balinese food from their organic garden. Guests sit together at a large table to have breakfast and dinner.
The Balinese owners are also happy to join and to provide insights into Balinese life. Being together creates an informal atmosphere while providing opportunities to exchange stories.
Everything that you find at Sananda is based on social and ecological commitment. The Sananda Children Support ensures that at least 40 children from poor areas in Bali are able to attend school.
Besides school fees, children also receive uniforms, school materials, and transportation to enable them to attend the classes.
Additionally, the owners of Sananda Bungalows create awareness on waste disposal and recycling at schools and in villages. On their premises, they conduct garbage separation. For energy, they have solar panels and they use 100% natural cleaning soap.
Eco-accommodation in the Batukaru/Jatiluwih Area, Central Bali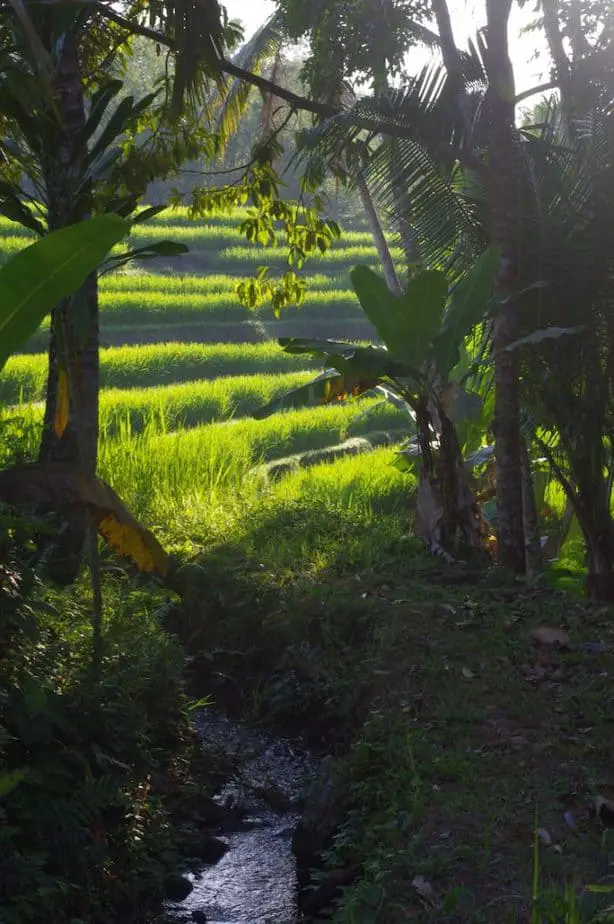 This area is located in the Tabanan regency. The local government has created certain criteria for accommodations to obtain their permits.
This regency knows what they are doing. Business owners who wish to open here must employ local villagers and minimize their environmental impact. Music to the ears for anybody who values eco-tourism.
But then again, Tabanan is amazing when it comes to nature. The rice terraces are one of the best on the island. The forests on the slopes of Mount Batukaru is the ideal environment for experiencing a greener Bali.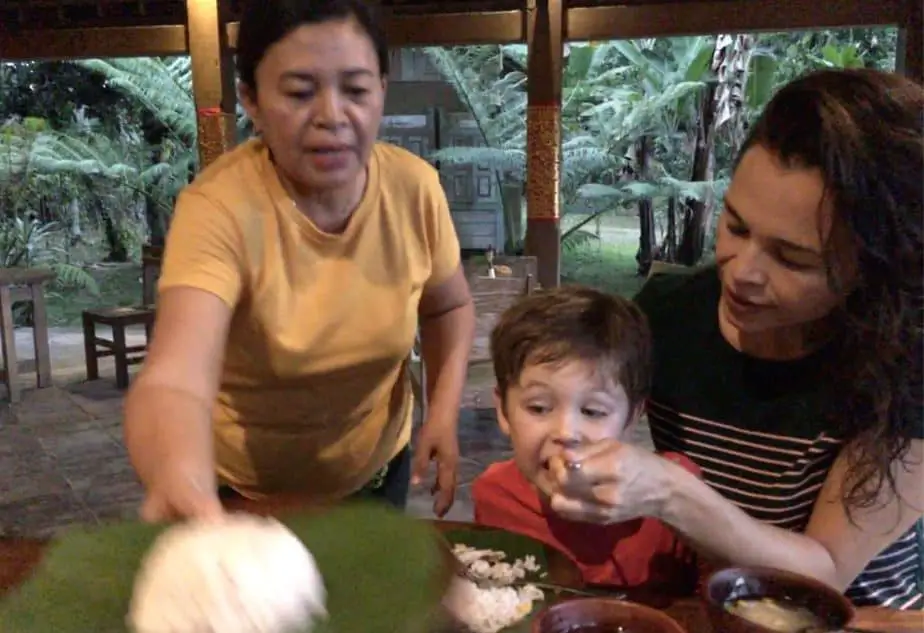 There are various homestays located in the rice fields and solely run by local families. Some great examples are Dina Homestay, Batu Karu Mountain Farmstay, and Kubu d'Ume Homestay. Check them out if you want to stay small scale and learn more about Balinese life.
Others that we have listed are very unique in design or their approach to sustainable tourism.
Sarinbuana Eco Lodge, Mount Batukaru
* for families, couples

* location, activities offered, learning about permaculture and organic farming

* $US 58 – 106 per night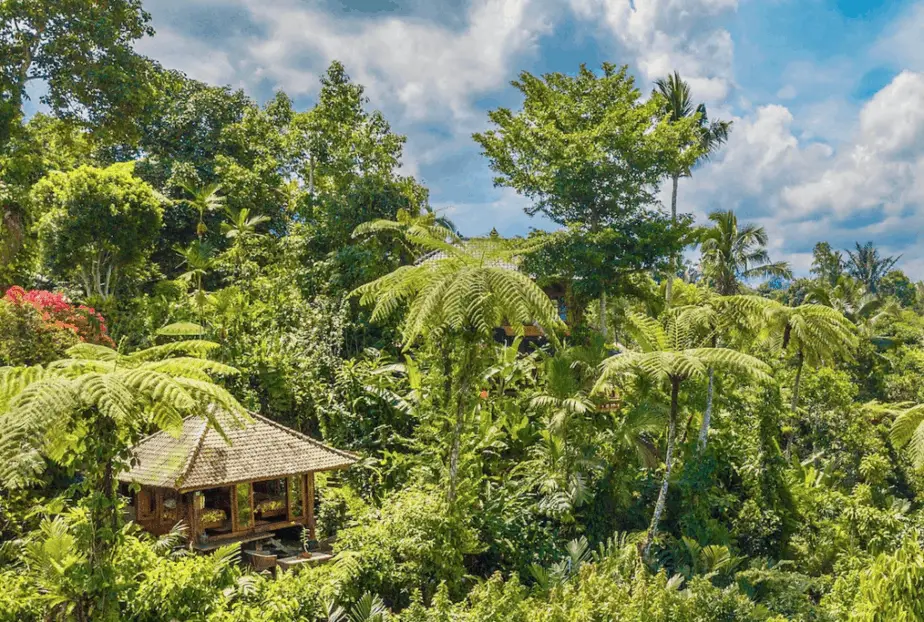 This eco-lodge is probably the most well-known environmental friendly place in Bali. The owners have fully implemented their knowledge in environmental studies and organic farming. Additionally, they organize studies in order to share their skills.
Responsible tourism and sustainability are the key factors of the Sarinbuana Eco Lodge. The community is actively involved in tourism activities, workshops, and village support.
The beautiful bungalows are set within their organic garden and forest. Local timber or bamboo is used and blend perfectly with their surroundings.
The main activities at this eco-lodge are hiking, cycling, yoga, and going for a massage. You can follow their cultural workshops such as Balinese carving, cooking, traditional medicine, etc.
Children can join almost all of the activities. If you want to learn more about permaculture and sustainability then you can apply for it here too.
Bali Eco Stay, Desa Gunung Salak
* for families, couples, friends

* fully self-sustained resort, the participation of local villagers

* $US 508 – 811 for three nights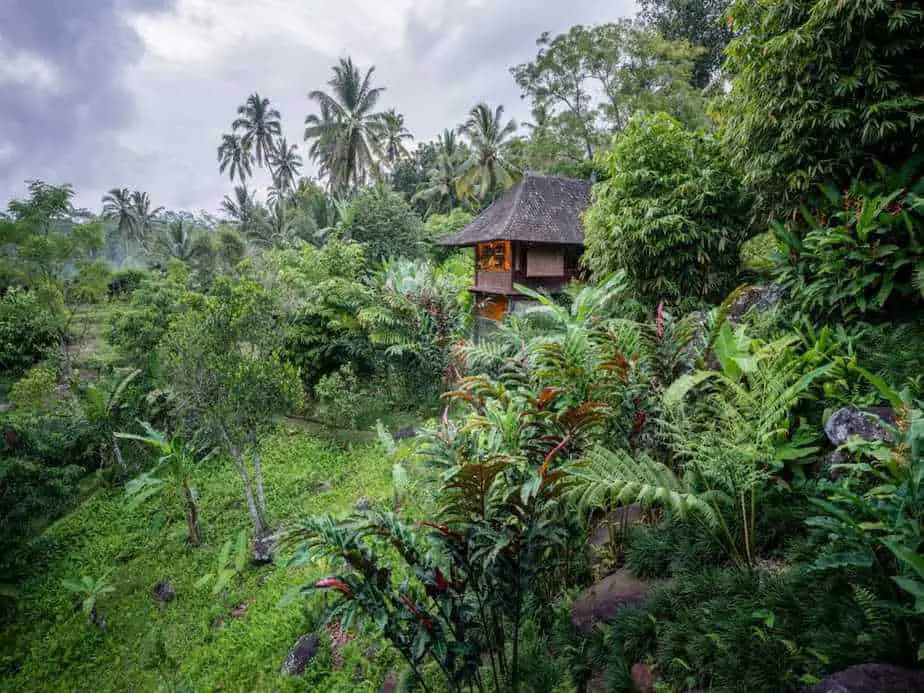 This eco jungle resort aims at having minimal impacts on the environment. It's a wonderful example of being self-sustained by respecting nature.
The rice fields, the forest, and natural spring water provide everything this eco-stay needs. The beautifully designed bungalows are made from reclaimed wood making this place very unique.
We particularly like the fact that not only the foreign owners but also the people from the nearby village are just as involved in running this eco-resort. Since the land has been leased for 50 years, the owners keep their ownership.
Villagers are also included in every aspect of the business, from management to gardening. While they are committed they still have the possibility to focus on important social responsibilities, such as religious festivals.
So far we haven't found any other place that closes for Nyepi and the Balinese New Year. All of their staff head back to their families to celebrate these important holidays.
And while they focus on a positive impact on everyday life, they also fund programs. They educate children on waste management and support local health programs.
The Bali Eco Stay has proven that by giving and sharing you are able to create something extraordinary. Not only for the local people and the environment but also for their guests.
Bali Eco Village, Belok/Sidan
* for families with kids, couples, solo traveler

* activities such as hiking, swimming in the river, organic farming

* $US 50 – 99 per night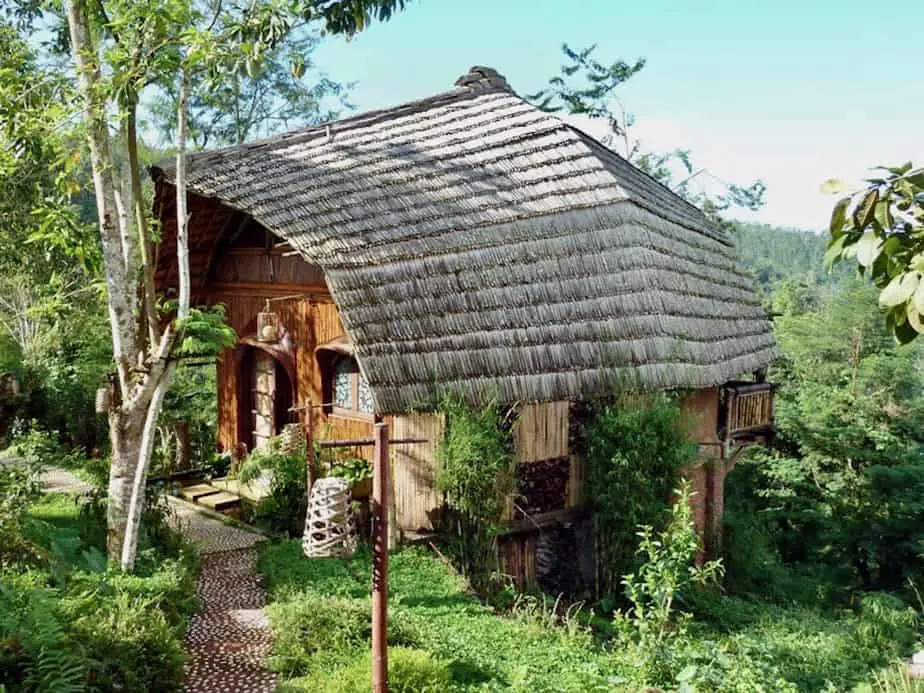 This eco-resort in Bali offers amazing family bungalows. Only bamboo and recycled timer are used as a building material. The creativity and input of local craftsmanship have resulted in a unique place.
The Bali Eco Village continuously aims to apply responsible and sustainable tourism practices. With their hydropower system and the use of local products, this eco-village is heading towards being self-sustainable.
It also hopes to conserve their environment. They do so by giving back to the local community and providing knowledge on eco-friendly activities.
They use natural biodegradable products and also offer their facilities to local people. This eco-resort has built low water pressure showers, hydroelectricity, and other durable items.
Not surprisingly other steps are taken to ensure their goals. They have created an organic garden, implemented water, and waste management system. Moreover, they use natural cleaning products.
The beautiful location of the Bali Eco Village makes it ideal to go out and enjoy mother nature to the fullest. You can easily organize activities such as hikes, cycling, rafting, organic farming, and swimming in rivers are easily organized.
Bali Mountain Retreat, Mount Batukaru
* for families, couples

* location with their natural spring, improving the livelihood of local villagers, organic farming

* $US 39 per night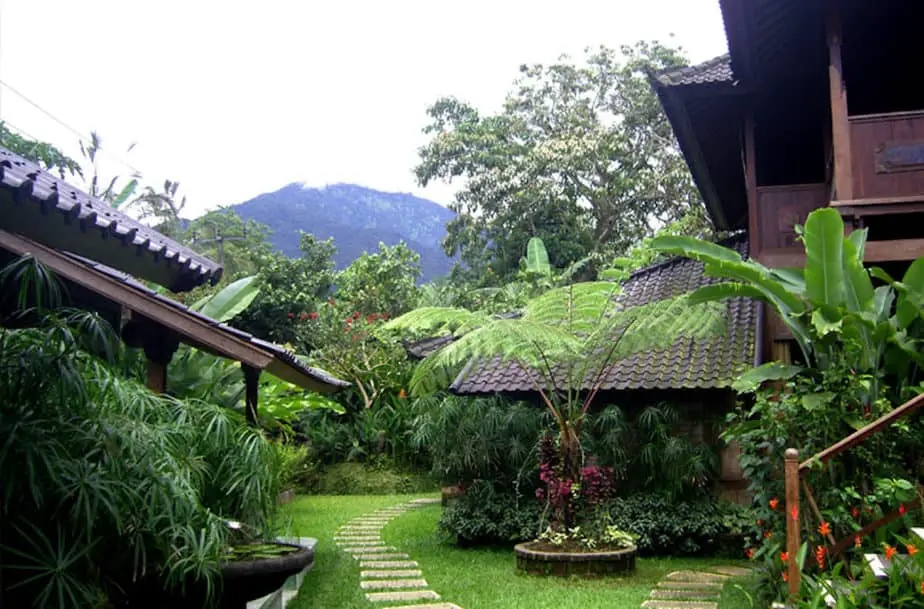 The Bali Mountain Retreat is located in the highest village on Mount Batukaru. Forests and coffee/cacao plantations surround the premises beautifully.
The natural spring is the cleanest in the area. The retreat takes a lot of responsibility to keep it clean for those dependent on it further downstream.
This mid-range accommodation offers various types of accommodation. Some of the bungalows are restored Indonesian traditional buildings.
Local builders were able to apply local building practices and use natural materials such as woven bamboo, coconut wood, and stone.
As an eco-resort, they have many policies to minimize their impact on the environment and to be sustainable. Energy-saving, recycling, and avoiding the waste of water are just a few.
The staff is from local villages. The retreat provides training to create awareness on the importance of conservation, organic farming practices, and wildlife protection.
Together they also keep on testing new organic crop possibilities and try to improve the yields from the surrounding farms. By increasing the quality of the produce, the farmers are able to ask more at the local markets.
By setting an example, the Bali Mountain Retreat hopes to encourage locals and guests to live more sustainably.
Sari Devi Eco Lodge, Wongayagede
* for families, couples, friends

* small scale, location in rice fields, interaction with local owners

* $US 30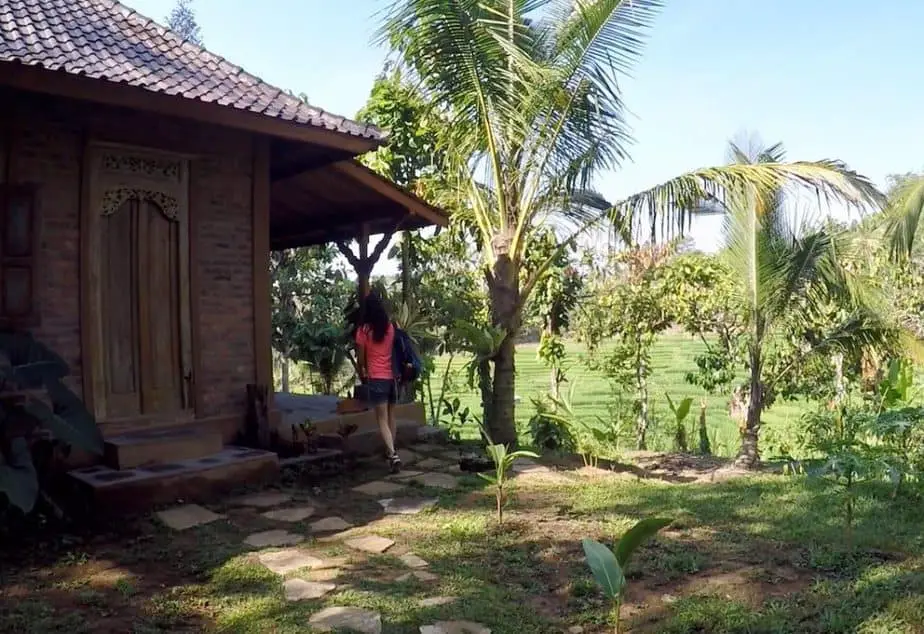 A lovely Balinese couple, Pak Made and his wife Ibu Shanti own and run this special place. They returned from the Denpasar area back to Pak Made's family grounds in Wongayagede village. His family owns the stunning rice fields that surround their premises.
The easy access to the rice fields makes this place pretty exceptional. This place is a nice example of local Balinese people being aware of the sustainable value of their surroundings and truly appreciate it.
While a bit more can be done in terms of sustainability, we particularly love the fact that the owners are present and are managing everything themselves.
They will treat you like close friends and are happy to share everything you want to know. Their home-made meals are delicious and prepared with ingredients from their organic garden and ricefields.
Despite a lot of empty patches of land, the Sari Devi Ecolodge only built two bungalows overlooking the rice terraces. Small scale with so much space is a luxury you don't often find in Bali nowadays.
Prana Dewi Mountain Resort, Wongayagede
* for couples, families

* yoga and meditation, going back to nature, fresh spring water to feed the pool

* $US 78 – 135 per night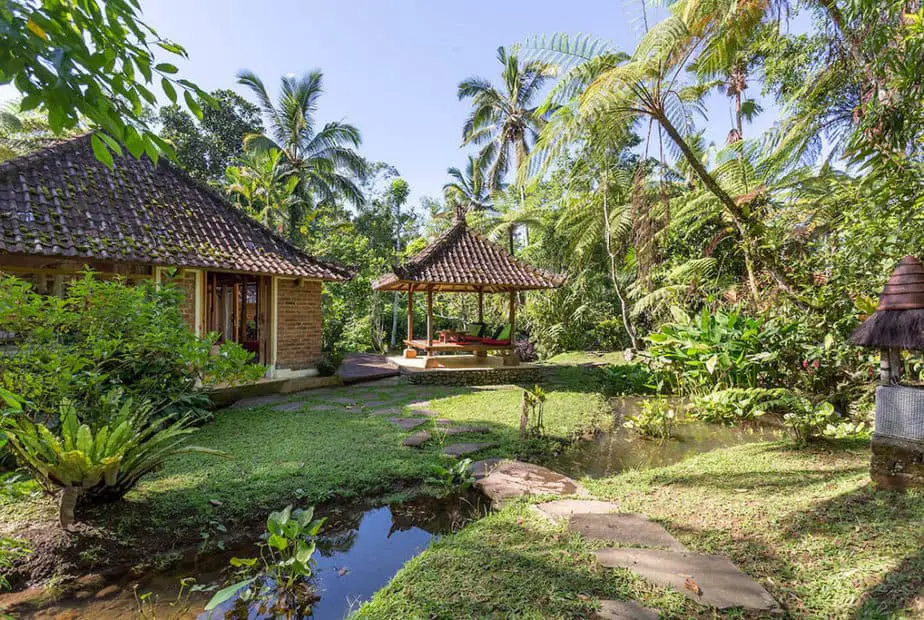 The late I Gede Hanjaya, who was born in Wongayagede opened Prana Dewi in 2001. Initially, the family-run resort consisted of 3 bungalows. Over the years the resort grew gradually and now has 14 bungalows.
This was made possible with the help of the Samdhana Institute. An organization that supports local communities in securing their rights and to manage their territories. This also includes funding and support in development and well being.
Prana Dewi is surrounded by rice fields, jungle, and gardens making it an ideal place for yoga, meditation, healing, educational and environmental retreats. However individual travelers are welcome too.
This is the place to get away from the busy life and to get in touch with nature. A natural mountain spring provides water to their pool from where the water continues to flow back into the rice fields. At their restaurant, they also serve dishes prepared with ingredients from their garden.
We think that Prana Dewi is a wonderful example of a business that is run by a local family. It still prioritizes the local values and the environment.
Batukaru Coffee Estate/Batukaru Eco Retreat, Jatiluwih
* for couples, friends

* location, bio-dynamic farming, premium-grade Arabica coffee production

* $US 158 – 208 per night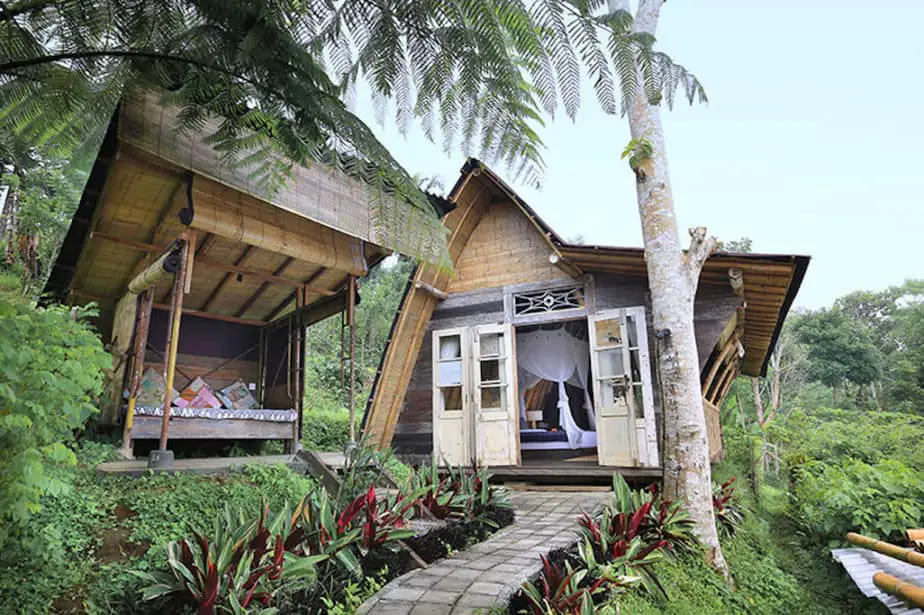 The Batukaru Coffee Estate, also known as Batukaru Eco retreat is located on the south-eastern slopes of Mount Batukar. The eco-resort overlooks, overlooks the Jatiluwih Ricefields.
When the Balinese owner, Kentri Norberg discovered the nurturing power of plants and herbs given by Mother Nature, her mission was to develop pure wholesome food through bio-dynamic farming.
This type of farming creates a diverse ecosystem in which the land itself generates health and fertility.
As a result, this eco-resort is surrounded by a diverse land where coffee, vegetables, and fruit grow. Wild animals such as deer, civet cats, monkeys, and tropical birds have found their home here too.
The Batukaru Coffee Estate is a place to reconnect with nature and to relax. Guests can relax and do yoga. They can also participate in organic farming and in the process learn something valuable.
Throughout the estate, you can find various accommodations made from locally sourced material grown nearby. The semi-open bungalows ensure that you fully enjoy the beautiful view from your room.
Bali Silent Retreat, Penatahan Bedugul
* for solo travelers

* location in the rice fields, meditation, yoga, off the grid

* $US 319 for 7 nights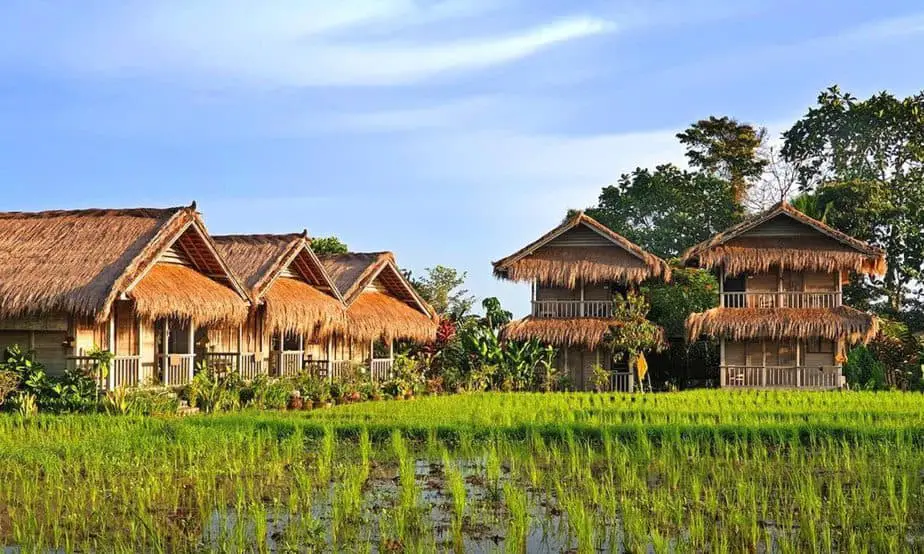 The Bali Silent Retreat is a spiritual place with a top-end ashram ambiance. People come here to meditate, pray, do yoga, and more importantly be silent. Those seeking more than just a holiday will feel very welcome.
This retreat is a small community in itself. Local Balinese and western volunteers work together to care for the environment. They share practical knowledge of sustainability.
The founders of the Bali Silent Retreat who have leased the land, collaborate together with the landowners. The Balinese families have been here since 1450. Both parties aim at conserving the area for many generations to come.
When staying you will literally be off the grid. Here they apply extreme eco policies. If it can not be composted or reused then it is not welcome here.
They conduct sustainable farming around their premises. Everything is also charged through 100% solar energy, from solar flashlights to solar water distilling.
Eco-accommodation in East Bali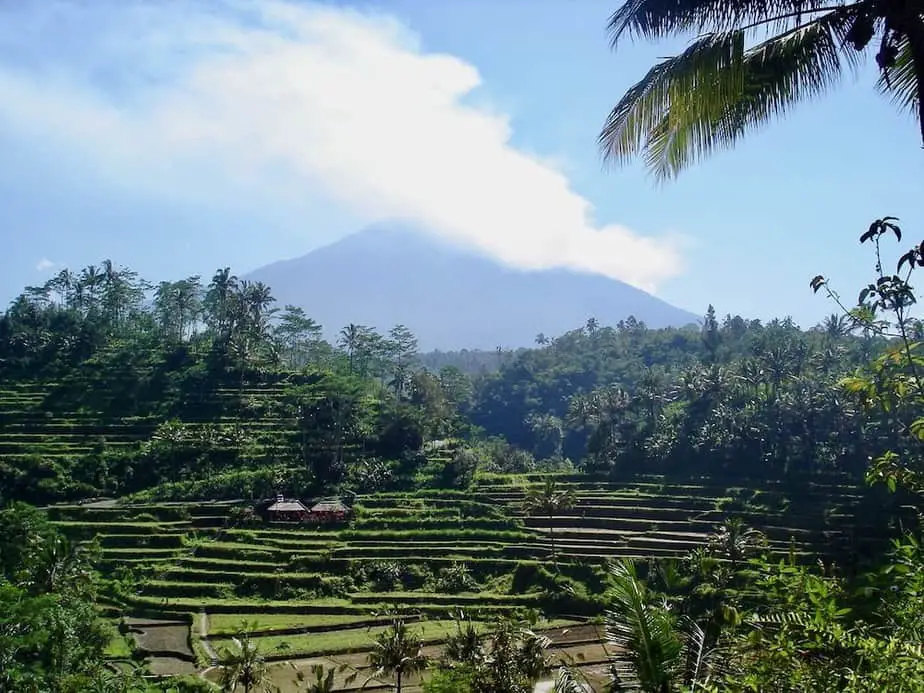 East Bali is pretty much considered the 'countryside' of Bali. Life is slow and that's exactly why we love it. You can find beautiful rice terraces and ancient temples with Mount Agung in the background.
Tourism has been here for decades but hasn't developed like in other areas in Bali. There are only a couple of hotspots. Those are Candidasa, Amed, and Padangbai. Sidemen is also getting more popular in the last couple of years.
Hardly any of these places are focusing on eco-tourism but things are slowly changing. Luckily, some people who are starting a tourism business are trying to minimize their impact. This is especially evident in Sidemen.
Darmada Eco-Resort, Sidemen
* for couples, families, friends

* the location along the river, giving back to the community, local ownership

* $US 35 – 92 per night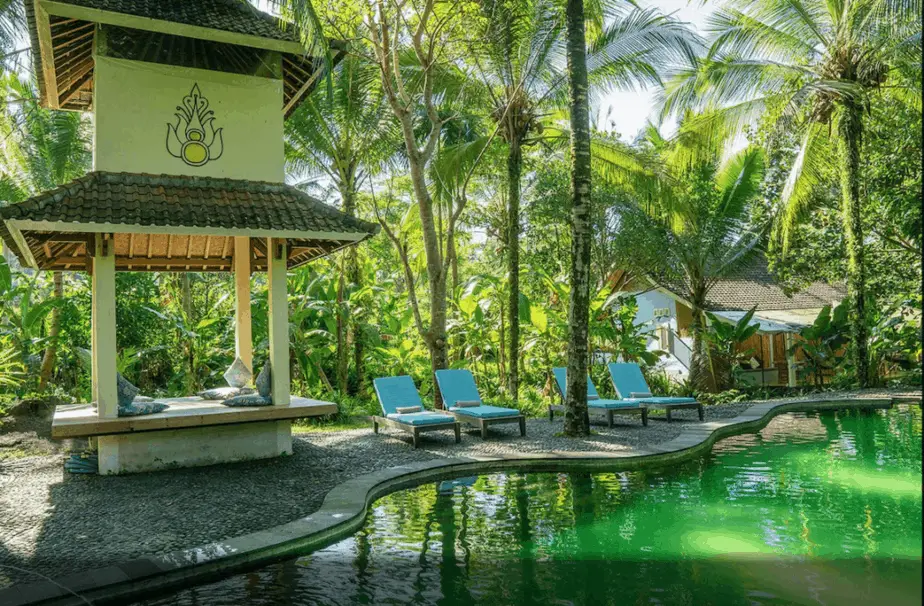 The Darmada eco-resort is located along the river in the Sidemen valley, The resort is surrounded by 3 hectares of natural land. It aims to conserve its surrounding nature and the holy spring Darmada.
This family-run resort understands the value of the village and its community.
On their premises, they grow organic vegetables which they serve at their restaurant. Or they use locally sold ingredients only.
These colorful bungalows blend nicely with the surroundings. All are decorated with local materials and hand-made cement tiles.
The craft of making these hand-made tiles, called Sadus Tiles, had almost gone extinct as many businesses order these tiles from China.
However, the owners of the Darmada Eco-resort saw the value of these tiles. Luckily they have been able to revive them. With the knowledge of local Balinese, they now employ around 30 people from Sidemen who produce these colorful tiles.
The Bloo Lagoon, Padangbai
* for couples, families

* sea view location, center for sharing knowledge and learning new skills

* $US 122 per night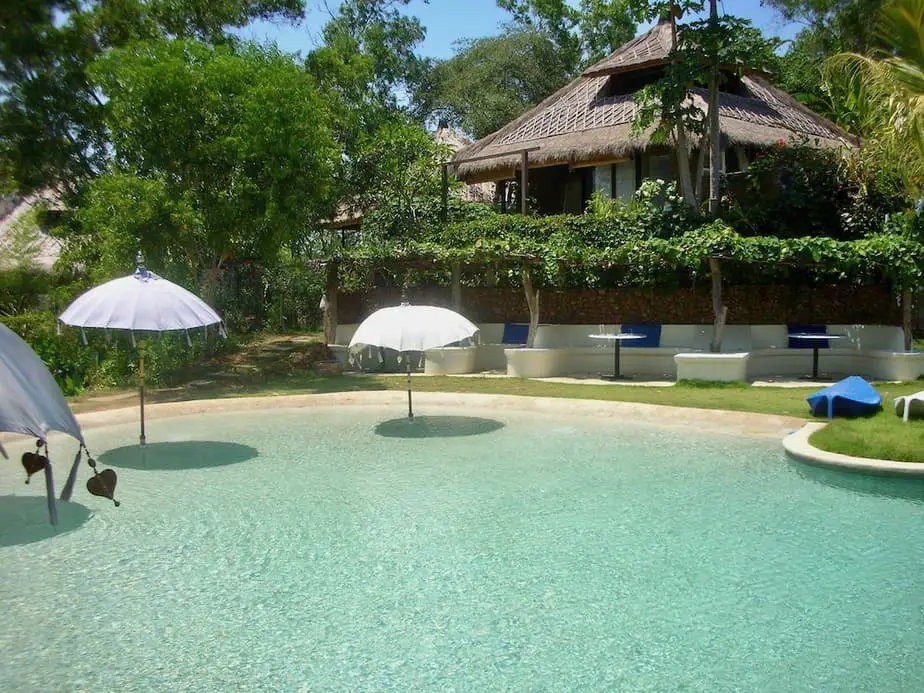 This villa complex is located on the cliffs of the Bloo Lagoon Beach in Padangbai. They call themselves the international village where visitors and hosts exchange knowledge and skills. Whether it is in the form of cultural knowledge, art, technology or just getting to know each other.
They share the benefits of this exchange together with the local people. Activities are organized to stimulate and preserve their culture and to learn from it.
The Bloo Lagoon is also committed to preserving the environment by consciously implementing plans and activities. They don't want to affect their surroundings negatively.
The Bloo Lagoon Village Hotel has various types of villas and is ideal for couples and families. The villas are all unique, equipped with a kitchen. They are semi-open and are built in order to take full use of the refreshing natural breeze from the ocean.
Hotel Uyah, Amed
* for solo, couples, friends

* location on the beach, support of locals in traditional salt making

* $US52 – 67 per night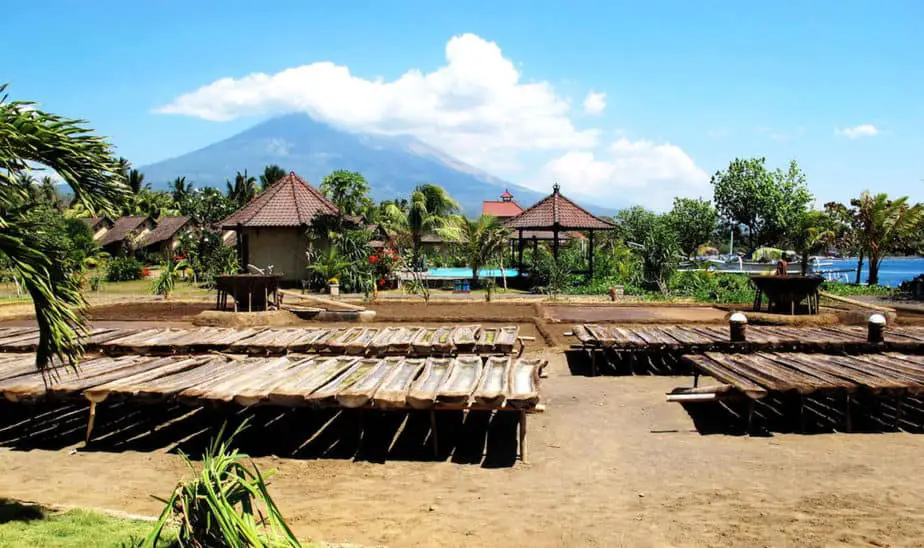 Amed is a fishing village known for its beautiful diving sites. It is also home to traditional salt making.
Making salt is a strenuous and hard-working process that takes a lot of time. Understandably villages are seeking other sources of income. However, this salt has a pretty unique taste. Luckily it's becoming more popular throughout the island and even abroad.
Hotel Uyah has been providing awareness for traditional salt making for years. They provide space on their premises where traditional salt panning can be conducted by nearby villagers.
Here visitors can learn more about salt winning and buy it right on the spot. The price might be a bit higher than the local price, but the hotel hopes to support the villagers this way.
The management reduces energy with natural ventilation systems and a solar heater provides the resort with warm water. They organize beach cleaning here regularly too.
Hotel Uyah is a nice place to stay for divers as well and offers various dive-packages.
Eco-accommodation in West Bali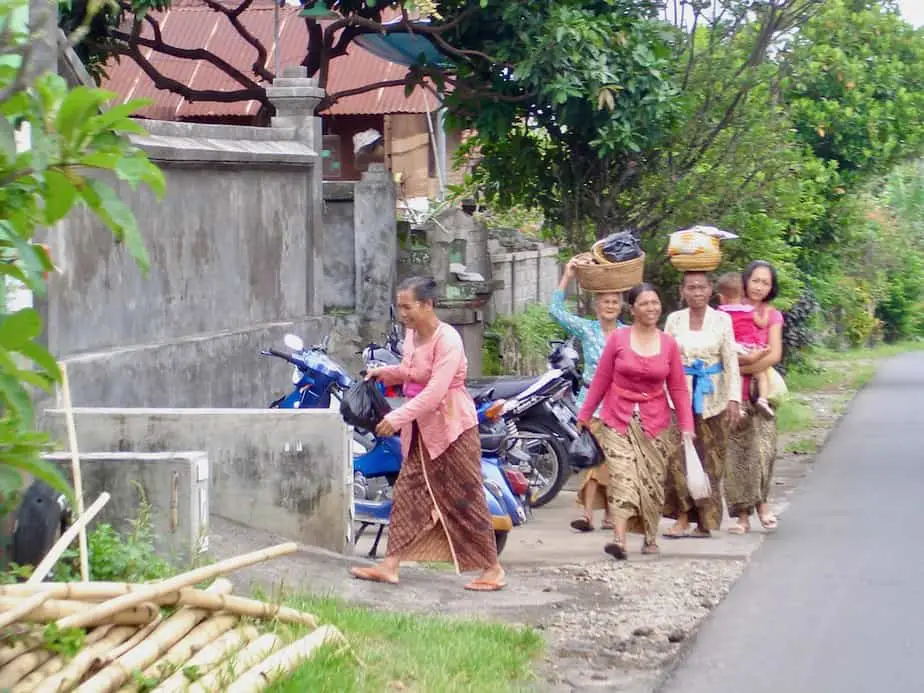 West Bali is the least visited area of the island. This is great because it's home to Bali's only national park, the Bali Barat Nasional Park. Here you can go on several hiking trails and birdwatching tours.
The park also consists of Menjangan island which is one of the best spots for diving and snorkeling in Bali. During high season it can get busy here but still not comparable to the south.
There are a couple of accommodations that like to make a difference.
Puri Dajuma Beach Eco-resort, Manggissari Jembrana
* for families, couples, friends, solo travelers

* location on the beach, providing health care and retirement policies to their staff, support cultural projects

* $US103 – 246 per night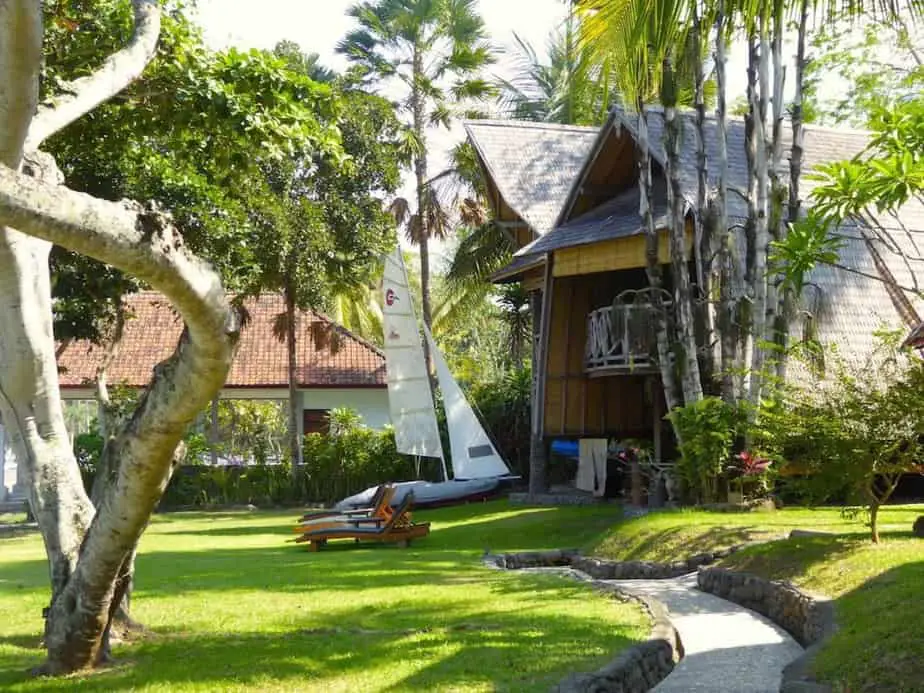 With 35 rooms the Dajuma resort is one of the biggest eco resorts we have found so far. It is a family-run resort that has 50 employees from the local villages nearby.
They offer bungalows, suites, and villas all decorated using the traditional Balinese style. Some have a view of Medewi's surf while others are a garden and/or pool view bungalows.
Despite its size, the resort is working hard to operate sustainably. With their eco-ceramic septic tanks, they have zero marine pollution.
Additionally, they recycle whatever they can, conduct rainwater harvesting, and provide drinking water fountains. All of their buildings are made from natural and local materials.
The resort gets all their materials and ingredients for their restaurants from the local Pekutatan village.
Not only does the community benefit from employment opportunities, but Puri Dajuma also provides health care and retirement policies. Something more hotels should apply.
Additionally, they assist in ceremonies and other cultural projects while supporting projects such as dancing schools. They also help in sea turtle conservation, poverty relief, and helping orphanages.
Taman Sari Bali Resort, Pemuteran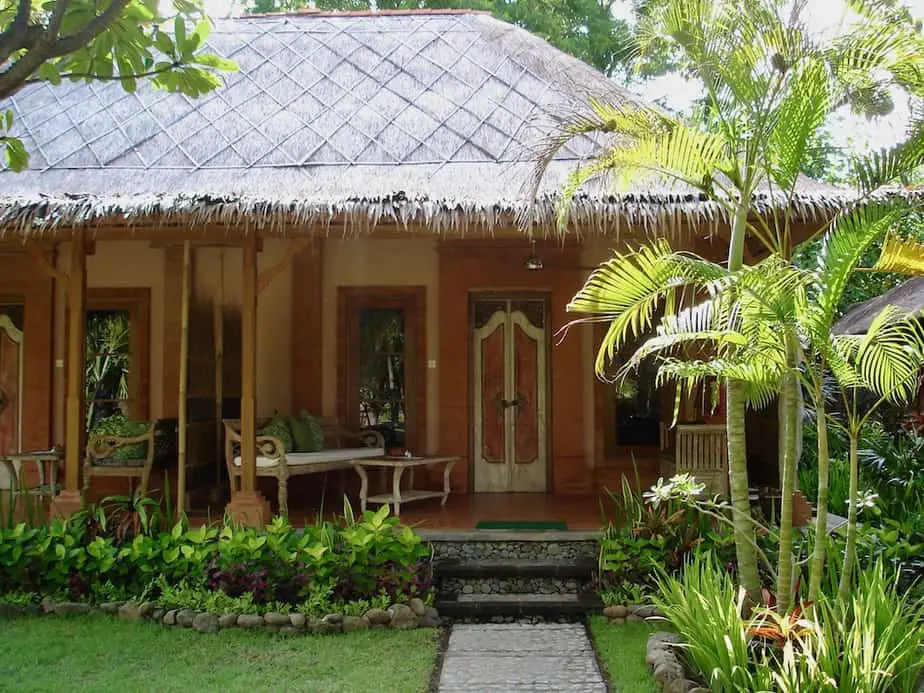 * for couples, friends

* location on the beach and their support to the Bio Rock Project

* $US101 – 150 per night
The Taman Sari Bali Resort and Spa is not an eco-accommodation but we have included them in our list because of their Bio Rock Project Support.
In front of their beach, you can fid the biggest Bio Rock Project in the world. Prof. Wolf Hilberts and Dr. Tom Goreau together with the Pemuteran local initiated a coral restoration project.
Here they use low-voltage electrical currents in the seawater to help crystalize minerals on structures. This creates an artificial reef where corals can grow. This system is very robust and corals can withstand changes in temperature a lot better.
Eco-accommodation in South Bali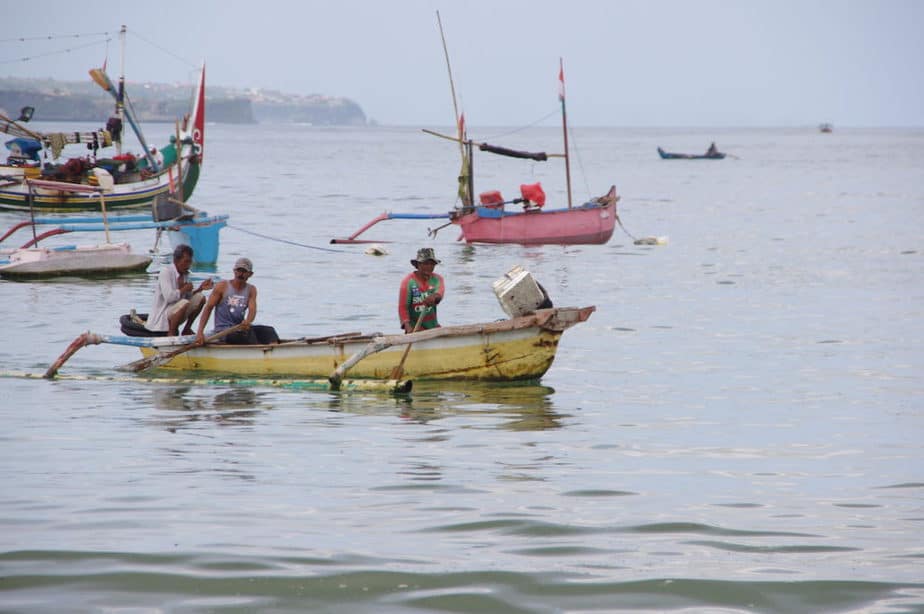 The south of Bali is where you'll find most of the hotels and villa complexes on the island. Famous are Kuta, Legian, Seminyak, Sanur, Canggu, Nusa Dua and the Jimbaran area.
Even though there are so many hotels hardly any of them is catering to the eco-friendly traveller. Luckily there are exceptions and the only one we think deserves a place on our list is the following:
Udayana Kingfisher Ecolodge, Jimbaran
This budget ecolodge ($US32 per night) is located in the Udayana University grounds and surrounded by 32 hectares of forest on the hills of Jimbaran. It's only a 20-minute drive from the airport.
The Udayana Kingfisher Ecolodge only has 10 rooms with a garden view in a two-story building and there's a swimming-pool onsite. The upper floor is a large living room where you find plenty of nature-related books and magazines.
They have solar panels installed, use septic tanks and you can refill your water bottle. There are various hiking trails around the lodge for bird and butterfly watching.
Conclusion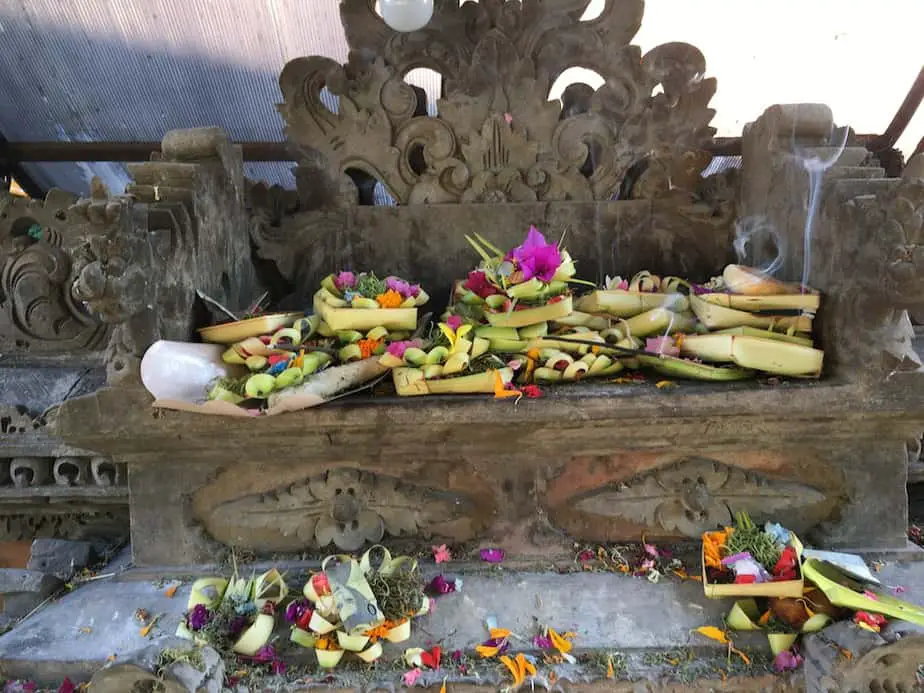 It is quite a surprise that there are not that many eco-accommodation in Bali considering the fragile ecosystem of the island. Hopefully, other hotel owners will realize that change is crucial. We look forward to the day that they will also start implementing sustainable tourism.
Staying in an eco-accommodation is a unique experience, you'll learn a lot from the Balinese people and their environment. On the other hand, you will also give back to the Balinese so this means a win-win situation for both.