Candidasa was another piece of paradise in Bali during the 1970s. Travelers were quick enough to the palm-fringed golden beaches, beautiful diving spots, colorful fishing boats, friendly people and stunning scenery.
Once discovered, visitors came here to spend their days in paradise. And as the story often goes, guest houses and hotels were to be built to accommodate them.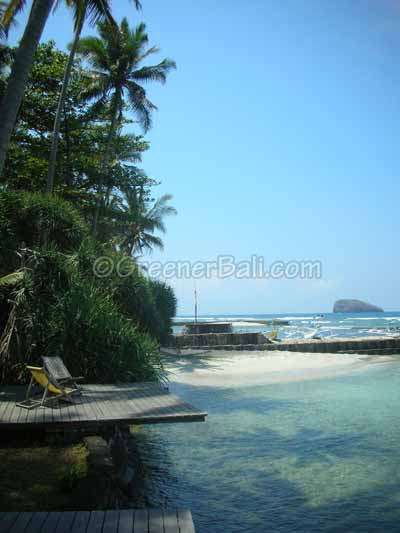 What happened to Candidasa and its beach?
The local people from Candidasa needed construction materials to build their hotels. Unfortunately, they decided to use the reef to get it. They started to blow up the reef with explosives and hotel after hotel was built with what were once amazing fields of coral.
Now without the reef, the sea had free play.  Bit by bit it took away the stunning golden beaches that this coconut village was so famous for.
Today only at low tide you can see some patches of what was once the beach. Once erosion took away the beaches tourism numbers dropped.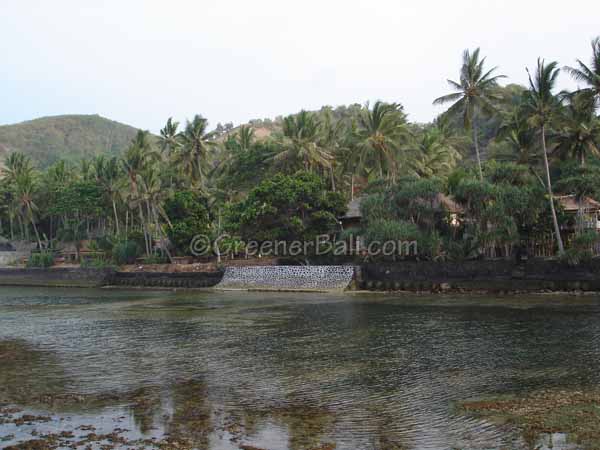 To bring the Candidasa beach back to life the local government has recently built several breakwaters to trap the sand. It will take many years for the beach to return to its former grandeur.
Same counts for the numbers of travelers. It is a quiet sleepy town that funny enough appeals mostly to Golden Girls 😉
Nonetheless, it is still a nice little place to spend a couple of days when you are exploring around eastern Bali. It also offers a good starting point to visit Pasir Putih beach and Pandangbai.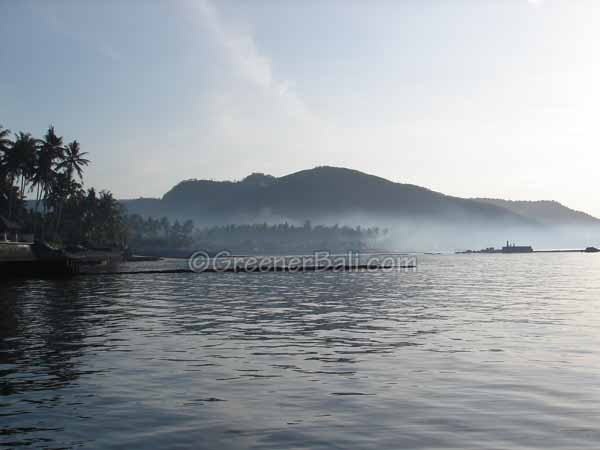 Candi Dasa is located along a big main road called Jalan Raya Candidasa.  It runs all along the coast of East Bali. Traffic can be quite busy at times, so we think strolling through town isn't ideal.
But all of the restaurants and recommended accommodation are found along this main street so it is not difficult to get lost here.
Getting around Candidasa
It is pretty easy to find your way around Candidasa. If you don't look at the signs properly chances are you've passed this little fishing village already.
The busy main road through town is called Jalan Raya Candidasa and links the city of Klungkung with Amlapura. This village is so small that it lacks a town center but if you take the big lotus lagoon you are pretty much in the 'center'.
Since Candidasa consists only of one main road the accommodation, shops, and restaurants are stretched out along it. There is a pavement where you can easily walk but if you don't want to walk too far then you can always travel as the locals do and use the local public transport.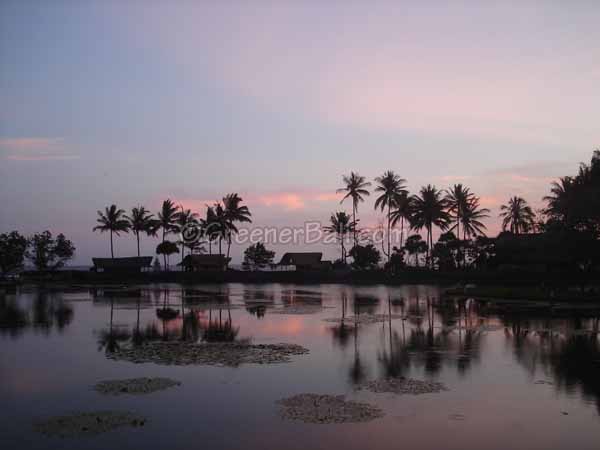 Tips on Getting around Candidasa
Every now and then a bright red bemo will pass either going to Padang bai located west of Candidasa or to Amlapura, which is located to the east. Just wave when it approaches you and hop on.
Another comfortable option is to rent a motorbike. There are many shops that rent bikes, but you can also approach the reception of your hotel who will be able to arrange one.
And of course, you can arrange a driver who can take you to all the highlights of this area of Bali. When we are in there we meet up with Sugiyo, also known as John.
He is a very good driver and he will bring you safely to your destination without any nonsense. So no sudden stops at factories or shops, unless you want to of course 😉
You can contact him by phone at +61 081336219373 or by email which is rajas_resotoran@yahoo.com. He is also the owner of an Indian restaurant in Candidasa, hence the email address.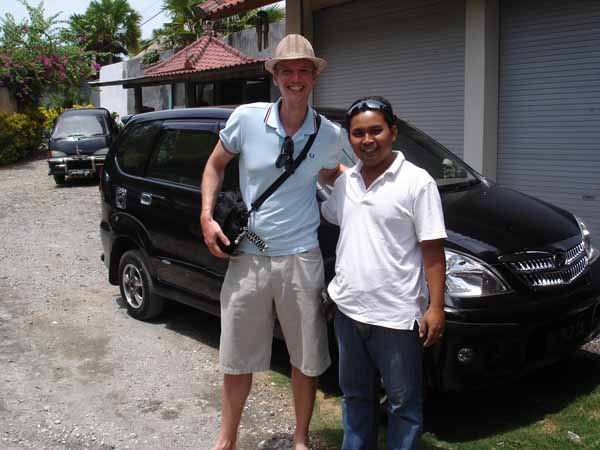 Important addresses and handy phone numbers
For emergencies or small accidents: Amlapura hospital at Jalan Ngurah Rai, contact through 363-21-011.
All other important services are located along Jl. Raya.
Perama tourist shuttle bus which links to the major places of interest such as Ubud, Kuta, Singaraja, etc, is located on the west side of town (tel: 0363-41114). The Police office is around the corner from here.
The official Post Office doesn't really look like one. Anyway, it's located next to the lagoon in the center of the village. Try to go early in the morning since they tend to close after lunch.
Things to do in Candidasa
There are a lot of things to do in Candidasa and its surroundings. We are able to stay a couple of days in this little town without getting bored. Activities vary from cultural to hiking through the lush green fields…
The main cultural sight in Candidasa is the Pura Candidasa, the village temple. It is believed to originate from the 11th century. It is located across from the lagoon along the main road and is dedicated to the Gods Shiva and the fertility goddess Hariti.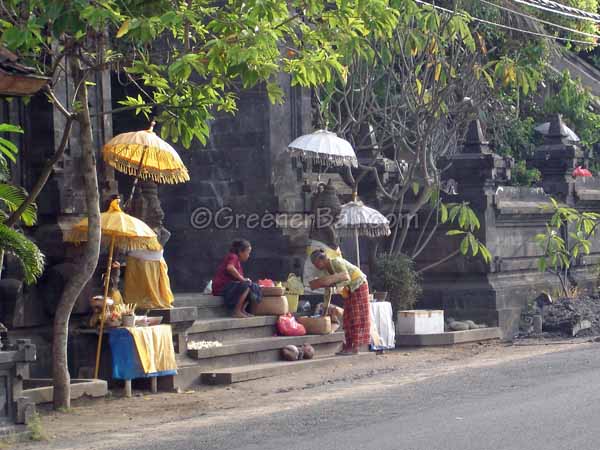 Her statue in the temple is surrounded by children hence the name Candidasa which is derived from Cilidasa which in turn means 'ten children'. In front of the temple, you can see motorbike drivers stop to place offerings and to get their blessings before they hit the road again.
Things to do outside Candidasa
Candidasa is located in the Karangasem regency. This regency is considered one of the most cultural parts of the islands making it ideal for sight-seeing day trips. The most important temple Besakih is not far away and after visiting this temple you can easily make a stop at the royal pools of Tirta Gangga or Taman Ujung.
Another nice village is Tenganan. This traditional village is located nearby. Its inhabitants, called the Bali Aga are considered to be ancient pre-Majapahit Balinese (just like the villagers Trunyan) who still live according to their own traditions.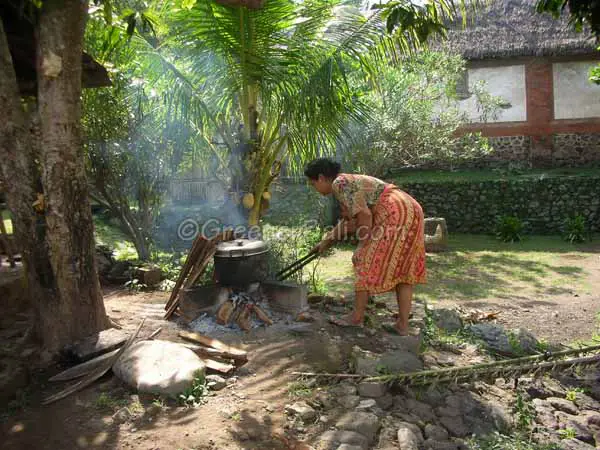 The Bali Aga community are known for their unique 'ikat' weaving fabric and palm leaf calendars. We prefer heading to the village in the morning before the busloads of visitors arrive.
More of an active type?
Candidasa is surrounded by mountains so you can also easily go hiking. There are a couple of great trails that take you through the rice fields and the mountainous terrain in the area.
The hike from Tenganan to Macang and Ngis is a great way to explore the area.
The Tenganan-Tirta Gangga trail is another great option. Start off at the temple complex at Tenganan and from there head for the forests. There is a stone wall that will guide you to a school in Gumung. There are beautiful views on the rice fields from this village. Continue your walk by passing a dam, a shrine and by crossing a shallow river.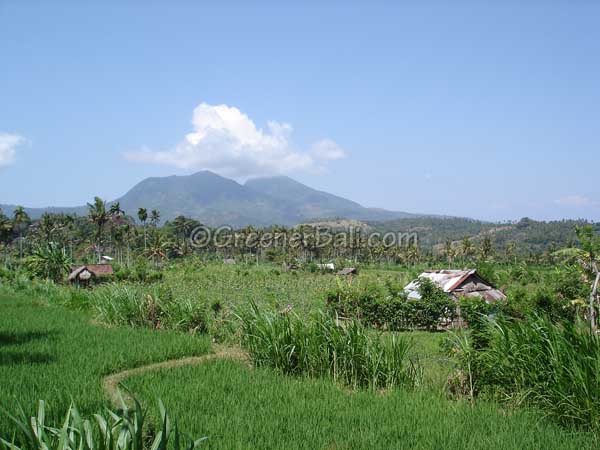 At the village, Kastala head towards the main road and walk to the village of Bebandem. From here you can continue your hike to the village of Budakling and after hiking along the country roads you will end at Tirta Gangga.
Discover the underwater world nearby Candidasa
For those who prefer to go scuba diving then Candidasa is also the place to be. There are some excellent spots such as Tepekong Island and the Mimpang Islands, the tree rock islands in front of Candidasa's coast. This dive site has several walls and a good variety of sea life.
There is even a shark junction so you will likely see numerous sharks and sometimes even manta rays and the Oceanic Sunfish. Visibility is 30+ meters. Diving and snorkel tours can be organized from Candidasa and Padangbai.
If you prefer to just jump straight into the water with your snorkeling gear on, then you can do so at Blue Lagoon located right next to Padangbai.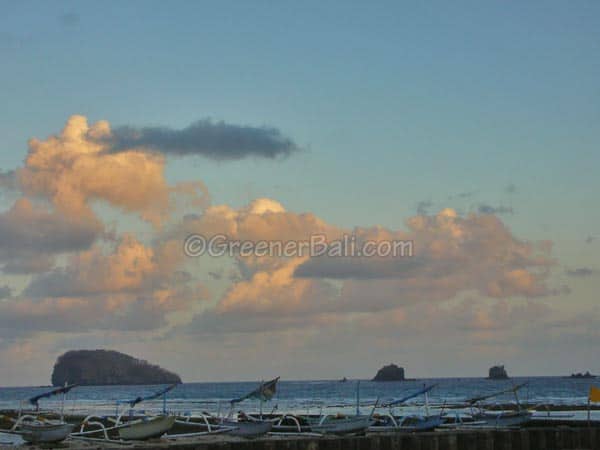 Despite the lack of stunning beaches, there are luckily a couple of great ones not far away. Head to Pantai Pasir Putih (meaning white sand beach )if you want to relax on one of the sun lounges by the beach.
If you drive a bit further you will come across the black sand beach of Jasri.
At Bias Tugal near Padangbai, you will find the 'tropical-deserted-beach-feeling'. It is possible to go swimming here too but check the currents first before jumping in.
Restaurants in Candidasa
In the past, the restaurants in Candidasa didn't offer that much culinary excitement. Most of them had the same menu, the same background music, and the same Legong dance performance.
But things are changing and we have found a couple that stand out. Don't expect organic, local or strictly vegan menu's here. But we like these restaurants as they are just different than other restaurants in Candidasa. Some of them even are that welcoming that you will even want to stay a bit longer, sit at their bar or in their lounge and sip a beer.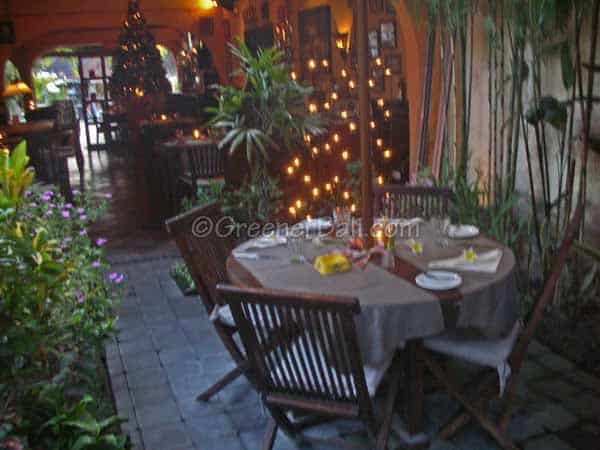 We particularly like Vincent's Restaurant located nearby the lagoon. We always take our time here to enjoy our lunch or dinner while listening to the warm voices of jazz legends Diana Kral or Ella Fritzgerald in the background. You can either sit comfortably inside or head to the back to their garden terrace.
Another option we like to go to is a pretty little restaurant called Rendez-Vous. The location at the ocean is definitely a winning point. This restaurant is part of the Alam Asmara Beach Resort. Rendez-vous serves all kinds of dishes however we think that the Balinese dishes are the best. The Nasi Campur is a good way to try out the different tastes.
LeZat Restaurant has a similar wonderful setting. Here you can dine with ocean view and enjoy a large selection of Indonesian dishes. They offer cooking classes too if you want to make some of them once home.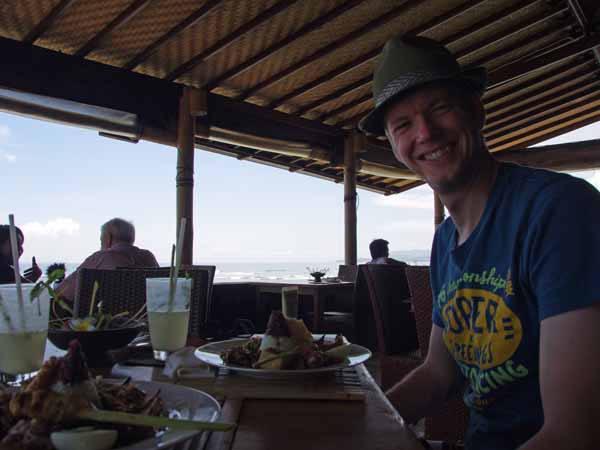 For more local dishes have dinner at the Joglo Restaurant, located near the lagoon. Here they take pride in the Indonesian cuisine and also focus on serving delicious fish dishes. Something you would expect when staying right at the ocean.
Places to stay in Candidasa
There are a lot of places to stay in Candidasa however to be very honest we think it is difficult to find ones that we can highly recommend. Since we really enjoy staying in Candidasa as a base for exploring East Bali, we are always on the lookout for places slightly eco-conscious or show efforts in contributing to the surrounding community.
For now, we can suggest two alternatives, which are also our favorites. These are the places to stay in Candidasa that we recommend.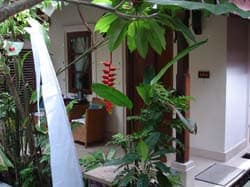 The Alam Asmara Candidasa Resort & Spa
This dive resort is located at the waterfront. It is fantastic mid-range with value for money. The small-scale resort has only 12 deluxe bungalows set among tropical flowers and fish ponds. Each accommodation has its own entrance and verandah giving you even more privacy.
Their Rendez-Vous restaurant serves delicious food, smoothies, and cocktails. Besides their great pool with nice views over the ocean, you have easy access to the ocean for some swimming as well. Also, a great option for a nice stay while following one of their diving courses. (US$65 per night)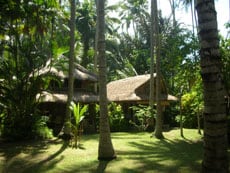 Ida's homestay
This homestay is one of our favorite budget hotels on the oceanfront. They have various types of bungalows made from natural products and all built in a different style.
The best thing about this homestay is that it is covered with huge palm trees and from their pavilion you have a fantastic ocean view from where you can see the local fishermen. For us, it is a perfect place to come home to after touring around the whole day.
The only drawback is that it's located on the busy main road that runs straight through Candidasa, but earplugs will do the trick. Be aware that there is cold water only. Rooms are (US$25 per night (single bungalow for 2) or US$37 per night (double level)