Padangbai is a pretty well-known beach village in East Bali. Despite the things it has to offer, we think Padangbai is very underappreciated. If travelers knew about all the nice things this little place has to offer then we bet more travelers will come to visit.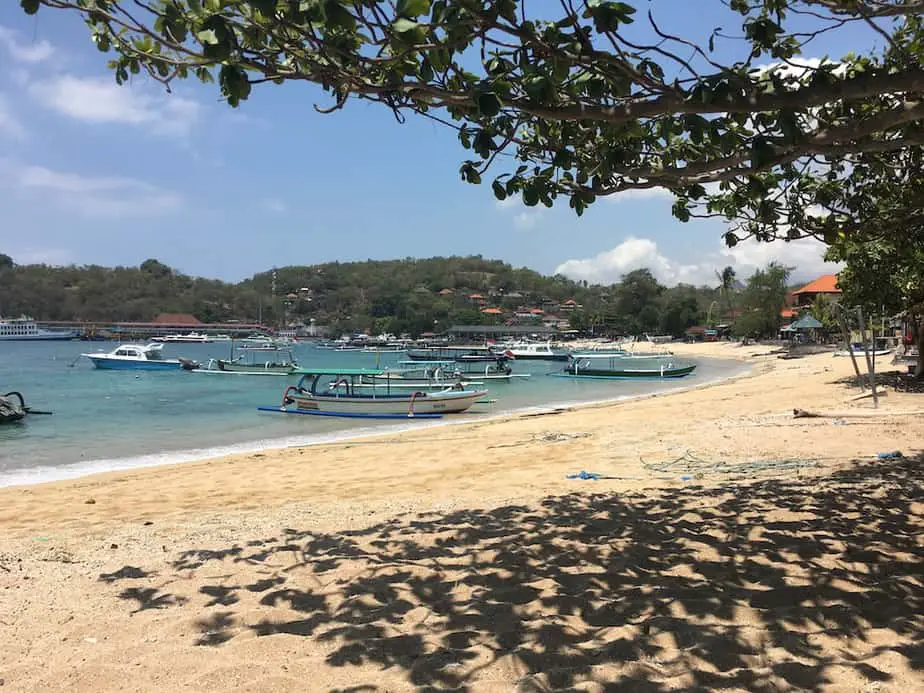 Unlike nearby Candidasa, this little fishing village doesn't have many holiday resorts. Instead, it has guesthouses and some dive resorts tucked between shops and local houses.
Today this beach village is especially known among divers or travelers heading to the Gili islands.
The village is small and besides the main beach, it has two other nice beaches nearby. The diving shops together with colorful fishing boats create a very relaxed atmosphere.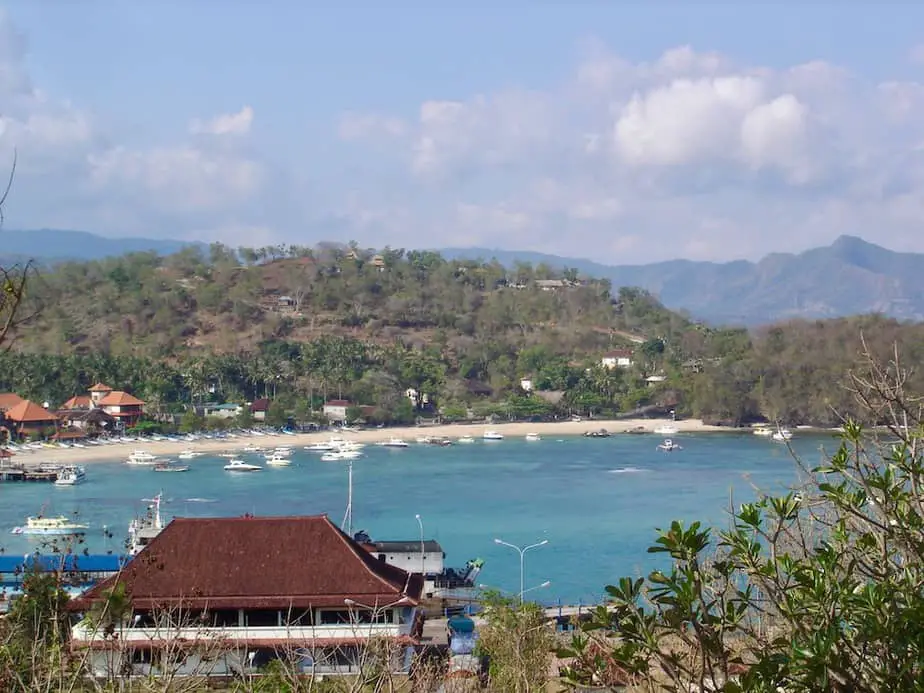 Another great advantage of Padangbai is its location. From here you can experience the cultural side of Bali. Day trips to Besakih, Tirta Gangga, Rendang, and the Sidemen rice fields can easily be done from here.
What Is Padangbai Like?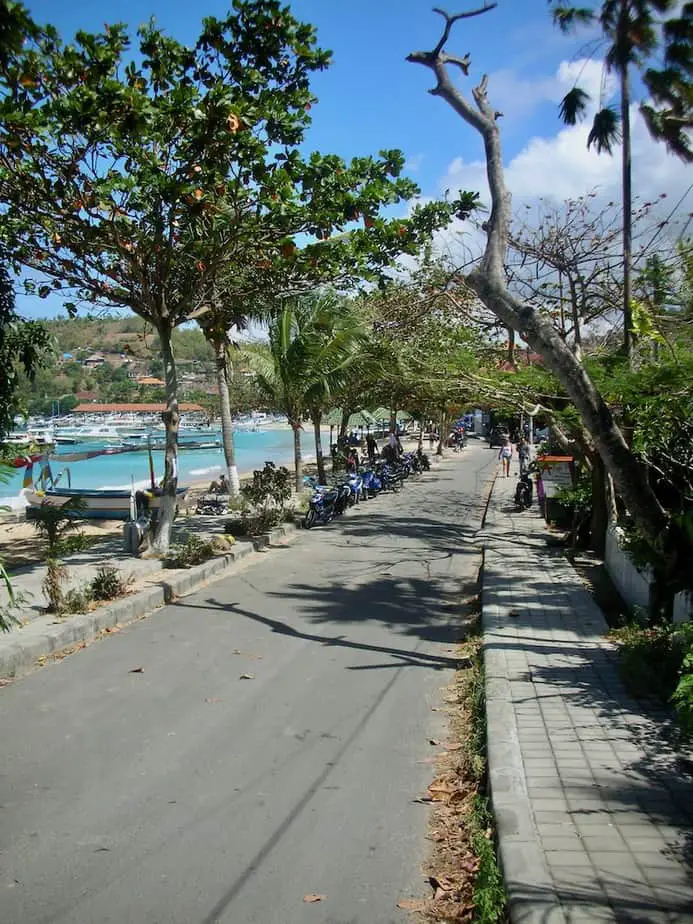 Unlike many other villages in Bali, we think Padangbai isn't the most attractive place. The ferry dominates this little village, giving it an asphalt grey look.
The village is also seen as a 'place of transit' for those heading to Lombok and everything seems to be focused on a short visit only.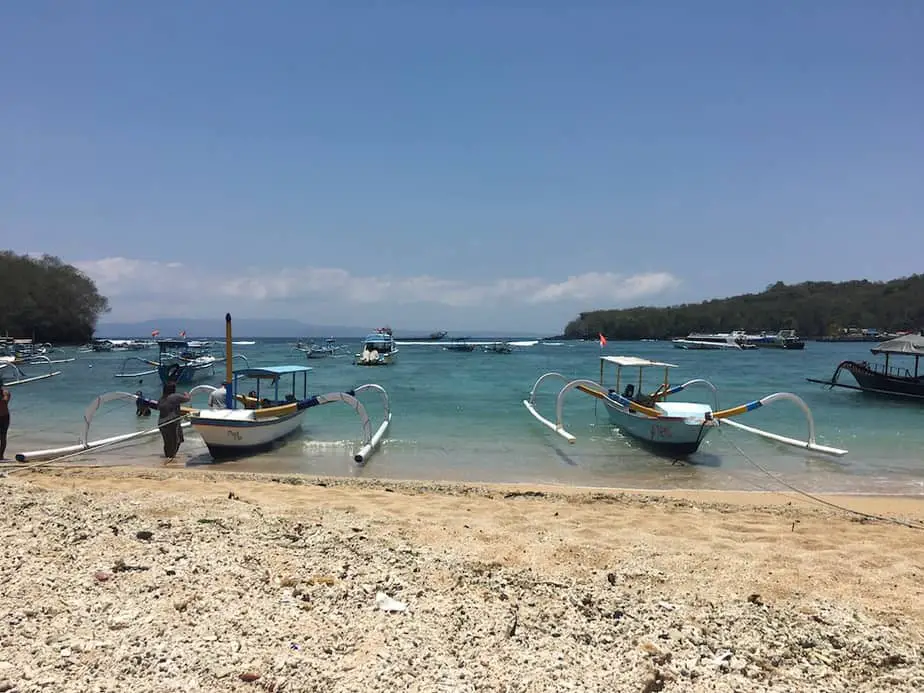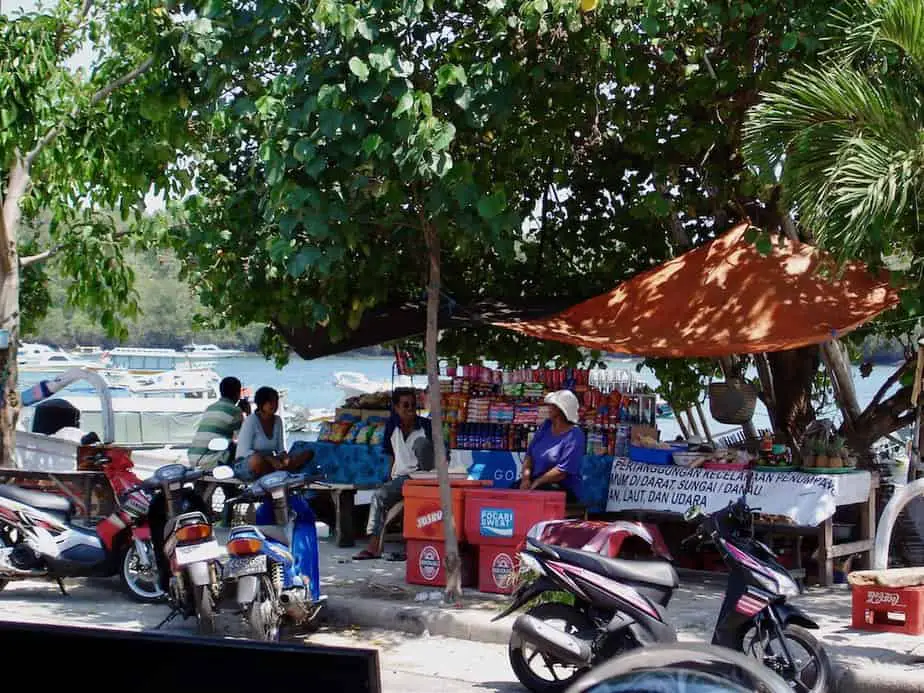 But once at the main beach, you can feel the relaxed diving atmosphere. Every day people come here to arrange tours at the many dive shops. Others are carrying gear to the boats in wetsuits, PADI students are relaxing in or around the pool after their course.
Locals are found at the beach too. Either at their fishing boats or at their little stalls under the shade offering snorkeling tours or snacks.
During the day there is always something going on. Cars and shuttle busses arrive at the ferry port to drop off or pick up travelers leaving for or arriving from Lombok.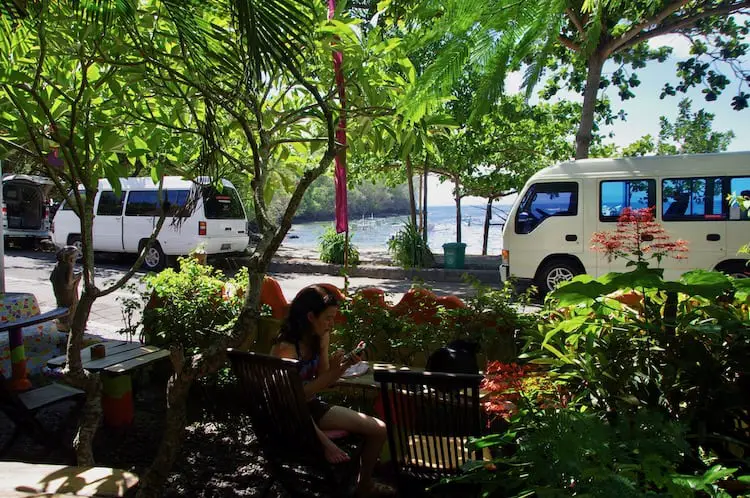 Those who head to the beachfront are usually divers who will hop on a boat for a dive tour.
The rows of cars parked in the market area make this town look hectic. But once you pass it and arrive at Padangbai's beaches you have pretty much left that behind.
Shoppers will be heavily disappointed in Padangbai. There are not a lot of nice shops in Padangbai to get excited about. As for nightlife in Padangbai, there are several bars where you can hang out and have a drink. Often these places have live music as well.
Is Padangbai Worth Visiting?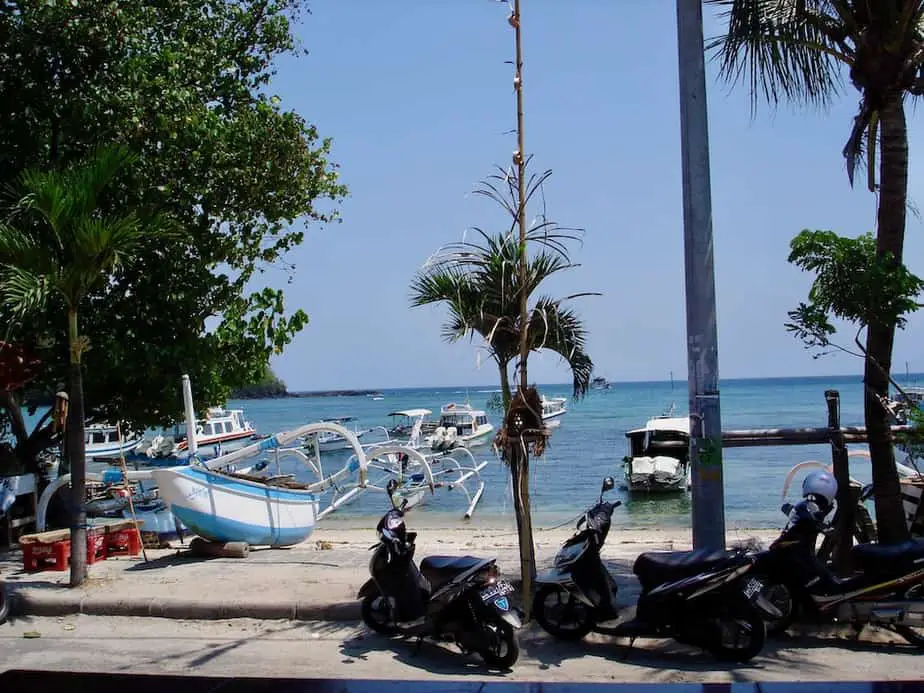 Now that we have discovered traveling at a much slower pace we would probably stay in Padangbai for at least two nights for its beaches and underwater world.
But if time is short, then you should at least try to include Pandangbai when touring around East Bali. So far we always included a visit to Padangbai whenever we were staying in Candidasa.
Padangbai is very different from Candidasa where the busy main road dominates the village together with the resorts. Wandering through Padangbai is a welcoming change.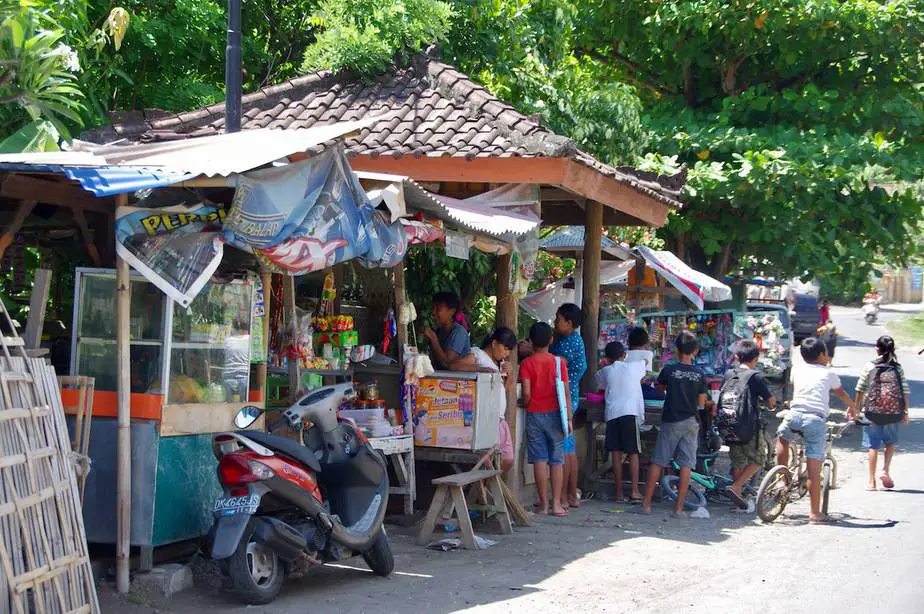 Same for Sidemen. Sidemen is much more inland and is known for its green valleys and rural atmosphere. However, Padangbai is just a 45-minute drive from Sidemen. This makes it ideal for a nice day at the beach or to do some snorkeling and diving trips.
So yes, Padangbai is worth visiting for a day trip or for staying two nights.
Also, those who are continuing to Lombok will appreciate an afternoon in Padangbai. If you have more time why not spend a night and then hop on the early ferry or speedboat to Lombok.
Is Padangbai Beach Suitable For Kids?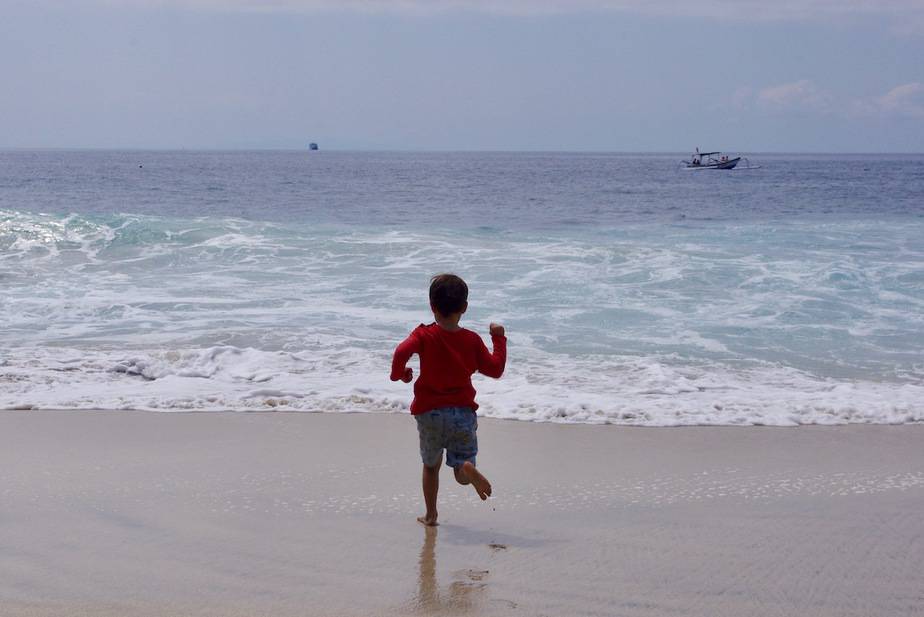 The water can be rough at Padangbai beach. We did go for a swim with our 4-year-old son in the afternoon. At that time there were no currents and just a couple of waves. But unlike Sanur or Candidada, we did hold on to his swimming vest the whole time.
But once we were out of the water, my son had fun at the beach. We could easily spend hours sitting in the shade while he collected coral residue.
The other two nearby beaches, Bias Tugal and Blue Lagoon are suitable for confident swimmers only. So not ideal for younger children. That said, the soft and clean sand at Bias Tugal is very attractive for any type of traveler.
Practical Information On Padangbai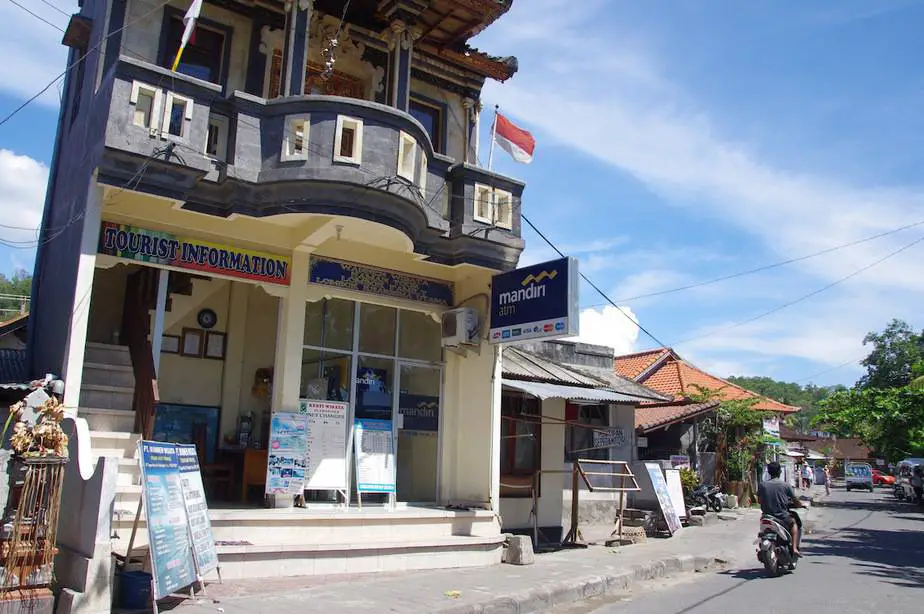 Padangbai is located in the Karangasem Regency in East Bali. It isn't far from the popular beach village of Candidasa.
Padang means 'grass' in Balinese and 'bai' is from the Dutch word 'baai' which means 'bay'. Basically, the name of the village describes a bit how it looks like as the village is concentrated around a bay where most of the activities take place.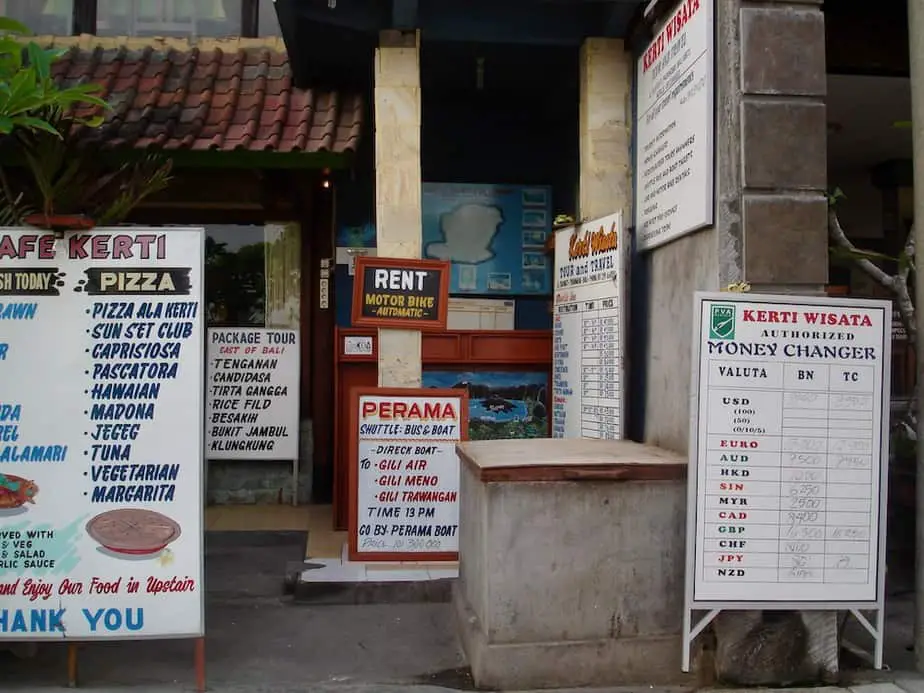 It's a tiny village with one big square and a couple of small streets. There are a couple of ATM's in town so you don't have to bring a pack of cash with you.
When you have just entered the village you will find most of the shops and the police station. And that's basically it because before you know it you find yourself right at the beach. As you can imagine, you can easily walk from one place to the other.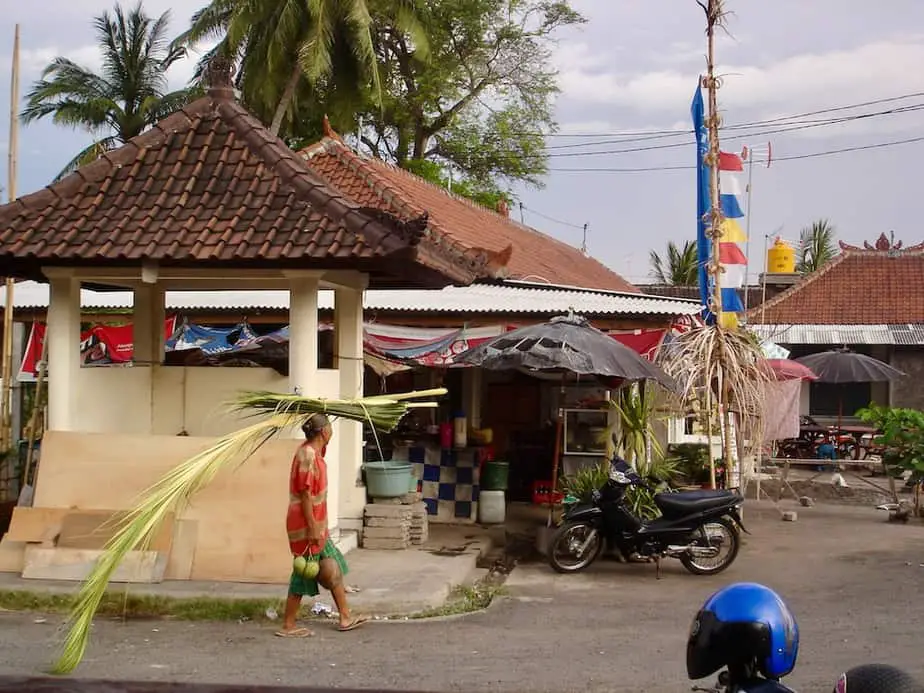 So far we haven't experienced anything negative in Padangbai. However, we have heard stories that drivers will aggressively approach you when you disembark the ferry.
Especially if you want to continue your journey by public transportation. So to avoid the hassle, make sure you have arranged transportation already.
How To Get To Padangbai?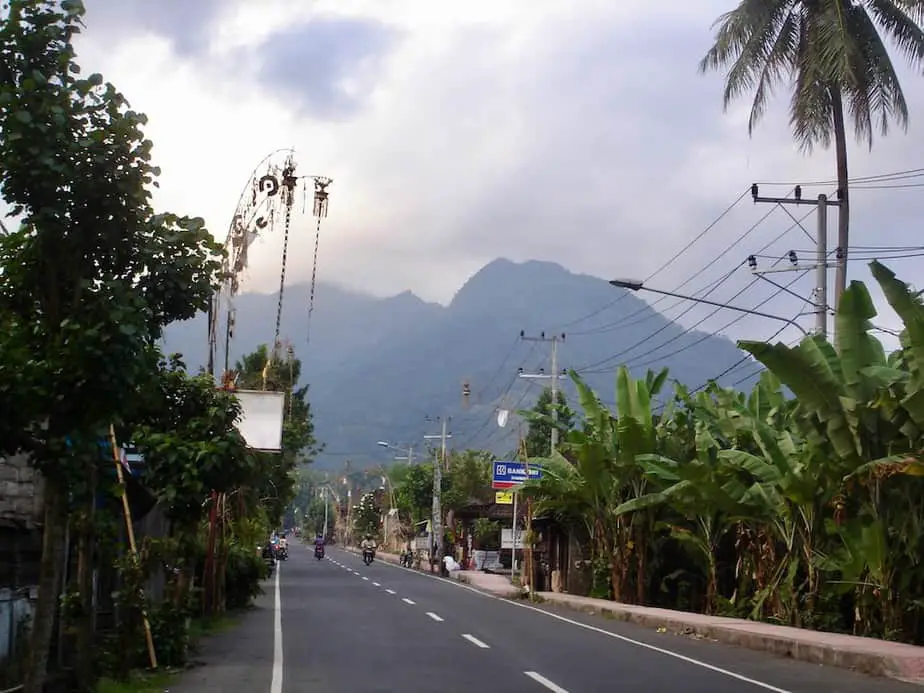 Padangbai is found at a side street along the main road running through East Bali. When you are driving in East Bali along the coast you are going to see signs pointing to this fishing village. So it's pretty much clear cut.
When arriving from Denpasar Airport it is a 1 hour 19 minutes drive to Padangbai, 35 miles/56.4km. This is the same for the villages such as Jimbaran, Kuta, Seminyak, and Canggu.
From Ubud, it takes 62 minutes (23.1 miles/37.3km) and from Sanur Beach, it's an hour's drive (26.9 miles/43.3km). Remember, this is only the case when there is no heavy traffic. On Sundays, it can get even busier in the southern part of Bali.
Once we wanted to go from Padangbai to Jimbaran. We were stuck in traffic for 1,5 hours around the Sanur area. So if possible, don't do trips on Sundays.
Candidasa Beach is pretty close by, just a 20 minute drive away. When you are staying in Padangbai you go for a quick visit to Candidasa.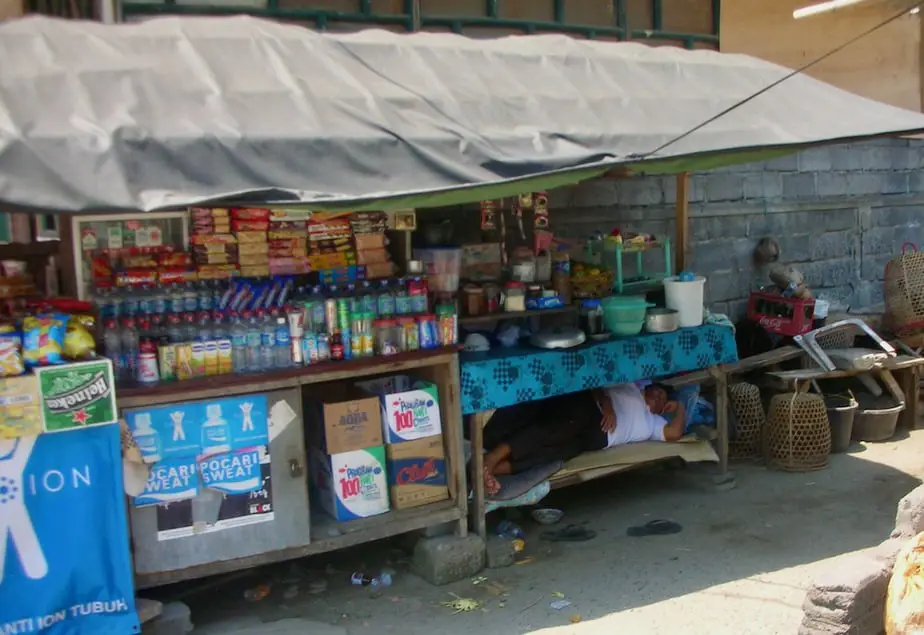 Divers in Pandangbai who wish to do some diving at the popular sites near Amed and Tulamben need to drive for about 1 hour and 15 minutes.
If you are planning to head to Padangbai, it is best to hire a private driver to take you. Depending on where you are coming from and what your itinerary is, another option is to rent a car or motorbike.
Perama Tours has shuttle busses from major tourist villages to Padangbai, making it an easy option if you are a solo traveler or on a budget. It's cheap. Ubud to Padangbai is about $10 USD and Sanur is $14 USD one-way.
Getting Around Padangbai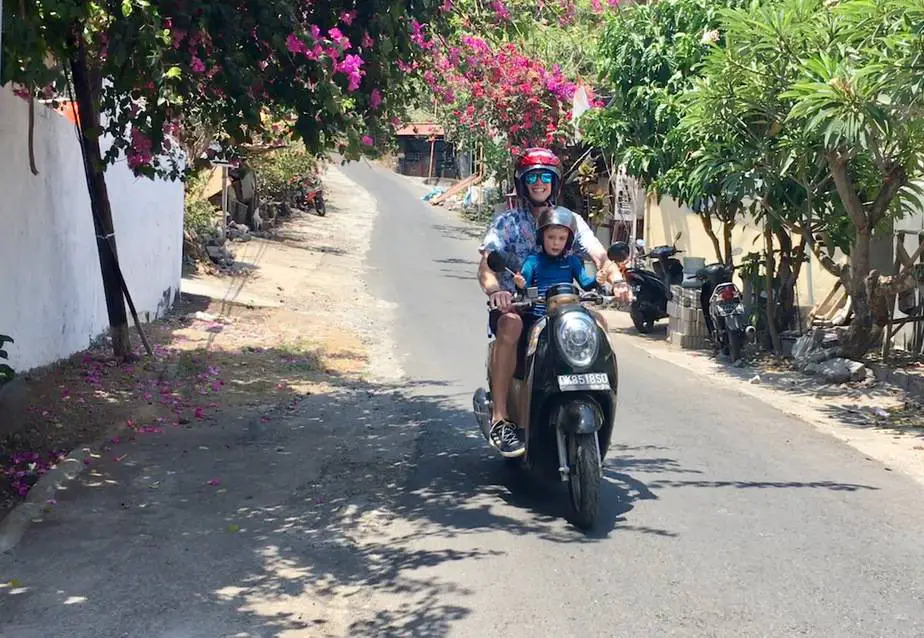 This fishing diving village is pretty small. Since most of the action takes place between the main beach and ferry, you don't really need any transportation to get around.
Everything is within walking distance. To get to the nearby beaches you do need to climb a bit but it is all worth it.
But if you want to make things more comfortable then we recommend arranging a motorbike. It just makes heading to the beaches easier, especially in the middle of the day when the sun is at its brightest.
The area around Padangbai is really nice to tour around. If you take any little side streets along the big main road you will enjoy the beautiful Balinese village life.
How Is The Weather In Padangbai?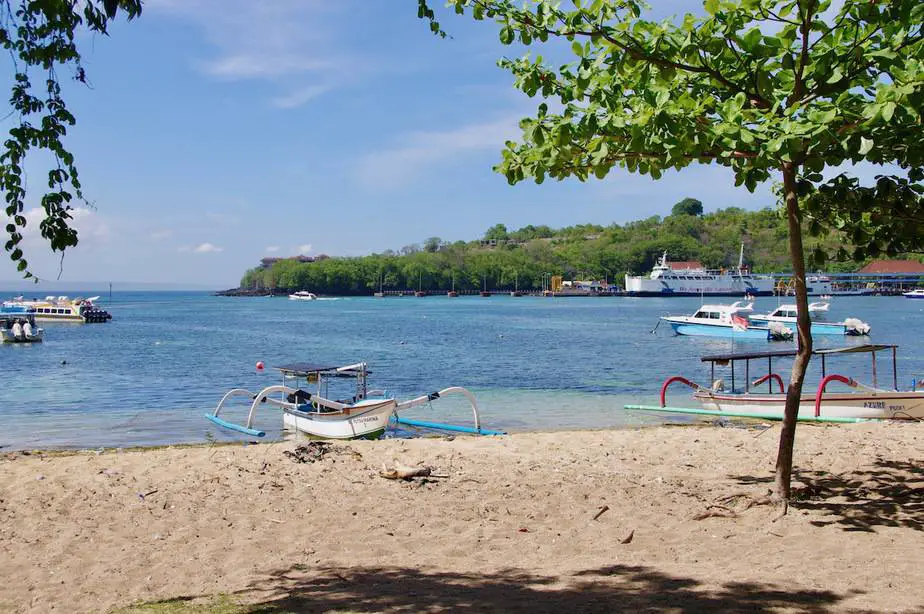 Like the rest of Bali, Padangbai is tropical and experiences the rainy and dry seasons.
Instead of the temperatures and rainfall, it would be better to check the water conditions when planning your Padangbai visit. Low and high tide plus the currents influence the possibilities for snorkeling and diving.
You might want to check the Tide-app (for Android)  or Tide Charts (for iPhone) to see which conditions suit you best.
Padang Bai To The Gili Islands Or Lombok Island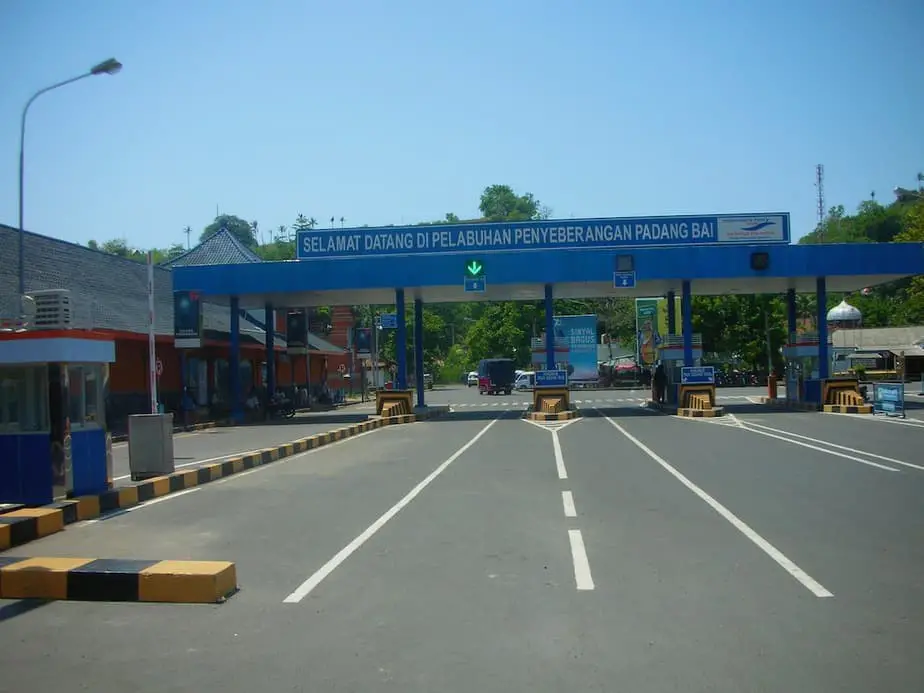 The Padangbai harbor is located on the eastern side of the village. It is easy to spot with trucks and busses boarding the massive ferries.
The Padangbai Ferry To Lombok
The very slow Padangbai ferry leaves for Lembar harbor on Lombok.  The ferry operates every day, every hour 24/7. If the weather conditions are fine it will take 4 hours to get there. If you are unlucky the journey might take 6 hours.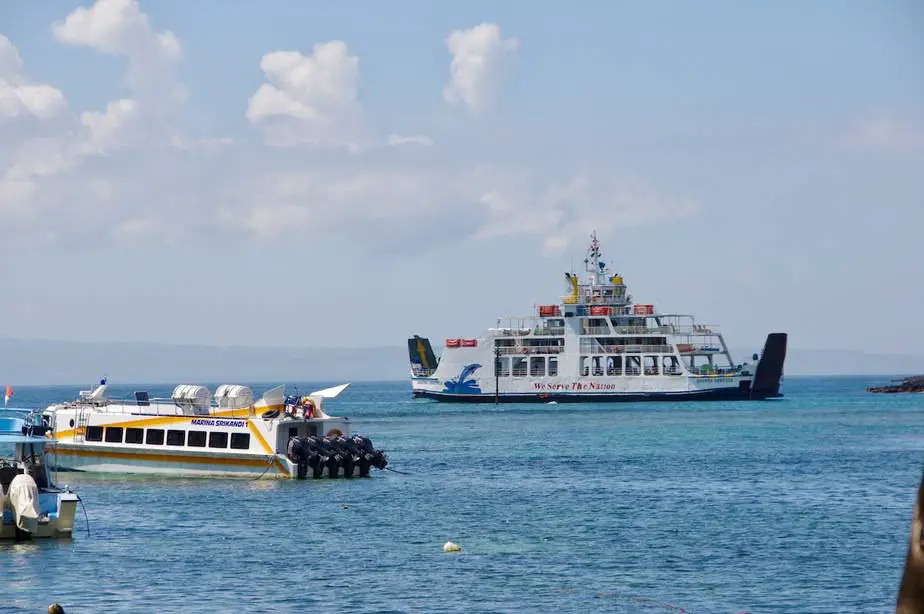 You can not make any reservations for the Pandangbai-Lombok ferry. You just have to show up. Do remember that it can take the whole day to get to Lombok. We were once stuck on it for a long time because they were waiting until the ferry was full before leaving.
Adults pay RP. 46.000, children just RP29.000 one way.
Perama Express (+ 62 361751551) also has slow boats that leave from Padangbai at 9 am and after 6 hours reach the Gili Islands. Tickets can be purchased at any Perama office around Bali. A one-way trip is around 400.000 Rph and there is an additional pickup charge from anywhere in Bali.
Might be a good option when you easily get seasick as the trip might be a rough one.
If you want to explore the southern beaches of Lombok (which we highly recommend) then popular Kuta beach and Tanjung Aan beach are easily visited from there. By car from Lembar harbor to Kuta Beach takes around 77 minutes, 31.2 miles/50.3km.
If you are planning to go from Padangbai to the Gili islands then the slow and budget ferry isn't an option. Lembar harbor is in the southwest of the island, while the Gilis are more towards the north.
Fast Boats From Padangbai To The Gilis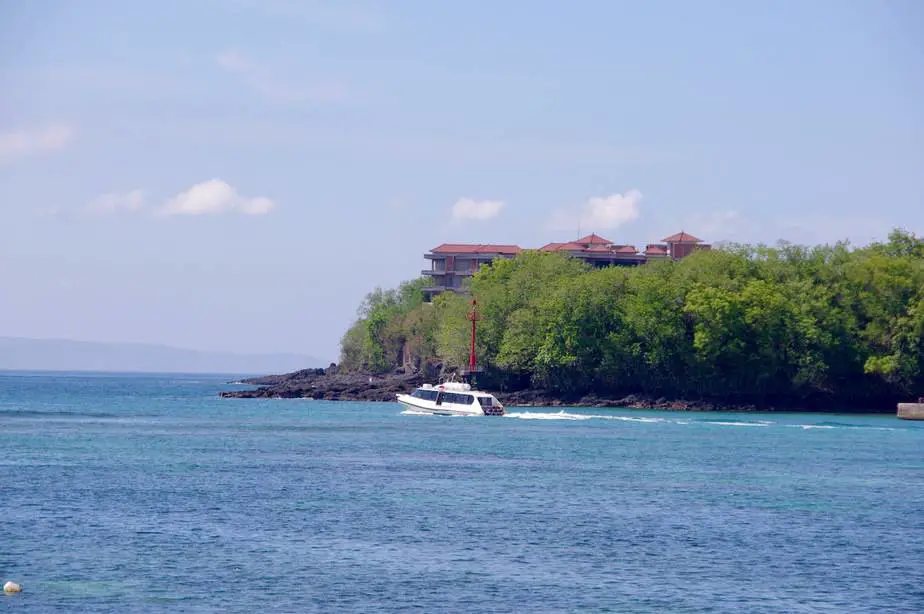 There are a number of faster options that will take you to the Gili Islands. It can be a rough ride and it is not recommended for pregnant women and children under four.
Most Padangbai fast boasts to the Gilis will stop at Gili Trawangan, Gili Meno and Gili Air with the final destination Teluk Kode Bangsal in Lombok. It can take 1.5- 2.5 hours from Padangbai to Gili Trawangan.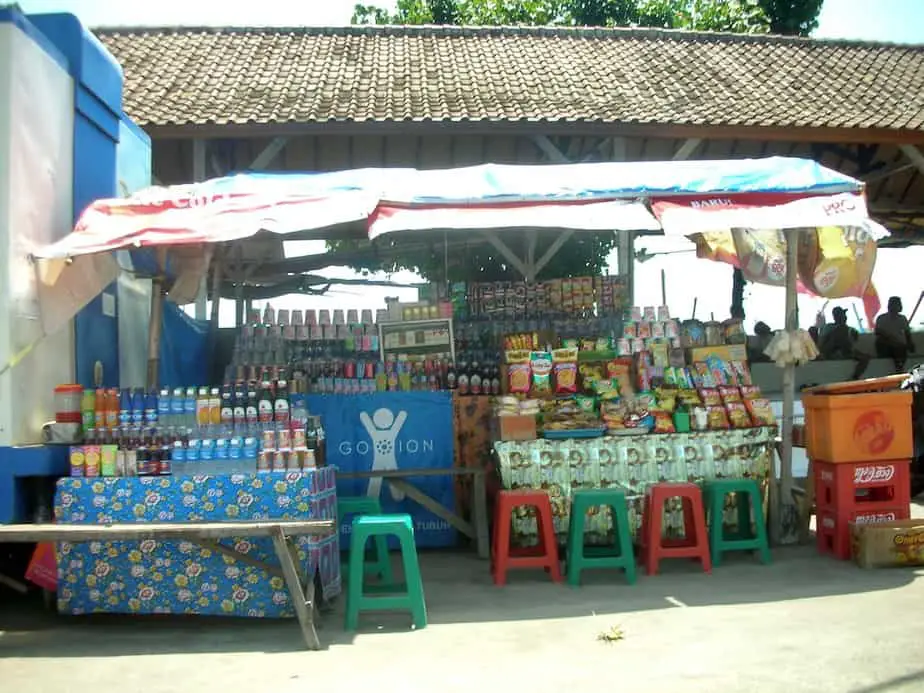 It is convenient to arrange a pick-up service together with your fast boat ticket. However, schedules and boats can suddenly change. When we arranged pick-up we were brought to a different village and eventually boarded a boat from a different company.
They explained that the original boat was broken and that we could go on another, that left 2 hours later. Not sure if this is true, or that they just want to fill up a boat to the max in order to save money. All in all, unexpected surprises and delays are very common.
There are a lot of companies to choose from. Most of them also offer shuttle transit options to other villages in Bali. Those with a good reputation are the Blue Water Express and the Gili Gili Fast boats.
The average price for the fast boats is around Rp 600.000. The boats can leave twice a day in the high season between 9 and 9:30 or in the afternoon around 13.00 hours.
For exact departure times, you should check the website of the specific company to be sure. Also, call a day before to confirm the schedule and location of departure.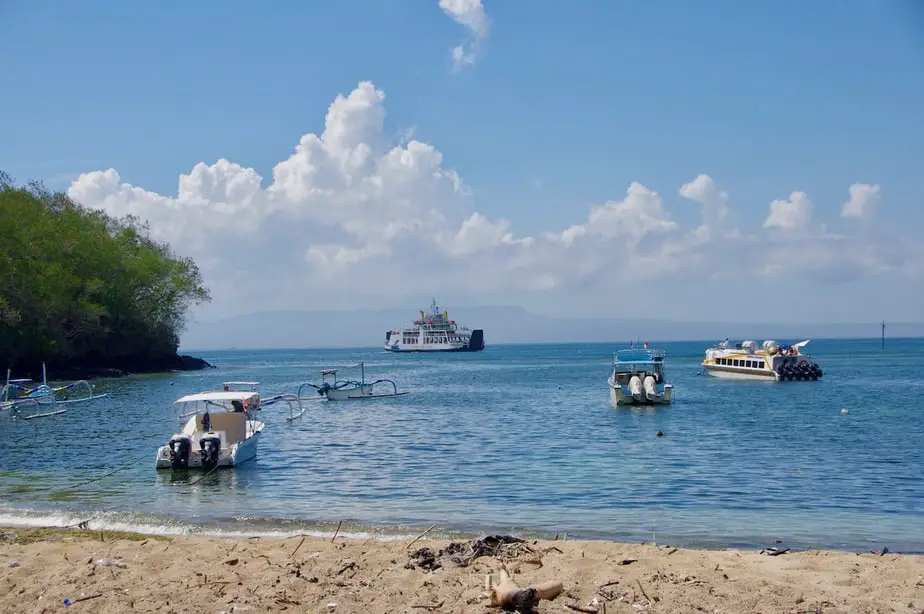 From Amed in Bali, there are also direct fast boats to the Gili Islands. This trip only takes 45 minutes. The trip from Padangbai to Amed takes 68 minutes, 23.4 miles/37.8 km.
Fast Boats From Padangbai To Nusa Penida and Nusa Lembongan
With Nusa Penida and Nusa Lembongan being just 1 hour away, it is a  great option to leave for these islands from Padangbai. There are not many companies that operate the Padangbai to Nusa Penida-Lembongan route.
Before COVID-19 it was just Golden Queen Fast boasts that went 5 times a week. Now there are none, but we just have to see how things develop once tourism slowly picks up again in Bali.
Many diving companies have included Nusa Penida and or Nusa Lembongan in their itinerary. If you're not into diving but just want to explore these islands it's best to leave from Sanur Beach or Tanjung Benoa.
Scuba Diving In Padangbai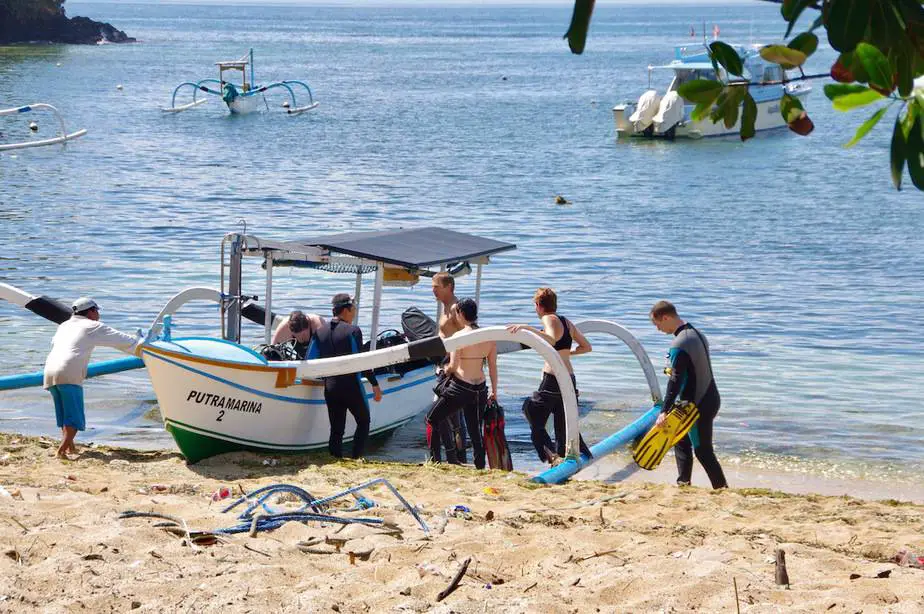 Scuba diving and snorkeling are the number one things to do in Padangbai. It is possible to dive all year round. However, it is always important to check the currents and visibility first. The dive sites here can be unpredictable.
Luckily there are many dive centers in Padangbai that can help you out.
Most dive operators in Padangbai are located at the beach where they also offer accommodation. Here you can arrange diving or snorkeling gear and a boat to take you to the best diving spots.
These dive operators not only offer diving tours by boat. They also have PADI courses where you can practice in the hotel pool first.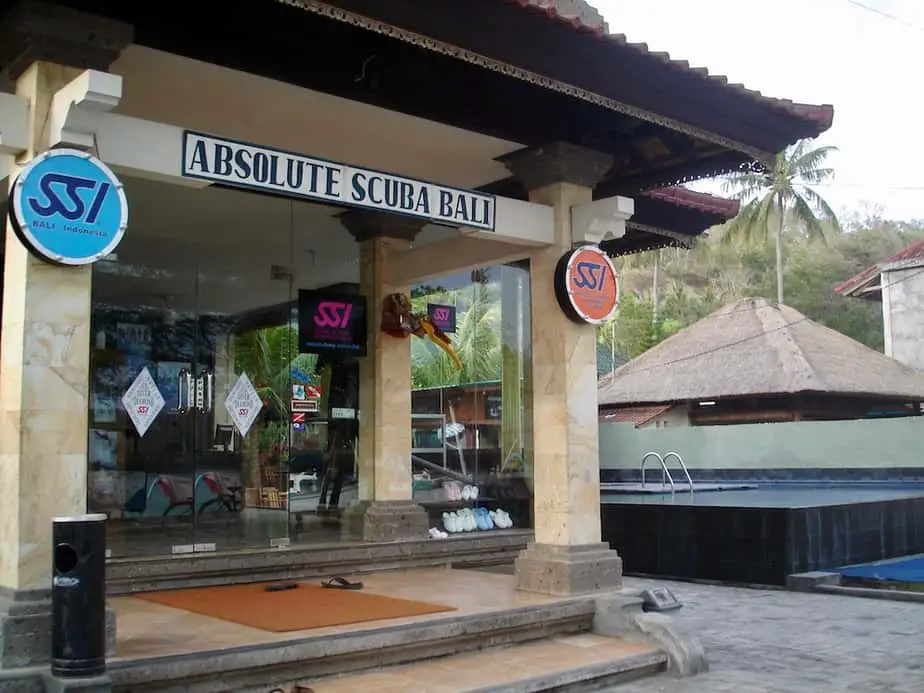 The dive sites around Padangbai are popular among macro divers and underwater photographers. It's common to see sea horses, octopuses, and eels on these diving trips.
The dive sites at Padangbai are called Jepun, Blue Lagoon, Secret Jepun, Secret Jetty, Tanah Ampoe, Ferry Channel, Tanjung Sari (Shark Point), and White Sand Beach.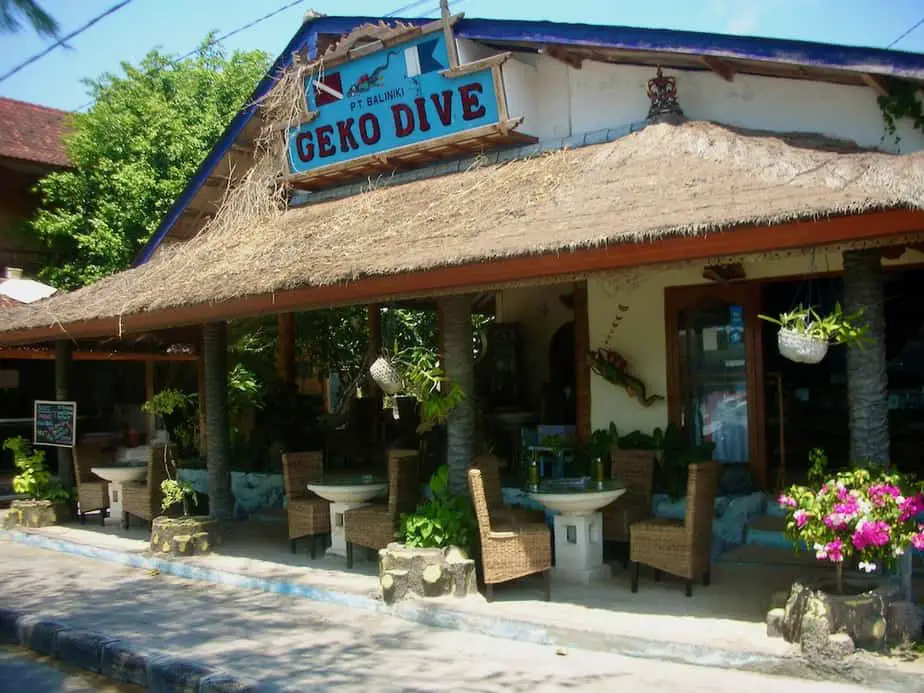 The most popular dives around Padangbai are at Blue Lagoon (where there is a 40m coral wall) and Teluk Jepun, which is located about 2.5km from the village. While the diving conditions are good in this area, the water can be very cold and visibility is not always crystal clear.
Other dives spots that are located further away are Teluk, Amuk, Gili Tepekon, Tulamben, and Nusa Penida. Expect to see soft and hard corals and a diverse marine life including sharks, turtles, and wrasses.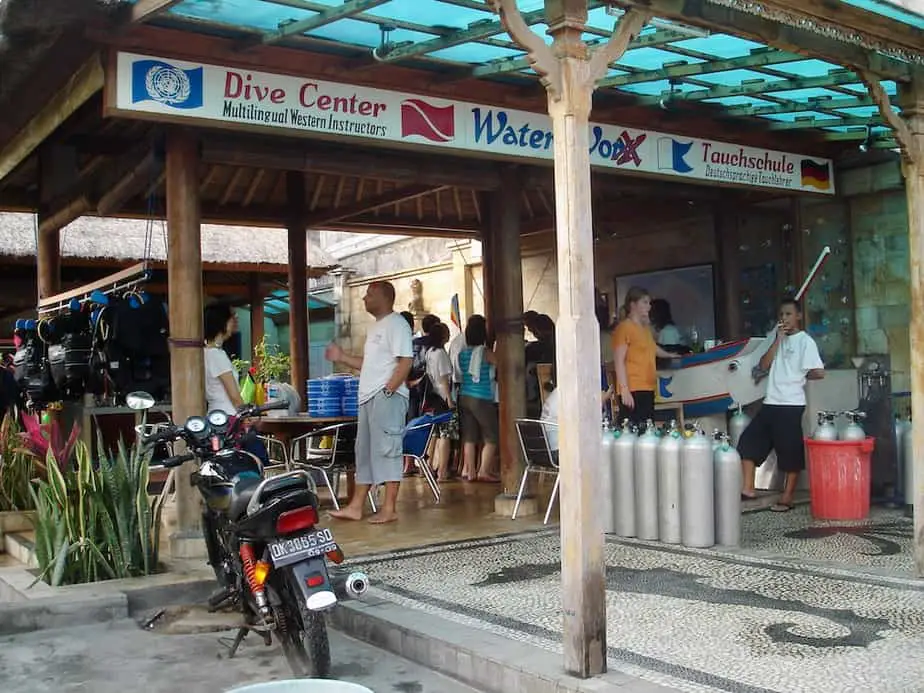 The city of Amlapura is located north of Candidasa and has one dive site called Biaha Islands. At this spot, you can encounter barracudas, tunas, cuttlefish, napoleon wrasses, hard and soft corals, and deep walls.
You might see white tip reef sharks in a shark cave at just 12 meters below the surface.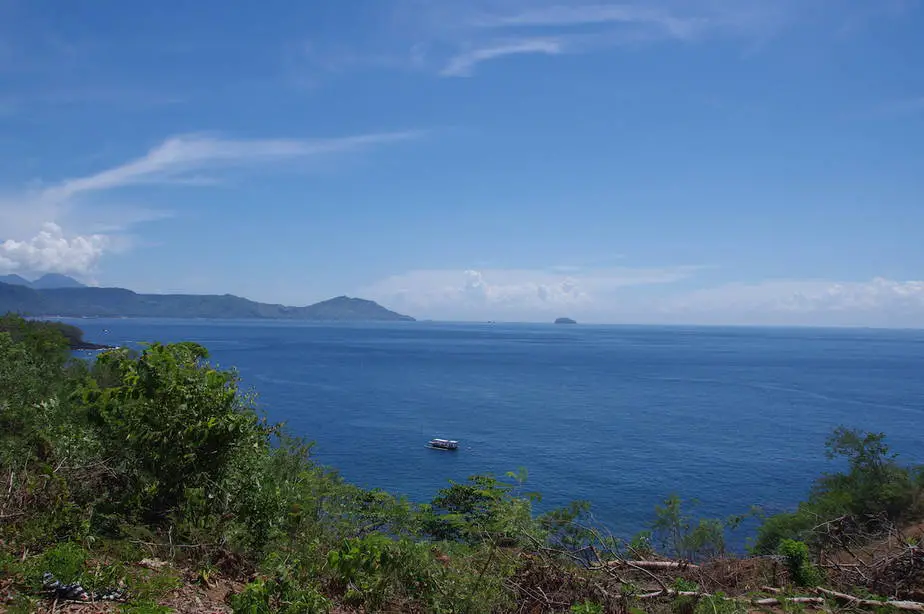 Snorkeling is good and easily accessible at Blue Lagoon in Padangbai. However, be aware that there can be a strong current and snorkeling can be dangerous. You can also see colorful fish at Teluk Jepun which can be reached by local fishermen boat or you can join the dive boats.
The main dive operators in Padangbai are Geko Dive (+62 (0)363-41516), Water Worx (+62(0)363-41220), Absolute Scuba Bali (+62 (0)363-42088) and OK Divers resort (+62 811 38 588 30).
Open Water Dive trips in Padangbai are around USD 45 for 1 dive or USD 78 for 2. If you head towards Amed or Tulamben, then it will be more expensive.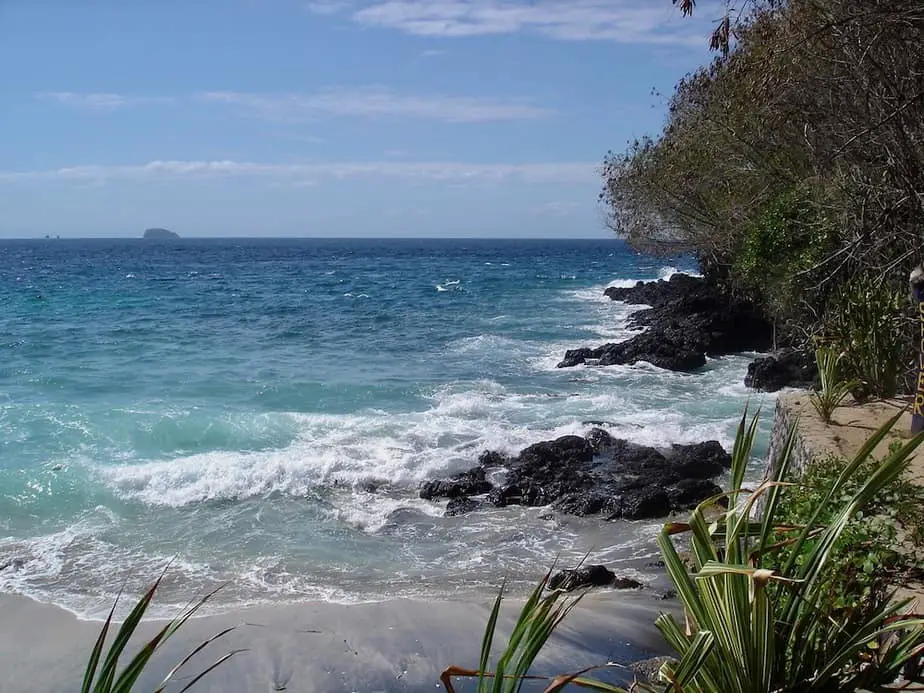 These companies provide day trips but also all kinds of Padi, First Aid, and Tec diving courses.
Prices between the dive companies do not vary much. Expect to pay around USD 370 for a Padi Open Water Course which includes a 3-day course with 4 dives.
The dive instructors at these dive centers are all English-speaking. Often there is a possibility to have an instructor that speaks Dutch, German, Japanese, or any other language.
So don't forget to ask about this if you would like to have a course in another language besides English.
Different Beaches In Padangbai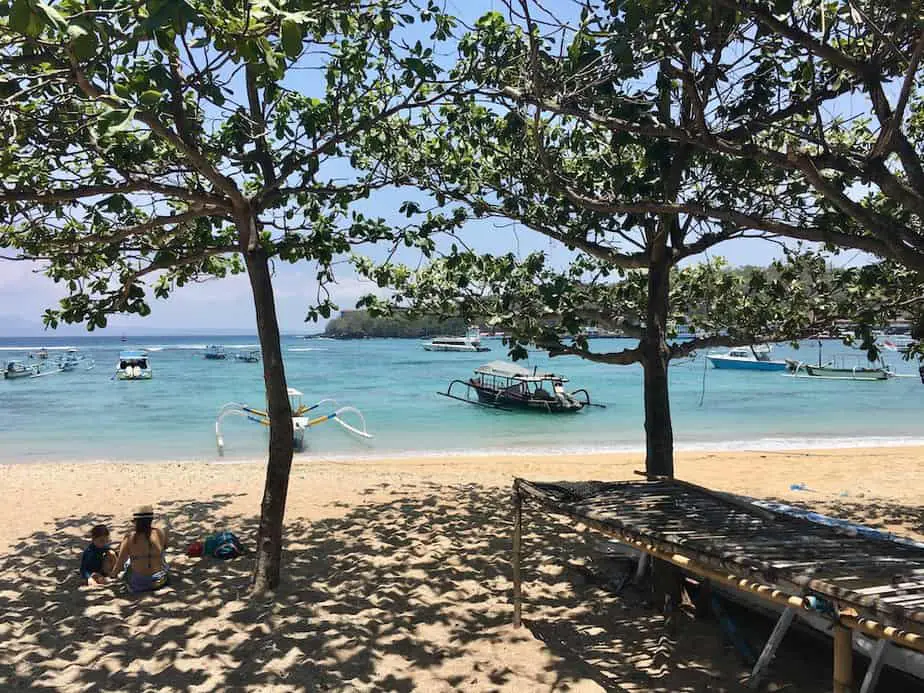 We really like Padangbai beach. The water is clear, pretty accessible for a swim and it's nice to see the colorful fishing boats. There is also enough shade to sit there for hours while snacking on some local treats. The sand is soft mixed with little white corals brought in by the waves.
The other two beaches on both sides of the bay are worth exploring too.
First of all, you have the white sandy beach of Bias Tugel, also known as Pantai Kecil or Pandangbai White Sand Beach, and some people even call it Secret Beach. But that's a bit exaggerated in our opinion.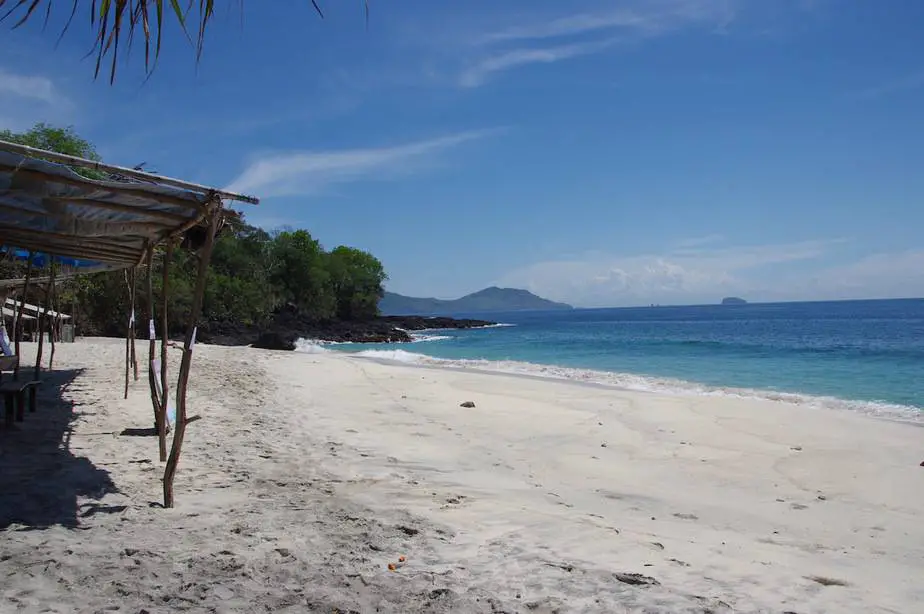 This beach is located on the east side of the village. It is pretty much a beach you expect at a tropical island: soft white sand, stunning blue water, and palm trees.
Swimming is possible depending on the time as currents can be very tricky here too. If swimming isn't advisable, we still think it is worth stopping by to admire this very pretty beach.
There are a number of beach-warungs and sun loungers at this beach. So you can easily spend the whole day there.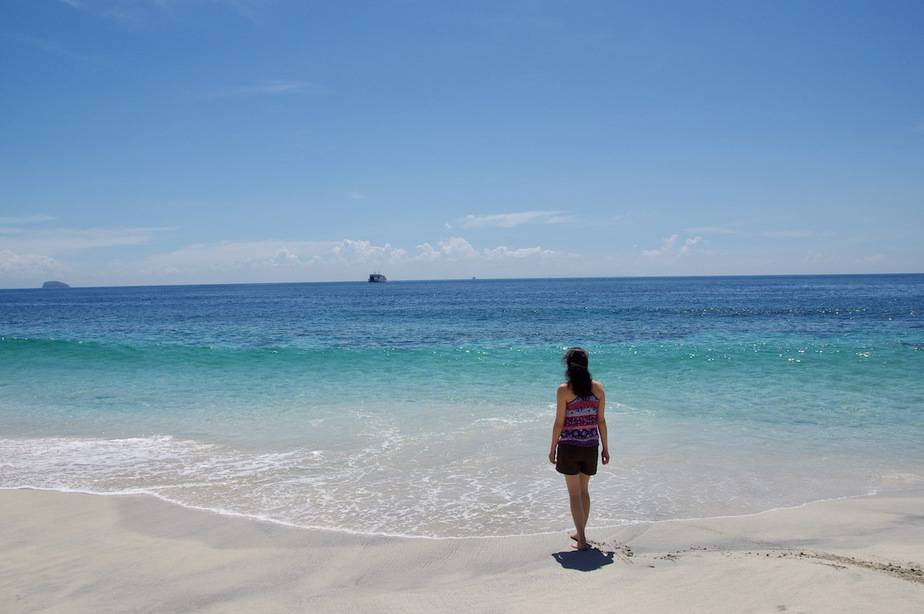 To get to the beach turn left at the post office and go up a steep path. It is quite a tough hike of about 15 minutes but you will be happy you did it once you arrive.
You can also continue up the street, preferably by motorbike, and then turn left at Pondok Mimba Homestay and continue all the way to the beach.
The other beach is Blue Lagoon Beach on the western side of Padangbai. It is a small beach, but there is a sun terrace where serious sunbathing can be done. Small restaurants offer refreshing drinks and snacks.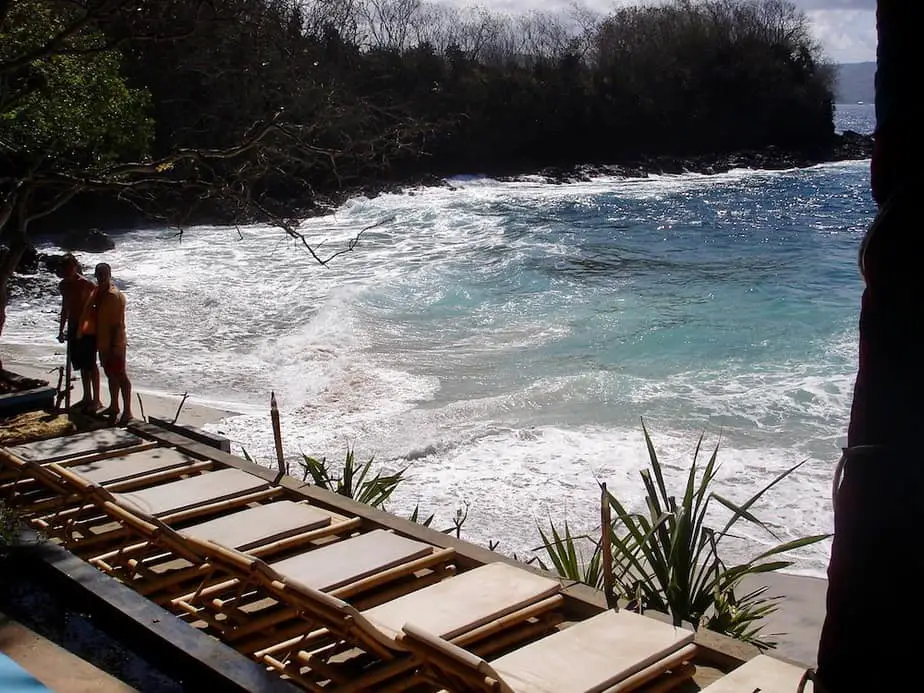 To get there you have to pass the Topi Inn restaurant and then climb up the stairs on the left side in the direction of the Bloo Lagoon resort. If you miss the wooden sign indicating the way to the beach, you could end up at the resort. So make sure you spot the correct sign.
So far we have only seen this beach at high tide. The beach itself is really small. But if the conditions are right, the sand will appear creating a picture-perfect tropical beach.
Temples In Padangbai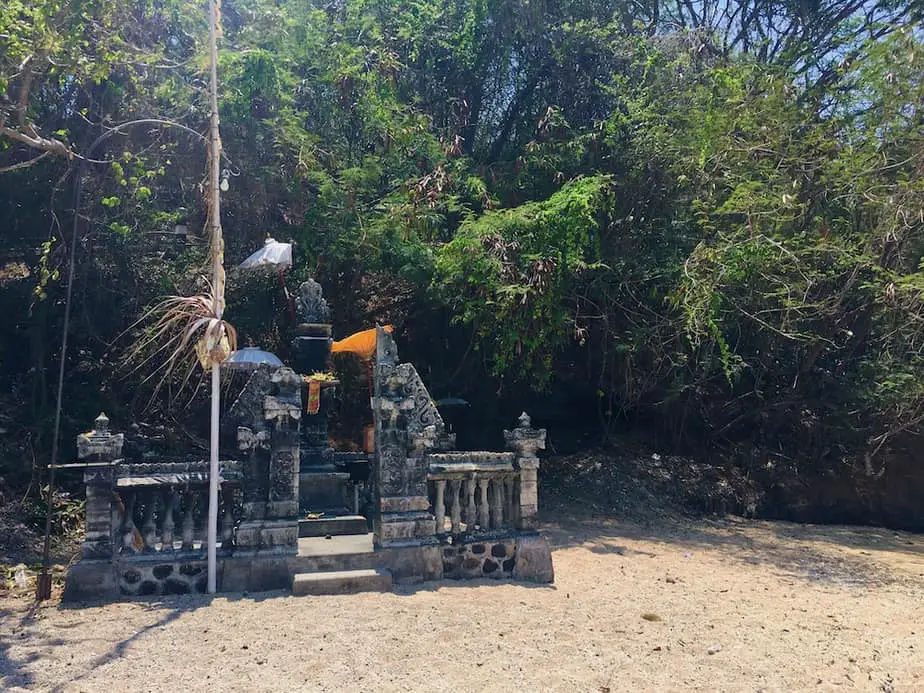 Like any other village in Bali, Padangbai has its own temples. There are many scattered throughout town, having its own purposes. However the most evident are the ones located uphill overlooking Padangbai beach.
To get there walk to the beach and pass all the diving resorts and Topi Inn restaurant and then follow the paved road uphill.
Here you can find Silayukti Temple, one of the oldest in Bali. But there are many more temples and shrines here. The cliffs create a dramatic setting, while shrines located in caves make it more mystical.
It's a nice short walk so look around, and enjoy the view. But like many other temples, the best time to visit is when a ceremony is taking place. This is the time to witness the procession of Balinese carrying beautiful offerings and making prayers.
Daytrips From Padangbai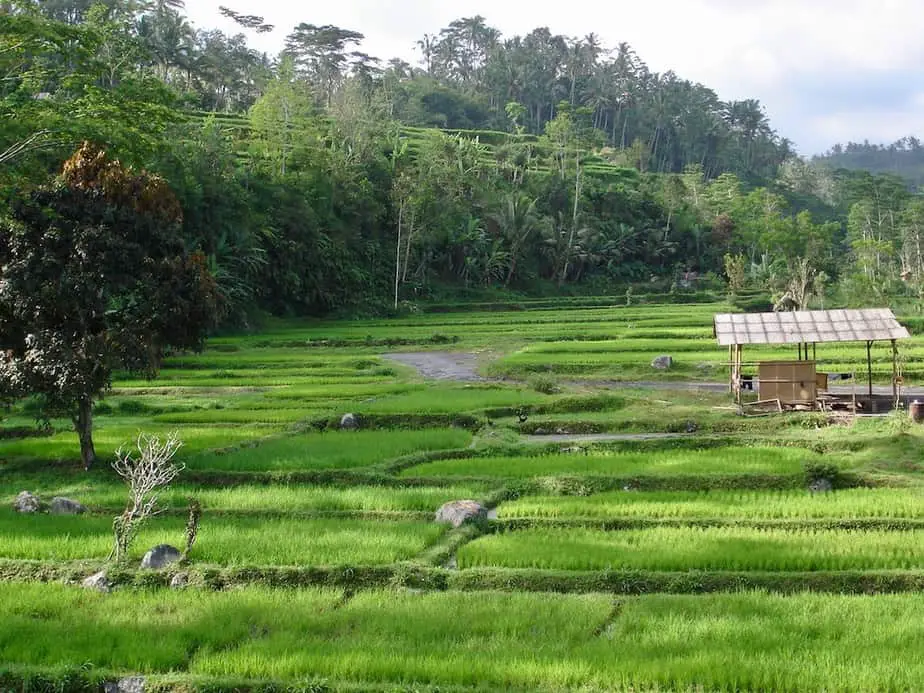 But the great thing about Padangbai is its location in East Bali. This part of Bali is known for its beautiful ricefield terraces and cultural sights. So as you can imagine, when staying in Padangbai you can easily go on a road trip to discover a beautiful part of the island.
Whenever we go for a day trip we always go by motorbike. We feel like we experience more along the road than by car. Not only will you see more (you can even look up!) but you will even smell and hear more. Adding much more value to the day trip.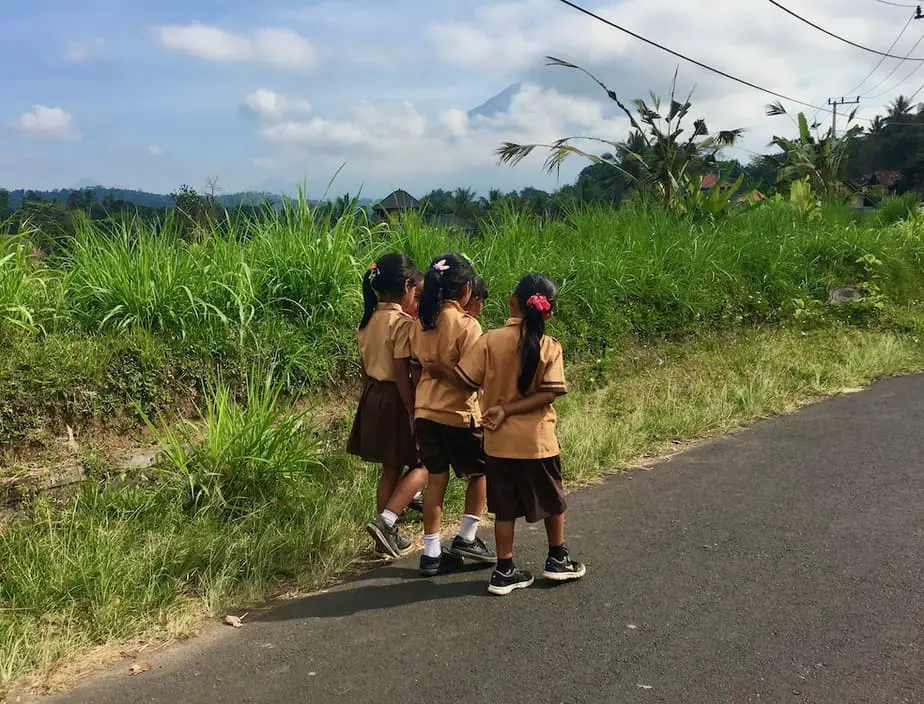 There are many scooter rental options in town. The easiest option is just to ask at your accommodation. They will park the bike in front of your room and at the end of the day, you don't have to drop it off somewhere else.
A nice trip is to head east towards Candidasa, stopping at Pasir Putih (the white virgin beach) and then continuing to Tirta Gangga in 44 minutes, 14.7 miles/ 23.8km. From there it is possible to take a detour via Sidemen back to Padangbai.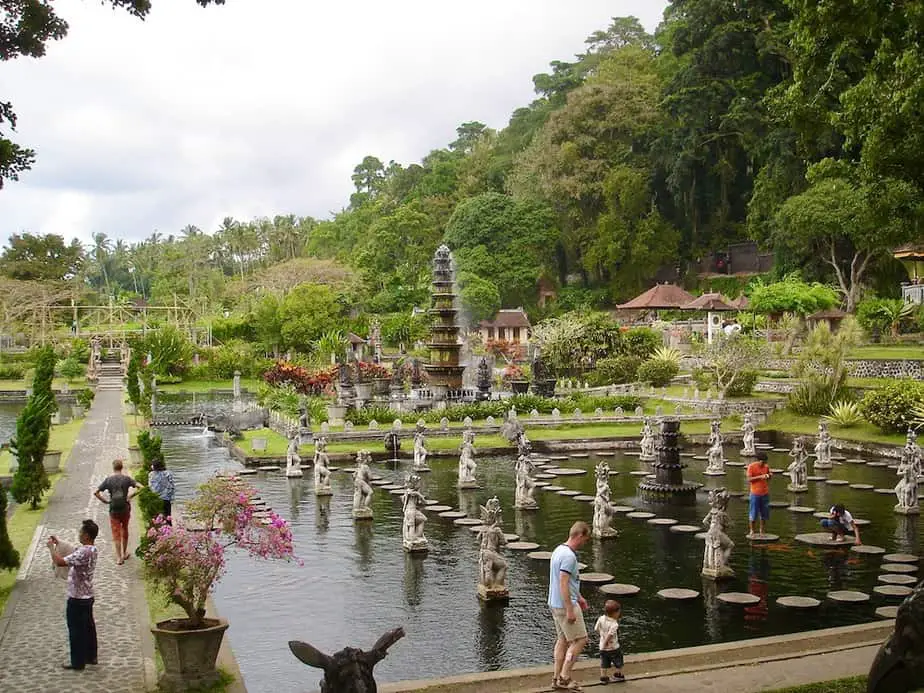 Best to use Google Maps to avoid the larger roads. Instead take the smaller ones so you will be guided through smaller Balinese villages, past amazing rice field terraces so you'll avoid heavy traffic. From Sidemen, it is downhill back to Padangbai.
It is also possible to go from Padangbai to Amed. At Amplapura you can either take the loop to Amed clock-wise around Seraya mountain or anti-clockwise. This road will take you along the coast providing amazing vistas.
While it is possible to visit Amed in a day, we suggest staying in Amed instead to fully enjoy it.
Kusamba Salt Making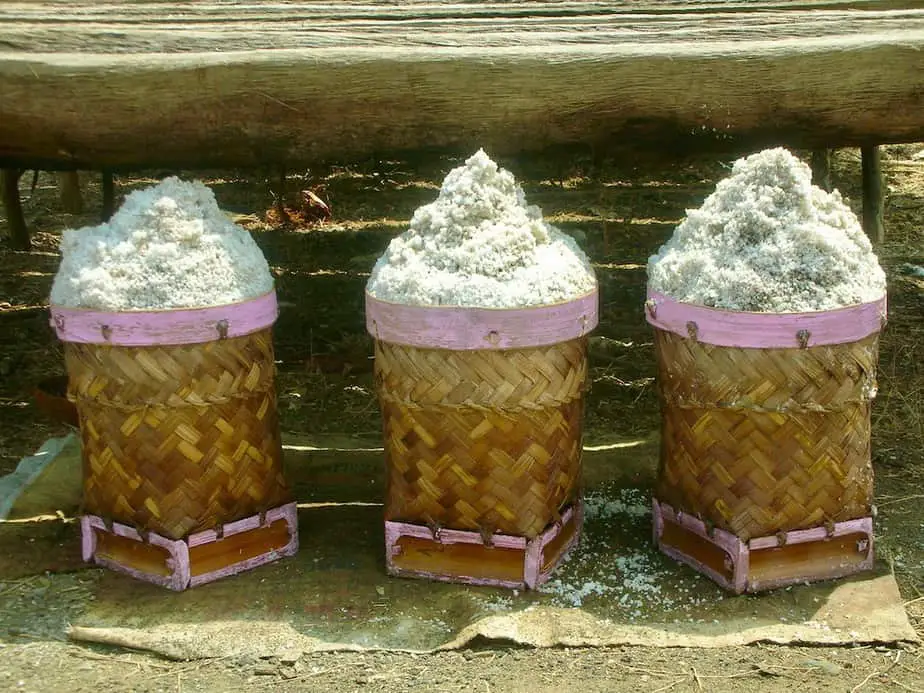 Just east of Padangbai you can find Kusamba village. It is located near the Goa Lawah temple. This village is known for its traditional salt farming. It is produced right at the beach.
You can visit families who produce this salt and they are happy to tell you the whole process. Look out for the 'salt making' signs along the main road. If you choose one of them, then the salt farmers are likely to speak English.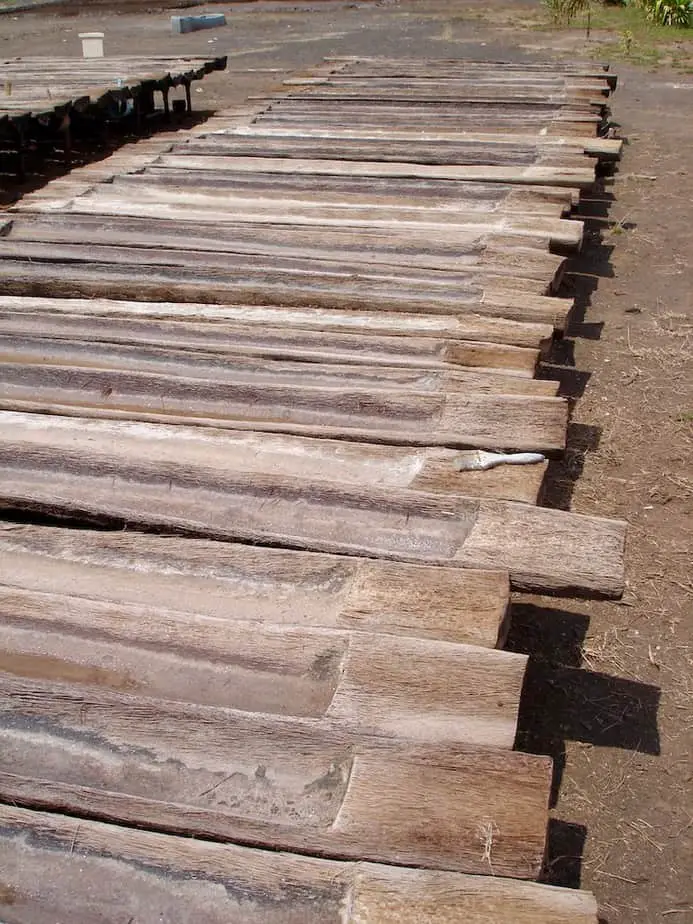 Farmers collect the salt from the sea. Buckets of water are carried to a basin, where the water evaporates in the sun over a course of a couple of days. The salt is then transferred to a rake where the salt is filtered. This is repeated a couple of times again.
It is a long and hard-working process for little pay. Yet the salt has a distinct flavor and is unique. Luckily, like many local Balinese products, the quality of Kusamba Salt is being more recognized. Today it is used in well-established restaurants and sold in shops around Bali.
Restaurants In Padangbai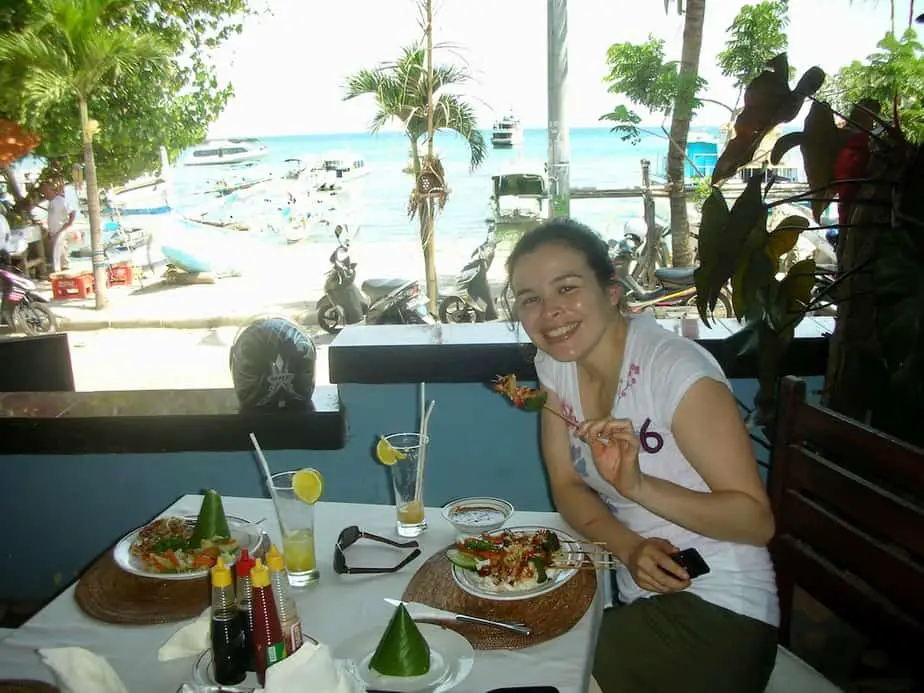 Not surprisingly seafood is the specialty at the many restaurants in Padangbai. The beaches are filled with colorful traditional fishing boats that come in every morning to unload fresh fish.
We think it doesn't really matter which restaurant you choose if you are seeking fresh grilled fish. This dish can't really go wrong at a village where fresh fish is brought in every day.
We had grilled fish and a fish satay is at Grand Cafe PB Harbor. It is located along the street on the beach. If you feel adventurous choose the garlic sauce which has fresh chunks of cloves in it. We can highly recommend it.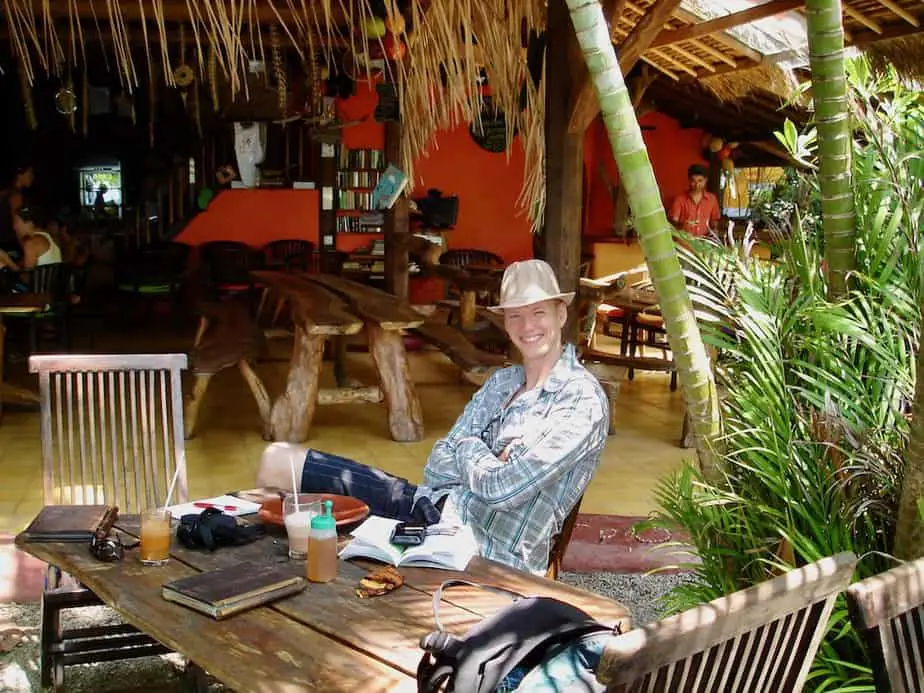 Down the same road, there's another great place to eat at Padangbai and it's called the Topi Inn. This restaurant is one of those places that always attracts a crowd. It has a relaxing atmosphere, a view of the beach, and most importantly healthy yet good food.
It might not be an organic restaurant but they do choose products that are free of chemicals and they don't use food enhancers. This is also the place for water refills. Forget buying new plastic bottles, instead use the one you already have.
It is located right at the bay under the palm trees, so plan to sit here for hours, relax and try out all the nice things they have to offer. If you want to learn something you can join courses organized by Topi inn.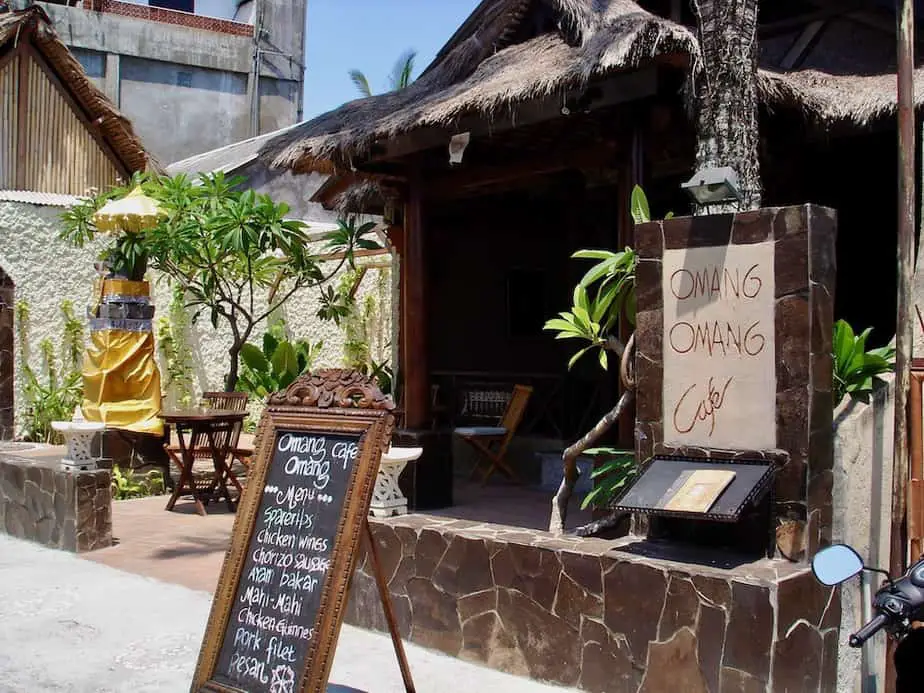 Feel like hearing some live music head to the Omang Omang cafe at Padangbai square. Local artists perform here regularly.
Candidasa isn't that far either. It's perfect for a change of scenery and a different menu. Just hop on the red bemo that will take you there in no time.
Where To Stay In Padangbai?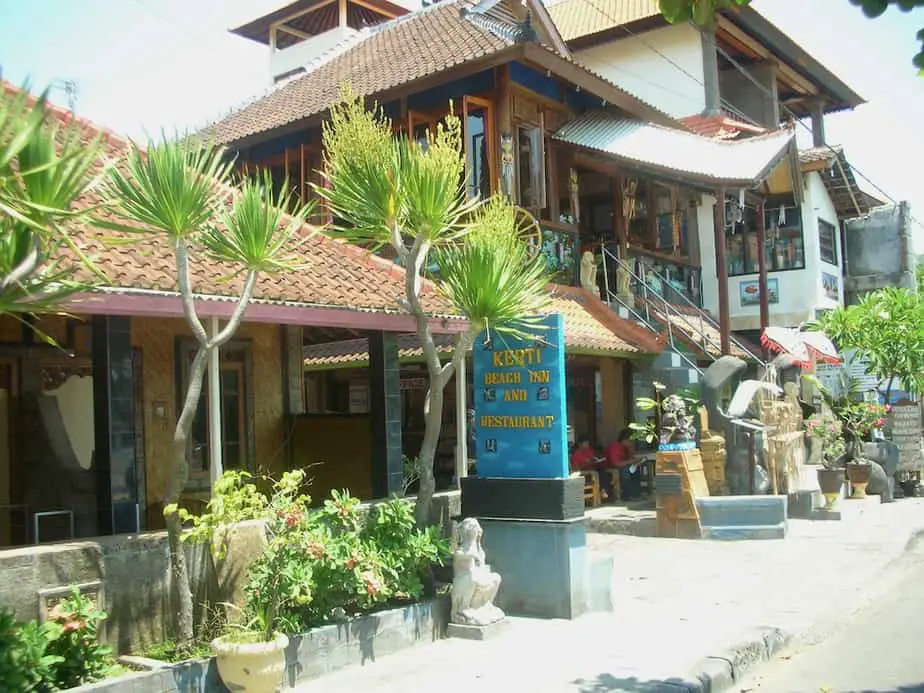 Like anywhere in Bali, Padangbai has all sorts of accommodation. You can stay at a private villa, choose a hostel, opt for a homestay, or go for one of the dive resorts.
The dive resorts are where most of the action is found. There are always groups of people there following a PADI course or arranging dives. Most dive resorts are also ideally located along the main beach.
Hostels and guesthouses are also numerous but to honest, they often lack character. Travelers who only go to Pandangbai to continue to the Gilis often stay at Zen Inn. It is located right in town and just 5 minutes from the jetty.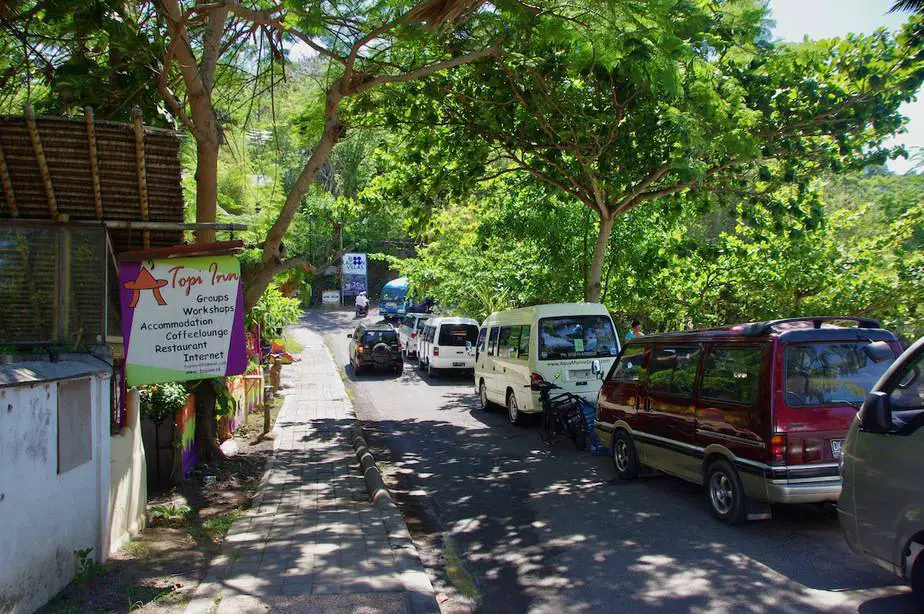 Bamboo Guesthouse and Pondok Mimba are nice budget places near Bias Tugal beach. It isn't located right in town, making it ideal if you want to leave the crowd behind.
On the other side of town, there is another nice budget option: Topi Inn.
Planning to fully experience Padang bai? Then we highly recommend checking out the Bloo Lagoon.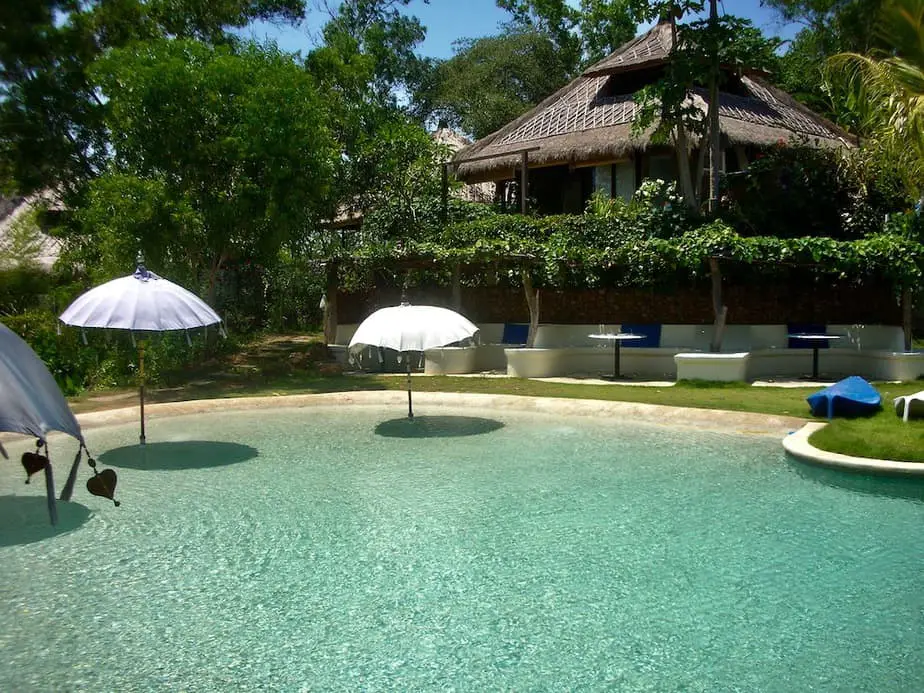 This Pandangbai villa complex is situated right on the cliffs which offer amazing views of the ocean. However, it isn't an ordinary villa complex as the owners have created Bloo Lagoon with a different aim in mind.
It not only provides a place to enjoy your holiday, but it's also a place for mutual exchange of knowledge, skills, and customs between international visitors and the local residents. So expect a different holiday experience here.
Padangbai Or…???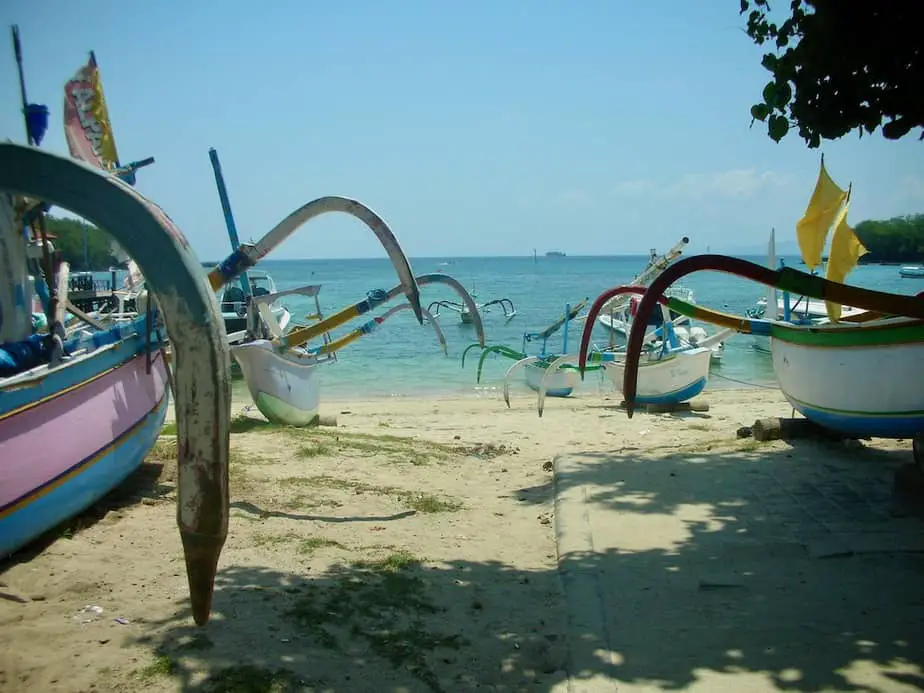 When you are planning your holiday to Bali there will be a moment when you have to choose between villages. Time is short and you want to make sure you go to the places that exceed your expectations.
So is Padangbai on your list or should you skip it?
If you are a diver and plan to do some dive trips, then you are likely to visit the popular diving spots in Padangbai. No matter where you are staying in Bali.
Dive companies always organize day trips to Padangbai, Amed, Tulamben, Nusa Penida, and Menjangan island. So if you wish to dive around Padangbai you don't necessarily need to stay there.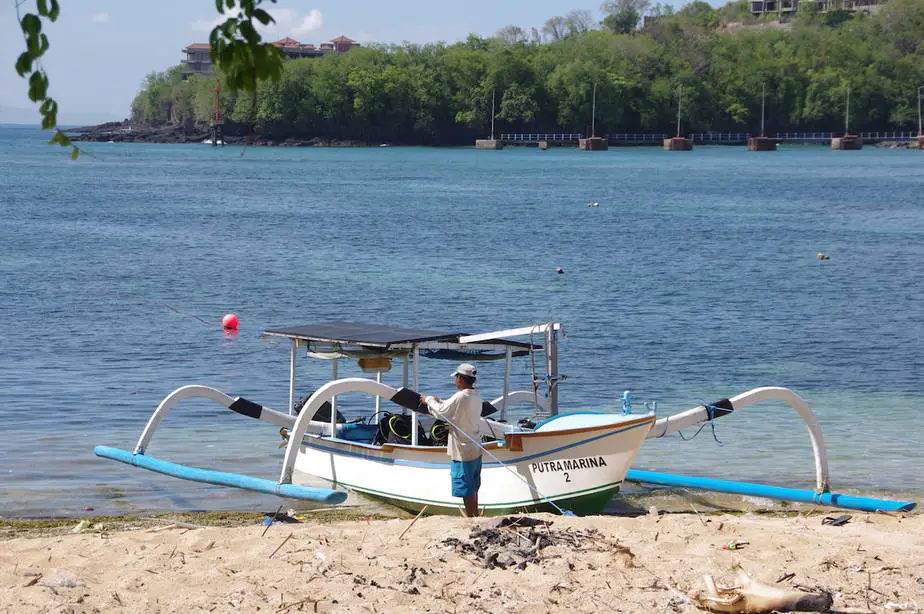 Unlike other dive destinations such as Amed and Tulamben, we believe that Padangbai beach has more to offer besides diving. The resorts in Amed are all found along the main road. You will likely only leave the resort when you go diving. While Padangbai offers more opportunities to wander around.
So how about Sanur or Padangbai?
Sanur is also known for its many dive operators and schools. But unlike Padangbai, Sanur doesn't have dive spots around the corner. So when staying in Sanur you will be touring around by car a lot.
If that is something you don't mind, then we suggest staying in Sanur. Especially if you want a bit more action and more choice in places to eat and stay.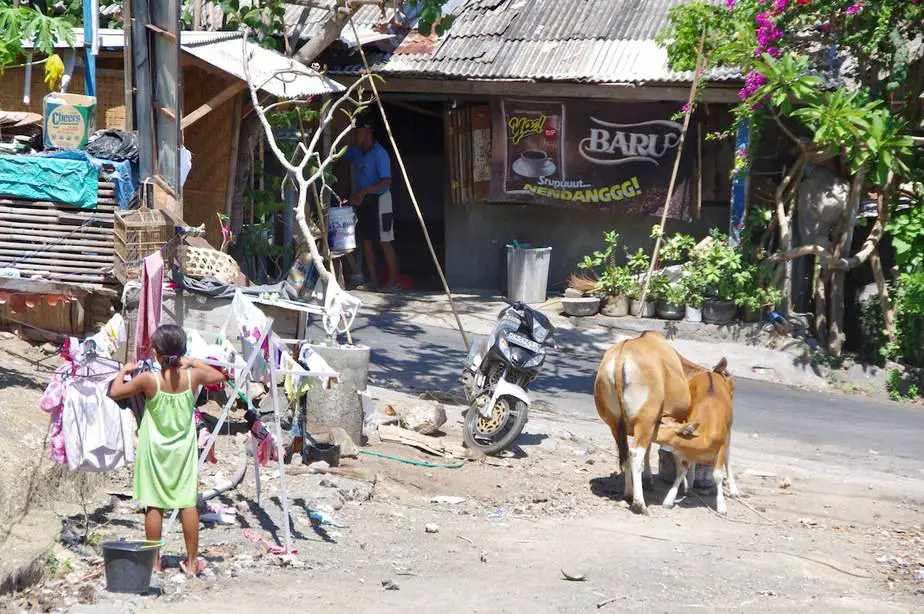 Not a diver?
If you are traveling by yourself then I can imagine that Padangbai is a better place to visit in East Bali compared to Candidasa or Amed. Padangbai is a small village so it is easier to walk around, go to restaurants, a bar, or beach while meeting up with locals or other travelers.
Padangbai might be even better than Sanur. Sanur is known to be family-oriented, so it is pretty difficult to meet up with other travelers here.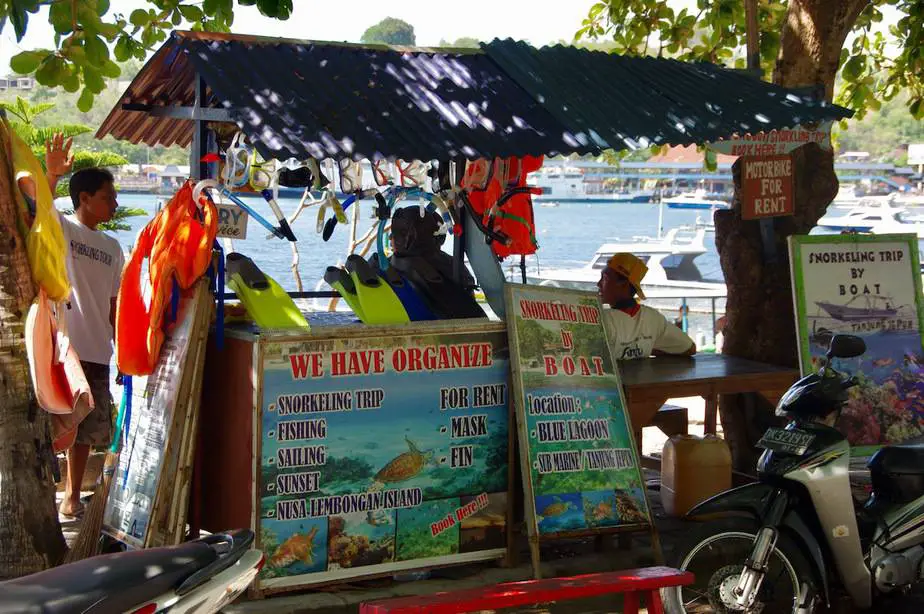 With Covid-19 and the downfall in tourism numbers, we can imagine that Padangbai is suffering immensely too. It is very likely that dive and fast boat companies will not survive the lack of tourists.
As seen in other less popular places in Bali, we expect that the local people will be on the lookout for tourists. So don't be surprised to be approached here by drivers and other locals offering services. It can be overwhelming but understandable considering the circumstances.
Let's hope Bali will recover positively because Padangbai is a great place to spend a day or 2 nights before heading to Lombok and the Gili islands.