The water palace of Taman Tirta Gangga is located in the middle of rice paddies just north of Amlapura, the capital of the Karangasem Regency in East Bali. The Raja of Amlapura, King Anak Agung Anglurah Ketut built the water palace in 1947. It was used as one of his many weekend retreats.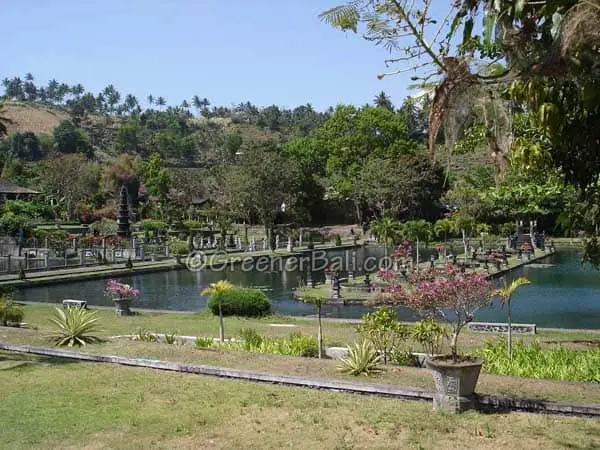 Other water palaces that were built by the same raja are located in Ujung and Jangutan. All three pools were built in a style of royalty. However, over the years these pools have suffered from the impact of several earthquakes.
The only palace which has been renovated many times is Tirta Gangga. Today it's the best-preserved water palace in Bali. Tirtagangga means 'Water from the Ganges', referring to the River Ganges in India.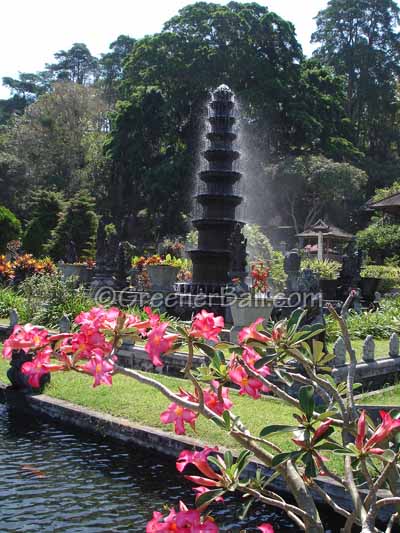 The water palace is also home to a holy water source. It is located right under the huge banyan tree which is easy to recognize once you enter the premises.
The availability of a holy water source is probably the reason why the Raja Anak Agung Anglurah Ketut built his palace right on this spot. Next to the banyan tree, you'll find a small Balinese Hindu shrine where Balinese place offerings every day.
The Tirta Gangga park and the spring pools of the water palace are worth a visit. The garden is full of flowers and Balinese statues of which some represent Balinese demons and even pigs. You have to walk on tiles to cross the water and admire the tiered fountains up close.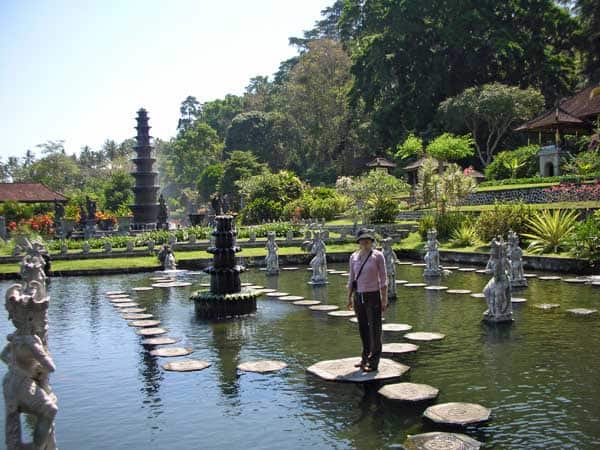 Let's go for a swim
The best part of this attraction is that you can take a swim in one of the royal pools. In the back of the garden, there's a big swimming pool. They have cabins where you can change.
We had a great time in the swimming pool, it was a really strange feeling to know that we were swimming in a pool which was used by royalty in the past.
The turquoise pool and the dark statues around the pool make it all very ancient-looking but also classy. The water was freezing for the first few minutes.
However it's still a terrific place to cool down from the heat of the day. Therefore the best time to go is during the afternoons when the sun has heated these royal pools properly.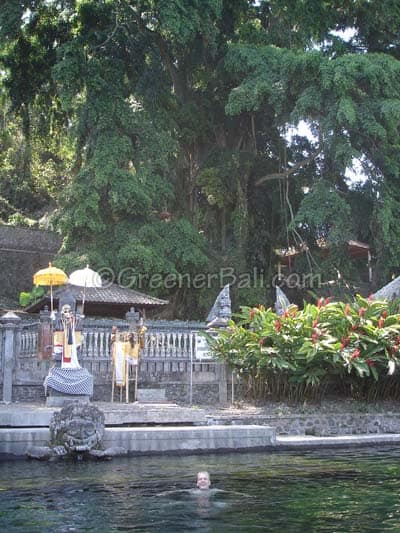 If you don't feel like swimming you can always head over to the Tirta Ayu Hotel within the grounds of the water palace to relax and treat yourself to some refreshing drinks and enjoy the marvelous view.