You'll find the Ulun Danu Bratan temple at 1239 m above sea level. It is located right on the shores of the volcanic Lake Bratan, just after passing the vegetable market in Candi Kuning.
Together with Ulun Danu Batur, this temple is one of the most important water temples on the island. She also belongs to the 9 directional temples on Bali meaning she had to be built in a special place.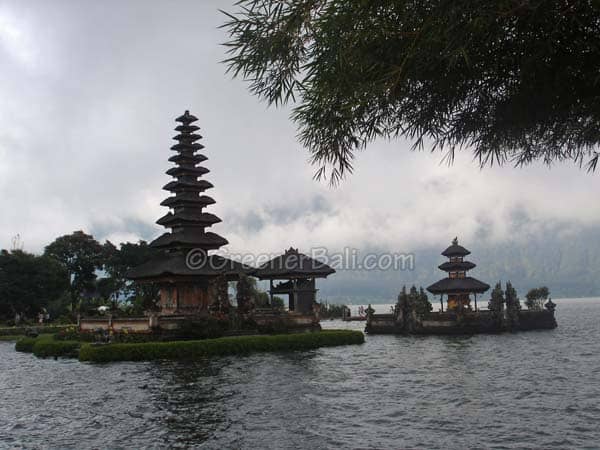 This scenic area is also known as the Bedugul Valley. With nearby mountains such as Mount Catur (2,096m), Mount Pohon (2,063m) and Mount Lesong (1,860m) you'll be in for a treat. There are numerous waterfalls, the Botanical Gardens, the twin lakes Buyan/Tamblingan (link) and lovely Munduk village (link).
The Ulun Danu Bratan temple was built in 1633 by King I Gusti Putu Agung. He also built the famous Taman Ayun temple in Mengwi.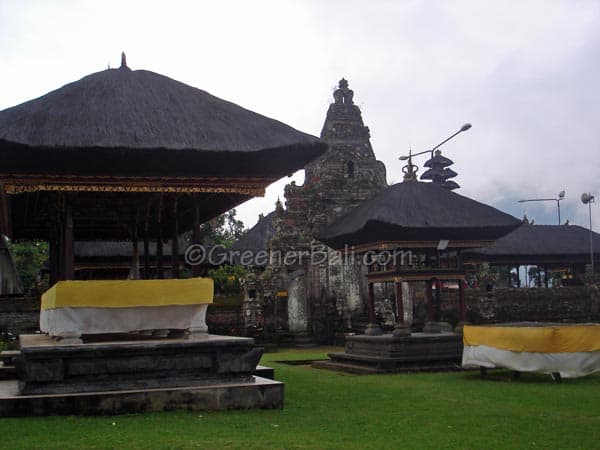 The temple is dedicated to the goddess Ida Batara Dewi Ulun Danu, also called the goddess of fertility. Lake Bratan provides water for the numerous rice fields which together with the subak make Bali such a unique place.
The temple complex
Once you enter the temple complex the first thing that will catch your eye is the giant stupa. This means that this place used to be an important sight too in pre-Hindu times. This is something you'll find in more places around the island such as the meditation caves at Gunung Kawi or the stupas at Goa Gajah.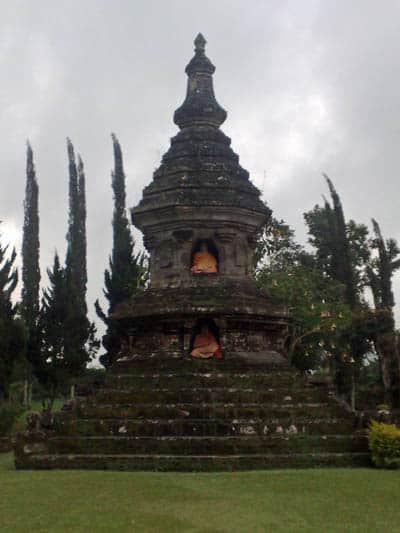 The main temple is called Pura Teratai Bang while the smaller temple is called the Pura Dalem Purwa. However, what attracts most visitors are the two multi-tiered merus.
The eleven tiered meru is dedicated to Wisnu, the Supreme God. This is also known as the Presever of both worlds. The smaller 3-tiered meru is dedicated to Shiva, the Supreme God, and the Destroyer/Transformer. Both seem to float on the water…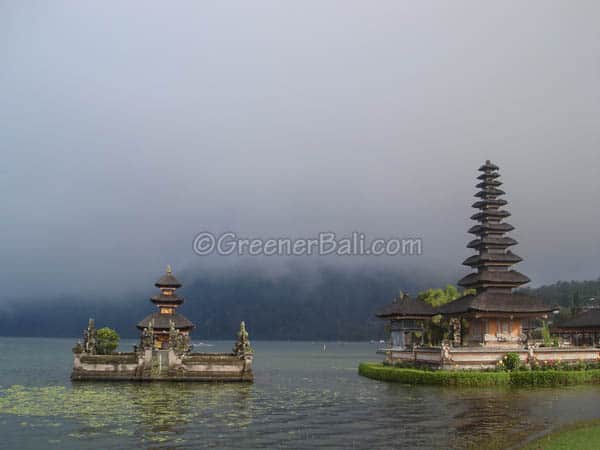 Since most of the pictures of the Ulun Danu Bratan temple were not made by drones but by hordes of tourists it is best to come here as early as possible when the mist evaporated, the caldera comes to life and the sun starts to reflect on the lake.
For those semi-professional photographers, you can rent a boat and shoot some of your best photos during your holiday in Bali.