Museum Le Mayeur can be found straight on the beach between Jalan Hang Tuah and Inna Grand Bali Beach hotel, one of the largest hotels in Sanur.
At first, I couldn't find the place but luckily I ran into a local boatman, who almost held me by the hand to show me the museum's entrance.
The Painter Le Mayeur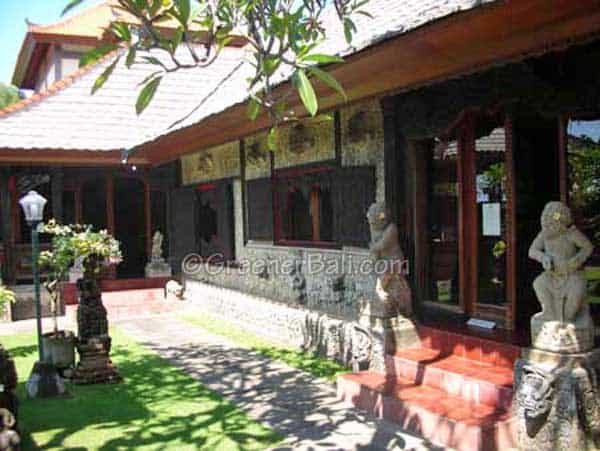 The museum used to be the former house of the Belgium painter Adrien Jean Le Mayeur de Merpres. He arrived in Bali in the 1930s.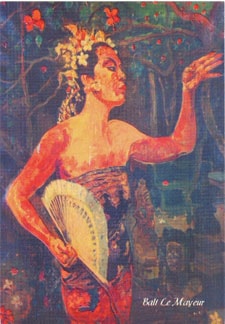 First, he settled in the little village of Klandis, east of Denpasar where he met the famous traditional Legong dancer and local beauty, Ni Polok when she was 15 years old.
She became his inspiration and a lot of the paintings you see today in the museum feature Ni Polok. Besides paintings of her, there's also local art on display. You'll find numerous impressionistic works of Le Mayeur's travels in Europe, Africa, India, and the Pacific.
Le Mayeur not only found inspiration through Sanur's beautiful location with the lagoon and the reef but also found in Ni Polok his love, whom he made his wife three years later.
The Museum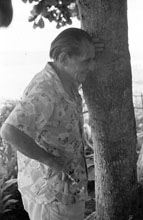 The house is set in a garden with beautiful frangipani flowers, Balinese statues, and palm trees.
It is easy to see why Adrien Jean le Mayeur loved this place so much.
One of the rooms in the museum used to be the living-room. Here the painter and his wife received family, friends, local artists, and artists from abroad.
The other rooms were ex-art studios where Le Mayeur made paintings of his wife. Even until his death in 1958, he kept on painting. He was planning to turn the house into a museum.
After the house became a museum, Ni Polok was allowed to exploit the house on a commercial basis.
Now and then dinners were organized but Ni Polok realized that they could harm the collections of paintings.  A smaller building was created, called the Bali Nights Cafe which stands on the eastern side of the museum.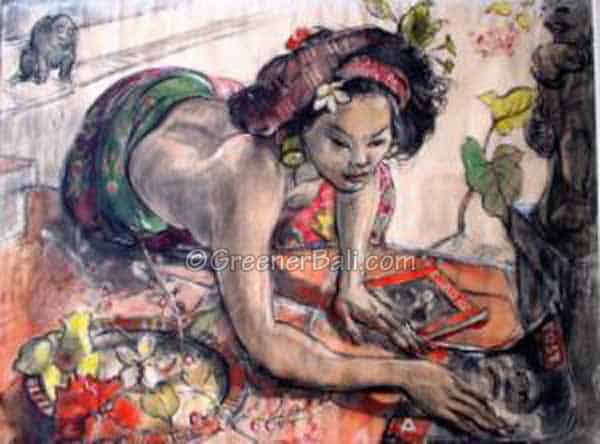 Lack of Love…
Today Le Mayeur Museum is in the hands of the Indonesian government. This seems obvious with three civil servants on duty being more asleep than awake.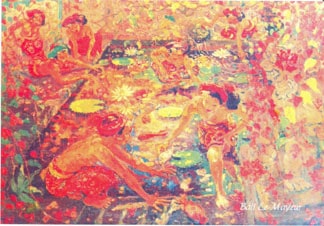 I'm not kidding, there was even one guy who slept with his feet on the ticket counter when I was there.
The rooms are in need of some maintenance. I think the paintings could be better displayed for visitors to enjoy them even more.
Nonetheless, it is still an interesting place to visit. The Museum (0361-286201) is open every day from 8 am to 2 pm on Sunday till Thursday, 8 am to 11 am on Fridays and 8 am to 12.30 on Saturdays. The entrance fee is Rph 2000 per person.
Next to the museum, there's a small souvenir shop called Ni Polok and here you can buy some postcards that feature Le Mayeur's paintings.