Kuta Beach Bali is one of the most popular places on the island. It attracts people from all over the world. They are looking for the same thing: a tropical place where you can relax during the day and go wild at night.
This area is the perfect example of things going wrong when it comes to tourism planning. Some might disagree since Kuta attracts the most visitors of all the villages in Bali. However, once you are there and experience it you will understand that it is heading in the wrong direction.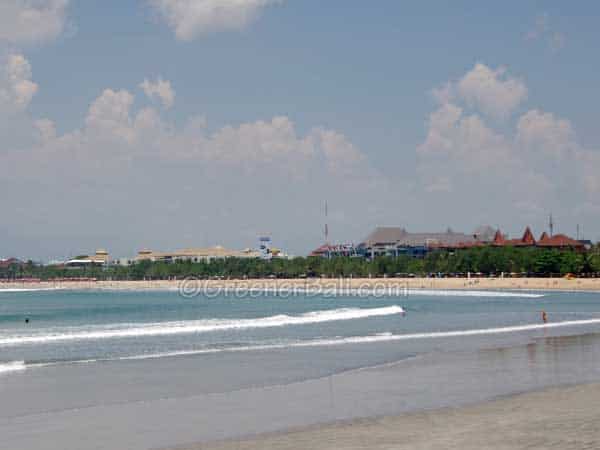 First Tourists in the 1930's
Kuta's popularity already started in the mid-1930's when the Americans Bob and Louis Koke discovered at that time a quiet beach with magnificent waves. They built the 'Kuta Beach Hotel' (now the Inna Kuta Beach hotel) which became popular among wealthy Europeans and Americans who traveled the world by ocean liners.
After WO II not many travelers visited the island until the 1960s when this quiet and laid-back beach became a magnet in Asia for hippies who traveled from Australia to Europe. Surfers followed, and more Balinese with the help of foreigners started to build hotels, restaurants, bars, and shops.
Over the decades, this little village became known as the place where you can enjoy an unforgettable cheap holiday. It expanded slowly towards the neighboring villages of Legian, Seminyak in the north and Tuban in the south. Today when you walk along this famous beach you will not notice when Kuta beach ends and Legian beach starts.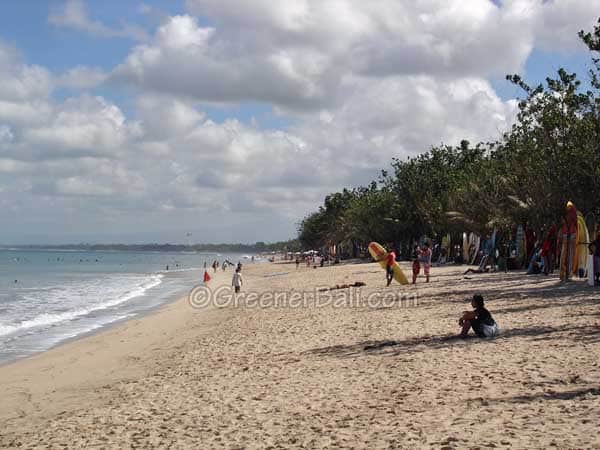 Impact of Tourism
When it comes to cash coming in you can say that tourism has had a good impact in this area. But when you look closer you will see that, from a cultural and environmental point of view, the negative consequences of mass tourism are irreversible.
Greed is in our opinion the main cause. Everybody wants to enjoy the ride without considering the consequences it will have to the Balinese and the environment. Building permits are still handed out to large international developers and those from Jakarta without even considering what their impact will be on the current problems.
It seems like everybody who is in a position to decide the fate of Kuta just shut their eyes and hope that the problems of lack of water, growing waste, and continuous traffic jams will just blow away.
When people say that Bali is killed by its own success then you can immediately see what they mean here.
But in our opinion, everything that has put Bali on the map has disappeared in Kuta. Instead, this village has turned into a hotspot similar to those in Europe, Australia, and the U.S.A.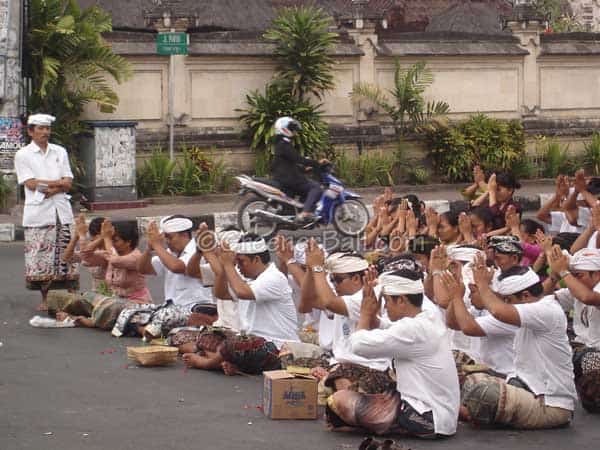 If somebody would blindfold you, put you on a plane to Bali and took you straight to Kuta you would have never had guessed you would be in Bali. Which we think is a tremendous shame.
Is there hope for Kuta beach Bali?
Luckily there are many initiatives that care for the future of this area and have set up environmental projects such as cleaning the beaches and creating awareness. We can't give up on Kuta beach area and hope that step by step its impact on Bali can be minimized.
To be honest we always try to avoid Kuta en Legian at all causes. If we need a short beach vacation in this area we prefer to stay on Tuban beach, where things are still a bit low key.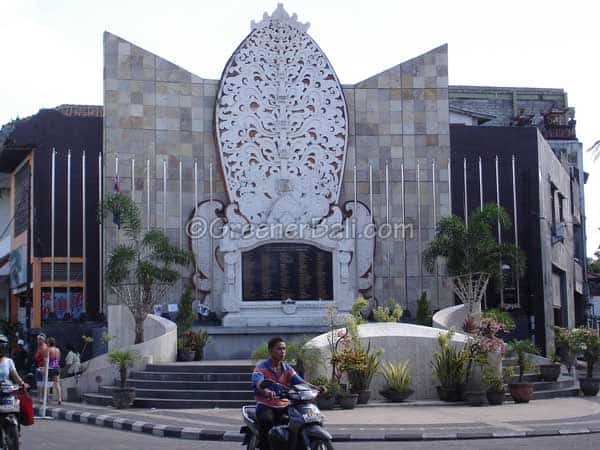 Getting Around
Kuta is a crowded village visited by millions of tourists each year. It is usually jammed with cars, taxis and motor scooters.
The main street that runs through this area is Jalan Legian. This 5 km long main street is a one way street connecting the villages Kuta, Legian and Seminyak with each other.
Along the beach runs Jalan Pantai Kuta, which is also a one-way street running from the south to the north. And everything in between is narrow side streets that connect these two main streets, of which Poppies I and Poppies II are the most famous.
Every inch of these streets is packed with shops, sports bars, restaurants, and travel information booths. These booths even promote 'cremation tours' because it's so much fun to watch?
Along Jalan Pantai on the Kuta waterfront, you can mainly find big hotels such as the Hard Rock Hotel, the Mercure hotel, and the Kuta Beach Heritage hotel. And not to forget the massive Beach Walk Mall.
Traffic jam on Jalan Legian
What is the best way to get around Kuta?
When we visit Kuta we prefer to rent a motor scooter (a bicycle is also a good option). It's easier to take short cuts through the narrow alleys or to squeeze yourself through a traffic jam on Jalan Legian or Jalan Pantai.
Another good option is to walk. But I can imagine that sometimes it's too far and too hot for you. So that leaves you with another choice: the taxi of which Bluebird is the most reliable. Make sure they turn on the taximeter. Otherwise, you can try the Grab App which is similar to Uber but more popular on Bali.
A more traditional mode of transportation is a ride on the horse-and-carriage. Only a maximum of 4 people is allowed to hop on though, which is only fair considering the size of the skinny horse…
Hop on for a ride
Important Addresses and Phone Numbers
You can find a Post Office on Jalan Tujung Mekar in the south-east of Poppies II near the Chinese temple and the Pasar Malam (evening market) and is open from Monday to Thursday at 8am-3 pm, Friday and Saturday till 11.30 am, closed on Sunday.
Next to the Chinese temple, you can find the Police Station (0361-751598/751998) and there's a tourist police office on Jalan Pantai Kuta next to the beginning of Poppies II.
The Legian Medical Clinic (0361-758503) can be found on Jalan Legian, Gang Benesari.
The Bali International Medical Center (0361-761263) is located on Jalan Bypass Ngurah Rai no. 100X near the Galleria Shopping Arcade.
The SOS Medika Bali Clinic (Emergency number: 0361-710 505) is also located on Jalan Bypass Ngurah Rai no. 505X.
Bali Dental Clinic 911 Kuta (0361 – 766255, 7449911) located in Mall Bali Galleria 2nd Floor No. 2c -58/59, Jalan Bypass Ngurah Rai
The famous and narrow Poppies Lane I
The Tourist Information Center (0361-756176) is located on the corner of Jalan Bakung Sari and Jalan Raya Kuta and open from Monday – Saturday from 8 am-6 pm.
Besides the helicopter have you found another way to get around Kuta and Legian? Please let us know in the comments below.
Things to do in Kuta Bali
All the negative ranting aside there is one thing that still makes Kuta special. No, it's not the thousands of cheap shops, visiting a spa, hanging at the pub all day or entertainment in the nightclubs.
It's what has attracted the first tourists to this popular beach: surfing. Today this beach is still visited by hundreds of surfers; advanced, intermediate and beginners from all over the world.
Surfing lessons
If you are a beginner then this is probably the best place to learn surfing. Early in the morning surfboards are placed upright in the sand while Balinese surf instructors wait for their pupils who want to catch their first waves.
If you prefer to get lessons from a licensed surf school then you can find many of them along Jalan Pantai Kuta. The most popular are Kahuna and Quicksilver.
Either way, all the instructors in Bali guarantee that you will be standing on the board after 1 lesson. If not, you will get your money back.
Surfing at Kuta beach, joining lessons
Swimming, walking, and sunsets
Besides surfing on Kuta beach, this famous beach is perfect for swimming. If there are no dangerous undercurrents. Additionally, it is a pretty unique beach in Bali as it stretches from Tuban all the way to Canggu.
If you want you can walk miles on end on and stroll on all the famous beaches of Kuta, Legian, and Seminyak. The best time to go is in the early morning or just before sunset.
And I have to admit, as hard as I try to avoid the Kuta area, they do have one of the most beautiful sunsets on the island.
One of those Kuta beach photos that will never change…
Tours
If you do decide to stay in Kuta then you can find many tourist information booths which offer various tours around the area, but also to destinations which I think are pretty out of the way, such as driving all the way up to the GitGit waterfalls or to the hot springs in Banjar.
If you really want to experience something I always recommend an attraction where you don't have to sit in the car for hours. From Kuta you can easily reach the Tanah Lot temple, the Uluwatu temple or the museums in Ubud.
The other great thing to do is to explore the beaches in the southern tip of Bali. You can visit several in one day and experience the different atmospheres.
Start off in Nusa Dua, then head to Uluwatu beach to watch the surfers and continue to Padang Padang for a relaxing swim. End your day trip at Jimbaran beach where you can have a delicious dinner at one of the many seafood restaurants.
Restaurants at Kuta Beach Bali
You can find the restaurants in Kuta with your eyes closed. They are everywhere. Here, you can basically eat anything you can imagine (unfortunately no organic restaurants found so far).
So don't be surprised if you bump into your favorite fast-food restaurant such as McDonald's or if you can order your regular skim milk latte with a shot of caramel at Starbucks.
Yep, they have invaded this little piece of Bali too. For some, it is a relief but we think that if you choose to head to Bali you should at least try out their delicious local food.
Luckily that is also present in this little crazy town, so no excuses…
Enough places to try out local food
One of our favorite restaurants in Kuta is probably also one of the cheapest: Warung Indonesia at Poppies II.  It's a popular place and you will always see people eating here.
Besides this warung there are many other cheap places to eat in Poppies I and II. So it is pretty easy to find a fresh grilled fish with some steamed white rice on the side.
If you want something a bit fancier plus you want to try out more of the Indonesian dishes then we highly recommend heading straight to Ketupat Restaurant. It is located just before the Bali Bombing Memorial on Jalan Legian.
Without a doubt is this the best place in Bali to taste various dishes from the Indonesian Archipelago. Want to try some Sumatran, Javanese, Balinese or Madurese food? This is the place with a great atmosphere too. You'll want to come back too…
Another restaurant that we can recommend for its nice location on the beach and friendly service is Tekor Bali. Actually it is located just north of Kuta beach where Legian beach begins. It's a cute place squeezed between the many Legian bars on the waterfront.
While we try to recommend local food or organic food as much as possible in Kuta, this is pretty difficult. Tekor's menu does lists pastas and other western influences, but they also serve fried, steamed, grilled or baked fish dishes caught that very same day.
So despite being one of the many western-style restaurants we still suggest heading here for their delicious choice in fish dishes.