Apply these 10 Eco Bali Travel Tips to help Mother Nature a hand.
With the large numbers of travelers arriving each year and the fast development on the island, Bali is facing a long list of environmental issues. As often said: Bali is paying the price for its own success.
While travelers to Bali create income and employment, they also produce massive amounts of trash and use up valuable amounts of water. An average traveler produces 5 kg of rubbish a day while an average Balinese household produces only 2,5 kg. Additionally, travelers use up to 3 times more water a day than a local Balinese.
While these issues have been ongoing for years, Bali has not been able to resolve these crucial problems entirely.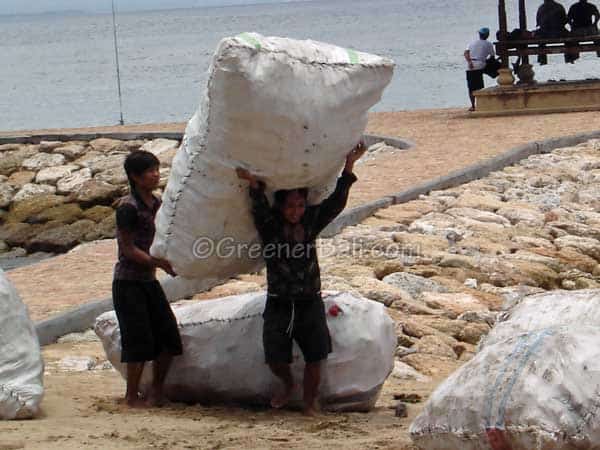 If you visit Bali and are conscious of the environmental problems this little island is facing, then you can easily do a thing or two to help a hand. You can't solve it all by yourself during your short time there but in this case, you can pretty much apply the golden rule: every little bit helps.
So what can you do to lift a bit of the burden off the shoulders of mother nature and the people of Bali?
Just these 10 simple things:
1. Say no to plastic bags
Bring your own bag or buy one of the many beautiful pieces of cotton or woven bags in Bali. Not only should you avoid using plastic bags in Bali but you should reduce the use at home too. What better way to go shopping at home than with a great shopping bag you brought all the way from Bali?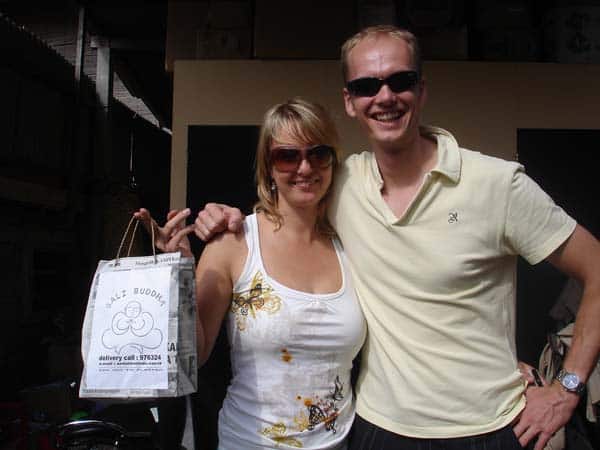 Once in Bali, you will soon notice that the Balinese love to use plastic bags at the supermarket or when you buy something at their shop. Sometimes they will even give you a new plastic bag for every little item you buy. They probably consider it as an extra service, as in the past the Balinese mostly used natural products such as baskets and banana leaves to carry and wrap things up.
Plastic bags, especially those flimsy ones you will never use again are probably the biggest headache for mother nature. Plastic just doesn't decompose. It will outlive you and your children. Plus if it ends up in the rivers and ocean it will kill. Many turtles have died as floating plastic bags look like jellyfish. So avoid using plastic bags at all costs.
2. Use the water refill stations
You can't drink tap water in Bali but when you travel around the island you should drink lots of water. So instead of buying a new bottle every time and chucking away your empty one, you can refill it at a couple of restaurants in town.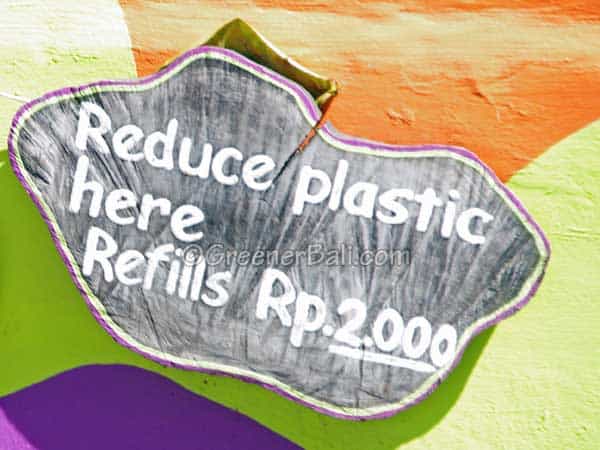 Look for the water refill-signs at restaurants such as Tutmak in Ubud and Manik Organik in Sanur. Another option is to buy a big 5-liter bottle to refill the smaller empty bottles you already have. This does leave you with a big plastic bottle in the end, but chances are that it won't cause as much litter as the smaller bottles as it will be recycled properly.
Or better yet, bring a reusable water bottle from home…
3. Eat local and organic food
Of course, you should eat everything you feel like having during your holiday. But occasionally it won't hurt to eat organic every now and then. An easier way to be a bit more eco-friendly is to eat local food and you will find out it is tastier too.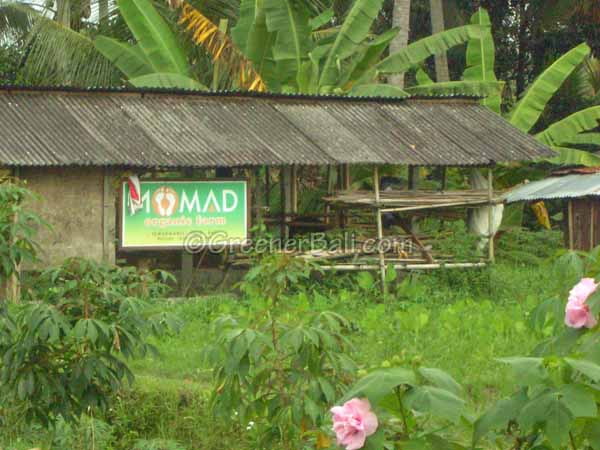 You can't always tell if the dish you ordered is prepared with local ingredients only but I think that if you check the menu and see "Grilled Australian Sirloin Steak" you know that the cow didn't live around the corner. Just not ordering it is a simple step to being more environmentally conscious.
And it goes without saying, don't order turtle eggs if you see it on the menu.
4. Don't use your room to the fullest
This tip might sound a bit strange considering you did pay the full amount to use it. But that doesn't mean you have to leave the lights on or the air-conditioning running if you are not there. It's a waste of energy.
So just switch everything off when you leave your room. And when you are in your room don't leave the window open with the air conditioning running. It would be the same thing as leaving the fridge open the whole day….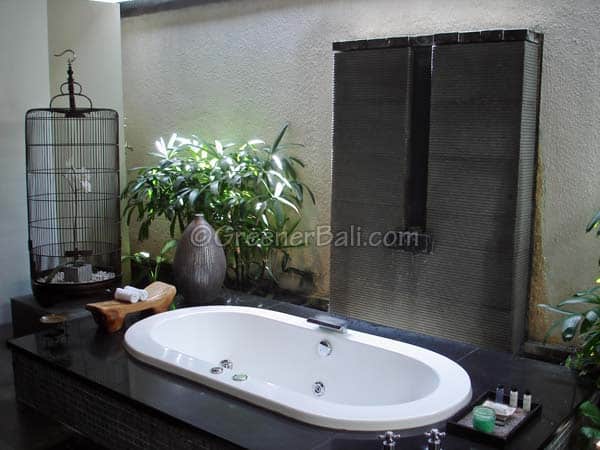 Another point you can try to do is re-using the hotel towels and taking a quick refreshing shower instead of a bath. I know that many resorts have beautiful bathtubs in their bathrooms but consider it as just part of the decoration of your luxurious accommodation. This is also the case when visiting a spa. Skip the bath after the massage and head straight for the shower.
5. Stay at an eco-accommodation
Luckily there are many people concerned about the way Bali is heading and have established businesses that are environmentally and community-oriented. If more travelers will make use of them then these sustainable tourism initiatives will become popular resulting in a shift of business mentality on the island.
Companies and governmental decision-makers who are not environmentally conscious will hopefully wake up and realize that sustainable tourism is the way ahead.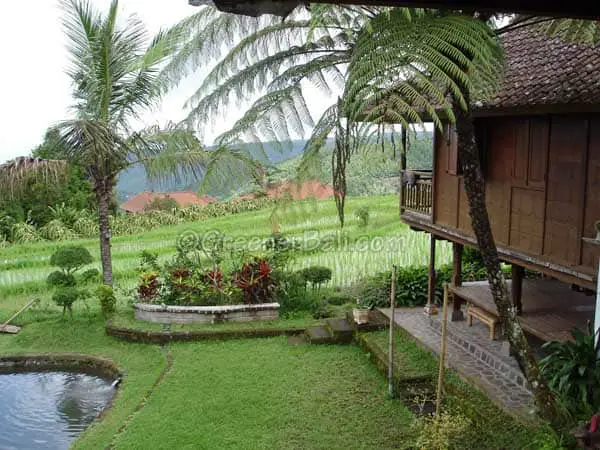 Therefore choose to stay at accommodation that stimulates community participation and well-fare or stay at one of the Eco-lodges. We are not saying you have to stay your entire holiday at one of these places to be eco-friendly but if you just book at least a couple of nights of your holiday at one of them, not only will it be fun for you but it will stimulate other developers to think before building another big unsustainable resort.
Look out for eco-hotels that are for instance built from natural local or recycled products, have natural cleaning products, filter water, and/or have an organic garden. Their impact and hence eventually yours will be far less than staying at the regular resort. Besides these types of hotels will give you a unique holiday experience since their surroundings are extremely beautiful.
6. Choose community and environmentally friendly activities
Yes, it is nice to have a private car and driver all to yourself for a day trip. However, this is causing massive traffic jams and pollution on the island. We do recommend touring around but if you have the chance why not leave the car behind and go on an organized group tour?
Tours such as downhill mountain biking, wild water rafting, and canyoning will take you along the beautiful landscape of Bali and even pass traditional villages. You will see many highlights in one day. Or better yet, have a look at JED, the Village Ecotourism Network. They organize trips to local villages with local guides. All tours are created and managed by the community and all profits go straight to the village development and conservation.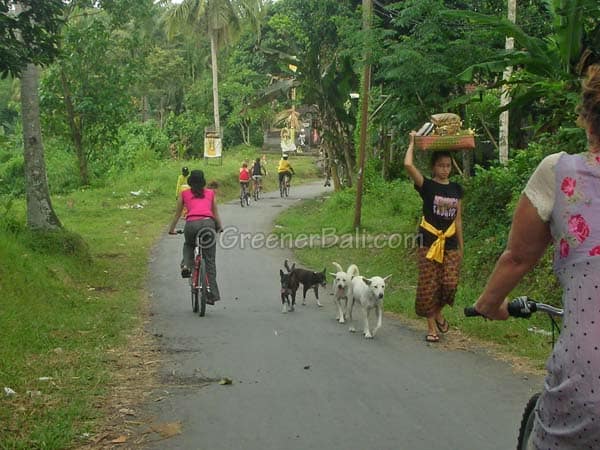 Try to avoid unnecessary traveling, yet visit nearby sites and activities or check out activities in the village you are staying at. For instance join a cooking class, bird watching tour, or an herbal walk tour. Not only will you be environmentally conscious, but you will also learn a lot of great things too.
7. Buy local and/or recycled products
Surprisingly Bali has a dozen shopping streets and malls with shops selling imported products. Why travel all the way to Bali to buy the stuff you can get at home?
Buying local handmade products will help the local Balinese more than shopping at shops such as Ripcurl, Nautica, or Mango. Head to the smaller shops and local markets and find things you wouldn't find at home such as amazing candle holders, jewelry, and other items made from coconut or furniture and household items made from bamboo, recycled wood, glass, or plastic. If you really want to help a good cause head to shops that support local handicrafts such as Threads of Life in Ubud.
Same story with water. Go for the local brands such as Aqua instead of Evian and Perrier, for obvious reasons.
Do avoid buying natural products such as items made out of (turtle)shells and coral. The demand for such products will only stimulate sellers to get more of it, while it is far better to leave it in the ocean.
Also if you plan to do some grocery shopping, make sure you try out the tiny local supermarkets first. You will be helping the Balinese much more by getting shampoo there instead of at Carrefour.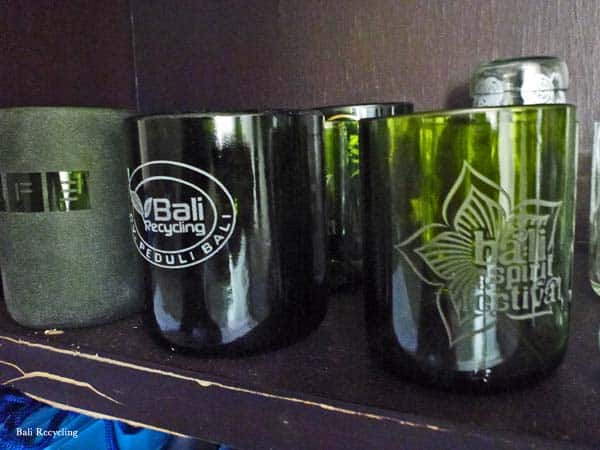 8. Use rechargeable batteries
Not only at home but also on your holiday in Bali, should you use rechargeable batteries. Bring an adapter and a couple of batteries so you can recharge them in order to avoid buying cheap batteries in Bali.
If you do have batteries that you need to throw away, please take them home with you. Chances are they will be disposed of more appropriately than in Bali, where it can end up in the river affecting the environment and communities dependent on it.
9. Use natural products
Switching from your favorite skincare or bathing product to a natural product can be tricky. But if it is provided or you just want to give it a go, then you definitely should. Chemicals in many cosmetic products are not only bad for the environment but also for you. Choose spas that only use natural products too.
Also, try to avoid using mosquito repellent that contains DEET. Again this is bad for the environment and for your health. Instead use repellent made from lemongrass, citronella, or eucalyptus. Changing into a long-sleeved shirt and trousers at dusk is probably the most hassle-free and easiest solution.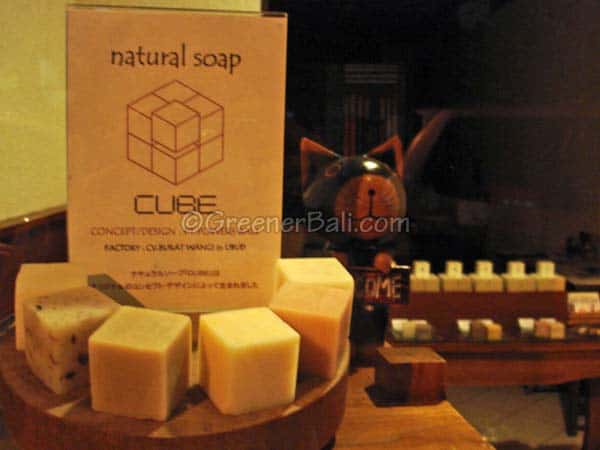 10. Give easy applicable tips
Once you get the hang of it, you will soon realize that being a bit greener isn't that difficult. So at one point, why not provide the accommodation you are staying at a couple of tips as well.
Chat with the owner or manager and give practical suggestions such as catching rainwater for cleaning and watering plants, use more recycled products such as bamboo, separating and recycle waste and tell him/her that efforts such as the use of local and/or organic products in the restaurants would highly be appreciated by the guests.
Believe me, if you just keep to these 10 simple eco-travel tips and come up with a few of your own you will enjoy your Bali vacation a lot more…