Just 20 km from Sanur beach there are the islands of Nusa Lembongan, Nusa Ceningan and Nusa Penida. It is one of the exciting places to go diving and snorkelling around Bali. Especially the stretch between Nusa Lembongan and Nusa Ceningan.
The water is crystal clear. The reef is also healthy and attractive but the currents do make it only accessible for the faint-hearted.
The most popular diving and snorkelling site are north of Nusa Penida, just east of Toyapakeh. The current is quite strong here. However, it is a favourite spot for sharks and oceanic sunfish/Molas (between June and November).
The strong current results in drift dives and is only suitable for experienced divers who are accompanied by dive operators that know the sites well.
Toyapakeh
Diving at Toyapakeh itself is also a treat however again the current can be very tricky here. If you get it wrong you will pass the good reef in minutes or even worse, end up lost in the Lombok Strait.
Unfortunately, there have already been dramatic stories of divers getting lost, some of them never returning. So make sure you know exactly what the conditions are at every site when diving at Nusa Lembongan.
That said, it remains a popular diving trip as this place is known for its Molas, batfish, sweetlips, jacks together with exceptional gorgonians and soft coral bushes.
For shark sightings go to Malibu Point along the east coast. However, it is scary to dive here, not because of the sharks but if you make one slight mistake the current will sweep you away and you will lose control resulting in unfortunate consequences.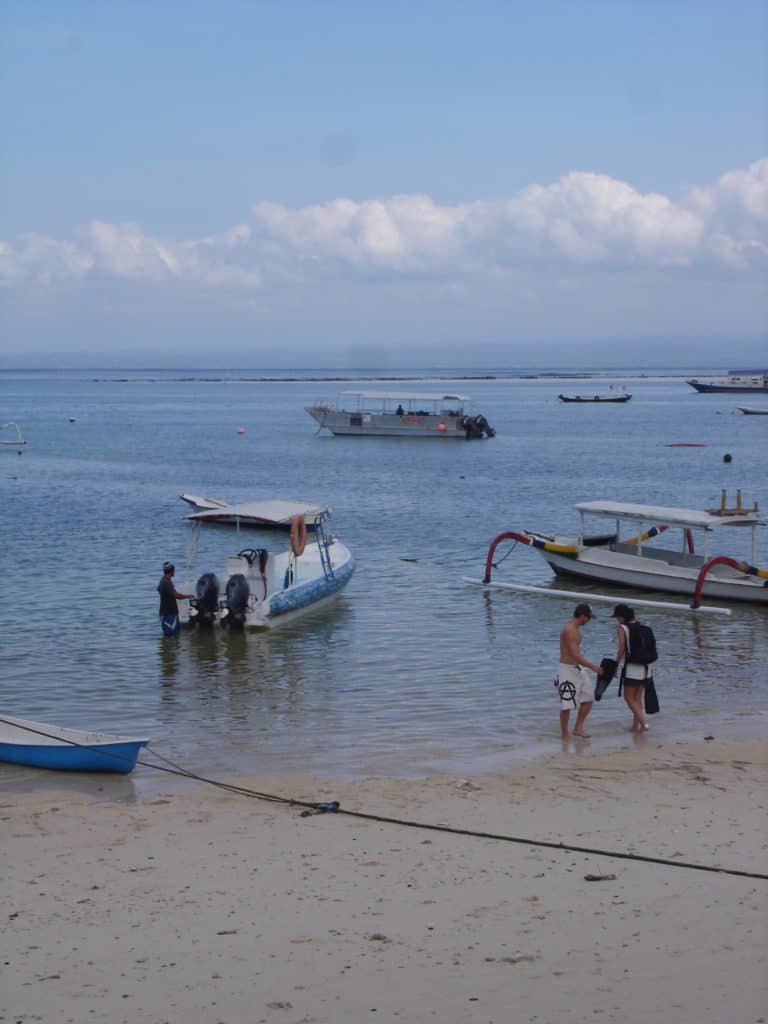 Manta Point
The last and probably the most trickiest diving site in the area is Manta Point. The swell makes it a dangerous place to go diving yet some do, as this is the place where you a likely to see manta rays and nurse sharks. Again, only for fearless experienced to advanced divers.
There are several boat operators that organise tours such as the Scoot II from Sanur and the Bali Hai cruises from Nusa Dua. Dive operators in Padangbai, Sanur and Kuta even arrange drift dives around the Nusa Penida island.
But the best choice is of course to go with a dive operator in Nusa Lembongan, as they are the most familiar with with snorkeling and diving sites. Go to Blue Corner Dive which also offers eco-accommodation or World Diving Lembongan who have be operating there since 1998.
Snorkelling at Nusa Lembongan
Snorkelers can easily arrange a snorkelling trip a day before at their accommodation at Nusa Lembongan. The rates are still very reasonable compared to those on Bali. A local fishermen will take you, or you can join one of the diving boats.
Just like the divers, you have to be aware of the currents. Luckily for those who are snorkelling, you can always keep an eye on the boat and raise your hand if you feel like you are drifting off.