The Balinese culture is so different from any other culture. Once there you will quickly ask yourself: What kind of cultural explosion happened here?
Influences of the Balinese culture is everywhere. Traditional Gamalan music can be heard when driving through villages in the evenings. Beautiful dressed people are heading to temples or other ceremonies at daily basis.
The wood carvings, Balinese architecture and statues all have a meaning. And small colourful offerings are found on cars, in front of temples and pavements.
The Balinese culture is intriguing and worth a closer look in order to understand how daily things are done and why.
History of Bali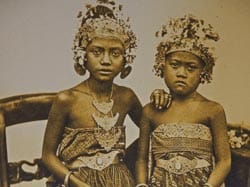 Certain important events in history clarify the differences between Bali and the other Indonesian islands.
The great Hindu Majapahit Empire (1293-1520) on Java island collapsed by the influence of the Islam in 1527. Many intellectuals, noblemen, artists, priests, dancers and actors were forced to flee to Bali island. Here the Hindu Majapahit Empire already had a colony since 1343.
They brought with them their Hinduism, customs and rituals. These were mixed with the animist and spiritual beliefs of the local Balinese people. Today this mixture is visible even though it happened 487 years ago.
Bali Aga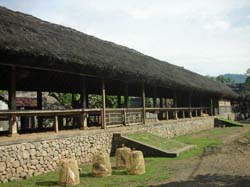 A small group called the Bali Aga, the original inhabitants, were not influenced by the Javanese settlers who arrived in the 16th century.
Until today these original native Balinese people have kept their ancient traditions and performances alive.
For instance the Bali Aga do not burn their dead and a caste system is non-existent. However there are still some similarities with the traditions and values of the majority of the Balinese today. The Bali Aga of Tenganan are more open towards visitors than the people of Trunyan.
Religion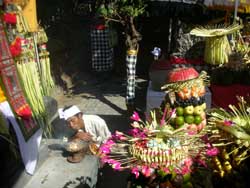 Today Bali's population of 3.890,757( 2010 Census) people consists of 89% Balinese, Javanese 7%, Bali Aga 1% and Madurese 1%.
If you take a look at their religion it's 83.5 % Hindu Dharma , Islam 13.3%, Christianity 1.7 % and Buddhism 0.5%.
Everything you see the Balinese people do is connected with their beliefs in the gods and goddesses who are believed to live on the mountains. That's also the reason why you don't see Balinese living directly at the waterfront. They believe bad spirits possess the oceans. Even entire villages are structured in a direct line from the sea towards the mountains.
The most sacred Balinese temple is the Pura Besakih (pura = temple) on the slopes of Gunung Agung. It is also called the Mother Temple. Every Balinese village has built shrines here to worship their gods.
The Balinese believe the sun, the rice fields, a tree and even a rock has a spirit. Hence Balinese life is organised to live in harmony with the good and the bad spirits.
Balinese people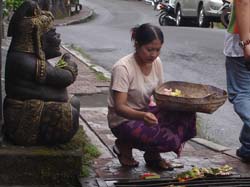 The Balinese people are known to be very friendly and after traveling a lot we have to agree. Their smiles, innocent jokes and patience are probably one of the many reasons why many people return or even settle in Bali.
When in Bali you will soon realise how remarkable their culture, religion and other actions are that give colour to their daily life.
Festivals and Ceremonies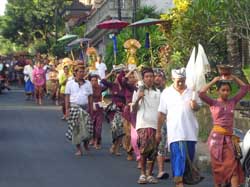 Somewhere on Bali there's always a religious ceremony or colourful art performance taking place in one of the many temples or just outside your hotel on the beach.
You'll be surprised how many festivals take place in one year alone.
Just by driving around I've run into several cremation
ceremonies called 'ngaben'. Or women carrying towers of food on their heads to bring to the gods in the temples such as on the national holiday of Galungan. These ceremonies and festivals are all based on two types of calendars.
Subak and Banjar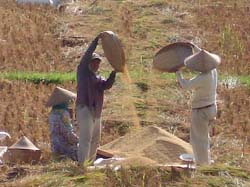 Two organisations that play a very important role in the daily life of the Balinese are the 'Subak' and the 'Banjar' of every village.
The Subak is the organisation which is responsible for the village's irrigation system, all the beautiful rice fields and agricultural affairs of the village.
The Banjar is responsible for all other activities in the village . They organise all the details for marriage, birth and cremations ceremonies but also temple repairs. Many of these activities have to follow the Balinese calendars, the Pawukon and the Saka Calendar.
Music and Dance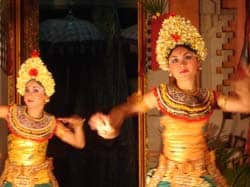 The Balinese culture and religion is famously expressed in music and dance.
For one of the best venues to see and hear Balinese music and Balinese dance you'll have to go to the cultural center of Bali, Ubud. An other great option is to visit the annual Bali Arts Festival in June and July in Denpasar.
At both places you can see traditional Balinese dances such as the masked dance of the Barong, Legong, Pendet, Baris, Oleg Tambulilingan, Sanghyang and Kecak dance.
The Kecak or Monkey Chant is one of my favourites even though there's no Gamelan or any other instrument involved. You'll see a bare-chested choir of men sitting in a circle making 'chak-a-chak-a-chak' sounds on the rhythm of the story.
Arts and Crafts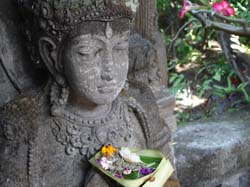 Culture is also expressed in handicrafts such as wood carvings, paintings, wayang kulit (shadow puppets), masks, statue carving and batik of Bali.
Through time the role of painters has changed from suppliers to temples and religious ceremonies to suppliers for a wider market. Statues of demons around temples and hotel entrances are also an important part of their culture. Nowadays they are even sold on the market.
When you drive around Bali you'll notice the many shops with statues ranging from big-bellied Buddhas, dancing horses to dolphins in all shapes and sizes and even life-sized native Americans. Native Americans in Bali…?
On the road to Pura Besakih you might run into various statue craftsmen churning out amazing pieces for various temples on the island or for the international trade.
Local Food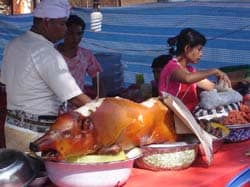 Like many other cultures, food is also an important part in the Balinese life. Balinese food is a mix of influences from the other islands in the Indonesian archipelago.
It's hard to point out Balinese specialties. However a couple worth mentioning which are specific for their culture are roasted pig filled with spices called 'Babi Guling', Organic Duck filled with Balinese spices called 'Bebek Betutu', a mixture of vegetables, minced meat and coconut called 'Lawar' and Seafood Satay called 'Satay Lilit'.
Other famous dishes you might have heard of but do not originate from Bali are the Rijsttafel (rice table) and Nasi Goreng (fried rice). Rijst tafel became very popular in colonial times. The Dutch served many dishes accompanied with rice to impress their visitors.
Nowadays it is hard to find a good 'rijsttafel' in Bali. Try the Nasi Padang or Nasi Campur where you can choose from dozens of dishes. Nasi Goreng can be found in almost every restaurant and can is considered Indonesia's national dish.