Don't be tempted to leave your helmet at your hotel. The Balinese often drive without one so you might think it is ok for you to do so as well. But the police will not tolerate a tourist driving without a helmet.
We had to learn it the hard way…
After a refreshing shower, we didn't feel like putting the helmet on again.  So we went out for dinner leaving the helmets behind in our hotel.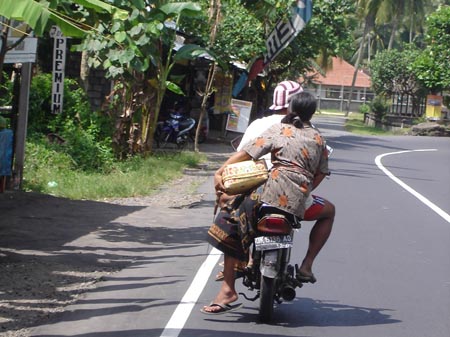 After a delicious dinner, we strolled over to our motorbike only to see two police officers standing along the street. Right in front of the area where we parked our bike!
We started to discuss with each other what our options were. By that time the policemen were eyeing us too. It must have been obvious that something was up.
Eventually, we decided that we would jump on the scooter and act if nothing was wrong. At that moment,4 other police cars parked in front of us. Now there were about a dozen of them!
Perfect timing…
We discovered later that that corner is a popular traffic checkpoint. So basically there was no escape for us.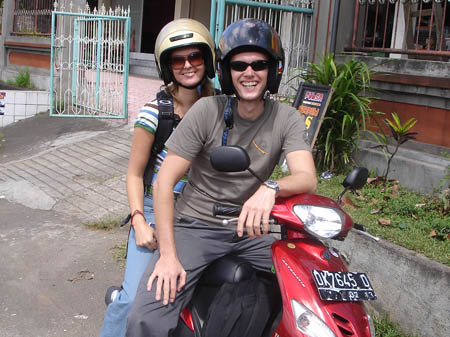 We were lucky though. After a small chit chat with the officers, we got away with only a warning. We did have to walk 20 minutes back to fetch our helmets before we were allowed to take the bike with us…
Not my idea of a perfect ending to a perfect evening.
But it could have been worse. There are severe fines and sometimes imprisonment for not obeying traffic rules. The officers were happy to inform us about them and to remind us how lucky we were with just a warning…
So remember, when you plan to drive a Bali motor scooter on a motorbike just put the helmet on. It's for your own safety.
Taking a swim…
I am not sure what the reason was for my little accident in Ubud, but somehow I fell. I didn't fall hard considering I ended up in a running stream…
At that time I had found a nice home-stay that looked out over the amazing rice fields. However, to get there I had to drive over a small path, with a wall on one side and a little stream on the other.
The whole time I was staying there I had no problem driving to and from the home-stay despite my girlfriend on the back shrieking a couple of times.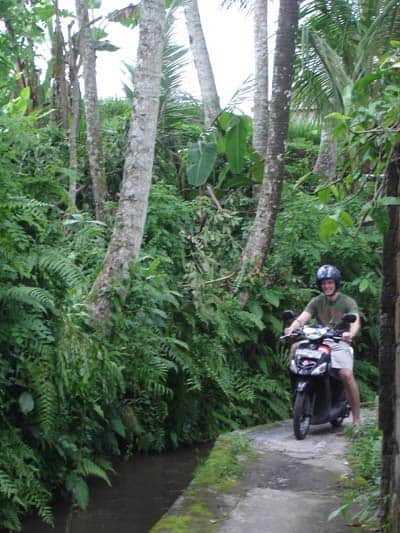 But just after check-out I hopped on my motorbike, rolled down the little hill from the homestay and before I knew it I was in the water with the bike and my fully packed bag!
Up till now, I have no idea what went wrong…
The motorbike was underwater and the mirrors had already gone downstream. Somebody taking a bath further down must have happily grabbed them…
Fortunately, I took the dip by myself as my girlfriend had already walked ahead and was waiting for me down the small path.
Two men were there to help me pull the motorbike out. Luckily, after a thorough check, the motorbike was up and running again.
We did have to go to the garage two times though. The first time the mechanics opened the motorbike to dry most of the parts.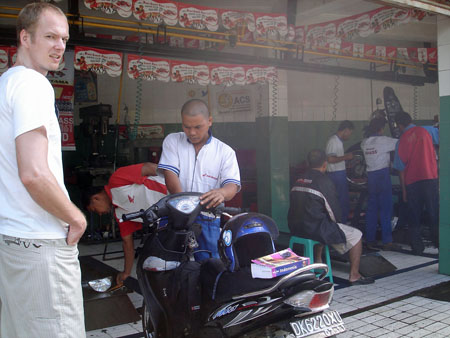 We also had to buy new mirrors, replace the cracked plastic shield and separate the petrol from the water that had run in.
We were able to drive on afterward, only for the motor to stop completely at the end of the day. By that time smoke was coming out of the accelerator and the engine stopped running after a couple of meters.
It turned out that there was water in the motor as well, which was fortunately easily repaired the next day…
From the second experience in the garage, we learned that you should always try to go to the same motorbike dealer as the brand of your motorbike.
The bike that took the fall with me was a Yamaha. Instead of going to the Yamaha garage first, we ended up at a Honda garage that didn't check everything properly. The second one was a Yamaha garage who obviously knew every detail of the motorbike and fixed it again.
So here is another warning when you are driving a Bali motor scooter.  If you have some trouble with your bike go to the same dealer as the brand you're driving on or call the owner of the bike.
And last but not least, try to keep your feet on the road when passing a very narrow path especially if there is water on either side!
Offerings for a safe journey…
As soon as you step into your first Balinese car, whether it's an airport taxi or the hotel shuttle you will immediately see something unusual but nevertheless really nice.
Every morning on the dashboard of almost every car in Bali the Balinese place a colorful offering.
Besides offerings in shrines, at the entrance of a house or on the corner of a dangerous junction the Balinese also have offerings in their vehicles to ensure a safe journey.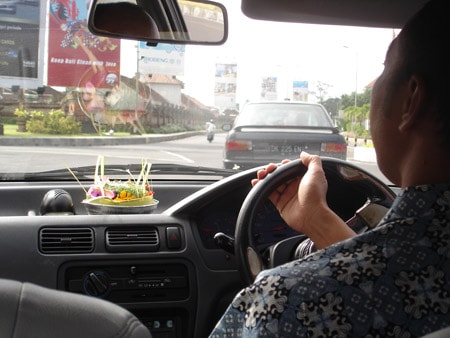 One day my girlfriend, our friend and I were driving on 3 motorbikes from Ubud, via Kintamani to Lovina. We decided to make the trip a bit more adventurous and took an off-road tour through the mountains.
Halfway we got a bit lost but we kept on driving on the dirt road towards the north. The area was very quiet, not many houses, hardly any people and no traffic at all.
Anyway, while we were driving full speed ahead a lady suddenly appeared in the middle of the road. She was carrying a basket which you often see in Bali. In it were several offerings made out of bamboo shoots and tiny flower petals.
She stopped us and asked if she could place an offering for us in order to ensure a safe journey to Lovina.
So not to offend her and of course to increase the chance of arriving in Lovina safely we agreed.
She chanted, made graceful movements with her hands and sprinkled water on our bikes. Then she stuck several rice grains right on our foreheads and placed a small offering on each of our bikes.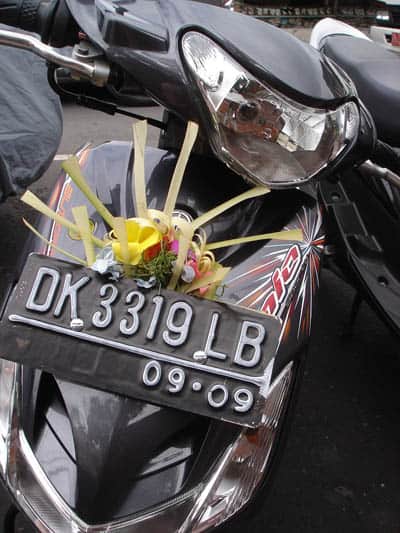 We thanked her and were just about to turn the motor on again until she mentioned a price for her offerings.
We were kind of stunned but then understood that for a tourist in Bali hardly anything is for free. So we asked her again how much she wanted. She mentioned a price so high we could have had a grand dinner with the three of us for that same amount.
I told her that we were willing to give here something but that her price was pretty high. So, in the end, we gave Rph 15.000 and she seemed fine.
We drove off, rice grains flying everywhere and an offering blowing off the bike as soon as we reached 15 km per hour. We luckily arrived in Lovina safe and sound…
On our way back, just before Bedugul, we saw another lady with a basket full of offerings on the side of the road. This time we decided to take the risk and drive on without an offering to ensure a safe journey.
So remember, if there is a sweet lady standing with a basket full of offerings on the side of the road you can either stop to enjoy the cultural experience or drive on slowly and let her keep her offering for another traveler.