Being aware of Bali health issues is very important especially if you are not from a tropical country and need to adjust to the local climate.
Read the following carefully to prevent ending up in bed during your whole holiday or bringing home some kind of disease as a bad souvenir.
Travel insurance
First of all to prevent any extra hassle it is recommended for all travelers to always arrange a good travel insurance. If something does happen to you during your travels, the last thing you want to worry about is where you'll end up.
With good travel insurance you will be able to receive private health care and even be sent to Singapore if treatment in Bali is not possible.
Additionally, if you are already on medication or when you are pregnant then you should get appropriate advice from you general practitioner before leaving. Remember not to check-in your medicine at the airport in case your suitcase gets lost.
Return to top
Clinics in Bali
Before I start to give you all the information on all of the diseases you are able to get when you are there, let me start with reassuring you first. Bali has really good health clinics with modern equipment and English-speaking doctors. Medical tourism is growing here as well.
So if the unfortunate thing happens and you end up in one of the clinics, you will be in good hands.
Here are three popular international oriented clinics:
BIMC Hospital is located near Kuta and the international Airport. They have primary
health care services plus 24-hour emergency medical services. You can find them on Jl. By Pass Ngurah Rai No. 100x. Tel: 62-361-764345. You can also visit the BIMC Website.
SOS International is also located in Kuta area and provides comprehensive primary health care and 24-hour emergency medical services. Their address is Jl. By Pass Ngurah Rai, Denpasar.Tel: 62-361-710505. For more detailed information check the SOS Bali Website.
If you are staying around Ubud then you have the Ubud Clinic on Jl.Raya Ubud No. 36 Campuhan. Tel:62-361-974911.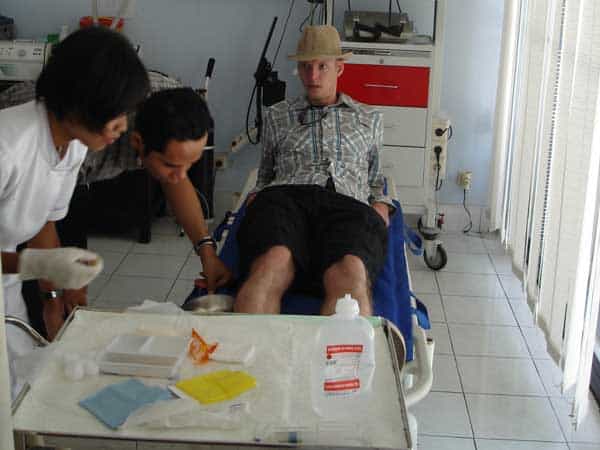 Another option in Ubud is the Toya Medika Clinic, which receives patients 24h every day of the week. It is located on the other side of town on Jalan Raya Pengosekan. Tel:62-361-978078
The general emergency numbers in Bali are: police 110, ambulance 118 and fire department 113. You can also dial 112 to get an operator who will assist you further. Ok, that's that.
So let's start with the health diseases that you should watch out for. I hope they don't freak you out because with some minor actions and precautions they can be easily prevented.
The Bali Belly
The most famous disease that you can get quite easily when you travel to Bali is the notorious Bali Belly. Basically the Bali Belly is stomach cramps together with diarrhea. All in all, it can bring misery to your holiday.
To be on the safe side, travelers should bring along an antidiarrheal drug. Not only are you more familiar with the medication you bring from home, getting diarrhea often happens in places where you can't find any drugstores.
What to do?
You often don't know how you got the Bali Belly but the only thing you can do is to start using dehydration salt solutions first (also available at the local drugstores) and to drink as much water from a sealed bottle as possible.
Fluid intake is essential, especially in the tropics where you dehydrate very easily. If you can't even make it to the drugstores anymore use 8 teaspoons of sugar and half a teaspoon of salt in a liter of water and seek medical attention. The reception can even arrange a local doctor to come to your accommodation if you want.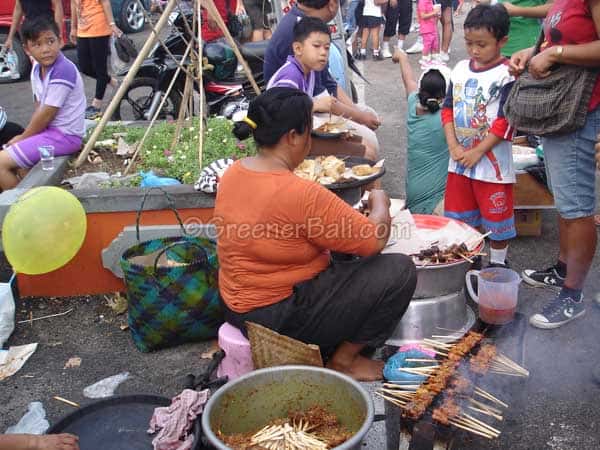 Some say that if diarrhea persists for more than 72 hours you should seek medical attention. We recommend going there once you tried everything you can think of. Since you are on a holiday you just want to get rid of it as soon as possible plus after a while, your body loses a lot of energy as well.
In some countries, doctors do not give antibiotics that easily. In Bali, they will give it straight away. Make your own decision about what to do. Coming from the Netherlands, we always try to avoid antibiotics.
Don't use drugs such as Imodium or Lomotil since these only constipate your system. The bacteria or virus needs to get out, not stay in. These types of medicine are handy when you have a long flight but not when you are very sick. Also, avoid drinking alcoholic drinks and natural juices for a while.
How do you get the Bali belly?
You can get the Bali Belly by contaminated water, eating food that is not well prepared or fruit that is not washed properly. Basically it depends per person, some have more sensitive stomachs while others have a stomach like a rock.
It is difficult to say where you should eat to prevent getting the runs. Generally, you will be fine eating at major restaurants and hotels but that is even not 100% guaranteed safe.
You might expect that it won't do any harm eating at a fancy hotel where besides Indonesian food they also prepare international dishes. But sometimes the food there is less fresh than the 'warung' around the corner. The warung prepares Indonesian food right on the spot and has more visitors so they will use fresh ingredients regularly.
Therefore I prefer to choose places where it is crowded. Besides, where there is a large crowd there must be great food too, right?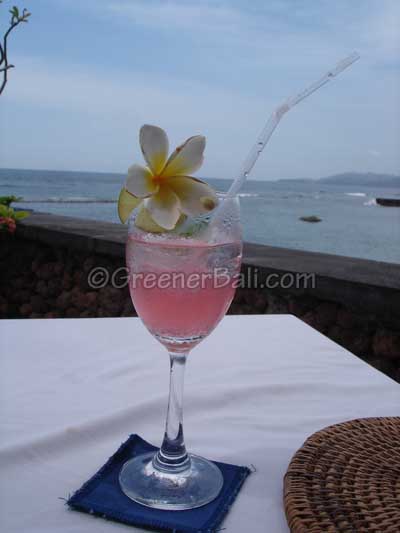 Also never drink tap water when in Bali. Instead buy bottled water or buy water at water refill stations. It might also help to avoid brushing your teeth with tap water too.
Some people advise against using ice cubes in drinks but I personally think you will not get diarrhea from this. Even local people would get sick if they don't use proper water for ice cubes. So it's OK to use ice in drinks but be careful with ice-cream though.
Also when you order something remember that there might be a chance that the air chiller might not be running constantly due to common electric failure.
So just  make sure that your food is always freshly prepared, well-kept and that you avoid drinking tapped water at all costs. If you keep that in mind you'll be fine…
Malaria and Dengue fever on the island
Mosquito bites and the tropics come in one package. Fortunately today there is little risk of malaria in Bali so you don't need to take any pills to prevent catching it. But always get the most recent local health advice on this disease before you leave because it can be fatal if you don't get any treatment as soon as possible.
The symptoms are a fever with shaking skills and a headache. These symptoms can also occur after you get back from your holiday so make sure you consult a doctor immediately.
To prevent catching this serious disease sleep under a mosquito net, especially if you can't close the windows properly. Don't forget to spray within the net with anti-mosquito spray a couple of hours before going to bed.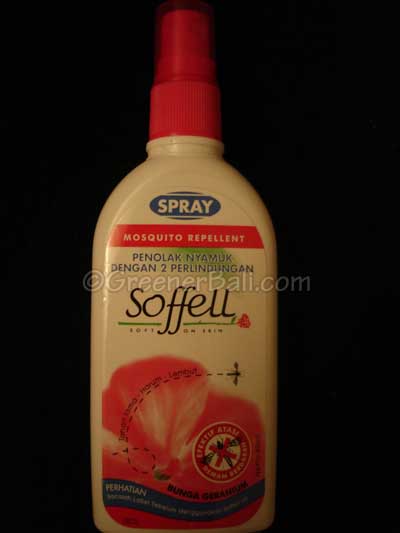 In good resorts, hotels, etc. you don't really need a mosquito net as they
use other means to extinguish these nasty insects. But if you are staying in a cheap hotel in Bali make sure you can close the door and windows properly or that they have a good mosquito net.
Additionally, if there are many mosquitoes remember to use repellent and during dusk wear long sleeves and pants since during this time of day the malaria mosquito is the most active.
Dengue Fever
Another disease transmitted through mosquitoes is dengue fever. Unlike malaria, there are no tablets available which will prevent you from getting it.
In Indonesia outbreaks of dengue fever are common and it can easily occur in Bali as well. Make sure to check for the most recent information concerning dengue fever.
The symptoms are fever, headache, rash, joint and muscle pains. If it progresses it can lead to internal bleeding and circulatory system failure. So seek a doctor as soon as possible if you happen to have these symptoms.
An important thing to remember when heading to the doctors in your own county after coming home from your holiday is that if a rash is absent the symptoms can be easily diagnosed as common flu. So stress that you have been to the tropics when visiting your doctor.
Like malaria, dengue can be prevented by using a mosquito net and applying repellent.
These mosquitoes are however more active during the day and breed around water collections such as puddles in water tanks, used tires and flower pots.
Rabies
In Bali, you will see dogs everywhere. Unlike the dogs you might be used to back home, Balinese dogs can look really hideous. Once you see them you can only expect them to carry all kinds of diseases. If the dog looks cute or not, always try to avoid contact as it can carry rabies.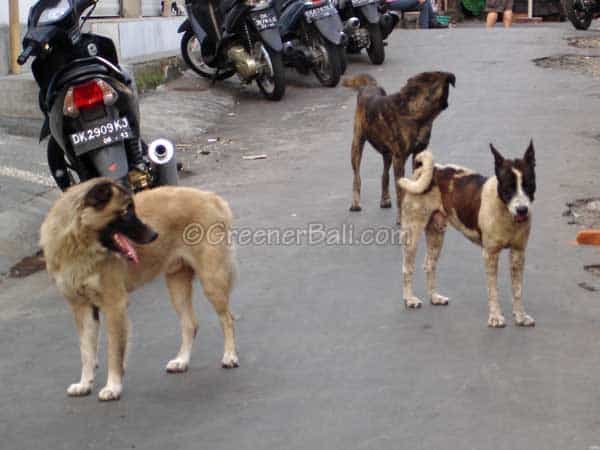 Rabies is spread via the saliva of dogs, cats, and monkeys. If you get bitten wash the wound immediately with soap and seek medical assistance. Getting vaccinations against rabies can prevent extensive treatments.
I got bitten by a dog in Bali once. Luckily for me, the dog was vaccinated and it regularly visited the vet. The owner told me that many Balinese in the area had died from rabies. The symptoms only occur two months after the bite and by that time treatment is too late. So be careful.
Generally, the dogs are harmless in Bali. If you just walk by without surprising them then you have nothing to be afraid of.
Hepatitis A and B
Fortunately, you can get a vaccine against Hepatitis A and B. So we recommend to head to the doctors for some injections. Hepatitis A is transmitted via contaminated food and water or saliva. So you can imagine how easily you can become a victim.
Hepatitis B is transmitted via sexual contact or by contaminated blood. Therefore always use condoms and ensure that needles and syringes are sterilized before receiving treatment.
AIDS/HIV
Bali, Java and West Papua are the most affected islands of Indonesia. Exact numbers of AIDS/HIV affected people are not clear for Bali, but unfortunately the numbers are increasing. Also realise that other travelers can be affected as well.
Condoms are available in Bali however they can be unreliable. So if you think you would be needing some on your trip bring some from your own country.
Tropical Sun
This health tip should not be underestimated. The sun in the tropics is different so even on a cloudy day you can get seriously sunburnt and dehydrated.
The most unpredictable weather can be found in the mountains where it seems to be cool but where you easily get sunburned.
So before you go hiking or visiting sites it's best to head over to the local drug store, which you can find in every major tourist area. Especially at the drugstores such as Guardian, you can get some quality sunscreen. Make sure you apply it regularly, especially after swimming.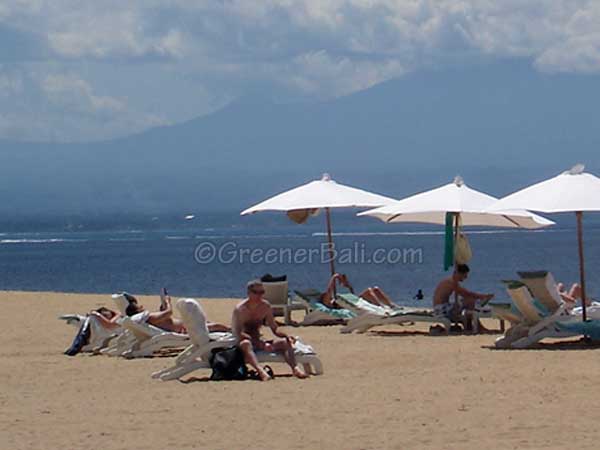 Avoid visiting temples (there is hardly any shade) or sunbathing between 10.00 and 15.00 when the sun is at its strongest. If you do, try to wear a hat and cover sensitive skin such as shoulders and chest. Long sleeves and wearing cotton clothes are also quite comfortable in the tropics.
If all fails and you end up looking like a lobster at the end of the day, don't sit in the sun the next couple of days. If you want to treat your sore skin you can head to the spa. Many offer a special massage for sunburnt skin which has a rehydrating and cooling effect.
Once in Bali, you will see a lot of painfully sunburnt people. Try to not be one of them since too much sun exposure can cause skin cancer.
Tropical diseases
Generally European, American and Australian travelers don't have to worry about infectious diseases such as polio, tetanus, diphtheria and tuberculosis since they have had inoculations when they were young.
However, if you are not sure if you ever had any injections for these diseases, make sure you check with your doctor before leaving for Bali.
Hygiene
When staying in resorts, hotels or even homestays you can expect the hygienic conditions to be similar to the standards back home. But I just want to mention this little health tip to avoid unpleasant surprises on your visit to Bali.
It's about toilets…
Like I said all the hotels and nice restaurants are pretty clean. But if you plan to go touring around the island or want to visit some temples and you need to use public toilets  be prepared.
Generally there are Western-style toilets, but occasionally you will encounter a squat toilet. On top of that, sometimes the toilets do not flush automatically. Instead you have to scoop some water with a small bucket in order to flush it all away.
And if there is no toilet paper, the same small bucket is used to wash yourself. Very uncommon in most western countries, but the Indonesians do not use toilet paper. Instead they wash themselves using their left hand (that is why this hand is considered unclean).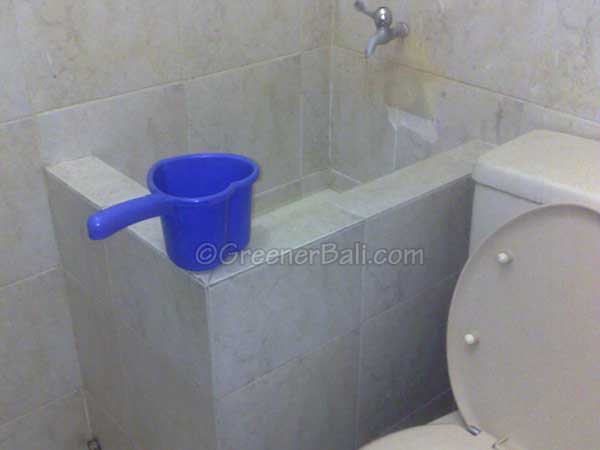 Especially for female travelers, it is maybe a good idea to always have a tissue or a roll of toilet paper in your bag. And to be super hygienic maybe you want to bring some antibacterial hand creme too. There is usually soap but I always get this feeling that they add a lot of water to it.
But don't worry, these kinds of toilet encounters are usually in the villages far from the tourist crowds. Places like Kuta, Ubud, Candidasa, etc have good toilet facilities.