There are various kinds of Bali handicrafts, which have become famous as export products or souvenirs. Entire villages, especially in Central Bali are dedicating their skills to one specific craft.
Some villages are known for wood carving and teak furniture. In other areas you will see an abundance of paintings, stone carvings, batik, jewellery or various forms of home decorations.
The Balinese people are very creative and it seems they can make anything that comes to mind. For centuries they are training themselves in making the most beautiful pieces of Bali handicrafts for the temples and palaces.
In the 1930's influential foreign artists such as Walter Spies and Rudolf Bonnet shared their ideas with the Balinese. They stimulated the Balinese to create other styles.
Their skills are inherited through family traditions and throughout the years taken to an amazing level. Today they still produce various types of Bali handicrafts for temples but most of them focus on the export since they can make a lot more money with this trade.
If you travel through Bali you will see a lot of wholesale suppliers and manufacturers. Teak furniture, rattan outdoor lounges, animal wood carvings, buddha statues, baskets and large terracotta pots are just a few examples you will see along the way. It is possible to stop at these wholesalers to check out their prices too.
Looking for specific Bali handicrafts?
Head to the following villages known for a particular craft.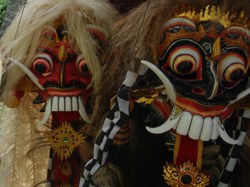 Masks:
The village Mas, located between Denpasar and Ubud, is known for the many skilful mask carvers. There are all kinds of masks in Bali and like anything in life, the more details, care and craftsmanship the higher the price.
If you look closely and take the time to really look at them, you will soon see how exceptional these Balinese masks are. Not only are the masks an amazing sight, but each one of them has a story to tell…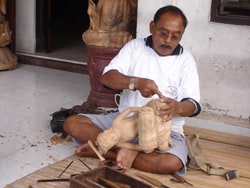 Wood Carvings:
Besides masks, the Balinese can create many other amazing wooden items too. In the past wood carvers would focus on temple ornaments only. Since the 1920's you can find different items such as statues, bowls, bed frames, carved door frames and doors and of course furniture.
Nowadays Balinese furniture is known for its worn-look or otherwise known as 'distressed' furniture, which is furniture used from recycled wood such as from a boat.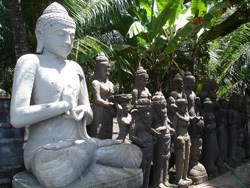 Statues
If you need huge buddhas, horses, hindu depictions, life-sized Indians or Hawaiian Tiki then the village of Batubulan just north of Denpasar is the place to go. Here you can find stone carvers displaying all kinds of statues.
The art of carving statues has reached a very high level. They were originally carved for decorating hundreds of temples on the island…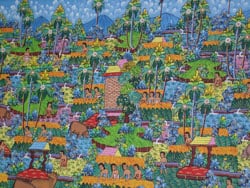 Paintings:
The Balinese were not familiar with the word 'art' or 'artist' since they never considered painting a form of art. For them it was part of daily religious life, just like working in the rice fields.
This changed when foreigners arrived in the 1920's. The Balinese adopted new painting techniques resulting into amazing pieces. To fully understand the various styles, head to the Neka Museum in Ubud. You will create more appreciation for the paintings you will see everywhere on the island, mostly around Ubud.
Batik
This is one of Indonesia's most famous and complicated traditional art forms of all the handicrafts. It's a technique that applies patterns of different colours to cloth. They do it by dyeing in several stages and by applying wax after each stage to protect areas of unwanted colour.
The batik pattern is mostly found in shirts and sarongs. Today the difficult yet amazing patterns are used in-house decorations…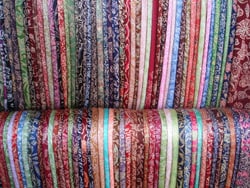 Balinese Textile
The best sarongs are from the town of Blaju, Tenganan and Gianyar. In Gianyar there's a textile factory where you can observe the natural dyeing process. You can also see hand-weaving and learn how raw cotton becomes hand-spun thread.
In the shops you can mostly find scarfs and sarongs. The latter might come in handy when you visit any temple on the island…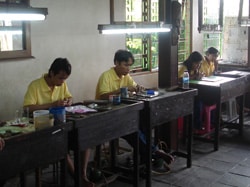 Gold and silver
Celuk, just north of Denpasar is the place to be if you're interested in the Bali handicrafts of gold or silver. Traditionally this village has been the place where gold and silver smiths work with precision on the finest jewellery available on the island.
Along the main road you will find a string of shops selling all kinds of jewellery. Here also counts that the best deals are to be had in the alleys and the back roads…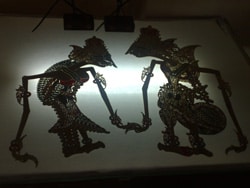 Shadow Puppets:
This mystical and playful form of art involves two-dimensional shadow puppets that have entertained the people in Indonesia for generations. Once placed between the white screen and oil lamp the puppets become alive.
Shadow puppets are found everywhere in Bali and they are widely sold as souvenirs. From way back the Balinese have been using natural material such as wood, stone, coconut and bamboo to make all kinds of arts and crafts. Especially the latter has always been very popular.
Household utensils, decorations, furniture, window shades and housing constructions are often made from bamboo, so you can pretty much find it everywhere.
But today bamboo is undergoing a new image and even designers are using it in abundance, not to forget the Green Village Bali. Once you visit this village you can only wonder why everything isn't made from bamboo.
Another trend is using recycled material such as plastic, rubber from tires and glass to make great things such as bags, furniture and glass work