Bali batik is relatively new compared to ones from Java, where many batik artists live and have galleries. Especially in the cultural capital of Java, Yogyakarta you can find many workshops and batik galleries.
Waxing and dyeing of fabric are done throughout the world, such as in India, Africa, China, and Japan. It was introduced to Indonesia in the last millennium at the time of the Chinese Tang Dynasty. Particularly in Java it has developed into a skillful traditional art and is known for its exceptional patterns.
Cultural and religious influences can always be found back in the batik patterns of certain Indonesian islands. While Hindu-Buddhism has played a huge role in the patterns created in Java, in south Sumatra Arabic Calligraphy can be found in their batik.
Even during the colonial periods, various European and Japanese styled patterns were incorporated. Animals such as elephants, lizards, buffalo, and even butterflies have always been a favorite motive in batik.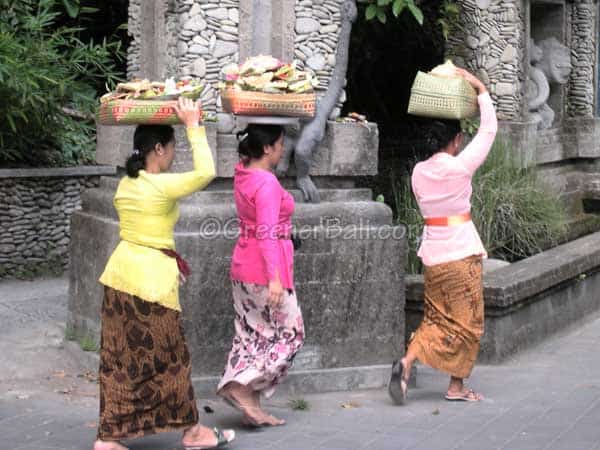 How can you recognize the Balinese batik?
The Hindu epics about Rama and Sita are popular in Bali. Designs with frangipani or hibiscus flowers together with birds, fish and daily activities such as dancers. You'll also find mythological characters such as the Barong and winged lion. If you look further you can see that today's designs are becoming increasingly popular as well.
Some things remain unchanged. Symbolic batik patterns are still only used on certain occasions such as for a newly born, weddings or can only be used by royalty. The motive can indicate the rank or status of a certain person.
Batik can be found in clothing such as sarongs and scarves for women and shirts and sarongs for men.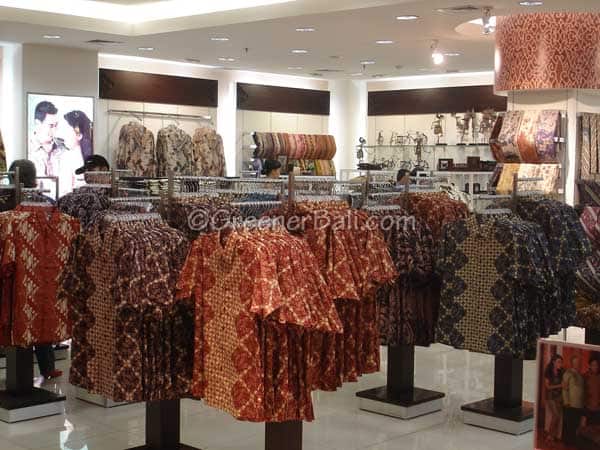 So how is Batik made?
The beautiful handmade pieces of art are made by applying patterns of different colors to cotton. They do this by dyeing in several stages and by applying wax after each stage to protect areas of unwanted color.
The wax can be applied by hand which is called "tulis", meaning to write in Indonesian. This way of batik making is a fine art of drawing the pattern on a piece of cotton cloth. In many cases, the pattern is slightly visible on the cloth and the batik maker just needs to follow the lines. However, there are some who can draw by heart.
For the Batik tulis hot waxed is used to apply the pattern on the cloth by using a small instrument called 'canting' made of bamboo and copper. This instrument has one, two or even three nozzles with different dimensions to create a wax pattern and it works just like a pencil.
This technique is also where the word batik comes from. The Javanese word amba means to write while titik means dot.
As you can imagine, it is a long process to make a beautiful and large piece of batik cloth this way. Naturally, it is expensive to buy this high-class batik, but it is still attractive as it can show social status.
However with the competition of the global market, the batik makers had to make adjustments, and thus the cap (stamp) method is often applied. A pre-designed metal stamp creates waxed patterns on a piece of cloth, making the process much quicker. You can easily spot the Batik cap as the same patterns are repeated on the entire piece of cloth.
There are some batik makers who use a combination of the batik tulis and the batik cap method.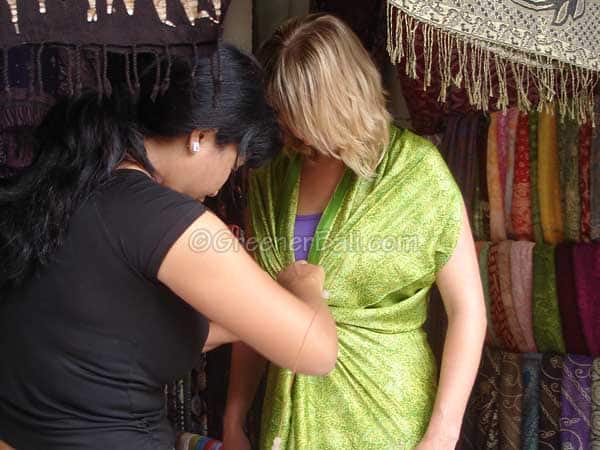 After the wax pattern is made the cloth is put into a bath of color and all those parts of the cloth that do not have wax applied to will suck up the color. Then the wax is removed from another part of the cloth and applied to the just colored parts.
After this stage, it's time to color the cloth with another color and another from the lightest color to black.
This process of applying, coloring and removing wax is very intensive and is repeated until the right taints of color appear on the cloth.
When batik has been made with the batik tulis method the colors on the cloth are bright on both sides of the cloth because the wax is applied to both sides. When batik has been made with the batik cap method the colors are faint in the center because the wax here is only applied to one side.
Where can I learn more about Batik making in Bali?
If you're interested to learn the art of batik in a couple of days then Ubud is the ideal place to go to. Museum Puri Lukisan (+62 361-971159/975136) on Jalan Raya organizes a batik course for 1-2 days. Here you familiarize yourself with the age-old technique and make your own batik painting.
You can also join one of Ubud's famous artists, I Nyoman Suradnya's batik courses on Jalan Gautama 10 (+62 361-975415).  His course ranges from 1-5 days where he loves to teach you the art of batik from a very basic level to a more advanced level.