If there's one beach on the Bali Bukit Peninsular that we love then it has to be Balangan Beach. Despite the immense development in the southern tip of Bali, this beach seems to be somewhat unaffected.  The relaxed atmosphere you expect from a surfer's beach is still there.
The crowd who comes here is very diverse. The biggest group are the surfers but we have also seen people do yoga on the beach. We've seen sunbathers reading books the whole morning and there are even families with children. You are sure to fit right in.
How to go to Balangan beach?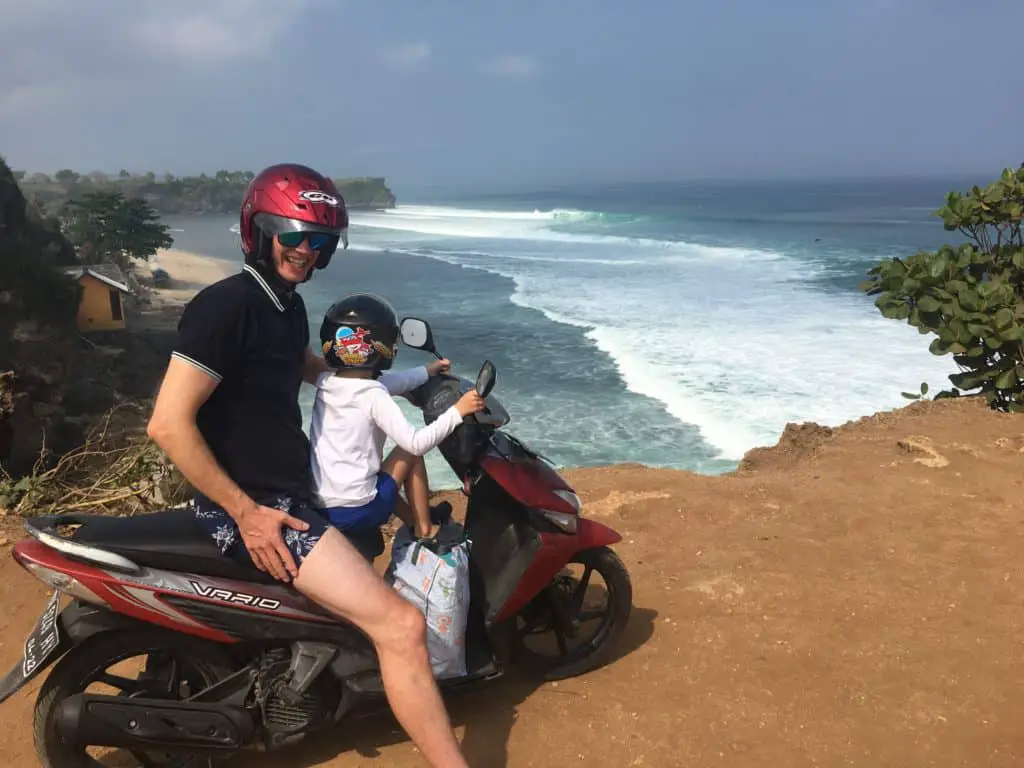 You can find Balangan Beach on the south-west coast of the Bukit Peninsular in Bali. It's located between Jimbaran beach and Uluwatu and next to Dreamland beach.
The best way to get to Balangan beach is by own transportation. It is located pretty far off the main road called Jalan Uluwatu. Drivers are willing to take you there but getting a ride back will be difficult. The best option of transportation is renting a motorbike.
In the past, it was hard to get to Balangan beach. The first surfers who arrived in the 1970s came by boat.
Later those brave enough rented motorbikes and drove all the way off-road. They had to go through the bushes, cows, and farmers' land to this little hidden paradise.
Nowadays a well-paved road will lead you to Balangan Beach. But between all the villa and hotel development you still find many traces of farm life. The cows are still here, the huts are still here and it's easy to go off-road too.
The big difference between now and then are the signs saying 'Land For Sale' or 'Land not For Sale'.
Getting to Balangan beach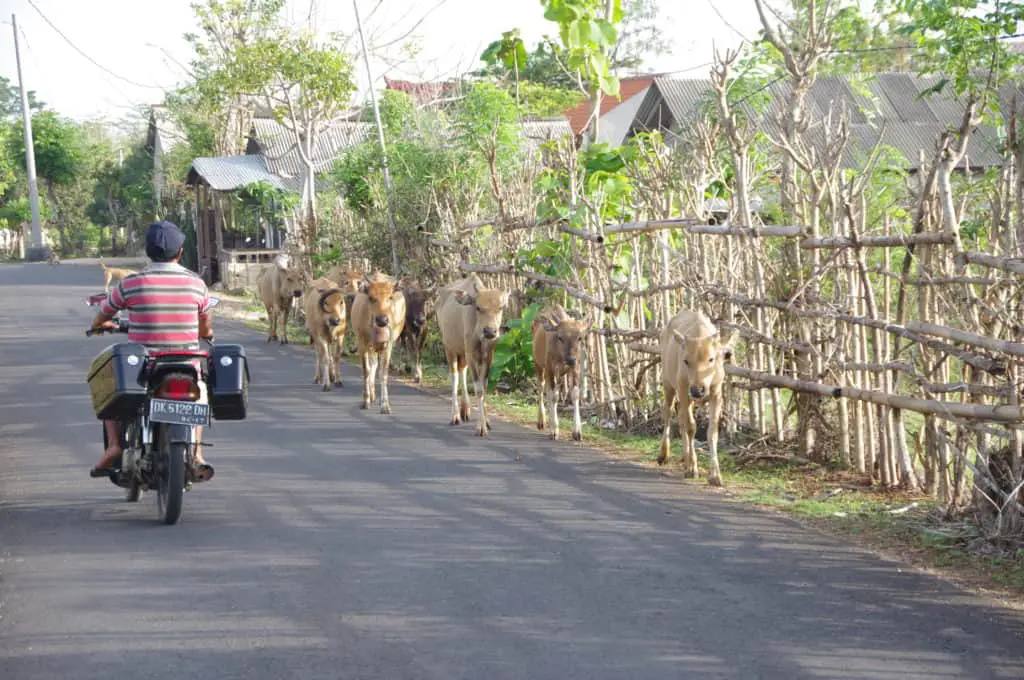 The neighboring beaches of Balangan seem close by. However in reality it is quite a drive as they are all located between the cliffs. You always need to return to the main road to reach the smaller roads to the other beaches.
The distances to Balangan beach from the nearby villages and beaches are by car approximately (without traffic jams):
Village
Distance
Drive time
Aiport
19 km
12 miles
40 min.
Sanur
28 km
17,5 miles
55 min.
Jimbaran
9 km
5,5 miles
25 min.
Kuta
20 km
12,5 miles
45 min.
Seminyak
24 km
15 miles
50 min.
Canggu
34 km
21 miles
1h 16 min.
Uluwatu beach
16 km
10 miles
33 min
Dreamland beach
7 km / 4,5 miles by motorbike
15 km/ 9,5 miles by car
15 min or
30 min
Padang Padang beach
28 km
17 miles
30 min
Bingin Beach beach
14km
8,5 miles
30 min
Distance and drive time to Balangan beach (not during the rush hours)
Jalan Pantai Balangan is the main road leading to the beach. This street is a side street off the main road Jalan Uluwatu. You'll find it at the crossing at the Nirmala Supermarket Ungasan, you can't miss it.
This road will take you past the Nirmala Water Park. Then you'll see hostels, restaurants, and some residential areas. But also out of nowhere villas and small Balinese hamlets with farmland.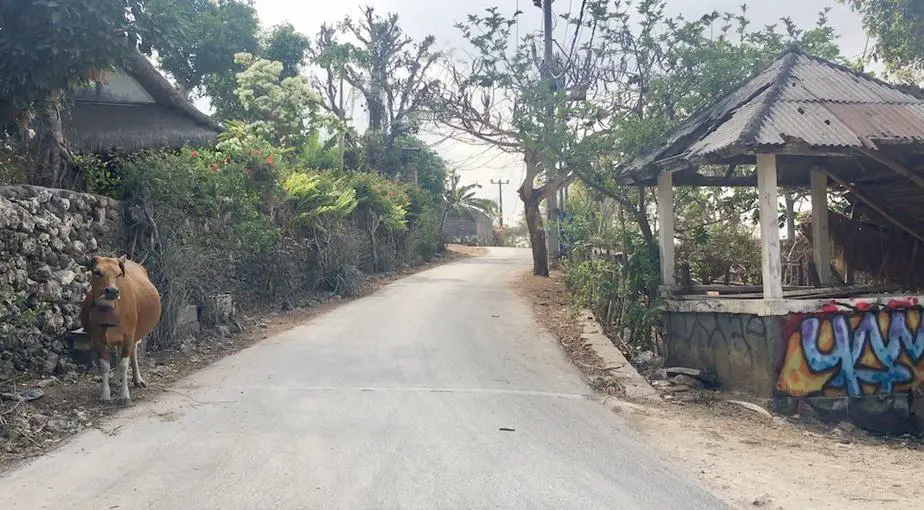 If you happen to be coming from Dreamland beach (also known as New Kuta beach) then there is also a little road that leads to Balangan beach. It is only accessible by motorbike.
We always try to avoid this route. It is quite a depressing route with ugly apartments, hotels, and a golf course. But of course, this way saves you the detour along the main road.
Arriving at Balangan beach
When you are coming from the main road 'Jalan Pantai Balangan' you can pass the Balangan Paradise hostel. Following a dirt road, you can go straight to the cliff called Tanjung Balangan. This is one of the most famous spots in Balangan. You have an unrestricted view of the beach and beyond.
To get to the beach turn left passing the La Joya Balangan Resort, Balangan Sea View Bungalow, and Flower Bud Bungalow. You might bump into the local cows which are part of the hotel so please drive slow.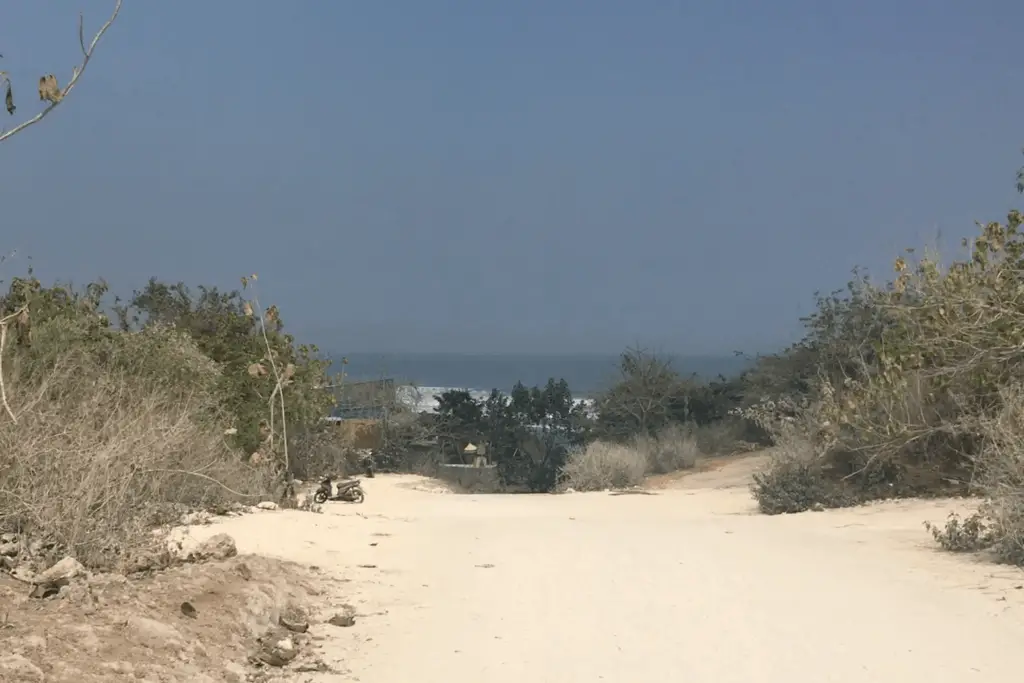 The paved road ends at the Flower Bud Bungalow and turns into a white limestone dirt road all the way down to the Point Hotel and restaurant. You can't park here so keep on driving until you're at the line of palm trees behind the warungs on stilts.
As far as we know parking here is for free. So far we haven't seen anybody with the ticket book.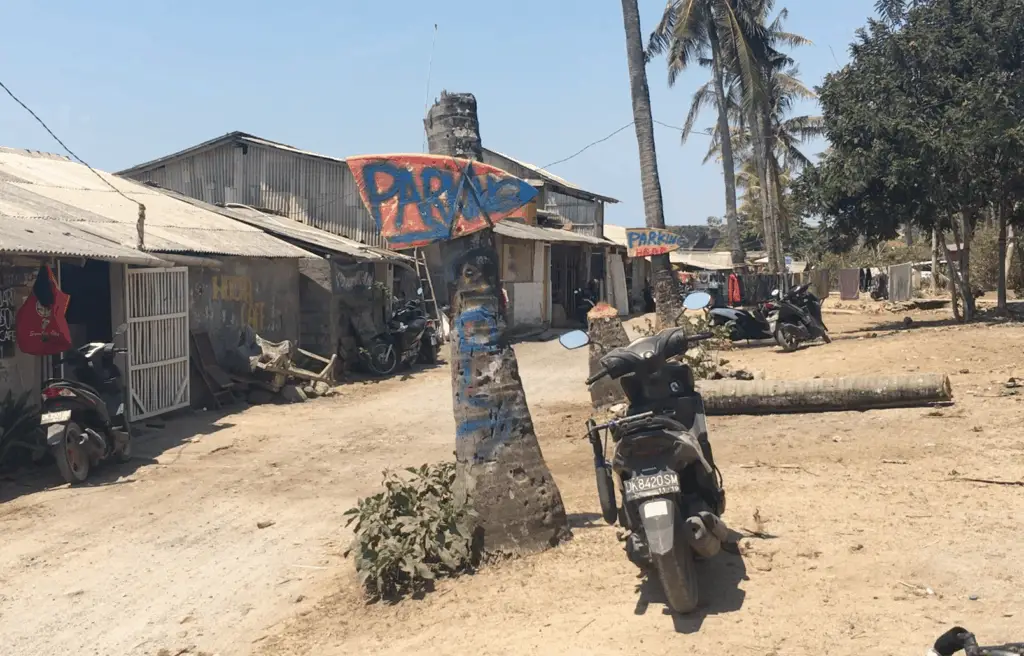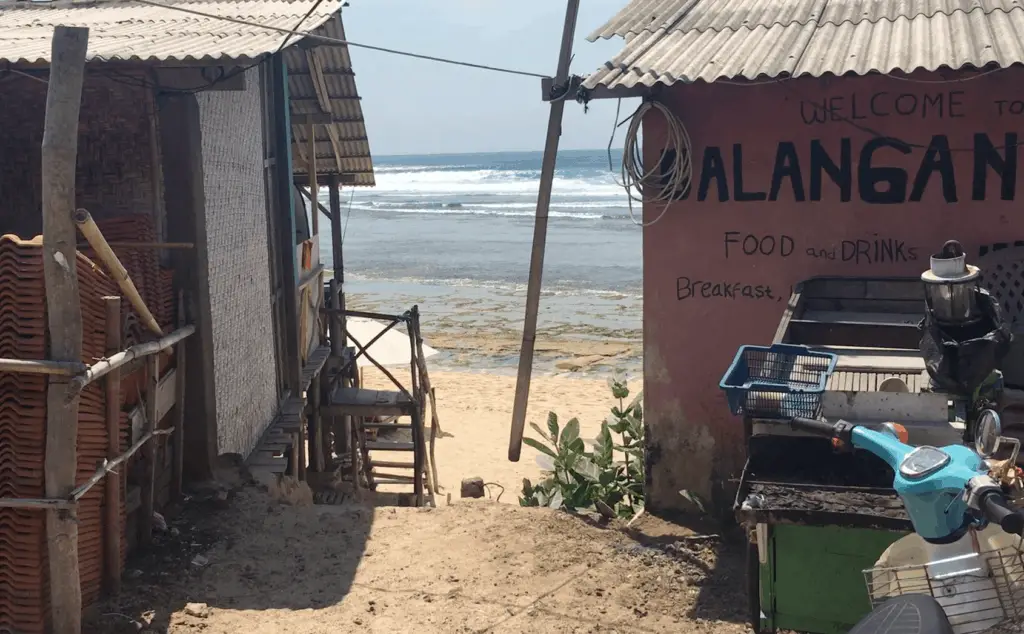 Small stairs next to the warungs will lead you to the beach. We often walk to the western side of the beach, next to the Point hotel. There are some big rocks here which provide enough shade in the morning till early afternoon.
It's a great place to put down the beach towel. There are also sun loungers which you can rent for 50.000 IDR.
Balangan Beach entrance fee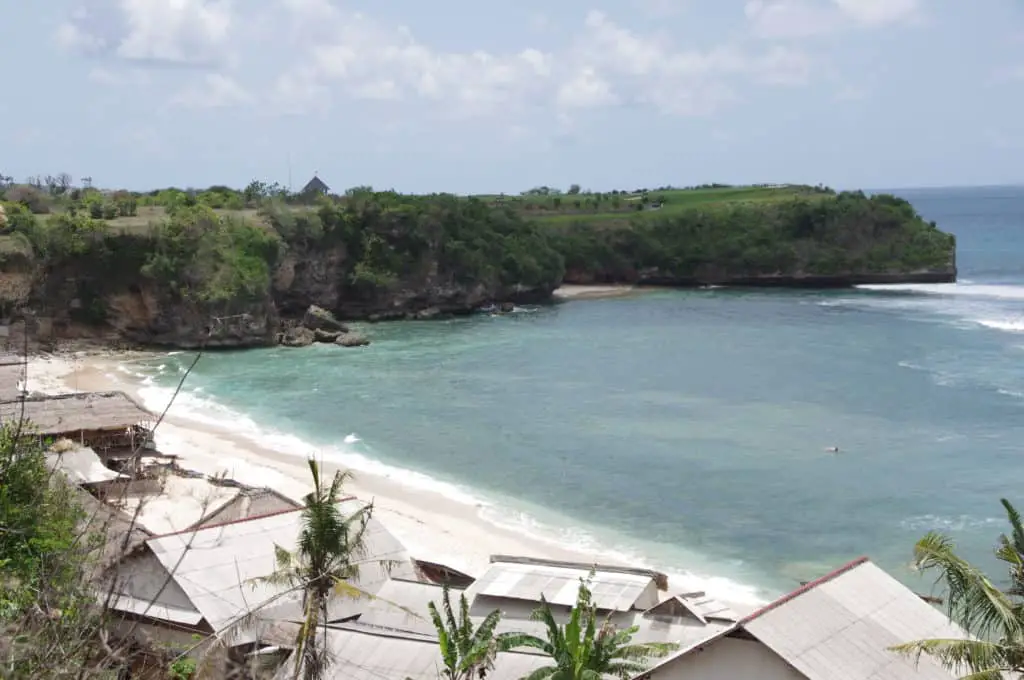 We have heard that some people had to pay IDR 5000 before being able to continue driving to the beach. Of all the times we have been there we haven't seen any ticket booth. We are not sure it is because we usually arrive in the early morning or if it was the low season. 
Either way, just make sure you have some cash on you. We would of course just pay if we had to. There are many beaches in Bali where you need to pay an entrance fee.
As for parking. We also never paid for our motorbike, despite many saying they had to. Usually, parking wouldn't be more than 4000 IDR. So don't be surprised if somebody approaches you.
Make sure he or she isn't a random passerby. Most of the time a parking guard is wearing some kind of uniform shirt (something with Balangan or Bukit on it) and has a ticket book. 
Best time to go to Balangan beach?
Surfers need to check the tidal conditions for Balangen beach to decide the best time to go. For non-surfers, we recommend going in the morning when the sun is on your back. This creates a more natural shadow on the beach.
The type of season shouldn't prevent you from not going. It is a very arid area, so even during the rainy season, there is hardly any rain.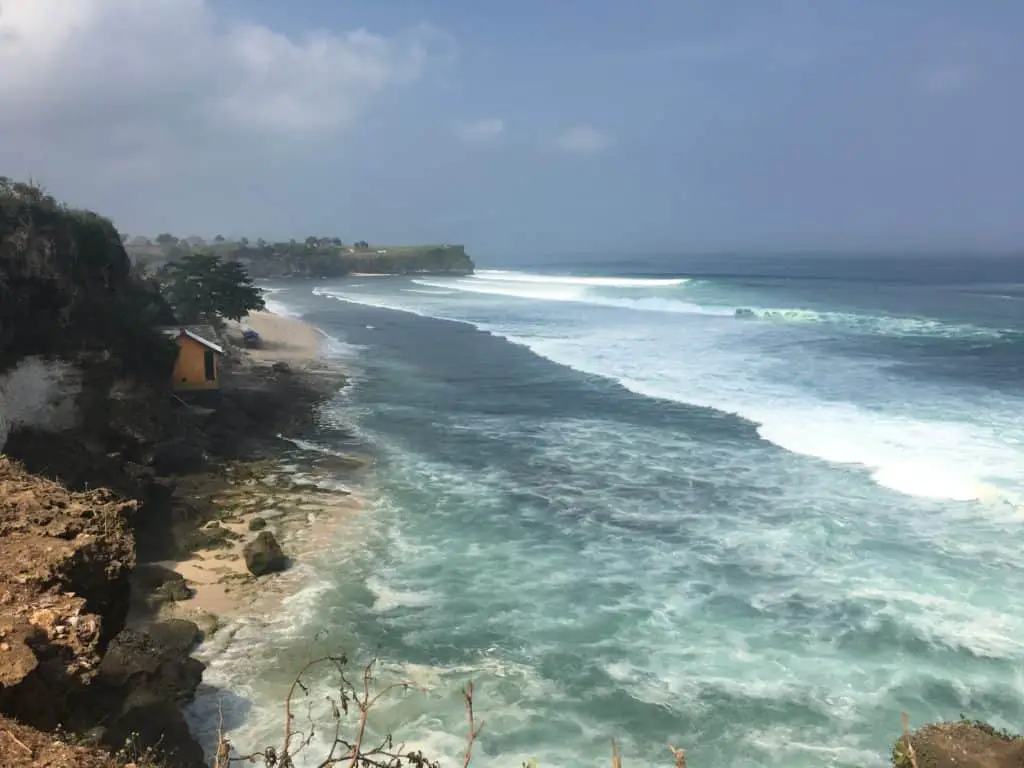 We have been to Balangan beach during the rainy and dry season. The rainy season was absolutely fine as we didn't have any during the day.  
We thought it was more important to know if it was low or high tide. Since Balangan beachfront is pretty rocky we prefer visiting at low tide. The water is crystal clear so it's easy to see some sea life. There are also many water pools during this time, making it ideal to take a refreshing dip.
Little kids will enjoy these conditions even more. A rough sea with rocks can be very challenging.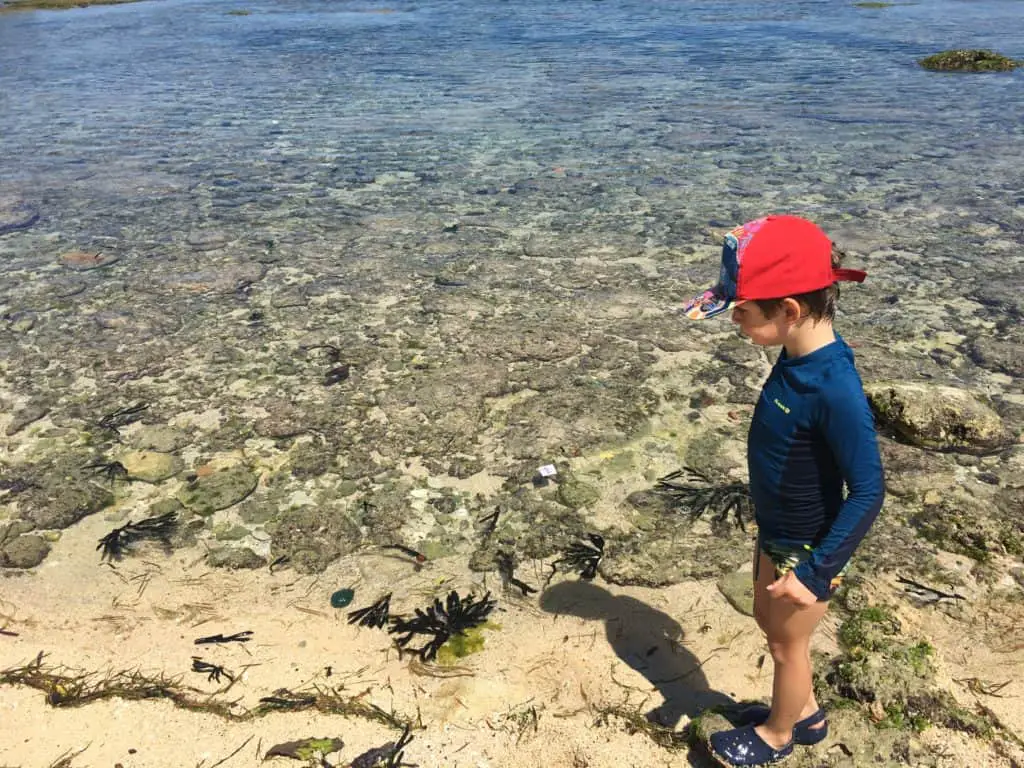 Have a look at the Tide-app (for Android)  or Tide Charts (for iPhone) to see which conditions suit you best.
Finally, just be aware that during the rainy season from November-March the entire west coast of Bali is often visited by a pile of plastic coming from the sea. It doesn't mean this is the case when you are here but you might want to consider this when planning your visit.
Can you swim at Balangan beach?
Balangan is not the place for swimming (and I mean proper breast-crawl and back crawl). It's more a place for cooling off. There are a lot of rock formations which make it hard for swimming.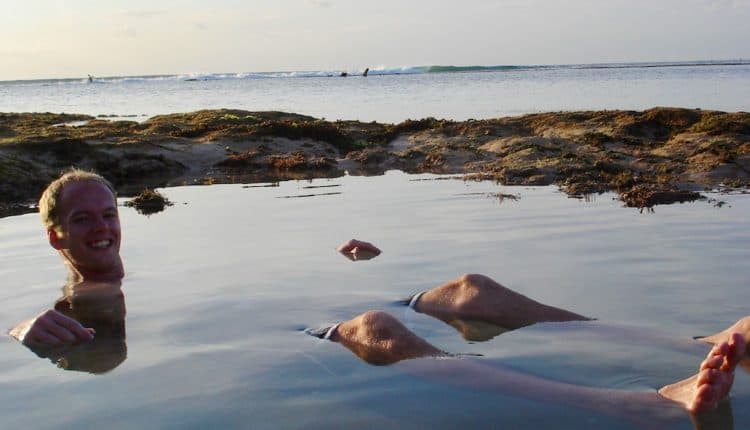 Luckily during low-tide, you'll find a lot of puddles between the rocks. Best is to wear water shoes and then jump into one of the puddles. It's great fun and something we do every time. 
What to do on Balangan beach?
If you are a surfer then Balangan beach is the right place for you. However, there are other nice things to do for non-surfers such as:
walk along the soft sanded beach
Take surfing lessons
Search for sea life at low tide
Watch surfers while enjoying a drink
Climb the cliff for a sunset view of the beach 
Morning yoga
Full-body traditional Balinese massage
Surfing at Balangan beach
On the outer left side of Balangan Beach advanced surfers can catch fantastic hollow waves coming from the left side. To get to the surf area during low tide you need some rubber footwear. There are a lot of rocks which can make nasty cuts.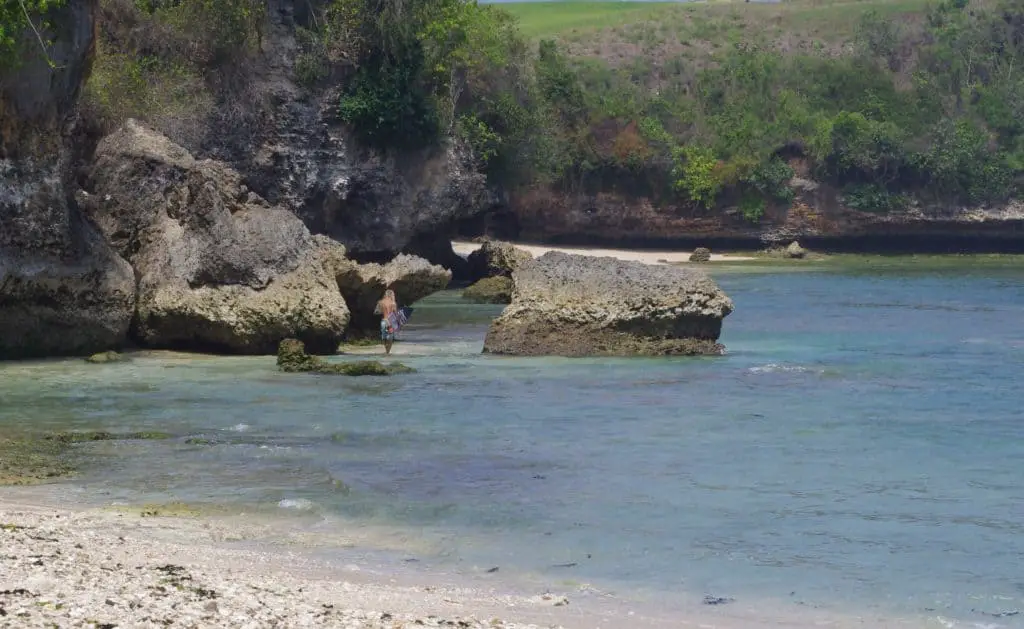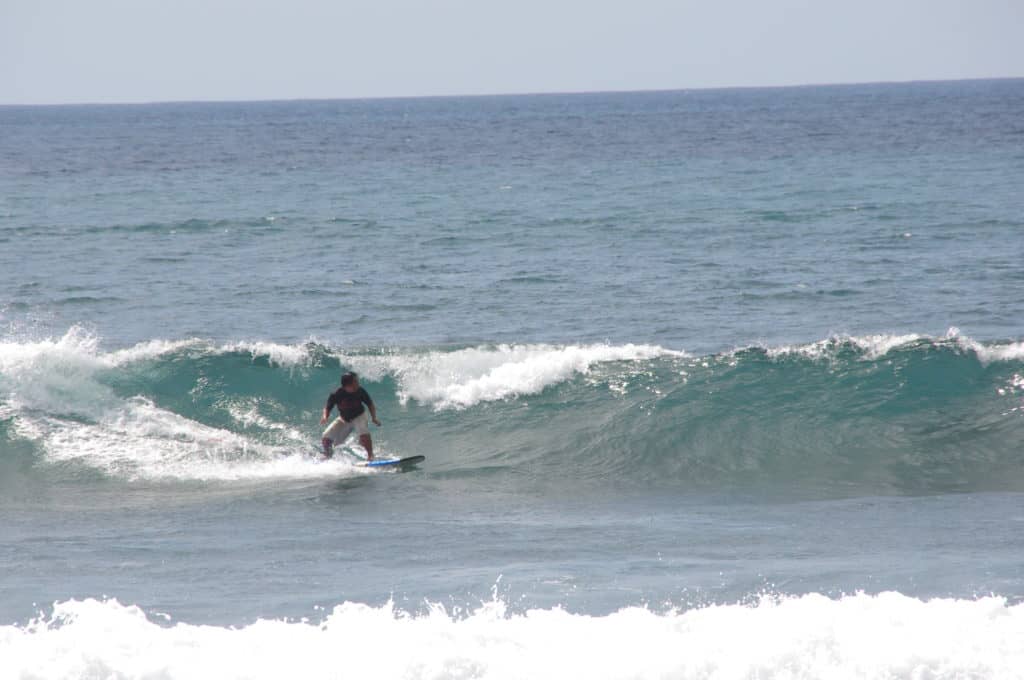 Nowadays the waves at Balangan are getting more attention. But it is not comparable to the hectic at Kuta beach at all. Other nearby surf beaches are Bingin Beach (30 min), Padang Padang beach (30 min) and Dreamland beach (15 min).
Here is a wonderful video we found of surfers at Balangan beach. Here the waves are exceptionally high.
Exploring the clear water at Balangan beach
If you are not a surfer then Balangan is still a wonderful beach to go to. The beach is clean, there are no hawkers or women offering massages here. So you can sit on the beach without any distractions.
What we particularly love about this beach is the type of sand. The grain at Balangan beach is big and the beach is soft. It makes walking a bit difficult but it feels different, in a positive way.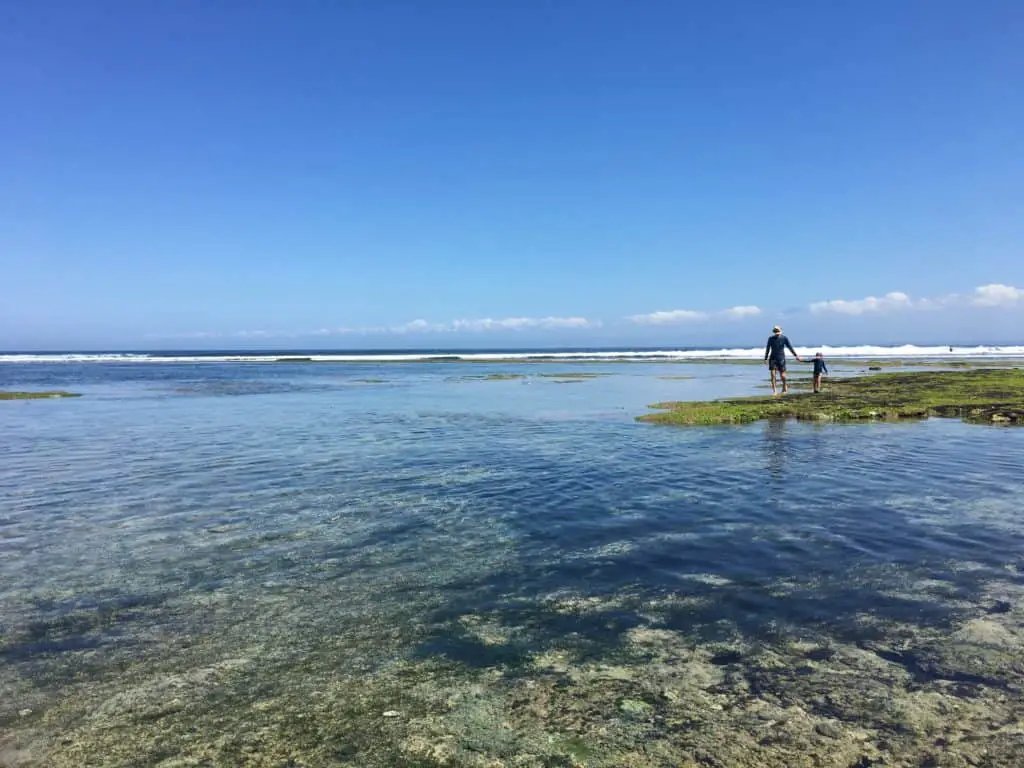 Additionally, the water near the shore is extremely clear during low-tide. You can see your feet but also seashells, hermit crabs, starfish, sea urchins, and coral fish.
We've also seen many coral snakes that are hidden inside the rocks. At low tide, you can walk for hours in the water looking for sea life.
Naturally, this is a fun thing to do with kids. For smaller kids the low tide ideal to swim and jump in the water. There are many spots of sand where there are no rocks or coral present.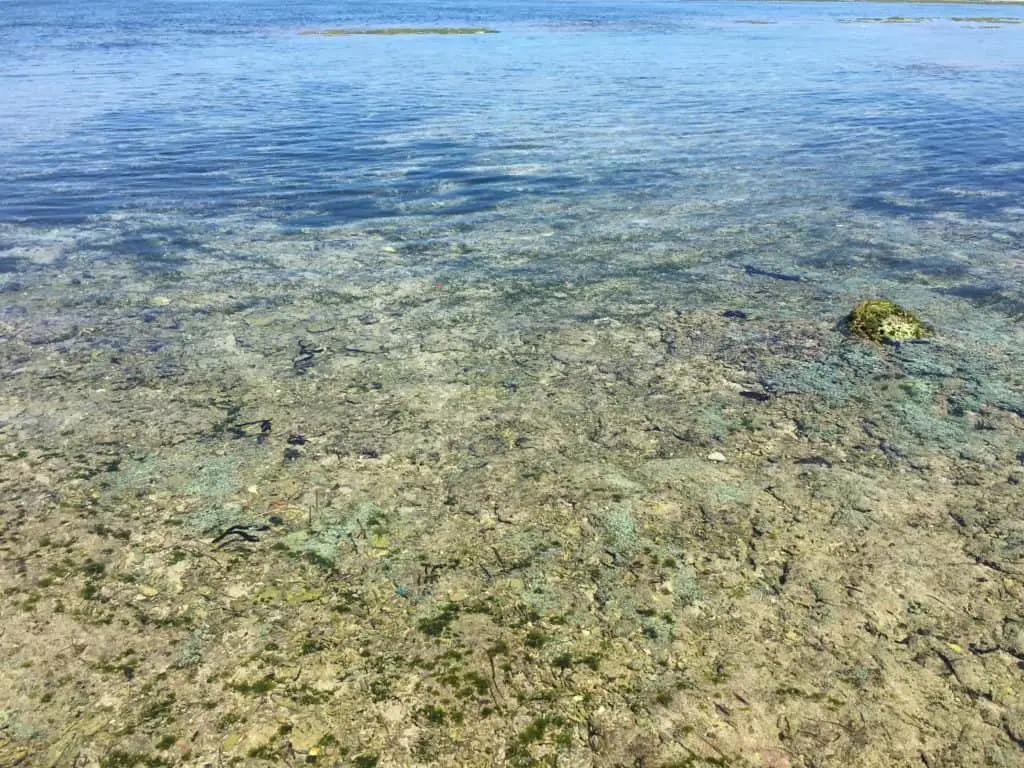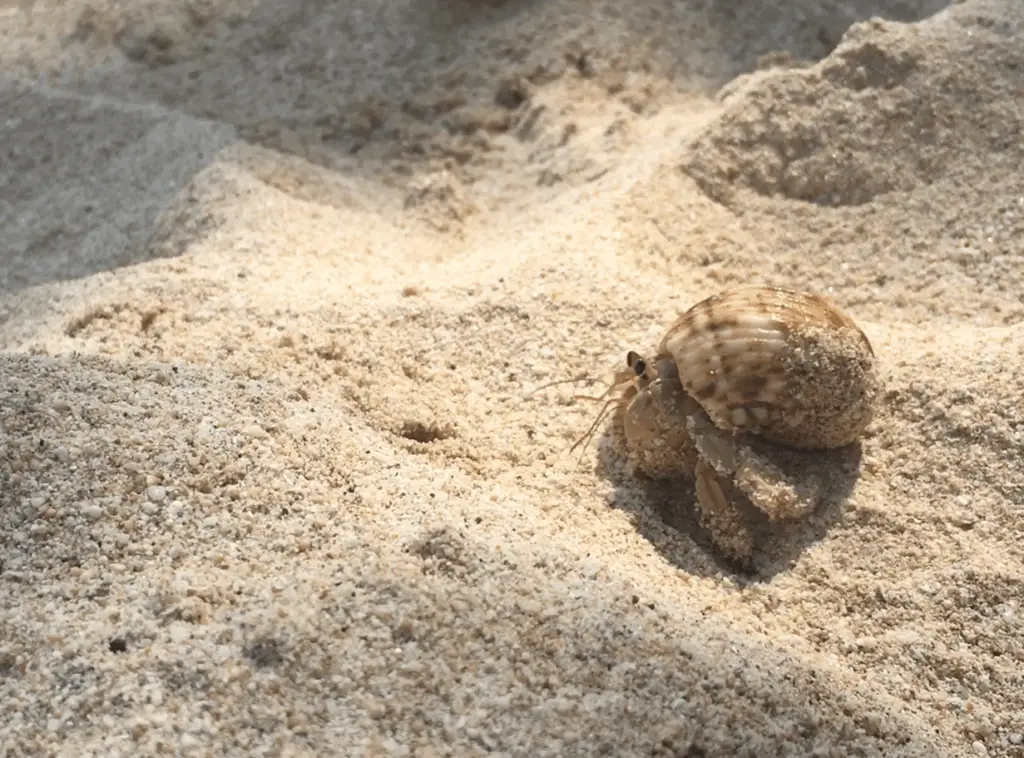 Watch Surfers tackle the waves
Nowadays there is more activity in the area and on the beach compared to our first visit in 2008. A dozen small Indonesian warung (restaurants) built on stilts have emerged on the beach.
These warungs are the perfect hang-out to watch the tide roll away. And it's a great place to see daredevil surfers inside the famous barrels.
Don't be surprised to hear a lot of shutter clicks of cameras with huge lenses. It's a popular place among professional sports photographers too.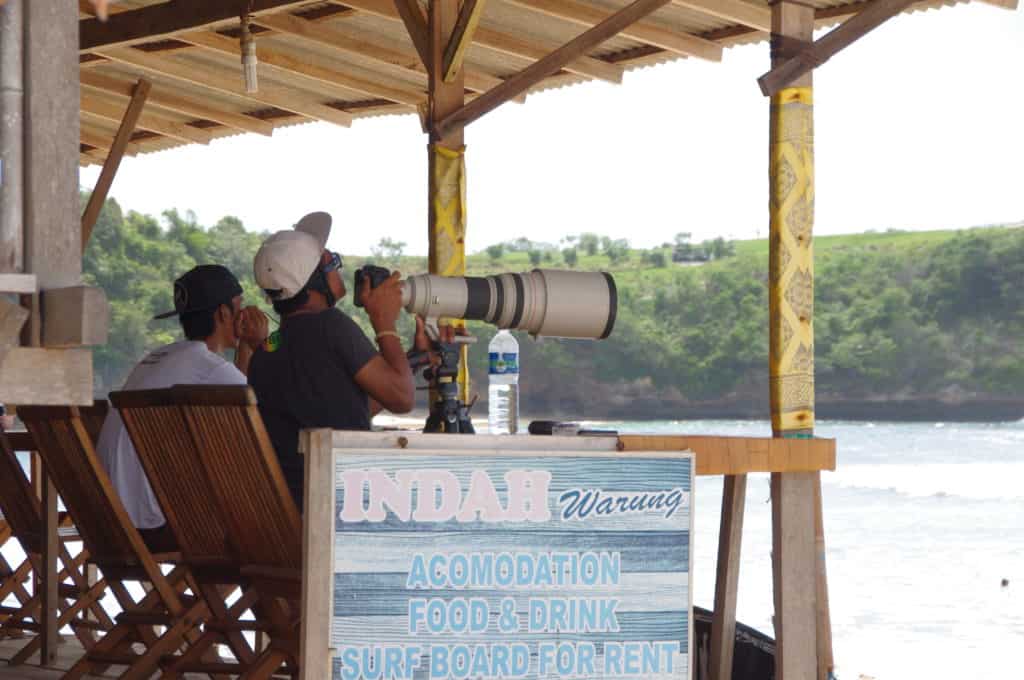 Take surfing lessons at a local surf school
Once you are at Balangan Beach and see the surfers tackle the waves you might be tempted to rent a board and jump right in. If you have no experience at all there are surf schools at Balangan Beach who can teach you everything you need to know.
The Dawn Patrol Bali has surf lessons for children, beginner, intermediate and advanced surfers. They offer private lessons but also have group sessions.
If you want the full experience you can choose one of their packages so you can stay a couple of days. Besides Balangan Beach the surf school will also take you to other nearby beaches. 
Climb the cliff for sunset at Balangan beach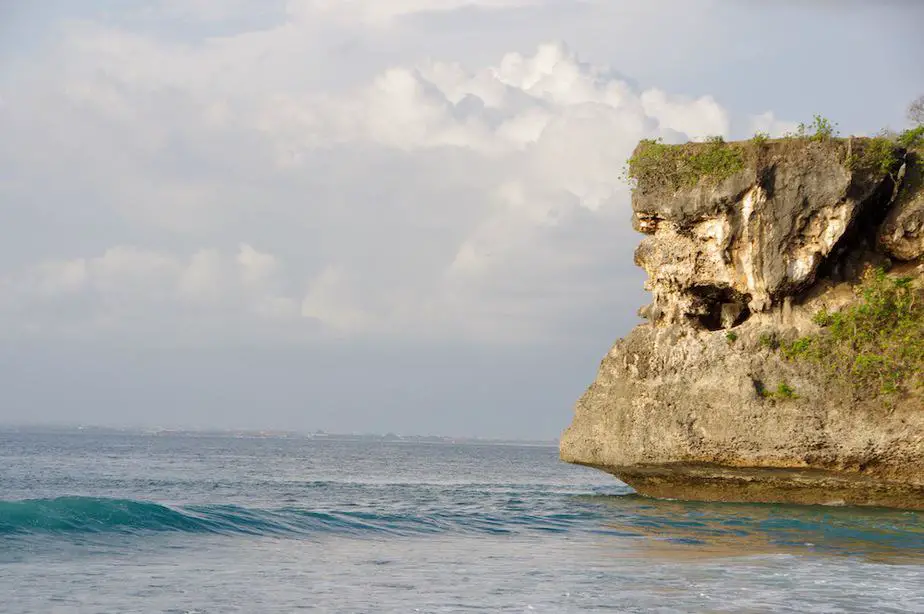 If you feel like going for a walk you can find stairs at the northern tip of the beach. They will lead you past a temple and towards the cliff which is also called Tanjung Balangan. Here you have a gorgeous view of the beach and it is a wonderful spot for watching the sunset.
This place is becoming more popular due to Instagram. But luckily so far nobody as added any thrills and frills yet. You can fully enjoy this place as it is. 
For those scared of heights might want to think twice before heading there. The edges are not fenced giving me that quizy feeling everytime I look down.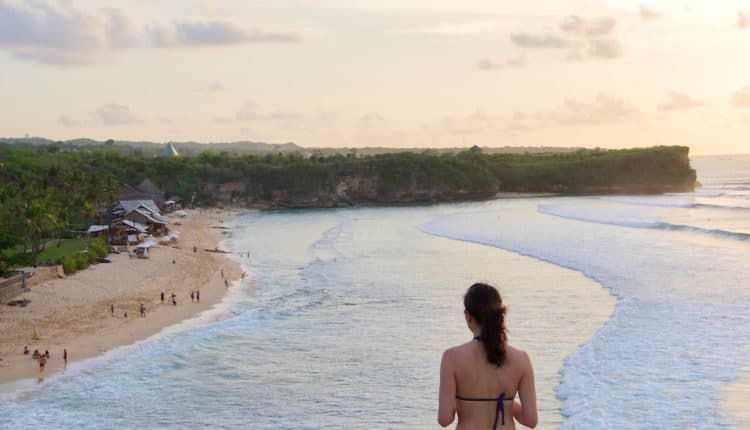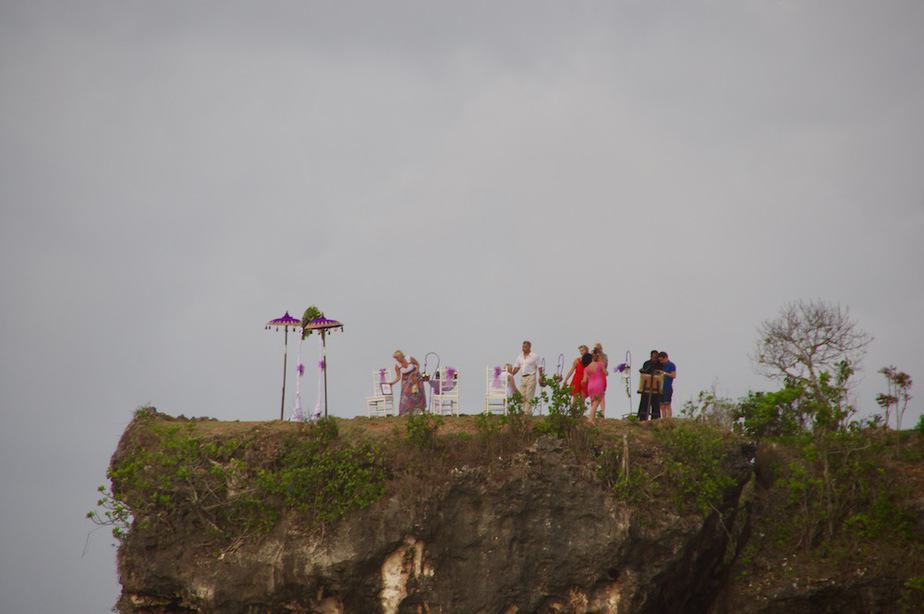 This is a popular spot for newlyweds too. So you might need to make way for a photoshoot of the happy couple. Like many places in Bali, the sunset attracts a crowd. 
If you happen to be there before sunset, the view of the beach and beyond is just as stunning. So the climb or detour by motorbike is definitely worth it. 
Morning- or afternoon yoga
Balangan Yoga and Love organize 90-minute donation-based lessons starting with meditation followed by stretching and asanas. There are morning sessions at 7.30 am at hotel Biu Biu and one session at 9.00 am at hotel La Joia. 
In the afternoon there's yoga at 5.00 pm at the cliff in front of hotel La Joia. Balangan Beach is a perfect place to control your thoughts and to enhance your energy. 
At Sundays they also have AcroYoga to put an extra smile on your face.
You can contact the teacher at +62 831-2995-5697
Get a Balinese massage at one of the resorts
There are a couple of spa salons in Balangan Beach. There's the Pearls Spa at La Joya( +62 811-3990-048) and Coco Wellness at the White Palm Hotel Bali (+62 811-3979-269). They often offer a traditional Balinese massage, acupressure, reflexology, aromatherapy, deep tissue massage, hot stone and there's even a kids massage. Best is to make reservations to avoid disappointment.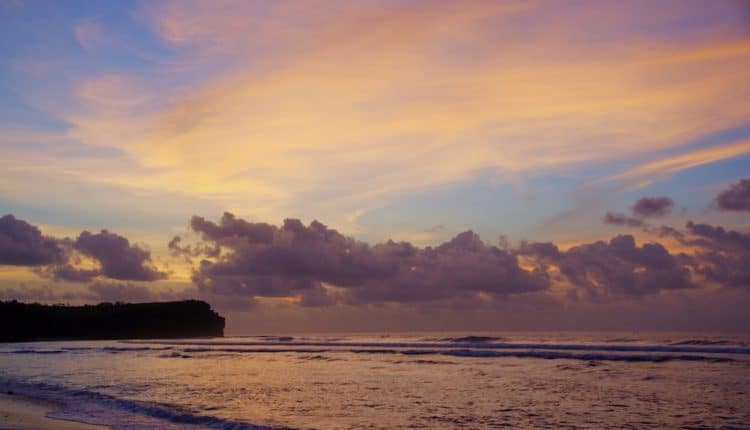 Are there any shops in Balangan?
If you love to shop then Balangan beach doesn't offer much. There are no shops in this area, except for the Nirmala Balangan Supermarket.
It's on Jalan Pantai Balangan before you enter the hotel area followed by the beach. It isn't hard to miss. The supermarket also sells shirts, hats, and shorts, batteries, and sunscreen.
You can also find a couple of cash machines at the Nirmala Balangan Supermarket. They have the BNI bank and CIMB Niaga bank. This last one we use most of the time since you can withdraw more in one go.
We noticed that there is a lot of construction going on along this main road to the beach. Some seem to be too small for any type of accommodation. So we are not surprised when there are little shops coming to this part of the island too.
Things to do around Balangan beach
If you are staying in the Balangan area then you are in luck. It is located in an area known for its stunning cliff and surf beaches. You can easily visit two in a day.
Rent a motorbike and start touring the Southern tip of Bali. Be aware that once the sun is set the smaller roads can be very dark. So you do need to be comfortable driving the motorbike.
The things we recommend visiting are:
Uluwatu Temple (optional: kecak dance)
Uluwatu beach (also known as Suluban beach)
Bingin Beach
Dreamland Beach
Padang Padang Beach
Nyang Nyang Beach (optional: parasailing)
Tara Green Hydroponic Farm & Cafe
Visit Uluwatu temple (Pura Luhur Uluwatu)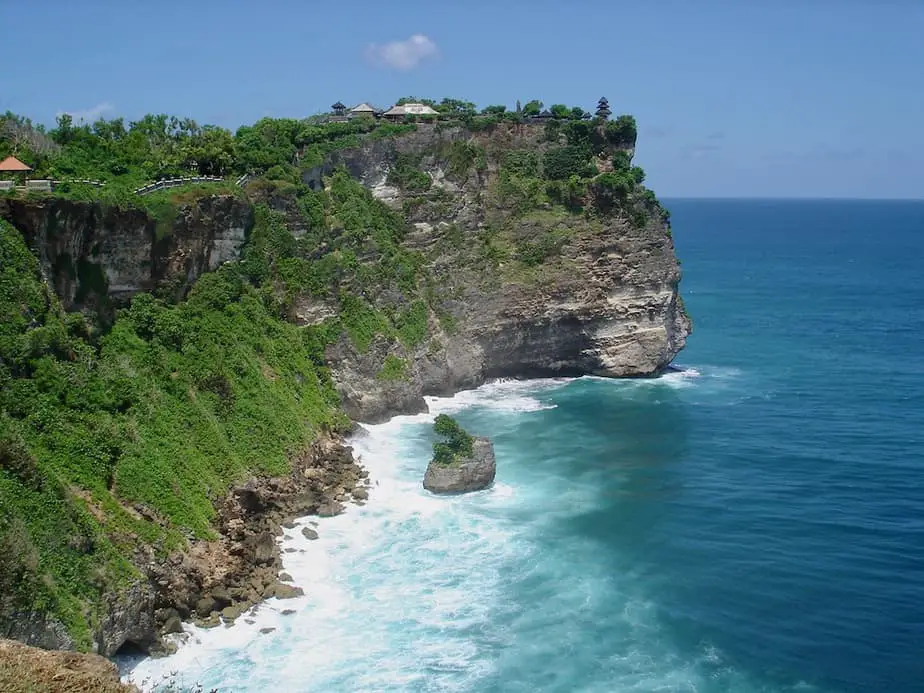 One of Bali's most important sea and directional Hindu temples perched on the cliffs at Uluwatu. The temple sits on a 70-meter high cliff overlooking the Indian Ocean.
It is said that the temple was founded in the 11th century by the Javanese priest Mpu Kuturan. The shrines were added by the priest Nirartha in the 16th century and the multi-tiered pagoda is dedicated to him,
The entrance fee to the temple is 30.000 Rph for adults and 15.000 Rph for children and includes sarong and sash.
Like any other temple in Bali you can visit but can't access the sacred inner courtyard. The opening hours are from 8 am to 6 pm.
This is also the place where you can get tickets to the Kecak Fire Dance starting at 6 pm. Tickets cost 100.000 Rph. Be careful of the macaque monkeys on the premises. They are considered sacred but also like to steal your belongs.
Uluwatu beach/Suluban beach
This is home to the world-renowned waves of Uluwatu where intermediate and advanced surfers catch the best waves. The waves are called Temples, Bombi, The Peak, Outside Corner, and Racetrack.
Once you get to Uluwatu you have to park the motor bike or car near the steps and pay a couple of thousand rupiah to the parking guard.
To get to all the action you have to descend numerous steps and walk through the maze of ding-repair shops, hostels, shops and restaurants before you can set foot on the tiny beach.
From most of the restaurants, you'll have gorgeous views of the waves. So even for non-surfers, this is a great spot.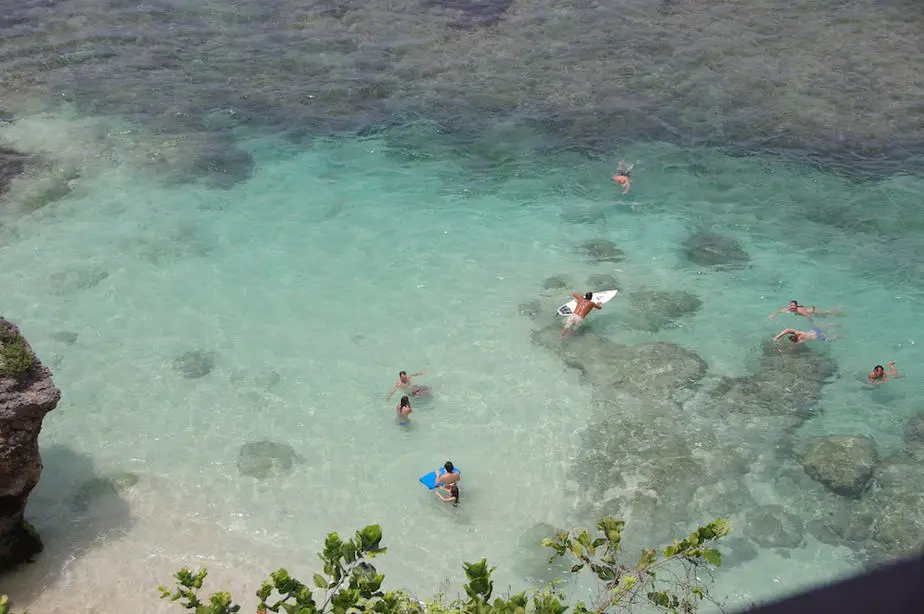 Bingin beach
Bingin Beach is a typical cliff beach that is mainly catered to surfers. Once you arrive at the parking lot it takes another 10 minutes through the bushes and what feels like somebody's backyard. Then you have to descend numerous steps as well.
There are plenty of restaurants and budget accommodation options. We always enjoy just sitting in one of the restaurants so we can enjoy the view.
The beach is only really visible during low-tide and you can walk here a little bit. Most of all Bingin Beach is a very relaxed place and not something you would expect. Some even call it the 'Ibiza of Bali'.
Dreamland beach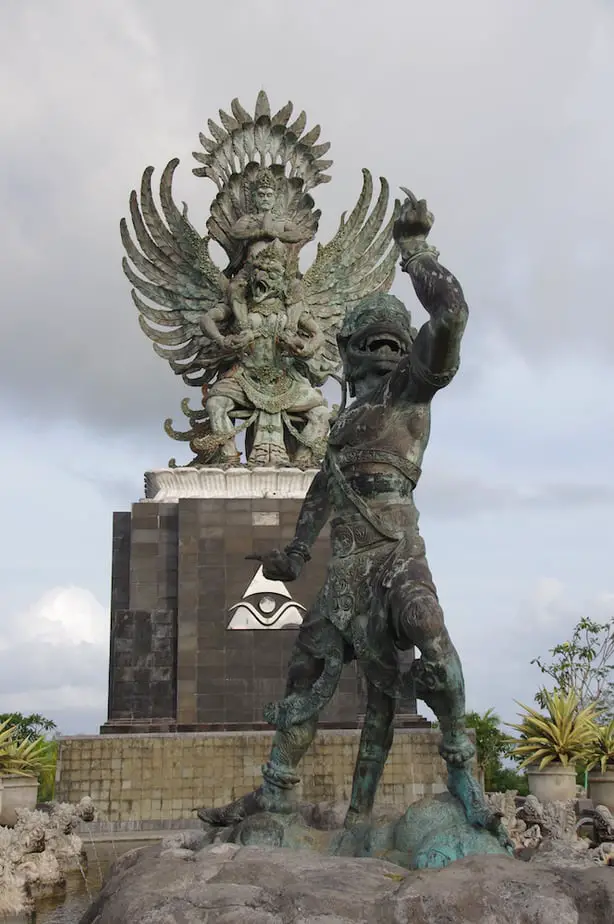 This beach is also known as New Kuta Beach and is just around the corner of Balangan Beach. Once you drive through the gates of Pecatu Graha you wonder if you are going the right way with the golf course, blocks of apartments, and hotels. 
Before you can get to the beach you have to park the car or motorbike and pay the parking guard. Then it's another 5-minutes by foot before you arrive near a couple of shops, restaurants and the beach.
The beach can get busy during the weekends so get here early. It's not recommended for swimming due to the strong currents but still a great place for renting a sun lounger or for catching some waves.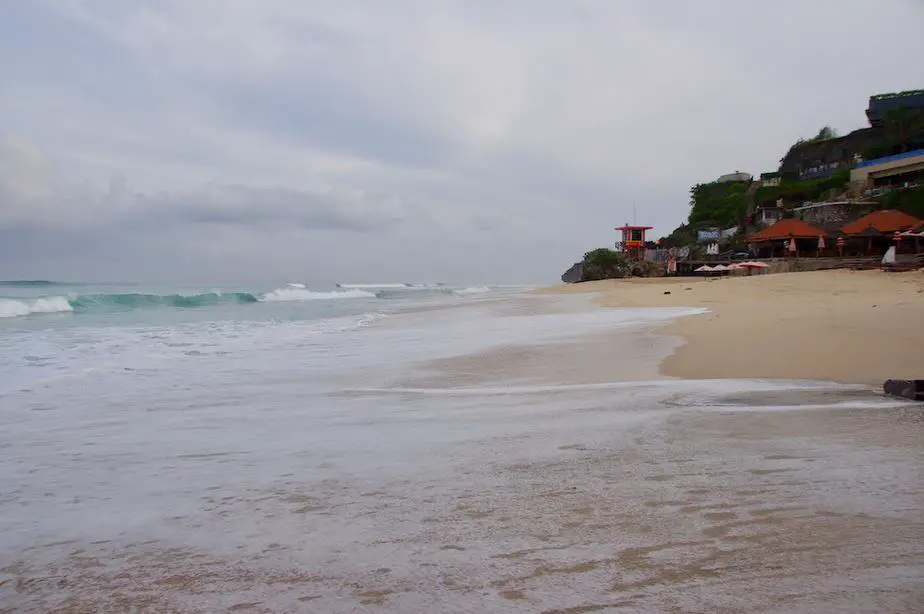 Padang Padang Beach
This beach has become a magnet for tourists because it was featured in the Eat, Pray, Love movie with Julia Roberts and Javier Bardem. That's also the reason why you have to pay an entrance fee of 10.000 Rph.
The beach is very small and it's best to get here as early as possible before the tour busses arrive. It's great for surfing and there's a good vibe.
You can also swim here a bit but use water shoes because of the rocks. Watch out for the macaque monkeys in the back of the beach.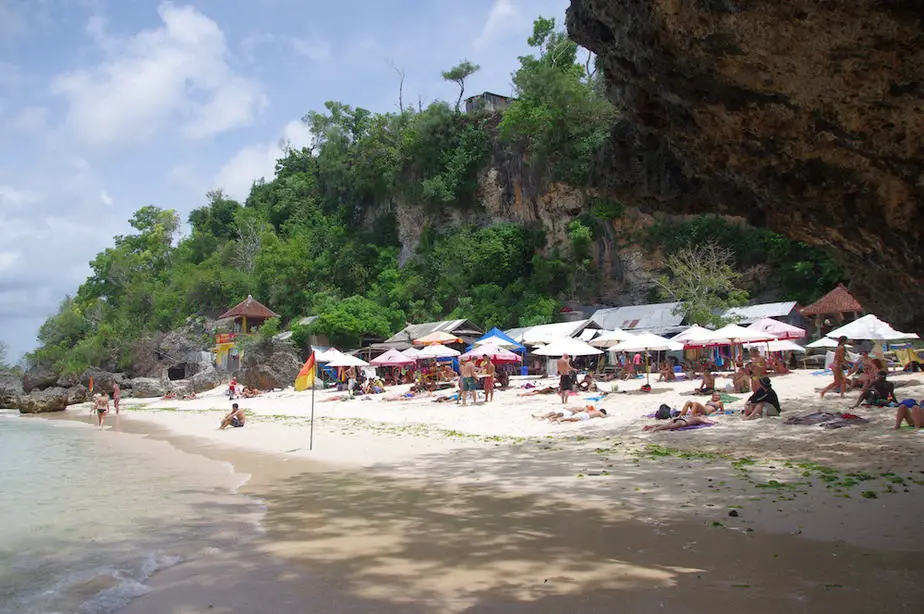 Nyang Nyang Beach
This is the most secluded beach in the south of Bali because it's so hard to get there. You have to descend the cliff all the way to the beach and not that many people have the vigor to do so.
Once you're there you have the entire beach pretty much to yourself. If you're into surfing bring your board because there are excellent waves.
If you decide to spend the day bring food and drinks because even the Balinese find it too hard to descend all the way.
To find Nyang Nyang Beach just follow the road to Pecatu. It's only a couple of kilometers west of the Pura Luhur Uluwatu. Keep an eye on the Nyang Nyang Beach sign, it's located next to a villa.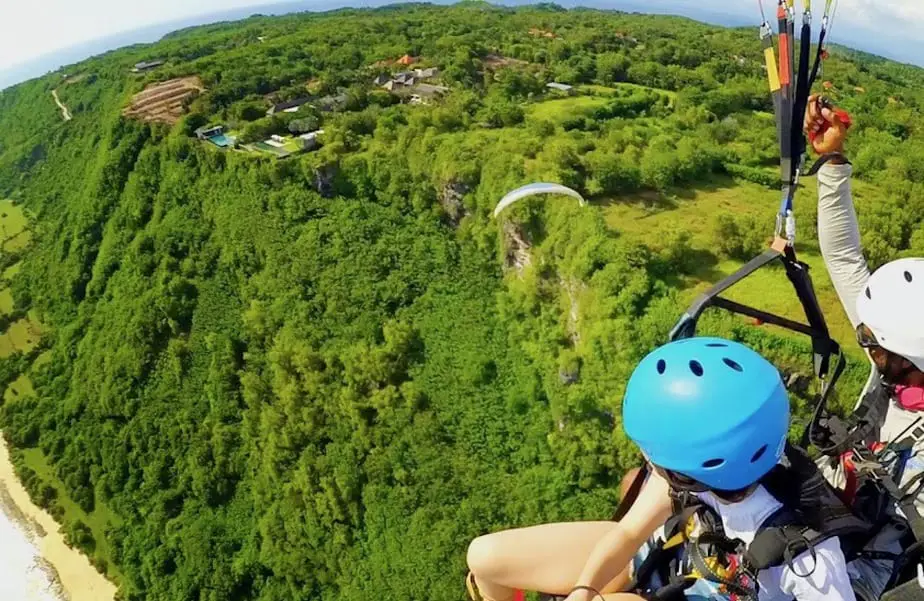 At Nyang Nyang Beach you can join the paragliding and paramotor school called Nyang Nyang Paragliding. The minimum weight limit to join is 45 kg and the maximum is 110 kg. Flights often leave in the afternoon when the winds from the ocean pick up.
The crew will prepare the flight for you in detail and total flight time is around 10 minutes together with your English speaking pilot.
From high up you have stunning views of the beach, the cliffs, villas and famous surf waves.
They will provide a GoPro during the flight so bring your phone in order to transfer the files after the flight.
Tara Green Hydroponic Farm & Cafe
This place is something special. Here they have their own hydroponic farm where you can pick your own vegetables and eat at their side cafe. They serve only vegetarian and vegan dishes from the farm. They also have fresh fruit/vegetable juices and coffees.
The cool thing about this place is the Balinese/Tibetian architecture with the sounds of nature in the background. A welcoming place after the hustle and bustle on the main roads into the Bukit.
You can find this place on Jl. Belimbing Sari III No.3 in Pecatu. It's always a good idea to call ahead on +62 877-1064-1047.
Is there a doctor in Balangan?
There is no doctor at Balangan beach. Luckily there is the Ani Klinik located a 10-minute drive from the beach on Jalan Balangan no 142.
They should be able to take care of the minor things but if there's anything serious it's better to leave the island. Best is to consult with your doctor and travel insurance back home when this happens.
Places to Eat at Balangan Beach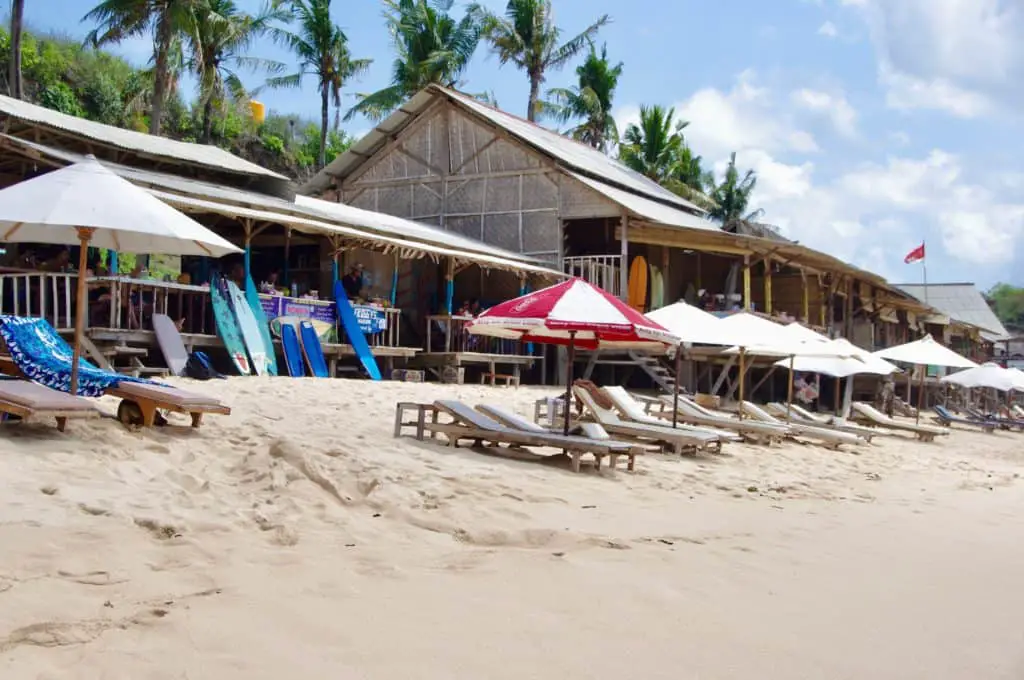 Along the beach, you can find many small restaurants (warung) built from bamboo and wood. The perfect place to have something to eat.
These warungs have names such as the Sunset Cafe Surf Rental, the Balangan Cafe, Hendra Cafe, Rizky Cafe, The Tees Cafe, Maria's Cafe and the Froggy Cafe. If you're not sure which restaurant to go to don't worry.
We discovered they pretty much have the same menu. Once we ordered food in one restaurant we saw the lady going to the kitchen next door.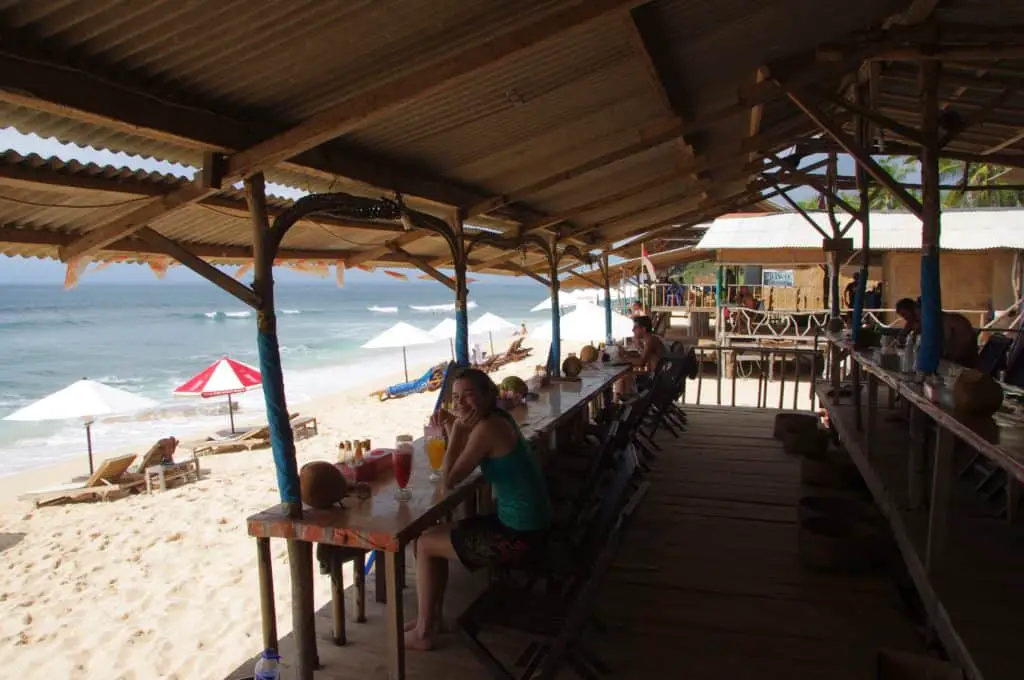 It's not a punishment to wait for your food here. Most seats in these restaurants have a first-class ocean view. We can sit at the verandah and order drink after drink and still don't get bored.
The food served is simple and good. Famous dishes such as Nasi Goreng or Mie Goreng are always on the menu and they can't go wrong while you sip a coconut or a Bintang beer.
If you want to have something different then you should check out the nearby accommodations. Their restaurants sometimes offer more variety. In the evenings this a nice option.
Where to stay at Balangan beach?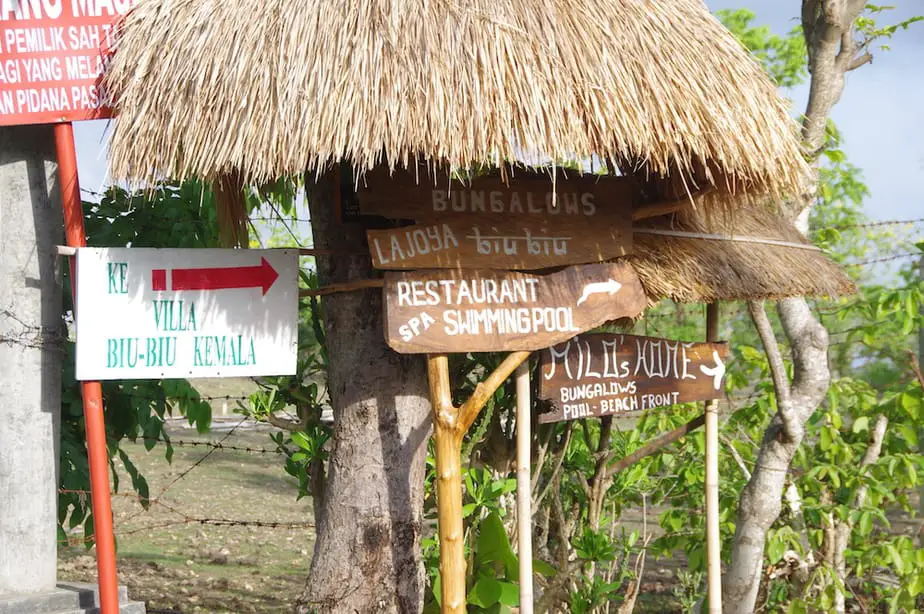 There are a lot places to stay within walking distance from Balangan beach. We particularly enjoy staying here because you can easily walk up to the beach in the early mornings where you can be the only one.
Over the years more accommodations have been built along the road from the Nirmala Supermarket Ungasan at Jalan Uluwatu to Balangan Beach.
This  4.2 mile road winds through tiny villages and it can take up to 15 minutes by motorbike to get to the beach. If that's not a problem for you then it is fine. But make sure you double-check to avoid being disappointed. 
Some nice budget and mid-range resorts at Balangan that are just walking distance to the beach are: 
The Point Beach Front Balangan (budget)
This place is located right on the beach and has standard and deluxe rooms. Try to book the latter because they have a sea view. There's a small swimming pool, a beachfront restaurant on-site and there are sun loungers on the beach. Make sure that the taxi just keeps on driving until they reach the first warung on stilts. Otherwise, you have to walk for at least another 100m down-hill with your luggage. The best is to give them a call when you arrive.
Milo's home (budget)
This small-scale accommodation is located on the right side of Tandjung Balangan 20 meters from the beach and has 9 bamboo bungalows. There's a restaurant on the side and a small swimming pool. If you want bigger swimming pools you can go next door to La Joya Biu Biu. The view from the restaurant on the ocean is amazing.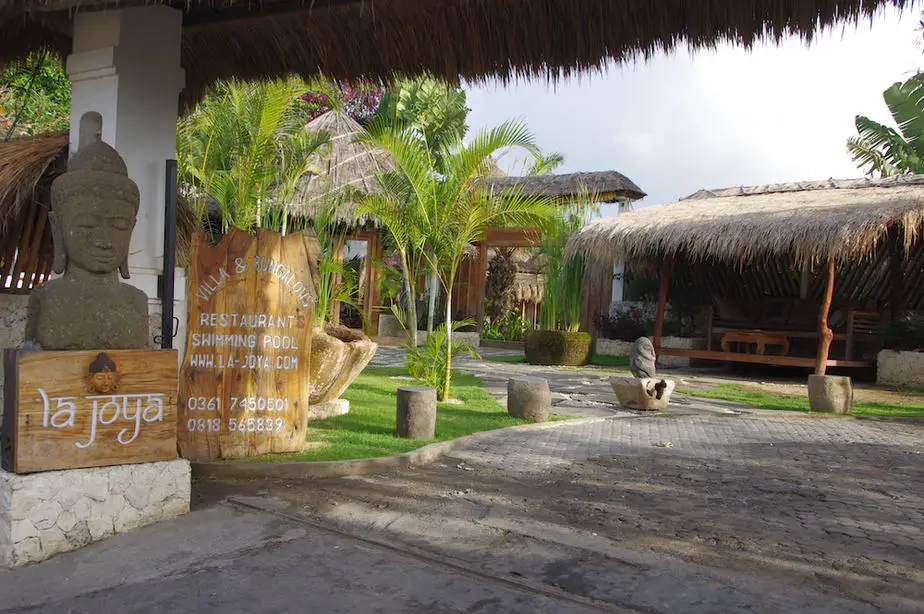 La Joya Villa & Bungalows (budget)
Within walking distance to the beach you'll find these thatched bungalows with standard and deluxe choices. Try to book those bungalows which are far from the main road because of the motor bike noises in the evening and early morning.
There's also a 180sqm villa for 10 people, also ideal for weddings. The property has two swimming pools and movie nights on Saturdays. This is also the place where Balangan Yoga and Love organizes a session at 9 am.
La Cabane (budget)
This cuite place has 5 bungalows with outdoor bathrooms with view on the mango trees. Their communal pool is small but has gorgeous Seaview. They also a 3-bedroom villa set in a tropical garden and private swimming pool.
This is a great place to unwind. You can get to the beach while walking through the neighboring Biu Biu resort.
Casa de Balangan (mid-range)
This villa has three bedrooms and 3 bathrooms  (with tubs), a huge kitchen, a living room, and a swimming pool. It's also within 10-minutes from the beach. It's an ideal place to stay with family or friends. From the upper floor, you'll have a great view of the famous sunsets.
White Palm Hotel Bali (mid-range)
This quiet boutique hotel has 8 tasteful designed bungalows and a salt-water pool which is a huge plus for us. It's only 5 minutes to the beach.
Their Spanish chef ties to us organic and local products as much as possible. The price is the same as back home in Europe but this kind of quality is hard to find in Bali.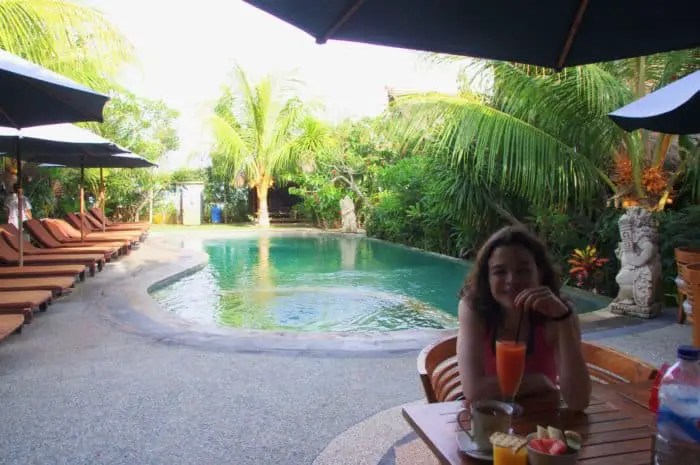 Other budget accommodation in Balangan we recommend are:
Balangan Paradise Hostel
This is one of the cheapest places in town and 50 meters from the beach where they have their restaurant. If you have problems descending or climbing stairs to their restaurants it's better to walk to the neighbors and eat there.
The rooms are clean and spacious but they only have cold showers. This might shock some travelers but cold in Bali is still luke warm to us and it's better for the environment anyway.
Flower Bud Bungalow Balangan
This lovely place has 22 bungalows in the tropical garden and there's a swimming pool. There are only three bungalows with AC the rest has fans so if this is what you really need book way ahead.
The bungalows have outdoor toilets and showers, cold showers only. Walking to the beach is only 5 minutes max. The food on-site at their restaurant is very good.
Why stay at Balangan beach and not at the other nearby beaches?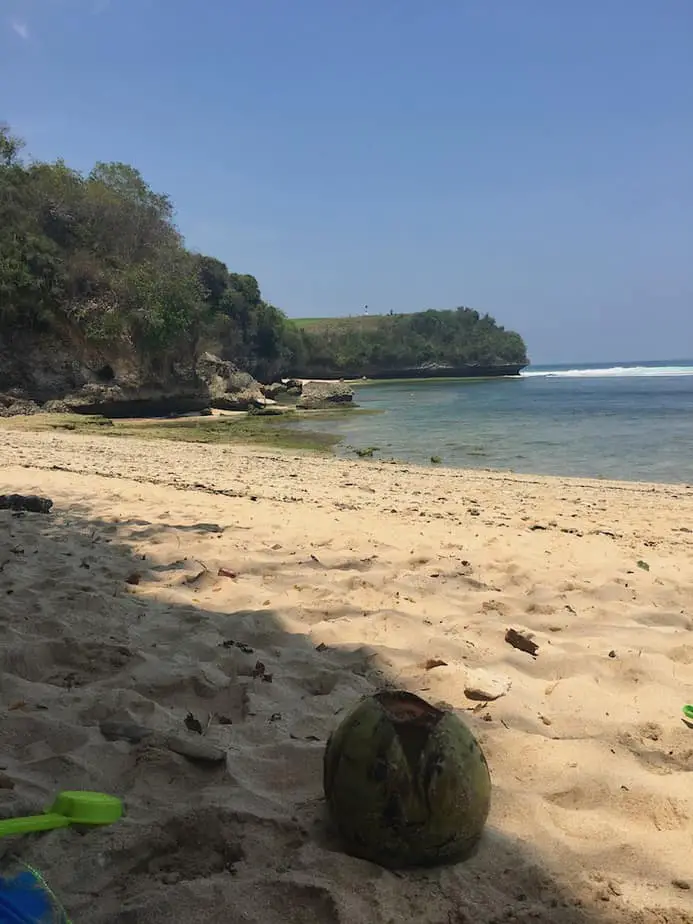 The beaches at the Southern tip of Bali all have their own character and are worth visiting. If not, spend a couple of days to fully appreciate it.
If you find it difficult to choose between these beaches then we highly recommend staying a couple of days at Balangan beach.
Its laid-back character with the diversity of visitors makes this beach very welcoming. Life is still pretty simple and the influence of bigger companies is still non-existent.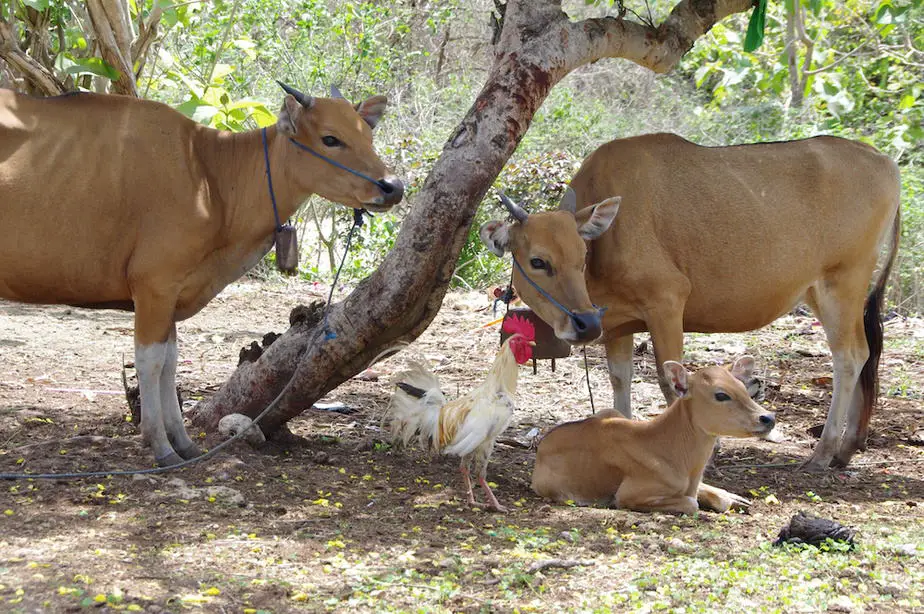 Balangan Beach or Padang Padang beach – Unlike Balangan beach, the local life of Padang Padang beach has made way for a bigger crowd. Along the main, you can find all kinds of shops selling international brands.
Additionally, the beach is much smaller than Balangan making it feel crowded very fast.
Balangan Beach or Dreamland beach – Dreamland beach is also known as the New Kuta Beach and that is basically what it is. The area is full of big resorts and concrete buildings.
It is the opposite compared to Balangan beach where wooden warungs dominate the beach. Nevertheless, Dreamland beach is pretty and worth a short visit.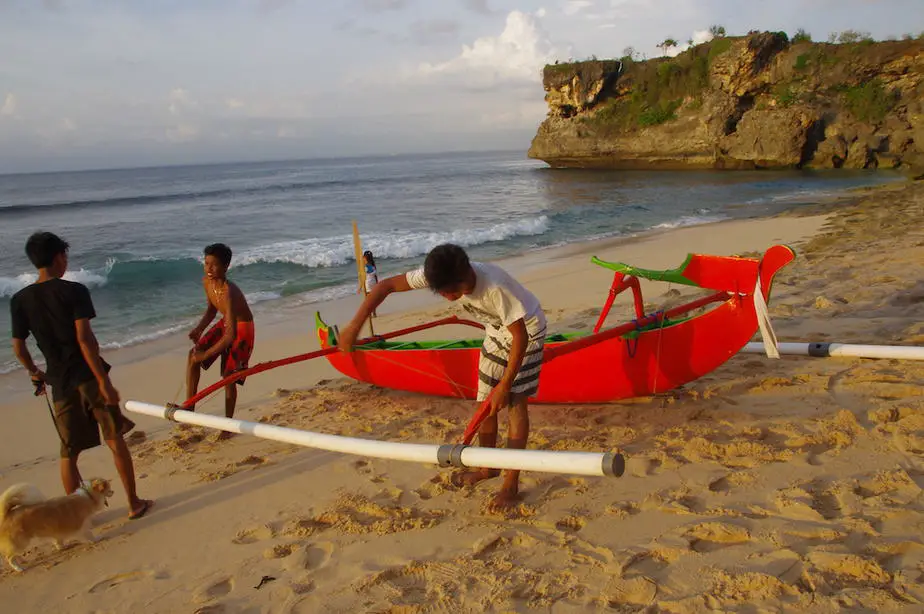 Balangan Beach or Bingin beach – Bingin beach has a wonderful vibe and is the place to be to meet up with people, enjoy food and drinks, and a bit of nightlife. Perfect for couples, solo travelers, and surfers. If you are looking for a long stretch of beach then Balangan beach is a better choice.
Balangan Beach or Uluwatu beach – Uluwatu is the surfer's destination of Bali, so if you are not into surfing you might feel out of place. That said, it is still enjoyable for anybody who is searching for a relaxed vibe.
However as mentioned earlier, Balangan Beach might have more to offer for non-surfers so you will enjoy a longer stay at this beach much more compared to Uluwatu beach.