Even though there are no eco-hotels in this little coconut village staying at the Alam Asmara in Candidasa is a great choice if you are looking for an intimate resort. We shamelessly admit that when we arrived we didn't leave the premises until the next day!
A real exception for us since we always plan our days full of activities.
But once at the Asmara, we just canceled everything we planned to do and let the day pass by without doing anything but enjoying the gorgeous view of the ocean.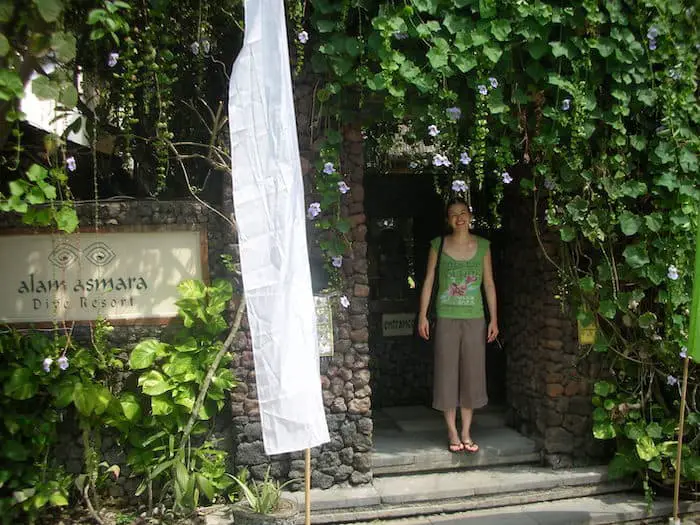 Upon arrival at this small hotel, we were immediately greeted by the friendly staff. They showed us our room, gave us a voucher for 15 minutes of complimentary spa treatment at their own spa and invited us to the Rendez-Vous restaurant for a tropical welcome-drink.
The Rendez-Vous restaurant is part of the resort but there's a separate entrance for outside-guests as well. It's perfectly located right at the ocean, providing a wonderful view of the bay of Amuk.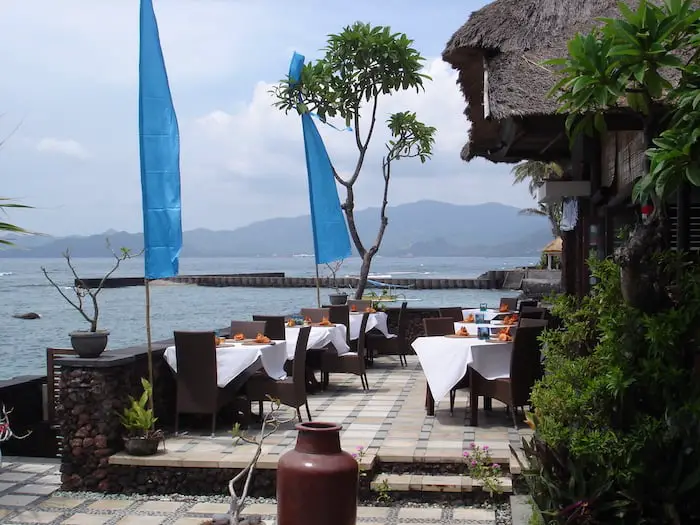 Rendez Vouz Restaurant
The Rendez-Vous serves Asian Cuisine and even though their menu is not extensive, the dishes are varied so I'm sure there is always something you would like. Since Candidasa is right at sea, I highly recommend going for a fish-dish.
The restaurant also has a whole list of different kinds of fruit juice-cocktails and smoothies. Always colorfully served with tropical decorations and just as delicious…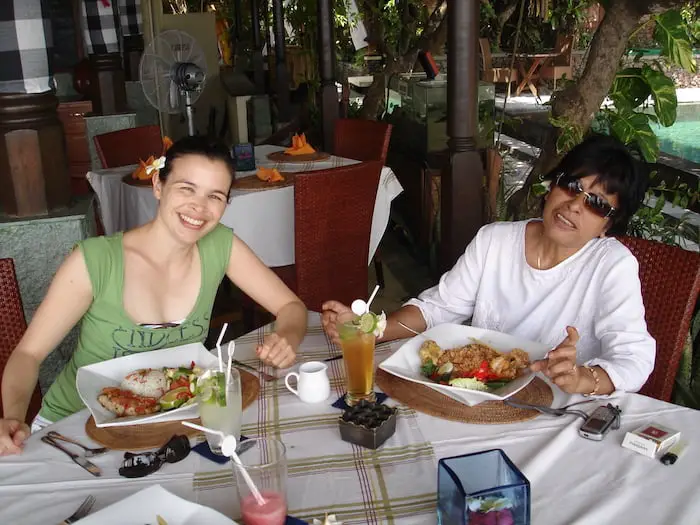 The Bungalows 
The 12 Deluxe Bungalows are set along a wooden path that is located above a big fish pond and is surrounded by tropical plants.
All the bungalows have their own terrace where the resort provides complimentary tea, coffee, and water daily. It's also possible to receive wireless internet from your own terrace. The reception will provide you with the password and before you know it you are surfing the net.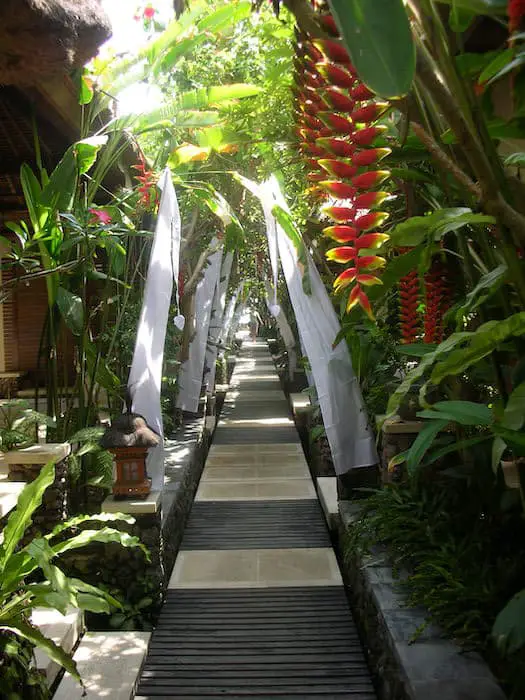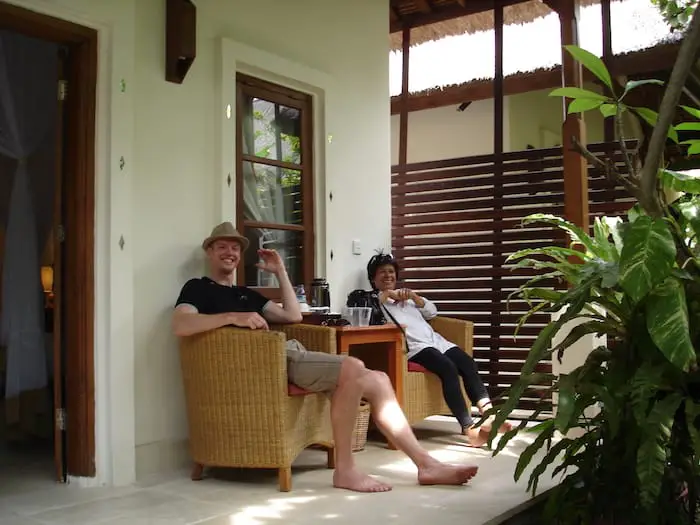 Inside the bungalows, there's a very high ceiling from which a big mosquito net is draped over a king-size bed. Everything, except for the wooden furniture is white. So the whole room looks very clean and comfortable.
All bungalows are equipped with air conditioning, a hairdryer, robes, tv, mini-bar, and a safety deposit box.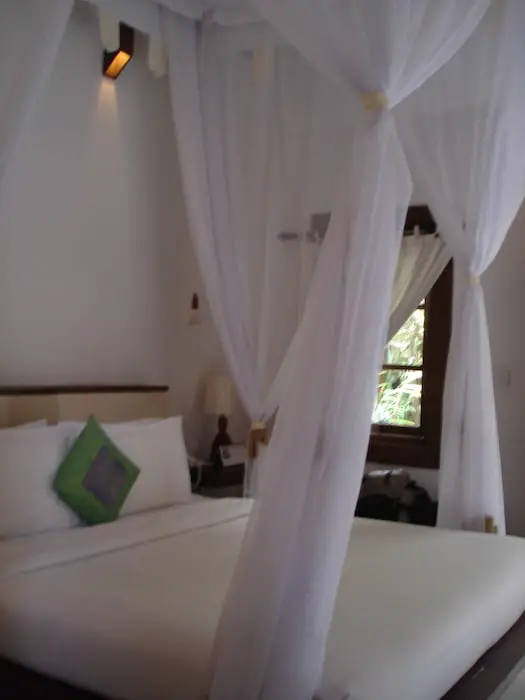 There is a semi-open bathroom decorated with natural stones tiles. From the toilet and shower, you can enjoy the sounds of nature and the rustling of the winds through the palm trees.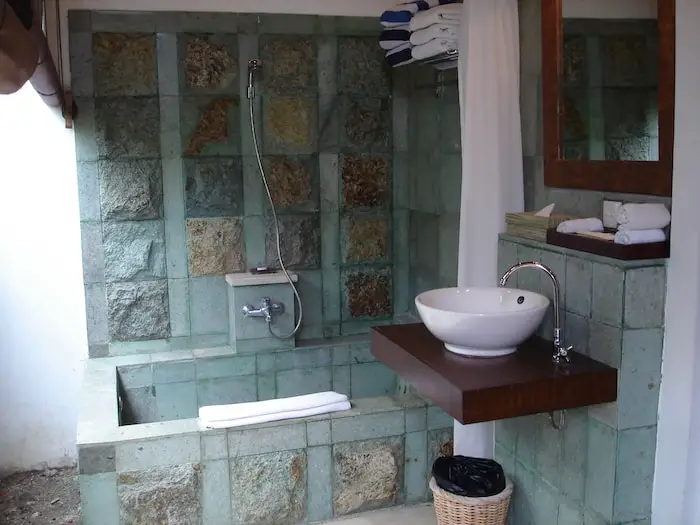 Alam Asmara also has a wonderful pool. It's quite big, has a very deep area for diving practices and what I like most is the use of a natural green color instead of the usual bright blue you see around most resorts.
The pool is located next to the Rendez-Vous restaurant and the ocean. There's enough space to relax in the shade of Frangipani trees but you'll also find open spaces for those who love to work on their tan.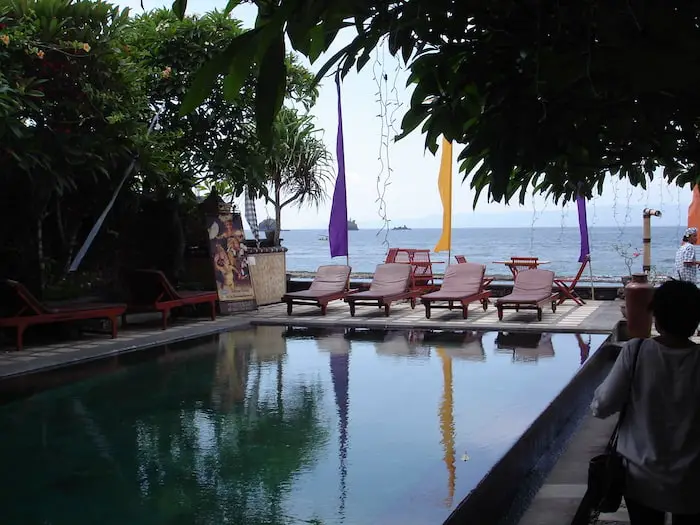 Ideal Location
Another great option besides taking a plunge in the pool is swimming in the sea. Unfortunately, Candidasa doesn't really have a beach anymore but at the hotel, they've created a flight of stairs that end right in the water.
High tide is in the morning and late afternoon and therefore it's much easier to get in and it's safe to swim along this stretch of coast.
We loved it and even just minutes before check out we decided to take a final plunge. We just couldn't resist…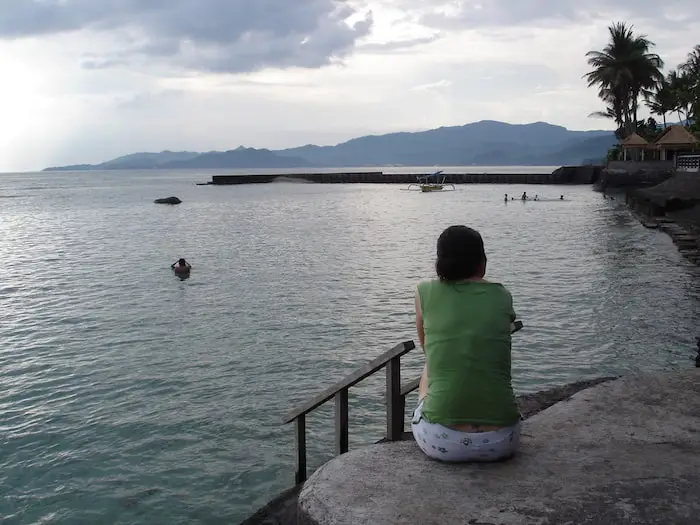 Since it is a dive resort they also organize tours to the best Bali scuba diving sites in the area. If you haven't done any diving at all in your life, it also has introductory tours. After a short theory and pool training, you can head for the big ocean.
Their prices include equipment as well, so everything is taken care of. And if you love it, you can also arrange a Padi-course here.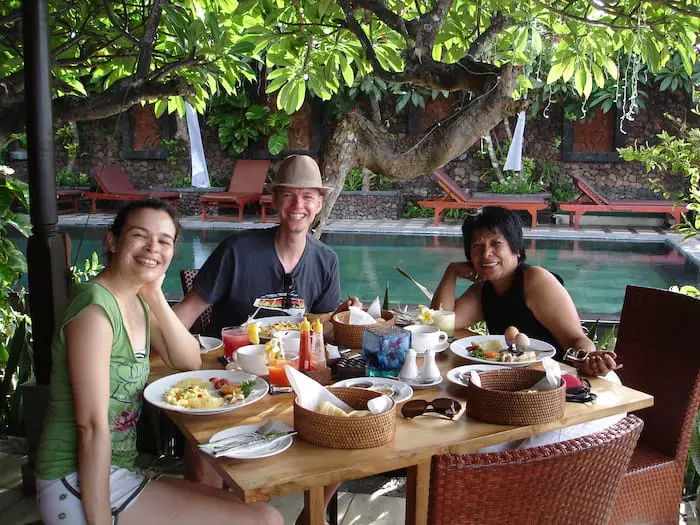 As you can tell, we really like this place with just 12 bungalows it's a very small resort and all the staff was very friendly and extremely helpful.
The room and all the other facilities at this resort were perfect. We especially liked the fact that you can just jump into the ocean from the resort itself and that you can enjoy drinks and food right at the waterside.