There are dozen of accommodations in Ubud Bali from luxurious resorts and villas to small homestays. While this famous village is pretty ahead when it comes to sustainable tourism and eco-friendly practices, there aren't many hotels or resorts in Ubud to choose from that are also built and managed with sustainability in mind, like the eco-hotels in Bali we listed separately.
Nevertheless, there are still many wonderful alternatives. These accommodations might not be 100% eco. However, some are locally owned or received an award for taking practical actions to minimize their negative impact on the environment and the local community.
One of these awards is, for instance, the Tri Hita Karana Tourism Award. Accommodation with this award focuses on 3 elements of harmony and balance of the Parhyangan (interaction between humans and their creator), the Pawangan (interaction between humans and their fellow humans) and the Palemahan (interaction between humans and nature).
Another is the Green Globe Certificate. Here the emphasis is placed on sustainable management, socio/economic and environmental aspects and cultural heritage.
If you already have a resort in mind, we advise you to avoid choosing located along Monkey Forest Road. There is almost always a traffic jam here during the day due to the increase in visitors.
Additionally, there is a slight chance you will hear late-night music from the restaurants and bars located nearby.
Go for the accommodations in the small side streets or the village hamlets surrounding Ubud, such as Campuhan, Penestanan or Nyukuning.
Locally owned accommodation in Ubud
Arma Resort
This beautiful resort is a well-known resort in Ubud. It is part of the ARMA Foundation which aims at preserving the traditional Balinese art and culture. So far it enables local Balinese to create skills resulting in professional dancers and musicians.
So you can imagine, the resort will remind you of all the beautiful and unique things of Bali throughout your stay. Arma has luxury private villas and suites all designed and decorated with a local touch.
At the neighboring ARMA museum, you can learn more about the local art, but you can also join in activities such as painting and dancing.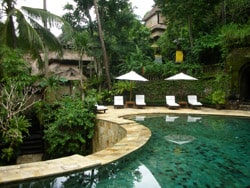 Ibah Warwick
This enchanting boutique resort is located in the most beautiful part of Ubud, overlooking the Campuhan river gorge. The whole premises look like a fairy tale with its flower decorated statues and ancient walls leading you to the suites.
This is a wonderful place to stay at for your honeymoon, or if you just want to experience something unique. The resort is built in such a way that it is almost one with its surroundings. Their salt water pool is a great addition to this wonderful place.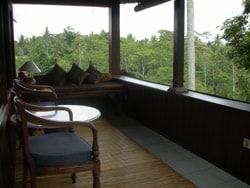 Alam Indah
This locally-owned resort is one of many of the 'Alam-group'. It is located in the small village hamlet of Nyukuning, just walking distance from Ubud center. The hotel has incorporated natural materials in its buildings and traditional Balinese design is used throughout the resort.
It is a wonderful place to stay while exploring the area. Try to book a suite with a great view. Those are the things that will make your stay even more unforgettable.
Award-winning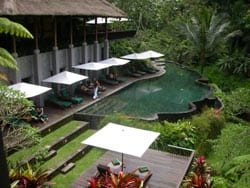 Maya Ubud Resort & Spa
This green oasis and multiple Tri Hita Karana Award-winning resort is the ideal place for honeymooners or seasoned travelers. The only things you find here are peace, quiet, romance and quality in a great setting along the Petanu river just outside town.
Maya Ubud a huge place so expect to walk a lot. The resort offers all kinds of activities such as cooking classes, yoga, village trekking, etc. The location of their spa is one of the best in the Ubud area.
You will need transportation to get into town. There is an hourly free shuttle service that can take you from 9.00 am to 5.00 pm.
Budget options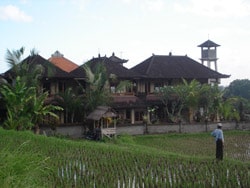 With its beautiful green setting, its narrow ancient-looking alleys and the surrounding rice fields, it's not surprising that accommodations in Ubud are found at amazing locations.
Luckily the budget traveler and backpacker can find family-run accommodation at a very reasonable price. This sometimes includes first-class views over rice fields or river gorges too. Some rooms are fan only, but in Ubud, temperatures can get quite comfortable in the evenings, especially if you are located outside town.